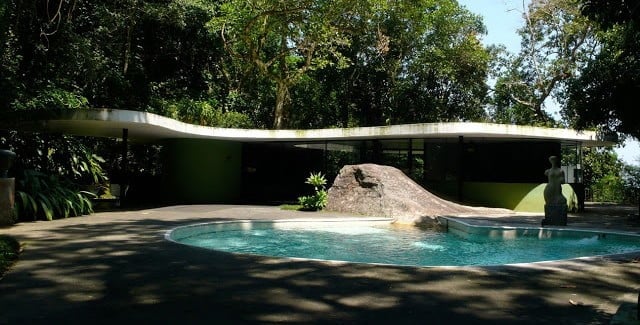 When we imagine a place to live, most of us are thinking at some kind of equilibrium between old and new, modern or classic, somewhere isolated in the forest with a lake or even better the sea near by. A place to relax, find your inner focus and peace. A place where you can both work and have fun.
Oscar Niemeyer had a similar vision, Casa De Canoas was his family residence for a while, you couldn`t fault the house for everything, not even the dimensions or small details, all are seem to blend in the surroundings and take a part at the perfect scenario. We are sure that they`re people that can criticize the shape, or the big boulder that`s a part of the house but not even God can satisfy all of us. We are trying to offer our personal opinion.
The Casa das Canoas in Rio de Janeiro was designed by the legendary brazilian architect, Oscar Niemeyer, in 1951. It was used as his family house until 1965, year in which he had to leave Brazil due to the military dictatorship. Using tropical eroticism as a construction language, Niemeyer deconstructed the language of functionalist modern architecture: with the curved flat roof supported by light steel columns and the transparent glass walls making the house disappear within the tropical jungle that surrounds the home.
" I deliberately disregarded the right angle and rationalist architecture designed with ruler and square to boldly enter the world of curves and straight lines offered by reinforced concrete. This deliberate protest arose from the environment in which I lived, with its white beaches, its huge mountains, its old baroque churches, and the beautiful suntanned women. "
– Oscar Niemeyer
Today this superb modern mansion can be visited if you`re doing an appointment, further on we will provide some details that may help you, and we strongly encouraging you to visit it if you have the opportunity.
Oscar Niemeyer Casa das Canoas
Estrada das Canoas, 2.310- São Conrado
Rio de Janeiro, RJ – Brasil
CEP: 22610-210
Tel/Fax- 55 21 3322 3581
http://www.niemeyer.org.br/