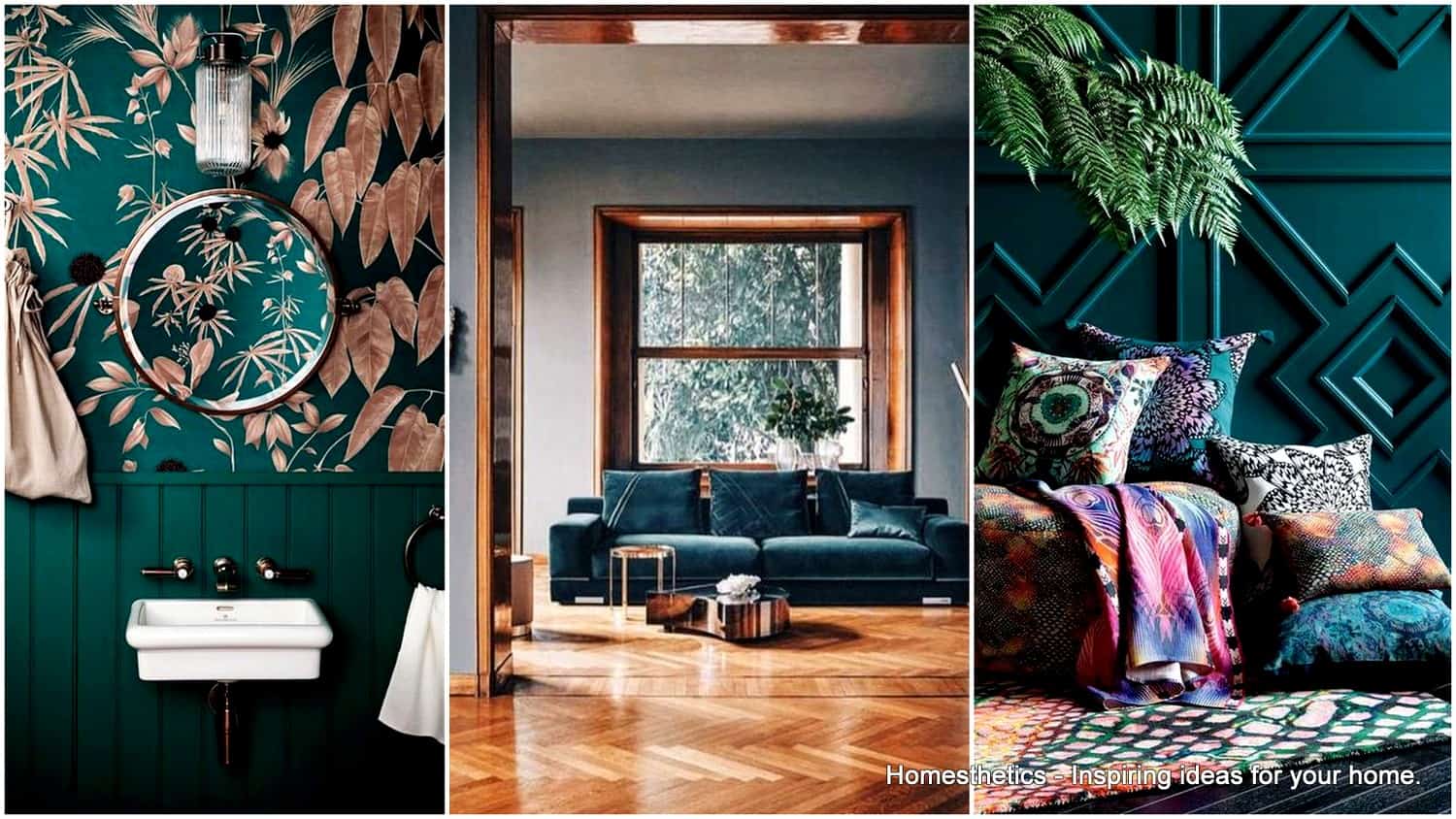 If you're a coder or designer, you might know what #008080 stands for. This string of numbers has no reason to leave you hexed [pun intended] but gives you a lot of room to explore the versatile, gorgeous color—Teal! So, what is teal?
Teal is a cool tone made up of two colors in medium tones: blue and green. It brings about a modern, aesthetic feel to any setting.
And we are here to tell you that Teal is your way to go when you plan the interiors of your home or office!
So, here's a handy guide on how you can work wonderfully with this color in your interior designing project.
What Is Teal and How To Use It In Interior Design
1. Showcase Some Pastel Perfection
Modern homes are often pictured in pleasant pastel colors. These colors are usually pale, meaning they have low to intermediate level saturation.
Pastel colors are mostly preferred for walls, as they invite an air of contemporary finesse. Pastel Teal is elegant beyond words on walls. It compliments almost any wall decor that shall adorn the vast area that walls cover. White frames look best on pastel teal background, but most cool colors and few warm colors like beige and pale yellow look just as good.
Teal walls also compliment overall furniture in the room wonderfully. Your furniture can be as vibrant as you desire – be it vibrantly colored, bright or somber, solid or printed. Pastel teal is the kind of color that does not hit you in the eye.
So when you paint your walls with this pleasant color, it ensures that it doesn't stand out on its own. Instead, it stands out collectively with all the home decor, and the furniture in your space. That's the beauty of this color – pleasant and welcoming.  
Teal makes room for versatility when it comes to interior design. Pastel Teal, because of its pleasant characteristics, also looks very chic when used for kitchen cabinets, dining tables, or even planters! Place some flowers in pretty teal planters, and rest assured, your home now has both freshness and a modern appeal!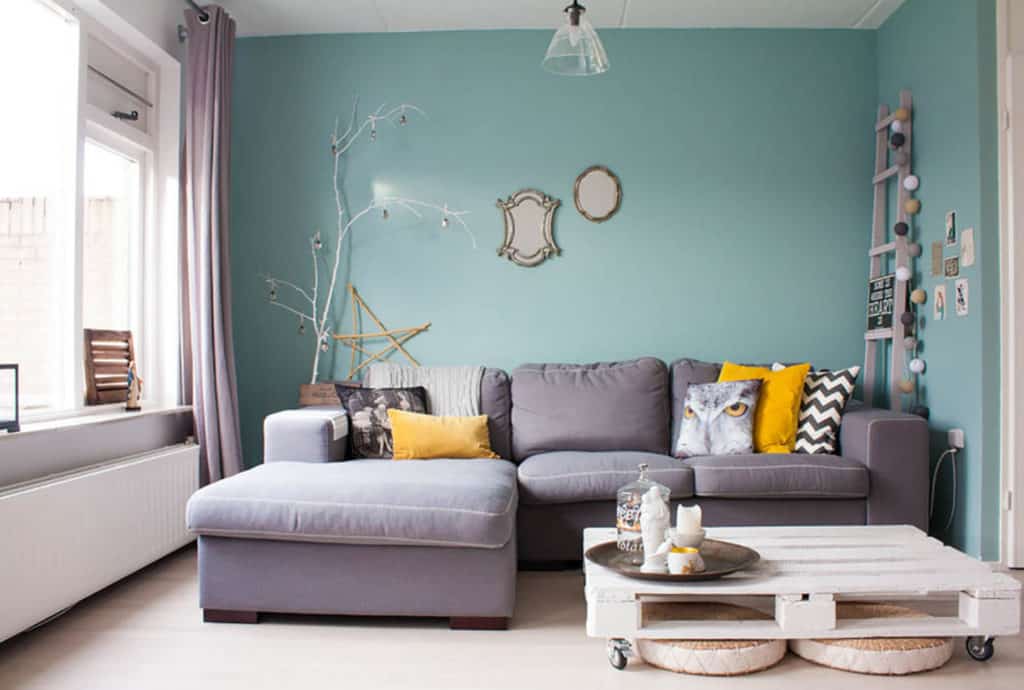 via soopeewee.com
2. Dark Teal in Velvet for Royal Elegance
When dark teal is the color of choice for velvet bedspreads and pillows, it brings about royal magnificence. Cots made out of rich, dark, wood complement this color gorgeously.
One can also get their couches or sofa sets done in dark teal velvets. When placed in the living area, in the focal point of the room, or even by the fire, the sofa set is bound to stand out with royal importance.
Dark teal especially looks stunning in settings with yellow lighting. Natural light looks beautiful as well, but white light is not the best kind to bring out the true essence of this color. Also, you can add some tassels to your pillow covers, to make it look even better.
Dark teal furniture like chairs, end tables and lamps can also accentuate your home decor.  Apart from velvet home decor, this deep shade of Teal, when painted on walls, can make excellent backdrops for homes with more wooden furniture.
What's more, dark teal looks brilliant when paired with other soft colors. If you are using a dark teal sofa set, you can always bling it up with ash silver throw pillows, or may be green printed throw pillows if you're the classic kind.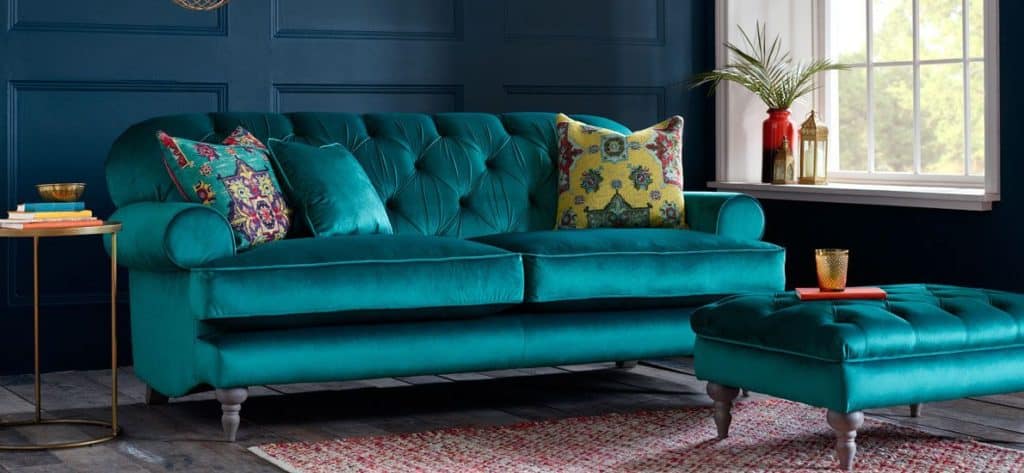 via Pinterest
Dark teal is the kind of color that awes people right from the first sight. It's magnificent, royal and gorgeous.
Give your luxurious home the taste of this royal color. You can almost imagine yourself enjoying a beautiful evening by the fire, with some folks sipping wine and a vintage gramophone playing classical music, or jazz in a home that is adorned by dark teal furniture.
Isn't that absolutely picturesque? There's no doubt that dark teal makes for the perfect color for interior design of luxurious homes.
3. Blend It in With Solids and Prints
Teal prints on throw pillows and bedspreads make a statement of their own.  They invite an artistic, modern air into your homes and offices. Flowery teal embroidery is feminine and gorgeous. On the other hand, teal prints reflecting modern art and portraying historical significance in the form of traditional Indian rangoli, Chinese symbols, or exotic animals, make up for amazing decor pieces.
When matched with solid colors, teal in print and embroidery make the perfect combination for spectacular interior decor! Printed teal decor items like China plates for your walls, ceramic vases with teal print on end tables, these are accessories that bring color into your home.
What's more? Geometric prints are in this season! Get some throw pillows in covers enveloped by geometric print – diamonds or circles, squares or lines, whatever the choice may be, teal looks great in geometric shapes!
Embroidered teal cloth can also be framed and used as wall decor. Ditch the standard paintings and get creative with beautiful frames to adorn the walls of your home. A spectacular teal print fashionably stands out in the living room. Rest assured, your guests will stare at the beauty in teal time and again.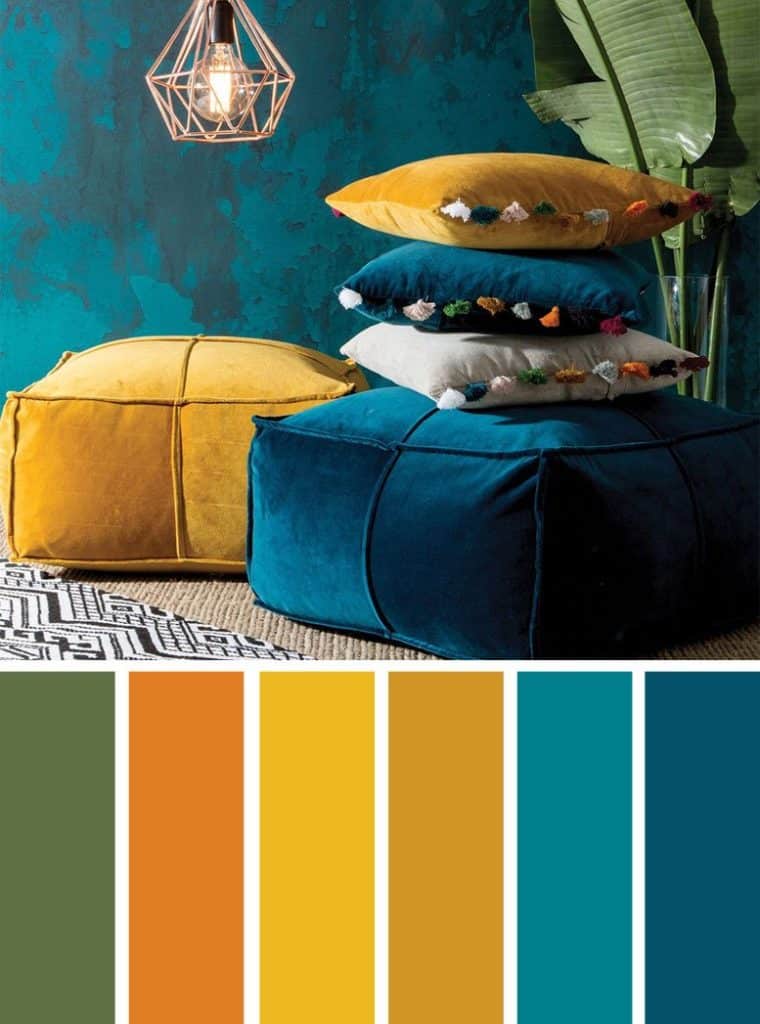 via ideastotry.com
Teal prints on walls serve as classic backgrounds for photography. Now who wouldn't want to take pictures in their lovely home? After all, homes are where conversations are born in the most comfortable ways, where laughter is shared, and joy is multiplied with each member!
4. Go Gorgeous in Glass
Whether they are mirrors, glass doors, or bottles, teal green looks ravishing in glass.
Teal green is the best choice for the glass bottles that sit pretty in your bar, for storing precious wine, and alcohol. Just because liquids like wine and juices can be exposed to some light for them to persist without ruining the flavors, they are often bottled in green glass.
Teal green glasses, therefore, are not only elegant and fashionable but also serve the important  purpose of keeping your wine timelessly tasteful. Teal colored lighting will also do wonders for your home bar!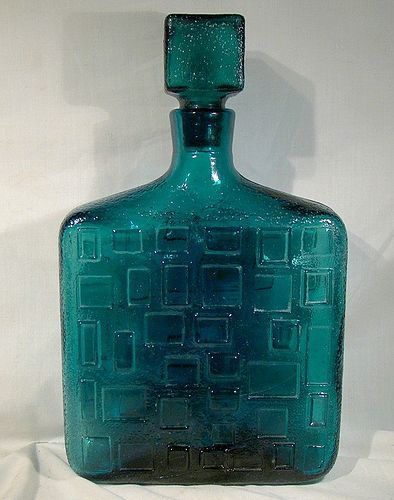 Teal glass vases also make for some of the most ravishing decor. Especially if there is art on the teal glass, it's certain that the vase will add finesse to your interiors.
Now, who says that teal is only a color for living rooms, bedrooms, and kitchens? This color looks just as good when used for the interior design of your bathroom.
When it comes to bathroom interiors, if there is clear glass that separates the shower from the rest of the bathroom, then the teal tiles simply look ravishing here. They reflect beautifully on the glass, making your shower look elegant.
Teal colored wash basins are also a way to go. With pearly white faucets or dull grey faucets, these basins can make a combination so utterly beautiful that the bathrooms redefine themselves around it.
With teal tinted glass, your wall decor, bottles, home accessories,  and bathroom interiors get a stunning, fresh look.
5. Get Classy with Teal Crockery
Didn't we speak of China plates in the last section? Oh yes, we did. Because teal crockery is  classy, elegant, and a product of fine artisanry.
Beautifully embroidered and painted plates have climbed their way up (quite literally) from kitchen cabinets to walls in living rooms.
Intricately decorated plates adorning walls can be traced back to the 19th century, when royal families hung plates on their palace walls along with paintings. This style is back in interior design now and modern houses these days are showing off their grand collection of antique plates.
Antique plates look beautiful in teal as it is the perfect shade, neither a bright color nor a dull one. A collection of both printed and solid color teal plates can really add beauty to your interiors.
Now when it comes to traditional crockery, teal colored crockery is both classy and artistic. It looks beautiful on tables of any color. Use solid teal colored plates if you have a printed table cloth both and vice-versa.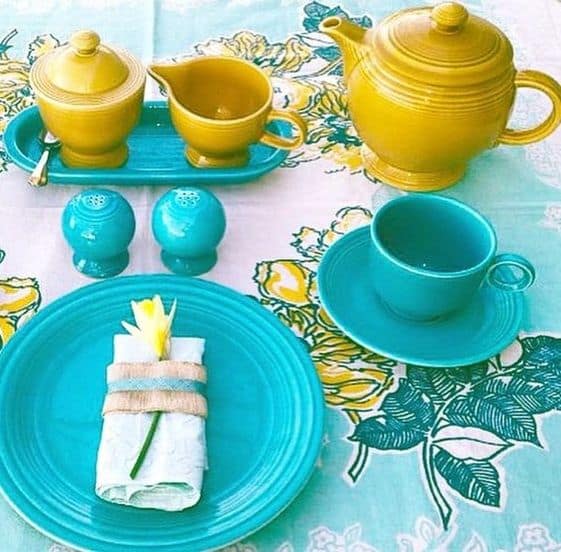 via Pinterest
Teal is also gorgeous for tea cups and kettles. When hosting guests for dinner, amaze them with your exquisite taste in interior decor by serving them tea in gorgeous teal teapots and cups. A beautiful idea for cup and saucer would be for a decorated saucer and a minimally painted cup.
Pastel teal can be used for fork and spoon handles and also for napkins! Teal napkins in satin or cotton, when placed by your side during meals makes it the most perfect, pretty companion. Fruit bowls and decorative trays in teal are all the more beautiful in teal as it is a very pleasant color.
Crockery is aren't just confined to the kitchen in modern homes. Having classy crockery adds to your interior decor and tells people lots about your taste in fine design.
6. Teal Zeal From Walls to Floors
Walls cover 50% of an empty place. The other 50% is covered by floors. Teal is such a versatile color that using the color in different shades, and in different patterns can pretty much plan the entirety of interior.
As walls occupy a lot of space, it becomes necessary to choose the right color and plan how you decorate them. When solid teal is painted across the surface area of the walls it radiates beauty. At the same time, printed teal wallpapers are just as good! To adorn walls, teal paintings, photo frames, mirror frames, and planters can be used.
Also, what one often overlooks is the fact that a fine set of curtains can really bring out the aesthetics of your space. Curtains in teal do a gorgeous job at this.
But interior design hardly ends there. Flooring, and what goes on the floor forms a major chunk of interior design. Area rugs in teal, in combination with blues and yellows look marvelous in these cases! Delicate chairs and end tables placed on these rugs will only look more beautiful when combined with teal. A fine choice when picking colors for end tables in solid teal either leaning towards pastel green or dark blue.
Apart from tables and area rugs, teal looks great on bathroom flooring as well! Teal tiles certainly add glamour to your showers and the space it covers in bathrooms.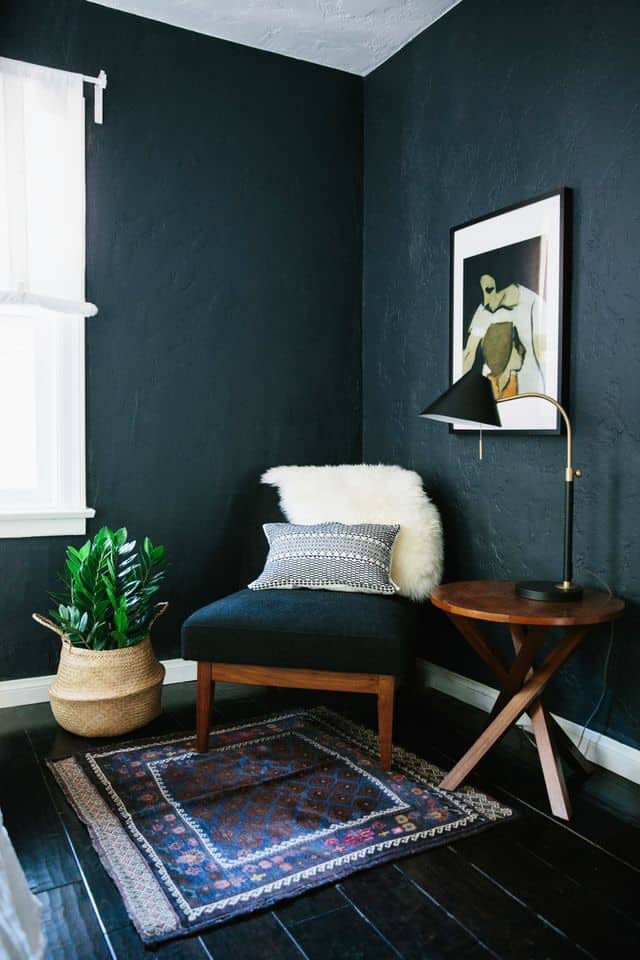 via Pinterest
Conclusion
A space which you call home or where you put in your hours of work is of extreme importance. To design the interiors with finesse, artistry,  and class takes the front seat in planning.
Teal is a color that can be used for the an entire room's interior – be it walls, tables, sofas, chairs, etc. You may be surprised how well it works together even if everything is of the same color!
But teal is essentially used in interior design for its characteristic nature of blending beautifully with almost any color. Teal bottles, vases, area rugs, and other home decor items make sure that your space looks one of a kind.
Whether you choose to color block your interiors, or decorate in multiple colors and designs, teal is at your service. This gorgeous mix of green and  blue is the unique color that has been missing from your modern home or office. Teal—a name derived from the color around the eyes of a bird—the common teal, is a color that shall fly into your homes, bringing brilliance and charm along with it.
Teal Interior Design Inspiration
Cast a glance over the extraordinary ideas and surge inspiration!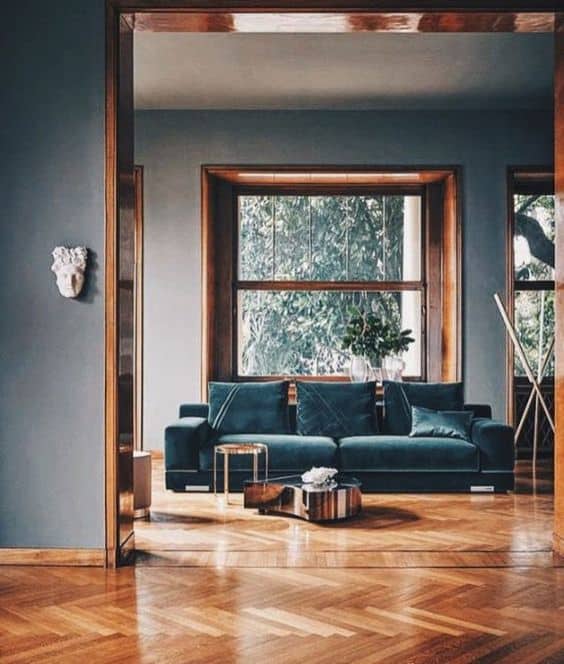 via Pinterest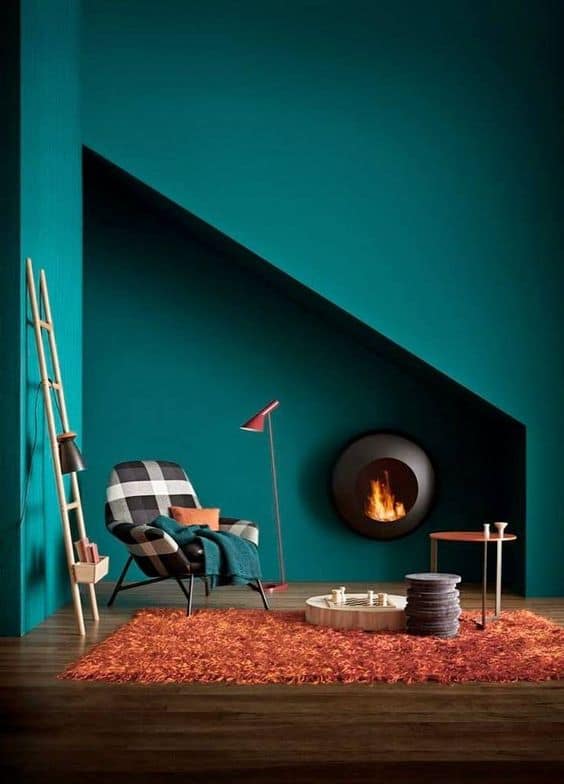 via Pinterest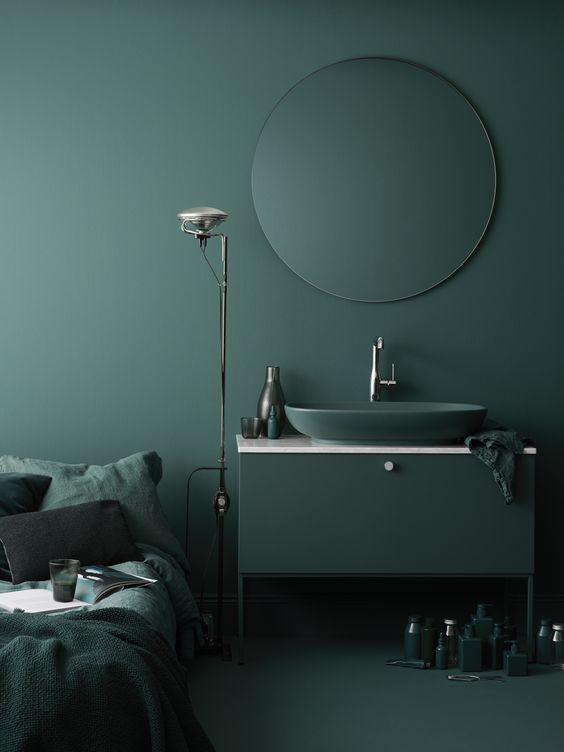 via Pinterest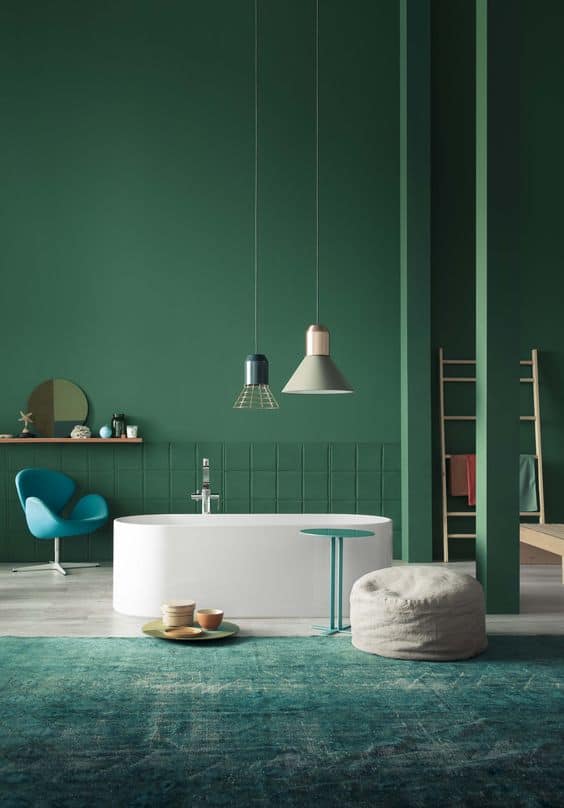 via Pinterest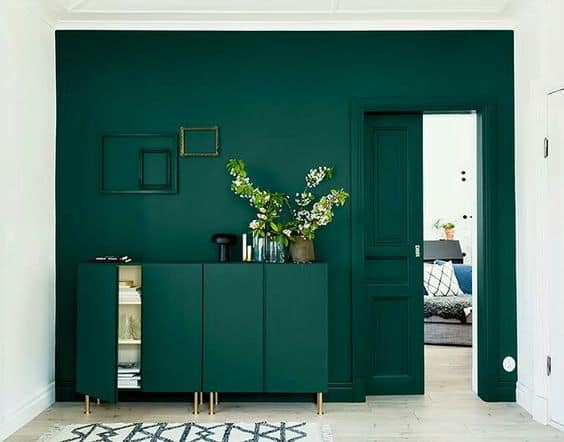 via Pinterest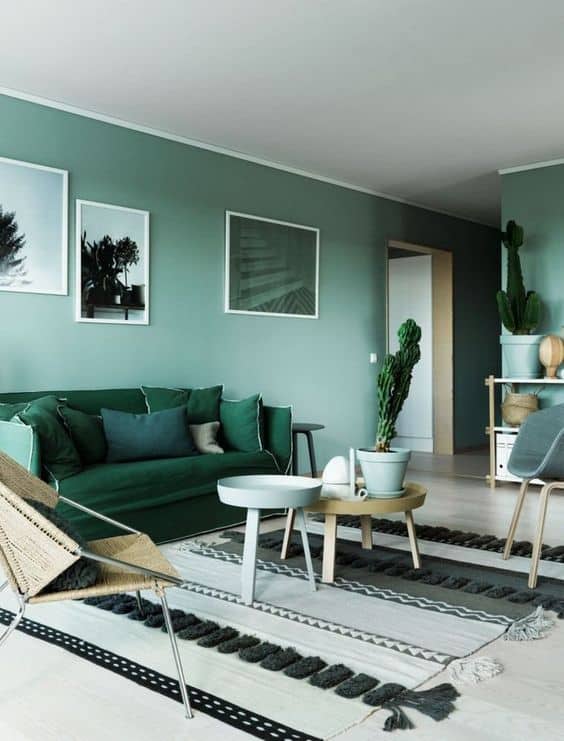 via Pinterest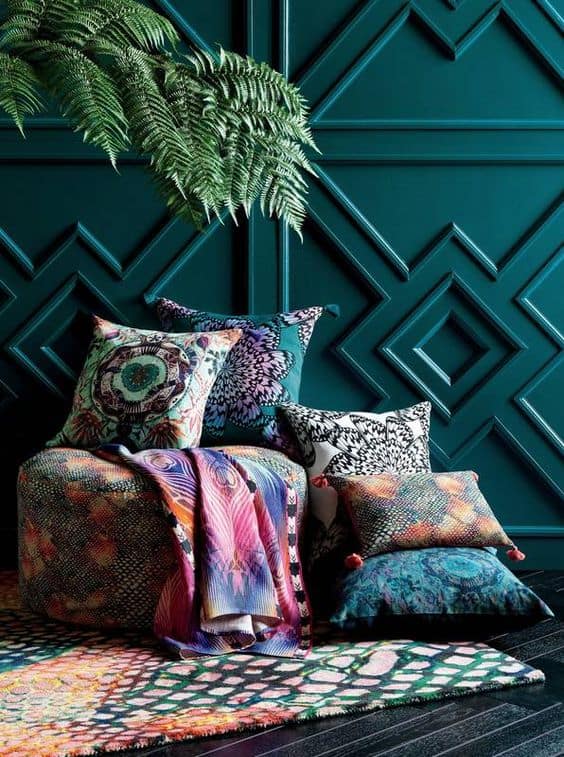 via Pinterest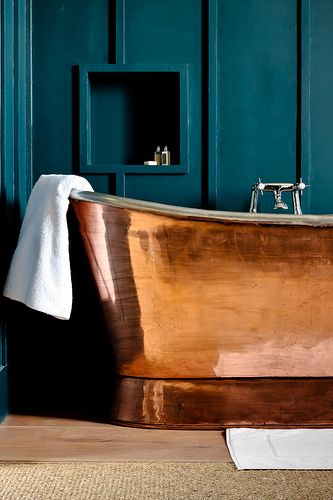 via Pinterest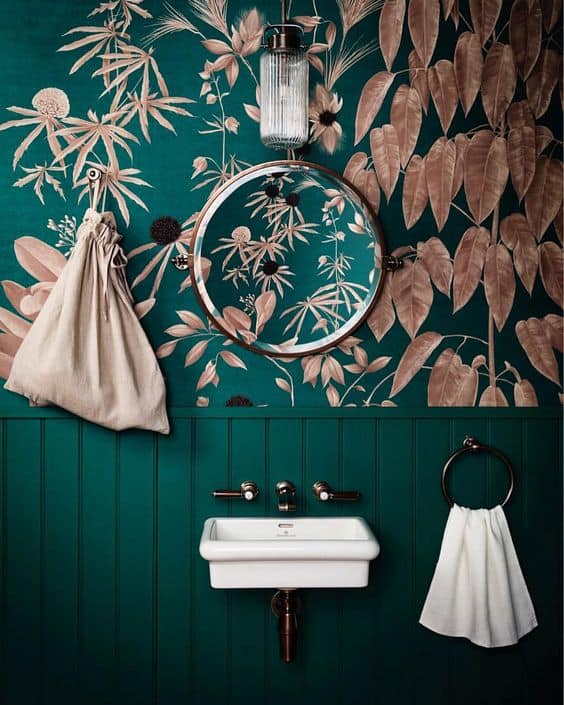 via Pinterest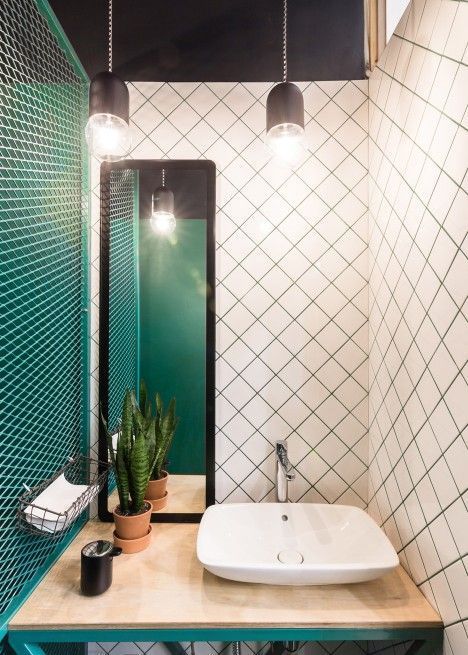 via Pinterest
What do you think?
How do you like the ideas above and teal as a color ?
We would love to hear from you in the comment section below !