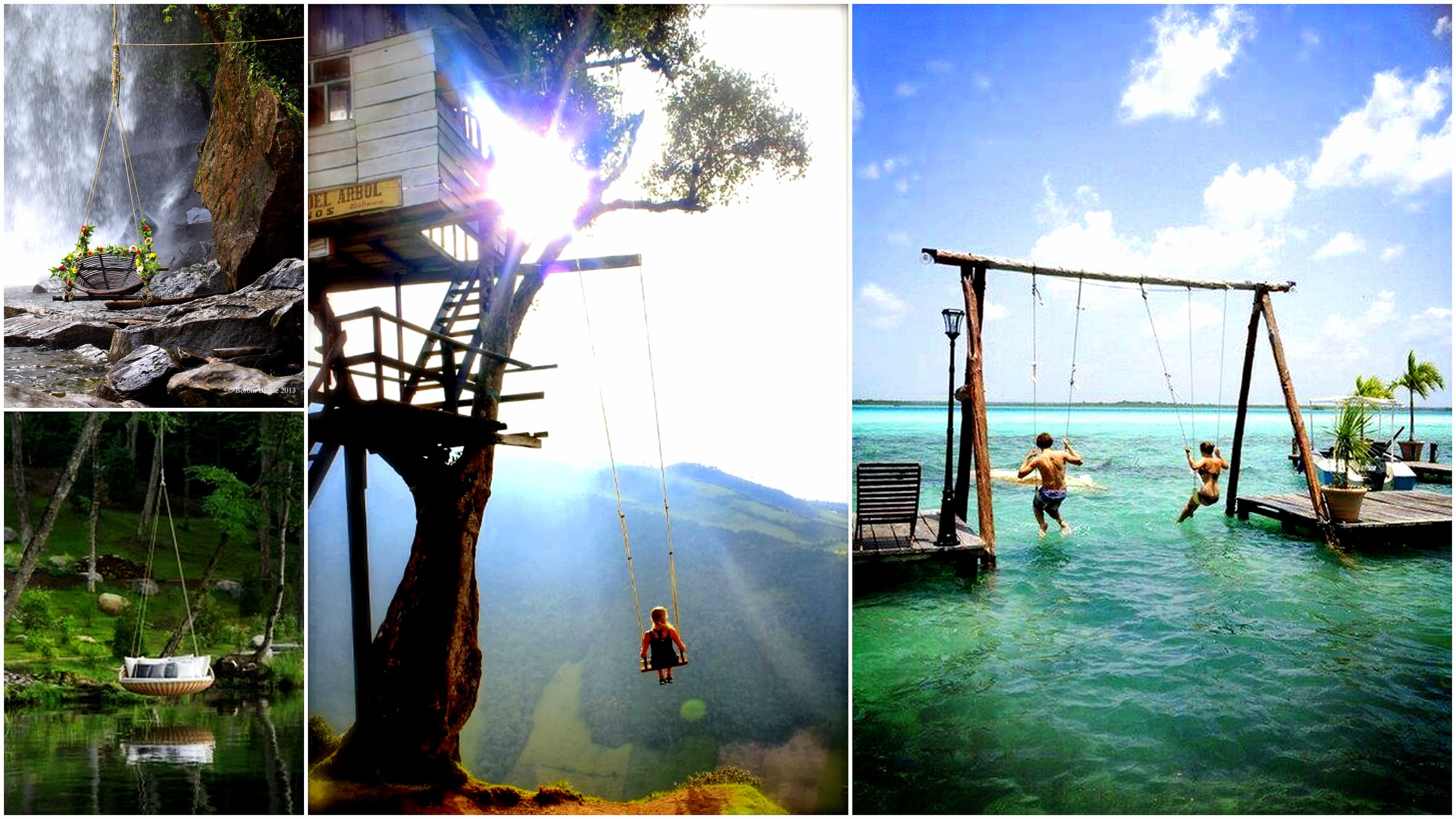 All of our childhoods have been more or less marked by the presence of a swing. Traditional made out of a wood board, an improvised tire roped swing our dads made for us or a pillow porch swings grandmothers sew. No matter the design and type, the swing is a great way of spending your time and enjoying your backyard with brothers, sisters or friends. And I don't know about you, but I love those rainy days when I can swing on the porch covered in a fluffy blanket sipping on a hot steaming cup of coffee or reading a good book. It is a perfect method of relaxation  that is guaranteed to work every time. Every backyard should have at least one swing implemented into it, preferably in a private little corner where you can enjoy some peace and quiet surrounded by beautiful backyard landscaping. Nowadays, the possibilities for buying a swing set are endless and the same is true for DIY swings. The materials the swings are made of today vary as well but all seem to be at least very very comfortable.
In our search for the perfect swing experience, Homesthetics has gathered a small collection of unusual spectacular swings that we consider you should definitely try at least once in a lifetime. We will definitely try to! Enjoy!
1."Swing at the End of the World"
First one our list is the " Swing at the end of the world" as it is known. Located in Baños, Ecuador at La Casa del Árbol (The Treehouse), this spectacular swing is situated at an altitude of 2660m. But be warned, it is not for the faint-hearted of you, due to the fact that the swing itself does not carry any protective cords or safety of any kind. It's just you and the great abyss under you.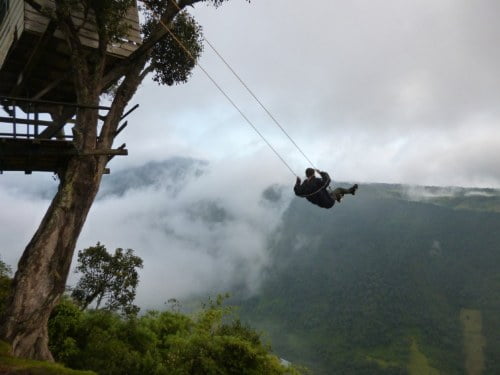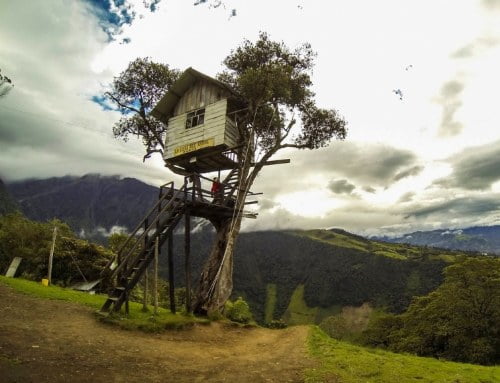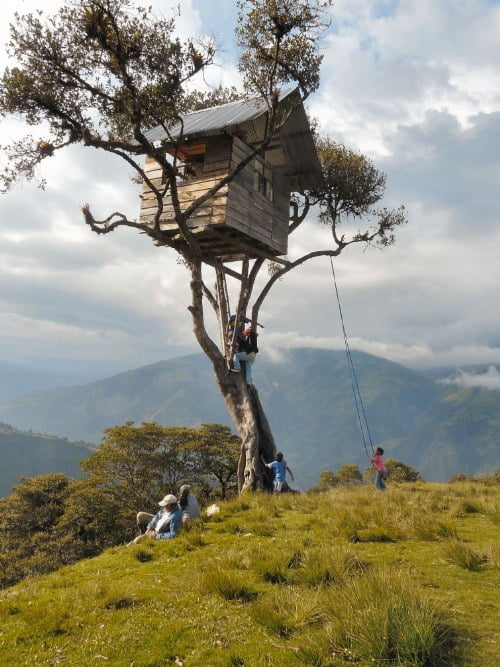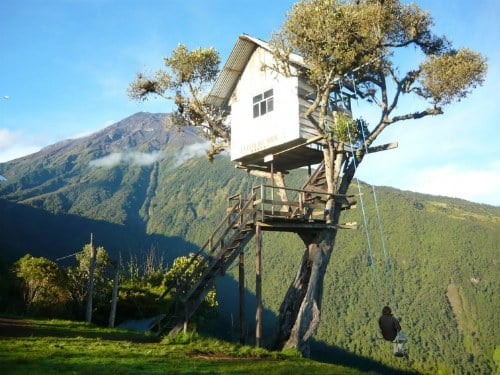 SOURCE
2. The Waterfall Swing Set
The waterfall swing set seem so fun I would go for a ride anytime.The trick is that you do not really get wet, the water falls down the instant you are out of reach but the thrill of it still remains for sure.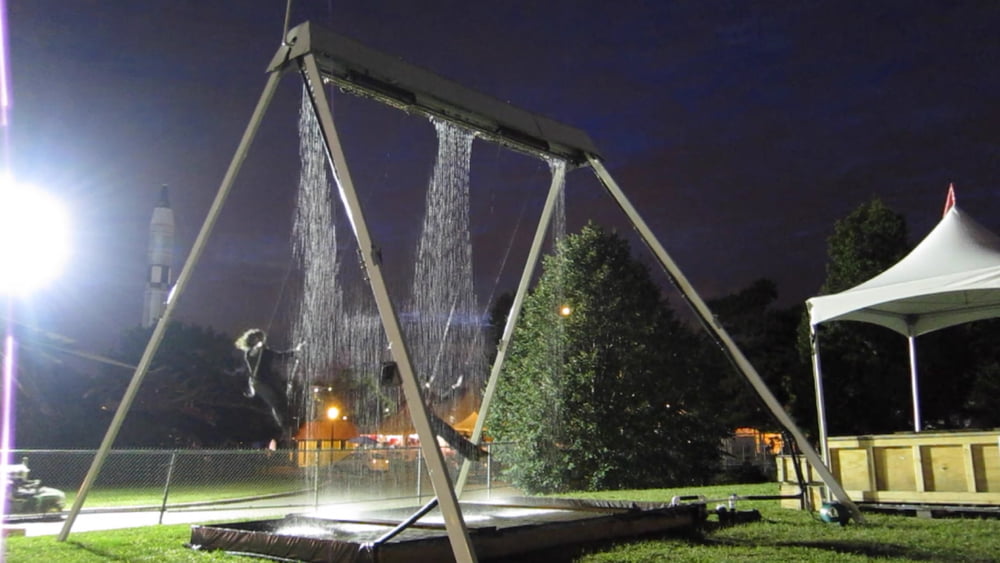 3. Swinging over a Tropical Pool Spectacular Swing
This example features a wooden bench-like swing over a beautiful pool. An example that can easily be done in your own backyard and incorporated in the design scheme. It is great during summer when you can just from it and take a cooling swim. The picture below is from a Bali spa resort.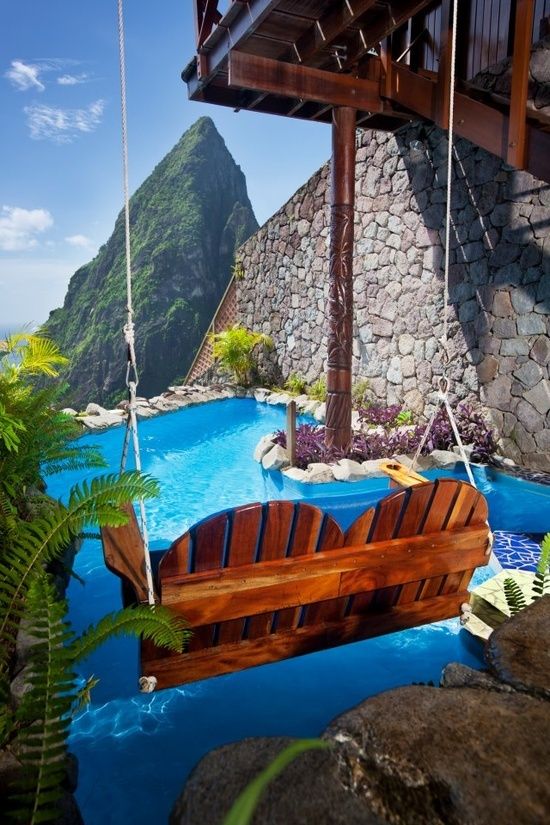 4. Swing under a Real Waterfall in Cambodia
Well, here is a challenge. If you like visiting exotic places around the world and you end up in Cambodia try the waterfall swing at Phnom Kulen. When visiting the bottom of the waterfall which is surrounded by dozens of fireflies and butterflies in the air you can take a swing at this beautiful rope hanging chair.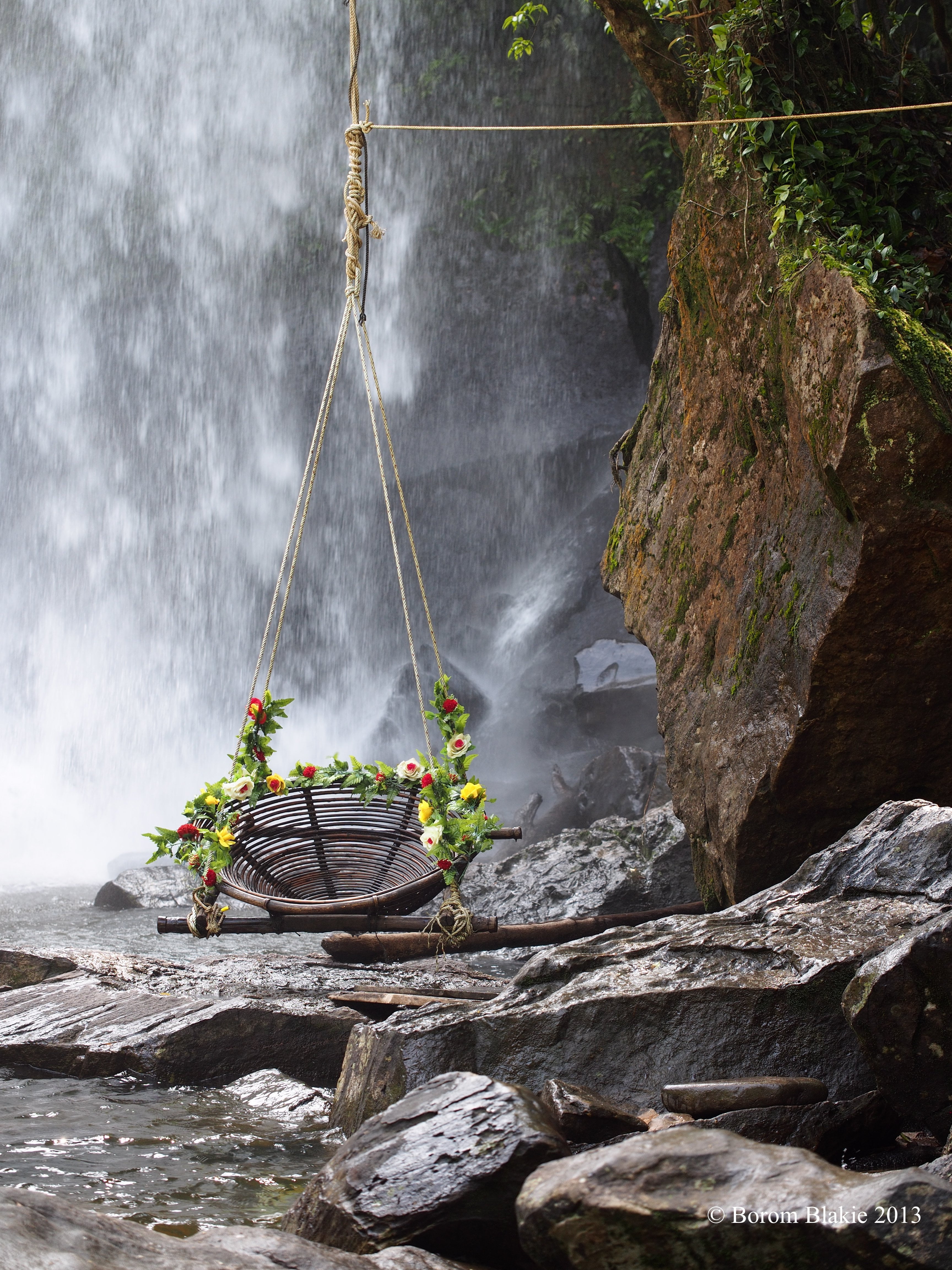 5. Giant Canyon Swing at Glenwood Caverns in Glenwood Springs, Colorado
If you are an adrenaline junkie, consider going to Glenwood Springs, Colorado. Take a mechanical swing at 1,300 feet above the Colorado river and scream your lungs out. The surrounding views are breathtaking though.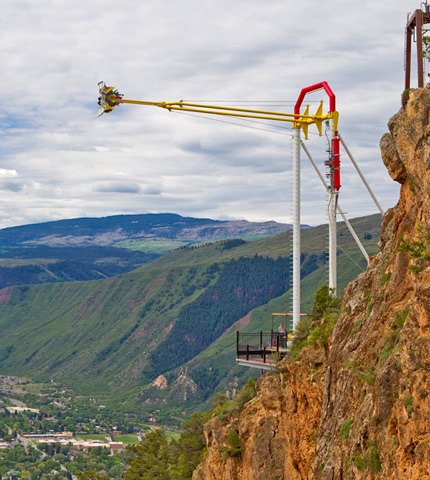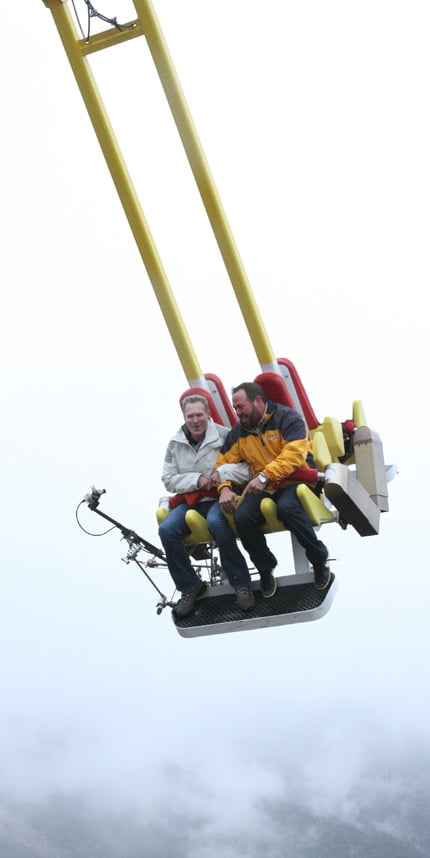 6. Swing over the Blue Sea
Why limit yourself to a swimming pool? Why not dare to swing over the great blue see or ocean? The thrill is definitely bigger and the experience more unique.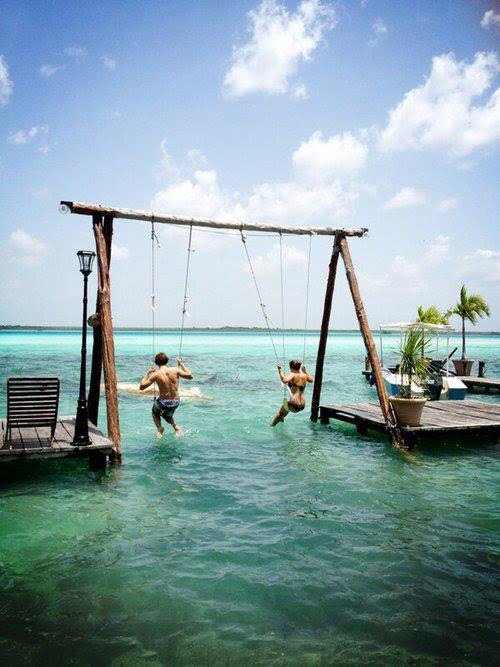 7. Make your own DIY Pallet Swing
Who says you have to go to some exotic country to have a great swinging experience? Why not make your own pallet swing? It does not require much and it looks and feels great to take a swing on a day bed in you own backyard?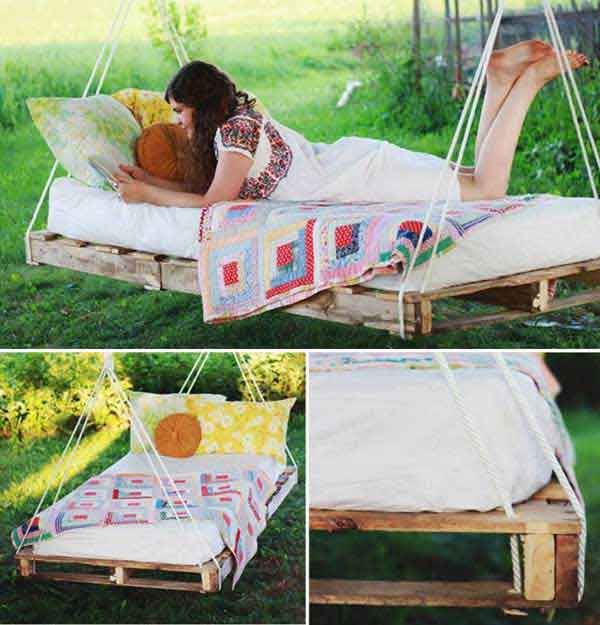 SOURCE
8. The Visiondivision Chopstick
The Indianapolis Museum of Art has now a giant tree used as a swinging set on their 100 acres Park. A real attraction for museum visitors, especially for the little ones due to its fairy-tale look.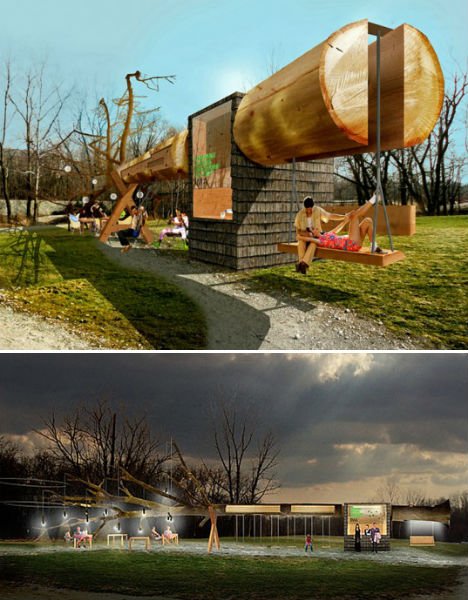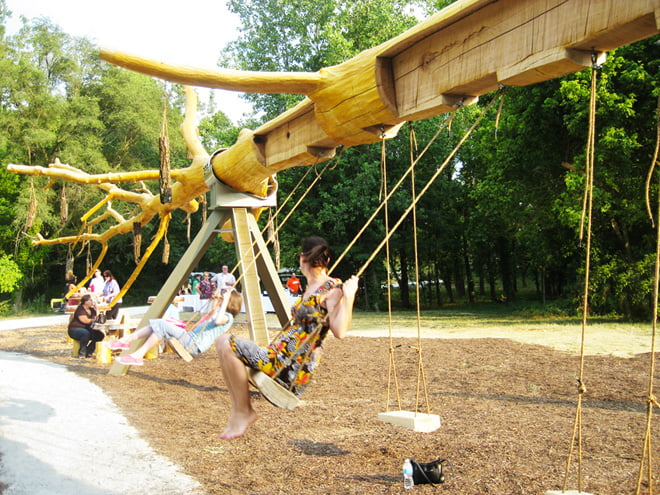 9. Choose a Relaxing Hammock
A hammock is another way to go swinging. it is less thrilling, but relaxing or taking a nap in a hammock placed over water can be a really great experience.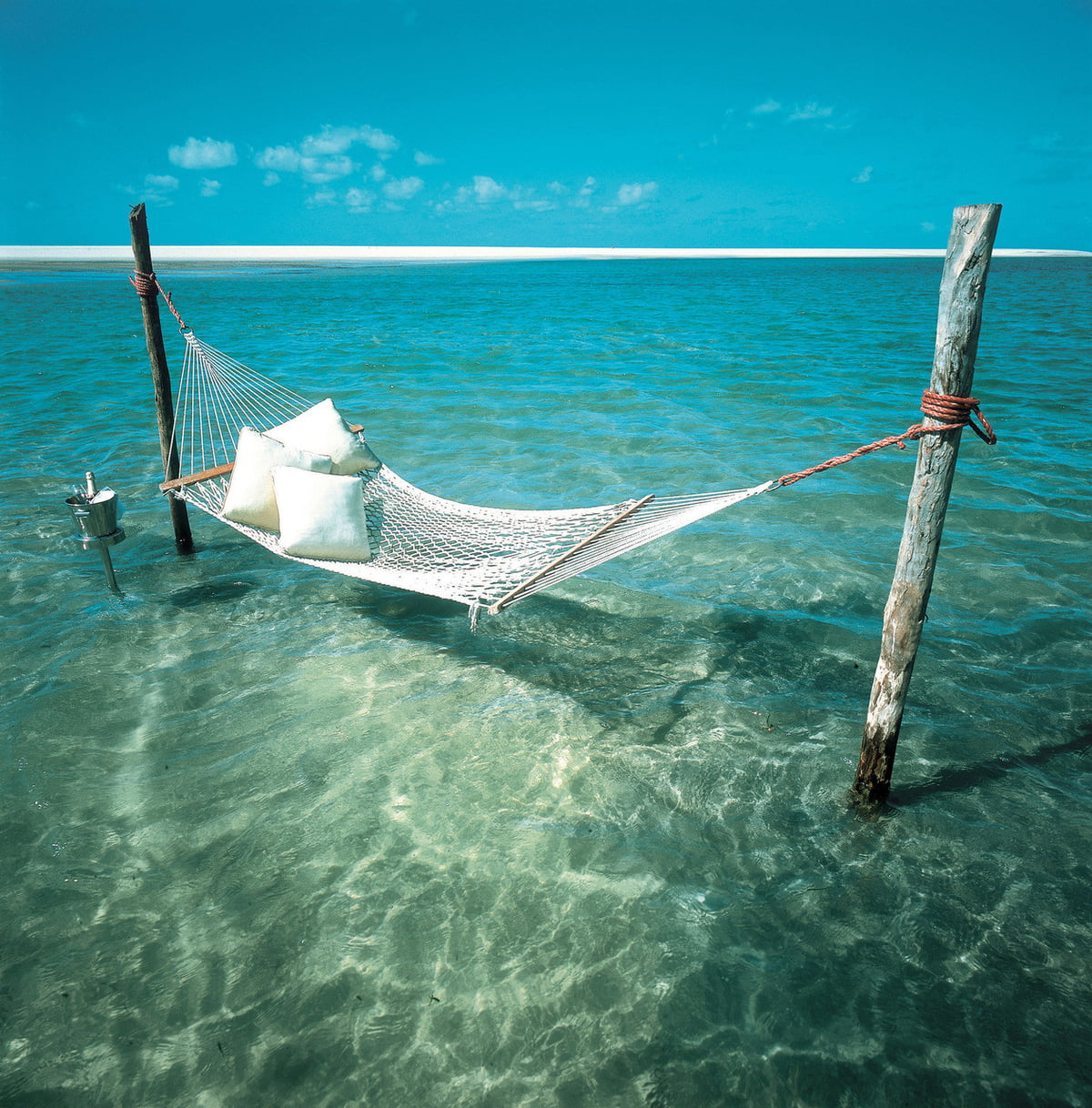 10. Sky-High Billboard Swing by Architect Didier Faustino
Designed for the Shenzhen-Hong Kong Bi-City Biennial of Urbanism and Architecture, the "Double Happiness" urban installation offers great city views from the heights of a billboard. How cool is that? That's if you're not afraid of heights.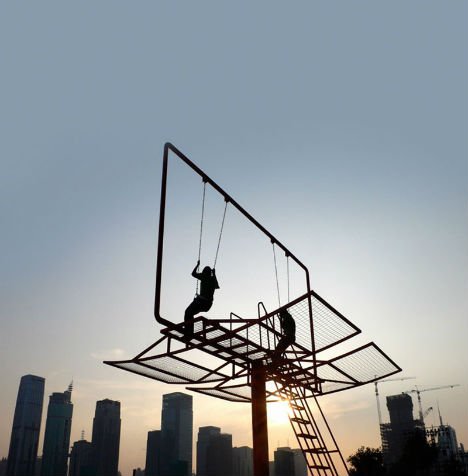 SOURCE
11. The DIY Colorful Pillow Swing
This is DIY project for you. You can't say you would not love to have the swing below on your own porch. In addition to the beautiful color fabric used, The pillow swing is so comfortable and relaxing that you are guaranteed to fall asleep in it in the first five minutes.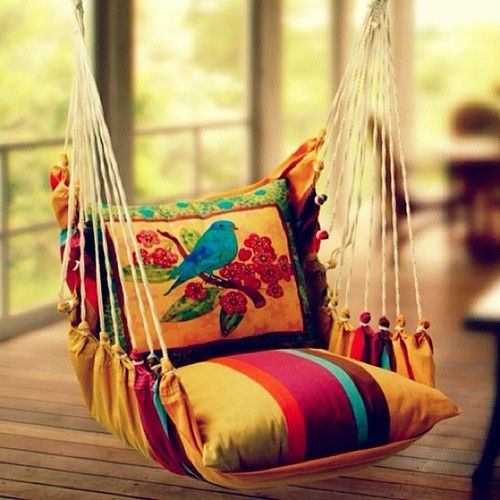 SOURCE
12. DIY Fire Pit Swing Set
Another home-improvement DIY project is building a fire pit area in your backyard surrounded by a swing set where you can entertain friends and guests in beautiful summer evening around a cozy fire.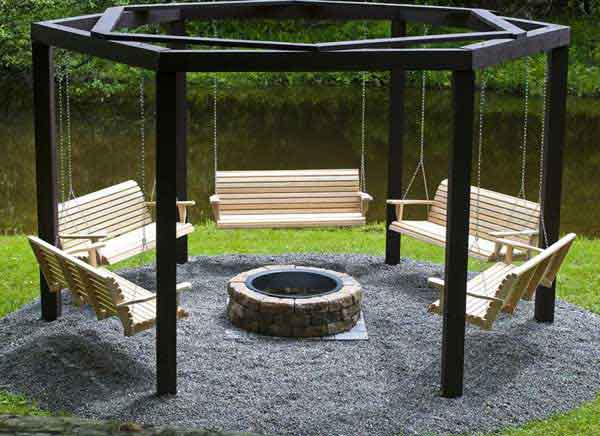 SOURCE
13. Build a Pond Hammock
Have a beautiful little pond with colorful fish and lotus flowers in your backyard? Build a hammock over a part of it and experience a relaxing sensation while admiring your beautiful landscaped garden.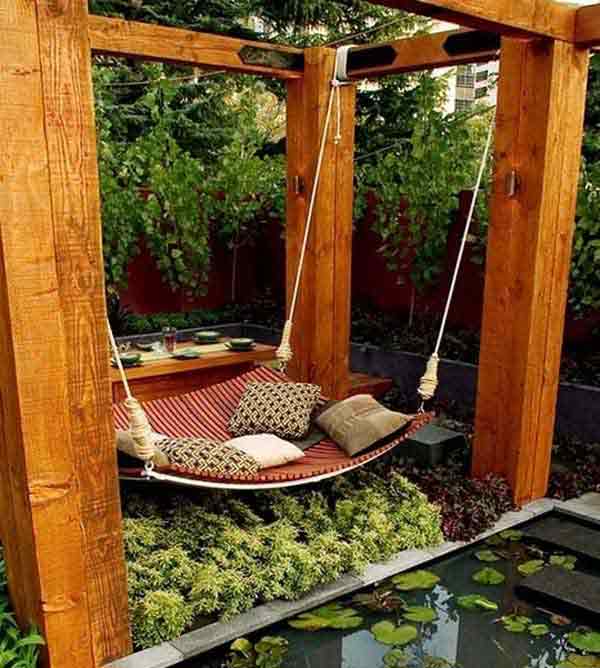 SOURCE
14. Hanging Bed over a Lake
Hve a little cozy cabin near a lake? Build or buy a hanging bed and place it over the lake's surface. Just be careful to leave a way to climb into it.
SOURCE
15. Monument Swing by Kamila Szejnochon, Poland
Commemorating the Berling Army Soldiers in Warsaw, the sculpture below overcome sits usual purpose and transform into one giant hand swing to draw attention to the possibilities of linking past ideas to the future.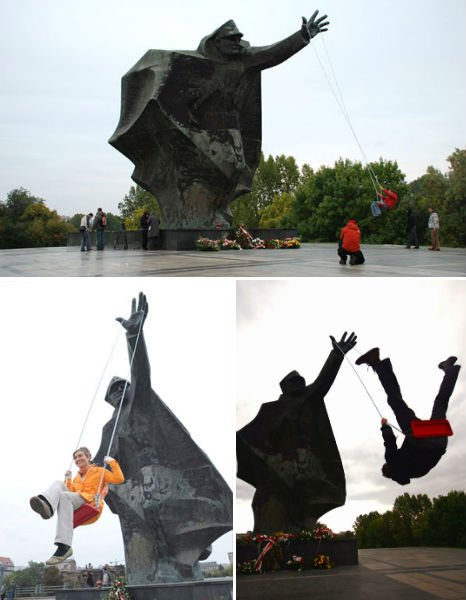 SOURCE
16. Try a Sculptural Swing
"Nature and its subtleties have always been my design program. But opulence and luxury offer the theater that I love to live with. Copper is a wonderful medium to merge these two desires". Stephen Myburgh's swings are hand made sculptures that bring into your homes this feeling of natural opulence. Soft forms that float with a strange weightless authority.

17. Urban Swing Installation Project by Jeff Waldman
The concept wiht the urban swing installation is to place swings in unusual places like under bridges, under piers and make every space of the city our own.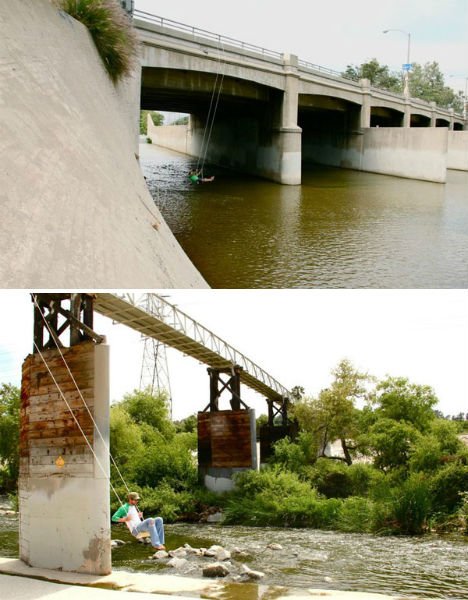 SOURCE
18. Hanging Chairs by Concept Suspendu
If you want your garden to become an exclusive space that transforms into your little piece of haven with furniture that offers you the peace and tranquility that you so want and deserve, these Hanging Chairs by Concept Suspendu are a good choice. Each chair is a limited edition piece made from wood sourced in France, for the ones that like exclusivity.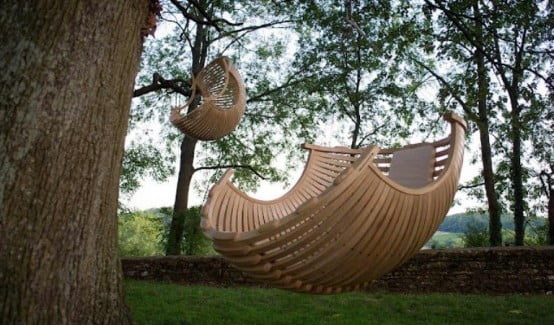 19. Create a Spectacular Swing Daybed in the Forest
The picture below seems stolen from a fairy-tale but you can have one similar in your garden underneath your trees. Just find an old light bed to hang very tightly to the tree's branches and you're good to go. The only problem is to way you will climb there so be careful.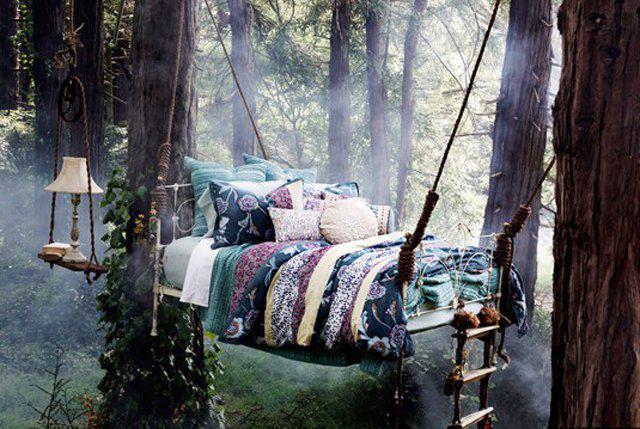 20. Suspended Cacoon Swing
Cacoon from Loopee Design resemble hanging tents where you can relax and take a nap during summer days. Or take them when you go camping, why not?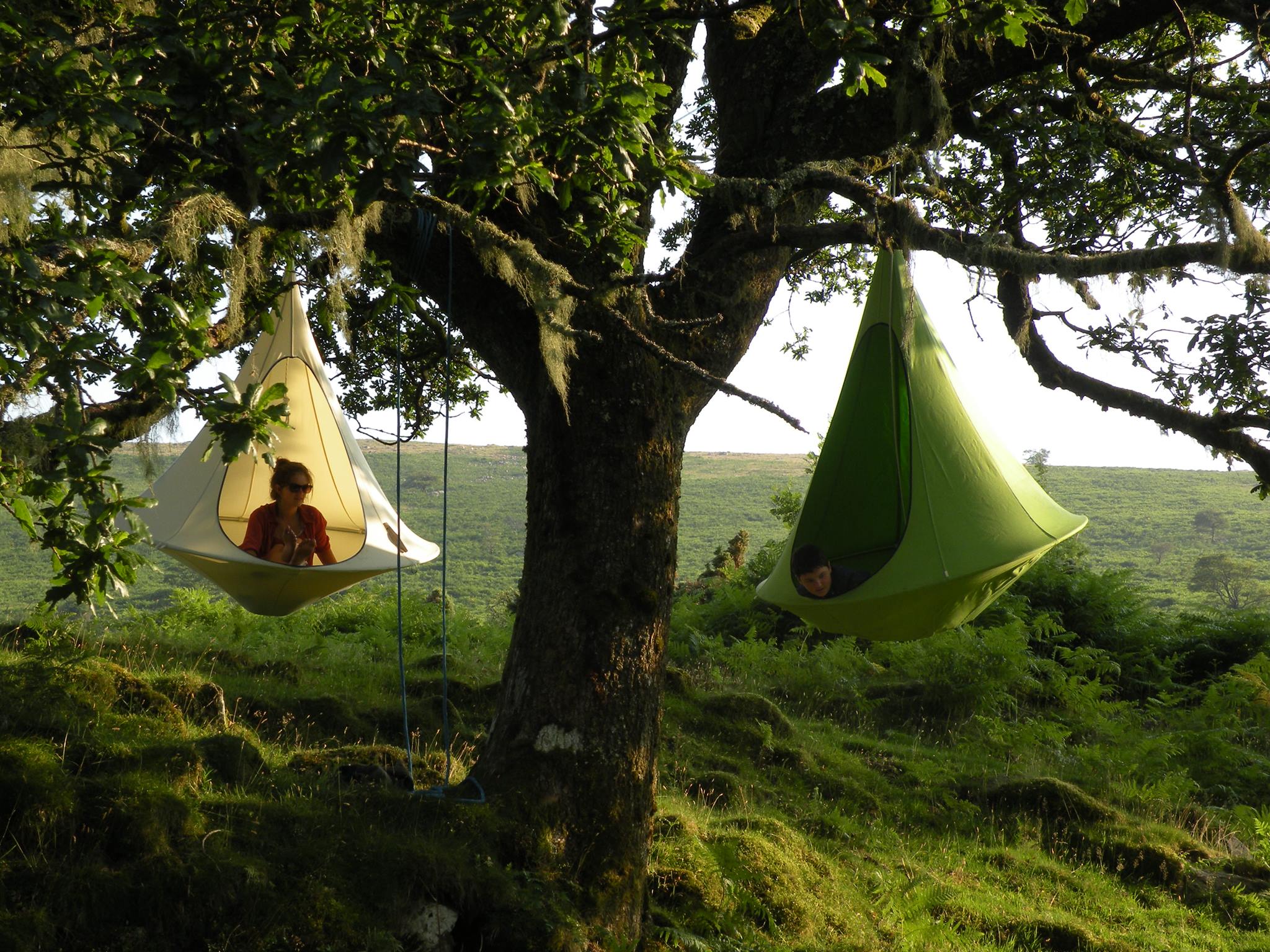 21. the Ultimate Cocoon Tent
"a Cocoon Tree empty weighs only 60 kilos!!!" (roughly 130 pounds) and thus "it's really easy to install on a tree" and "can be assembled and disassembled in 48 hours." If this easy installation process is too much for you, the company even offers to send out their installation team, which is composed entirely of "former seafarers or climbers with valuable experience when it comes to ropes and knots."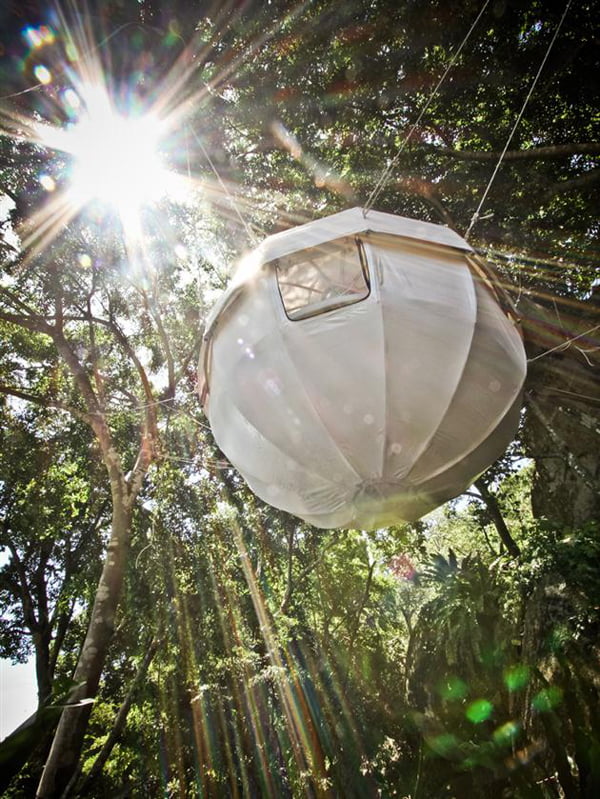 22. Make a Porch Bed
This enters under the DIY category and is a great project for improving your home. Simple to make and very beautiful.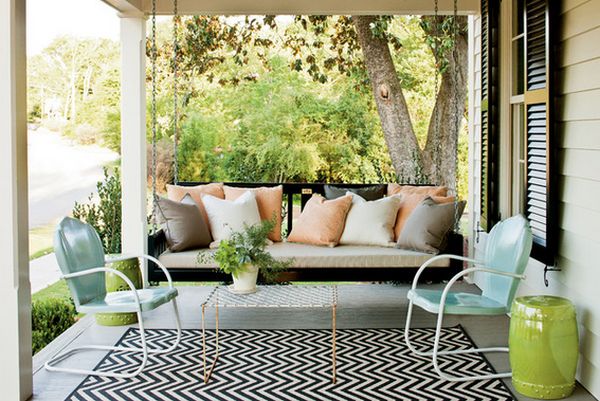 23. Swinging through the Corona Arch in Moab, Utah
You're an adventure junkie? Go rope swinging in Moab, Utah at the longest rope swing in the world. Scary, right?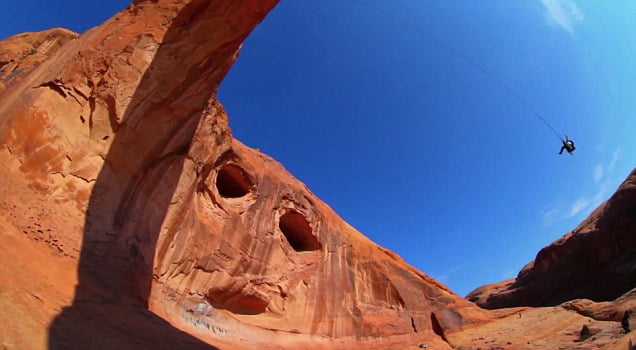 24. Make an Indoor Swing for Your kid
Your kid deserves the best so build him an indoor swing in his playground or even better two swings where you can join him. we guarantee you he will love the idea!
25.The Heart Wicker Swing
"in an intimate presentation for outdoor furniture, unique pieces of furniture based on implemented the iconography of the heart and the concept of love, balance, and communication".