What can possibly be better than a swimming pool in your backyard landscape, a small pool waterfall to create that relaxing vibrant sound while you are enjoying your favorite beverage in a suspended outdoor bed or lounge chair? Swimming pools are an oasis of relaxation and rejuvenation today and they tend to become an integral component in newly erected modern mansions and dream homes. These superb assets can be improved further on if you can believe it through certain features like LED lighting, pool waterfalls, natural sceneries and a few others. From these we will present further on some swimming pools enhanced magnificently by pool waterfalls mainly and here and there LED lighting.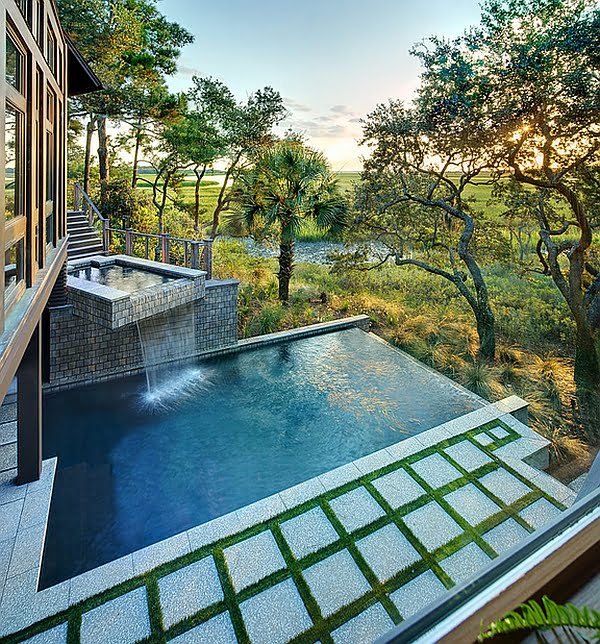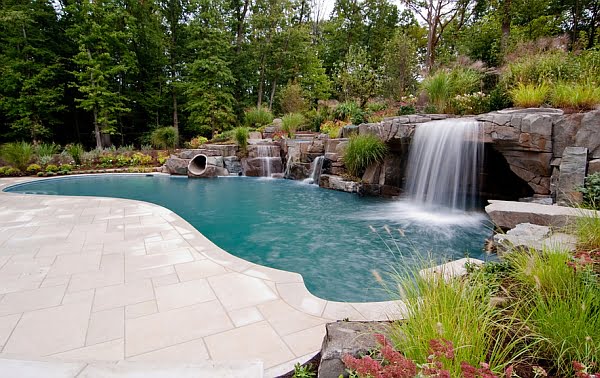 In the Chinese Design Philosophy of Feng Shui the flowing water and the positive impact of the sound it creates has a major role resembling health and happiness. Simply magical, brilliant and audacious before we have showcased a pack that will help you find your fluid path in your designs.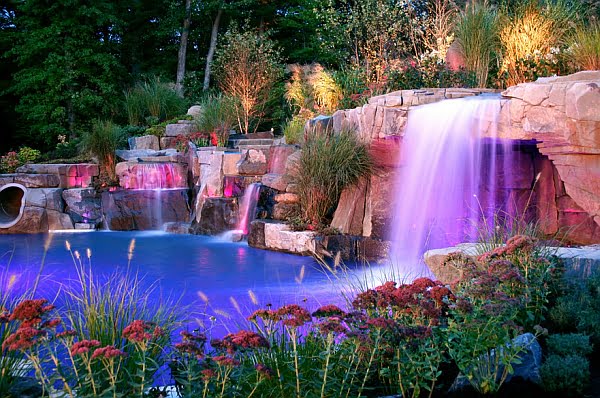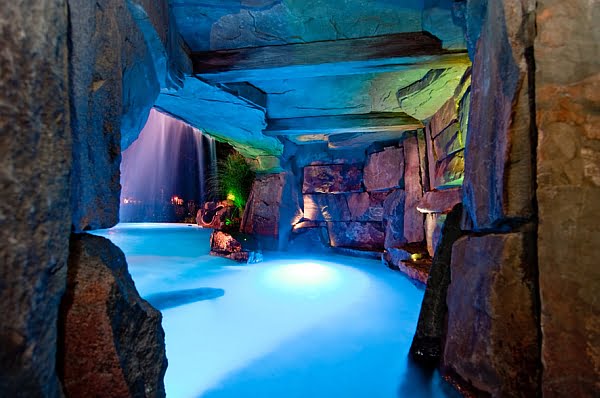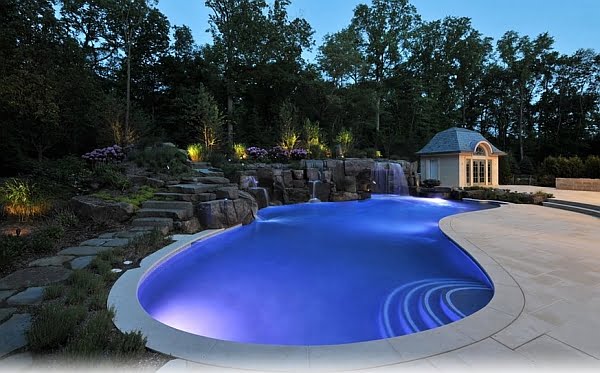 by Cipriano Landscape Design & Custom Swimming Pools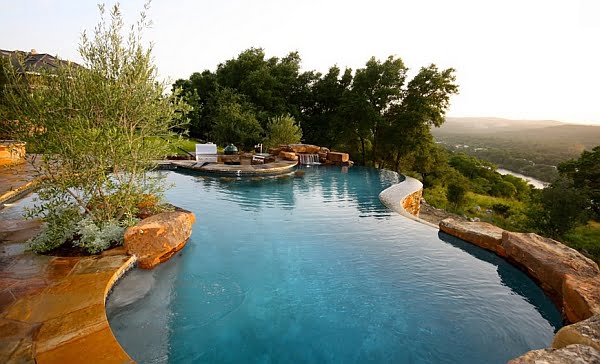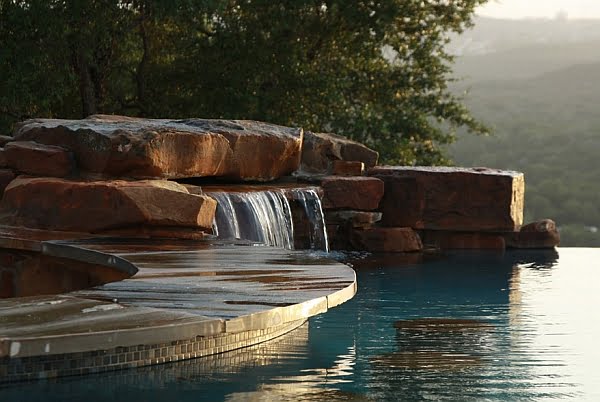 How to Create Your Own Backyard Retreat
by Design Ecology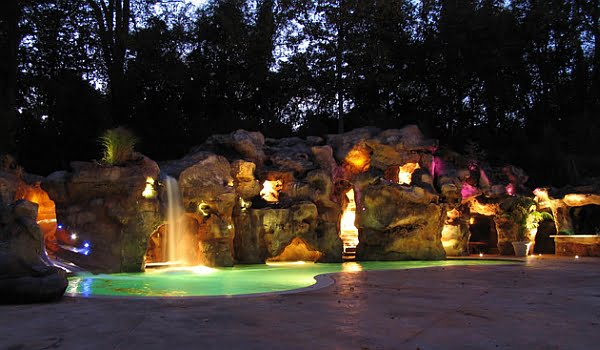 by JM Lifestyles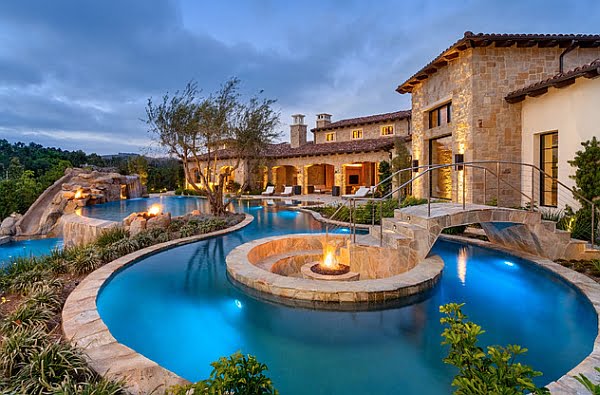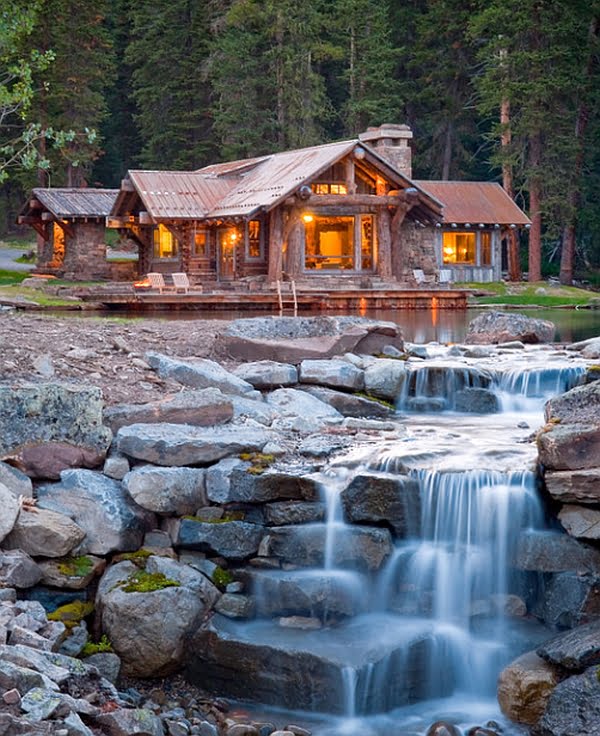 by Highline Partners
Exotic Tranquil Getaway in Your Backyard Landscape
Whether it`s residing in a tropical ambiance or a cool mediterranean setting the swimming pool will surely enhance everything. Natural stone mixed with faux rock are attempting to generate a natural scenery as close as possible to a real one. Today technology that allows homeowners to control speed of the waterfall is at hand to any individual and along a LED lighting customizable system the dynamic pool waterfall can evolve along with your mood in both flow and colors. This creates a staggering image that your guests will never forget.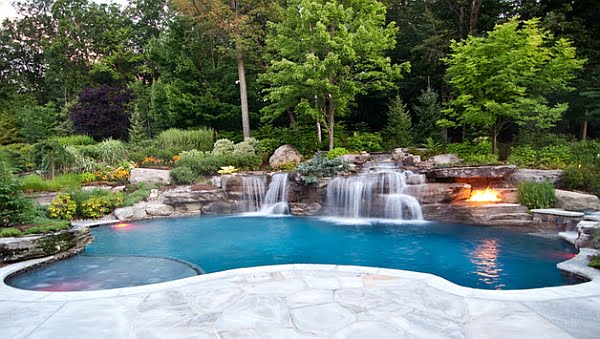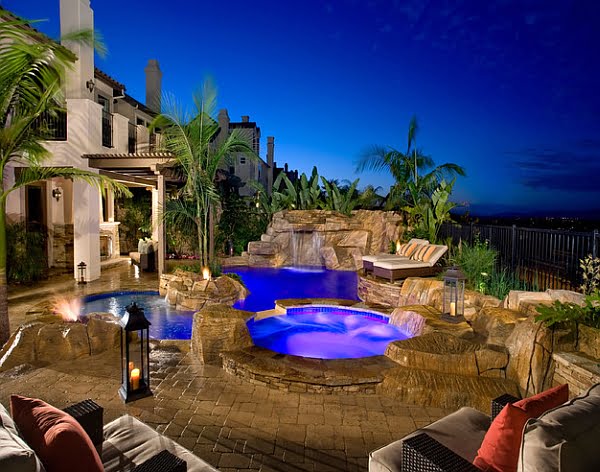 by Alderete Pools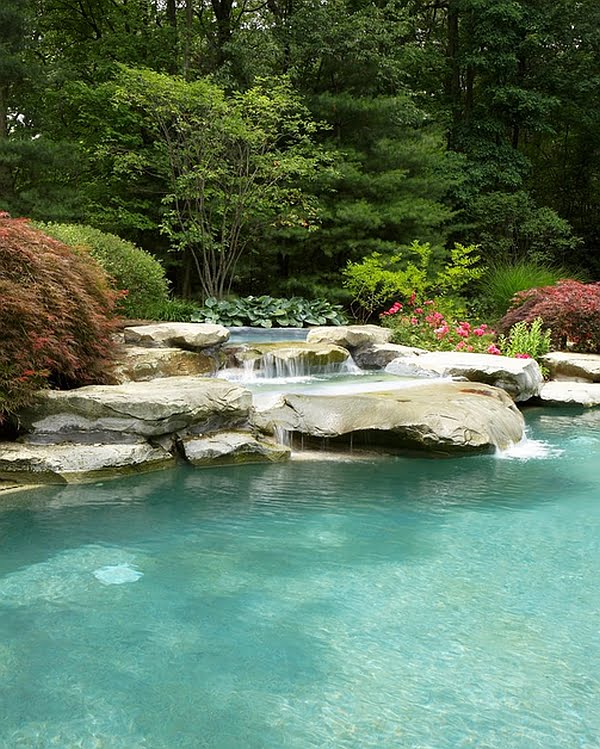 by Great Oaks Landscape Associates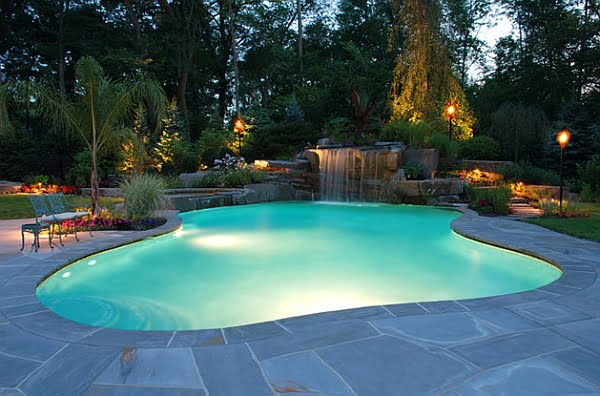 Not all swimming pools should have rocks around them but all swimming pool should have greenery around them, it`s simply the best possible combination, it creates that sense of proximity and appurtenance in the world in which the waterfall sound will be at home, vibrating though greenery naturally.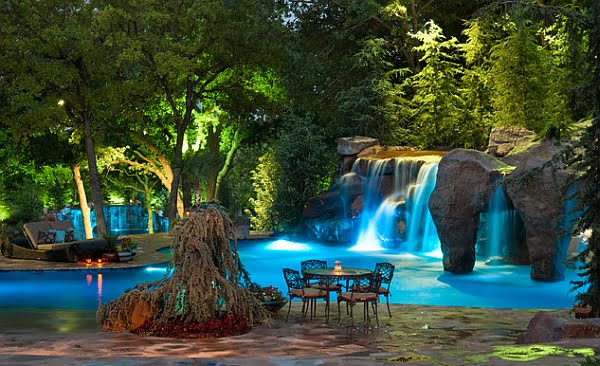 by Caviness Landscape Design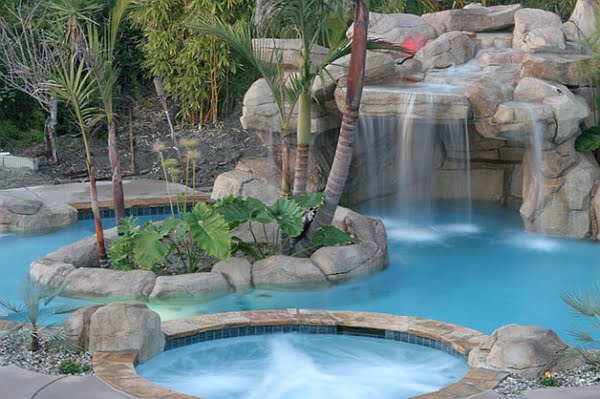 by Swan Pools Southern California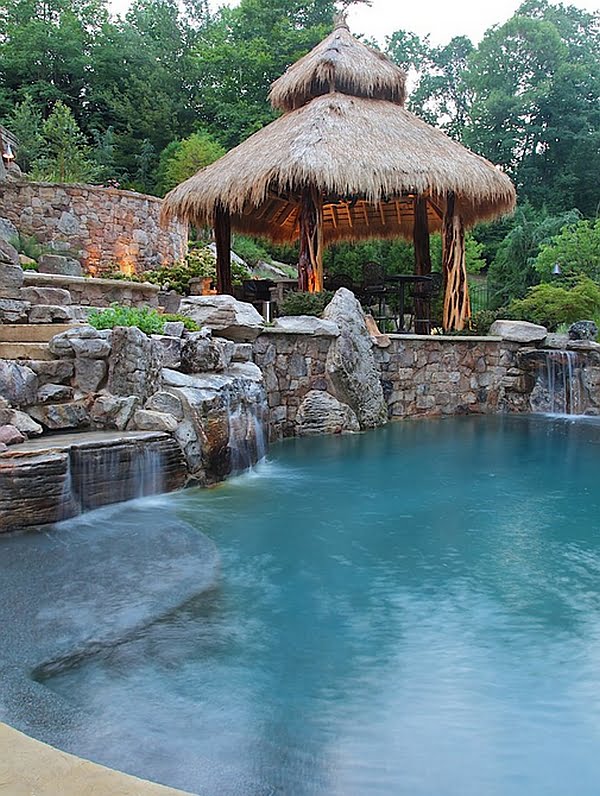 by SURROUNDS Landscape Architecture + Construction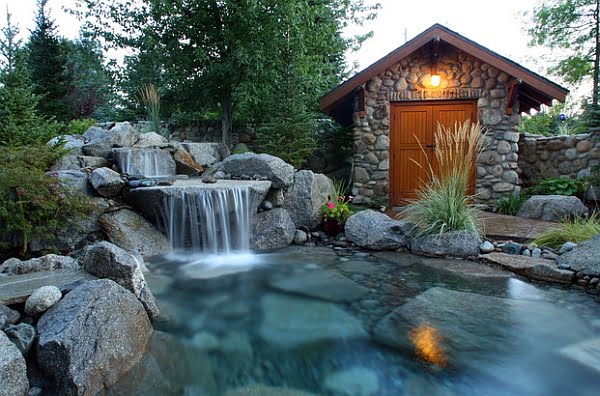 by Alderwood Landscape Architecture and Construction
Depending on the size of your waterfall you might be facing the opportunity of creating a grotto structure that will emphasize the mystical aura of your setup especially along a dim lighting setup. Most waterfall grotto designs showcased bellow are also matched with some trendy swim-up bars and serving areas that will give your relaxing evening and entertainment nights a whole new dimension. The fairy tale can go on with spiral staircases, hidden rooms ...you only have to dream and it will start happening.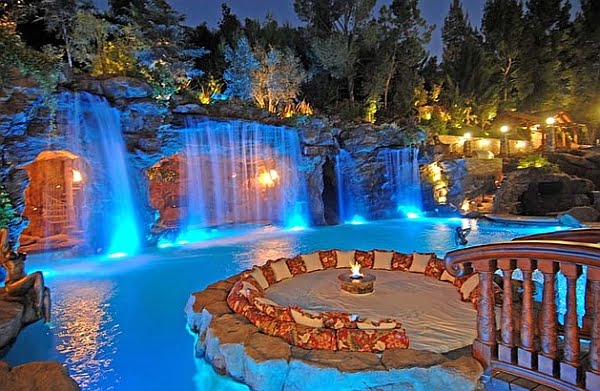 by Richard Lusk Landscape and Design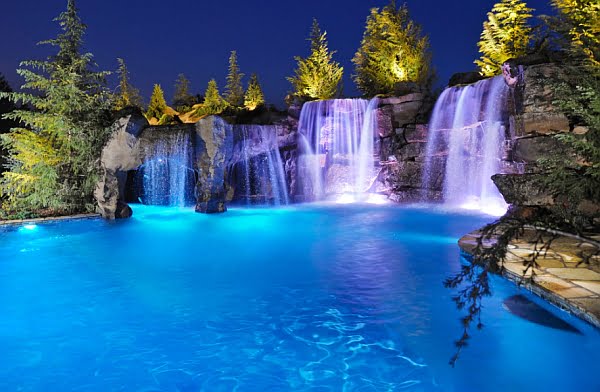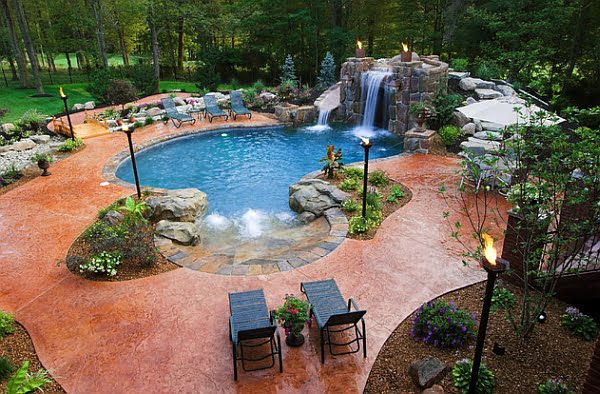 by Shehan Pools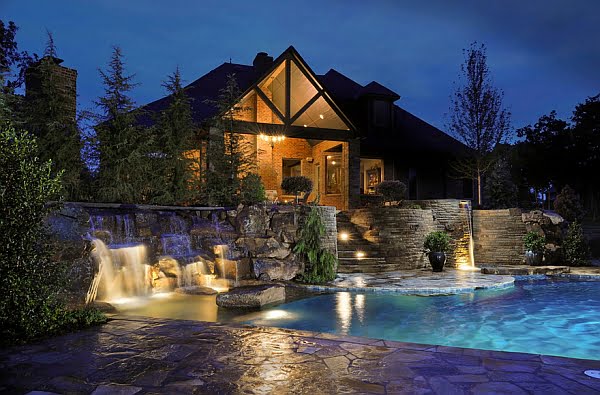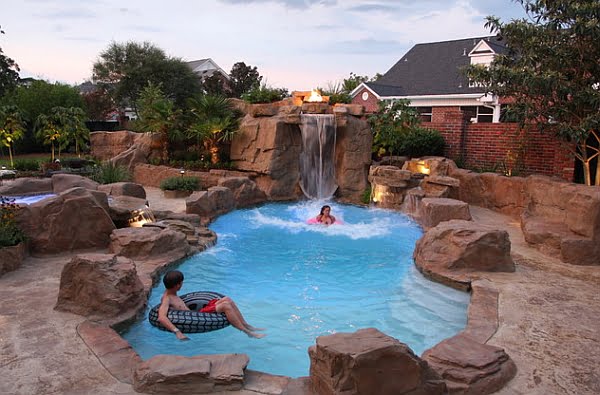 by Dolphin Pools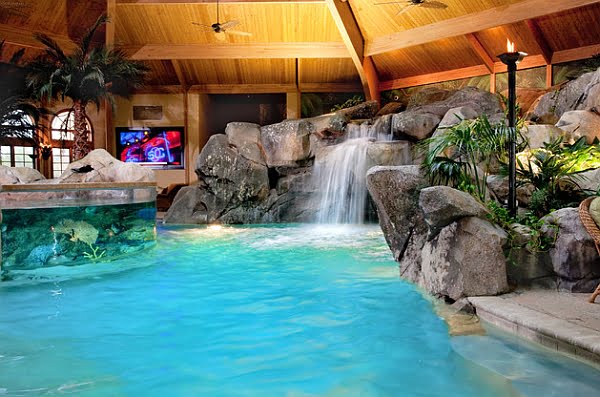 BE Creative Beyond Limits
Every picture we serve here to be fed to your imagination or any other picture you see online should encourage you to be creative and materialize something that you`ve never seen before. All these are tools at you hand. Take only the things that you like from each setup and create your perfect scenery that will fit your own backyard as a glove. Through contrast authenticity and originality we are enhancing absolutely everything. Add color, texture and sound to your outdoor space through a waterfall that can be in scene with mountains, sand desert or tropical trees. You can flank your ensemble with playful water slides that both children and grown ups would be able to use do disconnect from time to time. You can simply use three vases from which small waterfalls will emerge, not all waterfall designs should be humongous and massive yet all should be enjoyable, especially through sound.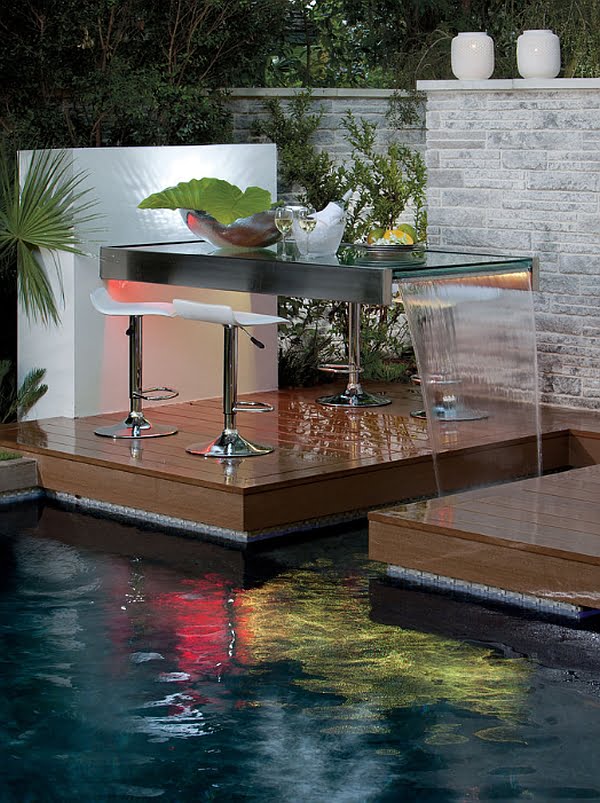 by Phil Kean Designs
by Kadir Asnaz Photography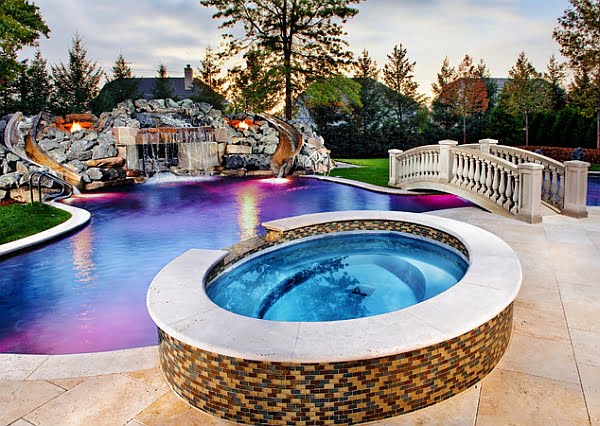 by Platinum Poolcare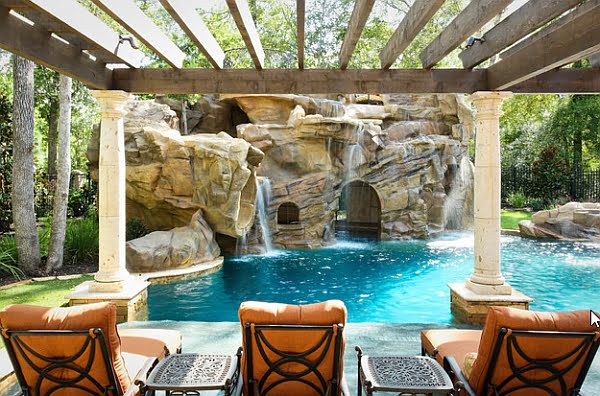 by Marquise Pools
Simple waterfalls are able to trespass conventional styles easily and elegantly. Simple vases as stated above, overflowing bowls or even a custom water screen would be able to do the job magnificently. These should be an extension of your indoor space that would naturally embrace the surroundings as a transition in which you will feel comfortable. A fireplace next to the pool or a simple lovely pergola  would complete the outdoor space design magnificently. The features that you add to you over all scene should fit effortlessly without compromises so be careful and design responsible.
by Matthew McKelligon Design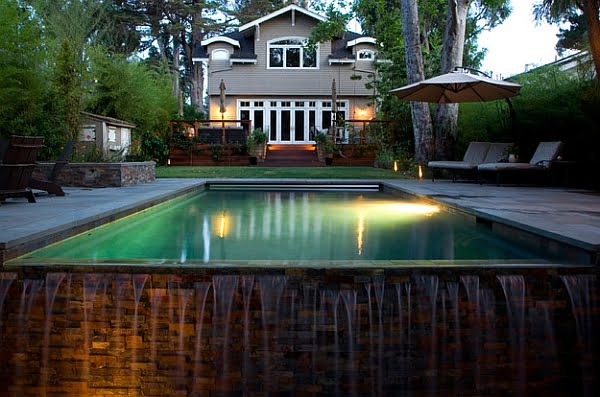 by Shades Of Green Landscape Architecture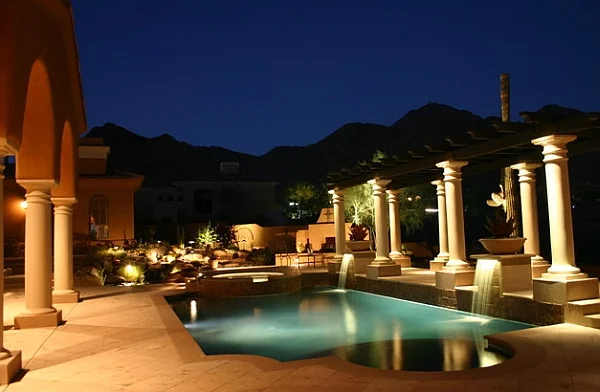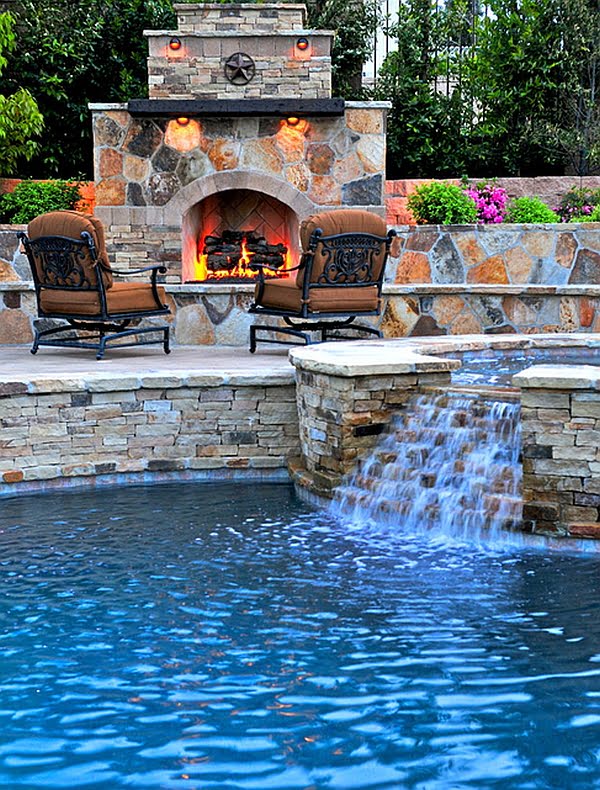 by Rue Group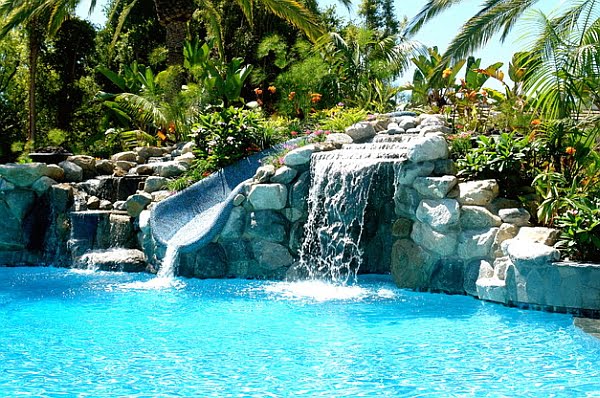 by DeMaria Landtech
by KCBA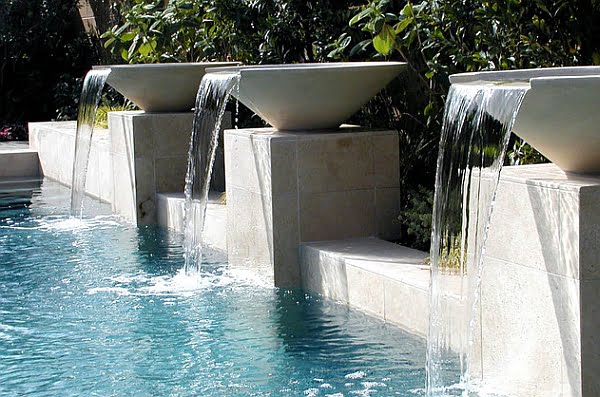 Clean Minimalist and Contemporary
Not all waterfalls should be bold or natural looking. Minimalist styled swimming pools are everywhere so a simple pool waterfall that would maintain things simply whilst being chic and elegant can be a great asset. A simple water circulating mechanism with an elegant end element is all that you would possibly need. Some would also like to use water fountains which would do the job properly even though they cannot be traditionally entitled as waterfalls they could fit your minimalist contemporary design better.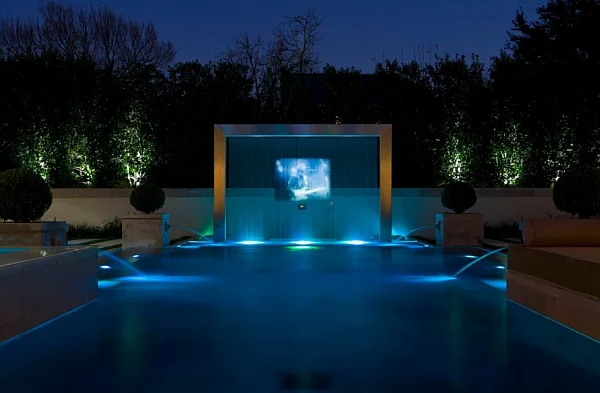 by Harold Leidner Landscape Architects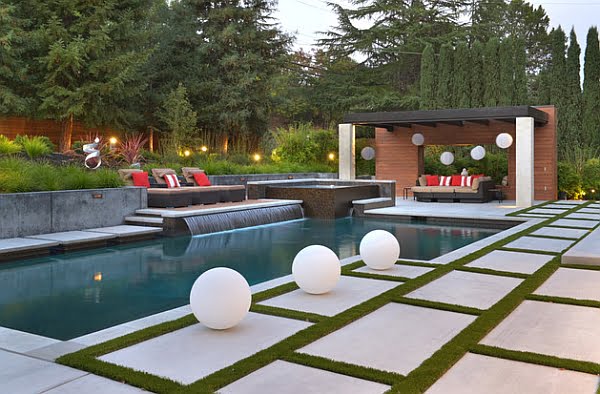 by Creative Environments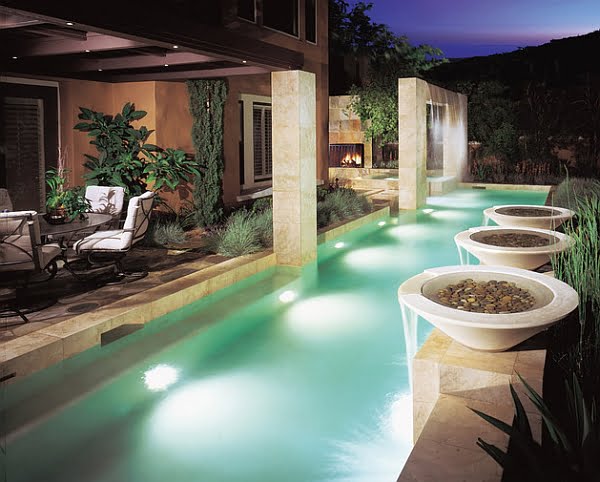 by Mark Scott Associates – Landscape Architecture
by Omega Pools
Proffesionally installed waterfalls will definitely come with a price tag. For those trying to avoid the huge expense yet bring the amazing sound in their backyard there is creativity, imagination, improvisation. Serene, beautiful, dramatic and captivating the waterfalls are able to transform any pool in a fairy tale.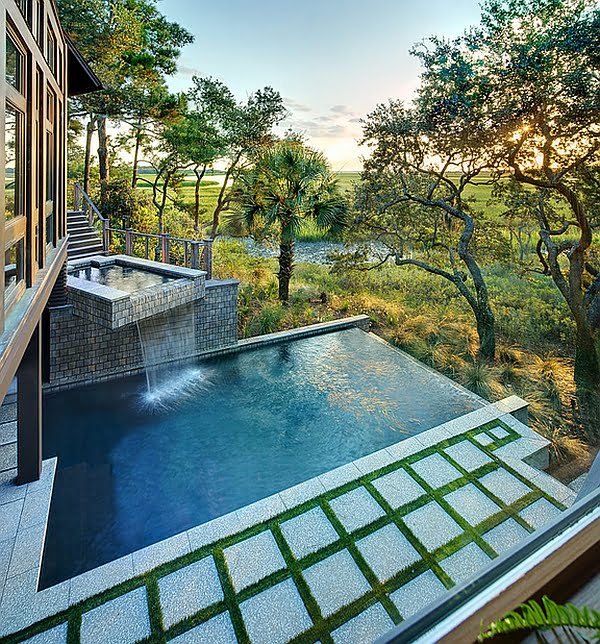 by The Anderson Studio of Architecture & Design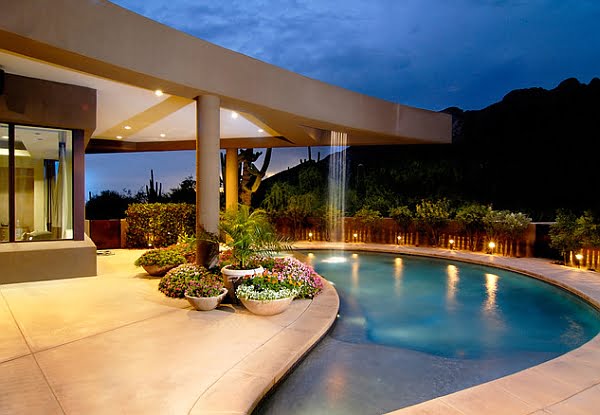 by Robinette Architects
by Sunmar Construction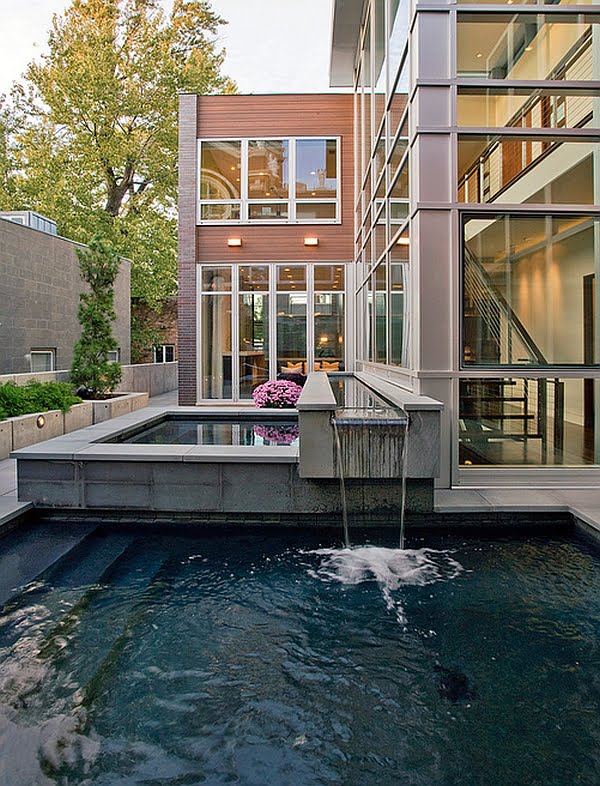 by Nicholas Design Collaborative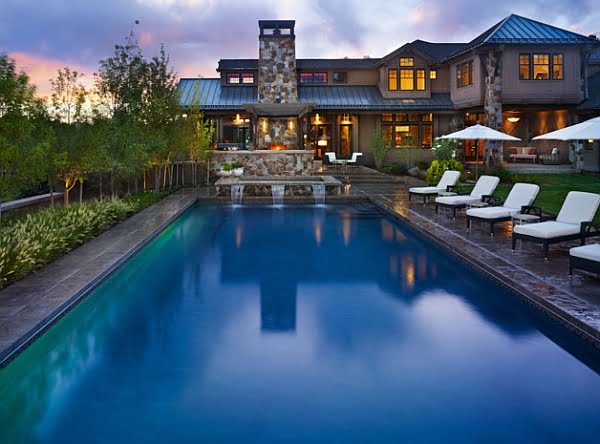 by Ekman Design Studio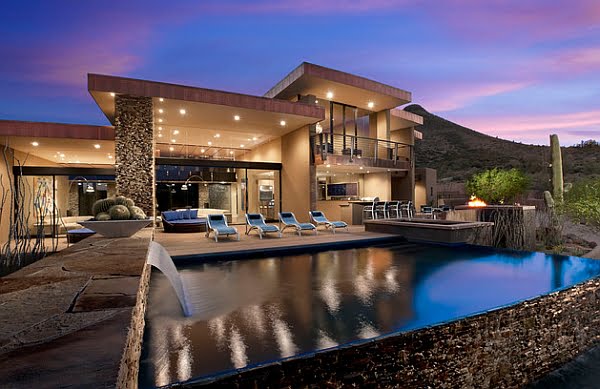 by Tate Studio Architects
What do you think? What kind of waterfall would you add to your dream swimming pool? We would love to hear your opinion in the comment section below, Facebook, Twitter or G+!
Related Articles
5 Best Above-Ground Pool Pad | Buyer's Guide and Reviews
5 Best Epoxy Pool Paint | Buyer's Guide and Reviews
10 Best Pool Cover Pumps of 2022 | Buyer's Guide and Reviews