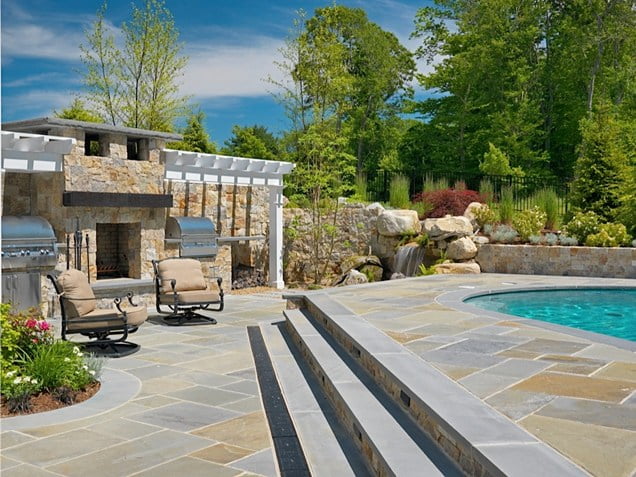 With this as an icebreaker, we are starting a series, that will guide and advice you in backyard landscaping design. After reading the last article , hopefully you will be able to use this in order to design your dream backyard using the information. An important item in backyard landscaping ideas and probably a must have is the fireplace…In this article we are going to see the different types, sizes, shapes and solutions for every situation and.
The awesomeness of fireplaces has made them a hugely desirable item. The great part about this is that the options are virtually endless. You can have basically anything you can imagine from a traditional design to a 100% custom one.
Exterior Fireplaces Meant to Enhance Your Living Quality
Traditional design
Recognizable arched shape and brick or stone finishing , this model will fit right in your rustic backyard.
Southwestern design
Most often than not finished in stucco, an outdoor southwestern style fireplace can be decorated with colored ceramic tiles. Also , for authenticity , the chimney structure would be a stair step one instead of a straight or slope one.
Modern design
Featuring clean-cut lines and industrial materials, this design looks great in the modern backyard garden setting. The best materials for it include stainless steel and/or concrete. The shapes fall into the rectangular, monolithic design category.
Mediterranean

 Design
Using a simple structure and colored ceramic tiles decorating the firebox are the defining features of the popular Mediterranean design originated in Morocco.
These are just a few examples of fireplaces that can transform your backyard into the little corner of heaven you always dreamt it could be. But you are in no way limited to popular tendencies. Adding a nice cozy fire , improves any moment, whether it`s scary story time, a special moment with your significant other, a relaxing read, or a drink with your friends. So having established that , let`s look into some other options of `firing things up `.
Portable Fire Pit
A portable fire pit gives you versatility. Because of the circular shape and portability, it`s ideal for when your friends come over and it`s a guaranteed cozy , homey atmosphere which everyone will enjoy. Here too you can choose from an entire array of stiles, shapes and whatnot. If you don`t like the hassle of making your own wood fire, some high end portable fire pit models come with a natural gas source, but nothing compares with a wood fire when enjoying some outdoor moments watching the sun slowly set in the summer evening.   Mobility means that you can change the design of your backyard if you want to experiment, without having the constraint of the fixed fireplace, also if you decided to sell your house it can make it more appealing to a buyer that may not want a fire pit.
Built-In Fireplace
The epitome of outdoor home features, a built-in fireplace, preserves and matches the overall look of your outdoor home design and adding to your real estate value. A great enhancement to your patio , the built-in fireplace also provides additional comfort by being protected from wind which can turn your relaxing evening into a chaos of flying ash, smoke and ember. The choice in furniture for the fireplace-patio ensemble should be oriented towards low , deep comfy chairs, with soft cushions that maintain the homey relaxed atmosphere around the fireplace , placed around a coffee table. Bare metal should be avoided as it can get hot to an uncomfortable level due to high heat conductivity. Another great option for the seating arrangements is the usage of built-in seating. It can be designed as an extension of the fireplace and finished in accordance. Also the sky is the limit when it comes to layouts, style, shapes. The ideal dimension should be the same as above with low height and comfortable cushion, especially as the seats themselves would be made out of concrete , brick or stone, depending on the fireplace design. The height should be around 20 inches. Commonly known as seat walls, this seating arrangement is not a thing you should disregard when you decide what suits your case best.
We are continuing our Backyard Landscaping Ideas series with detailed and necessary information that will help you make the best and most suitable choice of the outdoor fireplace you always wanted. In this article of the Backyard Landscaping Ideas series we will go through placing, dimension, materials, finishing and more crucial points you need to go over when you decide to take your backyard to the next level.
Outdoor Fireplace Kit
Due to the fact that building a fireplace from scratch can be challenging, time consuming, and requires a certain level of masonry skill, a lot of manufacturers offer the option to buy a kit which contains all the tricky structural parts of the fireplace already prefabricated. This allows you to put together your fireplace on site easily.
The main components in the kit are the firebox and the chimney and it is crucial that they are manufactured with quality materials. Opposed to the classic brick and mortar which will degrade structurally in time due to cycles of contraction/expansion, composites like pumice and refractory cement radiate heat instead of absorbing it, which drastically improves durability.
A premium quality outdoor fireplace kit should incorporate a few important characteristics like : Interlocking joints which are important for structural durability, lightweight composite materials which improve durability and will be easy to put together also,a chimney manufactured out of refractory material with a proper throat design that guarantees it draws good, a good angle on the back wall to improve heat radiation.
Another advantage of the outdoor fireplace kit option is that all the kits in the market are properly tested and approved to standards similar to indoor units in order to ensure proper functionality.
Also , the variety of designs, sizes, shapes that you can find is practically limitless, and you can choose the one that suits your taste the best. One thing you have to do yourself though is have a foundation in place made to match the manufacturers specifications. This is of utmost importance especially if the model you chose has a larger height which makes it vulnerable high speed wind.
The finishing should be chosen in order to perfectly match the environment you picked.
Another option is to buy the fireplace fully finished and all you need to do is set in in place, anchor it and if desired connect it to a gas line. This option has a few disadvantages like the need of a crane or other type of heavy equipment do to increased weight, not finding a finishing that perfectly matches the surroundings, which is a must if you want your backyard landscaping ideas to come to life like you dreamed.
Outdoor fireplace design
When brainstorming with the family for backyard landscaping ideas , one thing should definitely not be underestimated. That is the location of your outdoor fireplace. The position you choose will have a great impact on the whole atmosphere that the scenery you create will induce to the observer. It will also establish how often will you use that outdoor fireplace. Keeping in mind that and outdoor fireplace becomes an important focal point in your backyard landscape should help you find an ideal position which will also not distract any attention from other focal points or zones that you consider of interest.
Ideal dimensions for an Outdoor fireplace patio
Due to the obvious fact that the functionality of a fireplace is concentrated at the front side, it can be located against any kind of wall, fence or corner whilst making sure it has the right amount of space in front of it to be enjoyed as it was meant to.
What does this mean in actual dimensions? Well, for a small fireplace you will be wanting about 12 by 12 foot (that is about 3.65 by 3.65 meters) while for a larger one you will need at least 18 by 18 foot (which amounts to 5.4 by 5.4 meters).
Local Construction Codes
This an aspect of utmost importance and it should not be overlooked, as it might cause a rebuild of your chimney due to wrong positioning or wrong dimensioning. Zoning regulation can and probably will include things such as minimum distance to an existing structure, property line etc. , height of the chimney and so on. The first thing you should do when and outdoor chimney appears on your backyard landscaping ideas list, should be contacting your local city planning office.
Privacy
Another thing you shouldn`t take lightly is privacy. Ideal for setting an intimate atmosphere, and outdoor fireplace should be placed away from prying eyes. Do your best to ensure that the front of your fireplace is out of sight while also taking into account that you shouldn`t block a potential view you might enjoy from your back windows like a beautiful lake scenery, a skyline or what have you.
Wind Direction
This can turn your calm relaxing atmosphere next to your outdoor fireplace into the hell on earth of backyard landscaping ideas. Predominant wind direction is a very important factor when deciding placing and orientation of your outdoor fireplace.
Make sure it will act like a wind breaker, which will create a sea of silence(well maybe a small lake) in front of it, allowing you to relax and have a good time.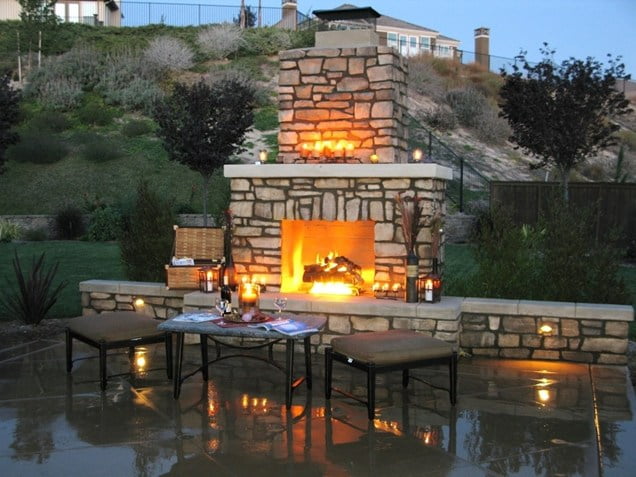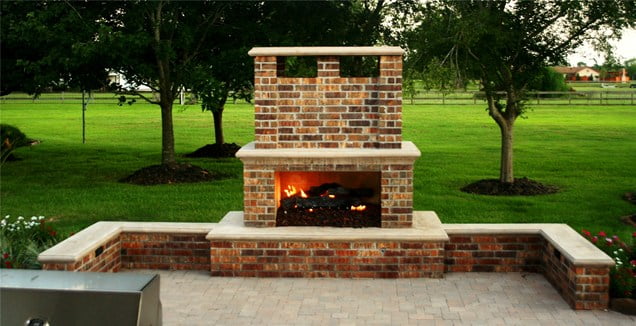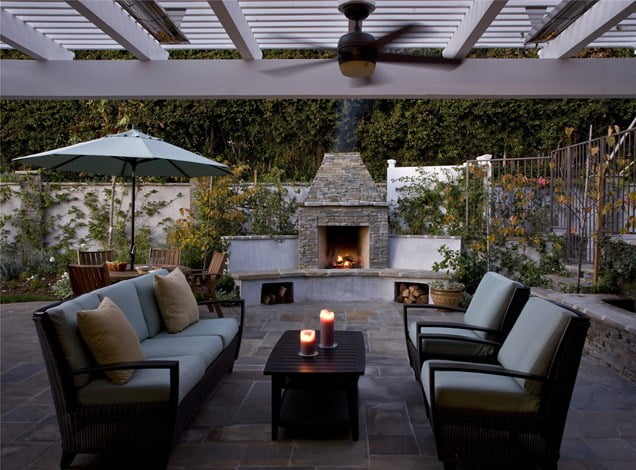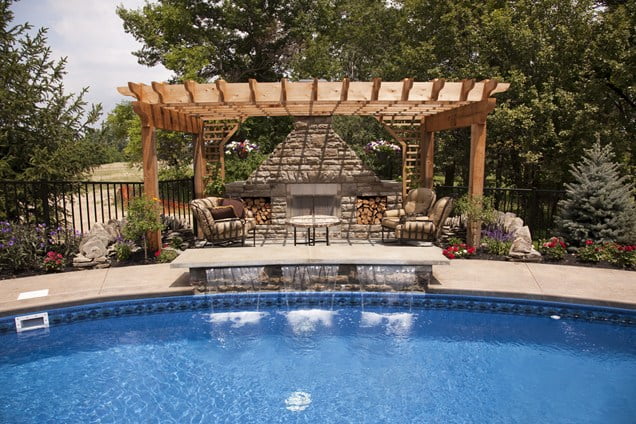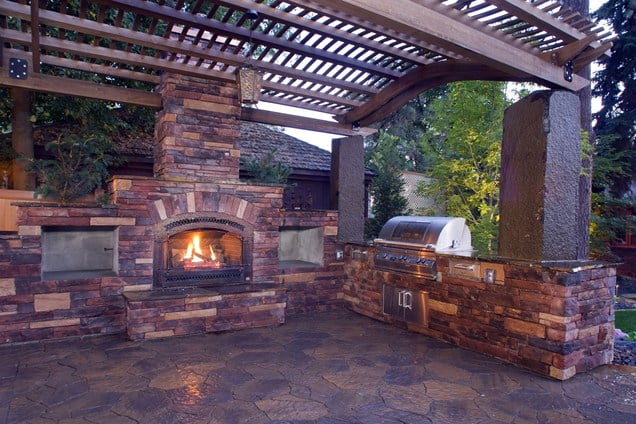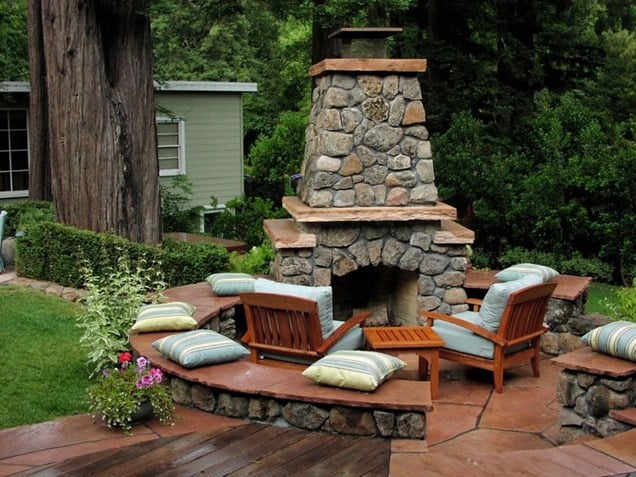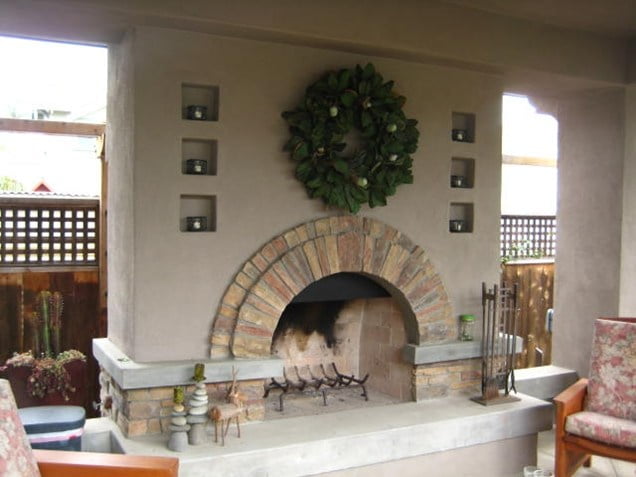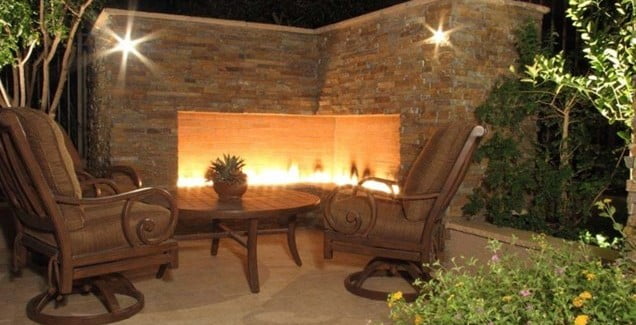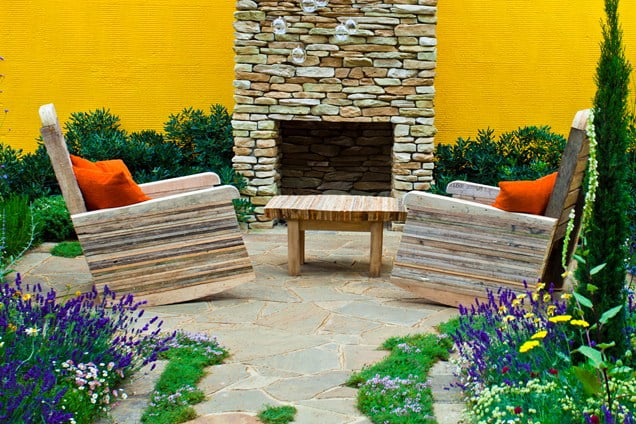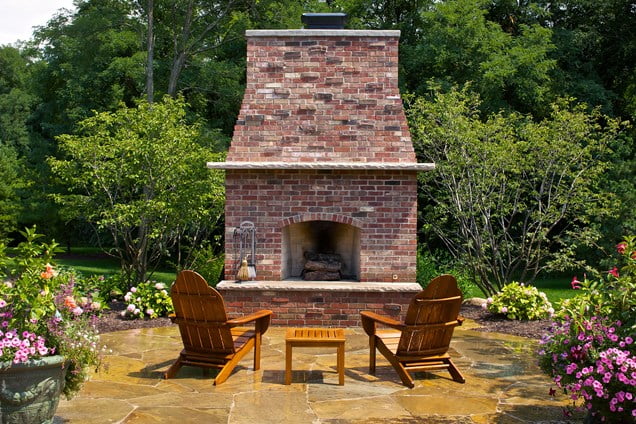 Related Articles
6 Best Wood Stove Fans in 2022 | Buyer's Guide
19 Types of Fireplaces for Your Home
To Mount or Not to Mount a TV Over The Fireplace – Pros & Cons
Learn What the Malm Fireplace Is, Timeless Design Explained
20 Stunning Firewood Storage Focal Points & Their Magical Fireplaces
Backyard Landscaping Design Ideas-Amazing Near Swimming Pool Fireplaces
13 Best Copper Fire Pit to Enjoy This Fall
10 Best Gas Logs of 2022 Reviewed
17 Small Front Yard Landscaping Ideas To Define Your Curb Appeal