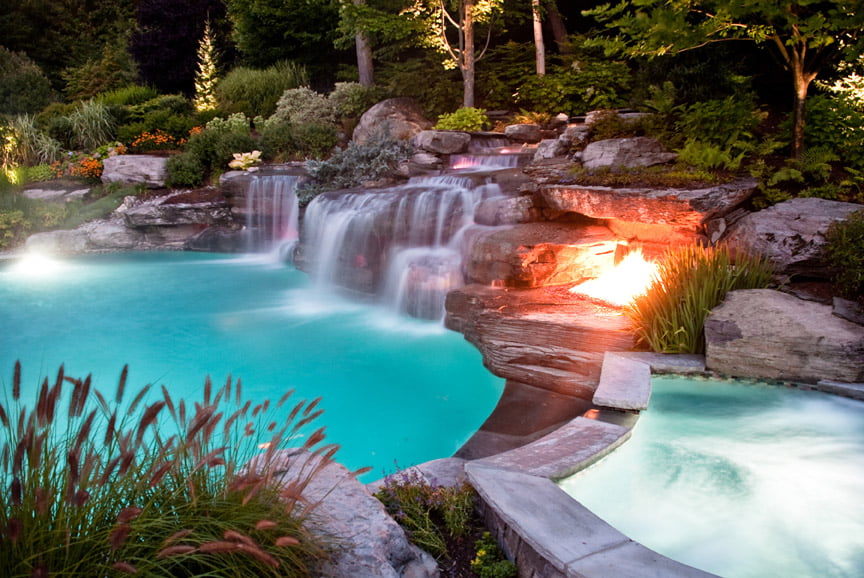 I think we can all agree that swimming pools and fireplaces are the ultimate additions to a wonderful backyard landscaping design. But what happens when you combine them in a brilliant way? Picture perfect. A piece of heaven in your own backyard.

When we design our own backyards we usually try to create an artificial environment that reminds us of the mountains, sea the natural world in general. There is nothing like experiencing the beauty of the wildlife and the freedom that comes with it so the perfect dream home should replicate it as much as possible. This way we can bring a piece of heaven into our homes, one that we can enjoy every evening and every day. After all, creating such a stunning backyard with a swimming pool and a fire pit or fireplace means that you create a landscape that you can enjoy from the inside of your home as well. It's a wonderful addition that improves the living quality of your home all year round. There is no doubt about the fact that the more money you put in int the better it will look but you'll be surprised how a very well spent amount of money can make a difference. For example consider using unpolished stones for decorations and perhaps a swimming pond instead of expensive tiles. Combine those with some greenery and you'll end up with a wonderful natural and rustic design that changes the entire feel of your home. And definitely puts you in a better mood every time you see it. You just have to invest some time in it to find the right materials and backyard landscaping design ideas.
Backyard Landscaping Design Ideas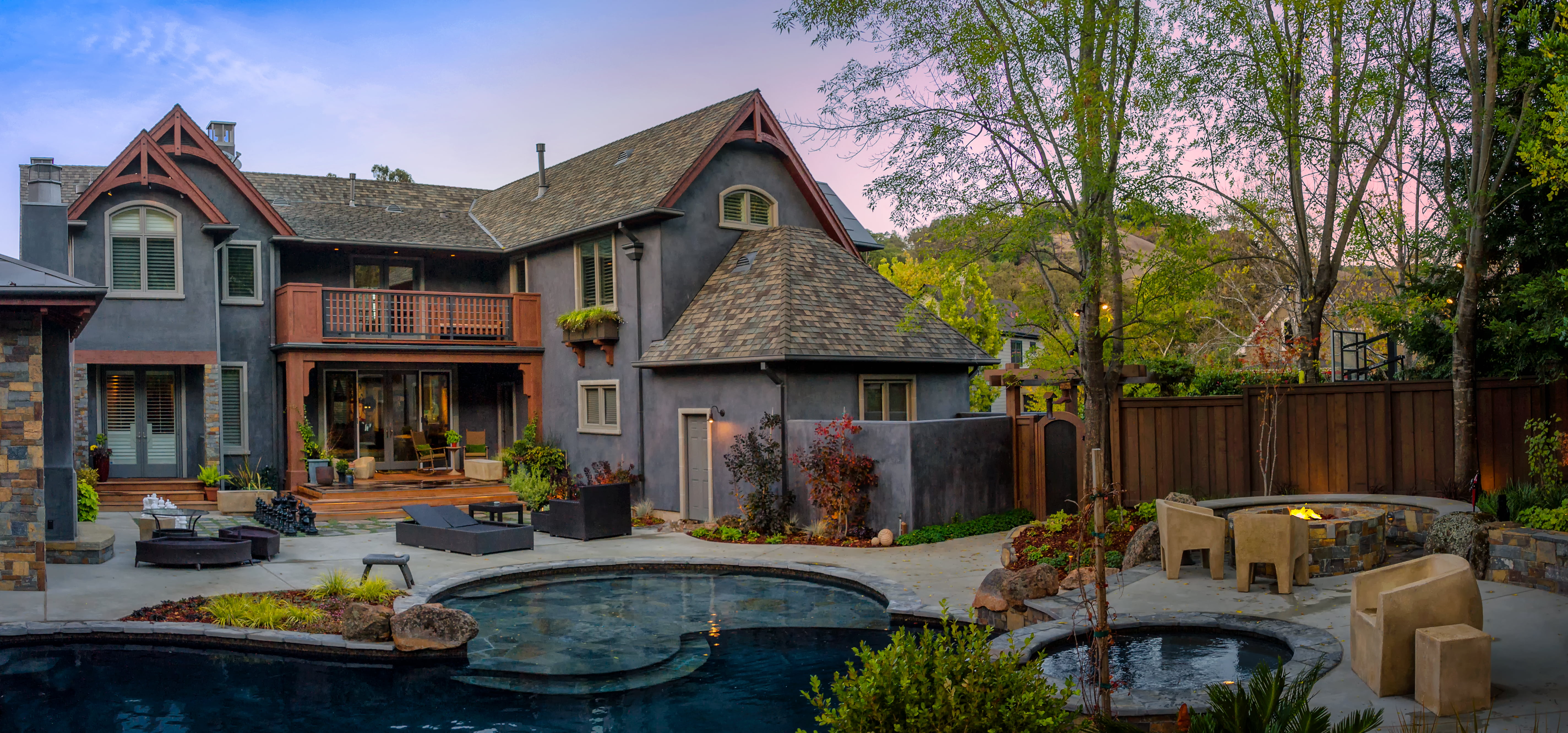 Traditional Looking Swimming Pool Fireplaces
Generally speaking there are two ways of designing a backyard landscape; it can either embrace a more rustic and natural appearance or a modern, contemporary one. They are equally amazing and will improve the way your home looks and feels in the same manner but the image can be completely different. The difference is in the materials used in the design. So if you prefer a more naturalistic design, I suggest you get your inspiration from a natural environment seen in a picture or perhaps in real life. After all, the purpose is to replicate it. The traditional design can be achieved by using stone as material for both the swimming pool and fireplace or even bricks that are not covered afterwards but kept simple for the beautiful masonry to remain visible. The shapes and forms are just as important. Look into the way people used to build fireplaces in the old days because the idea is still the same. You can combine it with a wonderful wooden pergola design. This will create a shaded environment, perfect for sunny days. And don't worry about it catching fire too much; nowadays you can find all sorts of substances that will make it fireproof. What matters is that you end up with a relaxing and welcoming environment. Plants and trees are just as important as they are the best reminders of the natural world. And you want as many green spaces so pay attention when choosing what you'll plant there. In any case, make sure that the design in its whole matches the design of the house for a perfect landscape.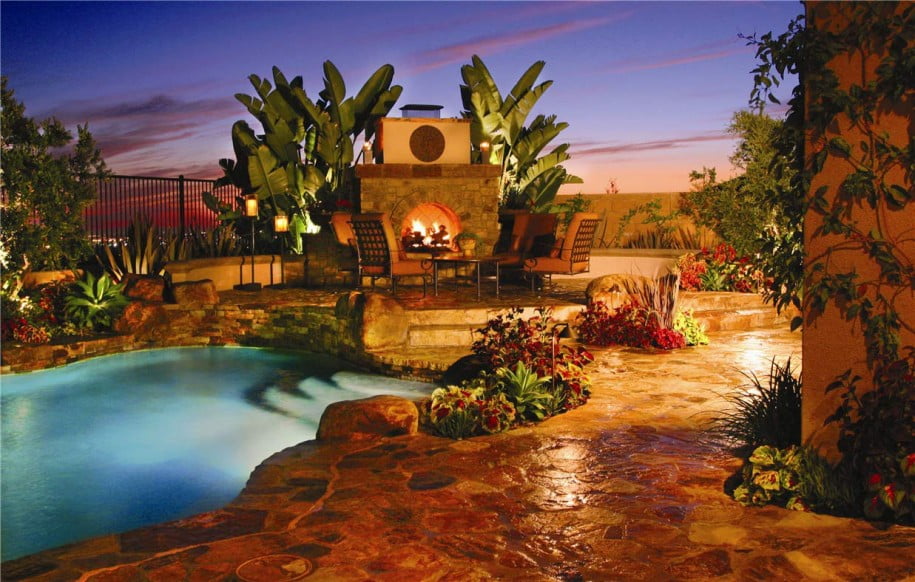 taees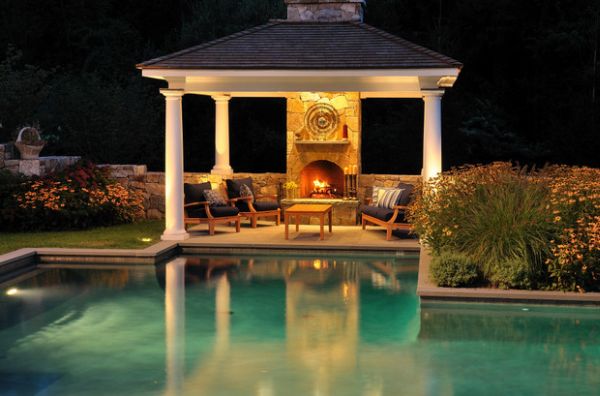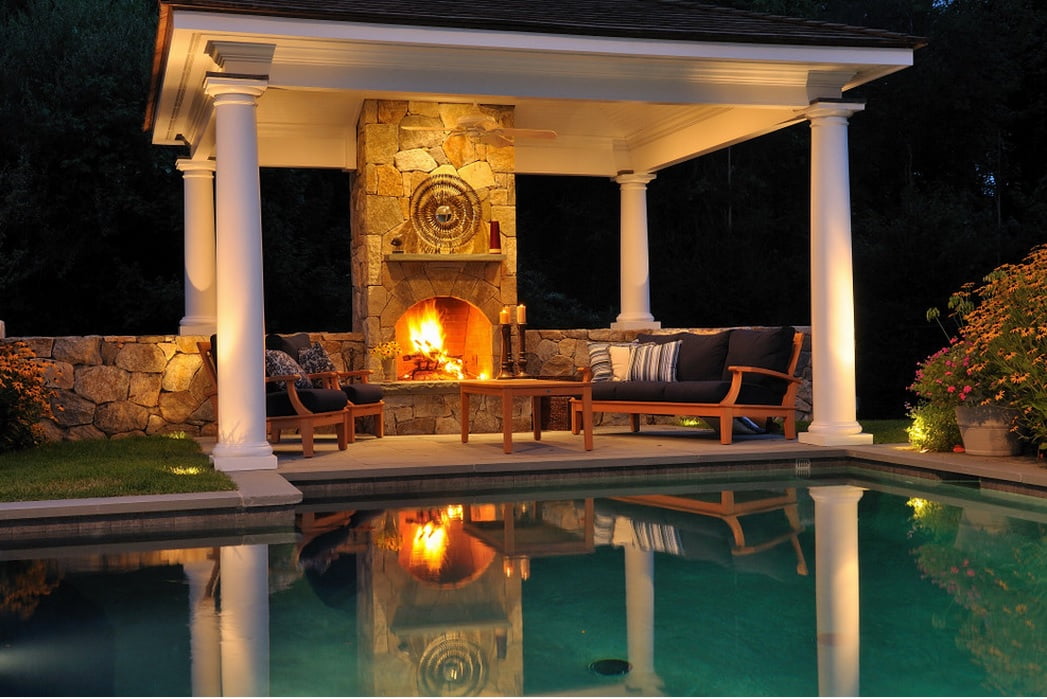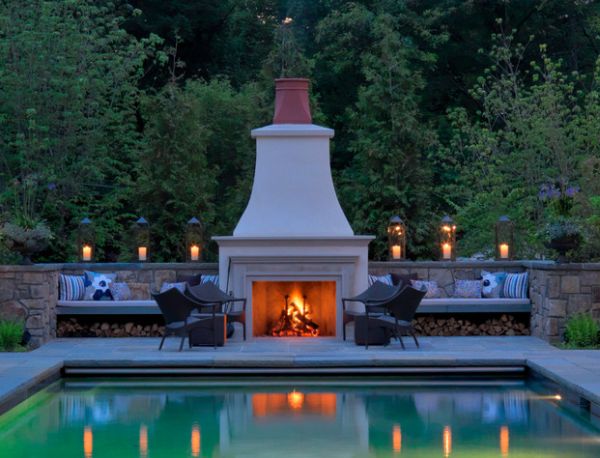 Katherine Field and Associates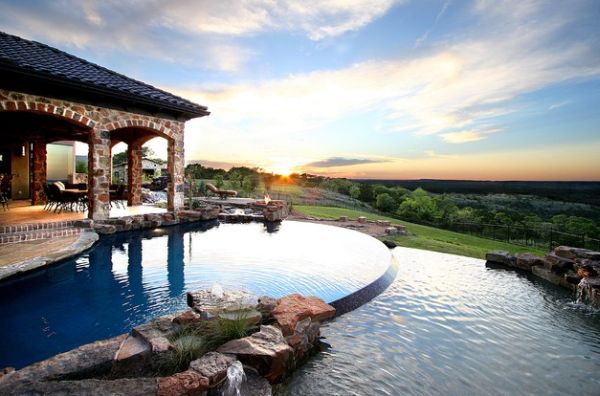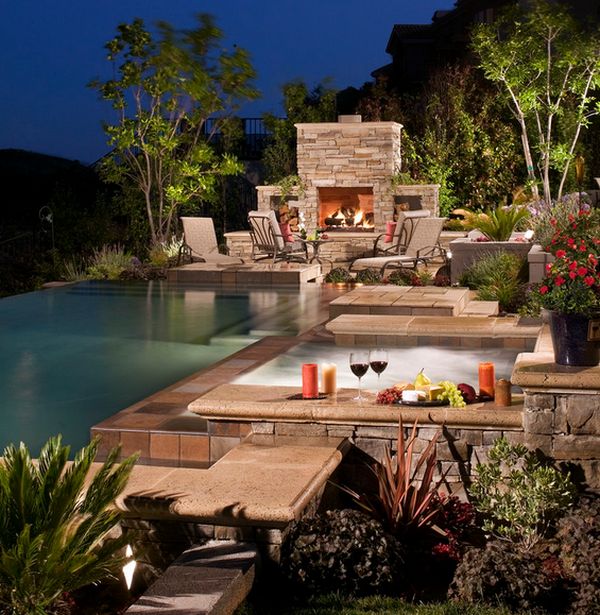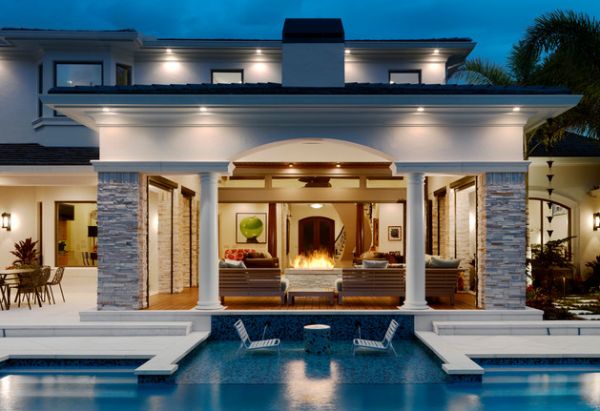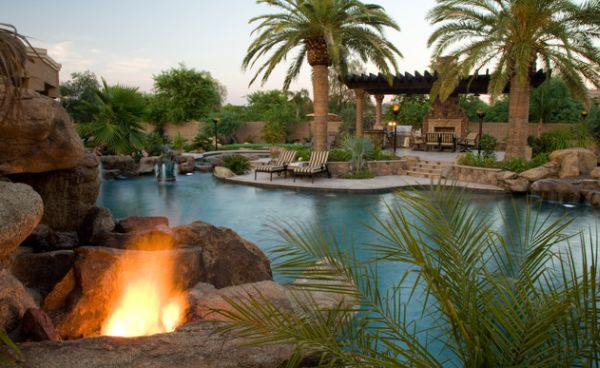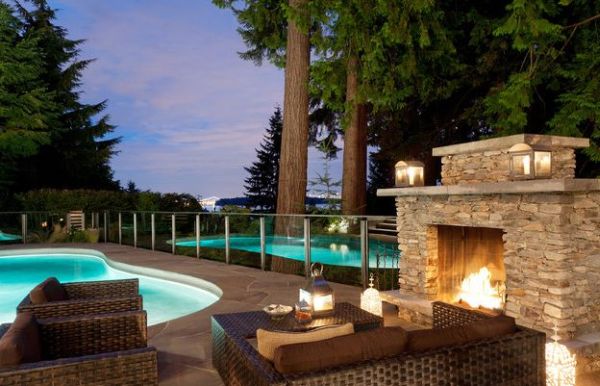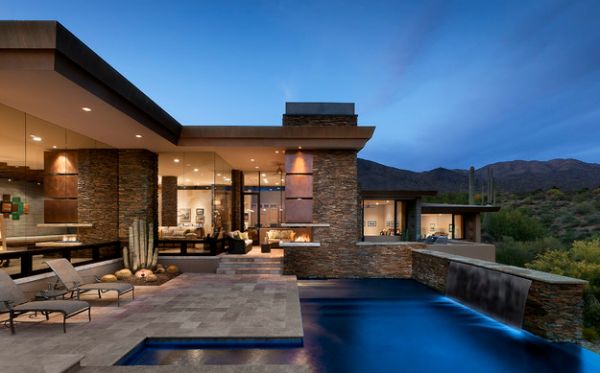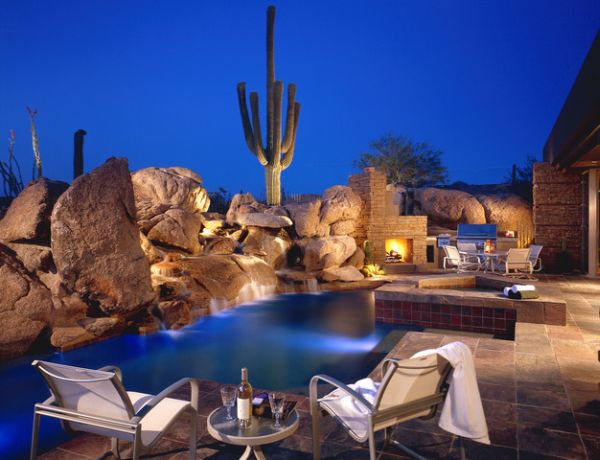 Sterling-Huddleson Architecture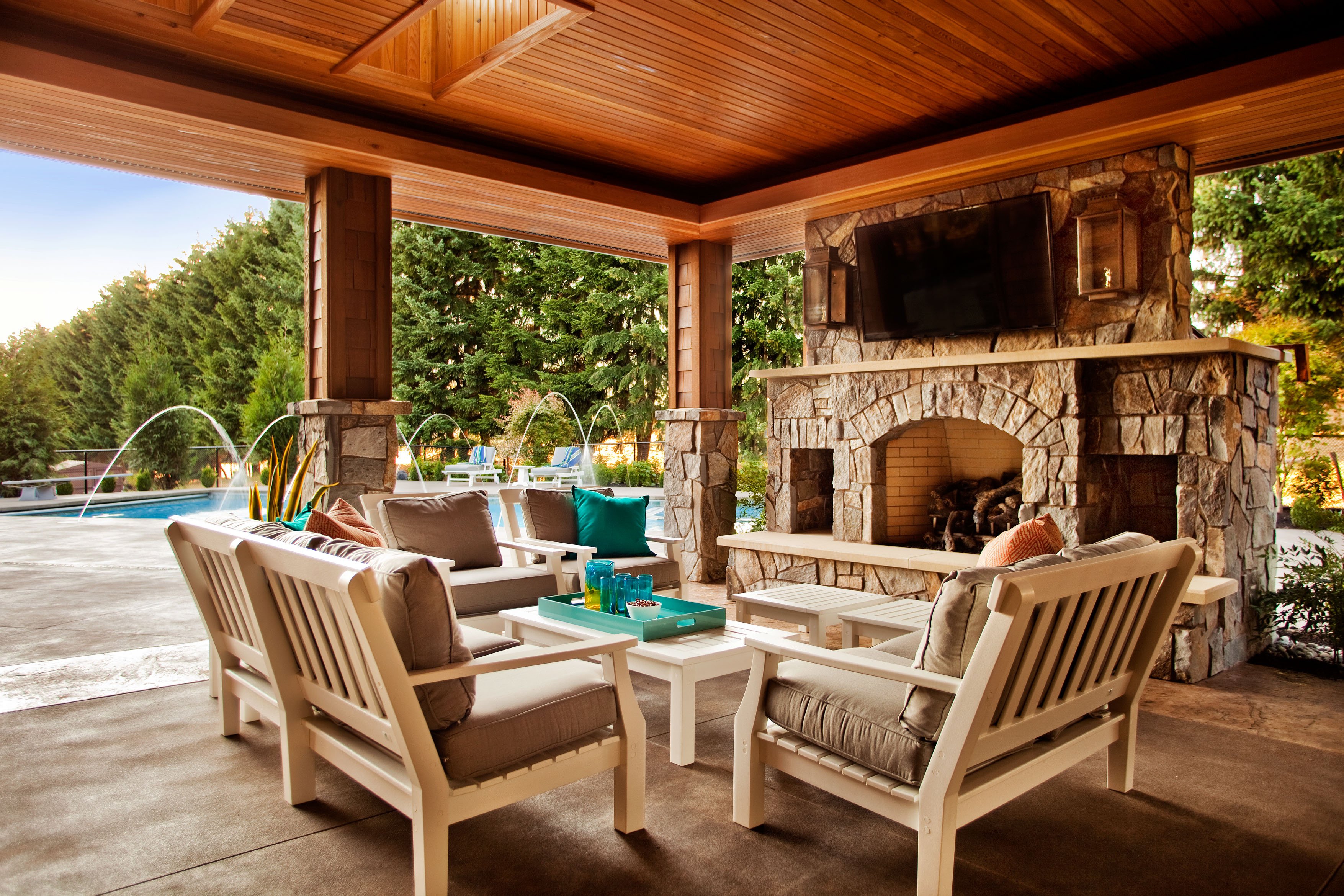 Contemporary Looking Swimming Pool Fireplaces
If you want a more modern piece of design, there are plenty solutions to choose from. But in general, contemporary backyard landscaping design can be achieved by using straight, simple lines, simple textures and modern materials. The simpler, the better, a fact which goes for both swimming pool and fireplace. For a more modern approach you can use a fire pit instead of fireplace. Much smaller and usually easier to build and use, they can still have the same effect as regular fireplaces and create the same image and welcoming environment. Use large comfy couches to create the perfect seating space for unforgettable summer nights. Also, think about combining these amenities. You can always extended your roof above the swimming pool and even place a small fire pitor you can create a line of paving that reaches the middle of the pool where you can place an awesome seating area. If you need help paving visit infinitepaving.com, they can help you get it done and make it look great. Here are a few idea: Backyard Landscaping Design Ideas-Fresh Modern and Rustic Fire Pit Design Ideas. For the pergola, you can go for metal ones or even wood but shaped in a modern way; there are plenty of ways to do it. If there's not much space available or it's simply more convenient, think about extending the roof of the house to create a covered seating space or use the house's structure to create one.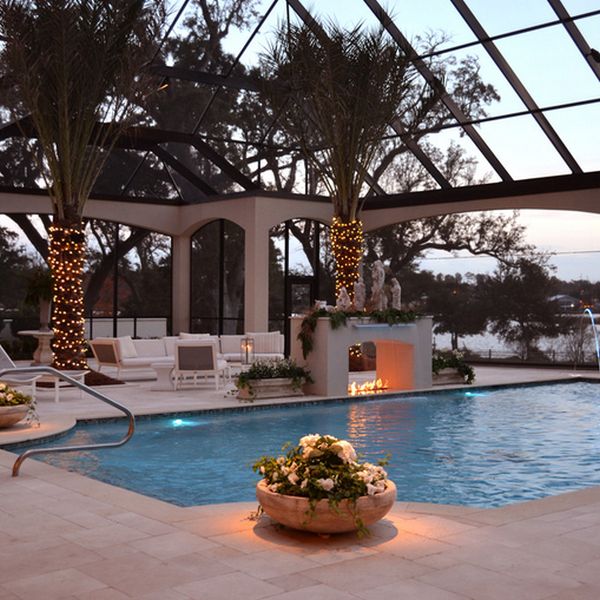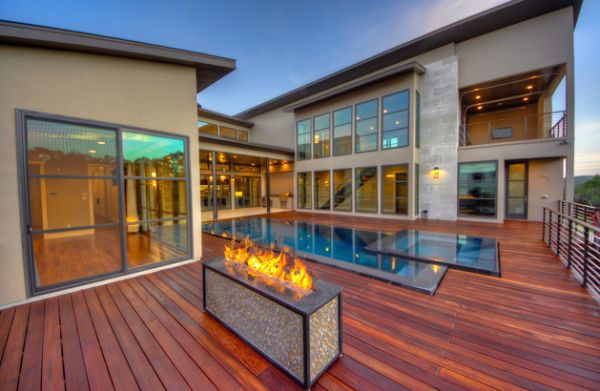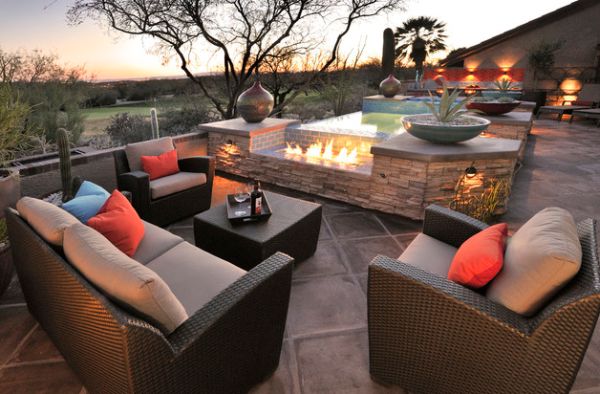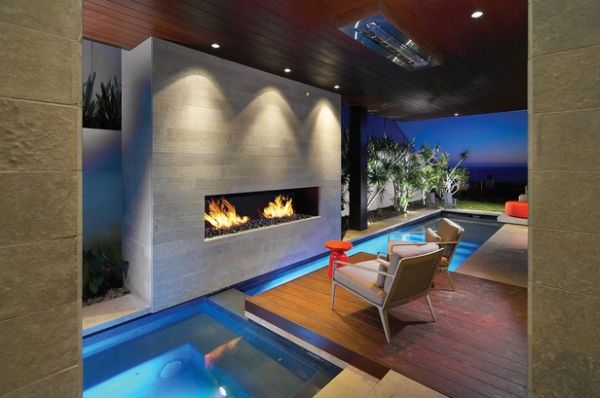 Infratech Heaters+Horst Architects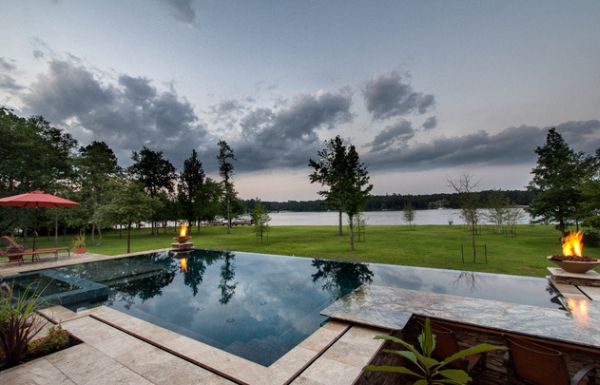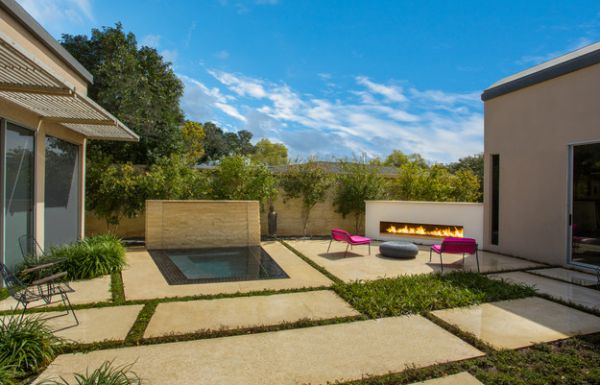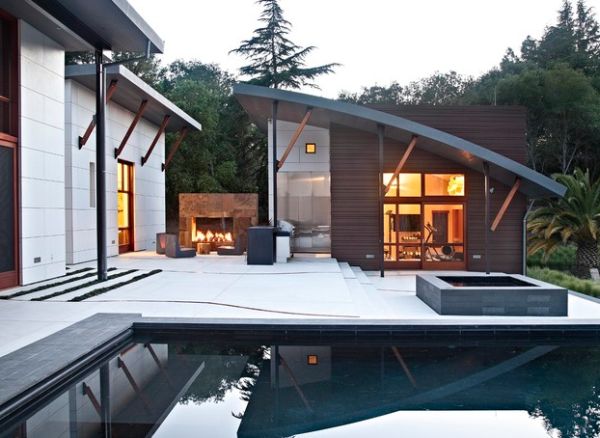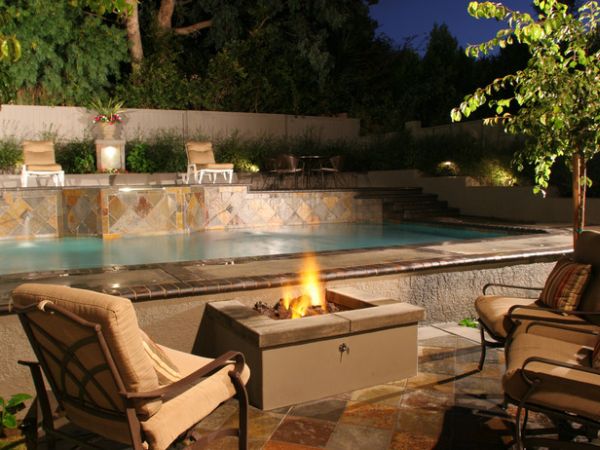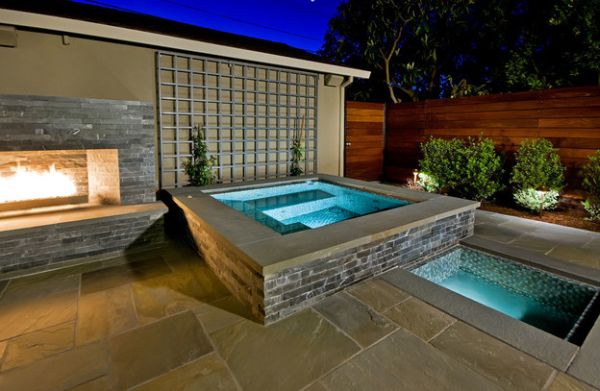 Custom Dreams Construction Group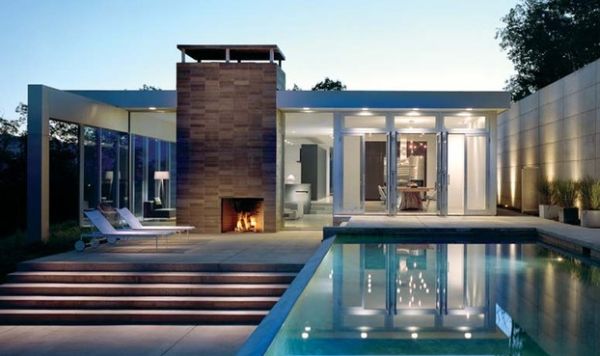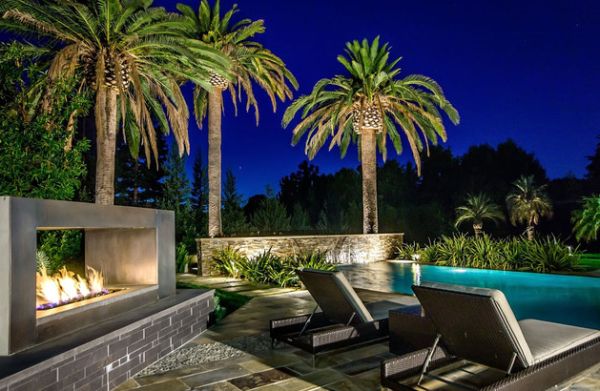 mark pinkerton / vi360 photography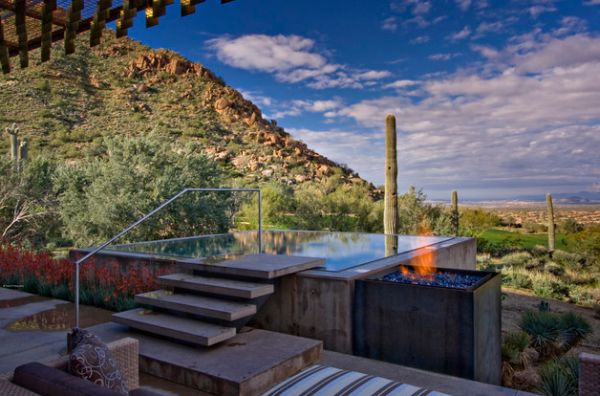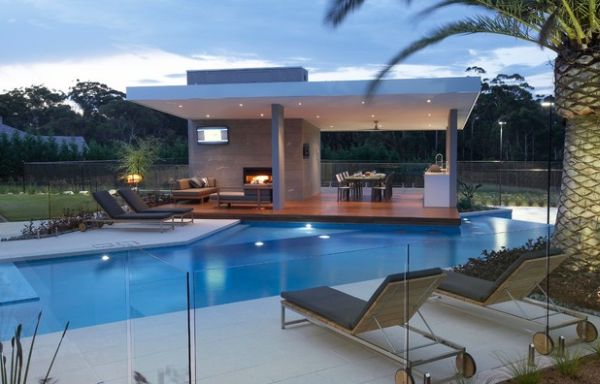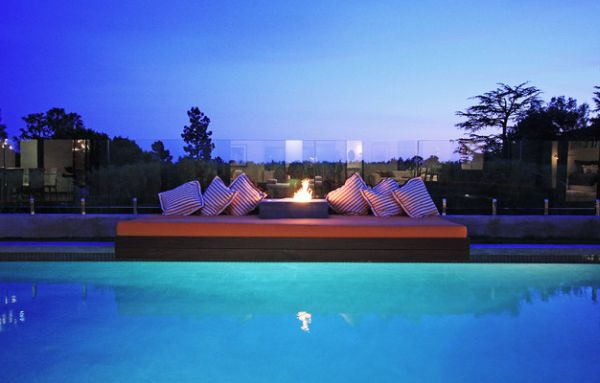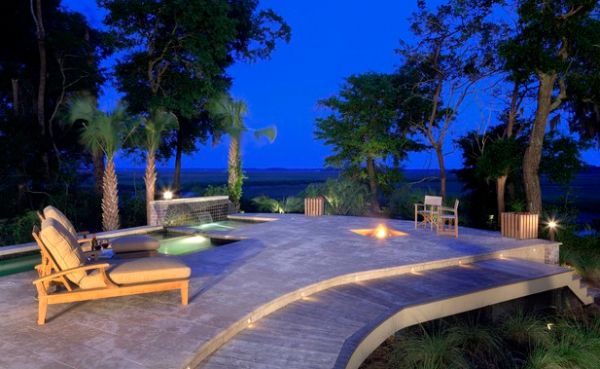 Frederick + Frederick Architects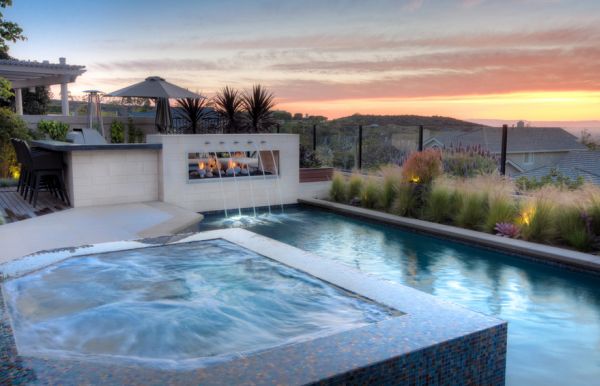 Studio H Landscape Architecture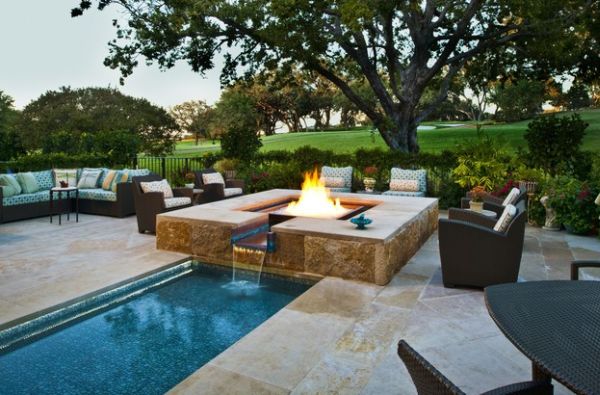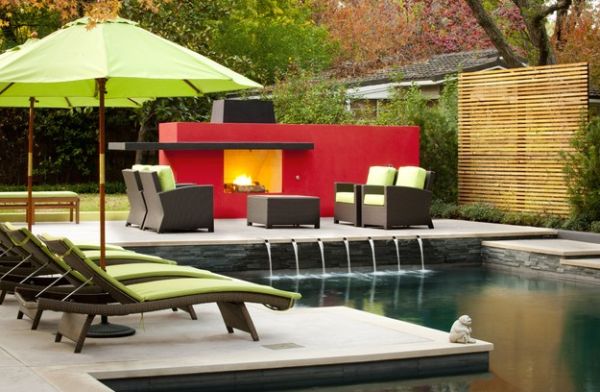 Related Articles
5 Best Above-Ground Pool Pad | Buyer's Guide and Reviews
5 Best Epoxy Pool Paint | Buyer's Guide and Reviews
10 Best Pool Cover Pumps of 2022 | Buyer's Guide and Reviews
Learn How to Install a Spa Cover Lifter
Dolphin M400 with Caddy Review & Buyer's Guide
Top Tier APEC vs. iSpring RCC7 | Water Filtration Systems Compared
Learn How to Keep Chlorine Levels Up In Your Pool
Aquabot X4 Robotic Pool Cleaner Review | Buyer's Guide
13 Best Pool Heaters of 2022 | Buying Guide
6 Best Wood Stove Fans in 2022 | Buyer's Guide
19 Types of Fireplaces for Your Home
To Mount or Not to Mount a TV Over The Fireplace – Pros & Cons
Learn What the Malm Fireplace Is, Timeless Design Explained
20 Stunning Firewood Storage Focal Points & Their Magical Fireplaces
Backyard Landscaping Ideas – Exterior Fireplaces Meant to Enhance Your Living Quality
13 Best Copper Fire Pit to Enjoy This Fall
13 Best Salt Water Chlorinators of 2022
19 Best Pool Lights of 2022 Reviewed | Buyer's Guide
13 Best Pool Pumps of 2022 | Buying Guide
13 Best Pool Volleyball Nets to Enjoy This Summer
39 of the Best Pool Toys to Enjoy this Summer
13 Best Pool Test Kits of 2022 | Reviews & Buyer's Guide
17 Small Front Yard Landscaping Ideas To Define Your Curb Appeal