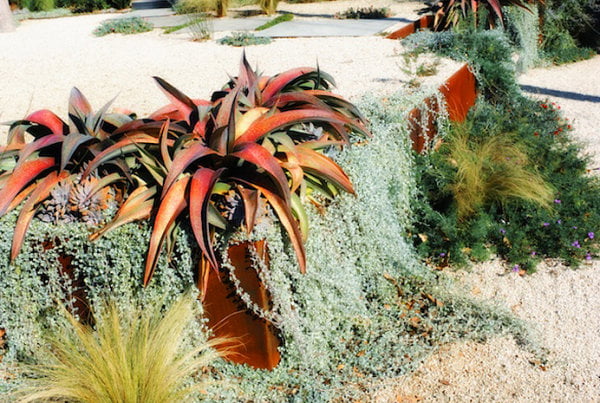 I spent a good amount of time recently working in my backyard and with this opportunity I have payed some attention to new areas in it. As a result I started xeriscaping my side yard and while I have to be sincere and tell you that it wasn`t easy it I also have to mention that it was definitely worth the hassle.
I kept on looking for inspiration online and I thought it might be worth sharing here, it`s not easy to find extensive garden ideas so I`ll try and do just that: present you a selection of modern xeriscaping ideas that we`ve found helpful. Xeriscaping is far simpler than it sounds, it`s a sustainabile form of landscaping that has the goal of saving water. In Xeriscaping are used drought-tolerant plants frequently along with much an gravel.
If you think you are not ready to remove the beautiful green grass and lush vegetation in the favor of a more sustainable form of landscaping it`s ok. I personally wasn`t ready either, I started with the side yard and kept the lush vegetation in backyard exactly the same. In this manner you will add a lot of depth to you outdoor space by creating different areas and layers. For example I have used rock garden of different sorts in small quantities. This very different special part of the yard accentuated the greenery in the backyard even more, gave it a whole another aspect.
Beautiful Xeriscaping Pathways and Steps
In modern xeriscaping techniques pathway and stair-steps are very often used as little landmarks. These really important because they`re transitional areas on which a great array of plants can be displayed to draw attention and create a beautiful design, gravel and stepping stones are used along the plants of course.  [from Huettl Design]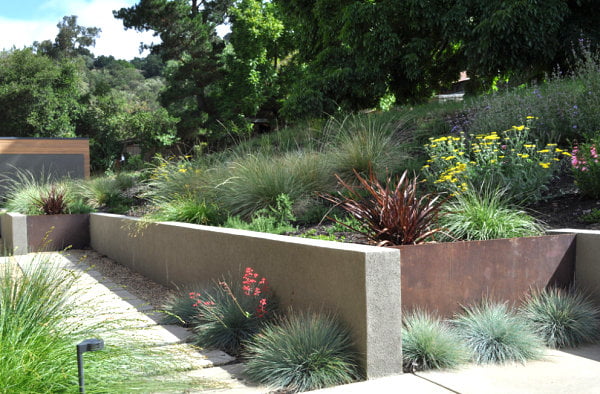 You can use gravel and stepping stones to create a modern looking path which is afterwards surrounded with native grasses and other graphic pebbles as displayed in the beautiful xeriscaped outdoor space below . [from Huettl Design]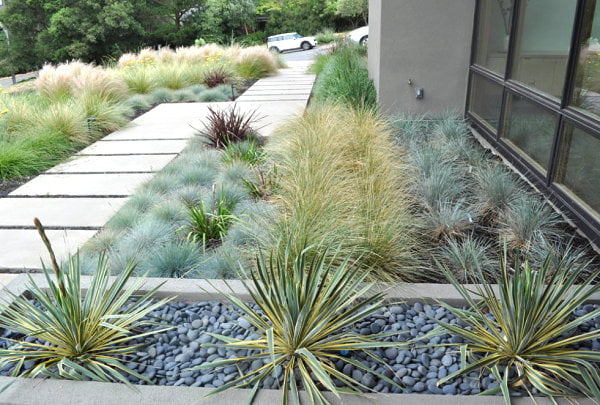 Despite Zaha Hadid`s opinion you can really get creative by forming an angular path rather then an organic irregular path, you can use small gravel, limestone can work, and edging to obtain a controlled design, clean and highly aesthetic. [from All Seasons Gardening and Landscaping]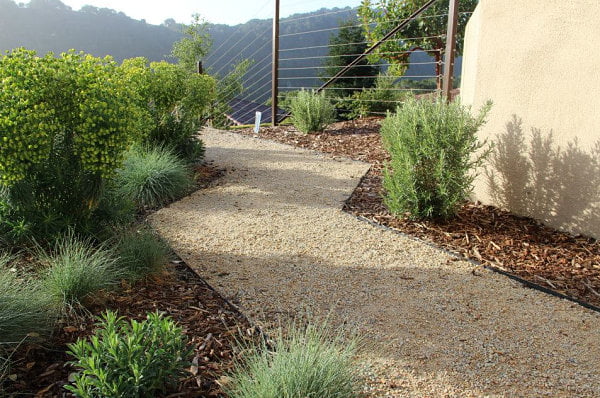 Materialize a special area at the top or bottom of the steps; this accent can be a wonderful surprise in a modern yard, it can accentuate a detail that you love on the stairs or simply change the tone upon entering the home.  In the example bellow the grid formed by stepping stones and ground covers are creating a rhythm on two directions before dematerializing into just one direction with the steps, accentuating the monumental stones before entering the home in a special manner.[from All Seasons Gardening and Landscaping]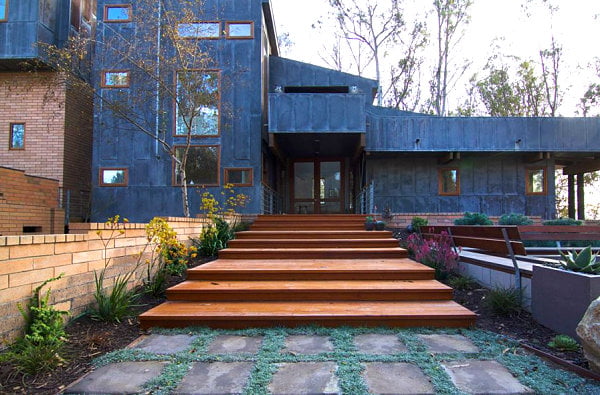 If you have the space required on the steps you can use the actual the stairs to create an xeriscaped area. You can fill them with gravel native plants and offer your modern yard a discrete beautiful touch; consider involving the edging of the stairs in the design as well. [from Phillips Garden]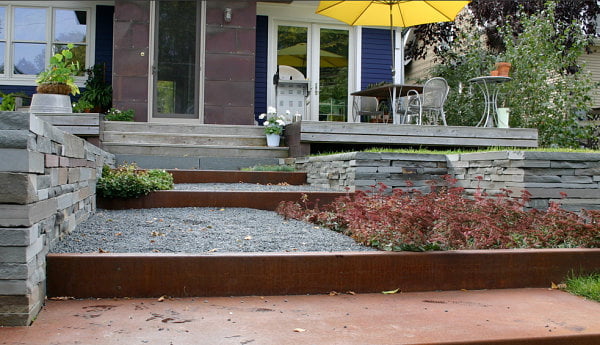 Why would you not use a variety of xeriscaping materials? In the photo bellow there are displayed many interesting features such as stepping stones, stairs, gravel, mulch, metal trim, various different plants and a large sculptural rock; all in an excelent outdoor paradise. Who draws the line if not you?!   [from Big Red Sun]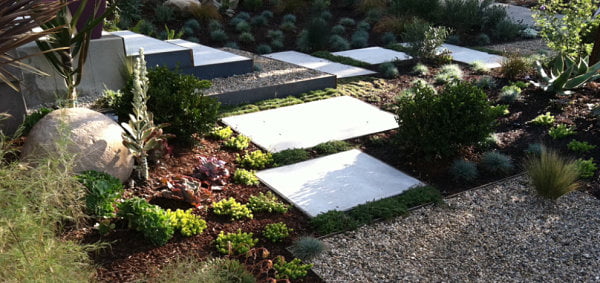 Xeriscaping The Yard
Now we already have a couple of transitional areas in the yard itself . Wehteher you are going to xeriscape the whole backyard, front yard or side yard you definately need to begin with a plan. It`s indeed fascinating and sweet to see things taking shape as you work but in this manner you might want to measure your outdoor space if you want to obtain a highly nuanced design, you might realize half way, or worse in the end that you do not have space for everything you desired if you`re not using a thoughtful strategy.  [fromJeffrey Gordon Smith Landscape Architecture]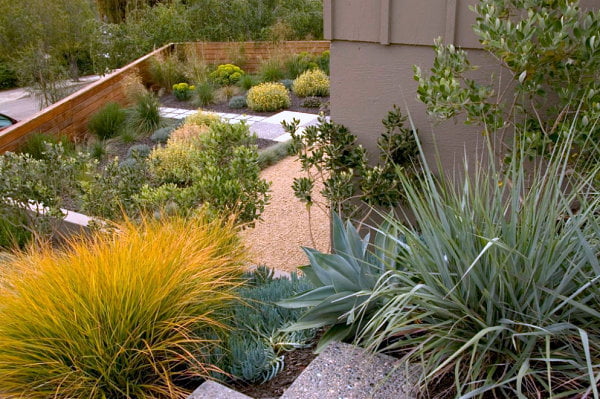 You have your yard in one single horizontal plane? And if so, do you want to remain that way? You can use stepping stones to create a beautiful terraced effect on which you can use a wide variety of plants . [from Big Red Sun]
In how many different areas you will divide your site? You can make a simple lawn or an elaborate play area. You can group and mix plants or arrange them in groups by type, you can use a plant in particular to create visual borders as displayed bellow or just mix and match.  [from Jeffrey Gordon Smith Landscape Architecture]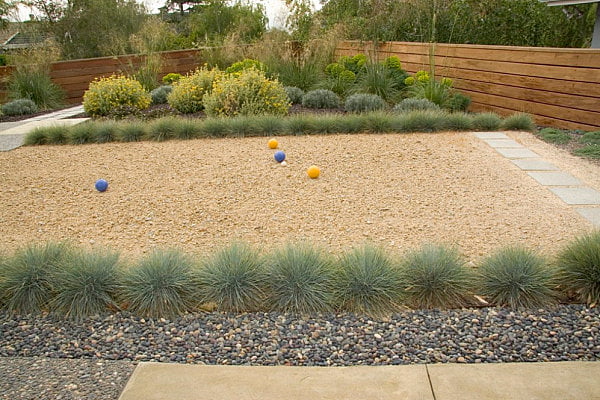 A harder and more rough materials like concrete stepping stones can help you define your outdoor space. These graphic borders can guard large plants or trees or just small arrangements. We advise you to start small and enlarge the project when you feel satisfied with the result of the little spot in the first place. If you have a bigger outdoor space we strongly advise you to consult a professional or an experienced friend. [from Big Red Sun]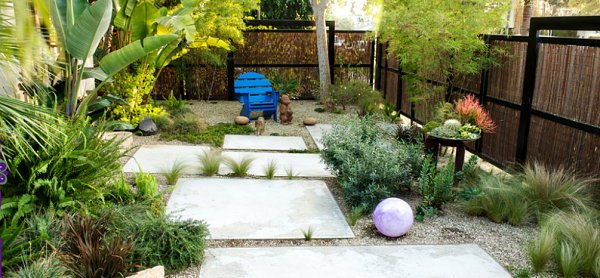 You can use cement and gravel to achieve a custom geometric look in your yard, your own design can be materialized easy with concrete and patience, strategically planning your pathways and design lines can help you obtain the desired result.  [from Jeffrey Gordon Smith Landscape Architecture]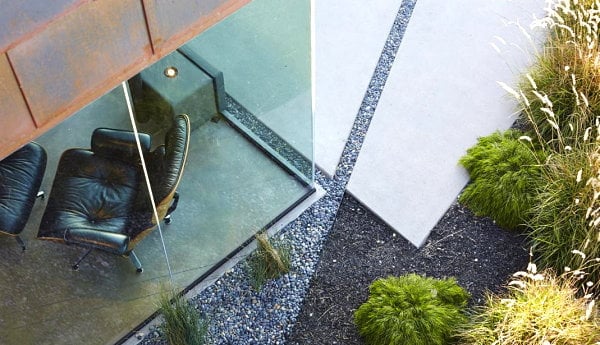 You can accentuate a beautiful geometric effect by shaping the lawn in an unusual manner and actually sculpting an effect. Gravel can help you in this problem with ease even with trapezoids and harder shapes. [from Phillips Garden]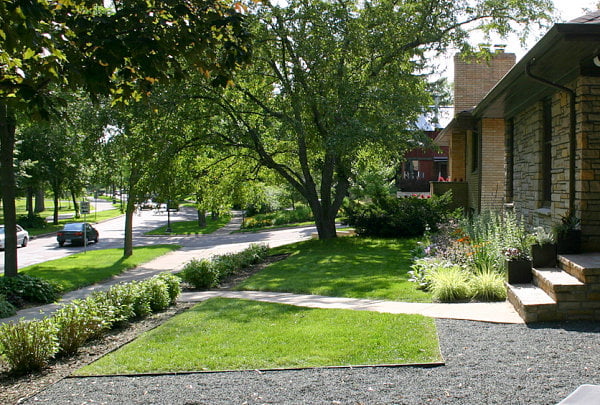 A critical aspect in your xeriscaping endeavors is obviously making sure that you choose greenery that will thrive in your area. Most of us have learned this the hard and expensive way, selecting plants for a sunny yard that would not survive the summer or winter would not be that great, time and resources elapsed into nothing. After you have the selection of plants that will thrive ready opt for some colorful choices that would really enhance your backyard and offer depth.  [from Phillips Garden]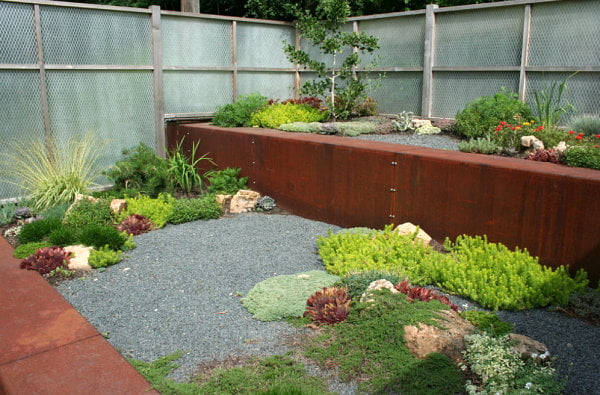 In some cases the most interesting pops of color can be created with only one bold hue in a ocean of greenery. Changing the texture and creating rhythm with it can be marvelous, a selection of cascading silver that falls dichondra, wispy Mexican feather grass or along with long full red foliage as displayed can work extremely well too.   [from Big Red Sun]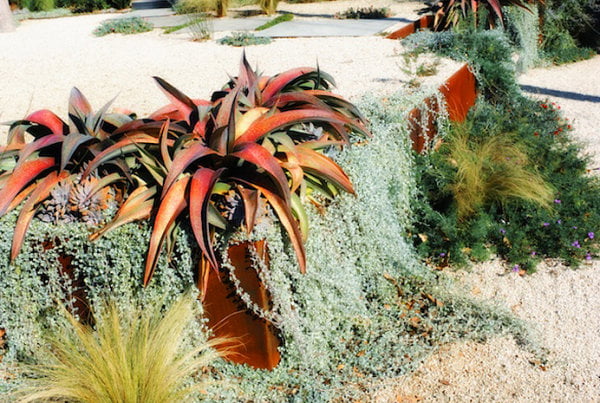 You can create massive amounts of colors just by juxtaposing shades of green, it`s simple extraordinary. Bellow a succulent range from minty to blue and limes surprised in a very beautiful manner. If you want to place an intruder object in hot pink or any other candy colored accent you can fool someone into actually eating them . It just look extraordinary. [from All Seasons Gardening and Landscaping]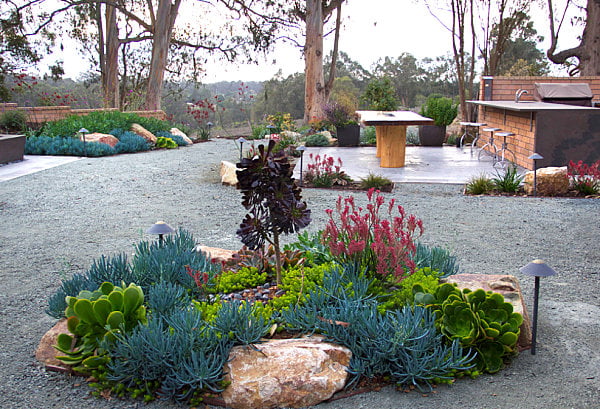 If you have the luck of owning an expansive yard consider grouping up a variety of different sectors into hues, in this manner you will generate an extraordinary dept, you will have a variety of extremely beautiful colors from yellows, purples and pinks that are extremely eye-catching  up to more neutral blue and green tones. Consider completing these extraordinary painting with small gravel that would further define and highlight the design line.  [photo by Hunter Ten Broech for Waterwise Landscapes]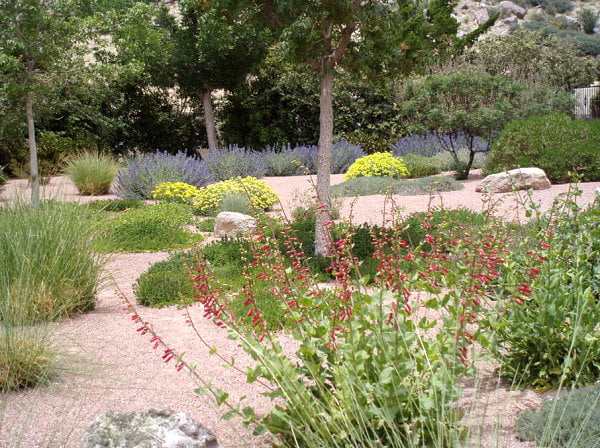 The last but not least image is living proof that no space is to small for a proper xeriscape. You can always use colorful plants to give an extraordinary vibe to a compact yard. These become a focal point in your design, popping into the eyes of the viewers, surprising everyone.  [from Shelley Gardea Photography via Houzz]
I started xeriscaping a little small area in my side yard to see what I can do and it will definitely pass the time test but I`m starving for more, I think larger pieces of rocks that will slowly move towards the backyard into the lush vegetation as transition along with some stepping stones and gravel to merge would work extraordinary but time will tells. How you are treating your outdoor spaces? We would love to hear your opinion bellow regarding xeriscaping, we find it a magnificent alternative and a great complement to regular backyard landscaping ideas.