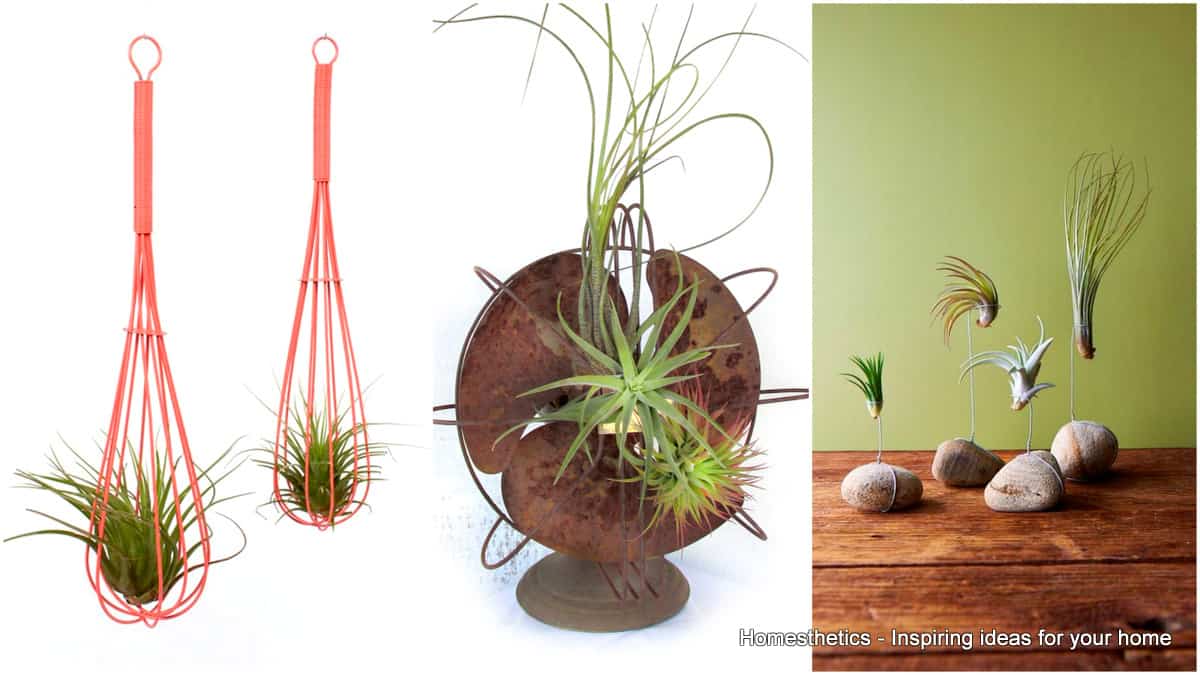 Air plant holders are extraordinary, low on maintenance, exotic and stylish they are able to sculpt your space to your advantage and unlike a regular plant one could change the plant holder in a matter of seconds thus changing the atmosphere. Air plants can receive absolutely any form or structure as a support as they basically need no soil thus offering you limitless options,  where a sea urchin can support an airy sea-inspired whimsical effect a pyramid geometric structure can complement the plant`s naturalness
A selection of exceptionally beautiful air plant holders follows, meant to emphasize the possibilities brought forward by this piece of organicity.
Beautiful Air Plant Holder Ideas to Collect
Diamond Structure in Gold Sustains Air Plant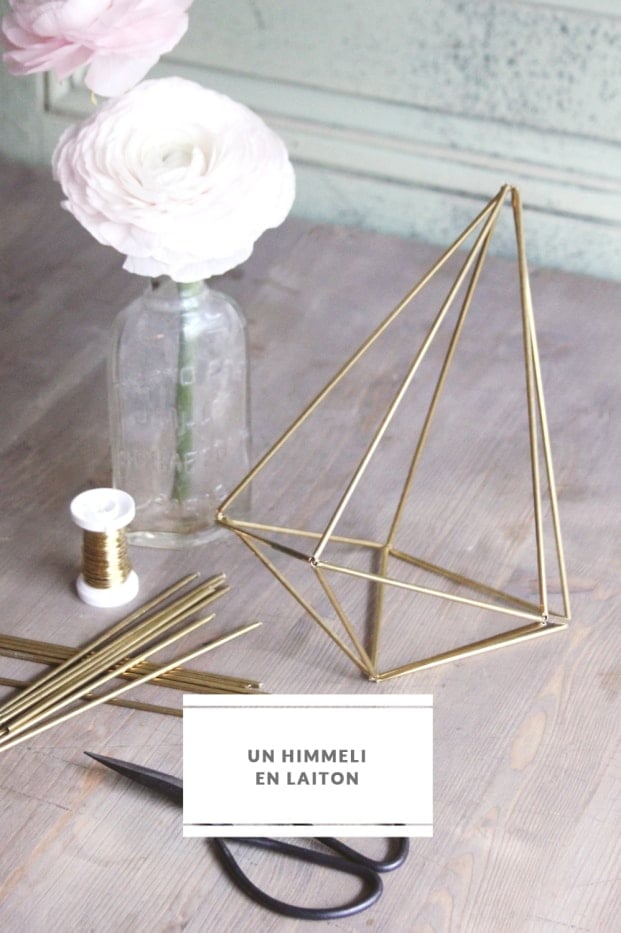 Simple elements have been used to sculpt the diamond shape yet the results are extraordinary rewardful. The shape can be changed and the project can be scaled to your advantage, a sculptural installation can take shape.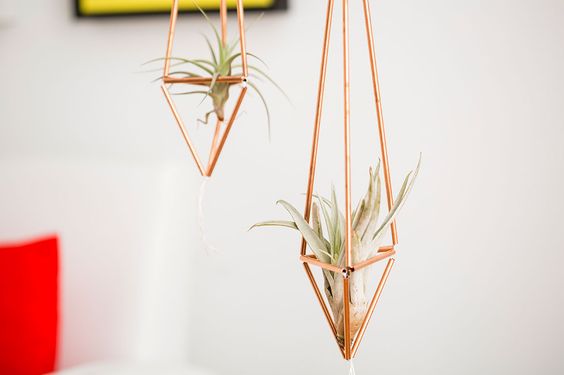 via brit.co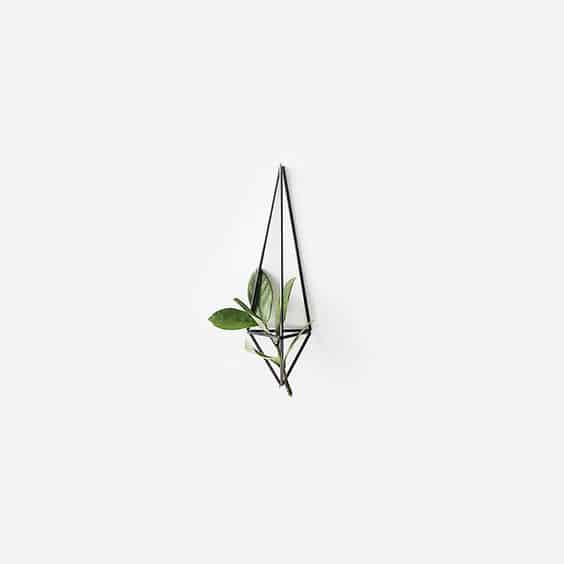 via aesence.com
Re-purpose a toy into a planter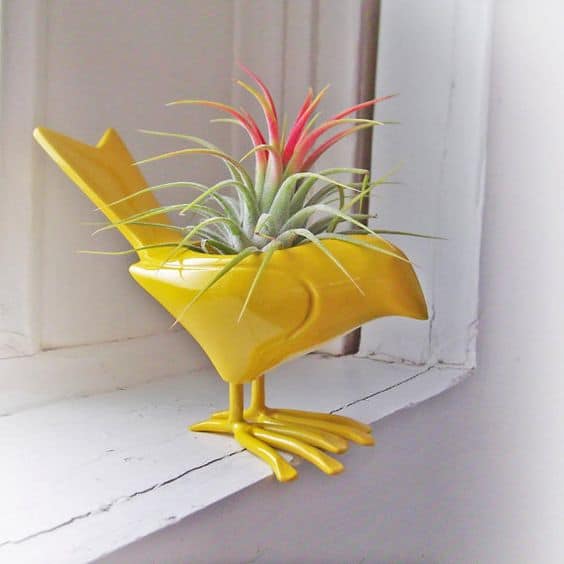 A shiver of joy in color can be brought forward with a craft that can take minutes, teach your little one of how things can re-purposed for the better in the attempt to minimize our impact on the environment.
via etsy.com
Wire and a Rock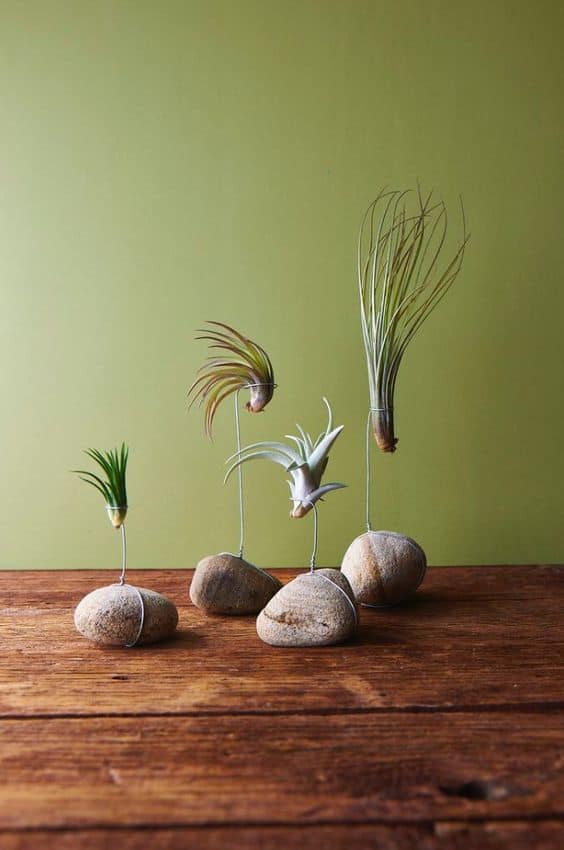 Build on the air plant`s extraordinary ability of living without soil and create a small planter by using a rock and small pieces of wire. The sensible design is nothing short of extraordinary.
Nestle Plants in a Precious Setting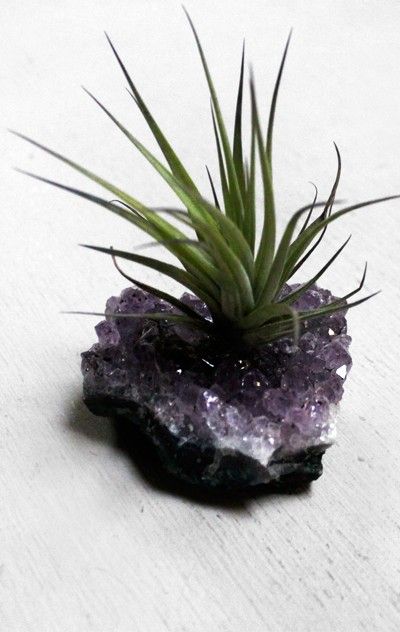 Nature`s naturalness nestled in a shape that speaks of its own extraordinary power can be a remarkable project. Numerous not so precious stones that look extraordinary can be used in this endeavor, pursue it.
via shopplanetblue.com
Sculpt a piece of art 

Air plants can be nestled in any setting and as a result they can embrace the natural and unnatural alike, the sculptural piece gravitates around the air plant beautifully.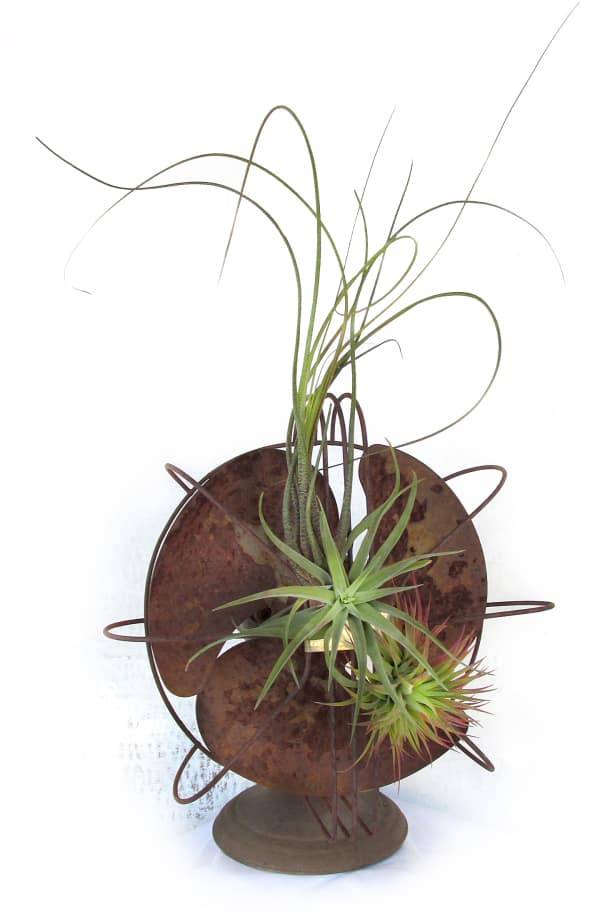 An old piece of furniture, an experienced item can now be enhanced by the natural environment, it can be refreshed swiftly.

Small boxes can contain or support your air plant collection; the wooden plank creates contrast with the wall whilst bringing forward great coziness, warmth and richness through texture.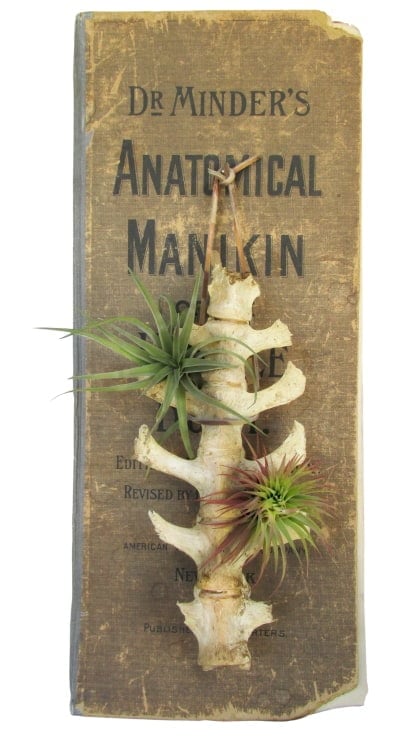 An odd natural element can express solidarity with another. Here naturalness of the past, the dead, invites the naturalness of the future, greenery to take over, building on an already powerful, beautiful element, the spine.
flexible height in simple design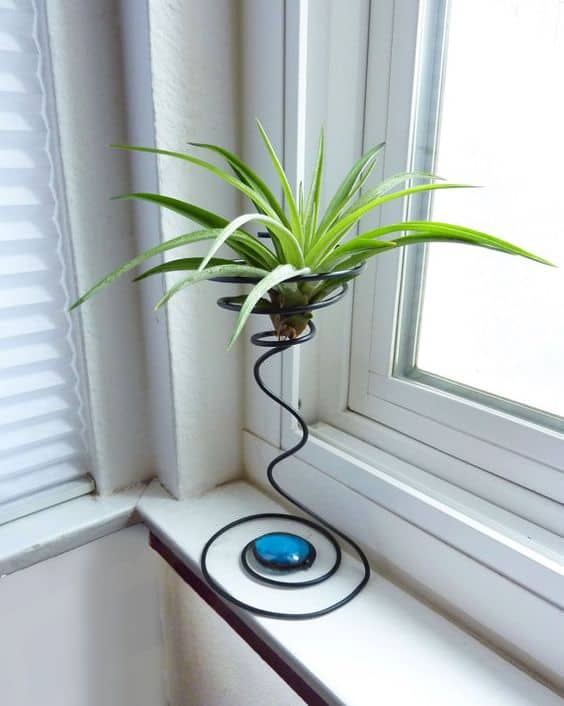 A piece of wire can be the natural support of any air plant holder, simply forget it to fit your needs.
via etsy.com
Wood in different states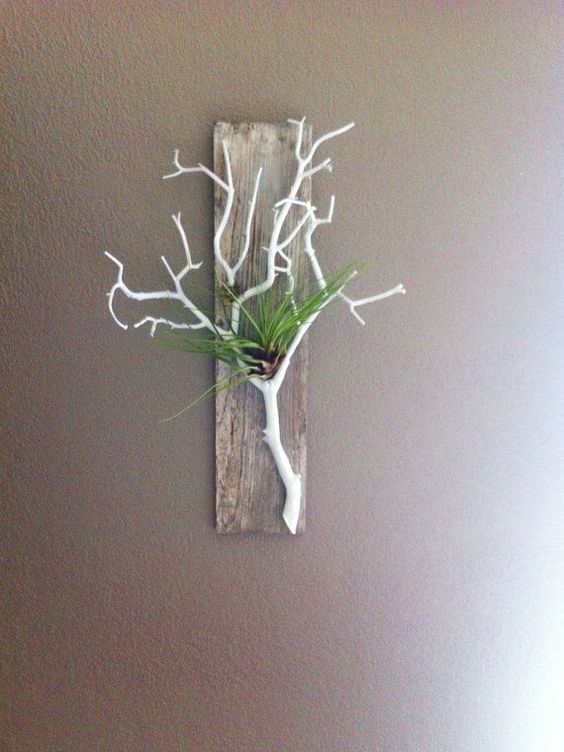 Elements of greatness in different shapes, a branch and wood plank now nestle an air plant.
via etsy.com
whisks in the right color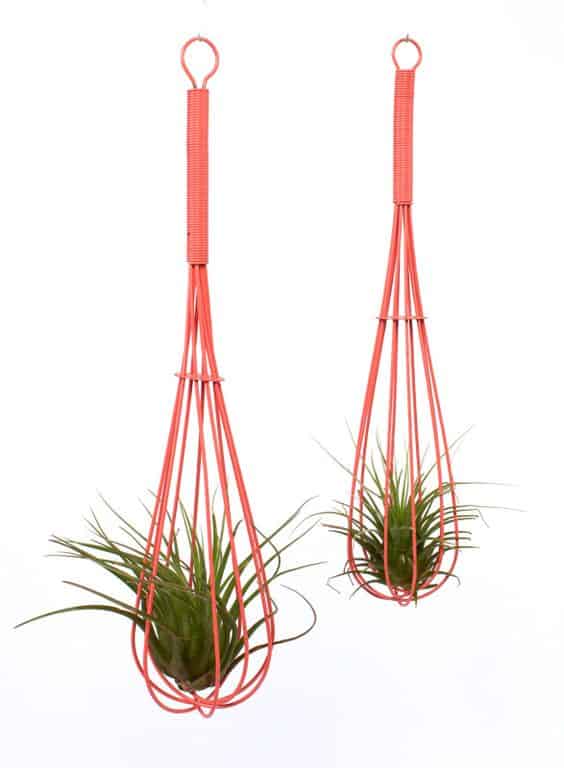 The whisk is known to be a beautiful element on its own yet in the color above holding an air plant it transcended into something unique, really beautiful.
via upcycledfashion.com
Air plant holders shaped like pineapples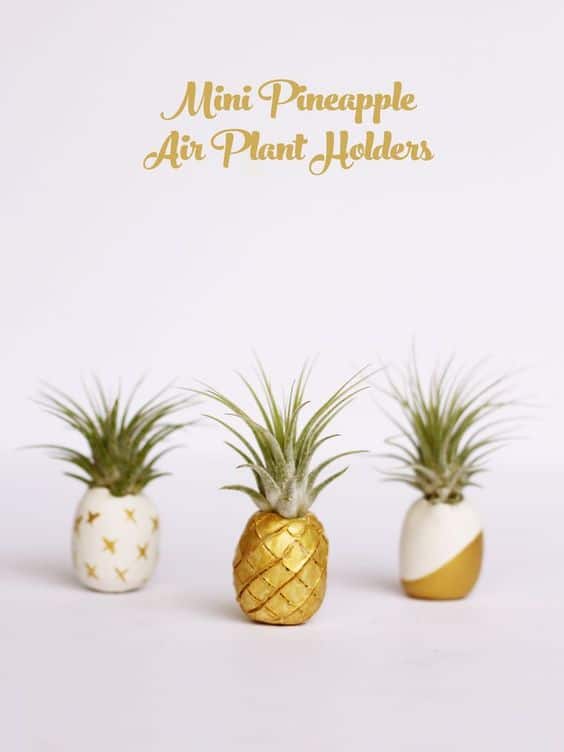 One could imagine where it all started from consider that the air plants above are a great fit for the pineapples envisioned. Imagine that instead of a pineapple you can create any other fruit, any other shape, limitless options.
diy copper air plant holders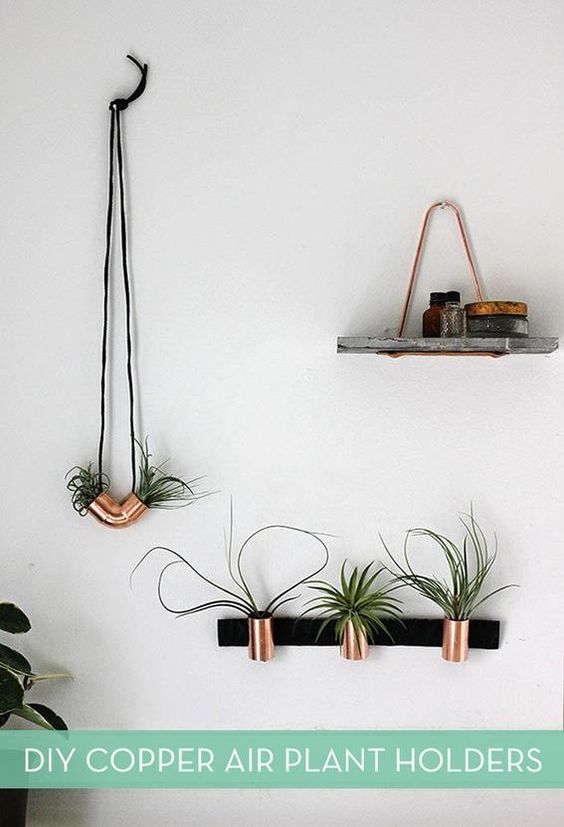 Small copper elements are at everyone`s grasp and considering the small shape factor they are quite splendid. Copper can distract one`s attention rapidly the material itself being a a graphic point of interest.
via curbly.com
Emphasizing the feeling of space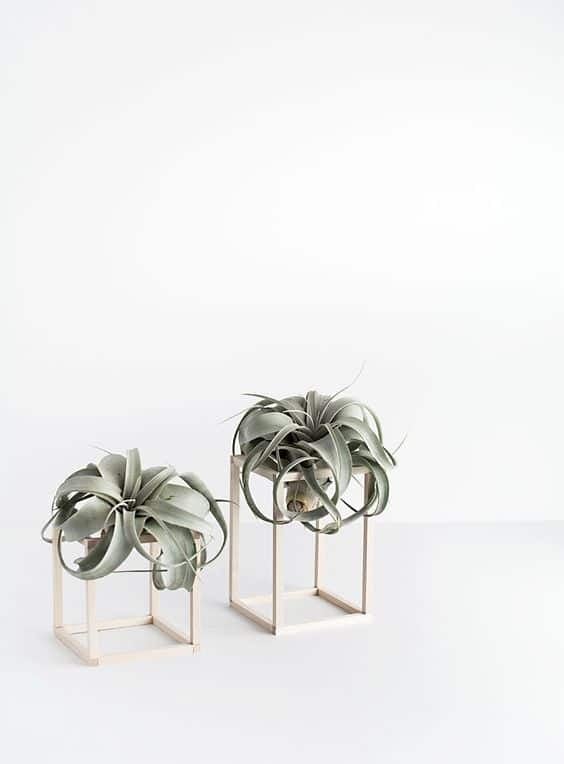 Light wooden structures can build and emphasize the feeling of space in a setting rightfully proportioned. In the example above the balance is right, sturdy yet elegant.
via homeyohmy.com
use odd items freely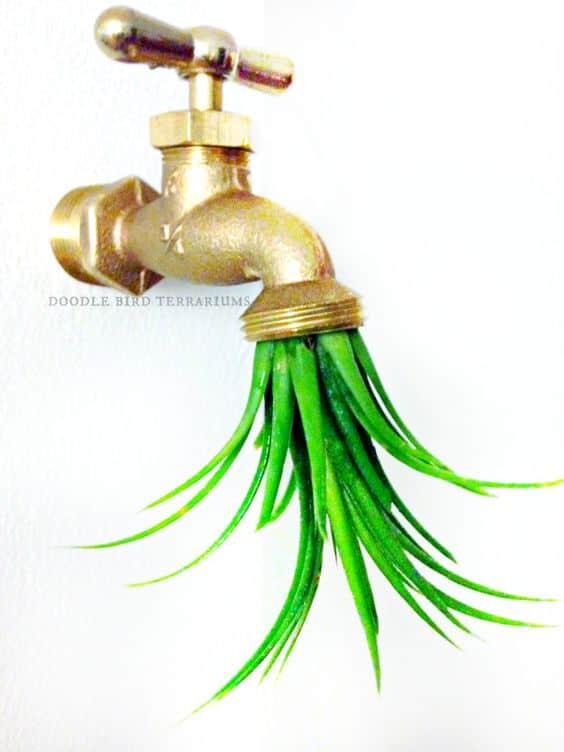 Here greenery has been used creatively at the end of a water tap, use everything to your advantage.
via  etsy.com
GEometric SIMPLICITY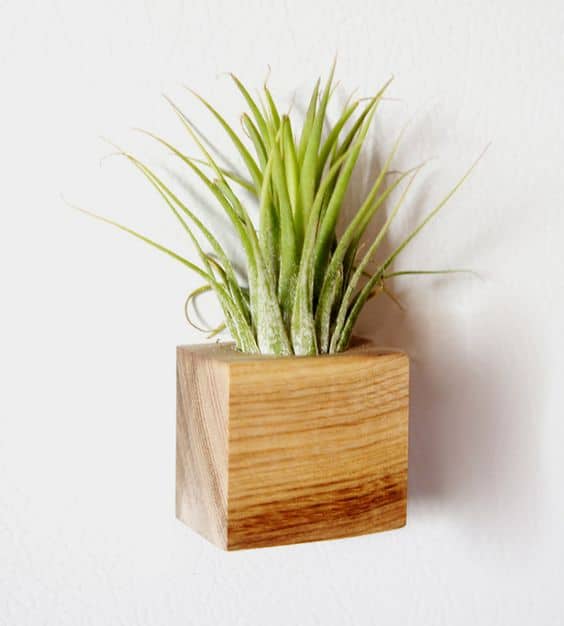 One wooden planter and one air planter can equal an extraordinary composition.
via scoutmob.com
emphasize a texture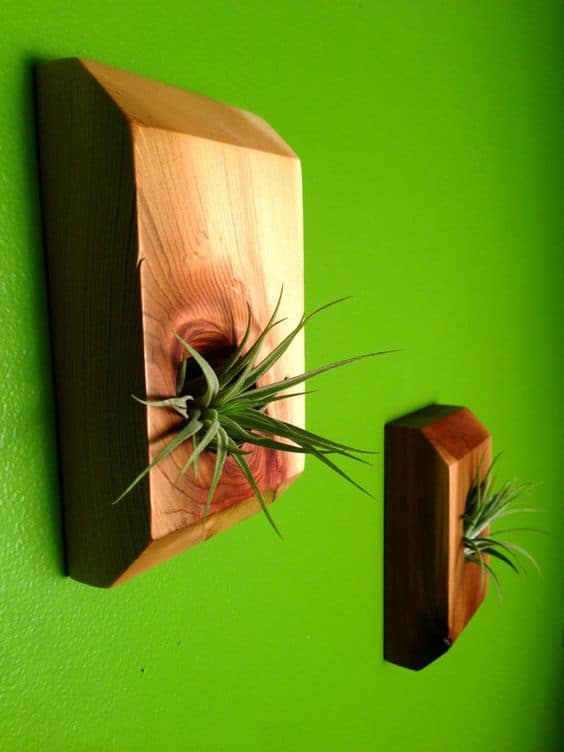 Wood can win the day anytime, embrace it.
via etsy.com
flowing around a sculptural piece
The illusion of imponderability is something quite graphic and easily achievable with air plants in a matter of seconds.
via airplantmandesigns.com
wire air plant wall holder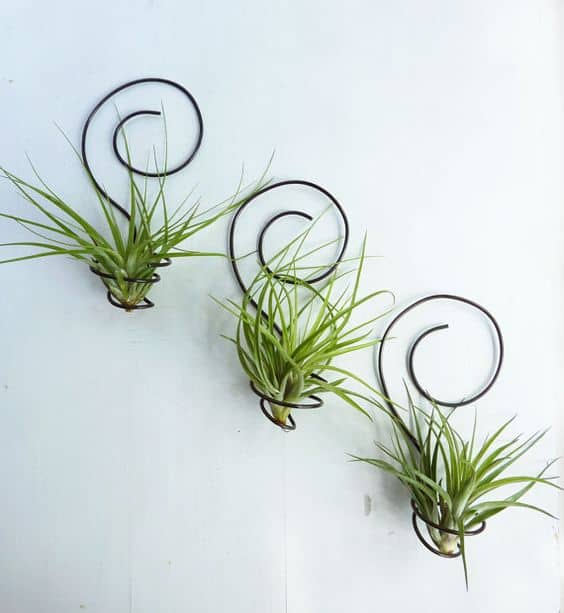 In the vertical plane too air plants can shine freely.
via etsy.com
Wood and string installation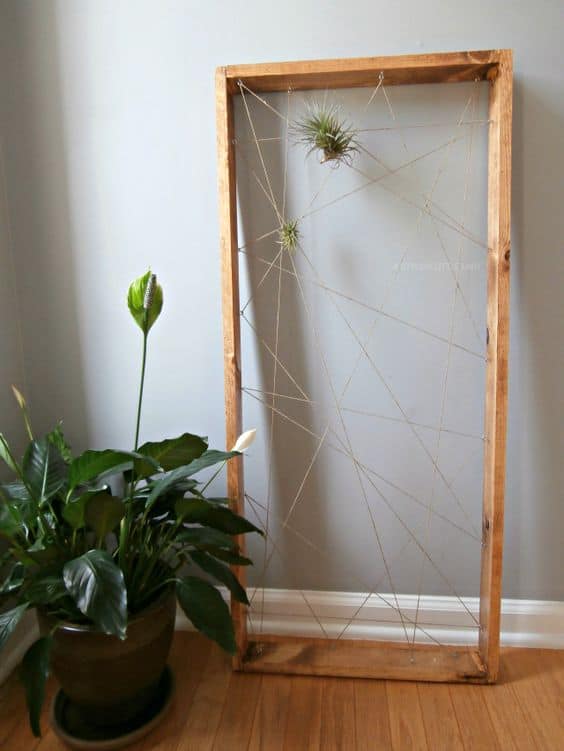 The frame above beautifully emphasized by string can now be filled by air plants thus being able to create a wall art of extraordinarily beauty.
via bloglovin
elegance in concrete with pastel colors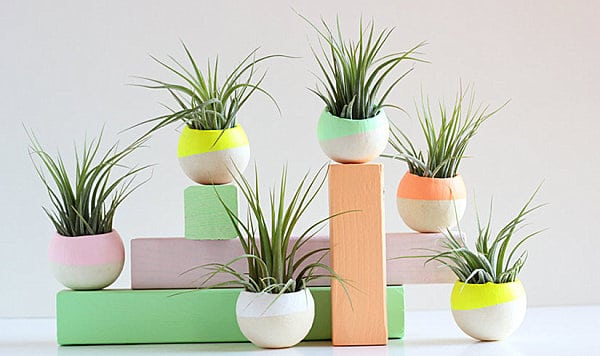 Concrete in white can receive pastel colors to create a splendid balance, regardless of shape the combination can break patterns.
via etsy.com
BlEnd concrete in geometric shapes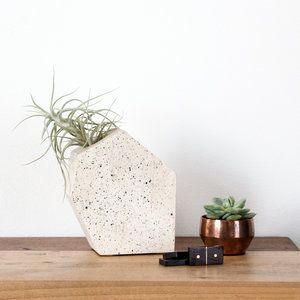 Simple concrete too can nestle a beautiful setting, above the extraordinary volume greatly surprised. Notice how the bubbly texture on the concrete complements the wooden surface on which it resides.
via sunset.com
sheer copper and concrete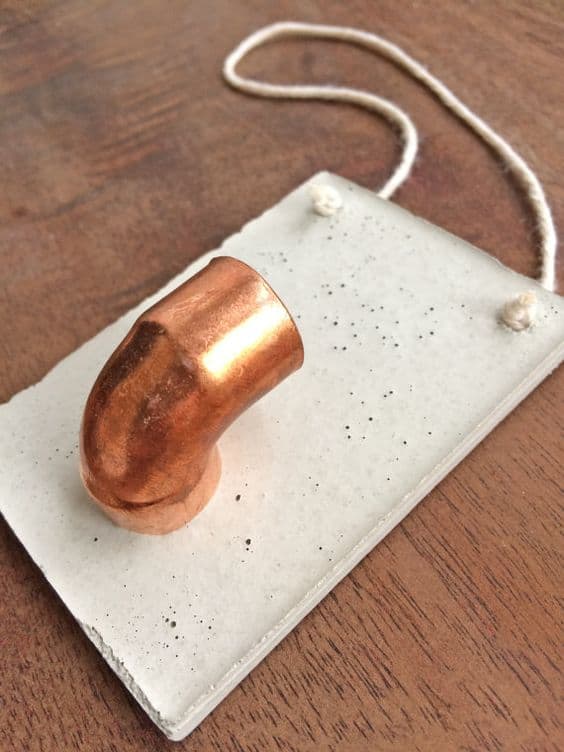 Delicate, different and remarkable the small piece of wall art above can now receive your design your air plant.
via etsy.com
Various PVC Pieces 
Anything that can be considered graphic can receive an air plant, above pieces of a white pvc pipe have used string to create a sort of swing that carries greenery. Simple and efficient.
via acsgarden.com
Tailor an epic macramé plant hanger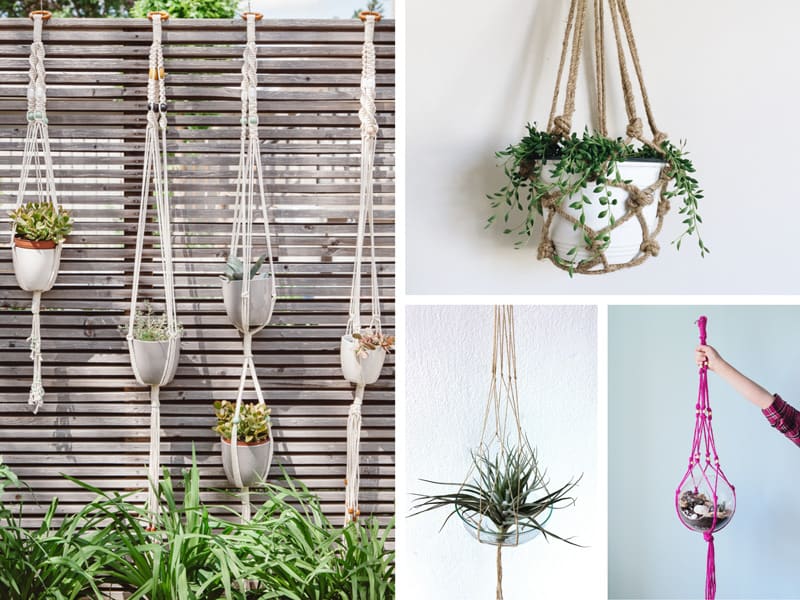 Macramé is the art of knotting rope. This trend originated in the 70's and has evolved to be used in many different ways. One popular way is to tailor macramé plant hangers! If you are a plant lover and are looking for a way to spice up your home decor, you are going to love the way these hangers put your plants on display both indoors and outdoors.
Making these hangers can seem a bit challenging at first yet to help you learn the basic knots and patterns of macramé, FTD has put together a video tutorial that will go over the process in simple and easy steps. You are going to love the way your macramé plant hanger turns out! You can find the complete step-by-step guide here.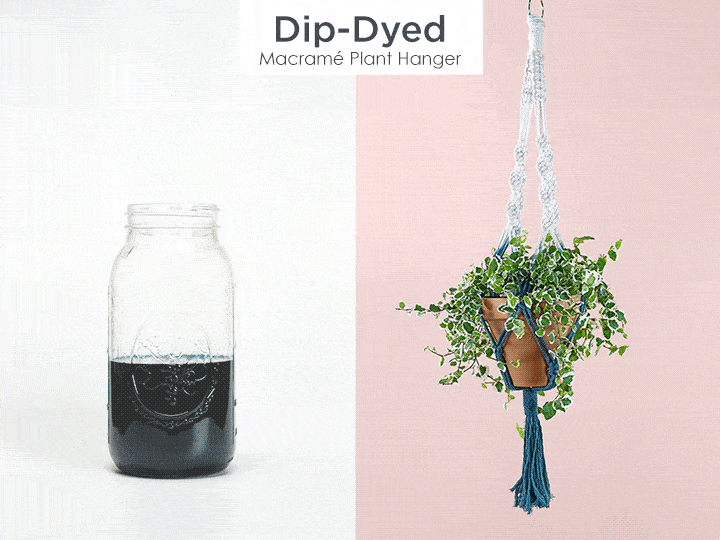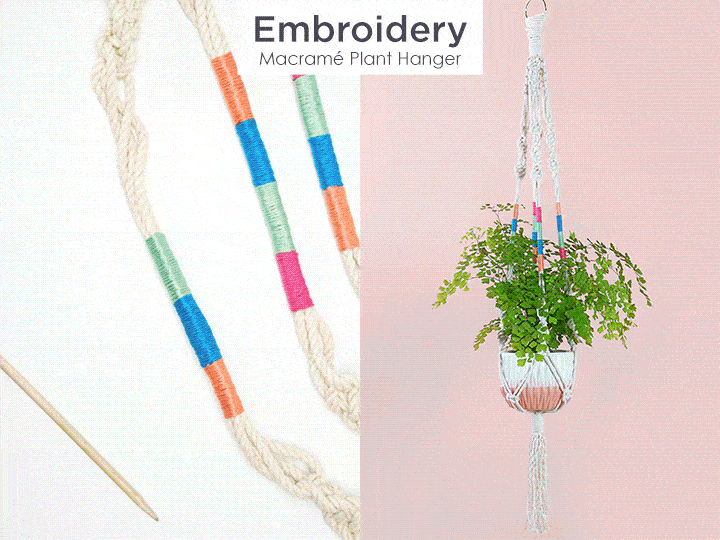 The spectacular balance between an envisioned craft design and the beautiful naturalness of a plant that needs nothing at all to thrive it is extraordinary. How do you see the air plant holders above? We would love to hear from you in the comment section above !