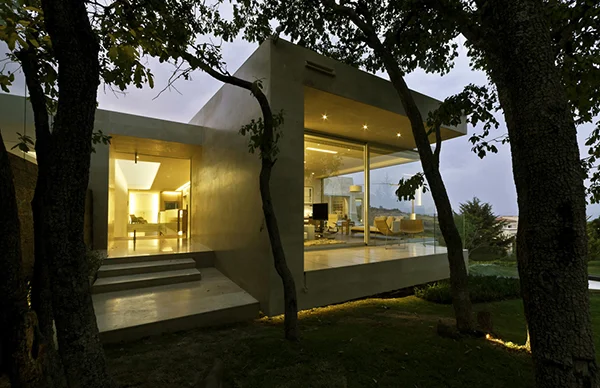 Located in New Mexico, Country Club Residence sits heavily on its own private golf. Heavily because this particular modern mansion overlooks the surroundings with a bold attitude claimed by the tough marble used to cover itself, the bold angles and height at which it resides.
We like to call it a dream home with attitude, the L-shaped, common shape for such mansions, is used here to take advantage of the light and ambiance of a south orientation, giving the inner home warmth and animating the interiors through the huge glazed windows with shadows and light.
This project has been envisioned by Migdal Arquitectos and despite the bold bulky silhouette, the interior tries to be as breezy and as transparent as possible in order to focus the viewers attention to the breathtaking surroundings, the cliff view mansion with a golf course behind it uses big glass surfaces to create smooth transition between interior -exterior and public – private . Even though the house does not claim any sustainable features the focus towards the surroundings and natural light is much appreciated and we would like  to hear your opinion about it.
READ NEXT Water Cleaning Station Converted in a Striking Modern Mansion