Are you frustrated with the existing water purifier that has turned really slow of late? 
Or is it dispensing partially purified water that's dangerous for consumption? Whatever be the reason, it's high time you replace it with a good countertop reverse osmosis (RO) system. 
Such a unit would offer the ideal pure and healthy water for your family and is also more convenient to handle than other purifiers, thanks to its small size. In fact, it's currently the most popular type of water purifier!
But we know that there are lots of options available to choose from, due to which making the right choice can become difficult. And it's here that we'll help you out by providing this comprehensive guide on the 6 top-notch options to consider. 
With all said and done, let's get going!
Best Countertop Reverse Osmosis System 
IMAGE
PRODUCT
DETAILS

Our Top Pick

Our Top Pick

AquaTru AT2010

Quick change filters
Removable dispensing tank

VIEW LATEST PRICE →

Express Water EZRO5

4 point system of connection
Consists of 3 inline filters

VIEW LATEST PRICE →

AlcaPure RKIN-ZIPAL

Two choices for post filter
Push button for dispensing water

VIEW LATEST PRICE →

KFLOW Reverse Osmosis System

Multi-filtration technology
Carafe in place of a pressure bucket

VIEW LATEST PRICE →

SimPure Y6

Pure to waste water ratio of 5:1
Dispense flow rate of 418 gallons per day

VIEW LATEST PRICE →

Upgraded SimPure Y7

Flush modes
Touch control setting

VIEW LATEST PRICE →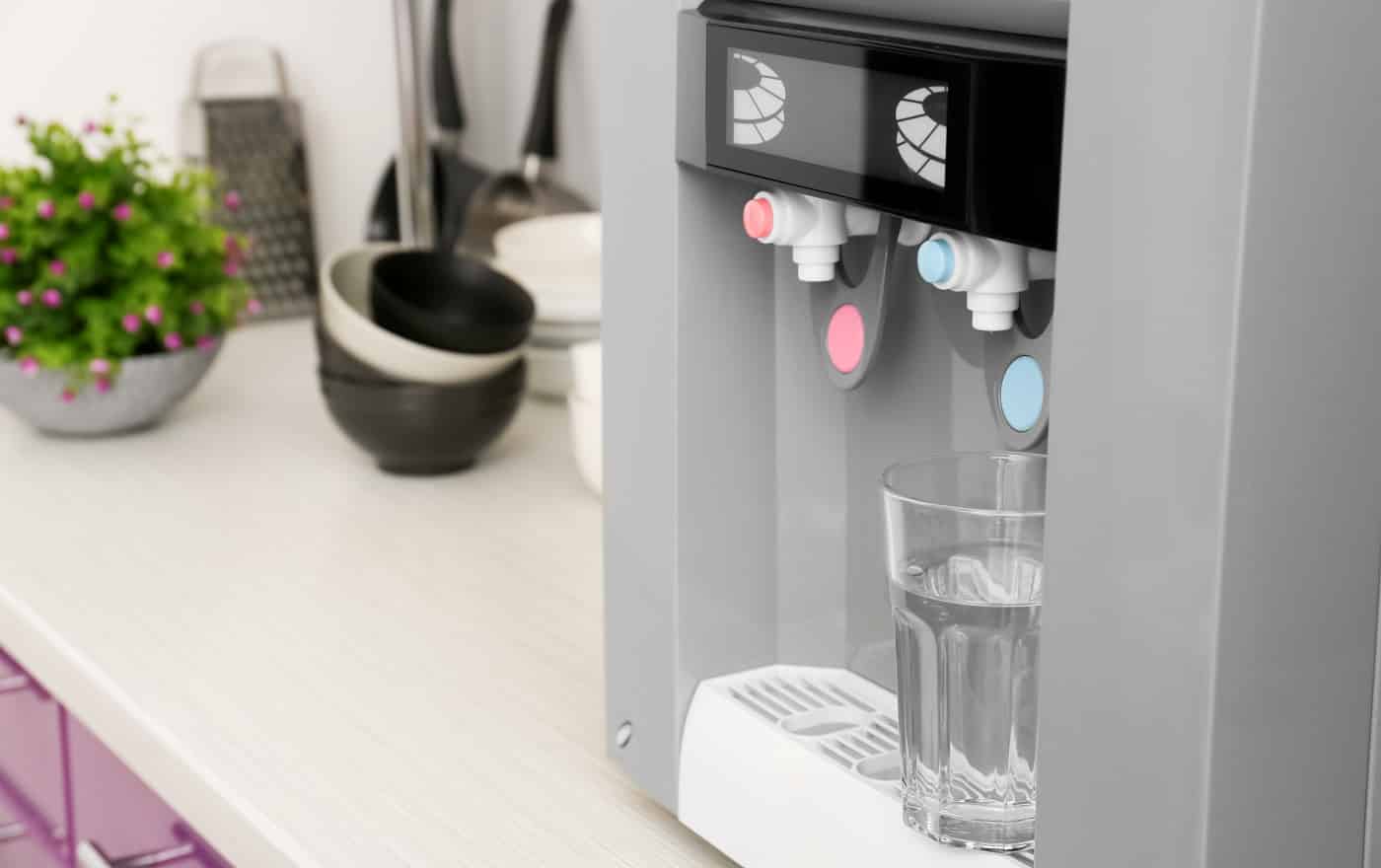 By bringing home this pro from AquaTru, you can always get the much desired clean water free from almost all contaminants. Equipped with superior purification technology, it helps in providing consistent service for years to come. Also, the brand offers a beneficial 30-day money-back guarantee for this unit.
Sale
Why Did We Like It?
First things first, this unit offers clean and pure water by practically removing all contaminants threatening your health. What makes this possible is AquaTru's patented high-standard reverse osmosis technology, which has the power to remove as many as 83 contaminants, including lead, nitrates, PFOs, fluoride, chlorine, and more. 
Furthermore, it has been tested and certified by the International Association of Plumbing and Mechanical Officials (IAPMO) to be truly effective on all these contaminants. We were also impressed with the twist and seal filters that came with this system, each of which could purify 600 to 1200 gallons of water. 
This implies you will require only one filter change in a span of 6 months to 2 years. So, you don't need to worry about frequent filter changes or using expensive bottled water, like with ordinary water purifiers. 
We also found the removable water dispensing tank to be very convenient as we could store it in the refrigerator to chill the filtered water. 
What Could've Been Better?
This model comes with a warranty period of 1 year, which we felt was insufficient for an RO water purifier. In fact, most customers consider a longer and more reliable warranty to be an important factor while purchasing water purifiers. But with regards to its performance, we didn't face any issues. 
Pros
Offers pure water

Removes 83 contaminants from water

Filter change required only every 6 months to 2 years

Removable tank lets you refrigerate filtered water
The Express Water EZRO5 is another impressive RO system which can be the ideal go-to water purifier for all household purposes. Featuring a new and improved working mechanism, this unit does away with the need to keep bottled water at home since you get much purer water anytime you want! To know more about it, let's move on to the next few sections.
Why Did We Like It?
The best thing about this unit is its unique design, which consists of a dedicated faucet for filtered water fixed on the topmost filter. This is unlike most other ordinary RO systems in which clean water comes out from the faucet adapter. 
As such, it's a suitable unit for those who don't want an adapter for the faucet in their kitchen. Another major benefit of this feature is that it lets you carry along the unit anywhere you want, thereby enhancing the portability factor.
Even the straightforward 4 point system for connecting the parts is praiseworthy as it simplifies the installation procedure while also preventing leakages. Plus, you won't need any tool for the installation, so brownie points awarded!
Coming to the filter changing system, it's pretty effortless since all the 3 filters are incorporated in the unit, so all you need to do is just swap them. And they need to be replaced just twice a year, which means you're relieved from the hassle of frequent replacement. 
What Could've Been Better?
Sure, this unit works wonderfully to deliver pure water whenever you need it and is also quite convenient to use. However, it doesn't come with a case around the filtration system, which somewhat reduces its visual appeal in comparison to other units such as our previous pick. 
Pros
Has a dedicated faucet for filtered water

Easy installation without any tools

Highly portable

Easy filter change
Cons
No case around filtration system
Halfway through our list, we've picked this stylish RO system from AlcaPure that delivers pure water each time. It comes with a slew of features that work to enhance user convenience to a great extent so that getting purified water anytime and anywhere becomes super easy.
Why Did We Like It?
First and foremost, the filtration system of this unit includes an additional post-filter that helps in delivering healthier water compared to other high-performing models. After the efficient reverse osmosis filtration functionality removes 99% of contaminants from the water, it moves into this filter to enhance its quality. 
Interestingly, users can choose between two types of post filter as per their preferences, namely, AlcaPure and OnliPure. 
While the former variant works to increase the pH of the water by infusing minerals such as Calcium and Magnesium, the latter reduces the amount of leftover chemical contaminants. 
In addition to this, purified water can be obtained with the push of a button, that too, just within 15 minutes of adding the water into the bottom pitcher. This unit also ranks high in terms of space efficiency, as it has a compact rectangular design that can fit in compact spaces. 
What Could've Been Better?
Some buyers have reported that this RO system may arrive without the power cord in the package. So, make sure you check the package thoroughly to ensure all components are provided therein. In case you find something missing, immediately report it to the manufacturer.
Pros
Includes post filter for providing healthier water

Lets users choose between two post filters

Yields purified water in just 15 minutes

Save considerable space
Cons
Might arrive with the power cord missing
This allrounder RO system from the reputed brand KFLOW is capable of providing pure and healthy water that every family desires. Its range of intelligent functionalities ensure ultimate user satisfaction and convenience. That's why it has already gained considerable popularity among homeowners across the country. 
Why Did We Like It?
What we liked the most about this unit was its recycling multi-filtration technology, which can help save up to 70% more water than what the regular RO systems can manage. This also helps in reducing the regular costs on bottled water.
Not only that, but we also loved the filtration technology, which is at par with some of the high-end models on the market. It combines a variety of filtering materials such as coconut carbon block, polypropylene, and RO Membrane to remove thousands of contaminants from the water. 
You even get an innovative carafe that replaces the regular pressure buckets found in most other RO systems. It is a much more eco-friendly component and helps in reducing secondary pollution to a great extent. Lastly, filter replacement for this unit is very easy and quick as the spiral filters can be changed within seconds!
What Could've Been Better?
The model may not always be packaged properly and might even arrive with slight cracks on the lower portion. We felt the packaging material used was weaker than other brands, so it's prone to damage during delivery. However, performance-wise, we have no significant complaints. 
Pros
Saves upto 70% more water

Removes thousands of contaminants

Eco-friendly carafe reduces secondary pollution

Filters can be replaced within seconds
SimPure is undoubtedly one of the leading brands in the water purification industry, and its products are loved by users all over the country. This RO system is among its most popular units, and does uphold the reliability of the brand. From our experience with the product, we can assure you that it delivers a quite satisfying performance.
Why Did We Like It?
Perhaps, the most significant feature is its 5:1 drainage ratio since this ensures that you receive almost all the water that was added to the tank each time. Ultimately, this reduces the amount of water wastage substantially, which is something that very few units can offer. 
Also, like our previous recommendation, it incorporates multiple filtration technology, letting you save water by up to 1500%. This way, a pack of filters meant for 1 year use can do away with the need of 10,000 plastic bottles, which in turn, cuts down on plastic pollution. Sounds great, doesn't it?
Another major benefit is the fast dispense flow rate of 418 gallons per day, which helps you obtain one cup of purified, clear water in merely 15 seconds. Finally, the brand offers a really effective customer support facility where you can get help for any issue that you might face during the service-life of the product. 
What Could've Been Better?
The only issue that you might face with this model is with the procurement of replacement filters. That is because the brand may not be able to offer the filters immediately after you order them, requiring you to wait for as long as a month. 
Pros
Saves water by up to 1500%

Ensures minimal water drainage

Extremely eco-friendly

Dispenses water much faster
Cons
Replacement filters may not be readily available 
Towards the end of our list, we've included yet another unit from SimPure that features an improved functioning and also sports a more appealing design compared to its predecessors. It offers greater reliability and convenience to users and can put an end to their dependence on impure tap water.
Why Did We Like It?
To begin with, this filter uses the latest UV technology for purification so that you get ultra-pure water free from almost all microorganisms. This feature works to remove the dead microorganisms floating in the water after the RO filtration system has already killed them. You can think of it as a means of double filtration.
For initiating the flushing action, there are both automatic and manual flushing modes to suit different user preferences.
You will also like the compact yet slim and elegant design of this RO system, which adds to its physical appeal. And as for the pure to wastewater ratio, it is the same as the Simpure Y6, making it equally capable of reducing water wastage by recirculation. 
Furthermore, it allows you to obtain purified water as per the volume you need. This is made possible by a touch control setting that lets you choose the required dispense volume between 6, 12, and 15 fl oz or activate continuous flow mode. 
What Could've Been Better?
Most customers were happy with the performance of this RO system as it delivered the ultra-pure water as it claimed. However, they pointed out that the dark exterior surface of the water reservoir made it a bit difficult to keep track of the water level.
Pros
Flushes dead microorganisms from the water

Has a compact yet elegant design

Reduces water wastage by recirculation

Lets users adjust the dispense volume
Cons
Keeping track of the water level in the reservoir is difficult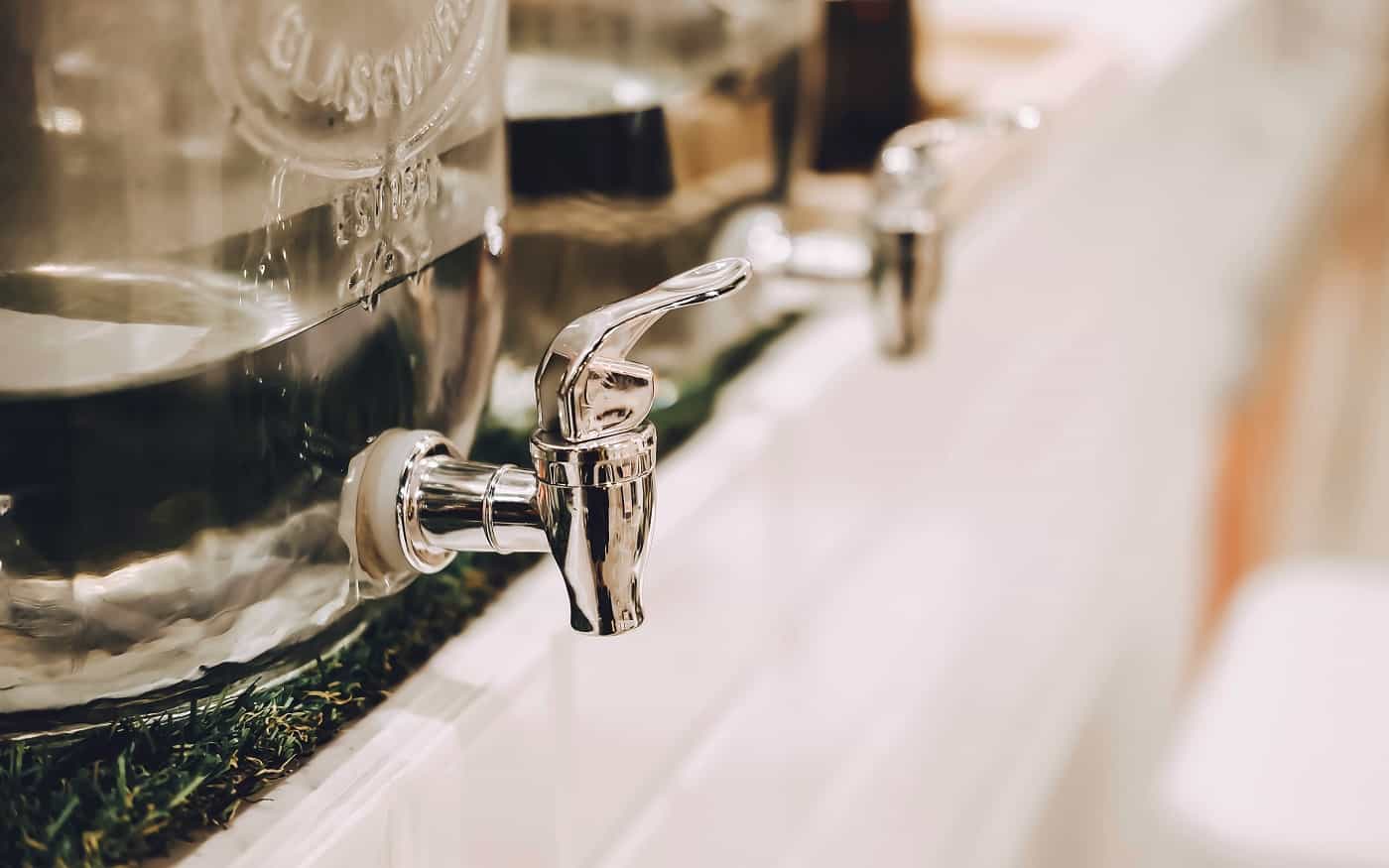 Countertop Reverse Osmosis System Buyer's Guide
For choosing the right countertop reverse osmosis system for your home, it's definitely important to go through the details of some high-performing units. But the work is only half-done until you take into account some key characteristic features of RO systems. 
Making a hasty decision by just glancing at some specifications may fetch you only partial results. On that note, we've listed some essential factors that you need to keep in mind before proceeding to purchase a suitable RO system. Check them out below:
Water Output
This is a very crucial factor to consider when you're choosing an RO system as it directly determines the speed of water dispensation of a unit. The water output is generally measured on a gallon per day basis, and can be found out from the product description for each unit. 
Besides, the water output gives you an idea about the efficiency of the purification technology. In this regard, some filters can eliminate the contaminants faster than others so that you get more purified water at any point of time. 
To get a unit with the ideal output, you must have an estimate of the amount of purified water you would need daily. For instance, users who engage in cooking or other activities that need lots of water would require a unit with a greater water output and vice versa. 
Pure To WasteWater Ratio
Checking the pure to wastewater production ratio of a unit is also essential since it determines the amount of wastewater that is drained out for disposal after each filtration. Naturally, users will want the maximum quantity of water in the reservoir to be purified, so a good-quality RO system should have a greater pure to waste water ratio. 
This ratio, in turn, would vary according to the pressure at which the water is forced through the filters in the unit. The higher this pressure, the more pure water will you obtain from the filter for any given amount of water added to the reservoir. However, other factors such as the water quality, temperature, and pH also influence this ratio. 
Before choosing a suitable unit, you should keep in mind that an RO system with a pure to wastewater ratio of 4:1 or above is considered ideal for residential use. 
Filter Replacement
The pure and healthy water that every user desires is produced by the filter cartridges in an RO system. So, they are of paramount importance when it comes to choosing the right unit. And when the contaminants collecting in the filters increase to a certain level, you need to replace them with new and fresh ones. 
Considering this, the annual frequency and technique of filter replacement affects its performance to a great extent. Note that the filter replacement frequency for a good-quality RO system is one or twice per year. 
With regards to the technique, more convenient units allow users to replace filters very easily within just a few seconds. For instance, the filters for the KFLOW unit that we discussed above can be replaced by unscrewing the back cover and putting the new cartridges, much like replacing batteries in a remote. 
But you should also keep in mind that if the water supply at your home has a high amount of a particular contaminant, it may require you to change the filters more often. Hence, it's best to have your water tested if you're not sure about which RO system that will work best. 
Certifications
Although most users tend to overlook this factor, it tells you a lot about the efficiency and reliability of an RO system. After all, a certification guarantees that a certain unit can reduce a substantial amount of contaminants in the water that are otherwise harmful for your health. 
The most coveted certifications include those offered by NSF/ASI and the Water Quality Association or WQA. 
Notably, the former proves that the filtration system complies with the technical requirements for the removal of specific contaminants. On the other hand, the latter provides listings to prove that the filter has been tested and approved to comply with the claims that the manufacturer is stating. 
While going through the product information, make sure you check whether the unit comes with a certification for water quality, such as the ones discussed above. 
Remineralization 
This is a major differentiating factor for RO systems as it enhances the efficacy of a unit by a great extent. A water purifier that includes a filter for alkaline remineralization provides water with natural magnesium, calcium, and other beneficial minerals.
Thus, it will let you derive water that is not only bereft of almost all harmful microorganisms but also more healthy for your body system. 
The water that collects in the jug of the models containing a post filter for remineralization is known as alkaline water since it has a greater pH than regular water. Likewise, the units which don't have such a filter produce water with a lower pH, which is referred to as acidic since it doesn't contain the beneficial minerals. 
Remember that not all units come with this feature, so you must check the product information for the availability of an alkaline remineralization filter. 
Maintenance
Proper maintenance is a significant factor to consider while choosing an RO system since its performance will also depend on how well you can take care of it. Obviously, those that are easier to maintain are always preferred by most homeowners. 
This is why it's essential to check whether there's any information provided on the maintenance requirement for the unit. If you're not clear about the same, you can contact the customer support facility for a brand. 
The cost of maintenance is also something that you'd want to consider as it includes the annual cost of replacing the filters and other related elements of the purification system. At the same time, don't forget to check the availability of filter replacements for the unit you're considering. 
Design And Installation 
The design of the RO system must also be considered since an ideal RO system should be convenient to handle and operate. Here, you'd want to check the ease of refilling the reservoir as well as handling the jug where the water is dispensed. In addition, many models come with indicators for filter replacement and touch controls for obtaining water as per your consumption requirements.
Another major factor is the ease of installation, so make sure you go through the installation procedure mentioned in the product description. 
Plus, some RO systems have to be connected to a faucet after installation, while others use an electric connection for operating. Therefore, you have the liberty of deciding on the type that will be more convenient for you.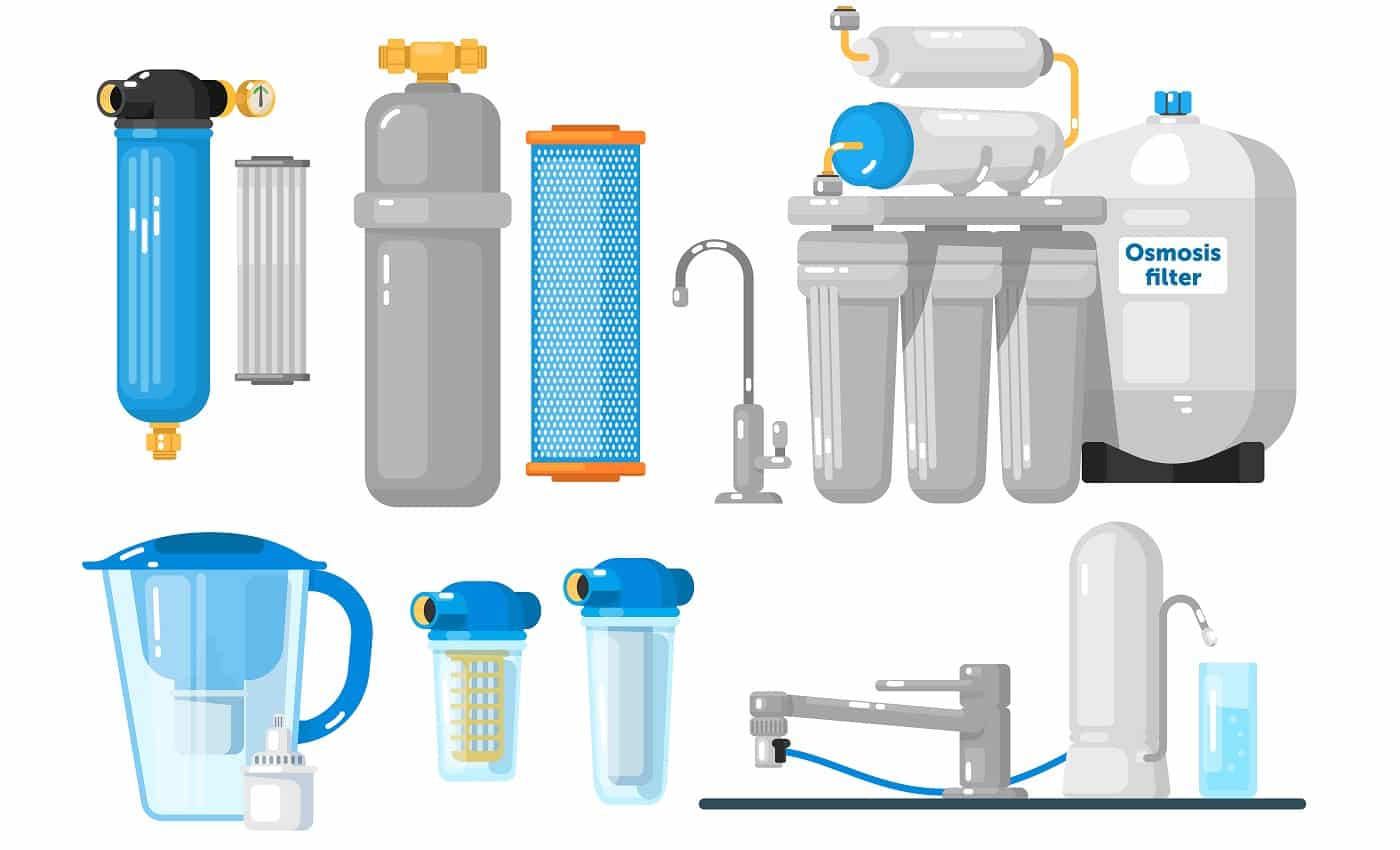 Verdict
With that, we have almost reached the end of our guide.
Hopefully, you'll now find it easier to choose a suitable unit. But remember to consider your needs and preferences before proceeding to make a choice. After all, no one likes spending their hard-earned money for nothing!
And before we call it a day, we would like to take you quickly through our favorites from the list.
If you are specifically looking for an RO system that includes a remineralization filter, the AlcaPure RKIN-ZIPAL will be the perfect option to go for. On the other hand, the Express Water EZRO5 is an ideal choice if you're searching for a highly efficient and convenient unit but are faced with a tight budget. 
That's all we had for you today. Till next time, take care!
Related Articles
7 Best Refrigerant Recovery Machines of 2022 Reviewed
13 Best Refrigerator Water Filters Today | Buyer's Guide and Reviews
How to Clean a Brita Pitcher and Prevent Mold and Mildew
13 Best Whole House Water Filters
13 Best Water Pitcher Filter & Dispenser 
9 Best Water Testing Kit Right Now
8 Best Water Descaler Softner For Hard Water