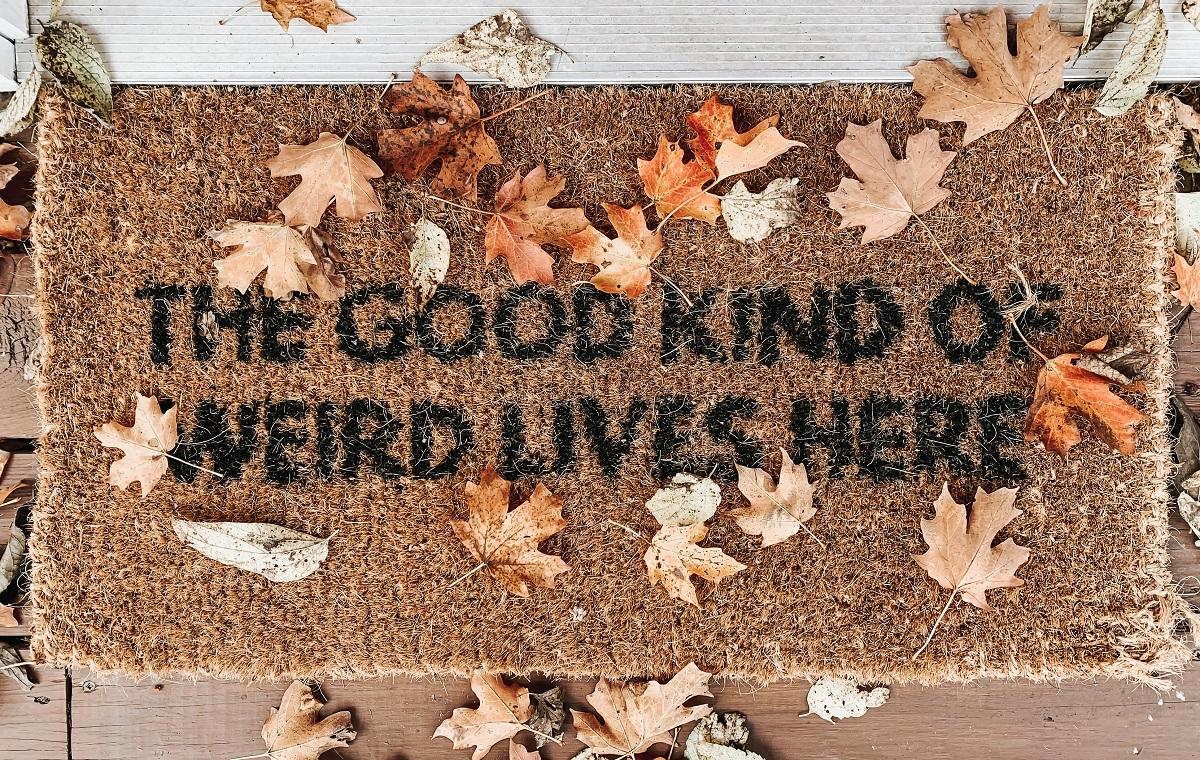 They not only keep your house clean but can also make a statement when placed judiciously. For people with a funny bone, it is best that you purchase a doormat that will leave your guests in splits. But choosing the right doormat can be a pretty challenging task. 
And we thought that it might be helpful if we made a list of our favorite choices. So, let's quickly take a look! 
Best Funny Welcome Mats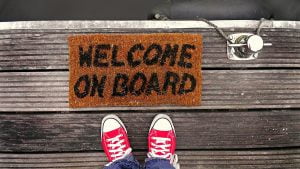 Since doorbells have long lost their charm, putting this humorous mat on your front door will become quite a conversation starter. This durable mat would also be a great fit for homes with newborns too.
If there are kids in the house, you would not want unexpected visitors to come and ring the doorbell. So, you can make the visitors scream "Ding Dong" and embarrass themselves in front of your neighbors. We hope you don't lose your friends though!
If you are a fan of Monty Python, this welcome mat will surely be a great addition to your home. Through this hilarious doormat, you can easily spot the other Monty Python fans. So, next time you have guests, see how they respond to this doormat. 
We suggest that you keep it outside the house and keep the animals away from it. In case they are nestled on it, they will cover the writing, and your guests won't be able to read it. 
You are most likely to tilt your head to read the quote on the doormat. And that is exactly what the makers intended! The sign on the doormat is such that everyone has to tilt their head if they want to read what's written on it. 
Interestingly, this eco-friendly doormat is made of coir and will last for a long time. You and your guests can have fun looking at it. It is pretty interesting, and we are sure no one would keep their shoes on it. 
If you hate unwanted guests too, this doormat can be the ideal pick for you. Be it the outdoors or the indoors, this mat will surely leave an impression wherever you decide to place it. On one side, there is coir, and on the other side, there is a PVC non-skid coating to ensure that the rug does not slip. 
We recommend keeping it at your front step only if the area is sheltered. This is because coir fiber tends to absorb water and look darker than it is. 
For a cheeky doormat that every guest will love, this one is a perfect choice. This option is perfect to create a bit of mystery and confusion when you have guests over. To be honest, it is best for first-time visitors and might lose its charm when you have guests coming over often.
The writing is quite funny and will make the visitor ponder, "Is it a good idea to enter the house?" Well, that only time can tell!
If you are a fan of Lionel Richie, this doormat is the perfect way to welcome your guests. This groovy doormat also makes an ideal housewarming gift for pop lovers. This beauty will add to the décor of any house and will surely put a smile on the guests' faces. 
Moreover, this welcoming mat is a long-standing favorite of many users, and is quite a conversation starter in parties and gatherings. We also like how it is not colorful, so it does not get dirty easily. 
When wanting to make your distaste for unwanted guests clear, we suggest that you give this doormat a try! This humorous mat is a subtle way to tell guests that they should make an appointment with you before dropping by. 
You can keep it on any floor, and it will amp up the space immediately. You just have to shake the mat to remove any footmarks on it. Rest assured, your visitors will raise an eyebrow on seeing it! 
Psychedelic music lovers, we suggest that you give this item a try. This 70s-inspired piece is a great option to go for if you want to give your house a retro look. The font is pretty bold and welcoming. Also, the vinyl back of the doormat helps to keep it in place. 
And you would be happy to know that the text is printed in premium-quality UV ink that won't fade easily. 
A good way to deter burglars from entering your property is by deflecting them to your neighbors. Just kidding!
This humorous doormat reflects deep thinking that will surely make your guests laugh. And maybe it will make the burglars run away! If that happens, what's the harm?
Made of natural coconut bristles, this mat is durable and will keep your visitors entertained for a long time.  
Enough with making fun of your guests. Now it's time that you compliment them a bit. This coir doormat is an excellent way to welcome your guests warmly. It allows you to pass on a nice compliment to your guest before they enter your house. 
To be honest, it works perfectly if you have a date planned at your house. Moreover, a simple wipe would help you clean this doormat in no time.
We have earlier talked about how to keep the burglars away, and now it's time for the serial killers. This coir doormat stands out among others as it comes with a warning sign to serial killers. Rest assured that this hilarious message will help initiate interesting conversations. 
When keeping it outside your door, make sure that you place it in a way that it does not get direct snow, sunlight, or rain. That way, the color will last for a long time. 
This doormat can be the perfect way to let your visitors know when you are done with the day. Now, when they cross your threshold, they will know that you are done with work, and it is relaxation time. 
So, in case someone appears at your door with more work, they will consider delaying it for the day. As the day gets over, it's wine time, and this doormat is a good way to let your guests know that. 
Next up, we have another option for the Monty Python fans. You can place this mat outside the door the next time your buddies are coming over for a Monty Python marathon party. This is a great way to celebrate the all-time favorite show of many. 
Not to mention, the print quality is exceptional and, with little maintenance, will last for a long time. The price is also pretty affordable, and you can easily replace it with a new one when it wears out. 
As they say, looks can be deceiving. And when it comes to this doormat, that is exactly the case. What might seem very welcoming to the visitors might not feel the same when they take a closer look. 
The 'come in' reads as 'go away' when read upside down. It's a quirky piece and tells your guests how everything in life is a matter of perspectives. The letters are printed in a bold font that will surely manage to grab everyone's attention when they enter your home. 
The tussle between dog lovers and cat lovers is an ongoing one. If you are someone who prefers dogs over cats, then this doormat is made for you. It helps you take a subtle dig at cats and tell visitors where your allegiance lies.
This coir doormat is ultra-durable, fun, and will surely give rise to interesting debates. However, we advise that you put it away when there's a cat lover visiting you! 
This doormat is a pretty fun option to amp up your home décor. Right when your guests are about to step their foot in your house, they are going to be greeted with two options: tacos or wine. And if your guests are anything like us, they are mostly going to ask for both! 
You would be happy to know that the manufacturers of these doormats use special technology to make sure that they are mildew resistant. 
For every "Friends" fan, this doormat is a perfect gift as it sports the hilarious catch phrase "How You Doin'?" You can also consider keeping it in the office if you want to add some quirk to the décor. 
Plus, this mat did a great job in channeling the inner Joey Tribbiani in us. The font is quite bold, and it can be read even from far. 
All Guns N' Roses fans out there, this pick is just for you! Drawing inspiration from the very famous track "Welcome To The Jungle," this doormat is a long-standing favorite of music lovers. Everybody who loves the band will go for this doormat without any second thought. 
It is designed out of natural coir and also features a weatherproof vinyl backing. The durability of this item enables you to keep it outdoors or even under your couch. 
Do you hate it when salespeople knock on your doors every now and then? With this doormat, you can keep all unwanted guests at bay. This welcome mat tells whoever visits that you have a canine friend in the house. 
It will let your visitors know that there's a dog in the house and prepare them so that there's no unpleasant surprise. The sign on the doormat makes it abundantly clear that trespassers won't be entertained.  
If you are fascinated with home décor and real estate, you must have been a fan of MTV Cribs. And this doormat is a non-subtle way to tell your guest that they are in for a treat as they enter your house. 
When you search for a cheeky doormat, this one is a must-have. The font is pretty bold, and reading it is simple. And the color quality is exceptional and notably durable. 
Like us, if you also hate it when people drop by without any prior notice, it is best that you put this doormat outside the house. It asks the visitors point-blank why they are at your home. This mat happens to be very popular in sorority houses and frat houses. But the suburbs have many fans too. 
Because it is made of natural coir, this doormat will last for a long time and keep unexpected visitors away. This cool mat will surely make for an exciting addition to your house. 
Install this doormat when you have to break it to your guests that the man in the house is super lazy and most likely won't answer the door. It also tells the visitors that the pet in the house is shady and is most likely going to bark at them. 
This pigmented coir doormat is the perfect way to let your guests know who to ask for when they visit: the woman. There's no way it won't create a fun moment for your visitors. 
Tired of your ex dropping by every now and then? Maybe it's time that you get your hands on this funny doormat. On this mat, you will see cacti of different kinds, which clearly is a direct way to show your displeasure to unpleasant guests. 
This is a rather straightforward way to tell douchebags that they should rather stay away from your house. The mat is sturdy and is most likely to see many of your exes come and go!
Well, we don't only have mat options that make you look impolite to your guests. This one, for example, is all about good vibes. This welcome mat is fun and helps create a warm feeling in both adults and kids. 
Even if people walk over this rug, there's nothing to worry about. It is suitable for use in all seasons, too, as it is weather-resistant. You can buy it from the official website of the brand or from other third-party websites. 
Want to tell the visitors that overstaying at your place is probably not a good idea? Then this doormat is made for you. Whenever your guests stay longer than they intended, this doormat can be a subtle reminder that you would prefer that they don't overstay their welcome. 
This handmade outdoor doormat is a favorite of many introverts who don't like entertaining guests for too long. 
You better pick this doormat for the house if you want to give off a warm and cozy vibe to the people visiting. This doormat is a great way to tell people that they are entering a good place, and they will be accepted the way they are. 
When people see this mat at the entrance of your house, they get a peaceful vibe. It's a great way to tell people that they are entering a mess-free house, and everything is happy inside. 
Want to tell your guests that they should keep the atmosphere in your house happy and tension-free? Well, then this is the doormat to install. It tells everyone who enters your house to leave their shoes and ego behind. 
You can rest assured that this tough coir brush surface will be able to keep dirt away from your front step. And the best part is that it is available in multiple sizes. 
When you want to make the pyramid-scheme sellers go away from the house, it is best to get your hands on this rug. This is a good way to let people know that they are only welcome in the house depending on who they are. 
As people read what's written on the mat, they will wonder on which side of the fence they fall. To be honest, it is the best way to filter out unexpected visitors. 
Want to let your guests know that your house is all about good vibes? Then you should probably check this option out. When folks enter your home, they will have to channel all their good vibes. 
It is an excellent way to ensure that no negative energy crosses your threshold. The mat is pretty sturdy and can easily handle kids running over it. To sum it up, this doormat is a fun way to do a vibe check. 
With this mat, your house will surely get turned into a party hub. Next time you have people coming over to your place, simply put this doormat out on the porch to set the mood right. 
In short, the dark brown coir rug is a favorite of every party enthusiast. Place it inside your door or outside it; there's no way people are not going to notice. With this doormat, now you can welcome your guests in style!
Honesty is the best policy, and this mat is as honest as it can get. This doormat clearly says, "welcome to the shitshow," and is a great way to welcome the guests to the happy madness that is your house.
With the help of this mat, your guests will know what they are in for. The writing spans across the entire doormat and will surely make your guests pause before they enter your abode. 
This option stands as one of our favorites, as the message it sends across is pretty dubious. How the writing is going to be interpreted completely depends on who is at your door. When you have friends coming over, it's an excellent way to let them know that a lint roller would come in handy, and your furballs would jump on them and shower them with love. 
However, if it is the mailman at the door, they better be running after seeing the mat. 
Wordplay is the perfect way to keep your guests entertained. And this doormat is excellent at doing that. It is very clearly spelled out on the rug that the inhabitants of the house are pretty classy, but they do cuss sometimes. 
When you are planning a boy's night out, put this doormat out on the porch to discourage your friends from bringing their kiddos. 
Well, James Bond doesn't have to be the only one saying "die another day." With this doormat, you can ward off unwanted people from your house like a pro. Many times, there are people coming and knocking on your door asking you to join some random cult. And this doormat will drive them away successfully. 
This coir mat is a good way to scare away unwanted visitors. Moreover, you would be happy to know that it is a long-lasting option. 
If you have young kids and pets in the house, it is safe to say that your home is not like the other homes. Kids can be as naughty as wild animals, and it is best to let your guests know what they are getting into before crossing your threshold. 
It is true that a doormat like this might turn many of your guests away. Only "grandmoms" and "granddads" will have a gala time at your place. 
Live, laugh, love, that's an old dictum now. This doormat has "live, laugh, leave" inscribed to make it clear to unexpected visitors that you are not going to entertain them for too long. It is a pretty straightforward way to tell people you are not up for random chit-chat. 
With a cute little heart symbol, you can rest assured that no one will get offended. We feel that when your guests see this, they will not be able to control their laughter. 
Looking for a good excuse to justify why your house is a mess to your guests? Grab this doormat, and your problems will be sorted. It clearly says that your home was clean yesterday, but unfortunately, the people visiting you missed it. 
You can wipe your feet when entering the house on this mat, and it will keep the house clean. The size of this rug is decent and won't cause any hindrance while entering. 
We are undecided about whether this mat is a bit threatening or brings relief to your guests. Whatever be the case, it will indeed evoke laughter in some. With this warning in place, we are sure that your visitors will sleep with one eye open. 
The writing is in bold font and spread out all across the mat. You would have no problem reading what's written on the mat. In case a shady person decides to drop by, they will indeed feel overwhelmed seeing this. 
For all folks who love being sarcastic, this doormat is the best bet. Nobody can get offended, as honesty is the best way to go about it. Jokes aside, this mat is pretty blunt and might result in some raised eyebrows. In case anyone gets angry, remind them that you were just being upfront. 
This quirky mat is one of our favorites as it manages to draw laughter among our friends every single time. It works as a great conversation starter. 
Everyone knows that one family that is a bit weird but super fun to be around. If yours is like that, get your hands on this doormat. Place this doormat on your stoop, and people will have a smile on their faces when entering your house. 
This sturdy coir mat is a significant investment when you want to create a warm vibe for your house guests. It is the best way to welcome people to the happy madness that is your home. 
With the doormat, you can ask your friends if they have gotten any Tacos for the house. Unless there are Tacos, they cannot enter your abode. This doormat is a must-have for foodies, as it makes it clear to all who are visiting you. 
We loved the fact that this item is quite durable and can take heavy traffic. So, even when you put it outdoors, it can handle high footfall.
Are you a LOTR fan and want to make that fact known to all who visit you? Then it is time that you give this mat a try. When people see this mat, they will understand you are a LOTR fan, and in case they are one too, they will surely get more excited. 
On seeing this excellent mat, your friends may feel encouraged to make LOTR references, and that would make for great conversation starters. 
Is that vacuum salesperson visiting your house every weekend and getting on your nerves? To deal with this issue, you just have to put this mat on your stoop. 
This is one of those funny doormats that sends your visitor on a guilt trip before they enter the house. It will make them question if they should really be there. 
Not every friend requires a grand welcome; some of them are regular visitors to your place. And this mat is the best bet when your buddies who are regular to your house are coming over. 
This doormat takes away the need to greet them as it does on your behalf. Now, you can put aside the greetings and just get to watch the game together. 
For all the Star Wars fans out there, we have the perfect mat choice for you. This doormat is the best bet for all Star War nerds who want to make their allegiance known. Made out of environmentally-friendly material, this Buzzfeed choice doormat will surely amp up your space and help initiate exciting conversations. 
This is one of those funny doormats that will successfully drive away unexpected visitors. When people plan to drop by without a prior appointment, this doormat will make it clear that they aren't welcome. There's no doubt that your friends will have a hearty laugh when they see it. 
Take little care of it, and rest assured that it will last for a long time. 
Are you a HIMYM fan who just could not stop talking about the show? Then we are sure that you will have an opinion about this rug. When you are feeling experimental and want to get your friends confused, this is the one to go for. And you can rest assured that it will safely keep unexpected visitors at bay. 
Is that A jimmy Choo that your guest is wearing? It does not matter, as the house rules are to take the shoes off before crossing the threshold. And this doormat gives the right cue to your guests to take their shoes off before entering your house. The house rules are such, and everyone must follow!
Are you tired of people dropping by without checking with you first? If that's the case, this doormat is a must-have. If you are a Gen-Z or a Millennial, you should probably know that dropping by anyone's house without notifying them is not a good idea. And this mat conveys that skillfully. 
Your friend might not feel delighted after texting their ex after getting drunk with you. We suggest that you place this doormat strategically to warn your friends on time. When there's a party in the house, before they enter, they can read this doormat and quickly put their phones on airplane mode. 
Some people like getting creative with DIY mats, but if that's not up to your alley, then you can try installing this cool doormat. Unless you are a party animal, the chances are that you will find this doormat quite interesting. It will help you tell people off very politely.
This doormat is an excellent way to tell people that your dog would judge them unless they bring treats! If they do, they are most likely not going to get judged. So, this rug will warn your guests timely, and they might make a last-minute visit to the supermarket.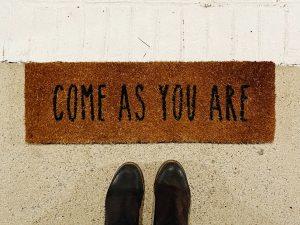 Best Funny Welcome Mats Final Words
With that, we have finally reached the end of this informative guide. We hope that you had as much fun reading it as we had while curating these quirky doormats for you. 
Doormats are the first thing that people notice before entering your house, and it's best to make it worth their while. If you liked this guide, keep an eye out on this space for more exciting reads. 
Until next time, adios!
Related Articles
How To Get Creative With DIY Door Mats
36 Examples on How to Use River Rocks in Your Décor Through DIY Projects
39 Insanely Smart and Creative DIY Outdoor Pallet Furniture Designs