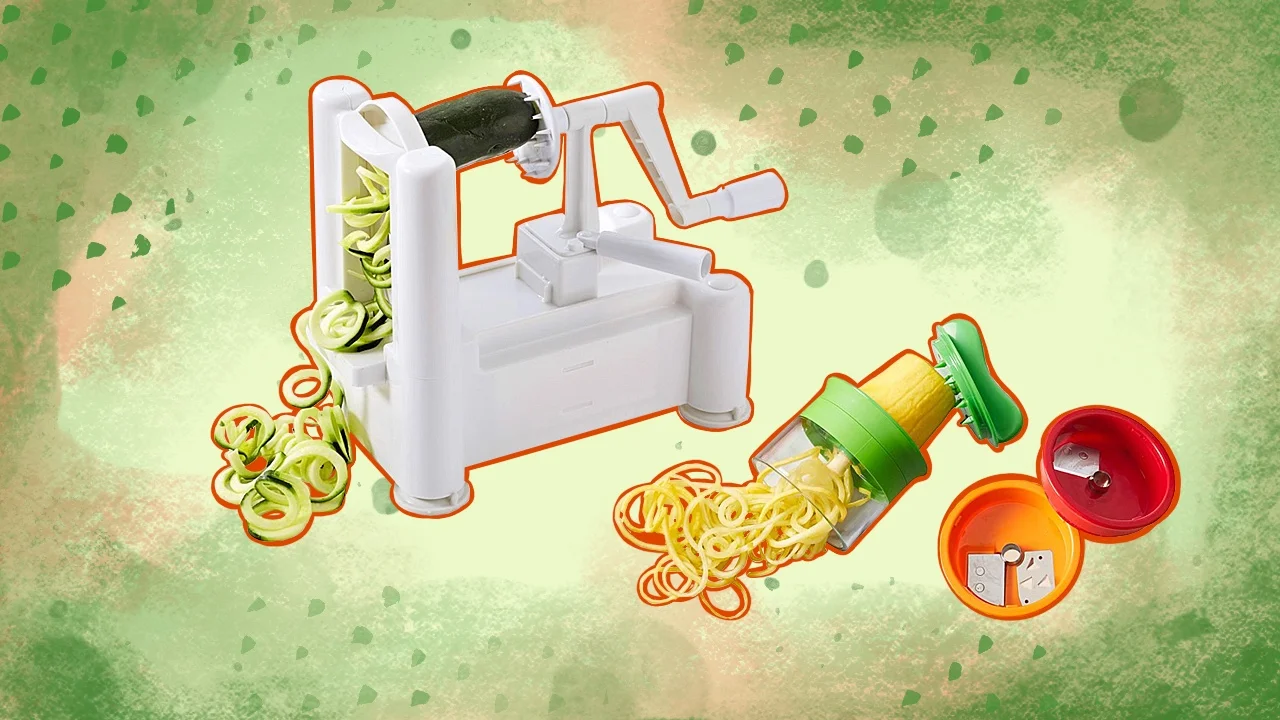 Vegetable spiralizers are one of the best to make vegetable noodles. It's a fun and unique way to cut vegetables your guests love.
Not to mention, it's also an awesome way to sneak some vegetables into your kid's diet. You don't have to lure them with different tricks anymore. 
Today, I will review some of the best spiralizers in the market. Keep reading, and let's get started!
What Are the 10 Best Spiralizers to Buy?
You'll want a spiralizer if you've always been fond of those vegetable noodles you see in infomercials.
It's one of the best kitchen gadgets that can help bring fun to the kitchen.
What I like
Powerful, sharp blades: ribbon blade, peeling blade, and more. 

Comes with a lifetime replacement

Dishwasher safe 

Strong suction feet
This handheld spiralizer is a must-have in the kitchen, with over 26,000 rave reviews on Amazon.
I was so excited to try it out and see what this gadget could do!
I can tell you now that it certainly didn't let me down; it comes with seven stainless steel blades designed to make noodles of various sizes from both hard and soft vegetables (ex. cucumbers, sweet potatoes, etc.).
It's as simple as suctioning the cup to the counter and cranking the handle – no fuss!
Not only does this spiralizer deliver quality results, but its convenient size and sleek ribbon blade make storage a breeze.
However, cleaning all those components is slightly tricky. All in all, this seven-blade vegetable slicer is an excellent addition for any home chef looking for top-notch performance. 
Material: Stainless steel | Number of Blades: 7 stainless steel blades | Blade Shape: Rectangular | Operation: Manual | Weight: 1.9 pounds
Sale
What I like
Space-saving handheld spiralizer

Sharp stainless steel blade vegetable slicer

Very easy to use and dishwasher safe

Compact and portable
If you're looking for an efficient vegetable slicer, this one is the perfect choice.
Its dual stainless steel blades will quickly and easily cut through your vegetables, leaving you with perfectly-sliced spirals. 
What I love most about this item is its small size – it's ideal for those who don't have ample storage space.
Not only do you get two blades for slicing and dicing, but also a vegetable holder and removable container to store your freshly-cut veggies.
When it comes time to clean up after use, just pop the slicer into a dishwasher – no need to worry about dealing with messes!
The only downside of this device is that since there's no hand crank, all the slicing has to be done manually which can become quite tiring when prepping lots of vegetables. 
Material: Plastic | Number of Blades: 2 stainless steel blades | Blade Shape: V-shaped | Operation: Manual | Weight: 0.5 ounces
What I like
It can fit a small kitchen drawer

Great handheld spiralizer

Completely dishwasher safe

Very easy to use
What I don't like
Doesn't have a vegetable holder
With the Ontel handheld spiralizer, you no longer need to take out your favorite vegetable noodle pasta.
You can make one right in your kitchen with ease!
Its sharp stainless steel blades cut through most vegetables with only one blade, creating a product that looks straight out of a cookbook.
This device comes with an affordable price tag and is perfect for anyone looking for convenience and great features.
The only downside of this handheld model is that it doesn't come with a vegetable holder, which can be tiring if you're slicing many veggies. 
Material: Plastic | Number of Blades: 1 stainless steel blade | Blade Shape: Curved | Operation: Manual | Weight: 0.23 pounds
Sale
What I like
Dishwasher safe parts

Powerful suction cup 

Sharp spiralizing blades

Can make a lot of vegetable noodles
The Brieftons vegetable spiralizer is one of the most heavy-duty hand-crank models I've seen. Spiralizing hard vegetables like sweet potatoes is a walk in the park. 
At the outset, the suction feet at the bottom of this spiralizer are very reliable. It also has a suction lever to add additional counter security. 
I also enjoy the interchangeable five-blades because I can cut my vegetables the way I want them to look. While they're not in use, I can store them for later use. 
And speaking of storing, you'll be happy to know that taking this spiralizer apart is so easy. You put them inside your kitchen cabinets when you don't plan to use them. 
One thing this spiralizer can improve on is its hand crank. I found it a bit hard to turn, especially on hard vegetables. Other than that, I love this slicer so much! 
Material: Stainless steel | Number of Blades: 5 stainless steel blades | Blade Shape: Rectangular | Operation: Manual | Weight: 2.1 pounds
Sale
What I like
Tried and tested reliable brand

Fast and automatic operation

Flexibility to cut a thin or thick spiral

Perfect for beginners
What I don't like
Requires a separate KitchenAid machine
KitchenAid is one of my favorite brands for kitchen gadgets. They've been around for so long no one can deny they provide outstanding quality and durability in their products. 
Imagine my delight when I discovered that KitchenAid offers spiralizer attachments for their machine. I was over the moon and ecstatic to make vegetable noodles. 
This five-blade vegetable spiralizer can cut vegetables faster than other hand-crank models. The machine does the cutting for you; you no longer have to strain your hands cranking! 
After trying this attachment on my stand mixer, I don't feel like returning to my handheld models. This is just so convenient and hassle-free to use. 
Unfortunately, if you don't have a KitchenAid stand mixer, you won't be able to use this attachment. The attachment is very limiting in that aspect. 
Material: Stainless steel | Number of Blades: 5 stainless steel blades | Blade Shape: Round | Operation: Electric | Weight: 2.2 pounds
Sale
What I like
Creates even spirals

Non-slip design

Reliable and sharp OXO blades

Very easy to clean and dishwasher safe

Compact and lightweight
What I don't like
Not ideal for people with small hands
I was able to get the job done with ease because of how lightweight and compact this OXO handheld spiralizer is.
My friends were super impressed when I pulled out this cool gadget during our cook-off!
The OXO good grips 3-blade spiralizer makes it so easy to create delicious meals that are not only aesthetically pleasing but also healthy and nutritious.
With its interchangeable blade attachments, you can easily make spaghetti, fettuccine, and ribbon cuts – no more guessing which blade is which because they're color-coded for convenience.
Despite having small hands like me, I could still use the OXO good grips 3-blade spiralizer without a problem, thanks to its lightweight and compact design.
I can't say the same for all the handheld models from other brands.  
Material: Stainless steel | Number of Blades: 3 stainless steel blades | Blade Shape: Round | Operation: Manual | Weight: 0.53 pounds
Sale
What I like
Perfect for beginners

Some parts are dishwasher safe

Stays stable on the table

Creates long noodles
What I don't like
Suction tends to get loose at times
Another amazing product from OXO is the good grips 3-blade tabletop spiralizer. The OXO good grips is just as reliable and impressive as the OXO handheld spiralizer, but maybe even more. 
Personally, I prefer the tabletop version because it packs a ton of power, perfect for cutting hard vegetables. The hand crank works as expected, and it holds vegetables well. 
The blade attachments are easy to put on and off the gadget. Just be sure you put it in the right direction so you can cut your sweet potatoes properly! 
Once you finish the blades, you can put them away inside the onboard storage for added safety and convenience! 
The only problem I experienced with the OXO good grips was its suction cup feet. It doesn't stick well on my counters, which is annoying and a serious safety hazard. 
Material: Stainless steel | Number of Blades: 3 stainless steel blades | Blade Shape: Rectangular | Operation: Manual | Weight: 1.5 pounds
Sale
What I like
Large food holder

Very easy to clean and dishwasher safe

Easy installation

Comes with additional blades
What I don't like
Takes some time to cut hard vegetables
The Hamilton Beach electric spiralizer is a game-changer against other handheld spiralizers when cutting hard vegetables.
It has a powerful motor, a large chute, and an impressive storage container capacity. 
Plus, it's easy to use and requires no hand cranking – saving you time in the kitchen.
Like other handheld spiralizers, cutting hard vegetables like butternut squash takes some time. But at least you don't need a hand crank to operate this one. 
I'm so glad I got this machine; it makes prepping my meals so much faster and easier! 
Material: Plastic | Number of Blades: 3 metal blades | Blade Shape: Round | Operation: Electric | Weight: 3.3 pounds
Sale
What I like
Perfect for cutting all types of vegetables

Strong suction cup

Dishwasher safe parts

Includes a small brush for cleaning
What I don't like
Doesn't come with a food holder
Judging by its looks alone, the Paderno World Cuisine spiralizer looks like any other manual slicer. But playing around with this kitchen gadget proves otherwise. 
There are six removable blades that come with the set: spiralizer blades, straight blade attachments, flat blade, julienne blades, and more! 
Slicing my vegetables to the desired size and style is easy and perfect for different dishes. I love the angel hair blade and curly fries attachment because I can cut thin strands of vegetable noodles. 
The small brush that comes with the set is also very handy. I can safely clean the blades after I use the spiralizer. 
Thanks to the extra blades and cleaning brush, I would consider the Paderno World Cuisine spiralizer the complete package. I just wish it came with a food holder to complete the set. 
Material: Plastic | Number of Blades: 6 stainless steel blades | Blade Shape: Round | Operation: Manual | Weight: 1.8 pounds
Sale
What I like
Can fit wide-mouth mason jars

Doesn't require a ton of storage space

Easy to clean and dishwasher safe

Durable and long-lasting
What I don't like
Small blade attachments

Sharp blade might cut your fingers
The first time I saw this spiralizer attachment, I didn't really know what to make of it. But after experimenting with it a few times, I'm now a believer!
It's the perfect tool for those who want to get creative with their salads or pasta dishes.
Plus, it fits perfectly on mason jars so you can take them around easily. Just be careful when handling the blades as they can be sharp!
Material: Stainless steel | Number of Blades: 3 stainless steel blades | Blade Shape: Round | Operation: Manual | Weight: 1 pound
Comparing Top Spiralizers
Factors to Consider When Buying the Best Spiralizers
There's a golden rule I always live by when buying anything: to buy only the best product given the several factors I have in mind. 
Finding the best spiralizer means going through several considerations I'd love to share. Doing this ensures you find only the best gadget to cut veggie noodles. 
Versatility
Always choose a versatile vegetable spiralizer. This will help you have an easier time in the future, saving you all the headaches we both don't want to experience. 
A versatile spiralizer does many functions easily, given only a single piece of equipment. 
Blades 
One of the most important parts of a spiralizer is its blades. The blades should be sharp enough to cut through any vegetables. You don't have to exert too much effort anymore. 
Keep in mind that spiralizers also come with different blade attachments. In general, two blades are enough for basic cutting. Three or more blades are ideal if you want more power and stability. 
Stability Features for Countertop Models
When choosing a countertop spiralizer, ensure it stays stable on the table. I always check how powerful the suction cups are before buying. 
You wouldn't want your spiralizer falling off your table whenever you use them. Luckily, there are a lot of reliable countertop models out there that can stay in place for days. 
Maintenance and Cleaning
Clean-up is probably the last thing you want to do after a tiring day, and even I'm guilty of it. This being the case, I always find a dishwasher-safe spiralizer. 
I can put them inside the dishwasher to clean while I rest after several hours of cooking! Just follow the care instructions on the packaging to make the most of your product. 
Ease of Use
Veggie noodles are often challenging to do, the last thing you want to deal with is battling with the spiralizer. As much as possible, your spiralizers must be easy to use!
You should be comfortable handling the gadget and feel confident cutting veggie noodles. This ensures you get the most fun out of your cooking experience possible. 
Size and Storage
I don't like bulky kitchen equipment. They're hard to put away, especially if you have little storage space in the kitchen. 
If this is your problem, I recommend sticking to a compact-sized spiralizer to cut your zucchini noodles. You can easily store them in your kitchen drawer right after!
Price
Finally, the most important factor of them all is price. Always set a realistic budget for yourself before buying anything. 
This helps narrow your search and find the best spiralizer, given the price point you're willing to spend. 
What Are the Different Types of Spiralizers?
There are different types of spiralizers out there that come with their pros and cons. Knowing what they do helps you find the best kitchen gadget to work with. 
To give you a brief overview, you can choose between a manual, countertop, or electric model. I'll review each of them and why they might be for you. 
Manuel/Handheld Spiralizer
You can't go wrong with a handheld spiralizer in your kitchen drawer. It easily cuts and spirals vegetables, which is what you need it for. 
Handheld spiralizers come in different blade attachments, making sure there's always a manual spiralizer for you. 
I love manual models because they're more compact and affordable than other models out there. Not to mention, most of them are dishwasher safe so clean up will be a breeze.
My only problem with them is that cutting hard vegetables can be challenging.
Countertop Spiralizer
I love countertop models because they're so easy to use, thanks to their hand crank. Cutting hard vegetables to make long noodles is a breeze! 
Install them on your kitchen counter so they don't fall when making vegetable noodles. Use among your favorite separate blades to get the best outcome. 
I also recommend checking the grip of the suction cup and whether it's effective at its job. If not, you can use third-party suction cups to help you out. 
But if you don't want a permanent fixture in your kitchen, countertop models might not be for you.
Electric Spiralizer
Always go for electric models if you're looking for a powerful spiralizer. They're very easy to use; you'll hardly need to exert any effort. 
The machine does the job for you; you don't have to worry about pulling the hand crank. You can create as many vegetable noodles as you want!
This is perfect for cooking large batches of food. The next time you plan a cook-off, consider having an electric spiralizer. 
Fair warning, the electric models tend to be pricier than the handheld ones. They also tend to take up a lot more storage space than you might want. 
How to Use Spiralizers
Watching your spiralizer create vegetable noodles seems like an easy task. You hardly need to break a sweat, which entices many people to try one now. 
But believe it or not, creating vegetable noodles is more challenging than it looks. It has a learning curve, especially with the different vegetables you must handle. 
Here are some useful tips to help you get the most out of your spiralizers. 
Tip 1: Cut Your Vegetables
Cutting your vegetables makes your job a lot easier. This is especially true for hard fruits and vegetables, like apples and carrots. 
I recommend cutting hard vegetables to make your life easier. This is one of the best pieces of advice I can give any beginner out there.
Tip 2: Apply a Small Amount of Force
Apply a small amount of force when running your vegetables in the machine. Push them slightly in the machine until you get even and long noodles. 
Don't worry if you end up with uneven noodles on your first try! With enough practice, you can perfect this cool kitchen skill. 
Tip 3: Always Read the Manual
As much as I'd love to wing using my vegetable slicer, but I've learned to read the manual before using the gadget.
I've encountered several mistakes before, which I could have avoided if I had read the manual. It also helps you understand the other uses you can do with the gadget.
How to Clean Spiralizers
I often feel too lazy to clean my vegetable spiralizers. However, cleaning your blades is important to make sure it remains sharp at all times. 
Warning
Watch out for sharp blades to prevent any accidental cuts. You can use safety gloves to help you out. 
Tip 1: Rinse or Soak the Blades
Rinsing and soaking your spiralizer blades is a good place to start. All you need to prepare is a mixture of warm soapy water, and you're all set! 
Doing this helps prevent any hard vegetable build-ups that become hard and stubborn to remove. 
Tip 2: Carefully Scrub the Blades
Use a brush or a sponge to remove any hardened particles on the blade and the areas around it.  Just be careful of any loose blades so you don't accidentally cut yourself. 
You can soak the blades first to soften any hard bits that might have gotten stuck. This is one of the best tips you do for a single attachment with multiple blades.
Tip 3: Take Your Spiralizer Apart
Some spiralizer models can be removed, meaning cleaning the gadget will be much easier. You can clean each component properly and ensure no gunks are left. 
There are other models; however, that need to be taken apart. Cleaning them may be challenging, but it is possible. 
FAQs Related To Spiralizers
I always get many questions about vegetable spiralizers, and I've decided to answer some of them here. 
I'm sure you'll be able to learn a thing or two from them, which can help you decide whether this nifty kitchen gadget is for you. 
What Foods Can You Use in a Spiralizer?
The sky's the limit regarding the type of foods and vegetables you can use in a spiralizer. 
I love using this kitchen gadget to make noodles out of hard vegetables. Some vegetables include the following:
Carrots

Cucumbers

Daikon

Fennel 

Potatoes
I often also use my spiralizer to shred my vegetables, especially if I'm too lazy to take out my food processor. You can use it even for small fruits and vegetables like:
Apples

Broccoli

Cabbage

Onions

Radishes
You'll have bite-size pieces of your fruits and vegetables! This is a cool trick to incorporate some healthy food items on your kid's plate. 
Are Spiralizers Worth the Money?
Yes, spiralizers are worth the money, and they live up to their hype. It's a kitchen must-have that can make your cooking experience more fun and much easier! 
Regardless of how much you're willing to spend, there's a vegetable spiralizer for you. You can start making your favorite zucchini noodles in no time. 
Can You Use a Food Processor to Spiralize?
Unfortunately, not all food processors can be used to spiralize. You need a spiralizer attachment to get the job done, which not all processors have. 
The beauty of using food processors is they can cut vegetables faster than your handheld spiralizer. 
Should You Peel Zucchini Before Spiralizing?
You don't have to worry about peeling your zucchinis before spiralizing them. The skin is edible and packs a ton of nutrition we don't want to waste. You won't need an apple peeler anymore.
But at the end of the day, keeping the peel on is a matter of preference. Personally, I'd rather have them on than stress over getting the peel off. 
Can You Freeze Spiralized Vegetables?
Yes, you can freeze spiralized vegetables. This is one of the best life hacks I've learned, which helps me with my meal prep. 
Just store your vegetables in a container before leaving them inside the freezer. 
A Recap of the Top Picks
I've named some of the best spiralizers in this list, and they all come highly recommended by different people. Choosing any of all the models in this list is a safe choice. 
But of all those I've mentioned today, three vegetable slicers deserve one final mention: the Ontel Veggetti cutter, Fullstar vegetable slicer, and Spiralizer vegetable slicer. 
Bring the fun of spiraling vegetables at home with the Ontel Veggetti cutter. You'll impress your friends with this unique cooking skill you didn't have to break a sweat to do.
You can spiral sweet potatoes, zucchini, carrots, and more! Despite being a handheld model, its ribbon blades are powerful enough for the job.
I can have angel hair and curly fries vegetable noodles any time of the day. Whipping up a healthy and tasty meal is so easy.
If you're looking for a handheld spiralizer, the Fullstar vegetable slicer is a great choice. It may not be as spectacular as other models, but it does the job.
The blades are tough and sharp enough to make noodles from butternut squash! Now that's one tough blade vegetable slicer.
Although this slicer doesn't come with interchangeable blades, I don't consider it a deal breaker.
For a manual and handheld spiralizer, this kitchen gadget is everything you need to cut and slice your favorite fruits and vegetables.
With its seven blades and reliable hand crank, you can create a mound of fresh veggies for your salad and pasta.
All this comes at a pretty affordable price point that other handheld models will have difficulty competing with.
Conclusion
With the best spiralizers, you can sneak some delicious ribbon noodles into your kids' diet. Pair it with the best mandoline in the market, and you're good to go. 
You can have a mound of thin or thick noodles to serve. I hope you enjoyed this article. Let me know which of the vegetable spiralizers you want to try out. 
I'd love to hear your thoughts! Feel free to share this article with your friends and family who you think will love vegetable noodles.