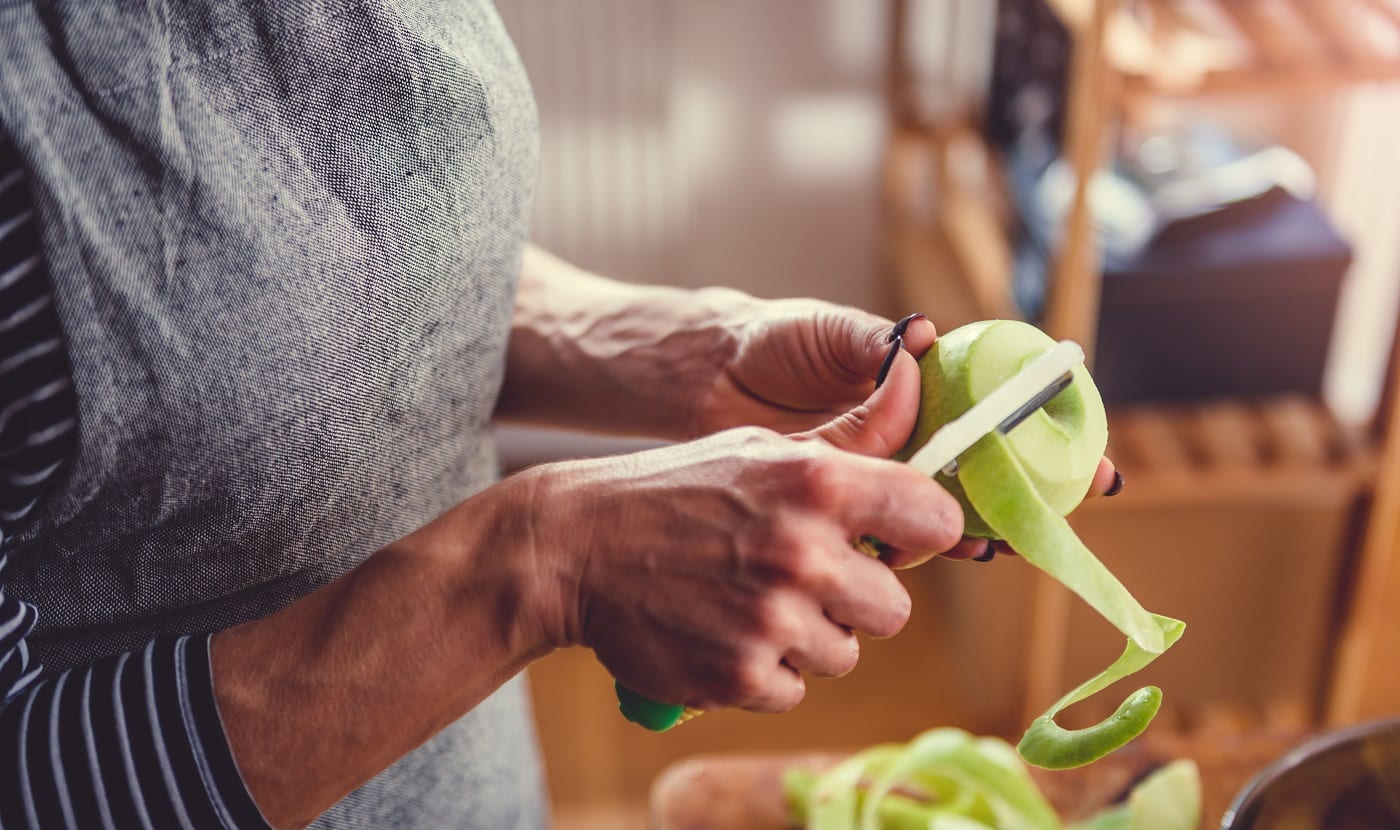 Whether you want to be healthy or are looking for some sinful indulgence, apples are versatile enough to meet every need!
From juices and salads to crumbles and sauces, apples can be incorporated into all types of food items and shine as the star. Not only are they tasty, but also improve your heart's health. However, the skin of the apple seems to be a major factor that keeps people away from this delicious fruit in spite of its nutritional value.
Moreover, the peel sometimes hinders the dessert-making process by making it a tedious task. After all, who wants to end up with hand cramps. If this is one reason why you've been maintaining a distance from apples, we are here with an easy fix.
After careful research, we have put together detailed reviews of the 9 best apple peeler available on the market. Read on to find their pros, cons, and even a buyer's guide!
Now, without further ado, let's begin.
Best Apple Peeler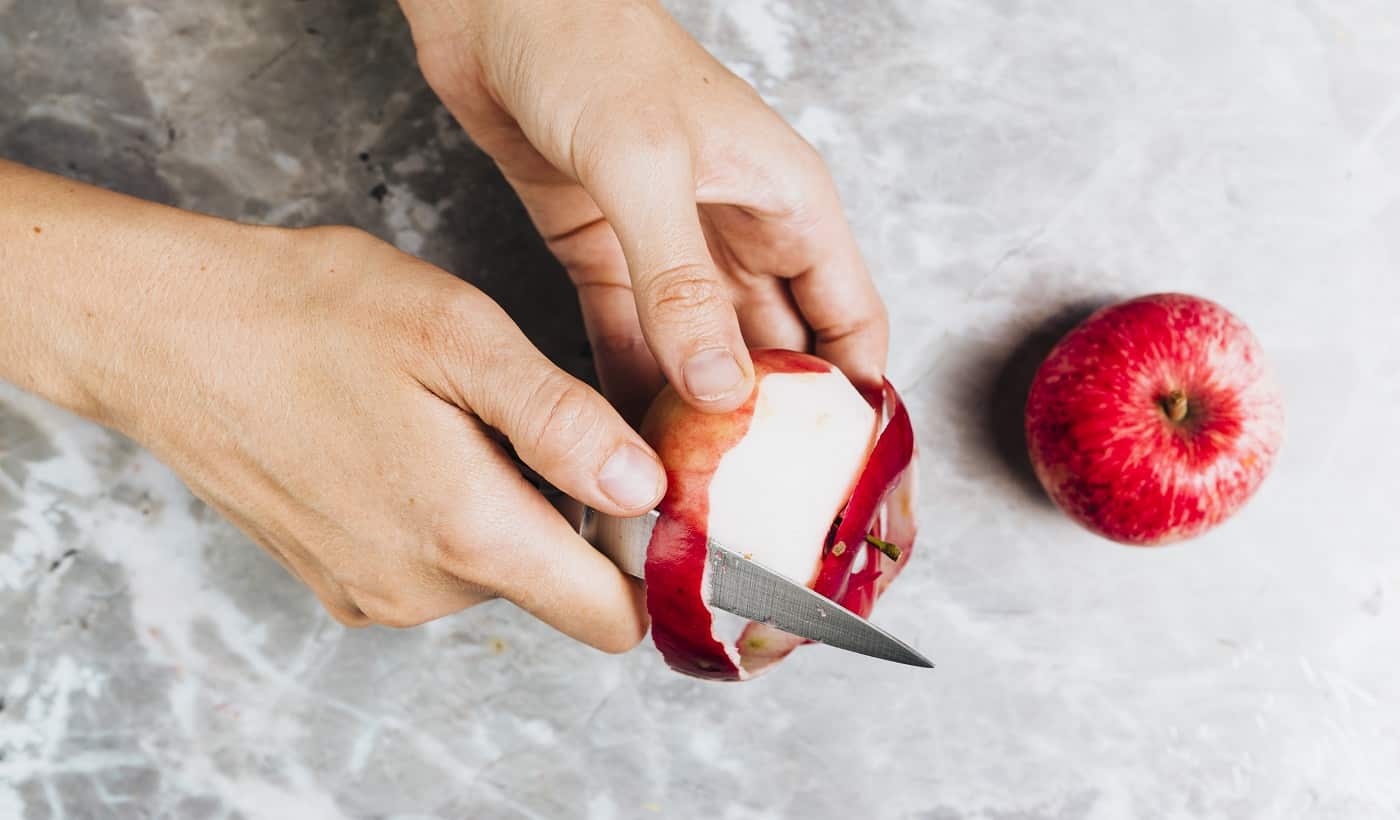 One of the things that people do not look forward to in cooking is cutting or peeling fruits and veg. But that will change with the OXO good grips swivel peeler. While it won't magically make you love peeling, it will definitely make the process a lot easier. Let's take a look at some features.
Why Did We Like It?
The most common issue while peeling apples or other vegetables is hand cramps. However, with the high-quality handle on this, that is not going to be a problem. The OXO soft grip peeler has an oversized soft handle that is comfortable and easy to grip. Plus, it won't slip even if your hands are wet.
In addition to that, it has sharp Japanese twin blades that make the job effortless. The blades can cut apple peels like a hot knife on butter. And it performs a swivel action for precise cutting. It has a potato eyer that can be used to remove any blemishes on the fruit.
The best part about this peeler is that it is dishwasher-safe. The hole on the back of the peeler makes it easy to store as well. Also, OXO has an excellent customer support team that can be counted on if you do not have a pleasant experience.
What Could've Been Better?
This is quite a fancy peeler with many great features. However, it has a very basic flaw. The peels tend to get stuck between the blades, and this increases the food prepping time. A few users have mentioned that they had to pull out the peels after every few strokes, which was quite annoying.
Pros
Easy to grip handles

Potato eyer to remove blemishes

Easy to clean

Sharp blades
Cons
Peels get stuck between blades
Another great multipurpose apple peeler is this one by Spiralizer. It eliminates the need to hold the apple or the peeler since it has to be placed on a tabletop. It is also immensely versatile and can be used to cut or peel multiple fruits and veggies.
Why Did We Like It?
Straight off the bat, we were impressed with the multitude of functions it can perform. Whether you are looking to peel and slice apples for a pie or want to make spiral potatoes, this peeler can make it happen. It has an efficient and sharp blade that can remove the core and slice the fruit in no time.
That's not all; the blade is adjustable. With the help of a small knob on the side, you can adjust the thickness of the blade and set it accordingly. Thanks to this peeler, there is no need to use multiple gadgets to do a job. If you want to slice, peel and core an apple, the spiralizer can do it in one fluid motion.
What's even better is that it is easy to use as it has a suction base cup. All you need to do is place it on the counter-top, put the apples through the prongs, and peel away.
What Could've Been Better?
Given the glowing reviews, it was difficult to find something wrong with it. However, we did come across issues with the suction base. The base is not of the best quality, so it does not hold on long enough after a few uses, making it difficult to use the peeler.
Pros
Blade thickness can be adjusted

Sharp blade

Easy to clean

Can perform multiple functions in one go
Cons
Suction base cup quality is average
Here to make apple peeling even easier is the Starfrit electric peeler. As it says in the name, it is an electric peeler great for moments when you need to make apple-based desserts in an instant. It can also be used on a variety of fruits and veg that have tough, hard-to-peel skin.
Sale
Why Did We Like It?
This is for people looking for a more modern version of standard household items. The Starfrit electric peeler is great for moments when you are craving an apple crumble and do not want to spend a lot of time peeling. It has a convenient non-slip base, so you do not need to hold it in place while using it.
Now, let's move on to the peeling aspect. It is effortless to use and quite efficient as well. All you need to do is place the apple on the machine and push the button. It will peel the skin off in a swift motion in 10 seconds. Thanks to this, you can leave the arm exercise for the gym and not the kitchen.
It encourages safety and hygiene since you do not need to touch or hold the apple while it is being peeled. Additionally, it comes with a 6V adapter, two spare blades, and a plastic knife to cut blemishes.
What Could've Been Better?
The peeler has blades with adjustable height, so you can choose where the peeling starts. However, it does not go all the way to the top or bottom. Due to this, you will have to peel the ends manually, but overall, it does a stellar job.
Pros
Comes with accessories and an adapter

More hygienic than manual peeling

10 seconds peeling time

Easy to clean
Next on the list is the peeler by Spring Chef that aims to make peeling effortless. Spring Chef takes pride in manufacturing peelers that ensure a comfortable grip and reduces the chances of hand cramps. This is also very helpful for people that suffer from carpal tunnel or arthritis.
Why Did We Like It?
Since we understand that peeling can be strenuous on the hands, especially for people with limited abilities, this peeler can eliminate the strain. It has an ergonomic design with a comfortable handle. You will also appreciate that it enables left and right hand use, hence catering to a larger audience.
Moving on to the make of the peeler. It has an attached blemish remover, so you do not need additional gadgets. The blades are made with "smooth glide technology," which ensures the peels do not get stuck in between. The peeler only weighs 0.15 pounds and has a hole in the back to allow easy storage.
Additionally, the peeler is also dishwasher safe and comes with a plastic cover for additional safety. It is a great tool for the kitchen since it can be used on a variety of produce and not just apples.
What Could've Been Better?
Overall, the look and make of the peeler are exquisite. A majority of reviewers cannot stop raving about it. However, the blade seems a bit disappointing. It works effortlessly in the start, but there have been instances where it breaks or becomes blunt after a few uses.
Pros
Attractive look

Comes with a plastic safety cover

Lightweight

Ergonomic design
Cons
Blade becomes blunt after few uses
Like the Spiralizer, the VKP Brands Johnny apple peeler is quite popular and has a rating of 4.7 out of 5. It can core, peel, and slice any variety of apples and be used on other tough skinned fruits and vegetables. Read on to know some of its features!
Sale
Why Did We Like It?
The VKP brands Johnny apple peeler is a great tool if peeling and slicing is a dreaded activity. It will make you want to peel more because of how fast and efficient it is. The peeler has a stainless steel blade that effortlessly cores and slices fruit and veg. It also has an adjustable peeling blade that can peel based on your requirements.
Another great feature is the suction base that sticks to any smooth surface, eliminating the need to hold the fruit and peeler. This makes it a bit safer since the blades are nowhere near the hands. Plus, it can adhere to the surface over cookie sheets, making it easier to clean the counter-top.
Overall, it is a handy tool in the kitchen since it can be used for a variety of produce. It has a sturdy body and comes with a five-year warranty.
What Could've Been Better?
This peeler is much like the Spiralizer, with the exception of having better blades and suction base. However, reviewers found the instructions a bit hard to understand since there are many adjustable/removable parts. Plus, the apples fall off the prongs if they are soft.
Pros
Adjustable blade

Cuts apple into ¼" slices

Sturdy make

Easy to clean
Cons
Hard to follow instructions
The next peeler on this list is the Good Grips peeler by OXO. In contrast to the swivel peeler by OXO, this one is a Y-peeler that works just as efficiently. Since it has a wide blade, broader strokes allow you to peel more in less time.
OXO Good Grips Y-Peeler
Sharp, hardened stainless steel blade easily peels...
Soft, comfortable, non-slip handle cushions hand during...
Why Did We Like It?
If you are looking for an efficient peeler that will lower your prep time, this is the one. The OXO Good Grips peeler is ideal for those last-minute holiday season desserts. It has a 5.2-inch wide blade that can cut through apple skin and tough skin produce like butternut squash.
What's great is that it is a compact tool and can be stored in very little space. Unlike other electric and crank peelers, these will not take up any space on your counter-top. It can be hung on the wall, thanks to the little hole in the back. Even cleaning it is a breeze since it is dishwasher safe.
OXO believes in the products it manufactures, so it offers to repair or replace any product if you are not satisfied. However, this tool is guaranteed to make food prep a lot more convenient.
What Could've Been Better?
This one has a very sharp blade and a comfortable handle, but the handle is too small. This is a major safety hazard, and will make you more susceptible to cuts and bruises. Reviewers have mentioned that it has to be used carefully as rapid movements can cause cuts.
Pros
Sharp blade

Y shape enabling broader strokes

Built-in blemish remover

Peels do not get stuck between the blade<
Cons
Fast movements can lead to cuts
This peeler attachment by  KitchenAid is the epitome of advancing technology. This brand has made any regular KitchenAid stand mixer a handy vegetable and fruit peeler. It comes with a lot of different attachments giving the flexibility to peel and slice however you like. Keep reading to see what it has to offer!
Sale
Why Did We Like It?
We were pretty impressed with the number of blades it has in the package. The KitchenAid spiralizer plus has three slicing blades, three spiraling blades, and one peeling blade. It opens the door to a variety of sweet and savory dishes. Reviewers mentioned that making pie has never been easier.
Since there are a lot of parts, keeping track of them all can be difficult. This is why you will appreciate the storage box it comes in, as it makes it easier to manage and store. Plus, all parts are dishwasher safe on the top rack, and it plugs into any KitchenAid stand mixer.
Additionally, all attachments are durable and sturdy. They are guaranteed to last long and are easy to use. With these tools in the kitchen, you can try making an endless number of dishes.
What Could've Been Better?
The only issue with this is that they are made explicitly for KitchenAid stand mixers. So in case you do not have one, these attachments are of no use. Moreover, much like with any other electric peeler/slicer, it misses out on cutting the fruit or veg ends.
Pros
Multiple blades

Can be used on a variety of produce

Easy to clean

Comes with a convenient box for storage
Cons
Only for people that have KitchenAid stand mixers
The Gorgenius apple peeler is another must-have tool in the kitchen for people that love fruits but detest the skin. It is made of high-quality materials and is manufactured to make fruit and veg peeling an easy task. It is also available in multiple colors to suit the kitchen interior.
Sale
Why Did We Like It?
It was the ease of usage that stood out for us. This apple peeler by Gorgenius is genuinely effortless to use, thanks to the sharp blades and easy-to-turn handle. Making an apple sauce for family dinner night won't be as daunting since the peeling and slicing is done by this handy helper. Plus, it can be used for a variety of other produce too.
Coming to the make of this crank apple peeler, it has a rust-proof winding rod that will last long. The slicing blade is sharp and will give you the perfect slices for your salads and desserts. And what's more; it is a safe gadget as it comes with a cap covering the prongs when not in use.
Moreover, it is easy to operate like any other crank apple peeler and firmly sticks to the counter-top.
What Could've Been Better?
While this is a handy tool to have in the kitchen, it can take some time to get used to. The blade needs to be adjusted in a specific way to get the perfect peel. But, it's only a matter of time and little practice before it works perfectly.
Pros
Easy to turn handle

Resistant to rust

Good quality suction base

Safe to use
Cons
Takes a little practice to get right
And finally, we have this compact and sleek apple peeler by Gourmia. This is an excellent product to consider if you are looking for something that does not take up counter space. It efficiently peels, slices and cores a variety of apples. Let's go into the details now, shall we?
Why Did We Like It?
One of the biggest reasons apple peelers are so popular is because they are effortless to use, and this one by Gourmia is no exception. It is a simple product that only peels apples and has a separate slicer and core remover. It has non-slip and non-skid suction pads in the bottom, making sure it stays in its place.
In addition to the peeler, it has a separate slice and core remover. The slicer also has a handle to keep it steady as you lower it onto the apple, cutting it in perfect ready-to-eat slices. Moreover, the blades on both devices are ultra-sharp and durable. Both gadgets are easy to clean and dishwasher safe.
The best part is that it is made out of BPA-free plastic. This gives you the guarantee that there are no toxins transferring onto the food. The Gourmia peeler and slicer come with a one-year warranty.
What Could've Been Better?
Reviewers mentioned that it is not made for a large load of fruit or veg. Since it's a small device with a separate slicer, working with large quantities on this might not be as easy as using a bigger or electric peeler/slicer. But, overall, it works like a charm with smaller quantities.
Pros
Ergonomic peeler design

Efficient slicer/corer

Backed with warranty

Reduces prep time
Cons
Not ideal for large quantities of produce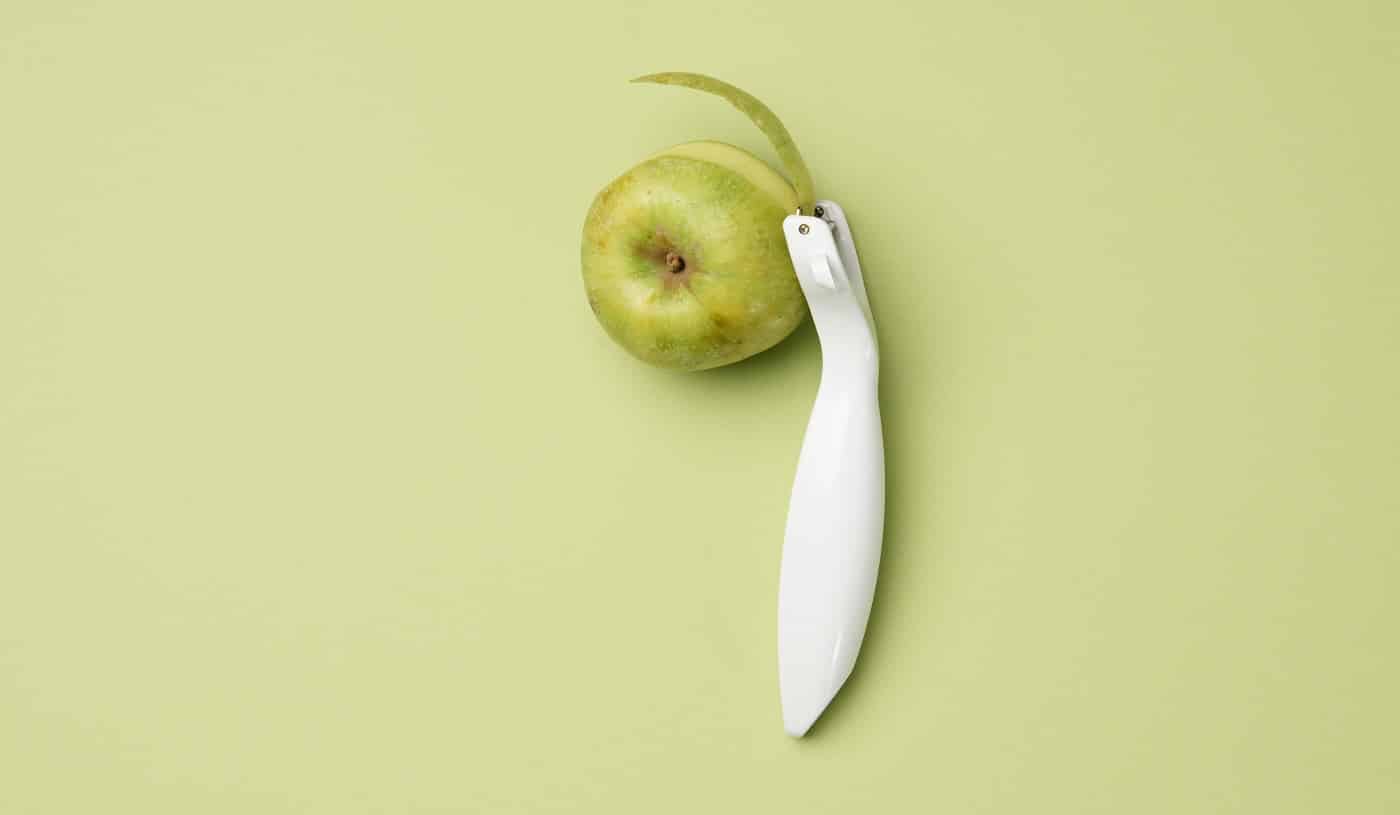 Apple Peeler Buyer's Guide
After reading 9 reviews, we understand if there is still an air of confusion circling your mind. After all, there are very minute differences between some of these products, and it can be challenging to pick one.
However, when it comes to buying a peeler, the most important thing is to pick the one that will be beneficial for you. And there are a few ways to go about the selection process. Instead of only seeing ratings, look at what it has to offer in terms of utility and comfort.
To make this easier, below, you will find a list of important features to look at before buying an apple peeler/slicer. Let's have a look!
Electric vs. Manual
The first thing to consider is whether an electric peeler will be better or a manual one. There is no doubt that the electric ones are much easier to use and more convenient as well. They are usually counter-top peelers, so no need to hold on to the gadget or the fruit, making it safe for everyone.
The issue is it takes effort to maintain it. Plus, certain electric peelers can't access the ends, which end up in you manually slicing and peeling those bits. So, if that is not an issue, we suggest going for an electric peeler.
However, there are many counter-top manual peelers too that only require you to turn the handle. Those offer a safe and convenient peeling experience without you having to put in any added effort to maintain it.
Material and Quality
This point is tremendously important since you will be looking for something that lasts a long time. When looking at crank apple peelers, it is essential that the handles are high-quality and do not snap easily while turning. Even the body of the peeler needs to be rust-proof and sturdy.
For swivel or Y peelers, the handle should be soft to touch and comfortable to grip. This way, it eliminates chances of hand cramps and makes them more convenient for people with limited abilities.
Finally, the blades have to be ultra sharp and long-lasting. The peeler/slicer is only as good as its blade, irrespective of whether it is electric or manual.
Blade Size
Having a sharp blade is only beneficial when it is also wide. Wider strokes will lower the peeling time, making the process less time-consuming. For this reason, Y peelers are quite popular since they make the process faster. Despite having smaller blades electric peelers are preferred since they are motorized and take less time to peel.
Clean-up
This should always be considered as a big factor when buying any gadget. You may save time by buying a fancy product, but the last thing you need is to spend hours over the sink scrubbing it after. Make sure the peeler is dishwasher safe as it will make things easier post use.
Another thing to consider is cleaning up the counter and surrounding areas. It is beneficial if the peeler does not leave small, hard-to-clean pieces. We advise placing your counter-top peeler over a cookie sheet to help contain the mess.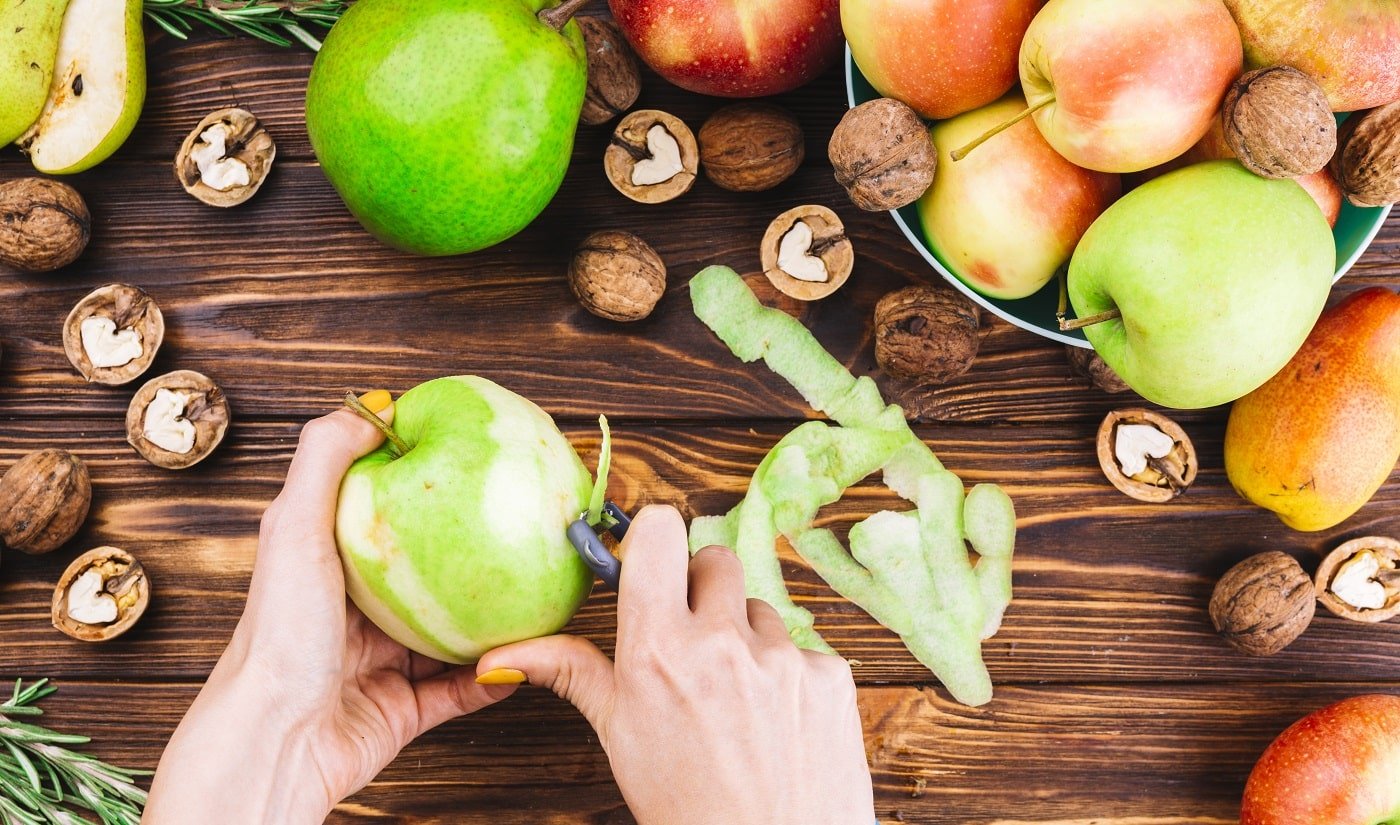 Verdict
On that note, we end our guide on the 9 best apple peelers. We hope that the reviews, along with the buyer's guide, can help you find the perfect new peeler.
The idea is to buy something which can be useful according to your needs. However, we know going over 9 reviews can be tiring, so allow us to point out our favorites. For people that already have a KitchenAid stand mixer, the spiralizer plus attachments are a must-have. They are super-efficient and will meet every expectation.
Other than that, we recommend the Gourmia peeler for smaller food quantities and Starfrit peeler for large ones. Both of these are effortless to use and do not cause any physical strain.
This is where we part ways, but we will be back with many more reviews and guides.
See you next time!
Related Articles
13 Safest Electric Kettles without Plastic 
11 Best Under Cabinet Range Hood 
Vitamix 5200 vs Vitamix 5300 [All You Need to Know]
4 Best Ways To Reheat Chicken Wings [Oven, Refrying, Sauté, Microwave]
13 Best Electric Kettles Right Now | Buyer's Guide
13 Best Mini Freezers for a Chilly Year  
10 Best Hot Dog Rollers | Buyer's Guide and Reviews
13 Best Cappuccino Makers to Enjoy Today | Buyer's Guide
7 Best Hand Crank Ice Cream Maker