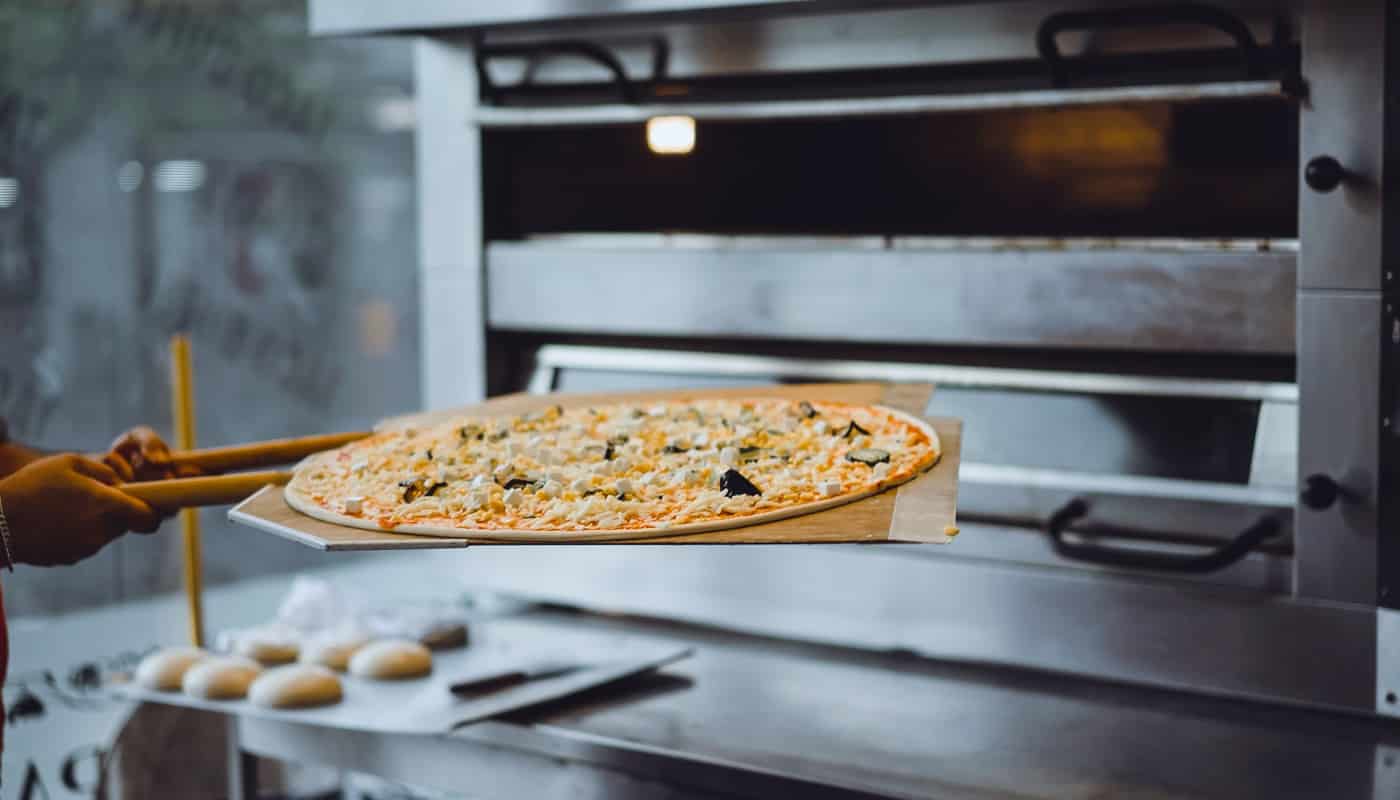 Imagine being nestled in your favorite mountain spot with a slice of a flavorful cheese pizza. Well, you can make it happen easily!
Portable pizza ovens are here to your rescue. These devices are well-liked by people who enjoy the outdoors. Be it camping or barbeque parties in the backyard; they can be your perfect companion. They are light and can be carried and set-up anywhere you like.
However, choosing the best one is quite challenging since there are many options available on the market. So, to make your task easy, we have compiled this guide with the top 11 suggestions.
As you scroll, you will find details about the pros and cons of each of these items. Also, there's a buyer's guide to help make your choice easier. 
So, without further delay, let's check them out!
Top Portable Pizza Oven
IMAGE
PRODUCT
DETAILS

Our Top Pick

Our Top Pick

ROCCBOX By Gozney Portable Outdoor Pizza Oven

Weighs 62.7 pounds
Comes with a professional-grade pizza peel
Safe Touch feature

VIEW LATEST PRICE →

BakerStone O-AJLXX-O-000

Portable 
Bakes under 2 minutes
Includes 25,000 BTU burner system

VIEW LATEST PRICE →

Ooni Koda Outdoor Pizza Oven

Ready to cook in less than 10 minutes
Heats up to 950 degrees Fahrenheit
Includes in-built gas ignition

VIEW LATEST PRICE →

Bertello Outdoor Pizza Oven

Weighs 32.3 pounds
Available in black color
12.5 inches wide x 13.5 inches deep cooking area

VIEW LATEST PRICE →

Thor Store Wood Fired Stainless Steel Artisan Pizza 01SS

Made of stainless steel
Large cooking space
Temperature ranges between 100 and 800 Degrees Fahrenheit

VIEW LATEST PRICE →

Camp Chef Artisan Pizza PZ90

Includes guide and recipes
Cooking area of 200 sq. inches
Made of steel

VIEW LATEST PRICE →

CAPT'N COOK Ovenplus Salamander Grill DF01

Made of stainless steel
Weighs 38.6 pounds
Suitable for making 12-inch pizzas

VIEW LATEST PRICE →

Dutton 2-in-1 Portable Outdoor Gas Grill Steak BF06

Weighs 30 pounds
Made of stainless steel
11-inch pizza stone

VIEW LATEST PRICE →

Deco Chef Outdoor Pizza Oven

Made of 3-layered stainless steel
Weighs 41.3 pounds
Accessories included

VIEW LATEST PRICE →

BBQSTAR Outdoor Wood Fired Pizza Oven

Made of stainless steel
Weighs 24 pounds
Includes accessories

VIEW LATEST PRICE →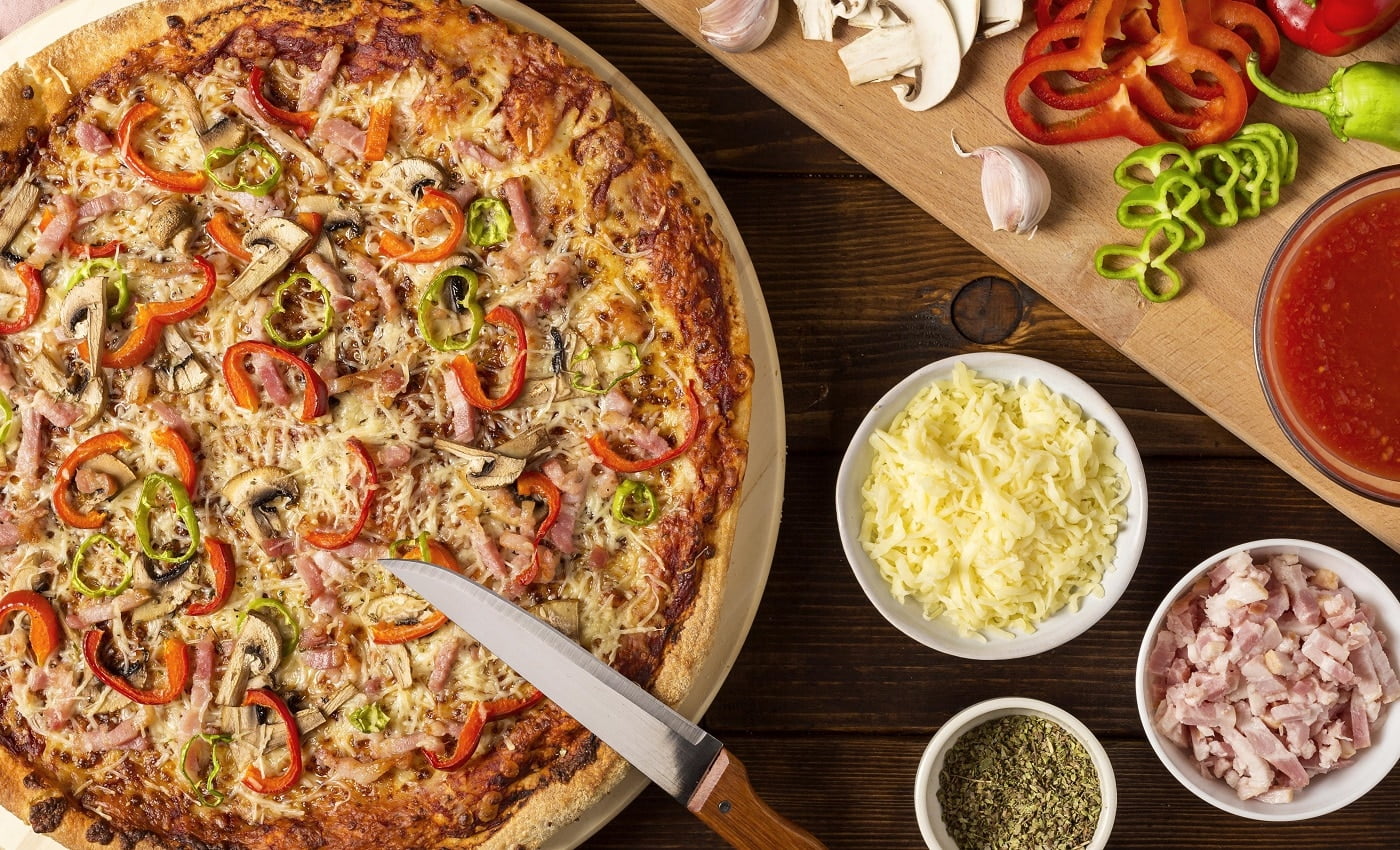 The first item we have on our list is the ROCCBOX by Gozney Portable Outdoor Pizza Oven, which completely redefines what cooking at home feels like. Its super-fast heating technology and extraordinary hot temperatures enable you to bake pizzas and sear or grill meat during barbeque nights with friends. Quite an all-rounder!
Why Did We Like It?
First and foremost, this item is premium and portable, a perfect combination for cooking enthusiasts who like experimenting. If you arrange a picnic with friends, all you need to do is pack it and put it in the car. 
It comes with retractable legs, and that makes it extremely convenient to move it wherever you please. 
Moving on, with this item, you have the option of using both gas and wood. You can opt for wood when you feel like enjoying the charred flavor of traditional woodfire. Or simply opt for a standard gas option during other times. The item has the provision of attaching a wood burner, but it has to be bought separately. 
Additionally, it is safe to use for beginners too. The body of the oven is insulated, and the outer layer is made of silicon. This does not leave any risks of you burning your hand by mistakenly touching the oven. 
What Could've Been Better?
You might be thinking about what can be wrong with a brilliant product like this one. Well, despite not having any complaints about its performance, we would have preferred if it came with an in-built timer. That would have reduced the task of someone having to constantly look over the food as it gets prepared. 
Pros
Very portable

It does not take much space to store

Has options of both gas and wood as fuel

Safe around children
Cons
It does not have an in-built timer
The BakerStone O-AJLXX-O-000 is a great consideration if you are a perfectionist and particular about the crispness of your pizza crust. It is quite portable and you can set it up anywhere you want. Be it your lawn or a solitary gateway to a campsite, this item can be a perfect companion anywhere.
Sale
Why Did We Like It?
The best thing about this item is that it does a brilliant job of capturing the heat. With a stone baking chamber, it is very efficient in retaining the optimum level of heat required to bake the perfect pizza. 
Because of this, the crust and the base of the pizza are evenly baked and will surely earn you some brownie points from your friends. 
Moving on, we cannot miss divulging a little about the design. The manufacturer has put quite a bit of thought into the design and the technology of this item. That's why the chamber in the oven heats up evenly and does not burn your pizza. 
Also, another aspect of the design that needs a special mention is the enamel steel coating. Not only does it increase the durability of the item, but it also makes it very convenient to clean. It will take you under 3 minutes to bake the pizza and a few more to clean. Under 8 minutes, you will be ready to serve piping hot pizza!
What Could've Been Better?
We would have really appreciated it if they had better customer service. We had a little trouble setting up the item, and reached out to their customer representatives. But they took quite some time to respond. In case of installation troubles, we suggest that you look up tutorial videos if you get stuck. 
Pros
Maintains optimum heat level

It helps create a perfect pizza base

Commendable design

Works very fast
Cons
Customer service can be improved
We understand that your time is precious, and you want to make the most of it. And the Ooni Koda Outdoor Pizza Oven is the best in such a scenario. This item helps you make the tastiest pizzas in less than 2 minutes. It is great for outdoor cooking and super simple to use even if you are new to pizza ovens.
Sale
Why Did We Like It?
For any pizza oven, one of the most important factors is its heat retention capacity. And this item aces it. Its interior and exterior areas are completely insulated and made of a steel shell. On top of that, it is equipped with a stone baking board. Both of these combined enable it to retain heat very efficiently. 
Plus, it is very easy to use this item. Simply connect it with a gas source and turn the dial. There's no fuss and no mess. It reduces your cleaning tasks, and on top of everything there's no soot, so you don't have to spend extra effort on cleaning the oven.
Additionally, what requires a special mention is how fast the oven heats up. You do not need to play a game of patience with this one! Give it 10 minutes, and your oven will be at 900 degrees Fahrenheit. And then it would just take you a minute to have your pizza ready.
What Could've Been Better?
We were highly satisfied with the kind of pizza that we made with this device. And honestly, the friends we invited over for brunch were quite impressed too. However, we feel that the item is a little on the heavier side and might feel a little bulky if you are planning to carry it for a long distance.
Pros
Heats up very fast

Very easy to use the item

Cleaning is quite convenient

Ensures that there is even heating
If versatility is your jam, then the Bertello Outdoor Pizza Oven can be a rare find for you. You do not have to restrict yourself to making just pizzas in this oven. Let your creativity sparkle, and sear meat, vegetables, and churn mouth-watering desserts with the help of this item. It's very natural to get addicted to cooking delicacies with this oven.
Sale
Why Did We Like It?
The best thing about this item is the kind of options that it offers. It comes with a standard fuel tray where you can put wood, pellets, or even charcoal! 
If you prefer the essence of traditional wood fire pizzas, you can stick to this. Otherwise, you can easily replace the wood tray with a propane gas burner. Depending on your taste and preferences, you can customize it. 
Furthermore, we were really impressed with how fast and effective the oven is when it comes to heat. It reaches as high as 930 degrees Fahrenheit and is very suitable to help your pizza have the perfect crust. The distribution is also quite even, and no portion of the pizza gets overcooked. 
Moreover, we loved that this item comes at a fair price. To be fair, it is quite affordable and easy for homeowners to get their hands on it. It is not advertised as a commercial oven, and the price is at par with standard home pizza ovens.
What Could've Been Better?
We were genuinely delighted with the oven's lustrous black design and how well the pizzas came out. However, we feel that it might be a little difficult for beginners to use as the opening of the oven is small. It might take some time to get adjusted to comfortably using this item.
Pros
Affordable price

Heats up very fast

Option to use wood, charcoal, or propane

Easy to clean
Cons
The opening could have been bigger
Next up on our list, we have the Thor Store Wood Fired Stainless Steel Artisan Pizza 01SS. It is an ideal choice for the ones who are on the lookout for a premium quality item but do not want to spend a hefty amount. If you have a penchant for traditional woodfire taste, this item will surely give you a nice time.
Why Did We Like It?
This pizza oven means business. Its built is sturdy, and it lasts for a good amount of time. So, you do not have to keep replacing it every alternate year.  
Plus, the item comes with a ceramic pizza stone, which is well-liked by pizza connoisseurs. It ensures that the heat stays even and well distributed through the entire baking time. As a result, the base and the pizza crust get cooked to perfection. 
Also, to ensure even heat distribution, the product comes equipped with a fuel damper. This is very helpful in case the heat becomes too much. Because of the damper, such scenarios become easily avoidable. 
Moreover, the kit is well stocked and includes professional-grade pizza cutters, peel, brush, and other necessary equipment. You would not need to spend any extra money on them. The best part, it comes with an accessories rack where you can store all these tools.
What Could've Been Better?
Honestly, the product has been a great help during weekend parties with friends. We have served some of our best pizzas, all thanks to it! However, we did face some difficulty in setting up the item. The instructions were not clear, and installation became quite a challenge. But we were quick to call customer care, and the issue got resolved. 
Pros
Quite durable

Efficient heating for better baking

It comes with essential tools

Prevents excessive heating
With a very high success rate of cooking delicious pizzas, the Camp Chef Artisan Pizza PZ90 is the next item on our list. This is great if you love wood fire pizzas as this Italian oven takes it to the next level. Expand your creativity, and you can go beyond baking just pizzas. It is equally great for making pies and cookies too!
Sale
Why Did We Like It?
The first thing that we noticed is its brilliant design. The oven is compact and does not take up any extra space than what is needed. It is super-sleek and comes with a great exterior coating.
The metallic steel finish is quite a show-stealer. No denying that the coating not only makes it look good but also prevents damage. 
Moreover, the cooking surface is quite big and can easily accommodate a 15-inch pizza. Even if you are making cookies, you can bake them in larger batches. A larger surface area is very useful when you have more guests to host. This makes the process faster. 
Additionally, there's a temperature gauge installed in the device. This is extremely useful, especially during parties when it gets difficult to babysit the oven. Because of the temperature gauge, you can access how hot the oven is and when you need to turn it off. 
What Could've Been Better?
One difficulty that we encountered with this is the open-faced design of the oven. Because of this feature, it sometimes gets hard to use it outdoors if the weather is not on your side. On windy days, it might take a while before the oven gets heated to the right temperature. 
Pros
Brilliant design

Large cooking surface accommodates more food

Easy to measure the temperature

Cleaning is easy
Cons
Not suitable to be used outdoor when there's wind
For anyone looking for a perfect symbiosis of a grill and pizza oven, the CAPT'N COOK Ovenplus Salamander Grill DF01 is an excellent choice. It is well-liked by customers because of its multi-purpose utility. Besides using it as an oven, you can also use it as a cooker and a grill.
Why Did We Like It?
This device is portable in the truest sense. The parts are detachable, and even a grease draining tray can be attached separately. There's a handle attached to the sides that makes carrying it quite simple. Even if it is hot, the handle makes it very convenient to use it both indoors and outdoors. 
Moreover, the barbeque parties in your yard will be completely smokeless with this item. Your friends and neighbors won't have to experience the harmful smokes and fumes. 
Because of the top-down grill, there's hardly any smoke when you use it for baking or grill. Unlike traditional grills, there's no smoke, and it delivers high-quality food. 
Plus, the design is such that heat distribution in the oven is very well-balanced. The thermal convection technology ensures that the temperature is evenly distributed at all times. Whether you are grilling salmon or steak, the sear marks will be perfect every time with this item.
What Could've Been Better?
Well, there's no way we can deny how great the multi-purpose functionality of this item is. However, we have to say that the manufacturer should pay more attention to packaging. The boxes in which it arrived were not of very good quality, and the product could have been damaged. 
Pros
Highly portable

The grease tray makes cleaning easy

Releases no smoke

Good heat distribution
Cons
Packaging needs to be improved
When you get your hands on the Dutton 2-in-1 Portable Outdoor Gas Grill Steak BF06, enjoying a delicious juicy steak becomes easier than ever before. This is quite a user-friendly item and will not give you a hard time if you are an amateur. It heats up fast and enables you to get creative with your food!
Why Did We Like It?
This item comes equipped with an infrared grill system. It offers you a great opportunity to experience delicious barbecued salmon and meat during your outdoor parties. There is a push start button that enables you to start it within seconds without multiple failed attempts. 
Additionally, we were quite impressed with the rapid heating technology that it comes with. It has the capacity to make that temperature go as high as 1500 degrees Fahrenheit within a matter of a minute. As a result, cooking becomes quite efficient, and the natural aroma of the food is retained. 
Moreover, you can rest assured that you will not need to spend much effort and time cleaning it. It is made of food-grade safe stainless steel that is not only easy to assemble but also very easy to clean. It is simple to assemble and disassemble and is also dishwasher-friendly.
What Could've Been Better?
This oven/grill scores high when it comes to performance, and we stand by it. However, to be honest, it is more suited for smaller families. If you have to serve food to more people, it's better to go for bigger charcoal grills. This is a compact option that is more suitable for small families or couples. 
Pros
Easy to operate

Provides even heating

Heats up quite fast

Cleaning is effortless
For all the aspiring pizza pros, the Deco Chef Outdoor Pizza Oven is an excellent option to consider. You can get as creative as possible and give a fresh spin to your cooking spree. You get all the essential accessories that are needed to get you started. 
Wood-fired pizza in the comfort of the backyard. What more can we ask for?
Why Did We Like It?
A lot of users face problems with using outdoor pizza ovens due to weather issues. But not when it comes to this product! 
Unlike standard single-layer ovens, this one is equipped with a thick insulation coating that makes it convenient to use during winters too. The insulation helps to retain the heat and keep it well-balanced. 
Furthermore, cleaning and maintenance of the device are quite simple. The 3-layer construction of this oven makes it very sturdy, and it does not get damaged easily. 
This also prevents ash, insects, or other unwanted material from falling into your food. Now, this is a great feature if you are cooking while you are partying in the backyard or camping in the wild. 
Plus, if you are new to pizza making, you would not have to spend separately to buy essential tools to start off. The kit includes all necessary accessories such as dough cutters, peels, and other grilling tools.
What Could've Been Better?
Despite the strong build and the commendable performance, there's a little hardship that we had to face when it came to installation. The screws and bolts needed for installing were not sufficient, and we had to hit the local hardware store to get the necessary equipment. 
Pros
The kit is sufficiently stocked

Well-suited to outdoor cooking

Retains heat very well

Prevents unwanted material from falling into food
Cons
Installation is a little hard
To enjoy the age old tradition of wood fire pizza in the comfort of your backyard, the BBQSTAR Outdoor Wood Fired Pizza Oven is the best bet. It is perfect for easy and quick homemade pizzas. Moreover, the item is quite a show stealer and will surely become the centrepiece of all your summer barbeque parties with friends.
Why Did We Like It?
With this item, you do not have to worry at all about ignition. It is a great option for indoor and outdoor parties, and you can choose from a variety of ignition sources. This oven can be fuelled with wood or charcoal and also a combination of both. 
Moreover, it is quite understandable that no one really wants to wait for too long when mouth-watering pizzas are on the line. This device is quite quick to act on this front.
Within a span of 10-20 minutes, the temperature goes as high as 900 degrees Fahrenheit. All it takes after that is a minute or so for your pizzas to be prepared. 
Additionally, carrying this device to camping trips or weekend getaways is as easy as a breeze. The design is compact, and it is lightweight, making it very comfortable to be carried around in case you prefer cooking outdoors. 
What Could've Been Better?
One thing that really gave us a hard time is cleaning this item. There is no pre-installed grease tray, and the food and oil sometimes drip from the sides. This might increase your work after the food is prepared. We recommend that you install a grease collection tray to reduce the cleaning chore. 
Pros
Easy to ignite

Heats up quite fast

Quite lightweight and portable

Installation is not difficult
We could not have wrapped up this list without having mentioned the GYBER Fremont Trunk-shape Portable Pizza. If you are tired of chomping on frozen pizzas and thinking of making unique homemade pizzas, this item has your back. Also, it is lightweight, and you will have a jolly good time operating it outdoors.
Why Did We Like It?
Cleaning becomes a hefty task after you are done cooking, and we almost always want to avoid it. Unlike the previous item on the list, this one is super easy to clean. The parts are easily detachable, and it becomes quite simple to wash them separately. This way it is fast and also the chances of damage is less.
Also, you do not have to just restrict yourself to making pizzas with this. It is designed in a way that it can support multiple functions. You can easily experiment with making steaks, pork chops, sautéed vegetables. Name it, and this device will help you make it!
Moving on, we understand that time is of the essence, and so does this item. Heating is quite fast, and within 3-4 minutes, your pizza will be prepared. 
What Could've Been Better?
We wish it came with an in-built timer. That would have eliminated the need for someone to continually look over the food as it gets cooked. For outdoor parties, this is quite an essential feature. 
Pros
Simple to clean

Quite sturdy

Easy to assemble

Very lightweight
Cons
It does not have an in-built timer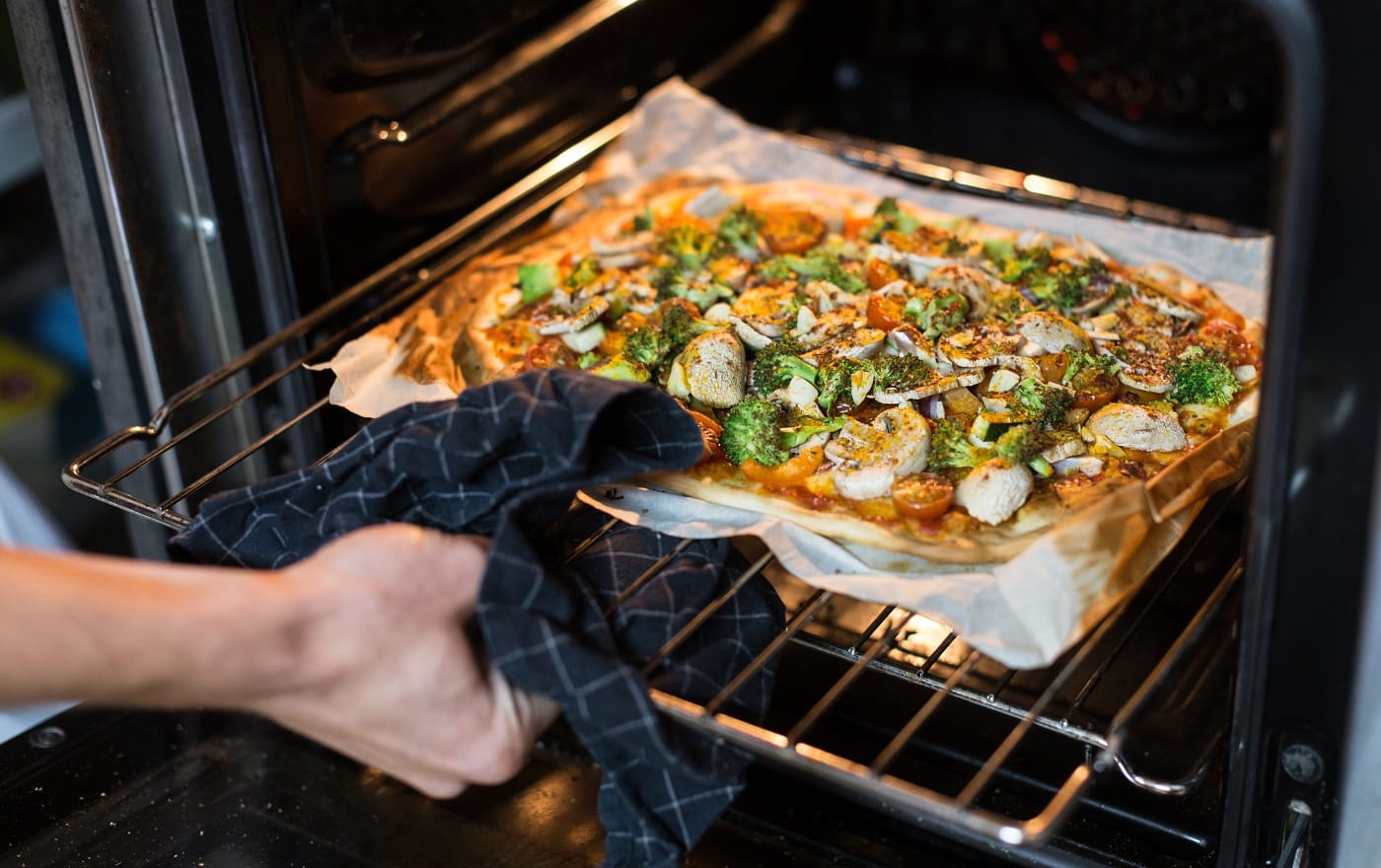 Portable Pizza Oven Buyer's Guide
By now, you must have understood what to look for in a portable pizza oven before buying. But out of all the options, you still might have some difficulty choosing. 
In this section, we have listed down a few more factors that you need to consider before making a choice. These would also help you make your decision easier. Let's see what they are!
The Size
Depending on how many people you would want to feed, you should opt for an oven that would help to sufficiently cook for that many people. 
There are 2 things that you need to consider in this regard. First is the size of the pizza that you want to make. Second is the number of pizzas that you want to cook at one go. The cooking space dimension is clearly mentioned on the packages, and we suggest that you read it carefully before buying. 
The Weight
Well, for all outdoor pizza ovens, weight is a significant consideration. Some are lighter than others. So, how do you choose?
Depending on the kind of outdoor activity that you engage in most, choose one that suits you the best. If you are more into camping, we recommend that you go for the ones that are very light and weigh less than 40 pounds.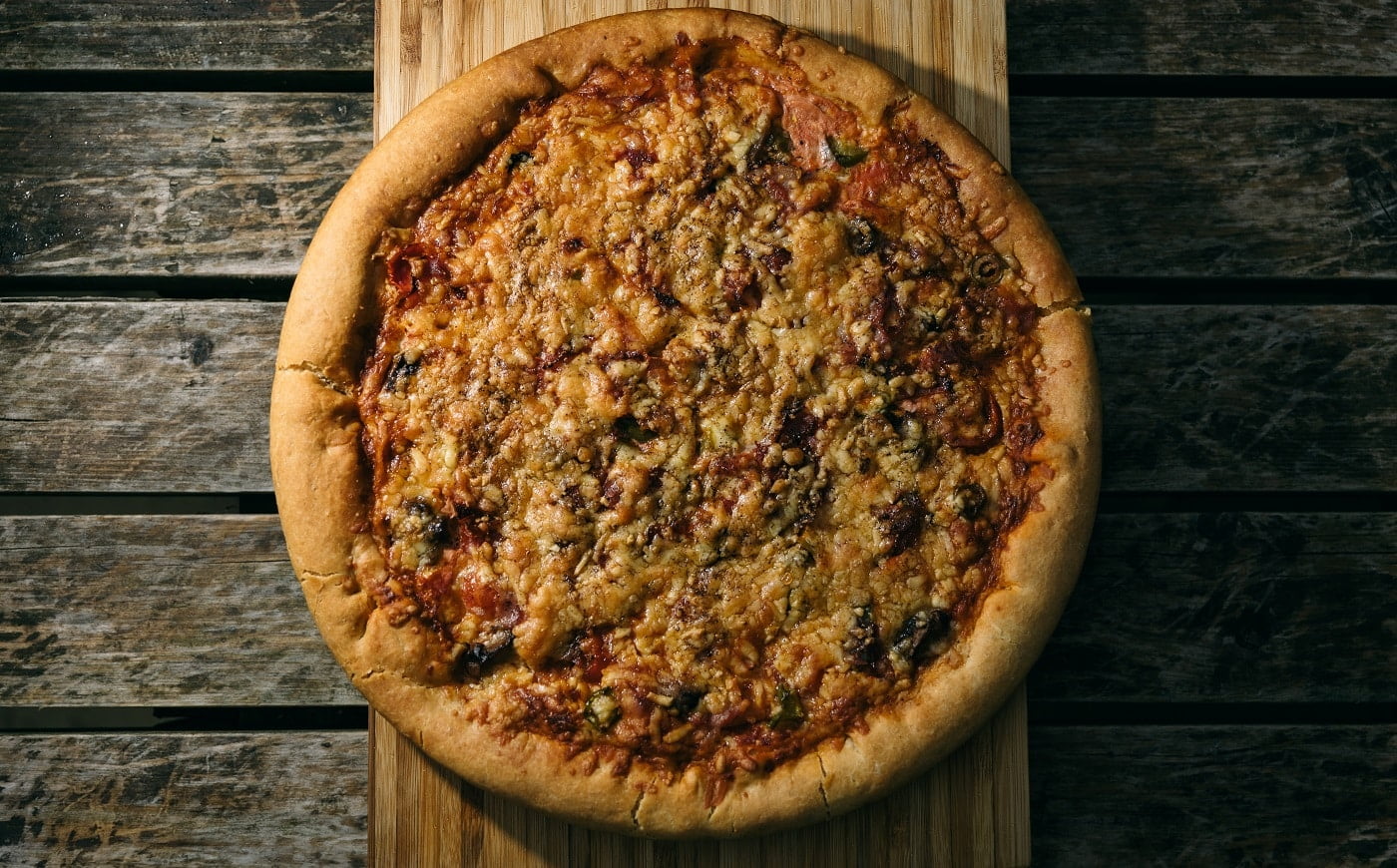 Verdict
That's all friends!
We have reached the end of this comprehensive guide, and we hope that you could benefit from this. After reading about the top 11 portable pizza ovens, we're sure that you can now make a better choice. 
But before bidding goodbye, we would like to share our favorites with you. The ROCCBOX by Gozney Portable Outdoor Pizza Oven takes the award for being our all-time favorite. If you like making pizzas quickly, the BakerStone O-AJLXX-O-000 can be your perfect companion. 
And if finding a very durable device is your prime concern, the Ooni Koda Outdoor Pizza Oven is the safest bet. 
With that, it's a wrap. Let us know about your favorites in the comments section below. And stay tuned to this space for more such interesting reads.
Until next time. Take care!
Related Articles
13 Safest Electric Kettles without Plastic 
11 Best Under Cabinet Range Hood
Vitamix 5200 vs Vitamix 5300 [All You Need to Know]
4 Best Ways To Reheat Chicken Wings [Oven, Refrying, Sauté, Microwave]
13 Best Electric Kettles Right Now | Buyer's Guide
10 Best Food Scales Buyer's Guide and Reviews
15 Best Electric Smokers – Guide & Budget Picks
13 Best Kitchen Shears Right Now Reviewed
13 Best Mini Freezers for a Chilly Year
10 Best Hot Dog Rollers | Buyer's Guide and Reviews
13 Best Cappuccino Makers to Enjoy Today | Buyer's Guide
11 Best Range Hoods to Consider
11 Best Bar Stools Today | Buyer's Guide and Reviews 
13 Best Wine Coolers Right Now
7 Best Hand Crank Ice Cream Maker