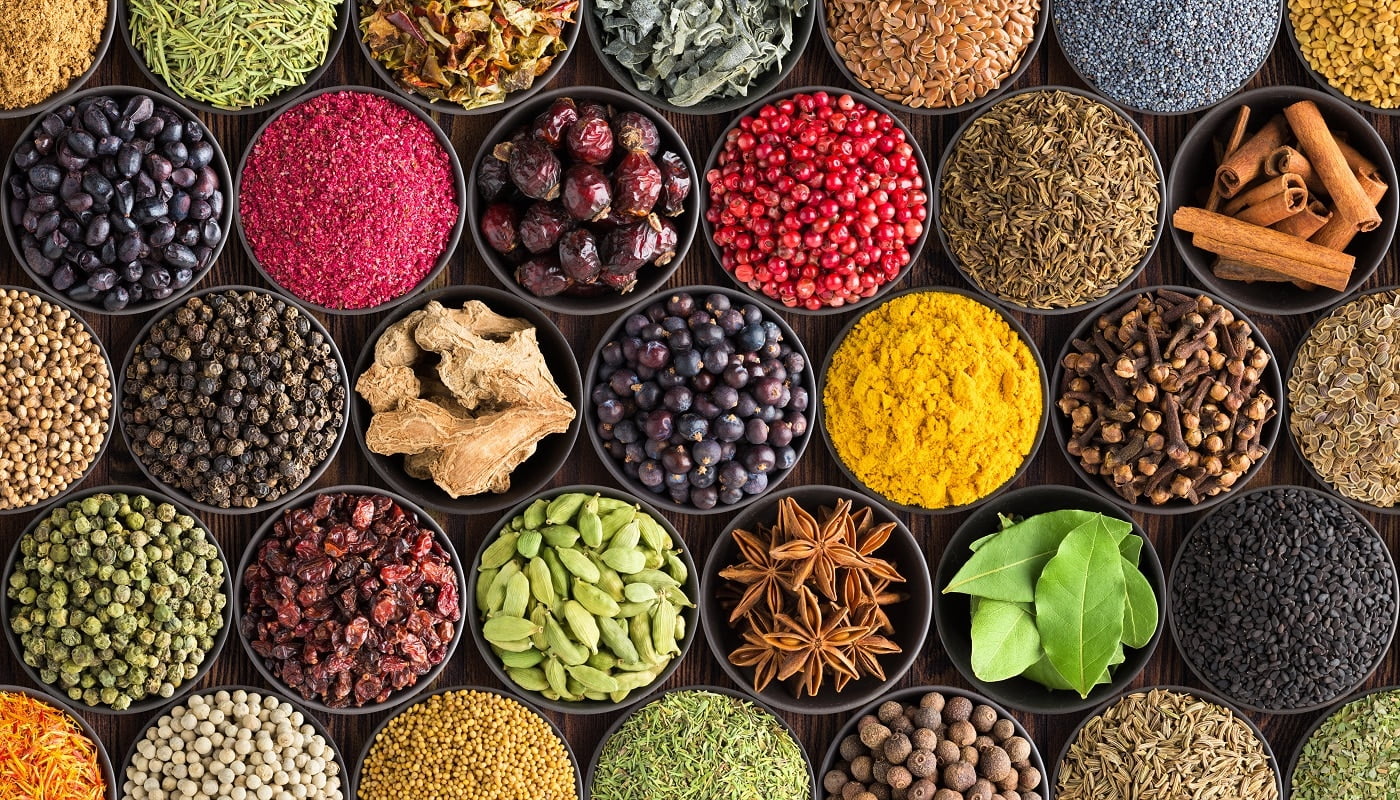 There's no doubt that kitchen grinders make your life easier. 
Whether you're looking to create a custom blend of spices or ground coffee beans, these grinders are an easy and fun tool that can take your dish to the next level. Working much like a blender or food processor, it releases the scent and oil of spices, whether you're grinding cumin, nutmeg, or coriander. 
But there are endless options available to you on the market, so it can be challenging to select an ideal grinder that fits your needs. Hence, we've picked the best options and evaluated each of them based on their size, design, performance, usability, and overall value. 
Here are 10 of the best spice grinders for your kitchen, according to our experts. 
Top 10 Spice Grinders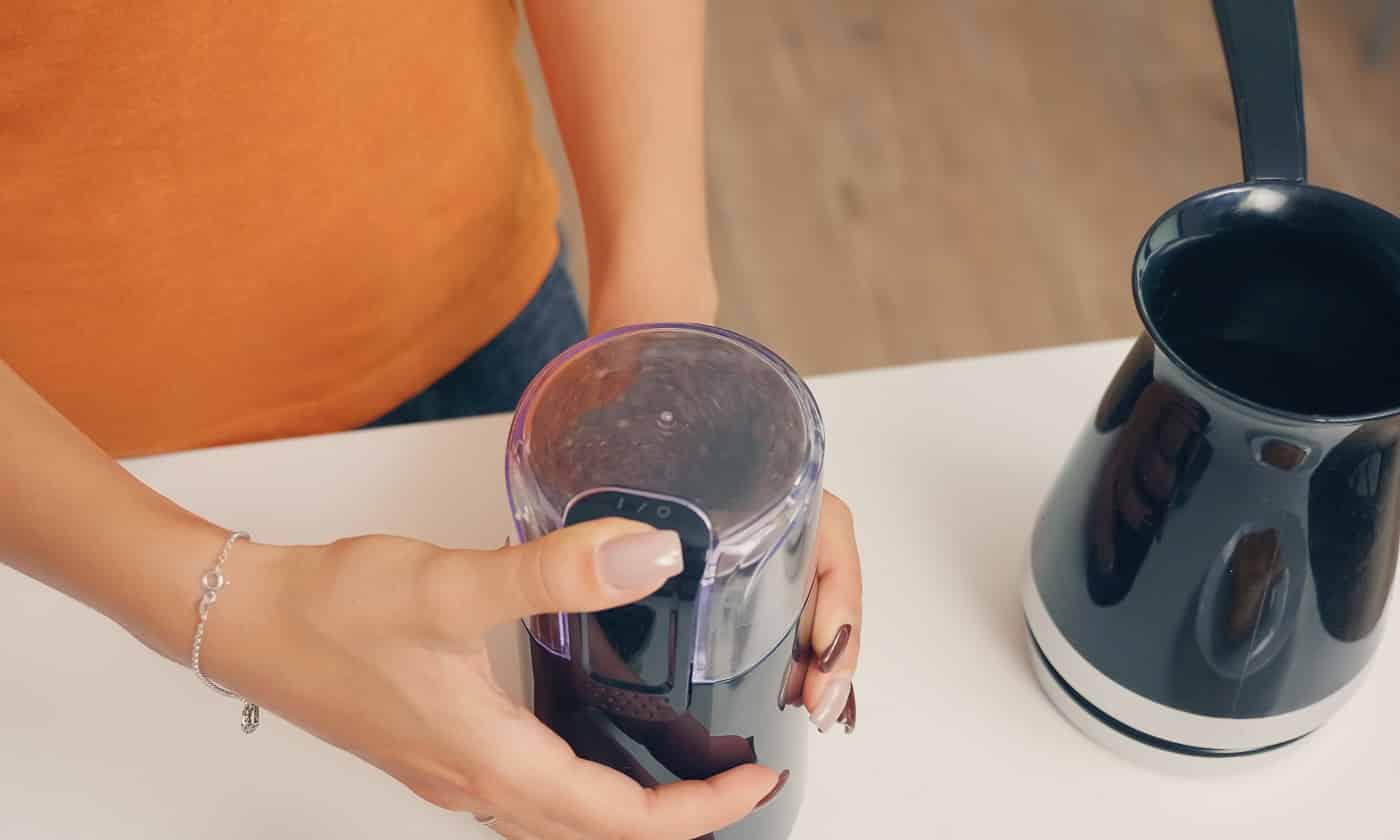 For starters, we have a compact and stylish electric coffee grinder with a powerful grinding capacity. Features like precision control, even grinding, and others make it one of the most efficient coffee grinders on our list. Let's discuss these features in detail, along with what more the unit has to offer. 
Sale
Why Did We Like It?
Mueller electric coffee grinder is a viable option for everyone, whether you're new to these grinders or have been using them for a long time. Its one-touch operation makes it easy to grind spices or coffee to their preferred consistency. The touch-sensitive technology starts and stops your device, and you can get a fine, medium, or uneven grind. 
Its large grinding bowl is suitable to grind up to 11 tablespoons of your favorite spices, whole coffee beans, nuts, and herbs. And despite having a small and compact design to fit in most kitchen drawers or cabinets, it's stylish enough to be placed at the center of the countertops. 
The bowl is made of stainless steel and includes safety features like a sturdy lid with a complete locking mechanism, an extended cord, and a hidden switch. So overall, you get a durable and sturdy device that's easy and safe to use.  
What Could've Been Better?
The only drawback we discovered with this unit is that it makes a loud noise while grinding coffee and spices, which might be bothersome. So, there's a chance you may disrupt the morning sleep of your partner while grinding coffee beans for them, which is not very pleasant. 
Pros
Large grinding bowl

Easy to grind

Grinds with three consistencies

Durable build

Safe to use
Cons
Makes loud noise while operating
Next, we have a powerful 3-in-1 silent vortex grinder that makes your morning coffee grinding a breeze. Now you can grind some fresh spices and use them to make delicious recipes for your friends and family. And thanks to its large-capacity bowl, quite a lot of spices or coffee can be ground in one go. 
Why Did We Like It?
Thanks to some smart design elements, this grinder by Krups is durable, effective, and extremely quiet. It uses Vortex Spin Technology to pull the ingredients near the blade, which means there's not much rattling around in the grinder. 
The Krups vortex electric coffee grinder grinds spices and coffee beans in less than 15 seconds, so the noise doesn't last long. Its 3-in-1 mechanism easily handles spices, coffee, and dry herbs. Plus, you get a uniform grind of spices every time you use it. 
In terms of usability, it comes with a one-touch button that needs to be held down or tapped for continuous or pulse grinding, respectively. And the large-capacity removable stainless steel bowl comes with a storage lid to keep the spices fresh for longer.  
What Could've Been Better?
The lid design of the unit makes it difficult to brush away any residues or powder between uses. Since it comes with a single grinding bowl, you can't grind any new spices if you are storing some in it. 
Pros
Easy usability

Large grinding bowl

Comes with a storage lid

Faster grinding

Quiet grinder
Cons
Difficult to brush away residues

Comes with a single-grinding bowl
If you're on the lookout for a consistent, well-designed, and versatile all-purpose grinder that delivers the finest grinds at a faster speed, then this grinder is a viable option. It includes two steel bowls, where one is designed for chopping vegetables, while the other is for grinding spices. 
Why Did We Like It?
There are several reasons we liked this product. For one, it comes with two stainless steel bowls, where one is for chopping dry ingredients while the other is to grind wet ingredients. Its two-blade grinding bowl performs multiple tasks and handles various ingredients with ease. We always got fairly even ground spices and didn't have to wait very long. 
With measuring marks on the grinding bowls, you can add the ingredients to them without using separate measurement spoons.  Apart from that, the grinder comes with a clear plastic cover that keeps the ground ingredients from flying out. 
This counter-friendly, compact-sized grinder is integrated with a 200-watt motor that can crush spices of any size, like coffee beans and nuts. And its built-in overheat protection keeps it from getting unnecessarily heated, thereby extending its lifespan.  
What Could've Been Better?
While we loved the grinder, we also had some minor gripes. We found the cord-keeping feature a bit annoying, and it was challenging for us to wrap the cord around the bottom. Also, it's difficult to see the grind consistency through the plastic lids. 
Pros
Two-blade grinding bowl

Faster grinding

Fine grinds

Easy cleaning

Holds any type of spices
Cons
Hard to see grind consistency

The cord-keeping feature is very effective
Moving on to our next item, we have the Cuisinart electric spice grinder that holds large quantities of spices for meal prepping or batch cooking. Integrated with a 200-watt powerful motor, it's suitable for tackling major grinding jobs and makes it easy to work with harder items like seeds, nuts, and even nutmeg. 
Why Did We Like It?
Between its sharp, durable stainless steel blades and powerful motor, this manual spice grinder can grind bigger and hard ingredients like nuts, cloves, and even the toughest spices like cinnamon. And with its large 3 ounces bowl capacity, it's probably one of the large-capacity grinders out there. 
Furthermore, its simple controls make it easier to grind the spices. You just need to press down the lid until all your spices are properly grounded. The large storage vessel allows you to store your leftover spices for longer until they are ready to use. 
Integrated with a removable grinder and lid, you can wash them thoroughly in a dishwasher. So there's no need to brush the fine particles off, which can indeed be a tiring task. What's more, each of the spices is broken down to an even consistency, irrespective of its size. 
Last but not least, the grinder body is made of heavy-duty stainless steel, making it durable and long-lasting.  
What Could've Been Better?
Of all the manual grinders we tested, this Cuisinart spice grinder probably took the most time grinding spices like tough cinnamon sticks. We had to grind the spices twice to get fine particles of almost equal sizes. So, this might not be an option if you want to grind something quickly. 
Pros
Large capacity grinder cup

Can be used for grinding large spices

Body made of heavy-duty stainless steel

Consistent grind

Easy cleaning
Cons
Takes longer to grind spices
Dr. Mills is a brand to consider if durability and performance are at top of your priority list. And its DM-7441 electric grinder is a quality piece that offers a large grinding capacity, easy one-touch operation, and a durable stainless steel blade that makes cooking easier and more convenient. 
Sale
Why Did We Like It?
For units like spice grinders, ease of operation is a common concern among people. And this unit comes with an easy-to-use button that you can hold and release to get either a coarse or fine grind. Plus, the safety lid doesn't allow spices or coffee to splash during grinding, and the viewing window allows you to see the grind consistency. 
You can easily clean the blades and ensure no ground spice is stuck under them using the cleaning brush that comes with it. Beyond that, its spacious cup holds up to 1.8 pounds of coffee or dried herbs, spices, grains, nuts, and seeds. 
Another quality aspect of the unit is its safety. The grinding lid comes with a safety switch or thermal switch, which automatically shuts off if it detects any abnormality in the machine. And after 30 minutes of rest, you are again ready to go. 
Plus, its blades are made of high-quality stainless steel, making them durable and long-lasting.  
What Could've Been Better?
The thing that we didn't like about this grinder is that it makes loud noises while running, which can be irritating if it's running for a long. It takes almost 40 seconds to grind coffee beans, nuts, etc. Besides, the grinding cup is not removable, so you need to lift the entire thing when putting your spices elsewhere. 
Pros
Comes with a safety switch

Easy to use

Durable blades

Large capacity
Cons
Makes noise

Grinding cup is non-removable
Now that we've reached almost halfway through our list, we bring you a premium-looking coffee and spice grinder by Shardor, which takes care of most of your grinding jobs. This versatile and multi-functional grinder with a large capacity and easy usability makes it a quality product to have in your home. 
Sale
Why Did We Like It?
We liked the Shardor coffee and spice grinder because of its ease of use, versatility, and design. The exquisite-looking grinder can serve as a centerpiece of your kitchen countertop.  It has a stylish and sturdy design, with a clear lid and black plastic housing. Besides, you can check the consistency of the grinds, thanks to the transparent top. 
Apart from its aesthetic looks, its removable grinding bowl holds up to 2.5 pounds of dry ingredients at a time. It comes with a timer knob that will help you get the desired consistency. 
This versatile unit also grinds other dry ingredients like cumin seeds, pepper, fennel seeds, parsley, fenugreek, cinnamon sticks, soya, rice, quinoa, and even the toughest species like crystal sugar. And it doesn't make much noise (only 63 dB) while grinding these.  
What Could've Been Better?
Although it grinds a number of spices and dry ingredients, it is not suitable for grinding oversized ingredients like nuts, peas, and others. The blades might break if you try grinding these items. Moreover, the grind consistency of the unit is not very fine, especially when compared to the other electric spice grinders we have on our list. 
Pros
Easy to use

Grinds several ingredients

Makes less noise

Sleek design

Large grinding cup
Cons
Not suitable for grinding big ingredients

Lacks finesse
KitchenAid is among the leaders in kitchen gadgets and has earned this spot owing to its dual spice and coffee grinder. Its modern and classy design looks good in any kitchen, but its sharp blade also grinds through the coffee beans quickly and easily. These features make it one of the best budget spice grinders on the list. 
Sale
Why Did We Like It?
This budget spice grinder by KitchenAid is one of the most versatile and multipurpose units we've got on our list. Unlike other grinders, which require a thorough cleaning when switching between coffee and spice grinding, it comes with three stainless steel bowls. And with two storage lids, you can store the grounded spices for a long time. 
We found the grinder easy to use, and the grinding cups can be removed with a simple twisting action. These bowls are also easy to clean because they are dishwasher safe. 
Although the unit doesn't have programmed settings to control the grind size, you can see the grind size via the clear lid and turn it off when required. Additionally, the 4 pounds stainless steel bowl comes with markings to measure ingredients needed for cooking or making up to 12 cups of coffee.  
What Could've Been Better?
The constant irritating sound made by the KitchenAid blade coffee grinder during grinding is a significant setback for the product. Moreover, the spice dust might get into the base due to the small spaces at the bottom. The continuous deposition of dust can potentially damage the entire unit. 
Pros
Multiple grinding bowls

Simple design

Easy to use

Lids and bowls are dishwasher safe

Large capacity bowl
Cons
Noisy

Spice dust may get into the base
Watifisa electric grinder is a high-quality appliance that makes your life much more convenient by delivering a faster grind, large capacity, and durable body. Apart from that, it operates silently, unlike its competitors and comes with automatic power-off protection. So, in cases of overheating, short-circuit, or other, the machine gets switched off automatically, thereby keeping the device safe. 
Why Did We Like It?
To begin with, the dry herb grinder by Watifisa is made of a high-quality ABS material shell, and 304 stainless steel is used for the inner tank. Its two-way structure blade moves in 360-degree directions to ensure your herbs don't have any dead corners. 
The durable grinder comes with a large 4.2 pounds container capacity, allowing you to ground a lot of ingredients at a time. And, apart from coffee and spices, it's designed especially for grinding fresh herbs. 
To make things even better, grinding a container full of herbs takes merely 5-10 seconds, which is probably the fastest on our list. With a simple push-down-power button, you can start and stop grinding at any time according to the fineness you need. 
The unique feature of this grinder is its automatic power-off protection. With this, you won't have to worry about safety. If the unit shuts down in the middle of grinding, it might be due to motor temperature control protection. In such cases, allow it to cool for a few minutes.  
What Could've Been Better?
With features like auto-shut-off protection and faster grind, it's sure to get your money's worth. But, the grinder is non-detachable, so you need to tilt the entire appliance to transfer the ground items to another container. And, being a bit heavy, lifting it every time can be inconvenient sometimes. 
Pros
High-quality materials

Low noise

Fine and consistent grind

Auto-shuts the appliance
Cons
Non-detachable grinder container
The next product on our list is a smart electric grinder by Fancyli that, with an ergonomic design, finely grinds your fresh herbs and spices. It comes with multiple security protection to keep the user and the appliance safe. And, with double large-capacity jars, you might never run out of ground spices. 
Why Did We Like It?
With these electrical grinders, it can be seen that Fancyli has put a lot of focus on making the product safe. It comes with various safety options like child lock, button lock, low voltage, short circuit, overcharge, motor suck, and short circuit protection. So, you can keep the unit safe, irrespective of any incidents. 
This unit has 1100 mAh battery inserted in it, so you can use it for longer without charging. It can also be charged using a USB, so you can carry it around anywhere without worrying about its battery dying. 
Furthermore, you have two large jars coming along, where one is used for grinding spices or coffee, while the other is for storing the ground items. And, being dishwasher safe, this unit can be washed quickly and thoroughly.  
What Could've Been Better?
Despite being an intelligent electrical appliance, this unit lacks versatility. You won't be able to grind a whole lot of spices or dry ingredients using the grinder. Besides, the sound it makes during grinding can be a bit irritating. 
Pros
Features numerous safety features

USB-rechargeable grinder

Comes with two jars

Dishwasher safe
Cons
Lacks versatility

Makes irritating sounds
Now that we've almost reached the end of our list, we bring to you another rechargeable electric grinder that's suitable for grinding spices, herbs, pollen, pepper, etc. Like our previous model, it comes with several safety features, but grinding in this unit takes only a few seconds. 
Sale
Why Did We Like It?
In terms of value, this unit by Cool Knight is loaded with all the features a user looks for in an electric grinder. For one, its 1500 mAh large-capacity battery lasts long without requiring you to charge it again. And, because it rotates the high-quality stainless steel blade at high speed while grinding in a 360-degree circle, the spices are ground to uniform fineness. 
This powerful multifunctional grinder can grind most dry ingredients and spices we need on a daily basis. Its 200W powerful motor helps you grind more of your items quickly and effectively. 
Like our previous model, it also comes with a range of safety features like auto switch-off and power indicators to enable you to use it properly. Plus, it comes with a brush to clean the unit thoroughly.  
What Could've Been Better?
To begin with, the unit takes nearly 3 hours to charge, which may be inconvenient when grinding large amounts of spices. Moreover, the start button and charging port are cheaply made, which might not be suitable for such a pricey product. 
Pros
Charge lasts long

Comes with several safety features

Large jar capacity

Faster grinds
Cons
Takes a long to charge

Start button and charging port are cheaply made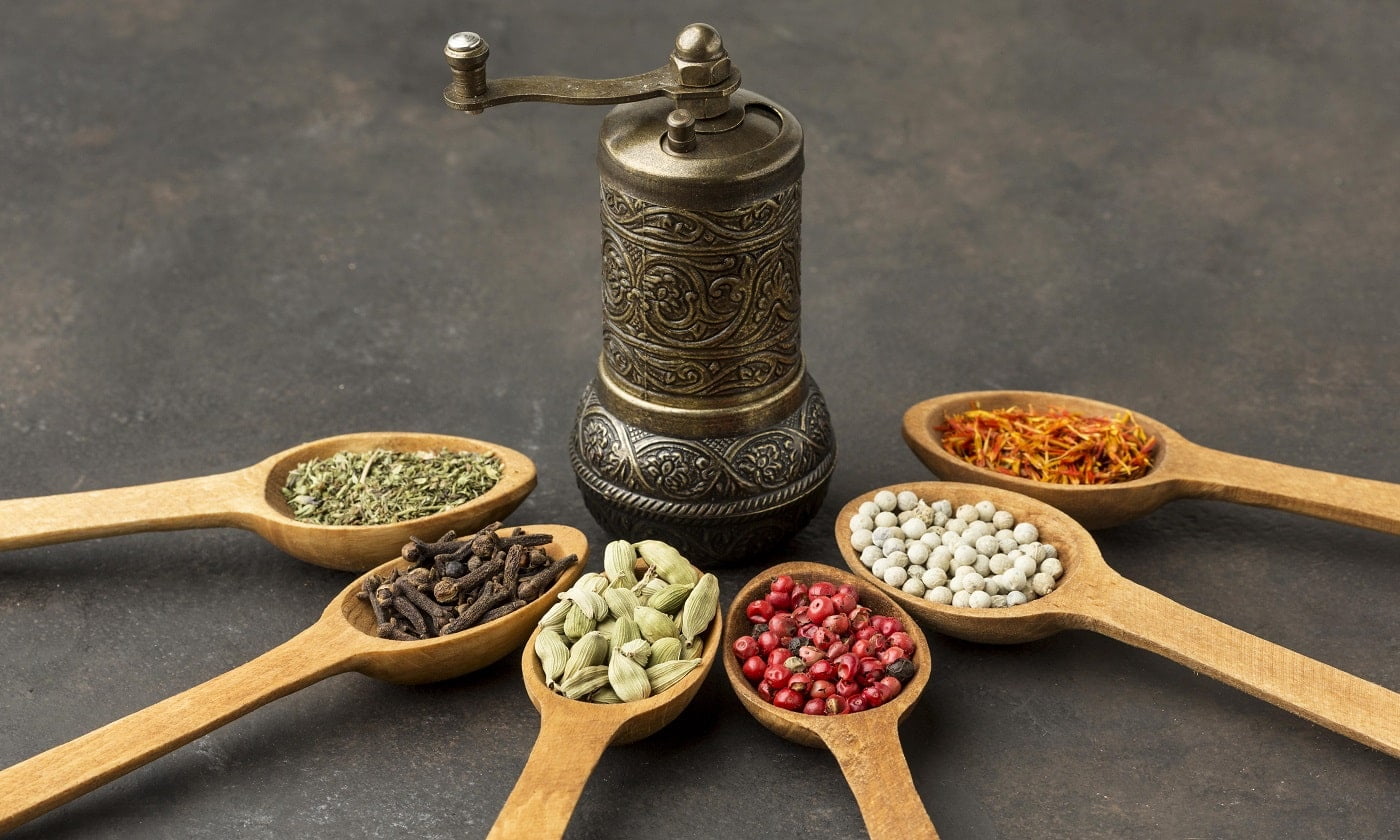 Spice Grinder Buying Guide
Grinding your spices without the right tools is next to impossible. Luckily, you just need to get hands-on an ideal spice grinder to solve all your flavoring problems. 
In this guide, we've gone over the factors to consider when shopping for a spice grinder. So, continue reading to know all about spice grinders. 
1. Speed
When picking a spice grinder, it's essential to have one that gives you freshly ground spices in no time at all. The appliances that take too much time are most likely to deliver coarse grains that alter the texture of your food. So, opt for an efficient and fast spice grinder. 
2. Capacity
The second thing that needs to be looked upon when picking up a spice grinder is its capacity. You don't want to use your grinder again for grinding just 3.5 pounds of spice. Therefore, opt for a large size that lets you grind and store large quantities of spices. 
3.  Blade And Motor
The blade and motor are unquestionably the most essential parts of any spice grinder. So, these must be made of high-quality materials that last longer and deliver fine powder every time. 
A stainless steel blade does the job for you. It's not only durable and lasts long but also grinds your spices in fine powder. They make spice grinding an enjoyable experience all around. 
Apart from that, it's crucial to ensure that the motor doesn't heat up very soon. Overheating is a potential nightmare for electrical appliances. And therefore, it's important to have an overheat protection feature in your electric grinder. 
4. Removable Chamber
Make sure your electric spice and nut grinder has a removable chamber that is not only easier to clean but also enables easy transfer of ground spices into another vessel. It's crucial to go for a unit that comes with a removable grinder bowl. 
5. Lid
The locking mechanism of an electric grinder is one of the primary factors to consider when purchasing one. Besides, check if the lid is transparent to monitor the grinding process easily. 
Most blade grinders come with a sealable gasket to tightly close the grinder and not allow powdered spices to splash out during grinding. 
Spice Grinder Frequently Asked Questions?
Can you make spice blends?
In order to create a spice blend, you can grind several spices simultaneously. Or you can grind them separately and mix them later. 
Why grind your own spices?
Pre-ground spices are readily available on the market but deliver only a percentage of the flavor and aroma that comes when grinding whole spices. It takes your recipes to a whole new level. Some grinders are used to create a fresh mix of whole spices, while they can also grind nuts, seeds, and coffee beans. 
How do you clean your spice grinder?
According to manufacturer instructions, some electric grinders come with removable jars that are dishwasher safe. So cleaning them thoroughly doesn't feel like a task. You don't want your appliance to get wet from the bottom due to the presence of the electrical mechanism there. So, if the outside is dirty, clean it using a damp paper towel. 
And, if the jars are non-removable, treat them with utmost care. Most of these aren't dishwasher safe and therefore shouldn't be cleaned that way. One way to clean these is to use brushes that are readily available on the market. At the same time, you can grind white rice for a few minutes and let it sit for a few minutes before disposing of it. But make sure you aren't breaking down the blade while doing that.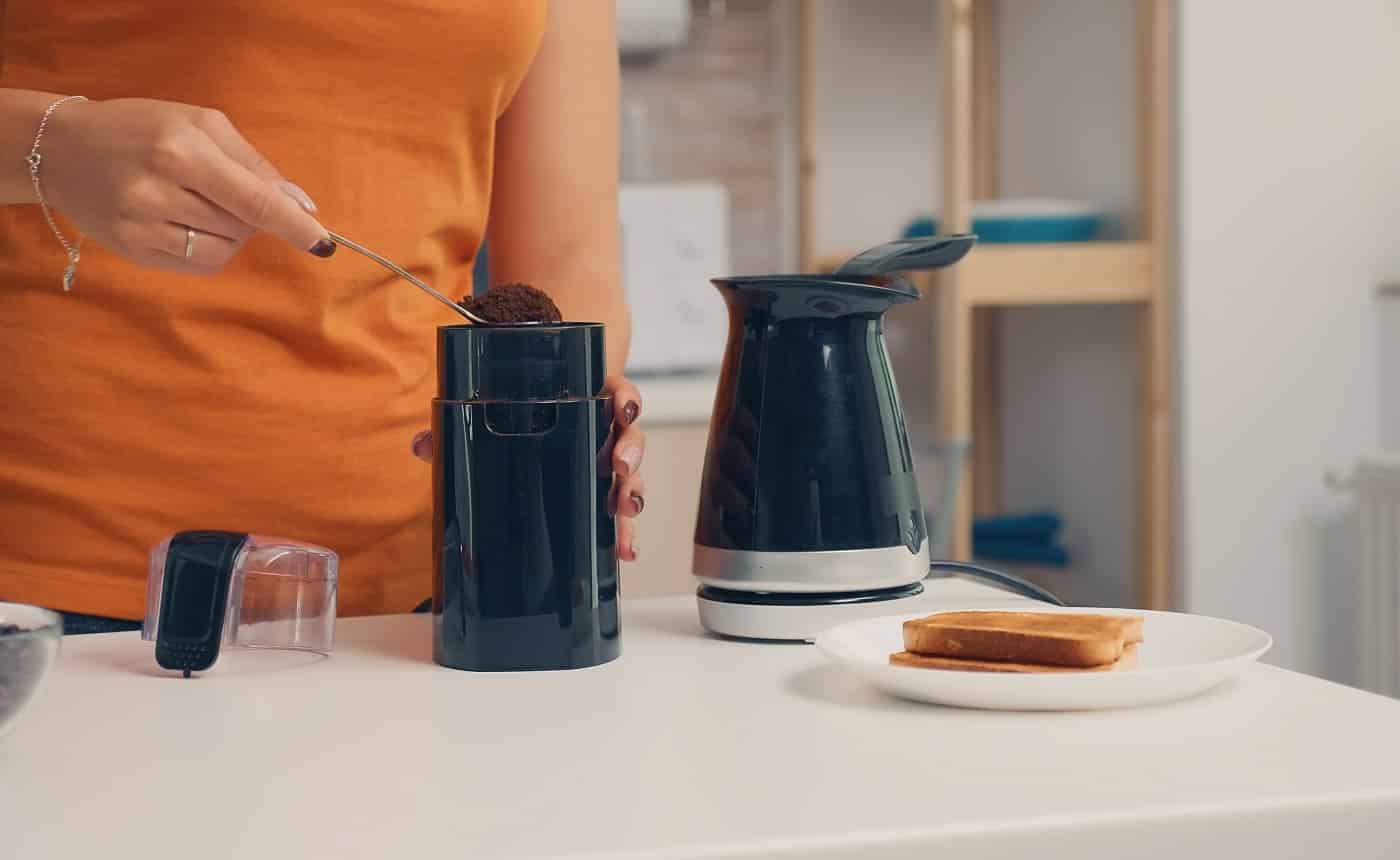 Top Spice Grinder Verdict
With that, it's time to end our review-based guide. Hopefully, this guide has helped you find an ideal option that suits your requirements best. The sole thing left now is telling our top favorites. 
Our top favorite would be KRUPS Silent Vortex electric grinder, a 3-in-1 grinder used for grinding various dry ingredients in no time. Apart from that, you can grind the spices in any fineness you wish for, making it the best manual spice grinder on our list. 
Another excellent option would be Secura electric spice grinder which comes with two removable lids, used for chopping and grinding. Finally, the Mueller electric coffee and spice grinder comes with a large grinder bowl and performs grinding operations much faster. 
Now it's time to wrap up. Until next time! 
Related Articles
13 Safest Electric Kettles without Plastic
11 Best Under Cabinet Range Hood
4 Best Ways To Reheat Chicken Wings
7 Best Hand Crank Ice Cream Makers