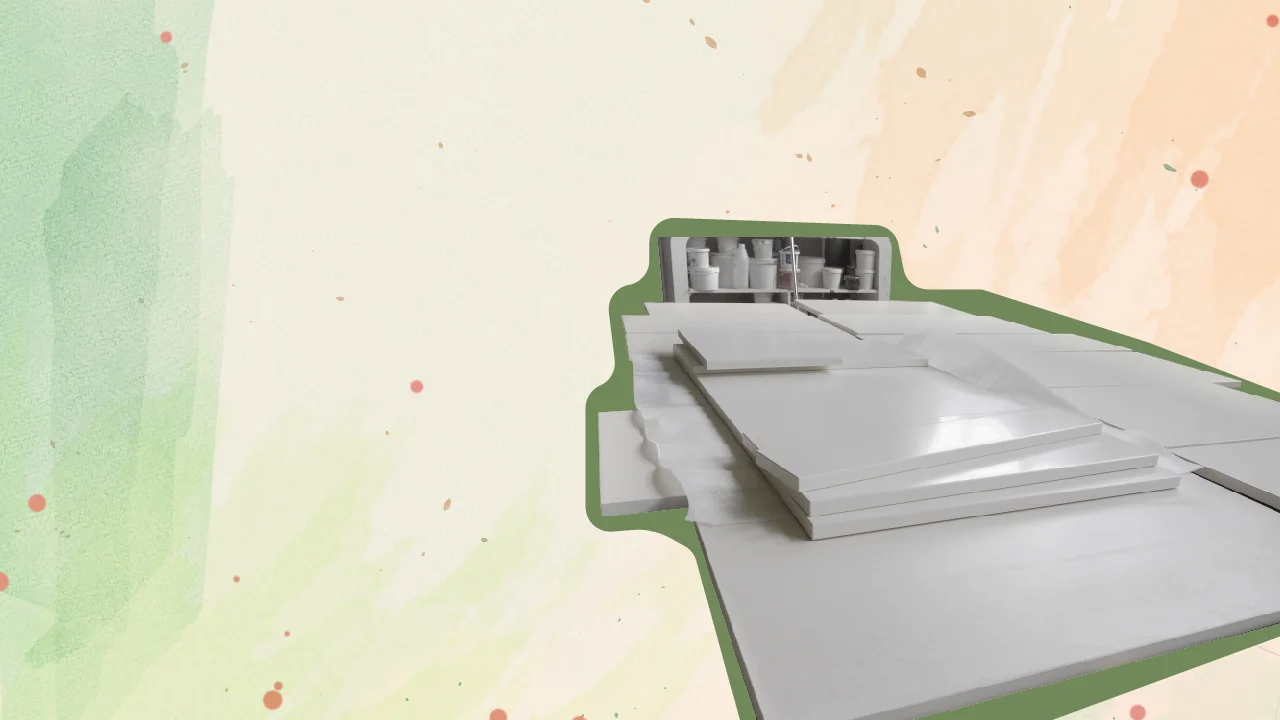 You can easily paint particle board surfaces by choosing the right kind of paint depending on the type of particle board furniture. Just make sure you prep the surface using fine grit sandpaper and applying an oil-based primer. And let the paint dry before applying an additional coat. 
Though particle board furniture may not be sturdy enough to stand the test of time, you can easily use screws for particle board to keep it steady. And if you have a bookcase, a bedside table, or a chest of drawers showing signs of wear, you can opt to paint particle board furniture. 
A coat or two of paint not only covers the scratches but it can also increase the longevity (both in terms of functionality and appeal) to a certain extent. So, yes you can and should paint particle board furnishings!
And I will help you go about the painting process with this detailed guide on the things to consider before painting and the steps involved.
What Is A Particle Board?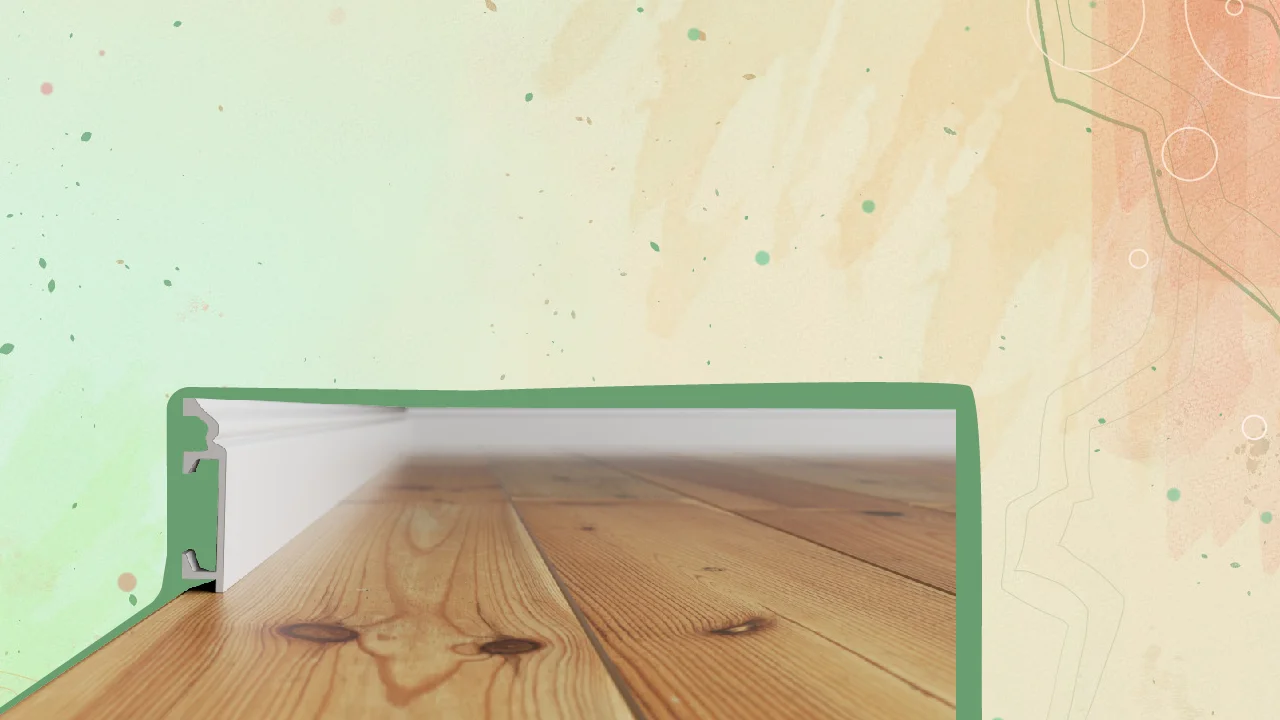 In simple words, particle board is a modern substitute for traditional wood-based furniture. Particle board panels are created by combining wood byproducts, primarily sawdust, with polycarbonate epoxy adhesives and pressing them into large pieces. 
In fact, it is one of the least expensive woods available, making it a favorite among individuals looking to save money. However, these panels are typically painted with plastic veneer when used for furniture to make it last for a longer time and prevent any damages. 
And plastic veneers can easily get scuffed, flaked, or scratched with excessive use. Moisture may also cause swelling in the core particleboard. Despite all these disadvantages, particle boards are extensively used nowadays to make various furniture pieces. 
Particle board is available in several grades to cater to individuals who want enhanced toughness, longevity, pricing, and attractive appearance for DIY projects.
Just make sure you consider the total weight the particle board can hold before you consider purchasing it to make a particular furniture piece. This will help determine the structural integrity of the final product and its overall longevity.
Advantages Of Using Particle Board 
Particle board has a number of advantages:
It is less expensive than chipboard or other kinds of wood

Has a higher density and uniformity than other wood furniture 

It can be cut and shaped into a wide range of sizes and forms

Simple to work with and is available at any local hardware store
Different Types Of Particle Board
Several particle boards are developed to satisfy the demands of various applications in different industries. Chipboard is made from very small splinters of wood, whereas oriented strand board (OSB) is made from considerably bigger strands or flakes of wood. 
Since particle boards may be produced as dense, large, and heavy as you like, the options are unlimited. However, most producers have a few varieties of particle board prepared to go right off the shelf, so let's look at these!
1. Laminated Particle Board
In a laminated particle board, the surface of the board is covered with a laminated sheet to protect it from environmental impacts like water, heat, and other conditions. These types of laminate surfaces are used where robust materials are required, like roofs of auditoriums and internal space of speakers. 
Laminated particle boards are easy to clean, sturdy, and require little to no maintenance. Therefore, they are a good choice for commercial environments and work great as a long-term investment. 
2. Single Layer Particle Board
Whenever you walk into a local hardware store to buy a particle board, the first thing you'll be offered as an option is a single-layer particle board. This board is the simplest and is made from same-sized wood filings to keep the surface consistent and sturdy. 
Single layer particle board is resistant to the consequences of dampness or direct exposure to water due to the addition of veneer and laminate, but it isn't waterproof. As a result, a single-layered particle board is only suitable for internal usage, as prolonged exposure to the weather will cause this board to deteriorate, rot, and crack.
3. Veneered Particle Board
A veneered particle board is any particle board with a veneer coating applied to its surfaces. And for the unversed, veneer is a thin covering of wood bonded to the top of engineered wood to make it look like a solid wood panel. 
You can choose from various kinds of veneer available on the market, most of which are derived directly from the source it resembles. For instance, the walnut veneer is directly sourced from walnut wood and is slightly more expensive than oak wood veneer. 
That said, keep in mind that wood veneer is cheaper than solid wood. 
4. Multi-Layered Particle Board
A multi-layered particle board comprises three layers, and as the name suggests, these boards are strong, durable, and can easily resist damage. Near the surface areas of the board, the wood particles are closely packed to increase smoothness and strength as compared to the interior parts of the board. 
The tiny wood particles that make up the board's opposing sides boost resistance to water, temperature, pressure, and scratches. And due to the presence of extra resin and smaller wood particles, these boards are much easier to paint as compared to others. 
5. Cement Bonded Particle Board
Cement-bonded particle boards are by far the most unique boards I've come across. Made from an extraordinary combination of magnesium-based cement and wood particles, these boards are inexpensive and sturdy. And they are extremely effective as construction materials. 
This type of particle board is resistant to moisture, impact, abrasive wear, fire hazards, and insect damage. As such, the flexible and durable product is used to build walls, roofs, carpets, and even furnishings. While sixty percent of this board consists of magnesium-based cement, the other forty percent consists of water and wood-based particles.
6. Graded Density Particle Board
Graded-density particle boards and multi-layered particle boards are the same. However, the only difference is how these two different boards are used. In graded-density particle boards, thick wood shavings are compressed and shaped between two fine boards that form the surface of the particle boards. 
Due to the durability and longevity of these boards, they are most used in furnishings like particle board cabinets, spice racks, serving trays and many more utility-oriented objects. These types of boards can be easily sealed and painted without any hassle.
7. Melamine Particle Board
Melamine particle boards are like ready-to-use boards, available in various colors, patterns, shapes, and sizes. These boards have the inherent quality of being scratch and water-resistant. 
The particle board features decorative sheets spread over the surface in the same manner as veneer. And the wood granules have been glued using a mixture of melamine-urea, epoxy, wax emulsion, and formaldehyde to guarantee that the board is robust and moisture-resistant.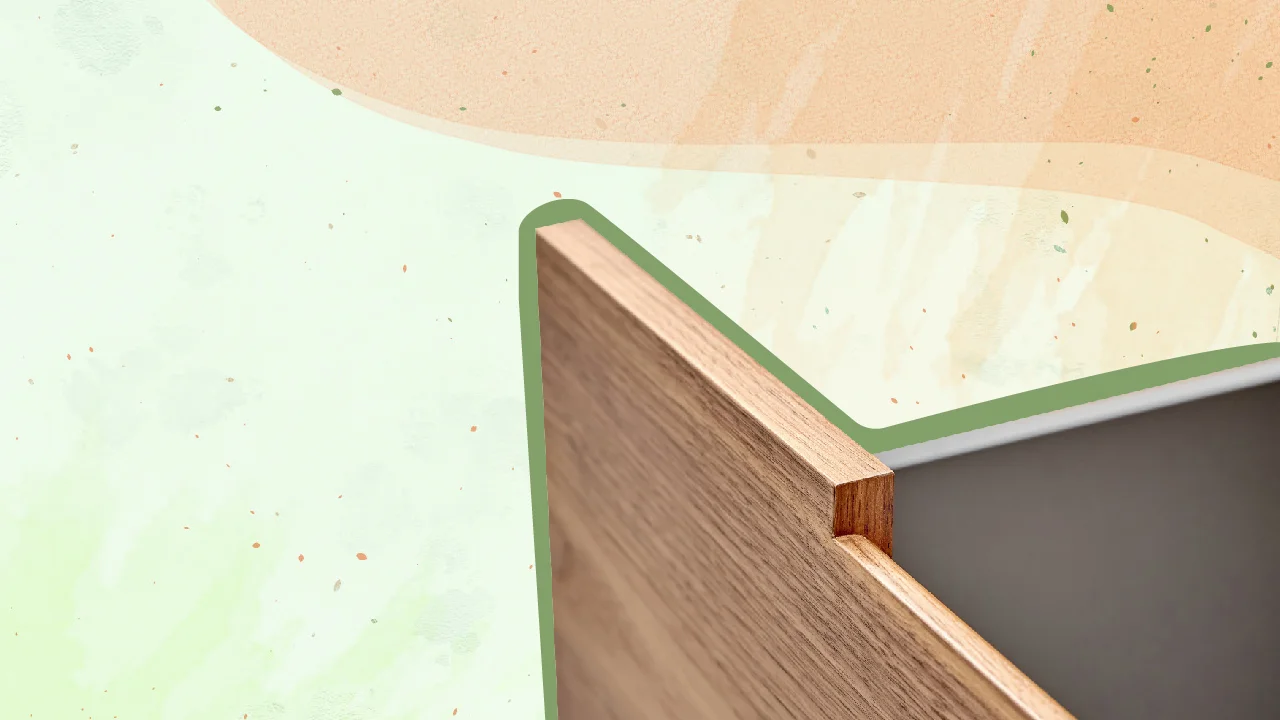 Can You Paint Particle Board Furniture?
You can easily apply any color to the particle board and change its look according to your preference. However, you must take care of certain things, like choosing the right paint and making the surface smooth so that paint sticks to it properly. 
Since particle boards are more porous than other materials, they soak paint a lot faster. Therefore you might have to apply several coats of paint to improve its texture and look. 
Tip
Always sand the surface and apply an oil-based primer before painting particle board furniture, so the paint looks as good as new. 
Is Painting Particle Board A Good Idea?
Painting particle board furniture is a good idea as the oil-based paint protects it from any environmental damage like rain, heat, abrasion, or other hazards. Moreover, painting particle board gives the furniture a new, improvised look. 
However, it's very important to choose the right kind of paint. Some coatings may not cling properly to the particle board or offer enough protection. So, before undertaking any painting project, it's always a good idea to contact an expert.
Things To Consider Before Painting A Particle Board
1. Choose The Right Kind Of Paint
Before you begin painting, you must choose the right paint that gives your particle board furniture a smooth and glossy finish. Not all kinds of paints are suitable to paint particleboard furniture. It is essential to choose a paint that easily covers hard surfaces. These paints are more resistant to chipping and scratches and give superior overall coverage.
2. Prepare A Smooth Surface
Before you begin the paint job, it's essential to prepare the entire surface of the particle board. For this, you'll have to use fine grit sandpaper to smoothen the rough edges and uneven surface. 
You should then apply a coat of primer to hide any stains or imperfections. I know it can be tempting to skip this step if you plan on using chalk paint. But resist the urge! 
3. Use Multiple Coats Of Paint
When painting particle board furniture, it's very important to use multiple coats of paint to make the surface look smooth and even. This way, the paint will last for a longer duration and won't chip off easily.  
4. Let It Dry Off Completely
After applying the first coat of paint, let the coat dry completely. Once you feel that the first coat is done, proceed with the second coat. This process might take a long time, so you must be patient. 
Tip
Always remember that at least two coats of paint are required to make the particle board look as good as new. 
5. Enjoy Your Hard Work
Once you're done with the painting process, sit back and relax. Wait for your oil-based paints to dry off completely, and your particle board furniture will be ready to look all new. 
Which Paints May Be Used On A Particle Board?
If you're looking for paint that will give your particle board furniture a high gloss finish, you should go for latex paints. These kinds of paints will give the best kind of coverage and durability. 
You can also use oil-based paint, but it might not stick to the particle board properly, and the final product might not be very satisfactory. In addition, if the particle board is dark in color, you should apply a primer so that your fresh color stands out properly. And you might have to use a bold paint color for painting the particle board.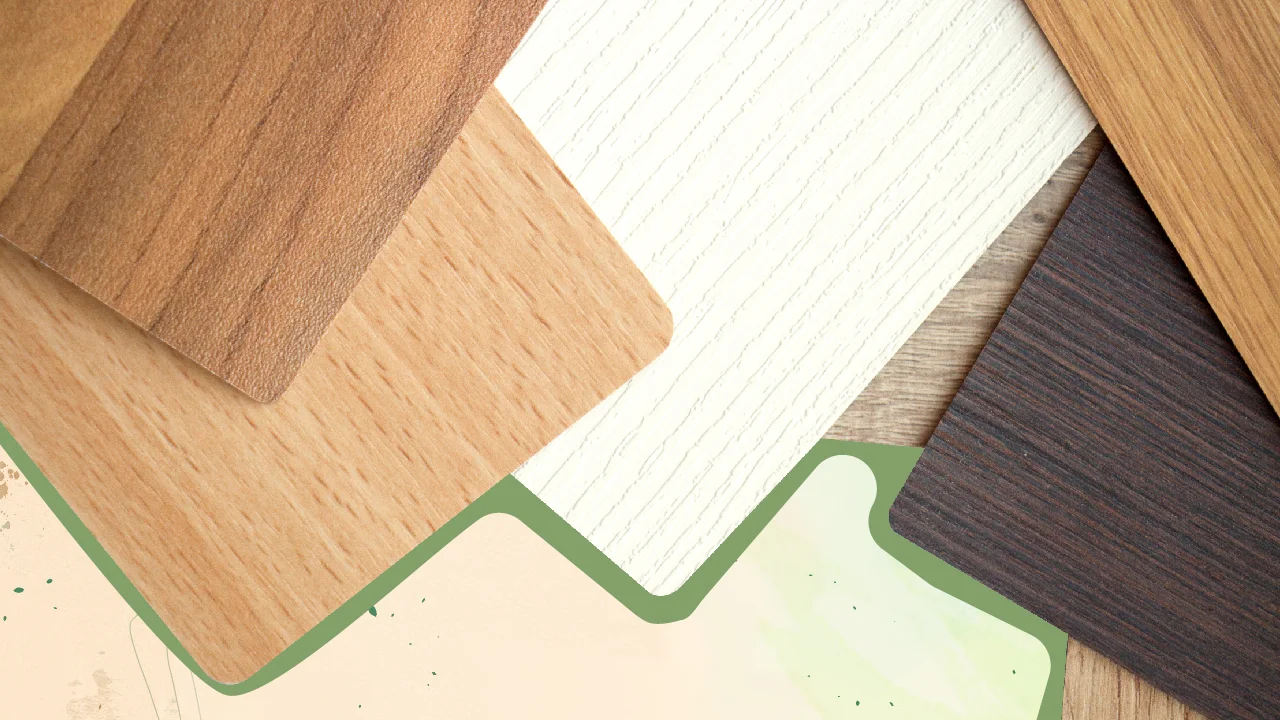 How To Paint A Particle Board?
1. Start With Repairing The Damage
You will only achieve the best results from painting your particle board when you repair all the damages before coating it with your desired color. There are three kinds of damage that you need to take care of.  
A. Water Damages
Some particle board furniture is not laminated but painted. Due to this, when they are constantly exposed to extreme weather conditions, bubbles, and permanent stains might change the look of the particle board furniture. In extreme cases, the particle board might even soften and crack. 
To repair such damages, you must scrape out the portion which water logging has affected the most using a sharp razor. Once you're done, you can easily fill up those areas with wood shavings and smoothen them out with grit sandpaper.  
B. Chips And Scratches
Particle boards are not very durable or sturdy. They can easily crack, chip, or scratch. So, use putty or wood shavings to fill the area if you see any such damage on the particle board. Then use a putty knife to smoothen out the area. Lastly, sand the surface of the particle board and make it look as good as new.  
C. Veneer Damages
The plastic veneer stuck to the particle board with the help of glue eventually loosens, and the edges separate from the board. However, you can easily solve this problem through contact cement. All you need to do is use a putty knife and lift the edges. Then scrape off the dried glue and wood particles. 
Apply a small coating of contact cement to the particle board surface and the veneer's bottom surface. Using a roller or a piece of wood, press the plastic veneer into the particleboard core. The veneer should adhere strongly.
2. Smoothen The Surface Of The Particle Board
After you've repaired the particle board, it's time to sand the surface to remove all the unevenness. If the surface of the particle board has a glossy finish laminated surface, then the paint might not stick properly. 
However, when you sand a particle board, it can easily absorb the paint. Always remember to do this step properly; otherwise, the paint might start chipping off. To remove any previous finish, lacquer, or gloss, sand the entire object using fine-grit sandpaper or a sanding block. The idea is not to sand away the veneer but rather to scratch the top and give it "teeth" that will aid in the adhesion of the paint layer. 
3. Prepare And Apply The Right Primer
If you pick the right kind of primer, then you can save yourself from the hassle of putting in several coats of paint. You can use a gray primer if the particle board is dark in color and a white primer in case the particle board is light in color. The primer helps the particle board to absorb the paint and prevents the chipping of the paint. 
Though you may apply the primer with a roller, a thin layer applied with a paintbrush will guarantee that it goes into every crack. Allow the primer to dry for 24 hours and then lightly sand the surface once again. 
4. Sand The Primer Layer
Lightly sanding the particle board before painting will ensure that the top coat sticks to the surface. You should then remove any dust and debris with a lint-free cloth after sanding.
5. Start Applying The Paint
Once the primer is completely dry, start painting the particle board furniture. You can use a roller brush to paint the particle board. The advantage of using a roller brush is that it gives a smooth finish, doesn't show the brush pattern, and, lastly, you can avoid paint drips that might destroy your hard work. 
While painting, keep an eye out for paint drips and clean them away with a brush before the paint dries. Depending on the color, one application may be sufficient to meet the surfaces. However, the greatest results are frequently obtained by applying two or three layers of paint in fine, consistent layers. 
If you need to apply another layer, wait until the previous one is dried before applying the next. A gentle sanding between applications can improve adherence.
Tip
A gloss or high-gloss texture is frequently preferred when painting furniture. Gloss paints are simpler to clean and prevent staining.
Some Additional Tips And Tricks To Paint Your Particle Board Furniture
If you're repainting over a darker shade, use a white or light-colored primer first

When using a paint sprayer, keep the can upright and spray in a back and forth motion

Begin by applying light layers of paint, allowing each coat to dry thoroughly before adding another

To produce the greatest results, use a high-quality paintbrush or roller developed to use with latex paints 

Remove any paint drops or spills as soon as possible, before they dry
Can You Paint Particle Board Final Words
Particle boards make fantastic furniture, especially on a tight budget. And painting particle board surfaces is the best approach to refurbish particleboard furniture. Just keep the procedure in mind and proceed slowly with it. 
If you've found this article insightful and are interested in knowing about screen printing, then my article on, "Can a circut machine screen print?" may interest you.