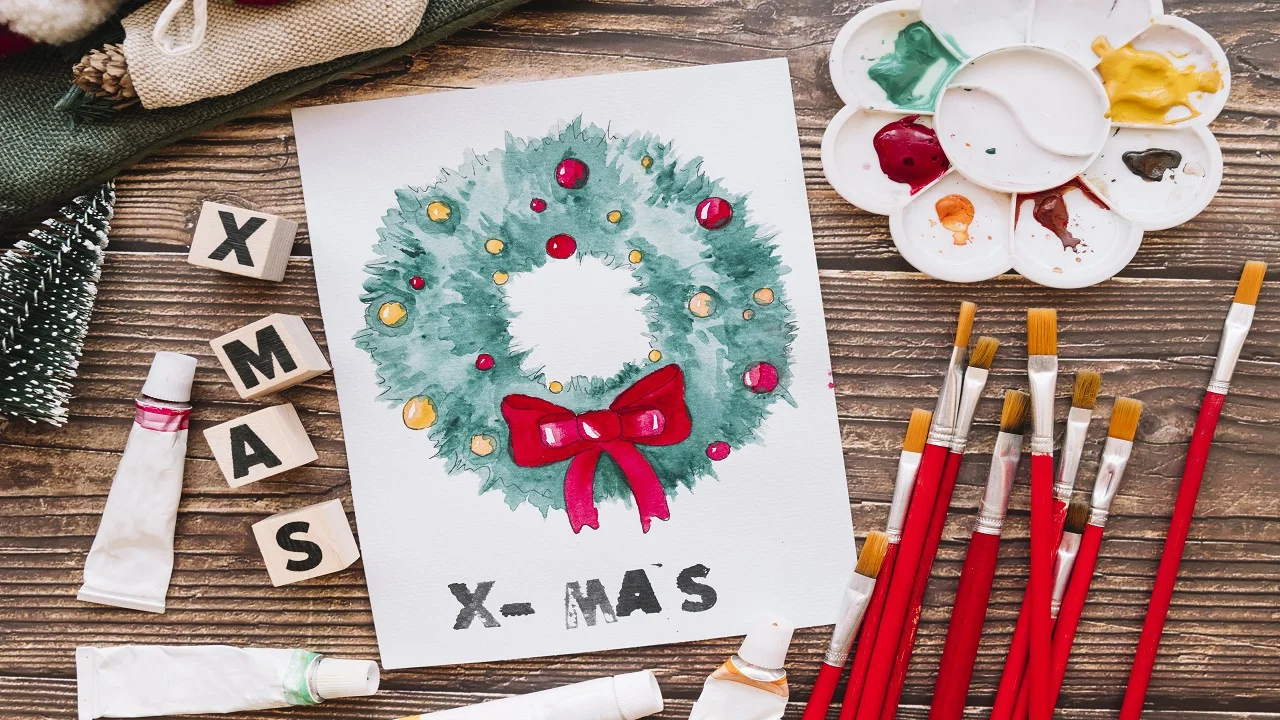 The Christmas season calls for different activities for kids and kids-at-heart, including Christmas-themed drawing sessions for your Christmas cards, decorations, or just pure holiday fun.
We made this article to help you grasp different easy Christmas drawing ideas for you and the kids to practice over the holidays. Read through!
45 Easy Christmas Drawing Ideas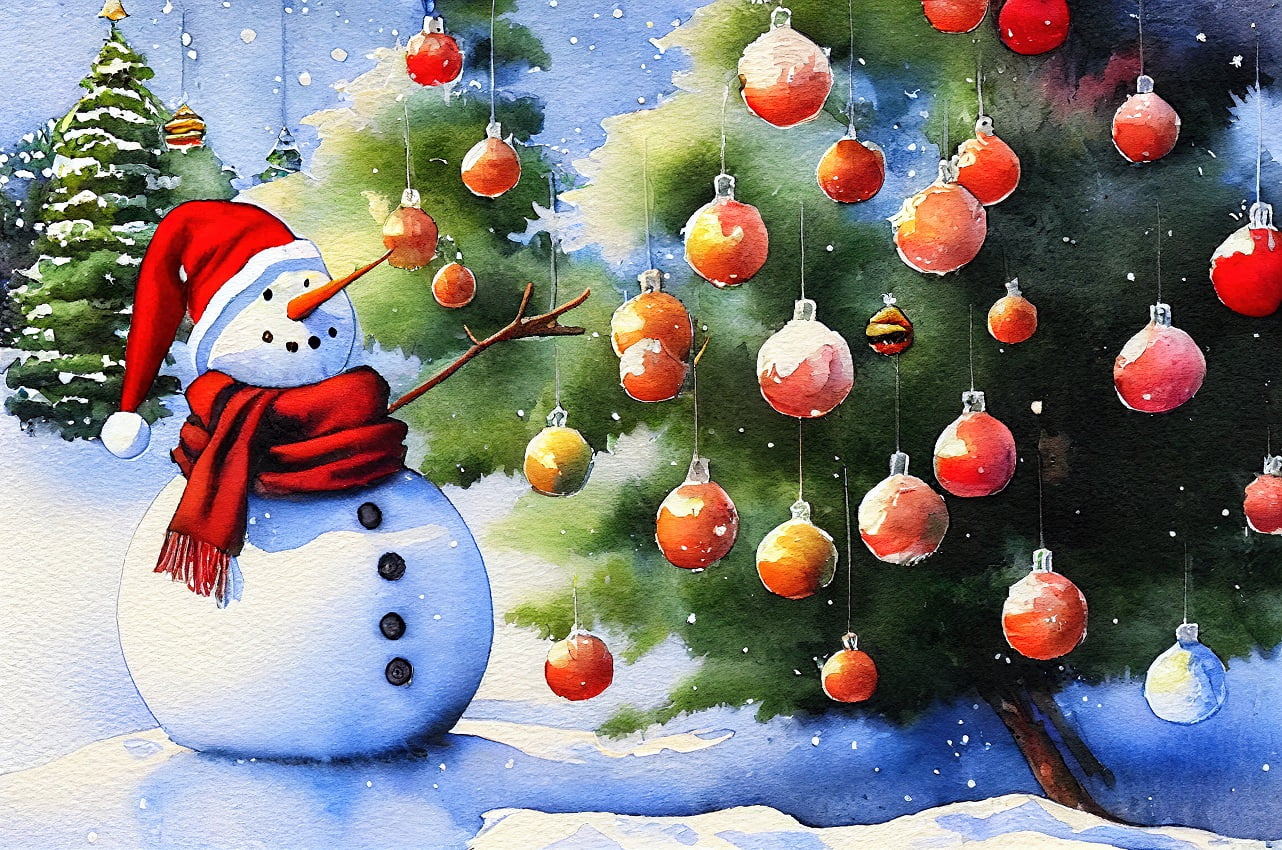 Here are 45 easy Christmas drawing ideas for your children's playdate or your next family gathering. Now, let's get the Christmas drawing ideas flowing!
1. Santa Claus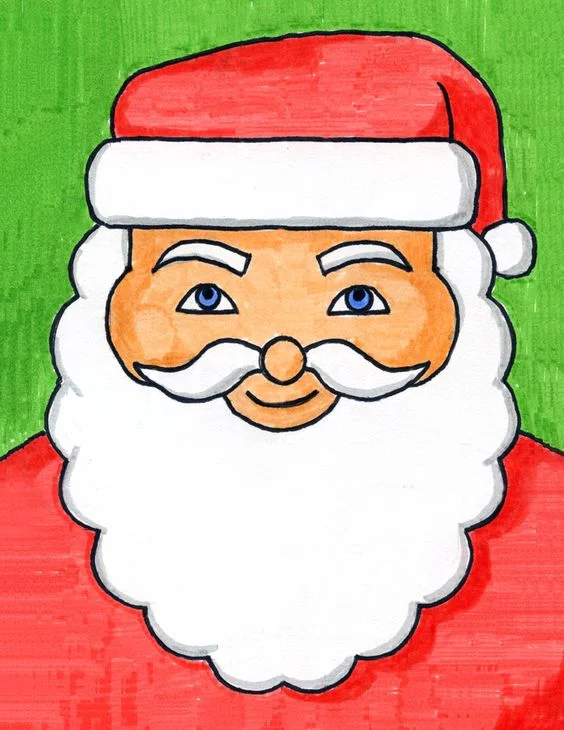 Via : Kathy Barbro
Ho ho ho! This easy-to-draw Santa Claus can elevate the design of your personalized cards for your Christmas presents, thanks to the simplicity of the overall drawing.
It emphasizes clear lines and shapes, allowing anyone to quickly recognize Jolly-old Saint Nick. To make this Santa Claus drawing idea come to life, put on some Christmas colors of green, red, blue, and white.
While not shown in the drawing, you can always put on some dashes of yellow to embellish your Santa drawing idea.
2. Snow Globe
Via : Aomam.ss
You can't forget to take the snow globe motif when you decorate your cards or use it as a hanging banner on your main doors.
Similar to the drawing idea above, a snow globe is an easy-peasy drawing task that your preschoolers can make. It's also fun, especially when you draw a cute Christmas snowman inside.
3. Snowman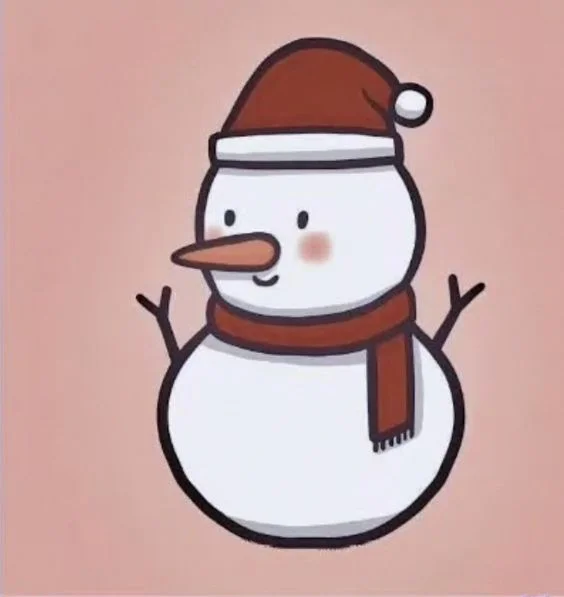 Via : Lara
Speaking of a cute snowman, a beginner skill-level-friendly sketch you or your kids can do is a snowman. You can't go wrong with a few circles, stick arms, and a triangular carrot nose.
To give it even more of a Christmas vibe, throw on a red scarf with a combination of curved and straight lines and a simple yet appealing hat on top.
4. Christmas Tree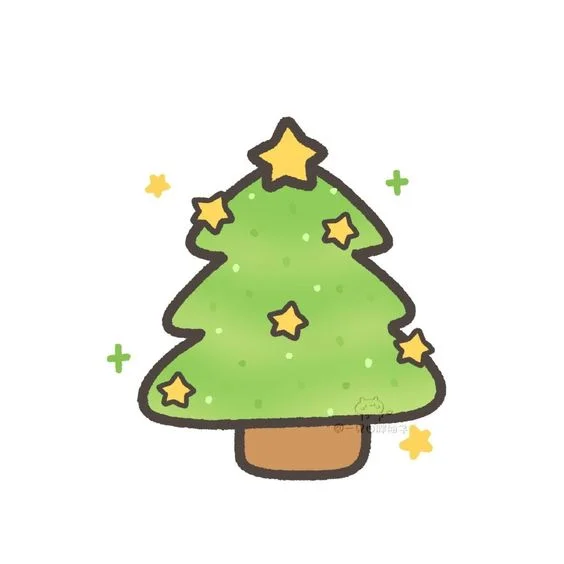 Via : Patrick
A Christmas tree drawing completes your Christmas celebration and can even replace an actual tree if you have enough of them. To do this, you have to sketch simple lines with little precision.
After that, sprinkle in some green, brown, and yellow to create a Christmas-time feeling. You can add some red for the Christmas lights if you want.
5. Christmas Gifts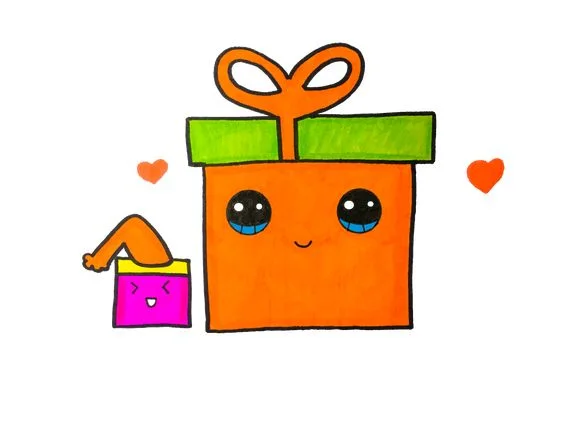 Via : 02hero Drawing
Christmas time is a time for giving, and it calls for Christmas presents, whether small or big. As the saying goes, it's the thought that counts.
Raise your gift-giving game by humanizing your gifts by incorporating some cute puppy-dog eyes, hearts, and a hand within your gift box drawings.
6. Reindeer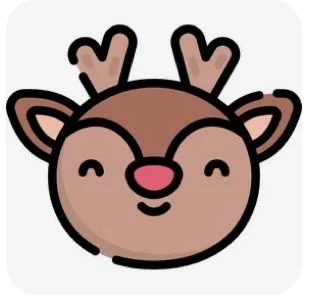 Via : Agathe
A Reindeer is so dear in a Christmas-themed party because it reminds us that Santa Claus' giftings are coming through, so make it a part of your classic Christmas drawings.
You can even draw these on edible paper as toppers for your cookies and cupcakes as part of your Christmas morning activities.
7. Christmas Ornaments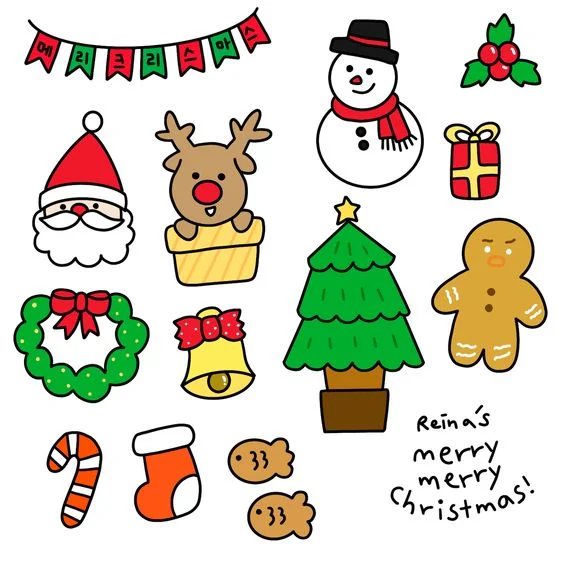 Via : Artist Unknown
What's the Christmas season without Christmas ornaments? These drawing ideas for Christmas ornaments can be used to design gift wrapping paper for a more festive holiday celebration.
Besides wrapping paper, it can also serve as the background for your Christmas cards and reflects authenticity and genuine love for family and friends.
8. Christmas Holly Wreath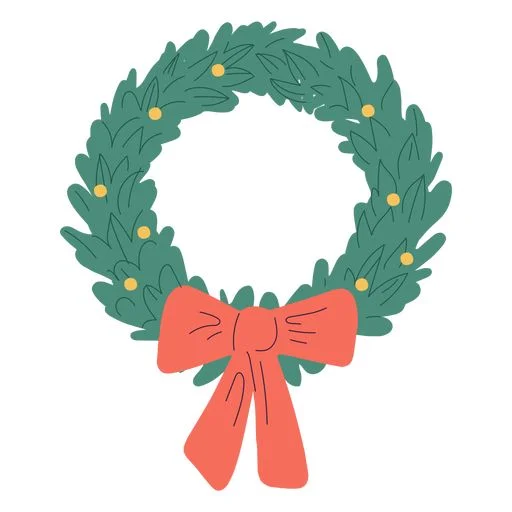 Via : Artist Unknown
A Christmas wreath tells us about the spirit of Christmas and the eternal life with Jesus Christ. Aside from its religious symbolism, it has also been widely used as door ornaments to establish the holiday spirit.
You can always give this wreath a fresh look through the drawing idea above, including simple red bows and gold highlights. After drawing, you can paste it on your kids' door rooms for some leveled-up Christmas decorations.
9. Christmas Elf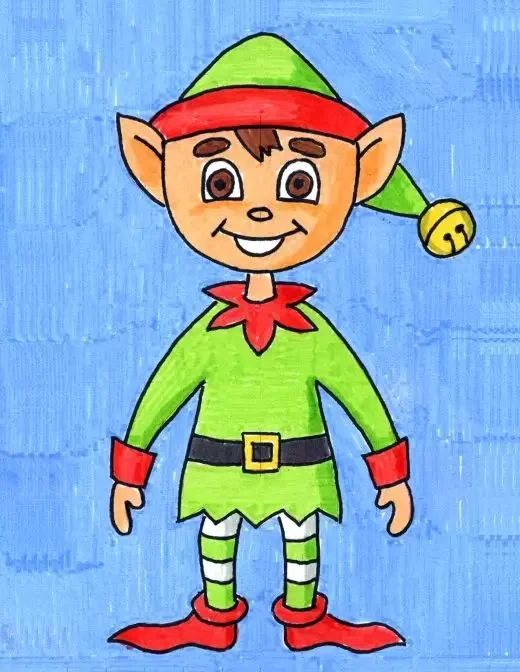 Via : Kathy Barbro
If you want more bonding activities with your kids, you can draw this elf, cut it, and use it as your doll for the elf on-the-shelf game.
Indeed, you will all have a contemporary and fulfilling hide-and-seek of a lifetime in the lead-up to Christmas morning!
10. Christmas Candle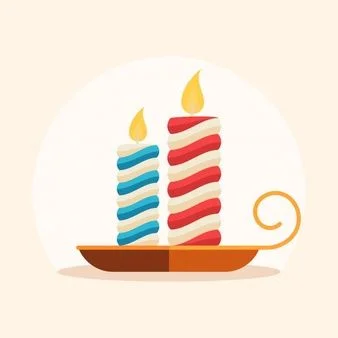 Via : Egudinka
Add some warmth to your Christmas decorations by creating festive candles in combinations of white and red or white and blue stripes.
You can also use alternate spiral shapes to create a patterned-design and visual texture simulation.
11. Candy Canes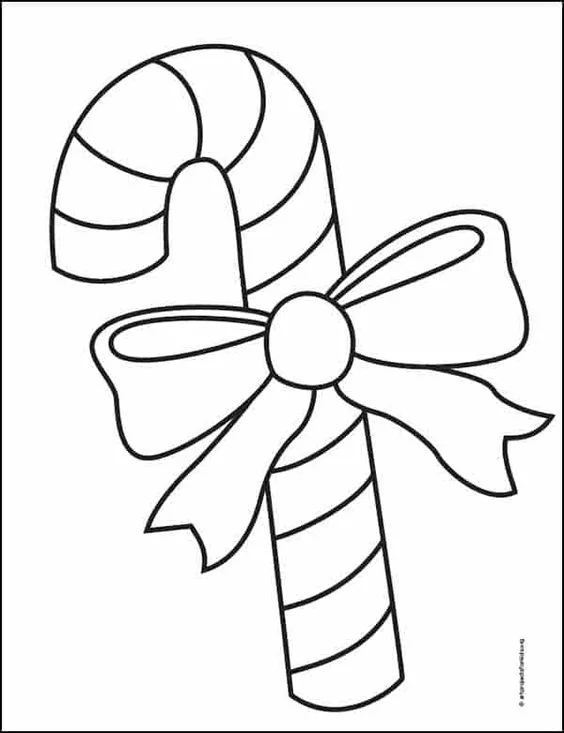 Via : Kathy Barbro
A candy cane a day takes your Christmas and holiday blues away! A candy cane is simple to draw; you can even pencil sketch it or add some colors if you like.
The best candy cane colors are green, blue, red, yellow, white, and shades of pink for some accenting.
12. Gingerbread House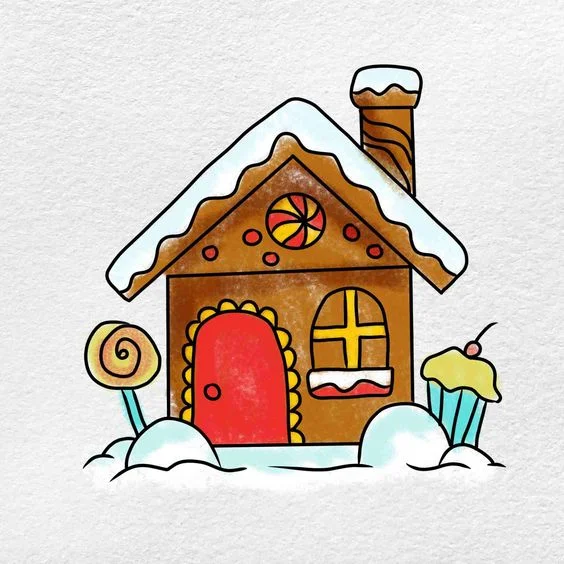 Via : John Morfis
This gingerbread house is a Christmas drawing that is easy to do but has a lot of cute little details that you can incorporate to make it more eye-catching, such as cupcakes, candy canes, snowflakes, and other shapes.
But, always remember to establish the brown house before drawing in the other ideas and their particular colors.
13. Gingerbread Man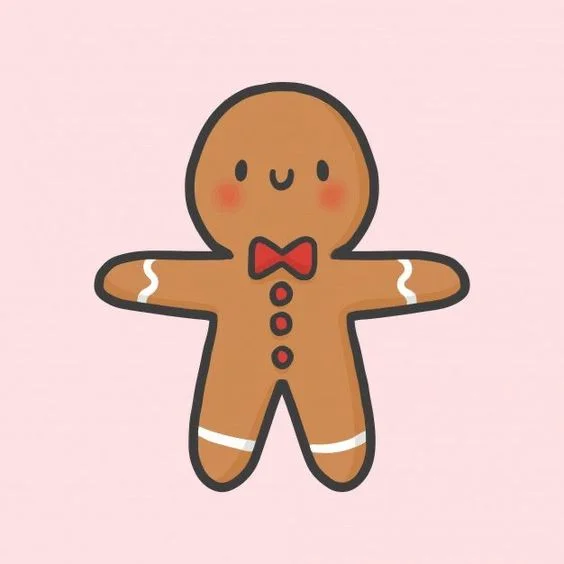 Via : Nika
If you have a gingerbread house, make sure to add the gingerbread man for a classic Christmas treat.
A gingerbread man is a simple drawing idea that only needs an irregular-shaped human figure and some added-on details, like the red bow, buttons, sleeves, and pants.
14. Hot Chocolate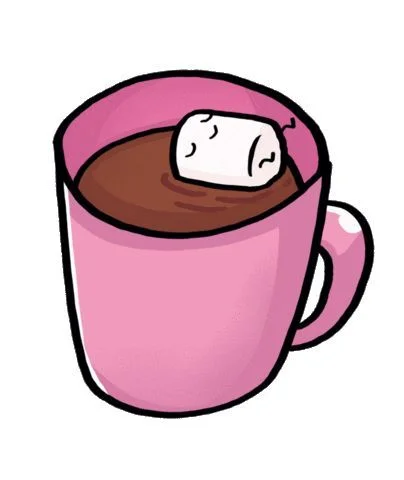 Via : Frostie Winter
Hot chocolate is a must, mainly as the coming of the holiday spirit entails the cold days of winter for most countries.
Sketch a mallow floating comfortably on top to make your drawing of a hot chocolate in a mug more enjoyable.
15. Snowflake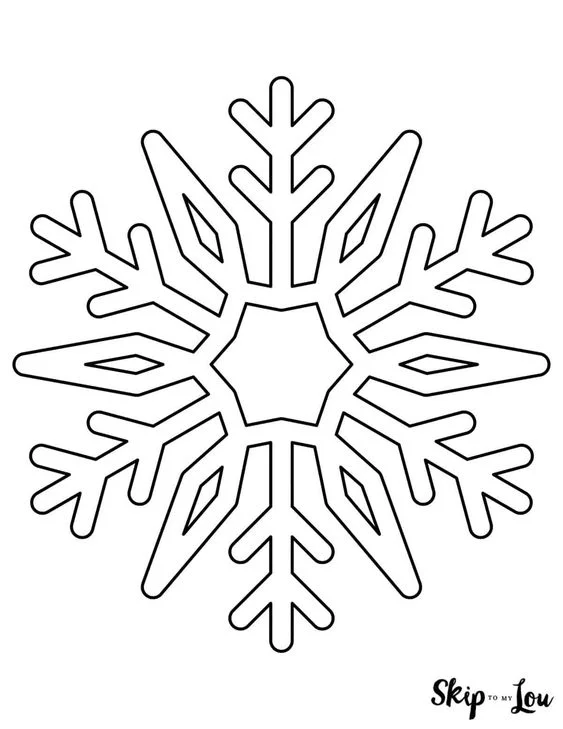 Via : Cyndi
With winter comes snow and beautiful snowflakes. A snowflake is usually complicated to draw, but with the drawing idea we have for you above, you can surely ace it even with your eyes closed.
Just blend it in with your favorite shade of blue, highlight it with white, and add black borders.
16. Christmas Lights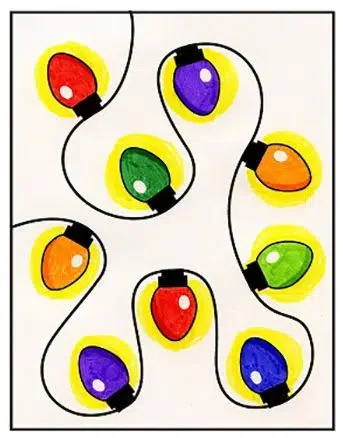 Via : Kathy Barbro
Are you writing a Christmas card? Well, a drawing of Christmas lights is a fantastic piece to use as your card cover.
Aside from the Christmas lights' shape, you can make different motifs, like a straight row of lights on either side of your card.
17. Sled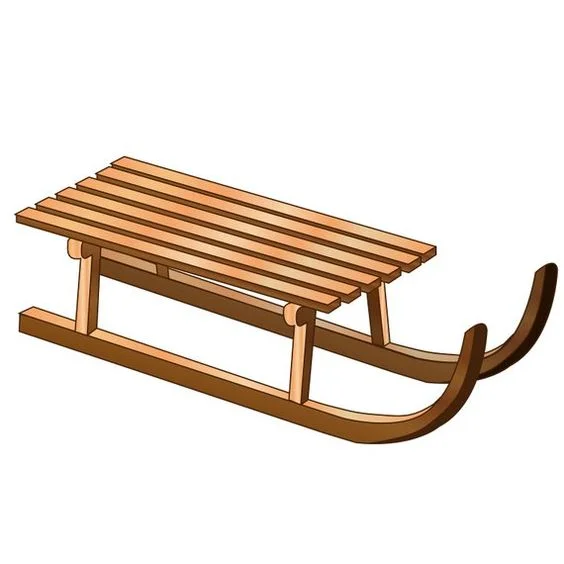 Via : MineEyesDesign
Sled your worries away as you integrate sled drawing ideas with your presents. You can even add Santa Claus to this drawing to make it more Christmas-y.
But if you don't want that, stick with this drawing and choose the best shades of brown.
18. Santa Suit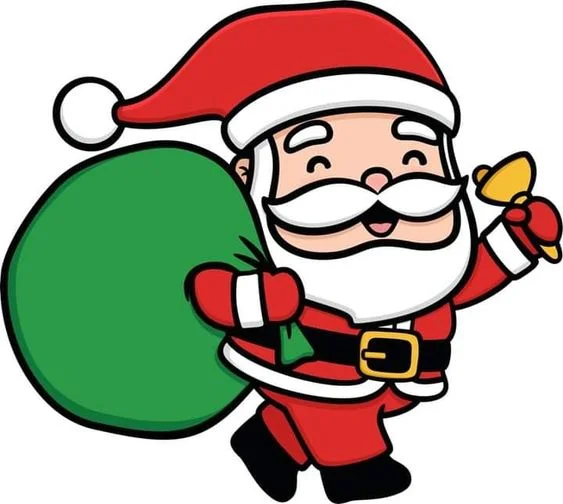 Via : Monica Montaño
Santa Claus will surely come to town when you draw him in his entire body suit while carrying his treats for everybody. You can even add a bell detail to make your drawings more festive.
What makes this Santa drawing a lot cooler is the integration of his cute eyes by drawing an upside-down C.
19. Christmas Hat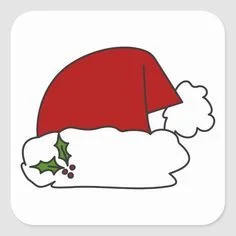 Via : Samuel Oliva
If you think you're missing something in your creative drawing, maybe you lack some Santa hat.
A Santa hat is easy to do but to elevate the art, blend in some mistletoe on the white part of the hat.
20. Cute Penguin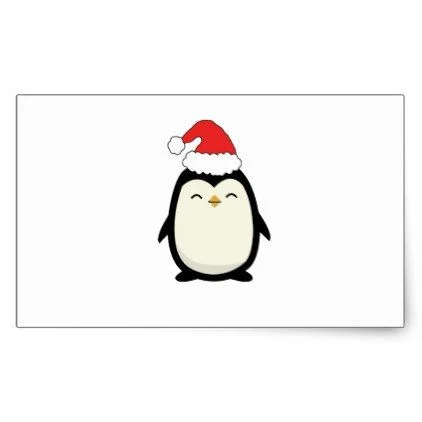 Via : Cátia Morais
Now that you know how to make the Santa hat make sure your penguin drawing has one too.
Even without the mistletoe detail, your penguin will look fluffy, friendly, festive, and creative with the Christmas hat on.
21. Icicles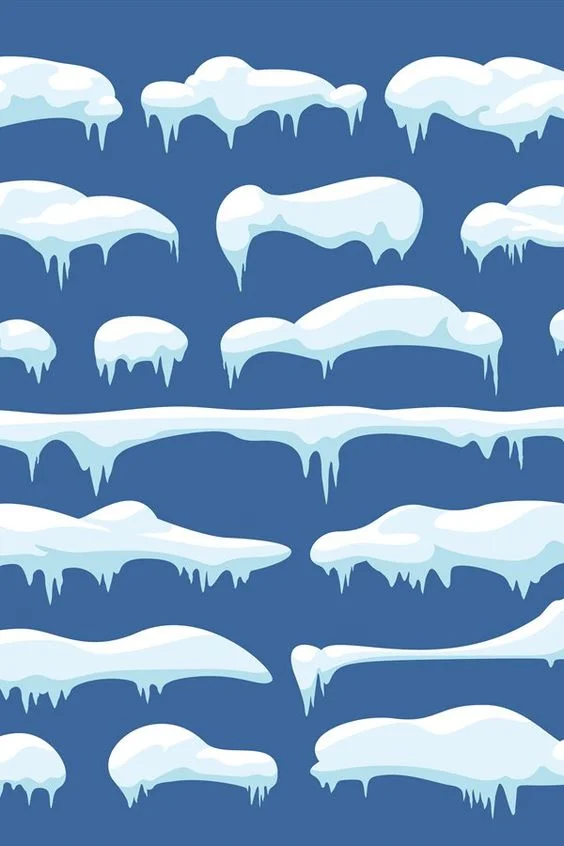 Via : MicroOne
You'll surely need some icicles to finish your gingerbread houses and add details to your other drawings.
To create this art, you'll need a white pencil to scribble all over your paper in an ice-like drip form.
22. Christmas House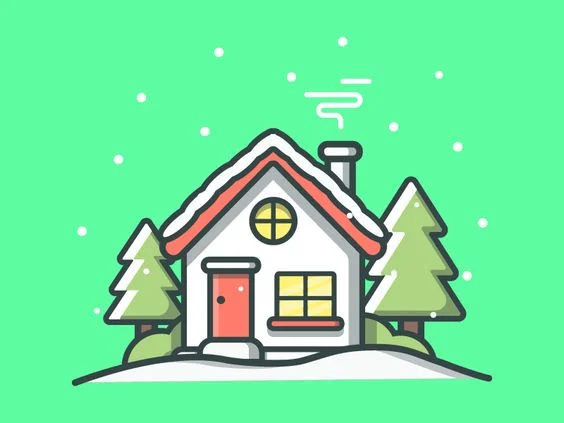 Via : Catalyst Labs
A Christmas house with trees at the sides and icicles on top of the roof is a nice homey touch to elevate your creative drawings.
What sets this apart from the gingerbread man's house is the color of the building itself, which is not brown.
23. Christmas Stocking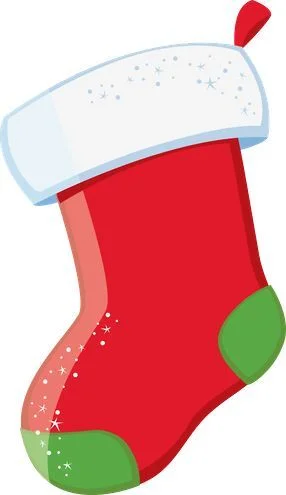 Via : Andréia Mattosinhos
A Christmas stocking is an essential ornament to draw on your Christmas decorations. You can also draw a Christmas stocking in whichever size you want, big or small.
You can also write your name or friends over the Christmas stocking to make it more personal.
24. Mistletoe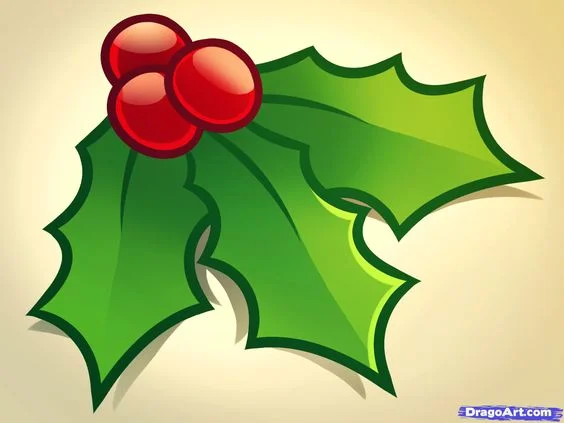 Via : Dawn
Hear the Christmas music under a mistletoe, a place of love and festivity. So, you should create one in your holiday season drawing ideas.
The mistletoe above is effortless to draw, and you can easily mix and match it with your Christmas tree, house, and other drawing ideas.
25. Nutcracker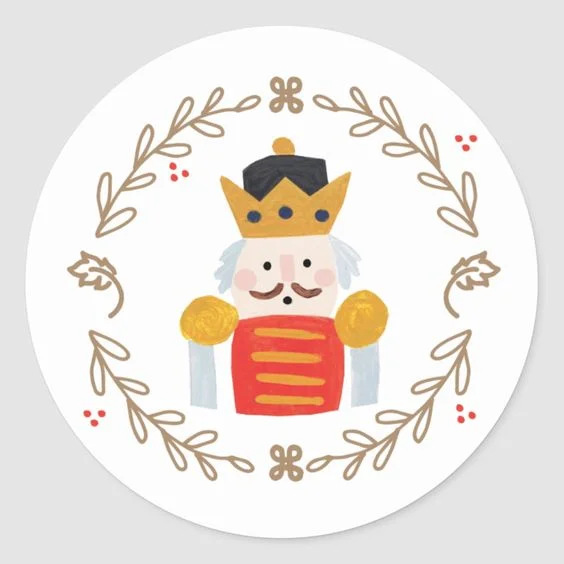 Via : Origami Prints
A nutcracker can be a nice art piece to draw to accompany your elf, snowman, reindeer, Christmas tree, and more.
Most importantly, a nutcracker is believed to bring luck and protection, a lovely thought to add when gifting friends and family.
26. Christmas Bells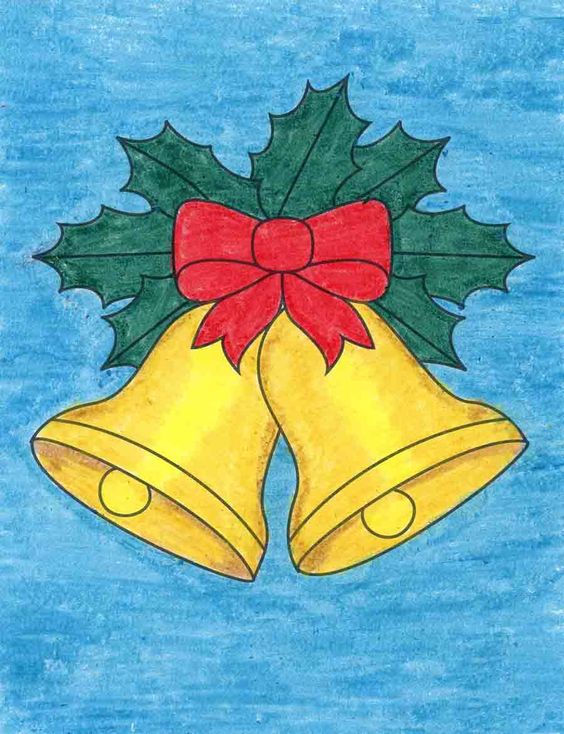 Via : Kathy Barbro
Of course, to complete your Christmas drawings, it is a must to incorporate some fun and festive Christmas bells.
Add some mistletoe and a red ribbon to decorate your Christmas bells, similar to the picture!
27. Patterned Christmas Baubles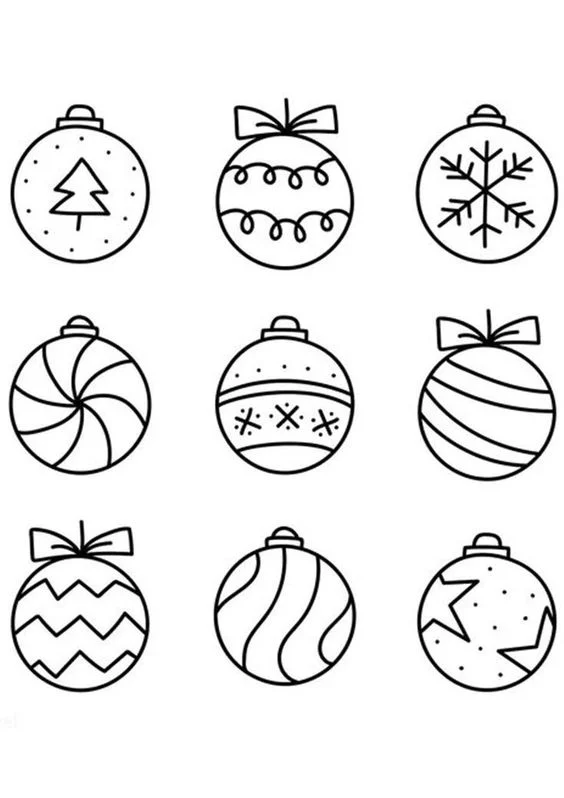 Via : Leida Micheli
Since you have a Christmas tree drawing, you can add the baubles to accessorize it and give more life to your trees.
You can vary the patterns similar to the drawing above and use red, yellow, blue, and green colors.
28. Robin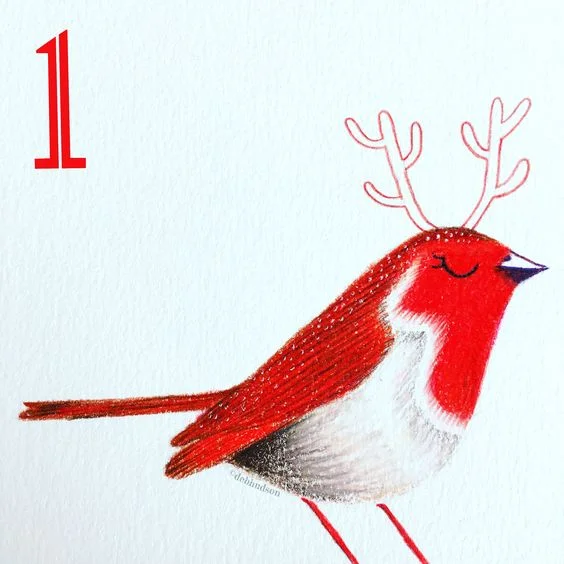 Via : Debi Hudson
Representing the postman, a red robin is a significant part to add when you decorate for the holiday season.
It's not complicated, but you must grasp your strokes to draw the red robin beautifully. You can also draw some reindeer antlers to make it more fun.
29. Santa's Sleigh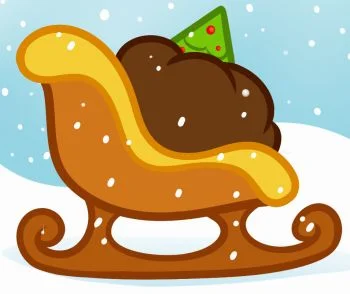 Via : Dawn
Help Santa deliver your presents faster by drawing his sleigh. You just have to master the art of curves and coloring brown shades.
You can even add a sneak peek of the Christmas tree with lights and balls to nail that holiday vibe.
30. Five-Pointed Star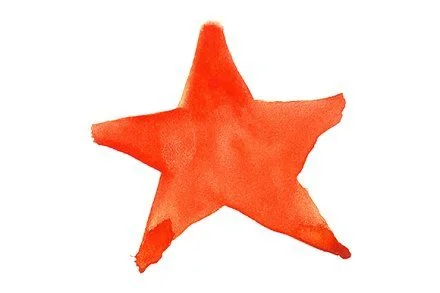 Via : Art by Silmairel
The five-pointed star makes its way up your trees and onto your drawing sheet this holiday season. It's one of the uncomplicated patterns to draw from this list.
To make it more appealing, color it with a fun red tone or other holiday colors that you love drawing!
31. Polar Bear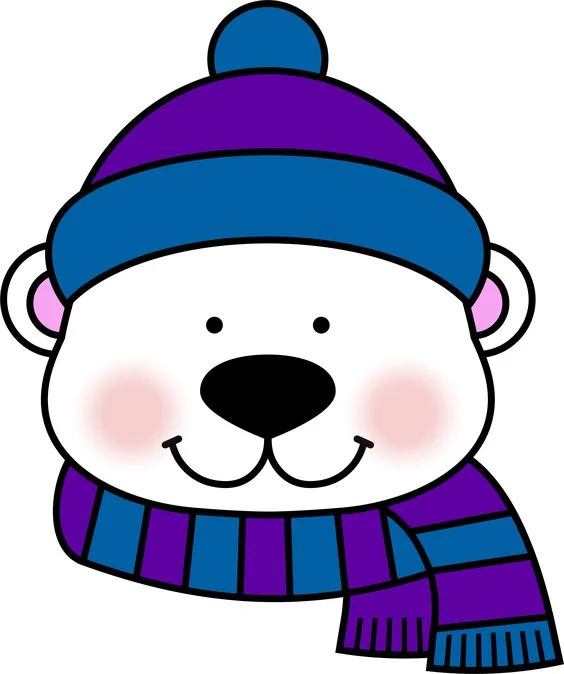 Via : Cecii Rdz
Draw a cute polar bear if you want something cuddly in your drawings. Make sure you include its hat and scarf, too.
Aside from the usual holiday colors, you can incorporate a different shade of blue with violet to bring some life to your polar bear.
32. Christmas Gnome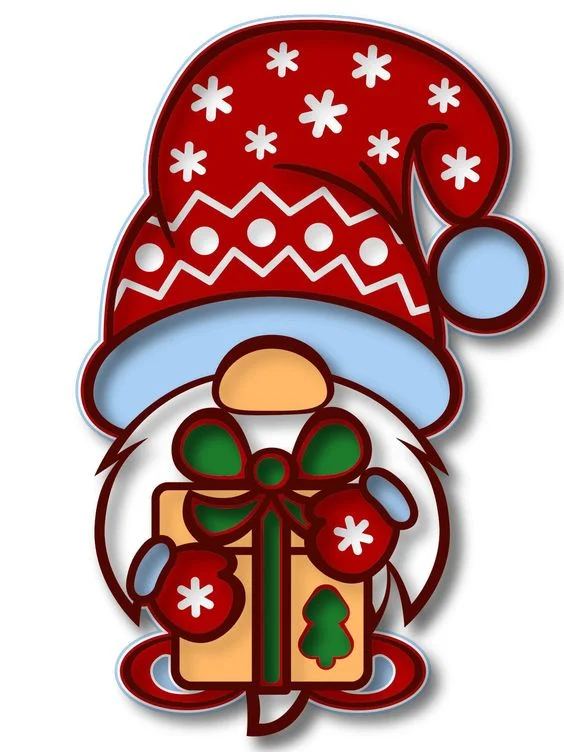 Via : ElenaShowSvg
Hiding behind a present is a Christmas gnome that can surely elevate the appeal of your drawing.
Remember to draw little snowflakes, circles, and lines to make it more fun. Of course, remember to add the colors of the season!
33. Christmas Angel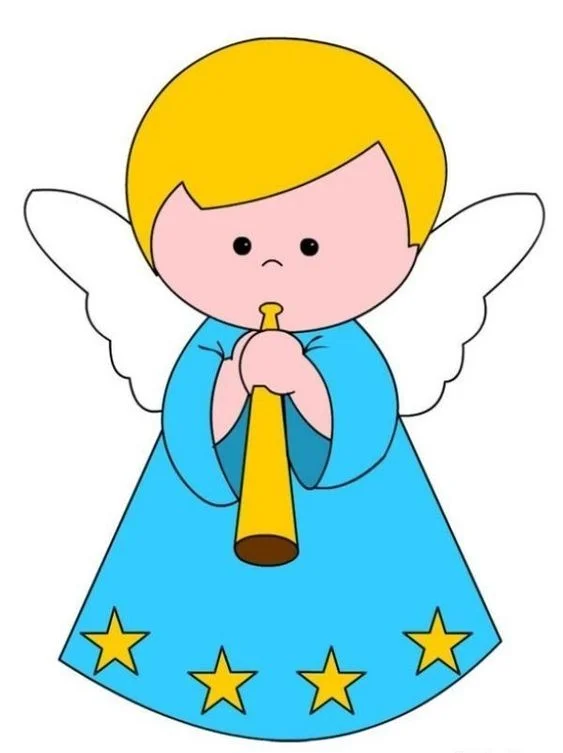 Via : Marta Elena Machon Diaz
A Christmas angel is an excellent ornament to match your tree drawing. You can make it as small or as big as possible, whichever drawing size you prefer.
But what's important is to draw some stars and trumpets and color the angel with light and vibrant tones.
34. Winter Mittens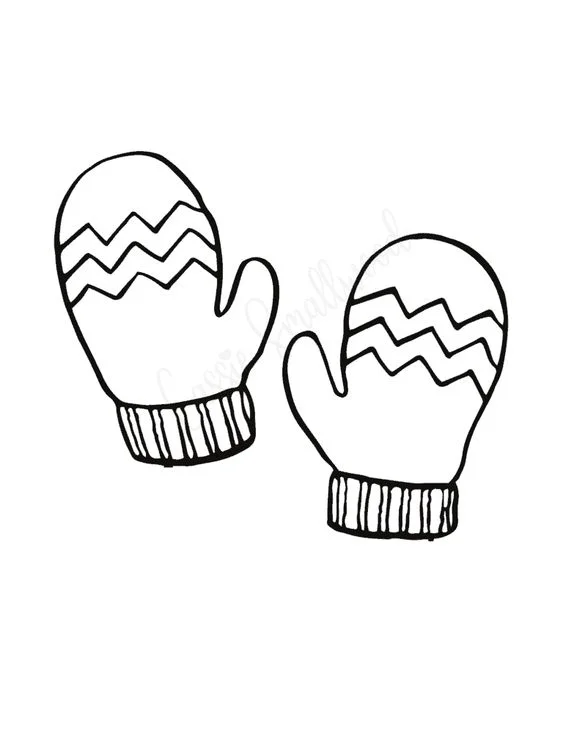 Via : Cassie Smallwood
Drawing is fun when you include a pair of mittens on your Christmas gift card or wrapping paper.
Of course, you can start drawing it using pencils, but it's even prettier when you add holiday colors.
35. Patterned Scarf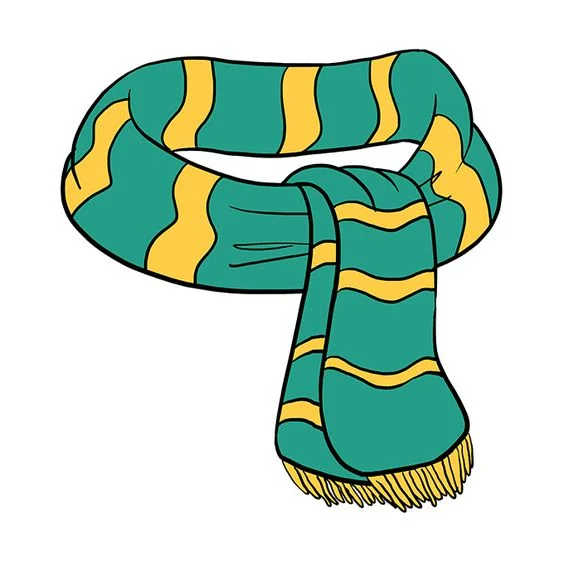 Via : Rauno
Drawing a patterned scarf is a necessity for your reindeer, snowman, elf, and other essential creatures.
To make it unique, you can remake the colors of the scarves from Hogwarts' Gryffindor, Ravenclaw, Slytherin, or Hufflepuff!
36. Winter Coat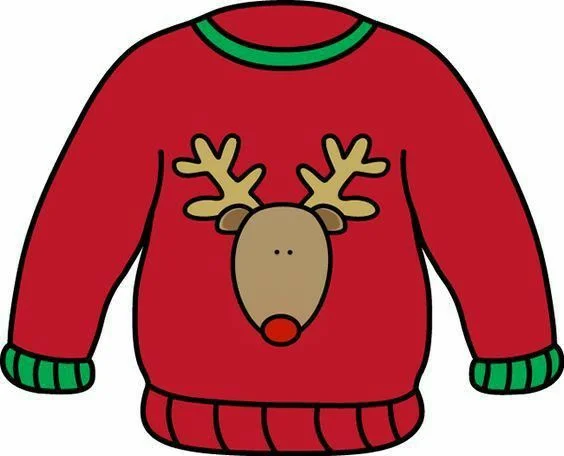 Via : Fernanda Carolina Silvestre
Keep your drawing as fascinating as it can be by drawing a winter coat in red and green with a reindeer design.
This is very easy to do, and you are free to play with the colors you like; just make sure they pass the vibe check for the season.
37. North Pole Sign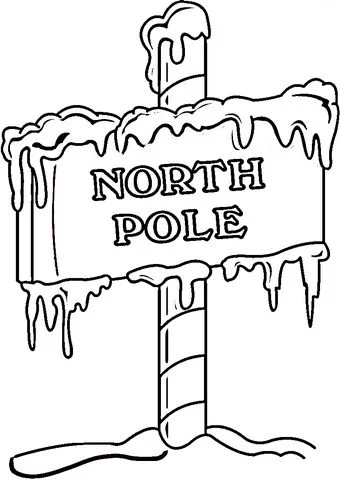 Via : Artist Unknown
If you want your drawing to stand out, combine your sleigh and sled drawing ideas with the north pole sign.
A north pole sign can be as easy to draw, similar to the sketch above, or as intricate as possible when you add colors and other Christmas drawing designs.
38. Ice Skating Shoes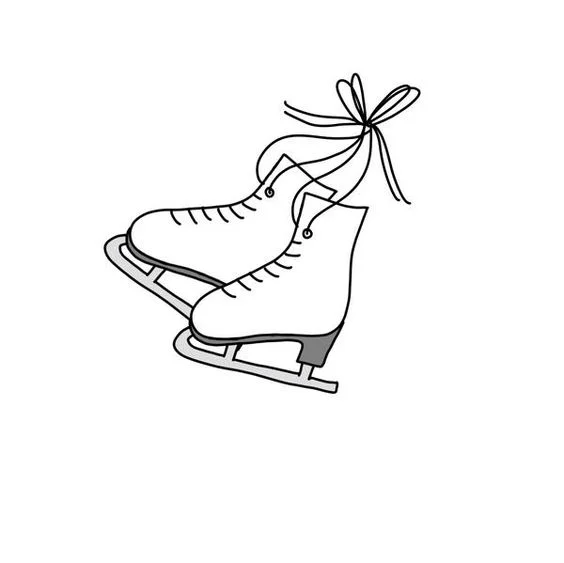 Via : Amy Latta
Then, there are the ice skating shoes which are essential to pair with the scarf, mittens, stars, and others as ornaments.
When you draw this, don't forget to tie the laces in a ribbon design to tie it in with your whole holiday drawing.
39. Turtle Dove Ornaments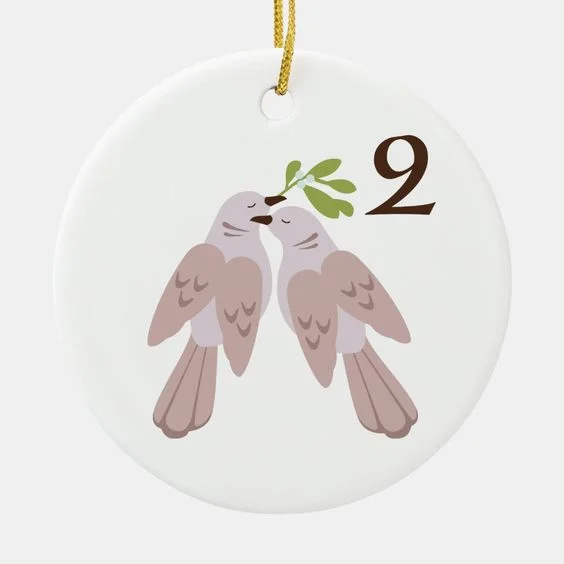 Via : Hopscotch Designs
Sizzle up your ornament game as you incorporate these turtle-dove ornaments into your Christmas wreath and tree.
This design can match a white-themed Christmas tree and decorations in a minimalist-designed house.
40. Poinsettias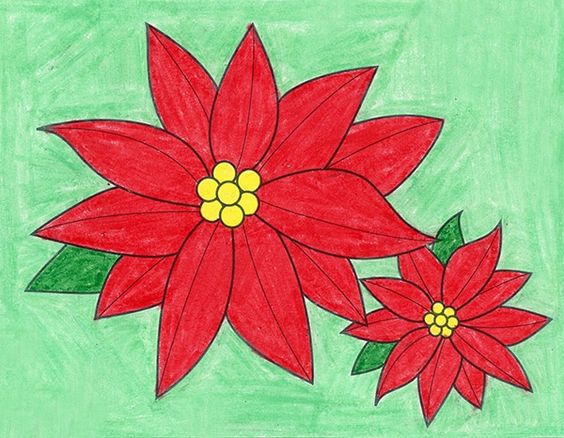 Via : Kathy Barbro
To draw poinsettias along with the other ornaments is something very fun to do. Most importantly, it's a joy to have once you put it as designs for your presents.
When you draw poinsettias, make sure that you vary their sizes and alternate the leaves to create the illusion of volume.
41. Red Bow
Via : KraftyKays
A red bow is an inevitable component of every holiday drawing idea because you can pair it with anything.
You can draw a red bow with your turtle doves, coats, scarves, gnomes, bears, elves, robins, baubles, and more.
42. Cat in Christmas Outfit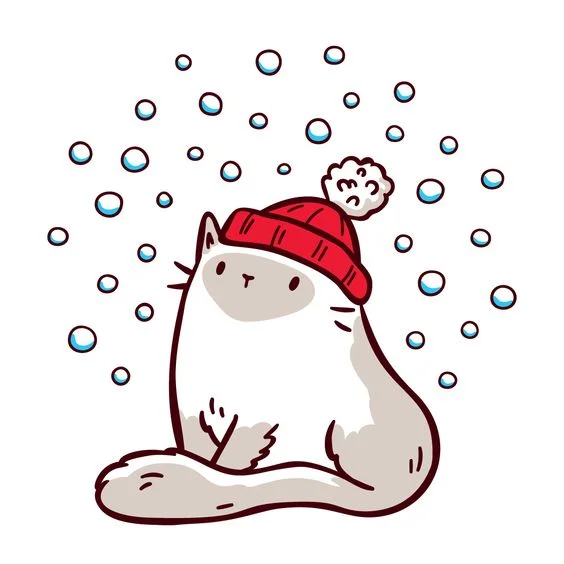 Via : LydiaLyd
If the one you're giving your holiday gift is a cat parent, drawing a cat in a Christmas outfit can give it a nice touch of thoughtfulness and creativity.
As you draw the cat, make it more in-tune with the season by adding snowflakes in the background!
43. Dog in Christmas Outfit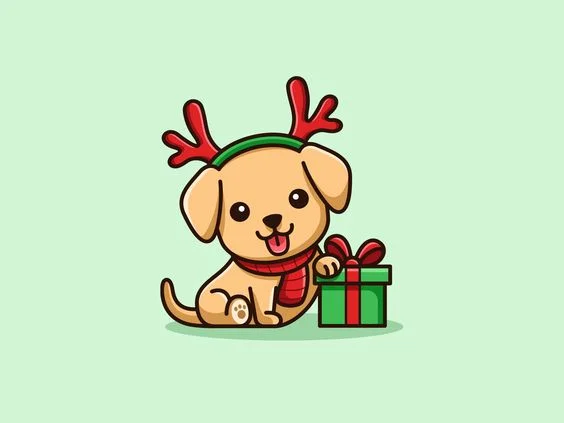 Via : Alfrey Davilla
When you have a cat, you must also draw a dog to enhance the cuteness and relatability of your drawing.
You can also draw a reindeer headband on your pup, a scarf around its neck, and a gift box for the puppy to lean on.
44. Little Girl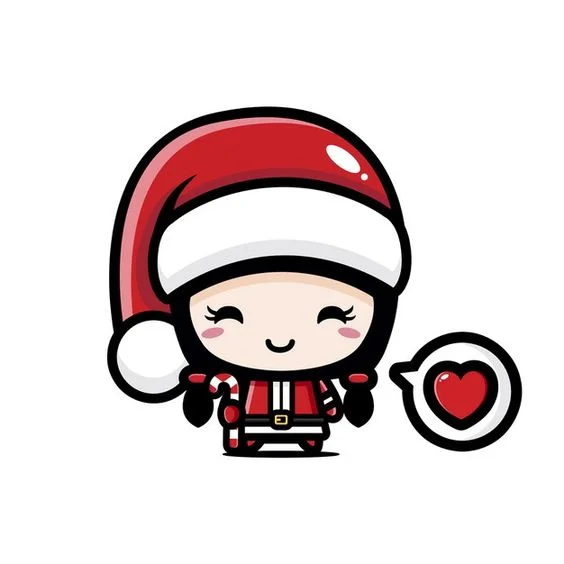 Via : Wan-trisna
Adding a little girl in a Santa outfit is a good element that is easy to draw but significantly impacts your Christmas season celebration.
What you need to remember with this is to draw the eyes, shiny hat, scarf, and a little heart sign.
45. Little Boy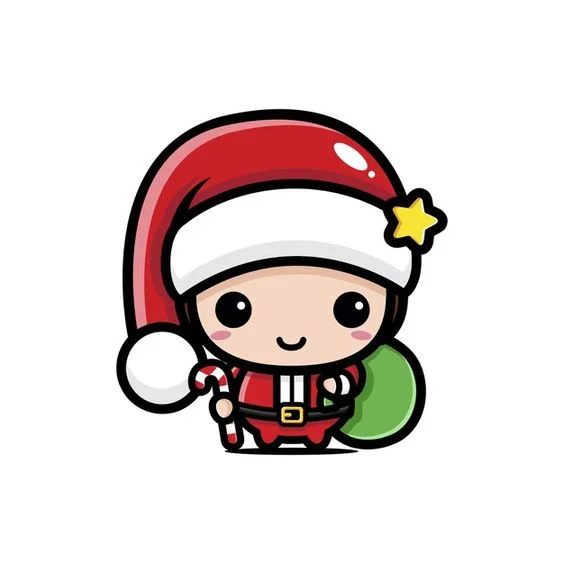 Via : Wan-trisna
A little boy to pair with your little girl will benefit your overall Christmas-themed drawing because of how adorable and matching they are.
As you draw this little boy, don't forget his cane, bag, hat, and five-pointed star to complete his look.
Drawing Supplies You Need
To draw your Christmas-themed art, you need to have these drawing supplies beside you:
Art paper or sketchbook

Brushes, if you'll use watercolor or paint

Colored pencils

Eraser

Highlighters

Pencil

Ruler (optional)
What To Do With Your Finished Artwork
Once you finished your artwork, you can do these things:
Use it as a

wrapper

for your gift

Paste it on your doors

and walls to add to the Christmas-y feel

Put it in a

frame

to commemorate this year's holidays

Use it as a

greeting card

for your holiday gifts

You can punch small holes in each drawing and

make a banner 
Christmas Drawing Ideas FAQs
We know you have some questions in mind, and we're more than willing to answer some in this section.
What Are Popular Christmas Items?
Some of the most popular Christmas items are:
Trees

Balls

Lights

Santa Claus outfits

Gingerbread man treats

Candy canes
What Are Easy Christmas Drawing Ideas?
The easy drawing ideas for Christmas are all the 45 items listed in this article, such as stars, reindeer, candy cane, Santa Claus, wreath, snow globe, and more.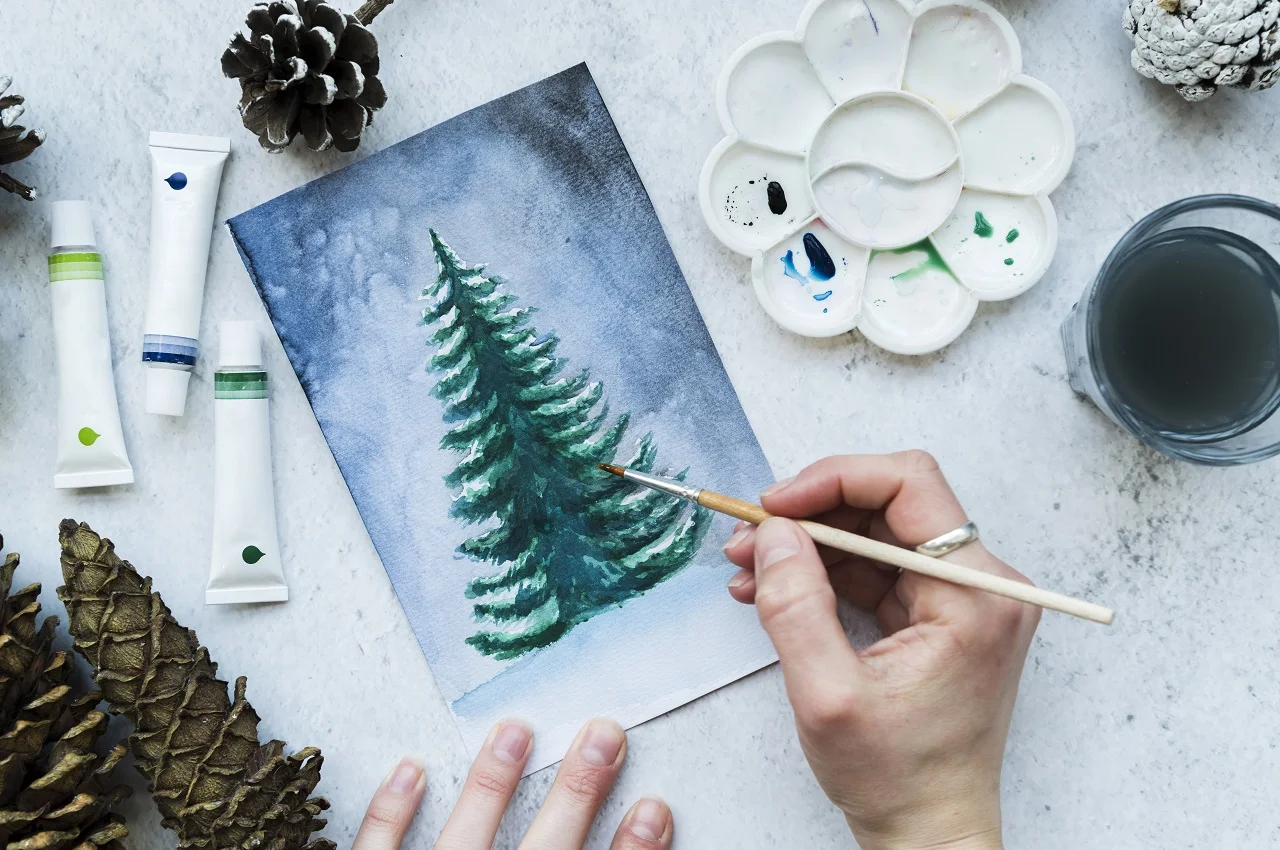 Christmas Drawing Ideas Conclusion
Now that you have all these simple Christmas drawing ideas for beginner artists to incorporate into your gifting, cards, and house decorations, you'll surely feel the Christmas spirit now more than ever.
Ho ho ho! Enjoy and draw to your heart's desire, and look back to this article for more inspiration.