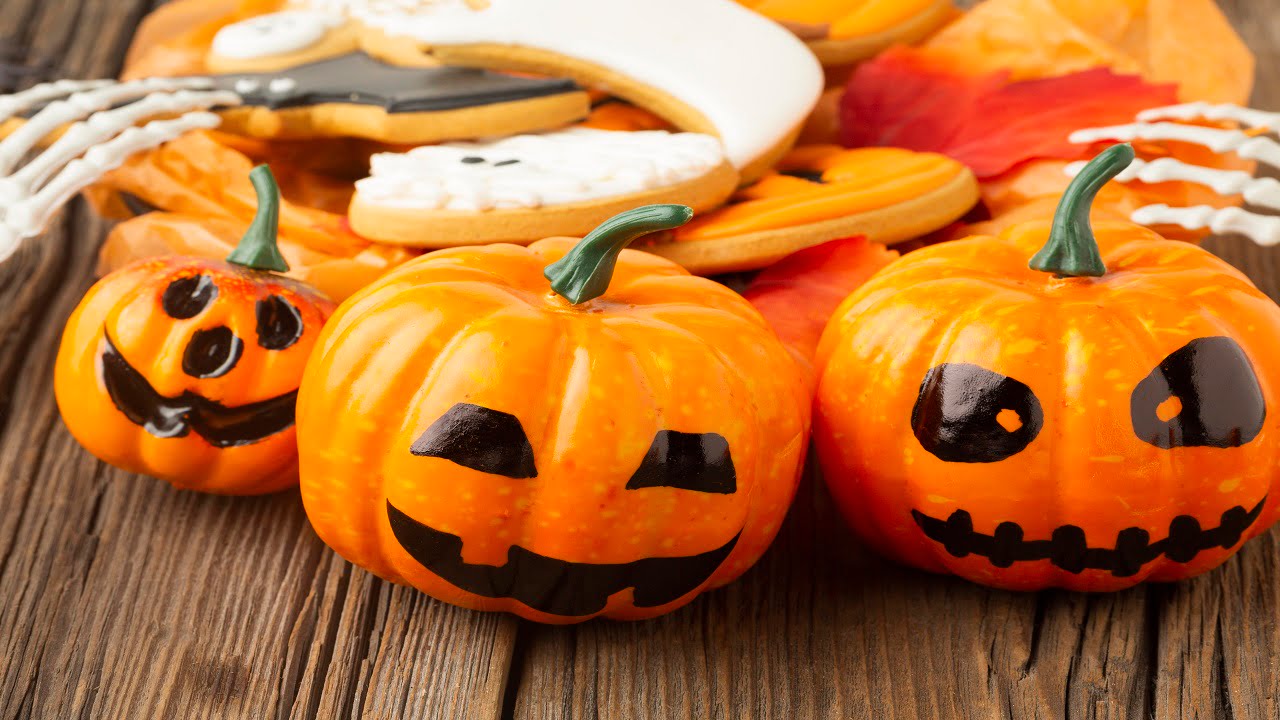 It's that time of the year again. It's time to go out into the pumpkin patch and look for the best pumpkin to work with. After all, pumpkin carving is a big part of Halloween fun.
But when adding Halloween décor to our homes, why stick to a classic jack-o-lantern when you can be creative with your designs? That's where this article comes in.
These are the best drawing ideas for pumpkins to help you carve the spookiest, most creative pumpkins in your neighborhood.
The 50 Best Pumpkin Drawing Ideas for Your Halloween Pumpkin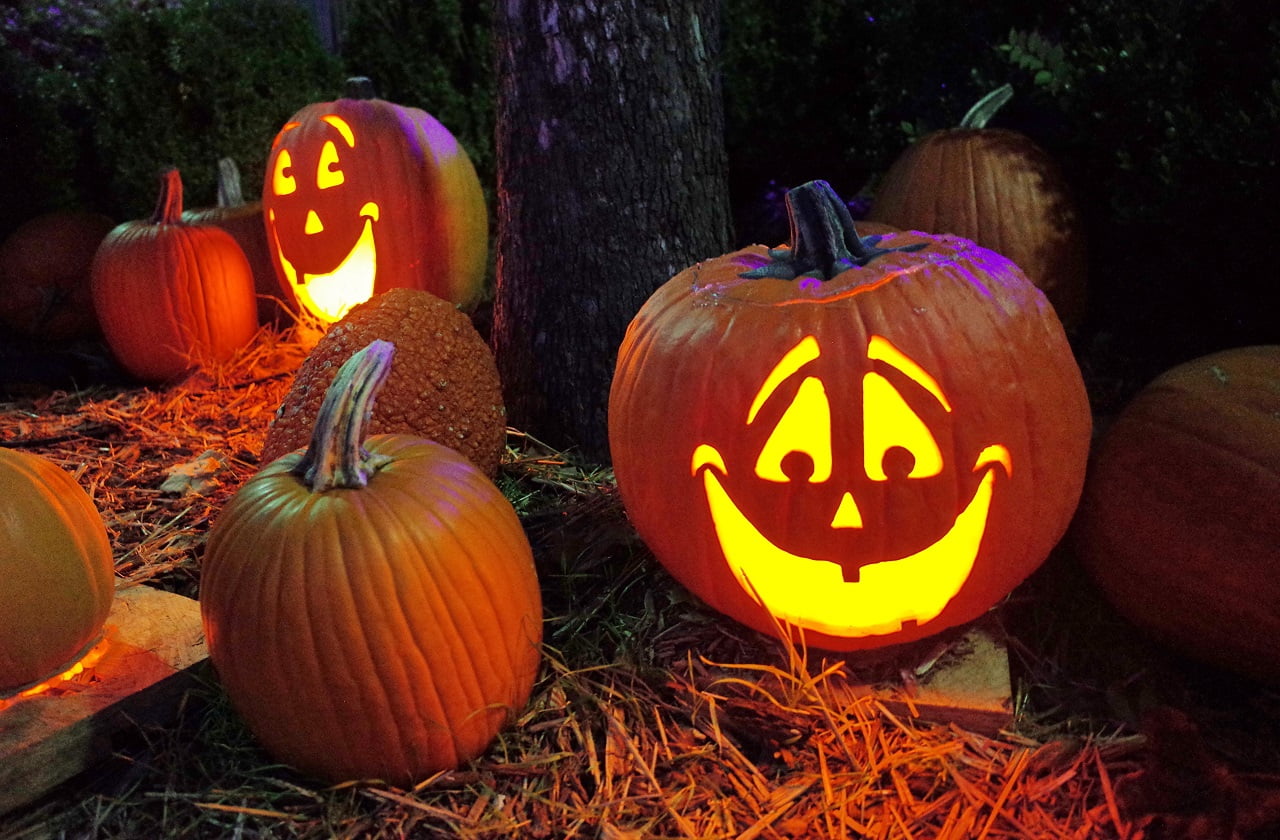 The sky's the limit when it comes to pumpkin carving. However, before you can start drawing and carving, it's best to look for inspiration online to help you.
These 50 designs should give you the perfect pumpkin carving idea to work on.
1. Spooky Skeleton Pumpkin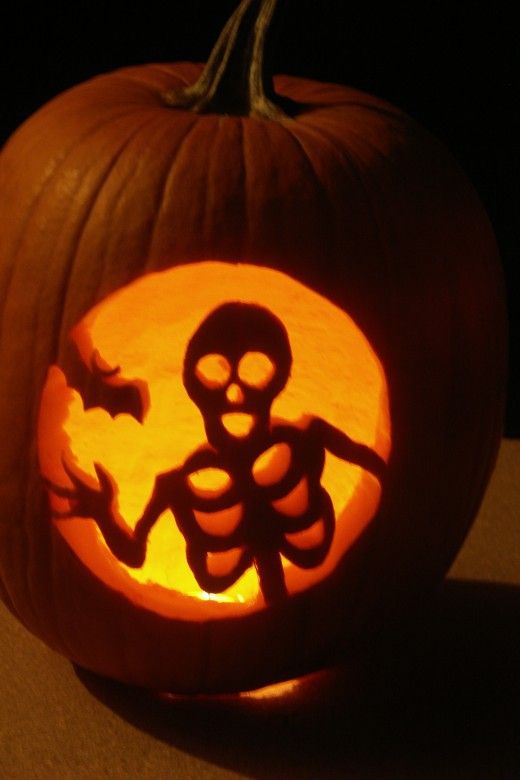 Via : Jeff Kenward
Carving a pumpkin head is a classic way to make a jack-o-lantern. However, you can easily step it up by adding the skeleton's torso to complete the spooky look. Others would even use three pumpkins to form a whole scary skeleton pumpkin.
2. Pumpkin Flower Vase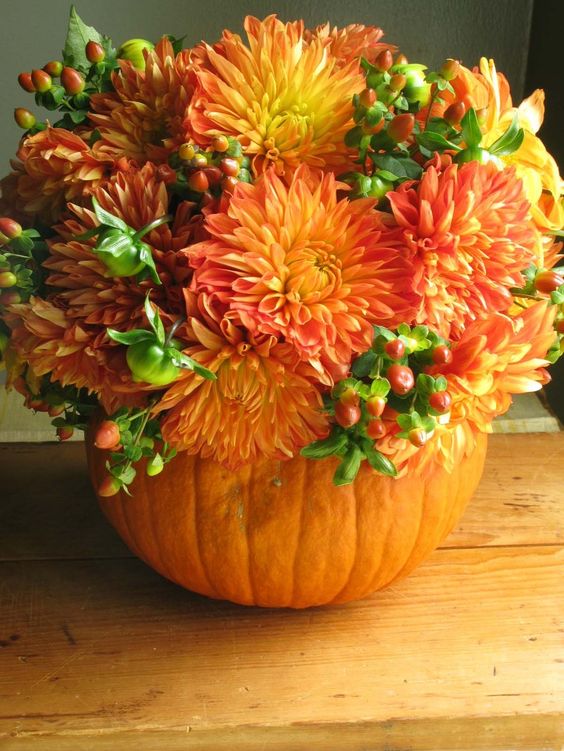 Via : Diana DeVito
Turning a pumpkin into a vase is one of this list's easy pumpkin carving ideas. Whether you're using this to decorate your front porch or dining area, this carved pumpkin will be a great way to display your fresh flowers this season.
Tip
You can use a plastic cup to keep the stems in place.
3. Constellation Pumpkin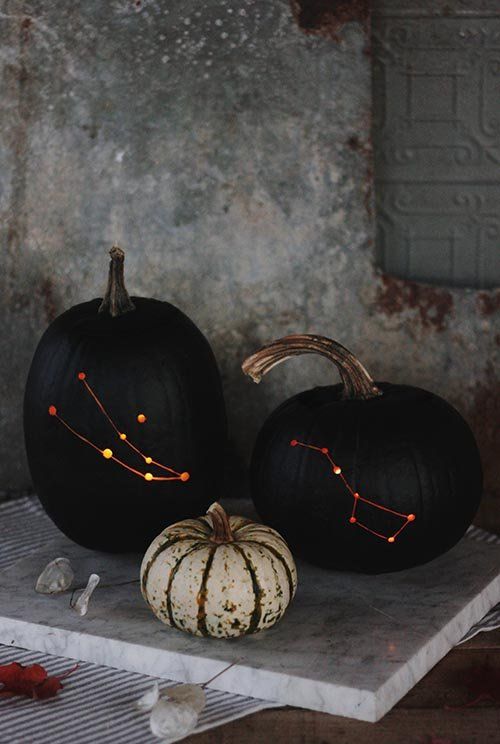 Via : Caitlin and Manda of The Merrythought
If you're into astrology, astronomy, or anything to do with the stars, why not add them to your lawn? This pumpkin carving design is sure to bring the cosmos closer to you. Making it with a hollowed-out pumpkin will also help those stars shine bright at night.
4. Haunted House Pumpkin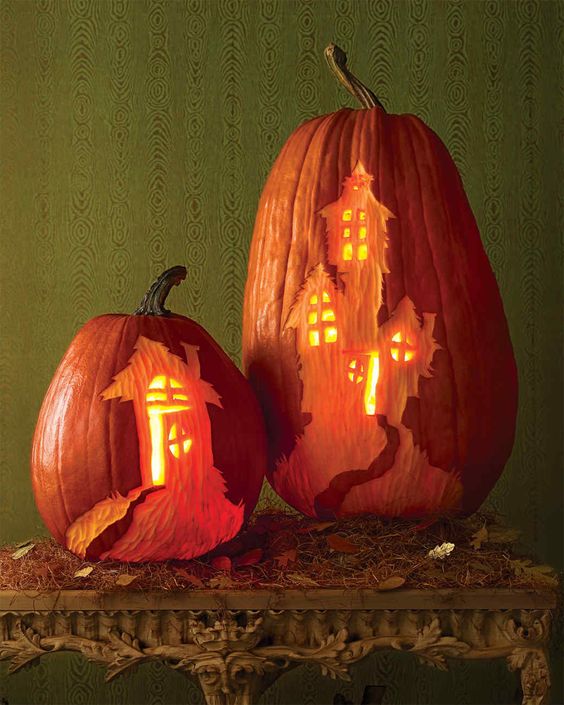 Via : Lucas Allen
What can be more spooky than a haunted house? Instead of having the ghosts haunt your home, you can easily carve one out for them to live in. You can carve the place onto one pumpkin or carve it onto three pumpkins to make a whole mansion or tower.
5. Flowering Moon Pumpkin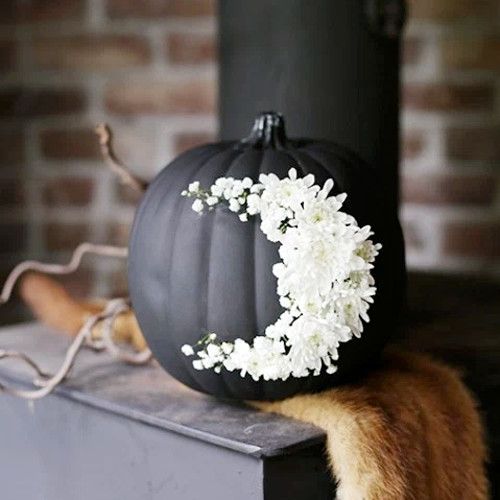 Via : Caitlin and Manda of The Merrythought
This creative way of decorating your pumpkin doesn't require you to carve too much. You can hollow it out and create holes for your flower stems or hot glue the flowers onto the pumpkin shell. Either way, you'll have elegant pumpkin décor for your house.
6. Witch Pumpkin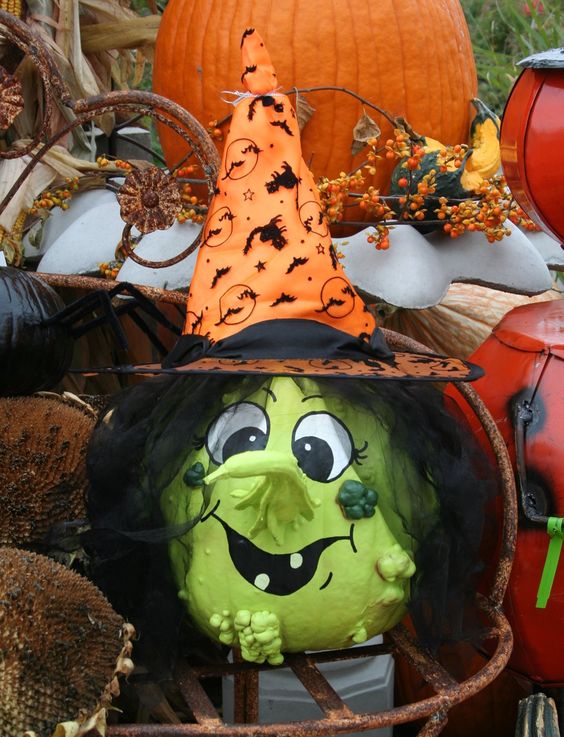 Via : Artist Unknown
Witches are a Halloween staple. If you can't find a green heirloom pumpkin for this project, you can use spray paint to turn your pumpkin green. Add a parsnip nose and witch hat, and your witch pumpkin will be ready to hex anyone that walks by your domicile.
7. Tinker Bell Pumpkin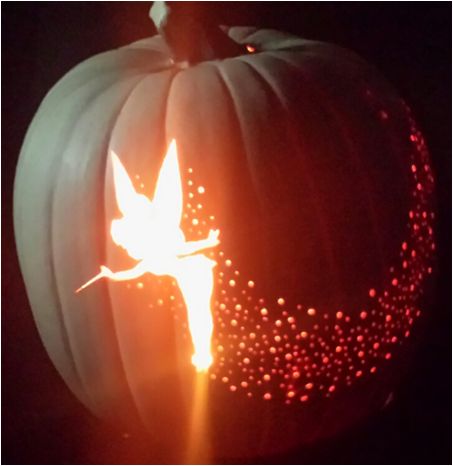 Via : Luis Linares
Tinker Bell is a beloved classic for kids. This pumpkin can help you capture some of her magic. This type of carving may just attract pixies and fairies to sprinkle their dust around your home. Some of the trick-or-treaters might even match their costume with your pumpkin design.
8. Pumpkin Eating Pumpkin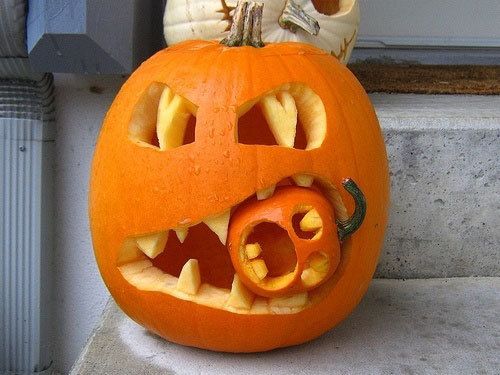 Via : Artist Unknown
This spooky pumpkin design is probably not for the faint of heart. You can use a linoleum cutter to carve out the face. Then, settle its victim made of a smaller gourd into the pumpkin's mouth to add to the fear factor. This pumpkin design is sure to scare some trick-or-treaters.
9. Rainbow Pumpkin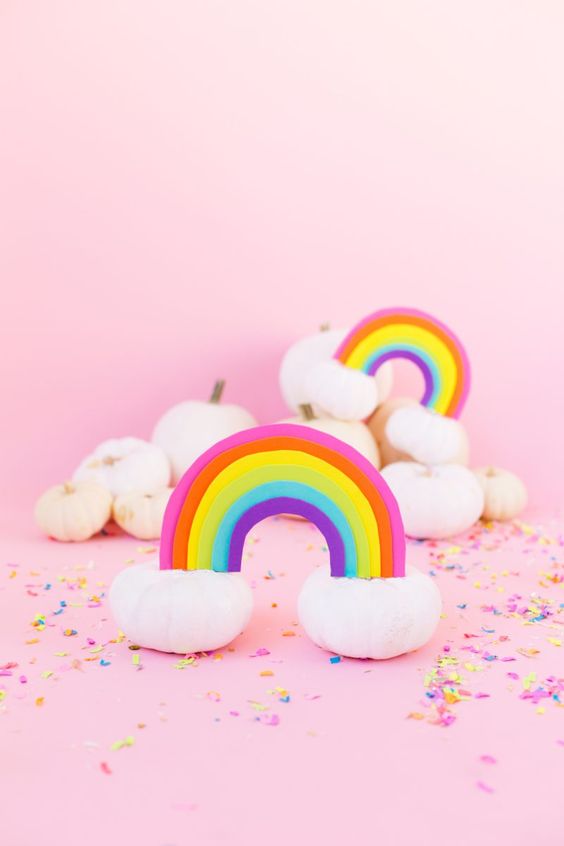 Via : Kelly Mendel
Add a little joy to this spooky time by creating a rainbow on your lawn. You can use mini pumpkins as the clouds for your design. If you don't have mini white pumpkins, you can simply paint over the pumpkin shell.
10. Hen and Chicks Pumpkin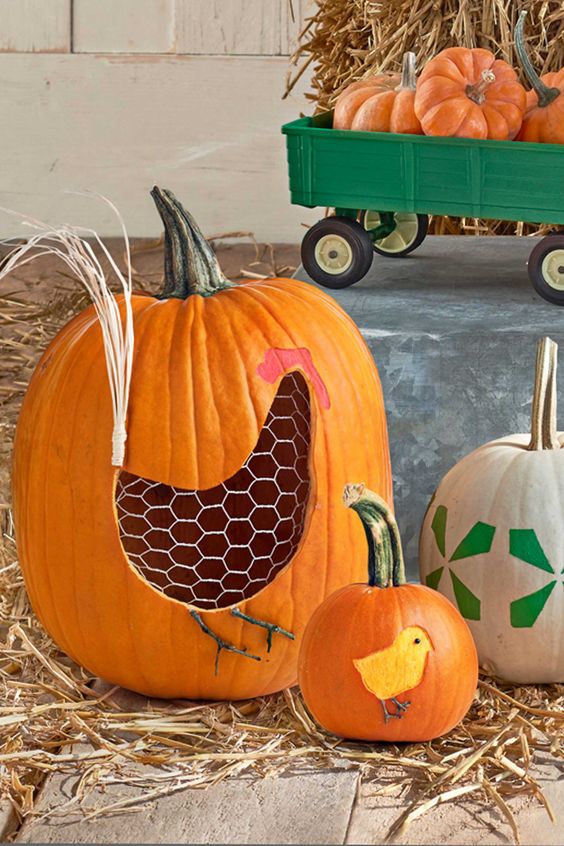 Via : Brian Woodcock for Country Living
If you're looking for a more rustic vibe for your pumpkin, you can check out the different hen and chicks templates available online.
A large pumpkin would be the perfect mom for the chicks made of mini pumpkins. You can also attach chicken wire using hot glue to add a rustic vibe to your pumpkin design.
11. Spots and Dots Pumpkin
​​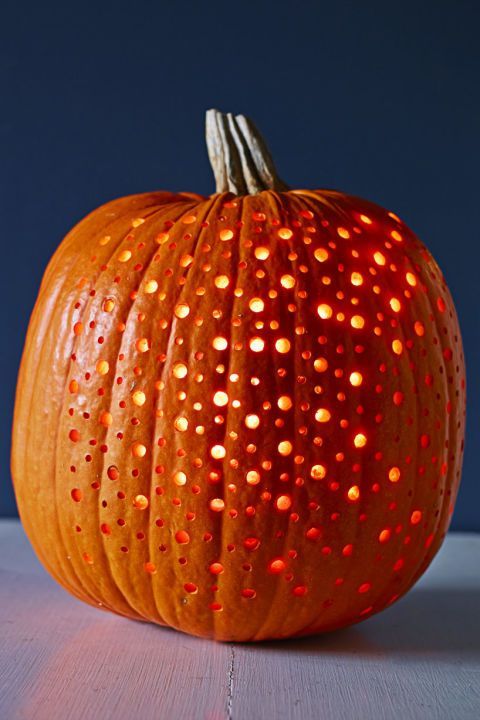 Via : John Kernick
This pumpkin carving idea can end in one of two ways. It can be considered aesthetic, or it can induce intense trypophobia (fear of small holes). Either way, as one of the easy pumpkin carving ideas, it's also one of the most common designs you can work with.
12. Minion Pumpkin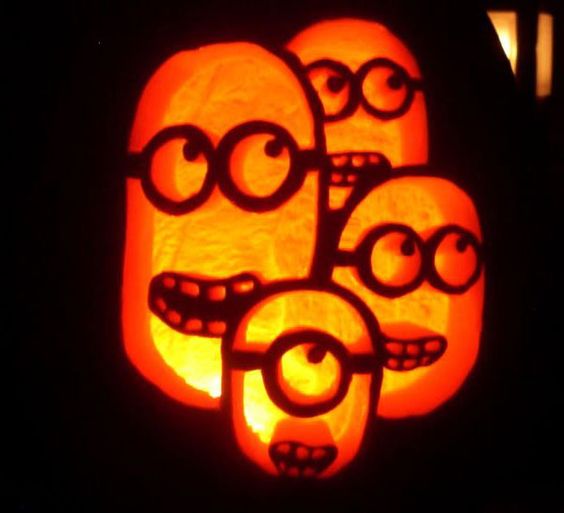 Via : Blake R Anderson
This jack-o-lantern carving idea will have you singing, "Ba-ba-ba-ba-ba-nana!" Carving a Minion pumpkin has become a trend since the Despicable Me franchise took off, giving these adorable characters another way to appear in Halloween events.
13. Freddie Mercury Pumpkin
​​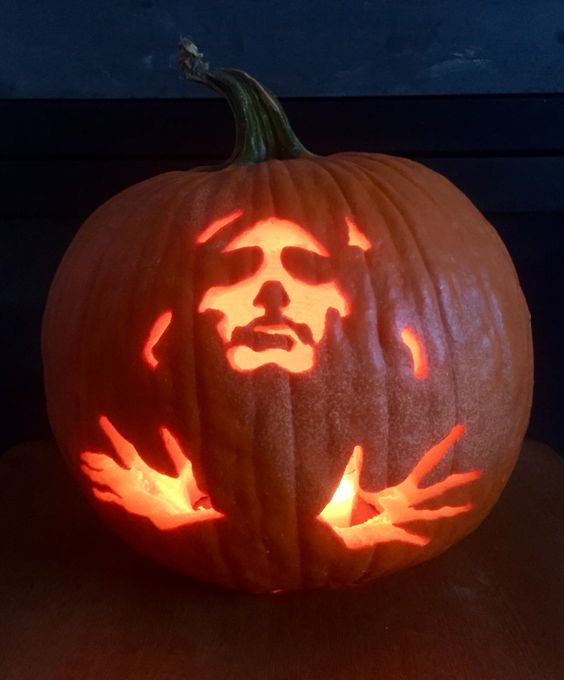 Via : Richard Kaczynski
This pumpkin design will surely be a Killer Queen with all the Freddie Mercury fans. While it won't give you a Sheer Heart Attack like the other scary carved pumpkins, at least you'll be sure to Keep Yourself Alive with a harmless pumpkin design.
14. Spider-Man Pumpkin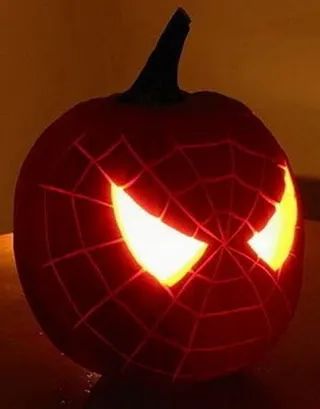 Via : Artist Unknown
If you're a Spider-Man fan, this pumpkin design should be great décor for your lawn. It only requires basic pumpkin carving for the eyes and the web shape, making it easy for anyone to make.
This pumpkin design should be a great reminder during Halloween that with great power comes great responsibility.
15. Firefly Pumpkin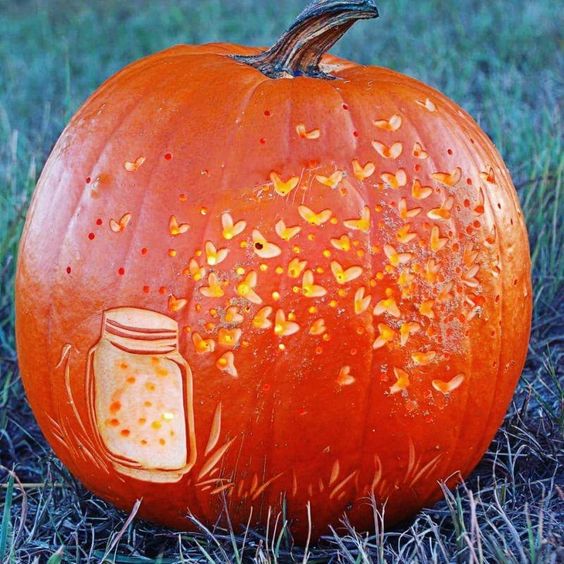 Via : Artist Unknown
You would not believe your eyes if you saw this pumpkin design. It's perfect if you want more whimsical pumpkin carving ideas. Adding fireflies to the pumpkin shell is relatively easy to do, given its sheer size. Make sure your pumpkin is hollowed out so you can place a candle or tea light to make your fireflies glow.
16. Pumpkin Cornhole (Bean Bag Toss Game)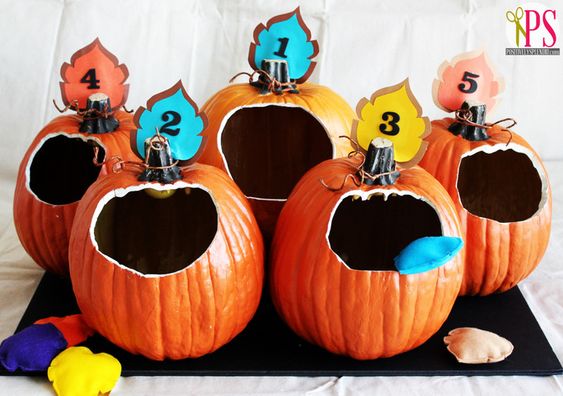 Via : Jo-Ann
Your pumpkins can even serve as the perfect bean bag toss game for fall-themed parties and events. All you have to do for this pumpkin design is carve out a deep hole for the bean bag.
Then, you can add any additional labels and accessories using hot glue to keep them securely in place during the game.
17. Friendly Pumpkin Ghosts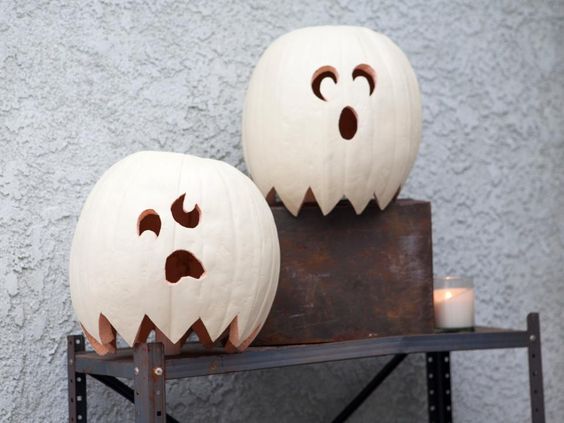 Via : Artist Unknown
A white pumpkin can easily look like a friendly ghost if you follow this pumpkin design. You can effortlessly carve out its facial features to create adorable and friendly ghosts for your house.
You can also use butternut squash to have ghosts of different heights for this pumpkin carving idea.
Safety Tip
Be careful with the edges of your ghost because they can be a bit pointy. Sand them down to make them safer for anyone wanting to touch them.
18. Cottage Pumpkin Carving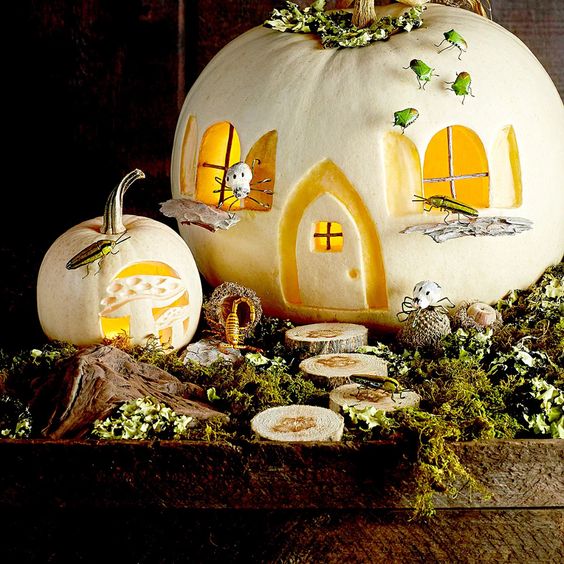 Via : Adam Albright
Unleash your cottage-core aesthetic by creating an adorable cottage. It can be difficult compared to the other pumpkin carving ideas, but the end product will surely blow anyone away.
We recommend using a white pumpkin to help the small details stand out and fit the whole aesthetic.
Tip
You can hot glue rhinestones for the more minor details.
19. Oogie Boogie Pumpkin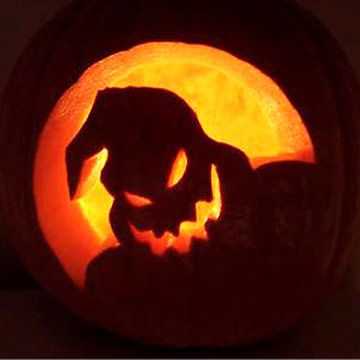 Via : Artist Unknown
If you're a fan of The Nightmare Before Christmas, there are many pumpkin carving ideas available from this franchise.
What better way to celebrate Halloween than with its villain, Oogie Boogie? His character design makes it easy for anyone to carve out.
20. Pineapple Pumpkin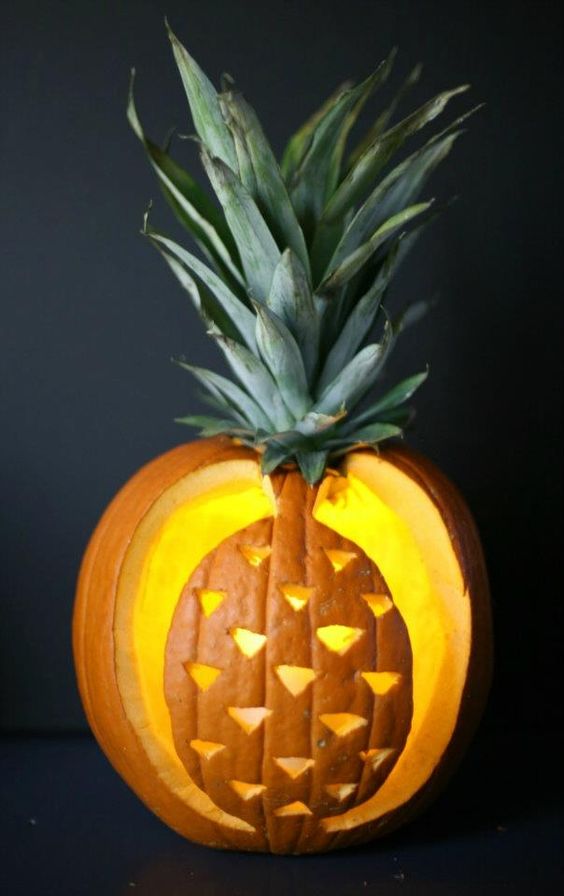 Via : Artist Unknown
Give your pumpkin a tropical twist by carving a pineapple onto it! The vibe will make you feel like you're spending Halloween on a warm tropical island.
You can add the top of an actual pineapple in place of the stem to make it more realistic.
21. Crayon Drip Pumpkin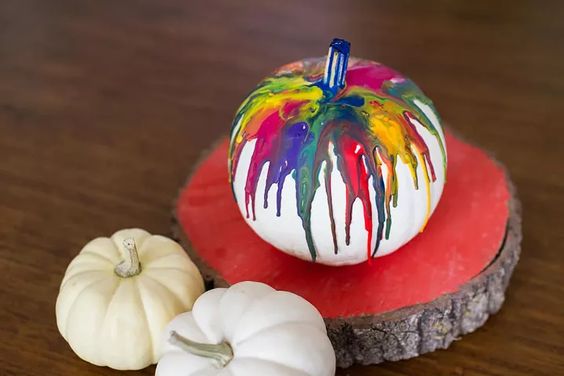 Via : Audrey Kuether
This colorful take on pumpkin carving ideas is a fun way to use old crayons.
You'd have to carve up the insides and place the crayons where the pumpkin stem goes to let them melt over the pumpkin.
If you don't have white pumpkins, you can cover the orange ones with white paint before starting the project.
22. Cat Pumpkin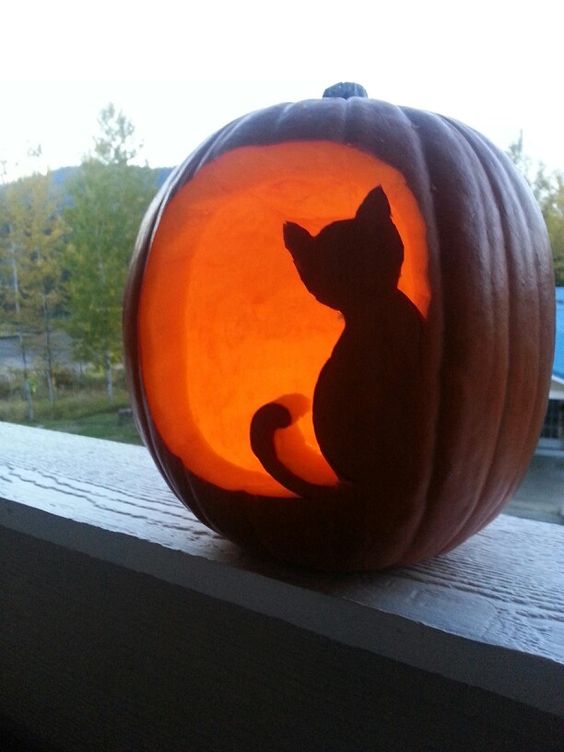 Via : Artist Unknown
If you're looking for something to match the witch pumpkin, why not try out the different pumpkin carving ideas for their familiars?
The most common familiar would be a cat, which is an easy pumpkin design to work with. This adorable design would make a great companion for your witchy friend.
23. Pumpkin Topiary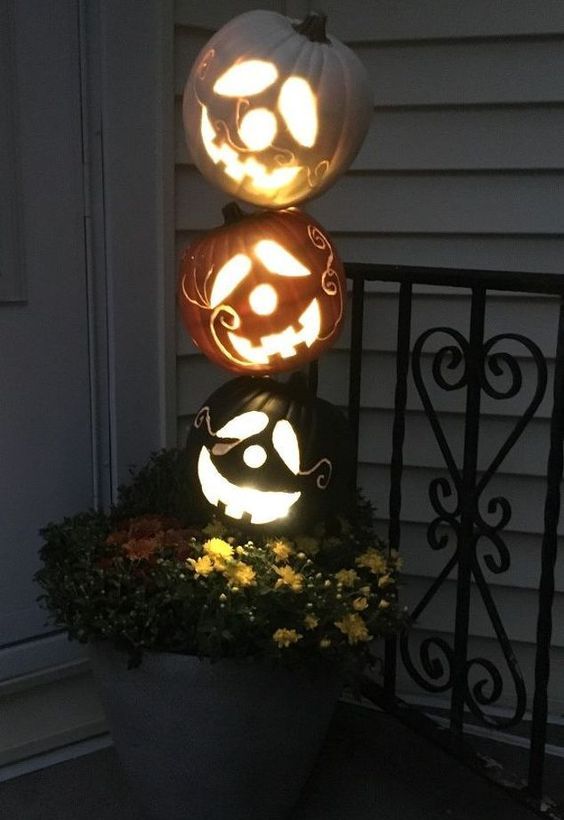 Via : Rob & Courtney M
Nothing is scarier than a spooky pumpkin stack that can be taller than some trick-or-treaters.
You can easily stack up one jack-o-lantern on top of the other to create a tower. You might need a dowel to keep the carved pumpkins in place though.
24. Mickey Mouse Pumpkin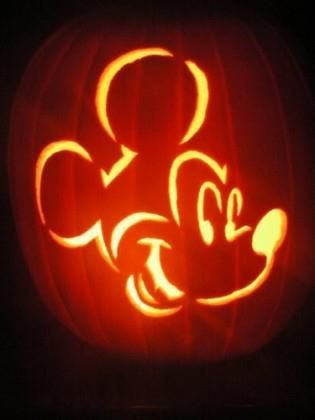 Via : Disney Family
You can use this Mickey Mouse design if you're looking for more Disney-inspired pumpkin carving ideas. It can be a bit tricky with all the curves of the design, but they'd look amazing once you light your pumpkin up.
25. Cookie Cutter Pumpkin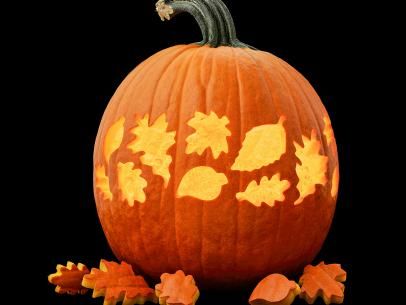 Via : Artist Unknown
There are many fall-themed cookie cutters available everywhere. If you don't have enough carving tools, they can be used as an easy kitchen hack for pumpkin carving. Some of those designs can easily fit the season without you having to do the difficult carving.
26. Honeycomb Pumpkin
​​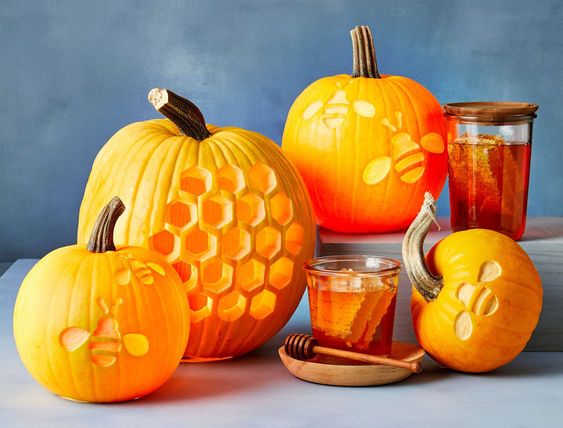 Via : Kelsey Hansen
There are many pumpkin carving ideas related to bees and their honey. If you're looking into adding a little sweetness to your Halloween décor, you can try following this pumpkin design related to them. You could even create your own hive with a collection of these pumpkins.
27. Flower Pumpkin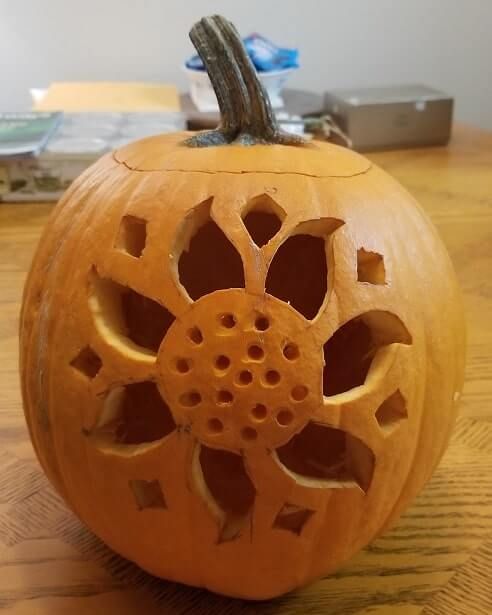 Via : Kevin Kirschner
If you don't want to put flowers inside or on your pumpkin, why not turn the pumpkin into a flower instead?
Whether you want one in season or another that's not, you can easily find a stencil for a pumpkin design online.
28. Pac-Man Pumpkin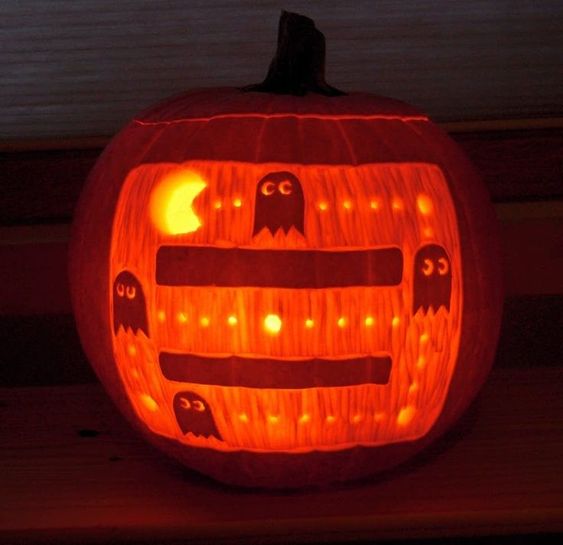 Via : David LaRochelle
If you're a fan of vintage arcade games, try out this Pac-Man pumpkin design. You can customize the maze your Pac-Man can run through and even the ghosts' appearance.
It's best to work with a large pumpkin for this project so you can have a great map on your pumpkin surface. You're sure to unleash your inner child with this pumpkin design.
29. Medusa Pumpkin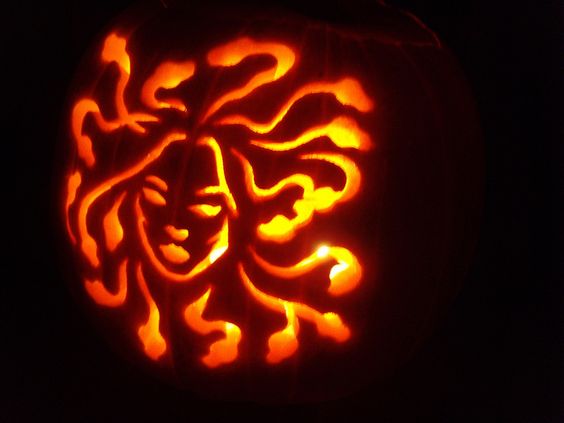 Via : Stephen JRD
Medusa is one of the scariest Greek mythological figures, turning anyone to stone with a simple look.
Luckily, this pumpkin design won't freeze the trick-or-treaters on your street. However, it's sure to catch anyone's attention, especially with her intricate details and beauty.
30. Bat Pumpkin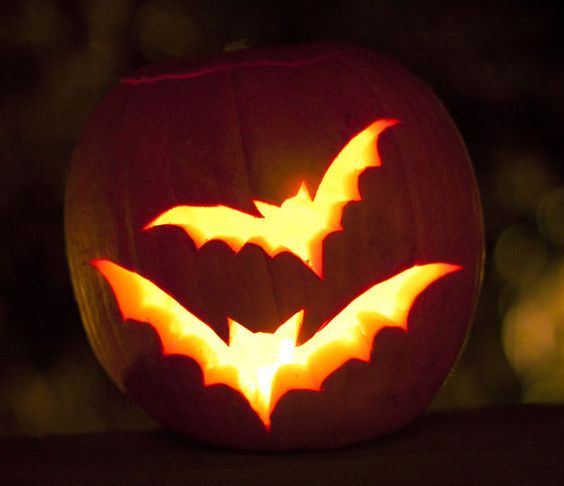 Via : Pale-Recluse
Another classic Halloween element is the bat. Carving out a few of these animals will surely add a spooky vibe to your house.
This pumpkin design also has a lot of curves. Be careful while working on its wings, especially if you're conscious of their symmetrical proportions.
31. Pentagram Pumpkin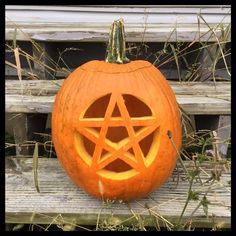 Via : Deborah
If you're looking for other witchy pumpkin carving ideas, you can add this pentagram pumpkin design. This simple design only requires a 5-pointed star in a circle, making it easy to carve out. You can also try out other witchy symbols for your jack-o-lantern.
32. Avatar Elements Pumpkin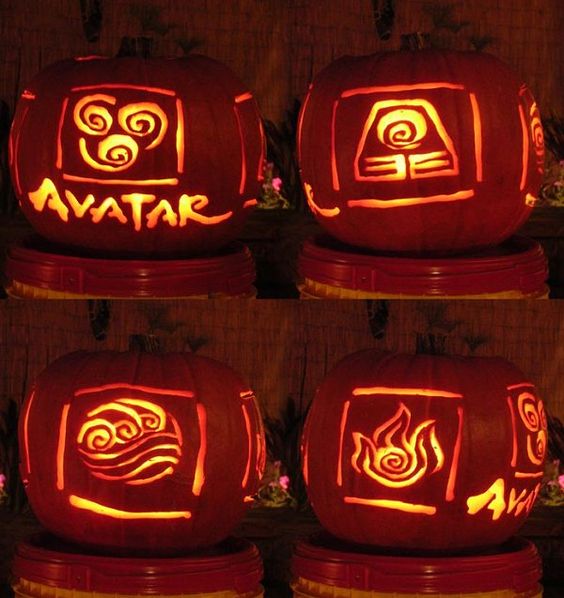 Via : Bob T
If you're a fan of Nickelodeon's Avatar franchise, you can check out the different pumpkin carving ideas about the show.
The easiest out of their designs would have to be the symbols of the 4 elements, which focus on simple lines and curves. Carve out all the symbols of four nations and bring balance to the world with this pumpkin design.
33. Cactus Pumpkin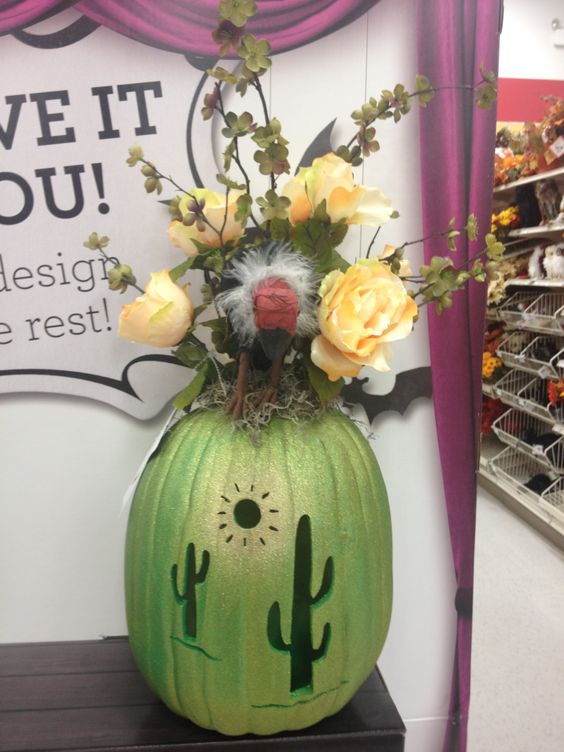 Via : Artist Unknown
While we're back on the subject of pumpkin carving ideas involving other plants, why not try a cute cactus? There are plenty of stencils online for cacti and other succulents to give tribute to our desert friends.
You can use a green pumpkin to match the hollowed-out design and make the green color shine at night.
34. Owl Pumpkin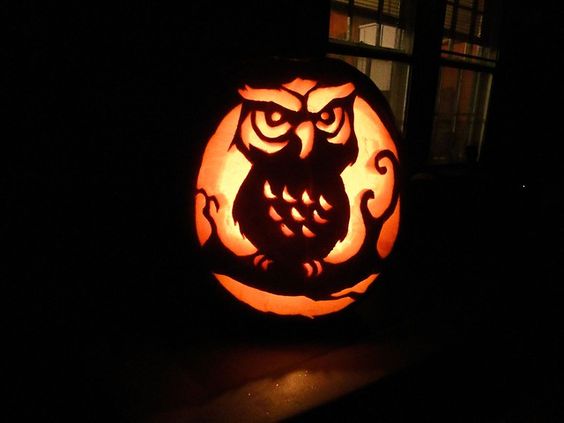 Via : Bree Smith
Another witchy familiar is the owl. This design can easily be drawn and carved out onto your pumpkin. However, small parts can be tricky to carve out, especially around the eye area.
However, it's sure to give a spooky vibe once you light it up. Imagine seeing this kind of pumpkin perched up a tree.
35. T-Rex Pumpkin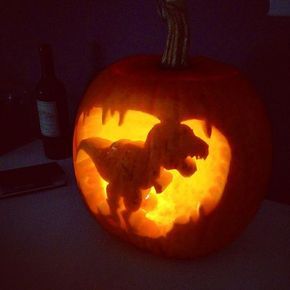 Via : Jiří Hlava
Bring this scary Jurassic animal back to life by carving it onto your Halloween pumpkin.
Carving dinosaurs onto a pumpkin is a great way to get the kids excited about decorating pumpkins. Be sure to help them cut it out, especially for the smaller and sharper details.
36. Butterfly Pumpkin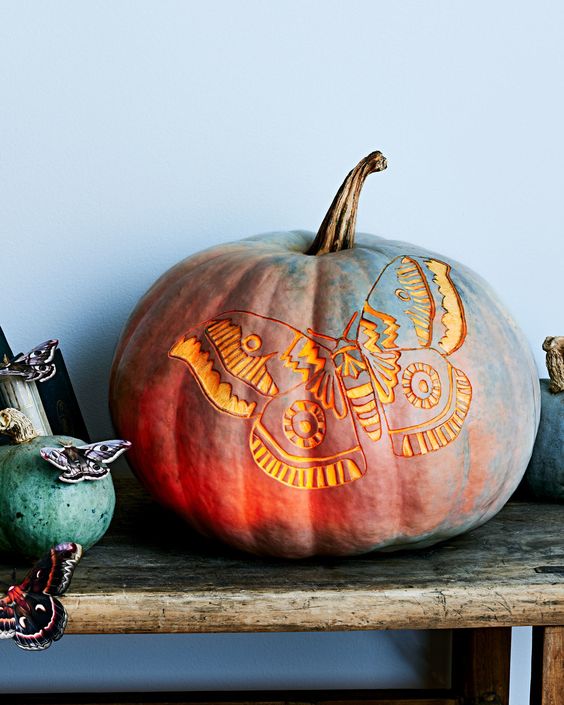 Via : Ted Cavanaugh
If you're looking for more beautiful pumpkin carving ideas, carving out a butterfly can be a great choice.
Their designs usually involve intricate and symmetrical features, especially on the wings. They'd go well with a garden or other pumpkins with flower designs.
37. Scarecrow Pumpkin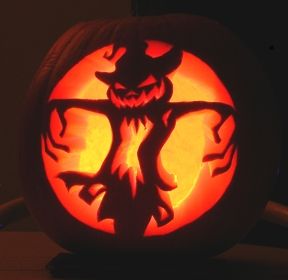 Via : Zombie Pumpkin
A scarecrow could be a great option if you're looking for more spooky pumpkin carving ideas. It's fitting, as pumpkins are usually used as heads for these types of mannequins.
However, you can also carve out its creepy figure onto a pumpkin. The light from the inside will make it look scarier than a scarecrow in a field.
38. Octopus Pumpkin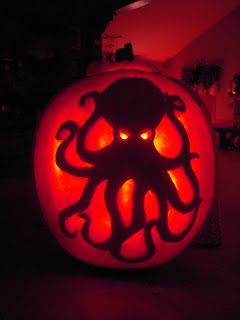 Via : Artist Unknown
Out of all the pumpkin carving ideas on this list, we haven't discussed the creatures of the sea. The octopus is well-feared, especially with legends about giant versions of these creatures.
Carve it onto a pumpkin and light it up. Its tentacles are sure to give you goosebumps.
39. Hogwarts Castle Pumpkin
​​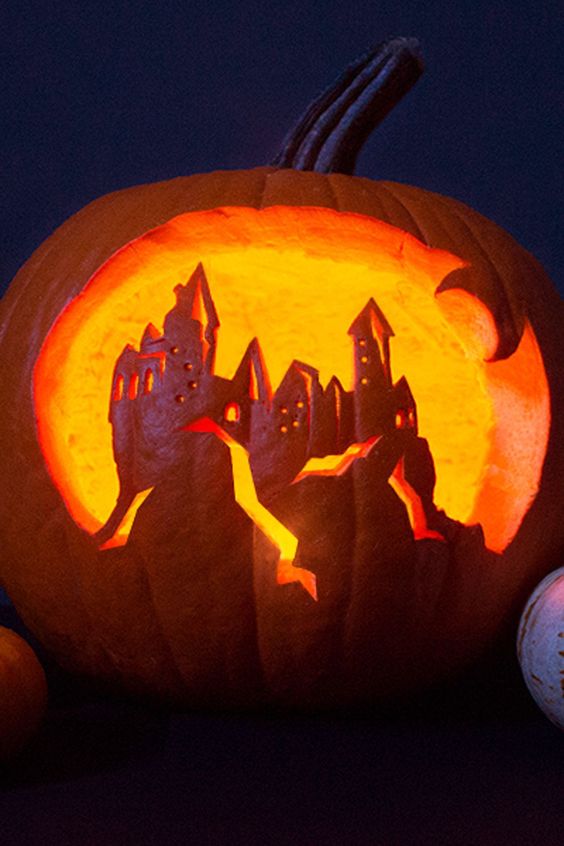 Via : Artist Unknown
Taking inspiration from the wizarding world for pumpkin carving ideas can give you a beautiful silhouette of the famous Hogwarts castle.
This design should give a magical touch to your home. Hopefully, dementors aren't lurking around this castle.
40. Zombie Hand Pumpkin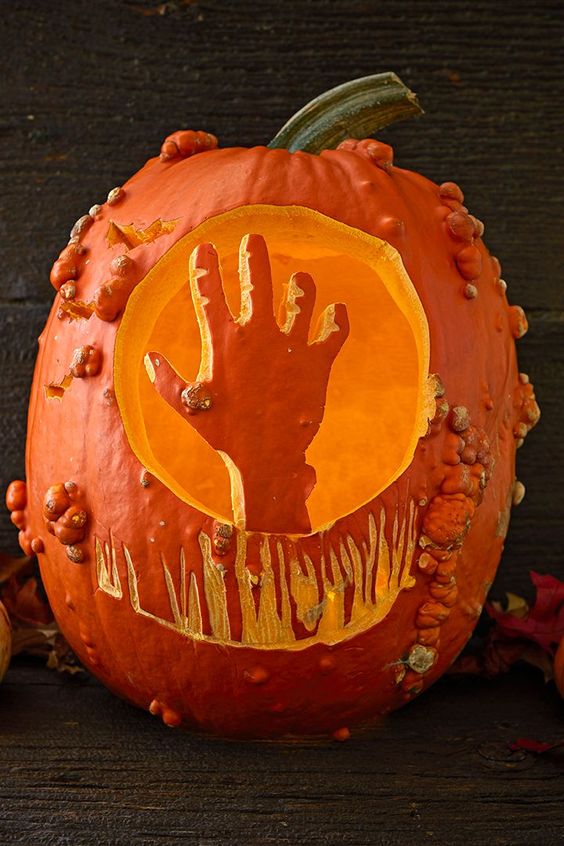 Via : Jason Donnelly
Try this zombie hand design if you're looking for pumpkin carving ideas about the undead. It can be easily patterned using your hand, making it easy to draw as well.
Bringing it back to life should be easy, and its design will give you the creeps.
41. Pumpkin Candy Holder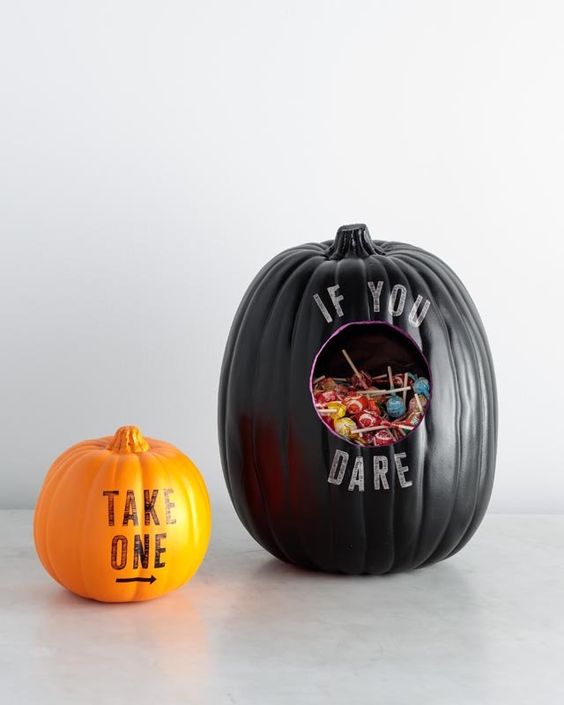 Via : Martha Stewart
You would need a big pumpkin and black chalk paint for this project. You can easily leave a unique pumpkin bowl on the front porch for trick-or-treaters visiting your house. You can also opt for a fake pumpkin for this project.
Safety Tip
If you're using a fake pumpkin, sand down the sharp edges to keep it safe for trick-or-treaters.
42. Melon Baller Pumpkin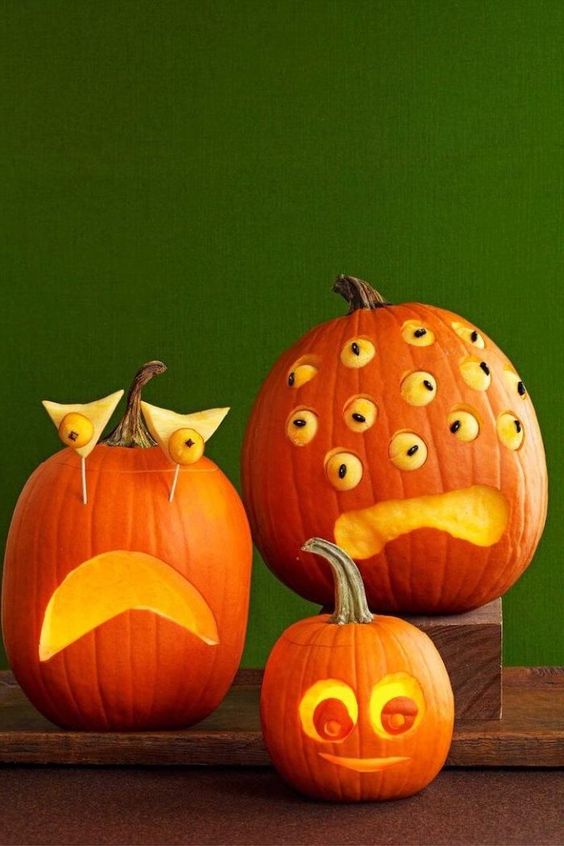 Via : Antonis Achilleos
Who says you can only use your melon baller on a hot summer day? You can create any wacky design you want using this trusty tool to carve out the different parts of your pumpkin.
You can come up with numerous pumpkin carving ideas with this tool, and it'll be a great use of the pumpkin's guts.
43. Zipper Pumpkin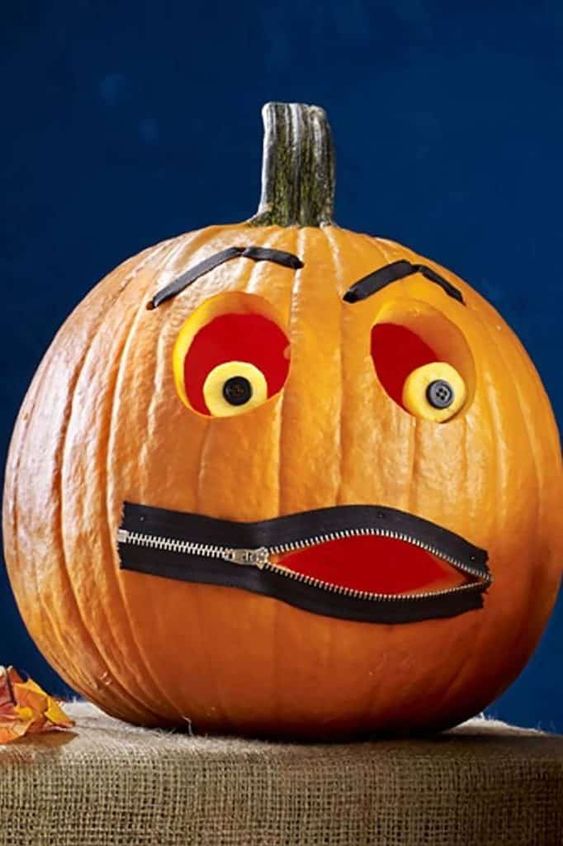 Via : Antonis Achilleos
This design is a twist on the classic pumpkin carving ideas for the jack-o-lantern. You can use a linoleum cutter to help carve out its facial features. Then, use hot glue to attach a zipper to the space for the mouth. It's a quirky and unique way to give your pumpkin friend a mouth.
44. Haunted Pumpkin Graveyard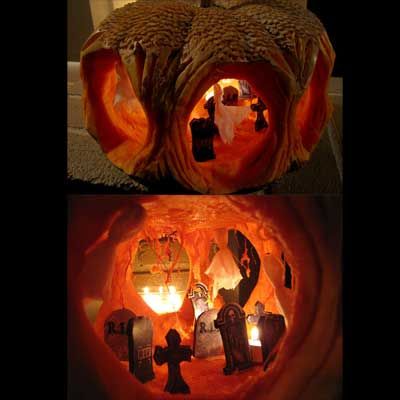 Via : Rebecca Durnell
If you're looking for extra challenging pumpkin carving ideas, you can create a whole graveyard inside your pumpkin.
This design will require you to use the entire pumpkin and a rotary tool to carve it out. This scary pumpkin design will surely set a little light on some of the spookiest places during Halloween.
45. The Pumpkin Avengers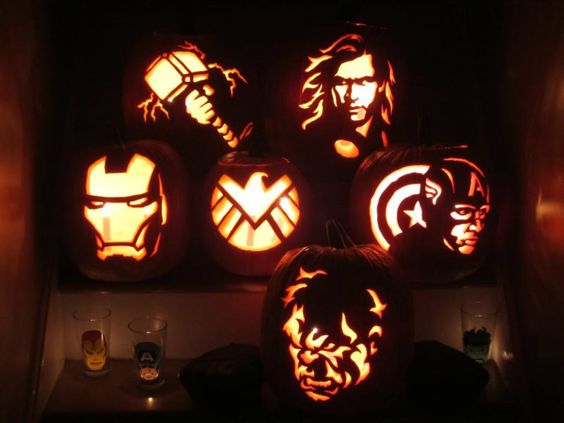 Via : Zombie Pumpkins
Keep your lawn safe from villains by creating these pumpkin Avengers. Plenty of stencils and designs can help you with these superhero-themed pumpkin carving ideas.
They usually focus on the hero's logos. However, if you're feeling extra creative, you can try working on the heroes themselves.
46. Space Pumpkin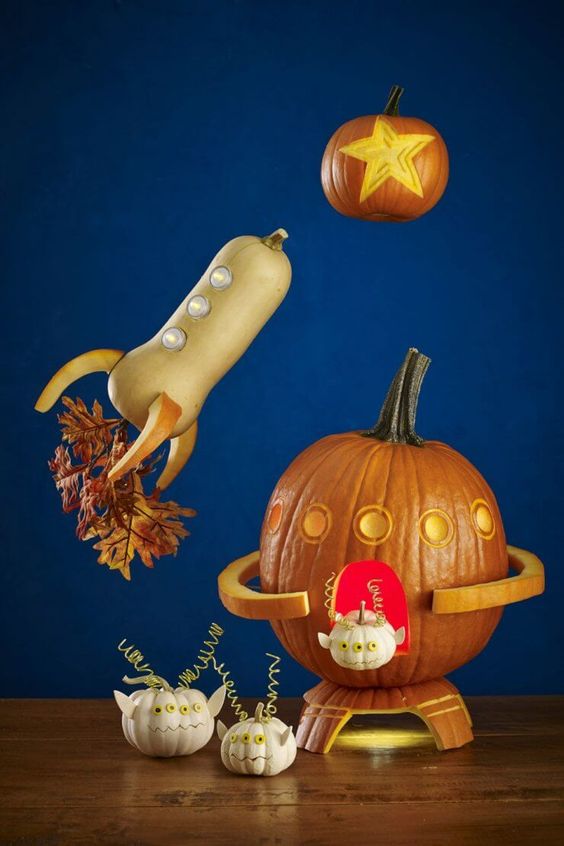 Via : Antonis Achilleos
There are many ways to show the world what goes on in space. You can use butternut squash as your rocket ship blasting off to space. A large pumpkin would be an excellent UFO for little white pumpkin aliens to use. It's all up to your creativity to create your little pumpkin solar system.
47. Elvis Presley Pumpkin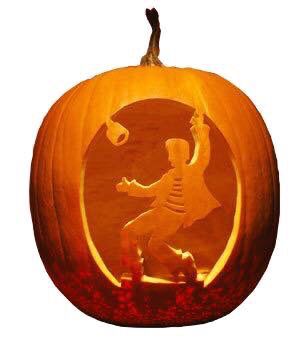 Via : Artist Unknown
With this pumpkin design, the king of rock can easily make you dance to Jailhouse Rock. Its small details would have to be made with Burning Love to get it right. You Can't Help Falling In Love with this creative way of commemorating a legend.
48. Cheshire Cat Pumpkin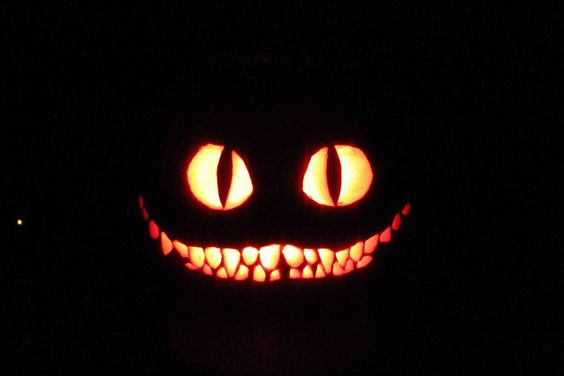 Via : 70mustang
This pumpkin design is excellent for having a spooky side of Wonderland on your lawn. The carving of the teeth can be a little tricky because of how intricate and uneven they are. However, it provides some freedom regarding how you carve them out.
49. Bare Skull Pumpkin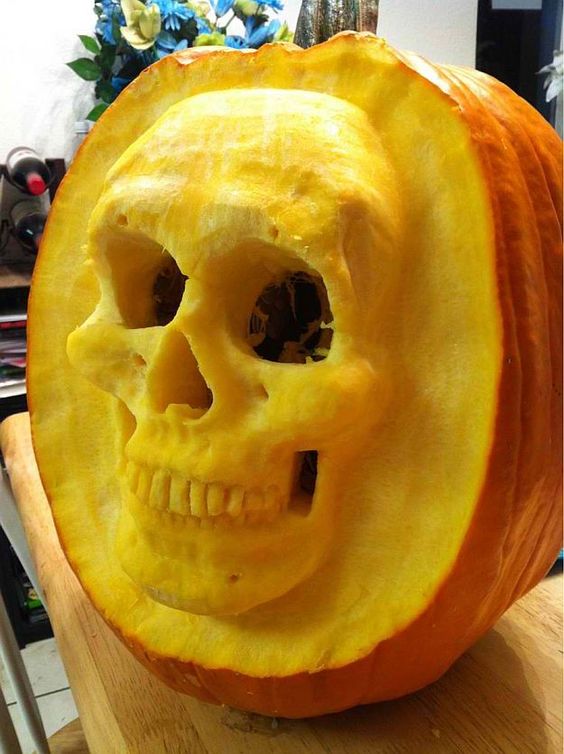 Via : theloanpenguin
Instead of carving out an ol' jack-o-lantern, why not raise the bar and let the skull stand out from the pumpkin? This design creates a more spooky effect, especially showing off its hollow insides. It would look even scarier with a light inside.
50. Pumpkin Eyes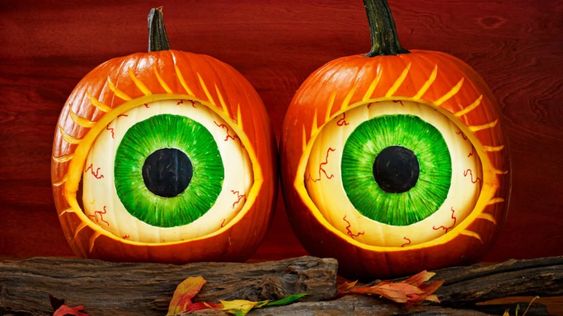 Via : Antonis Achilleos
To close this off, here's another one for those creepy pumpkin carving ideas. You can use large pumpkins to create eyes. While it would require a lot of painting, it's sure to give the creeps to anyone passing by your house.
Tips for Turning Your Pumpkin Carving Ideas Into Reality
There are many ways to work on a pumpkin. However, there are times when you might not know where to start.
Here are a few tips to help you turn your pumpkin design into a reality.
Pick the Perfect Pumpkin and Materials
The first step to any pumpkin project is finding the perfect pumpkin. You must ensure that your pumpkin has no damaged areas or soft spots. These can make it difficult to carve your pumpkin, as it might not hold its shape.
Pumpkins tend to have wax on them, which helps preserve their quality. It can help make the markers easily erasable on pumpkins.
Ensure that your pumpkin is at room temperature. It helps make the pumpkin carving process easier, especially since the insides won't be too hard.
Some might opt for a faux pumpkin. If you're working with this, you must sand the edges to keep people from getting injured.
You would also need to gather a craft knife, a hot glue gun, and other materials to help you cut through a pumpkin. You can easily find a pumpkin carving set in local or online stores.
It's also best to start gathering your decorating materials before starting.
Look For Halloween Pumpkin Carving Ideas
Before drawing on your pumpkin, it's important to prepare your design to lessen the chances of wasting a good pumpkin.
It cannot be easy to think of great pumpkin carving ideas, especially with the many ways you can design a pumpkin.
Luckily, many inspirations online can help you find the perfect pumpkin design for your front porch.
You can use a stencil from an online site or create your own based on the pumpkin carving ideas online listed above.
Draw on the Pumpkin
Before cutting your pumpkin, it's important to know where to cut it. You can't undo something once you've cut it off the pumpkin shell.
Draw or print out your pumpkin carving ideas onto a piece of paper. Be as detailed as possible, and note where the negative spaces will be on your pumpkin.
Then, use the drawing or printed template as your guide when you draw on the pumpkin itself. Use a marker to keep your marks on the pumpkin shell.
You can also mark out the spaces that you should cut off the pumpkin. It will help lessen your carving mistakes later on.
You can use duct tape to keep the stencil in place while you trace your template. Edit the drawing depending on your changes in design.
Tip
Try using a dry-erase marker so you can easily get rid of mistakes.
Use the Entire Pumpkin
The best way to work on a pumpkin project is to use the whole pumpkin. It lessens waste and gives you a chance to be creative.
Cut your pumpkin on top or at the bottom to clean it out. It would depend on the design you're going for. The hole is where you'll gut the pumpkin and wash out the contents.
Depending on your design, you can use pumpkin guts or removed pumpkin shells to decorate your jack-o-lantern.
Be creative with how you use them, especially since this is 90% of your pumpkin.
If you have any remaining carved pumpkin guts and seeds left, save them. You can turn them into a great Halloween feast after all that hard work.
Light It Up!
Most jack-o-lanterns are hollow for two reasons. The first is to clean it out depending on your design. The second is to let it light up your porch on those dark Halloween nights.
You can use a candle or tea light to light up your pumpkin. However, it can be quite messy, especially with all the melted wax inside. They also happen to be a potential fire hazard.
You can also use a battery-powered light if you don't want to constantly clean candle wax.
Other options include Christmas lights and flashlights, depending on what would fit your pumpkin's aesthetic.
No-carve pumpkins don't have to follow this, especially since their designs don't allow you to put a light inside them.
However, you can set your pumpkin in brighter places where its unique design can be seen.
Pumpkin Drawing Ideas FAQs
You might have more questions about pumpkin carving and how to create the spookiest one.
We've gathered the most common questions you might ask before you start designing and carving.
What Can I Use to Draw on a Pumpkin?
A trusty marker is the most common tool to help bring your drawing and pumpkin carving ideas to life.
It's best to use washable markers, especially if you have kids working on the designs. They're easier to erase, especially with the pumpkin rind's naturally waxy surface.
You can also use white or black chalk, depending on your pumpkin's surface. However, it won't be as long-lasting as a marker, which can be difficult for complicated designs.
How Do You Use a Sharpie on a Pumpkin Instead of Carving?
Sharpies are usually used for no-carve projects or if you're a seasoned artist. It's more difficult to erase compared to a dry-erase marker.
No-carve projects usually rely on your drawing skills when decorating a pumpkin. You can create patterns and symbols on the surface using different colored markers.
If using this, ensure you've cleaned your pumpkin surface from all the wax. This step will ensure that the marks stay longer even when the pumpkin is outdoors.
You can also play with flowers and other things from nature to complement any marks made by your marker.
Unless your project involves sticking lights onto the pumpkin, working with a Sharpie means your jack-o-lantern will lose its lantern element because of its lack of light from the inside.
These are better displayed indoors or on porches with bright lights to help your design be seen more clearly.
What are Some Easy Ways to Decorate a Pumpkin?
Many simple pumpkin carving ideas are available online, with carving being the traditional way of decorating a pumpkin.
You can follow simple stencils for carving or create a simple design. Usually, if you can draw it on paper, you can easily work on it once it's on the pumpkin.
However, there are also many ways to decorate a pumpkin without carving it. The most common methods are painting or sticking other ornaments onto the pumpkin surface.
These methods can require additional materials, like a hot glue gun or black spray paint. Using metallic spray paint can also add a little shine to your carved pumpkin.
Don't be afraid to use flowers and little gems to make your pumpkin stand out. They can add flare to your pumpkin without worrying about intricate details to carve. 
You can use hot glue to stick these elements onto the surface.
Be creative when matching the season or simply expressing yourself.
Can I Erase Permanent Marker From a Pumpkin?
Despite the name, there are actually a few ways you can get rid of permanent markers from a pumpkin. It's important to know these tips when you make mistakes on your project.
Fresh new marks can usually be removed using a mild adhesive on your pumpkin. It should go with the tape when you pull it off.
You can use a paste made from water and baking soda for older marks. Just mix the two ingredients and place them on the marks. Wait for a few minutes before wiping it off.
If these don't work, you can use something stronger, like rubbing alcohol or nail polish remover.
What Is the Best Way to Gut a Pumpkin?
For some people, gutting a pumpkin might not be the best part of the carving.
However, using the right tools can help you get this done quickly with it, especially if you get squeamish.
One of the most common ways to gut a pumpkin is to use a measuring cup. You can scoop out the insides and save them for your pumpkin dishes.
However, to make the process faster, you can buy a pumpkin gutter and a clay loop tool to gut and thin out the insides.
You can also use these tools for other vegetables or crafting projects.
Using a measuring cup could take some time. Using a gutter would have your pumpkin clean and ready for washing in a matter of minutes, but it would cost extra for the tools.
Why Do Pumpkins Rot Fast After Carving?
Carved pumpkins usually start to rot within days of carving.
As mentioned before, more than 90% of the pumpkin gets carved off for these pumpkin projects. These parts also contain the pumpkin's moisture.
You can try rubbing petroleum jelly to help prevent molding and decay. However, it could make marker-based designs easily erasable compared to a shell that doesn't have jelly.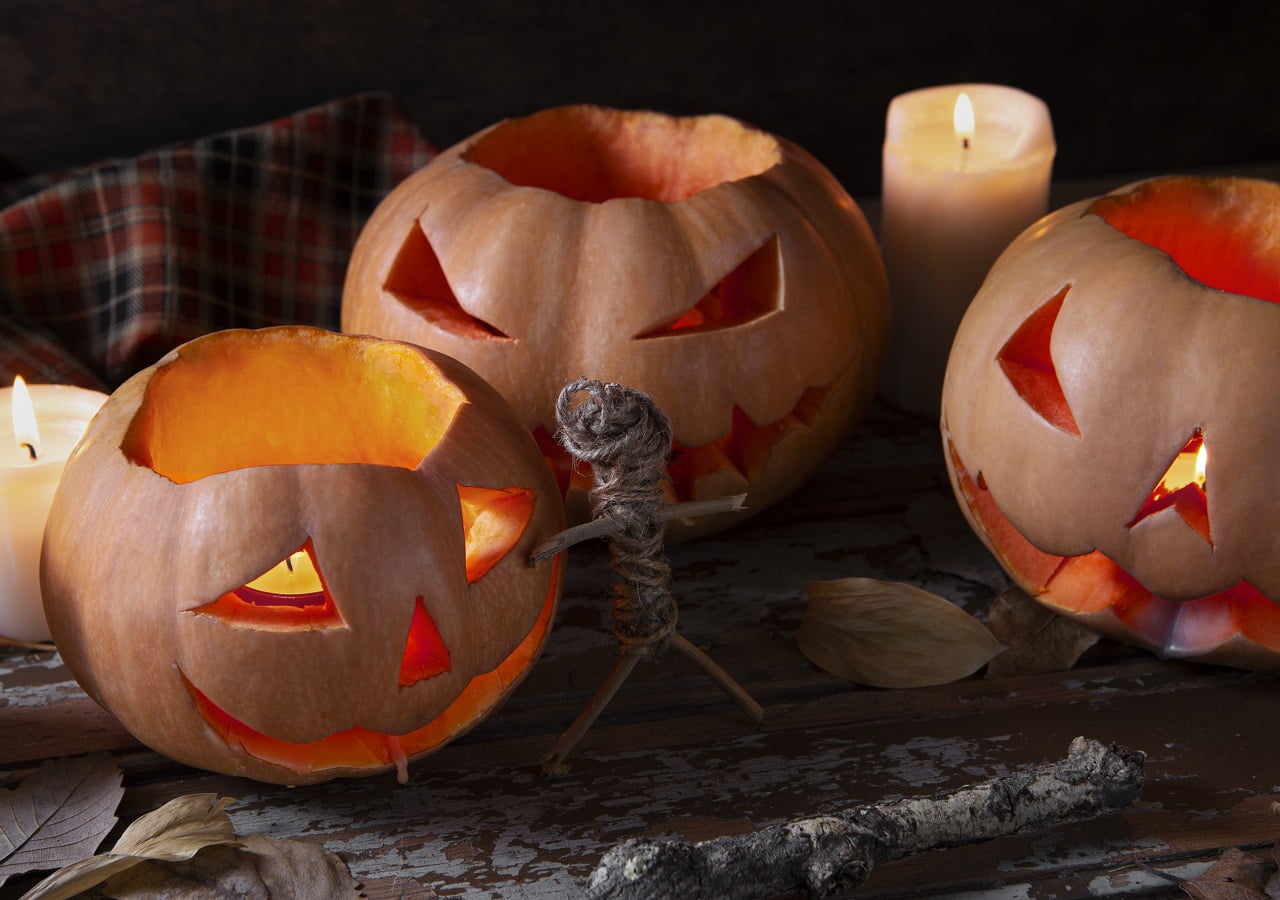 Pumpkin Drawing Ideas Conclusion
Whether it's to welcome trick-or-treaters in their Halloween costumes or to add a spooky flare on your front porch, having jack-o-lanterns is a great way to spread the Halloween spirit.
Which pumpkin design are you going for this spooky season?