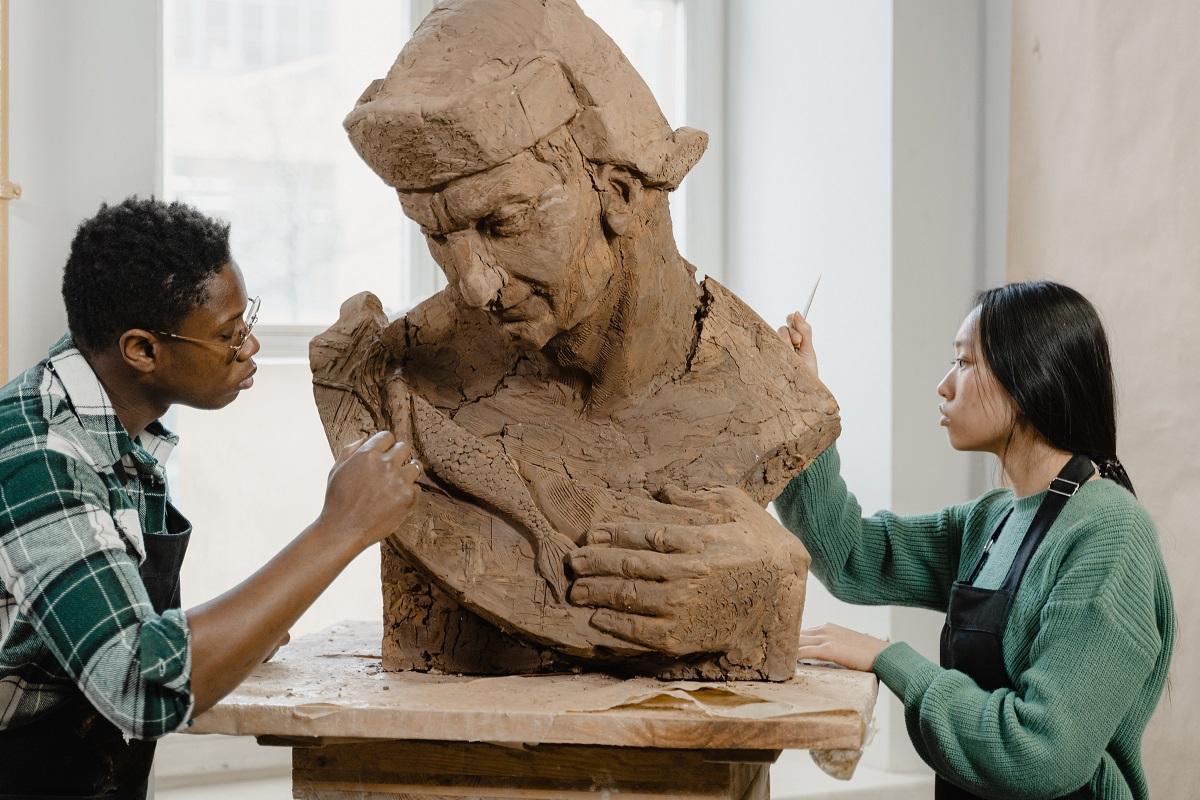 In addition to coloring books, chalk, and construction paper, you can use clay for sculpting projects to unleash your child's creativity. 
Clay is a go-to crafting material because it is versatile, easy to work with, and comes in various vibrant colors. Kids can enjoy working with clay and applying their creative ideas to create beautiful and unique sculptures. It's beneficial in developing their motor and coordination skills, imagination, self-esteem, and concentration. 
Let alone children; clay modeling helps adults to unwind from their stressful days and take their creative skills up a notch. So, get some clay and start making some cool and funky sculptures today by following some of the ideas in this guide. 
For DIYers, fixing cracks in walls and other places feels as soothing as clay sculpting, and this will enhance the strength of your house as well. So checkout our previous article on fixing foundation wall cracks to know more.
Without further ado, let's get in! 
Fun Clay Sculpting Ideas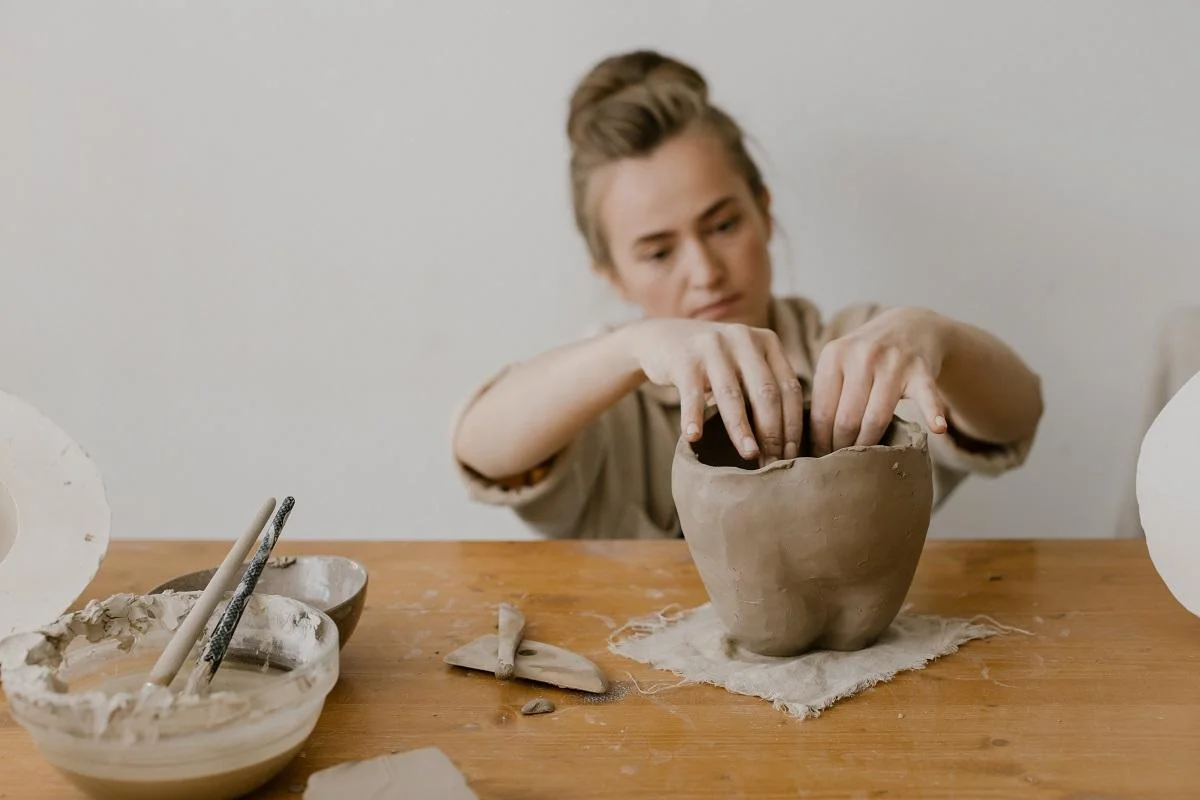 1. Spoons
Handmade ceramic spoons are a fun and unique addition to any kitchen, and they don't require many materials or much effort to create, making them perfect for beginners. You just need a handful of modeling clay and a kiln to heat those spoons.
Roll your clay in a cylindrical shape and pinch a shallow bowl shape in the front to make a spoon. You can take references from the silverware in your kitchen to make these. Then, you can design and color the spoons in any way you want.  
2. Pinch Pots
If you have never worked with clay before, pinch pots are a great way to start with. These are easy to make, and you don't need a potter wheel. 
To start with, insert your thumb into the center of the clay and keep pushing it until you've reached the middle. Don't push it in any other direction, or you might end up with a donut rather than a pinch pot. 
Continue pinching with your thumb and rotating the clay, and as you do so, the clay will take on the shape of a pot. Then, place the pot in a fire kiln for a few minutes to solidify. Take it out and let it cool for a while before using it to store something. 
3. Wheel-Thrown Mugs
A wheel-thrown mug is another simple yet beautiful piece you can make with clay. It's a satisfying piece to craft because you'll be using it every day and appreciate the time and effort you put into it.
Compared to our previous two hand-made pieces, this one needs a potters' wheel. It might not seem easy initially, but practice makes a man perfect. So, continue to learn through any pottery course to learn using the potters' wheel and keep on practicing. You might end up creating some interesting and unique art pieces with the wheel. 
4. Hand-Coiled Mugs
It is an interesting and fun project for those who don't have access to the potters' wheel. The process is similar to what you learned in making pinch pots but uses polymer clay. 
Although this clay is easier to work with, it dries up if stored longer. So, you must be wondering, "how to make modeling clay soft again?" Well, you can easily revive your dried-up clay by kneading it for a few minutes. Your moist hands are enough to make the clay smooth. And if that doesn't work, spray some water on it and keep it in a sealable bag for 5-10 minutes. 
5. Teapots
Are you well-versed with using the potters' wheel and looking to make different things for the kitchen? Then a teapot made out of clay is something you can try. 
Although the process is more challenging than the others we've discussed so far, the outcome is well worth the effort. Serving tea in a handmade teapot provides great satisfaction while also grabbing the eye of your guests.
6. Plates
Plates are another piece that you can make using a potter's wheel. Although it might take some time and practice to create a perfectly round plate, imperfections add to the individuality and character of the handmade items. 
7. Cartoon Snakes
A cartoon snake is an excellent option for those looking for easy yet creative clay crafts to work with. Thanks to its basic design, it's a suitable starting project for kids that they can show off to their friends and family. 
8. Leaf-Print Pendants
You can make your leaf-print pendants by imprinting some leaves on air-dry clay. Make sure to poke holes in the pendant before it dries. Once it has completely dried, paint with any colors of your choice. 
9. Earrings
Jewelry enthusiasts are in luck as now you can use clay to make unique and beautiful accessories, like some funky earrings. These are affordable and easy to make and don't require many tools or accessories – just some colors and clay! 
Begin by taking a small lump of clay and slowly pinching it into the shape of an earring. Heat the clay to harden, and once it cools down, use your creativity to make unique designs. 
10. Beads
Aside from earrings, you can create clay necklaces by making beads that can be interlaced together. Poke a hole at the center of these clay beads to insert a string inside them, and voila – you've got a unique and beautiful necklace of your own! After they've been hardened, you can design or color them however you want. 
11. Stamped Bowls
The stamped bowl is quite an easy project to make, even for beginners. Take a ball of sculpting clay and roll it out on a smooth surface. To give it a shape, take a bowl, place it upside-down, and gently put the clay on it. 
Unlike other types, modeling clay tends to stay a bit dry, so you need to soften it before you start sculpting. But to store modeling clay?  Note that you can sprinkle water, but adding excess water can produce cracks. 
Next, decide on a design that will look good, stamp it, and let it dry overnight. The following day, you will have a lovely bowl to eat your food in.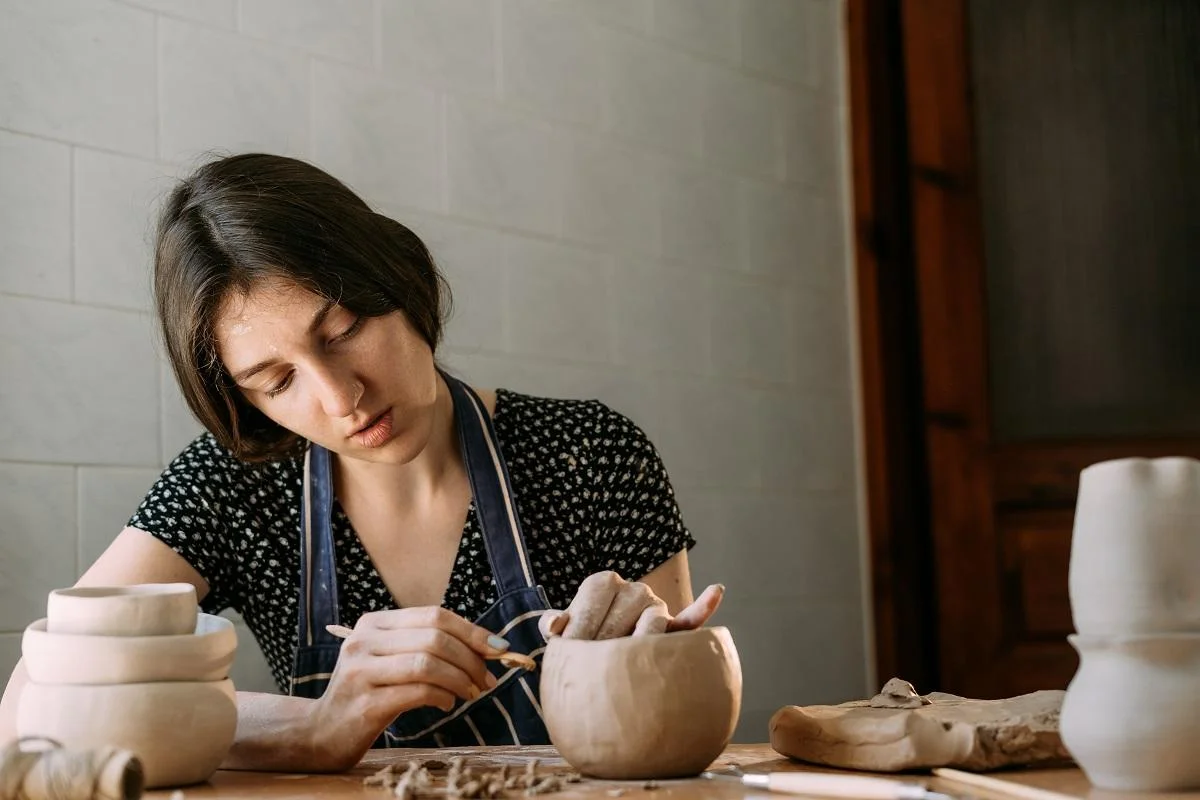 12. Clay Pots
Clay pots are the most basic yet widely used items in our homes for keeping flowers. Although many stylish pots are purchasable from the market, making them yourself is an experience like no other! 
Start by kneading the clay, and make it as smooth as possible. The smoother your dough is, the better the finishing of your pot will be. 
Roll the dough to prepare the bottom of the pot and shape it the way you want. Then, heat it properly from each side to harden it and paint it in unique designs and vibrant colors to have a beautiful home for your plants. 
13. Alphabets
Making cool and fun things with clay doesn't end at just jewelry or kitchen items. You can now personalize your name initials with simple, fun arts and crafts clay projects. To shape your clay, you might need a knife or a stencil and bake it in an oven or a kiln. Once hardened and cooled down, paint them with any colors of your choice. 
14. Fridge Stamps
Funky and vividly colored fridge stamps add a nice touch to your otherwise dull fridge door. Although these are available on the market in various sizes, shapes, and colors, what's better than making them on your own. 
You just need clay, a cookie-cutter, different colors, and a kiln. Use a cookie-cutter to make different stamp shapes. Once heated, hardened, and cooled, color and design them any way you like. You can even sprinkle some glitter when the clay is wet. 
15. Clay Coasters
Now you can design a unique and stylish coaster for your coffee mug using clay. Knead the clay lump you've got, roll it out and flatten it with a thickness of more than 1 cm. Take a mug to cut a round shape, and keep it dry for some time. Once done, unleash your inner artist to create creative patterns and designs. 
16. Elephant Ring Holder
For a change, use tempera paints and self-hardening clay to create a uniquely-designed ring holder. While many animals can be made using clay, this elephant shape is suitable as you can keep your rings on its trunk! This project is ideal for artists of every level, professionals or beginners, and you can adjust the detail level based on your ability. 
17. Clay Structures
Polymer clay has grown in popularity in recent years due to several features. Compared to different clay types, they are easier to work with and come in a wide array of colors. You can make unique and impressive sculptures like fish, unicorns, and animals. 
18. Ceramic Love Birds
Making love birds should be simple if you're proficient enough to make the aforementioned clay sculptures. Refer to any bird image you get on the internet and mold your clay in a particular shape. Paint it with your favorite color, and keep it on your reading desk or computer table.
19. Air Dry Clay Bird
You can use air-dry clay for making this clay sculpture if a kiln is not available. Compared to love birds, it is a bit tricky to make, provided the details required, but looks stunning when completed. Another feature of air-dry clay that makes it superior to different types of sculpting clay available is it can be painted with acrylic paints and doesn't require any special glazes.   
20. Elf
Now that you have practiced enough with polymer clay, it's time to start working on some complex sculptures, one of which is an elf. These are the creatures we usually see in folk tales and are represented as delicate, little humans with magical powers, pointed ears, and a capricious nature.
Most children adore these creatures, so having one made for them would be a dream come true!
21. Butterflies And Moths
Butterflies and moths are beautiful creatures you can make using polymer clay and paint them with acrylic paint. As mentioned above, polymer clay is a bit difficult to work with compared to other materials, but they soften once you knead them properly. 
Use acrylic colors and glitters to draw unique patterns on the clay butterflies, and hang them on your walls to give them an aesthetic look. 
22. Mushroom Earrings
Channel your inner creativity to make these clay mushroom earrings and paint them in your favorite colors. These aren't the most difficult things to make, but the more proficient you are in working with polymer clay, you can give the mushrooms a more realistic and detailed look. 
23. Bamboo Forest
You don't always need to make practical things using clay, like utensils and fashion accessories. So, why not make a mini bamboo forest that is beautiful, sculptural, and artistic in its own way? 
Plus, you can keep these natural-looking bamboo forests on a reading table or in your room as a decorative piece.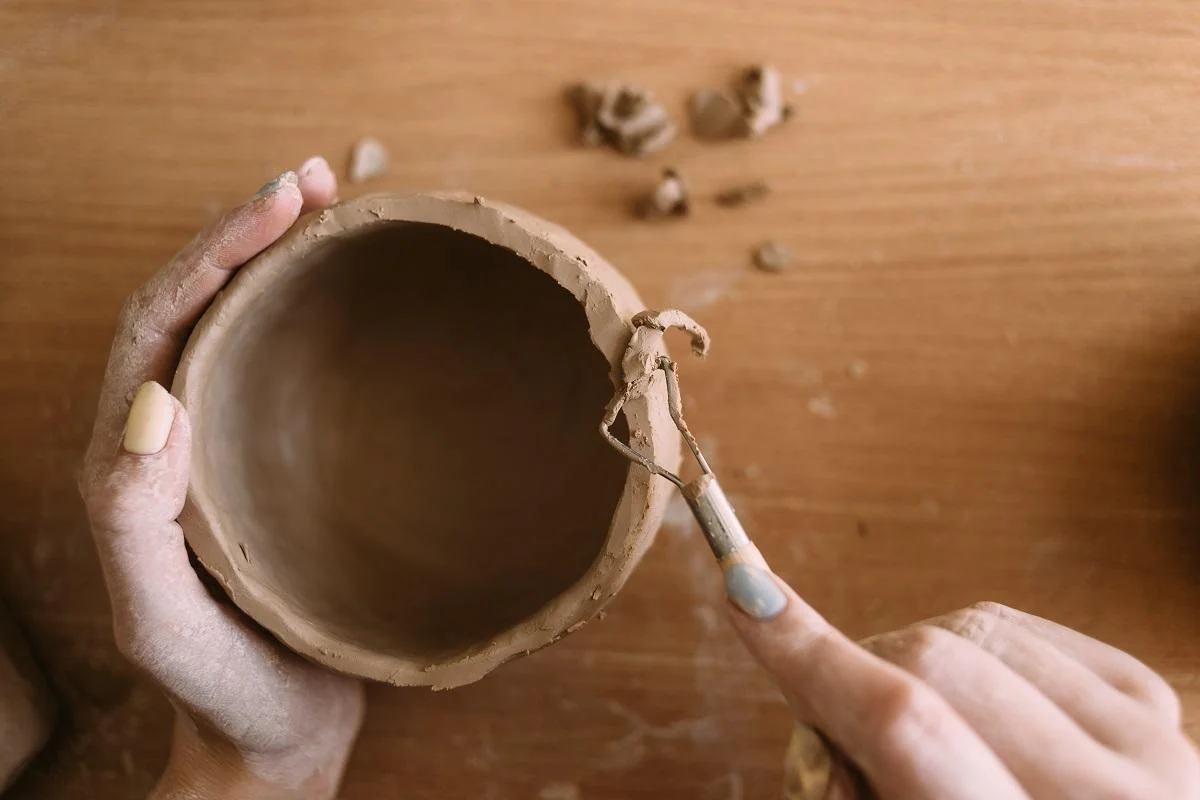 Clay Sculpting Ideas Final Words
That's all for this guide! 
We hope this guide serves as inspiration whenever you face a creative block and can't get any new ideas for clay sculptures. Apart from that, you can search for more options for clay sculpting on the internet. 
However, there are a few things you need to keep in mind when working with clay. First, keep your kids at a safe distance when heating clay sculptures in a kiln. 
Besides that, keep your kids under supervision whenever they are clay sculpting. Make sure they don't put their hands in their mouth while working. It can potentially affect their overall health. 
Just keep these safety tips in mind, and you're good to go. Happy crafting!