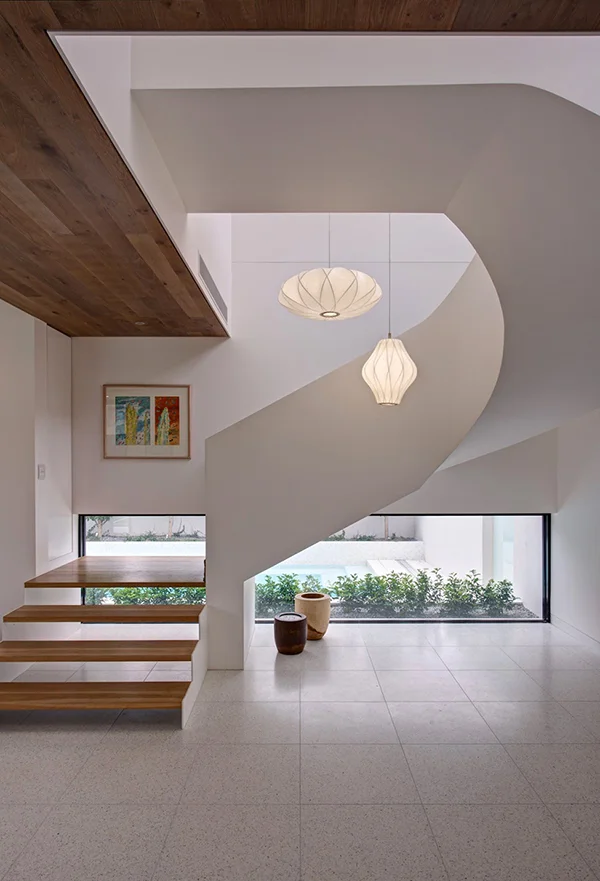 Nothing is more important in the world then having a place to call home. Most of us have already imagined how our dream homes would look like, on the exterior at least, we thought about the big lawns, the huge swimming pools yet we`re all leaving aside the most important thing, the interior design.
Absolutely every dream home should start from the inner home, from the interior, the real home in the home. We need shelter everyday both psychological and physical and the most important contact with it it`s trough the feelings evoked in the interior.
As a result our article today points out an interesting approach that we consider appropriate for a modern dream mansion, it encapsulates coziness and warmth in a serene atmosphere using high end materials.   The home is located in one of the most expensive pieces of land in the world, Australia. It`s of course, an escape, a retreat, a shelter, entitled Brighton Escape and designed by  Georgia Ezra, the head of G. A.B. B. E. studio. The home manages to gain her aesthetic values trough the simple and very clean combination of materials used in airy spaces with amazing natural lightning, here and there you will definitely notice beautiful accents from the sculptural white staircase to the slowly textured materials that would create a totally different effect if they were flat.
The interior further on expands trough the huge windows to the exterior creating a bridge between the tranquility of the amazing natural environment found on the site and the interior, therefore expanding the comfort zone of the inhabitants. The whole backyard landscape has the corners designed with zen pebbles and extraordinary green emerald grass that protects the home.
"The space was treated from its genesis, with the same respect for design as a museum. Carving of ceiling, walls and floor not only creates sculptural partitions throughout the residence, but with the spirit of a rock pool, provides channels to flow through and delineates ample space in which to dwell together."