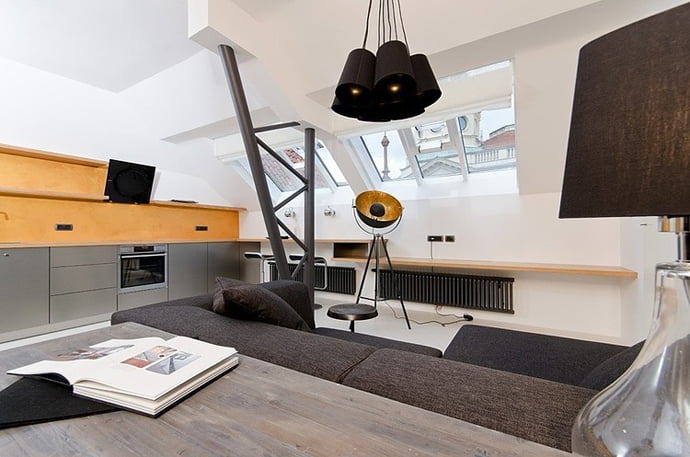 Located in the center of Prague,  Czech Republic, the small apartment ahead is an oasis of inspiration, calm and equilibrium, sheltering breathtaking materials welded together with great refinement. The small tiny loft apartment has been envisioned by Radka Valova and Pavla Dolezalova of OOOOX Studio with a minimalist interior, black and white interior design completed by neutral shades of light grey and light wood textures. The small spaces generated are of an attic loft and happily the authors have used these shapes and volumes to their advantage, the work and dinning area being located directly under direct light. The storage is covered in mirrors which are emphasizing the feel of space, and the general color of the walls and ceilings is stark white enlarging the small spaces, making them brighter fresher and healthier for the eye.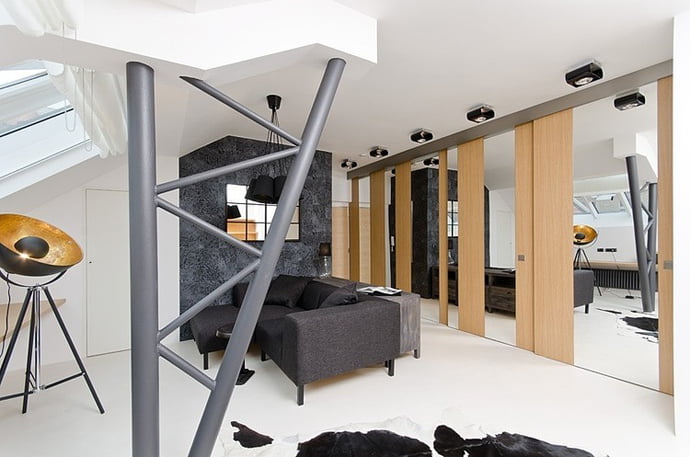 The breathtaking small bedroom design shelters great ideas as well, the small reading nook under the window can work as a mini bed, which also has storage underneath, to use the space as much as possible. The entire apartment uses the black and white color scheme with little accents here and there, the interior images created being very dense and filled with bold accents of personality . This is an interior that`s very different from others, surfaces being enhanced with unique textures and unusual items.
As you can see despite the airy attitude the whole interior has a clear focus on artificial lighting, everywhere lighting appliances having their own role clearly defined. Even though we don`t have any pictures of the apartment in the evening animated by the sunset light and completed with artificial one we`re sure the atmosphere is rather scenographic and dramatic, such atmosphere and vibe should be the default  asset of any black and white interior design in our opinion.