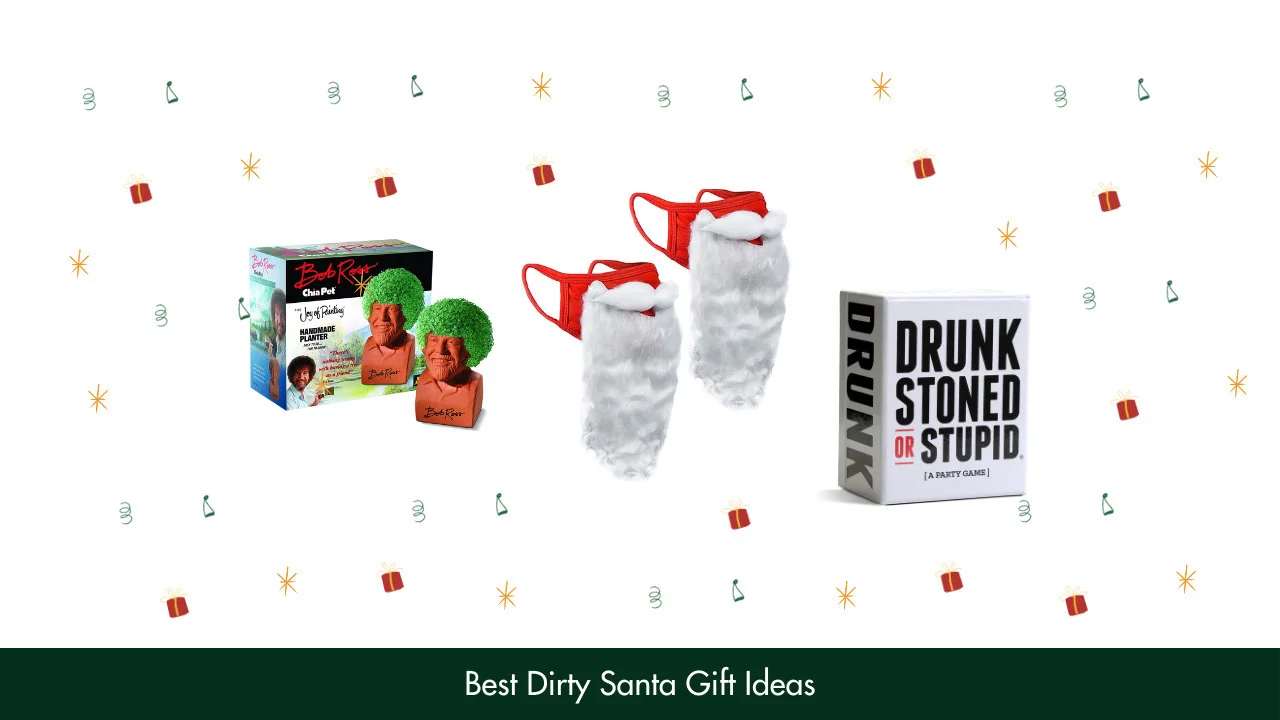 For Dirty Santa gift parties, my top pick is The Candle Daddy's Santa Sack because it contains 11 pleasant-smelling wax melts. Also, the Coca-Cola 2-Slot Hot Dog and Bun Toaster have an adjustable timer with a stop-toasting button. 
Dirty Santa, Yankee swap, or white elephant exchange- no matter what you call it, the game rules are pretty simple: decide on a budget and get a gift. And the real winner in the game is the one who brings the most popular prezie. 
So, whether you're looking for dirty Santa gift ideas for your family members or co-workers on Amazon (company) or Etsy, my top 23 recommendations will help you pick the right item. 
23 Best Dirty Santa Gift Ideas
1. The Candle Daddy Santa's Sack
In search of something festive, functional, and funny to boot? Then the Santa's Sack from The Candle Daddy will fit the bill with its 11 Christmas wax melts.
With this practical joke device, you'll get some amazing-smelling wax melts that impart a pleasant smell to the space. Some scents of the randomly selected melts include chocolate chip, coffee, banana nut bread, and peppermint scents.
Not only will they make your home smell great, but their quirky names will send everyone into fits of laughter. Oh, and did I mention that this 11-pack dirty Santa gift comes in a fabric bag? That means you can place them under a Christmas tree without worrying about losing them. Also, the cost isn't too high, so it will fit everyone's budget.
2. Nostalgia Coca-Cola 2-Slot Hot Dog And Bun Toaster
The Nostalgia Coca-Cola 2 Slot Hot Dog and Bun Toaster is yet another excellent item that is considered a hit at Dirty Santa gift exchange parties.
Boasting a slim and sleek profile, this Coca-Cola toaster comes with 2 compartments- one for the hot dog and the other for the bun. With an adjustable timer and a stop-toasting button, this toaster allows users to toast hot dogs to their preferences. So, not only does it score high on aesthetics, but it also wins brownie points for functionality.
3. Mermaker Pepperoni Pizzas Blanket
The Mermaker Pepperoni Pizzas Blanket is a popular gift idea for a dirty Santa party because the realistic pizza pattern makes it among the best funny dirty Santa gifts for teenage boys and girls. This lightweight blanket features a comfortable single-layer design that turns humans into giant pizzas by wrapping them.
Good dirty Santa gifts are often silly, but this high-quality item is quite useful, as its flannel fabric will keep the recipient exceptionally warm. And somewhat surprisingly, it's super breathable and wicks away moisture.
4. Encased Face Mask Funny Bearded Holiday Santa Costume
Planning a gift exchange at the Christmas party, you'll be throwing this year? Getting your hands on the Encased Face Mask Funny Bearded Holiday Santa Costume will make your party bright and merry.
This one-size-fits-all product is constructed of 100% cotton sans synthetic adhesives or glues. Anyone who dons a Santa costume will be able to complete the look by wearing the mask.
5. Cards Against Humanity
For those who are not faint of heart, Cards Against Humanity will make for the best dirty Santa gift.
With 500 black cards and 100 white cards, this card game turns even the dullest party into a merrier one. The rules of this game are simple: one player in every round asks a question using a black card, and the rest of the players answer it with white cards.
A handbook of sensible game rules, along with ridiculous variant rules, is also included in the package. So, if you're short of dirty Santa gift ideas, grab this best-selling card game to add fun to your Christmas party.
6. Archie McPhee Yodeling Pickle
Looking for hilarious gag gifts that will spread raucous laughter at both the Dirty Santa party and the Secret Santa party? The Archie McPhee Yodeling Pickle will be a perfect pick for the parties you intend to throw the next holiday season.
With just the press of a button, this yodeling pickle yodels its heart out and spreads a smile on your face. What makes it among the best dirty Santa gifts is that it has the perfect noise level, meaning it's neither too loud nor too soft, and is high on durability.
7. Katamco Toilet Timer
If you've been looking for some quirky dirty Santa gifts for your best friend, husband, or other close friends, you can't go wrong with the Katamco Toilet Timer.
As the name suggests, this toilet timer comes loaded with sand and runs for approximately 5 minutes. What's more, this timer comes with a unique mechanism that can be rotated 360 degrees and you can see the sand going down through the glasses.
All in all, this small, functional, yet explosively funny device makes for an excellent dirty Santa gift for Christmas parties.
8. DSS Games Drunk Stoned Or Stupid
Never played the game "Who's most likely to"? Then it's time to grab the DSS Games Drunk Stoned or Stupid and learn about your friends' good or toxic traits.
This humor-themed cardstock contains 250 cards, perfect for large groups of friends. Surprisingly, more than one million copies of this card game are sold, so grab yours too to make your Christmas and other parties interesting.
9. Talkie Toys Products That's Bullshit Button
The That's Bullshit Button from Talkie Toys Products is another of my favorite dirty Santa gifts to add humor to Christmas parties.
If you happen to be playing dirty Santa with your friends, this product is sure to get some laughs, as it features 8 bullshit phrases against outrageously funny background sound effects. Press the red button whenever someone spews ridiculous lies, and hilarious voiceovers will call them out for their actions.
10. Dynamic Gear Bamboo Cheese Board
For your chef friend, this bamboo cheese board would be the perfect dirty Santa gift because it blends functionality with aesthetics.
Made of 100% natural bamboo, this cheese board is sleek and stylish and comes with everything they'll need to serve their guests. The grooved design of the cheese platter allows hosts to serve cheese and meats, and the pull-out drawer features 4 pieces of cutlery.
Surprisingly, it doesn't fall short on durability and is designed to last for many years.
11. Chia Pet Bob Ross
Searching for dirty Santa gift ideas for your planter friend? Or, is Bob Ross your painter friend's inspiration?
Either way, this Chia Pet Bob Ross decorative pottery planter is all you need. This lightweight planter can be washed and replanted countless times. What's more, the pack includes everything your recipient will need to turn the planter into Bob Ross, from chia seed packets to a plastic drip tray.
Plus, it's available in endless shapes and sizes, including emojis, actors, presidents, and movie characters.
12. Dammit Doll
Ever gifted someone a doll? If not, this Dammit Doll is among my favorite dirty Santa gifts that will relieve the recipient's stress.
This gag gift toy comes in different colors, but the brand decides which color to send, so you'll be in for a big surprise when it reaches your doorstep. What I like the most about this doll is the mood-lifting poem printed on its body.
And because it has no ears, it won't judge your friend for venting their frustration.
13. Secura Electric Wine Opener
Easy to use, rechargeable, and lightweight, the Secura Electric Wine Opener is yet another item that you could gift to a bibulous person at a white elephant gift exchange party.
With a dimension of 4.92 x 4.92 x 11 inches, this wine opener doesn't occupy much space and can be placed in any corner of the kitchen or cabinet. Uncorking the beer or wine bottles is a breeze with this product. Moreover, it can open up to 30 bottles on a single charge, making it a must-have item at a Yankee swap party.
Coming in a brushed finish and an LED light, this wine opener adds oodles of elegance to wherever you place it. To top it off, it doesn't produce as much noise as other wine openers, generating only 50 dB of noise.
14. Wepop Bread Pillow
Ever thought of gifting a throw pillow to your parents or friends at a Dirty Santa gift party? If not, you can gift this bread pillow from Wepop which serves both as a pillow and an accent piece.
A 3D French bread design coupled with vivid colors makes this throw pillow the focal element of whichever space you place it on. Skin-friendly plush fabric is used to encase the cotton fill material of the pillow, which is why it's soft and silky.
Besides the 40-inch size, it's available in 24-inch and 34-inch sizes, allowing you to choose between small, medium, and extensive options.
15. ROMANTICIST Heavy-Duty Grill Tools
What could be a better gift than grilling tools for your chef friend who throws barbecue parties every now and then?
So, here's a set of heavy-duty grill tools from ROMANTICIST that your chef friend will cherish for years. Sold as a pack of 6, this grill tool set contains a pair of scissors, tong, spatula, fork, and brush. Except for the scissors, every tool is about 18 inches, so they are easy to use.
Thanks to the stainless steel construction, the tools will neither bend nor break. Plus, they are heat-resistant, so your friend can use them without worries.
16. Chunace 16-Color Toilet Night Light
Another fun and functional gag gift for a Yankee swap is the Chunace 16-color Toilet Night Light, which can be gifted by stuffing in stockings.
This cordless glow bowl toilet light features 16 colors with 2 settings: carousel mode and customizable mode. Thanks to the superior motion detector, this night light detects movements within 5 feet and starts glowing automatically.
As a bonus, the brightness of the light can be adjusted to 5 different settings. Even installation isn't a challenge, as its flexible arm can be attached to any toilet bowl by bending a little. Though weird, this is among the most versatile dirty Santa gift ideas.
17. OTOTO Red The Crab Silicone Utensil Rest
Until I stumbled upon the OTOTO Red The Crab Silicone Utensil Rest, I didn't know that kitchen crockery could be funny and functional.
With Red, the Crab lending a helping claw, this utensil rest perfectly holds spoons, ladles, tongs, and other kitchen utensils. I discovered that it's made of 100% food-grade silicone and is BPA-free, which means it will withstand chipping and rust to last for years.
On top of that, the crab won't snap, rock back and forth or fade color, no matter how much you use it. This item deserves a spot in the kitchen of your master griller, baking enthusiast, home cook, or foodie friend.
18. Apollo Walker Picnic Backpack
Outdoor enthusiast friends who go on hiking, camping, or picnic trips will appreciate this picnic backpack by Apollo Walker. That's because it has multiple storage compartments to store crockery, including dinner plates, spoons, forks, plastic chopping boards, etc.
Be it winter, summer, or monsoon, this modern-style bag is usable all year round, thanks to the polyester material. Because of the top-mounter carry handle and soft padded shoulder straps, it's convenient to carry. Plus, meat, sandwiches, and cakes can be stored in this bag, as it features a cold storage compartment.
19. Archie McPhee Accoutrements Handerpants
If your friend wears gloves often, give them these Accoutrements Handerpants that will provide them warmth and keep their hands safe from chafing. These 100% cotton handerpants are super comfy but fingerless, so they are perfect for wearing underneath gloves.
And because they resemble and feel like men's briefs, your friend will surely burst into laughter upon seeing them.
20. Bamomby Dad Bag Fanny Pack
This fanny pack that is hilarious yet functional was an accidental find that I stumbled upon while searching for dirty Santa gift ideas last year. To be honest, this fanny pack made everyone laugh out loud; of course, its realistic yet fake belly design makes it funny.
Aside from the interesting design, the bag is quite useful, as it has a spacious compartment and comes with a zipper. Plus, the bag strap is fully adjustable and will fit any size waist.
Even the quality of the 3D print PU and polyester are excellent, so it's worth the money.
21. LOGROTATE Moon Lamp
Often, children are attracted to the moon and the stars, which is why I included this LOGROTATE Moon Lamp on my list.
Being 4.8 inches in diameter, this lamp is made with 3D printing technology, which is why it bears a close resemblance to the real moon. Coming with remote control, the 16 colors of this night lamp can be adjusted between fade, flash, strobe, and smooth. And if the remote control gets lost, children can change the lights by touching the moon.
The moon lamp rests on a wooden holder, which is easy to assemble and adds a touch of elegance to the space.
22. DASH Mini Waffle Maker
A few years back, someone gifted me the DASH Mini Waffle Maker, and since then, it's been my favorite.
The non-stick surface of this waffle maker allows users to unleash their creativity at the breakfast table. From biscuit pizzas to yummy cookies and waffled hash browns, this waffle maker can be used for making tons of items. Hence, this Mini Waffle Maker is really mighty!
Furthermore, the handle atop the lid is a thoughtful addition, as the lid can be easily lifted, keeping fingers safe from burns. With indicator light, non-stick feet, and over 20 colors, this mini waffle maker is a worthwhile gift item.
23. Shiatsu Neck And Back Massager
A relaxing massage after a hectic day sounds like the best way to relax, doesn't it?
Well, then, the Shiatsu Neck and Back Massager would be the perfect gift for your friend who does a 9-to-5 job. Its 8 powerful deep-kneading massage nodes eliminate cervical fatigue, ease neck stiffness, and alleviate muscle soreness.
Thanks to the infrared advanced soothing function, it improves blood circulation. Also, its 3-speed strength level allows personalizing pressure to relieve muscle pain.
Better yet, it's made of breathable mesh fabric and PU leather, so it's comfortable to wear. Not to forget, it's easy to clean, letting you know just in case you spill a beverage or juice while using it.
Are White Elephant and Dirty Santa Game the same?
More or less, the dirty Santa and white elephant game is the same except for the amount of stealing. During the Dirty Santa game, people can steal others' gifts or open a random gift, which isn't the case in the white elephant game. 
What are the rules for Dirty Santa?
Here are some rules for the Dirty Santa game:
Every person has to bring a wrapped gift 

Host, at times, purchases a backup gift in case someone forgets 

The game begins when someone chooses a gift from the pool 

Players can either steal someone else's presents or choose a new one 
What's the price limit for Dirty Santa?
Though it varies from party to party, the budget for Dirty Santa should normally be around $25. 
Conclusion
From a set of personalized mug, scented candles, hot dog and bun toaster, neck and back massager, and realistic bread pillow, this list contains an array of gifts that are suited for family members of all ages. Because the gifts are practical, you can even gift them to your co-workers. 
Just make sure you choose gifts keeping in mind your recipient's age group, and we are sure you'll make an informed decision. Before you start adding any Christmas gift to the cart, decide on a budget and scour for items accordingly so that you don't overspend. Make sure to wrap the gift in a beautiful wrapping paper, as it will increase everyone's curiosity.