Balloons are something really extraordinary, whimsical, almost torn from fairy tales; they help us shape our greatest memories through splendid decorations, they represent freedom, they summon a positive atmosphere and the child in us all.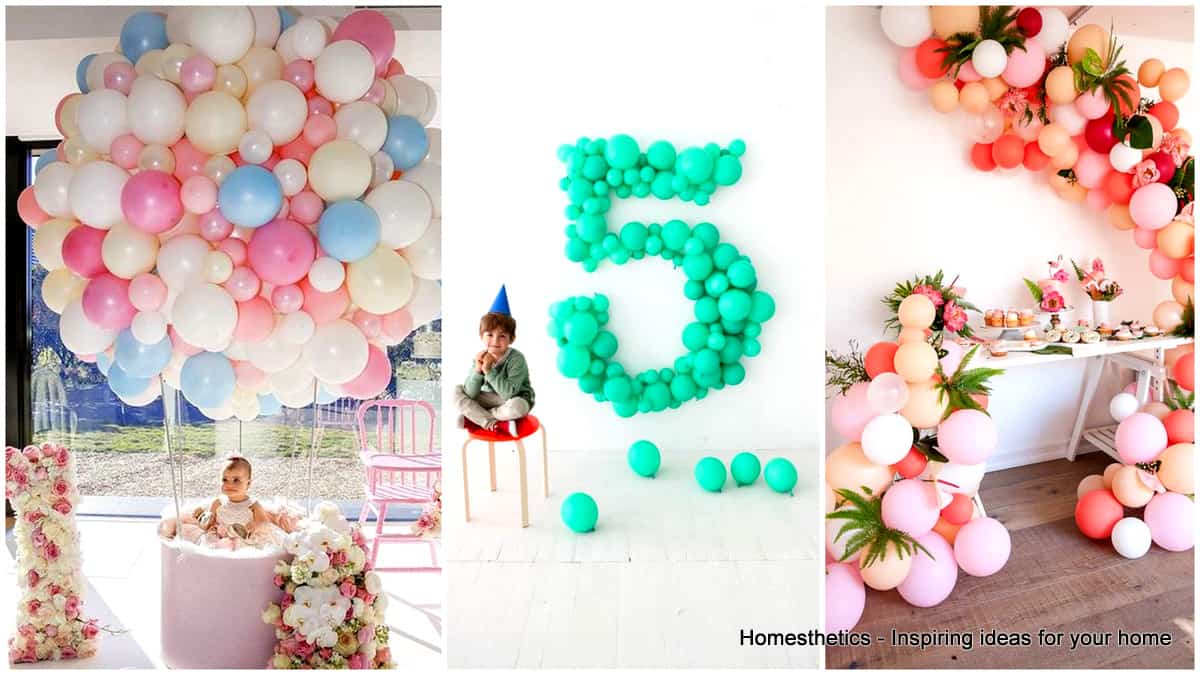 Balloons are used to decorate birthday parties, baby showers and weddings all around the world, they levitate above the dinning table, they create arches to go through and garlands to highlight elements of interest, they`re there no matter what, transparent or colorful they help us define a celebration, they capture smiles and laughter and they`re in this article too, simply splendid DIY Balloon Decorations have been curated for your next celebration, we invite you to cast a glance and get inspired by the immense joy below.
Splendid DIY Balloon Decorations 
1. colorful balloon clouds over the dinning table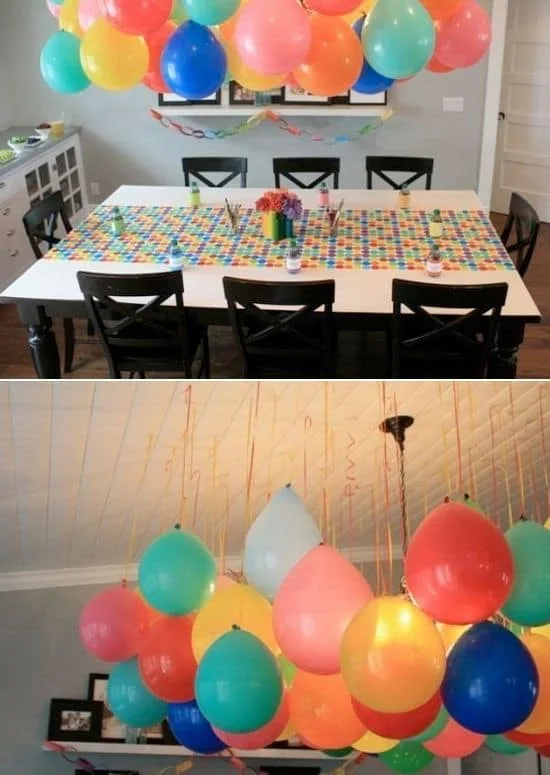 Use scotch tape to glue  the balloons  above the dinning table at the same height; the lighting fixture can beautifully emphasize the cloud with light accentuating the rainbow`s colors.
via kidskubby.com
2. transparent balloons with colorful confetti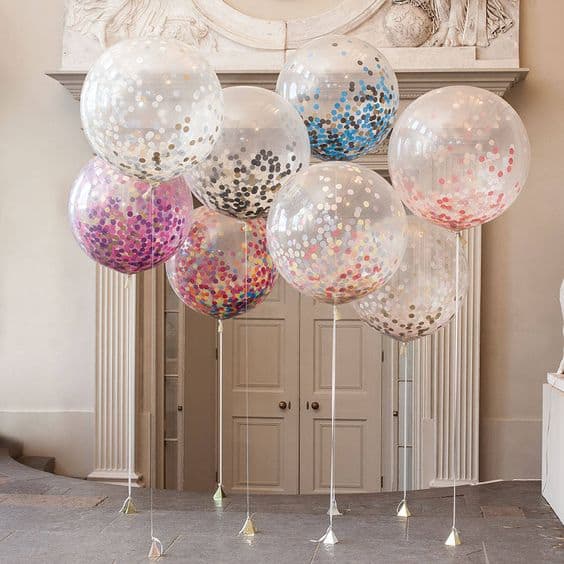 Use different color pallets in each balloon and fill them with helium, a weight ought to be added to create the sculptural installation above, the results are simply breathtaking.
3. use a simple string to create balloon garland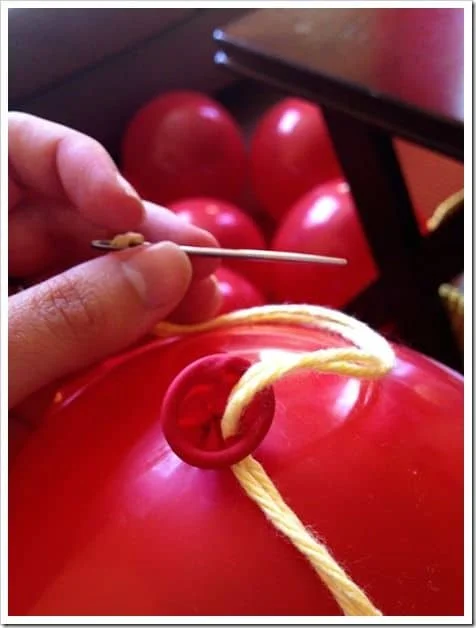 via joyfulabode.com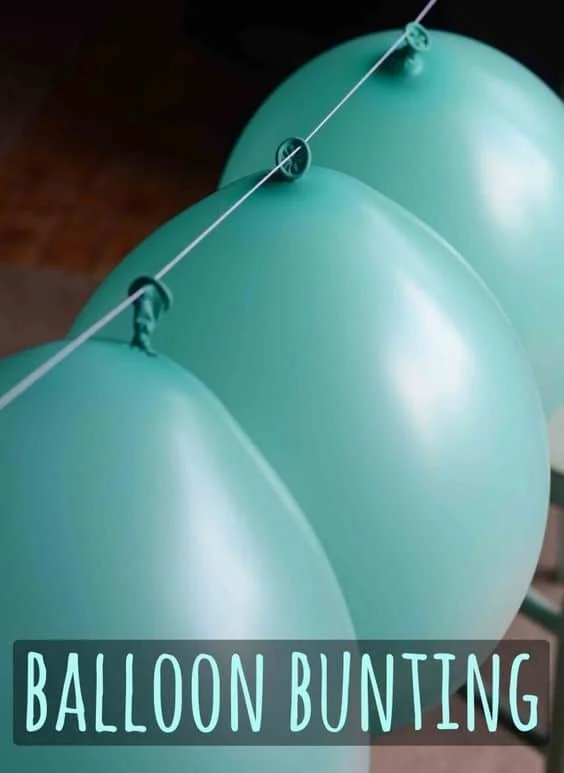 A string and balloons are everything you need to beautifully emphasize your celebrations. Feel free to experiment with color and rhythm.
via theburlapbag.com
4. pink transparent BALLOONS and golden Confetti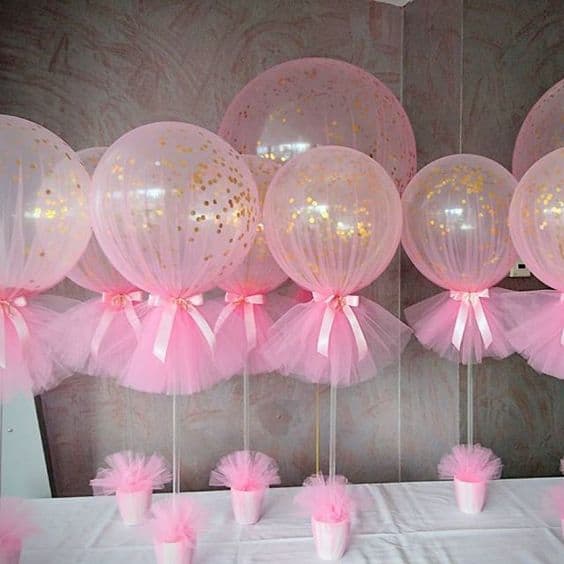 A really splendid composition fit for a baby shower, feel free to change the pink with blue if need be !
via instagram.com
5. popsicle balloons and flowers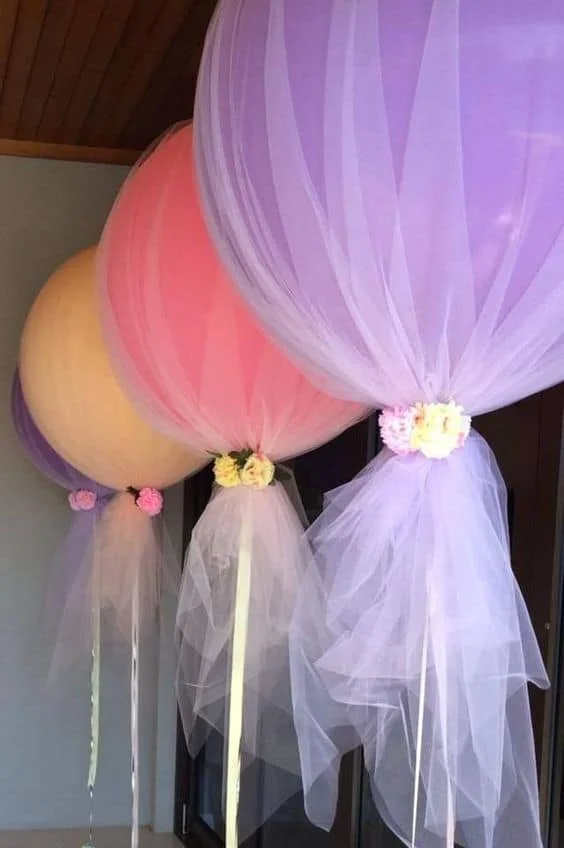 A translucent fabric wrapping balloons filled with helium and embraced by flowers looks simply breathtaking, extraordinary way to welcome guests to your wedding.
Source Unknown
6. paper hearts and transparent balloons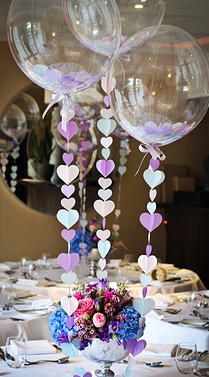 Shape colorful paper hearts and glue them on the string of translucent balloons filled with colorful hearts, the whimsical result will float above the centerpiece thanks to the helium contained.
7. shape exotic décor with balloons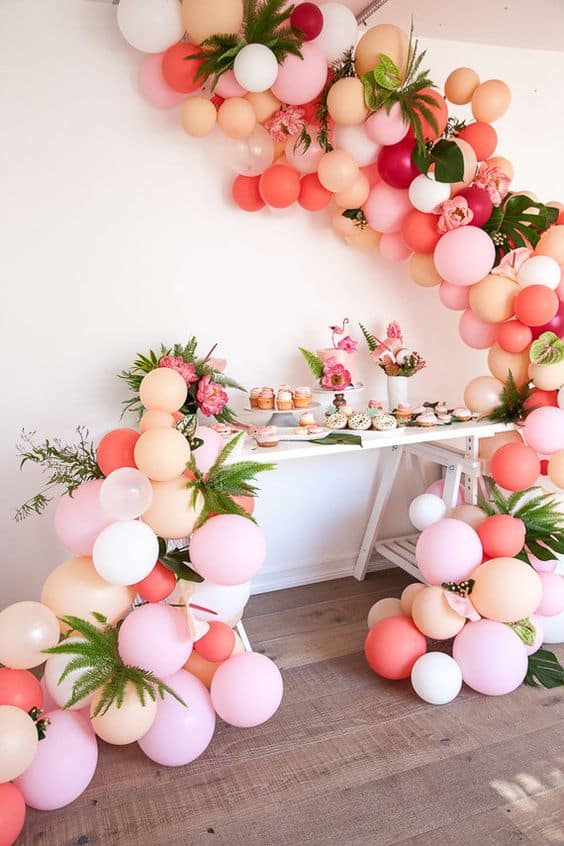 The garland above looks exotic, glamorous and delicious at the same time, the extraordinary color palette is simply splendid, a wonderful presentation for sweets at your celebration.
8. use the company colors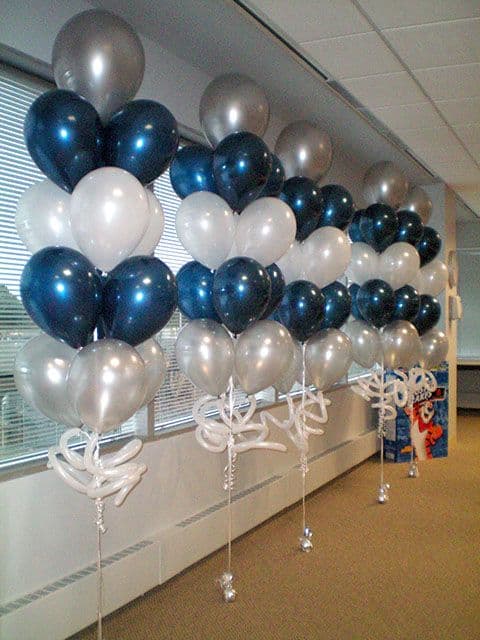 You can use gradients by using the company`s colors in your balloon installations, get creative !
9. shape flower bouquets with balloons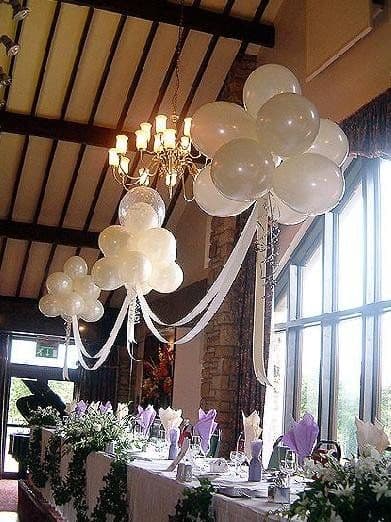 The exemplary installations flow above the dinner table sculpting the space`s perception.
via reginanatie.blogspot.fr
10. String lights and balloons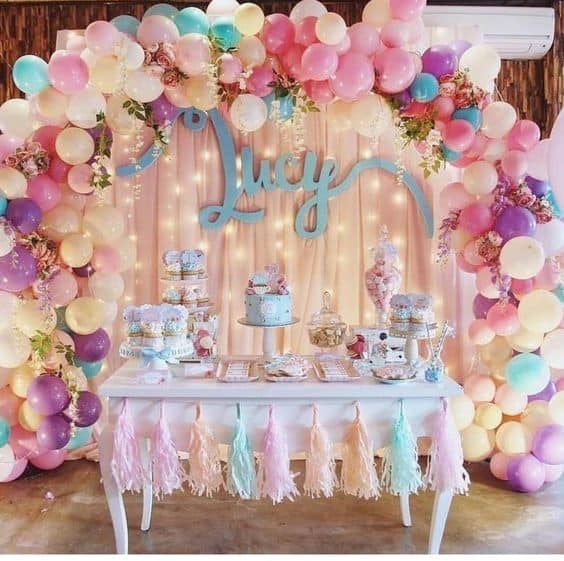 A truly whimsical setting can be obtained with colorful balloons that encompass a positive, joyful color palette and an array of string lights. The baby shower stand above is nothing but extraordinary.
via instagram.com
11. shape an extraordinary photography area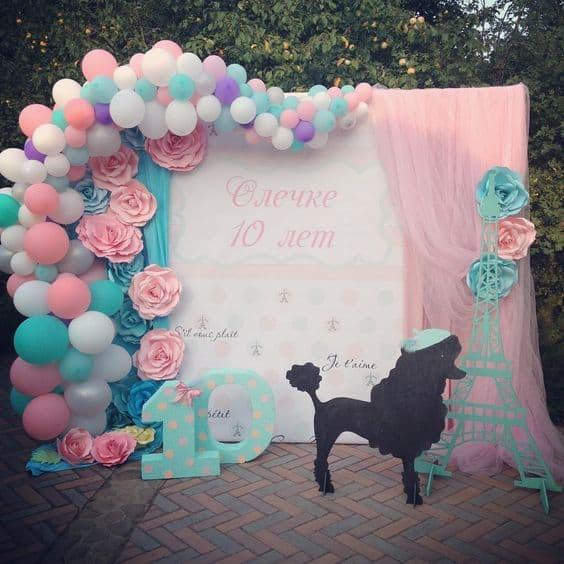 Your celebration will surely need a place for photography and the extraordinary setting above offers multiple options.
via instagram.com
12. create balloon showers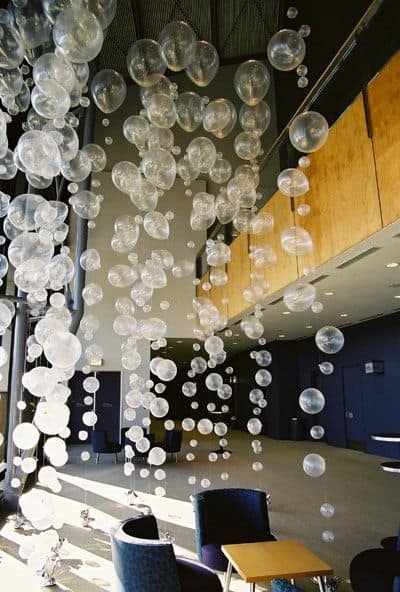 The sculptural installations can change your business meeting area creating an airy-positive space.
13. shape Christmas trees alternatives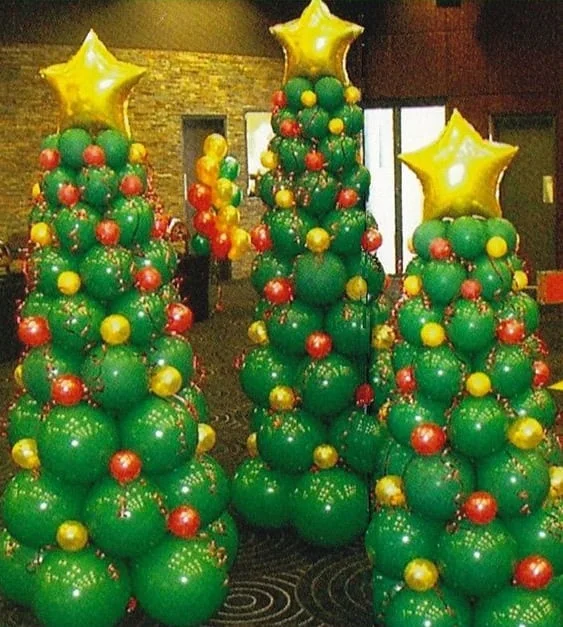 In the office balloon Christmas trees would work brilliantly; every member can contribute with a balloon.
14. create vertical clouds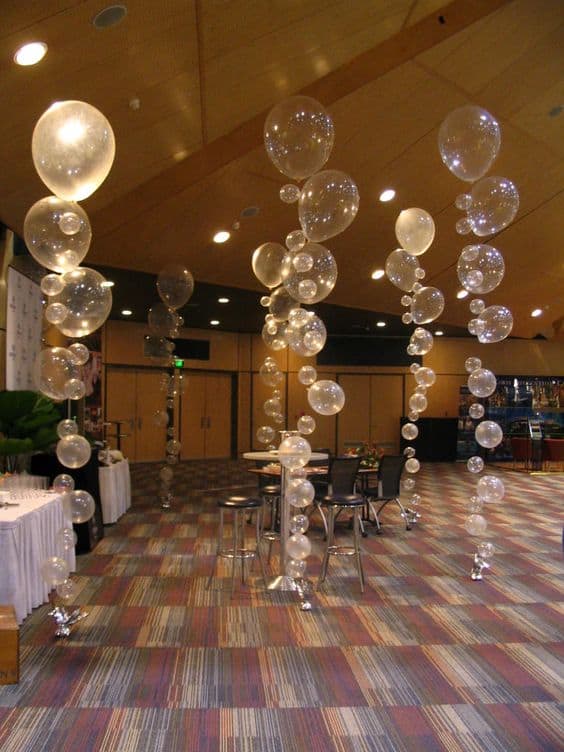 The transparent balloon-play creates an interesting effect that if rightfully scaled can change a setting beyond belief, children would greatly enjoy a room filled with such vertical clouds.
15. bring in the artistic component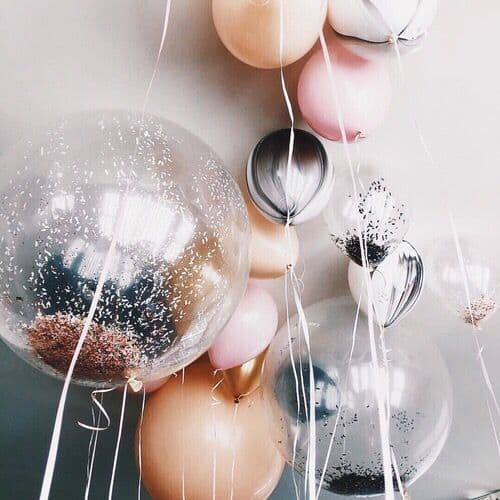 Copper finishes, silver, black and transparent balloons can create a really unique setting. In the composition above the scale of the confetti's contained also greatly enhance the artistic ambiance.
16. create that exotic look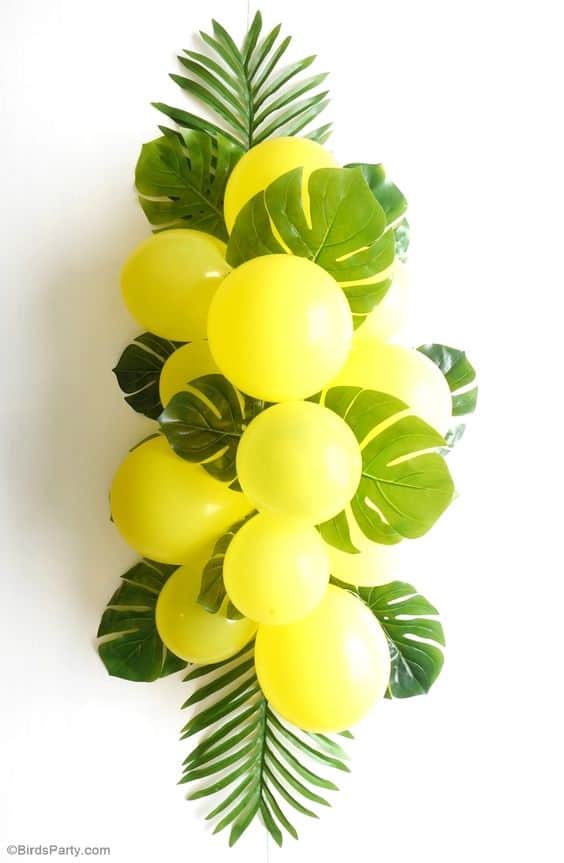 Yellow balloons and green leafs can be constructed to create really graphic compositions, exotic ones.
17. different way to use balloons in pillar INSTALLATIONS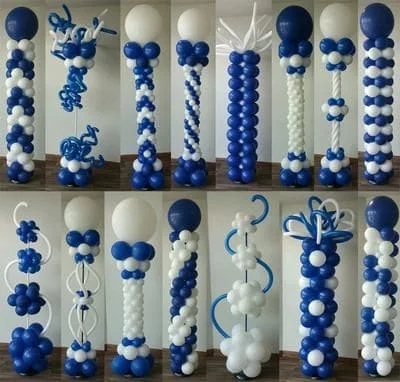 Feel free to use more than two colors in your designs.
via balloon-decoration-guide.com
18. shape the age of your little one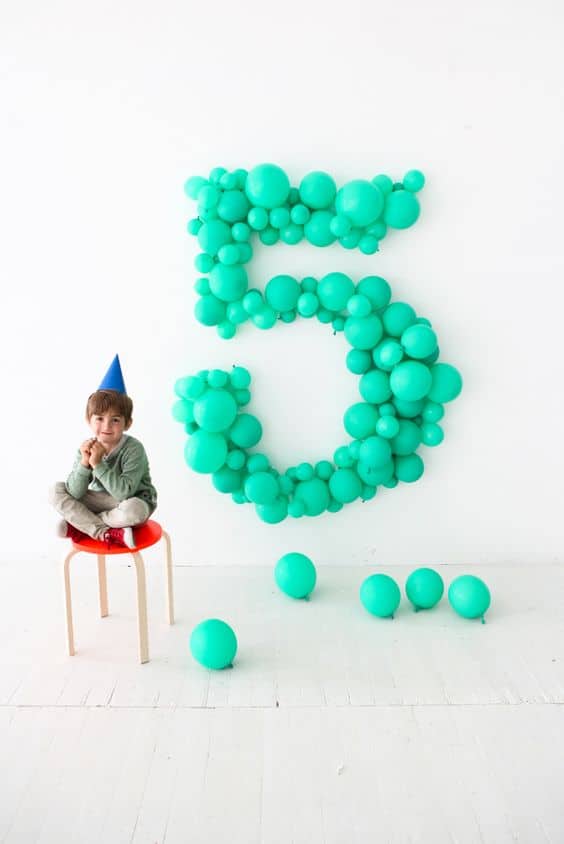 Use colorful balloons on a blank wall to create a simple number, your child`s anniversary age, splendidly simple !
via ohhappyday.com
19. extravagance and balloons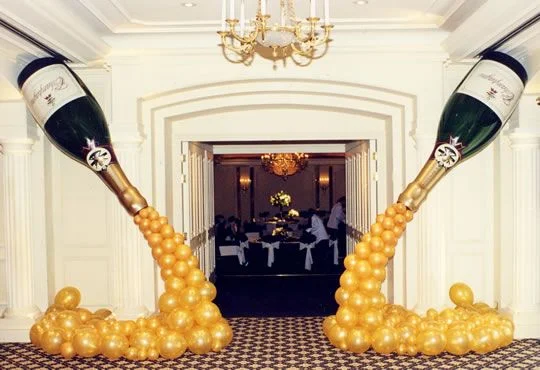 At every scale balloons contribute, here the foam as you can see is in the balloons.
via balloonshop.com
20. design diy hot air balloon decorations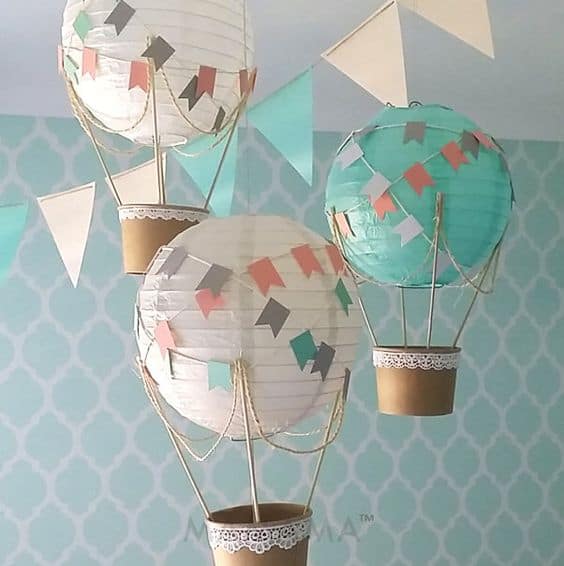 The remarkable designs are constructs of creativity torn from fairy-tales, they sculpt the extraordinary.
via etsy.com
21. powerful floor balloon arch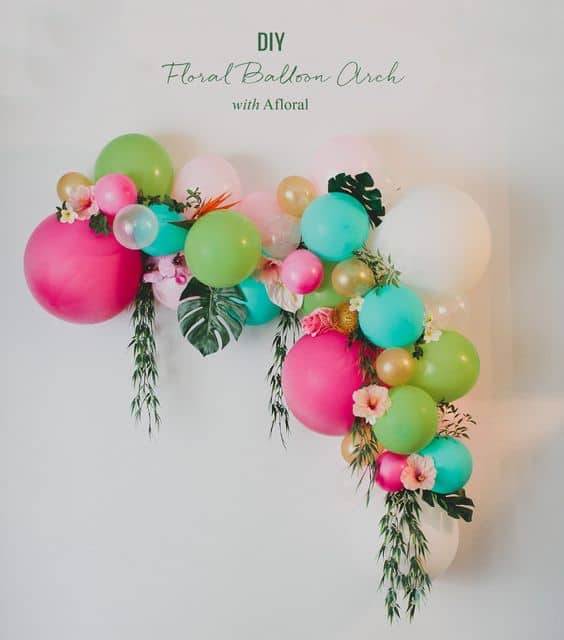 Use powerful colors and greenery to shape an elegant arch, an exotic look for an awesome upcoming celebration.
22. use linear balloons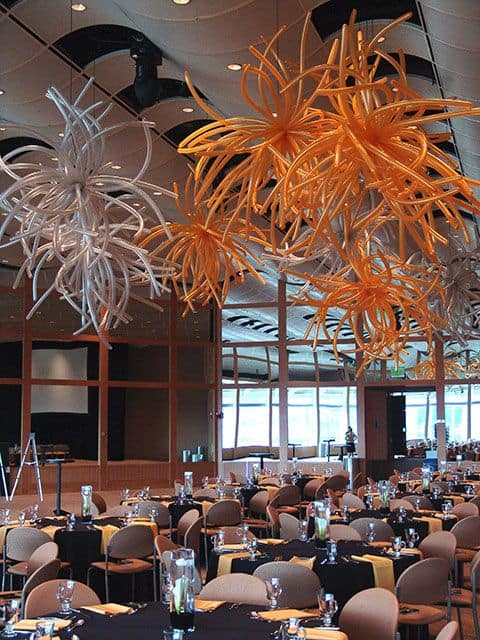 An entire restaurant can use linear long balloons to simulate colorful installations resembling fireworks during the new year`s party.
23. sky full of colorful balloons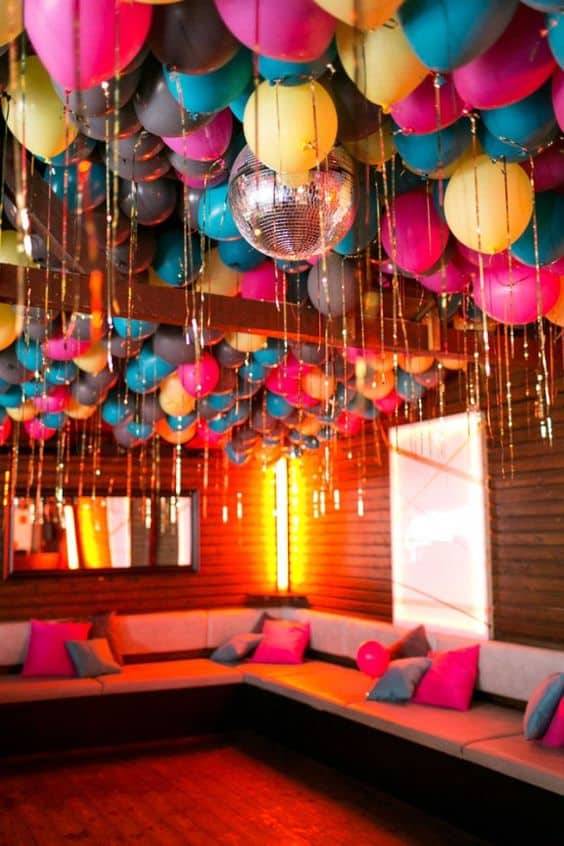 Light highlights color in a memorable setting.
24. balloon in balloon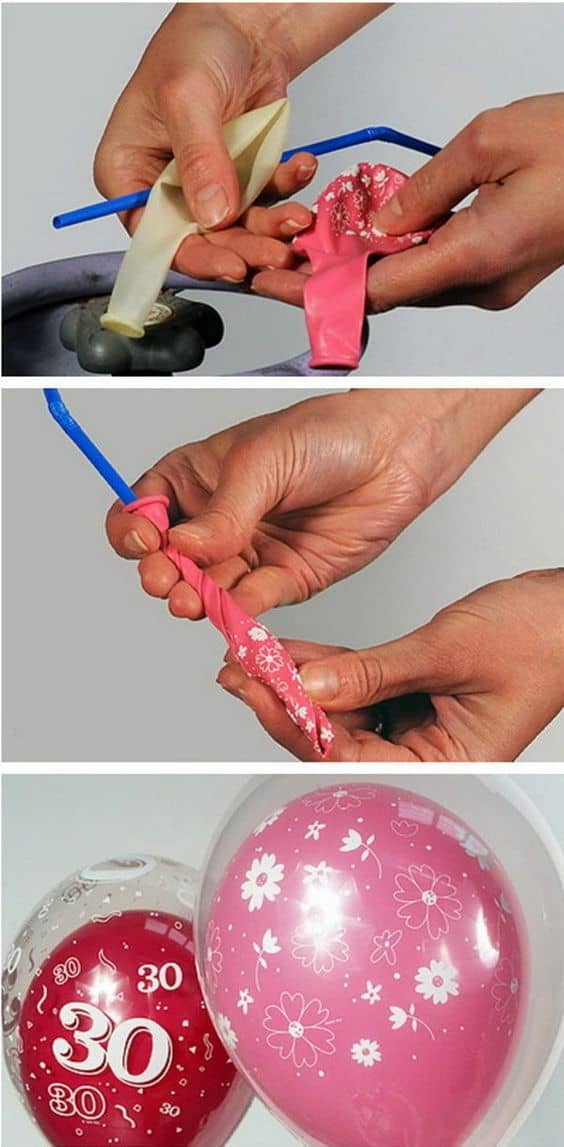 A really simple technique that looks extraordinary, use it in your next anniversary !
via ideastand.com
25. Match balloons with paper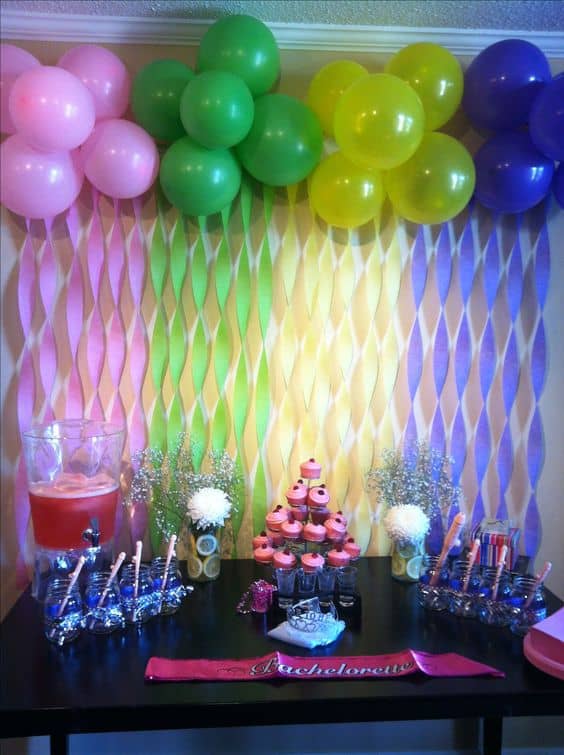 Colorful, simple and elegant at the same time, something that can be reinterpreted for various celebrations differently.
via how-do-it.com
26. Sculpt space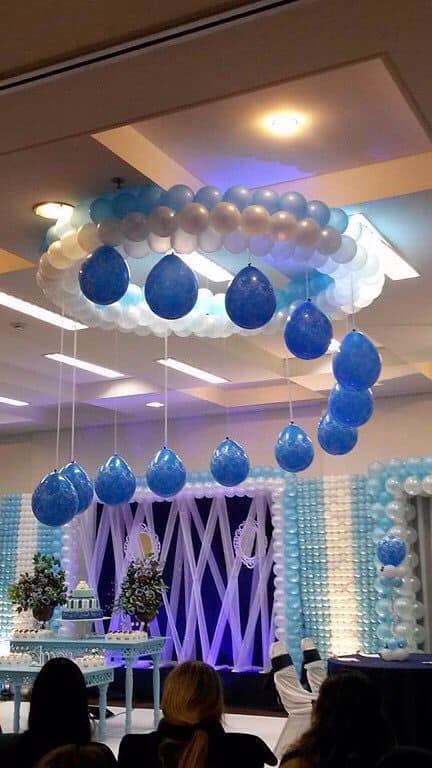 Use colorful balloons to beautifully shape perspective, the spiraling balloons above surely have a say in this.
Source Unknown
27. create a photo set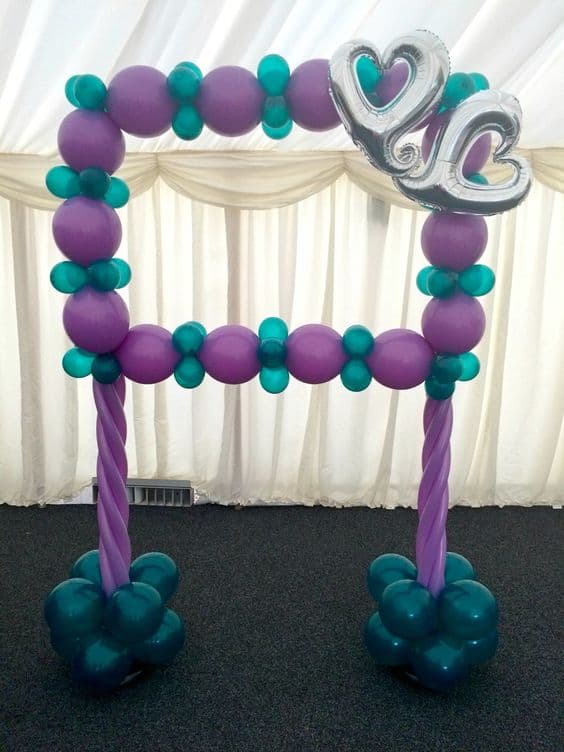 Your guests will love this and your event will surely be memorable after you make all those amazing snapshots.
Source Unknown
28. One simple flower arch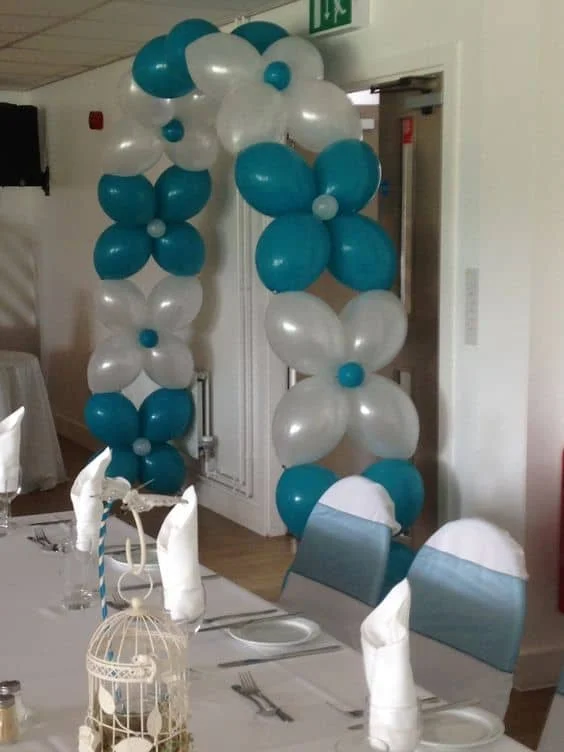 The simplest installations can look extraordinary, choose the right colors, create your arch and enjoy a festive ambiance.
via signatureballoons.co.uk
29. beautiful diy balloon wreath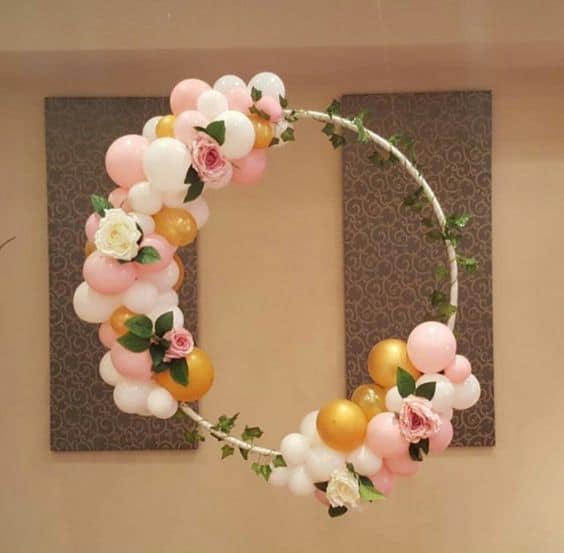 A spectacular look obtained by scaling balloons right in the rightful, delicate, color palette.
Source Unknown
30. Shape a colorful sky nestled in greenery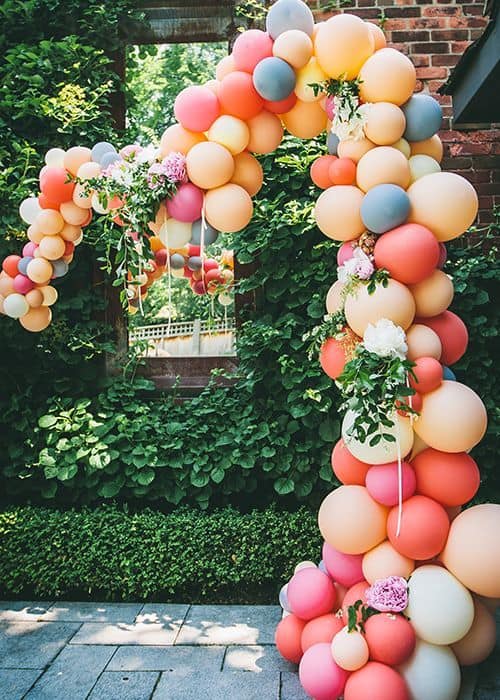 Greenery is best emphasized with color and the voluptuous look of balloons of different sizes assembled in installations is nothing but organic, it inspires a naturalness that fits greenery beautifully.
31. colored rainbow
The colors on the string beautifully arranged and one balloon in each color can shape the extraordinary, embrace it.
via balloontime.com
32. dream with color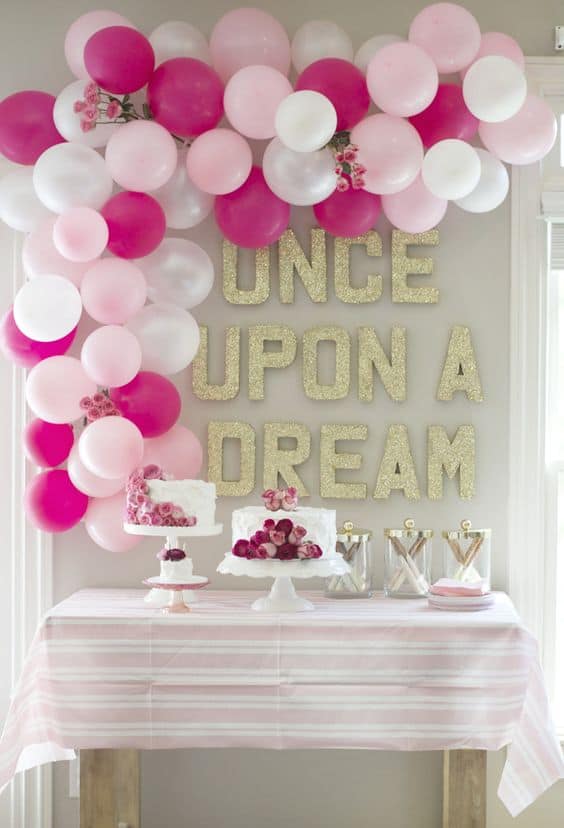 A beautiful quote ought to be sustained by the right decorations, here balloons do the deed in a sensible, delicate, feminine setting.
via babyprepping.com
33. art in a balloon arch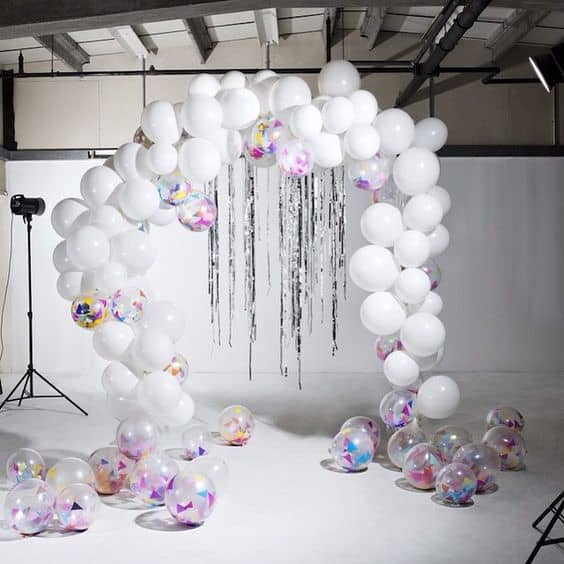 The simplest arch can be reinterpreted in an artistic manner breathtakingly. here the spice of color nestled in transparent balloons tailored with white creates something out of the ordinary.
via instagram.com
34. full size Hot air balloon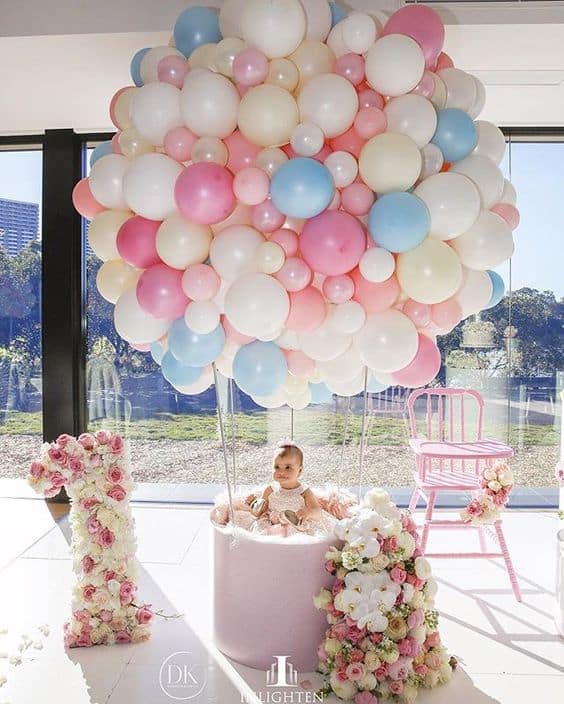 Use helium to create a really breathtakingly hot air balloon design installation for your little one, the design above will be the forging of a memory that you`ll never forget.
via websta.me
35. splash of foam in style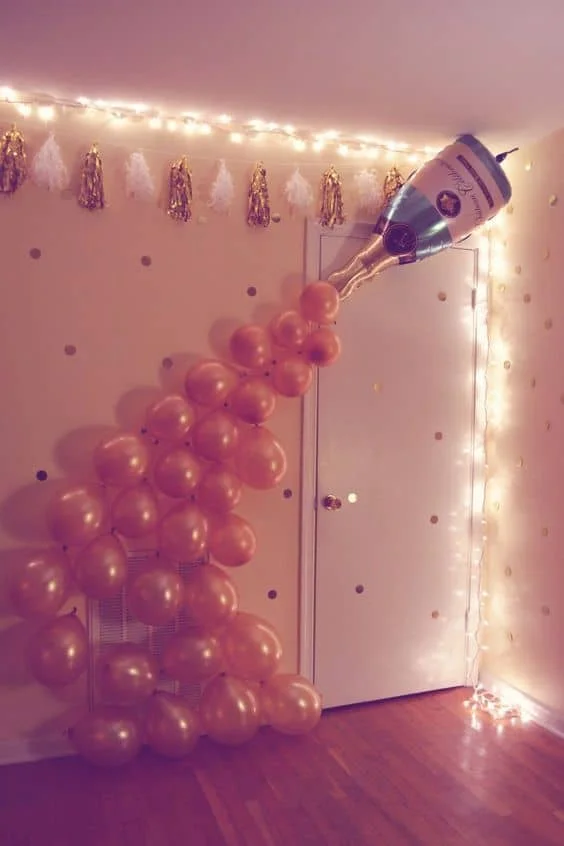 Have fun with foam and string lights, shape something cool and enjoy every minute of it !
The DIY balloon decorations featured above are meant to transform your interior with color, creativity and sheer beauty. How do you see them, are these worthy? We would love to hear from you !
Related Articles