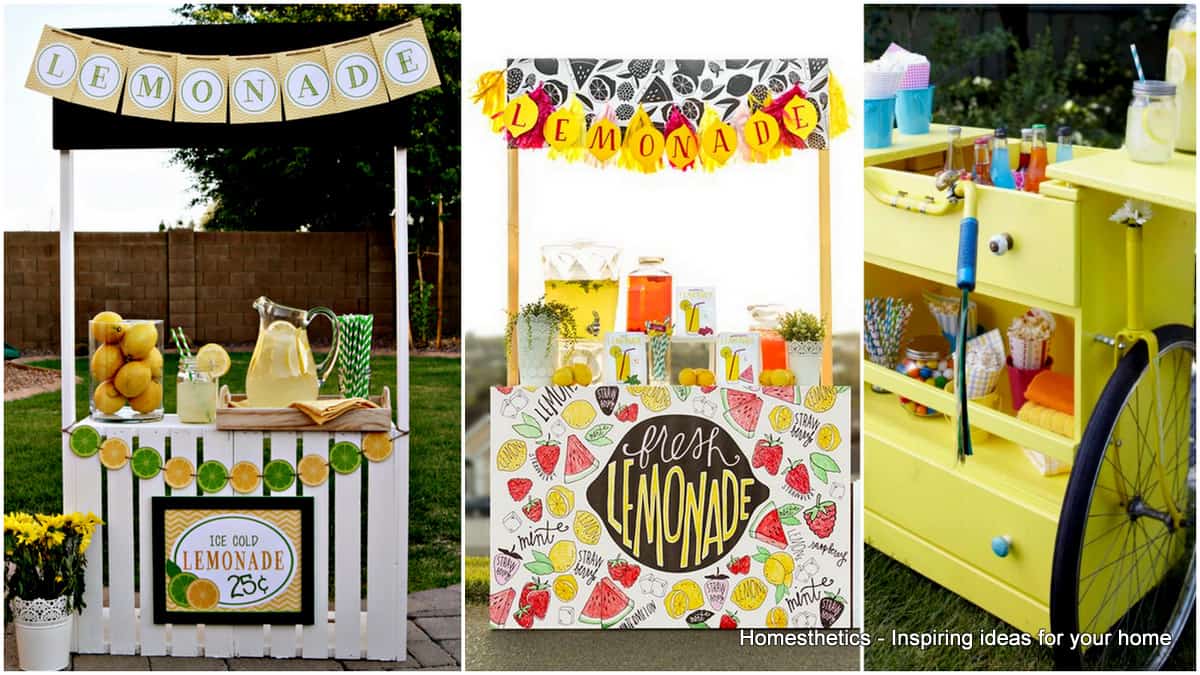 An all time favorite summer drink is the lemonade.
Lemonade stands are known to be extraordinary educative entrepreneurial lesson for children, a lesson that delights entire neighborhoods, one that greatly encourages communication and interaction between generations, a very important component in the the child`s development.
A fruitful lesson can start early on in the project as the lemon stand diy project brought from the ground up in the heart of the family can forge a beautiful experience, a timeless memory for child. A selection of very joyful lemonade stands to build happily with your loved ones has been featured below, it is full of awesomeness and full of color, cast a glance.
DIY Lemonade Stands
1. Wooden crates and color

Four simple crates in white have been used to shape the lemonade stand swiftly, effortlessly yet a great deal of effort went into branding, colors, little drops of color that added another dimension to the setting above.
via liagriffith.com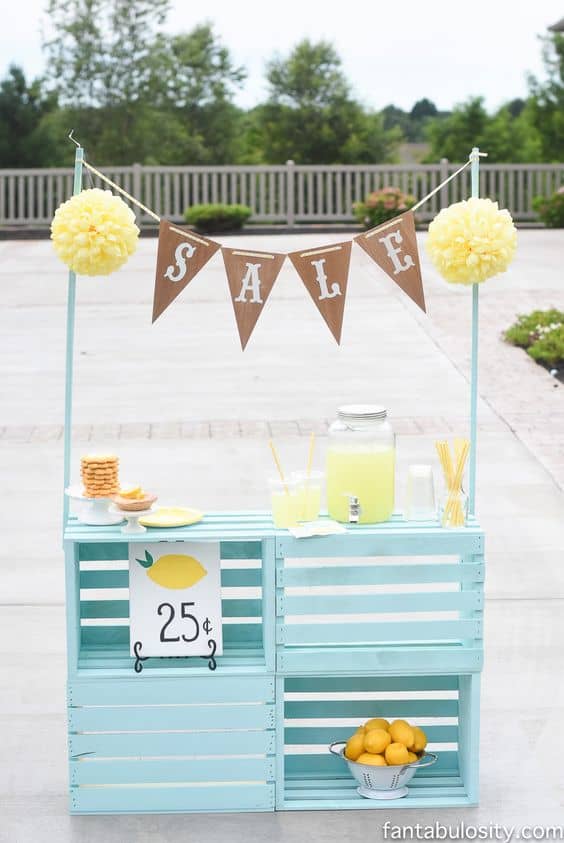 The fantabulosity above wears teal to create an elegant contrast with the lemonade and lemons contained, a really elegant display that uses colors to its advantage.
2. Wood grain and chalkboard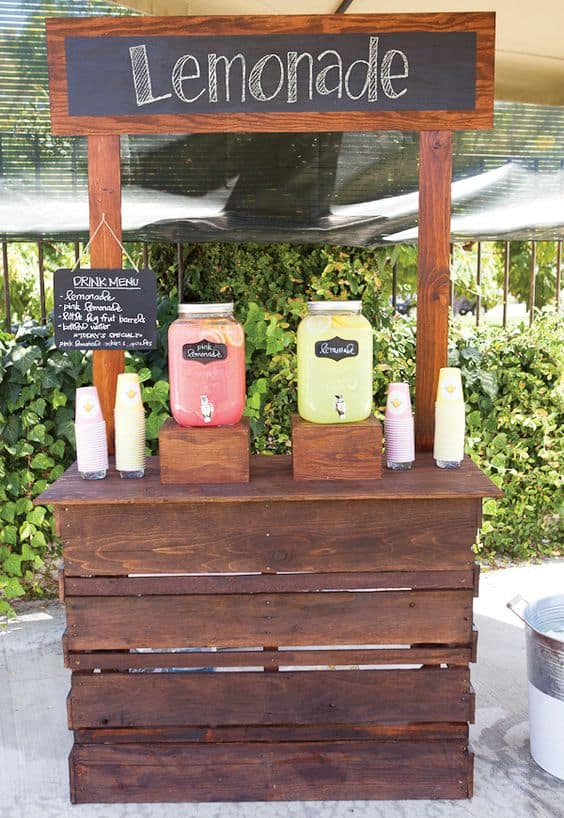 The chalkboard allows you to personalize the lemonade stand in various ways and brings a personal touch that speaks of homemade. The classic look of a wooden lemonade stand can be accessorized with various branding pieces and ribbons if you feel the need, above the greenery gives it the perfect background and the lime and pink colors of the lemonade do stand out.
via blog.hwtm.com
3. Reclaimed wood lemonade stand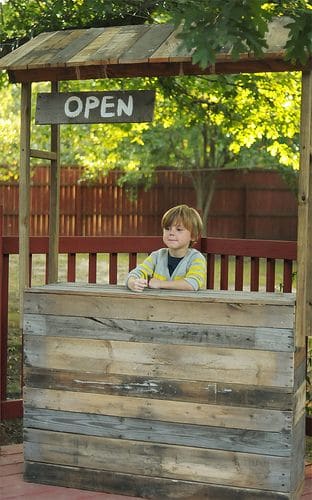 If they`re wooden pallets or salvaged wood from your local scrapyard it matters not ! All you need to ensure is proper sanding to avoid unwanted accidents at the workplace. This rustic already cozy and warm will be greatly complemented by the smiling child surrounded by lemonade and colorful accessorizes.
4. White stand with candy and lemonade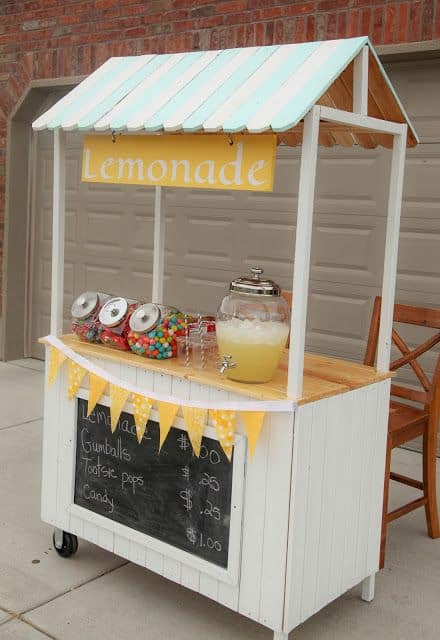 The teal and white stand uses chalkboard to display the daily offers, notice how the orange accents spice things up.
via theidearoom.net
5. Nightstand diy lemonade stand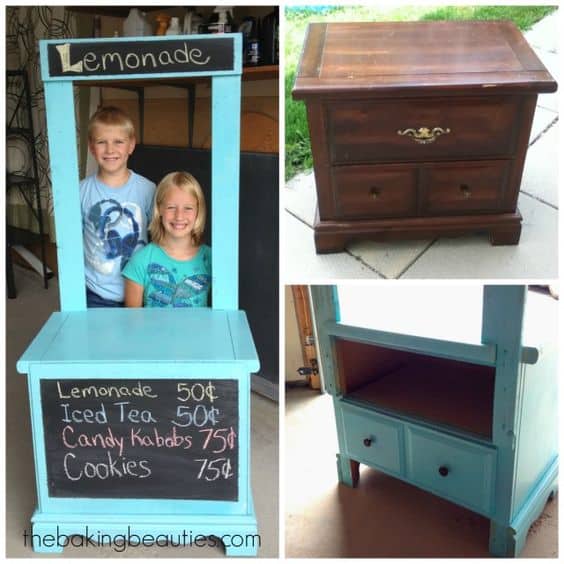 A nightstand might be the ideal height for your little one, the drawers can be used to contain supplies and the cash-box. The project is somehow reversible and really swift.
6. Epic looking lemonade stand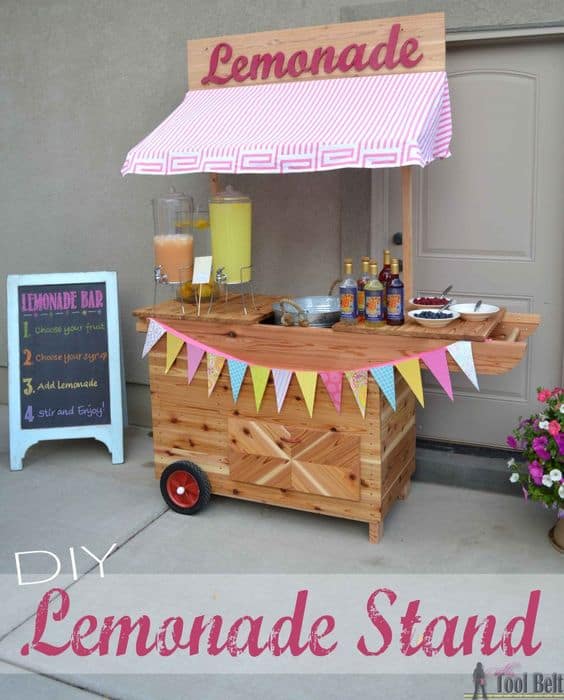 The diy enthusiast could spice things up a notch with proper woodworking and a perfect finish, pink accents complement the wood grain while a colorful ribbon brings in that eventful atmosphere.
via hertoolbelt.com
7. DIY play stand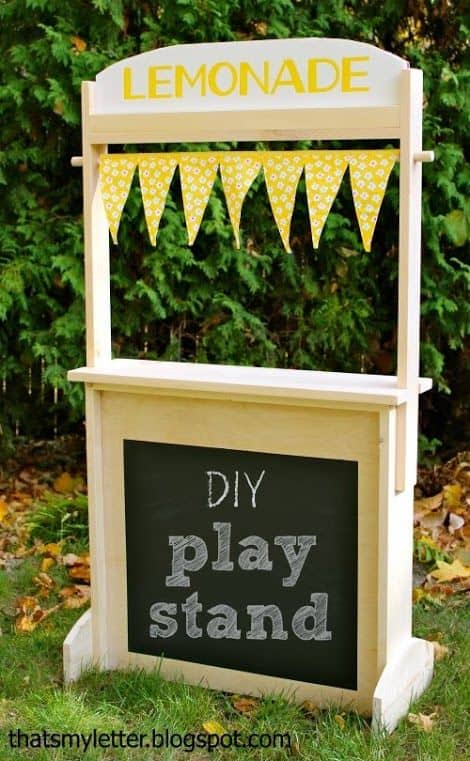 A DIY play stand could double as a lemonade stand rapidly. A chalkboard surface ought to help you display the offer and personalize the stand even further.
via ana-white.com
8. Simple crafted stand wearing colors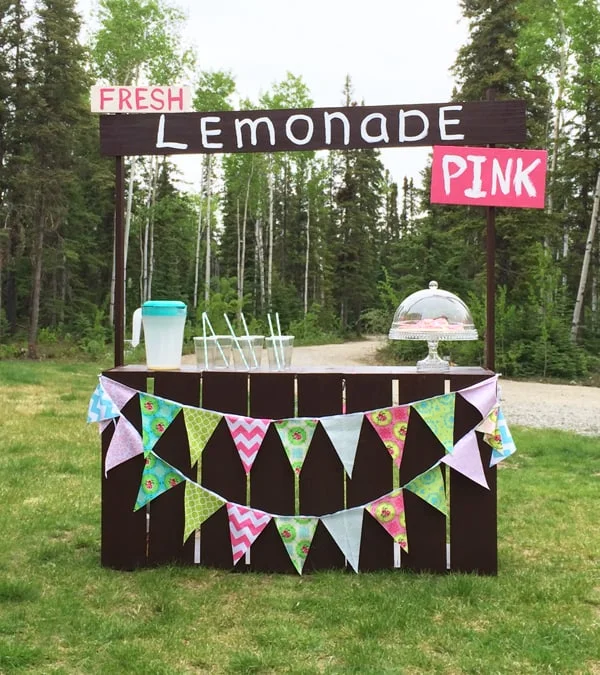 Paper ribbons and good typography steal the show in this green setting, a wonderful wonderful image for all the right reasons. Follow the example brought forward by Ana White through the complete tutorial in the link below.
via Ana White
9. Fresh state of yellow and green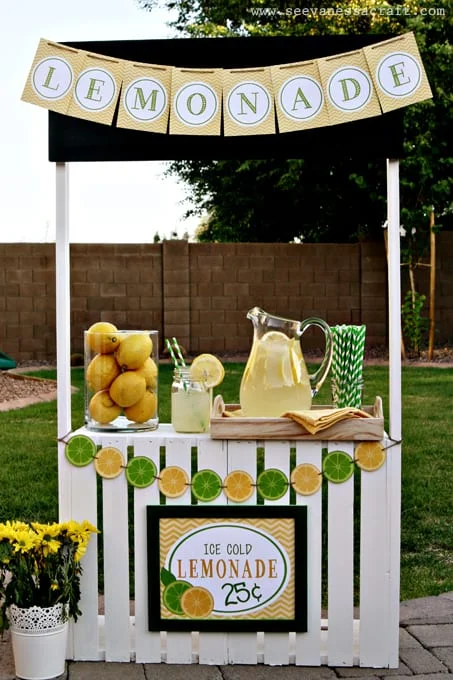 One wooden pallet or two wooden boxes can shape a small lemonade stand, are you ready ?
via See Vanessa Craft
10. Yellow dresser gains wheels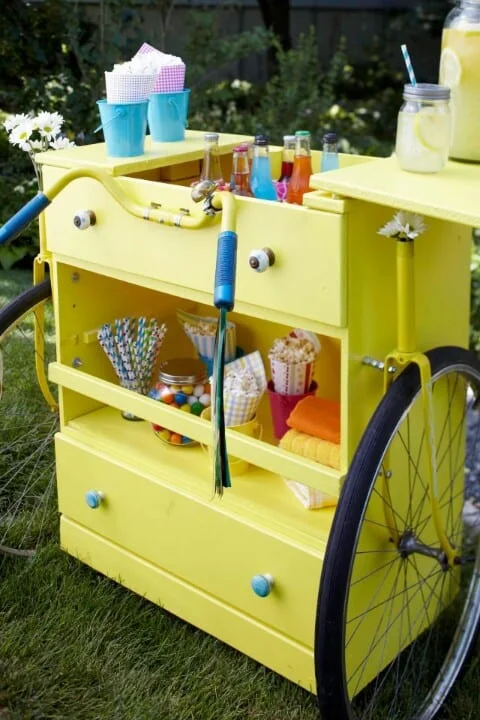 A dresser gained wheels for mobility and a bicycle handle for direction, a really beautiful and highly ingenious portable lemonade stand definitely worth pursuing.
Source Unknown
11. Wooden pallet lemonade stand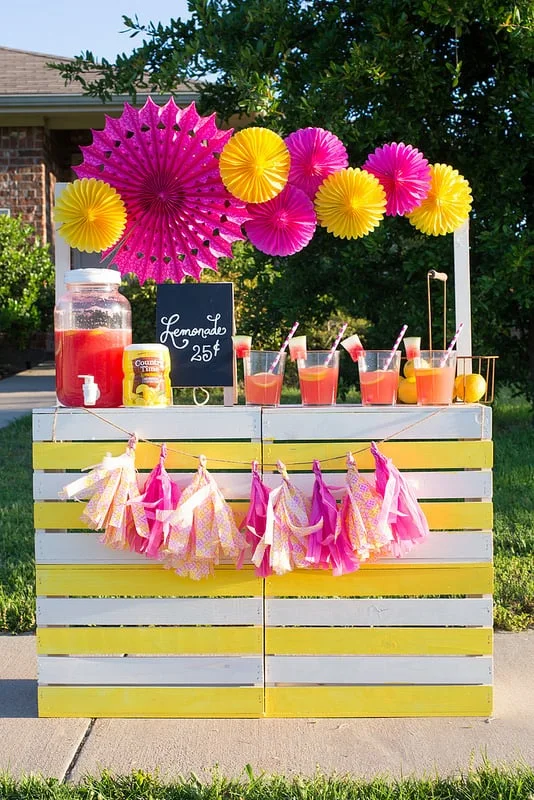 Wooden pallets can replace four simple crates easily. Choose one of these wooden resources to realize the lemonade stand fast and use the rest of your time to create tasty drinks and cookies !
via The Nerd's Wife
12. Rapid easy-rolling slushie stand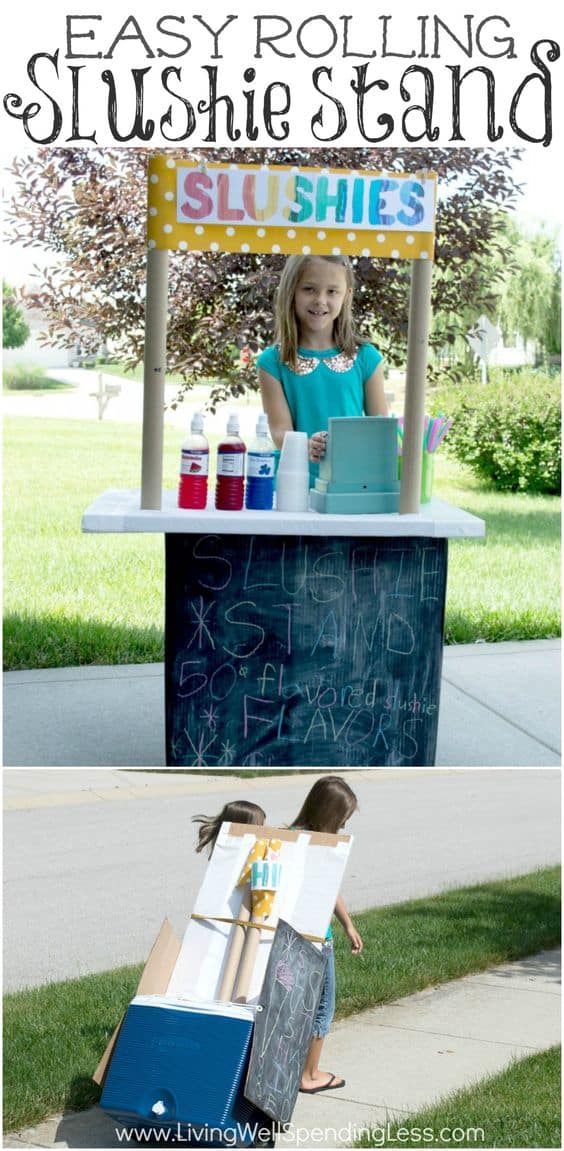 Cardboard can be used around the ice box, the stand becomes really light and perishable, easy-recyclable. There`s no need to store it around the yard or garage till the next season if you can redesign it in a couple of days.
via livingwellspendingless.com
13. Teal and yellow joy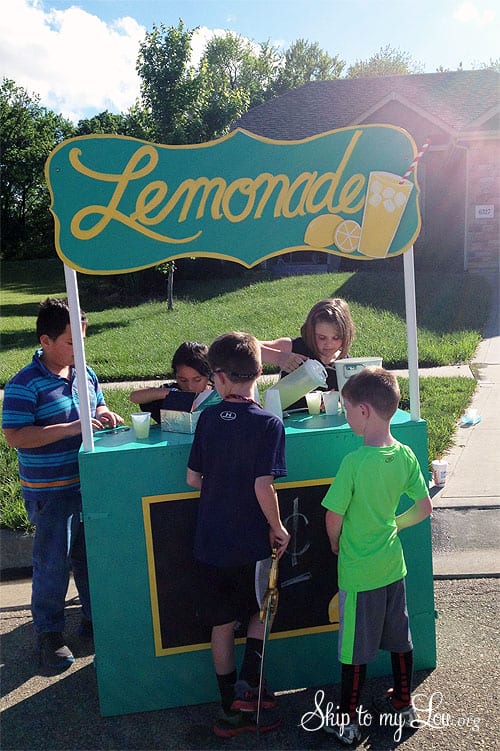 Between yellow and teal a very subtle contrast occurs and the stand above is definitely using this to its advantage, under the counter the little ones have sufficient storage with easy access thus helping them keep the counter clean, professionally-looking.
via Skip to My Lou
14. Epic rustic lemonade stand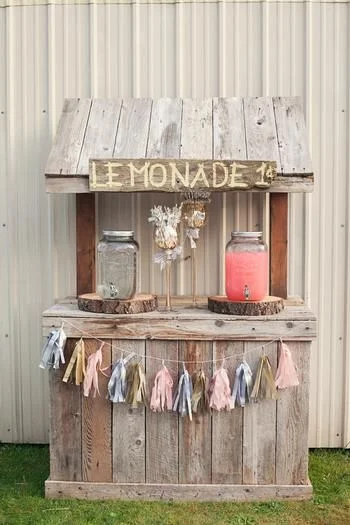 Two slices of wood bring a nice touch to these lemonade jugs, pass by and enjoy a fresh cold drink.
via theidearoom.net
15. Yellow and white pallet stand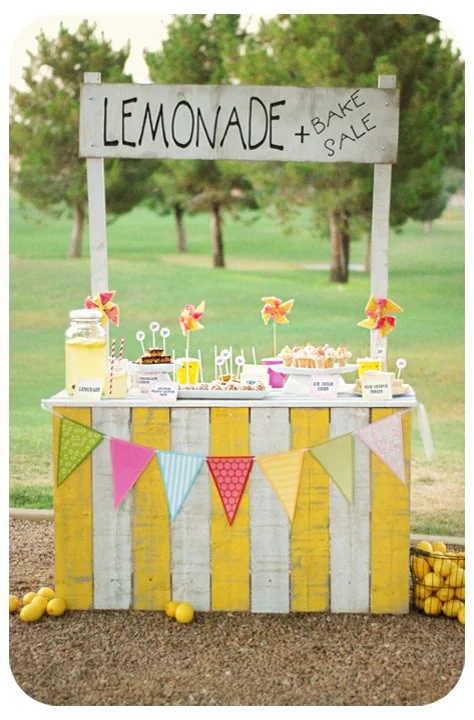 Aged paint has a strong vintage feel that could make the case of a lemon stand. Here yellow and white on a wooden pallet look worn out in a subtle joyful way that makes you channel your attention on the exquisite treats on the counter as soon as possible.
via Lil' Luna
16. All wood and yellow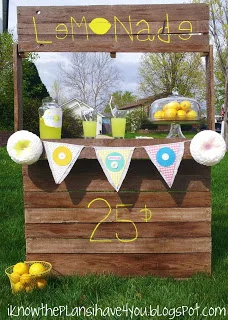 Coffee filters have been used to shape those epic puffy flowers here but what looks really interesting is that lime-green lemonade on the counter that refreshes the atmosphere.
via I Know the Plans I have 4 You
17. Kitchen cabinet becomes lemonade stand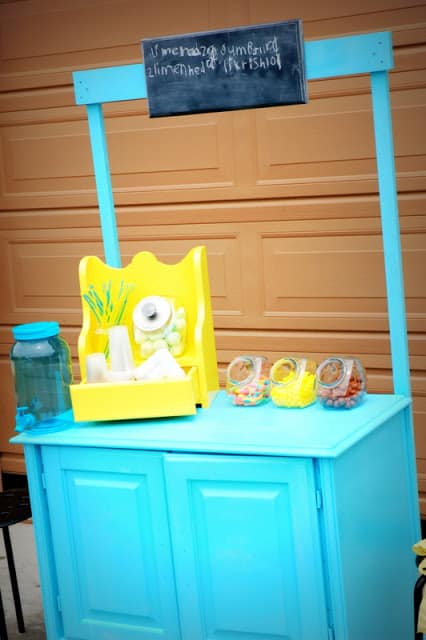 A salvaged kitchen cabinet can be transformed in one of the greatest lemonade stands in a few hours, pick the right color, raise the banner and start spreading sugared-joy.
via Restless Risa
18. Colorful sugar stand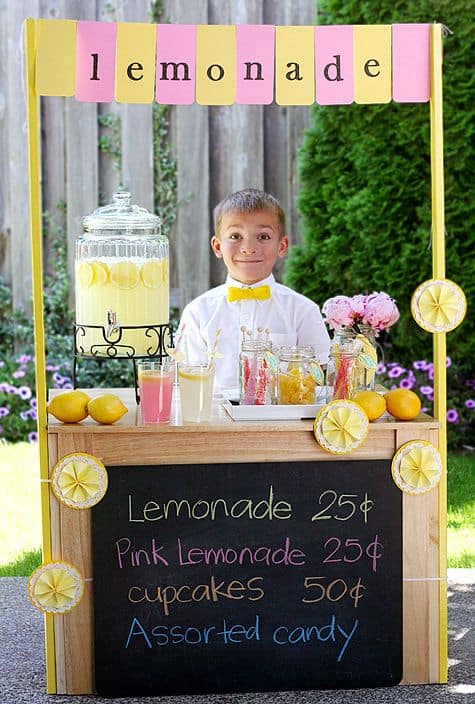 Pink lemonade, simple lemonade, cupcakes and assorted candy are in the offer of this young gentleman. His presentation is flawless, the paper sliced lemons contribute to this epic image beautifully.
via modernparentsmessykids.com
19. Yellow-white lemonade bar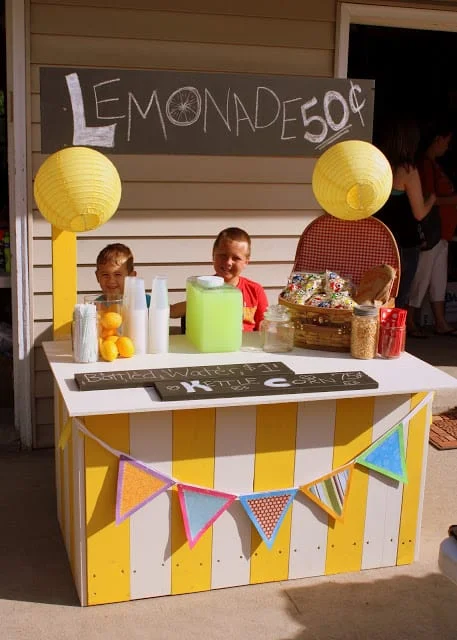 The lemonade bar offers you sufficient space to serve your drink within the premises. Simple and joyful, wearing yellow and white, it looks refreshing.
20. Lemonade from the little league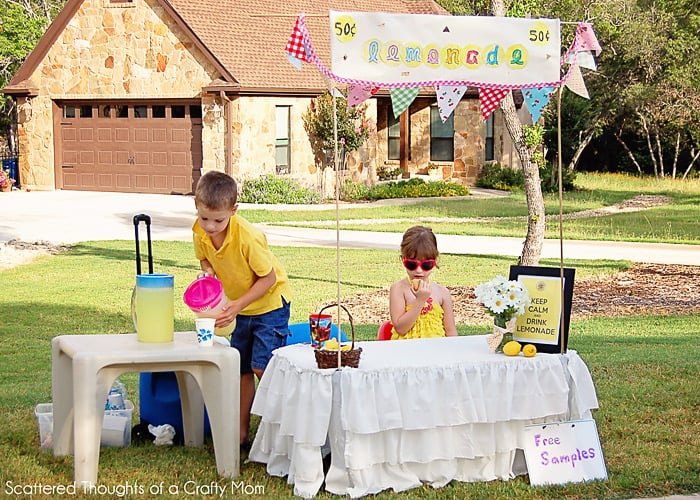 The outdoors do help you with greenery, a perfect background. Above simple tables have been wrapped in a cool tablecloth while the lemonade banner has been embellished with color. One extra table and extra ice chest are within the child`s grasp managing to keep the front desk clutter-free, impeccable.
via Design Dazzle
21. Cool girly lemonade stand using pastel colors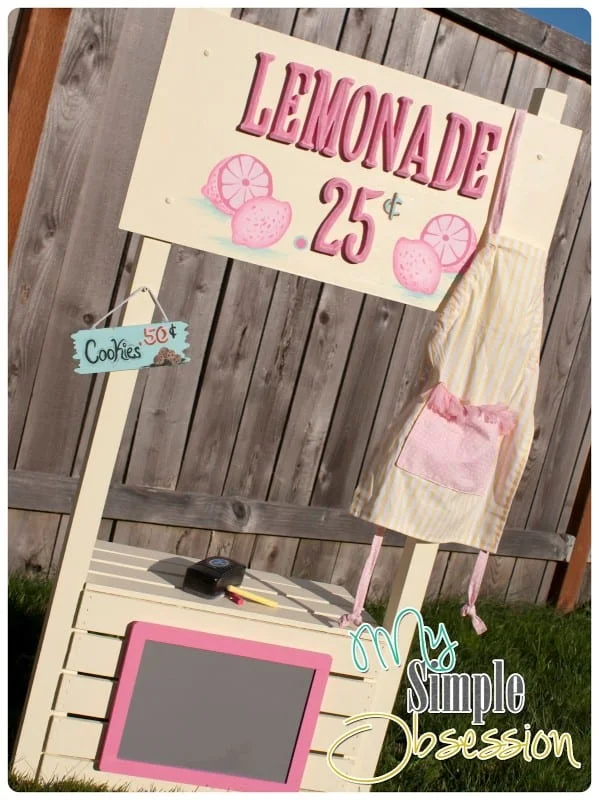 The buttery color above matched with pink shapes a really feminine, elegant balance, one splendid stand.
via My Simple Obsession
22. Fresh in nature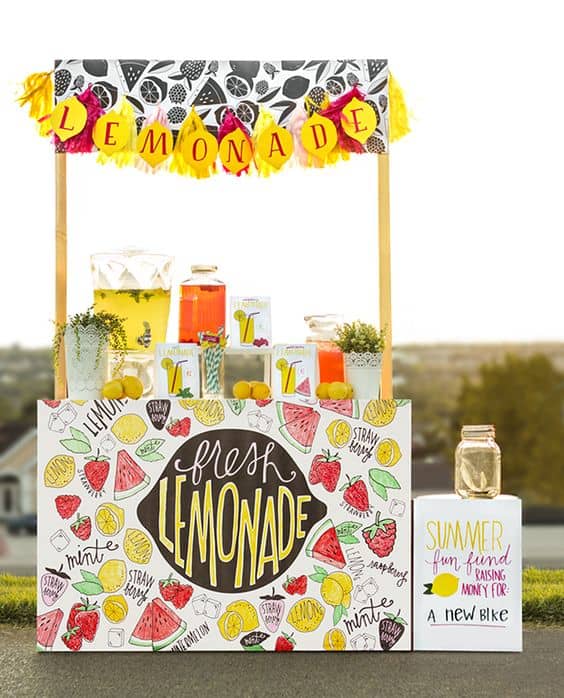 A colorful branding might not be your first priority when it comes to lemonade stands yet the graphic pattern above makes the whole ensemble look fresh, interesting, it pops out beautifully.
via coolmompicks.com
23. Small lemonade stand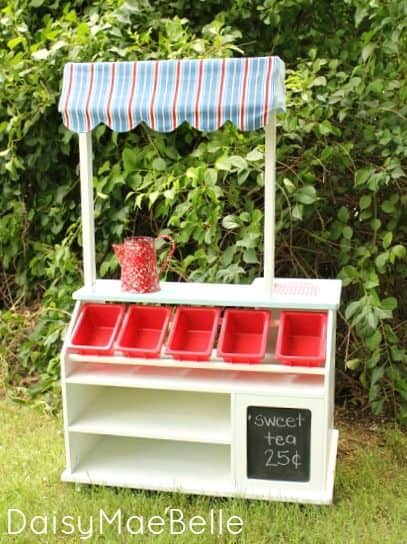 It has shelves, it has trays, it is ready for action. A sweet tea, a lemonade or a cookie it can serve in a very beautiful setting. Notice how the shade above makes the stand resemble something out of candy crush; a really great design at a small scale.
How do you see these epic diy lemonade stands? We would love to hear from you !