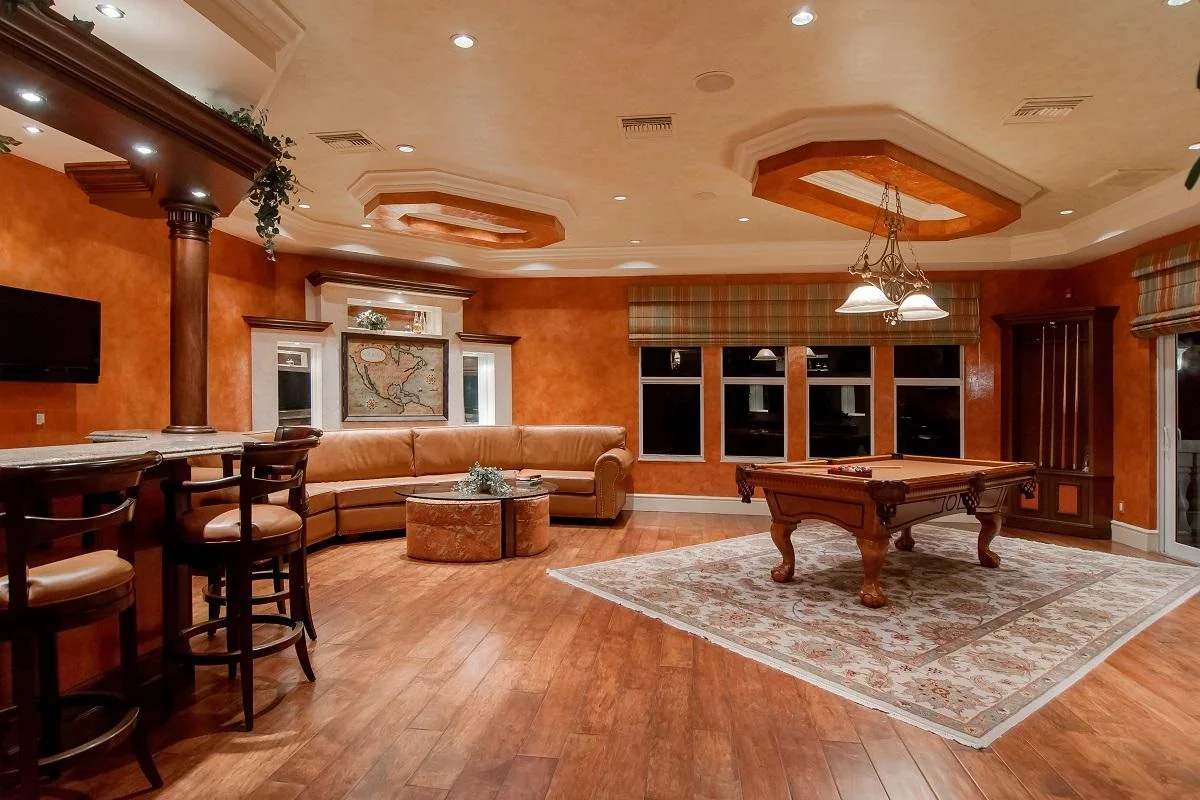 Are you thinking about remodeling your home flooring because the color has faded and the planks emit a hollow sound? 
If we are not wrong, your top two choices are solid hardwood and engineered wood flooring, as these are the most sought-after options. The allure of wooden floors may entice you to spend a few extra bucks on actual hardwood, but what if you get the same benefits at a lower cost? 
Or perhaps you want a durable flooring solution that won't need replacing anytime soon. Today's guide looks at the best bits of both solid and engineered wood flooring to help you make the right call. 
What Is Engineered Wood Flooring?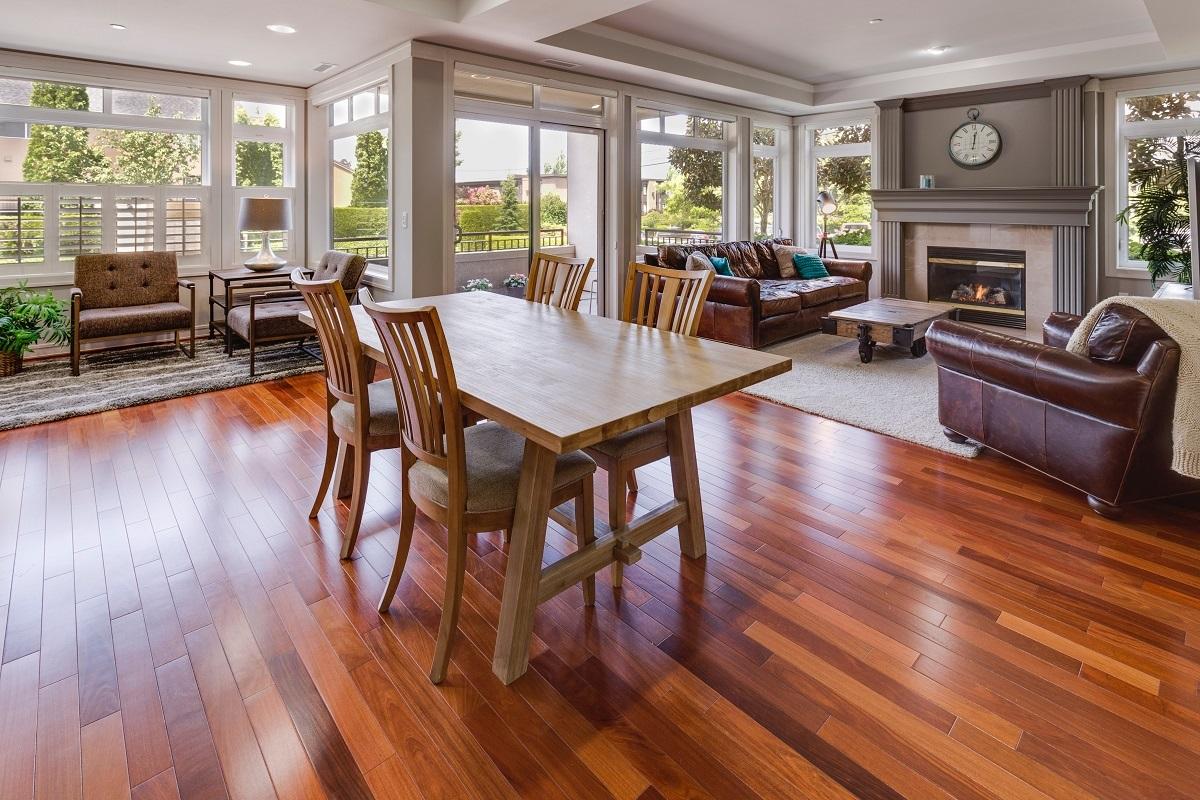 Engineered wood flooring is one of the most popular and reliable options on the market. It is quite similar to solid hardwood flooring, and even shares many characteristics, which we will discuss later, but the primary difference between the two is in the construction. 
Most people who know about the different flooring types will tell you that engineered hardwood floors have a plywood layer in the middle. A thin hardwood layer is bonded over and under this layer to lend stability. 
You should note that engineered floors can last around 40 years and are less expensive than solid hardwood floors which makes them highly desirable. 
They are made of 100% wood, but the best part is that different wood species are used for designing the flooring, especially the bottom and top layers. The final result is a durable and strong product that doesn't shift after installation and can withstand weather changes. 
Another reason for its increasing popularity is that the flooring works well in areas like the basement, where other options may wear out soon. Thanks to the intricate layering, the chances of moisture warping or damaging the planks are less, particularly when you have a concrete subfloor. 
The only thing you must remember is that engineered wood flooring requires refinishing. The planks are wider than solid hardwood flooring, and since they arrive in prefinished form, it's essential to maintain the quality of the wood over time. 
What Is Solid Hardwood Flooring?
As the name reveals, this flooring comprises solid wood and comes in many hardwood species, such as oak, walnut, and maple. But we already told you that engineered hardwood flooring is less expensive, so why choose solid wood flooring? 
This is because you can refinish or sand a solid hardwood floor several times without any deterioration in its quality. Also, people don't like the thin hardwood layer of engineered floors that can be refinished just once in most cases. 
You will notice that the wooden planks on a solid wood floor are longer and feature grooves and tongues on either end. It helps with installation and ensures that the planks interlock and don't shift positions after a few years. 
But the catch is that you will have to nail the flooring to the subfloor, which requires expertise and precision. 
Advantages Of Engineered Hardwood Flooring
Now that you have a basic knowledge of both solid and engineered hardwood flooring let's review each type, starting with the advantages of engineered flooring. 
1. Pocket-Friendly
If you're looking for a beautiful flooring option but don't want to spend a fortune on renovations, premium-quality engineered flooring will bail you out. The wooden layers on the top and bottom of the planks look just like solid hardwood floors with only minor differences. 
Moreover, engineered hardwoods are available at half the price of their solid hardwood counterparts. You get the best of both worlds – quality and affordability in one product. 
2. Easy Installation
You will love how easy it is to assemble engineered hardwood flooring, which makes the entire process swift and hassle-free. It would be best if you had durable glue to set the flooring and prevent it from shifting. But it's also possible to nail, screw, or place it gently over the underlay, like a floating floor, due to the stability offered by its unique design. 
3. Durable
A major point in favor of engineered wood floors is the sturdiness of the surface since it can resist temperature variations and moisture to retain its quality. You already know how two layers of wood sandwich the middle plywood layer – this makes it suitable for rooms with underfloor heating. 
If needed, you can reinforce the flooring further and add a scratch-resistant topcoat without affecting the color, width, and style of the plank finish. Sometimes, you can confuse engineered hardwood floors with laminate flooring but remember that the latter only has a picture of wood on the top surface, instead of real wood. 
Advantages Of Solid Hardwood Flooring
Solid hardwood flooring offers different benefits than engineered wood flooring, although their dissimilarities aren't profound. 
1. Appearance
It's often considered the holy grail of flooring options, and even people opting for engineered hardwood floors determine its worth by its resemblance to solid wood flooring. We noticed that it's made from only one solid piece of pure hardwood and has narrower boards to deliver a refined look. 
You can choose between unfinished and prefinished boards while there are several colors and species of wood for specific needs. Also, the boards are interconnected through strong seams to prevent displacement. 
2. Location
Solid hardwood floors are ideal for living rooms, dining areas, kitchens, and drawing rooms. Most above-ground rooms will benefit from this flooring, provided there's little humidity or moisture. That's why manufacturers advise against installing solid wood floors in the bathroom, basement, or laundry rooms where chances of contact with water are high. 
3. Longevity
The durability of solid wood flooring depends on the species of wood and finish that you wish to achieve. If you live in an area with high footfall, we recommend going with oak or hickory as these are harder varieties and can resist denting or scratching. Many brands even offer products with a lifetime warranty, so be sure to read all the information before purchasing. 
While solid wood flooring isn't the best option for dealing with moisture, it's still pretty durable and can last for several years. You can even sand or refinish the surface multiple times to uphold its quality.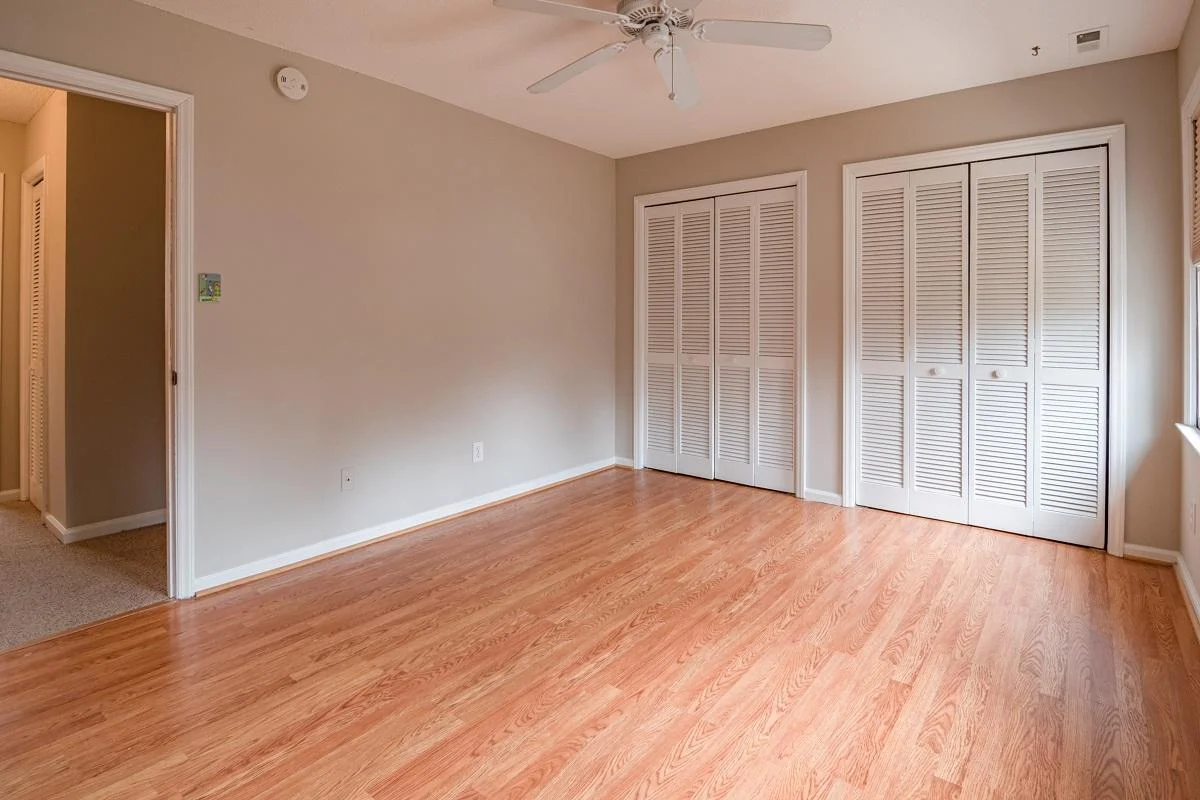 Hardwood Vs Engineered Wood Flooring Comparison  
It's time to answer the all-important question – solid wood flooring vs. engineered hardwood, which is better? Solid hardwood and engineered hardwood floors look pretty much the same. The differences between the two are more prominent in other aspects like lifespan, cost, type of wood, etc. 
1. Versatility
A solid hardwood floor has planks of different widths that range between 8 and 12 inches. This ensures that the planks tightly adhere to each other, which strengthens the seams between boards. The best part is that you can choose from various color options, wood types, and finishes to personalize the flooring according to your requirements. 
An engineered hardwood floor has more options for width and is flexible, thanks to a hardwood veneer layer. But you won't get many choices in color, style, or finishes compared to solid wood flooring since the panels are available in a prefinished form. 
2. Construction
Hardwood floors are made from one solid block of 100% pure wood to guarantee durability. It imparts a timeless quality to the surface and ensures value for your money. Also, most solid hardwood floors in America come from the Appalachian region and feature intricate craftsmanship to deliver color consistency, stability, and a refined grainy texture. 
An engineered wood floor has three layers(as said before), with two thin hardwood layers holding the middle plywood layer in place. You should note that the core comprises 5 to 7 layers of plywood that adhere to each other through a crisscross pattern for strength. It's also made from 100% natural wood, while the middle plywood construction lends stability to the surface. 
This is how engineered hardwood resists shifting and withstands humidity, moisture, and temperature changes. 
3. Type Of Wood
The three most popular options for solid hardwood flooring are – oak, maple, and hickory. All three species are durable and resistant to wear and tear due to their hardness. Apart from the many colors and textures, the width of the planks ranges up to 5 inches for customizable flooring solutions. 
An engineered hardwood floor comes in many of the same designs as a solid hardwood floor. But you will find unique patterns and textures owing to many softer, exotic species of wood. Hence, you can subject the flooring to specific surface treatments and colors or choose extra-wide planks, which isn't possible with solid hardwood floors. 
4. Lifespan
The lifespan of solid hardwood floors depends on the protective finish and wood species. As mentioned, you can choose stronger woods to prevent scratching or denting the surface, which makes them more long-lasting compared to other options. Solid wood planks won't deteriorate even after 30 to 100 years of heavy use, provided you don't compromise on maintenance. 
That's why these wood planks can be sanded and refinished multiple times. 
On the other hand, the thin layer of hardwood in engineered floors reduces the chances of refinishing or sanding. If refinishing is your priority, you can opt for a thick layer of hardwood on the top, but the number of times you can do it would still be less than solid hardwood floors. 
Engineered wood surfaces also resist scratching, but they are most popular for not warping or changing shapes under the influence of moisture or humidity. All things considered, solid wood has the edge in terms of longevity since engineered hardwood flooring will last slightly more than 30 years even with proper maintenance. 
5. Installation Method
Solid hardwood flooring has tongue and groove boards and needs to be nailed to the subfloor underneath. These grooves ensure the planks don't move after installation, and you can re-floor major areas of the house, such as the kitchen, dining room, bedroom, or sitting area. Any area with low humidity and less moisture is good for solid wood flooring. 
Installing engineered hardwood floors is equally easy, and you can either nail the planks or use click-and-lock planks to design the flooring, a popular method for constructing a floating floor. Some manufacturers also allow you to glue the planks to the concrete subfloor, and most people install it in rooms with radiant heating systems, over basements, or concrete floors. 
The main point in favor of engineered wood flooring is that it can resist moisture, humidity, and other environmental factors. Since it's thinner than solid hardwood, it's ideal for creating a thin space underneath kitchen appliances or matching the height of an adjoining floor. 
6. Sizes
Most types of solid hardwood flooring have planks measuring ¾ inches thick and 2-¼ inches wide. The length also varies between 12 and 84 inches, and even though you can find other lengths or size options, the planks are seldom wider than 4 inches. 
Engineered wood flooring is thinner and has ⅜ to 9/16-inch boards. The planks are much wider than solid wood floors and extend up to 7 inches, while they can be 12 – 60 inches long. 
7. Cost
The price of solid hardwood floors is higher than engineered wood flooring, but it depends on several factors like quality, wood species, longevity, etc. Usually, the protective finish, staining technique, and texture all add to the cost. Prefinished solid hardwood flooring costs $8 per square foot, but options are also available for as high as $15 per square foot. 
Engineered hardwood flooring is more affordable, but premium options can cost as much as solid hardwood. The flooring cost varies between $2.50 and $10 per square foot, with the average cost ranging around $7. But a thicker top layer, with the option of sanding and refinishing it multiple times, and higher durability will increase the cost.  
8. Soundproofing
When considering the soundproofing properties of hardwood vs engineered wood flooring, engineered wood generally offers superior noise reduction capabilities. The multi-layered construction of engineered wood flooring helps absorb and dampen sound vibrations more effectively than solid hardwood. Although both flooring types can benefit from added soundproofing measures such as underlayment or padding, the inherent structure of engineered wood inherently contributes more to noise reduction.
Engineered wood flooring consists of multiple layers, including a core of high-density fiberboard (HDF), plywood, or medium-density fiberboard (MDF) which adds stability and improved acoustic performance. The presence of these layers creates a naturally better sound barrier when compared to solid hardwood, making it a more suitable choice for spaces where noise reduction is important.
In summary, if soundproofing is a priority for your flooring project, engineered wood flooring may be a more effective option due to its unique construction and enhanced acoustic properties. This makes it an ideal choice for spaces like music rooms, home theaters, or multi-level homes where sound transmission between floors is a concern.
What are some popular engineered and solid wood flooring brands?
Popular engineered wood flooring brands include: 
Bruce hardwood flooring

Somerset hardwood flooring

Mohawk Industries

Harris Wood Floors

From the Forest
Well-known solid hardwood flooring brands are: 
Shaw Floors

Carlisle Wide Plank Floors

Armstrong Flooring 
Bruce and Somerset hardwood flooring also manufacture premium solid hardwood planks. 
How can you tell the difference between solid hardwood and engineered floors?
Pick up a loose plank and check its side to determine the type of construction. If you notice a solid wooden plank with a grainy texture, know that it's solid hardwood while multiple layers will point to engineered flooring. 
Can pets scratch solid or engineered hardwood?
Solid hardwood is more resistant to scratching than engineered planks, but the latter features a premium-quality wood top layer. This protects the surface from scratch marks even when the other layers aren't of the same wood species.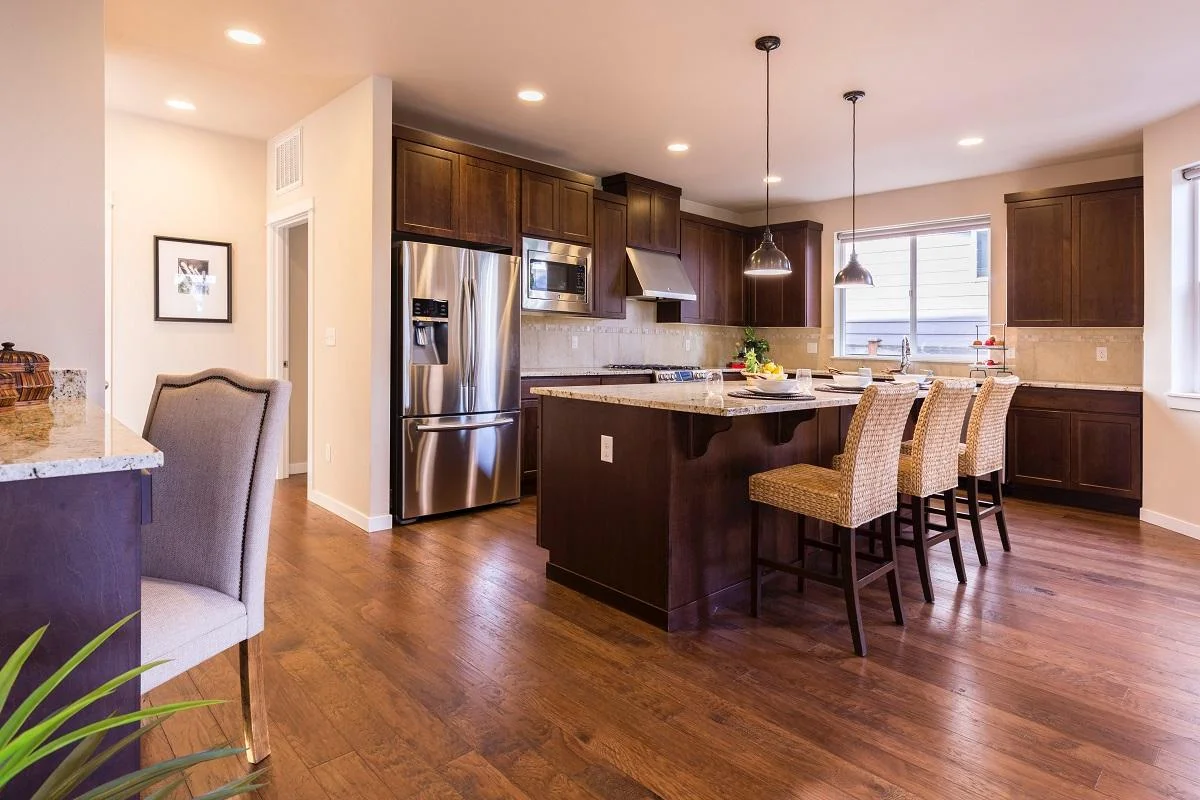 Conclusion
As you can see, solid hardwood and engineered hardwood flooring are good for specific purposes and add to a property's resale value. If durability is your primary concern, solid hardwood is the best choice and lasts longer than most flooring options. 
But when you're short on cash and looking for an effective flooring solution, engineered wood floors will be worth the investment. Even in terms of maintenance, you won't have much difficulty vacuuming or wiping the planks to sweep away the dust to uphold the quality of either surface. 
Before installing a flooring option, think about where you live, the amount of footfall, climatic conditions, etc., to make an informed decision. 
Related Articles
21 Types of Flooring for a Staggering Home