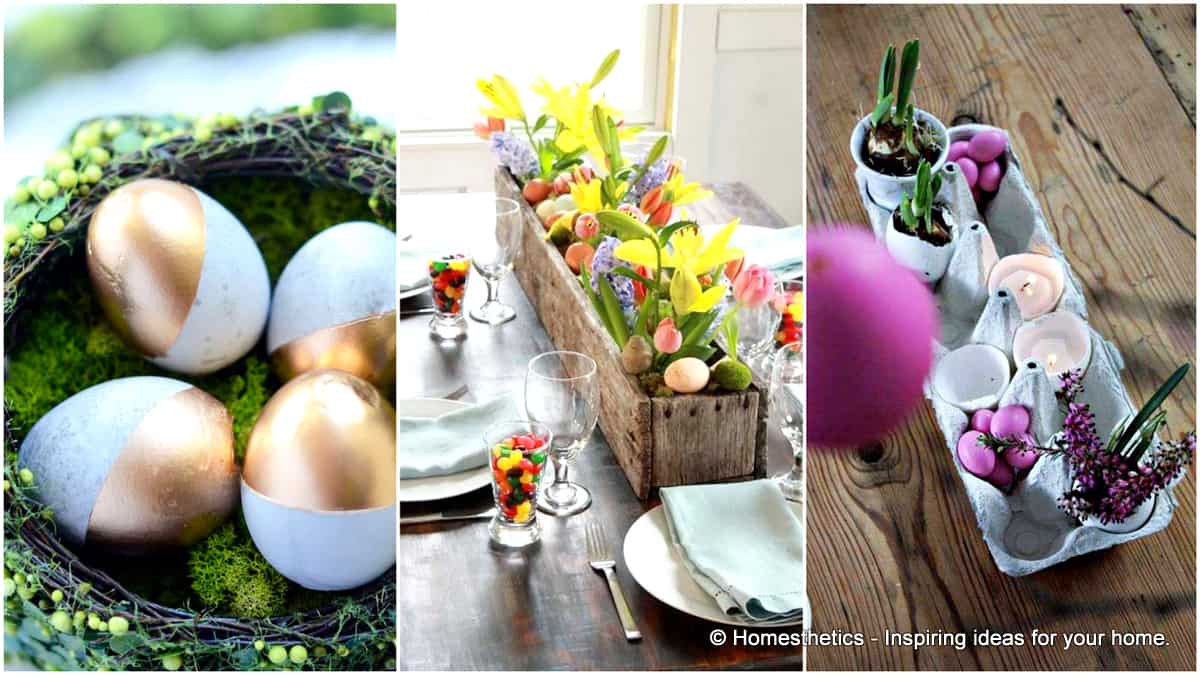 A superb list of last minute easy Easter crafts has been curated, it brought together colors, flowers and great joy. The ideas showcased had a strong foundation based on recycling and up-cycling , inviting the creative individual to emphasize its decor through sustainable crafts and all one needs is patience and time.
Easter is a celebration that offers us a great opportunity to be around family and friends and getting the opportunity to shape a very beautiful decor for the loved ones is magnificent, if we were to craft the decor pieces with them and build the interior spatiality in which we built memories, things will be even more spectacular, invite your loved ones to participate and shape a beautiful Easter celebration.  Cast a glance at the gallery below and surge inspiration for your next craft, we would love to hear your valuable feedback in the comment section below.
Last Minute Easy & Inexpensive Easter Crafts
#1 simple plastic bottle can become great diy gifts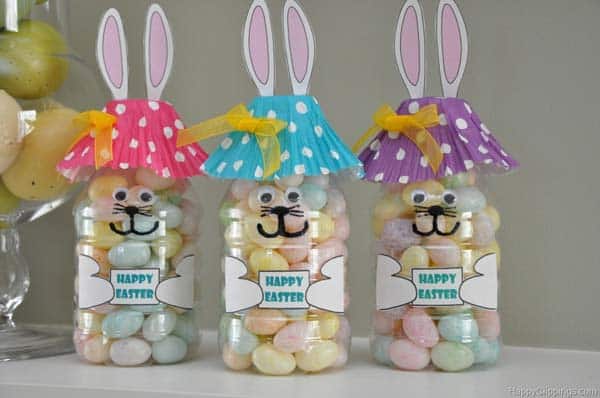 Recycle plastic bottles creatively with a few pieces of paper into a great sweet DIY Gift. Inexpensive and really easy to realize Easter crafts within seconds, use them as rewards for the egg hunt or simple easy diy gifts.
Tutorial @ happyclippings.com
#2 realize paper straw easter egg diy art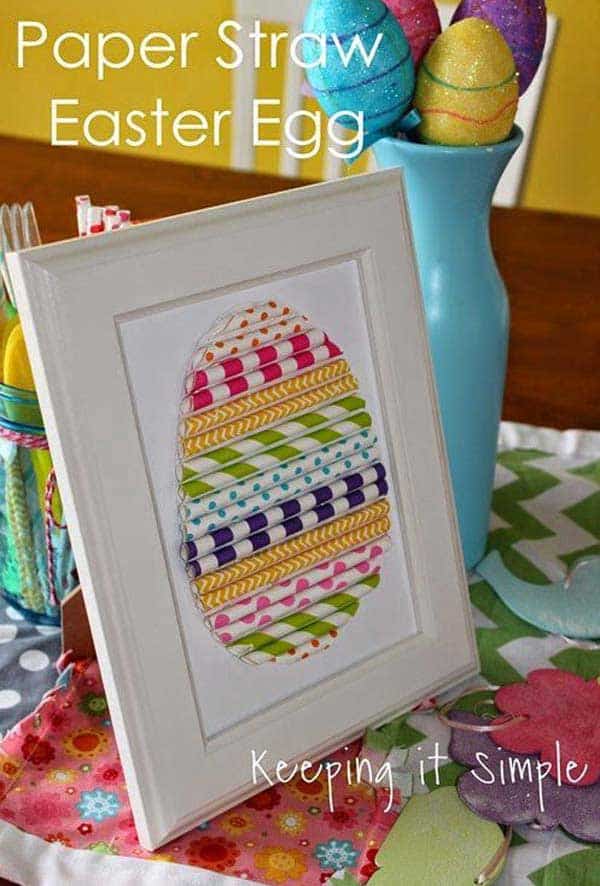 Keep things simple, recycle interesting patterns into great wall art, frame it and use it as a great gift or keep it as simple decor.
Tutorial @ keepingitsimplecrafts.com
#3 use a balloon to sculpt a diy gift basket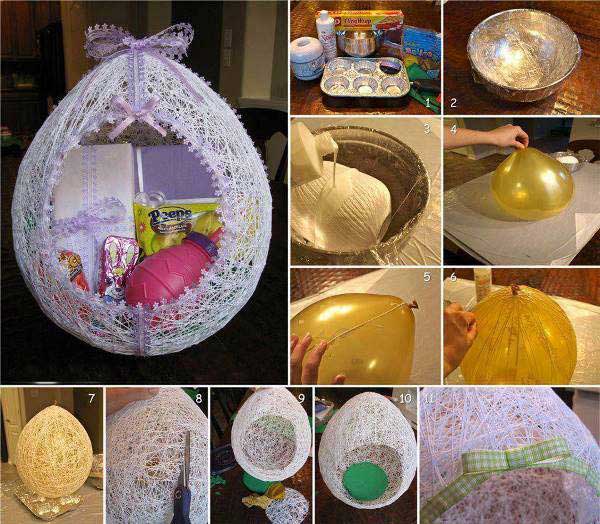 Sculpt string around a balloon and you will obtain a great diy gift basket.
Tutorial @ hmhdesigns.wordpress.com
#4 dip concrete eggs into gold paint for a great centerpiece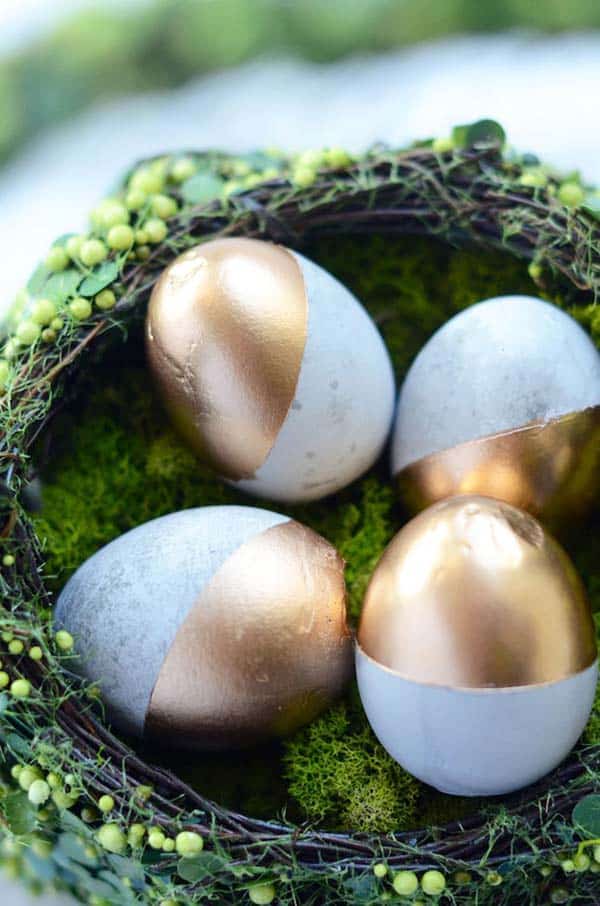 Simple concrete eggs dipped in gold paint can become the ultimate egg nest centerpiece.
Tutorial @ camillestyles.com
#5 diy sweet easter gift basket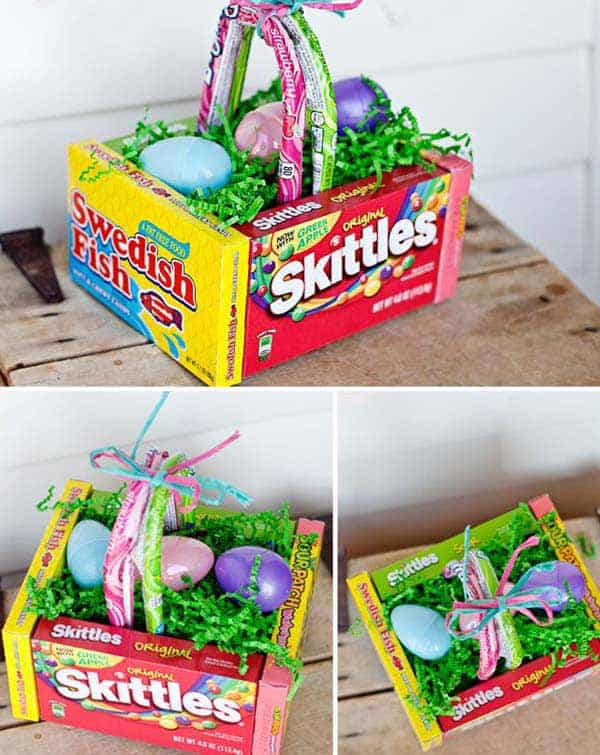 Simple sweet baskets are a great gift, easy to realize and inexpensive.
#6 realize beautiful carrot paper footprints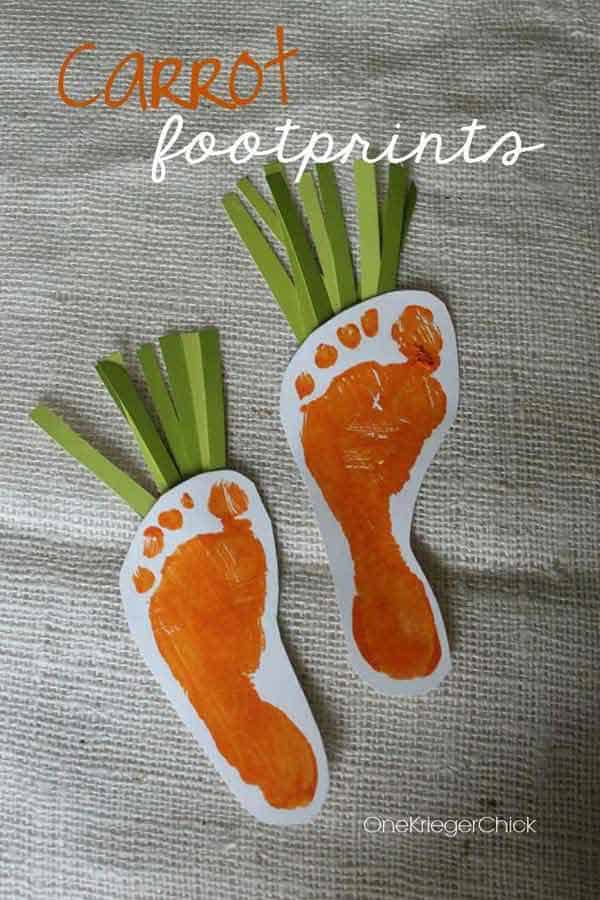 Save a timeless memory in a simple piece of paper.
Tutorial @ onekriegerchick.com
#7 design a colorful easter egg wreath for your porch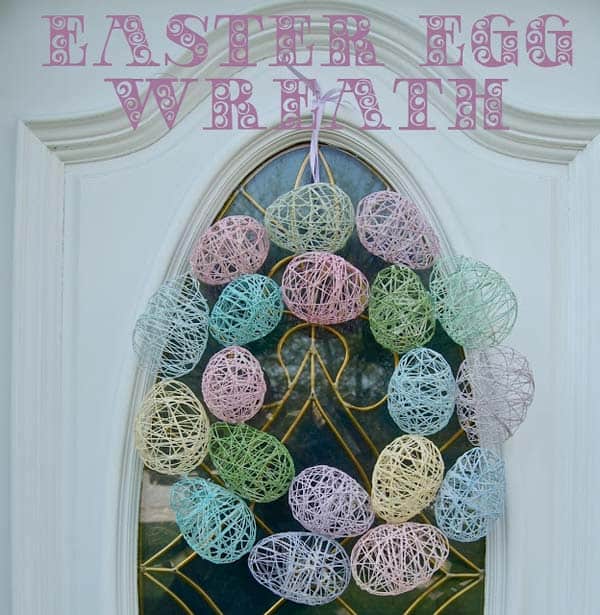 Colorful string can shape a mesmerizing wreath that will welcome your guests beautifully.
Tutorial @ wineandglue.com
#8 create the perfect centerpiece with flowers and color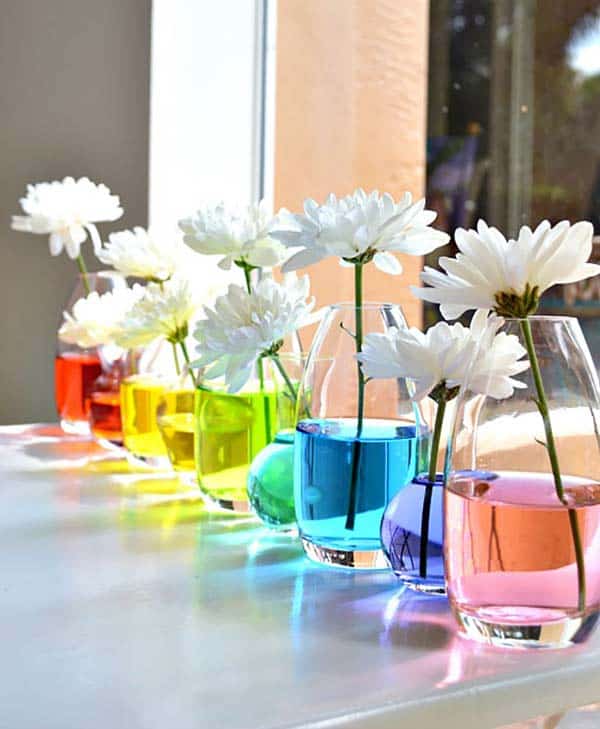 Colorful water and white flowers, simple but excellent table centerpiece.
#9 bunny shaped napkins can change your setting a great deal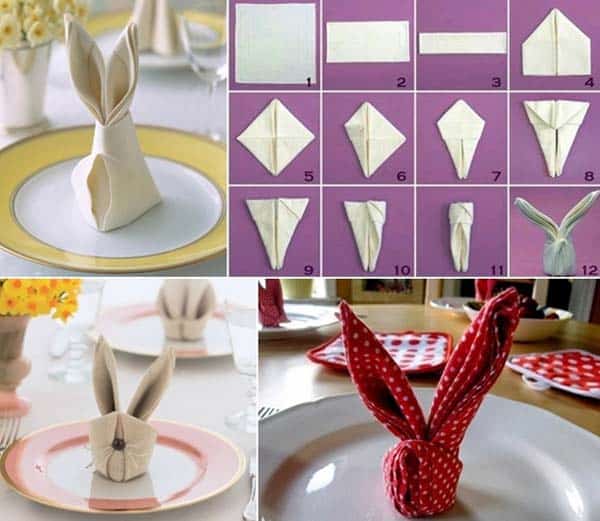 Tutorial @ wikihow.com
#10 Transform colorful eggs into Easter egg planters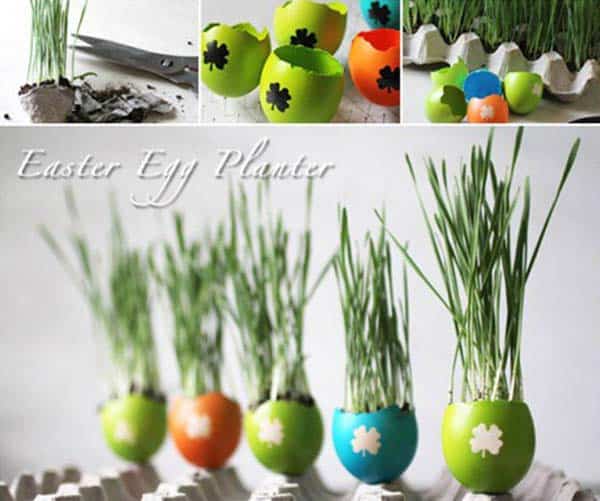 The remains of the boiled egg can emphasize the growth of your future plants a great deal.
Tutorial @ craftpassion.com
#11 match flowers with sweets into the perfect diy Easter gift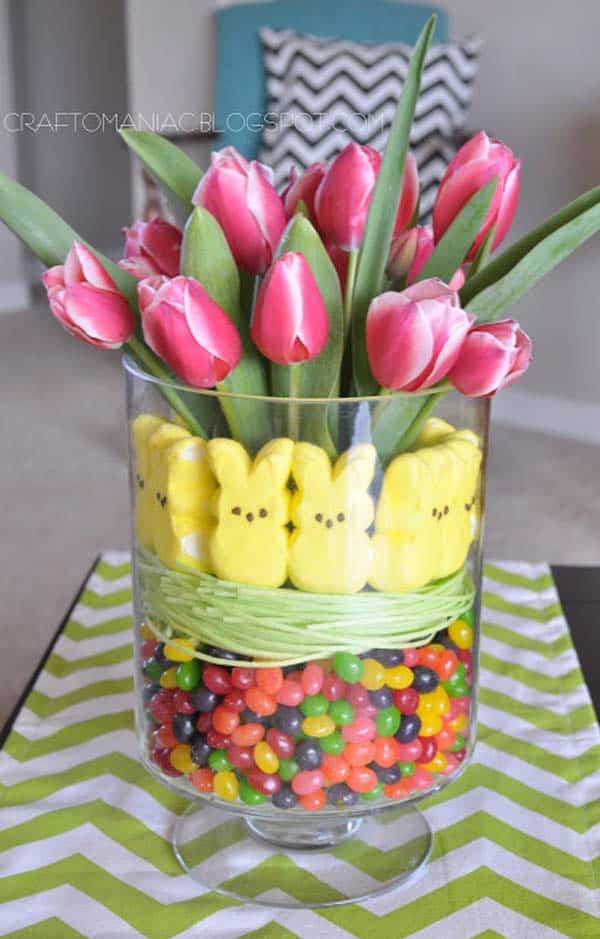 Sweets and flowers team up beautifully.
Tutorial @ craft-o-maniac.com
#12 bunny shaped wreath welcoming guests beautifully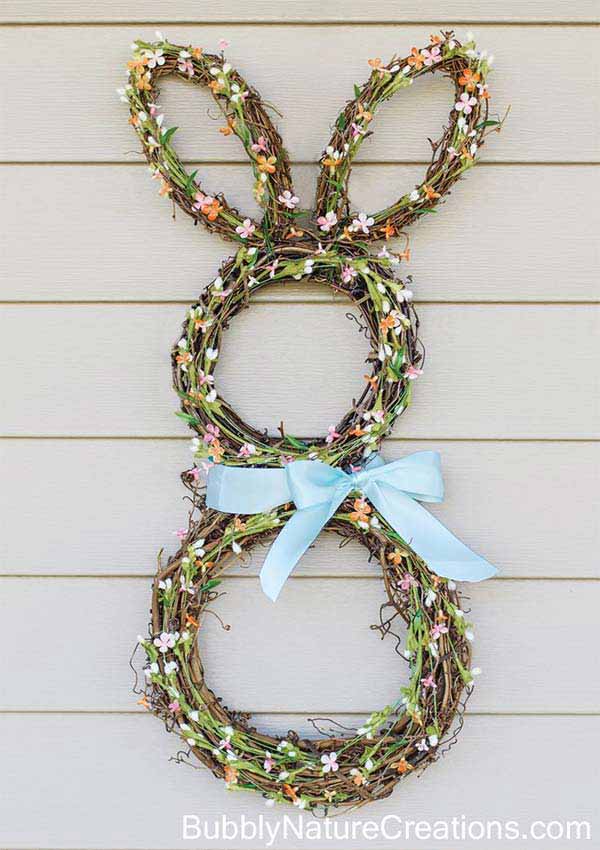 The end result is magnificent and it costs little to nothing.
Tutorial @ bubblynaturecreations.com
#13 colorful toilet paper roll napkin rings emphasizing your dinner setting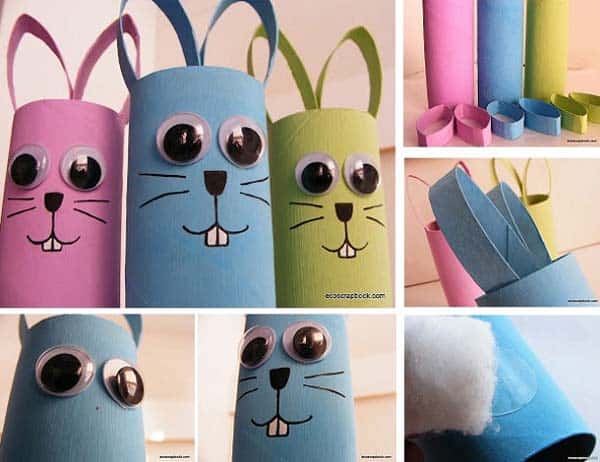 Googly eyes and acrylic paint is all you need.
Tutorial @ ecoscrapbook.blogspot.com.br
#14 adorn flowers into little Easter eggs planters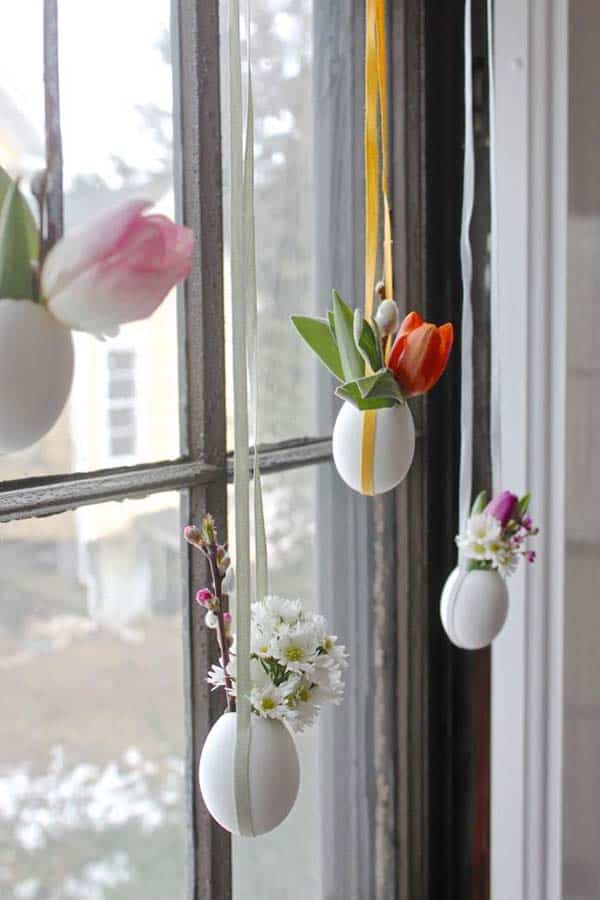 Tutorial @ gardenista.com
#15 use champagne glasses to realize the ultimate Easter centerpiece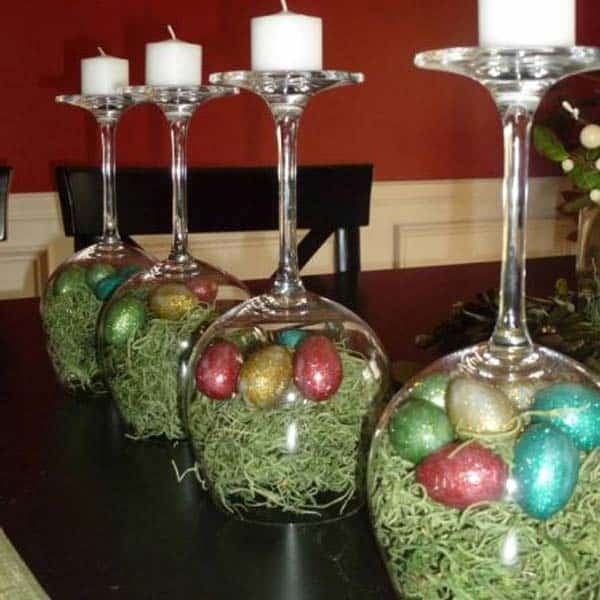 #16 use simple plastic cups to create egg baskets as your Easter egg hunt reward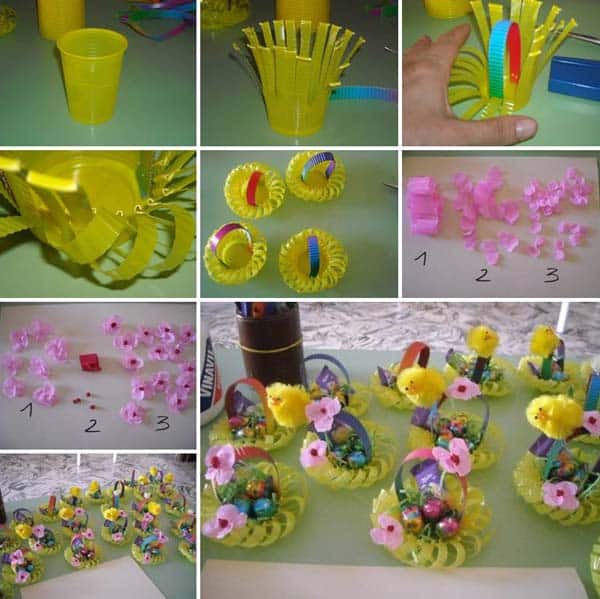 Tutorial @ icreativeideas.com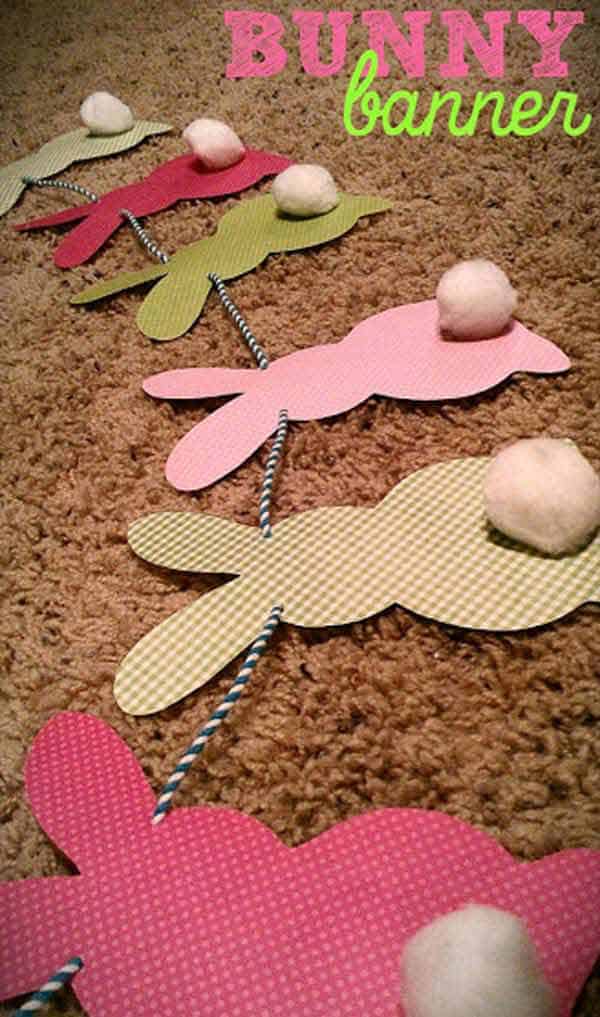 #18  a simple umbrella can become the ultimate door decor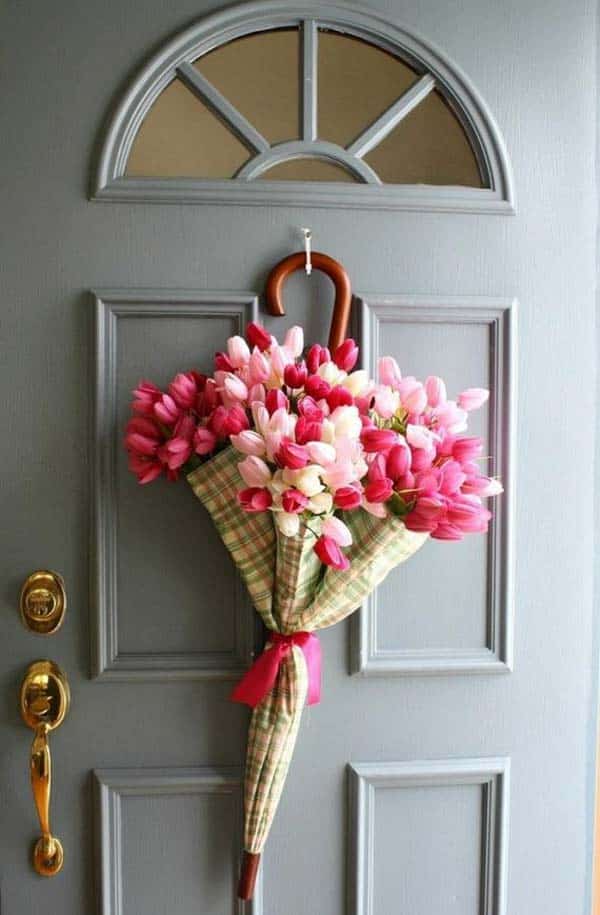 #19 tailor an egg of string on a balloon and earn a great basket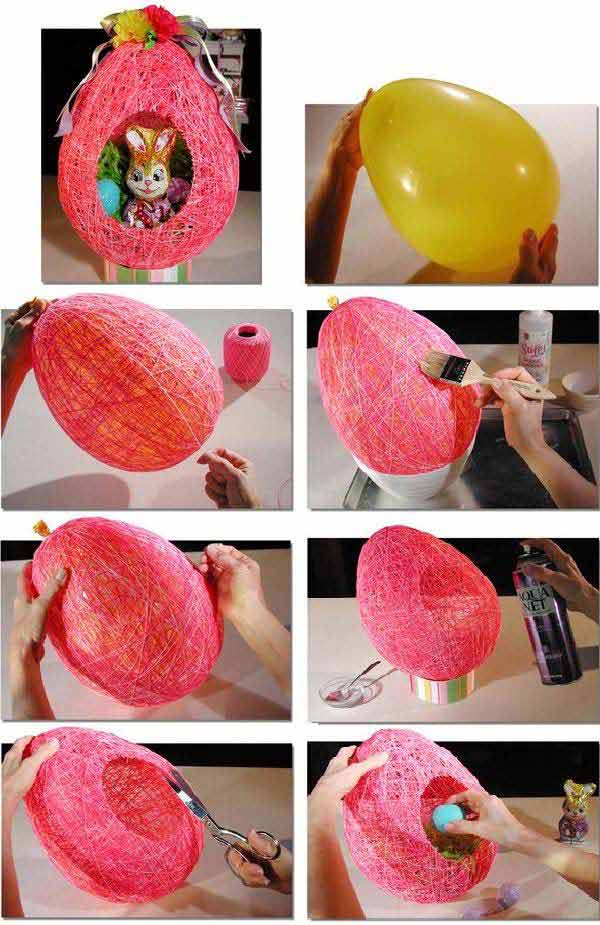 via artesanatorevistasmoldesdicas.blogspot.ro
#20 decorate your door with an easter motif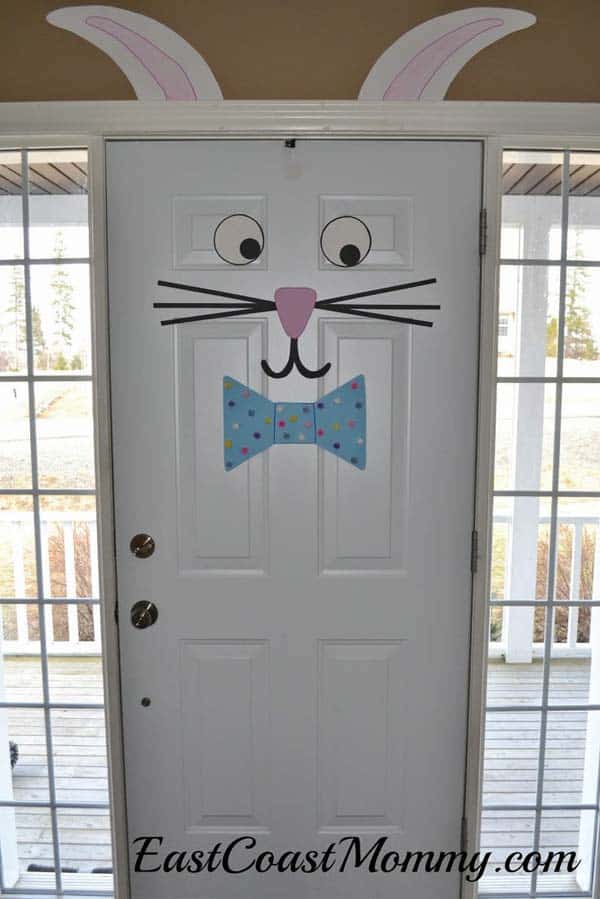 via eastcoastmommyblog.blogspot.ca
#21 Accessorize simple bags with an Easter friend look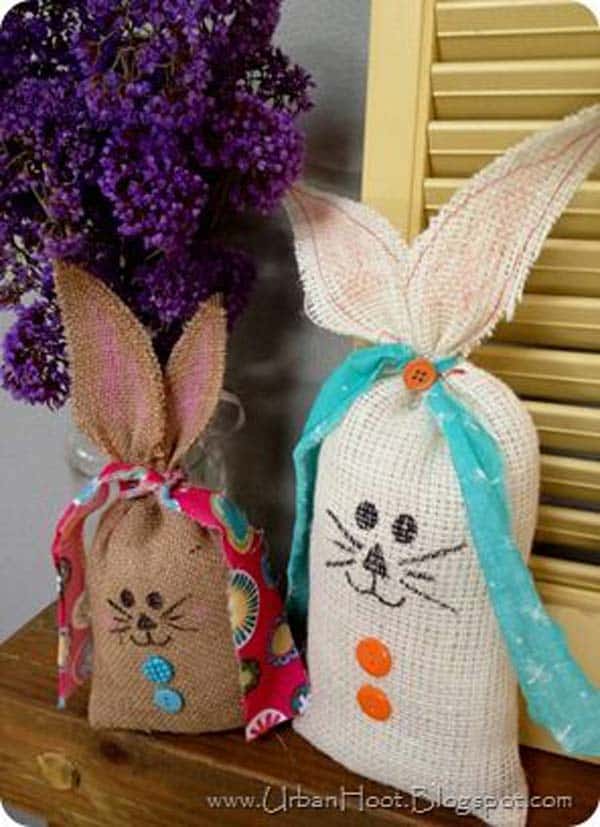 Tutorial @ urbanhoot.blogspot.com
#22 small sensible diy Easter centerpiece containing candles and egg planters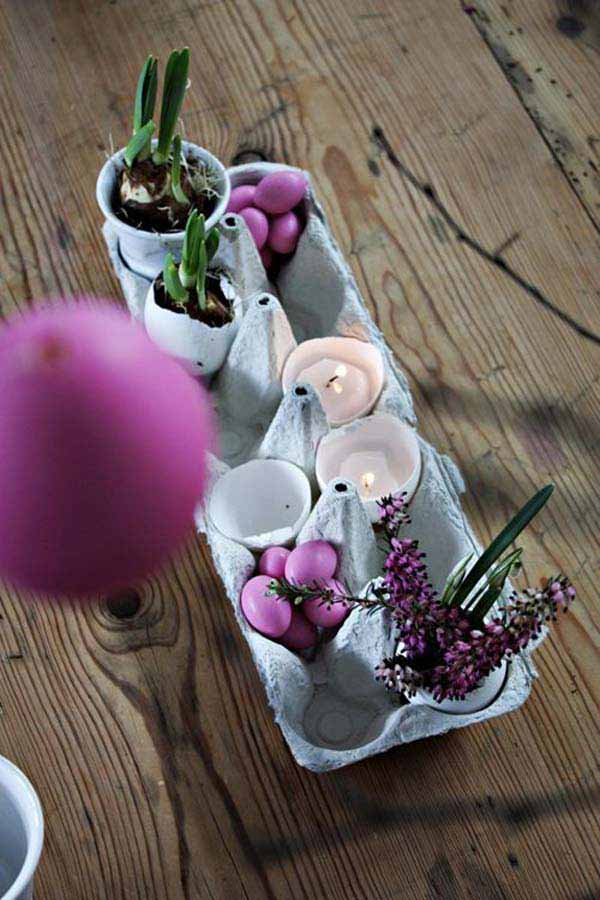 via norskeinteriorblogger.blogspot.com
#23 a simple burlap piece stenciled with a bunny can become great wall art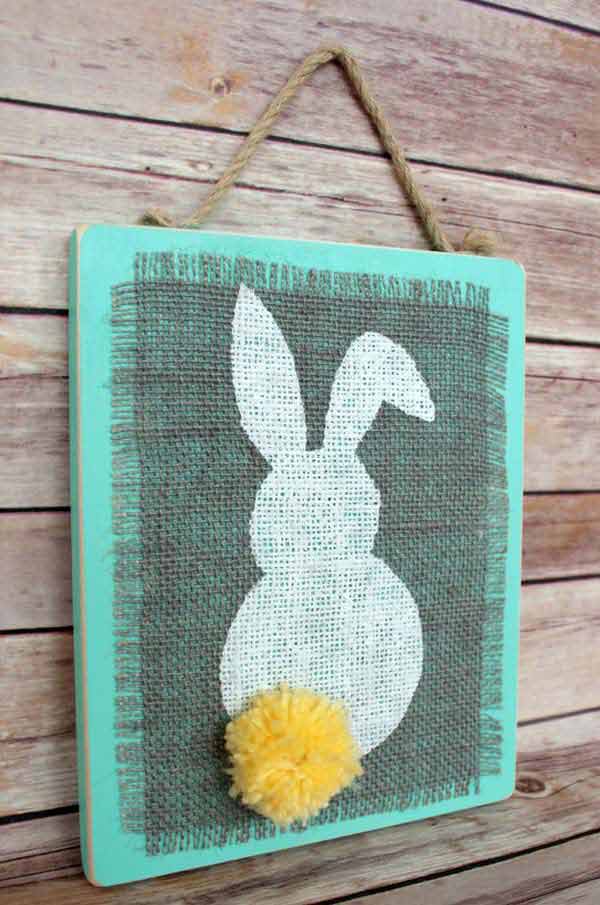 #24 realize a wooden box as the supreme centerpiece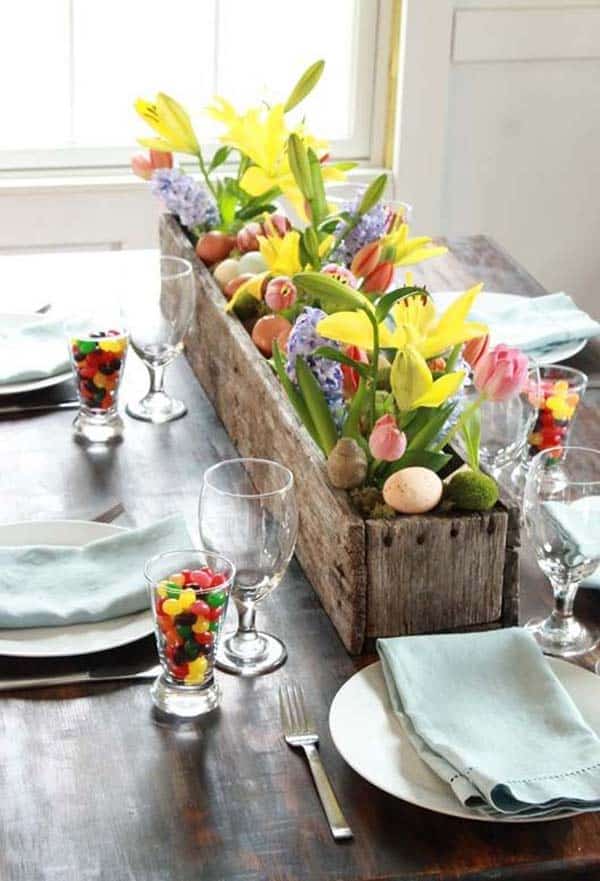 Tutorial @ homesthetics.net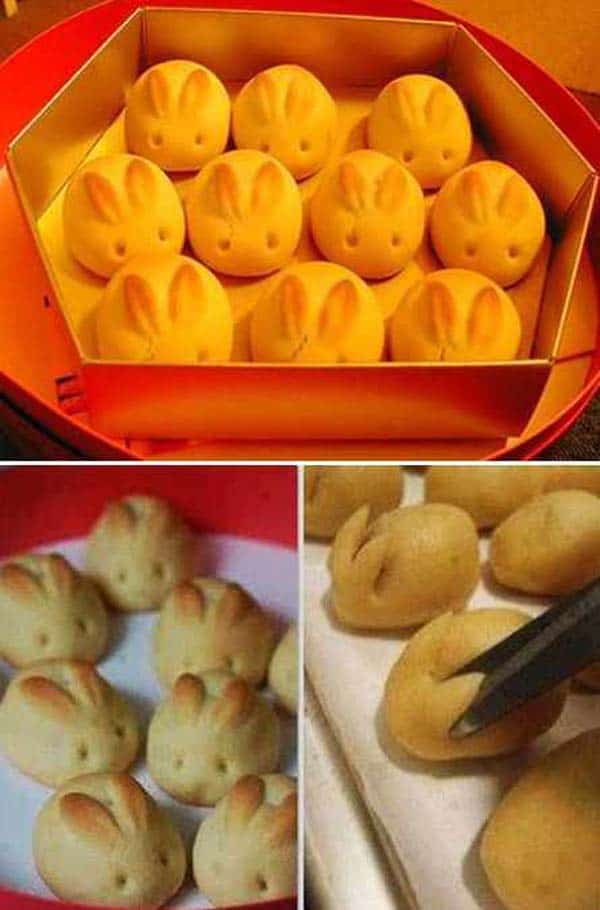 via Pinterest
#26 diy Easter eggs and vase decor installation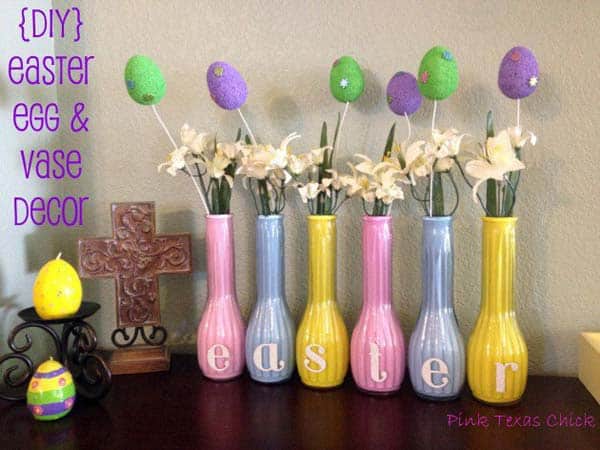 Tutorial @ pinktexaschick.blogspot.com
#27 a simple bunny sign can bring immense joy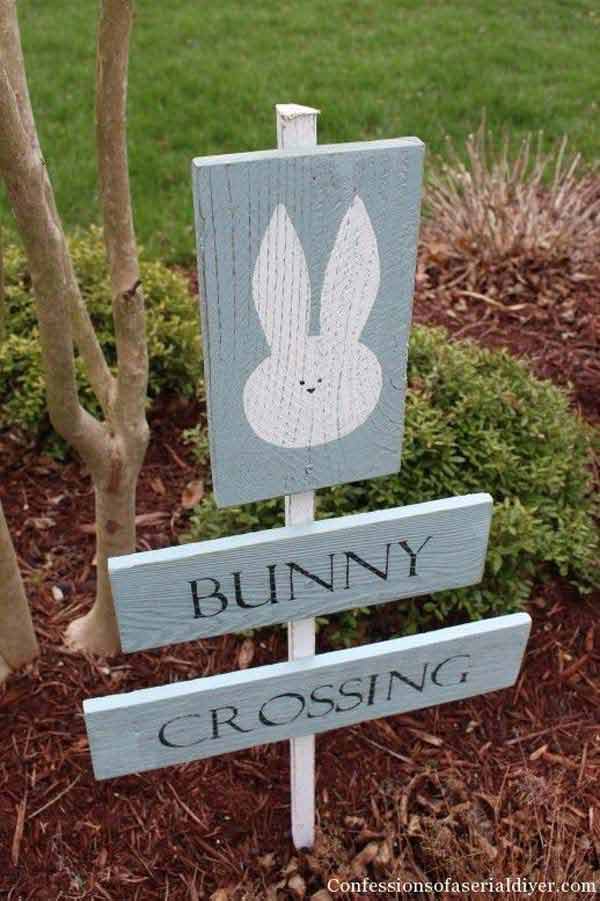 via pinterest.com
#28 a centerpiece that wears m&m`s  on branches can be it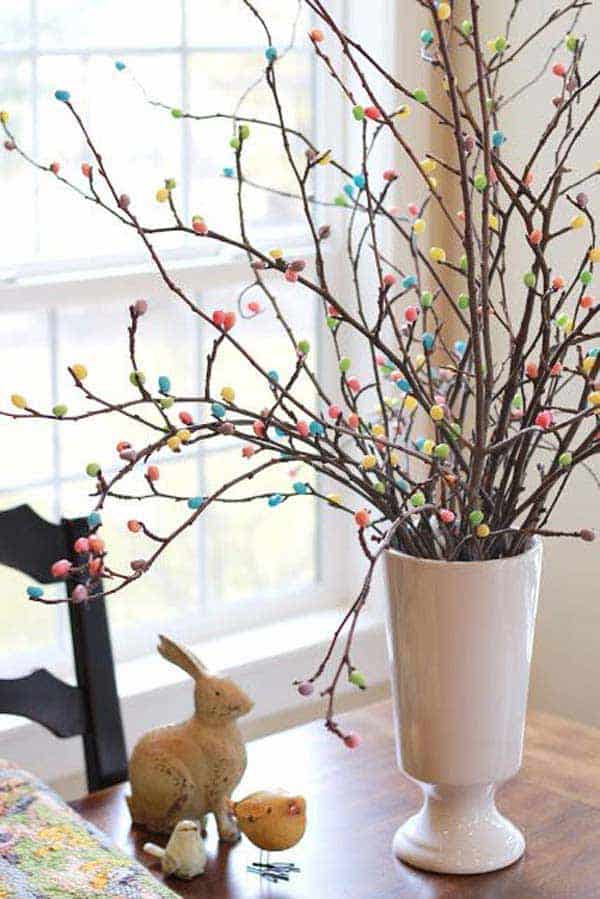 Twigs and M&M might shape the best Easter centerpiece in the entire world. Emphasize your decor with a simple but magnificent craft.
via craftysisters-nc.blogspot.com
#29 colorful bunny shaped garland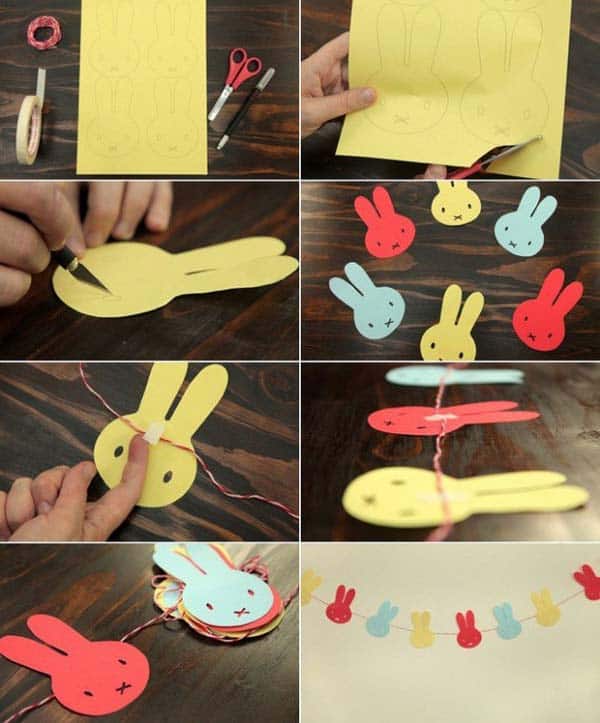 via Pinterest
#30 Shape Easter diy decorations for your decor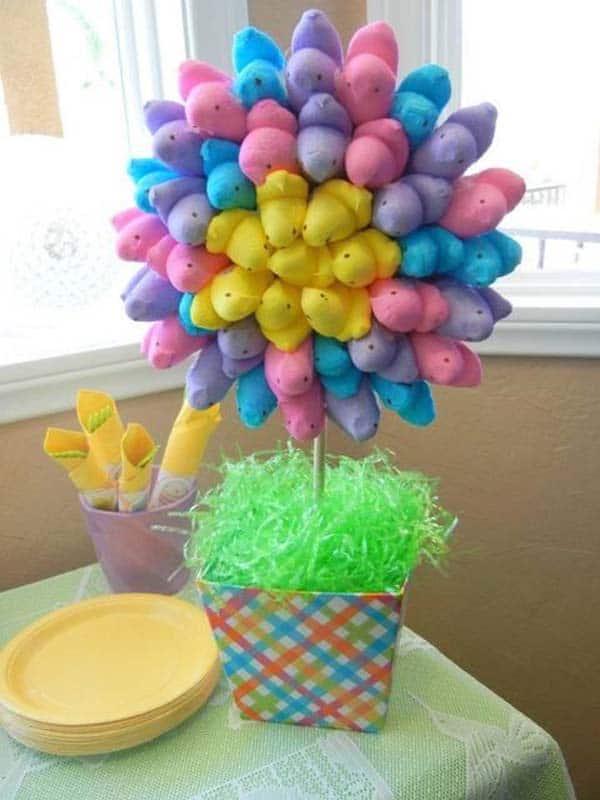 What do you think about these superb inexpensive easy Easter crafts? We would love to hear your valuable feedback in the comment section below.