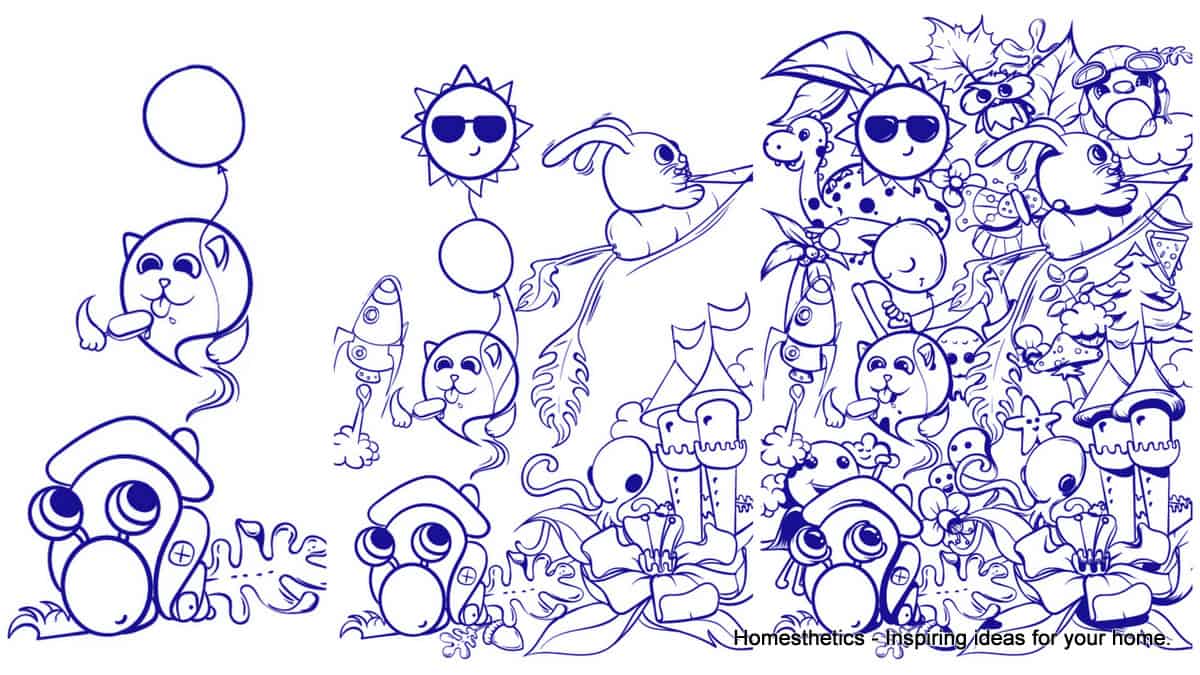 Doodling is one of the most creative ways to spend time in moments of great boredom. Doodling can often help you relax seamlessly whilst passively improving your artistic skills, slowly developing the creativity and design lines indirectly. Needless to say that doodling can be done passively, without involving thinking, a great way to enhance your multitasking in an epic manner. In the following article we will present a fast doodle defined by density and diversity, one that captures creativity in a spectacular shape; the tutorial "Learn How to Doodle "that follows is the second part of our Cool Things to Draw Collection that we highly encourage you to visit if you`re interested in sketching and drawing.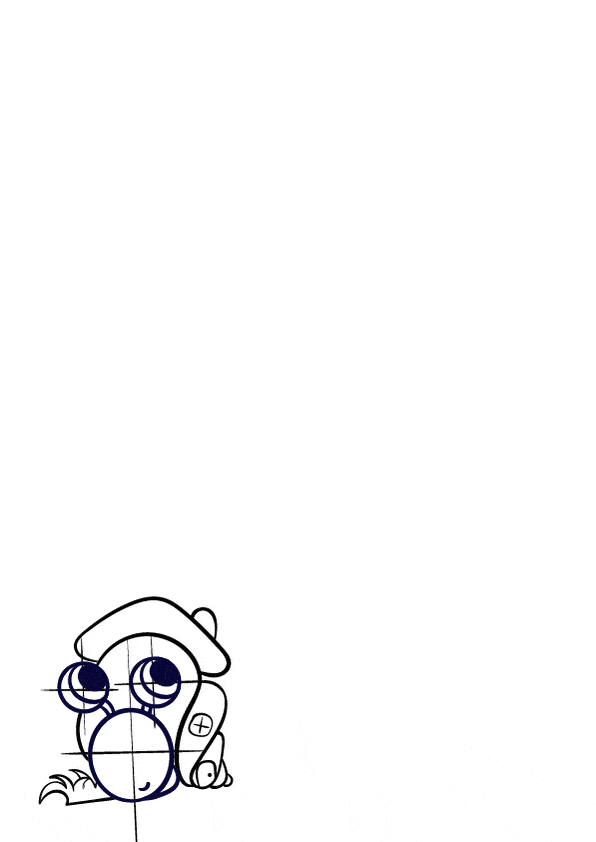 A few tips on doodling will be featured here before we get to the tutorial itself; feel free to skip these if you are an experienced doodler just searching for inspiration.
At one point or another everyone will shape his own style of doodling so do your best to surge inspiration from all possible sources in the search of incredible. You`ll surely find a line that you`ll love and in the attempt to replicate that type of design, your own style will emerge. Doodling might take a while to actually look exactly like you expect it to look but worry not, practice and practice, results will surface.
Always focus on your drawings, follow your instinct, do not worry about the opinion of the ones around you on your doodles.
Learn from your mistakes and use them as guidelines in future doodles, they`re part of your work of art nonetheless.
Draw what you see around you caricatured if you`re short on inspiration. Try to copy simple items and add your own twist.
Doodling is based on either simplicity or on density. Small or huge the doodling should be. Density can come from the number of items and their scale not from details on the items themselves. Play with the scale.
It is not uncommon to find yourself doodling the same composition over and over again. Do your best to think out of the box and stretch your goals and creativity; reinterpret the design, add new elements or change it altogether.
Doodles can be simple patterns or complex compositions with multiple focal points. Play, experiment.
The doodles are supposed to look super fun by default, cartoonist and childish and expressive are great ways to describe them.
Real life items should appear only with your own twist, caricatured, with a cartoon look. Plant legs and arms on mundane items, noses and mouths and even a cool hairstyle can be considered.
Do not copy the doodles of another artist, surge inspiration but once you start doodling close all sources of inspiration and draw from creativity.
Draw stuff that you love. Cool things to draw like personalized animals, plants, items that you like, you are familiar with and are actually personal can become extraordinary characters in your little scene.
Don`t use an eraser. Doodling is about movement and flow, if you have wronged something to your opinion try to transform the mistakes into an advantage without spending time to make it perfect. It should feel free and fun, not perfect. The doodling scenes are perfect for each and everyone, there is no universal truth.
The reality should be distorted if it is to appear in your doodles. Monsters and creatures of fantasy are common elements. Come up with your own characters and sculpt creativity and authenticity in your artwork.
STEP 1 –  Start with a simple element
In doodling it is recommended to fill spaces naturally. Finish the element before starting with a new one. The first element can take a simple but characteristic position like a corner or the center of the page. Notice how the first element below resides in the lower left corner but the eyes are pointing towards the page, to what is about to be unveiled in the blank space.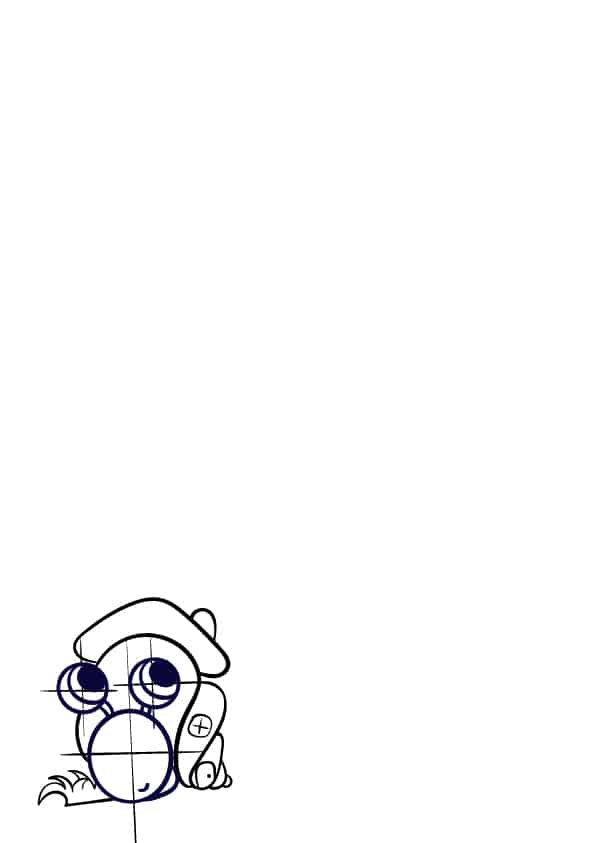 STEP 2 – doodling is all about creativity
The second creature is a small cat-raccoon inspired genie that serves an ice-cream with floating arms, It can also be a balloon with cat-like features. A doodle should never explain itself.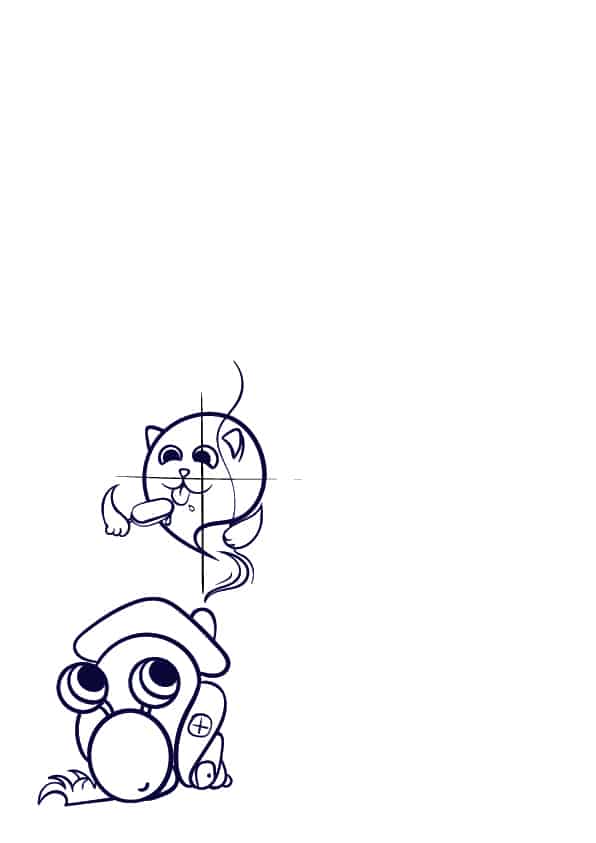 STEP 3 – add new elements – diversity is key
Plants appear now along with the previously mentioned balloon. Shape whatever comes to mind while doodling and keep things creative.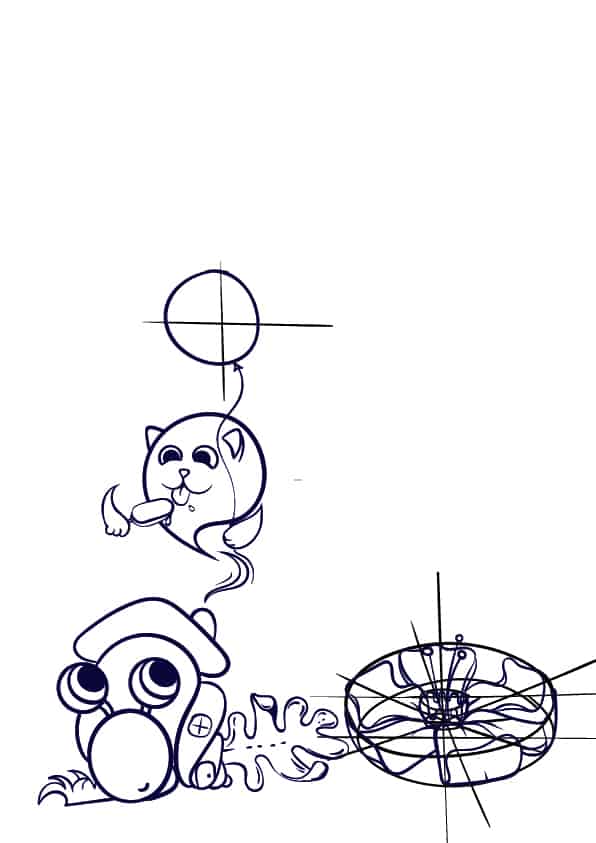 STEP 4 – maintain a direction
To keep things tied together and have a structure maintain a simple direction in the early stages. Don`t worry about the rest for now, tie one element to another .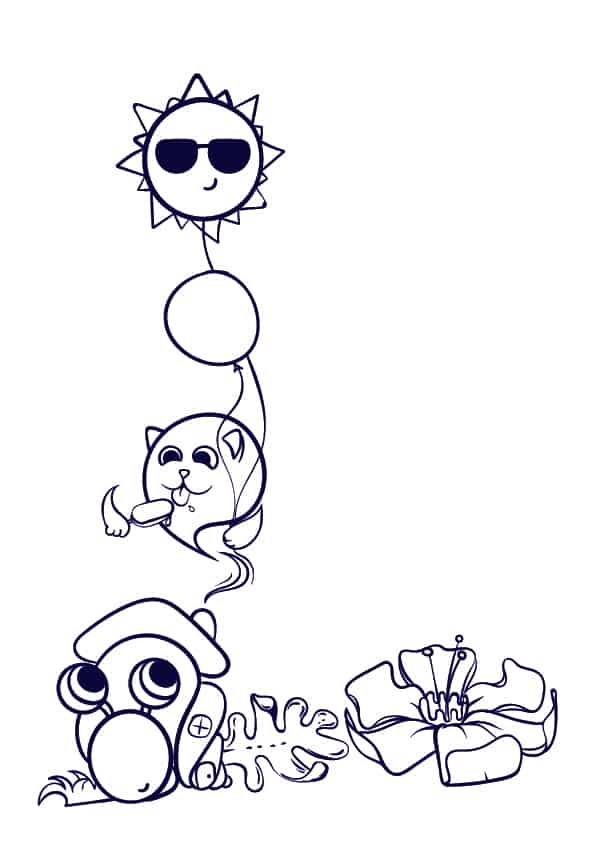 STEP 5 – shape a beautiful odd universe while doodling
The whole should not make sense but the unity and the contents will surely mean something to you in one way or another. Even if it`s just a memory or an instinct shape, it is tied to you and it has memory.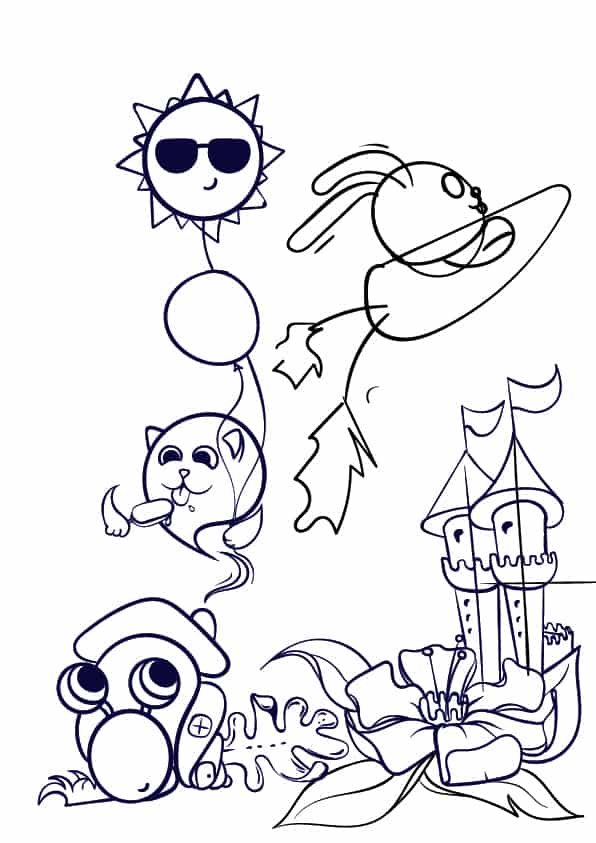 STEP 6 – more of the same – reinterpret simple items
The flying carrot has now a counter-part in the drawing, a smaller rocket that flies around. A happy octopus lurks the scene and everyone seems happy.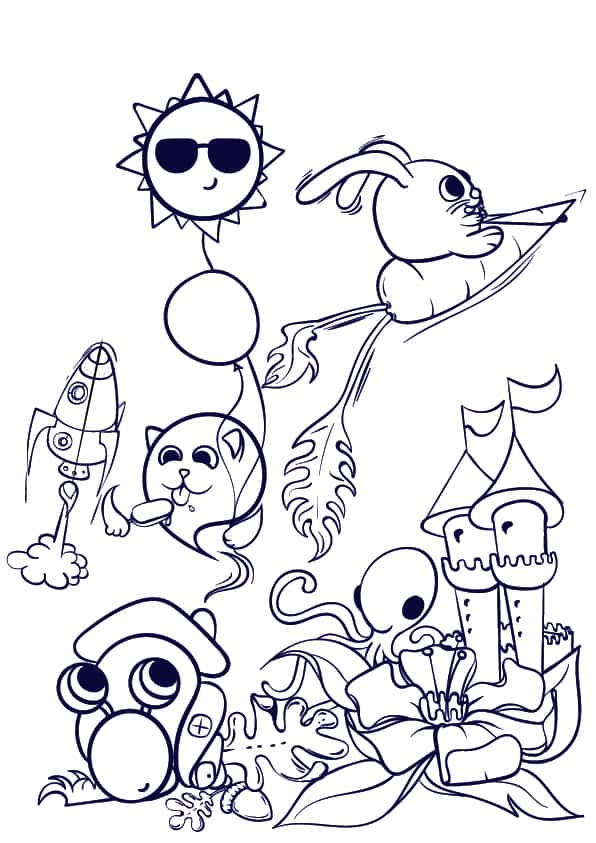 STEP 7 – diversify and add more elements
Simply add elements and have fun while doing so, an aviator bird now gains attention in the scene.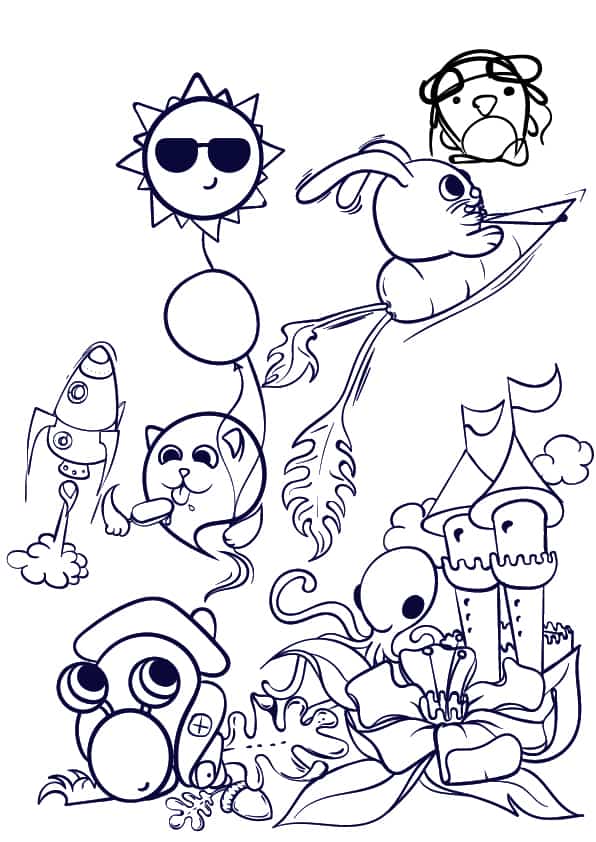 STEP 8 – New stalker smiley face joins the scene
A new mushroom has grown into the clouds and a stalking smiley face does the job of smiling in the scene.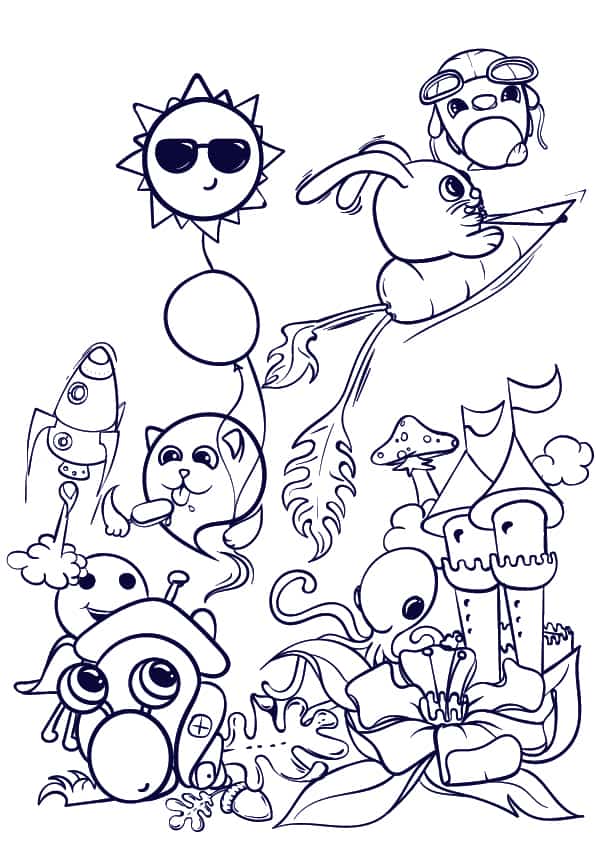 STEP 9 – continue until there is not blank space left
Simply continue to add elements until there is no space left. Dinosaurs, owls, flowers, ghosts, slices of pizza and even more happy clouds can have a good time in your scene. Enjoy the process.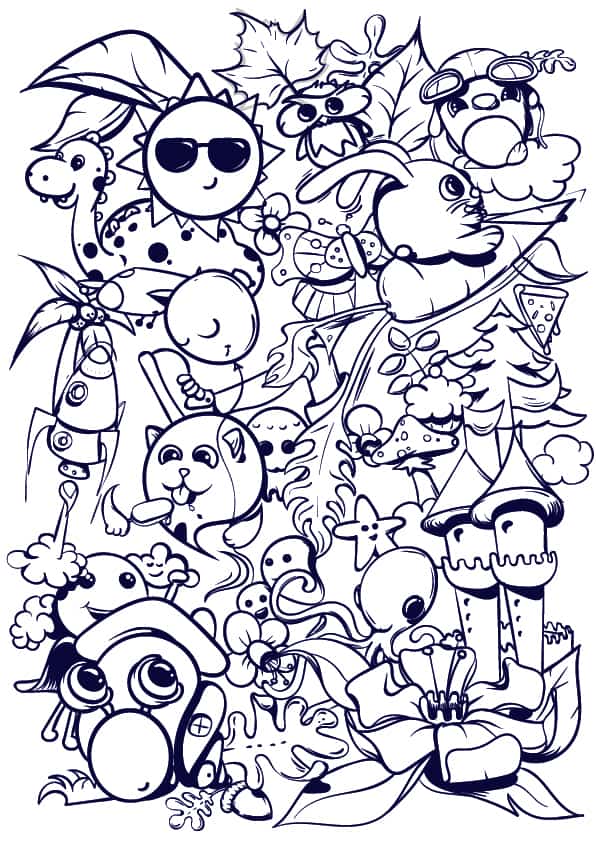 STEP 10 – Color your doodle
Color it all or simply add accents here and there. Shading should be addressed too if one attempts to create depth into the scene. Make no mistake, any color can be used on absolutely any shape, it doesn`t have to be real or anchored in reality in any way. You direct everything.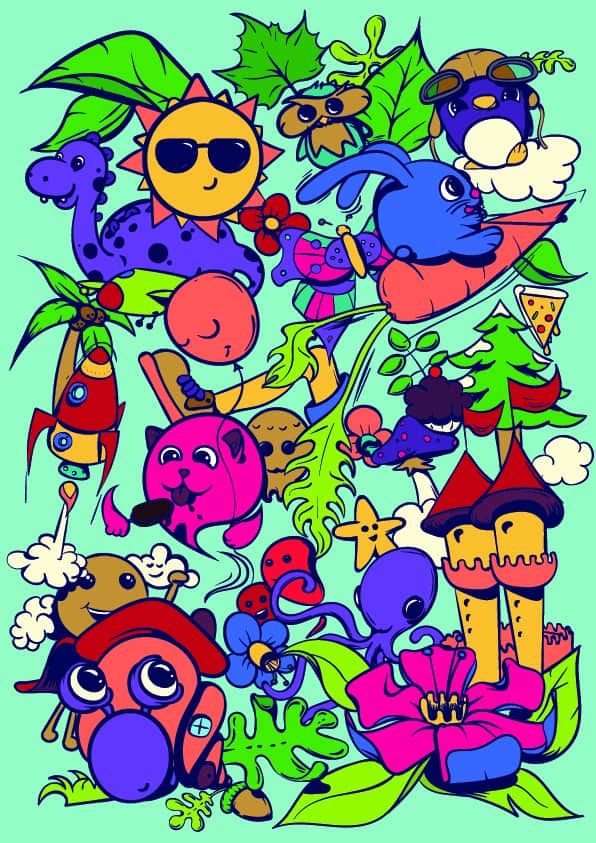 The tutorial of a doodle naturally is not a tutorial per-say as the entire act of doodling, the construct of creativity has no rules and should be in no way guided. One ought to search for something beautiful in his mind only, in his desires and childhood dreams, creativity lies in each and everyone. Do your best to achieve the incredible and doodle or sketch as much as possible. Drawing is one of the most beautiful activities that one could do.
What do you think? We would love to hear from you in the comment section below.
This feature is part of the "Things to Draw" Collection of drawings realized by Homesthetics Magazine in partnership with Designaissance Studio. The contents of the tutorial are copyright protected as it is the collection itself; if you are interested on sharing the drawings on your website or magazine please contact the magazine. Feel free to print or share the page for educative purposes as this is the definitory purpose of our mission with this collection.