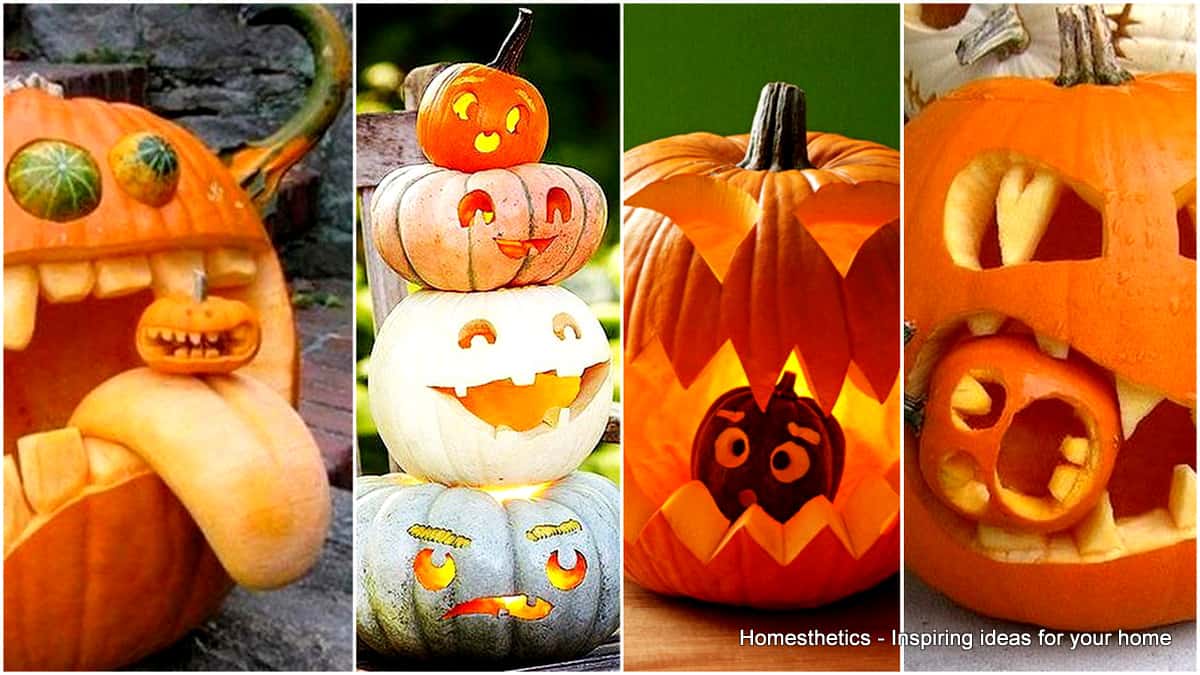 Pumpkin carving ideas are all around yet in this article we have selected a dozen a tad different, the collection is versatile, vast and beautiful, it is filtered socially and therefore in theory, it is representative as a collection for what we find easy to do, beautiful enough to create, pursue and sculpt.
The ideas showcased are cool and spooky alike, scary and fun at the same time, you`ll find painted pumpkins with a few cutouts and beautifully sculpted pieces, massively transformed through carving only. We invite you to cast a glance and surge inspiration. 
Pumpkin Carving Ideas
1. sculpt and paint a flowered owl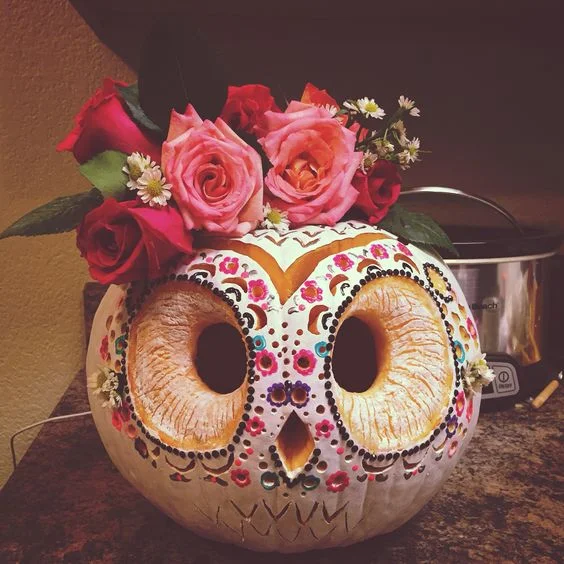 Pumpkin carving is in no way restricted to carving per say, here flowers and paint have constructed a simply extraordinary piece, awe-inspiring piece.
via Pinterest
2. Use a Flower Stencil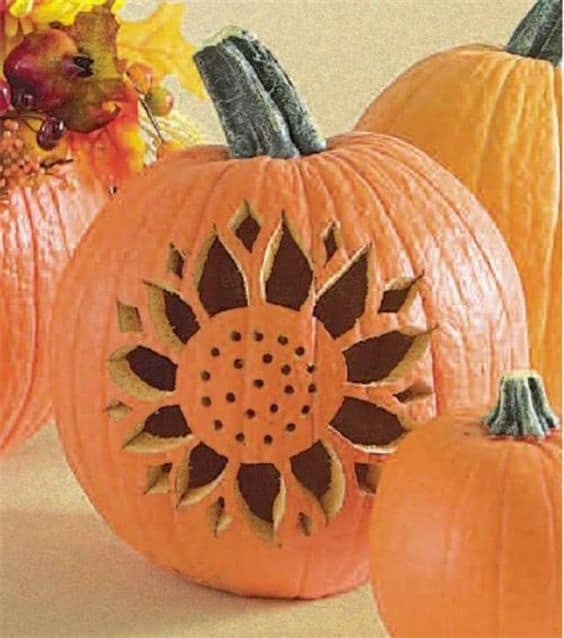 Simple, rapid and extraordinary sculptural.
via livedan330.com
3. One candle creates depth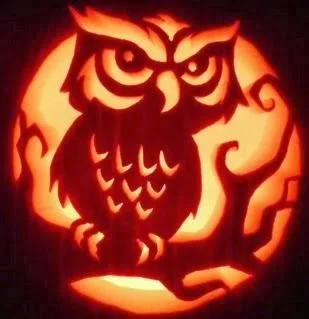 Stencils can be used yet something really memorable is born from creativity.
via graffbaycityblog.blogspot.com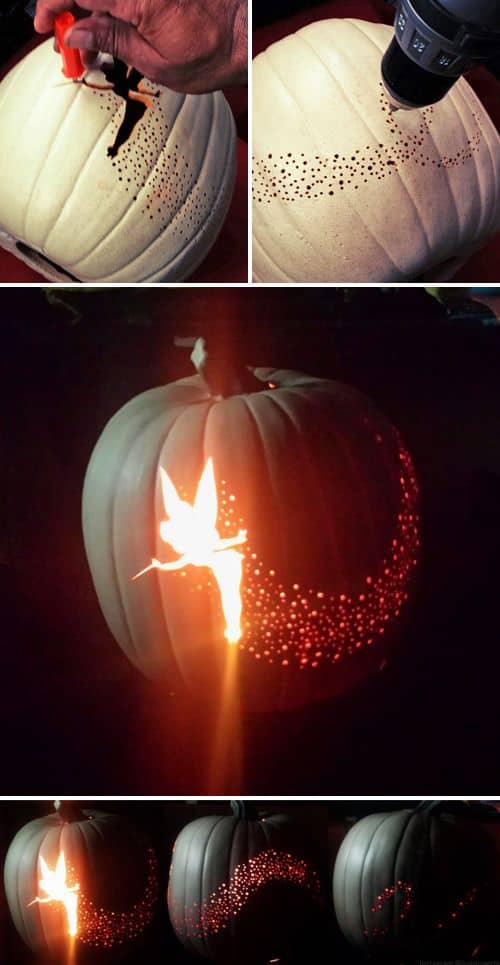 One Tinkerbell stencil and a multitude of small dots will bring a fantastic, fairy-tale effect.
via confessionsofaplateaddict.blogspot.com
5. Evil cat smiles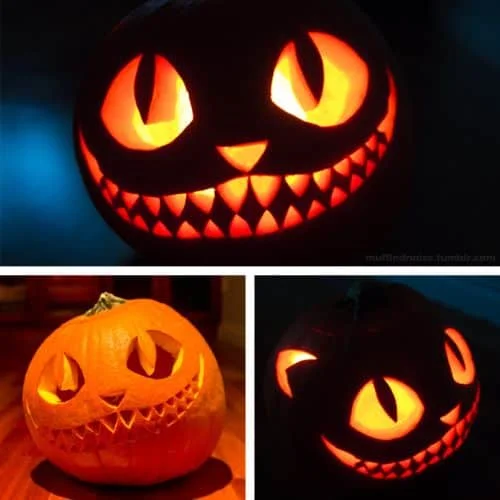 A really graphic design to realize in minutes.
via catlove.co
6. Expose the bone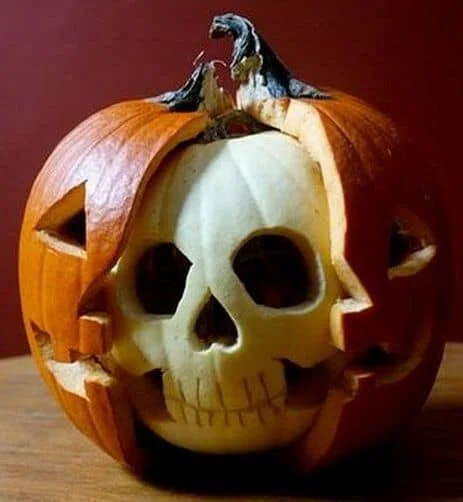 It might not be simple but the result is spooky and insanely cool looking, it can be realized with one white pumpkin within a colored one or it can be simply sculpted very skillfully to create the impression of a pumpkin skull unraveled.
Source Unknown
7. Sick pumpkin cutout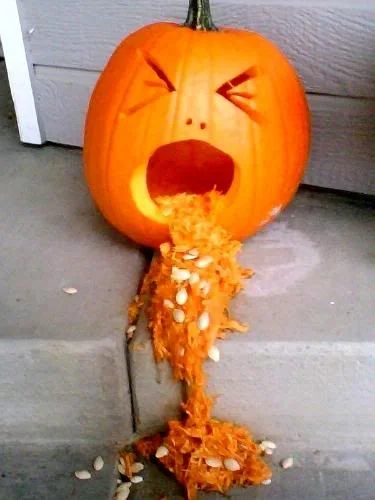 A simple pumpkin carving to realize in 30 seconds, one that will share smiles all around.
via squidoo.com
8. apple carved pumpkin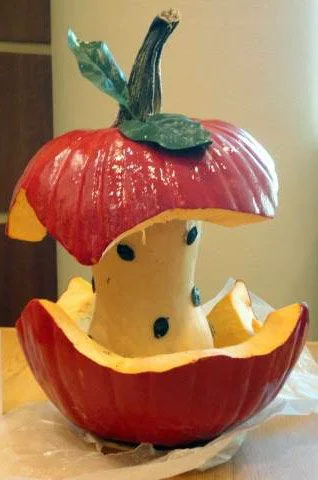 A piece of art that might take time yet it showcases creativity at its best.
9. dizzy pumpkin carving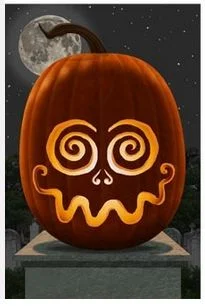 via guiddoo.com
10. pumpkin eating carving eating pumpkins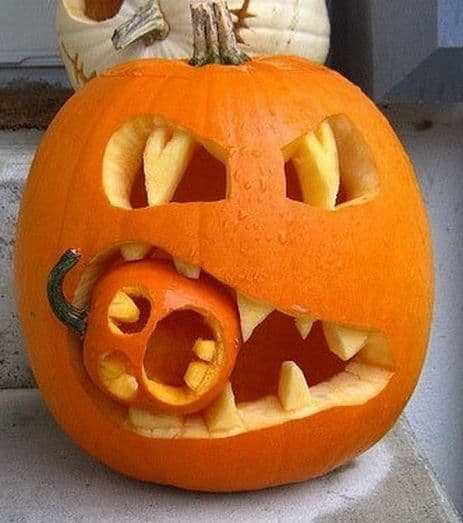 A really horrific look and insanely creative look, it has that wow-factor without being hard to realize or time consuming.
Source Unknown
11. captive pumpkin carving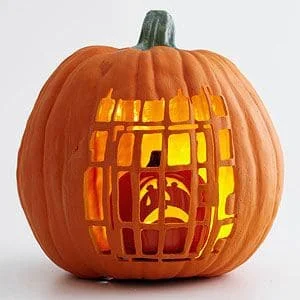 It might look a tad sad but the showcase is really creative, ingenious. What do you think?
via lhj.com
12. Bohemian blossom on a pumpkin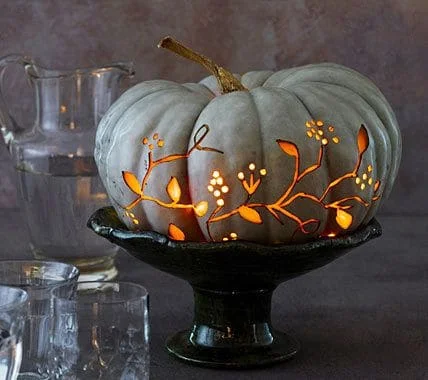 One branch, one flower beautifully sculpted with a drill bit, animate by light from within.
via inspirationlane.tumblr.com
13. simple punctual flowers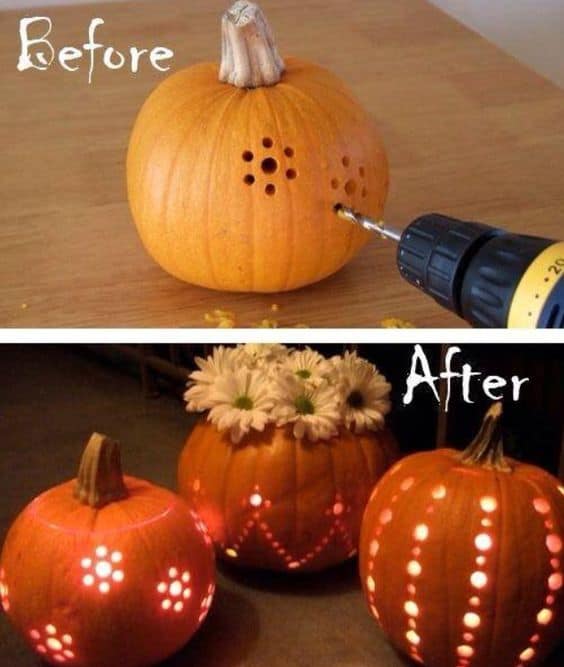 Pumpkin carvings that you can realize in seconds, really  rapid and "modular", infinite possibilities.
via Pinterest
14. spooky artwork carving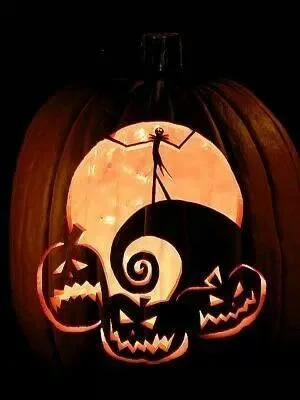 via clipzine.me
15. carve out the right teeth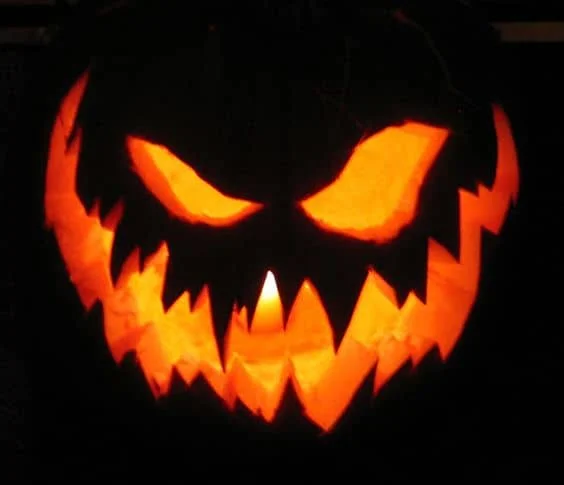 The right smile and the right teeth can shape something really beautifully-horrifying, pursue the really spooky look !
via designbolts.com
16. Pumpkin silhouettes with evil eyes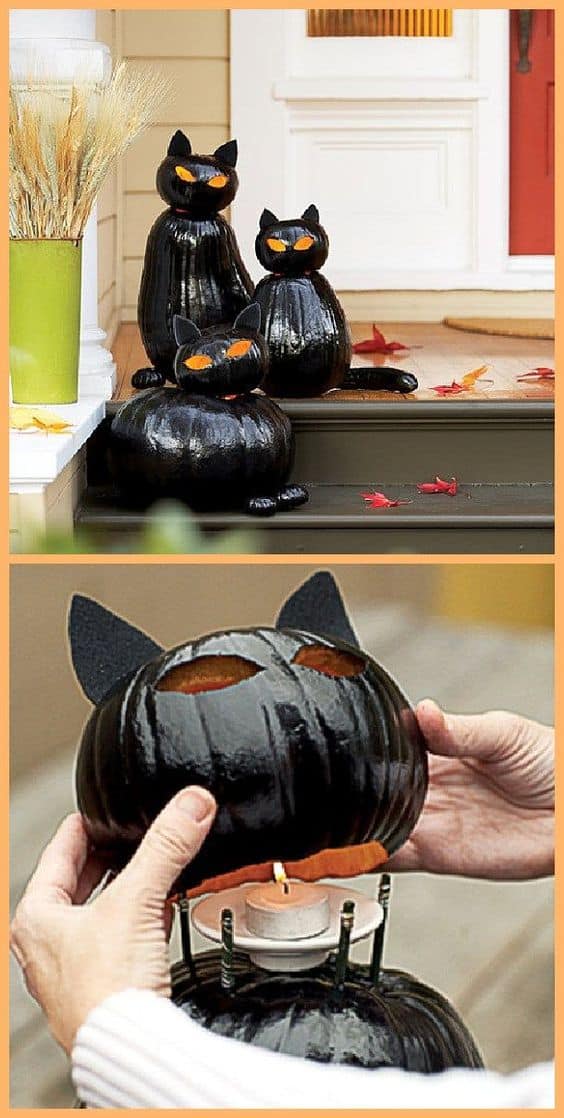 One candle can animate the eyes, black paint ought to embrace the body.
17. captive Little pumpkins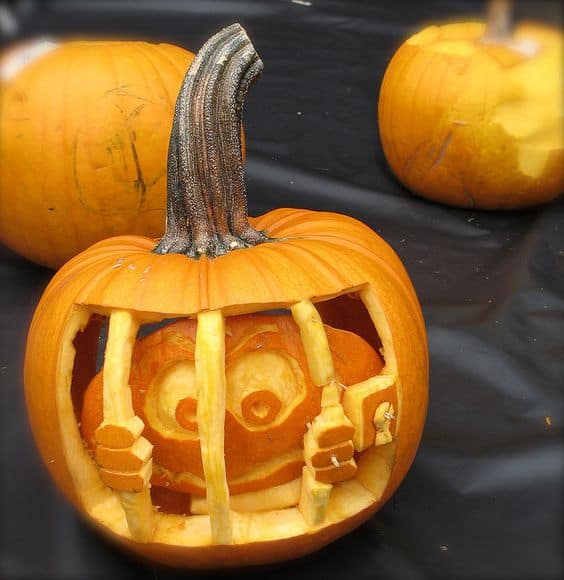 A little pumpkin captive within a pumpkin, extraordinary.
via flickr.com
18. RETRO CHIC SKULL PUMPKIN CARVING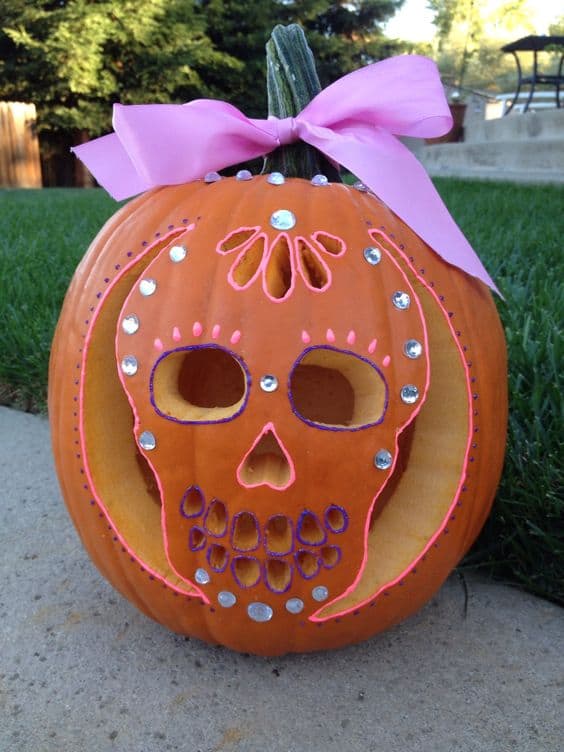 From plastic diamonds to purple and pink outlines the carving above surely surprises in a natural, beautiful way.
via Pinterest
19. one pineapple on a pumpkin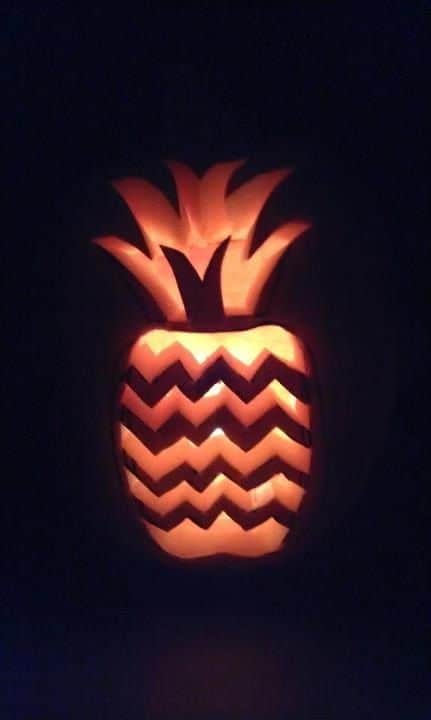 The herringbone pattern in that shape says it all !
via Pinterest
20. minion pumpkin carving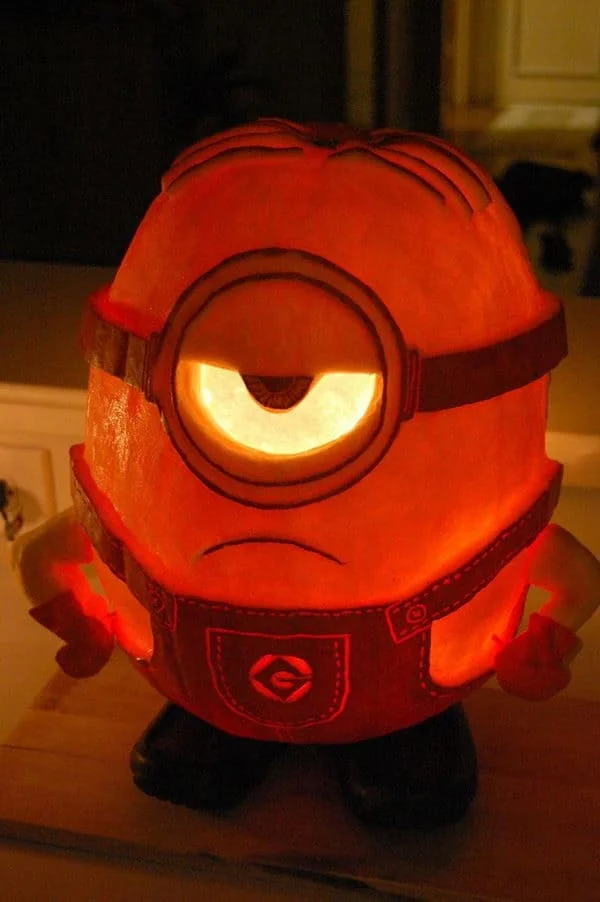 It requires a little skill but this minion pumpkin is something else entirely, insanely fun and graphic, the little one will bring immense joy and happiness in one`s home.
via reddit.com
21. boo pumpkin carving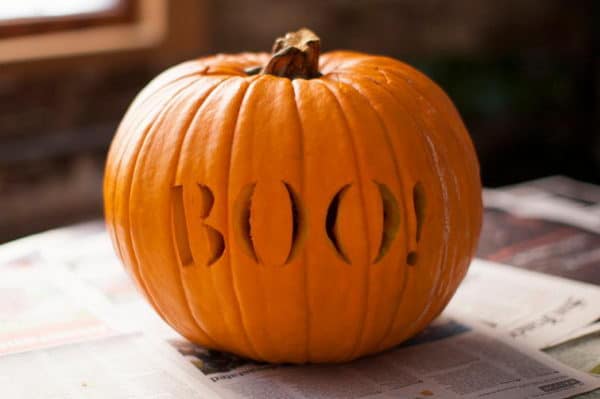 Done right, the simple message is fun enough to capture smile and fast enough to be considered in last-minute situations.
via brit.co
22. sculpt a mucking-jay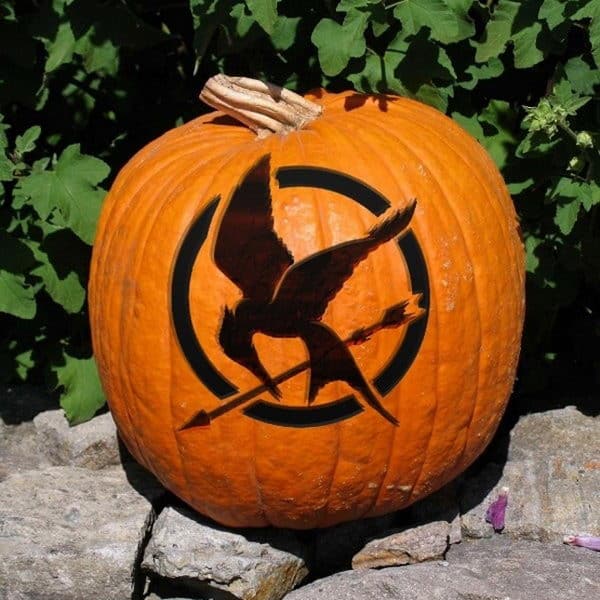 Inspired by the Hunger Games the mocking jay symbol will be appreciated by amateurs and enthusiasts of the show a great deal.
via buzzfeed.com
23. QR Code Pumpkin
A really fun twist on a cool message, surprise your tech-savvy friends !
via qrcartist.com
24. One cut pumpkin decoration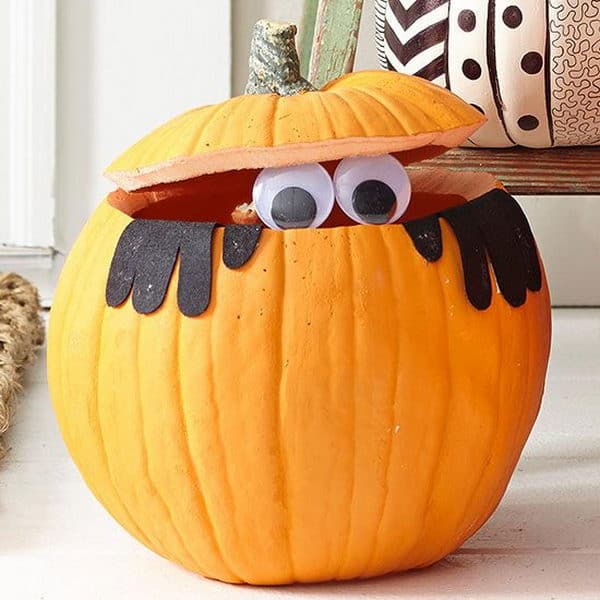 One pumpkin and one cut on the top can shape something pretty interesting, playful, definitely a decor piece to consider making with your little ones.
via bhg.com
25.  witch leg pumpkin carving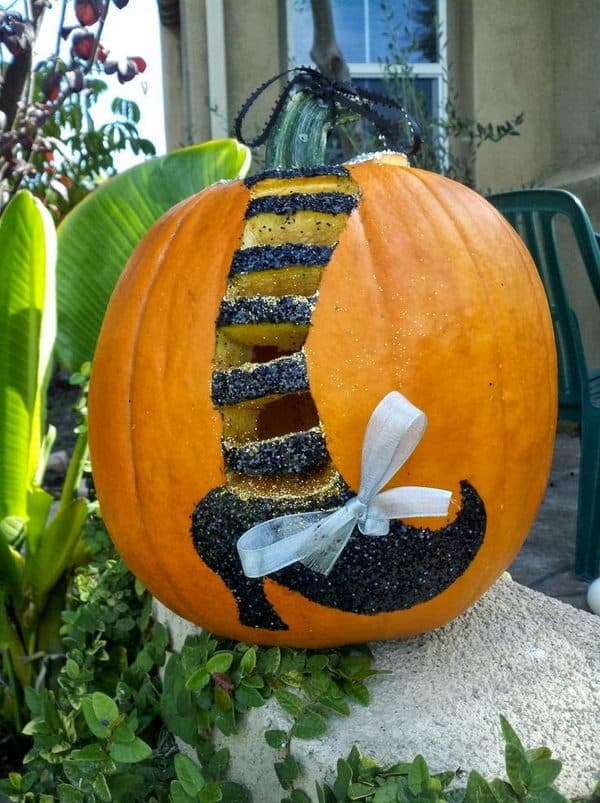 It includes glitter and a component ever-present in children fairy-tales, something beautiful to realize with your little ones.
26. create a faux pumpkin carving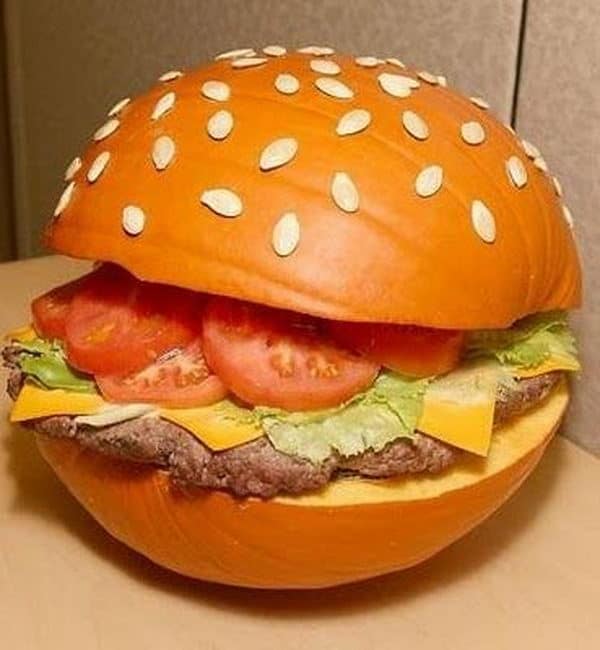 It looks awesome as long as it`s fresh; it will clearly increase one`s appetite.
via creatingreallyawesomefreethings.com
27. one jar and all the fireflies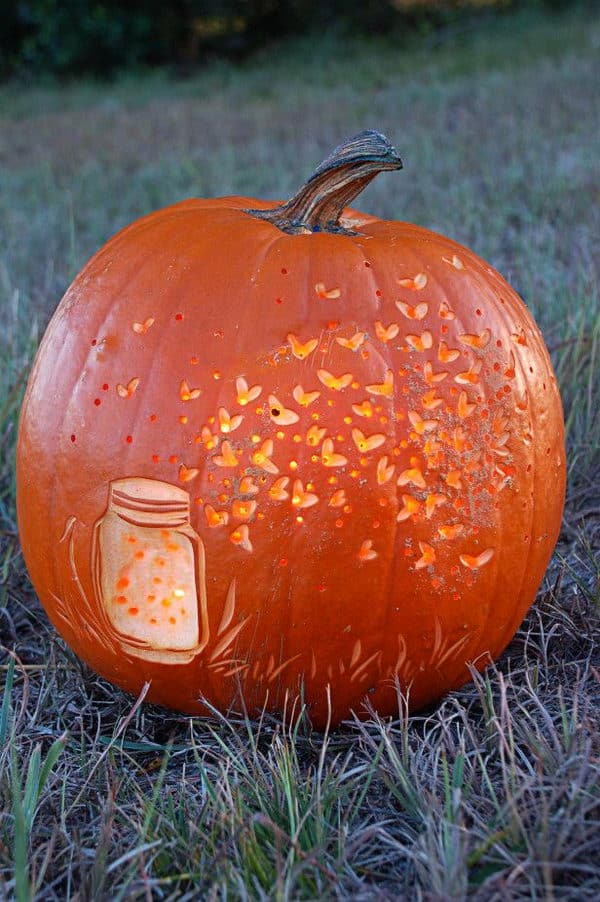 Mason jar and fireflies, something really magical to shape with a drill in minutes.
via hgtvgardens.com
28. Tree of life carving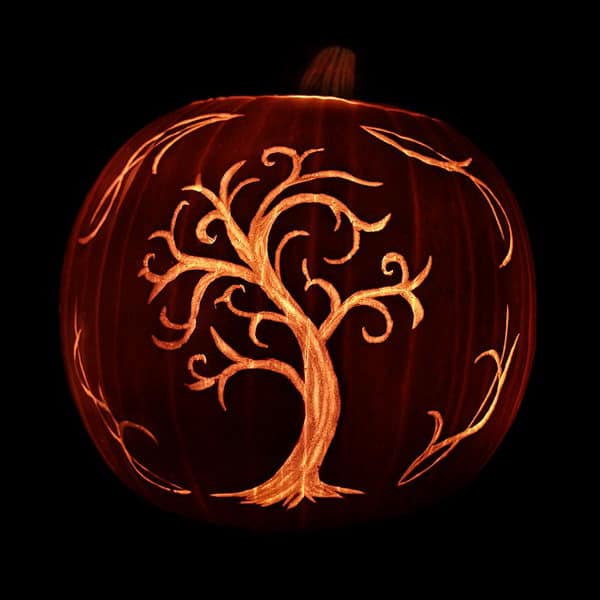 Carving the bark waved to the shape of the tree can emphasize the design a great deal, small differences in depth can help in that regard.
Source Unknown
29. Halloween Ice Pumpkin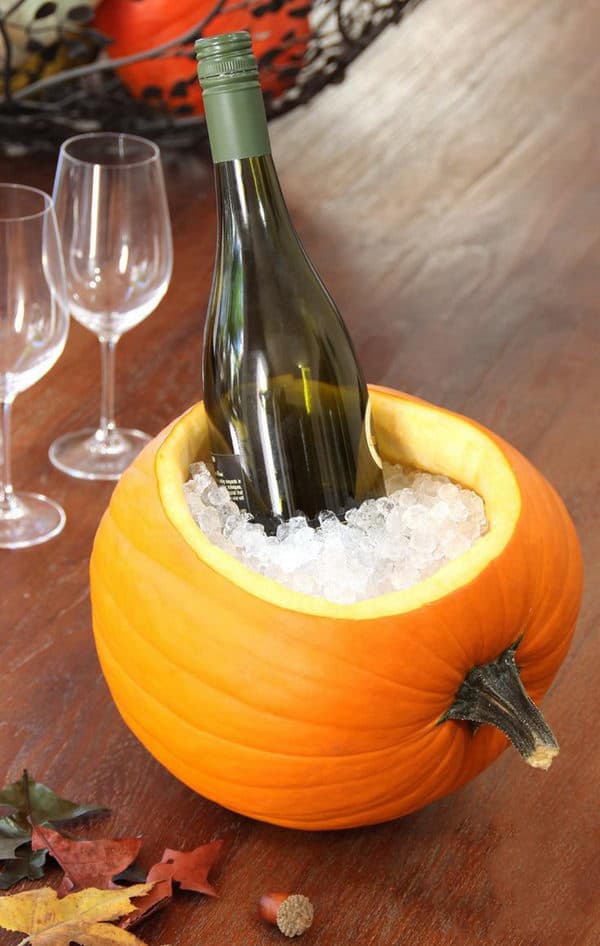 Swift, rapid and really practical the ice pumpkin can contribute to your party elegantly.
30. car and caravan pumpkin carving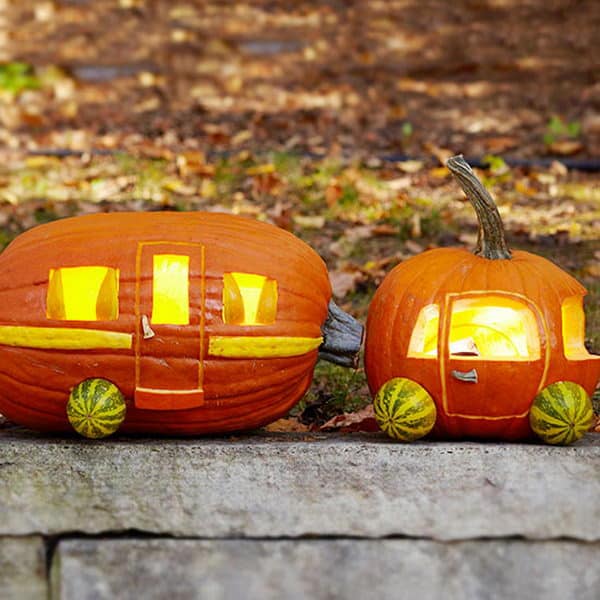 The little ones will simply adore this craft, their dream car might be hard to sculpt but something playful, torn from fairy tales surely ain`t.
via bhg.com
31. clock pumpkin carving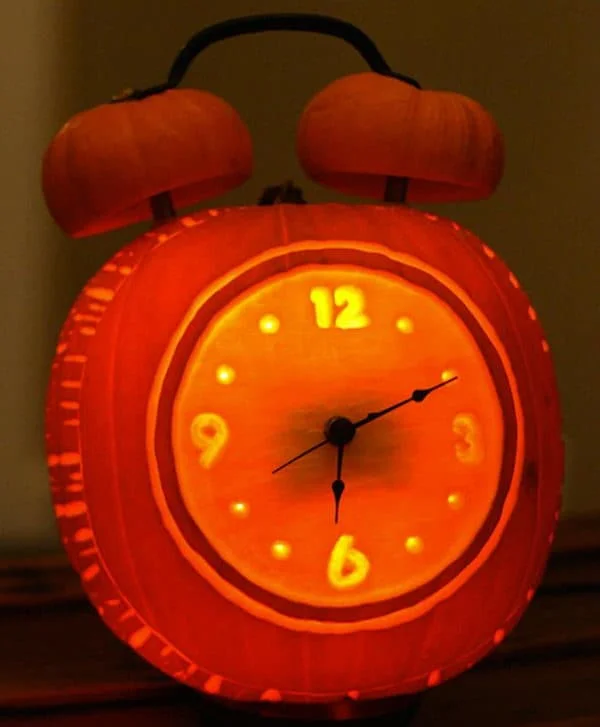 A patience game that will surely stand the test of time.
via builtbykids.com
32. Ninja Villain Pumpkin Carving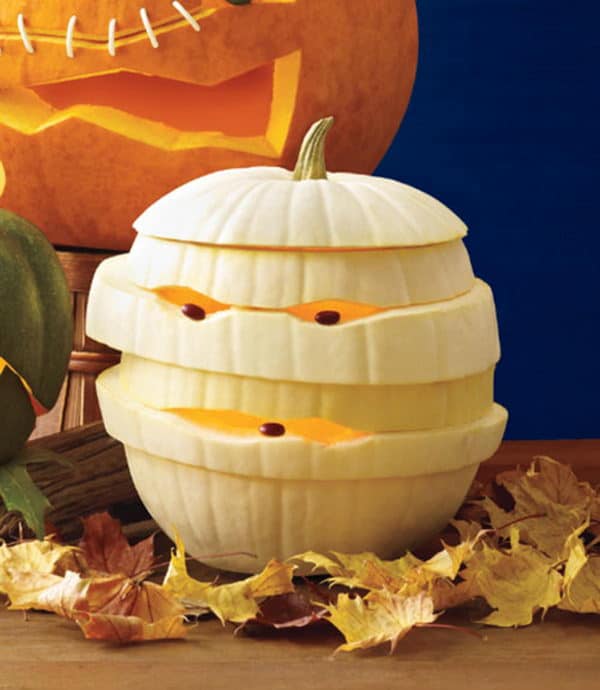 A really simple carving that seems to be evil with only three beams and a few slices, whether it describes a mummy or a ninja villain, we don`t know, evil it surely looks.
via womansday.com
33. Witch PUMPKIN carving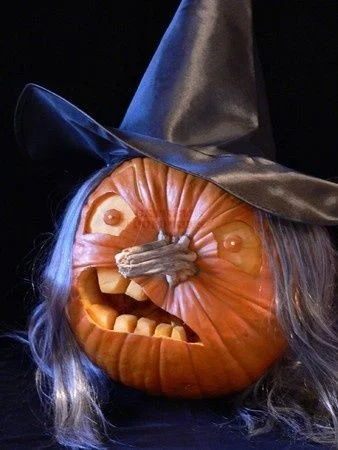 You can use part of a Halloween costume that you are not wearing this session to dress your pumpkin, the carving itself is not difficult yet take note that the "smile and the teeth" contained play a big role.
via Pinterest
34. little tribe pumpkin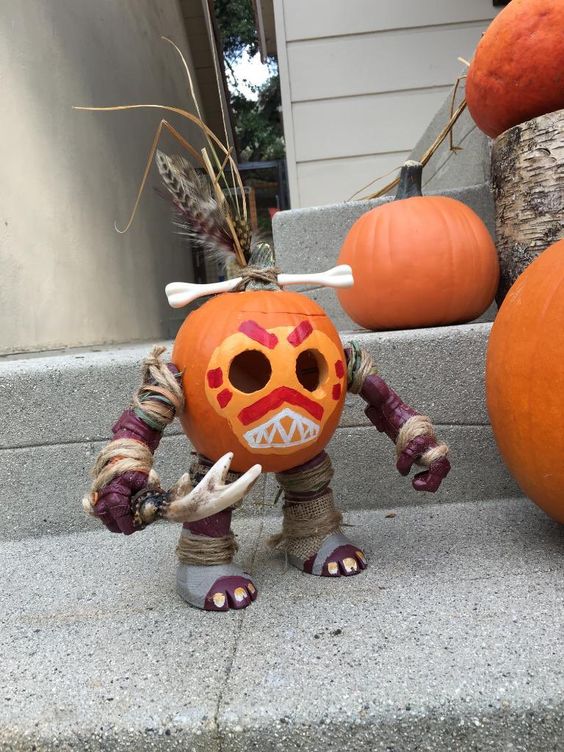 A really fun project to realize with the little ones, use twigs, branches, old textiles and paint, the result will be epic.
via Pinterest
35. diy pumpkin emoticons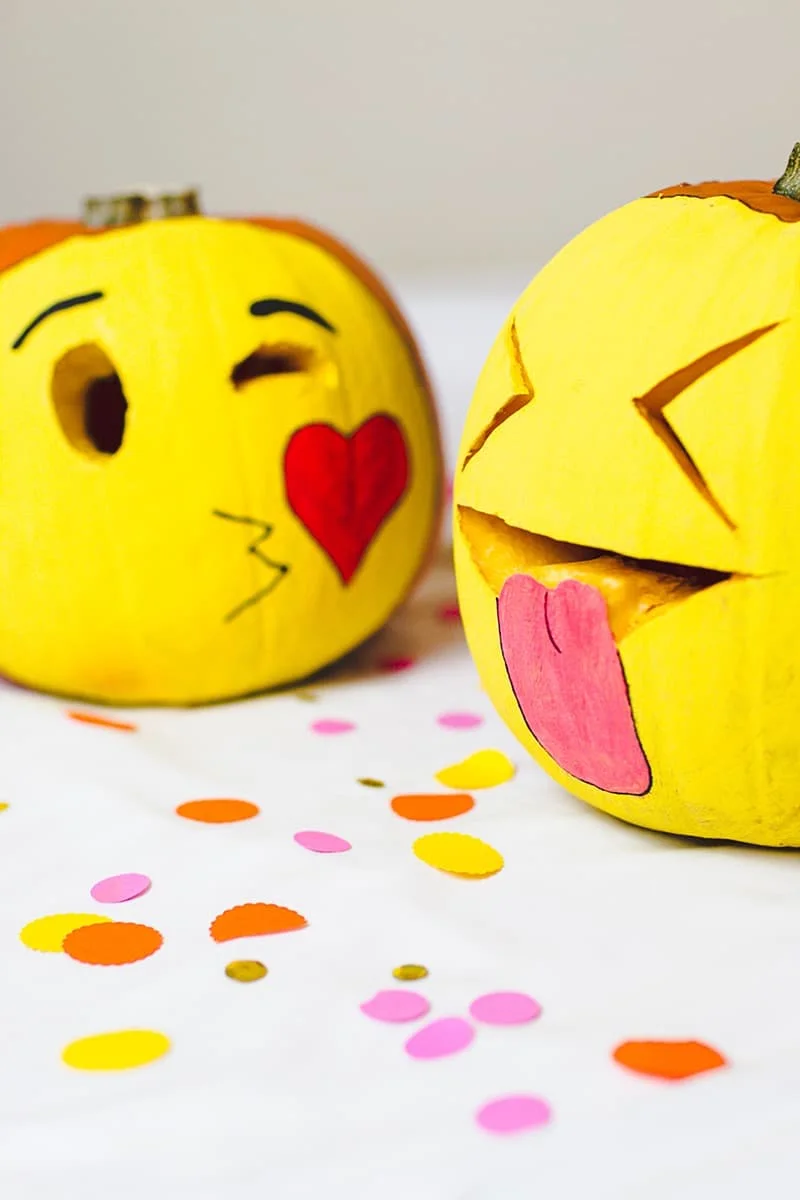 A colorful and simple solution that you can customize a great deal, invite each family member to materialize his favorite emoticon and have a blast !
via youtube.com
36. Flowered Carved Pumpkin
The artist in you can be unraveled in various mediums, Halloween can offer you a pumpkin as a canvas.
via hgtvgardens.com
37. diy pumpkin IMPRISONMENT decoration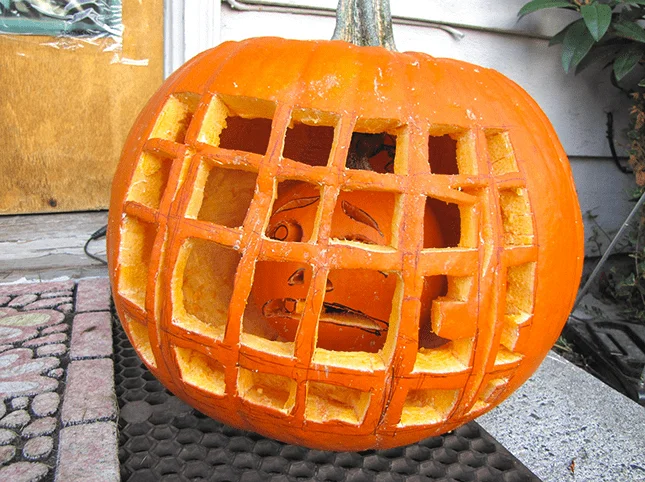 38. spooky forest pumpkin carving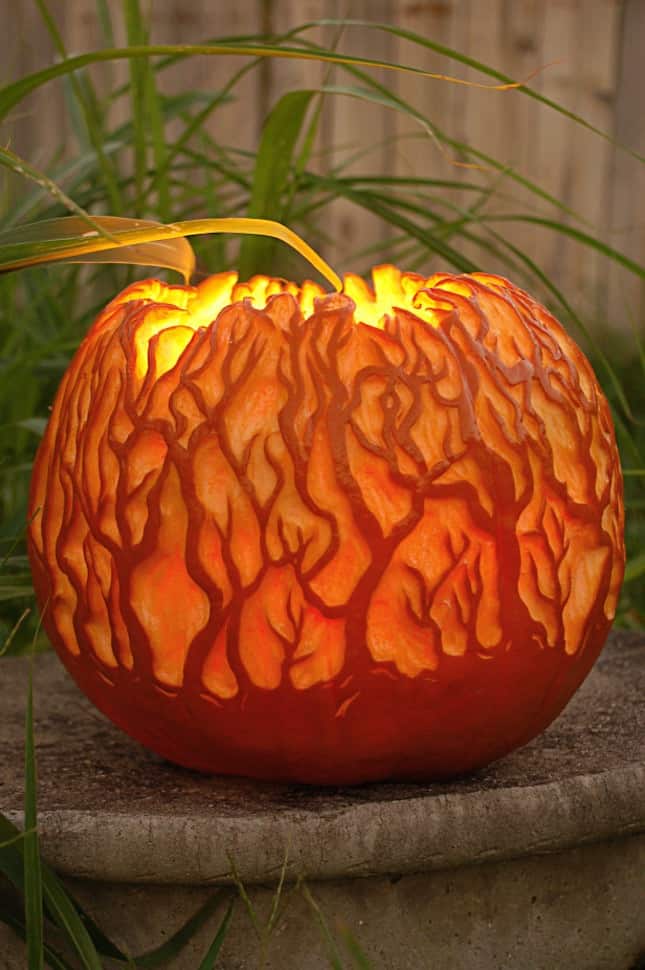 A spooky and sculptural forest that seems to burn, animated by light from within, the opening on the top looks surreal, extraordinary graphic.
via hgtvgardens.com
39. Letters and paint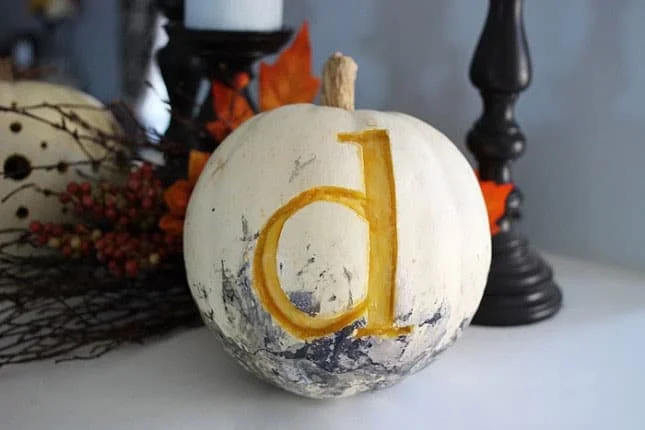 The simplest carving paired with paint can give emphasize your setting, highlight it through the right means.
via thewonderforest.com
40. create a pumpkin home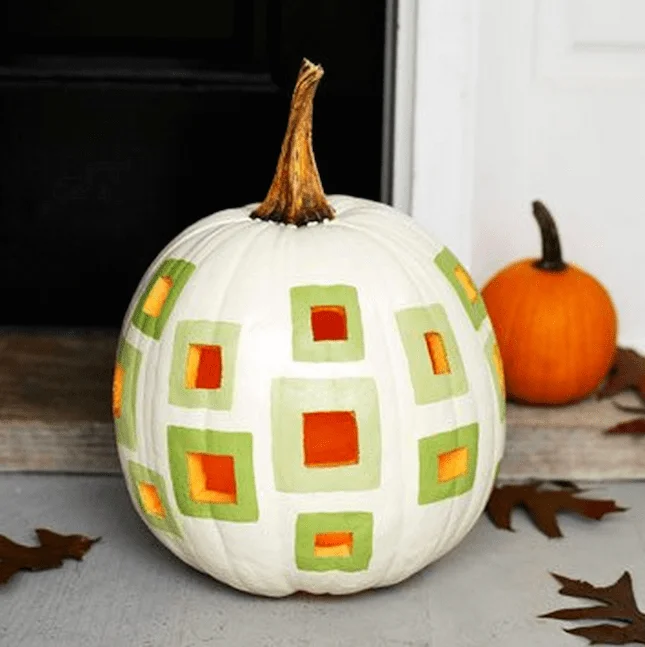 Small windows inserts in a pumpkin shaping a pumpkin home.
via familycircle.com
41. elegant linear pumpkin carving
via thebluebrick.ca
42. memorable mascots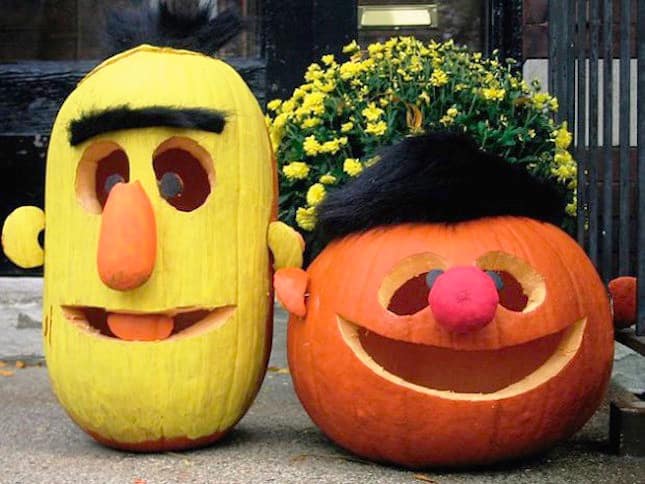 via makezine.com
43.elegant insect home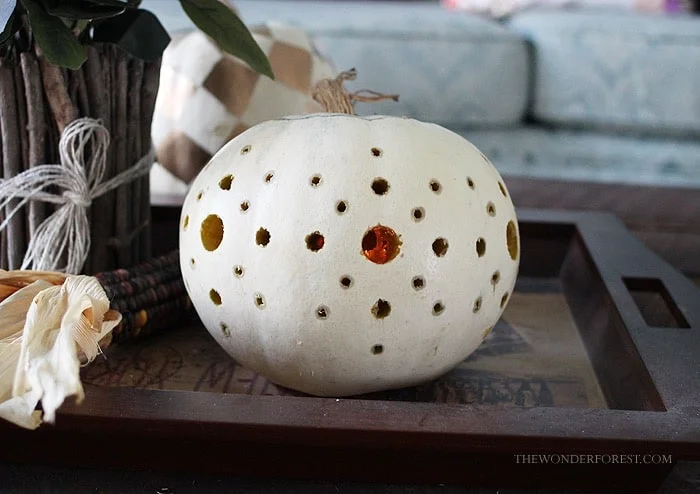 In white in particular, holes of various widths and depths construct something playfully mysterious, insert plastic bugs and may the Halloween celebration begin !
44. Tribute to vw Minivan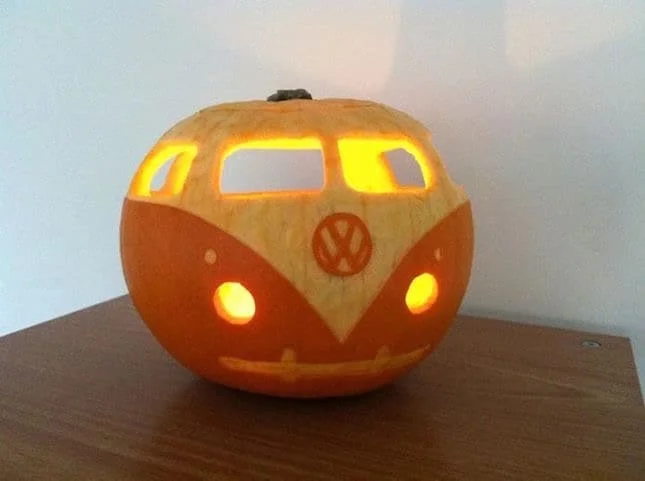 via facebook.com
45. Celebrate with Jack skellington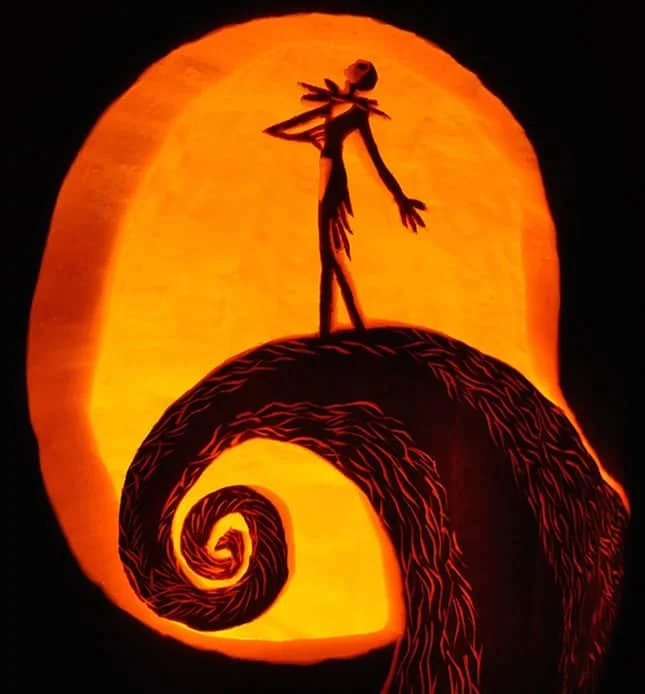 46. adorable minion pumpkin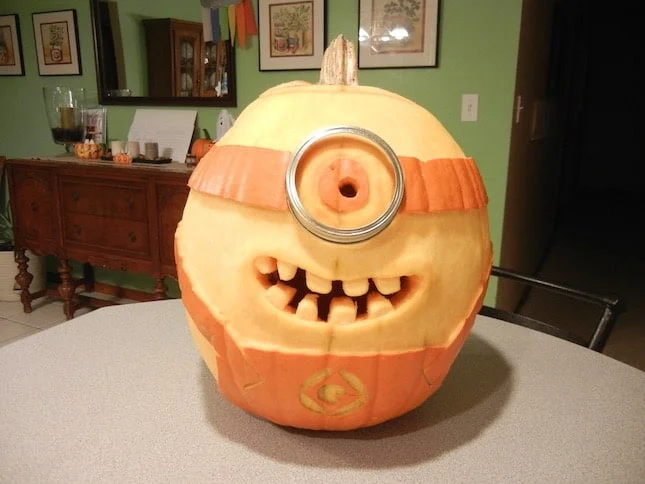 47. Pumpkin cinderella carriage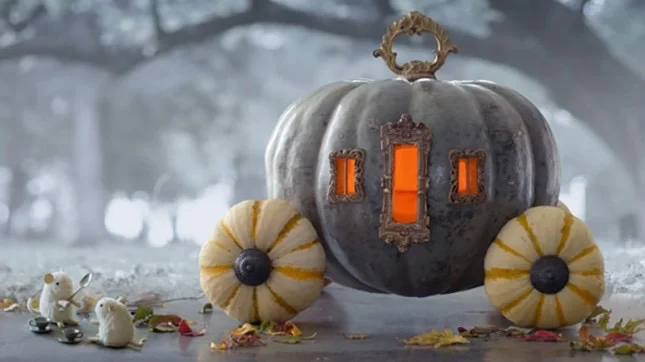 Torn from fairy tales, magical and simple to realize with sufficient patience.
48. starbucks enthusiast pumpkin carving
The enthusiast cannot go wrong with this one, nor can the firm itself.
via sheknows.com
49. pumpkin street number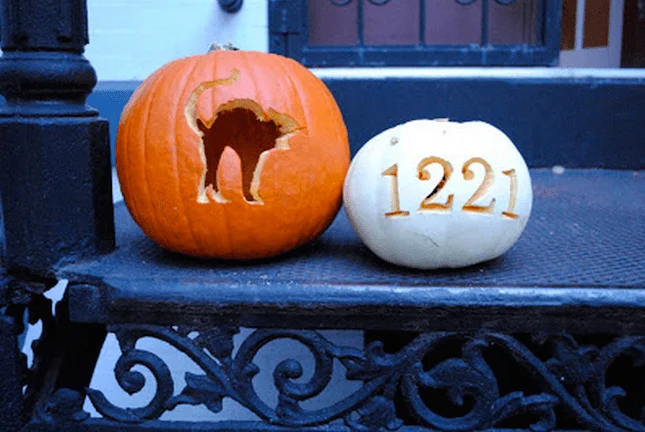 A really simple and ingenious way to mark your street number during Halloween, the cat pumpkin can also make a scary noise based on a proximity sensor, it will spread fear and laughter with great success.
via kellyandtiramisu.com
50. starry pumpkin animated by light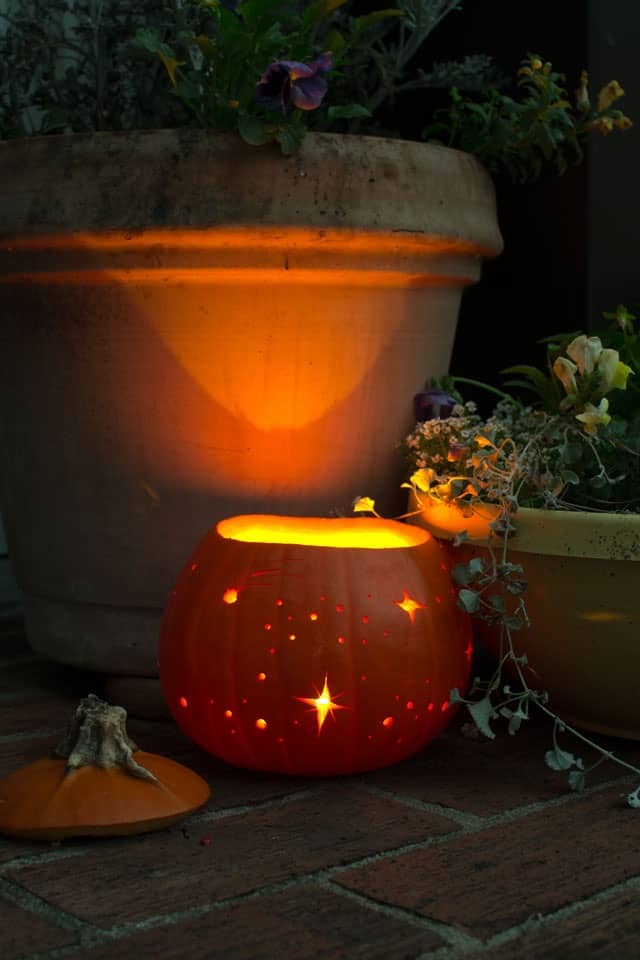 via homeologymodernvintage.com
51. chevron pumpkin lantern done right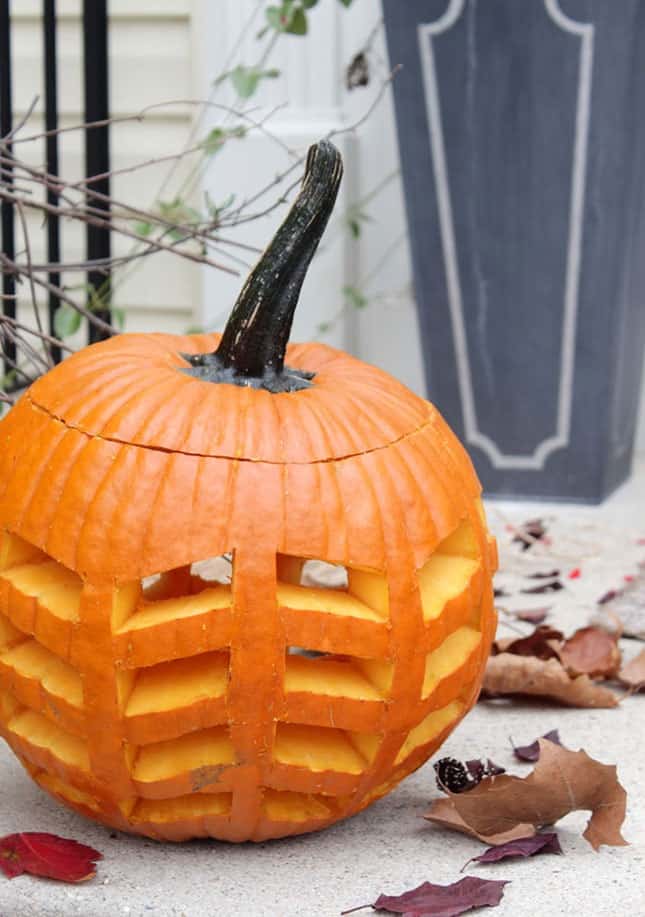 A candle will make the carving justice throughout the night.
via remodelandolacasa
52. lovely glitter pumpkin candles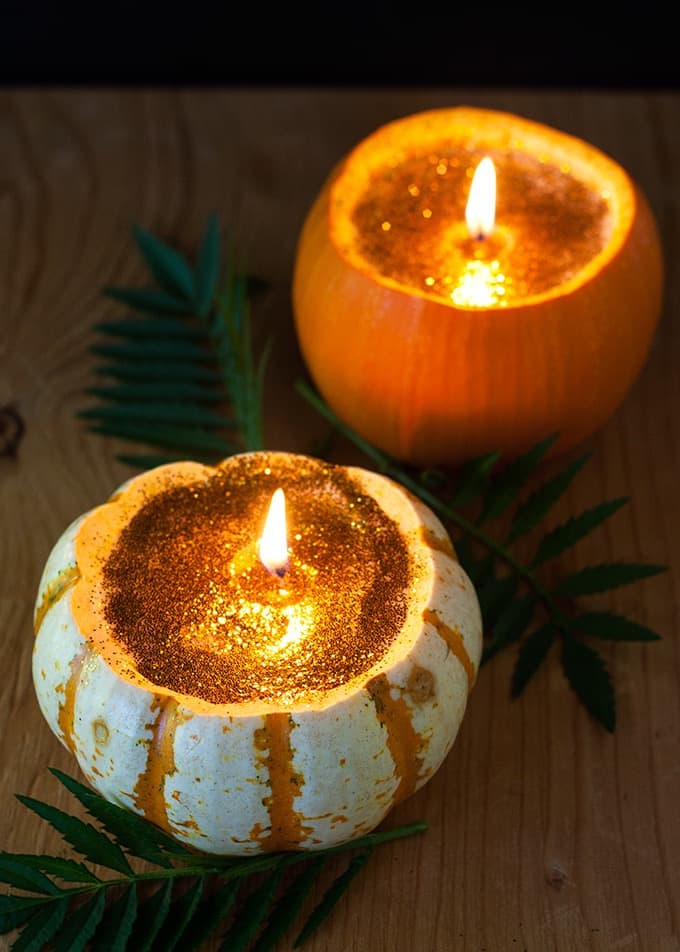 Spread the pumpkin-candle smell to construct that epic Halloween atmosphere.
via adventures-in-making.com
53. diy MUSTACHE pumpkin carving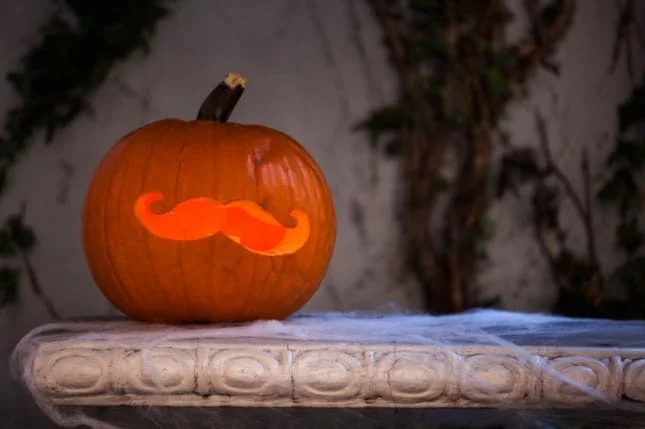 The shape of the mustache tells a story, get creative !
via brit.co
54. ELEGANCE in astral pumpkins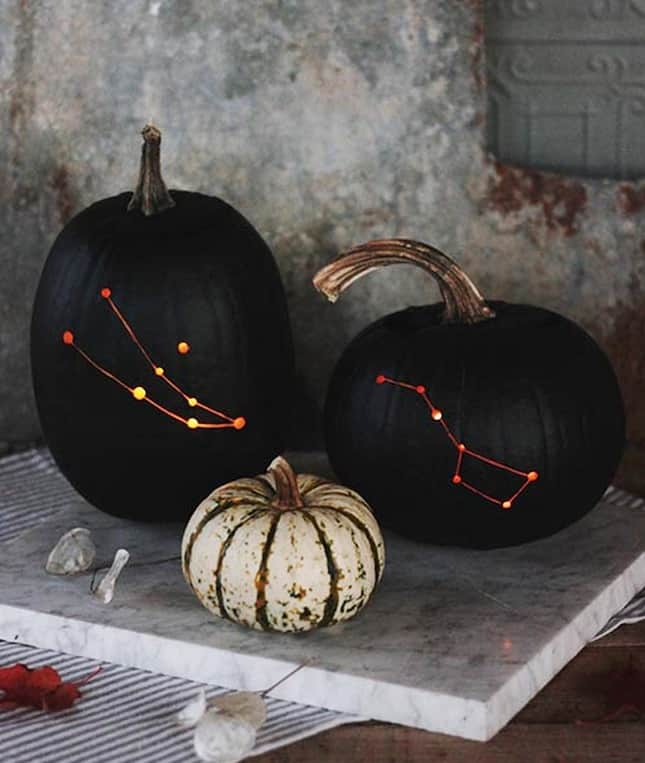 Candle light from within piercing a black pumpkin is great great combination.
via designsponge.com
55. playful candy pumpkin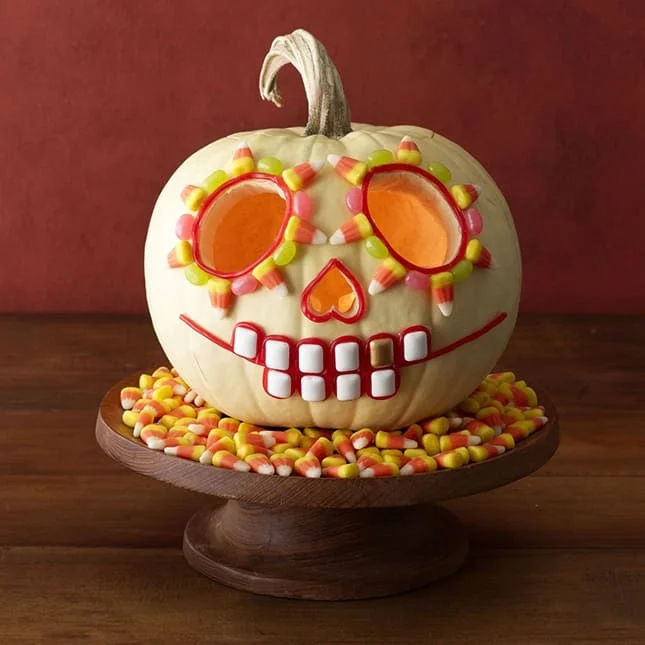 A pumpkin surrounded by sugar, smiling.
via womansday.com
56. diy heart pumpkin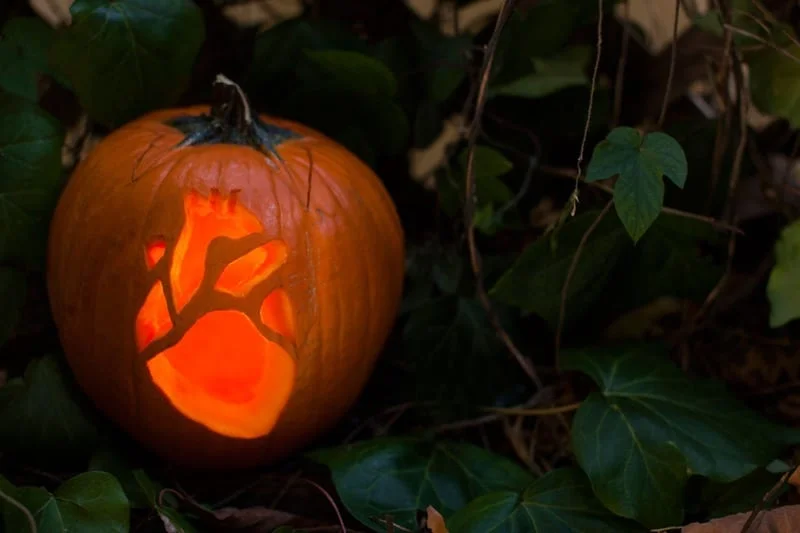 via brit.co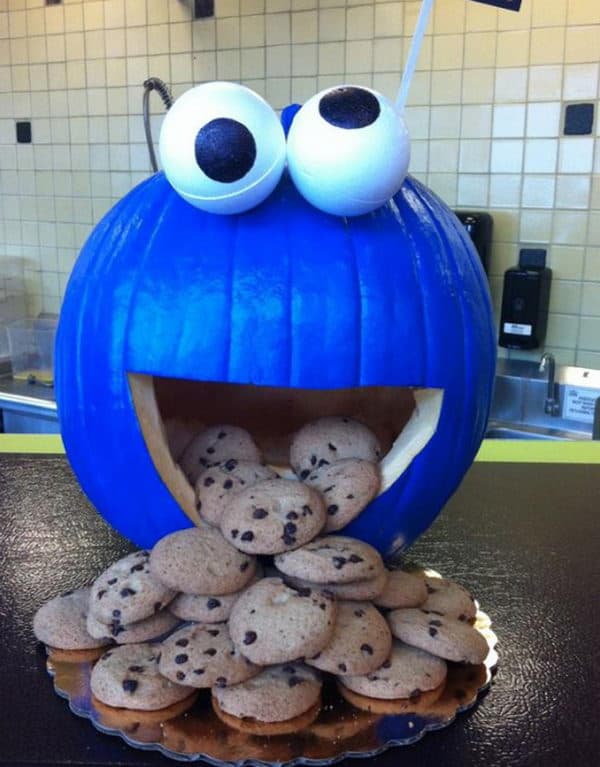 You can serve cookies in an unique manner.
58. one simple LANTERN and its pumpkin friends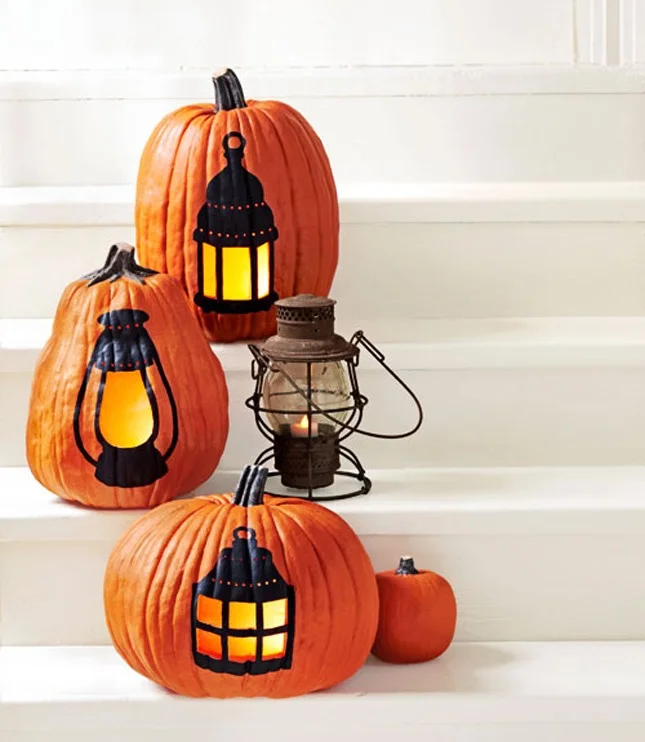 59. diy pumpkin elephant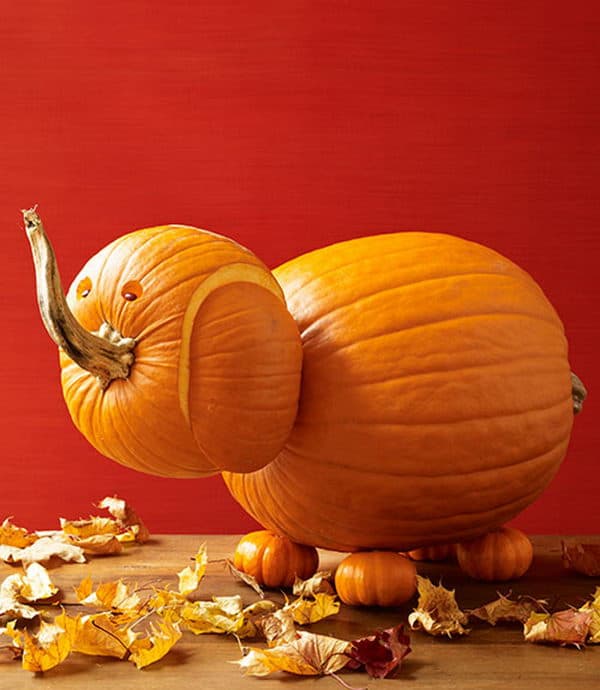 via womansday.com
60. almost happy pumpkin gathering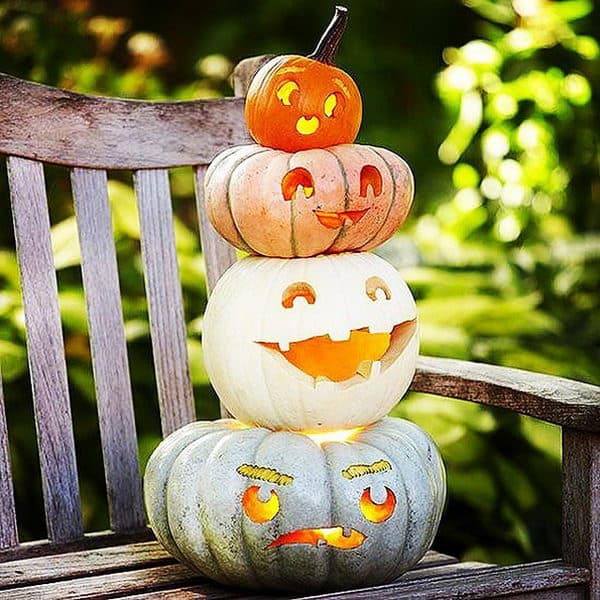 via casasugar.com
61. invite harry potter into the picture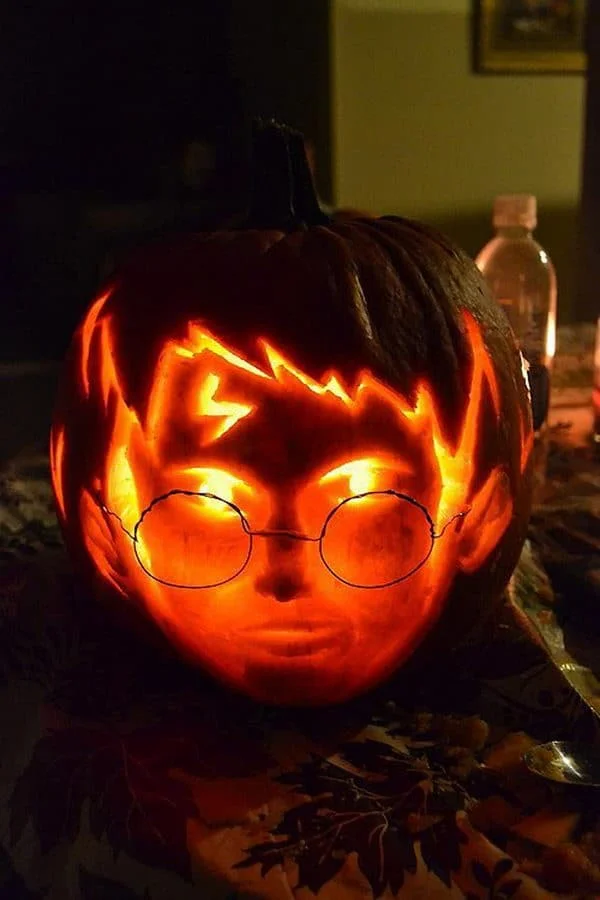 via popsugar.com
62. create playful scenarios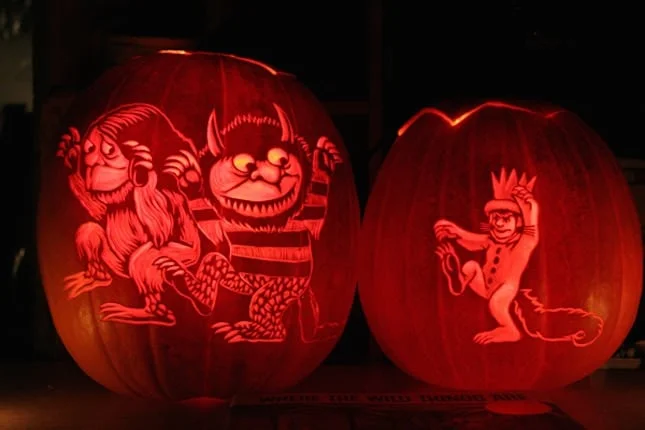 Each pumpkin can portray different character that once moved around will change the meaning of the scene.
63. spread the power of pi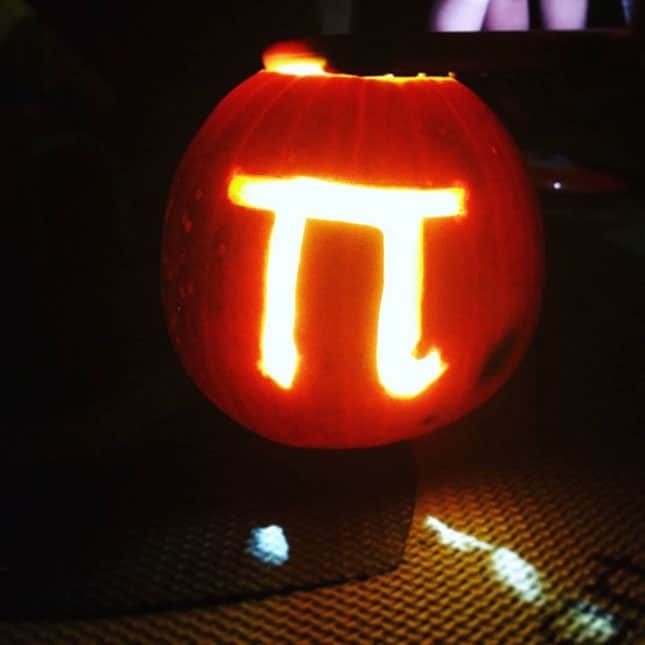 via rydersmommy531
64. sketch your pet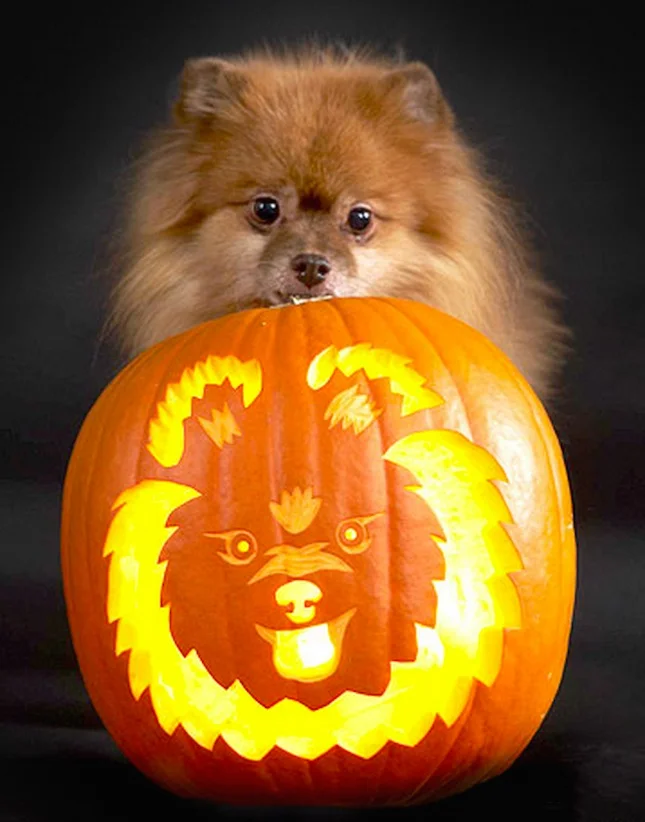 via pinecam.com
65. diy RIB-CAGE pumpkin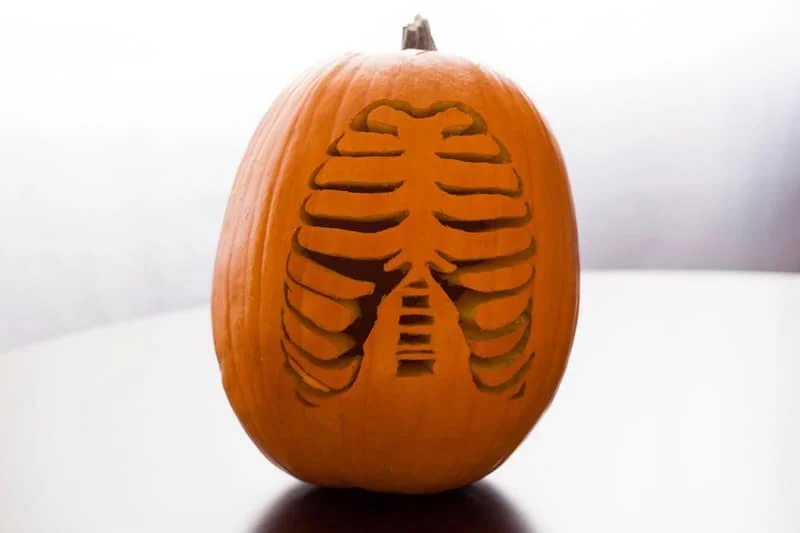 via brit.co
66. sculpt a hello kitty witch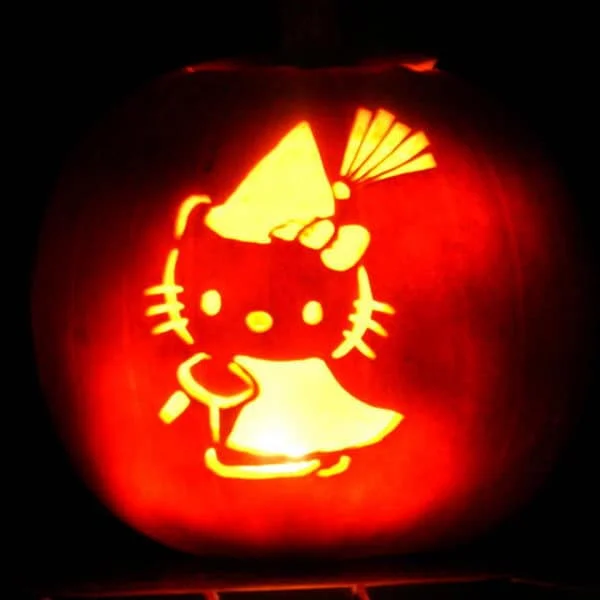 The little ones will adore the creative take on their favorite cartoon character.
via popsugar.com
67. TRULY scare your loved one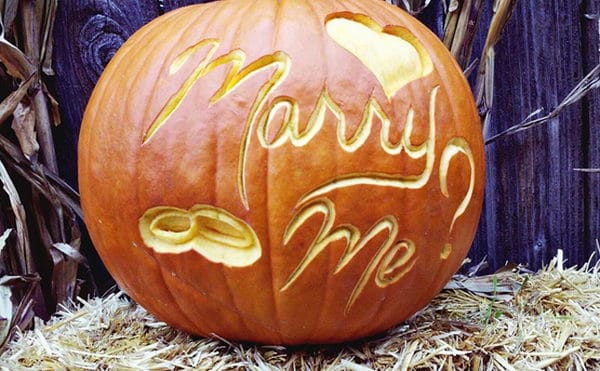 via minimalisti.com
68. create candy and PUMPKIN INSTALLATIONS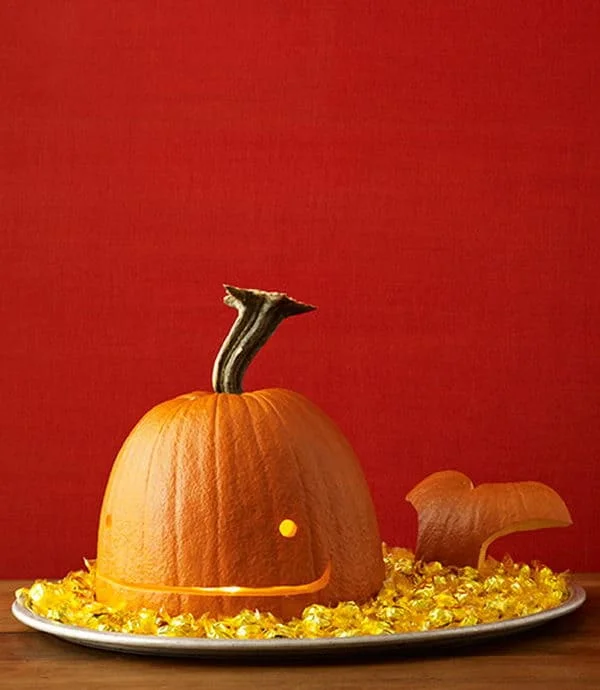 One pumpkin and a ton of candy or a happy whale sailing away into an ocean of candy.
via womansday.com
69. use ORGANIC lines in carving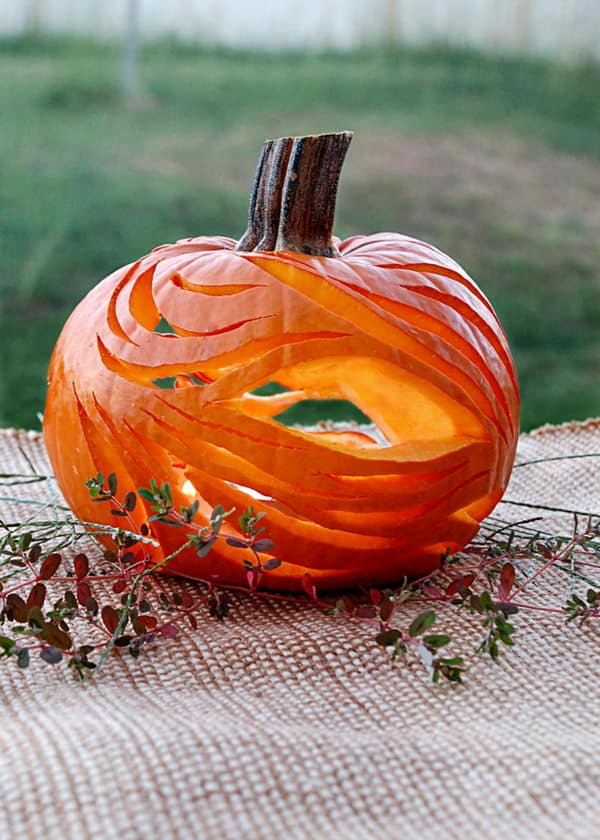 Nature shares with us the world`s most extraordinary designs, each day, surge inspiration from simple models.
via hgtvgardens.com
70. diy pumpkin house torn from fairy-tales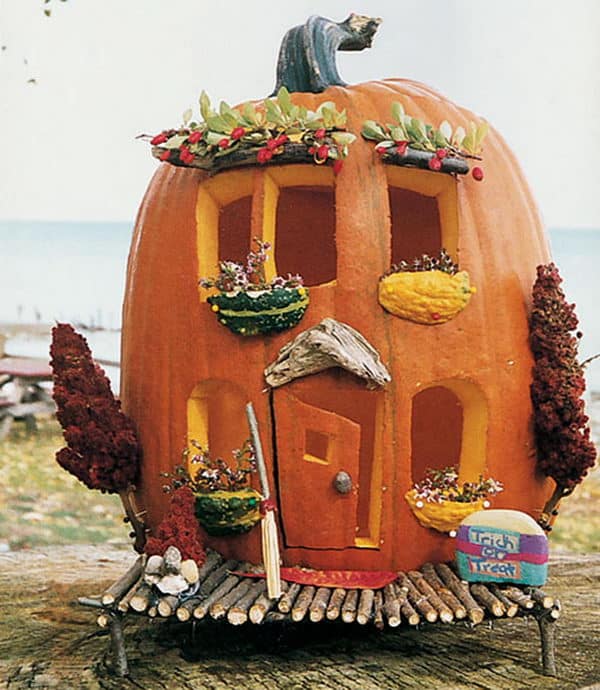 In fairy tales, everything makes sense, simply start you craft and let it evolve.
71. ambush a little PUMPKIN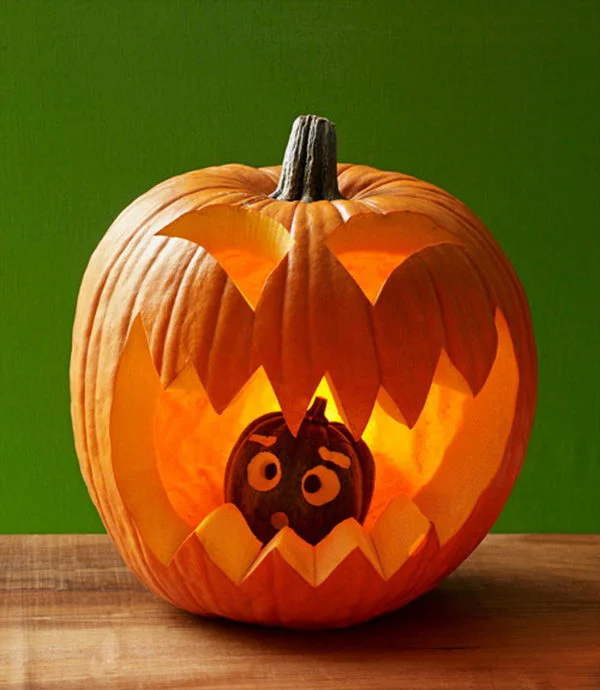 via womansday.com
72. create contrast through depth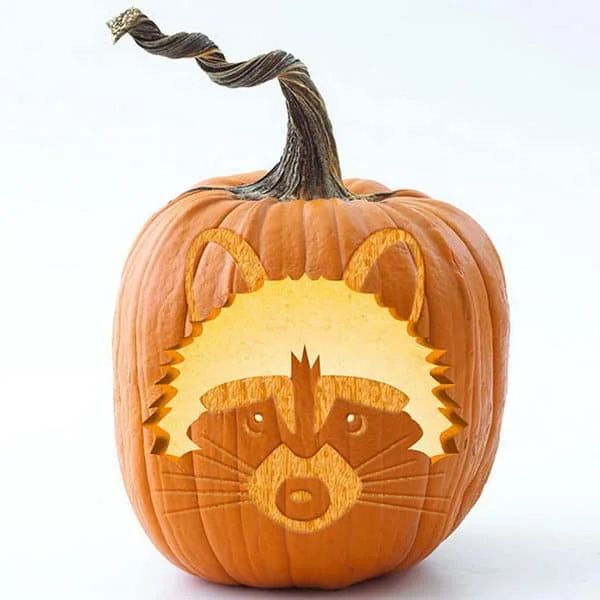 via bhg.com
73. use pumpkins to send a message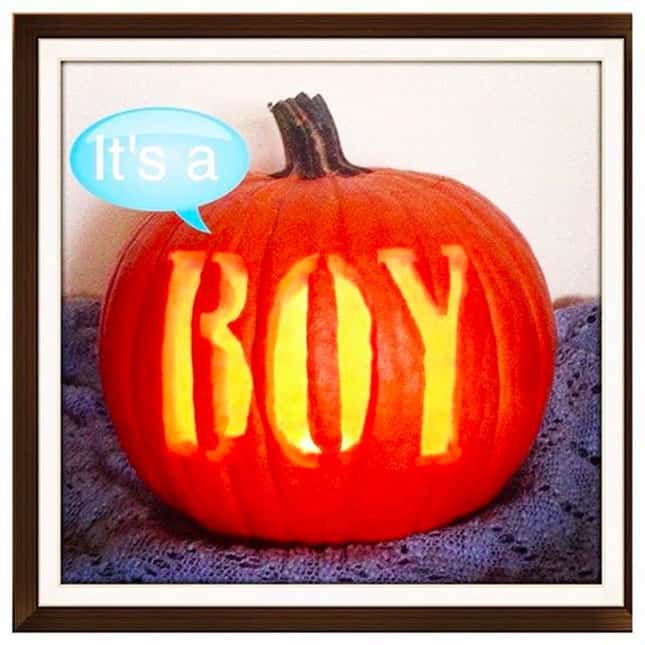 via instagram.com
74. use leaf's as a motive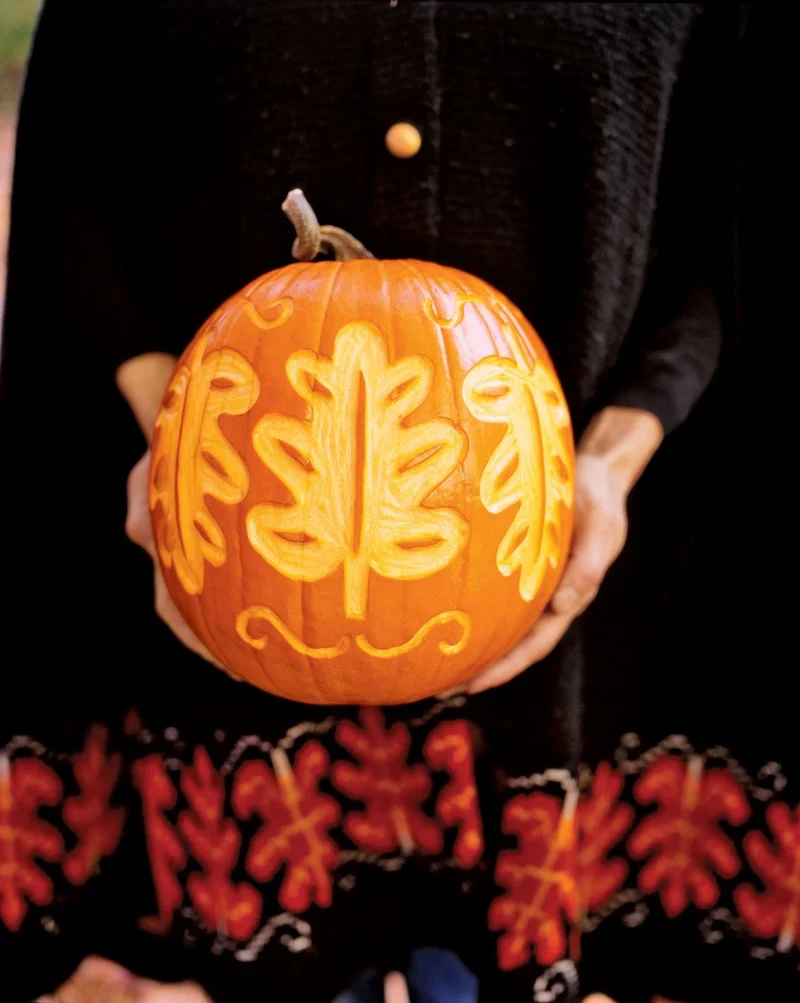 75. white pumpkin devoured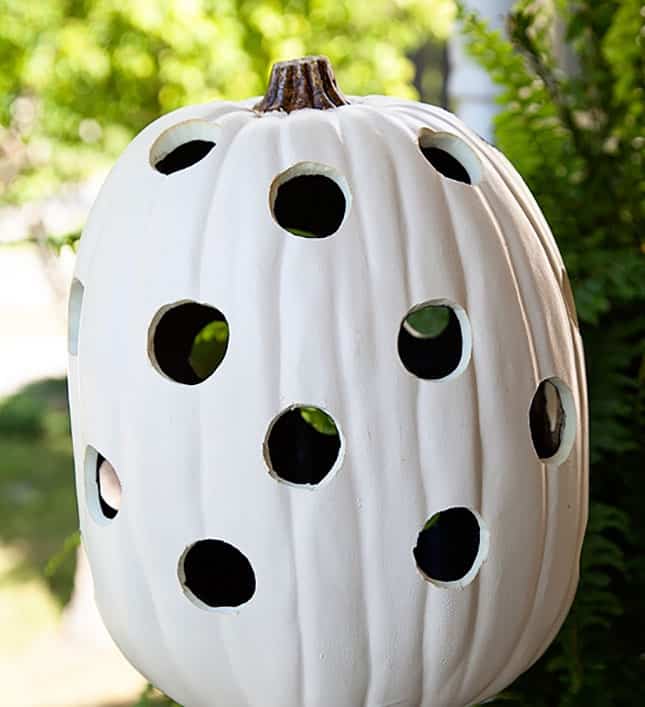 via whipperberry.com
76. Boo jar on a pumpkin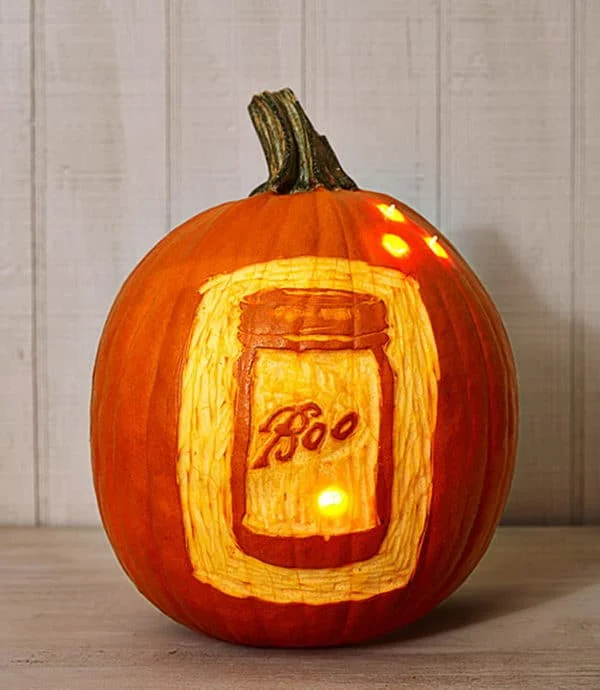 77. diy pumpkin candy jar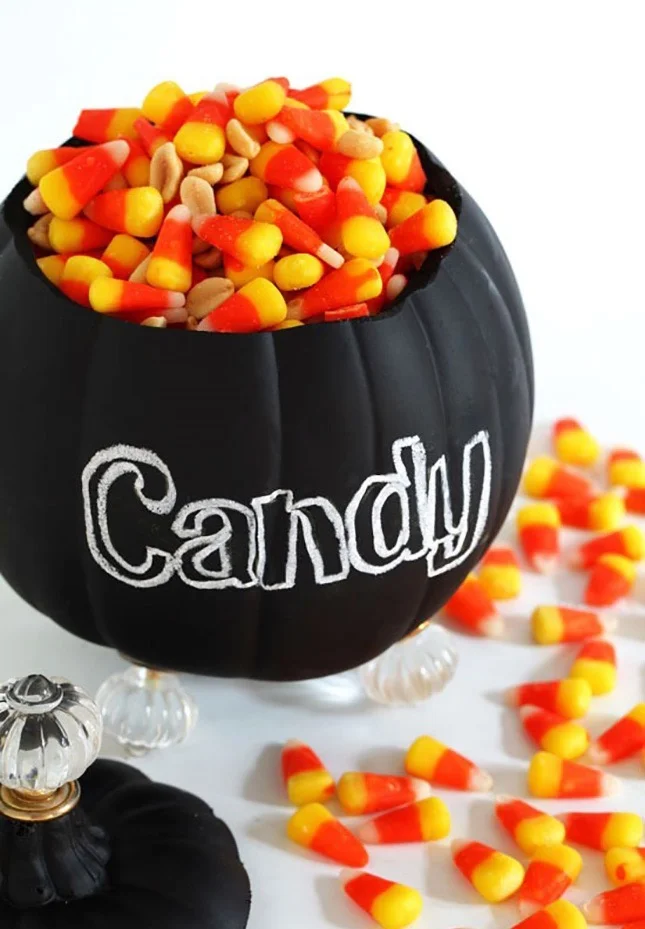 During Halloween the candy jar can`t be neglected.
via inmyownstyle.com
78. scourge uprising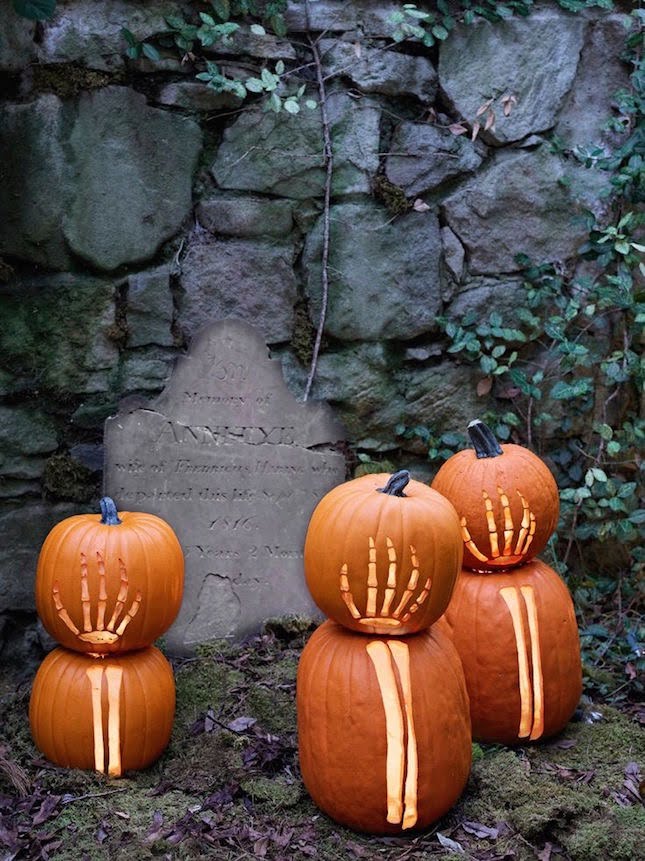 Animated by light from within the scourge hand pumpkins will surely spread fear after sunset.
79. glamour boo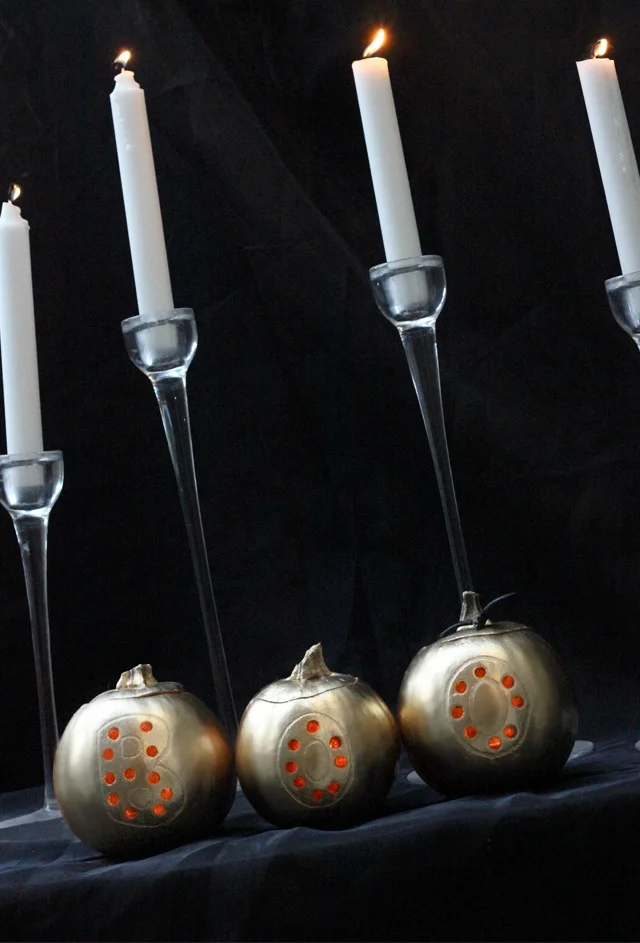 Golden pumpkins are like nothing else, they can fit anywhere.
via withlovely.com
80. a different pumpkin lantern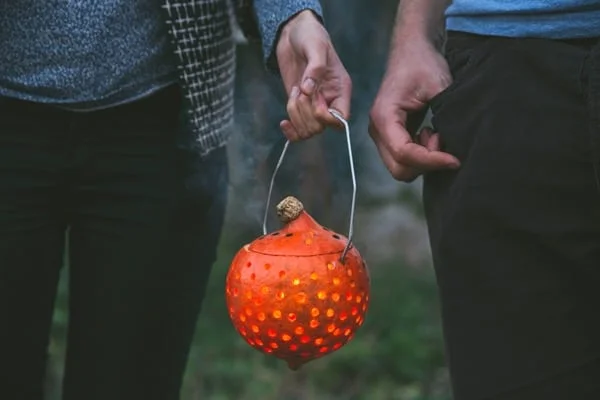 81. carve chevron patterns on your pumpkin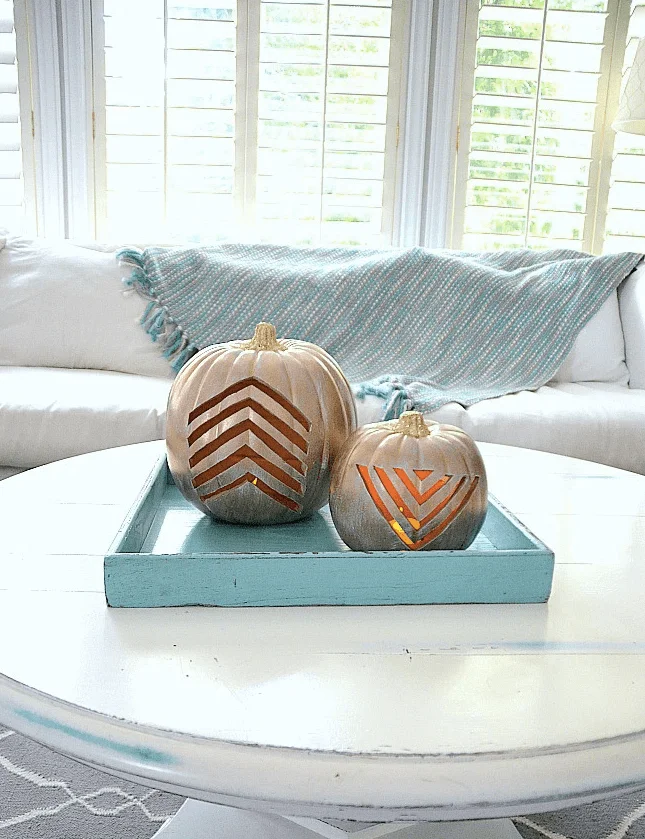 A lush and luxuriant look of great simplicity, ready to emphasize any interior design.
82. use a pumpkin as a vase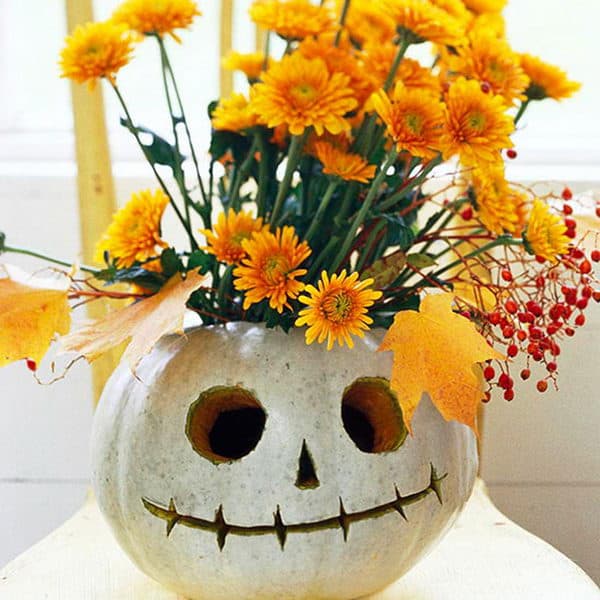 via bhg.com
83. shape a haunted pumpkin NEIGHBORHOOD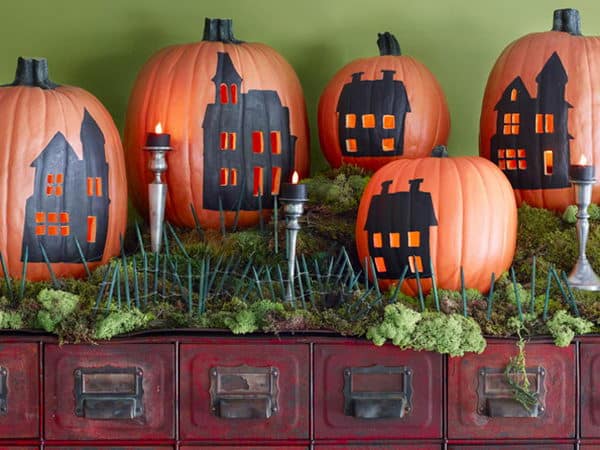 84. evil spider-man pumpkin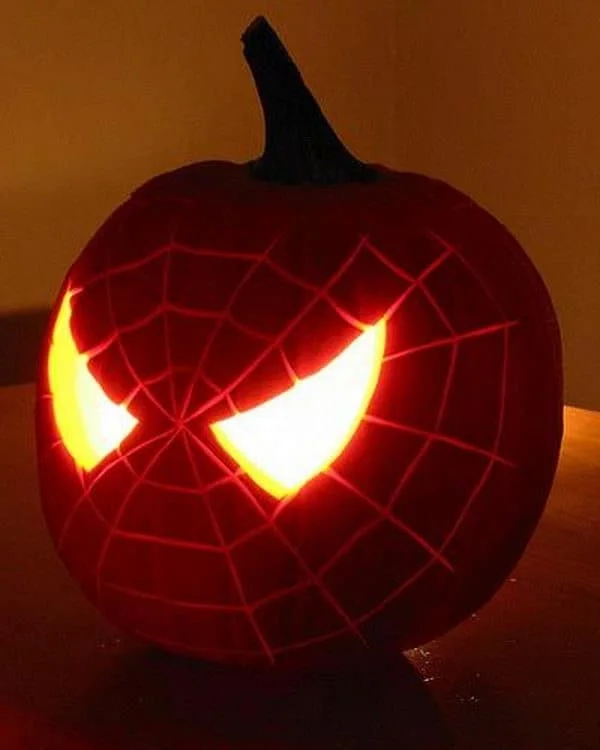 85. Funny pumpkin Viking duo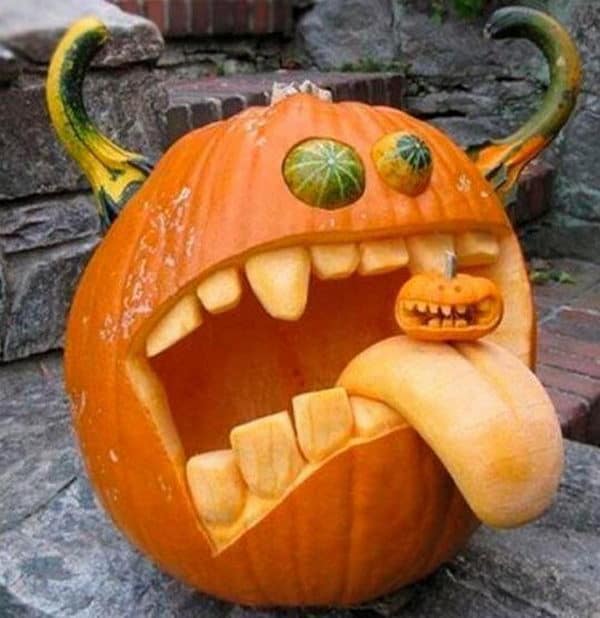 Adorable and infinitely powerful duo.
86. carve the R2-D2 pumpkin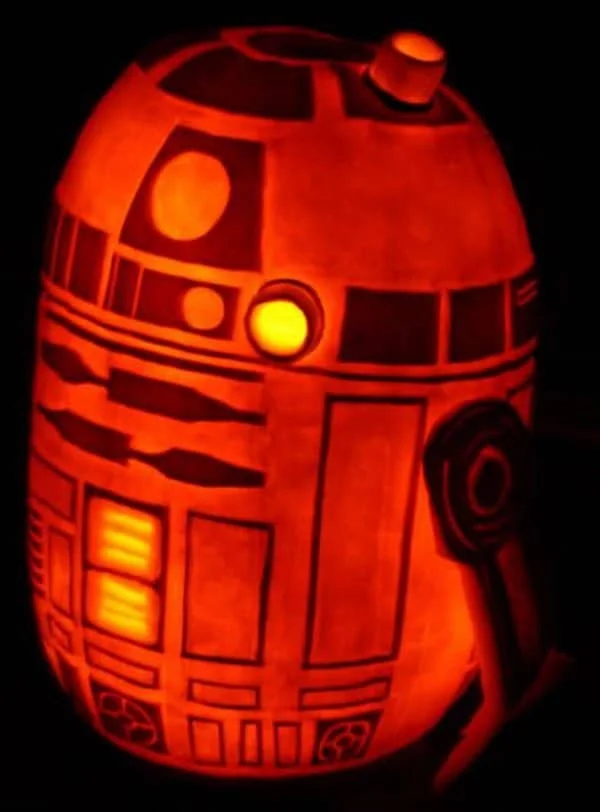 Source Unknown
87. Dotted pumpkin lantern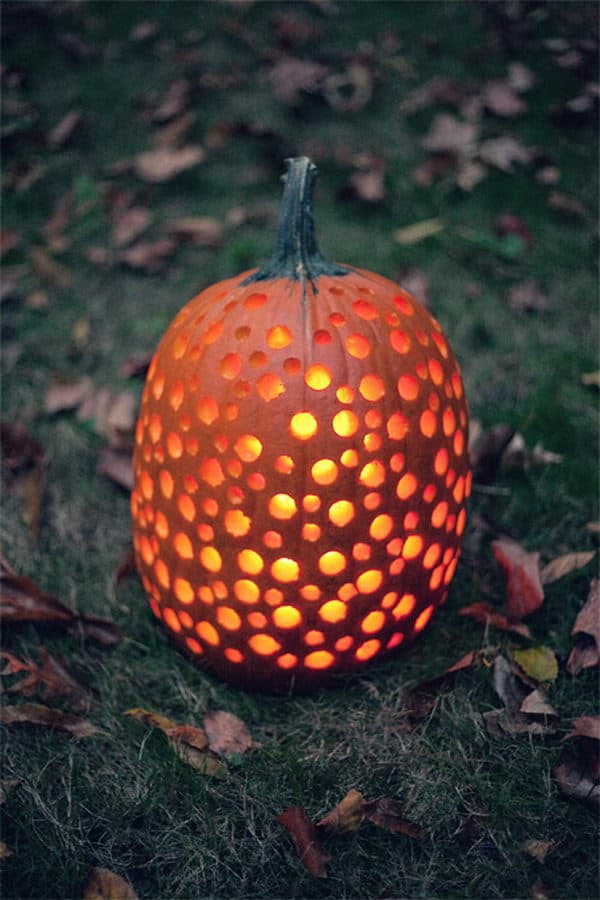 88. simple owl pumpkin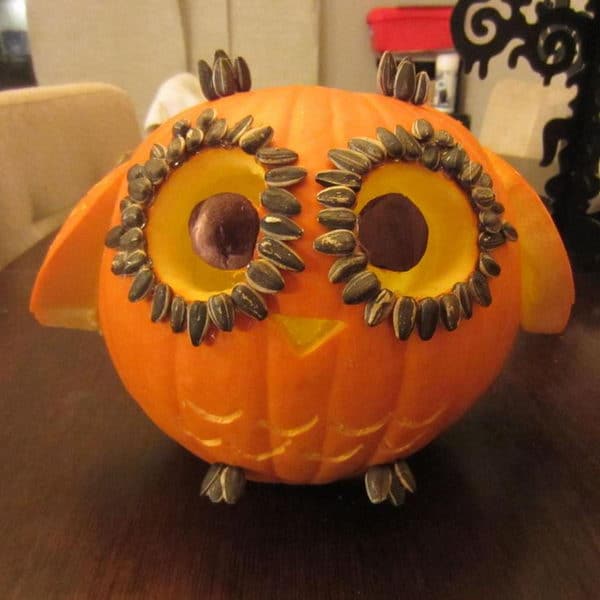 via thisoldhouse.com
89. happy flowered skull pumpkin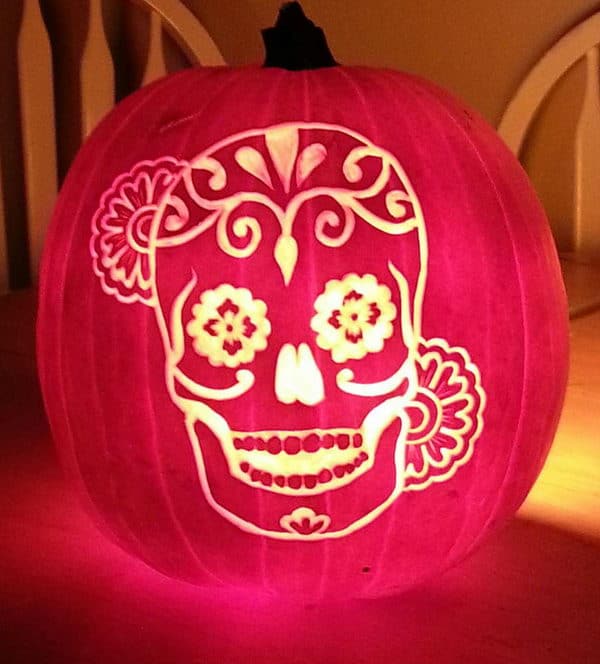 via Pinterest
90. diy mickey mouse pumpkin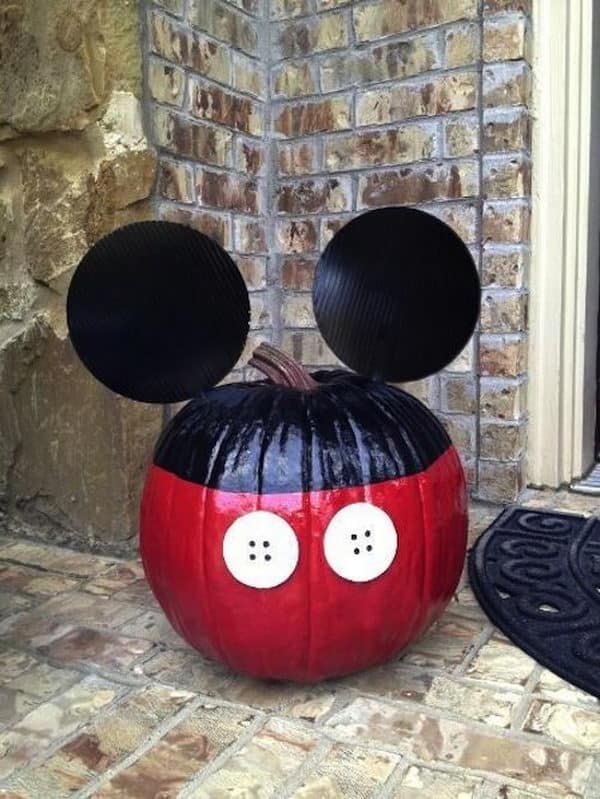 Paint and cardboard, everything you need.
91. Use blood, use teeth
via thisoldhouse.com
92. Draw Inspirations from Nature`s best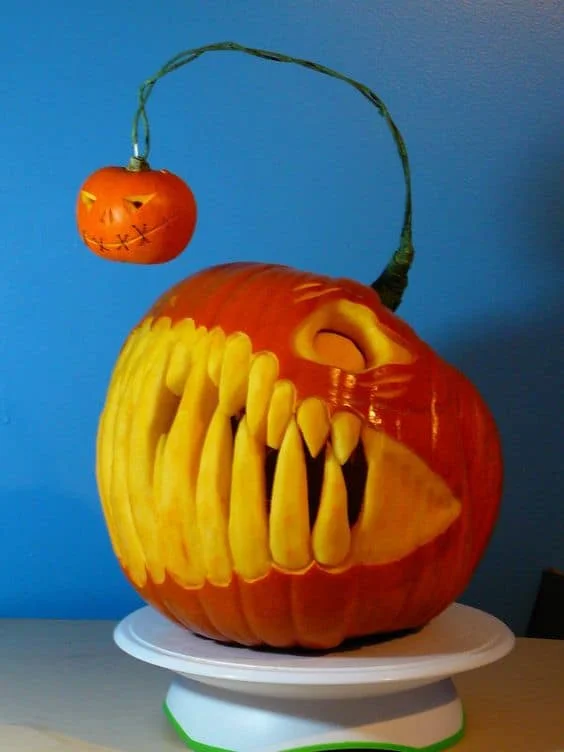 via highborntalon.deviantart.com
93. Alien pumpkin gathering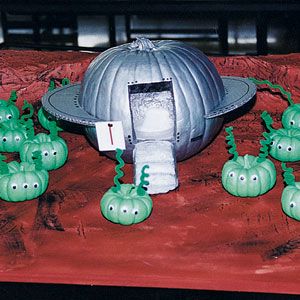 Source Unknown
94. move your pots into pumpkins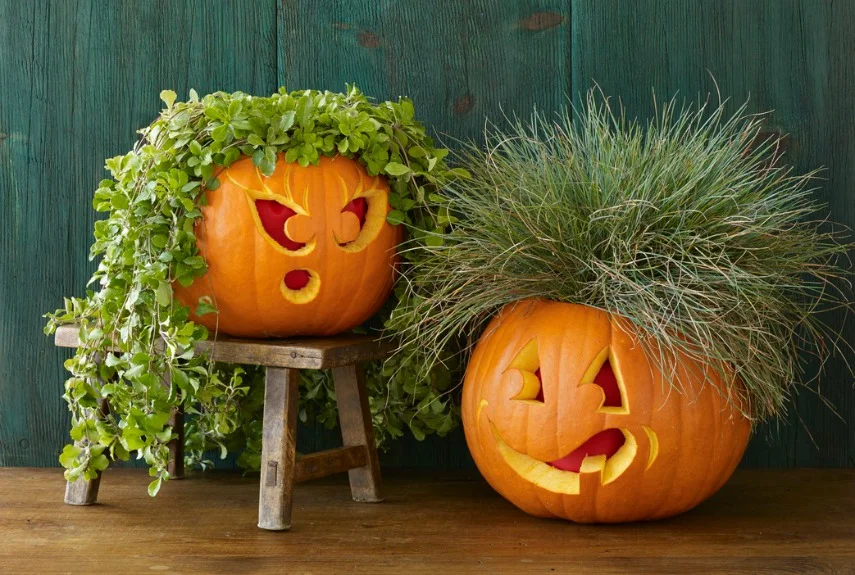 Some crazy hairstyles will definitely energize your celebration.
Source Unknown
95. use string lights to shape pumpkin HEDGEHOGS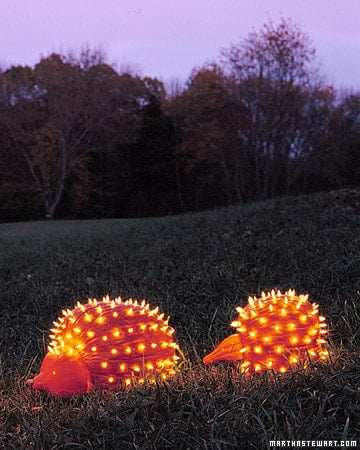 Brilliant installations that will definitely surprise, each light pierces the pumpkin from within thus forming the needles.
96. diy pumpkin creatures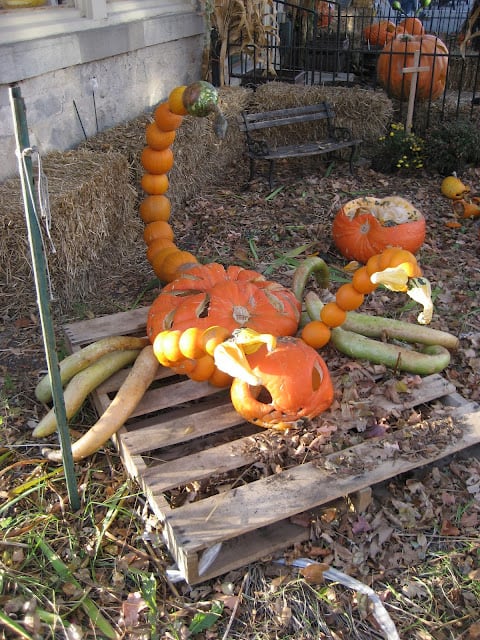 An immense interesting pumpkin scorpion has been materialized, spiders are a great option too.
via thedascrypt.blogspot.com
97. animate your chimney with a pumpkin fire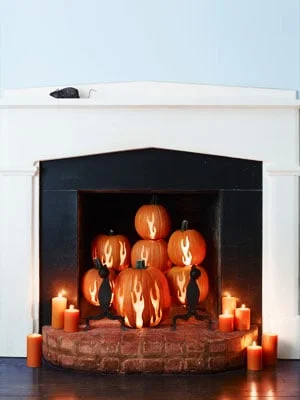 98. get Inspired by Villafane Studios

via damnlol.com
99. one happy Dracula pumpkin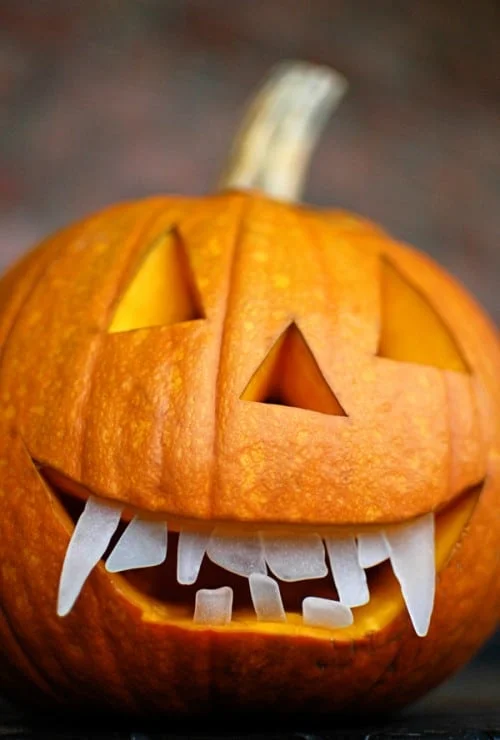 It has those vampire teeth yet it`s happy like a bunny, four simple cut outs and you are off to a great start !
100. halloween enthusiast pumpkin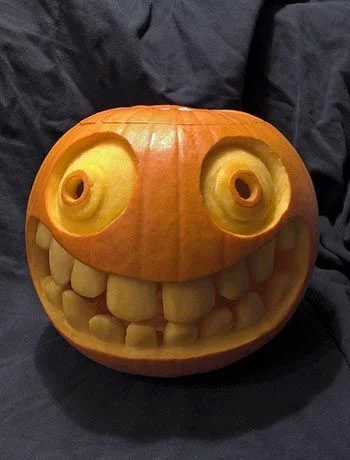 Use a smile to gather smiles.
101. whomping willow carrying evil pumpkins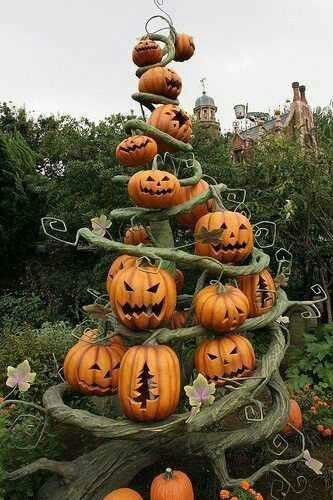 102. expose the brains of the operation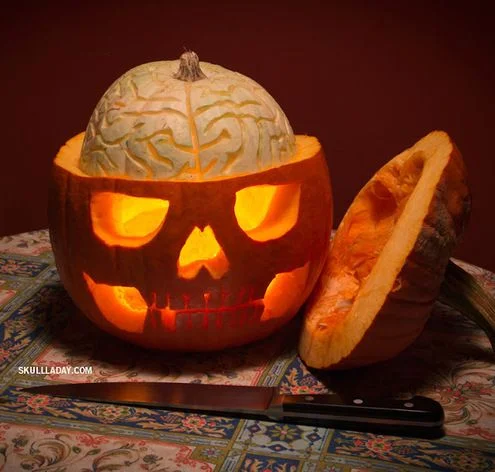 via manmadediy.com
103. hogwarts carved PUMPKIN sigil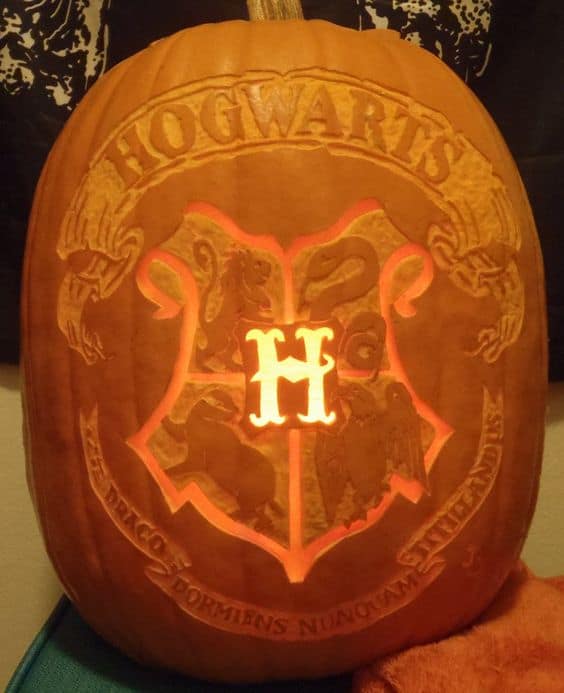 A stencil is required for the uninitiated carver yet the result is extraordinary, highly impressive.
via popsugar.com
104. skull pumpkin serving tray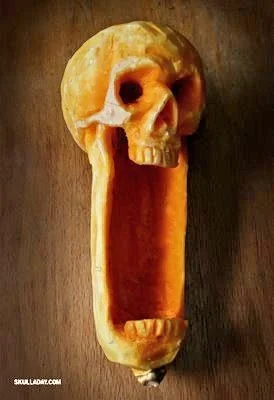 Serve chips in style, surprise friends and family.
105. burning forest pumpkin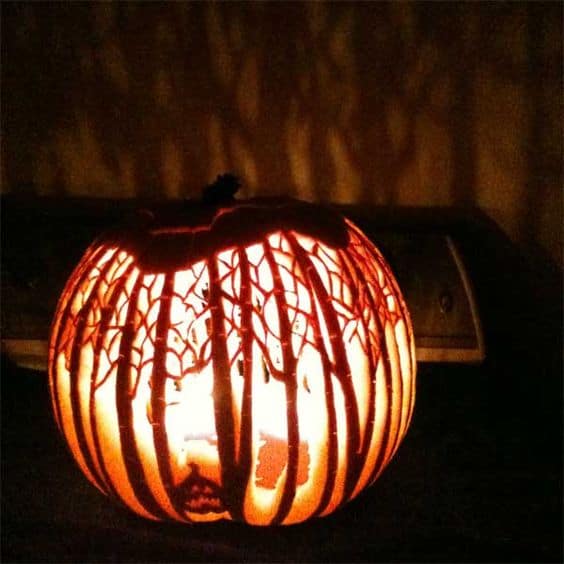 Intricate and captivating artwork ready to surprise, animated by a candle.
via thisoldhouse.com
106. Pumpkin becomes lantern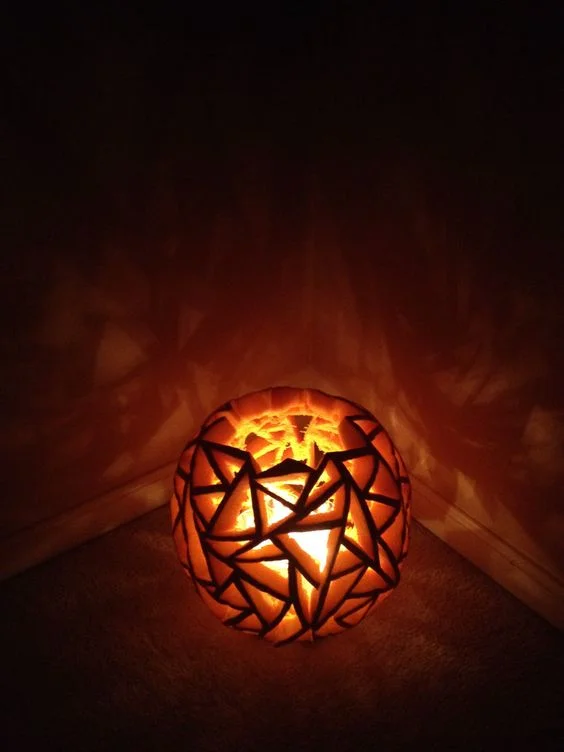 Immense possibilities, extraordinary pumpkin lantern options.
via littlethings.com
107. pair of pumpkin hearts and candles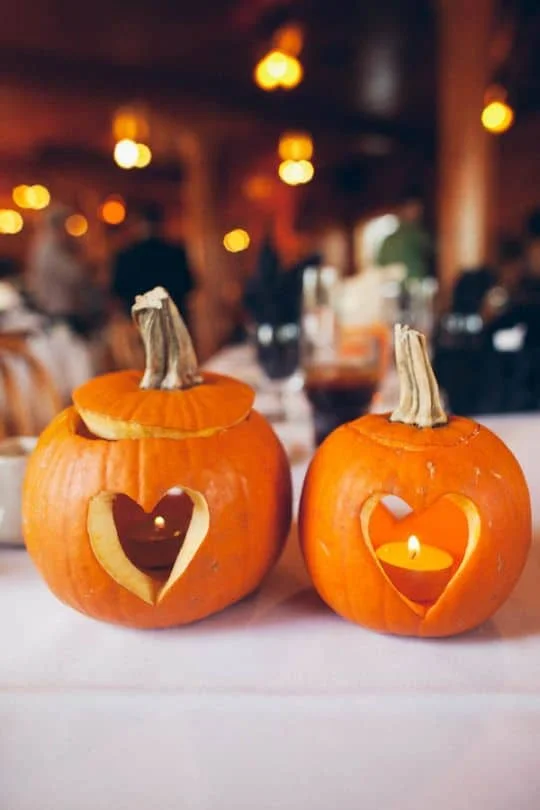 Really beautiful, a candle core expressing a heart.
Source Unknown
108. colorful and joyful pumpkins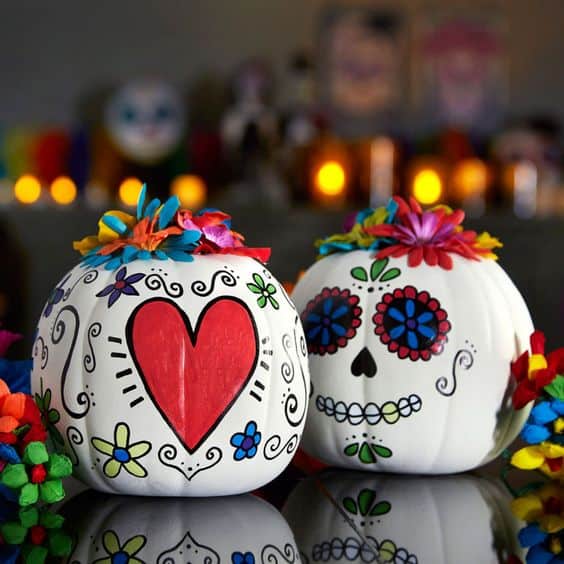 Floral beautiful, elegantly ready for any Halloween décor setting.
via michaels.com
109. Halloween candy pumpkin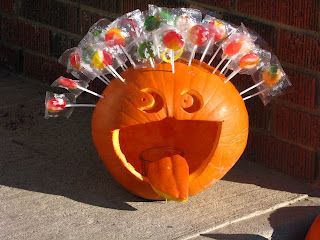 Super simple, rapid and extremely adorable for children, a pumpkin they will never overlook.
110. pumpkin brain salad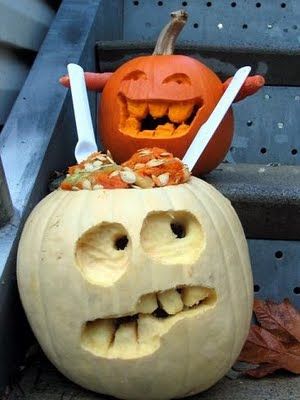 A pumpkin eating the brains of another pumpkin is quite evil, quite fit for Halloween.
via handmadebymother.blogspot.ca
111. traditional floral motifs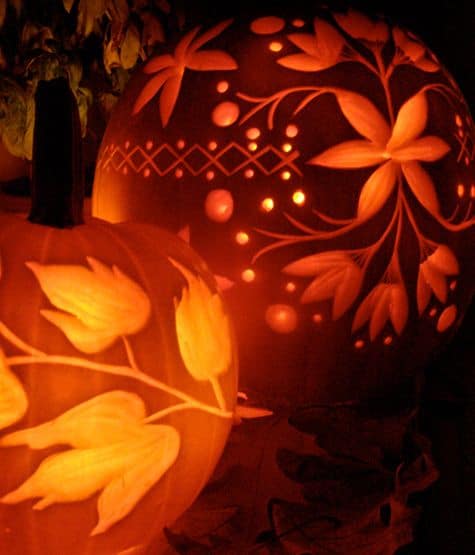 If you region has a rich cultural heritage why not express it on a pumpkin carving for Halloween?
via designsponge.com
What do you think about the design ideas expressed above? How do you see these pumpkin carvings ? We would love to hear from you in the comment section below ! Feel free to email your pumpkin carving pieces and we will add them to the list!
Related Articles
129 World`s Insanest Scary Halloween Haunted House Ideas