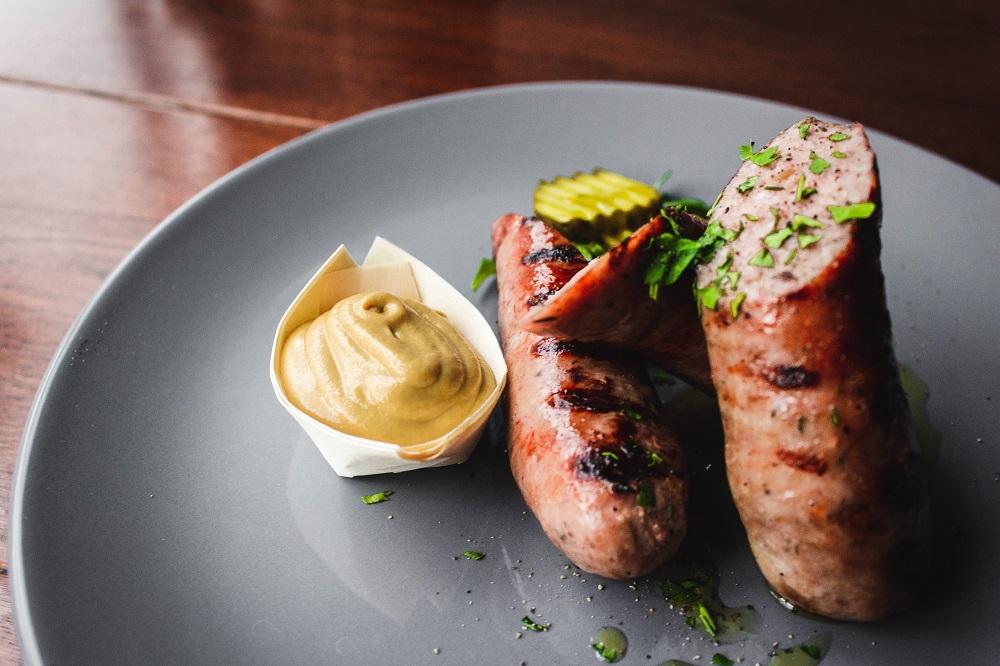 Let's face it; if you are a meat lover, you cannot resist smoked sausages! They are as good as it sounds. 
But however much we love to fry and serve it as it is, there are several dishes that it can add flavors to. This is indeed one of the most versatile meats that go well with numerous vegetables, milk, and cheese. You can create appetizers and main courses with some amount of seasoning and a number of veggies. 
If you love to experiment with food, let us help you out. We have curated this list of the top 34 smoked sausage recipes where the sausages have been used in completely different ways. 
You can try them out and bring more innovation into making lunch and dinner. Our friends wait for us to host barbeques because of the amazing range of different recipes that we have in store. 
So, without further ado, let's get started. 
Best Smoked Sausage Recipes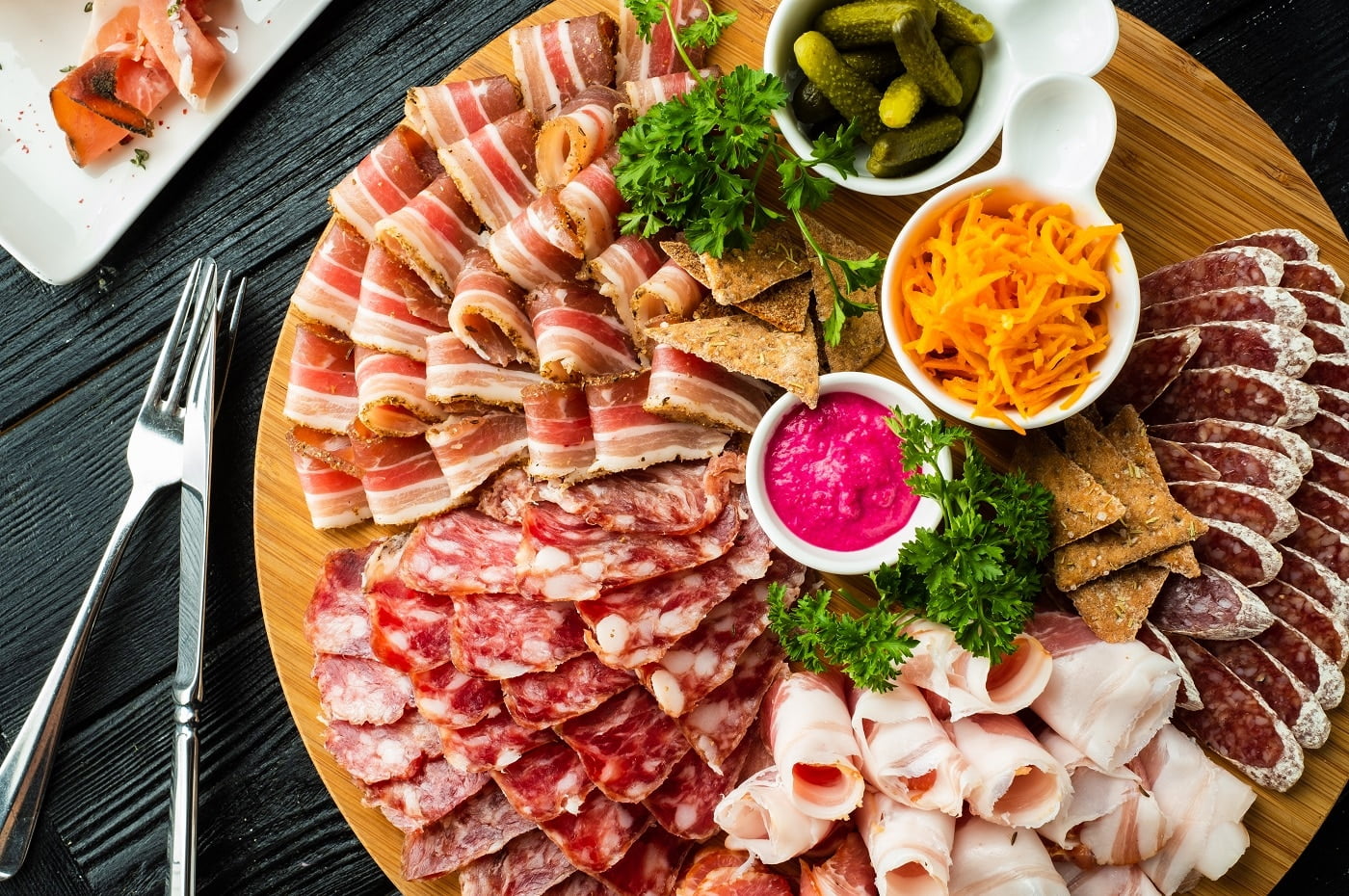 There are different types of smoked sausages to experiment with, beginning from kielbasa, andouille, gourmet poultry, chorizo, and pork sausages. You can go for turkey meat, too, and all of this will add a smoky flavor to your meal. 
Here are our personal favorites among the recipes that we have created to date. After surfing through hundreds of recipes and ending up with some failed attempts, we are only sharing the best ones with you. Read on to know all about them. 
Andouille Sausage In Yorkshire Pudding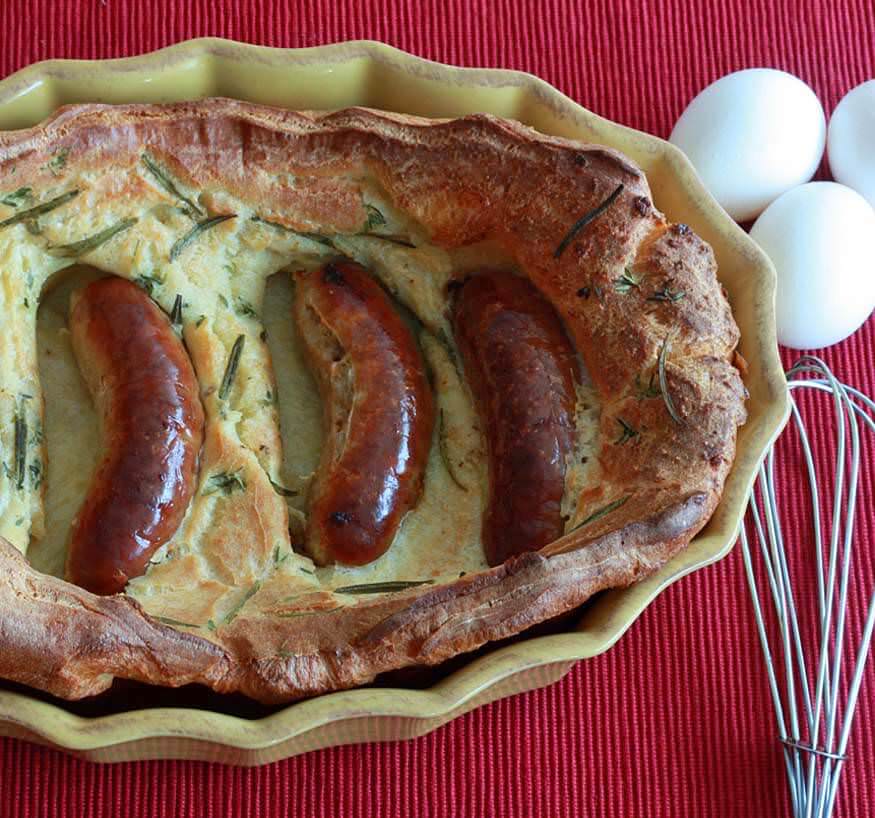 Who would have thought that such a fun combination would also taste so good! This recipe involves andouille sausages and traditional Yorkshire pudding batter. The batter is smooth and has a subtle flavor, while the spiced smoked sausages add the necessary flavors to it. However, you've got to bake the sausages first in order to get rid of the excess fat.
Once the sausages are well-baked, they need to be added to the batter and cooked for 45 minutes. This ensures that a crisp layer forms on the top, and the pudding is fluffy in between, providing you with the perfect balance. 
We found that it goes very well with raw beet salad. If beets are not easily available in your area, then replace it with a fruit salad. An extra dollop of cream will complete the dish. 
Sausage And Potatoes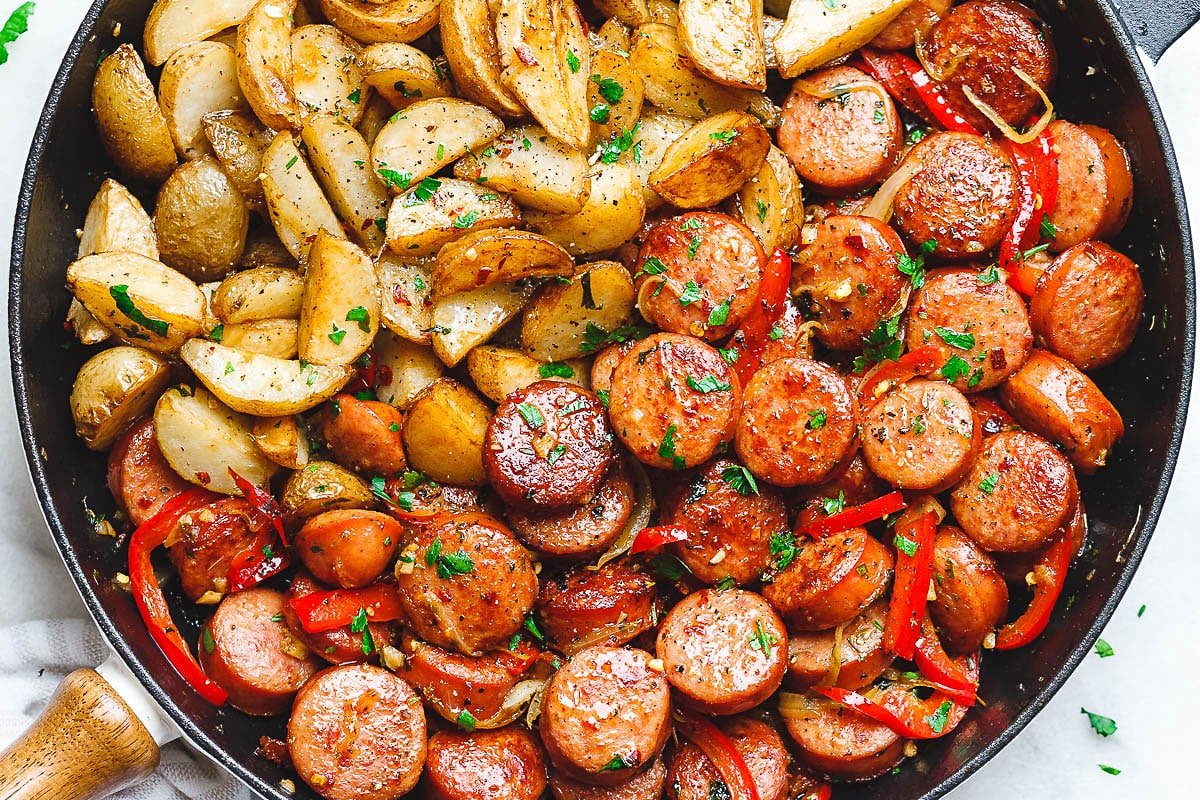 If you are looking for a dish to relax with on a Sunday afternoon, this recipe of sausage and potatoes will be an excellent option. It is very easy to make, and you will need to slice up some potatoes and sausages and brown them. A good cast-iron will simplify the process, and you can use less fat.
All you need are sliced potatoes and smoked sausages, 2 diced onions, olive oil, garlic, and a little sage. You could also add cayenne or hot sauce to enhance the flavors and some spice to it. Toss the potatoes in the oil and let it brown. 
Once it is almost done, add in sliced sausages, onions, sage, garlic, and cook for 5 minutes. After they are browned well, take it off the stove and serve. You would want to maintain a 60/40 ratio when cooking potatoes with sausage. Add the sauce at the end only if you want a spicy dish. 
Cheesy Sausage And Pasta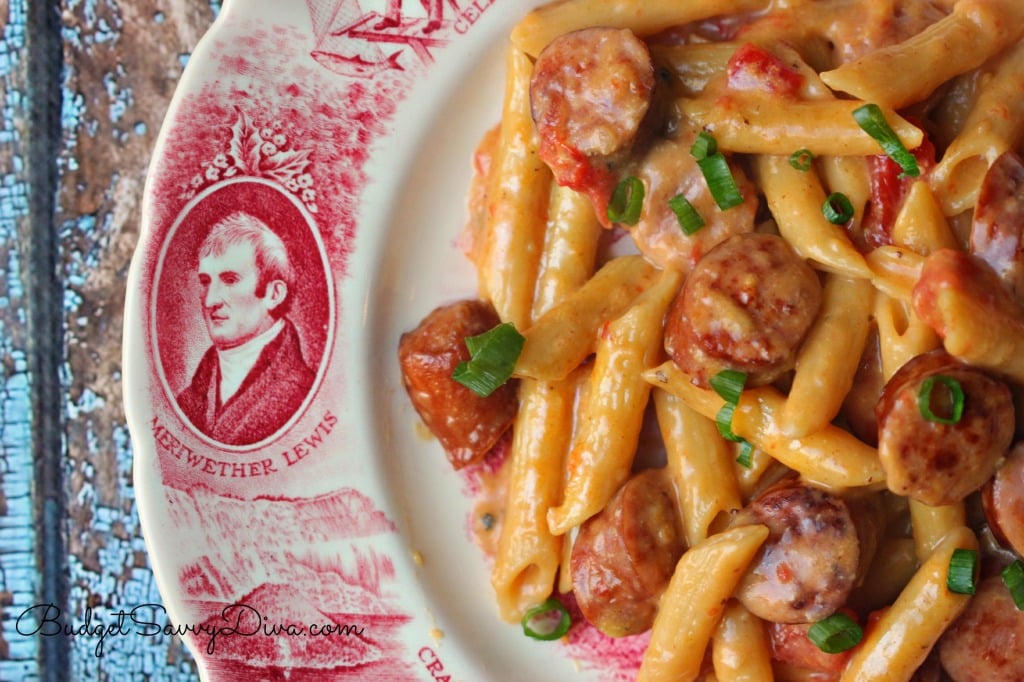 This may sound like a complicated dish, but it only needs a single pan and is easy to make. You will get a hot bowl of cheesy pasta along with the flavors of smoked sausages. All you need is olive oil, diced onions, sausage, minced garlic, tomatoes, chicken broth, milk, and 2 cups of cheddar cheese. Also, take pasta of your favorite kind and keep some red pepper flakes and chopped scallions for garnishing. 
First, heat the olive oil and fry the sausage and onions for 5 minutes. You can add the garlic and other seasonings to the mix and fry for another 2 minutes on low heat. Once this is done, add the chicken broth, milk, pasta, and tomatoes. Cover it with a lid and let it simmer on low heat for the next 15 minutes. 
When this is done, add the cheese and garnishing. You will have a flavorful bowl of creamy pasta and sausages to serve. 
Smoked Sausage And Creamy Rice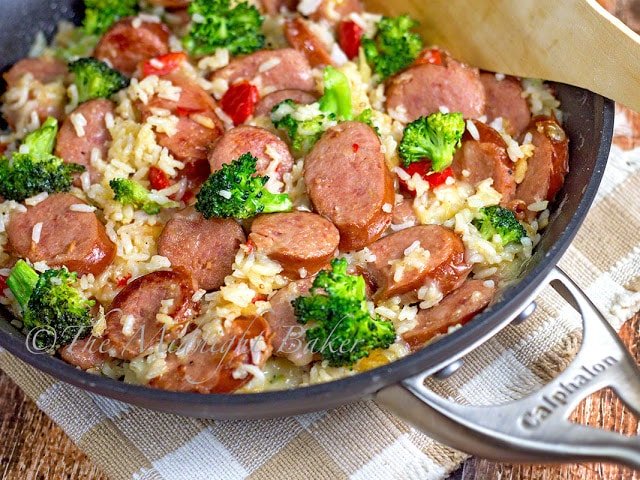 Up next, we have another recipe that fits the busy schedules of the millennials. This bowl of creamy rice and sausages is another comfort food with some essential veggies in it. 
You will need 1 tablespoon of olive oil and a little butter, smoked sausages, chopped onions, chopped red bell pepper, broccoli florets, and 1.5 cups of cooked rice. For seasoning, you will require garlic powder, onion salt, pepper, and shredded cheddar cheese. 
Let the olive oil and butter sizzle in a pan, and then add sausages and onions to it. Cook for 5 minutes till the onion is soft and the sausage turns brown. The red bell pepper and broccoli need to be added next and cooked for another 5 minutes. 
Now add the cooked rice and your seasoning and toss the rice well. Lastly, it needs the cheese to be added, and you have a hot bowl of goodness ready on your table. 
Cajun Palate Skillet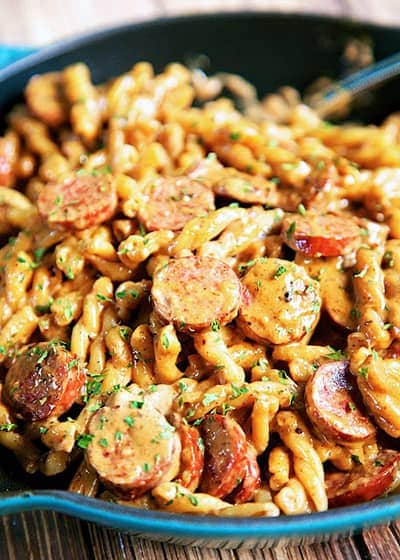 If you are looking for a simple and tasty dish that will easily become the favorite, this is the one to try out. It is a different take on alfredo pasta and will be perfect for family gatherings. 
The necessary ingredients include smoked turkey sausages sliced, pasta, cajun seasoning, heavy cream along with salt and pepper. 
Coming to the cooking process, first, cook your pasta according to the back of its pack. In another pan, sautee the sausages in oil for 5 minutes. Once it is browned well, add Cajun seasoning and cream. Mix well and let it cook for 3-4 minutes or until it thickens. Make sure that it still remains creamy, and add the cheese to it. Remove it from heat and mix well with the pasta. 
If you want an extra kick, put in some fried shrimp or pork on top. You could also add bell peppers for those who want veggies. 
Color Pan Pop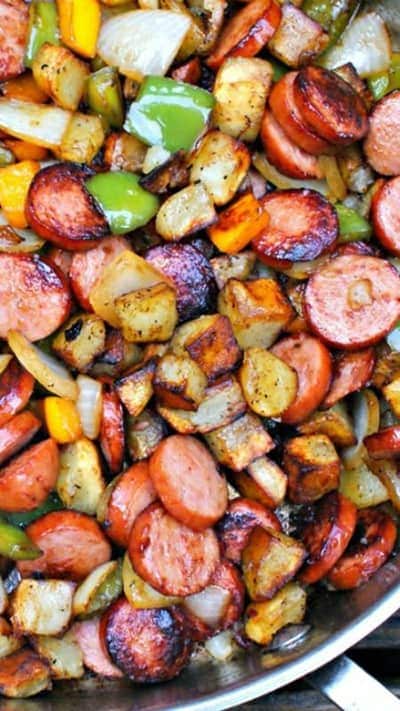 Up next is an easy 15-minute recipe that will provide a very colorful palate for you to enjoy. If you want your kids to eat bell peppers, this is a great way to enjoy the meal.
You will need a packet of diced turkey sausages, green, red, orange, and yellow bell peppers, along with an onion. Slice the onion and dice some potatoes too.
Once you have all the ingredients, put some olive oil in a skillet, and let it heat up. First, add potatoes and cook it for 8-10 minutes till they become brown and crispy. In another skillet, brown the kielbasa or sausages and keep aside. 
Use the same oil to fry the onions and bell pepper with salt and pepper. Once they soften, add the potatoes and sausages and toss them all together. You kids will be taking a picture of this dish before eating as it looks very vibrant and tantalizing! 
Seasonal Sausage Bonanza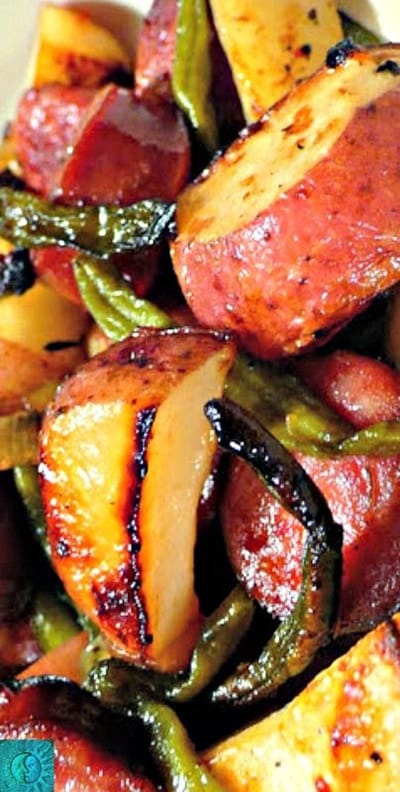 This is a dish that does not take a lot of effort but will need ample time to cook. You will love the soft melt-in-the-mouth potatoes along with spicy smoked sausage and a subtle hint of thyme and rosemary. 
For this dish, you would require smoked sausages, green beans, red skin potatoes cut into chunks, sliced onions, and Italian dressing. Keep kosher salt, rosemary, thyme, and pepper for seasoning. 
We mentioned that it is easy to make because it is a one-pan dish that needs to be baked. You got to put all the ingredients together and stir it well. Then you can transfer it to a baking dish and cover it. Use a foil for this purpose. Bake for 30 minutes, and then remove the foil. 
Give it a stir and put it back in the oven. Remember to keep it uncovered this time. Increase the temperature to 400 degrees and bake it for 40-45 minutes. Check in the middle to see if it is getting browned and is being roasted evenly. 
You can then add some parmesan cheese on top, and it is ready to serve. This can be paired up with some freshly baked bread. 
Southern Saute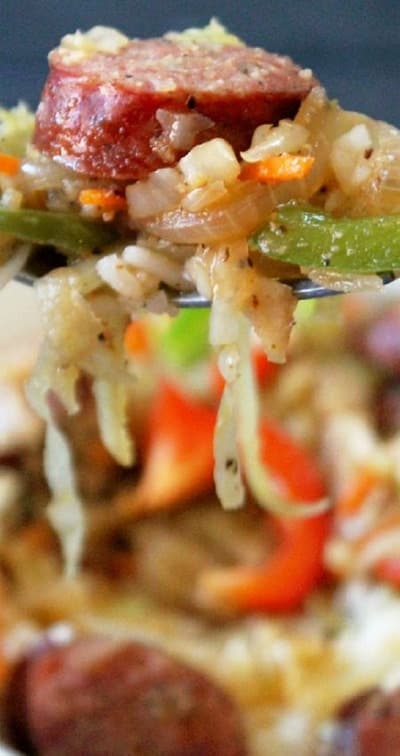 If you are a fan of Southwestern fajitas, then this dish will be your next favorite. This southern saute is served with honey oat bread or cornbread along with black-eyed peas. The recipe also contains a number of vegetables, making it healthy too. 
You will need a bag of coleslaw, minced garlic, green and red bell pepper, chicken broth, white onion, cooked rice, and sliced sausages. For the seasoning bit, keep aside creole, black pepper, garlic powder, and onion powder. 
So, in the beginning, you will have to fry the sausages in olive oil or butter till they are brown. Then add onions and bell pepper to it. Mix with all the spices and cook for another 5 minutes. Once it is done, add the garlic and cabbage in the end. Pour in the broth now and let it simmer for 8 minutes. This can be served with hot rice or fried rice. 
Cajun Casserole With Seasoning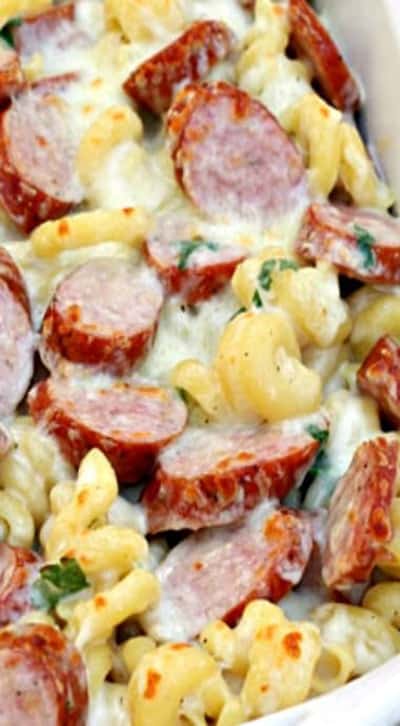 Do you want to add an extra touch to change your boring casserole into something exciting? You can throw in some Jamaican lime or ranch bacon cheddar to the dish to spice it up. 
You will need cooked pasta, minced garlic, butter, flour, chicken broth, and smoked sausages, which are already cooked. For seasoning, you should keep salt, pepper, cayenne pepper, red pepper flakes, mozzarella, parmesan cheese, and chopped parsley. 
Once everything is ready, heat butter in a skillet and fry the garlic in it for a minute. Next, add the flour and pour in the broth while whisking continuously. It will then turn into a smooth mixture, which needs seasoning. 
Let the sauce thicken while you add mozzarella and parmesan to it. It needs to be melted completely before you add the sausages and pasta. The last step will involve boiling the pasta in a broiler for 2-3 minutes. Once the cheese starts bubbling, you will know that you are done. 
Sausage And Baked Beans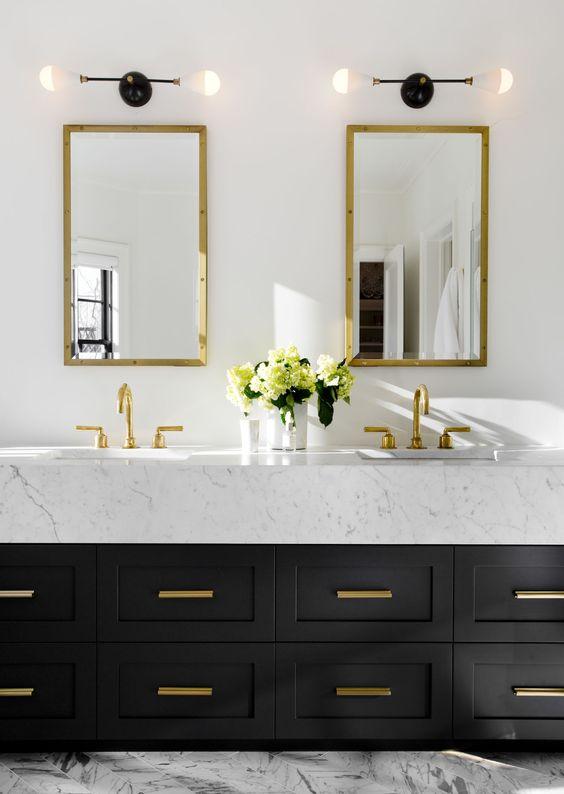 We have all grown up with baked beans on toast as a staple breakfast choice. Now it is time to give it a twist with smoky sausages. Take some bacon strips and fry it well. Once it is crispy, use the oil to fry onions and garlic. 
Add the sausages and cook till they are browned. Now pour the baked beans into a pan along with the mustard sauce, some apple cider vinegar, and light brown sugar. You can also add some ketchup and hot sauce if you like. 
This can be put on bread and topped with a little cheddar. You could also serve it with cornbread and top it with crackers. 
Red Rice And Sausage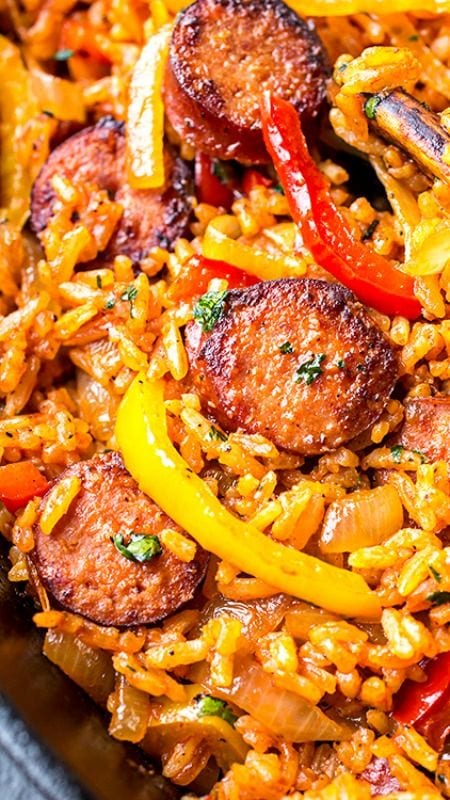 Red rice is part of the staple diet in the Southern states. It is made with tomato paste and works as a nutritious and delicious side to meat. Pair it up with smoked sausages and bell peppers to create an excellent combination that your guests will love. 
The ingredients that you will need are smoked beef sausage, sliced onions, and green, red, and yellow bell pepper. You will also require garlic cloves, tomato paste, chicken stock, paprika, chopped cilantro, flat-leaf parsley, salt, and pepper. 
Fry the sausages and keep them aside in the beginning. Now add onion, and bell pepper, and cook it for 4-5 minutes. The garlic needs to be added next and allowed to cook for a minute. Once this is done, add the tomatoes and chicken stock. Let it cook for some time till the raw flavor leaves. You can add cooked rice to it and stir well. Season it with your ingredients, and you are done. 
Summer Veggies And Sausage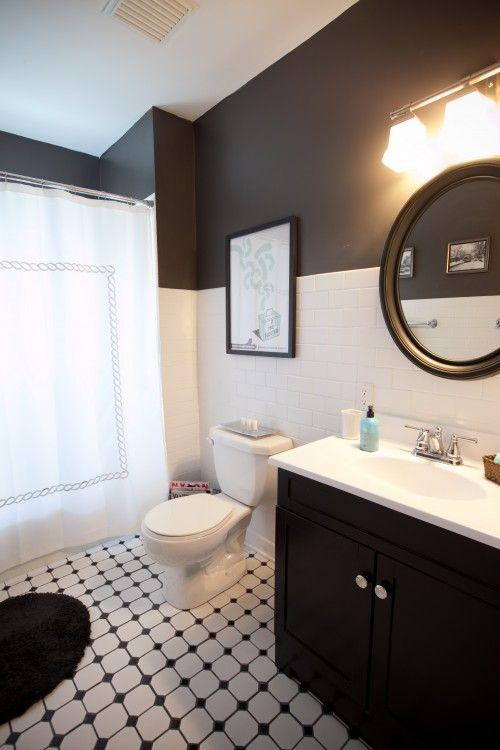 Summer calls for fresh veggies, and you can now pair it up with sausages to create a delightful meal. This can be an excellent brunch idea. Pair it with a glass of wine, and you can have an indoor date. 
Now when you think of a palate of veggies, it needs to be colorful to look attractive. The sausage can add a dose of protein, while tomatoes, zucchini, beans, and sweet pepper will give you the nutrition you need. 
To make it, cook sausages and add all your veggies to it. You need to add salt, cayenne, thyme, bay leaves, garlic cloves, and parsley to the mix. Stir this for 5 minutes, and then add chicken broth with minced garlic. 
Cook for the next 1 and a half hours, and you can garnish with sliced green onions. This dish can also be had in the backyard under a shade on a spring afternoon. 
Black-eyed New Year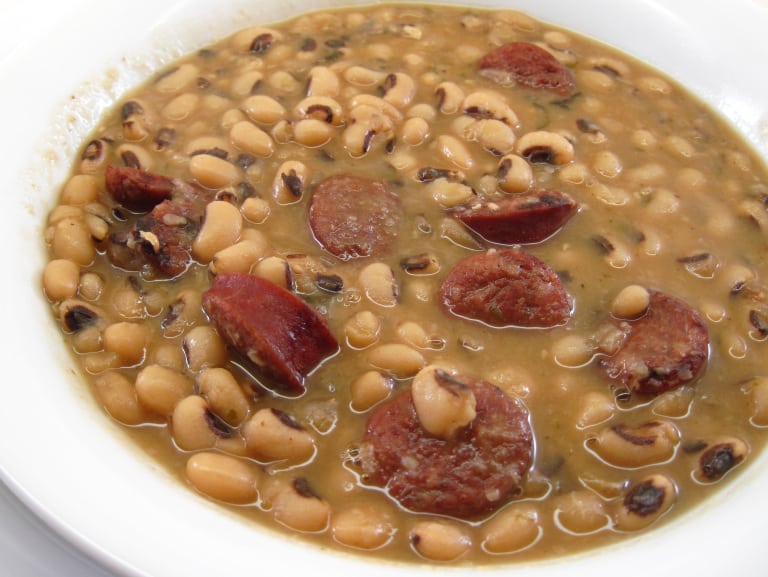 Does your household also believe in beginning the year with a black-eyed peas dish? Then this is going to be something that you would want to try out. Here, you will have to slow cook black-eyed peas with smoked sausage and seasonings to get the hearty meal that you deserve. 
You can first brown the sausages and then add some veggies to it. We added onion and garlic and then cooked it for some more time till the onions softened. Once that is done, you will have to add the chicken stock and the black-eyed peas with some garlic. Cook it for the next 1 to 1.5 hours till the peas become tender. Add in green onions before serving. 
This is a perfect fit for those with a big appetite. Beans with meat turn out into a heavy meal, and you can enjoy a nice afternoon walk after that. 
Sausage And Spinach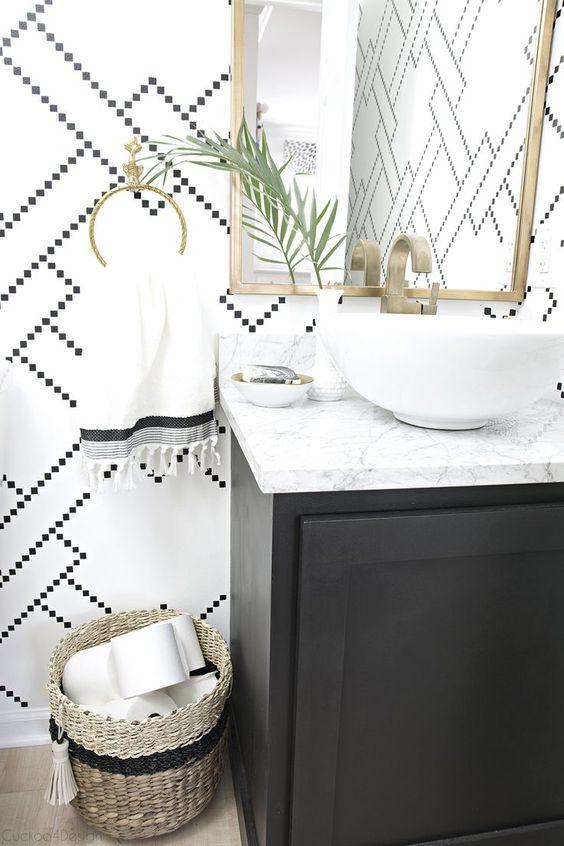 Spinach and cheese is a combination that we love, and we believe it does have a separate fan base. You can cook with fresh spinach to get the best flavors from the dish. You will need smoked sausage, onion, diced tomatoes, chicken broth, pasta, fresh spinach, and green onion. 
Coming to the cooking process, smoke the sausages beforehand, and keep it aside. Dice the onions and fry them in a skillet. Wait till it softens, and then pour in the chicken broth with tomatoes and chiles. Mix it well, and then add the pasta to the mix too. Let it cook till the pasta is done. 
Now add the spinach and stir well. Once the liquid thickens, add cheese and sprinkle green onions. This will give you a wholesome meal and will cover all your meal needs. Have a glass of fruit juice on the side, and you are ready with a scrumptious spread. 
Garlic Herb Florets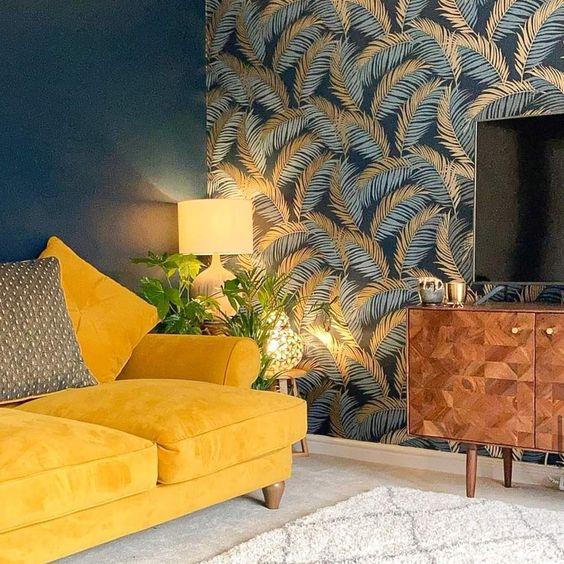 Up next is a dish which is made with bacon, sausages, and broccoli. It is very uncomplicated, and you will love the flavor explosion that happens in the mouth. If your kids do not like broccoli, give them this dish, and you will see it getting over in a jiffy.
While making it, you will need Saute Express square along with the meat and broccoli. First, fry the bacon and keep it aside. Use the grease with the Saute Express square and allow it to melt completely. Toss the broccoli in it, and then add the sausages. 
Yes, it is this simple! We would suggest sprinkling some soft cheese on top to complete the dish. In case you do not have access to Saute Express square, you can also use chicken stock with garlic and herbs. 
Jalapenos Poppers With A Pop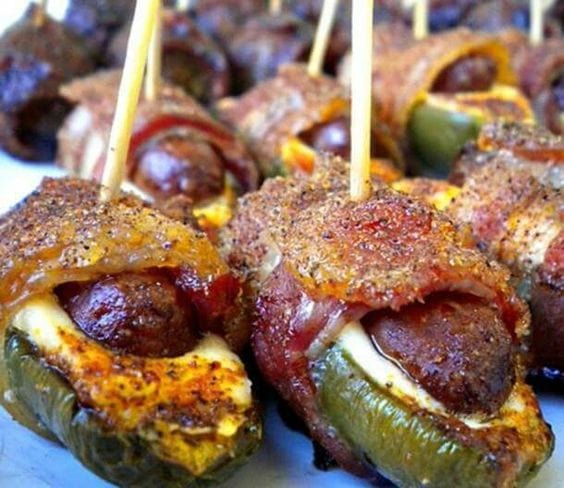 The key ingredients in this dish are jalapenos, cheese, bacon, and sausages! You can only go right with this recipe. Get a pound of pork smoked sausages along with cream cheese and parmesan, to begin with. 
Partially cook the bacon slices from before and have your jalapenos seeded and cut lengthwise. You will need brown sugar for garnishing and for getting that tinge of sweetness with the spicy jalapenos. 
This can be cooked in an oven itself and will save you a lot of effort. But you will need to cook the sausages till they are brown in a skillet first. Mix them with both the cheese and spoon them into the jalapenos.
Once they are stuffed, place them in a greased baking dish and sprinkle brown sugar on it. Place it in an oven for 20 minutes, and you will have delicious poppers to begin your meal with. 
Shrimp And Skewered Sausage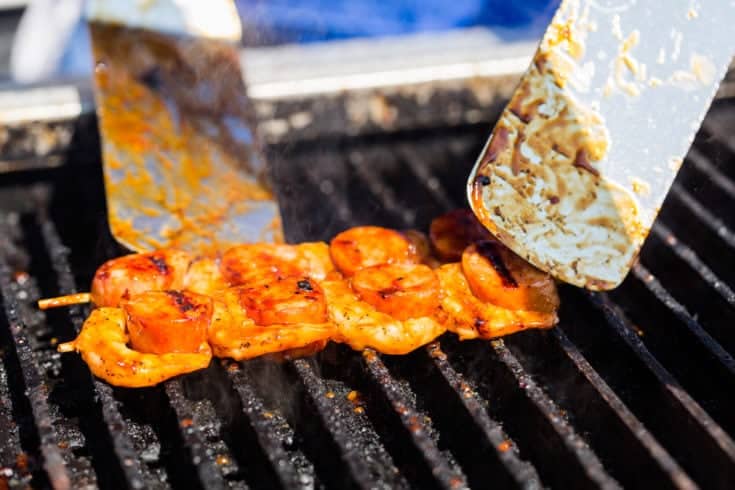 If you are looking for a fun way to make a dish topper or an appetizer, this could be it. The shrimp and sausage recipe is easy to make and can be an alternative to the green salad too. You will need some jumbo shrimps, sausages, and skewers. For the dressing, you will need olive oil, lemon juice, mayonnaise, and Cajun dressing. 
Pat the shrimps dry and then toss them with a cajun dressing and oil in a large bowl. Slice the sausages and put the shrimp and sausages one after another on skewers. Pour in some mayonnaise, cajun dressing, and lemon juice and keep it in the refrigerator for 1-2 days. 
Now put it inside a preheated oven and grill it for 1-2 minutes per side until the shrimp is done. Serve on skewers or add it over rice or noodles. 
Smoked Sausage Triple Grilled Cheese

Cheese has become a favorite for a lot of people today, and many see it as comfort food. While cheese has a light flavor, pairing it up with sausages will give it a smoky and spicy touch. 
This brings out the flavors of cheese further, and you will love the spread for sure. Stuff it between 2 slices of multigrain bread or milk bread, and you have a picnic lunch to take with you. 
For this, you will need to spread cream cheese and shredded cheese on both sides of the bread. Add your cooked sausages after slicing them. 3-4 slices per sandwich should work well. Sprinkle some salt and pepper on it and fold them together.
The sandwich can then be placed on the same skillet and turned over till they are golden brown. Keep it for 2-3 minutes per side, and you are done. This will make for a great picnic lunch or a brunch at home. You can also pack this in your kid's tiffin box on their special days. 
Lentil Soup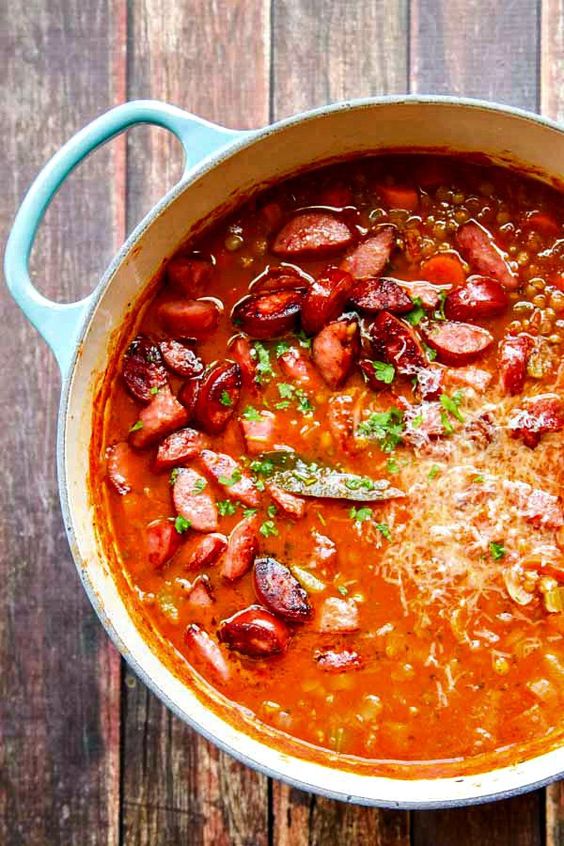 Have you ever tried cooking lentils with sausage and parmesan? This will create another comfort dish that your kids, as well as adults, will love. You could keep it as a starter in the next barbeque party that you plan. 
Here, you need to cook the diced sausages and set aside. Next, fry sliced onions, celery, carrots together in a pan. Season it with oregano, red pepper flakes, and basil. Let it cook for a minute, and then put in the garlic. 
Next, you need to add the lentils, mashed tomatoes, chicken stock, and a bay leaf. Stir and let it cook an hour till lentils are soft. Let it cook further for another hour, and you can serve it. Top it with parmesan and sausages with a squeeze of lemon on top. 
Kale White Bean And Sausage Soup

Sausage in a soup may not sound very familiar, but white beans and sausage go very well and create a very nutritious dish. It will provide a bit of fat to the soup and help in seasoning it too. This betters the flavor, texture, and color of the concoction. 
For making this recipe, you will need sausages, thick ribs, chopped carrots, cannellini beans, yellow onion, celery, garlic parmesan cheese, and chicken broth. To season it well, you will require rosemary, oregano, parsley, and pepper. 
Cook the vegetables and sausages and then mix it with chicken broth and the seasonings. Add the beans and kale, too, and stir it well. You will get a bowl of warm soup. Pour some parmesan cheese on top, and you are done. 
Sweet Sausage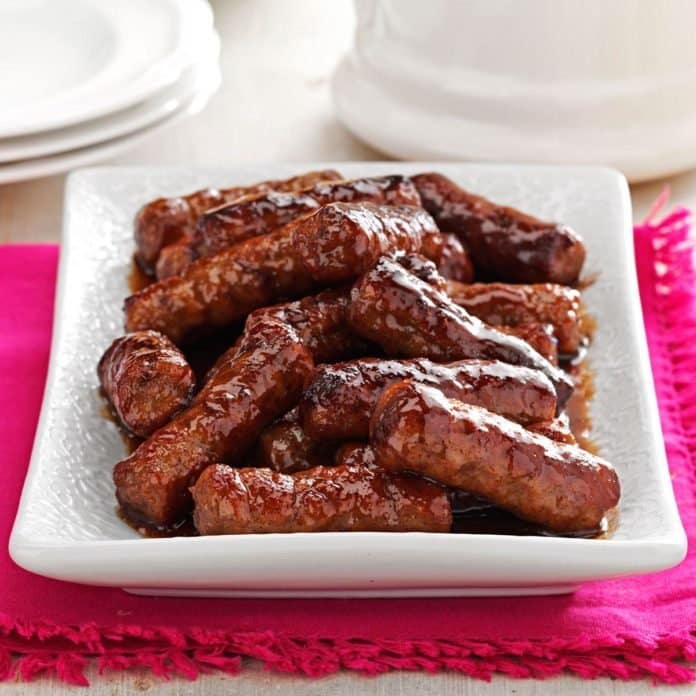 Do you appreciate smoky sausages slow-cooked to perfection? This could be the perfect recipe for an evening get-together or an appetizer on a movie night. Your guests will love the dish, and it is pocket-friendly too. All you will need is a pack of sausages and maple syrup. 
Pour 1 and a half cup of maple syrup into the pan and let it simmer. Add the sausages to it and simmer for the next 20 minutes. You will find them perfectly glazed with the syrup. This has to be served piping hot. 
Another alternative to cooking this dish is to let it simmer on a slow cooker for 2 hours. Use a crockpot, and you could add a little water to the mix before letting it cook. 
Andouille Mac and Cheese
If you are a cheese lover and would not mind oodles of cheese on your macaroni, this is the recipe that fits best. It is the perfect comfort food on a cold winter's day. And what's more! It is super easy to cook and is irresistible. Cook the sausages with some pepper on top. Next, boil the pasta and keep it aside. 
To make the sauce, use cheddar cheese, milk, and spices. You can bake the pasta with the sauce and sausages for 25 minutes to get a crispy top. This will taste slightly spicier when compared to the normal mac and cheese, and you will love it. 
If you are going to make lunch out of it, it is best to serve it with cucumber salad. You can also pair it up with fruit juice to balance all the cheese. 
Spicy Penne With Sausage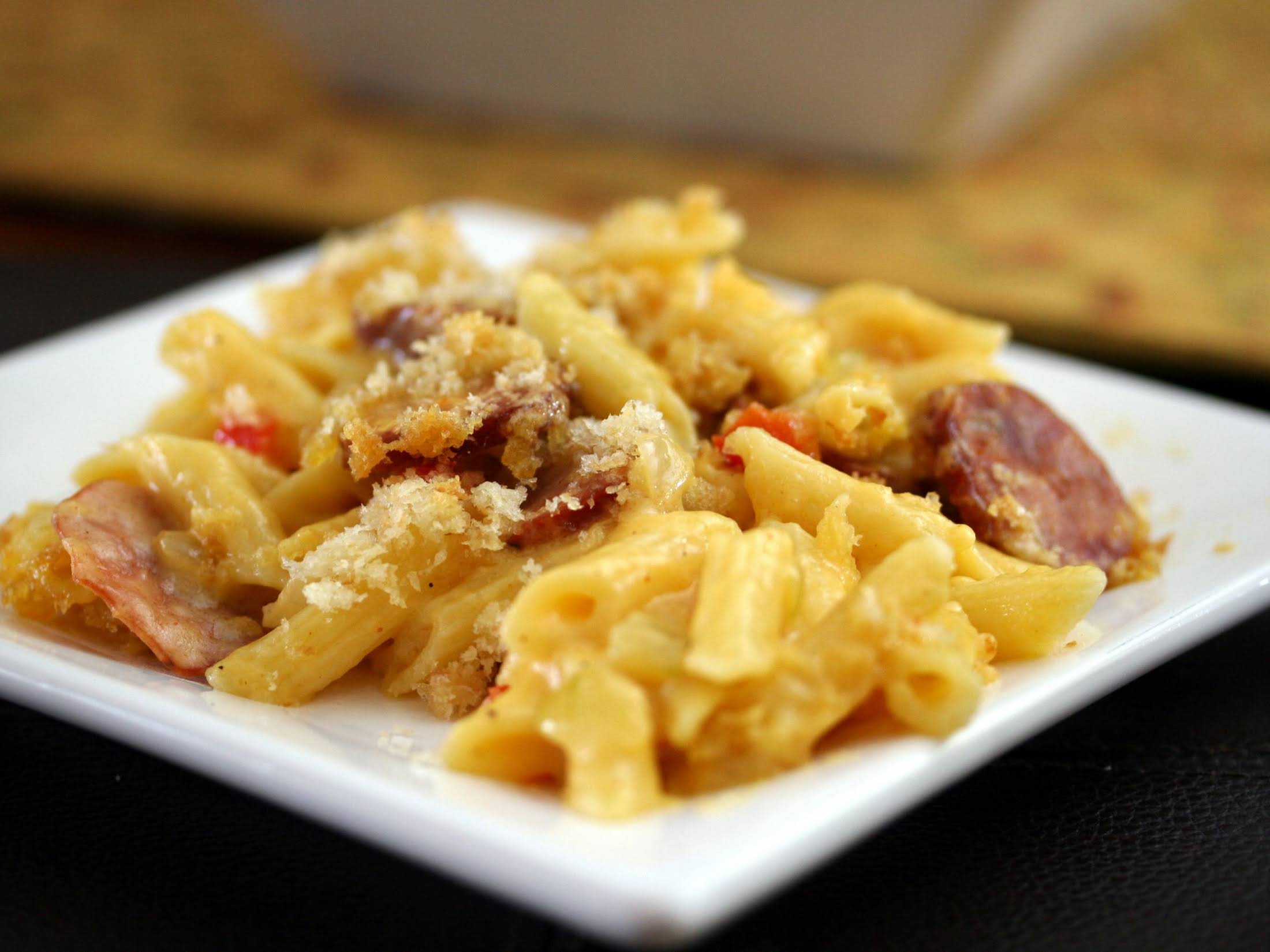 If you are a fan of spices, this is a great recipe to try out. It uses andouille sausages, which are already spicy. You can add cayenne to spice it up further. To balance it well, pair it up with a creamy white sauce. Make a basic white sauce and then add cheddar cheese to it.
While mac and cheese see a lot of cheese, this one is supposed to be more on the spicier side. Hence you need to add more cayenne and less cheese to get the right flair. Sparkly some salt and pepper on top, and you have a wonderful dish. 
Spicy Sausage And Potato Soup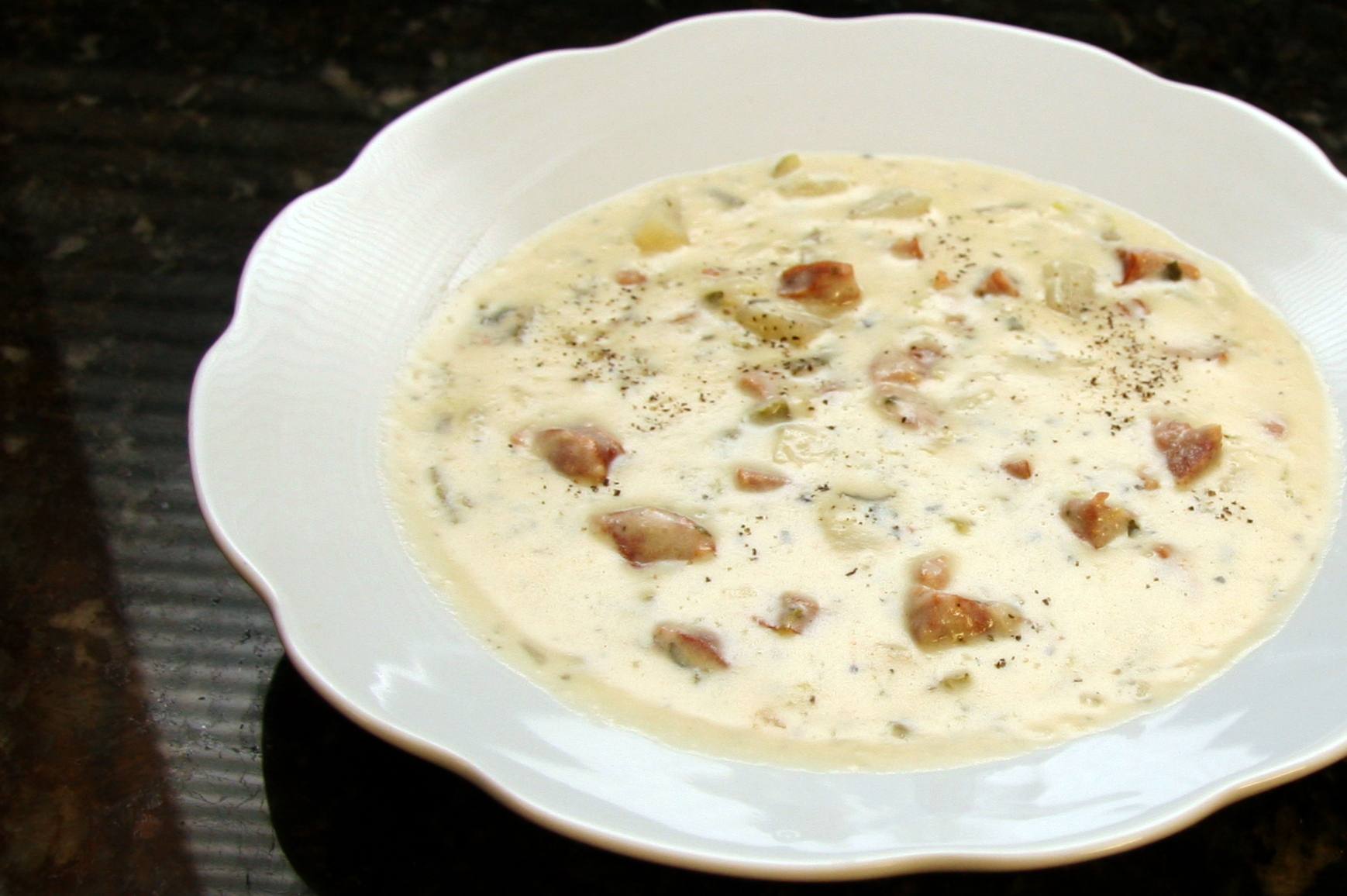 This is an innovative take on potato soup, and you are going to love the balance of creamy and spicy flavors together. If you are not in the mood or the Monday blues become too much to take, this could be a great option to cheer you up. 
Start with making a simple potato soup but add a lot of heavy cream to make it thick and creamy. It should be ultra-thick with a rich texture. Fry some sliced sausages and add to it before you serve. 
We found that this goes well with fennel and avocado salad. You could also have it with cornbread or focaccia bread. The creamy texture with the crispness of bread will create an excellent combination to relish. 
Andouille Cornbread Dressing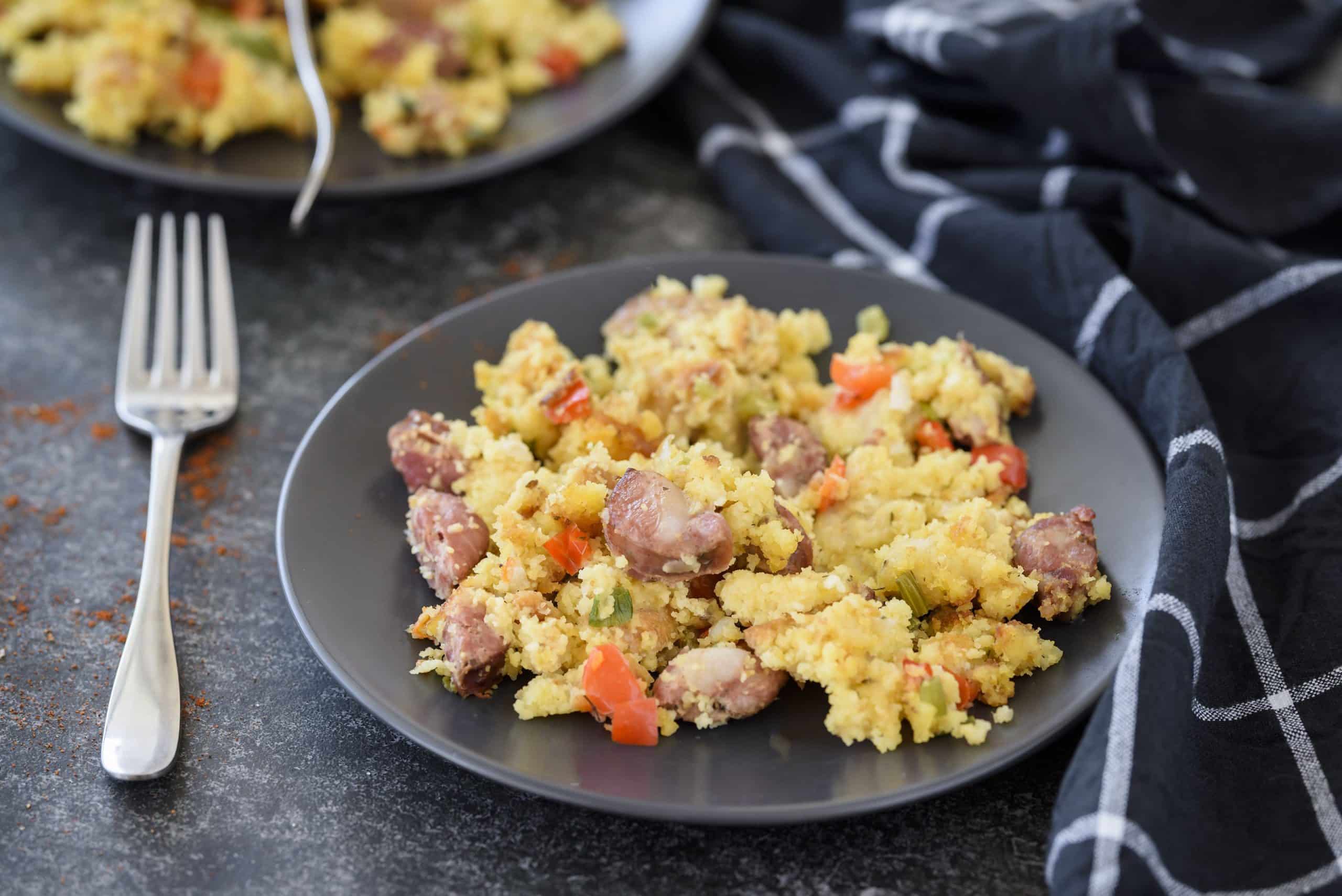 This is another Thanksgiving dish option that your family will love. If you live in the Southern States, cornbread is the preferred form of bread. This is inspired from there, and the smoked sausage is your secret ingredient. Fry the sausages and add some spices to it. 
Then let it cook with the cornbread for the next 1 hour and 25 minutes. This will add the necessary crispiness to the dish and have it stand out. Pair it up with a potato soup and a pie, and you will have a complete dinner spread, which is slightly unconventional but very delicious. 
Chicken And Sausage Gumbo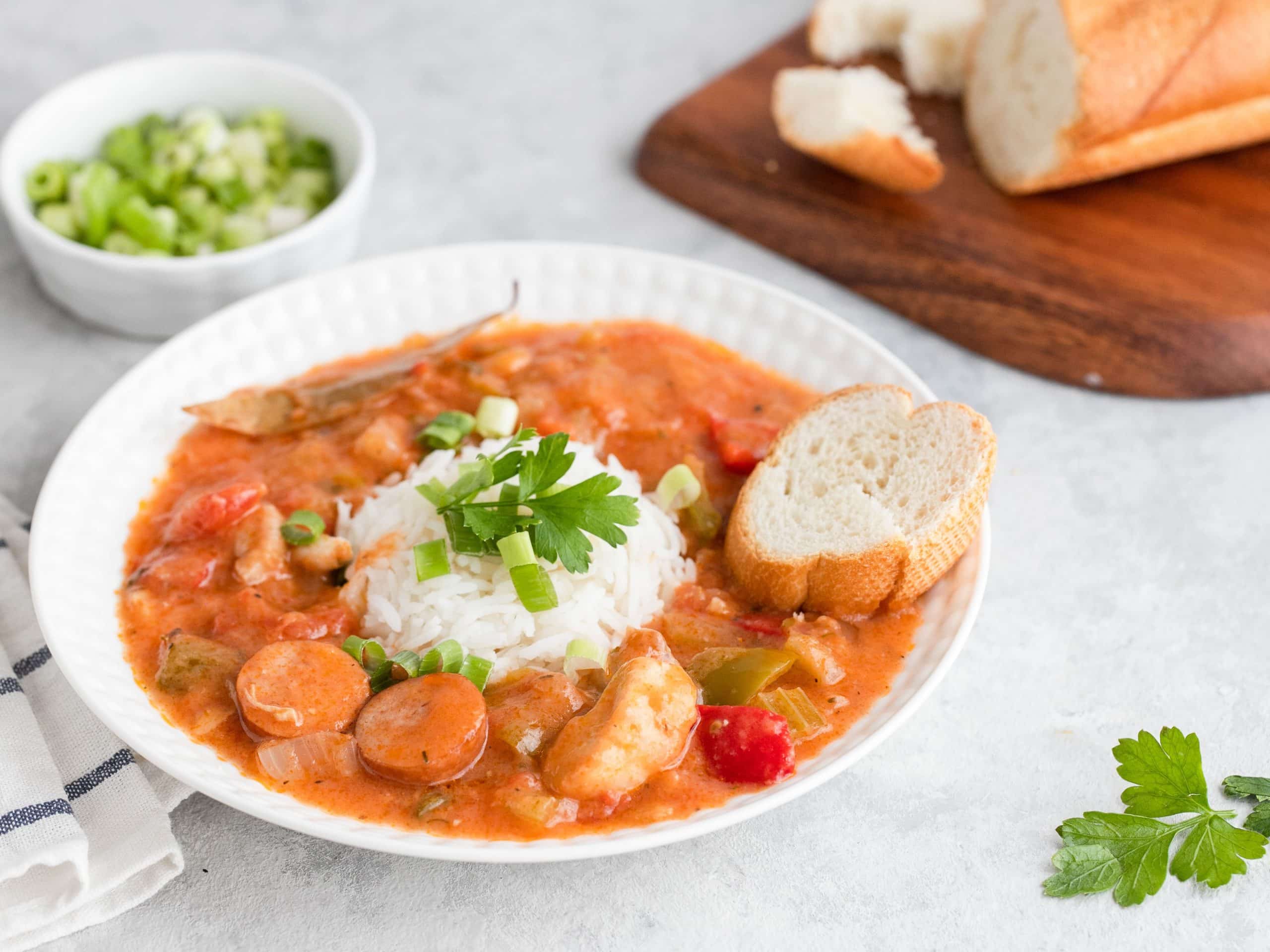 This is very much like other Louisiana gumbos, which have a whole lot of vegetables added to it along with the meat. Here you take chicken breasts, chicken thighs, and sausages together to cook a fantastic meal. You will also need all-purpose flour, onions, red and green bell pepper, diced tomatoes, and garlic. For seasoning, you will need a bay leaf, dried thyme leaves, parsley, and celery. 
First, coat the chicken with flour, salt, and pepper and fry it. Fry the sausages, too, and keep them aside. In a separate skillet, add the oil and some flour while you keep stirring. Once it is thick, you can add the vegetables and stir it again. Add the minced garlic and stir. Now, it is time to add the chicken broth with roux along with the seasoning and tomatoes. 
Top it with the chicken and sausages in the end and cook for 1 and ½ hours. Add the green onions to the end and cook for 5-10 minutes. You will have a steaming bowl of goodness along with bread and butter on the side. 
Smoked Sausage And Pineapple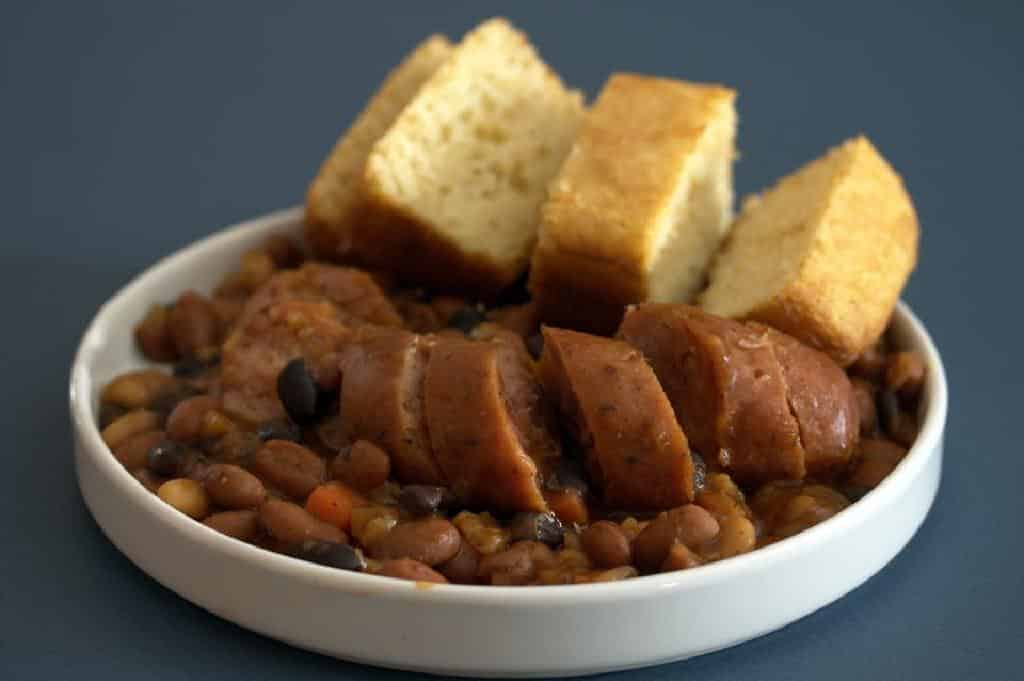 If you want to add some tanginess to your traditional crockpot recipe, you can use pineapple. This is a great option to avoid using sugar, and the dish stays healthy too. 
To begin with, you will have to take canned beans and cook them with sausages and seasoning. You can use barbeque sauce, tomato sauce, brown sugar, chili powder, and mustard. Use a slow cooker for this process. Once it is halfway done, add pineapples and then let it cook for 1 hour on high or 3-5 hours on low. 
Before serving, add a dash of cilantro, and you are good to go. We found that it goes well with tortilla chips and avocado. If you cannot get hold of it, you can also go for plain chips or nachos. 
Crockpot Sausage With Potatoes and Cabbage
What about a nice mix of flavors on a Sunday evening? This recipe is a conglomeration of potatoes and cabbage along with smoked sausages, vinegar, and apple juice, and you are going to love it. 
So, moving to the recipe, this one uses a lot of potatoes and preferably the red-skinned ones. You will also need some dried thyme and a little butter. Chop cabbage and get some smoked sausage long with apple cider and apple juice. If you do not want the tanginess of vinegar, it can be replaced by chicken broth too. 
Adding on, the process of cooking this is very easy but time-consuming. You got to fry the potatoes in butter and then add the seasonings to it. Mix it well and add your sausages too. Pour the vinegar or broth on it and cook for 6-8 hours on low. You can quicken up the process by cooking for 3-4 hours on high. And that is all! 
Sausage Beef Chili Recipe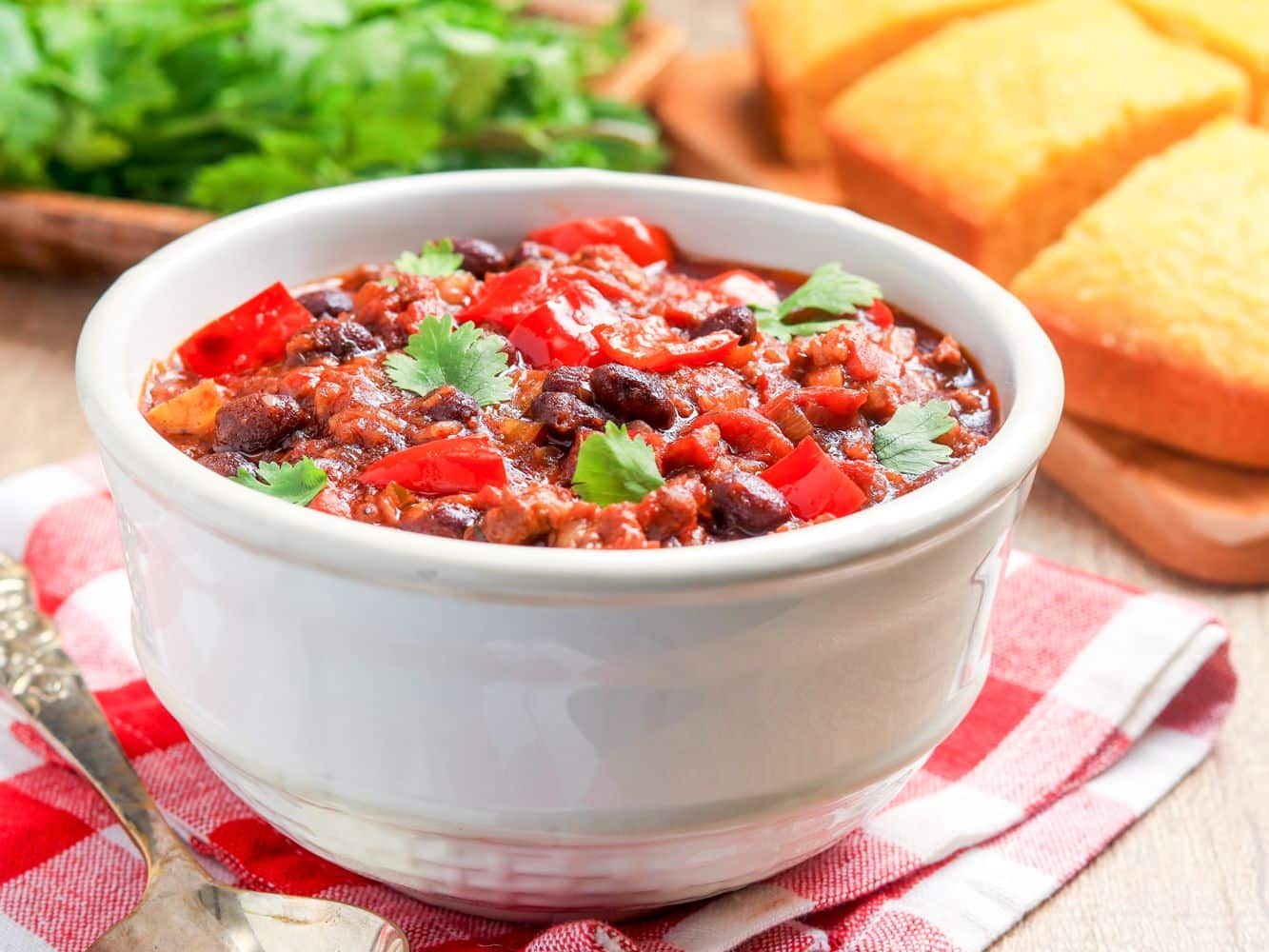 Next up is a recipe that needs beef, black beans, spices, and veggies and is a Mexican favorite. It is a lovely option for a brunch spread or a dinner with the family on a winter's day. The grill seasoning and chili powder, along with cumin, will heat you up, and the sausages will provide you enough protein. 
You will need some ground beef along with sausages, onions, bell peppers, garlic, tomatoes, and black beans. For seasoning, we used black pepper, chili powder, tomato sauce, jalapeno peppers, green chili, and fresh cilantro. But you have the liberty to change and use alternatives if you wish. 
While cooking, ensure that you cook the beef first and then add the other vegetables and sausage. Stir it for a while, and then add your seasonings. Let it cook in a slow cooker on low heat for 8 hours, and you have a tantalizing dish. 
Creole Chicken And Sausage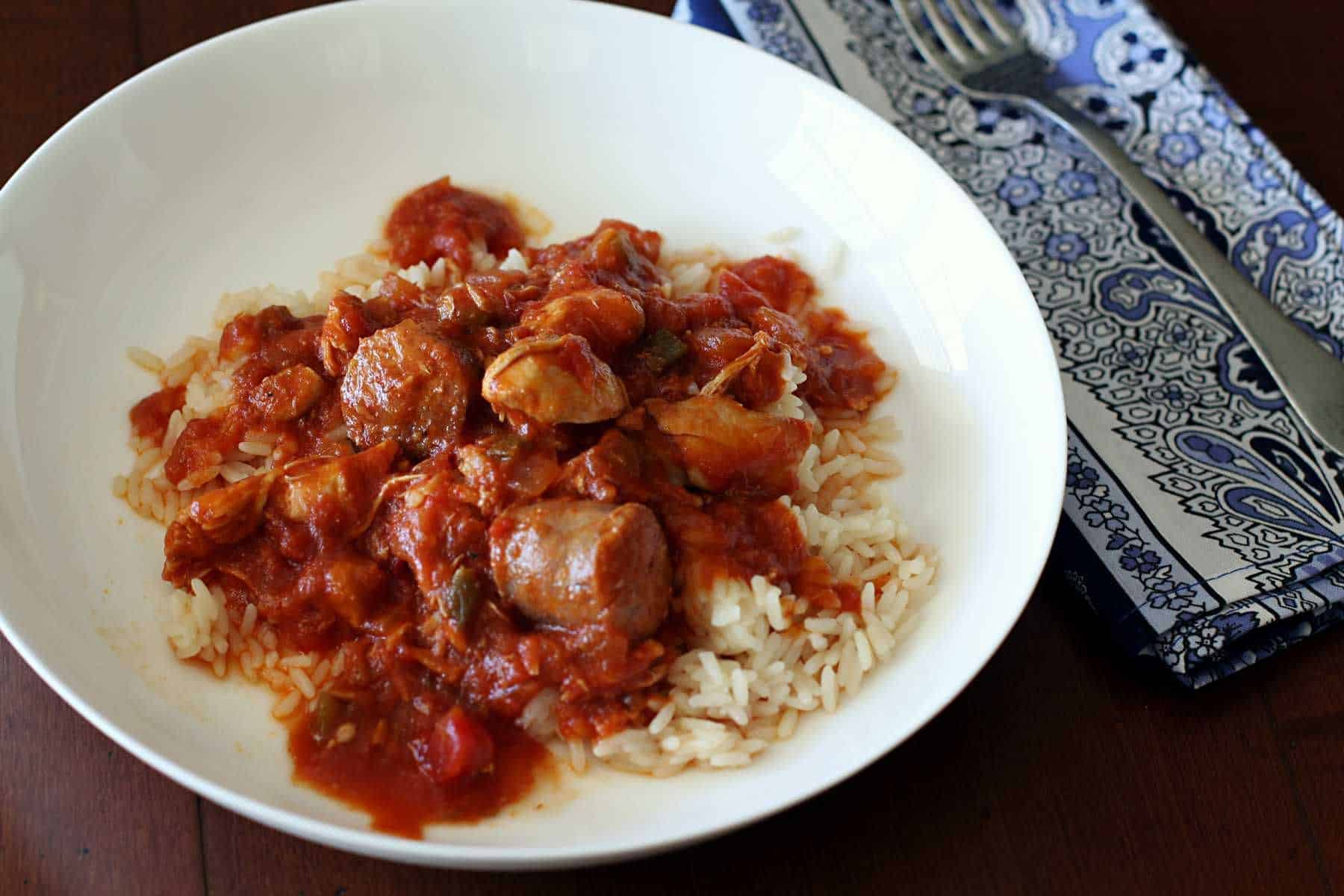 Are you looking for a heart-warming stew that will cure your midweek blues? The Creole chicken and sausage is a dish with a base made out of tomato sauce. It is slow-cooked for 7 hours on low mode, and we used chicken thighs, vegetables, and sausages for it. 
You can use your favorite vegetables and seasonings to make it taste great. We only used tomatoes and onions and added some cayenne pepper to it. The secret to its creaminess is the chicken broth and some heavy cream that will make it taste yummier. This can be served with pasta or white rice, and you will have a delicious meal for yourself. 
Louisiana Beans And Rice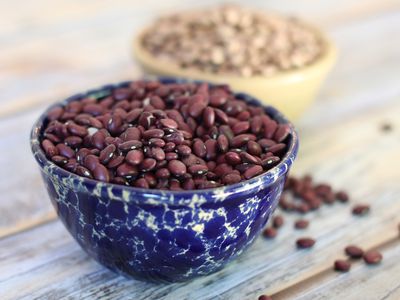 If you want a classic combination of rice along with beans, this is a meal that you will love. It has enough protein from the meat as well as the beans and can be had with rice, which will provide nutritious carbs. 
Cook the beans for 2 and a half hours, and you will have a very aromatic broth. Use a ham hock and some onion, garlic, and a bay leaf to flavor your beans. Add sausages to it and then cook for another 30 minutes. 
Once it is done, serve it hot with some cooked rice on the side. A tip for this recipe is that the beans have to be cooked slowly so that the skin does not break. This will keep the aesthetic appeal of the meal intact. 
Chicken, Shrimp, And Sausage Jambalaya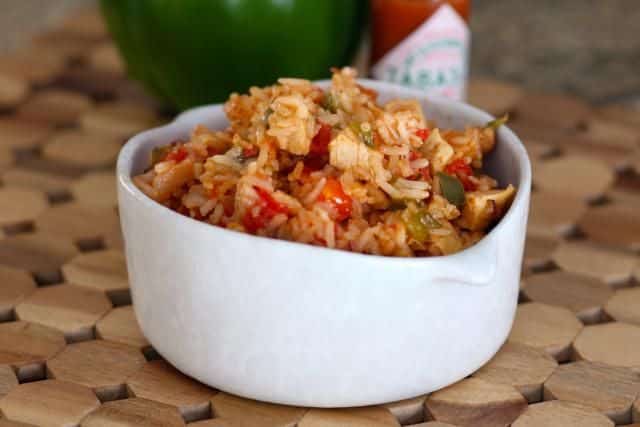 This dish has originated in Louisiana and is part of a traditional meal that has been around for decades. It uses meat and vegetables to provide enough nutrition that will make you full and leave you satisfied. So, jambalaya consists of a mix of rice, chicken, shrimp, and andouille sausages. It also has flavoring derived from peppers, onions, and celery. 
We would suggest using canned tomatoes and chicken broth for added flavoring. You can top it up with Tabasco sauce and thyme for the spice. And our suggestion is while cooking, add the shrimp in the end because it cooks very fast. Add it just 3-5 minutes before you serve and let the shrimp turn pink. 
Purple Hull Peas And Sausage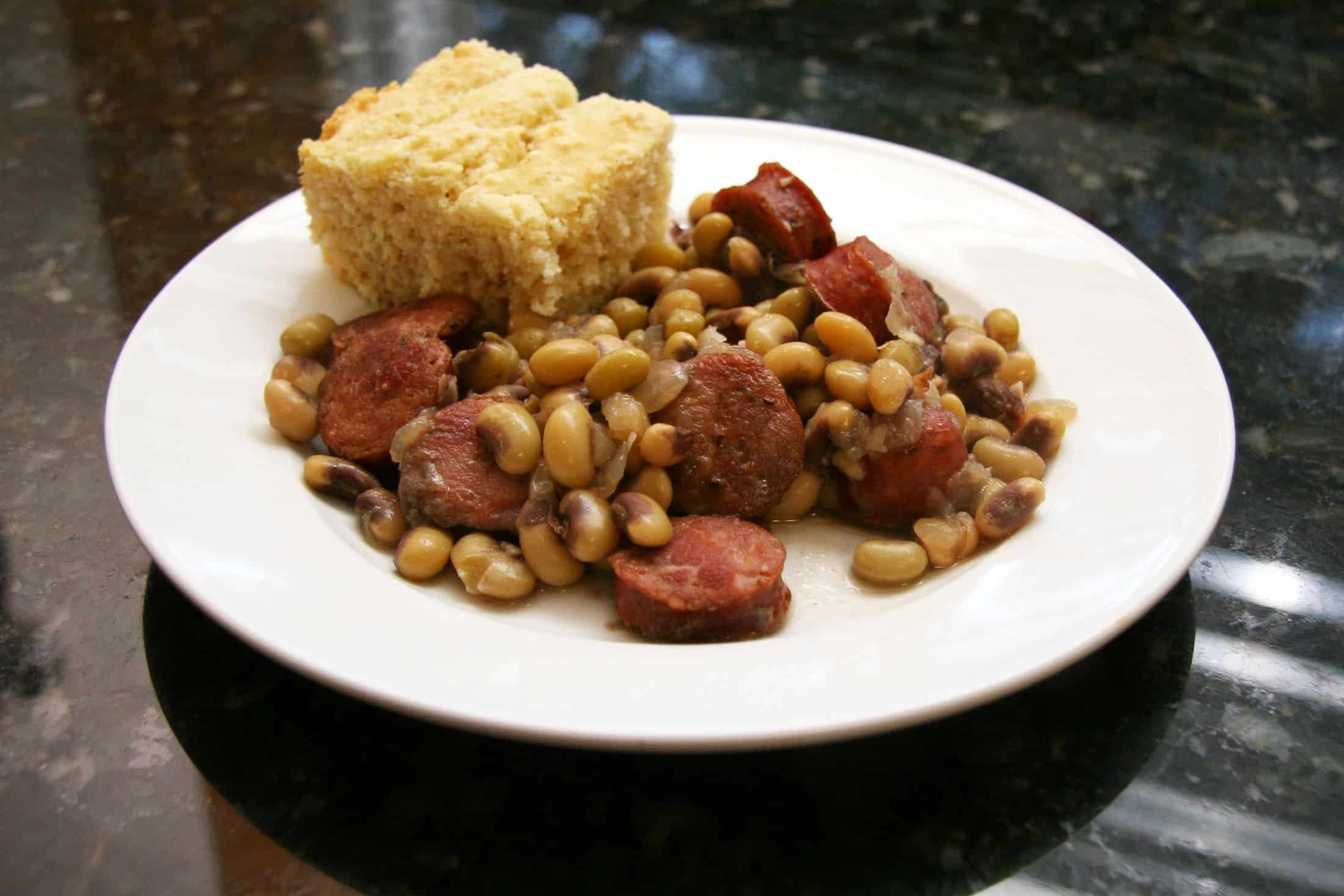 This is another favorite among the Southern states, where a variety of cowpeas are available. The purple hull peas are one of them, and both the seed and pod are edible. It is deep purple in color and is long in shape. You will be surprised to see how flavorful it can be if you have not tried it before. 
To make this, you will need a large onion, garlic, 4 cups of purple hull peas, chicken stock, sausages, and pepper. You will have to toss the onion and garlic in oil and then add the peas and chicken broth. Let it simmer for 30 minutes before you add browned smoked sausages to it. Cover and cook for the next 20 minutes, and pour in the seasonings. 
This recipe goes very well with cornbread and freshly baked white bread too. Some people love having it with a portion of rice. 
Smoked Sausage And Onions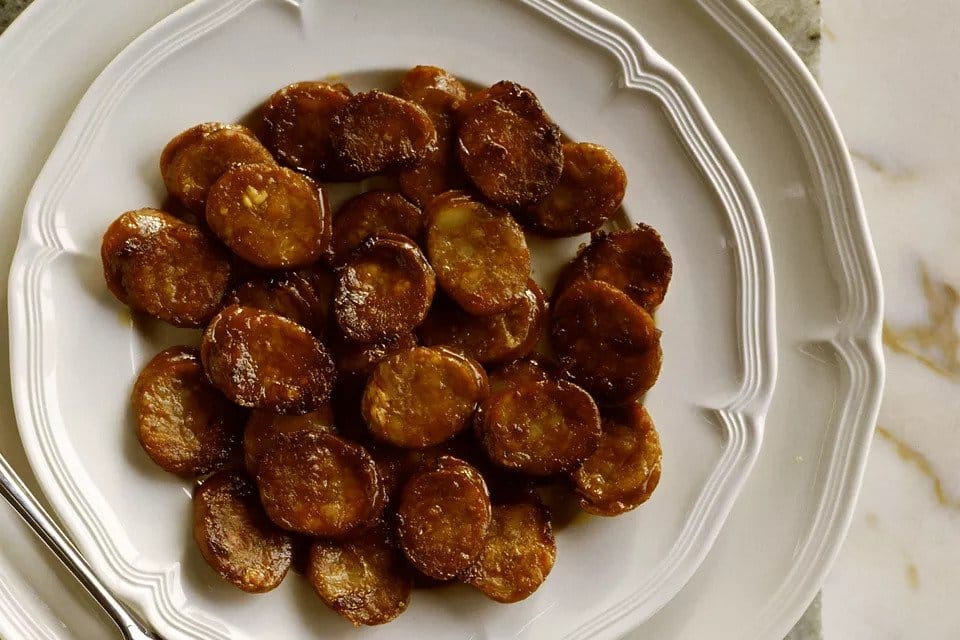 If you are looking for a basic meal with rice or noodles, the smoked sausage and onions will make your day. This can be a brilliant starter, and people can eat it with napkins and toothpicks. If you are planning a BBQ party, this qualifies to be an amazing option to pass around. 
Coming to the sausage, here you can choose to use a variety of smoked sausages. Andouille ones go very well, but you can opt for chorizo or turkey smoked alternatives too. Add a medium-sized onion along with balsamic vinegar, brown sugar, and Creole mustard. 
This is a one-pot meal, and you will only need a slow cooker for it. Spread sliced onions in the bottom and put the sausages on top of it. Add the remaining ingredients and cook for 4-6 hours. 
This could also be served with some rice if you want to create a meal out of it.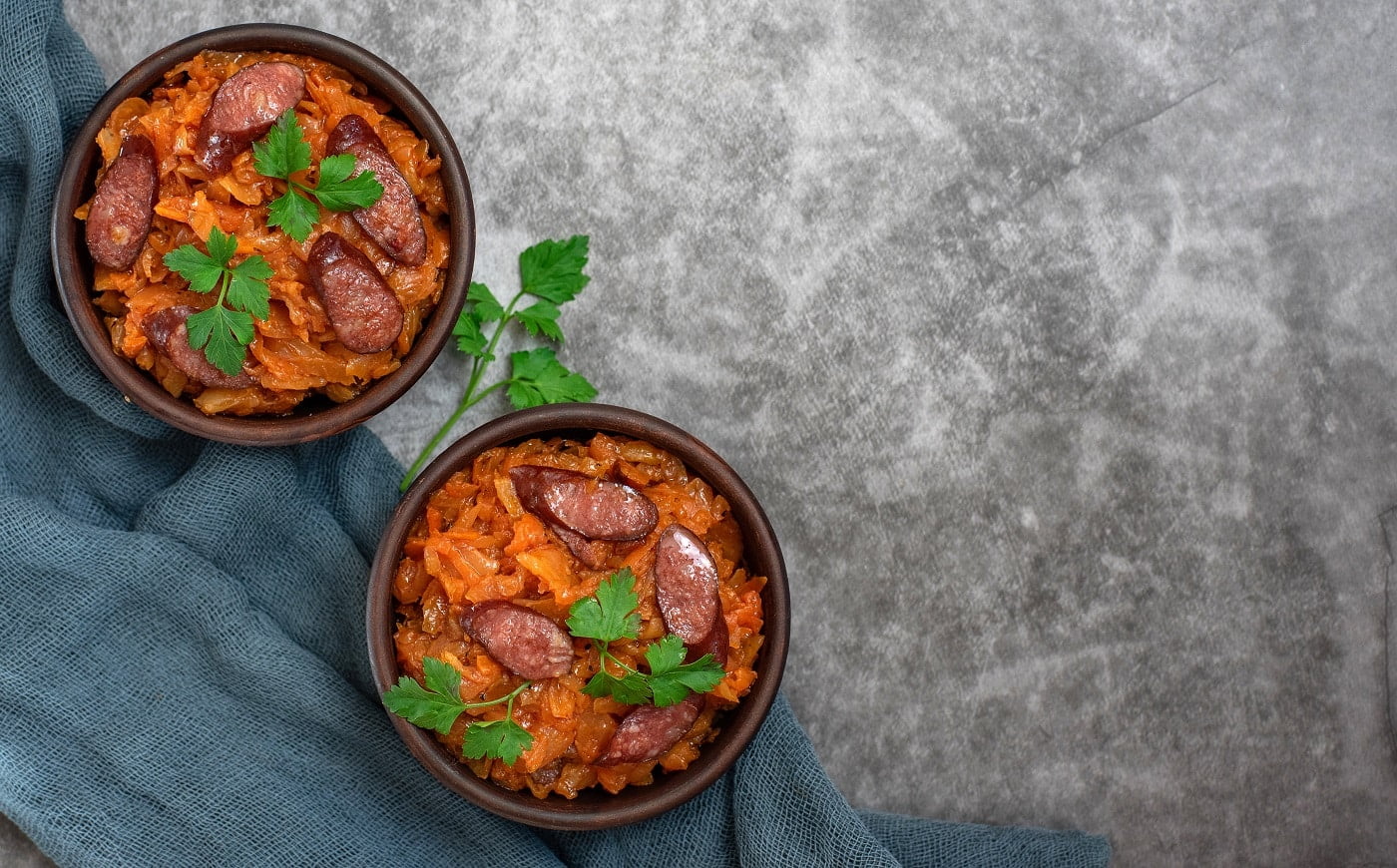 Final Words
And finally, we are at the end of our list, and we will give you a few minutes to take it all in. Be it pasta, veggies, soup, rice, lentils or baked beans; smoked sausage will indeed throw a party in your mouth with the delectable flavors that it provides. 
We would personally suggest that you try out as many of the recipes as you can to figure out your favorite one. We believe these dishes have the potential of becoming staples in your household. 
On this note, we will take our leave. Let us know if you have a recipe to add to this list. We would be happy to experiment with it too. 
Until next time. 
Related Articles
How Much BBQ Do You Need To Cook for 30 + Guests?
28 BBQ Recipes for Fall & Winter Grilling