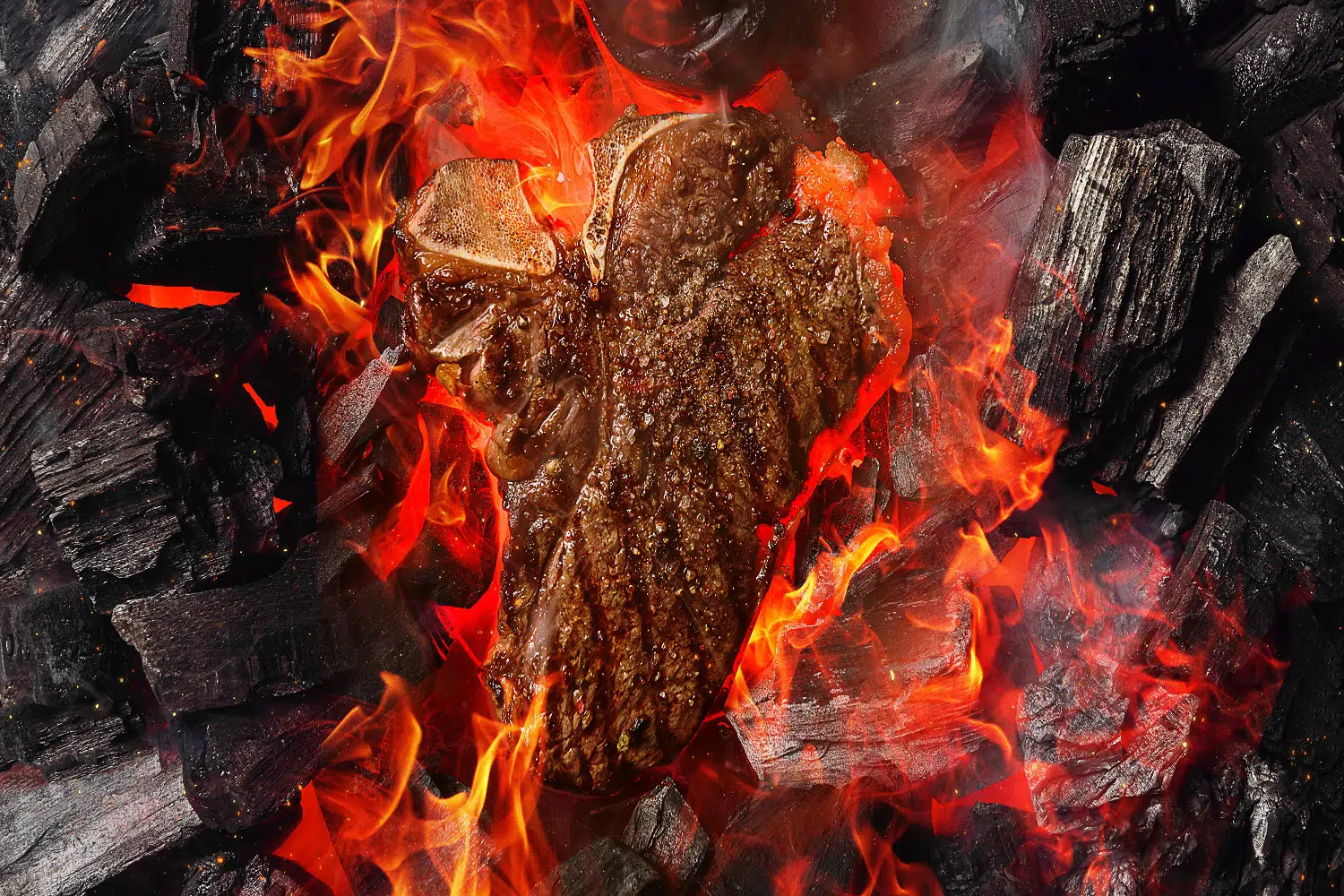 Let's face it; being a good host is not an easy job. You will have to pay attention to every detail and ensure that there's sufficient food for everybody.
With a big group of 30 people, the task is not going to get easier. But it does not mean that you cannot pull it off like a pro! To help you out, we have curated this detailed guide that will help you determine the amount of BBQ needed.
The first part will tell you about the things you should consider, followed by estimating the total amount of meat. We have also mentioned the dishes that work well for such parties and how much raw ingredients are needed.
So, without further ado, let's get down to business.
How Much BBQ Do You Need for 30 + Guests?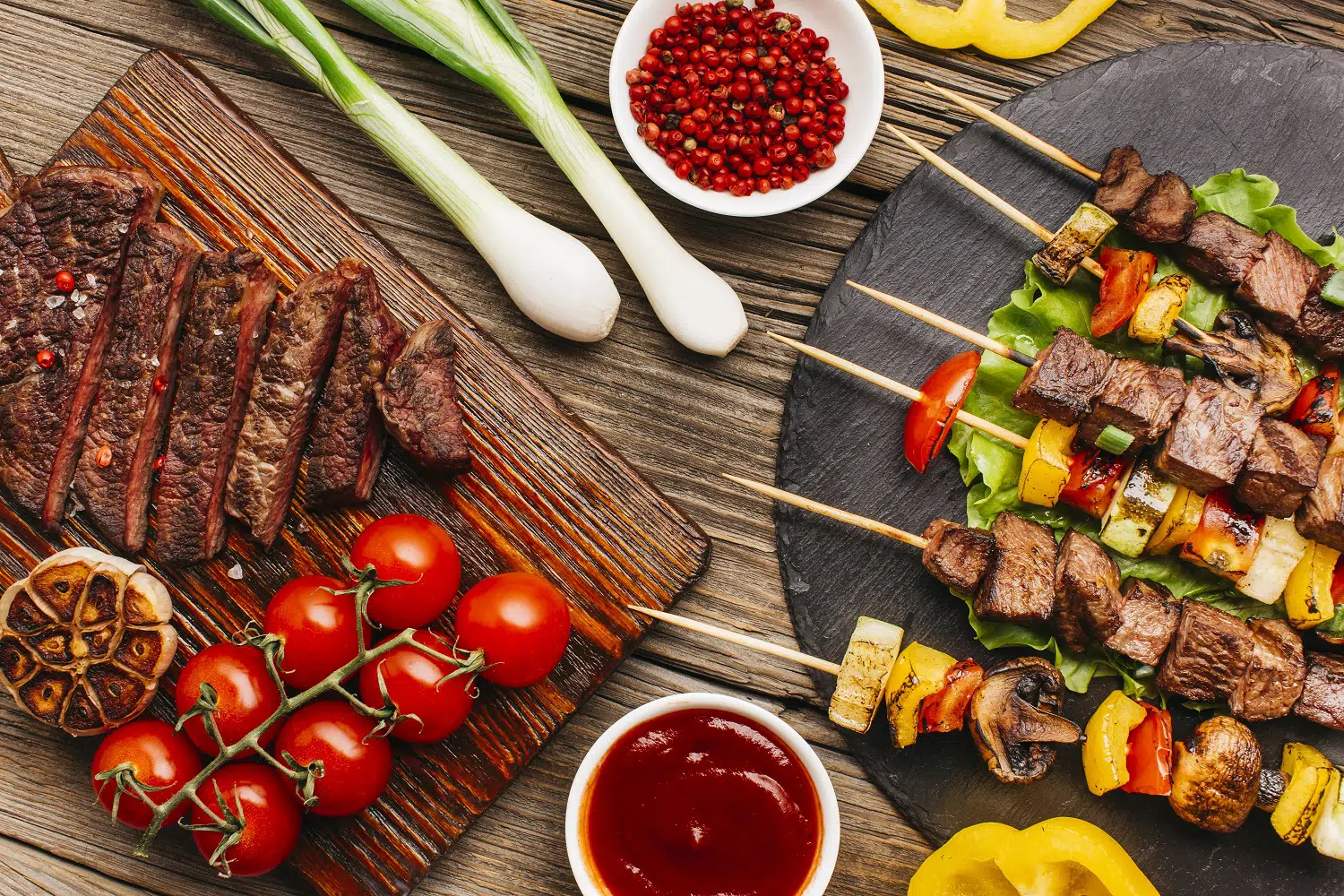 Things To Consider
We have listed down the main factors to consider while deciding the amount of BBQ. Read on to know all about them.
Age Of Your Guests
Age is an important consideration when it comes to serving food. If your guest list involves kids below the age of 12, then you can count on them not to eat much. ⅓ of a pound of meat should be sufficient for them.
For the average adult who is 21 or more, you should consider ¾ pound of meat per person. Now, some may eat more, while others, less. An average of ¾ pound of meat should account for everybody.
There are going to be some teenagers and adults who would keep gorging on the food. If it is your family, you will already know who they are. Assign 1 pound of meat for them, and we would advise not to go over this limit.
Keep several side dishes and make sure some of them are very heavy. Also, include fun drinks and some crisps to go along that will keep your guests sipping and chatting throughout.
Importance Of Side Dishes
We all have varied eating capacities, and while planning a BBQ event, you should ideally consider that. That also means planning the sides that will fill up some of your guest's appetites.
This is essential to save money as well as provide people with interspaces between different meat preparations. There are 2 kinds of side dishes that you could aim for:
This is a heavy side dish option that is tasty and will fill up the guest's appetites. If you have a budget to conform to, make sure that there are large portions of mashed potatoes and egg salads on the side.
Coming to teenagers who might have a big appetite, they would love both these dishes, and it will, in turn, limit the meat consumption. Not only that, but it also is a brilliant addition to the plate and will give your taste buds a break while you try out different kinds of barbequed meat.
 Vegetables And Fruit Salads
If you want the evening's focus to be the variety of meat that you serve, boiled vegetables and fruit salads can complement it perfectly. Pair it up with some cheese, and you are in for a classy barbeque evening.
This also goes well with meat tasting sessions where you might have several meat dishes to taste. You will have to make sure that people do not fill themselves up with heavy side dishes in such a case.
No matter what you choose, if you plan a barbeque dinner, estimate ¾ pound of meat per person so that there is no chance of food falling short. It might seem like a lot of meat, but when the music is good, and the alcohol keeps flowing, people tend to eat a lot!
If you plan to have extensive sides, you could reduce the amount of meat to half of the ¾ pound per person. That would fill up your guests well.
Determining The Time
People have different appetites at different points of the day, and hence, this is another point that you need to consider. If you are planning a lunch gathering, you can expect the appetites to be lower, and hence, ½ pound of meat per person should work well.
That should be enough, and paired with a side dish or two; you might have some meat remaining at the end of your party too.
But if you are planning a barbeque night under the stars, then you can expect the appetites to be much more. Expect half the guests to consume 1 pound of meat easily. If that is difficult to provide, ensure there are a good amount of side dishes.
Also, prepare crisps and bite-sized snacks that can be passed around with the drinks. This will fill people up and limit meat consumption too.
If you have planned an outing and the grill is the only source of food, people may end up eating more than a pound. That could be unhealthy, so keep fruits or veggies on the side for them to balance it out. You could also add burgers and hotdogs, which are filling options.
Plan For The Event
Who are you planning to invite? If you plan to invite your friends and colleagues from work for an informal night, they are going to end up eating a lot. Plus, if there are beers along with the meat, you should definitely count a pound of meat per person. The beer-meat combo is well-known and is almost irresistible.
In case of a family gathering, consider the age group and then plan on the meat. Here, you can stick to the general meat portions.
If you have a more formal setting where you are expecting a business meeting, or it is a church gathering or service, less meat is going to be consumed. This is because people generally do not fill themselves up and will not hog on food in front of unknown people.
Lastly, a party with a few of your close friends or family for a duration of 3-4 hours should mean a limited consumption of meat. Since time is limited, nobody gets the chance to gorge on food, and you can easily plan for half a pound per person.
Essential Tip
A piece of important advice that we should pass on to you from our side is to keep a note of the allergens. People may be allergic to certain ingredients, and it is best if you have complete knowledge about it. If the group that is going to be invited could be asked beforehand to mention any allergies that they have, it would make it easier.
Estimating The Total Amount Of Meat
By now, you must have gotten a fair understanding of the different quantities of meat that a person can consume in various events. This will now help you understand the total amount of it that needs to be purchased.
If you know that the group you are inviting are true carnivores who will not touch any salad or side dishes, get 30 pounds of meat in total. This should serve everybody well, and you could keep one light side dish along with it.
Besides, increasing the number of side dishes will reduce the amount of meat consumed. Plan for 3-4 salads, potatoes, or burgers, and you could reduce the meat consumed by half. We would suggest getting 17-18 pounds of meat, and that will work out well. Pair it up with hotdogs and good beverages, and your party is bound to be a success.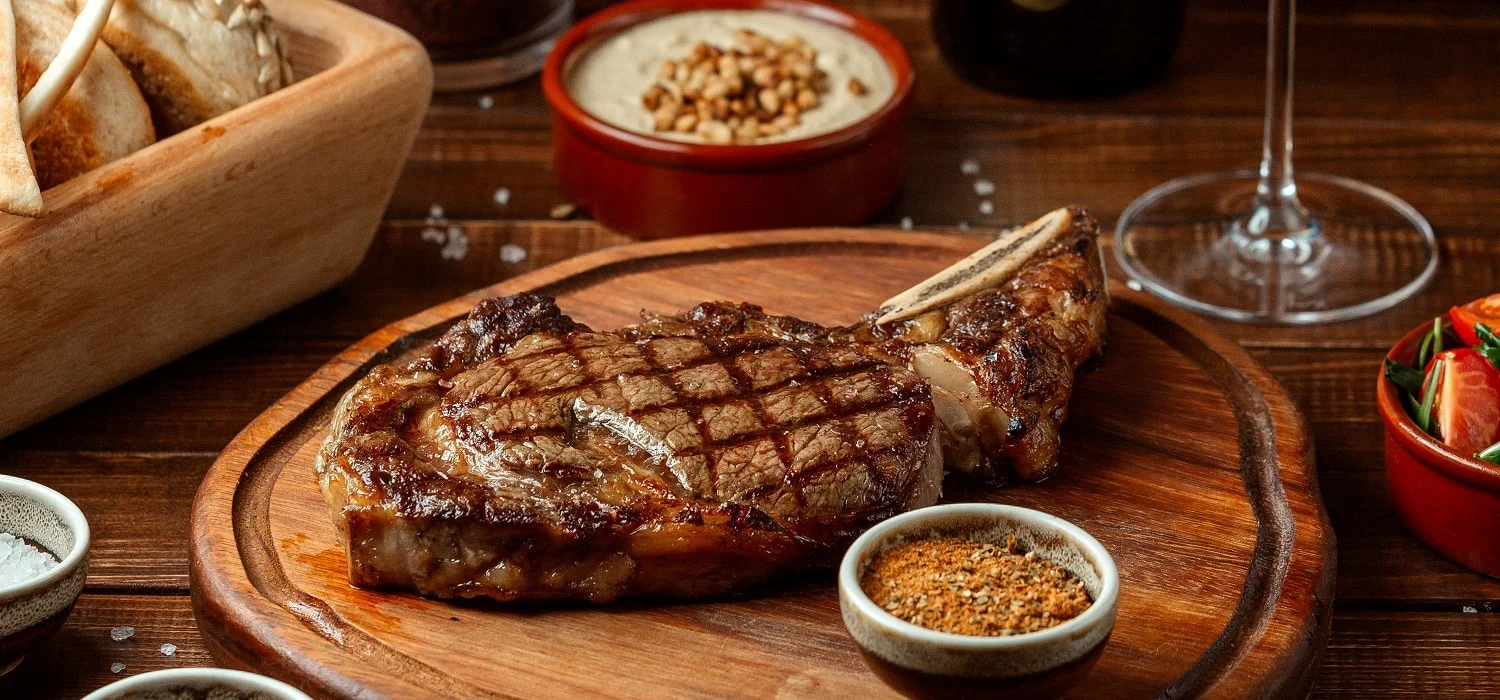 How Many Types Of Meat Is Ideally Needed?
This is an important question, especially since you will have invited a decent number of people over. We would suggest 3-5 variants of meat. Try keeping at least 3 types so that people can enjoy the variation in the meal.
The next question that arises is how to divide the meat between different preparations. We would suggest not to pay much attention to measuring portion sizes. Instead, focus on dividing the entire raw meat into 3 parts.
Then cut down each portion with a large professional knife to get equal portions. First, divide it into 10 parts. If they are big, cut each into 2 halves. Once you have divided the meat well, you can proceed to marinating and cooking it.
Moving on, in the next section, we will tell you about the popular types of meat preparations that you can consider. There are some crucial details that you should pay attention to while choosing.
Types Of Meat
The 3 standard options are ribs, briskets, and pulled pork. Read on to know how much of each item you would be needing.
Ribs
Barbequed ribs are one of the most popular treats and are loved by everybody. But it is also the trickiest to measure as there is less meat on each piece. We would suggest an average of 6 baby back ribs per person. This is the easiest to get, and 6 should fill people well.
If you are purchasing larger spare ribs, then 4 should do the trick. That will be enough as there will be 2 more types of meat along with this. For beef lovers, 2 giant beef back ribs should be more than enough. For kids below 12 years, keep half the quantity as they usually do not overeat.
Pulled Pork
Pulled pork is a delicacy that people love, and it is going to be the star of the party. Now, there is a specific way of calculating the amount of pulled pork that you would need. The meat yield is going to be 40%, and the rest of it consists of bones that cannot be eaten. We would recommend 5 pounds of pork, and to get that, you will have to purchase 8 pounds of raw pork for 30 people. If you want to buy more, remember the ratio and buy accordingly.
It is important to stock up sufficiently because this is going to be a favorite among people, and you do not want to fall short.
Brisket
Considering that there will be 3 types of meat and ample side dishes to go along with it, 5 pounds of the brisket should serve you well. But remember, we are talking about 5 pounds of cooked meat and not raw. The meat loses its weight while grilling, and 40% of the weight is reduced. So, prepare accordingly and buy at least 7 -8 pounds of meat for 5 pounds of brisket.
When preparing for the event, keep in mind that the amounts of meat that we just spoke about will suffice if you have proper side dishes and drinks along with it. For an average BBQ lunch or dinner, this is the right capacity but if you are planning to only focus on meat, then increase the amounts by 50%. That should be enough for the whole group.
How Much BBQ Sauce Is Needed?
Typically you will need a gallon of sauce for a group of 30 people, the BBQ sauce is often not given much attention to but turns out to be an important part of the meal. It is best not to buy 1 gallon of the same sauce. Buy 2-3 variants or make them yourselves beforehand. That will provide the guests with different flavors to experiment with.
Burgers On The Side
The best part about burgers is that they are filling and will appeal to carnivores as well as those who are picky about eating. They are really flavorful and will be a great addition to the meal.
For a group of 30 people, you should have 60 burgers or 30 burgers and 30 hot dogs. That is the ideal count but you should prepare for those with larger appetites. Keep 10 extra for these people, and you should not fall short.
Now, coming to the amount of meat required, you will need around ⅕ pound of meat for each patty. That will allow you to make 5 burgers per pound. If you want to make them meatier, make 4 patties from 1 pound of meat.
Here you do not need to calculate the weight loss of meat, and you can buy just the amount needed. Another suggestion from our side is that you can make the patties instead of buying them readymade. While readymade options will save you time, you will end up spending much more money. Make your patties the previous day and grill them on the day of your event.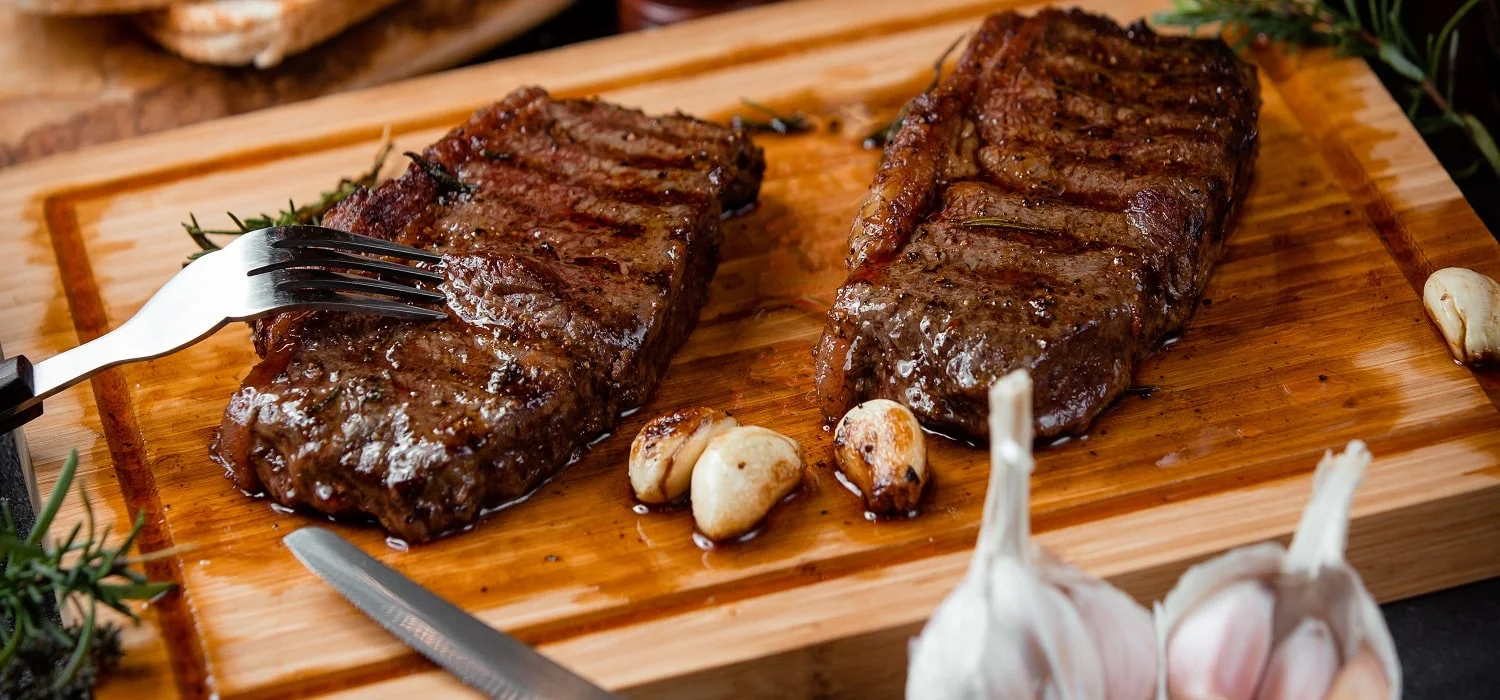 Final Words
Imagine having everything in place, and then you end up with less salt or seasoning! While you are paying attention to the amount of meat, it is also important that you consider the smaller details. Buy ample amounts of sauce, salt, pepper, chili flakes, and napkins. These would be the basics that could make or break the event.
So, finally, you are prepared to send out invites for your upcoming BBQ party. If you plan to invite more than 30 people, follow the food ratio and increase it accordingly.
With this, we have come to the end of our guide. We hope you are prepared to deal with the party. Keep a few extra burgers or hotdogs just to be safe.
Let us know about your experience in the comments section below.
Until next time!
Related Articles
28 BBQ Recipes for Fall & Winter Grilling
46 Best BBQ Forums, Websites & Broadcasts
5 Best Small Traeger Grill For Backyard & RV BBQs
34 Smoked Sausage Recipes You Will Never Forget
16 Types of Steak Everyone Should Know
Weber Spirit vs. Spirit II [All You Need to Know]
Rec Tec vs. Traeger [All You Need To Know & Winner]