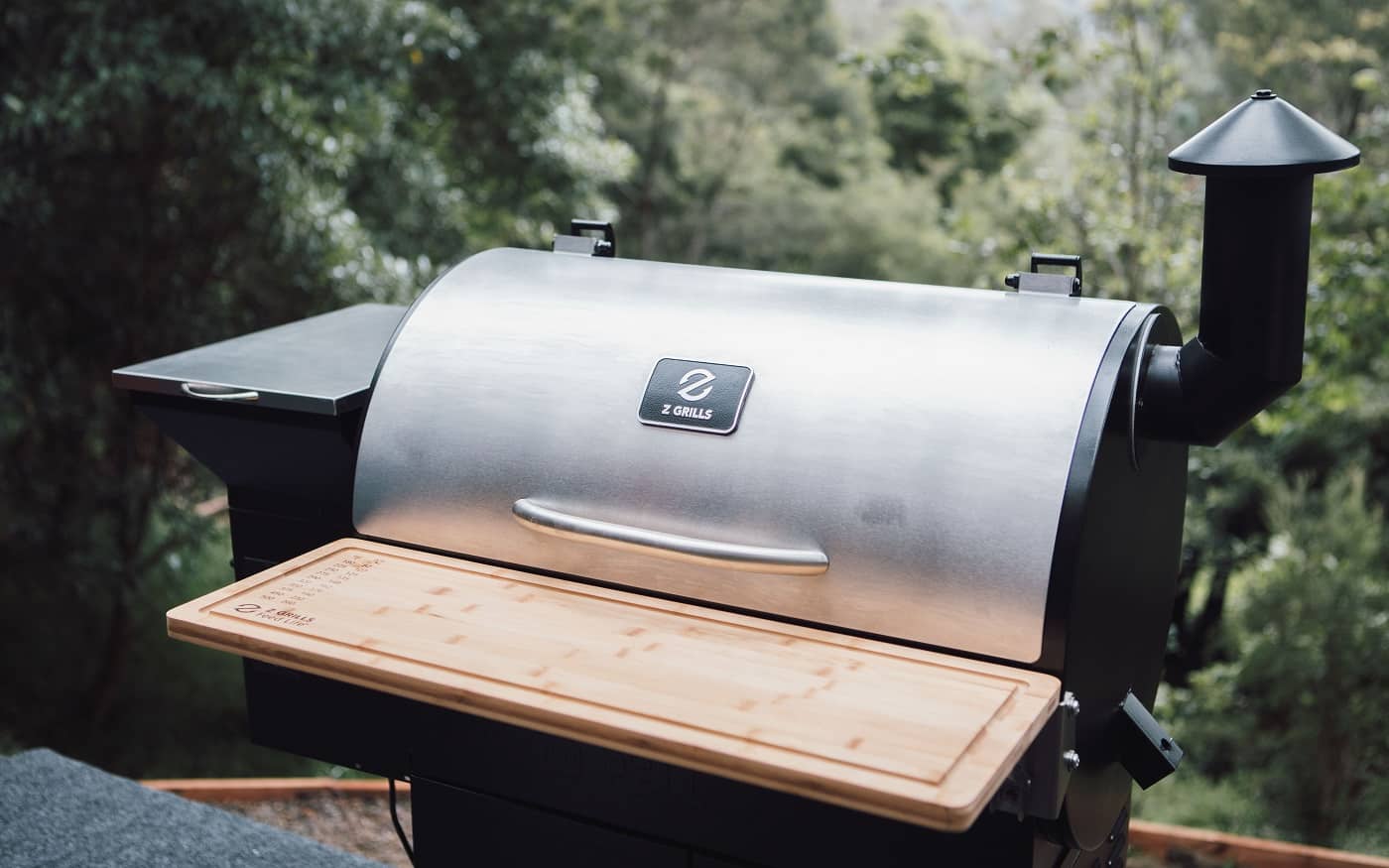 If you're a fan of smoky grilled meat, love hosting people, and have space around the house, owning a grill is a wise choice.
Think about it: isn't it fun to grill meat at home for friends and family on a warm Sunday afternoon? However, figuring out which pellet grill is ideal can be quite a task because there are so many factors to consider. 
However, it's no secret that Rec Tec and Taeger are the top two contenders. And as human beings, we are compelled to compare. From superheroes to supercars, there can only be one winner. And a pellet grill is no different. 
If you are looking to know which brand is superior, you're in the right place. In today's guide, we are comparing Rec Tec and Traeger on various aspects to decide which might be the ideal one.
So without further ado, let's jump right into it!
Rec Tec vs. Traeger | All You Need to Know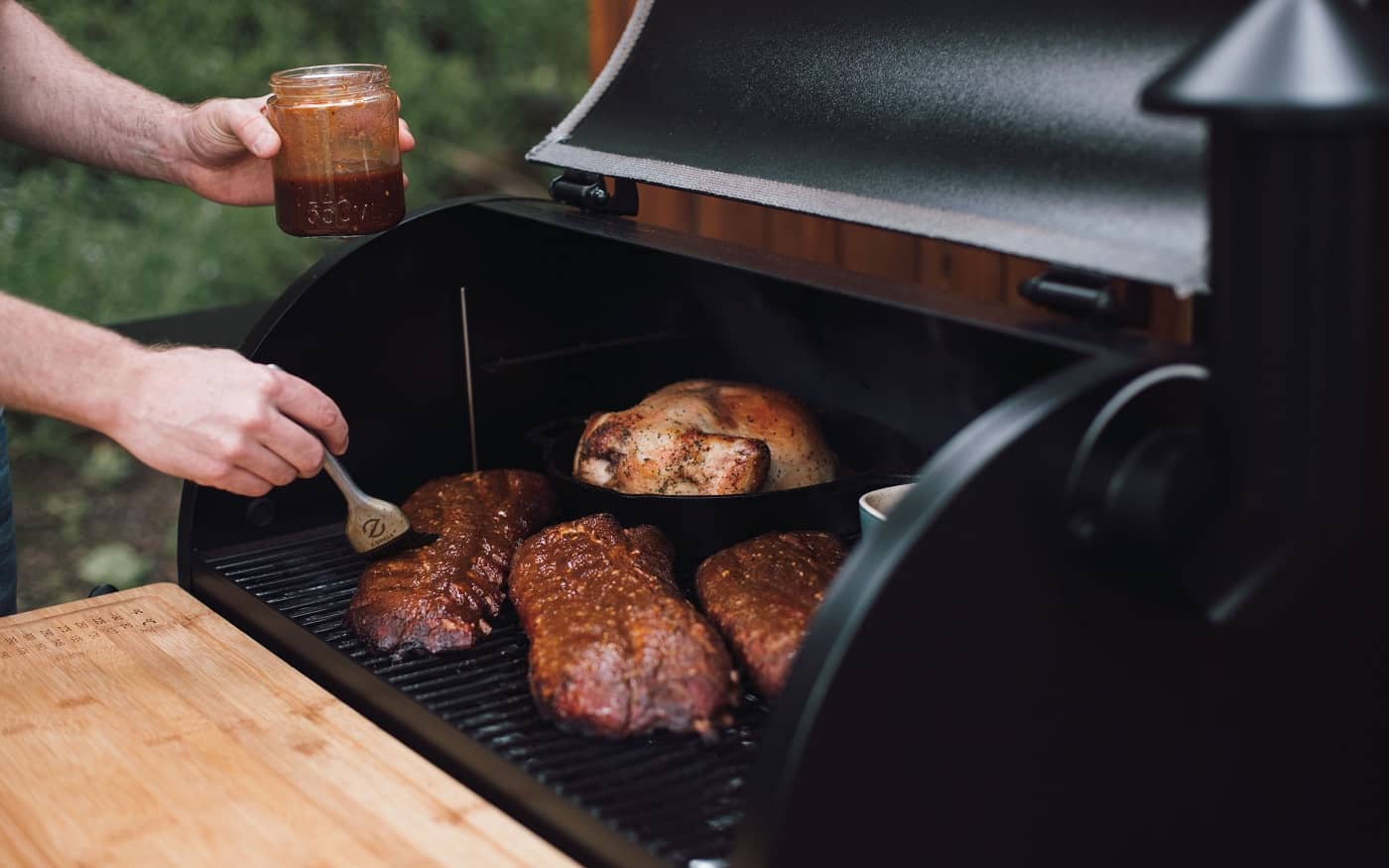 A Brief Overview Of Each Brand
Before we get into comparing the two, let's talk about the grills they both have to offer. Since both these brands are high-quality, they have produced quite a few grills that have become popular in the market. 
Some of the well-known Rec Tec grills are the RT-590 and the RT-700 pellet grills. And when it comes to Traeger, the Ironwood Series 885 and the Traeger Pro Series 575 are just as popular. This brings us back to figuring out which one, out of the variety of options available, is the best. 
To begin with, let's look at a brief overview and history of each brand to understand them better. 
Now, while we aren't comparing on the basis of who got here first, Traeger did set the trend. In 1985, Joe Traeger was the first person to invent pellet grills. He knew from the very start that this invention would change the culinary industry, and hence he patented it in 1986. 
As the brand grew, so did its reputation. Traeger was the only trusted name for pellet grills, and it lived up to it. However, the brand gained traction not only because it was the only one making pellet grills but also because of its quality and reliability. But, the patent was only for 20 years. 
In 2006, once the patent expired, many more companies began manufacturing pellet grills. This made the market more competitive. Joe Traeger ended up selling the business, and soon Traeger moved overseas for production. But, despite the ever-rising competition, it remained as one of the best and most reliable names.
Plus, as the technology advanced, so did a lot of Traeger grills. The competition in the market has led them to build new and improved grills with hi-tech features and wider cooking areas while maintaining their high-quality and premium status. Some of their newer models are Wi-Fi enabled, which is pretty impressive.
Out of the many brands that took advantage of Traeger's expired patent, Rec Tec was the most successful. The company came into existence in 2009, which was three years after Traeger's patent expired. It started with just two friends who loved to grill and were always looking to improve their grilling experience. 
What started in a garage is now one of the best pellet grill brands in the market. But this isn't just because they hopped on board at the right time. Rec Tec (now known as recteq) has always focused on manufacturing high-quality products using new technology. Plus, their grills have bull-horn-shaped handles (who wouldn't love that!).
Since the company was always about trying to have the best grilling experience, we can see how temperature control can be a big deal. Getting the proper heat and smoke is crucial, and that is why Rec Tec grills focus a lot on temperature control and have digital controllers to reach precise temperatures.
Traeger vs. Rec Tec
As we mentioned earlier, both these brands have made a name for themselves with not just one or two products but many. Each of these has a vast catalog of grills at different price points with varying features. 
To make the comparison easier, we have made a list of the most important features when selecting a grill. Whether you are looking online or in a store, making a note of these features will give you a better idea of the grill's quality. Hence, picking the one that's more suited to your needs will not be as challenging a task.
Price
Without a doubt, price is one of the essential aspects when selecting a grill. No matter how nice and efficient any product might be, it is always advisable to buy something that will not rob you of your life's savings. Or at least it should have enough to offer to compensate for the price.
That being said, both Traeger and Rec Tec are high-end brands with expensive grills. They are not unaffordable, but even their basic grills can be considered premium, given their name and quality. So, it would be futile to look at any of these brands if you are looking for cheap and super budget-friendly grills.
However, out of the two, we suggest going for Rec Tec. Not only is it a little less expensive than Traeger, but it also has more value for the price, especially if you want a more advanced grill.
Temperature Range
When it comes to pellet grills, it is always better to buy one with a wide temperature range. It makes room for more versatile cooking. With a wide temperature range, you can smoke different kinds of meat and cook it without having to worry about finding the ideal temperature. 
When it comes to Rec Tec and Traeger, both offer incredible temperature ranges. However, Rec Tec is a better performer in this regard since the range is wider and it has a "FULL" setting which increases the heat even more. Most Rec Tec models have a range of 200℉ to 500℉, and the FULL setting takes the heat beyond 500.
For most Traegers models, the max temperature is about 450℉ with just a few models going up to 500℉. The minimum temperature it can go down to is 165℉. So clearly, the difference in temperature ranges is not much. It's just that Rec Tec's FULL setting gives the brand advantage, especially if you prefer grilling to smoking.
Construction
It goes without saying that both brands only use high-quality materials to construct their grills. They both offer grills that have sturdy built and tight fittings that will last a long time. However, there is a difference between the two since they both use different high-quality materials.
Most of the components in Rec Tec grills are made out of stainless steel, with the exception of the heating rods that are made out of ceramic. On the other hand, Traeger grills are made with powder-coated steel, and only the handles are made with stainless steel. 
Some of the high-end Trager models have stainless steel bodies and grates as well as double-wall insulation. In this aspect, the Rec Tec models are a bit more favorable since all models have stainless steel bodies, firepot, grates, and drip pans. 
Rec Tec has an advantage when you compare the two since stainless steel is rust-resistant and will last longer than powder-coated steel. Plus, the ceramic heating road also has a long life and might even outlive the other components. 
Cooking Space
The amount of space that is enough for cooking is very subjective. If you like to host people and cook in large quantities, then a wider cooking space is necessary. But if you're new to using grills and are just testing the waters, then maybe getting a smaller one is wiser. 
But how do you decide exactly how much cooking space you need? To put it in perspective, a full-size turkey or a dozen burgers will need at least 300 square feet or more. Rec Tec and Traeger offer grills with varying cooking spaces; it all comes down to what is ideal for you. 
The only difference is that a larger cooking space is available mainly in Traeger's premium models, while Rec Tec offers ample cooking space in all models. In addition, Rec Tec's grills have additional space in every model that extends the area by 200-300 square feet.
Pellet Hopper
People who use the grill multiple times a week know how massively inconvenient it is to refill the hopper constantly. After all, who wants to deal with yet another tedious task more than once after prepping the food. 
To avoid dealing with constant refilling of the hopper, especially when you're smoking something overnight, we suggest looking at hoppers sized at 20 lbs or more. Rec Tec and Traeger both have grills that can meet any requirement. 
Most of the Rec Tec Models start at 20 pounds and go all the way to 40 pounds. On the other hand, Traeger's models start at 18 pounds and go to a maximum of 24. If you are looking for a grill with a smaller hopper size, like 20 or 24 pounds, both brands stand tied for us.
However, since Rec Tec has much larger sizes to offer, it has a wider variety to choose from. 
Temperature Control
Temperature control is an important aspect of the smoking and grilling process. While Traeger has stepped up in this aspect over the years, Rec Tec always prioritized it. Overall they both perform equally efficiently. However, one is more traditional than the other. 
Traeger has a Pro D2 controller that keeps the grill at the desired temperature within a +/- of 15℉. In the premium models, the grills have a feature where the temperature increases at a faster rate in case the lid is opened. This is quite beneficial since opening the lid to check on the meat does affect the cooking process, as it does in baking.
However, if you are looking for something a bit more advanced, Rec Tec is the way to go. Not only does it have a digital temperature screen (as opposed to Traeger's standard temperature dial), it also Smart Grill Technology. This technology keeps the temperature inside consistent for a long time.
Plus, the temperature stays within a range of +/- 5℉, making it a lot more accurate. It also calculates when the ignitor should be turned on/off and how many pellets it needs to meet the required temperature. And all this is in addition to the auto-shutdown and cool down feature.
In a nutshell, they both have different things to offer. If simple and traditional is your style, then pick Traeger. If not, you have Rec Tec. Functionality-wise, they are both accurate and phenomenal at temperature control.
Warranty
The one thing people check after the price of any device is the warranty period, primarily if they are investing in something expensive. Saving up a fortune and buying something which only lasts for about 3-4 months is everyone's nightmare. 
This logic extends to grills too. It can be pretty expensive, but knowing a company can cover certain damages until a specific time is relieving. When it comes to Rec Tec and Traeger, it is evident that they will last long. However, having a warranty on the models is the cherry on top. 
For most of the Rec Tec grills, the brand has a six-year warranty. We have established that it is a sturdy piece of equipment to have in the house. With this kind of warranty, not just you but your kids too be able to use these grills in the future.
Trager, on the other hand, while also offering long-lasting grills, only has a warranty period of three years. And while it is impressive for a brand to provide a warranty for this long, it is no match for the six years by Rec Tec.
Customer Service
Now, this may not be an essential point for a lot of people. But, if you're looking at the warranty, we know customer service centers and numbers are on your mind. 
Needless to say, since both brands have been in the business long enough, they have responsive and support customer service teams. One of the best things about Traeger is that, despite being overseas, they have a knowledgeable team in the US that is always eager to help. This is why people don't mind the hassle of contacting them.
However, Rec Tec one-ups them here. Not only do they have a supportive team, but each grill includes the number of the company's two founders. People who have had trouble with the grills have actually called the founders and spoken to them about their issue. 
And it is this level of intimate connection that the brand is building with its customers that it is so popular. 
Portability
Grilling and smoking meat is not something that can only be done in the backyard on a sunny day. Some people love to take their grill into the great outdoors for a cooking session in the middle of the forest. It's for people like them that grills need to be more portable and mobile.
Whether it's for tailgating or camping purposes, having a grill that cooks on the go can be very convenient. This is where Trager has gotten an opportunity to shine. Don't get us wrong; Rec Tec has some fantastic options to choose from. Some of their models have foldable legs, and most of them have wheels. 
But Trager has a much more extensive collection of mobile grills. They have prioritized mobility to a point where they have a whole collection of portable grills. Plus, they have a section of grills made for tailgating and one line that effortlessly cooks on tabletops. 
Additional Features
Now, coming to the fun bit. No matter what product you want to buy, as soon as there are some bells and whistles, it automatically amplifies its need. You may not need a Wi-Fi controlled fireplace for the winter, but it sure will be fun to have. 
Similarly, both these grills have evolved with time. And as technology advances and people expect more from a product, they have successfully delivered. Be it wanting to control the grill remotely or have an indicator that lets you know when the meat is ready; both brands have done it all.
Let's start Traeger. One of the most note-worthy features Trager has added to its grills is the wi-fire technology. Other than being a very smart name, it is also brilliant tech. Wi-fire technology is in-built in all Traeger grills, which allows you to connect the grill via wifi to an app.
The app is quite convenient since it not only allows you to monitor the temperature, but you can monitor food temperature and also add more smoke. And all of this, with just a few taps on your smartphone or tablet. Plus, the high-end models also come with two meat probes.
Speaking of high-end models, those have low pellet sensors, grease management systems, and exhaust systems. Plus, if the grill does not work, the built-in error reporting feature can tell you why it's not working. And, this is all just the tip of the iceberg. 
Moving on to Rec Tec. Much like Traeger, the Rec Tec grills also have an app that monitors and changes the temperature inside the grill. The app allows you to set timers and alerts that will notify you when the food is done.
However, the cool stuff with Rec Tec is beyond the app. The grill itself allows for extra low and extra hot temperature settings. These can be set based on the amount of smoke requirement for the meat. 
In addition, it has hopper lids that can also be used as a warmer. It also has interior lights that allow you to see the meat inside at night without carrying a torch everytime. It's a small addition, but it's the little things that count right! Plus, it has two temperature probes. 
The best part about all this is that they are in all models, and not just the premium ones (as it is in Traeger). And, you can buy a smoke box that can cold smoke fish, cheese, and even sauces by paying a bit extra.
In the end, it all comes down to what you need when it comes to these extra additions. However, we are partial to Rec Tec in this aspect since the fun features are accessible in all models.
Rec Tec and Traeger: Recommendations  
Having read all those features, you might tell that it is a challenging task to pick one true winner. 
Both the brands have a lot to offer and are leading in one aspect or another. However, we felt it might make it easy for you to pick one if we list out a few of our recommendations based on the features above.
Both, Rec Tec and Trager, have multiple grills to choose from, but the ones mentioned below are some of the most popular in the market. 
RT-700
The RT-700 is one of the top-line grills by Rec Tec. If you plan to go all out with a grill, this is one of the top contenders. It has a massive 702 square inches cooking area with an additional 352 square inches. All in all, you can have a whopping 1054 square inches of cooking space.
In addition to the massive cooking area, even the pellet hopper size is huge. It has a 40 lbs capacity, which makes it ideal for overnight cooks. The temperature range on this grill is between 200℉ and 500℉. So if you're looking for a grill that can efficiently slow cook and roast at high temperatures, this is a great option.
Other than that, it is equipped with most of the standard Rec Tec features like stainless steel construction, four wheels, and Smart Grill Technology. The grill even has a small towel ring, which we thought very convenient. 
RT-590
This is the mid-range model by Rec Tec that is perfect for families that love to grill. The cooking area is 590 square inches with an ability to expand to 772 square inches. It has a simple-looking body, and the octagonal shape allows more headroom inside so you can place larger pieces of meat like two turkeys! 
This one may not be as large as the 700, but it is enough for families that grill occasionally (or eat two turkeys at once). It also has two stainless grates and a generously sized hopper at 30 lbs. With a hopper that size, you can get at least 30 hours of cooking done.
As mentioned, all other features in Rec Tech are uniform. This also comes with two temperature probes, PID, and smart grill technology and has four wheels for each mobility.
RT-340
Finally, we have the low-range grill. It may cost less, but it sure does pack a punch. It has a lot to offer in addition to all the regular features like sturdy construction, dual meat probes, and Smart Grill technology. This one is perfect for people testing the waters with grills or for people that only need them very rarely. 
The cooking area on this one is 340 square inches with an additional 171 square inches. It has a 20 lbs hopper capacity, and the temperature range is between 200℉ and 500℉. Much like its big brothers, this one too comes with a six-year warranty. The only difference between this and the bigger models is that this one has two wheels only.
Timberline
The models in the Timberline series are all considered top-end grills by Trager. These grills have three cooking areas of varying sizes. The smallest in the series has a total cooking area of 850 square inches, while the biggest is around 1300 square inches. 
The hopper capacity on all the models in this series is 24 lbs, and the temperature range is between 160℉ and 450℉. The great thing about these grills is that it is double-walled and insulated for better heat retention. It also has adjustable racks. 
These grills are all Wi-Fi enabled with Wi-Fire technology and can be controlled by the Traeger app. It also comes with a three-year warranty. 
Ironwood
Next in line is the mid-ranged Traeger grills. These are like the mid-ranged Rec Tec models because they are ideal for small families and frequent grilling in small quantities. The lower end of the series has a minimum of 650 square inches in terms of cooking area, while the higher end is around 800 square inches.
They also have double side-wall insulation for better heat retention. It is slightly different from the Timberline series since only the side-walls are insulated instead of the whole construction. The hopper capacity is 20 lbs, and it has a temperature range of 160℉ and 450℉. These grills will use a little less than a whole bag of pellets.
Additionally, they can be controlled and monitored via Wi-Fi using the Traeger app and are protected under a three-year warranty.
Pro
Lastly, there is the Traeger Pro series grills which we recommend for new users. It's a low-budget series from the brand and ideal for people getting used to grilling and smoking.
Since these are entry-level grills, they do not come with double side-walls or adjustable grates, but they have plenty to offer. The smallest has a cooking area of 575 square inches, while the largest is 780 square inches. All these grills have a hopper size of 18 lbs. which is ideal if you don't grill very often.
Like all the other grills by Traeger, these are also Wi-Fi enabled and can be controlled via the app. Plus, it comes with one thermometer probe to check the meat.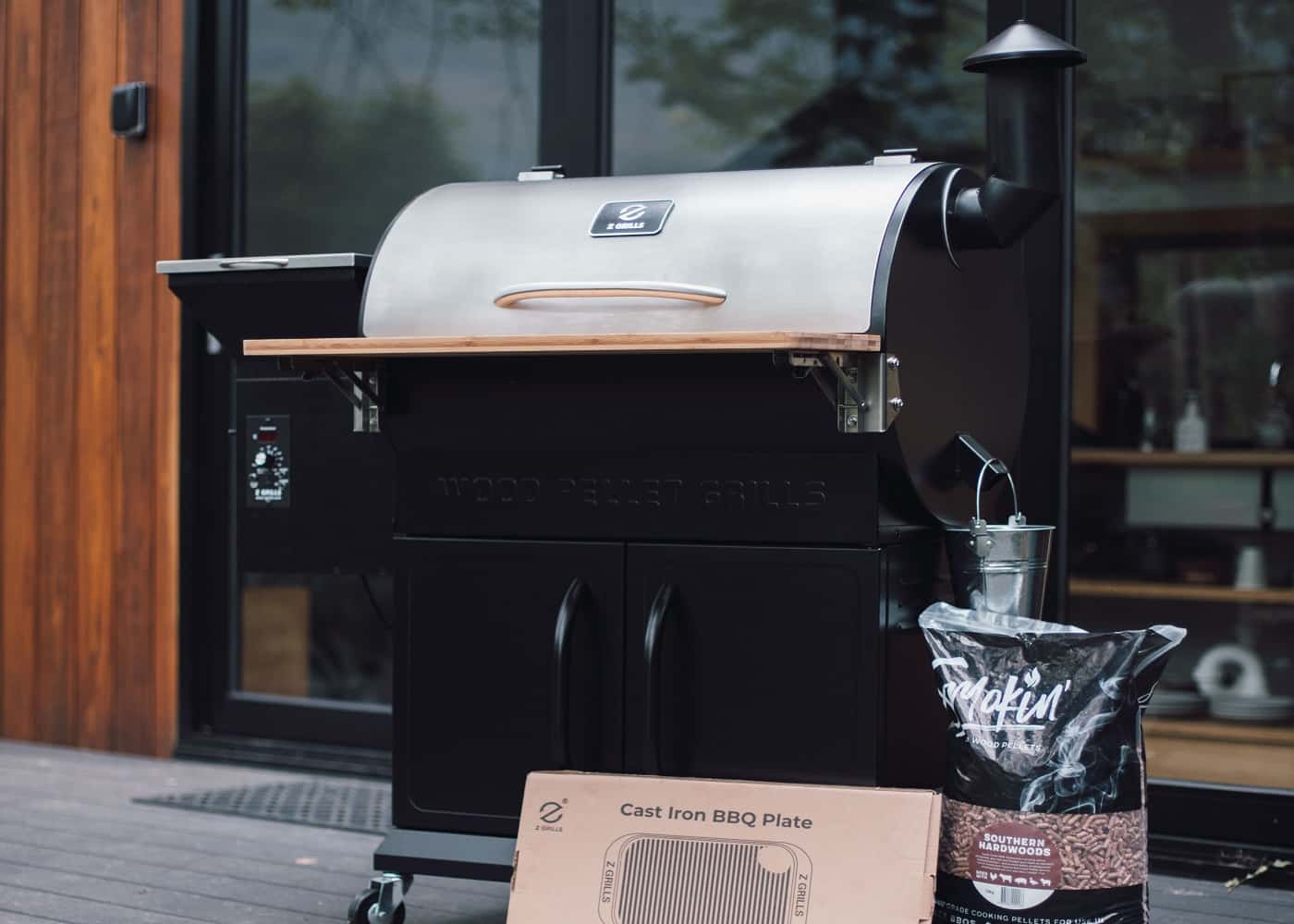 Summing It Up
Picking one winner is not easy when it comes to big brands like Rec Tec and Traeger. While both brands have certain advantages over the other, Rec Tec does stand out for us a bit more in terms of value. 
To start with, since it is a newer brand, it has features that are more suited to the newer generation of grilling enthusiasts. Plus, they offer a lot more in terms of warranty, price, and customer service than most leading brands do. 
However, in terms of grill performance, both brands are exceptional. Traeger has been in the business for a long time, so they know what they are doing. Ultimately, it all boils down to the user's need, and so the ultimate choice is yours. On that note, we shall take your leave and be back soon with more such comprehensive guides and reviews.
See you next time!
Related Articles
Traeger Renegade Pro Review – Traeger Pellet Grills
Blackstone 28" Griddle Review – One of the Best Flat Top Grill Today
5 Best Small Traeger Grill For Backyard & RV BBQs
Saber R50SC1417 Gas Grill Review Under the Microscope
Weber Spirit E-330 Review – Handpicked Gas Grills Reviewed
Napoleon Prestige Pro 500 Under Review
Weber Summit S-470 Gas Grill Under the Microscope
7 Best Electric Smokers Reviewed – Buyer's Guide
Nexgrill vs. Weber | Budget Grills Product Comparison
Broil King vs. Weber Grills | Two of the Best Compared
13 Best Grills For Apartment Balcony at Tasty Prices
7 Best Portable Electric Smokers 
5 Best Cast Iron Hibachi Grill