Having a good quality grill is a key tool for having a backyard barbecue. But with so many high-quality options available in the market today, finding the perfect grill can be a tough nut to crack. Fortunately, there are some brands that stand out when it comes to quality grills, and Weber is definitely one of those companies. Here, we are going to take a quick look at the Weber Summit S-470 Gas Grill to find out if it's a suitable option for you. 
What makes the Summit S-470 a unique gas grill is that it offers you multiple cooking options. From simple tasks such as warming foods to smoking, grilling, searing or using it as a rotisserie, the Summit S-470 is a nice blend of all of these features in one single unit.
It's without a doubt that the Weber Summit S-470 is on the high-end side of grills and will make a dent in your pockets. But, what you are going to get is a premium grill that's manufactured using heavy-duty steel to ensure its longevity. What you get is an extremely well-built multi-function grill that's going to last you for many years to come.  
Specifications
Cooking space 470 square inches

Warming rack 112 square inches

Side burner 12,000 BTUs

Sear station burner 10,600 BTUs

Smoker burner 6,800 BTUs

Rear rotisserie burner 10,600 BTUs

Plus, 2-years warranty on the paint.

10-years warranty for grates and flavorizer bars
The Design
The design of the Weber Summit S-470 is another area where this grill stands out apart from delivering a host of functions. The unit is built with industrial grade stainless steel which is apparent right out the box. The stainless steel body is rust proof and a special coating makes cleaning it a breeze.
Weber has always laid emphasis on their grill's design and the S-470 is no exception. The unit is tall enough to use comfortably for hours without getting tired of hunching over. The lines and curves that have been added for appeal do not give the grill a traditional boxy design. Instead, what you get is an outdoor grill that's not necessarily the sleekest in the market, but offers top-shelf standards when it comes to both design and functionality.
The sturdy grill features a well-built shroud that's over the enclosed cart, which provides better heat circulation while the food's being cooked. Under that are the individual control knobs for all of the burners. The heavy duty control knobs feature red markings to enhance their appearance while providing the user with complete control over the grill.
Under that are two stainless steel doors which lead to the large cabinet space. Here, you can store away tools and other essentials while using the grill. The stand out feature of the S-470 has got to be the cooking surface itself. Instead of the traditional single cooking plate on the rig, you get double hot plates to cook more food faster.
The best part about using the Weber Summit S-470 is not only that it offers two hot plates for cooking, which is a full 470 square inches of cooking space. But, you get to take advantage of the different heat zones as well to cook at different temperatures simultaneously.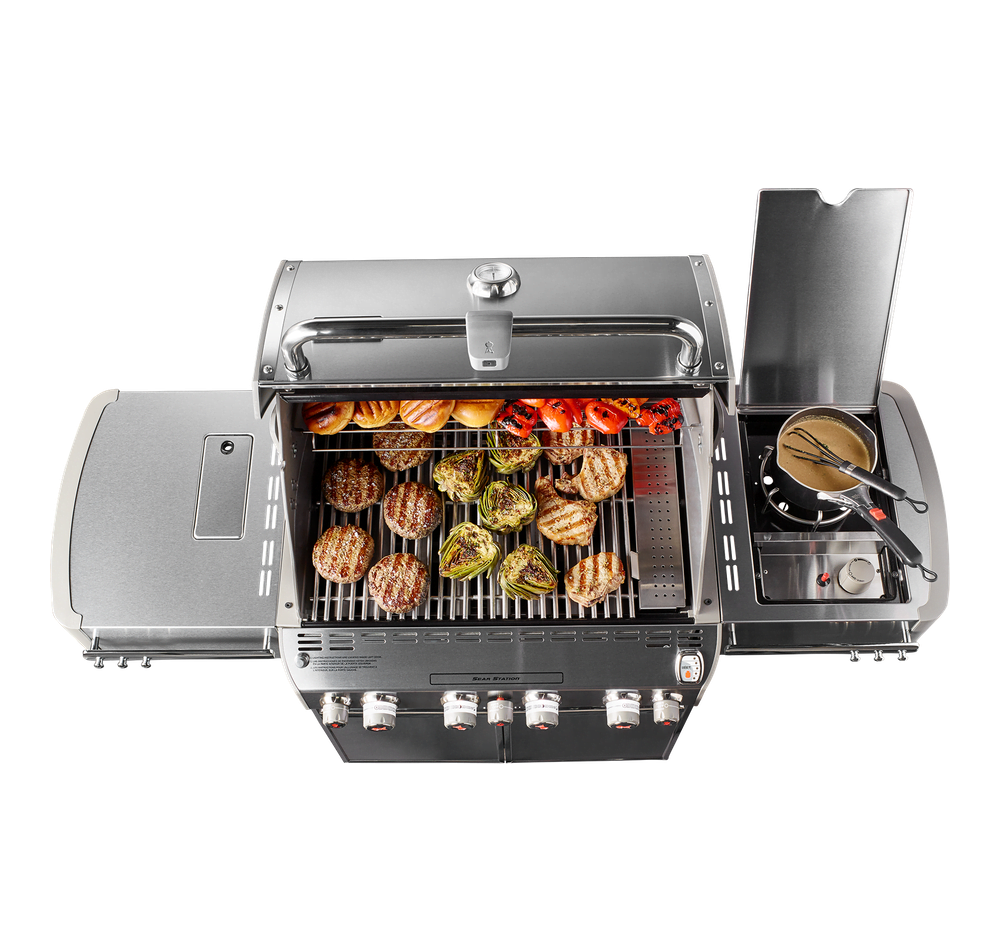 Features
The following are some of the features that make the Summit S-470 stand out.
Heavy-Duty Stainless-Steel Build
The S-470 boasts of a heavy duty stainless steel body. The rust-free coating on the stainless steel prevents the unit from getting rust, nicks, and scratches. The full-body stainless steel design also adds a premium feel to the grill, which makes it worth the investment.
Large Cooking Space
The Summit S-470 has many standout features, one of them being the significantly large cooking area. With the S-470, you get a sear station burner, a side burner, a smoke burner, and a rotisserie burner, all of which have been designed nicely into the grill, offering the user with more ways to cook than one.
With the large overall cooking space of 580 square inches, you can expect to get more done in less time, which is the main selling point of the brand.
Temperature Gauge
The double-layer stainless steel hood that protects the main cooking area has been fitted with a heavy-duty thermometer that helps you keep track of the temperature. This is a nice addition for those who like to cook at a specific temperature.
Grill Light
With the Summit S-470, Weber seems to have thought about everything. With the new design, you also get a grill light that's been fitted into the inside of the lid cover. This light is bright enough for you to make out where the steaks at.
Snap-Jet Ignition System
The S-470 features a nifty snap-jet ignition system which makes starting up the grill extremely easy. It's also conveniently located so you can turn the grill on or off when needed. The jet ignition system also makes it easier to heat up the grill quickly so you don't have to wait too long to get started.
Other features include the enclosed storage space, six spots for holding tools, and a 10-foot long gas installation hose. All of the features of the Summit S-470 have been well thought of and excellently built. These features and tweaks to the previous grill design offer better functionality on a grill that's great to look at and promises to cook some great tasting foods as well.  
Warranty
When purchasing a grill from a well-known brand such as Weber, you already know you're paying for a quality product, but a little reassurance is nice. For that, Weber offers a full two-year warranty on the coat of paint that adorns the S-470. That's not all: you also get a 10-year warranty for the flavorizer bars and the grates.
Pros
Ultra full-function, quality construction grill with a smoker box, side burner, rotisserie, and sear burner 

Strong warranty and support from Weber 

Besides durability, the sharpener offers great-quality sharpening that will take good care of colored pencils

Six cooking zones deliver a versatile cooking experience 

Even, high heat from four stainless steel burners

Brushed stainless steel finish will not show marks as easily
Cons
Handle light is more gimmick than useful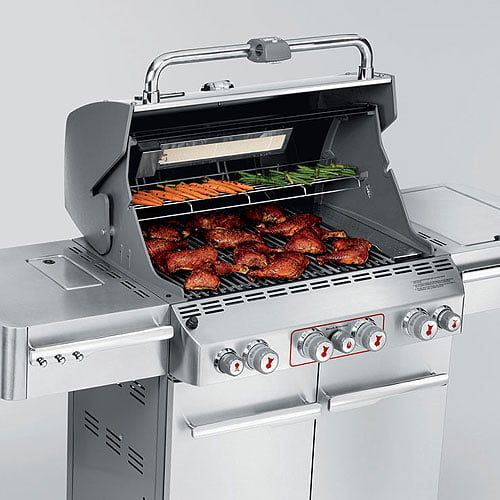 Conclusion For Weber Summit S-470 Gas Grill
Weber has always been known for its high-quality grills, and the company has taken its level of quality up a few notches with the Summit S-470. Not only is this grill great to look at, but it also allows you to cook more food at different temperatures simultaneously.
Related Articles
7 Best George Foreman Grill Models of 2023
Traeger Renegade Pro Review – Traeger Pellet Grills
Blackstone 28" Griddle Review – One of the Best Flat Top Grills
Saber R50SC1417 Gas Grill Review Under the Microscope
Weber Spirit E-330 Review – Handpicked Gas Grills
Napoleon Prestige Pro 500 Under Review
Nexgrill vs. Weber | Budget Grills Product Comparison
Broil King vs. Weber Grills | Two of the Best Compared
13 Best Grills For Apartment Balcony at Tasty Prices
5 Best Cast Iron Hibachi Grill