Buying the perfect cookware set can often be quite tricky as there are so many options out there on the market.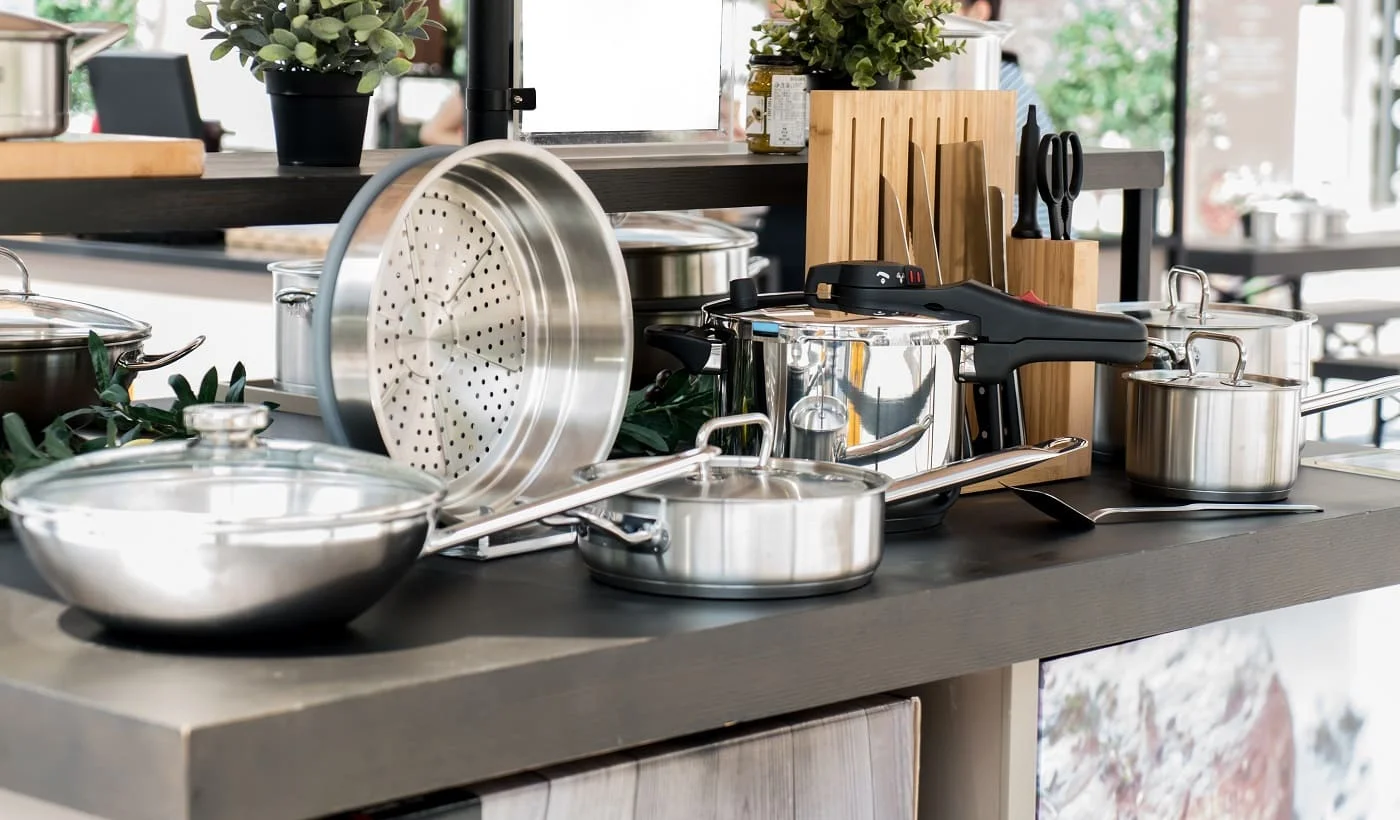 However, in this article, we have focused only on Mauviel and All-Clad. Both these brands produce some of the top-notch cookware on the market. Mauviel is a premium French cookware brand, whereas All-Clad is the biggest cookware producer in the US.
Apart from this one fundamental difference, there are several others that you need to be aware of before making your buying decision. Both Mauviel and All-Clad are very premium brands, so you must know all the nitty-gritty before you think of investing in one.
We are pretty confident that this informational guide will make it a lot easier for you.
So, without wasting any further time, let us dive right into it!
Mauviel vs. All-Clad | All You Need to Know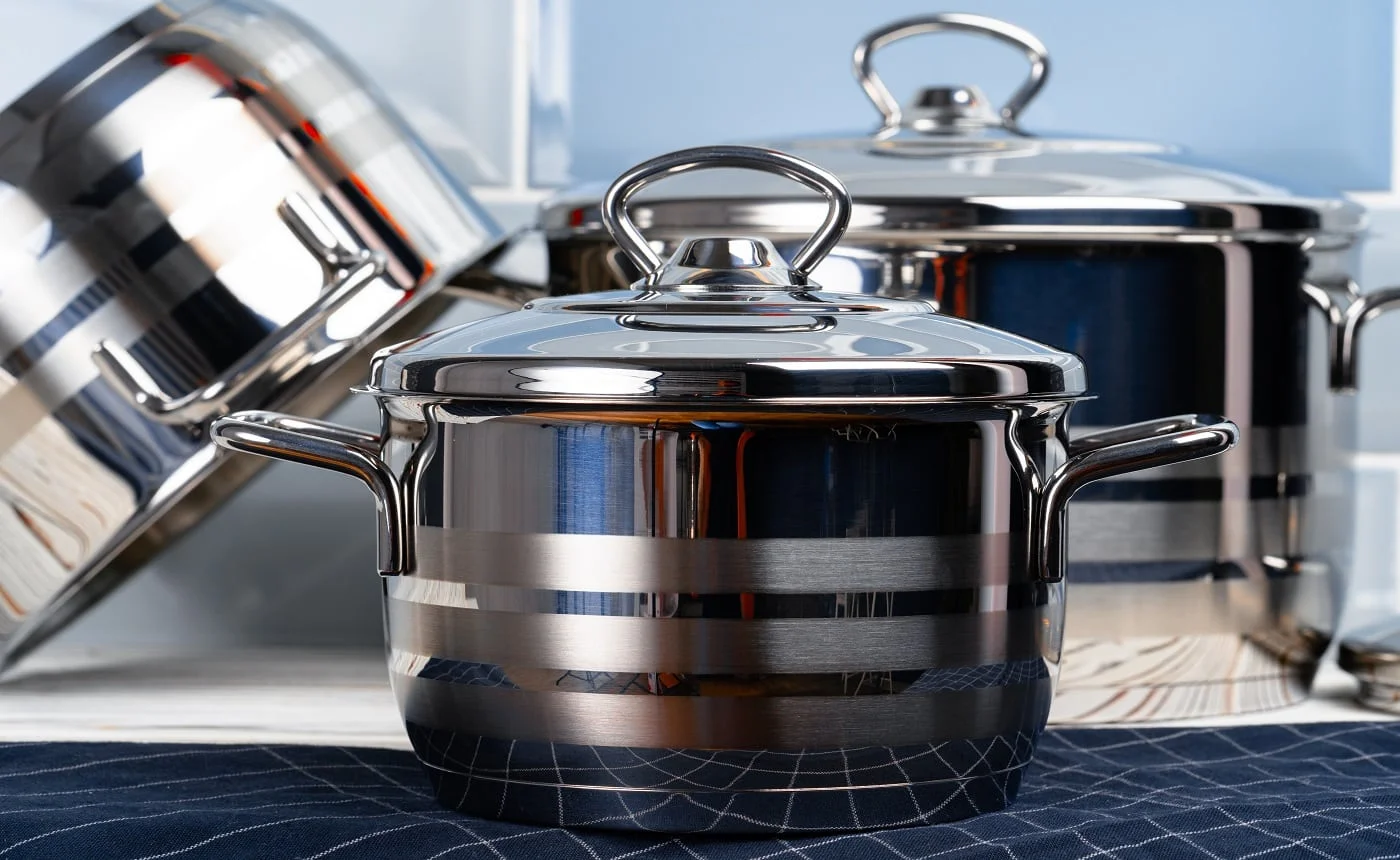 Mauviel Cookware
Mauviel is one of the best brands that manufactures copper cookware. It was founded by a French artisan, Charles Mauviel, in 1830. Famous chefs from all over the world strongly recommend this brand of cookware, and since it is French, it is highly classy as well.
Not only are Mauviel products beautiful, but they are handmade too. So, when you are buying Mauviel cookware, you are buying a piece of art, in a way.
Some of the famous Mauviel products are M'Heritage, M'Minis, M'Tradition, and M'Passion.
Advantages Of Using Mauviel Cookware
In this section, we will look at two of the biggest advantages that Mauviel cookware offers.
Made Of Copper
The biggest advantage of using cookware by Mauviel is that they are made of copper. Copper conducts electricity and heat better, and therefore, it becomes the number one choice for chefs and cooking enthusiasts.
Copper heats up and cools down very quickly but it does not have the ability to retain heat, unlike stainless steel or iron. Hence, giving you the power to control the temperature. However, copper is very useful while cooking on one-pans as they require heat changes very quickly.
Overall copper is a very good conductor of heat, but it is also a very malleable material, which is why you need to take extra care of it.
Super Elegant
Besides being very productive, Mauviel's products are also famous for their elegance; they are like showpieces for your kitchen. However, keep in mind that the exterior of these cookware demands regular polishing to maintain the shine.
M'Heritage is Mauviel's most popular series of copper collections. Note that Mauviel M'Heritage cookware is not totally made of copper. The exterior is made of copper, whereas the cooking surface and the handles are made of stainless steel.
As you know, copper is a highly reactive material that is why the cooking surface is made of stainless steel.
All-Clad Cookware
All-Clad is a famous American brand of cookware that was founded by metallurgist John Ullam. It specializes in producing stainless steel cookware.
Moreover, it is not like most American brands that get their products manufactured in China; instead, it produces all its products right here in the United States.
It does not matter if you are a newbie or a full-time chef; All-Clad ensures that all your cooking needs are met. Some of its famous products include Copper Core, D3, and D5. All these cookware sets are made of highly durable stainless steel.
If you do not want stainless steel, we recommend you check out their C4 Copper collection. They feature a copper exterior and a steel handle; the combination of durability and heat conduction takes your cooking experience to the next level.
Advantages Of Using All-Clad Cookware
Here, we discuss two of the most significant advantages that All-Clad Cookware has to offer.
Stainless Steel Makes Them Highly Durable
All-Clad cookware is made of stainless steel, which makes them highly durable. But, do keep in mind that the core is either made up of aluminum or copper because stainless steel is not a good conductor of heat. All-Clad ensures that the exterior is made of stainless steel to offer durability, whereas the interior is made of a layer of either aluminum or copper.
Another advantage of stainless steel is that it is non-reactive, which is why you can cook acidic food on it like tomatoes. Unlike copper, the little fragments of metal do not stick to your food.
Furthermore, stainless steel does not require high maintenance or regular polishing to prevent rusting. It also does not require extensive cleaning; just water and dish soap do the job.
Ability To Switch
One of the biggest advantages of using All-Clad cookware is its ability to switch from stove to oven. A few recipes require this kind of treatment, and All-Clad makes sure that this happens without any problem. You can easily use them with a temperature up to 600 degrees Fahrenheit.
Similarities Between Mauviel and All-Clad
Even though both these brands are a lot different from each other, they have certain similarities. In this section, we are going to take a look at the top three similarities between these products.
Warranty
Both these brands offer a limited lifetime warranty on all their products. This warranty safeguards you from any fault on the manufacturer's end.
Durability
Both Mauviel and All-Clad offer extremely high-quality material for their products that ensure they last a very long time. This makes it very easy for us to handle them on a day-to-day basis.
Mauviel and All-Clad are famous for copper material and stainless material, respectively, that are bound to last you for a lifetime. Products of these brands are often passed onto the next generation in families.
Cleaning
Even though both Mauviel and All-Clad promise to be dishwasher safe, we strongly recommend that you wash them with your hands to avoid scratching or causing any harm. Dishwashers usually generate a lot of heat which may tarnish your cookware.
Comparison
Below we have compared some of the key features of Mauviel and All-Clad cookware. This will give you comprehensive knowledge of both brands.
Design
Mauviel and All-Clad are poles apart when it comes to design. The most noticeable part is the exterior; All-Clad flaunts brush steel or polished exterior; on the other hand, Mauviel's exterior is made of copper.
The stainless steel used in manufacturing All-Clad cookware is eye-catching and sophisticated, making it perfect for most kitchens. Mauvile's cookware looks more like a showpiece as the eye-catching copper takes its visual appeal to the next level. However, they may not match well with a conventional kitchen.
The Mauviel M'Tradition lineup presents some of the most prepossessing cookware with a special kind of hammered finish, whereas all cookware by All-Clad features smooth finishes and not any hammered finish.
However, the popular D3 collection by All-Clad offers flared edges to secure dip-free pouring. The mini D3 design is perfect for apartment kitchens. Besides maximizing space, it helps in the organization of the kitchen as well.
Mauviel does not offer flared pouring rims in any product. Flared rims are prone to spills, but they do a fantastic job in transferring food to the plate. They also provide the option to choose from a wide variety of handles like bronze, iron, and steel, whereas in All-Clad products, handle options are limited to stainless steel only.
While some prefer the bright stainless steel look of All-Clad, others may prefer the hammered copper polish of Mauviel cookware more.
Overall, it does not matter which brand you choose as both of them are capable of offering functional yet prepossessing designs.
Price
Both Mauviel and All-Clad are premium cookware brands. So, do not expect budget-friendly options from them. You do not buy cookware every month so consider it as a long-term investment. The cookware that these brands provide are some of the best in the business, and they will last you a lifetime.
One of the main reasons both these brands are so expensive is their production houses in the United States and France. Labour is not cheap in these countries, unlike China, and also the materials used for production are of top-notch quality, so you pay a premium price.
Normally, Mauviel cookware costs more than All-Clad's, but it mostly boils down to the model that you are comparing.
Frying Pan Shape
The pan shape affects the cooking a lot, in fact the shape of a pan decides the cooking surface area, ease of use, and liquid evaporation. As far as Mauviel is considered, it looks a lot like a conventional french skillet. The cooking surface area is 7.25 inches wide, but it does not come with a pouring lip.
Coming to the pan shape of All-Clad, it is one of the best. The lip of the pan is rounded, which lets you pour pan juices quite easily. Furthermore, the cooking area is 7 inches wide, which allows you to cook big amounts of food.
Weight And Thickness
The thickness of cookware mostly depends on the number of layers it comes with. Mauviel uses only two layers, one is of stainless steel, and the other one is of copper, whereas All-Clad uses several layers of 3 layers of metal.
Mauviel frying pans weigh around 1851 g and are between 2.40mm and 2.45 mm thick. Mauviel frying pans are slightly heavier than All-Clad because of the copper build quality. Copper ensures that your food is less prone to steaming.
On the other hand, All-Clad frying pans weigh just around 1253 grams and are thick by 1.66mm. It features three layers of metal which include aluminum, stainless steel, and copper and is relatively thinner than Mauviel, which means it heats up pretty quickly. All-Clad pans are great for making sauces.
Cleaning
Cleaning is an important factor while choosing the perfect cookware for your kitchen. However, most premium cookware sets are not dishwasher safe, so, we strongly recommend washing the cookware with your hands.
Since Mauviel is made of copper, it is not at all dishwasher safe. The copper polish is bound to become dull with the passage of time. To bring back the mirror-like finish, you need to polish it on a regular basis. All in all, Mauviel cookware requires high maintenance.
All-Clad cookware is dishwasher safe, and the stainless steel does not lose its gloss. However, we recommend you wash it with your hands since it may get scratches in the dishwasher.
Mauviel vs. All-Clad: Top Cookware Sets Compared
In this section, we have compared some of the best models of both Mauviel and All-Chad. We strongly advise you to read this part thoroughly to have a better understanding.
M'Cook 5-Ply vs. D3
The M'Cook by Mauviel features a 5-ply construction. More the layers, the better it is for increased warp resistance and efficient heat distribution.
The All-Clad D3 does not fall behind either; in fact, it is one of the best stainless steel cookware available on the market. It features a 3-ply construction,  consisting of a layer of aluminum which is sandwiched among layers of stainless steel.
The bonding and cladding technology of this cookware ups the game by providing better heat distribution. The heat flows evenly throughout the cooking surface, which eliminates the chances of the bottom portion getting deformed.
Both models feature drip-free rims to keep your sides clean. The handles are made of stainless steel, which makes them extremely durable. Talking about the D3 model by All-Clad, it can stand a temperature of up to 600 degrees Fahrenheit whereas M'Cook By Mauviel can withstand temperatures up to 680 degrees Fahrenheit.
We have decided to go with Mauviel's M'cook as it sports a superior built quality and can withstand higher temperatures in the oven.
M'Heritage Copper Vs. Copper Core
These two models are for people who take a keen interest in design and are also more than willing to pay for it. Mauviel's M'Heritage and All-Clad's Copper Core are two of the most expensive sets of cookware on the market. Both M'Heritage and Copper Core offer a lifetime warranty.
Both Mauviel and All-Clad took different ways to make use of copper in their cookware. The M'Heritage copper features a 2-ply construction that includes 10% stainless steel on the interior surface and 90% copper on the exterior.
All-Clad decided to do things a little differently by sandwiching a layer of copper between stainless steel and aluminum.
The copper line gives it a very modern look, but Mauviel wins the race when it comes to looks. Both these models are oven-safe. However, the copper body of Mauviel only lets it work on induction cooktops.
We have decided to go with All-Clad's Copper Core because it works on all stove tops.
M'Cook 10-Piece Vs. D5 10-Piece
Both these cookware sets deliver superb performance and are two of the most popular cookware sets available on the market.
Mauviel's M'Cook has a slight edge over All-Clad D5 as it can withstand temperature up to 680 degrees Fahrenheit, whereas D5 can stand up to 600 degrees Fahrenheit.
Both cookware sets feature drip-free pouring rims and are suitable for all cooktops. However, the difference lies in the contents of each set. Mauviel is kind enough to include a non-stick pan which comes in really handy when cooking fishes or eggs.
All in all, both cookware sets do a decent job. We have decided to go with Mauviel's M'Cook as they provide a non-stick pan with its set.
The Winner
Both Mauviel and All-Clad offer some of the best cookware sets in the whole world. So, choosing a single brand is really quite a task. Both these brands belong to the premium category, and hence they offer exceptional design and quality. If you purchase either of them, you have already made a good choice.
However, the perfect brand totally depends on the budget, the cooking style, and the design expectations. If you prefer the look of copper and want your frying pans to be able to heat up and cool down quickly, we suggest going with Mauviel.
If you are more into conventional-looking cookware sets that require very little maintenance and last a lifetime, go with All-Clad.
Our group of experts has used both these brands for a few days, and according to them, All-Clad beats Mauviel cookware. The reasons are pretty clear and simple. Firstly, All-Clad cookware is way more durable than Mauviel cookware; the stainless steel does not disappoint one bit. If you can maintain it properly, it will serve you a lifetime without any doubt.
Even though Mauviel's products look elegant, our experts did not like that these cookware sets need to be maintained daily. You need to polish them almost every day to keep their shine intact and most home cooks do not have the time to do all that.
Furthermore, All-Clad is the world's leading brand in producing stainless steel cookware sets. While All-Clad's products are expensive, they are also very cost-effective. So, we recommend you buy All-Clad cookware sets.
Frequently Asked Questions (FAQ)
Below are some of the frequently asked questions regarding Mauviel and All-Clad that needed answering. We suggest you go through these questions and answers to further clarify all the doubts.
Are both these cookware oven-safe?
Yes, both these brands are oven-safe. Most All-Clad products can withstand temperatures up to 600 degrees Fahrenheit, whereas Mauviel products can withstand temperatures up to 680 degrees Fahrenheit.
Should you use copper for cooking?
Copper is known as one of the best conductive metals on the face of the Earth. They require a very short time to heat up, and the heat distribution is very even. However, keep in mind that they react with food that has a high acidic concentration.
Does the thickness of the copper pan affect cooking?
Yes, the thickness of the pan does affect cooking; in fact, the thicker your copper pan is, the better it is. For best results, a copper pan should be at least 2 mm thick. We do not recommend thin copper pans as they may heat up quickly but will leave spots. Thicker copper pans tend to distribute heat in an even manner.
Another advantage of using thick copper pans is that they have good thermal capacity. Thicker copper pans take time to heat up, but they have the ability to store more heat than thinner copper pans.
Why are Mauviel cookware sets so expensive?
There are several reasons why Mauviel cookware sets are so expensive. Firstly, they are manufactured in France instead of China; the manufacturers ensure that the highest production standards are maintained.
And moreover, Mauviel cookware sets are like pieces of art; the sheer beauty of these products will take your breath away. Mauviel values tradition and heritage, which is apparent in the craftsmanship of its M'Heritage cookware sets.
Why are All-Clad cookware sets so expensive?
All-Clad is one of the leading manufacturers of cookware sets in The United States. They are popular for their clean stainless-steel aesthetic. The Copper Core line up of this brand features a five-ply construction.
Coming to the cooking surface, it is made of 18/10 stainless steel. The exterior is made of 18/0 stainless steel, whereas the core is made of aluminum with copper sandwiched in between. All these factors make All-Clad cookware set one of the most expensive cookware sets in the world.
What factors determine the price of cookware sets?
You must know by now that not all cookware sets are priced evenly. Some are affordable, whereas some belong to the premium segment. There are certain factors that determine the prices of brands. They are:
The construction quality of cookware sets hugely impacts the prices. In general, multi-clad cookware is priced higher since multiple layers of metal are involved in the construction.
Cookware sets made of expensive materials such as copper and stainless steel tend to be more expensive than cookware sets made of economical materials.
The brand's goodwill plays its part in determining the price of a product; it is no different when it comes to cookware. Brands like Mauviel and All-Clad have a long history and tradition of serving top-notch cookware. As a result, they come at a premium price.
Brands that are manufactured in Europe and The United States are more expensive because the cost of labor in these countries is higher than in China. And, also the materials used in these countries are of better quality.
Where can you buy them?
You can buy both brands of cookware sets from their respective websites. They are also available on e-commerce stores such as Amazon, Williams Sonoma, Wayfair, and Macy's.
What is the process of cleaning a Mauviel pan?
Cleaning a Mauviel pan is very simple; you have to soak it in soapy water for at least 15 minutes and then use a sponge to rub it. Keep doing it until the copper pan becomes shiny. We strongly advise you against using a dishwasher as Mauviel products are not dishwasher safe.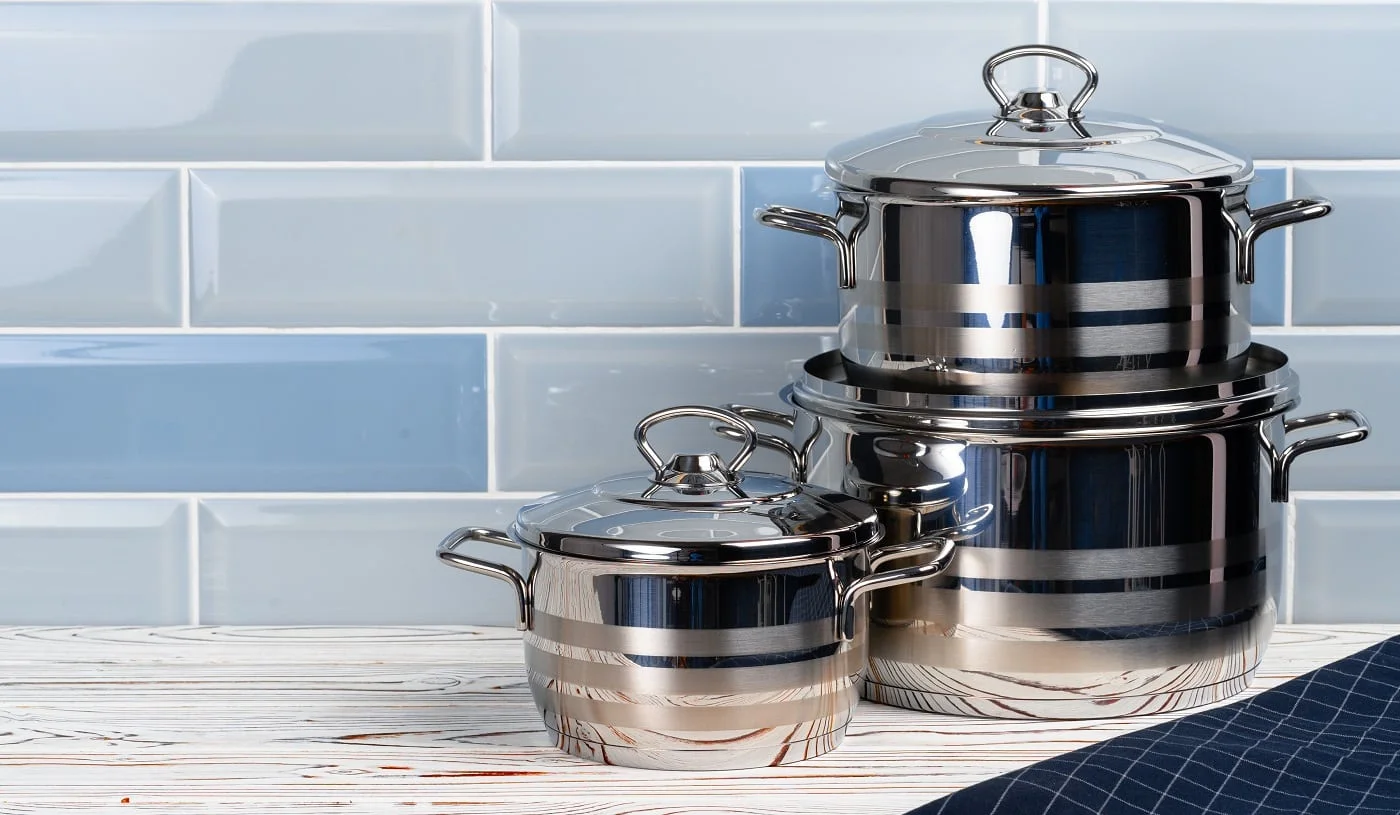 Conclusion
There you have it! That was all you needed to know about Mauvielvs. All-Clad. Both these brands offer some of the best cookware sets in the world.
However, do note that being more expensive does not mean better quality. You need to take into account other factors before making the buying decision, such as the construction quality and durability.
We hope this guide has given you some valuable information regarding Mauviel and All-Clad cookware. For further queries or feedback, kindly leave a comment down below.
With that, we wish to take your leave. Until next time!

Related Articles 
13 Best Pastry Mat [Reviewed & Buyer's Guide]
9 Best Tamale Steamer [Reviewed & Buyer's Guide]
9 Best Chinese Cleaver [Reviewed & Buyer's Guide]
11 Best Electric Knife Sharpeners
How to Build a Hidden Cabinet Knife Drawer Safe For Children
2 Wusthof Classic vs. Gourmet [All You Need to Know & Winner]