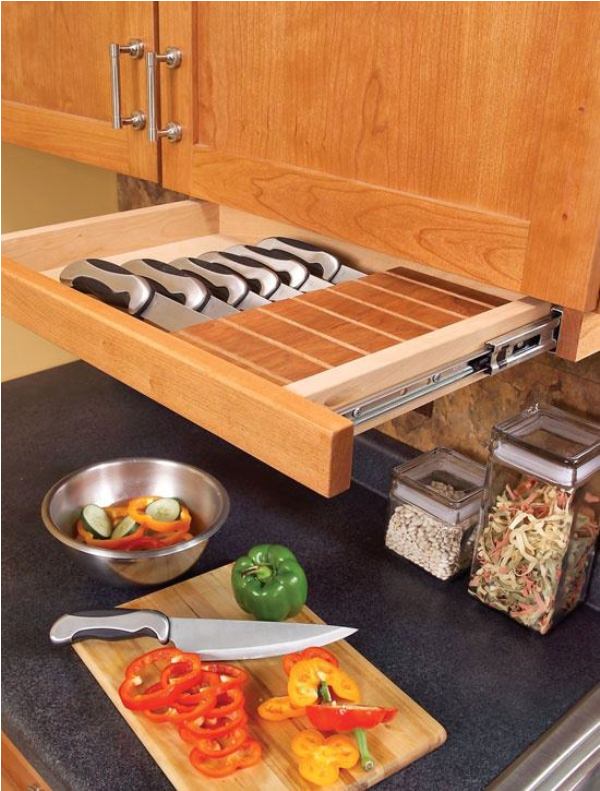 The best solutions are usually right there in front of you, exposed, in plane sight. This applies to kitchen storage as well, unused space can sit under the sink, under the upper cabinets or near your fridge. The solution showcased below is perfect for storing knives at your grasp, highly organized, hidden from children for safety. The pull-out knife drawer can be realized easily and it can save valuable counter space.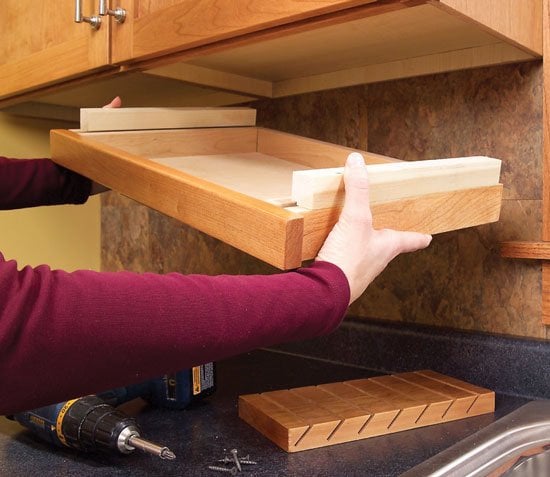 How to create the knife drawer
First thing first, materials, you will need 8 linear ft. of 3/4 in.x 1-3/4 in. hardwood that matches your cabinet, 2 linear ft of 1-1/8 in. hardwood, 1 ft. x 2 ft. of 1/4 in. hardwood plywood and one pair of 12 in. full extension drawer slides as a mechanism.
Carefully measure the space under the cabinet, this will ensure the quality of your end result. Now cut the supports (G) that will fit this space and protrude almost 1/16 in. underneath the cabinet. Carefully size the drawer by subtracting approximately 2-1/2 in. for the slides and 1-1/2 in. for two fixed slides (D). From front to back the dimension should be the minimum required for a 12 in. drawer slide.
Next step is cutting the drawers`components (A, B, C, E ). Assemble the drawer by using pocket screws, finish nails or glue. Rout the bottom end of the drawer frame with a 3/8 in. carefully rabbeting the bit set 1/4 in. deep.  You can square the corners with a chisel. Next nail in plywood bottom with 3/4 in. brad nails. A centerline of 3/4 in. from the bottom edge on the fixed sides (D) and the drawer sides (b) should be drawn next. Screw the drawer slides now and flush to the front.
To ensure durability and grip both glue and screw the under-cabinet supports to the fixed slides. Install the entire drawer assembly next.  Glue the drawer pull (F) , probably in the center behind the drawer front and finish the drawer in the end to match your cabinets. Congratulations now you have finished an extraordinary assemble that will enhance your living quality for you and your family whilst improving your cooking experience by eliminating the counter knife support.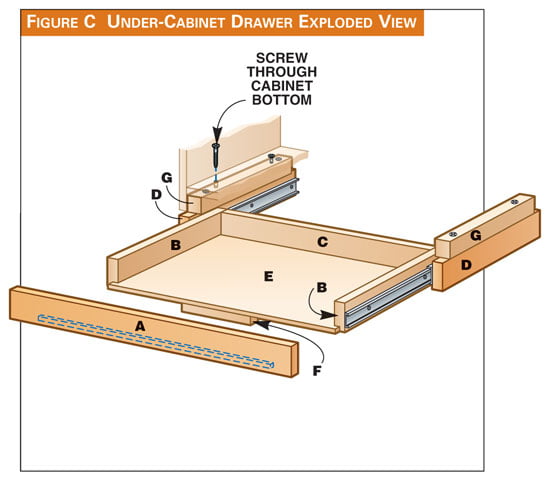 What do you think about the Hidden Cabinet Knife Drawer? We would love to hear your opinion in the comment section below.
Related Articles
11 Best Nonstick Cookware Brands
13 Best Pastry Mat [Reviewed & Buyer's Guide]
9 Best Tamale Steamer [Reviewed & Buyer's Guide]
9 Best Chinese Cleaver [Reviewed & Buyer's Guide]
Ceramic vs. Stainless Steel Cookware 101 [All You Need to Know]
13 Best Steak Knives Right Now
11 Best Electric Knife Sharpeners
How to Build a Hidden Cabinet Knife Drawer Safe For Children
2 Wusthof Classic vs. Gourmet [All You Need to Know & Winner]
Mauviel vs. All-Clad [All You Need to Know & Winner]