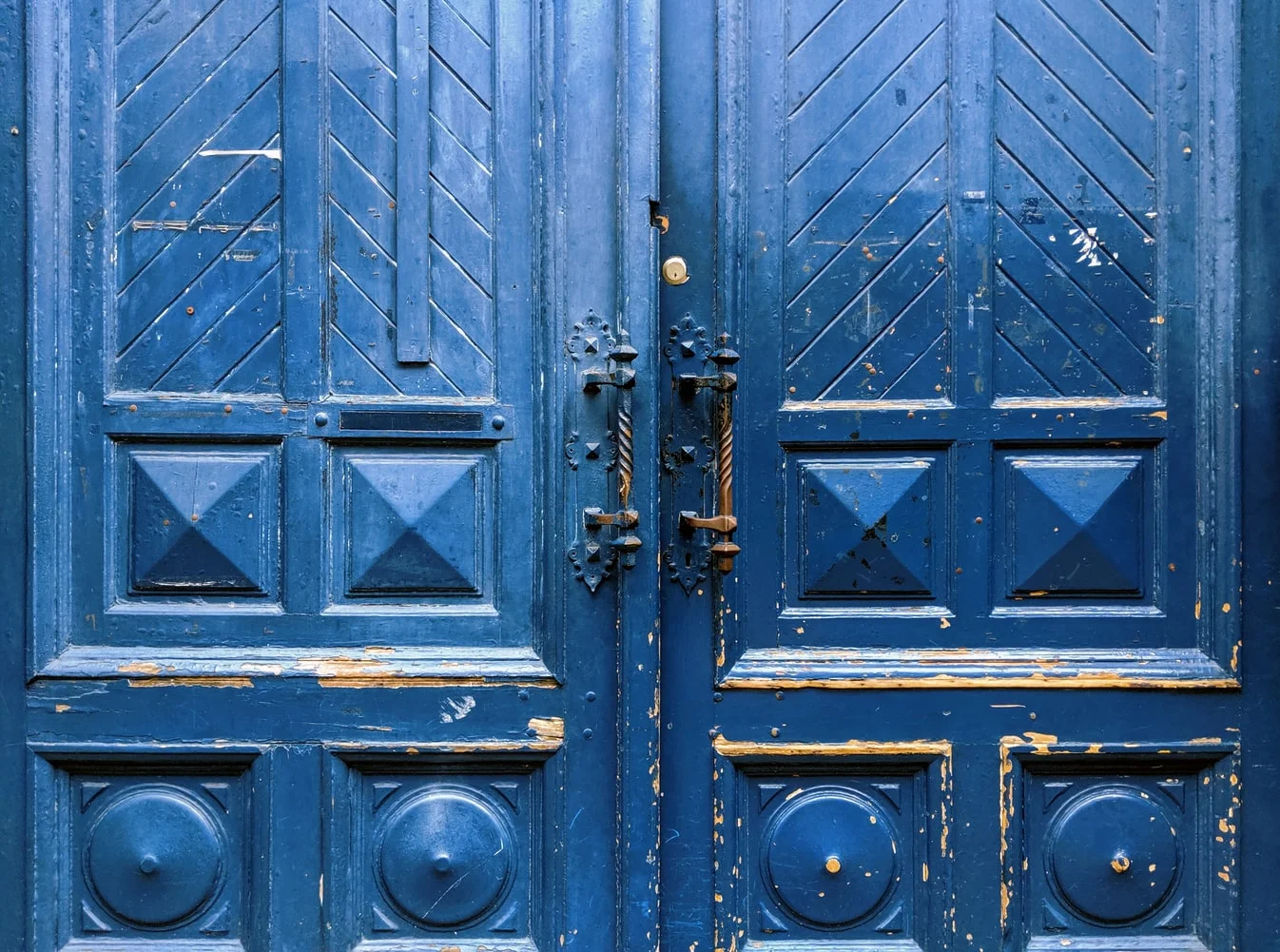 We often think of doors as a mode of entry or exit from one area to another. And in all honesty, that's indeed true!
But that's not all; there's more to what a door is capable of. Having said that, there are various types of doors available in the market today. Each of them may differ in style, design, and construction. However, their objectives remain the same.
Nonetheless, it's critical to know about all the door types so that you make a purchase that best meets your requirements. Now, this requires extensive research, which is quite time-consuming and tedious, to say the least. So, what should you do?
Simply spend a few minutes of your time to go through this informative guide. Here we've classified the different types of doors based on location, the material used for construction, design, and shutter operation. These four sections have been added to ensure clarity and create a better understanding.
So, without further ado, let's begin.
Types Of Doors
 Types of Doors Based On Location
Before diving further into the classification of doors, it's important to know where the door needs to be installed. On that note, we'd like to introduce you to the primary types of doors based on their location.
Exterior Doors
Exterior doors are basically entrance and exit doors that play a vital role in ensuring the security of your home in all weather conditions. For this reason, they are usually constructed using steel or wood while keeping thickness, stability, and durability in mind.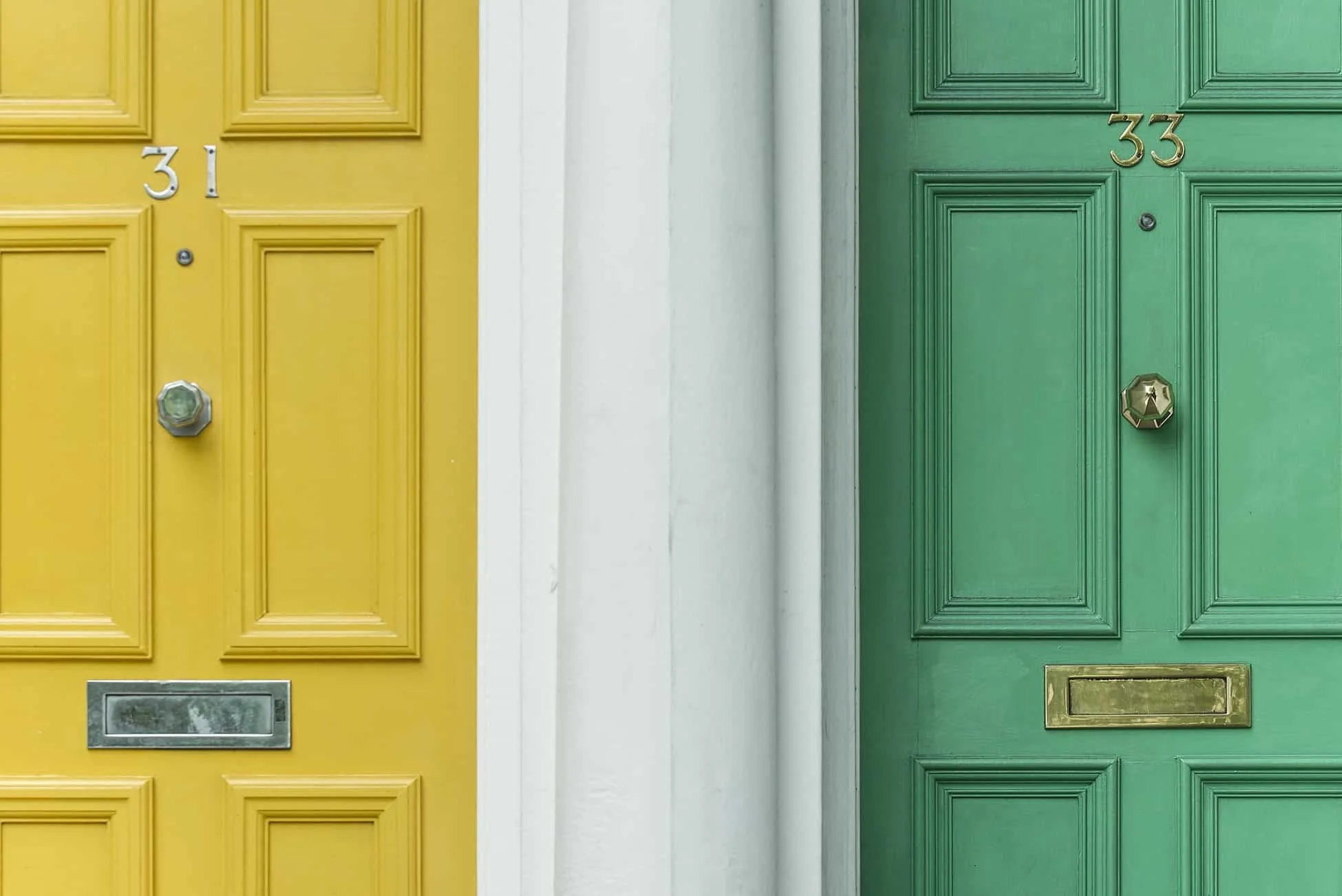 In addition to being sturdy, exterior doors feature a polished and aesthetically pleasing look as they are always visible to outsiders. This helps in creating the best first and last impression while a guest enters and exits your home.
Interior Doors
Unlike exterior doors, interior doors don't undergo the severities of weather. Instead, they are primarily designed to separate rooms, maintaining privacy. These are the reasons why they are generally thinner than exterior doors.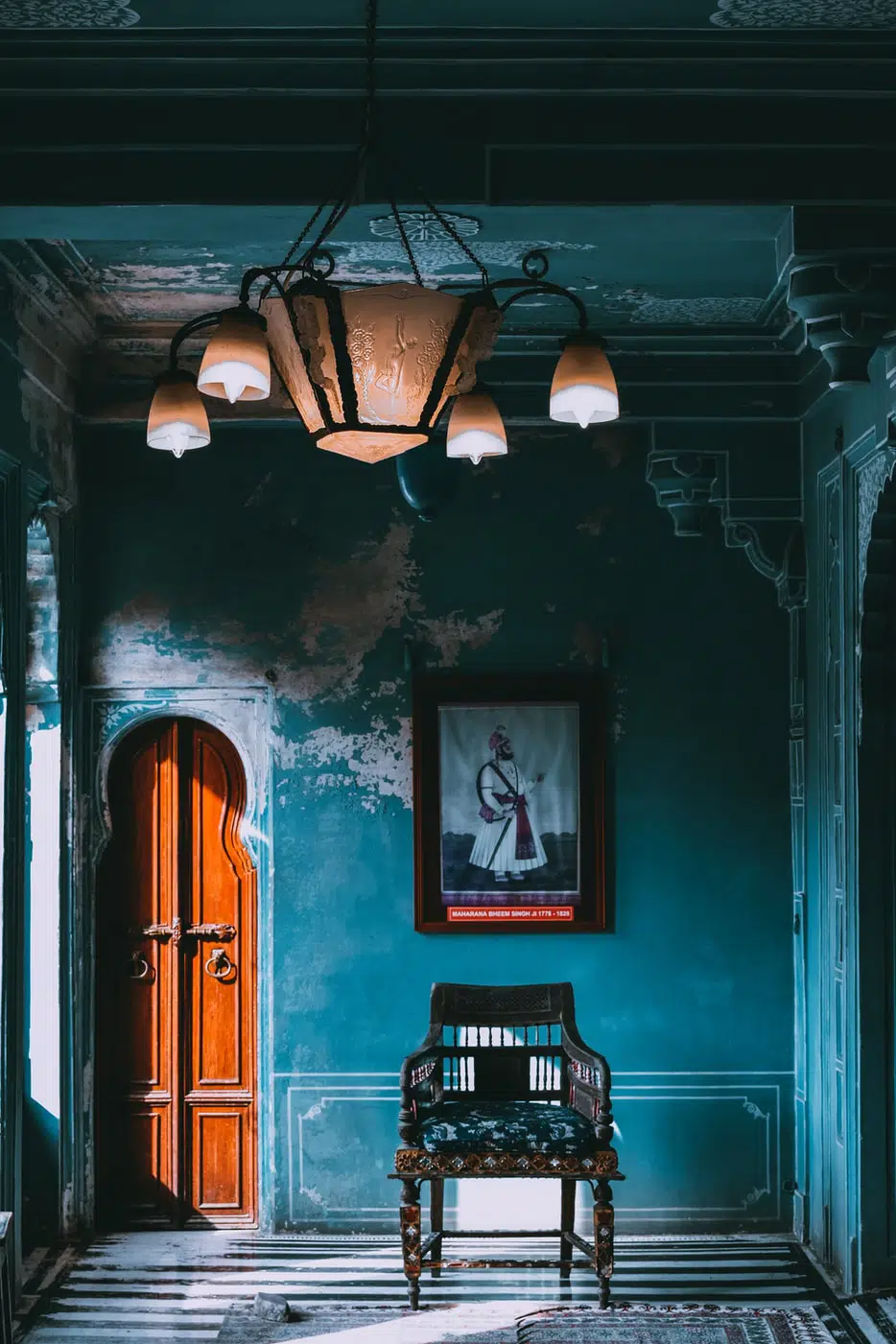 That being said, interior doors are available in a variety of styles and are constructed using a wide range of materials, which we'll discuss in the following sections.
 Types Of Doors Based On Materials
Gone are the days when only wood or metal was used for the construction of doors and windows. Today, doors are built using various materials, ranging from glass to PVC. In this section, we'll be highlighting the different types of doors classified based on the materials used for construction.
Wooden Doors
As we all know, wood or timber is the most conventional material used in the manufacture of doors. Known for its longevity and sturdiness, it is widely used in residential properties for making entrance doors.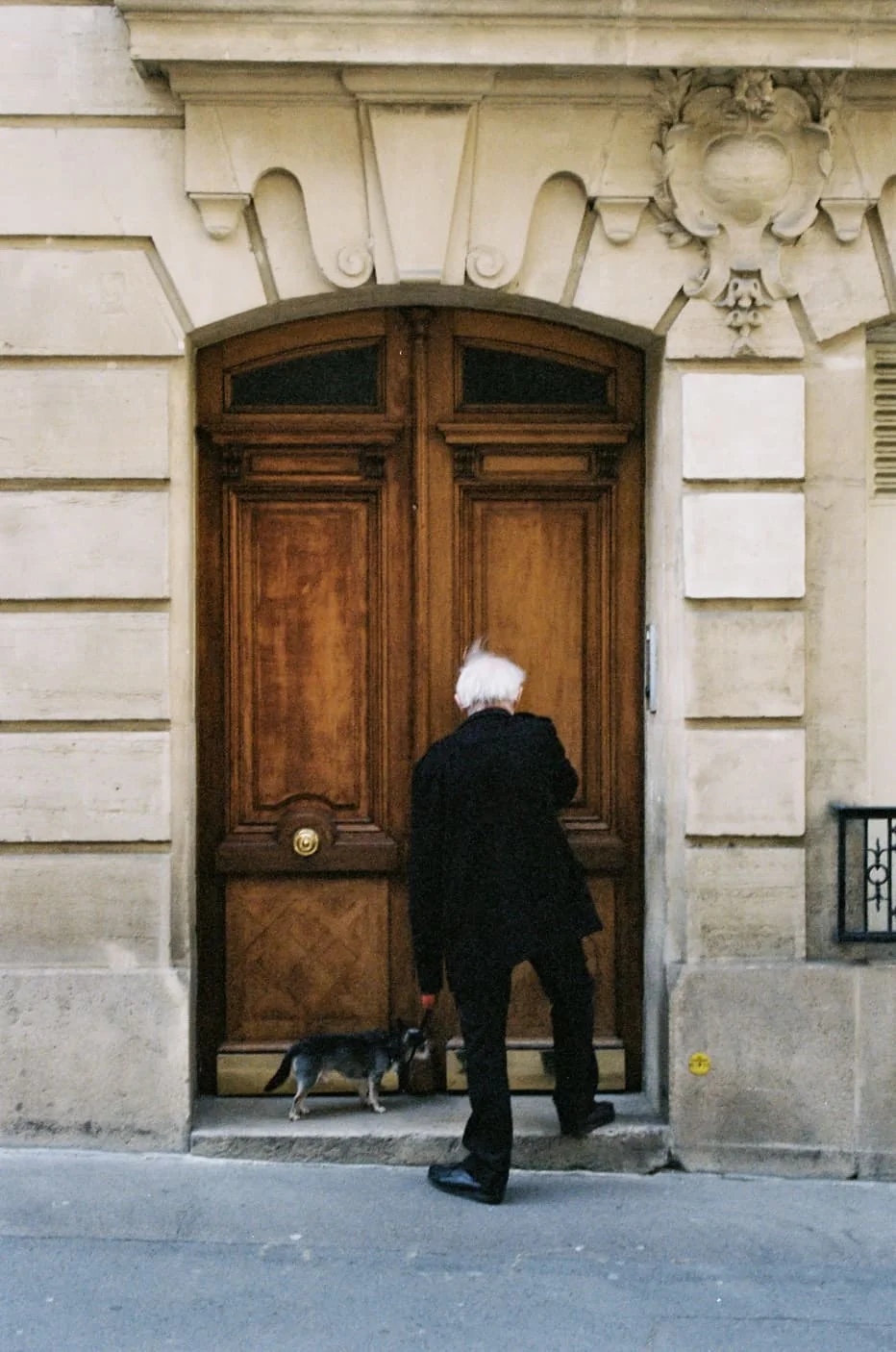 However, you may also consider having wooden doors around the house for a more classy interior. Being a timeless and sophisticated material, you won't even have to worry about going out of style.
Glass Doors
Previously, glass was only considered as an option for paneling doors and windows. But today, glass doors are widely used in balconies or as back doors to provide an unobstructed view of your garden or backyard.
Without a doubt, it ensures a sophisticated yet minimalist look to your home. In fact, you can also use a glass door as a front door, provided it ensures durability as well as privacy. In other words, it should be bullet-proof and noise-proof.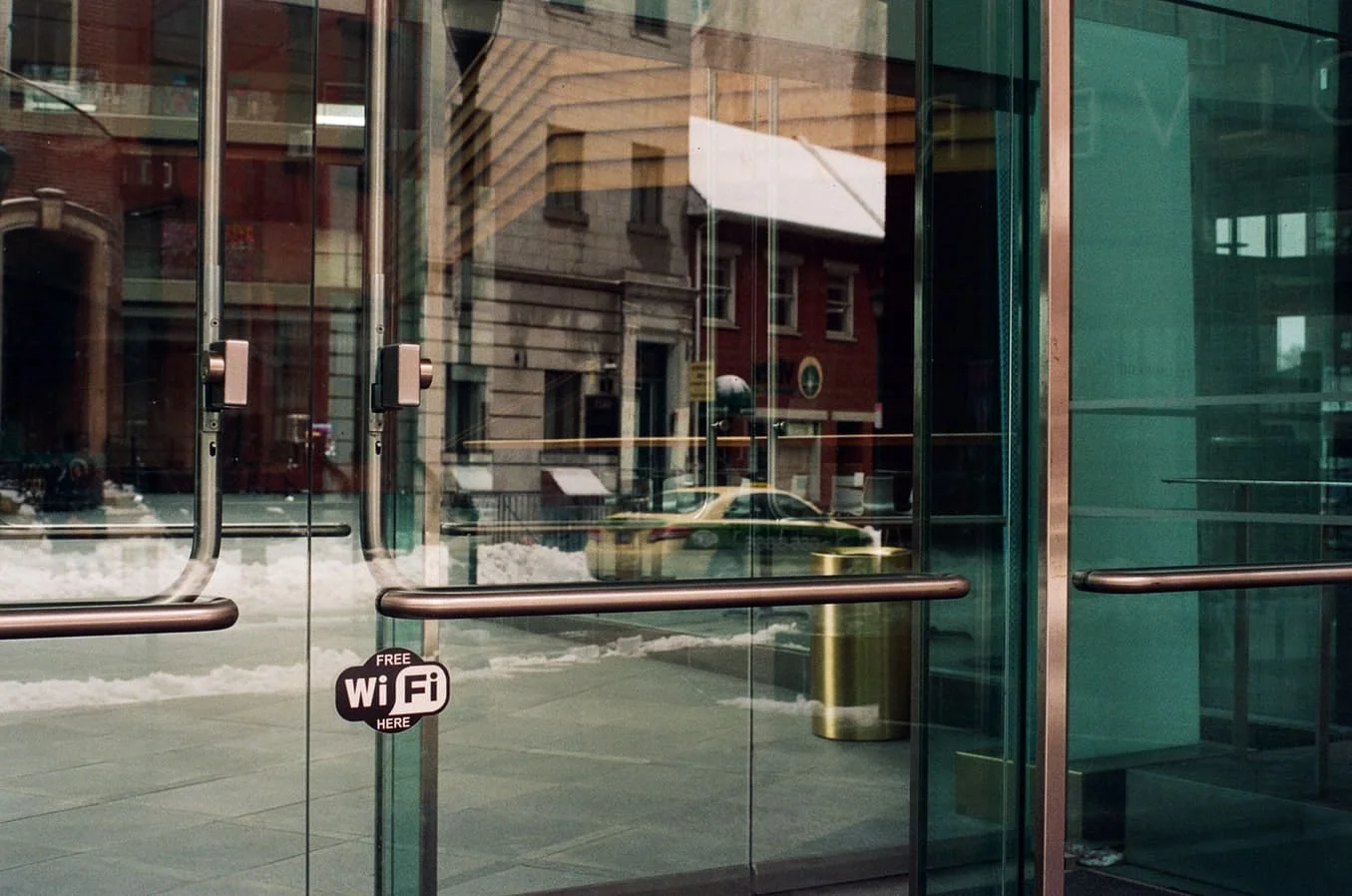 That being said, wood and glass is a classic combination when it comes to home decor. For this reason, wooden doors with cut-out glass panels are widely used by homeowners and interior designers. It serves as the perfect fit in a contemporary setting.
Fiberglass Doors
Known for its durability and high tensile strength, fiberglass is a fibrous form of glass woven into cloth. When bonded with resin, the lightweight material can be used for making doors and windows.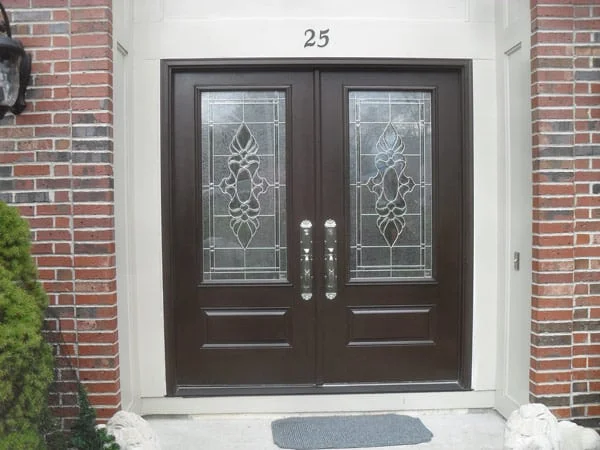 That being said, fiberglass doors are ideal for both exterior and interior use. This is because of its underlying foam layer present between surfaces, which ensures higher insulation. Not just that, but these doors are also easier to maintain compared to the rest.
Steel Doors
Usually, most of us refrain from considering steel doors for residential purposes. But this shouldn't be the case. Why? Well, steel is not only a more economical opinion but also offers more protection than fiberglass. The reason for this is its thickness, higher durability, and stability, making it difficult to break through.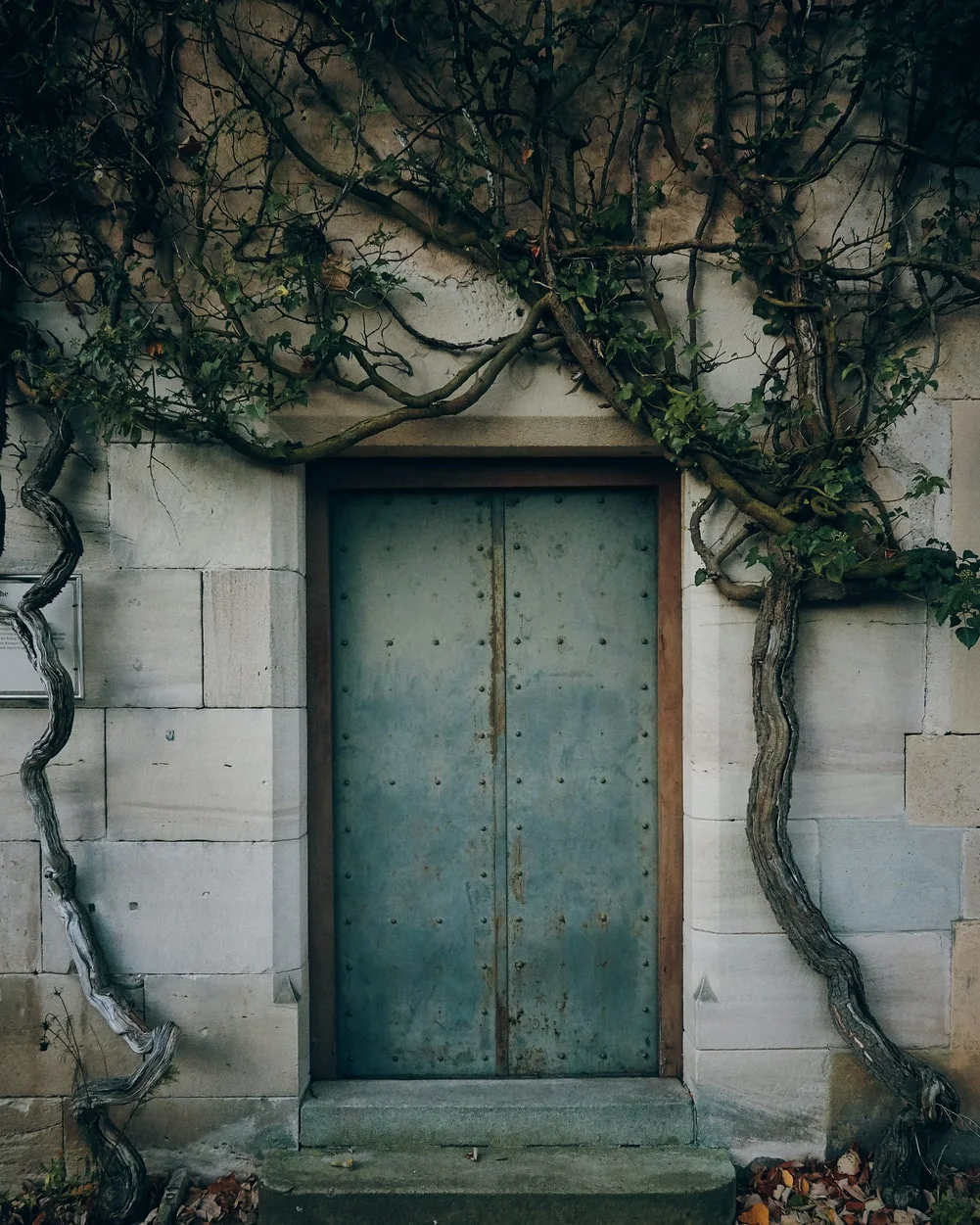 Crafted accurately, using high-quality cold-rolled Mild Sheet (MS), these doors are better alternatives to their wooden counterparts. What's more? In addition to easy maintenance, steel doors are available in a variety of stunning tones and textures to choose from.
Aluminum Doors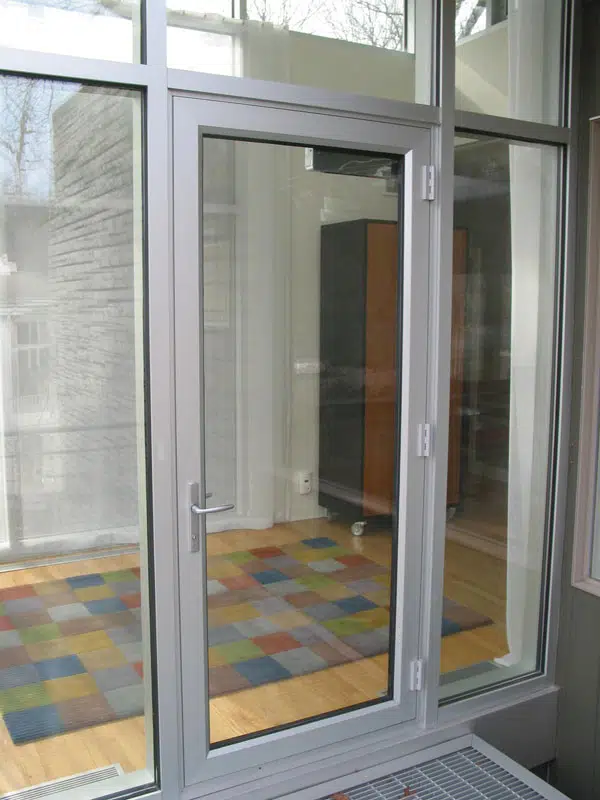 Coming to yet another highly-durable metal door, aluminum frames are widely used because of their ability to withstand regular use. In other words, this door type serves as a valuable investment option in the long-run. Plus, aluminum, being cheaper than wood, is a relatively economical choice for both interior and exterior use.
PVC Doors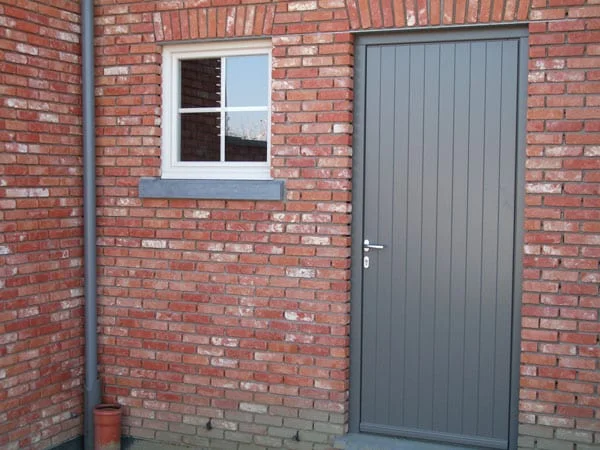 As we all know, PVC or Polyvinyl Chloride is extensively used to manufacture a wide range of household products and plumbing supplies, including pipes and water tanks. But what most of us don't know is that the material is now a popular choice for making doors.
Why? Well, firstly, coming to the advantages of the material itself, PVC is highly resilient, anti-destructive, termite-proof, cost-effective, and so on. Secondly, the manufacturing and installation process of this door-type is rather simple.
However, we couldn't help but notice its minor drawbacks. Being lightweight, we wouldn't recommend its use as an entry door. Other than this, PVC lacks waterproof-properties, failing to resist harsh weather conditions.
Fiber Reinforced Plastic (FRP) Doors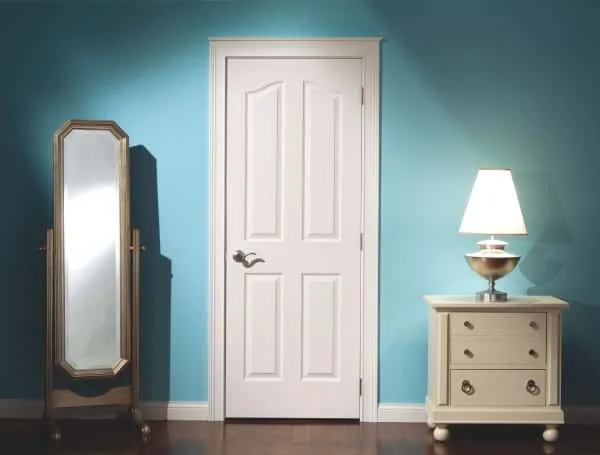 As the name suggests, FRP refers to the reinforcement of fibrous glass with plastic, which means that it is highly durable. In fact, it comes with a tensile strength ten times more than that of PVC. So, you can well imagine the protection it offers, even after years of use.
And that's not all; teamed with wooden supports, stoppers, handles, and other accessories, FRP doors can improve the overall aesthetic appeal of your home.
Bamboo-Jute Composite Doors
Manufactured using natural fibers of choir and jute infused together with phenolic resins, bamboo-jute composite boards are both sustainable and environment-friendly. This is why the demand for doors made using these boards is increasing by the day.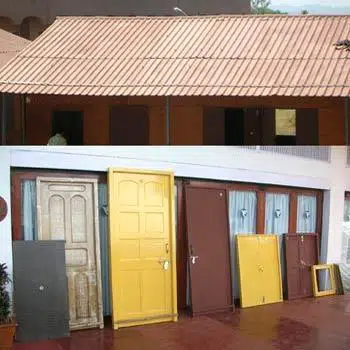 Furthermore, being rust-resistant, termite-proof, water-resistant, and cost-efficient, bamboo-jute composite doors are the perfect substitutes for wooden doors. Plus, they are biodegradable, making them suitable for those looking for a renewable option.
 Types Of Doors Based On Design And Construction
Doors are designed and constructed using different materials and techniques. Hence, they tend to differ in functionality and the way they look. Here we'll be classifying doors on the basis of their construction and designs. Let's dive in then, shall we?
Flush Doors
A popular choice for both residential and commercial buildings, flush doors are known for their simple construction and stunning aesthetics. Usually, made using medium-density plywood or fiberwood with lightweight timber, they come with a smooth and plain surface.
Now, a flush door is mostly utilized for the interiors of the house. But when constructed using wood or steel, it is highly durable. Therefore, you may also consider this as a suitable choice for exteriors.
However, flush doors aren't waterproof. So, we'd suggest covering the inner layer of the door with an aluminum sheet if you wish to use it for your bathroom. This will help prevent water damage.
Paneled Doors
A paneled door is one of the most durable and sturdy doors, which is widely being used in modern-day houses. In fact, its rigid construction and detailed design are what makes it stand out from the rest.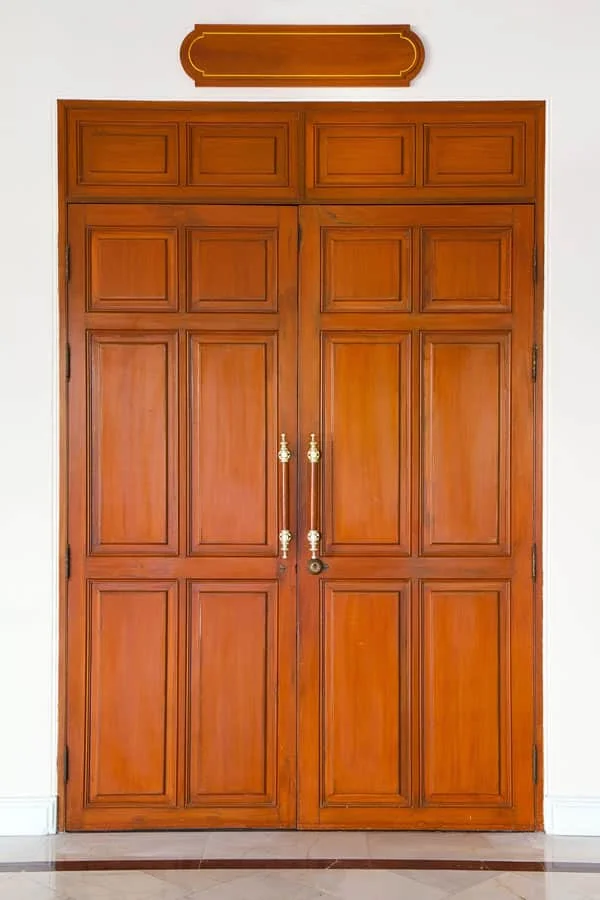 Built from plywood, veneer, glass, and blockboard, the panels require a labor-intensive and skilled workforce for construction. Having said that, you can choose between the one, two, three, and four-panel formats, depending on your preference.
Also, if you wish to enhance the aesthetics of your home decor, consider going for a paneled and glazed door. It combines wood and glass panels to create a diverse look.
Louvered Doors
Before diving into the depth of louvered doors, it makes sense to understand the meaning of the term "louvered." That being said, "louver" is basically an arrangement of parallel and horizontal blades, laths, and slips of wood, glass, or any other material. It helps promote air circulation and light penetration.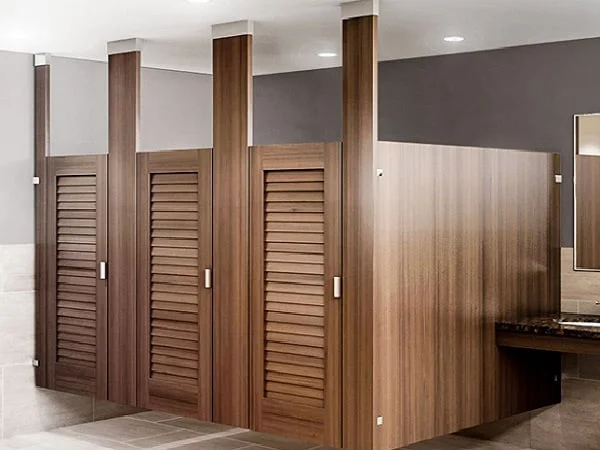 A louvered door is constructed with a similar arrangement to ensure natural ventilation, even while it remains closed. Thus, it helps in maintaining privacy without disrupting the overall airflow.
Now, even if you aren't familiar with the concept, we're positive you've come across louvered doors at some point in time. This is because it is a very old type of door that has indeed come a long way.
Wire Gauze Doors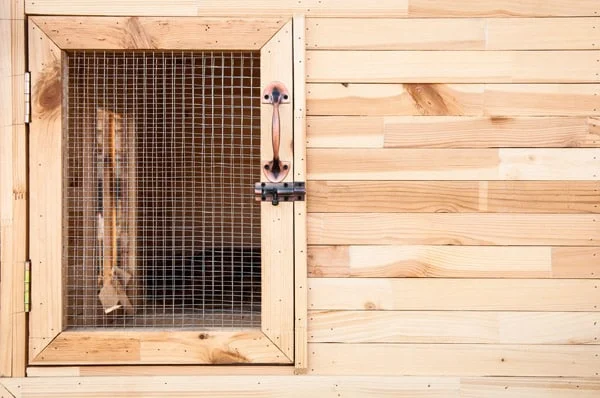 What's a wire gauze door? Well, these are doors made using a wooden frame and wire gauze panel. That being said, a wire gauze door is primarily installed in houses, kitchens, food storage cupboards, and hotels. It helps ensure air circulation while preventing the entry of insects and mosquitoes.
Battened and Ledged Doors
 A door type used for centuries, battened, and ledged doors are mostly used in bathrooms, toilets, and other such rooms. They are typically provided with three ledges at the top, center, and bottom sections. That's not all. You'll notice that it also features wooden battens with heights similar to that of the door itself.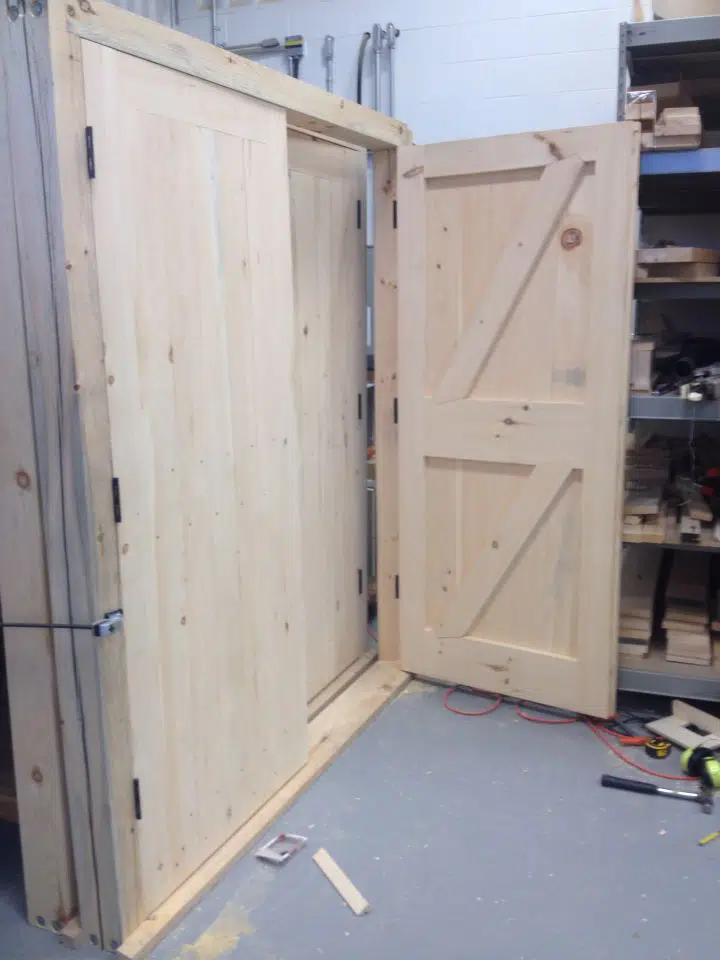 Furthermore, battened and ledged doors can also be braced or braced and framed for better design and optimal support. This, in turn, makes the traditional door more sturdy and rigid.
However, these days we don't use battened and ledged doors much. Why? Well, this is because of the lack of availability of sufficient wood. Also, they are quite expensive and not feasible for the lower sections of society.
Barn Doors
We love the country vibe that comes with barn doors. In fact, this is why they have become a popular choice in farmhouses and even modern homes. Moreover, a barn door comes with a vintage charm that can add a touch of sophistication to bathrooms, bedrooms, closet, or any other area of your house.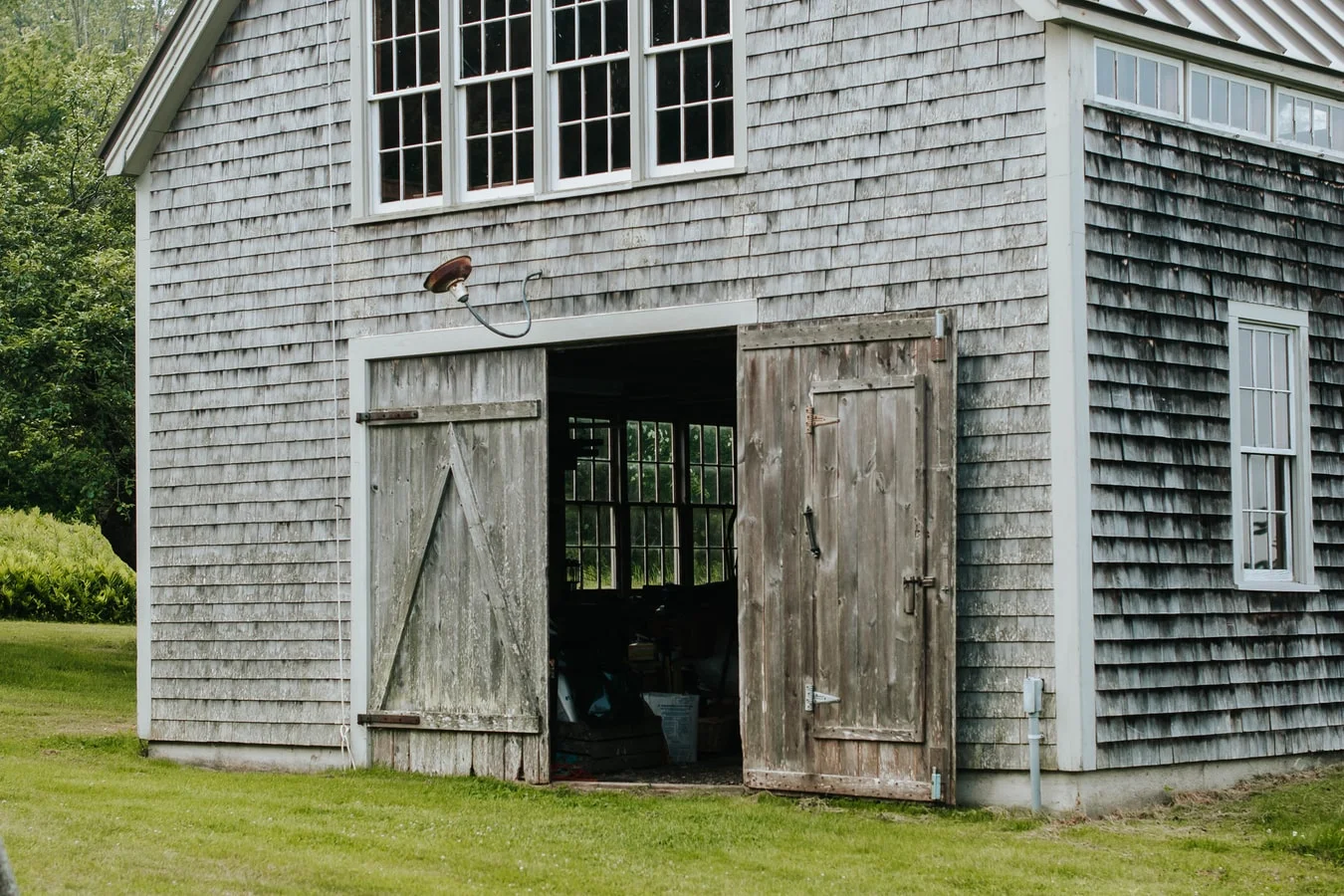 You may opt for an attractive package deal that usually combines high-quality machinery and decorative glass. Not just that, but you can also consider choosing a material based on the required functionality of the door. For instance, an area can be closed off more efficiently with the help of a wooden barn door. It blocks light and also reduces sightlines.
 Types Of Doors Based On Operation
Moving on, we now come to another section of this guide that classifies doors based on their operation of shutters. In other words, we briefly explain the opening and closing mechanism of the different types of doors. So, let's get going!
Folding Doors
 Perfect for rooms connected to patios, gardens, and verandahs, folding doors can be used as folding partitions, allowing you to access both the areas together. Now, coming to its shutter mechanism, the set of doors is hinged to each other so that you may fold the glass panel to have a great view.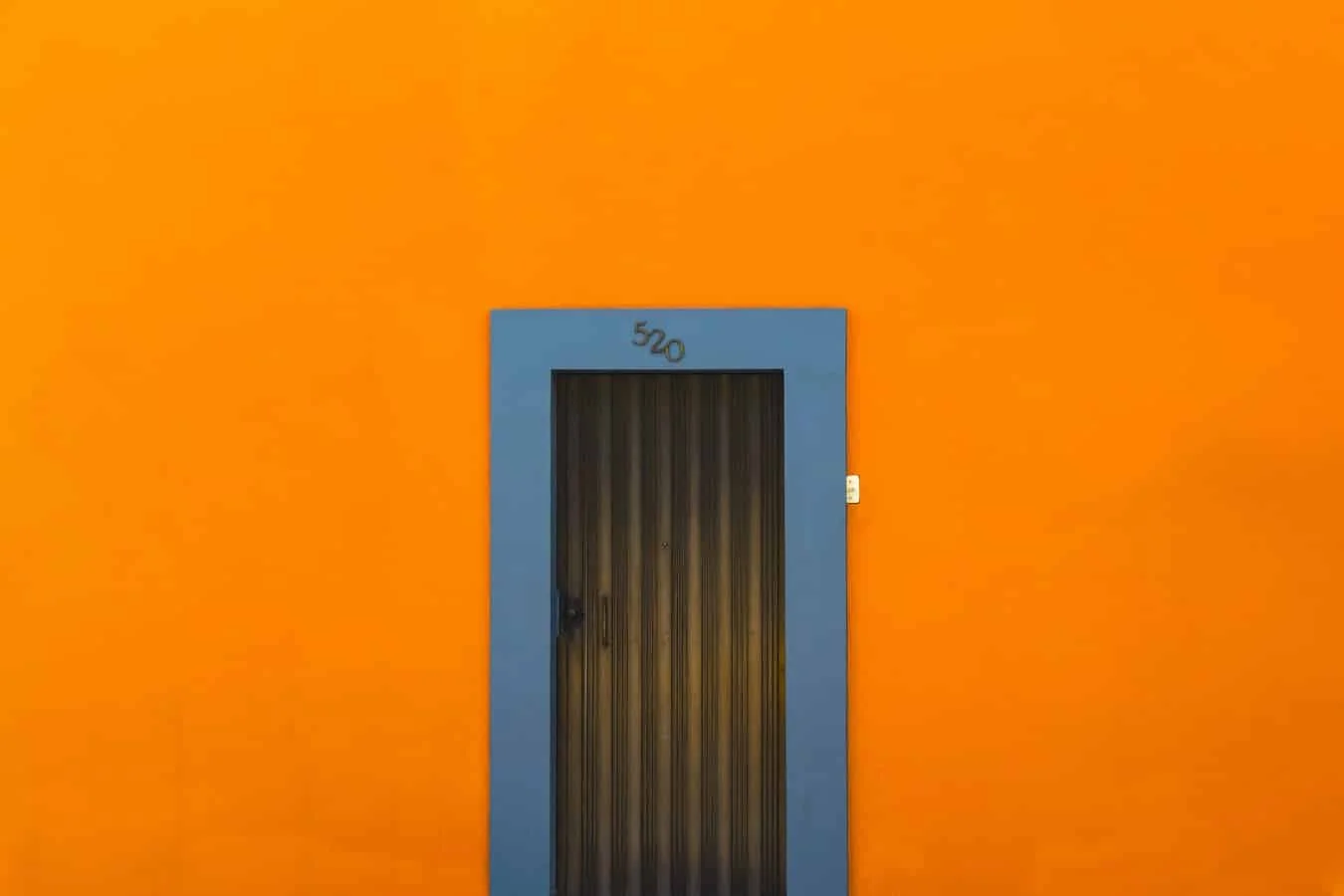 Furthermore, the doors are placed on a metal track, which hangs from the top of the opening. This, in turn, enables you to open them with ease when required.
Sliding Doors
The working mechanism of a sliding door is relatively simple. All you need to do is slide the panel along its track. The steel rollers located at the top and bottom will enable you to do this with ease.
You won't need to swing open these doors, so there's no need to worry about them taking up too much space. In fact, sliding doors are ideal options for smaller rooms with space constraints. They increase the efficiency of usage while offering a minimalistic touch of elegance to any modern-day home.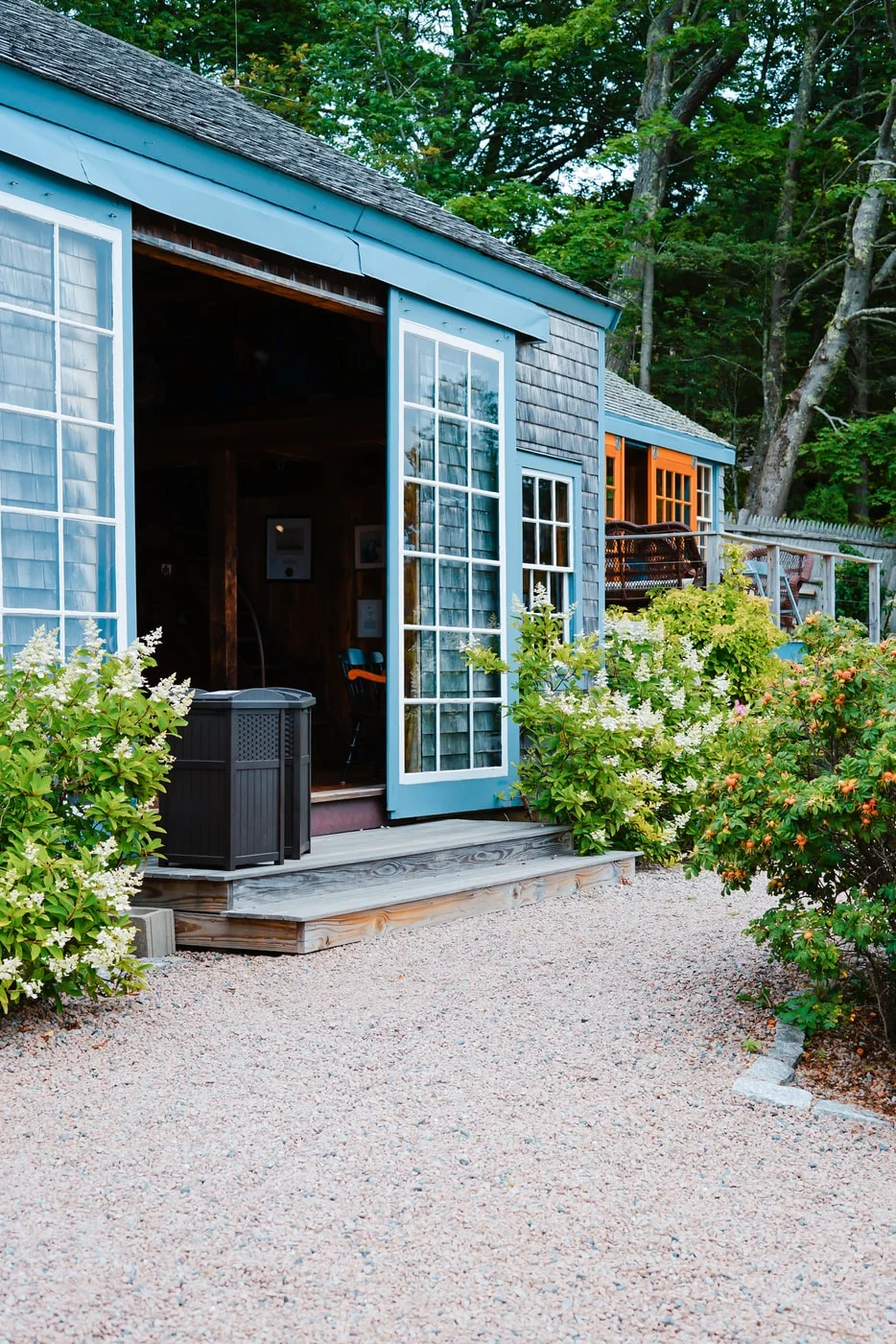 Having said that, the only downside to this type of door is its limited opening access. In other words, you'll only be able to open or close a single panel at once. But it provides ample natural light since it usually features glass panels connected to a metal or wooden frame.
French Doors
In our opinion, french doors are unique types of doors designed to take care of all your needs. That being said, as the name suggests, this door originates from France. Influenced by Roman architecture, it was designed with significant emphasis given to light and Renaissance.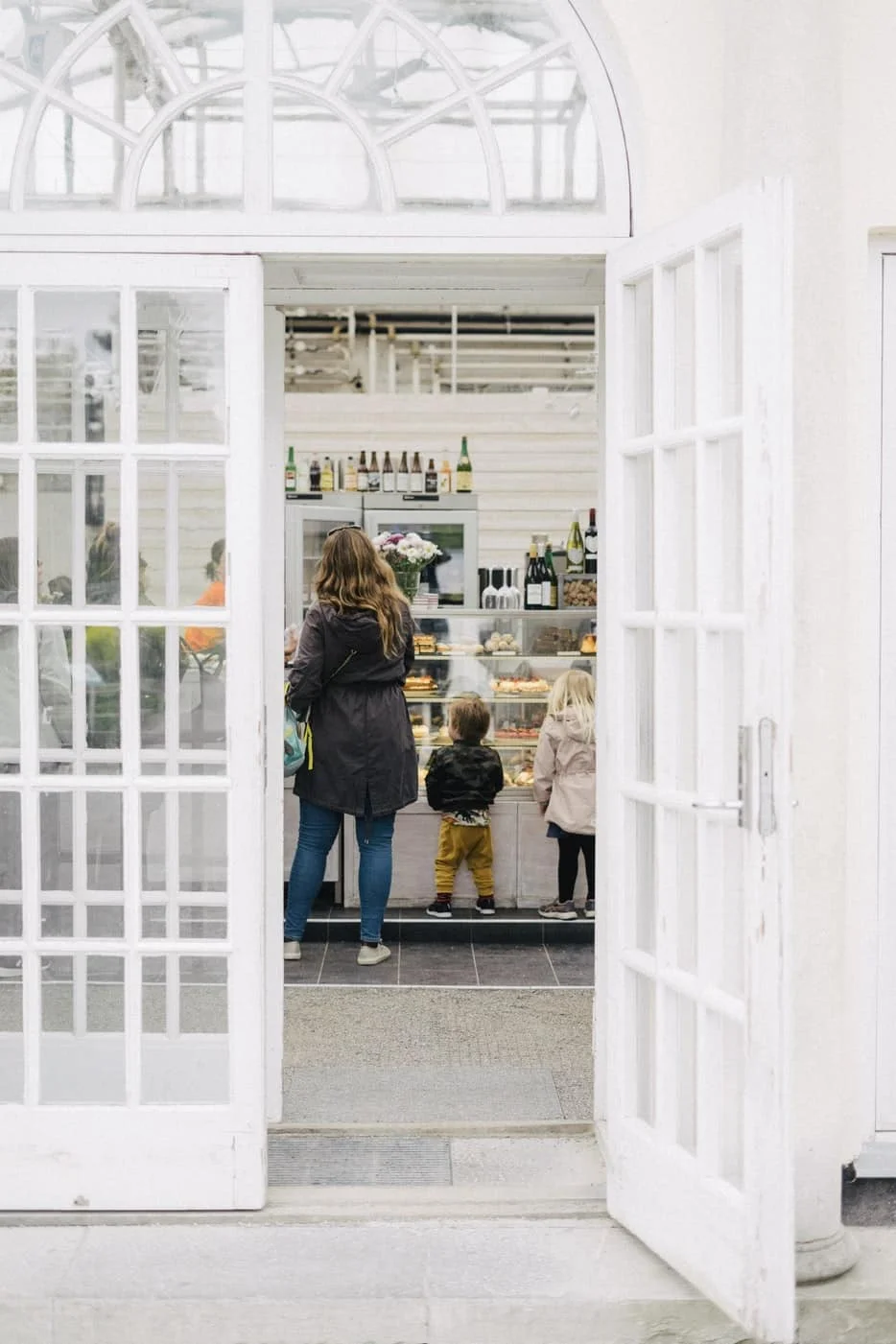 For this reason, it comes with an extra-wide opening, giving you an unblocked view. You may utilize this kind of door to create a passageway between rooms or simply use it as an exterior patio door.
In fact, they are set up freely with three or four hinges on either side. So, you'll also be able to open both sides of the door in a conventional manner. What's more? French doors manage to add a charming appeal to your home decor with its traditional design. Hence, adding this to your house will definitely enhance your overall investment returns.
Hinged Doors
Single hinged doors are the most commonly and frequently used interior doors that enable you to pass from one area to another when needed. How does it work? One end of the door is connected to hinges, creating a joint. So, when you push or pull, it tends to swing open, allowing you to enter or exit.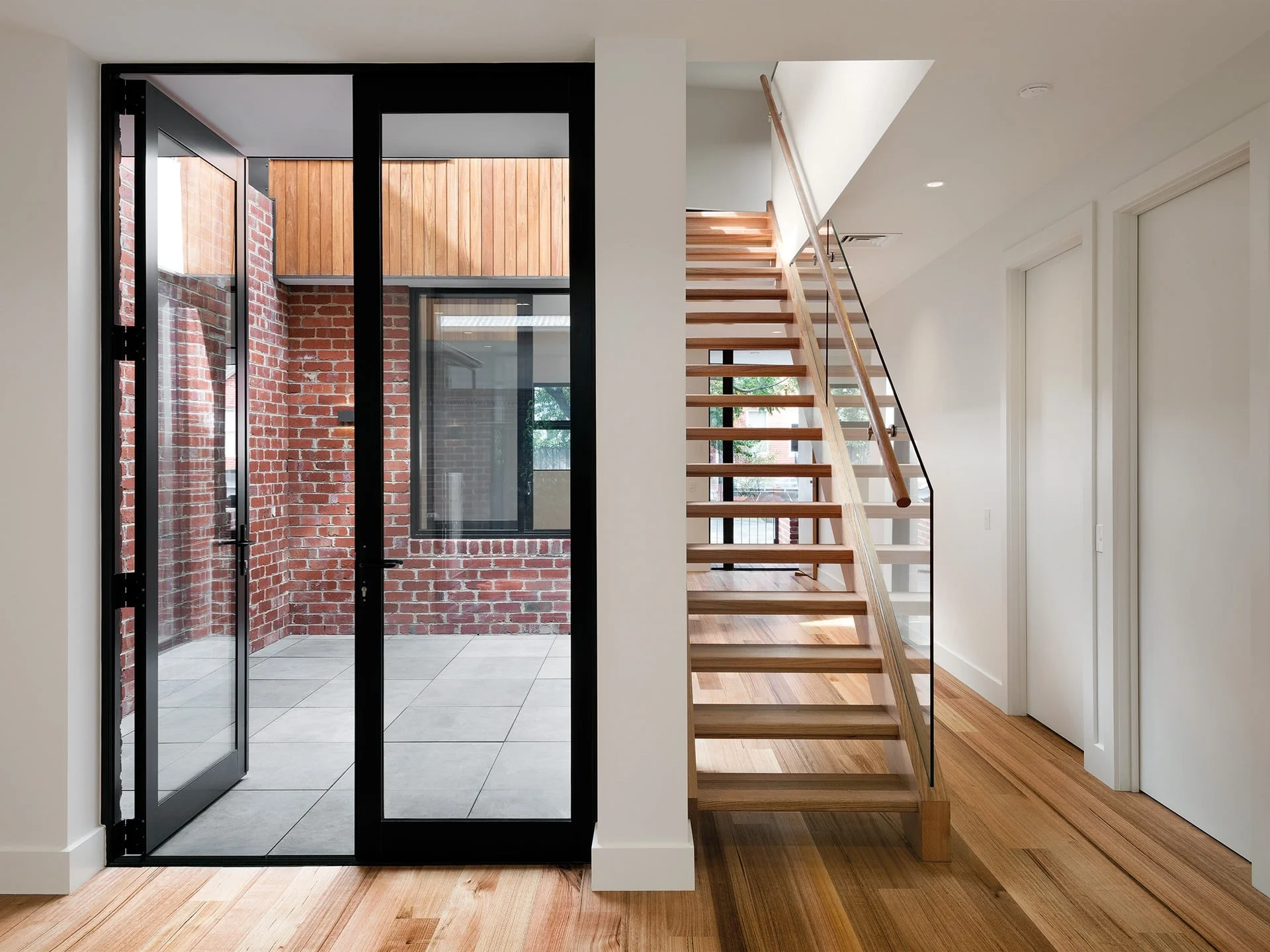 However, you'll need adequate space for installing a hinged door at home. If not, it will end up blocking the area. That being said, heavyweight hinged doors can also be utilized as exterior doors. They usually have three hinges and are thicker compared to interior doors.
Dutch Doors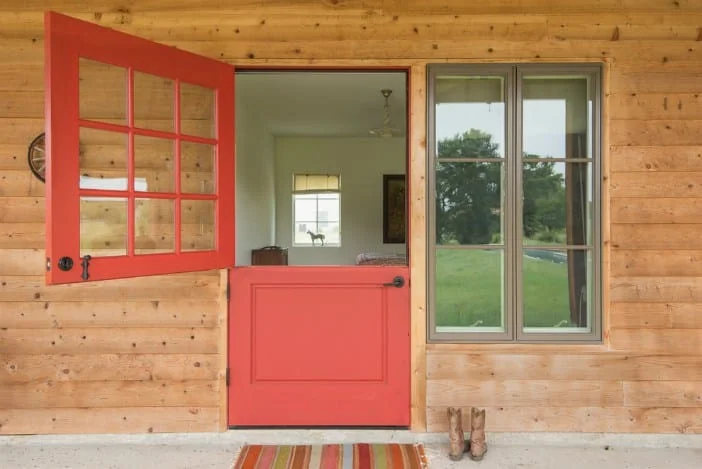 A dutch door is divided horizontally into two sections – the top and bottom panels. The distinct design makes it suitable for homes that have pets and children. Now, you can easily use this door as a regular door by bolting the two sections together. So, it can also be considered as an exterior or front door, provided it has a sturdy and durable build.
On the other hand, you can also open the top half while keeping the bottom panel shut. This helps ensure air circulation while preventing your pet or child from leaving the area.
Roller Doors
You must have come across roller doors in garages, workshops, storage facilities, and shop fronts. They are usually constructed using fiberglass or metal. Hence, you can expect them to be hard-wearing and highly durable.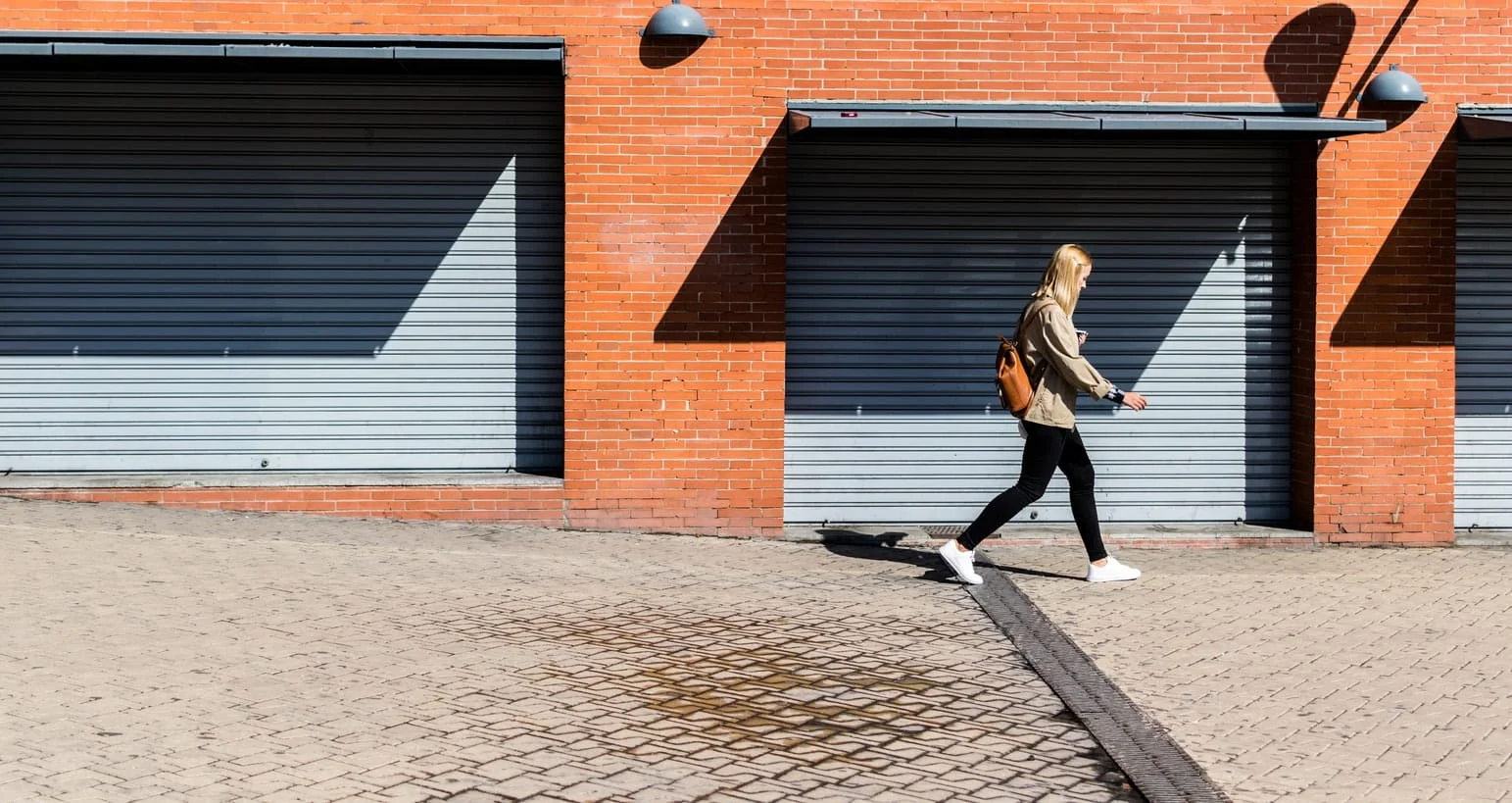 In fact, a roller door also offers optimal protection, keeping your home safe and secure at all times. In other words, it acts as a protective barrier without taking too much space.
Apart from being used as an exterior door, roller doors, aka sectional overheads, can also be utilized for interiors, separating the area from your patio or garden. Just make sure you choose a trendy design for placement in living rooms and other spaces.
Pocket Doors
Pocket doors have come a long way. Today, manufacturers focus on upgrading and improving their overall aesthetics, keeping modern home decor in mind.
Now, when it comes to its shutter operation, there's no such complication. All you need to do is simply slide the door in and out of the area inside the wall. However, before installation, you'll need to check the wall to make sure that no electrical or plumbing lines are running through it.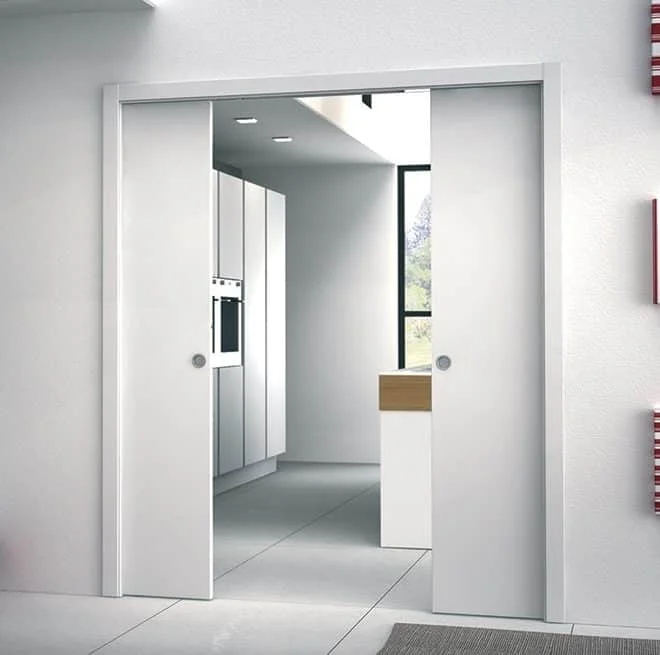 Why is this a convenient option? The answer is simple. The mechanism of this door enables you to open or close it without having to worry about it blocking your floor space. Thus, it serves as the perfect choice for homes or rooms with limited space.
Having said that, pocket doors are available in single and double-door variants. So, you can make a choice, depending on your preference and requirements.
Revolving Doors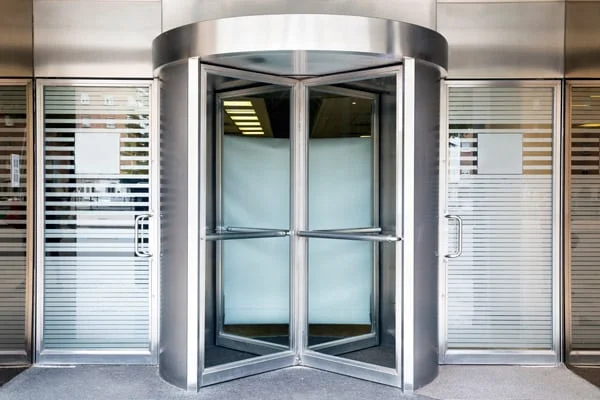 Revolving doors come in the form of an arrangement of doors that can rotate about a central pivot. They are mostly utilized for heavy traffic areas, including hospitals, shopping malls, hotels, high-rise buildings, and public buildings to regulate entry and exit. Apart from this, a revolving door also helps in minimizing noise and preventing heat loss.
Pivot Doors
A pivot door is supported by pivot hinges, located at its top and bottom sections. This prevents you from having to reinforce a door frame separately. In fact, the installation of this door-type is relatively simple, provided you have the required pivot door hardware, including hinges, pins, and other accessories. Modern-day pivot doors have the top and bottom pivot mechanisms mortised entirely into the door itself. This makes subterranean door closers obsolete and greatly improves installation of a pivot door in both new and retrofit projects. Even when floor heating is applied.
Moreover, the hinges are capable of supporting wider and heavier frames than traditional barrel hinges. Thus, be rest assured, you'll be blown away by its smooth swinging function.
What's more? You'll love the stunning aesthetic appeal of this door as it adds a modern style statement to your home when utilized as an entry door.
Swinging Doors
Swinging doors are hinged near an edge, allowing it to rotate about a vertical axis. In simple terms, the door is connected to the frame with the help of hinges. Other than this, it comes with a shutter attached to the frame using the help of double-action springs. This enables the shutter to move both inwards and outwards.
That being said, based on the direction and swing pattern, there are two types of swinging doors – single-acting doors can swing 90 degrees or more in only one direction. On the other hand, double-acting doors can swing 90 degrees or more in each of the two directions.
Mostly found in offices and salons, swinging or batwing doors can be louvered, planked, or paneled. So, you'll be able to make a selection based on your preference.
Final Words
Doors not only serve as a gateway from one space to another, but they also help in maintaining privacy. With the right door, you'll be able to create the perfect aesthetically pleasing home decor.
Now, without a doubt, the benefits of having the perfect door are far too many to count. So, it is essential to make an ideal choice after considering the various types of doors available.
On that note, we'll now take your leave. Till next time, take care!