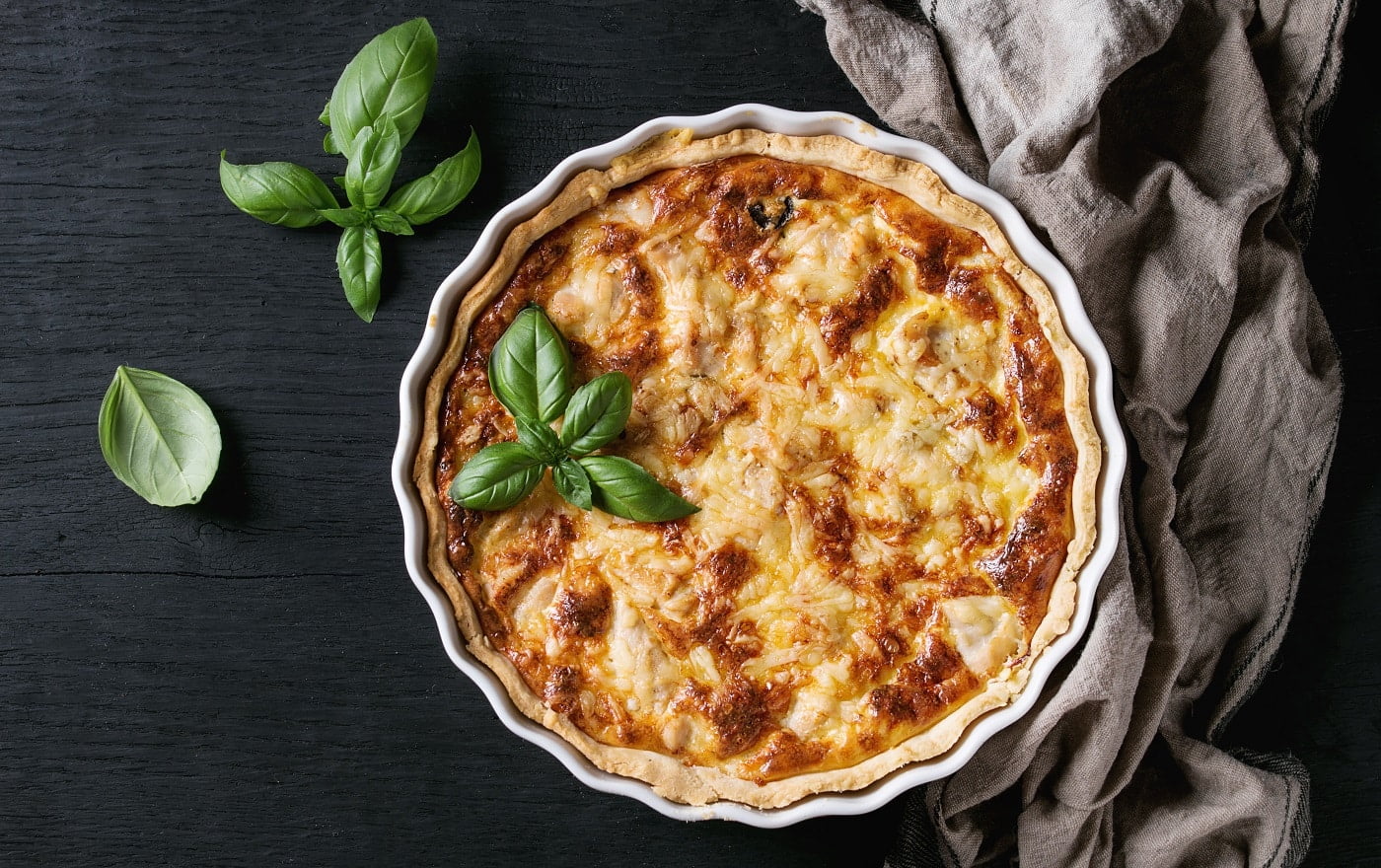 An all-round dish that works beautifully as an appetizer, entrée, or snack – the classic Quiche. Here are some of the best sides to serve with it.
There are so many types of quiches to explore – from mini quiches to vegetarian options, ham and cheese to custard—no wonder this baked delight is so popular all over the world. Originally a French savory, the quiche has found its way to other parts of the world, where it is welcomed with pleasure by most food lovers. 
Making a quiche is super easy too; however, are you confused about what to serve with it? We've got you covered! Check out our comprehensive list of some of the best dishes to serve with the classic savory quiche. 
Quiche Side Dish Ideas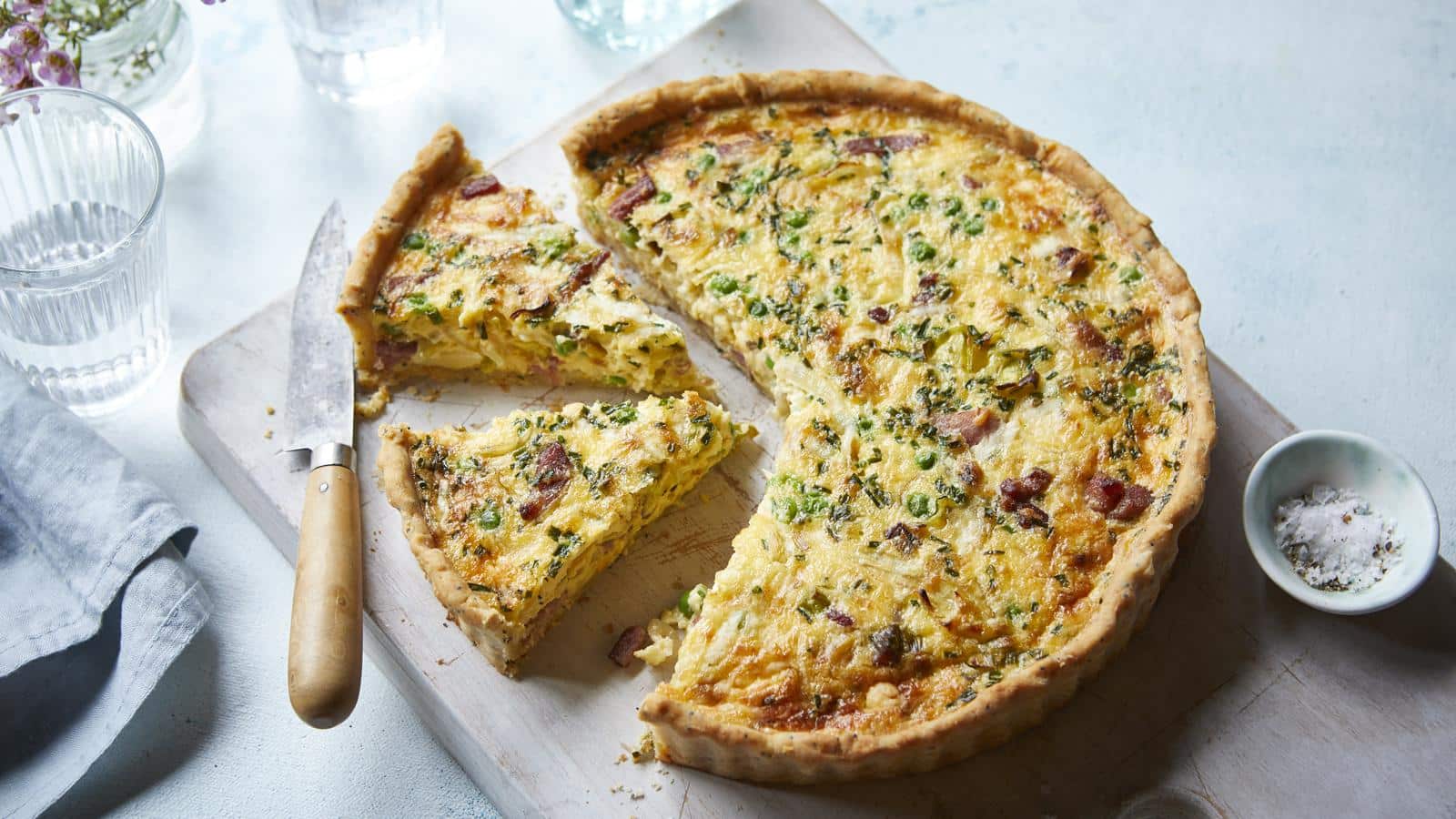 Salad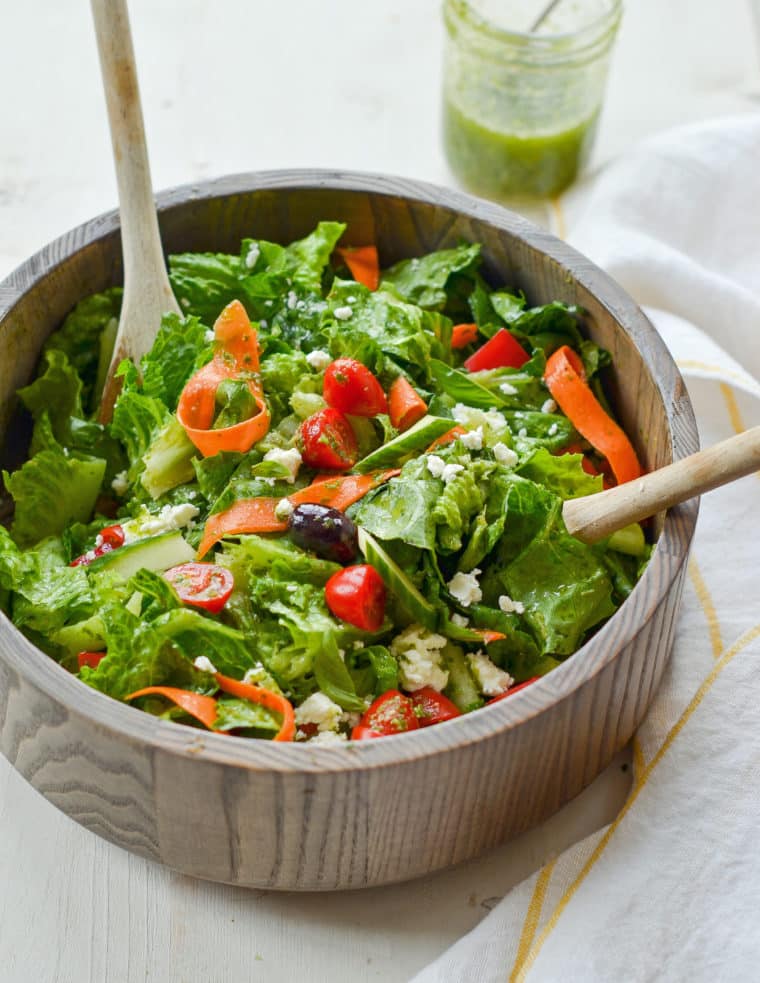 Although quiche is typically light and fluffy, it can also be a hearty meal in itself. These savory French tarts have meat and vegetable fillings, making them appetizing and surprisingly heavy.
As such, pairing a quiche with a light salad can be an excellent combination to try. The best part about a salad is that you can experiment with different ingredients and flavors to create something super light, spicy, sweet, or any other flavorful delight. 
Here are a few combinations you can consider –
A fruit salad with a tangy balsamic glaze 

Bacon and chicken salad 

A simple vegetable salad with dried berries and nuts

Cherry tomatoes and sliced red onions, topped with a balsamic vinaigrette
Iced Tea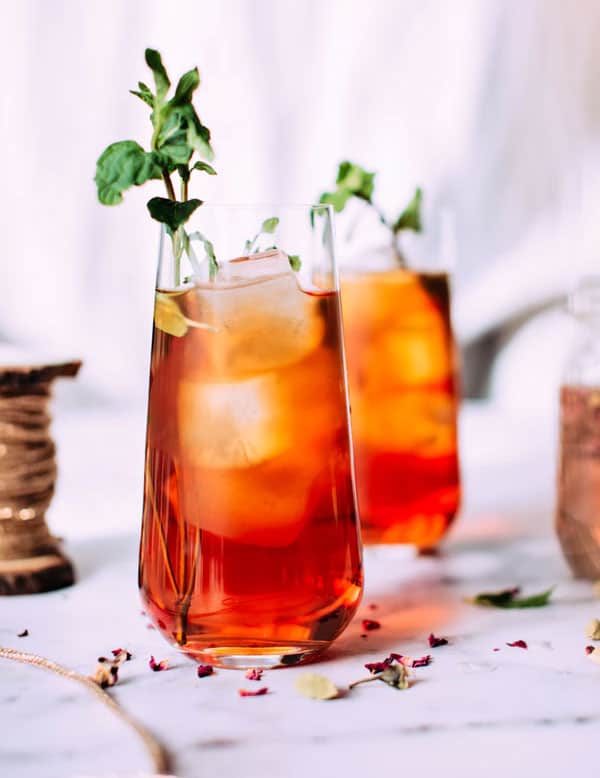 Now that we have talked about one of the classic side dishes you can serve with quiche, let us talk about drinks. We recommend opting for a nice, cooling drink like a delicious iced tea to go along with your quiche. 
The best thing about this drink is that you can customize and manipulate its ingredients to fit your specific tastes. Moreover, if you're serving quiche for a party or brunch, add a splash of your favorite alcohol and turn it into a Long Island Iced Tea. 
Bread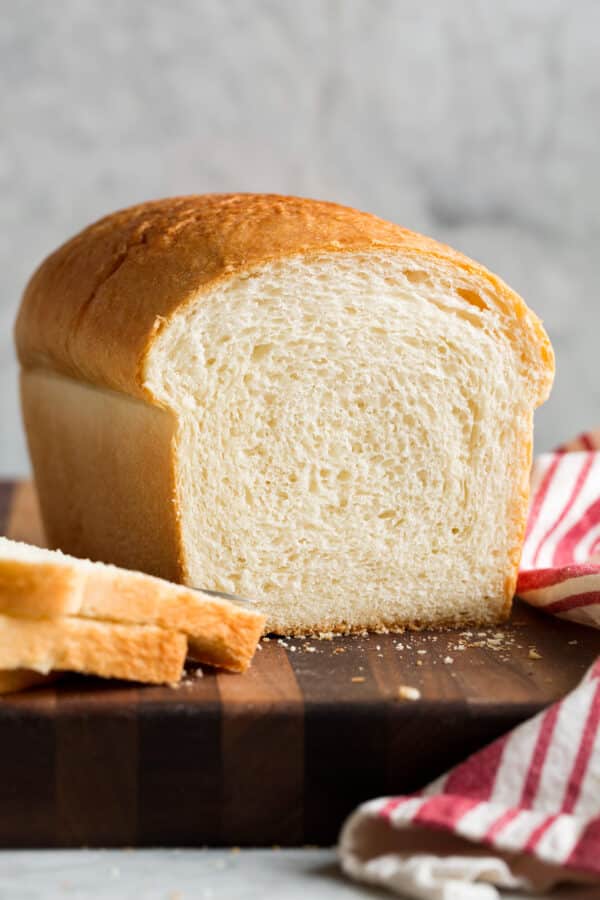 Bread is one of those quintessential items that is eaten worldwide. Typically eaten for breakfast, bread is found in several forms. Plus, it can be served for lunch, dinner, or as snacks, depending on its preparation. It is an excellent source of carbohydrates, making it ideal for most meals. 
You can serve either plain buttered bread or toasted bread with a quiche. Although it may be filling, it serves as an excellent side dish for a hearty breakfast or dinner. 
Juice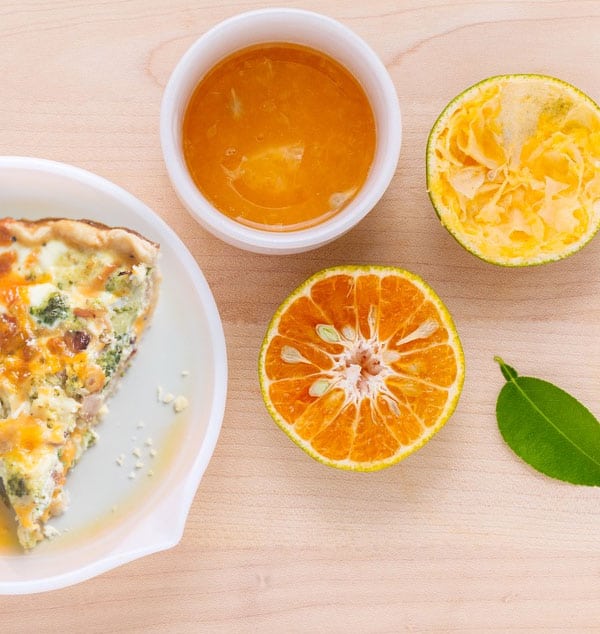 Moving on to the next item, we recommend serving juice with your quiche. It is an excellent choice for breakfast and brunch. The best types of juice to serve with quiche would be either orange or tomato juice. 
Of course, you are always free to experiment and try out other varieties. Try serving cranberry or pineapple juice, which should add a slight tang to your palette and transform the taste of the buttery and flakey quiche. 
Soup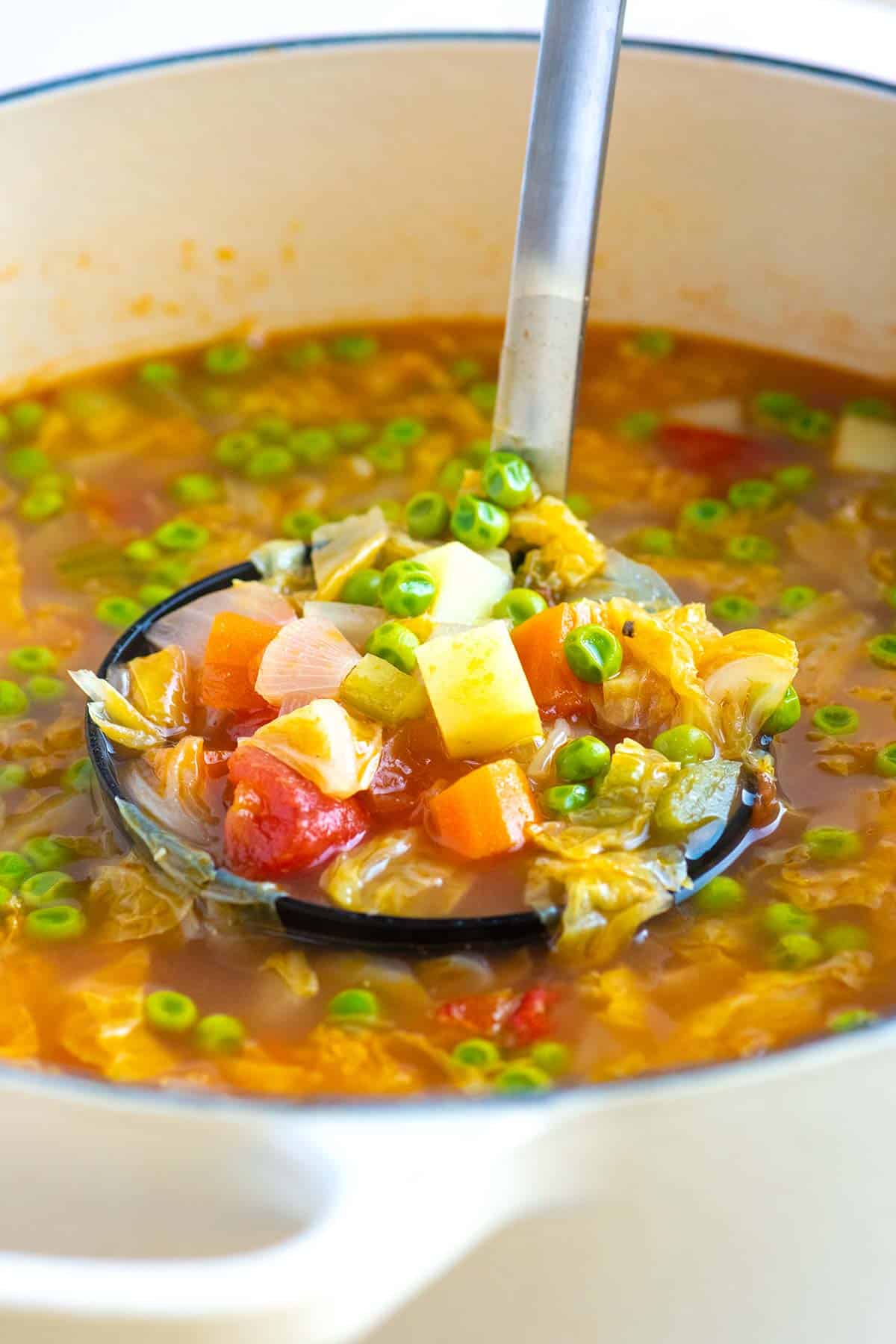 Are you looking for something to wet your throat while eating a delightful quiche but don't want to opt for drinks? Well, consider a hot, delicious soup as the perfect side dish for a quiche. 
However, when opting for the right soup to go with quiche, ensure that you don't pick something that is overpowering or too flavorful. It is best to opt for soups that have subtle flavors and relatively thin stock. 
While chicken and other meat soups are a good option, you can also opt for vegetable soups. One of the best soups to go with almost any type of quiche is the classic tomato soup. Although some people find this soup quite heavy and filling, the flavors generously complement most quiches, making them an ideal side dish. 
If you don't have dietary restrictions (such as following a vegetarian diet), consider a light chicken soup as the side dish. This goes exceptionally well with vegetable quiche, as it makes up for the lack of protein in it. 
Those who are in the mood for experimentation can opt for a colorful gazpacho with their piping hot quiche. The cold and flavorful gazpacho, along with the hot, buttery quiche, can create an incredible contrast while filling your taste buds with pleasure. 
Hot Coffee And Cocoa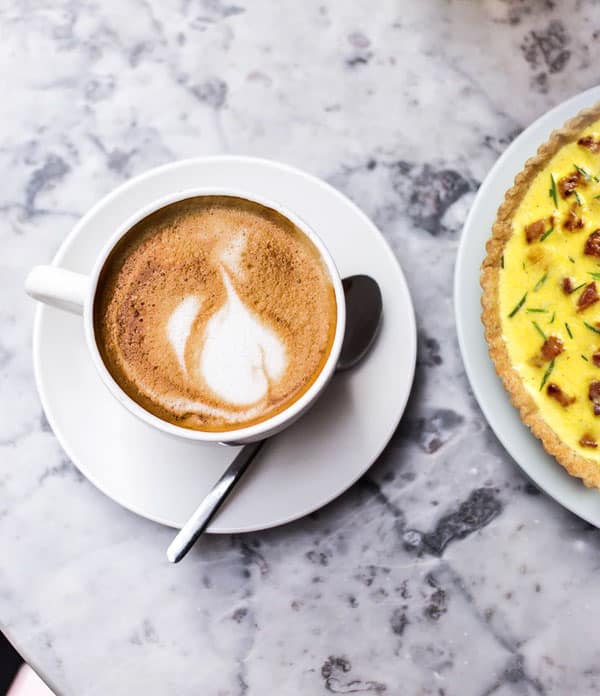 You may be wondering if quiche and hot cocoa go well together. Or maybe you're thinking about the overpowering taste and smell of coffee with a beautiful, fluffy quiche. 
Well, imagine Christmas mornings with a steaming cup of cocoa or coffee and a lovely breakfast quiche. Doesn't it sound delightful? 
Many people enjoy a hot, frothy beverage like hot cocoa or hot coffee with quiche. In fact, it is considered staple cafe food in many European countries. So, if you're wondering what kind of hot beverage would go well with quiche, consider a steaming cup of joe. 
Roasted Or Grilled Vegetables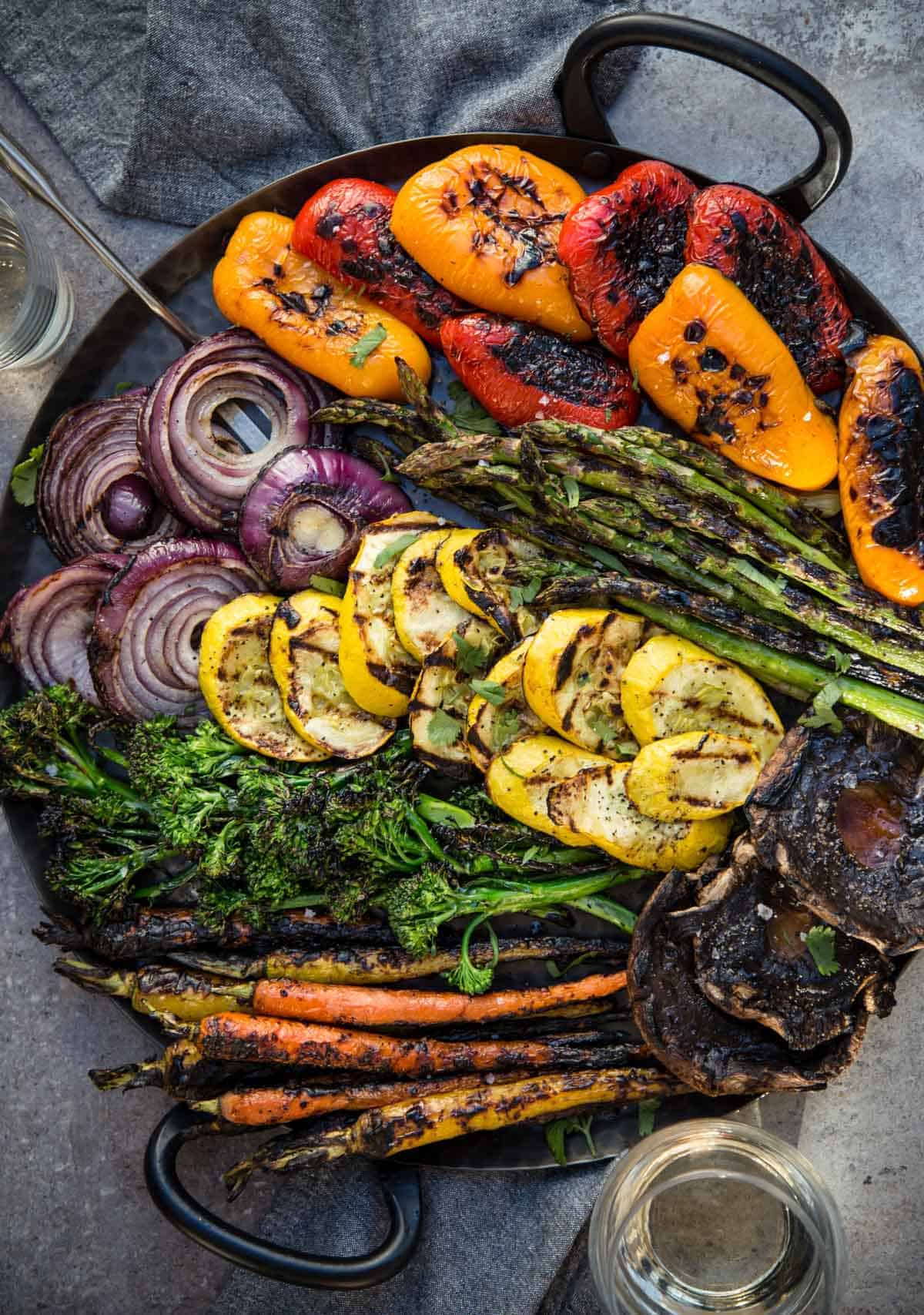 Most people consider quiche to be quite a heavy, hearty meal. It is natural to want to balance each flavorful bite of this delicious French tart with something light and healthy. 
If you're wondering what the best side dish could be, look no further. Roast or grill up a pot of some of your favorite vegetables to serve along with the quiche. You can opt for the classic potatoes, tomatoes, carrots, and beets. 
However, if you want to make it a bit fancier, consider adding asparagus, baby corn, and bell pepper. Top it off with your favorite drizzle, or add a pinch of salt, pepper, rosemary, and a delicious dip for those who like to have something to dip their vegetables into. 
Sparkling Beverages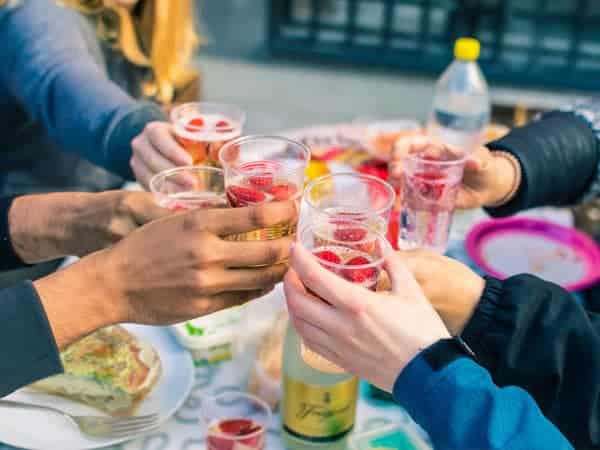 Wondering how well a sparkling beverage would go with quiche? Well, you won't know till you try it, right? 
Consider any sparkling white beverage, preferably something that has a subtle flavor of fruit. These sparkling beverages typically go exceptionally well with almost any type of quiche. Mimosas and bellinis are some of the best options you can explore.
However, if you aren't particularly keen on sipping alcohol, you can always opt for a sparkling non-alcoholic drink. Sparkling water options are plentiful. Moreover, you can find several branded sparkling drinks that have fruit flavors in them.
These drinks are exceptionally well suited to most types of quiche and are something you can consider. You can also opt for a sweet, bubbly, and fizzy drink like the ever-so-popular Shirley Temple. 
Roasted Vegetable Bisque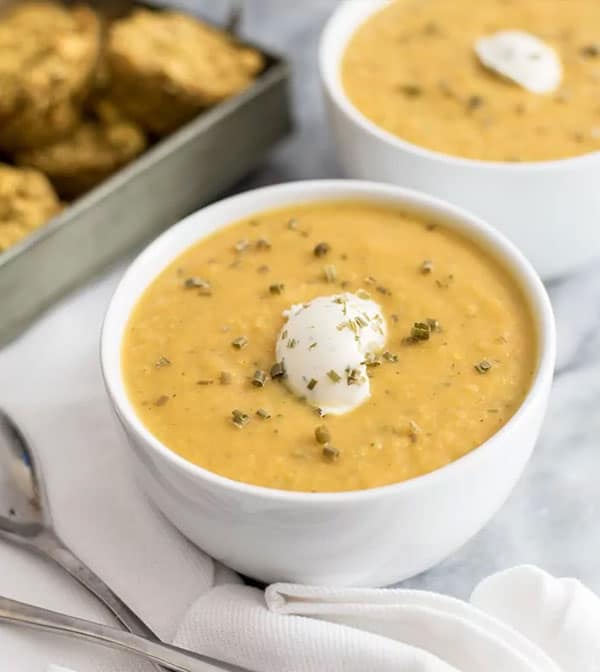 Many people aren't aware of this, but any vegetable you enjoy roasted can be conveniently turned into a bisque. For starters, you can begin with something light and simple, like a butternut squash bisque. This will taste heavenly with a fluffy and flavorful quiche for breakfast, lunch, or dinner. 
Once you are comfortable with this, you can move on to more complex dishes. Try combining a couple of your favorite vegetables to make a beautiful, thick, and creamy bisque. Top it off with a dollop of butter, sour cream, or add bacon flakes for extra crunch and texture. 
If you are confused about what kind of bisque to go for, consider the ingredients in the quiche. For example, if you have a large, delicious chicken and ham-filled quiche, consider opting for a light pumpkin bisque. It may sound explorative at first, but you will never know how it tastes till you try it! 
Roasted Potatoes And Green Peas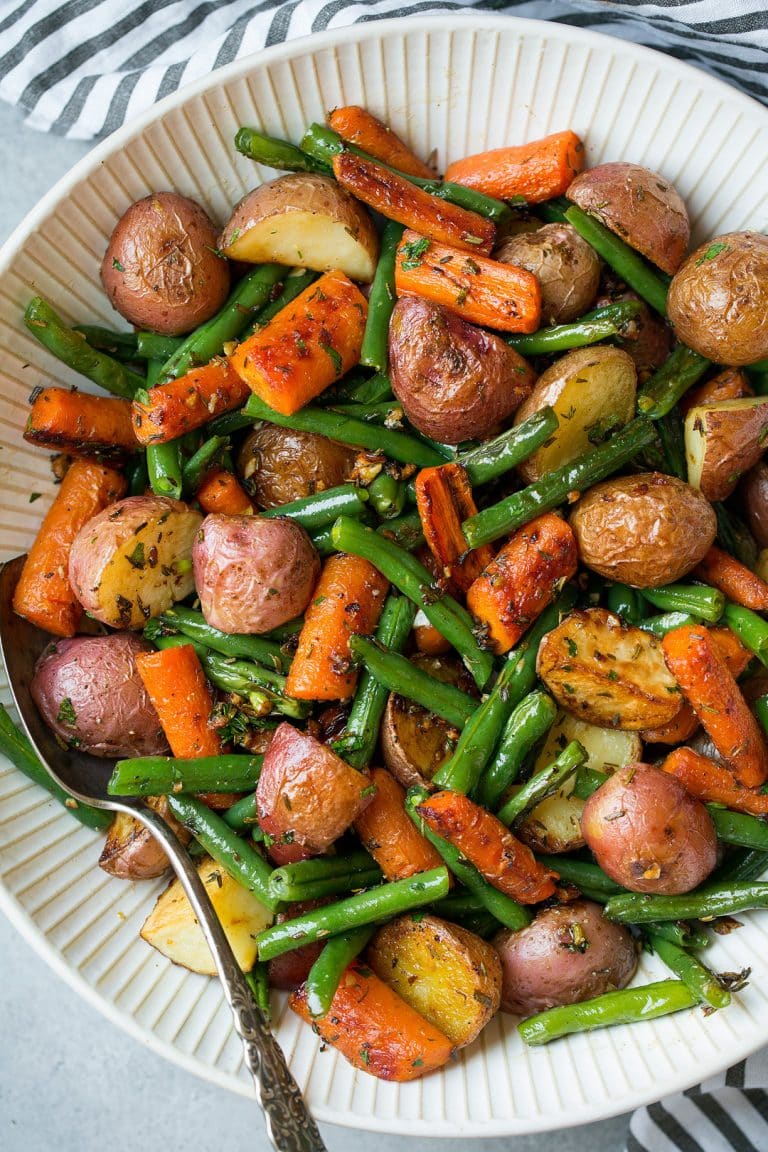 Revisiting a classic which most people love – roasted potatoes and green peas. This is a dish that you cannot go wrong with, and they go extremely well with almost any kind of quiche. 
In fact, most people believe that roasted vegetables can turn almost any vegetable hater into a vegetable lover. If you are thinking of serving a healthy, balanced meal with quiche as the main dish, consider roasting some beautiful vegetables like potatoes (which everyone loves) and peas as a side. 
Of course, you can get as experimental as you wish. Try some roasted broccoli, mushroom, carrots, and other vegetables. Drizzle them with some olive oil and add salt and pepper as per your liking. Serve it with a beautiful, delicious, warm quiche for a healthy, balanced meal for kids and adults alike. 
Garlic Rubbed Roasted Cabbage Steaks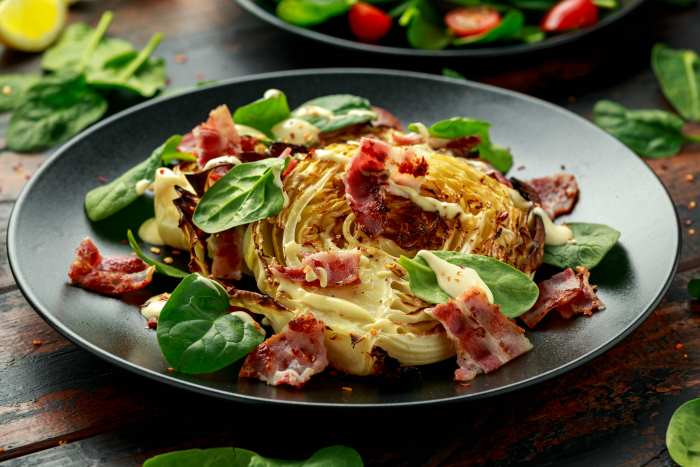 We wouldn't be surprised if you said that you've never heard of the term "cabbage steaks." In fact, most people don't know about this mouth-watering dish that can turn you into a sworn vegan in no time. 
Although regular steaks are immensely popular, they are a misfit as a side dish with quiche. However, you can chop thick slices of cabbage massaged with olive oil and garlic to create a flavorsome, healthy "steak." 
These cabbage steaks can be an excellent side dish to serve with almost any type of quiche, be it a vegetable or meat quiche. Pop the cabbage steaks into the oven for a couple of minutes, and you will notice them getting beautifully caramelized and juicy. 
Remember to chop them into smaller 1-inch slices before placing them on a baking sheet. Roast the "steaks" for about 30 minutes, and add this crunchy and delicious side dish with your quiche. 
Caprese Salad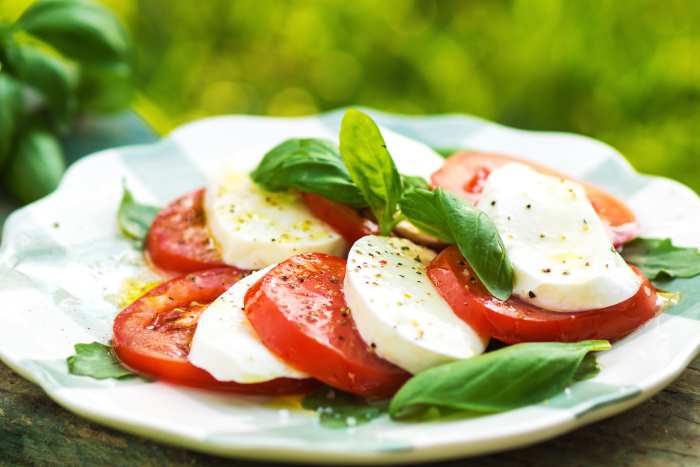 Have you heard of the mouth-watering Italian salad known as Caprese Salad? Well, one of the best things about this salad is that it is often decorated to resemble the colors of the Italian flag – red, white, and green. 
Another excellent thing about this side dish is that you can prepare it and refrigerate it to serve later. So, you don't need to rush to prepare a fresh salad to serve as a side with your quiche. 
Are you wondering how to prepare this beautiful salad? It's extremely straightforward. All you need are round chunks or slices of mozzarella cheese, tomatoes, basil, pepper, salt, and olive oil. 
All these ingredients are popular in Italy, which is why this salad is considered a staple there. However, these ingredients also taste heavenly with almost any kind of quiche, especially meaty, non-vegetarian quiches. 
To make your Caprese Salad look as authentic as possible, try and place the mozzarella cheese, tomatoes, and basil in alternating layers. Recreate the colors of the Italian flag, and serve this side along with a quiche of your choice for a complete meal.
Buttered Green Beans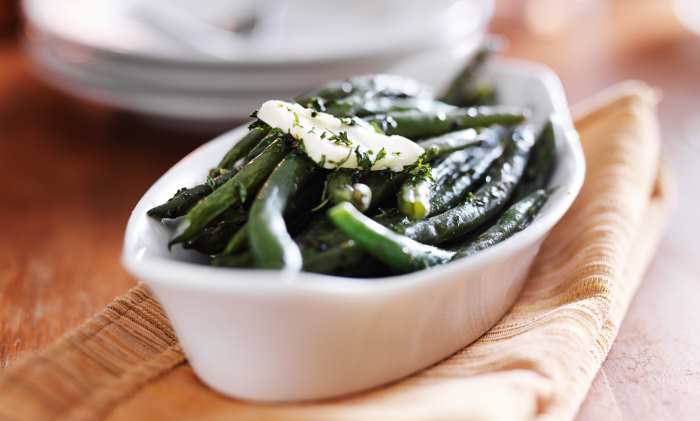 One of the last side dishes we want to talk about is freshly chopped green beans served with delicious, warm butter and some salt and pepper. This is incredibly easy to prepare and takes minutes, but what you end up with is a beautiful side dish that tastes incredible with quiche. 
This is a perfect meal to prepare for lunch or dinner. However, it also works brilliantly for brunches, where you can serve these dishes with a delicious hot beverage or some sparkling drink. 
Garlic Bread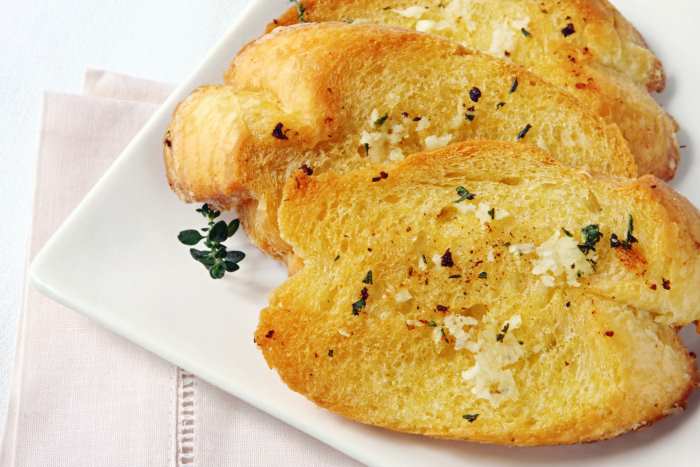 Looking for the perfect side dish that is filling and scrumptious? How about garlic bread with quiche? You can purchase garlic bread separately or even make it on your own. As long as you know how to prepare garlic butter, making garlic bread should be extremely easy and convenient as well.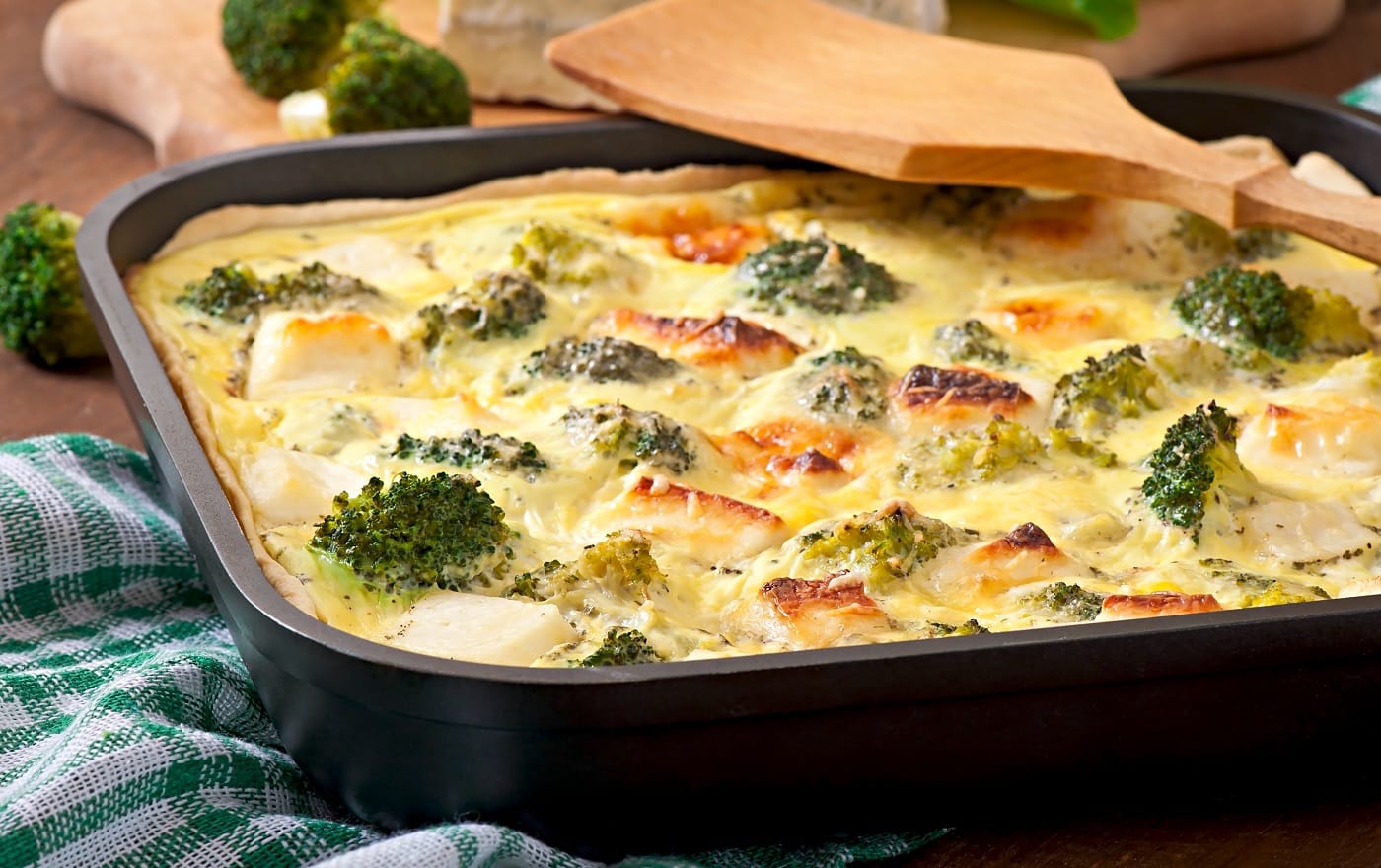 Final Words
Quiche is a versatile item that is ideal for all meals. However, finding the right side dishes to serve with it can often be an overwhelming task. Hence this list to make the task a tad easier for you.
We hope you enjoyed our list of delicious sides that you can serve with quiche. If you have any other ideas, please feel free to comment below and let us know. You can also include images of the beautiful dishes you prepare so other readers can take inspiration from the unique creations. 
Well, that's all for now. Enjoy your meal!
Related Articles