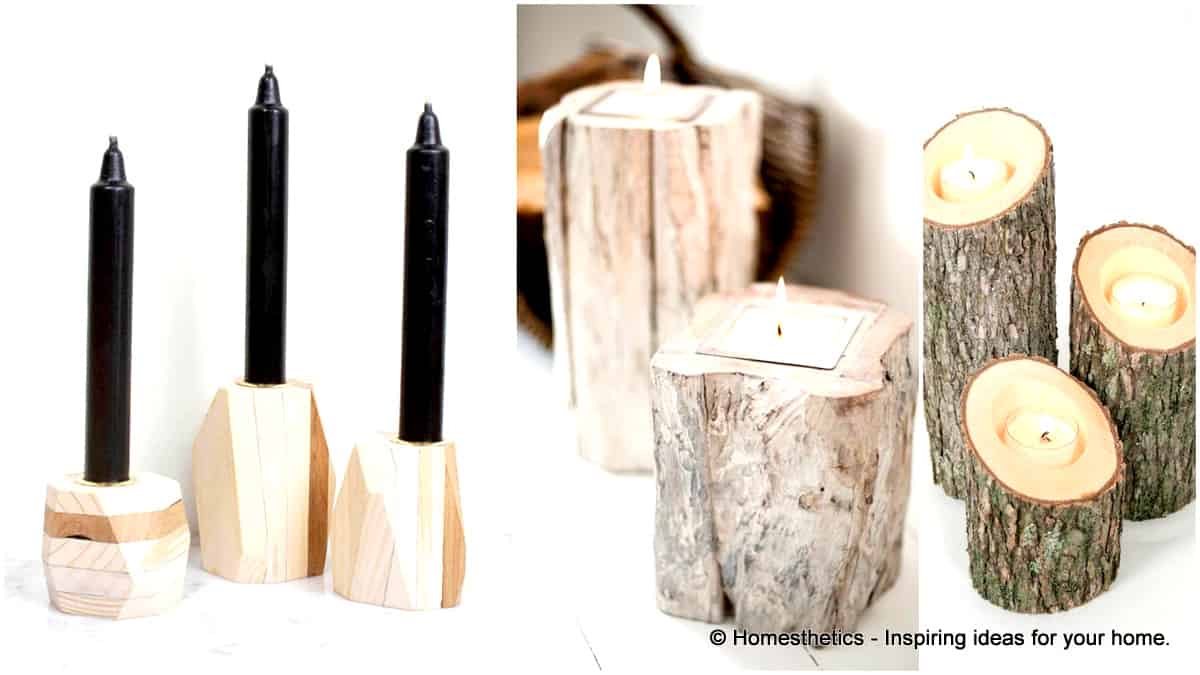 Immense beauty.
Warmth.
Coziness.
Candles have been emphasizing our existence for more than 2000 years already, helping us survive, rebuild ourselves, focus and relax. An object that can take many shapes and sizes, candles are simply brilliant presences filled with coziness and warmth that bring the light into your lives. Candles combined with natural wooden textures are defining the perfect package, the supreme item of relaxation today, complementing each other in a great manner.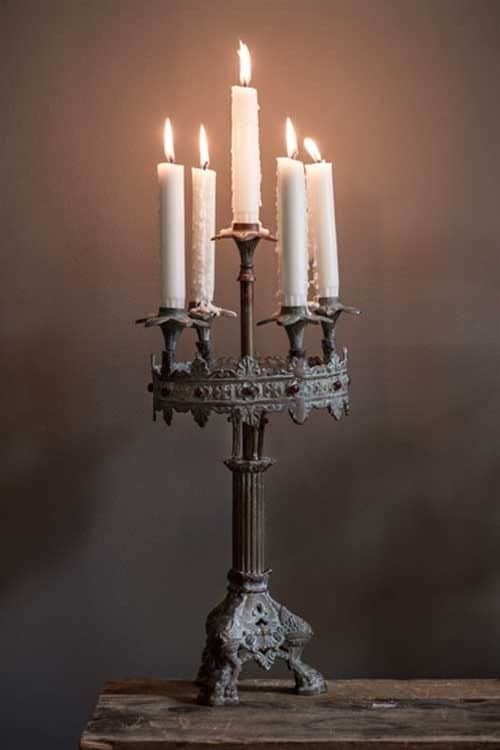 The first candles used on Earth, initially used to survive, originated in China somewhere around 200 BC and they`re know to be made out of whale fat. In Europe`s anitiquity candles were made from natural fat, wax and tallow.  Ancient Rome candles were realized out of tallow due to the excessively high cost of beeswax. In Ancient Greece candles may have exisisted yet the unknown, imprecise terminology obstructs our view into the past.
In Europe, in the Middle Ages, the most common candles where the tallow ones. In the 13th century candles appeared in England and France as guild crafts; the "chandlers" tittle owned by candle makers were know to wonder about from house to house, realizing candles on site from the kitchen fats especially saved for that purpose, candles made previously in candle shops were also sold on demand.  Beeswax candles were known to burn cleanly compared to other animal based candles like tallow, these having a smoky flame; they also smelled fresh where tallow had a terrible odor. As a result, Beeswax candles were really expensive and few people were able to burn them in their homes in Medieval Europe, churches on an other hand used often in church ceremonies.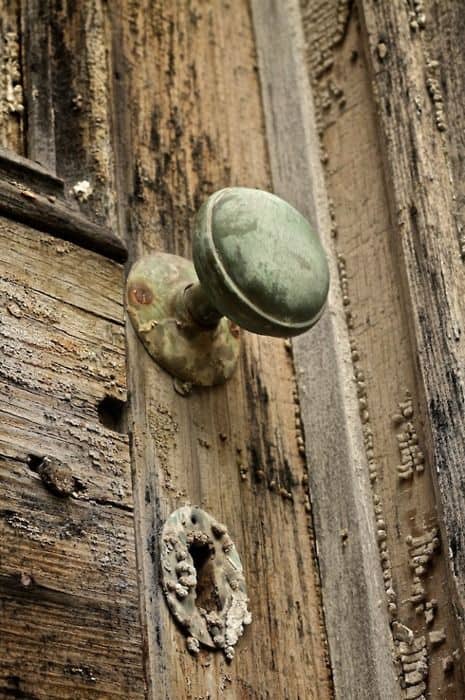 18th century came with news in the candle making process, spermaceti, an oil produced by sperm whale, gave birth to  superior candles. In the late 18th century the colza oil and rapeseed oil gain ground as they were much cheaper substitutes.
19th century brought immense changes as the candles manufacturing become an industrialized mass process towards the middle of the century. The machine that revolutionized candle making emerged in Manchester, England where a pewterer entitled Joseph Morgan patented the game changing piece of machinery. A continuous production of molded candles started, it used a cylinder with a movable piston to eject them as they took shape, 1500 candles per hour were made and as a result, candles became an item affordable to the masses. In this era Candle-makers began to fashion wicks as well, tightly braided out of stands of cotton, previously these only being simply twisted. This simple change on the wicks regulated the height of the wick and directly the flame, self trimming wircks being entitled, removing excess wick constantly as they were incinerated.
In the mid 1850s another remarkable change occurred as James Young managed to distill paraffin wax  from oil shales and coal at Bathgate in West Lothian, thus developing a commercially viable option for commercial use and production; this brought paraffin candles of high quality to affordable price ranges. The new bluish white wax now burnt clearly and left no unpleasant odor unlike the old tallow candles, in the late 19th century everything changed, most manufactured candles being realized out of paraffin wax and stearic acid.
In the mid-1850s, James Young succeeded in distilling paraffin wax from coal and oil shales at Bathgate in West Lothian and developed a commercially viable method of production. Paraffin could be used to make inexpensive candles of high quality. It was a bluish-white wax, burnt cleanly, and left no unpleasant odor, unlike tallow candles. By the end of the 19th century, most candles being manufactured consisted of paraffin wax and stearic acid. New pioneered techniques opened new roads as Price`s Candles based in London, the largest candle manufacturer at that time, managed to implement a new technique of steam distillation that was able to forge candles out of multiple sources like bone fat, fish oil, industrial greases and various other raw materials.
The huge uprising of the candle industry declined rapidly as the introduction of superior lightning using kerosene and lamps changed the game entirely. In 1879 the incandescent light bulb managed to extinct the candles functionality, from this point, the candle being advertised as a decorative item.
Today we have infinite possibilities in candle making, we can obtained candles with any scent, any shape, any size. Happily we can use them to complete our ambiance and warm up the mood in any combination, any decor.
In the following rows we will showcase a small home made candle holder centerpiece that can be crafted in 10 minutes with a few power tools that you might already have. Cast a glance and leave your valuable feedback in the comment section below.
DIY Wooden Candle Holder Centerpiece Guide
ITEMS REQUIRED
jigsaw – manual or electric
electric drill
1 1/2 inch spade bit
rustic wooden piece
tape emasure
one square
pencil
Find a Graphic Wooden Piece for Your Votive Candle Holder
A diy enthusiast keeps everything that can become a craft in its household. The piece of wood showcased below presented great potential from the first glance but it remained in our small wood pile thanks to the time`s footprints imprinted on the piece. As you can see, sculptural waves have been shaped by time, emphasizing its graphic aesthetic values a great deal.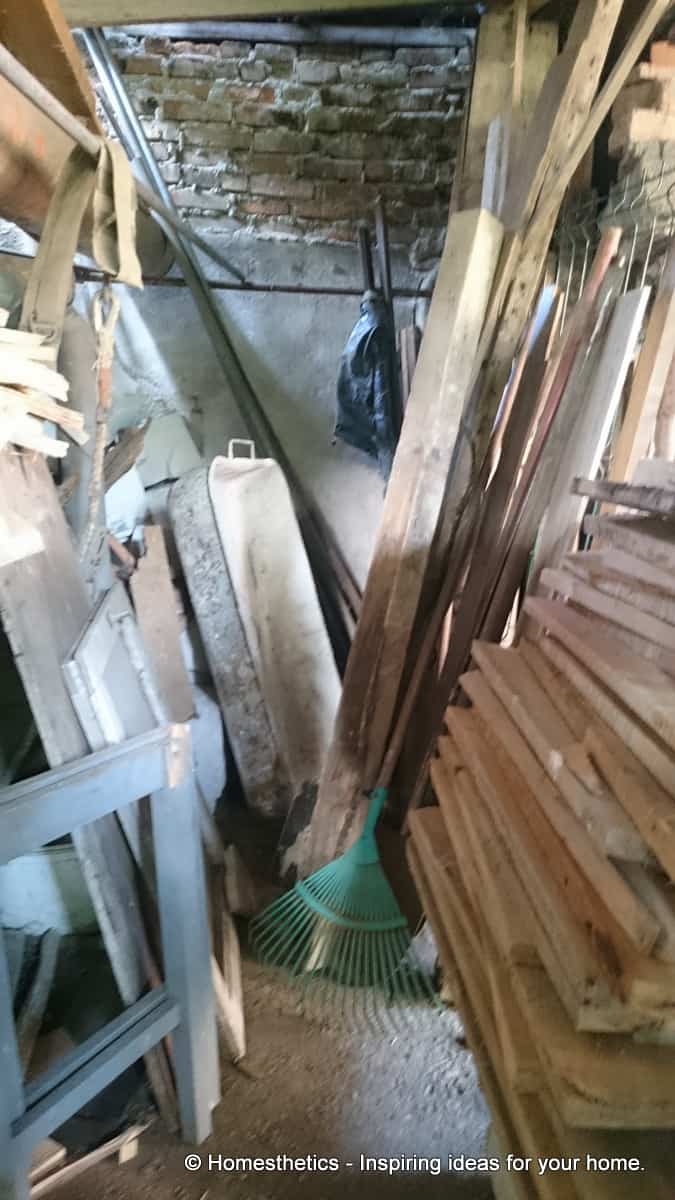 You can see the wooden piece by the pitch fork, waiting to become something spectacular.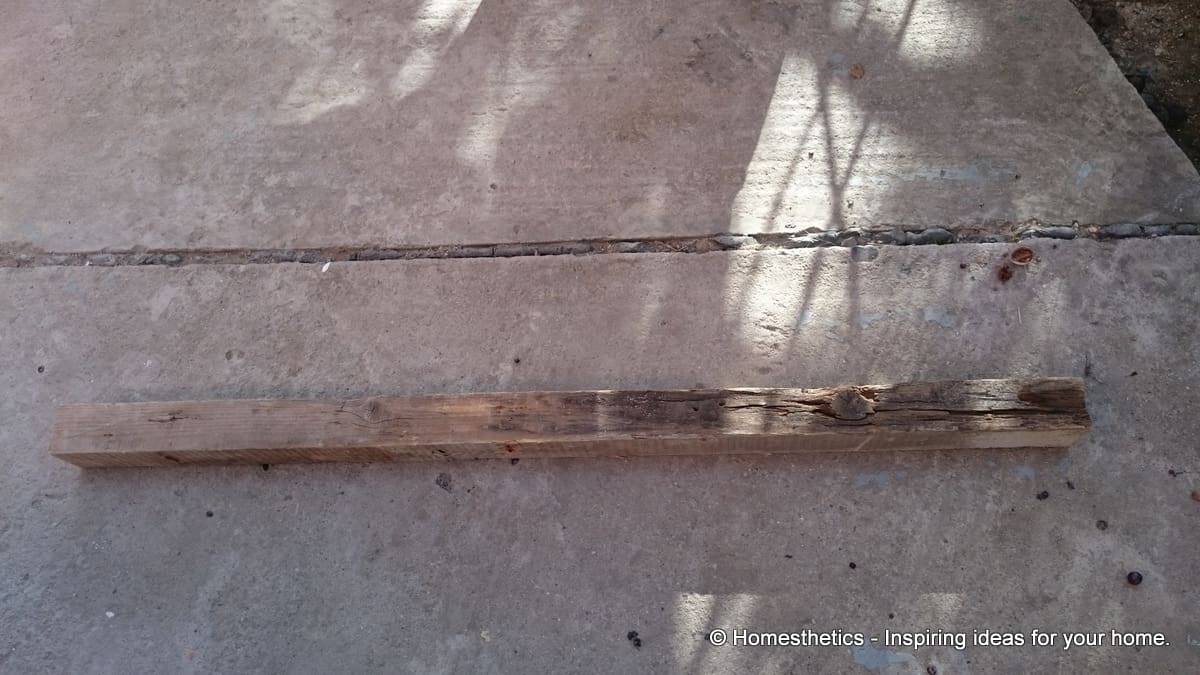 The right part showcases great potential and we`ve decided to work with the rustic look for more warmth.
Measure and Trim the piece
Think about the position of your feature centerpiece, try to scale the item according to the table on which it will reside. Our wooden candle holder was supposedly envisioned for a small dinner table and as a result we`ve made it short, 43, approximately 17 inches. We`ve chosen to design it kind of short because we`ve also had only a small portion of piece affected beautifully by time, if you are lucky enough to have a more spectacular piece of wood you can go with a bigger length.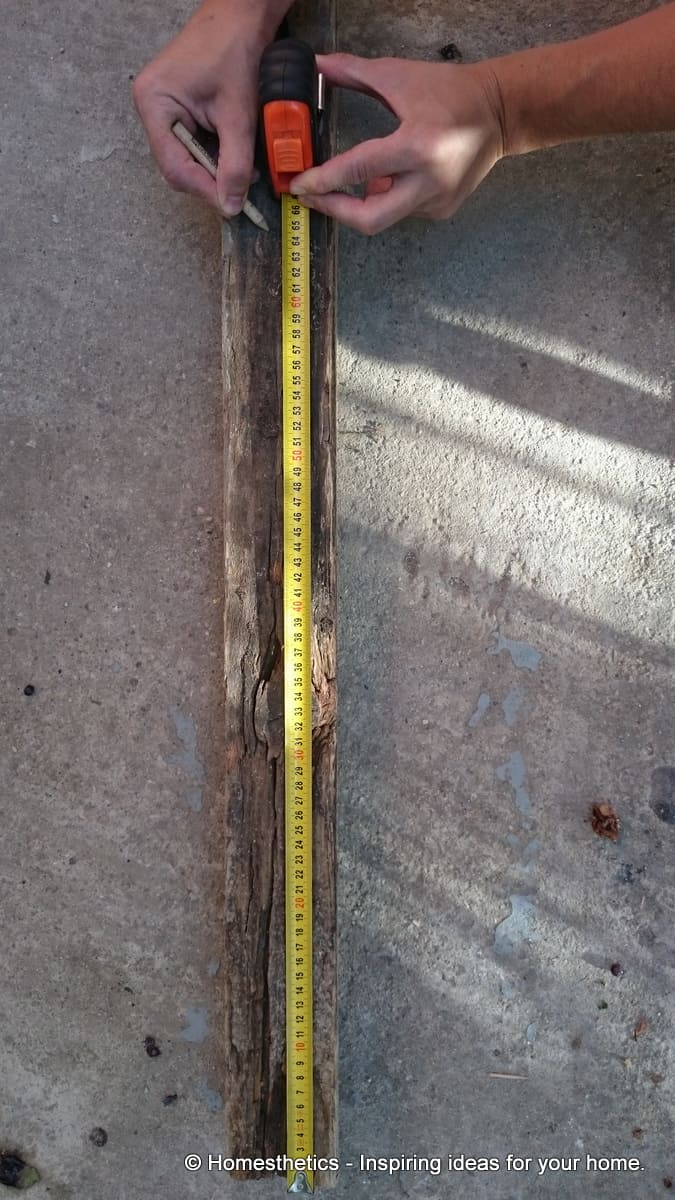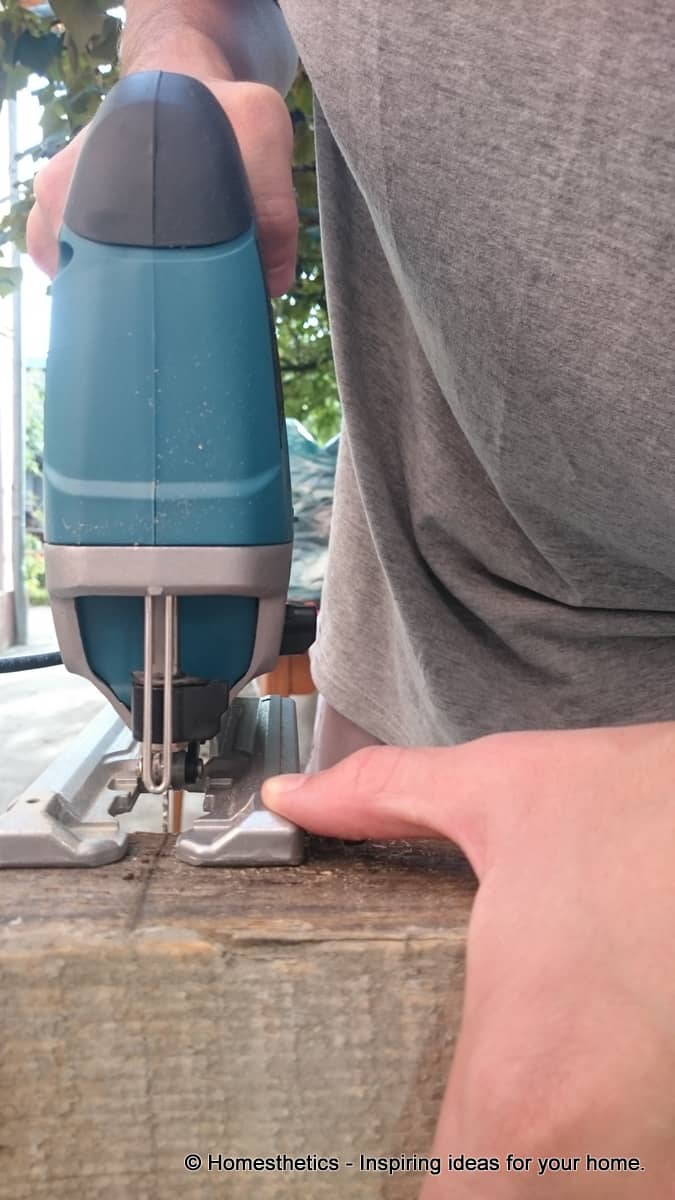 mark the position of the candle sockets
A very important step as the proper spacing of the candles can define your outcome. Make sure that you have a clear clean layout before you start drilling. We`ve chosen  to position three sockets stacked with a constant space between them followed by a more distant candle in one of the end. In theory, that separate candle was to be colored or scented where the others might have been white, simple or differently colored.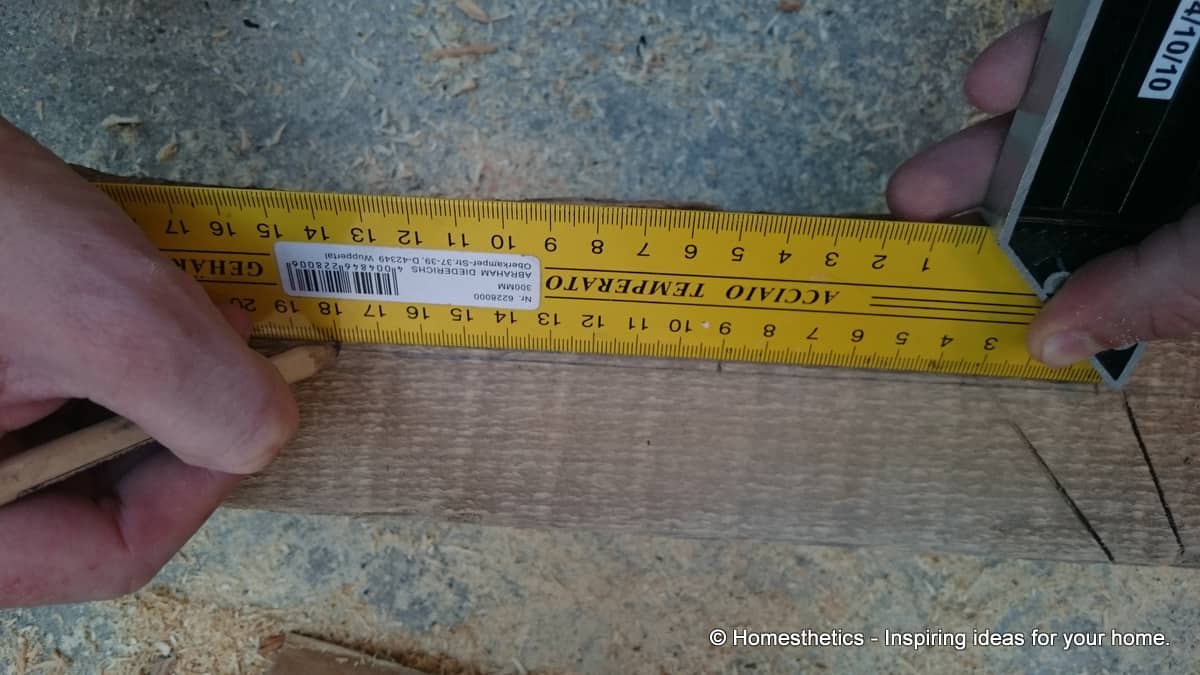 Get drilling
Caution and care is advised. You should use adequate protection equipment and make a trial run on a less important piece of wood. It would be a shame to ruin the sculptural work of time in a matter of minutes. If this is your first craft with a spade bit, practice a little, it is very easy to get it out of hand and the depth is hard to control. It is worth mentioning that every piece of wood is different and you have to adapt to your own; if you could have a practice run in an excess wooden piece from the same element you will gain a more complete feedback.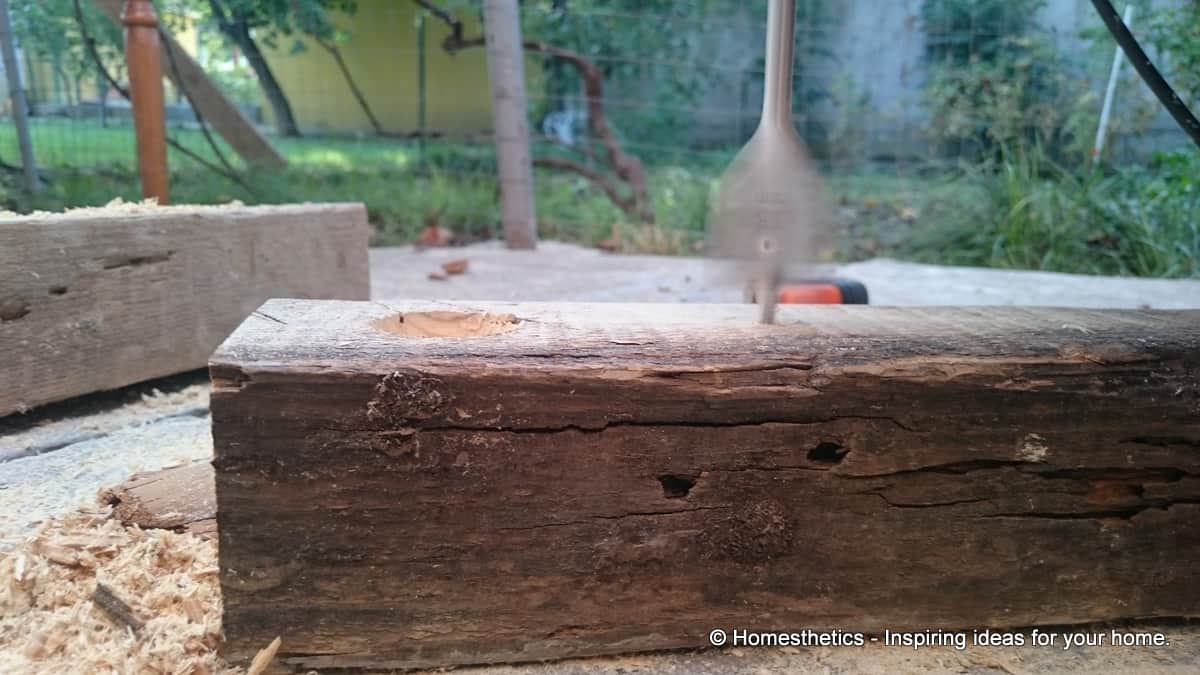 Enjoy your fresh rustic candle holder centerpiece
5 minutes have passed and four sockets have been drilled. You can now see the layout we`ve envisioned, that 3 to 1 emphasized by the beautiful sculptural node that influenced our decision. In the background you can also see our own trial runs with the spade drill bit.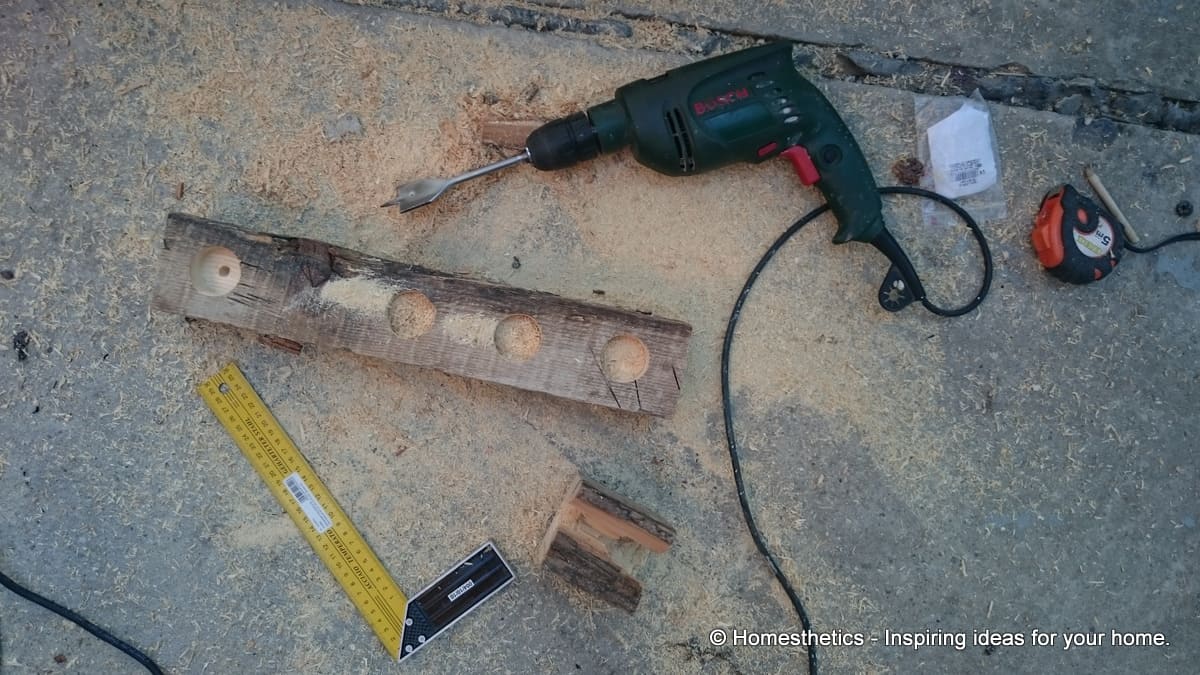 The beautiful part of about this wooden piece is that every facade is different, every angle showcases a marvelous perspective filled with naturalness and warmth.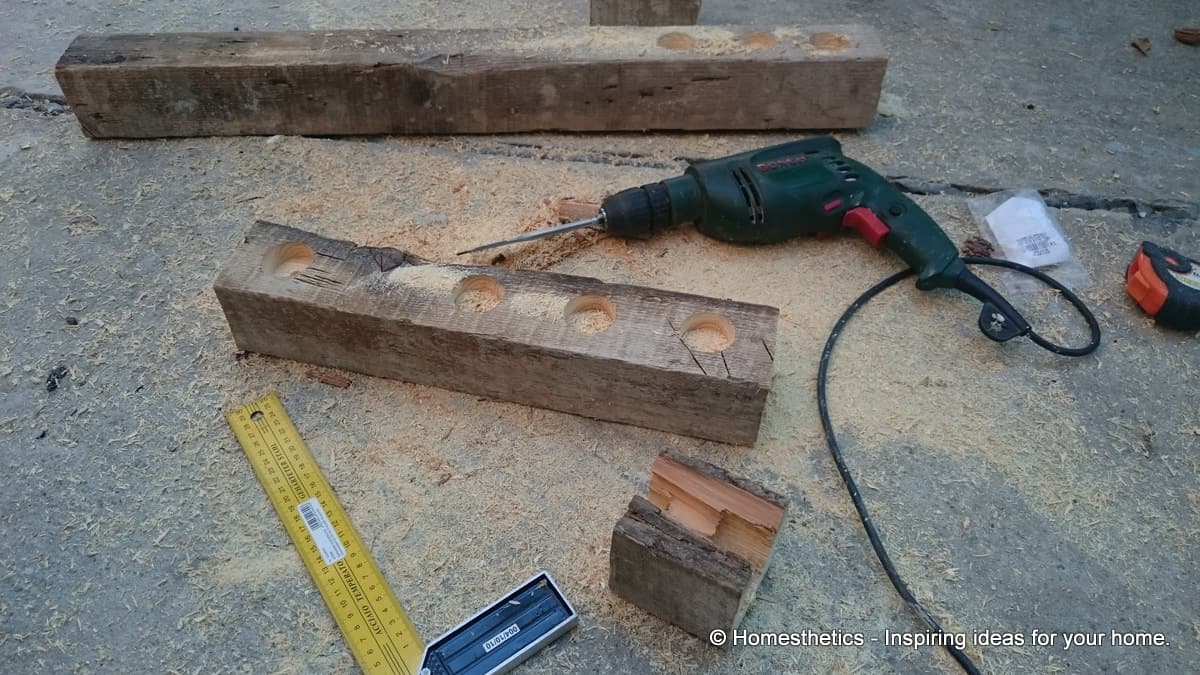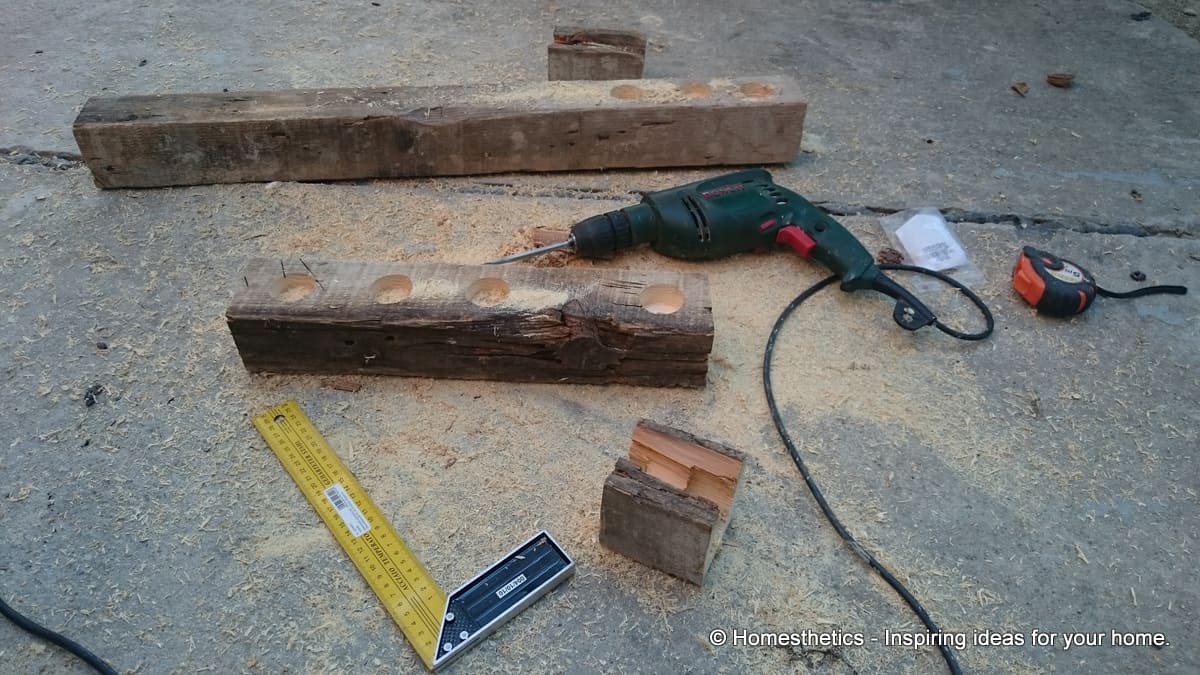 We`ve showcased the item below along various other Homesthetics crafts, we would love to hear your take on the collection.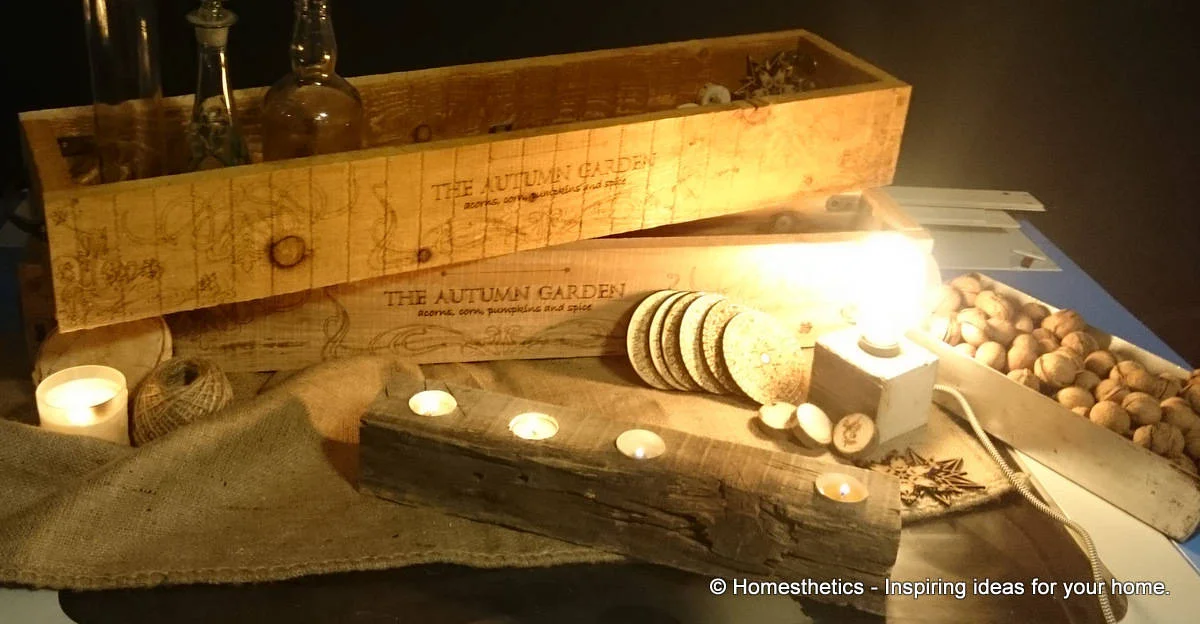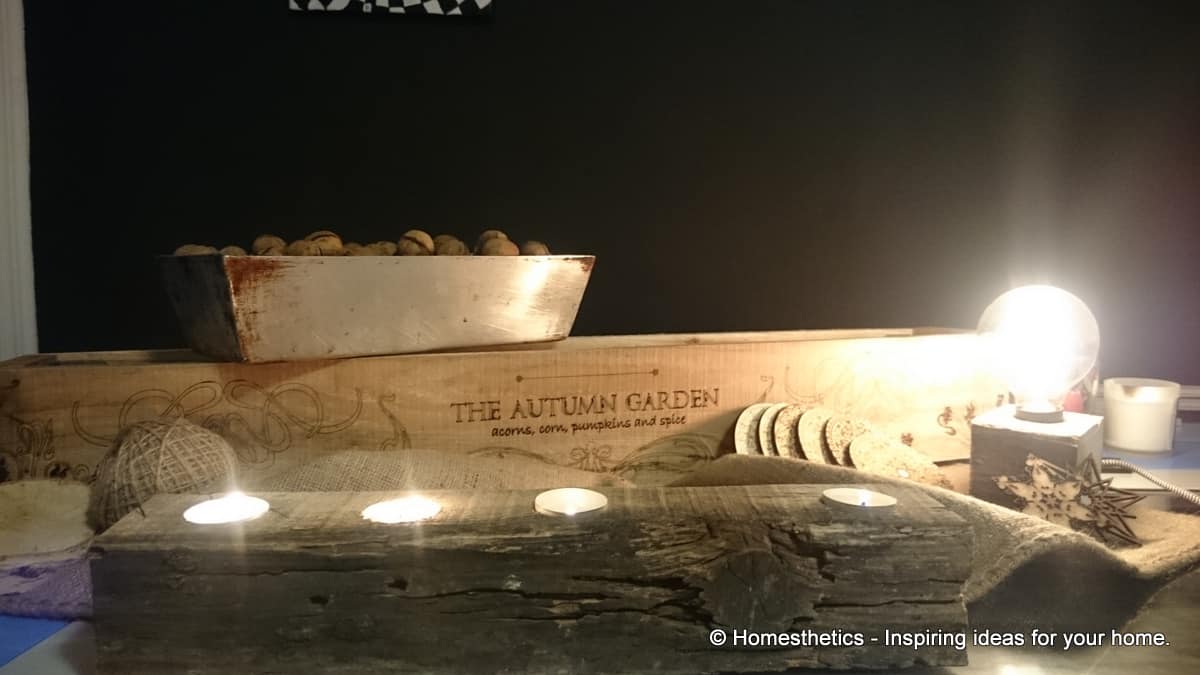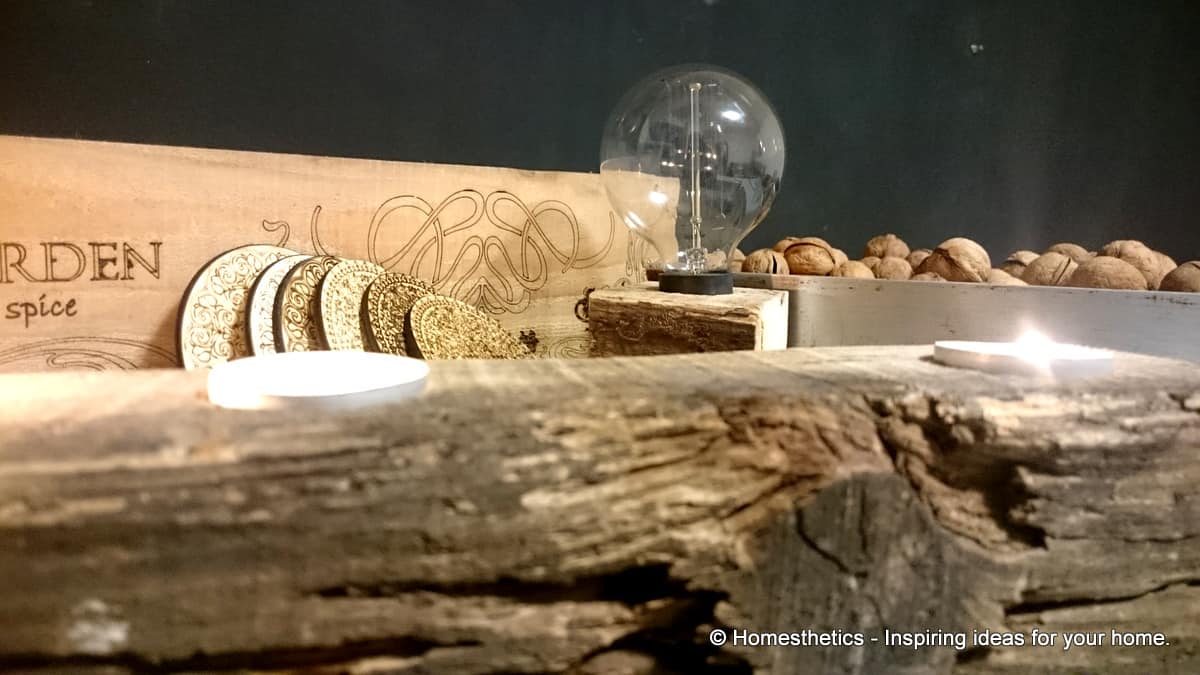 21 spectacular wooden candles Holders inspiration pack
#1 Rustic rectangular votive candle holders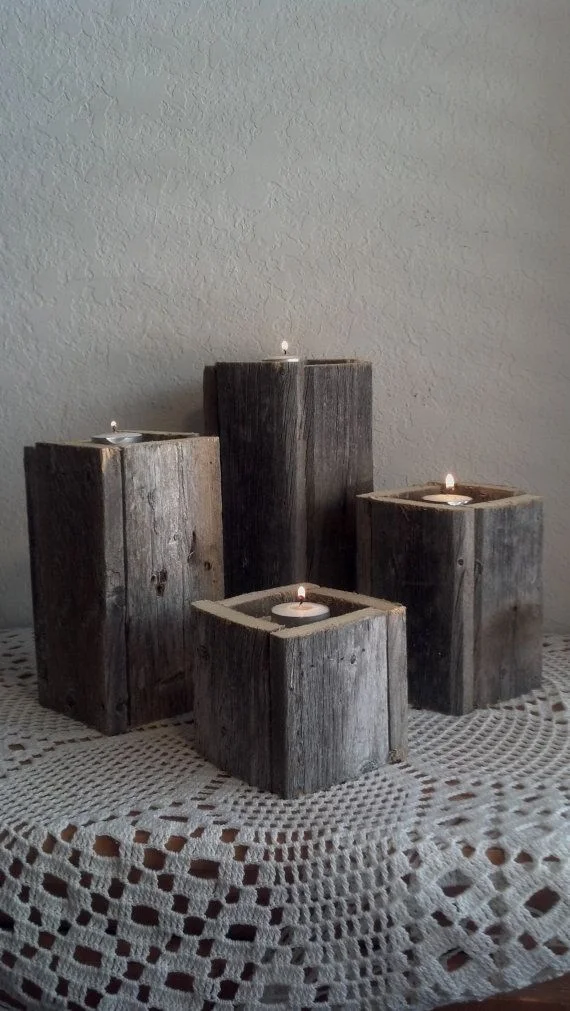 via etsy.com
#2 beautiful strong wooden structures nestling candles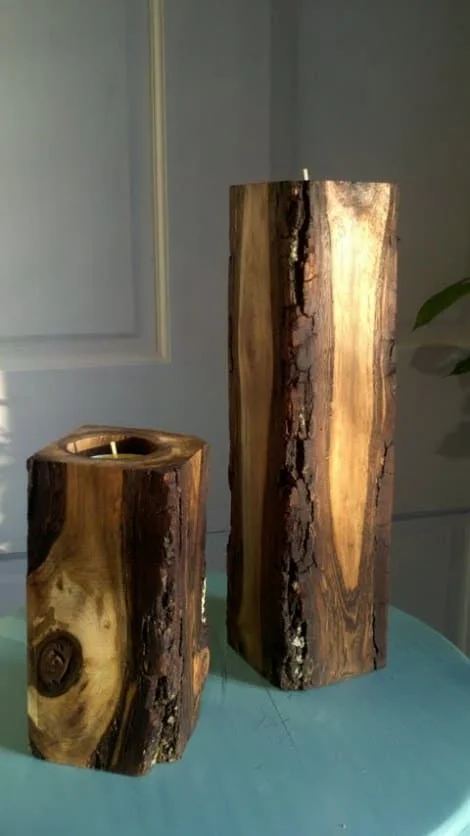 via ohhellohandmade.wordpress.com
#3 small wooden home-shaped candle holders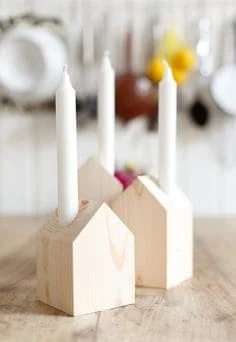 Source Unknown
#4 sculptural wooden candle holders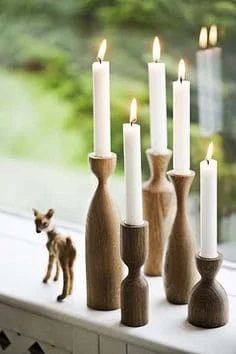 Source Unknown
#5 shattering beautiful rustic scandinavian candle holders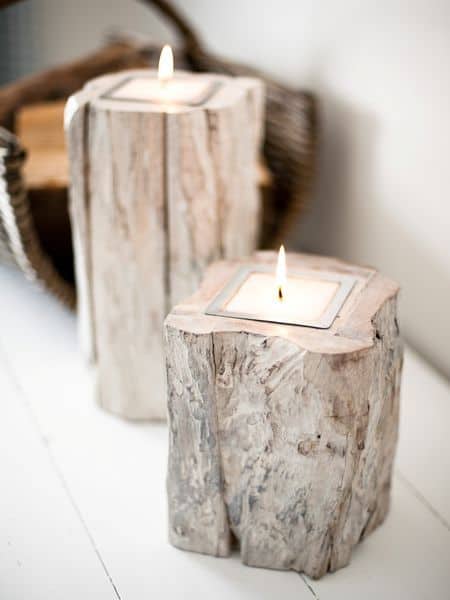 #6 log wood burning art – pirography emphasized by a simple candle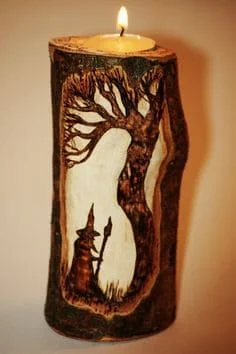 #7 driftwood embracing a votive candle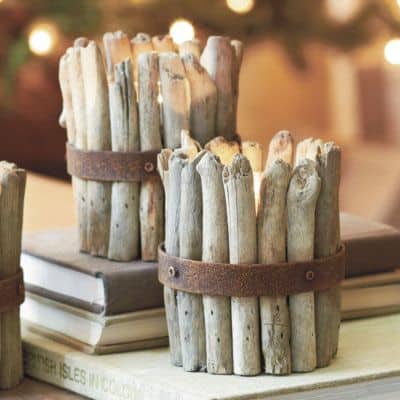 via www.treibholzunikate.de
#8 sculptural branch pieces holding candles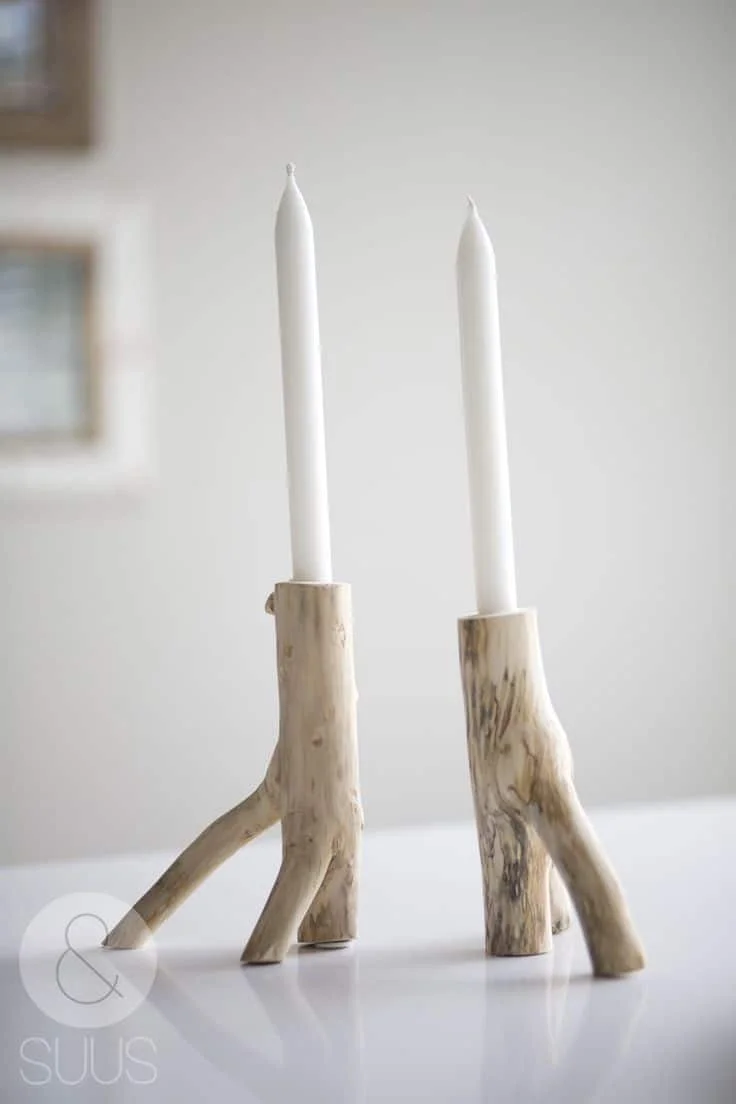 Source Unknown
#9 slide of wooden long transformed into a beautiful candle centerpiece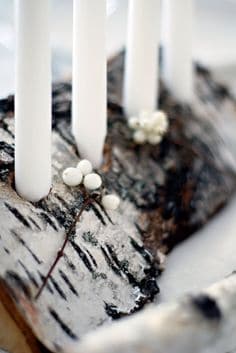 Source Unknown
#10 huge driftwood logs ELEGANTLY transformed into candle holders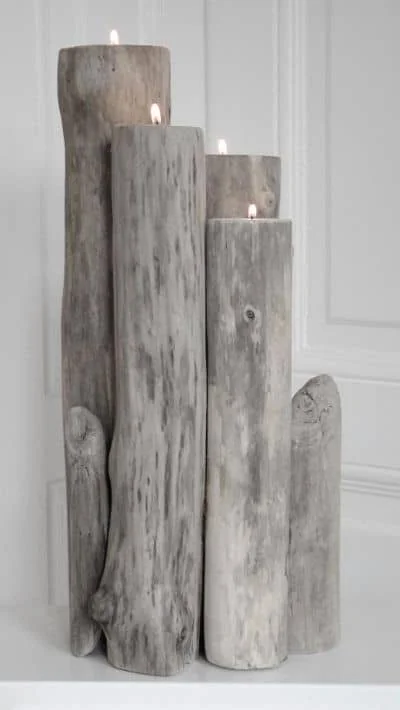 Source Unknown
#11 birch pieces transformed into wooden candle holders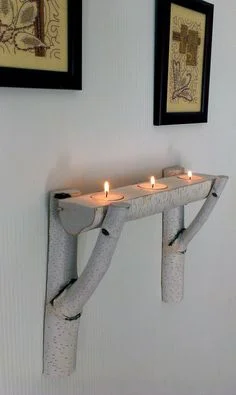 via etsy.com
#12 GEOMETRIC candle holders of immense beauty defining their space
Source Unknown
#13 Small beautiful wooden  votive candle cube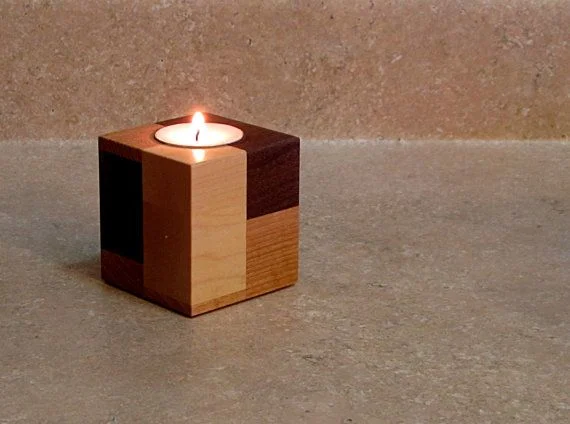 via etsy.com
#14 wooden log transformed into candle holders of great beauty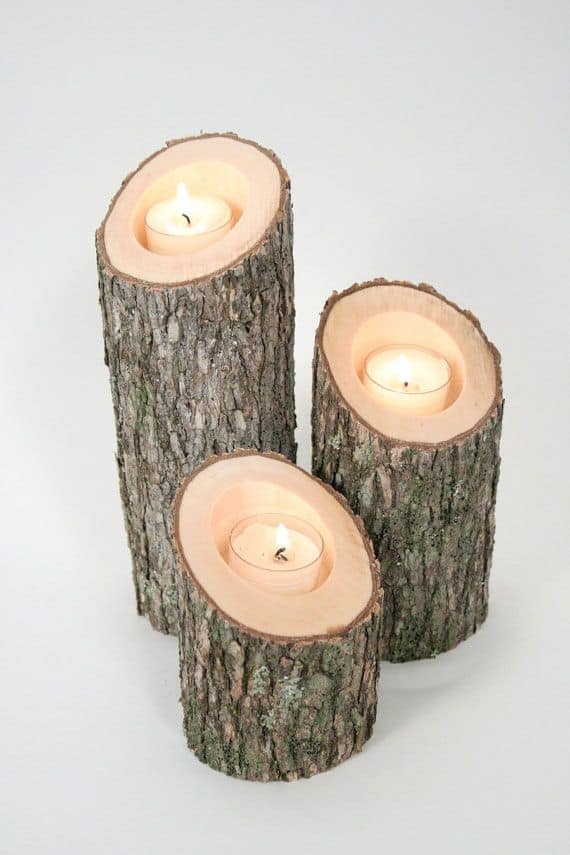 Unknown Source
#15 intricate complex hourglass shaped wooden votive candles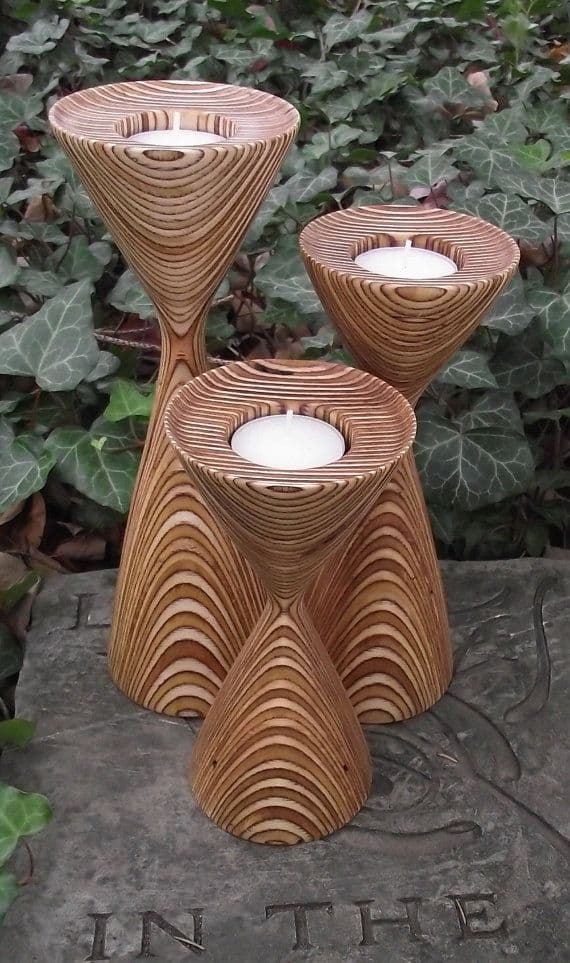 Source Unknown
#16 rectangular shaped wooden candle holders in formation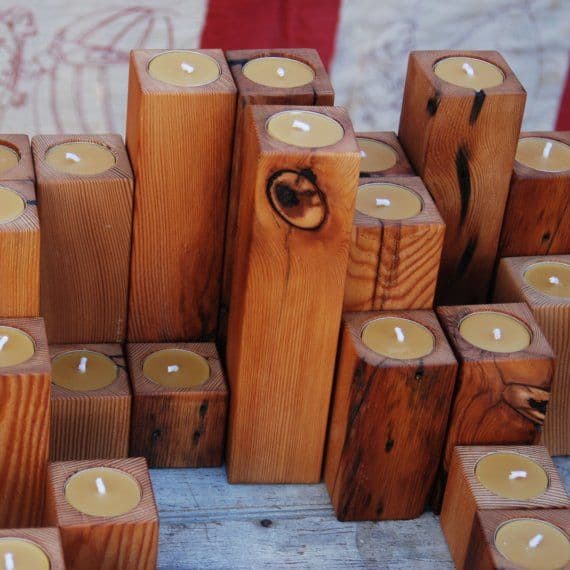 via etsy.com
#17 elegant slices of wood shaping new candle holders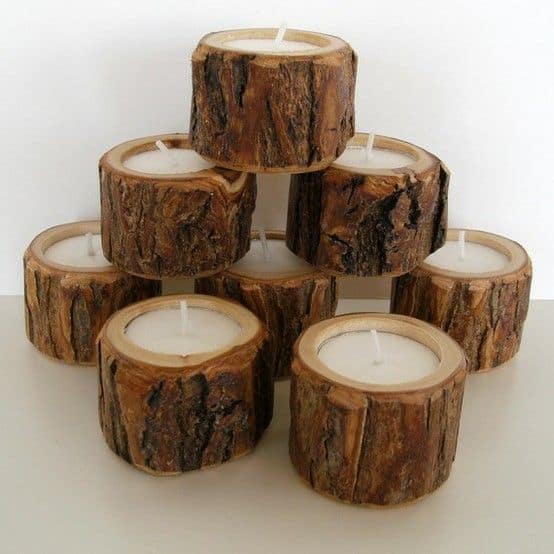 via etsy.com
#18 simple small geometric candle holders in constrast with black candles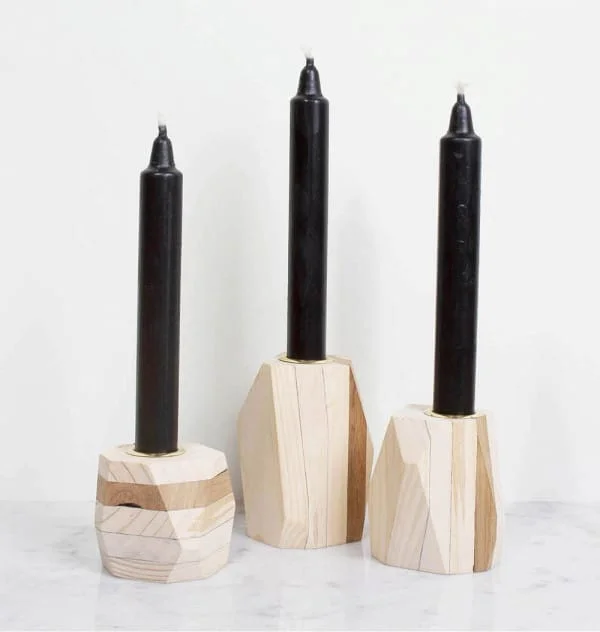 via etsy.com
#19 sculptural driftwood piece revamped into a candle holder centerpiece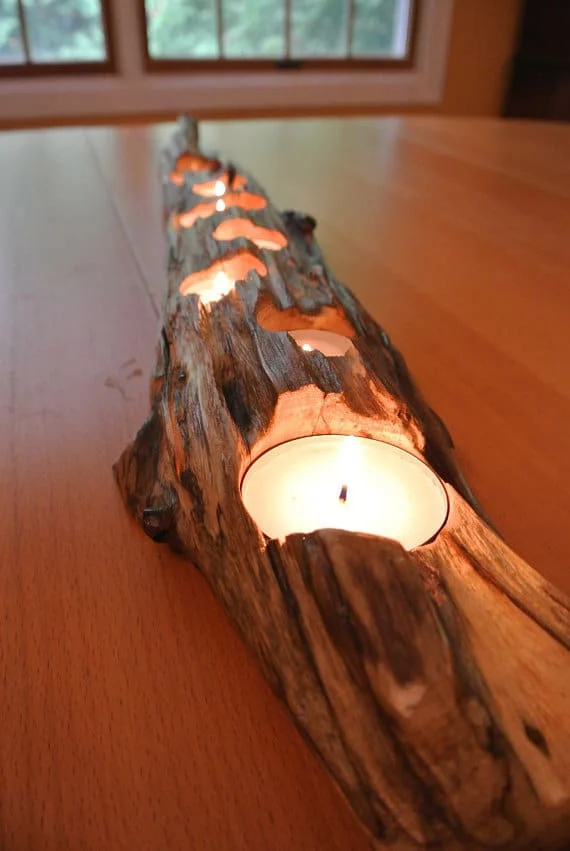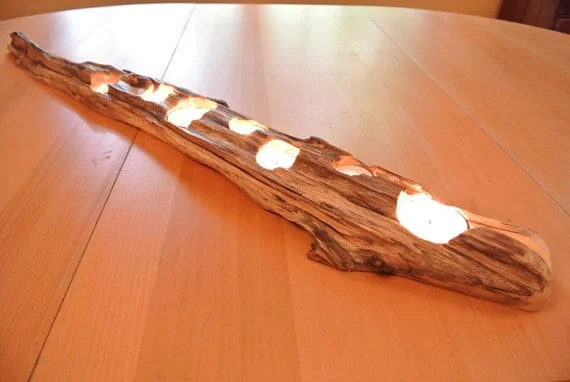 via etsy.com
#20 modular modern candle holder for simple design lines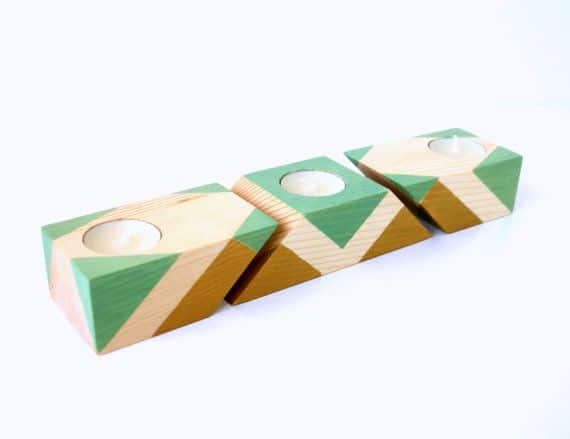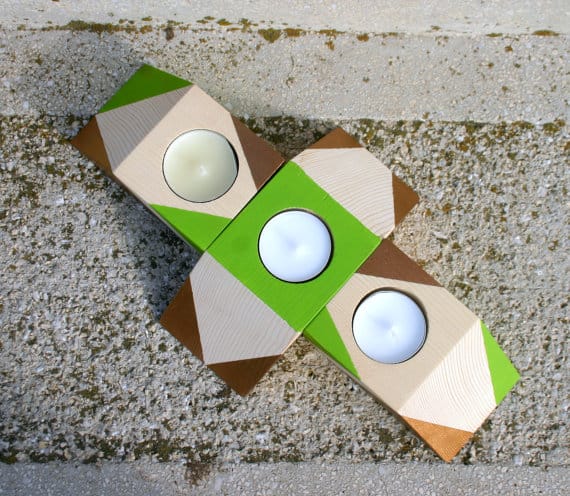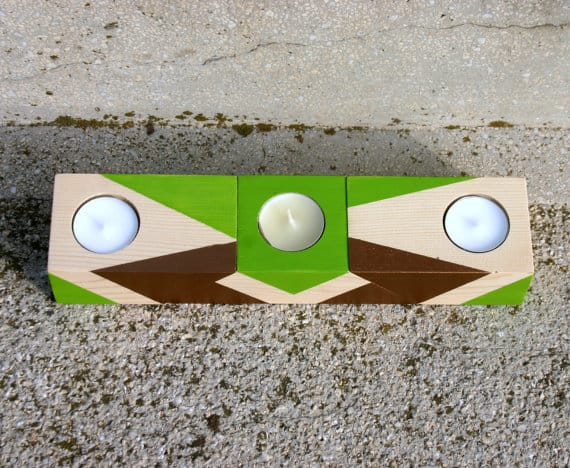 via etsy.com
#21 small rustic wooden candle holder centerpiece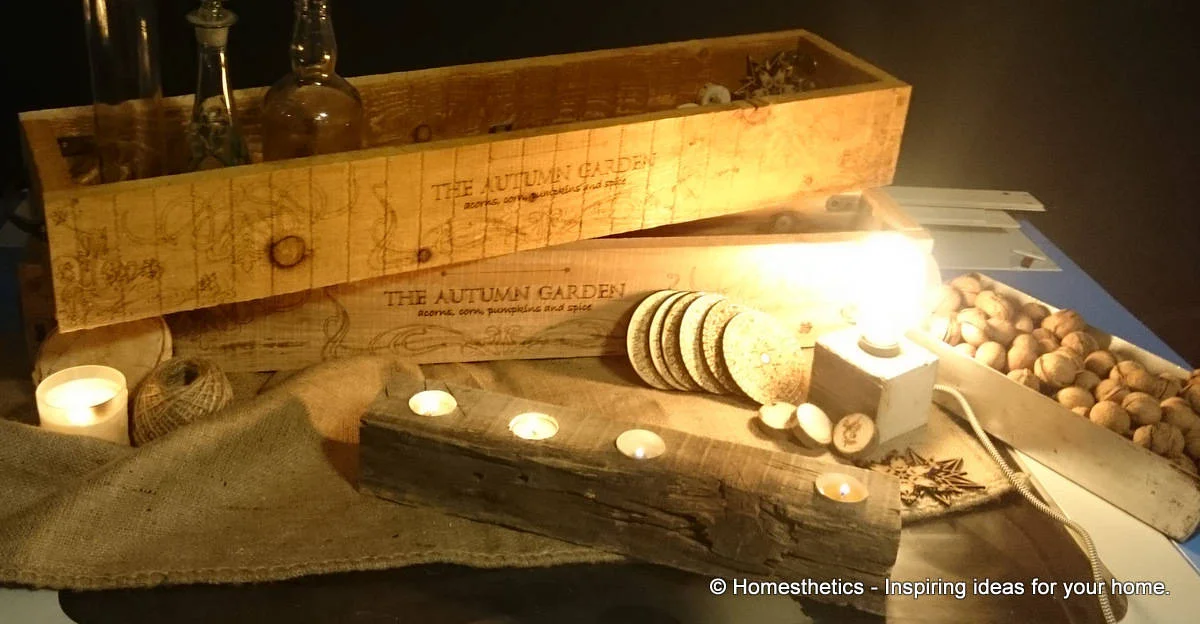 Tutorial @ Homesthetics.net
#22 up-cycle elements into a new shape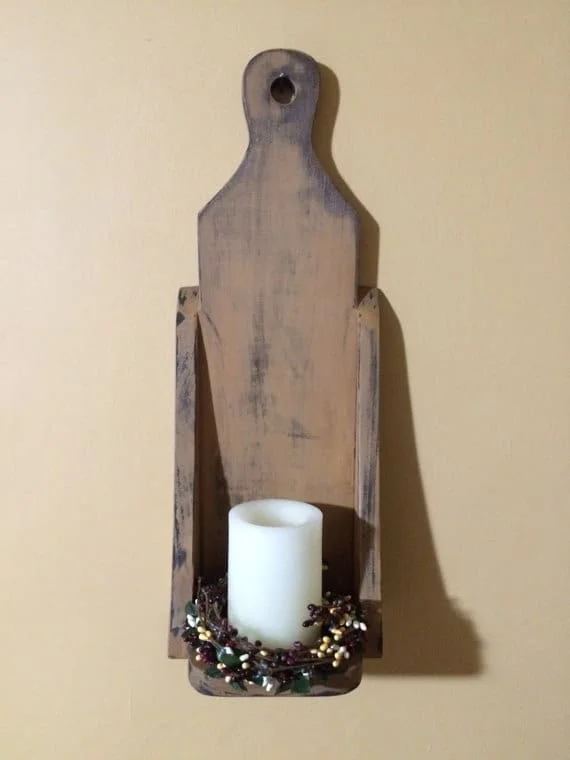 via etsy.com
Wooden textures beautifully tailored with candles are a combination hard to define, simply filled with naturalness, organic, coziness. A smart design can go a long way and as you`ve read above, candles have worked very hard to be in our lives, to beautify our soothing long baths and bring light in the most magical moments of our lives. The candle will remain a splendid occasion regardless of their shape, size, color, scent and even occasion, it is really hard to go wrong with candles.
We would love to hear your valuable feedback on the subject in the comment section below, we would love to hear how you`re using candles in your decor today.