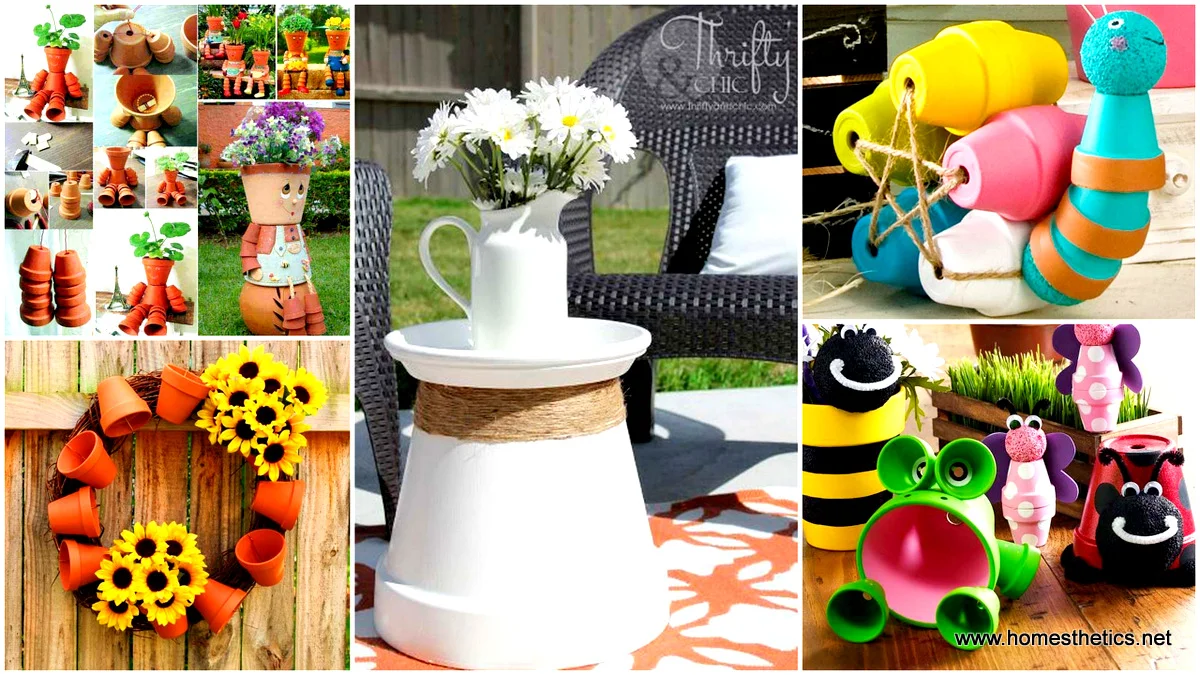 The garden is finally starting to get the attention deserved with summer just around the corner and spring in all its splendors these days. DIY projects in this area are starting to feed the imagination of many gardeners, inspiring to recycle and up-cycle creatively in their own backyard landscape in a glance. Simple items can now be put to good use through inexpensive garden projects realized with clay pots or wine bottles, maybe even your own handmade pottery items sculped from modeling clay. You can create entire fairy tale setups with broken pots or a brand new miniature pond through multiple up-cycled items. All you need is ambition.
Collect the graphic items that you would like to transform, in this case clay pots and seek the suitable project for your small garden, from that to reality only time stands. Below you will find enough details for each idea through the link to materialize them happily with your loved ones.
Simple and Inexpensive Garden Projects
1. Transform a Cracked Clay Pot Into a Gnome House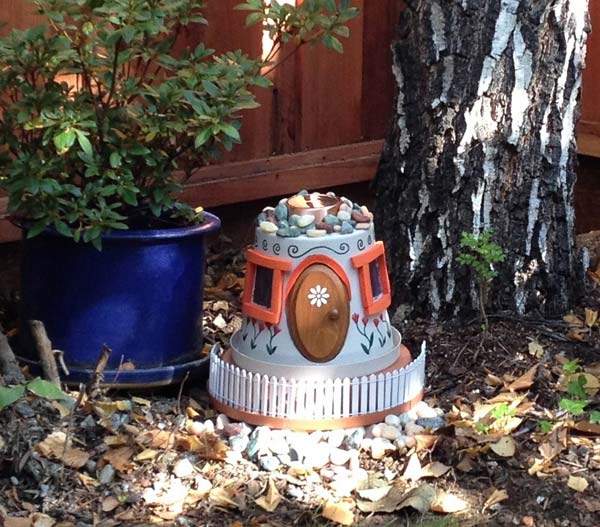 Source – recycledawblog.blogspot.com
2. Terracotta Pots and Some Drain Trays Beautifully Merged Into Colorful Mushrooms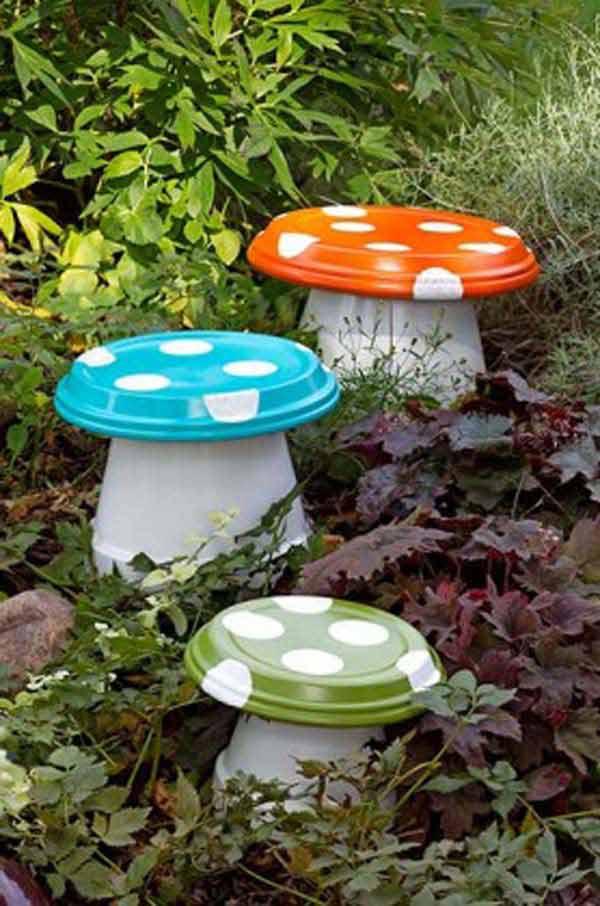 Source –birdsandblooms.com
3. Welcome Guests With The Number of The House on Flower Pots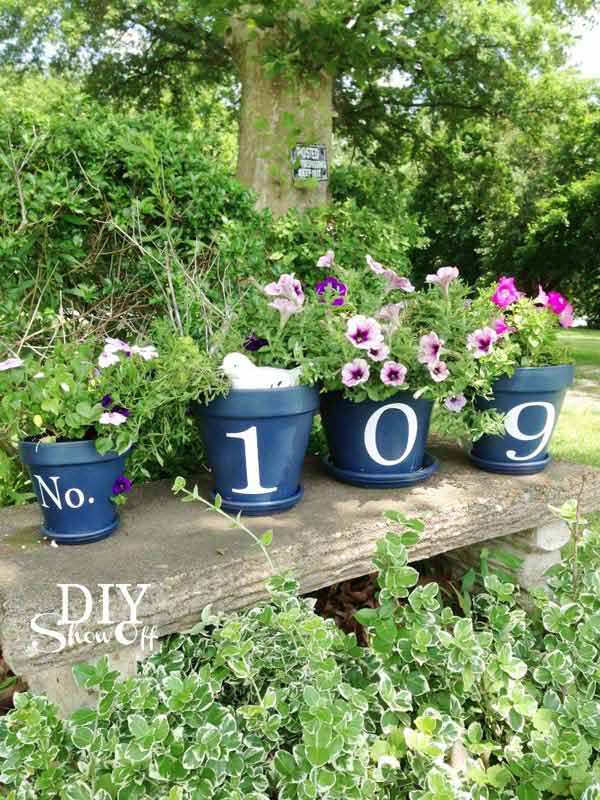 Source – diyshowoff.com
4. Colorfully Painted Clay Pot Critters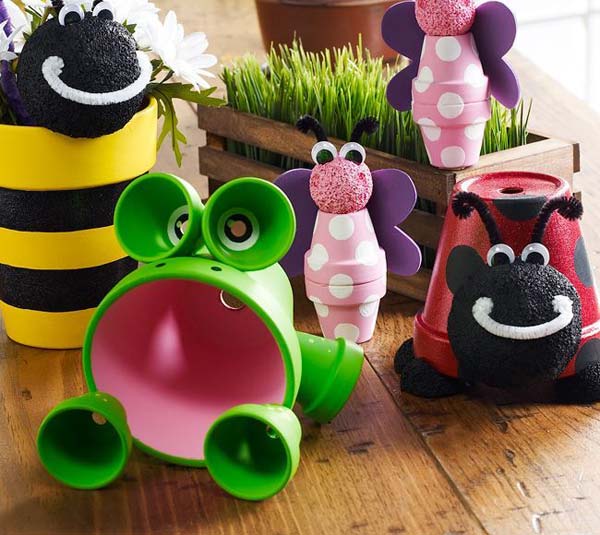 5. Simple and Thoughtful Terracotta Bird-feeder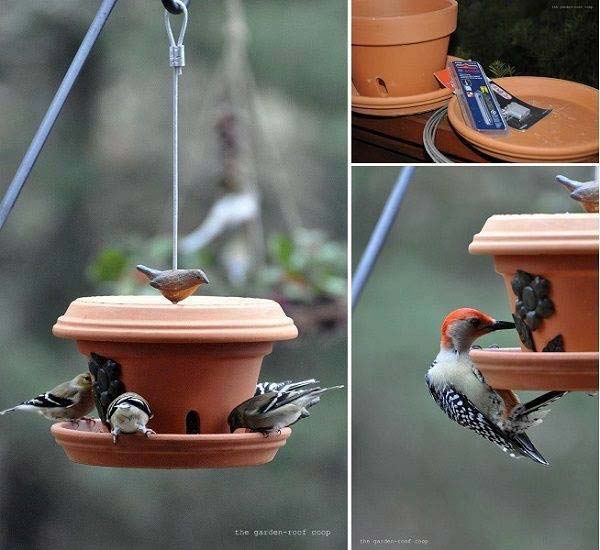 Source – thegardenroofcoop.com
6. Inexpensive Flower Pot People Animating Scenarios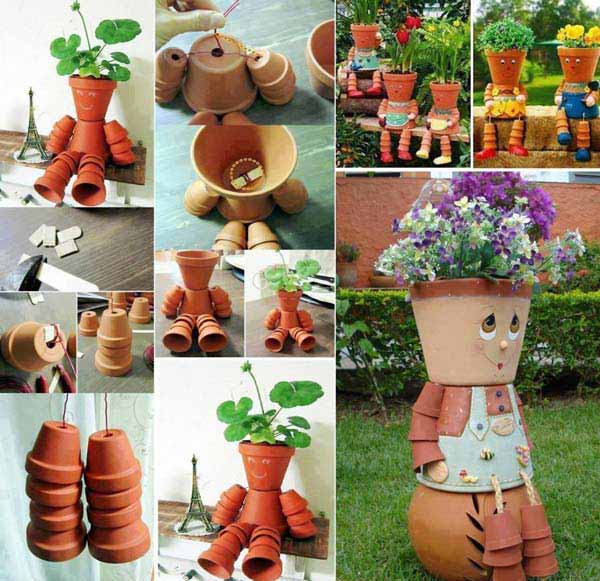 Source – sodahead.com
7. Patio Wooden Pallet Sustaining Clay Pots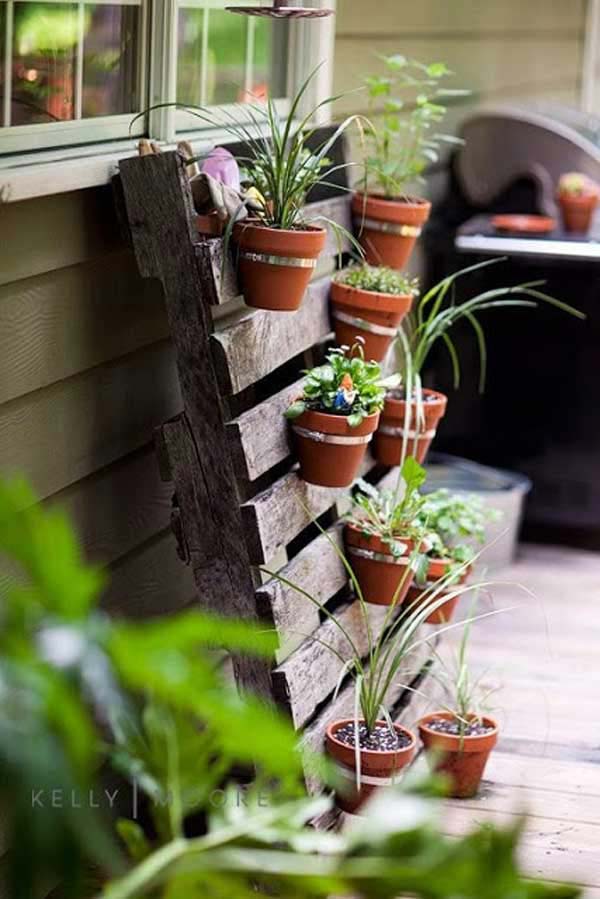 Source – mynewplacerf.blogspot.com.br
8. Garden Planter with Bird Bath Defying Gravity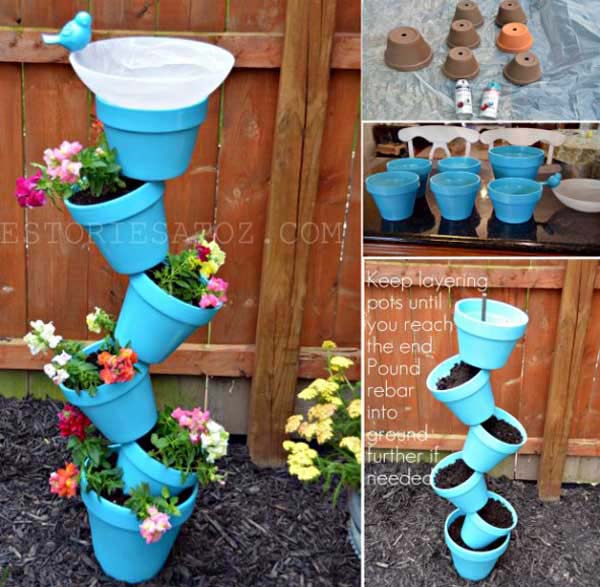 Source – homestoriesatoz.com
9. Romantic Candle and Flower Pot Setup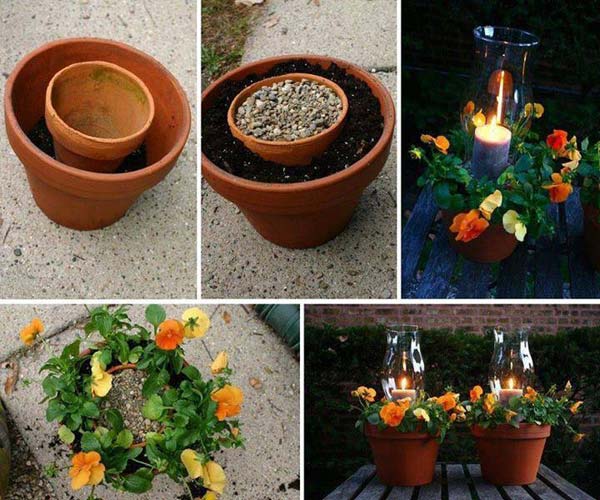 Source – cfabbridesigns.com
10. Colorful Bee Homes for Kids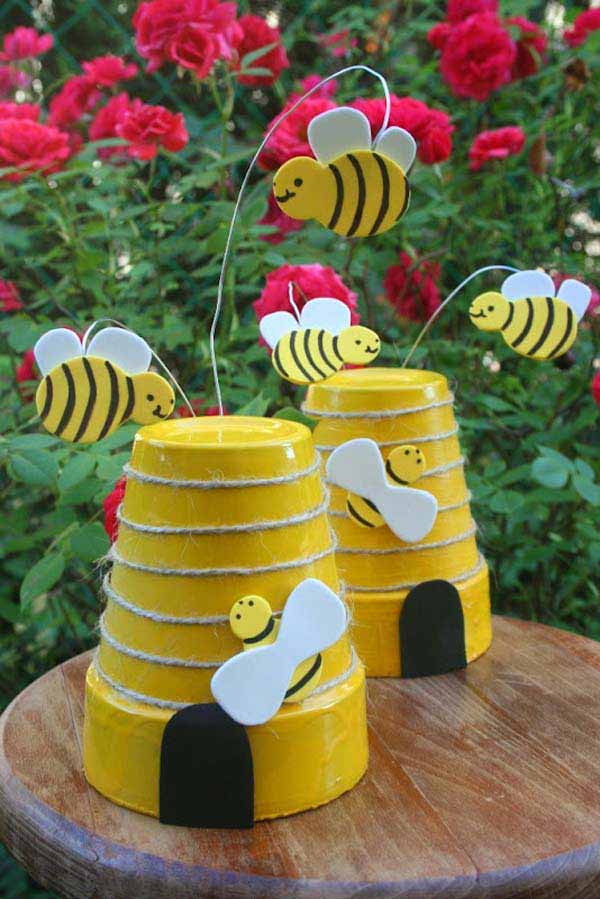 Source – kiflieslevendula.blogspot.nl
11. Seashell Clay Pot Carrying Greenery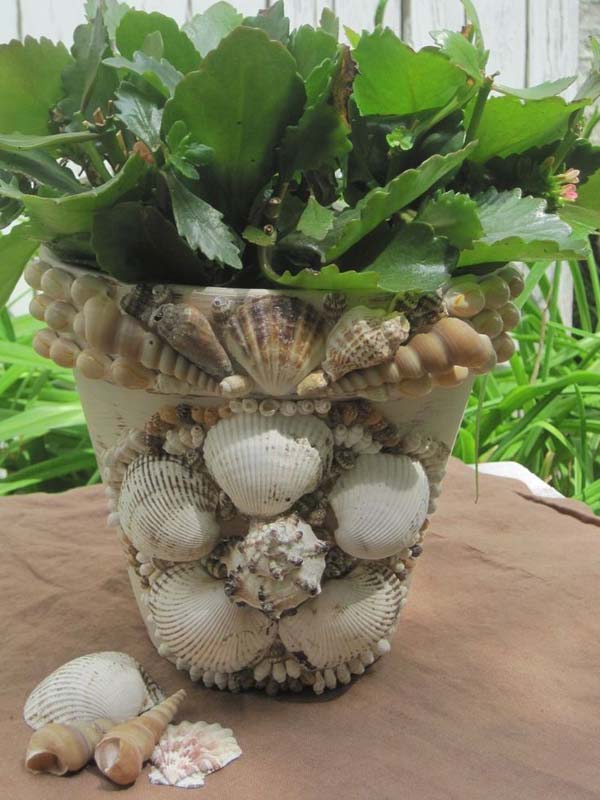 Source – opulentcottage.typepad.com
12. Creative and Educative Clay Pot Lighthouses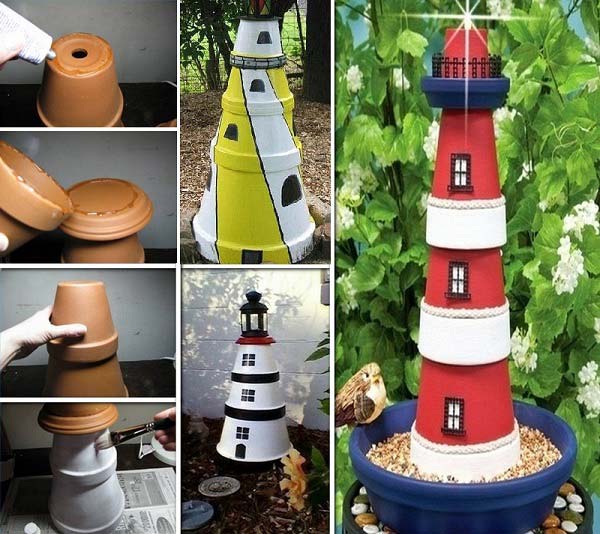 Source – ehow.com
13. Vertical Planter Realized With Clay Pots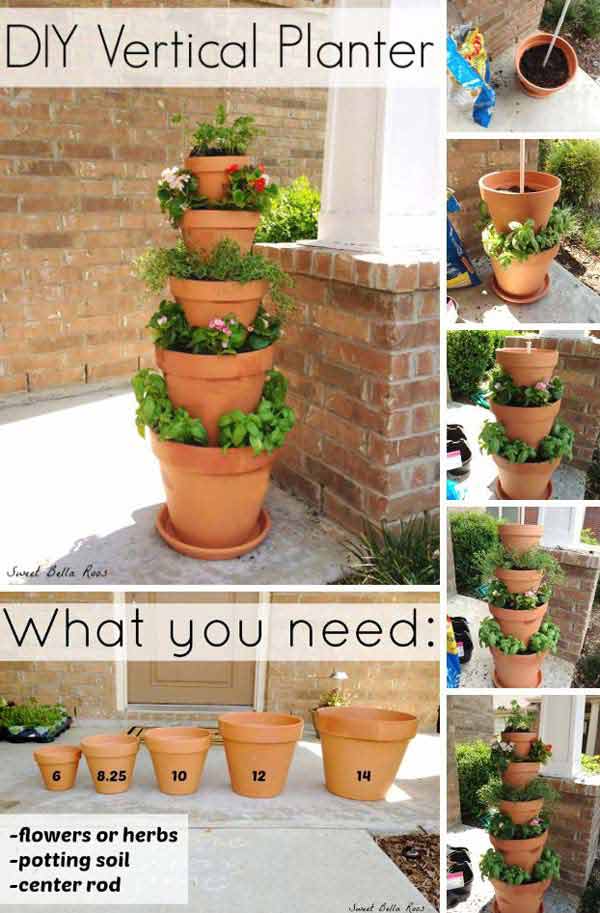 Source – graceandgoodeats.com
14. Ruff – The Drawn Watch Dog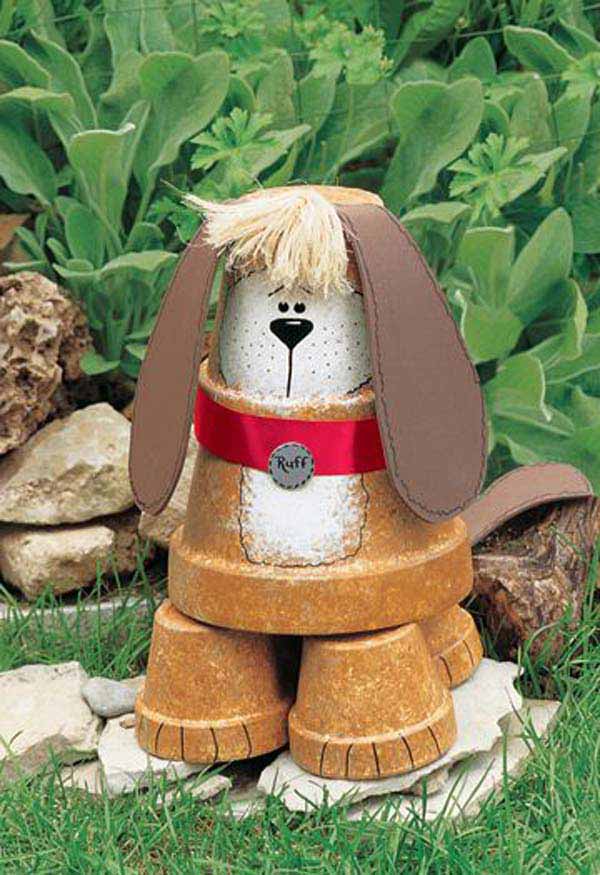 Source – craftideas.com
15. Colorful Flower Pot Wind Chime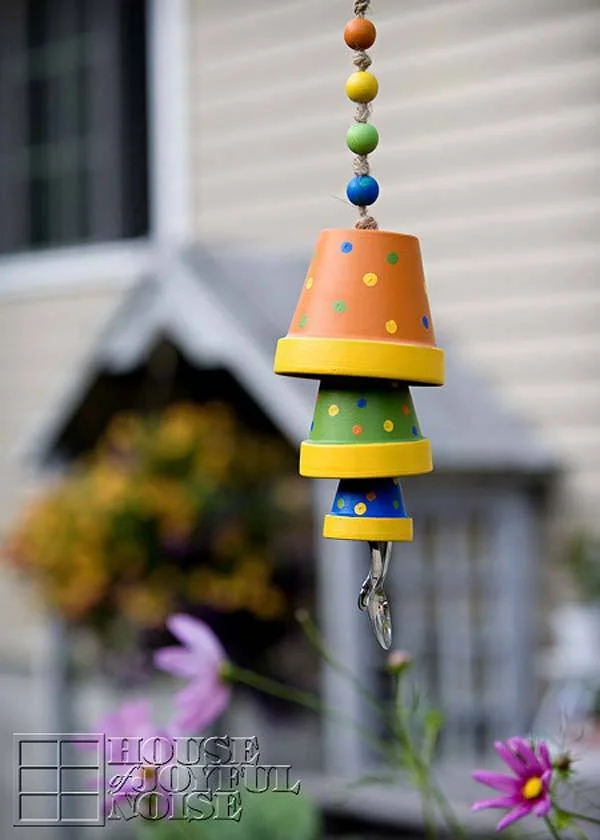 Source – houseofjoyfulnoise.com
16. Huge White Terracotta Used as Side Table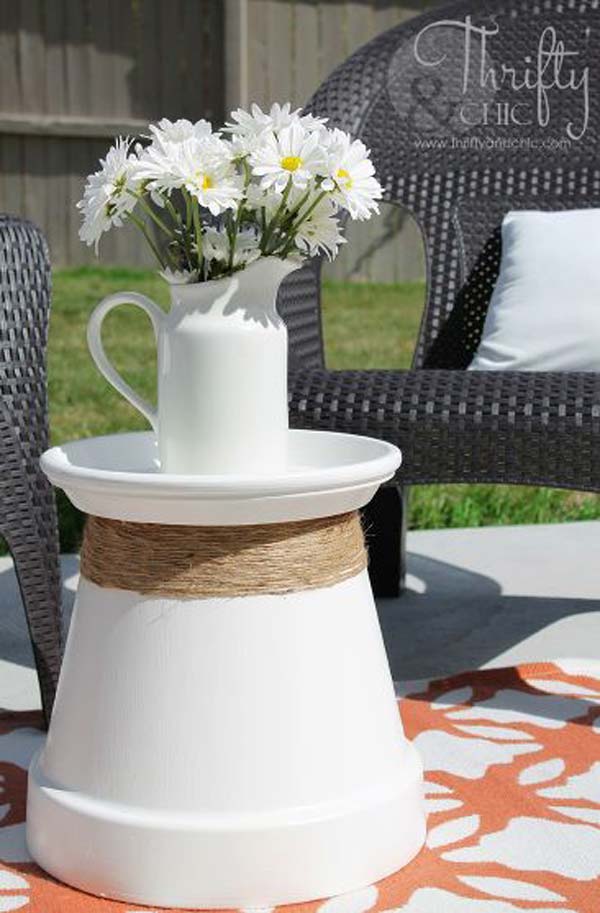 Source – thriftyandchic.com
17. Clay Plot Vertical Wall Beautifying a Landscape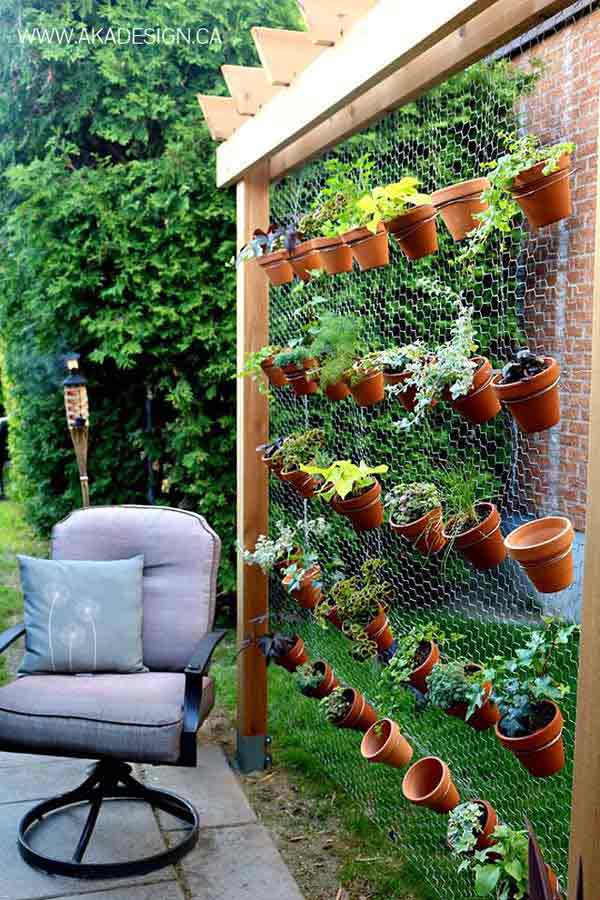 Source – akadesign.ca
18. Beautiful Rain Chain With Clay Pots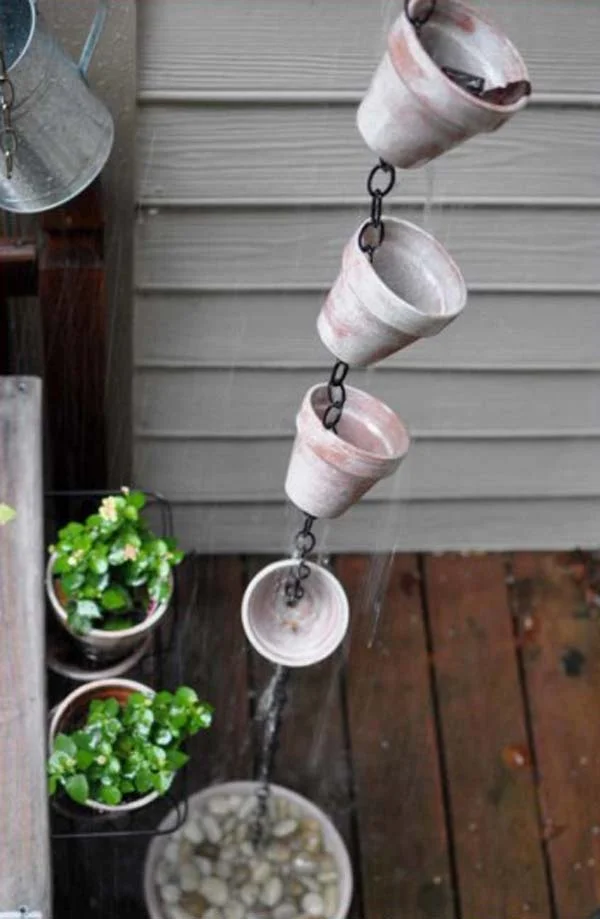 Source – allthingsheartandhome.com
19. Chandelier Using Clay Flower Pots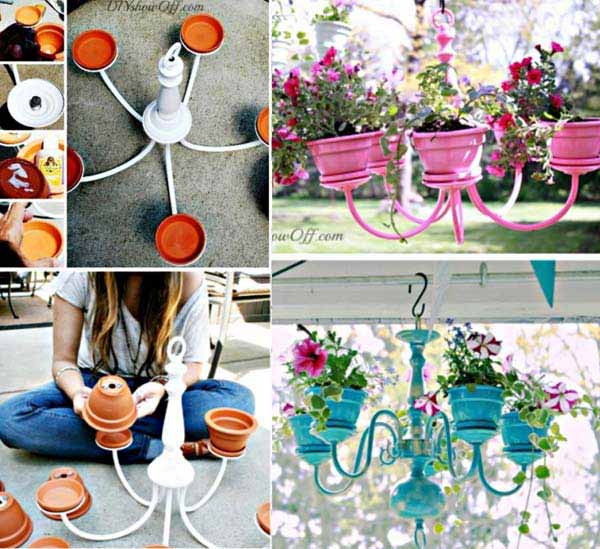 Source – diyshowoff.com
20. Creative Clay Pots Wreath With Sunflowers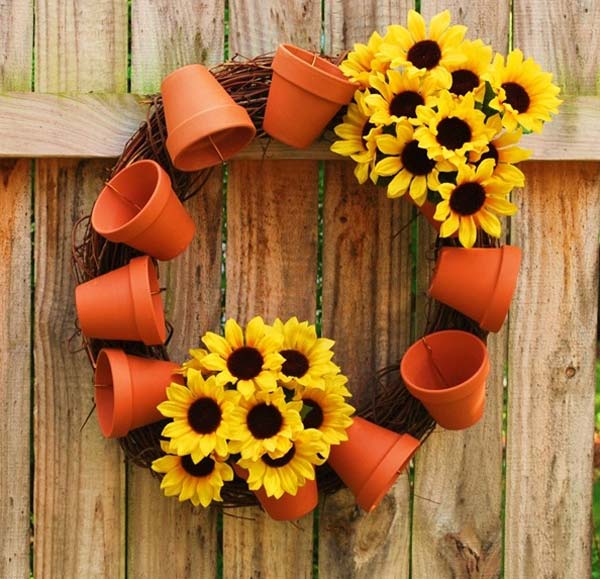 Source – etsy.com
21. Colorful DIY Clay Flower Pot Bird Bath
22. Vintage Numbered Clay Pots Serving Candles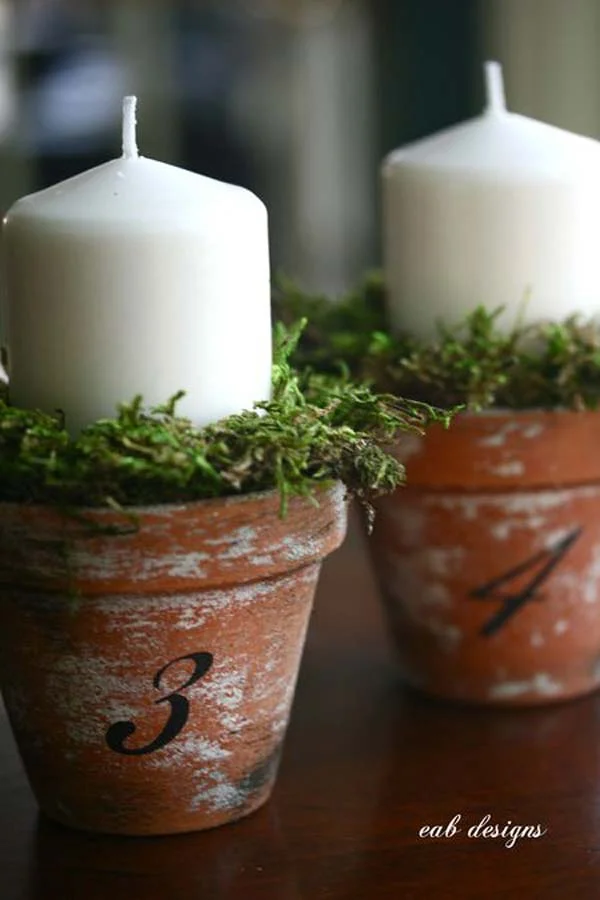 Source – inyourbackpocket.blogspot.com
23. Miniature Fairy Gardens in Broken Pots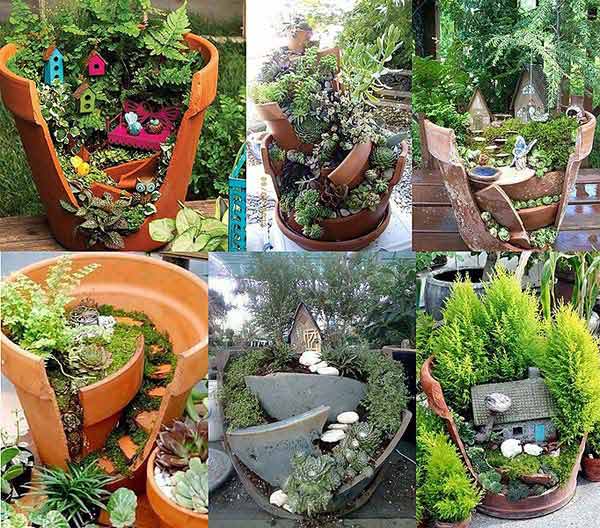 Source – thegardendiaries.wordpress.com
24. Pendant From Painted Clay Pot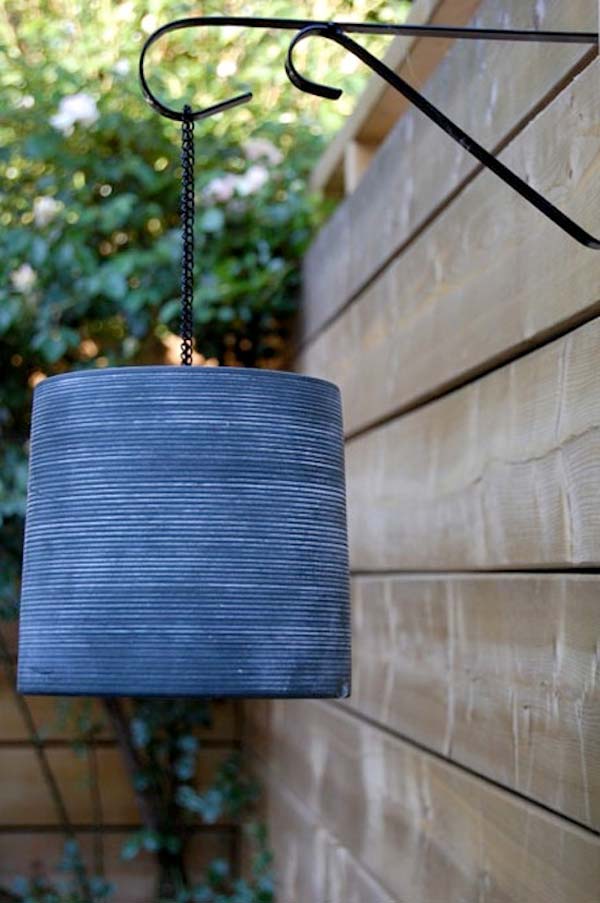 Source – theartofdoingstuff.com
25. Small Clay Pot Fountain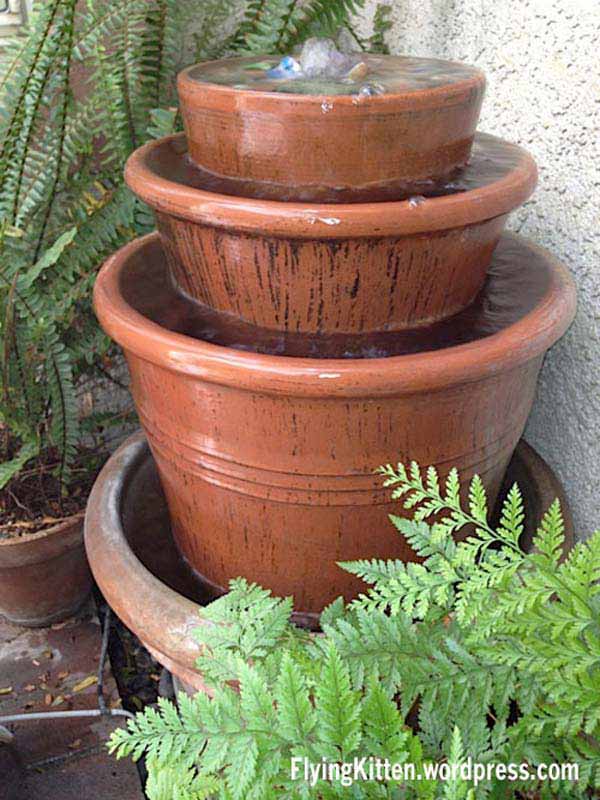 Source – flyingkitten.wordpress.com
26. Neatly Creative Colorful Clay Snail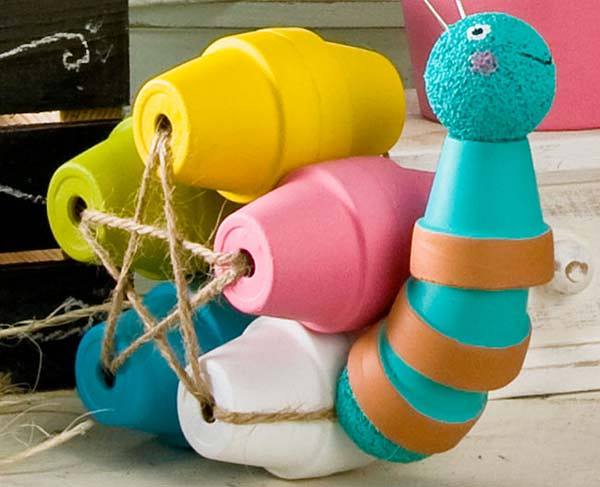 Source – plaidonline.com
We found the ideas showcased above insanely creative and purely joyful especially if realized with your little loved ones around you. These up-cycling ideas can easily become highly powerful and educative life lessons on responsibility and sustainability. We would love to hear your opinion on these garden projects realized with clay pots  in the comment section below.