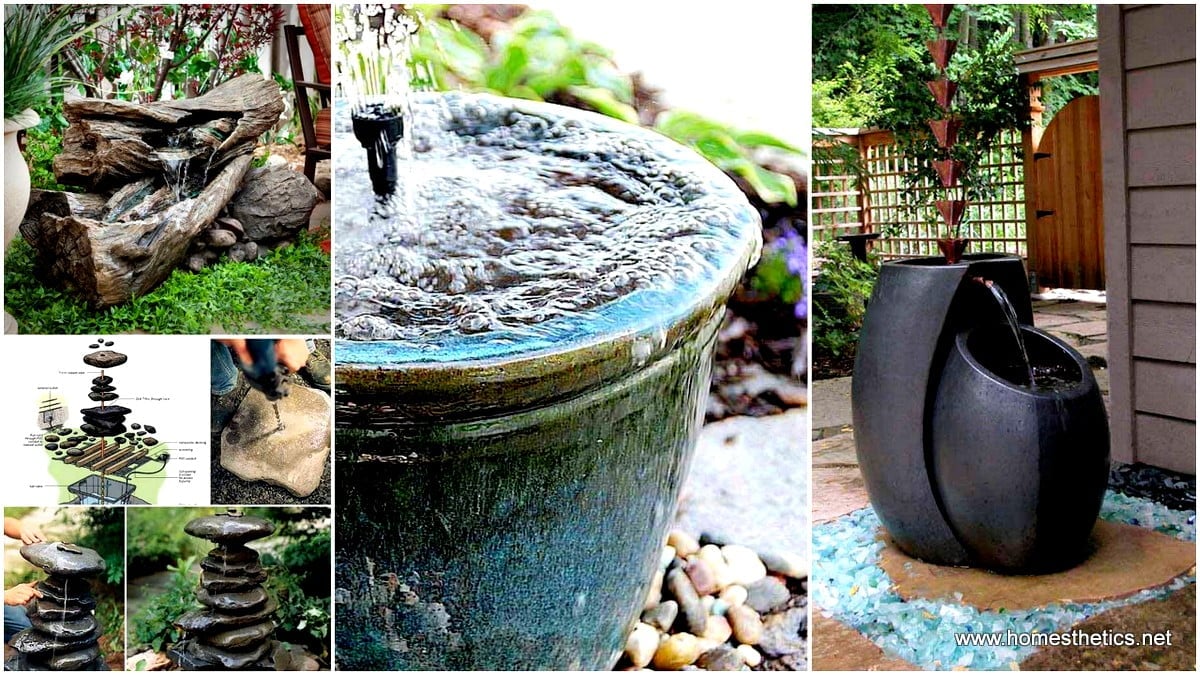 Disclaimer | This article may contain affiliate links, this means that at no cost to you, we may receive a small commission for qualifying purchases.
Probably the most extraordinary way to beautify your garden is through the creative use of water features in greenery; through these we can obtain peace, calm, tranquility and relaxation in the purest form. Water features can be used both indoor and outdoors being able to refresh the design line without affecting the comfort in your home or backyard, moreover, outdoor diy water features can be realized at home from old sculptural items that can now be animated by light.
Regardless of the shape and size of your installations we are sure that these will add comfort and calm in your backyard or home. We invite you to cast a glance at the tutorials and ideas showcased underneath and pick your favorite craft. We would love to hear your opinion in the comment section below on the subject.
Outdoor DIY Water Features Tutorials and Ideas
1. Various Bubble Water Fountains Can Do The Trick Regardless of Their Shape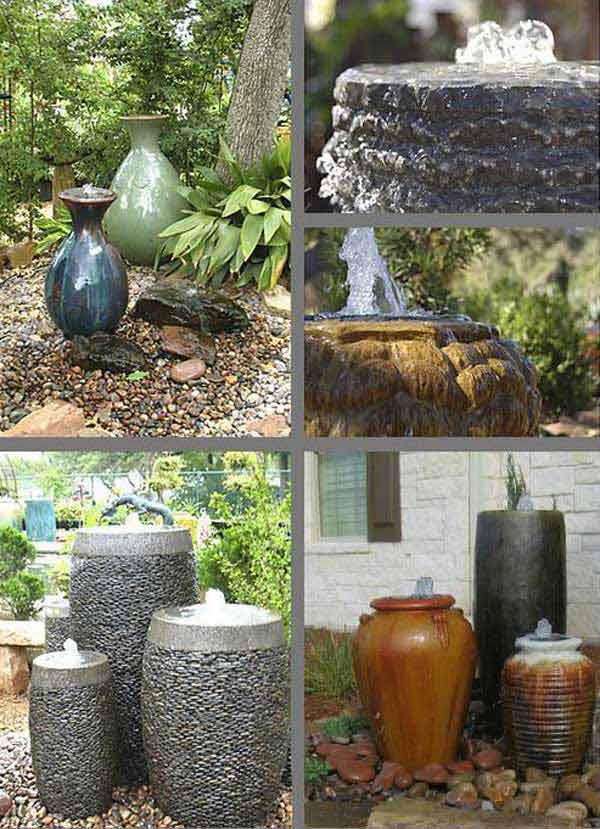 Tutorial @ scatteredthoughtsofacraftymom.com
2.Breathtaking Tire Water-ponds Can Transform Your Garden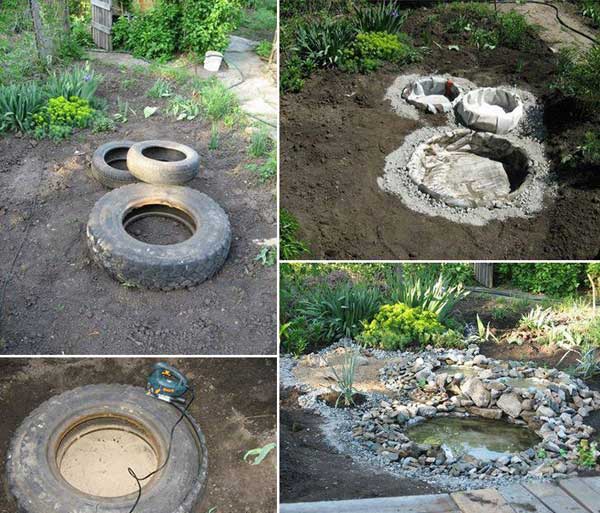 Tutorial @ homesthetics.net
3. Simple and Sculptural Canoe Pond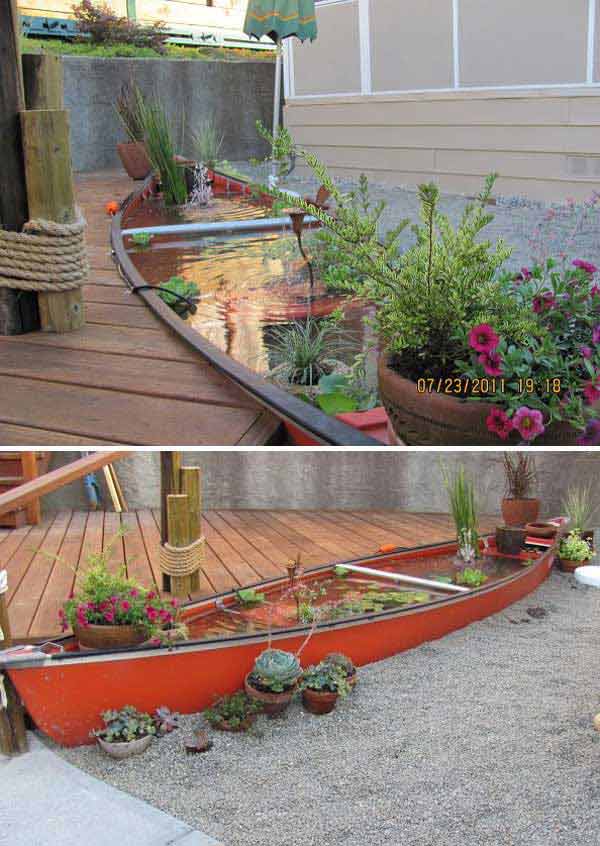 via hometalk.com
4. Neat and Simple to Realize Rock Fountain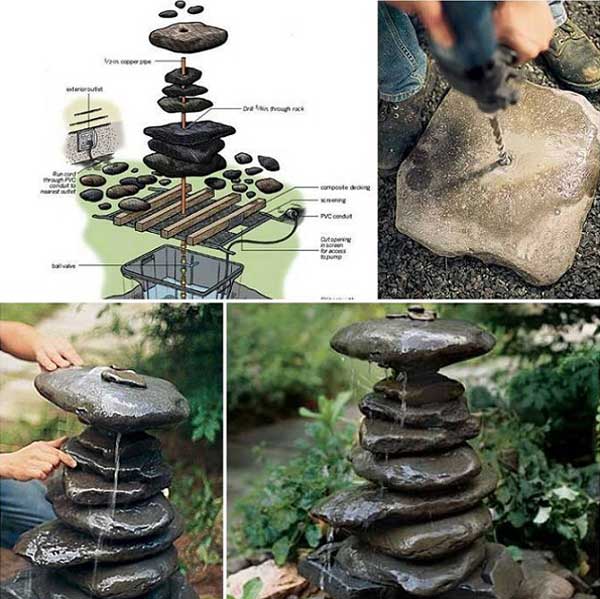 Tutorial @ instructables.com
5. Patio Water Wall Refreshing The Air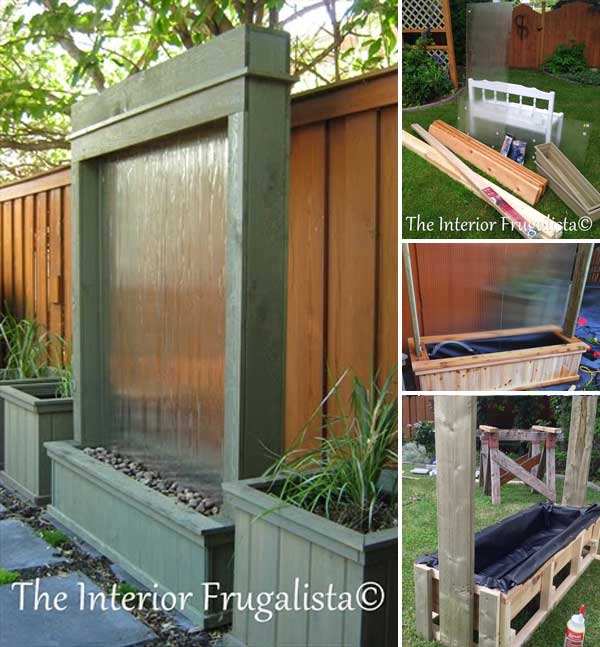 Tutorial @ interiorfrugalista.com
6. Vintage Tea Pot Water Fountain Installation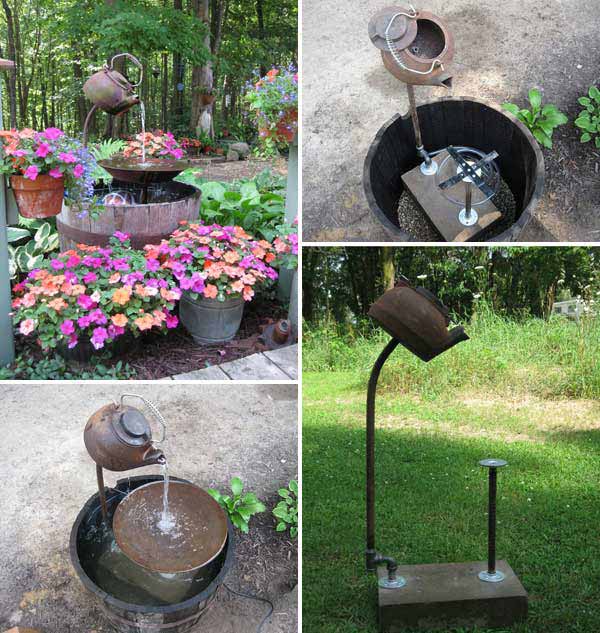 Tutorial @ hometalk.com
7. Small and Simple Water Pond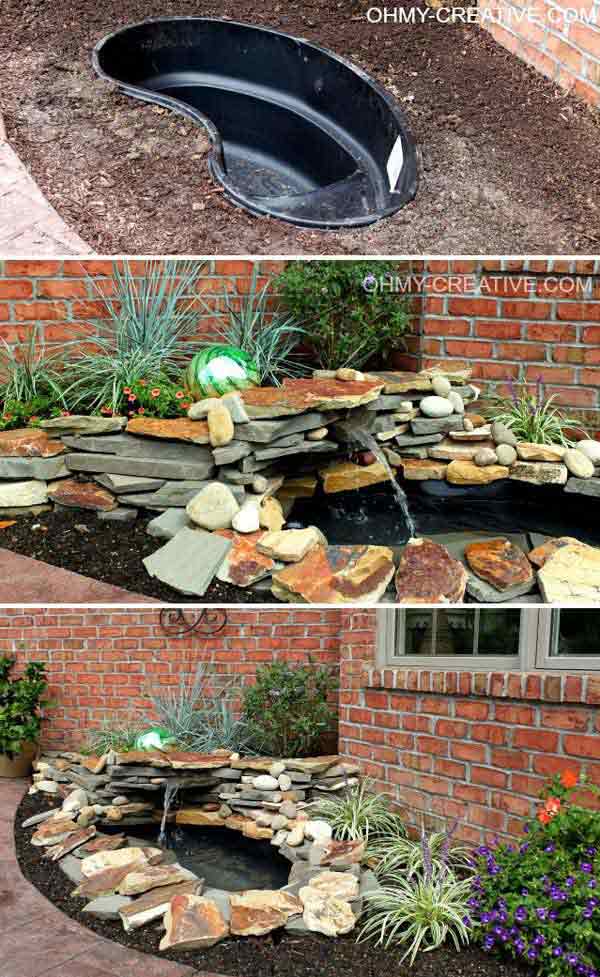 Tutorial @ ohmy-creative.com
8. Watering Cans Defying The Laws of Gravity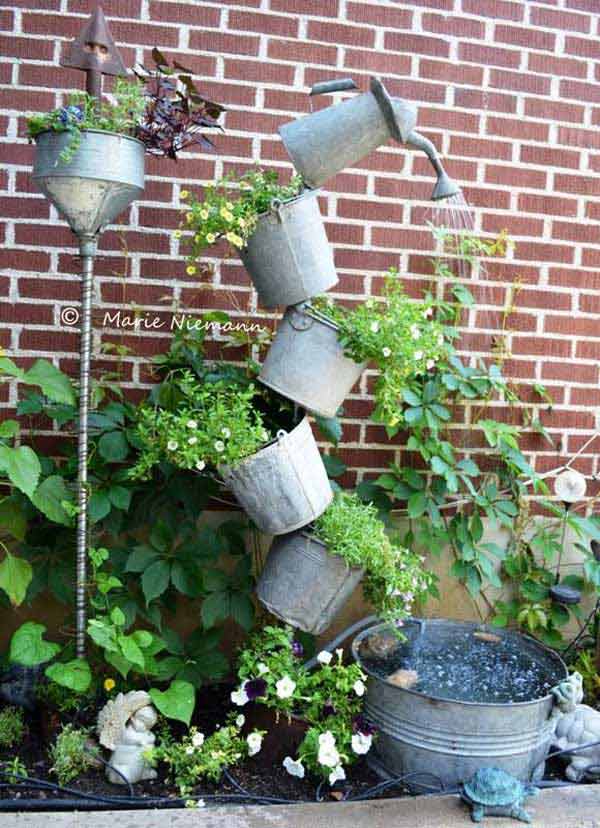 Tutorial @ fleamarketgardening.org
9. Water Fountain Recirculating Water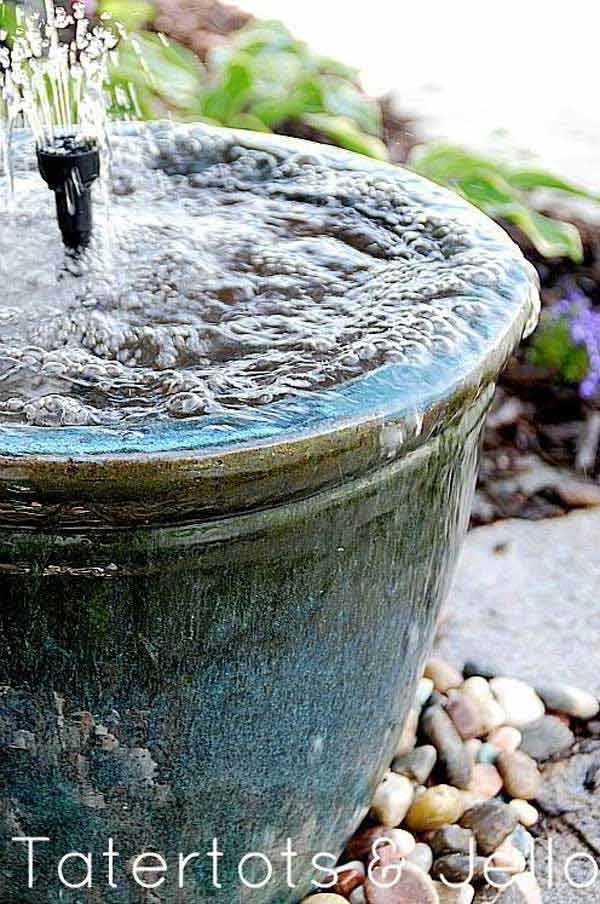 Tutorial @ tatertotsandjello.com
10. Build a Fairy Tale Like Pond in a Pot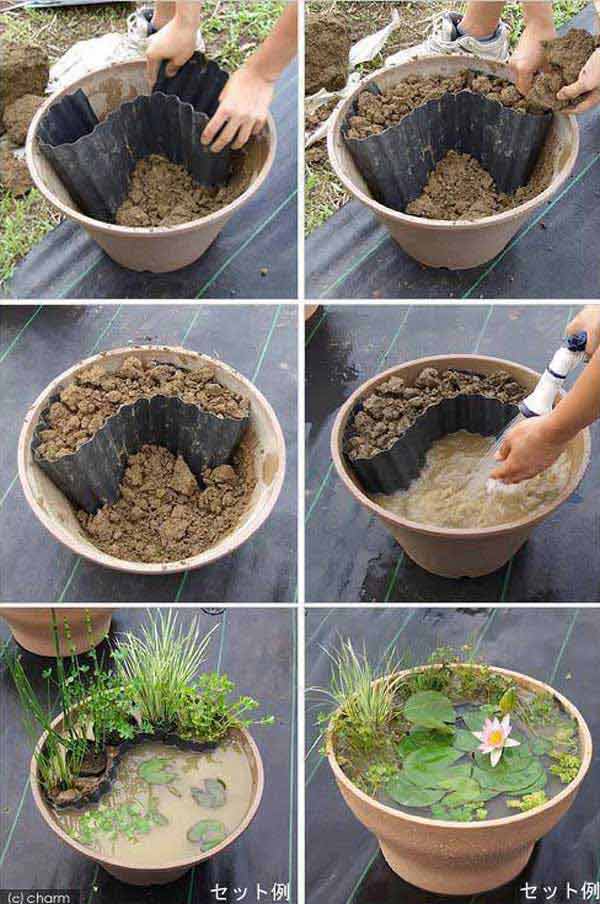 Tutorial @ hgtv.com
11. Multiple Flower Pots Transformed Into Water Fountain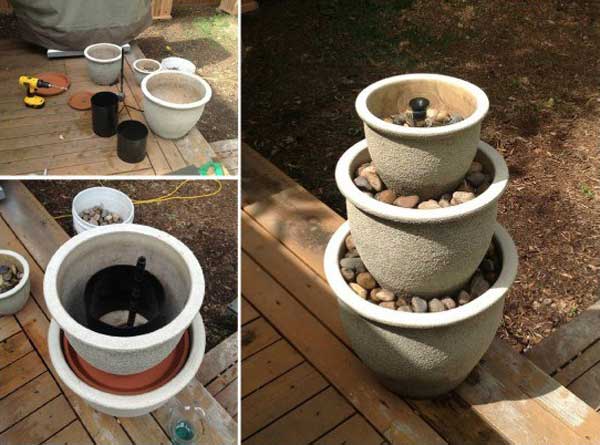 Tutorial @ interiorfrugalista.com
12. Simple Glass Table Top Transformed Into Water Fountain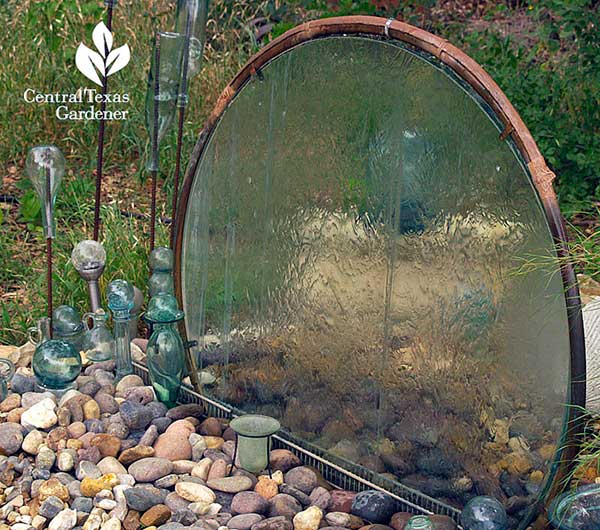 Tutorial @ klru.org
13. Plumbing Pipe Water Fountain Installation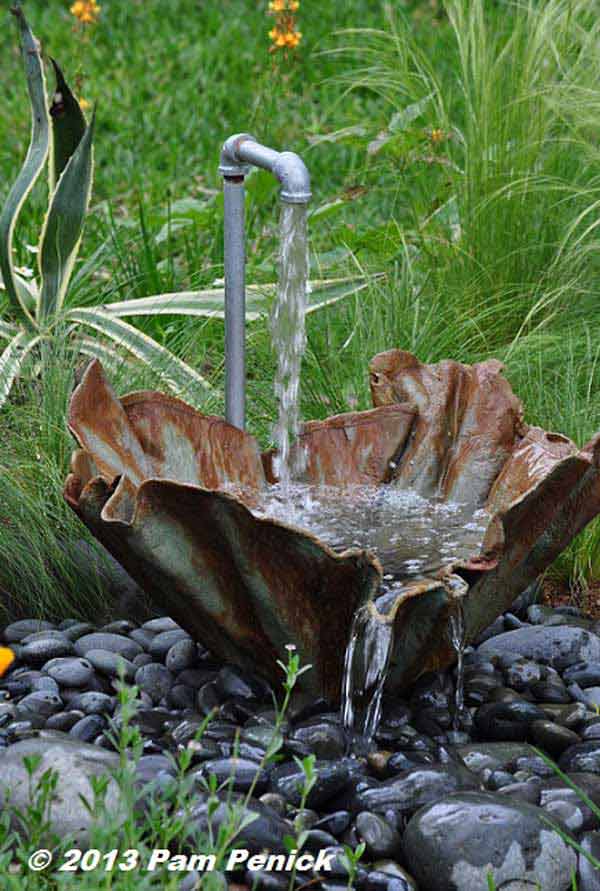 via penick.net
14. Beautiful Simple Watering Can Transformed Into Small Fountain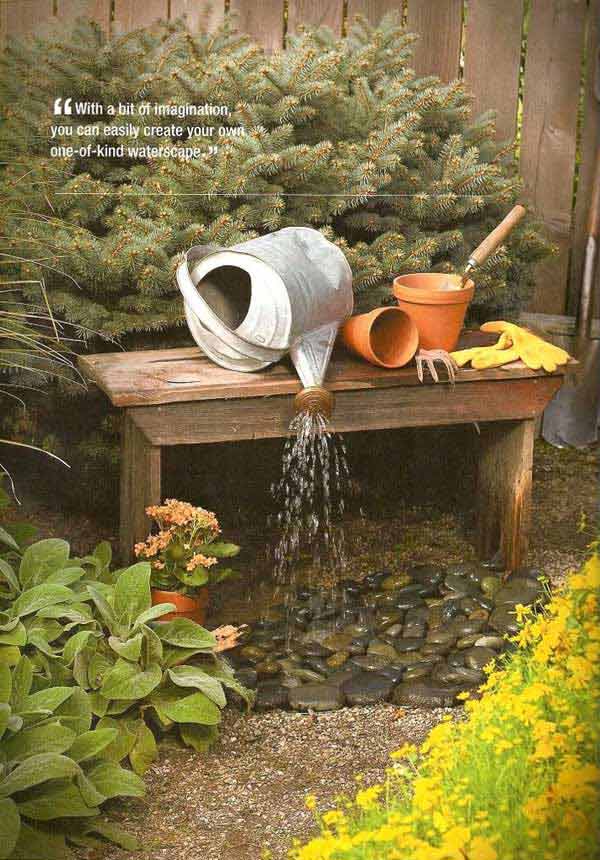 via gardenweb.com
15. Small Water Recipient Transformed Into a Tiny Fairy-tale Like Pond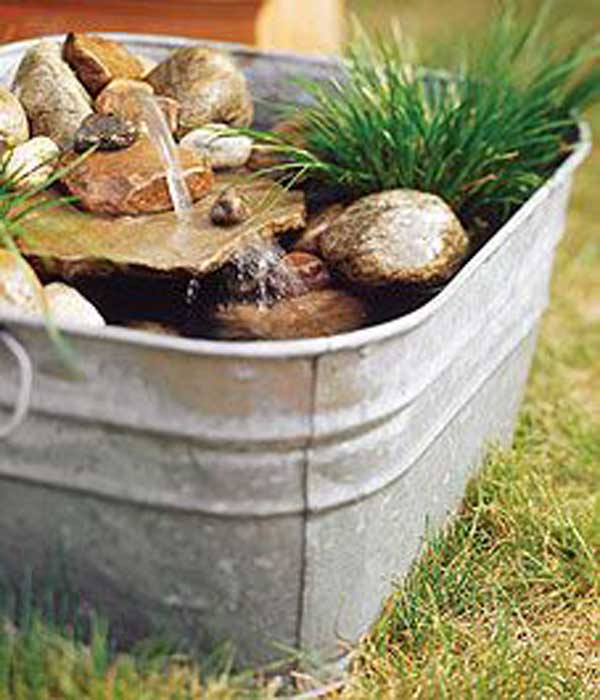 Tutorial @ canadiangardening.com
16. Small Water Pool Realized For Less Than $30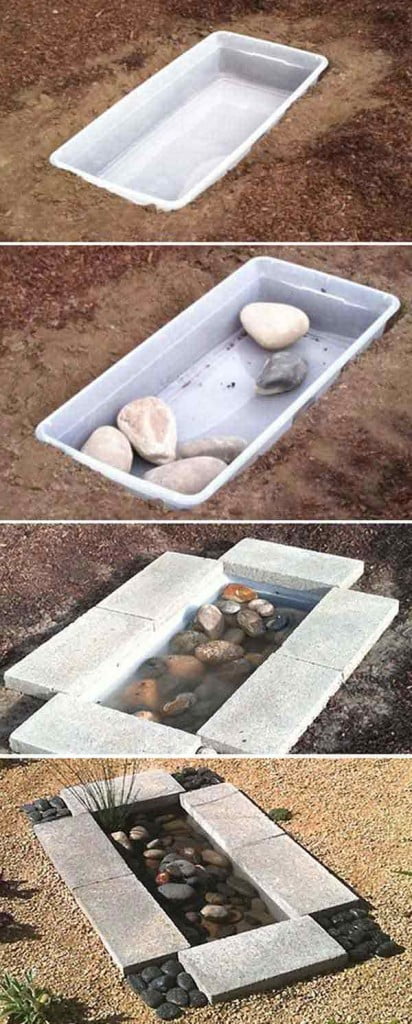 Tutorial @ thegardenglove.com
17. Rock Fountain Feature Beautifying The Landscape
18. Sculptural Recipient Rocks and Bamboo Mixture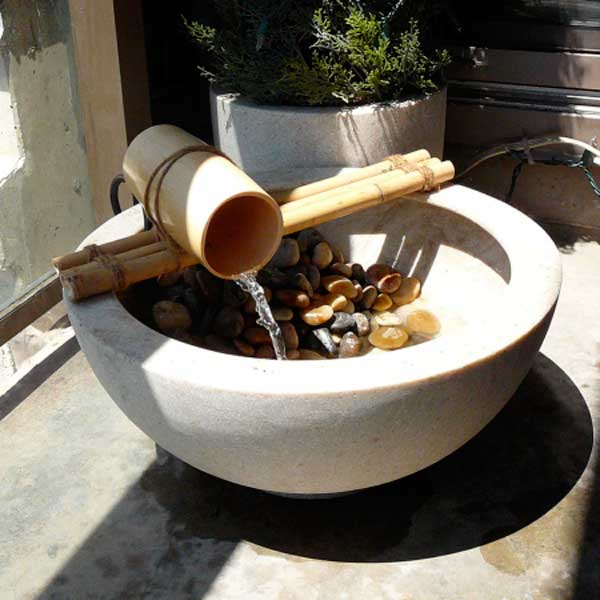 Tutorial @ safaffect.wordpress.com
19. Beautiful Rain Chain and Water Fountain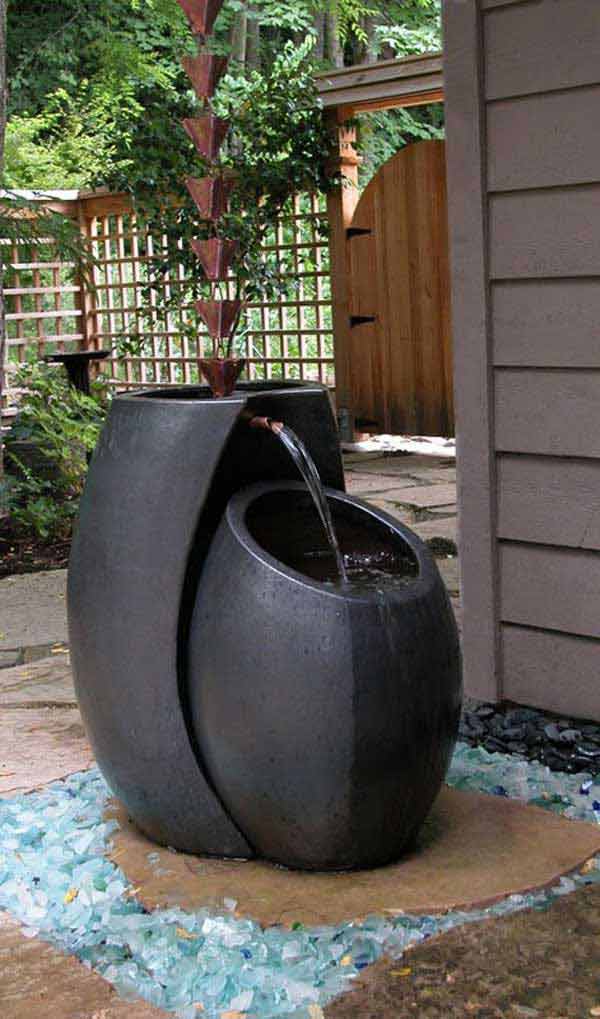 Source unknown.
20. Beautiful Rustic Industrial Wheel Barrow Water Fountain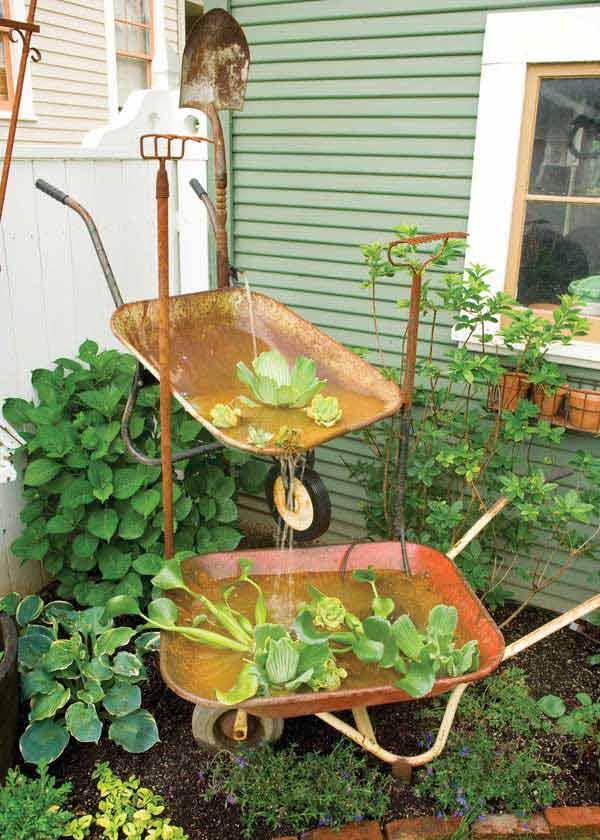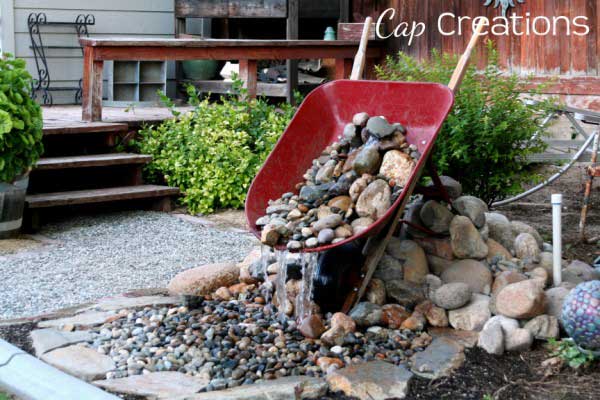 21. Simple Neat Buried Water Fountain Refreshing The Backyard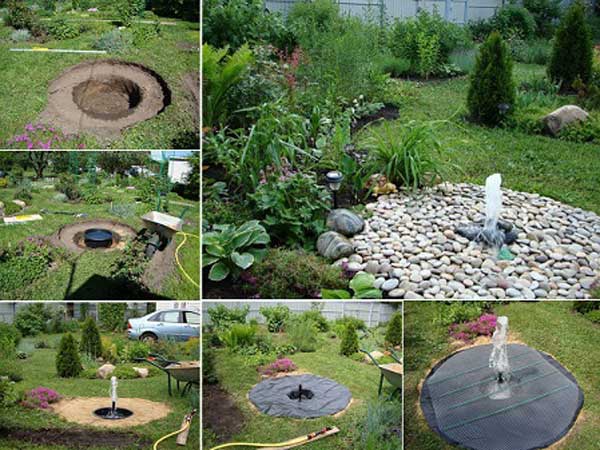 22. Simple Terracotta Water Fountain Feature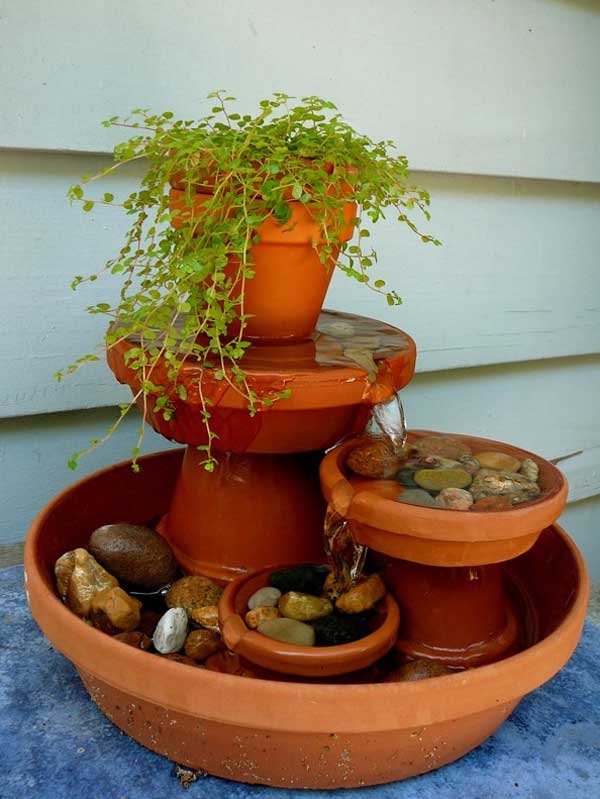 23. Sculptural Tree Logs Animated by Water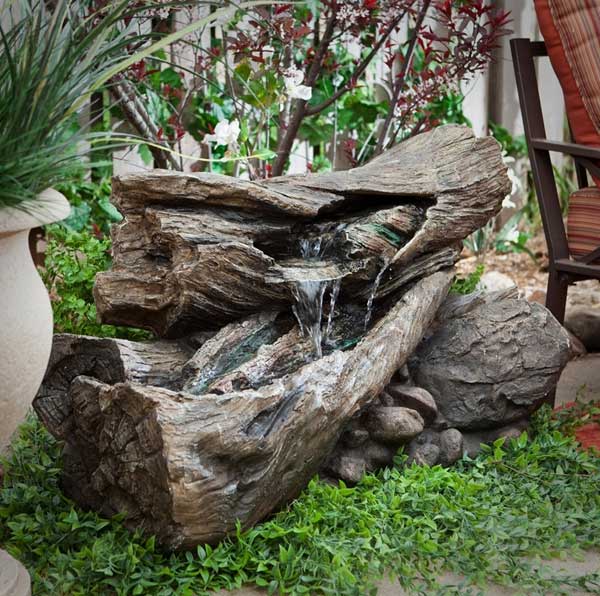 via hayneedle.com
24. Koi Pond With Water Fountain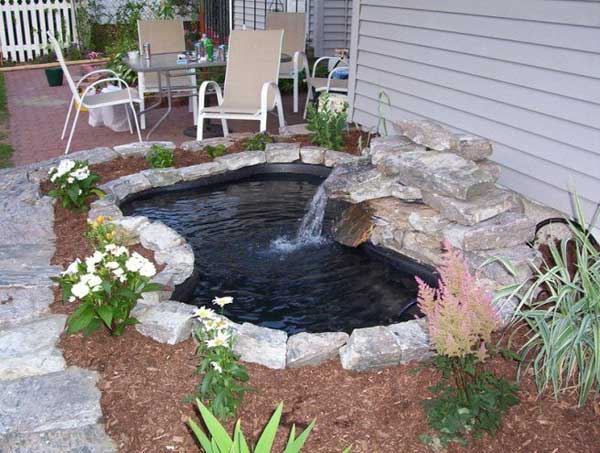 Tutorial @: learningasigotips.wordpress.com
25. Small Exotic Cocktail Water Fountain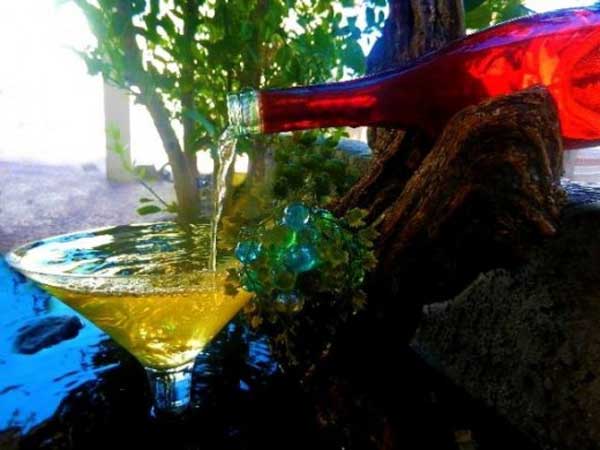 Tutorial @ craftypicks.hubpages.com
26. Tiny Water Pond Box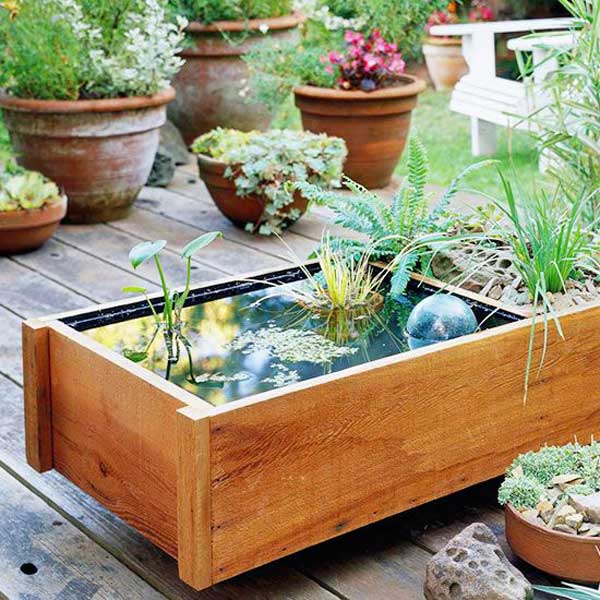 Tutorial @ apartmenttherapy.com
We would love to hear your opinion in the comment section below on these DIY Water Features Tutorials and Ideas. We have found them extremely creative and versatile, able to bend and blend into any decor.