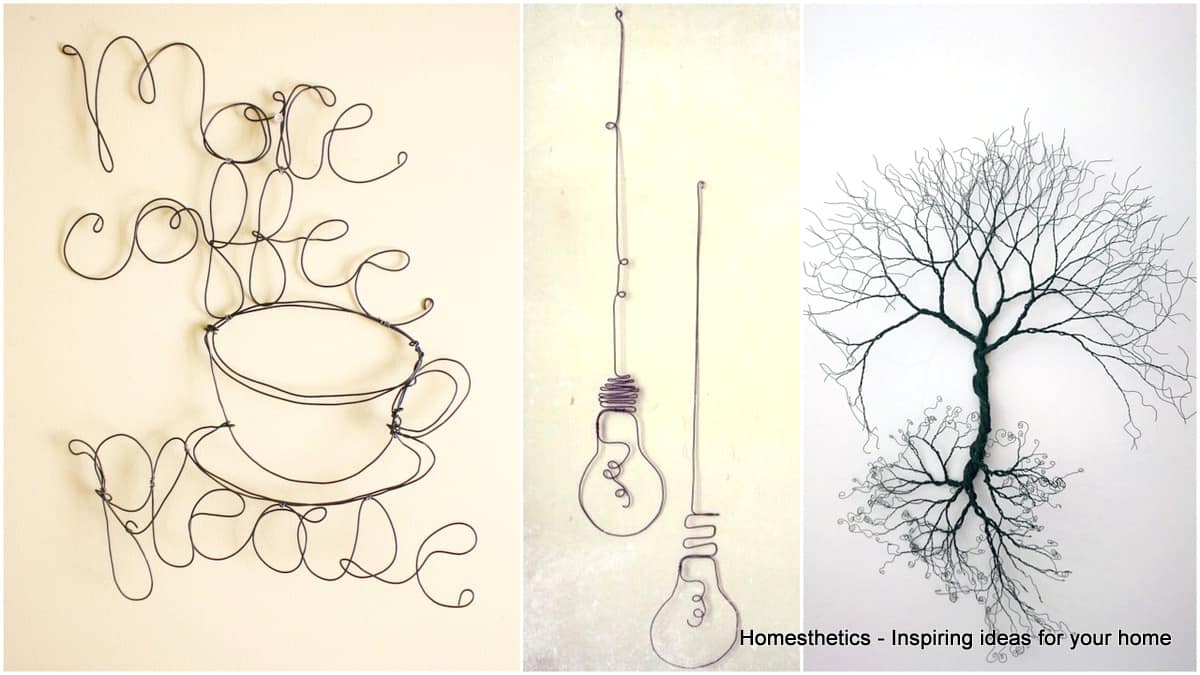 A small portion of string can beautifully sculpt an installation, a piece of wall art or a Christmas tree decoration to beautify your splendid holiday. Wire art sculptures and wire wall art are known today in design thanks to their amazing naturalness and organicity as well as for their immense accessibility, ease of use and versatility, the little element can shape something extraordinary in minutes and the unimaginable in hours, weeks as numerous artists have previously showcased.
A selection of unique wire art pieces lies below, cast a glance and surge inspiration.
Wire Art Sculptures
1. Craft a Fender Guitar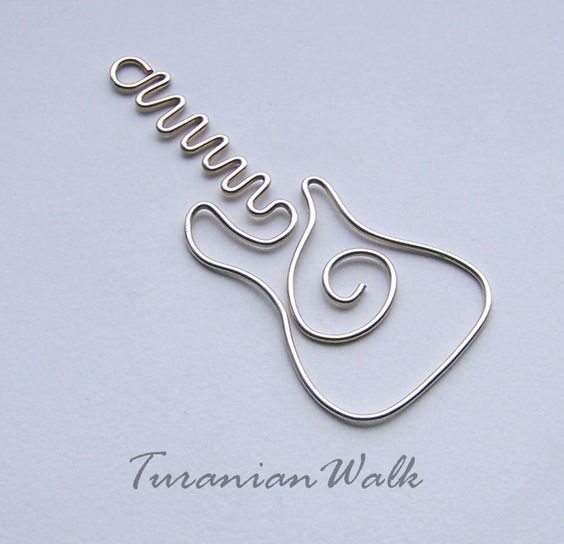 A simple swift shape that can be used as a thematic decoration or as a simple beautiful diy gift.
via etsy.com
2. craft a gorgeous earth goddess pendant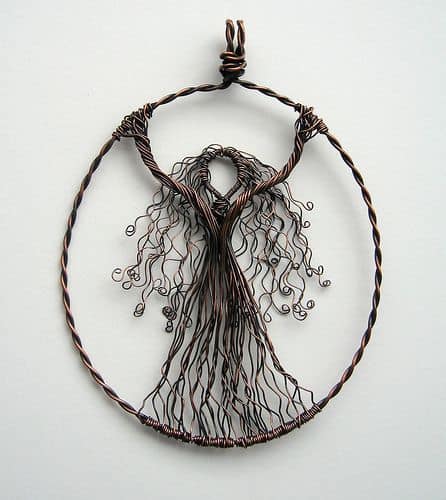 A circle sculpted by wire can contain a great deal of beauty. Simply choose the element of choice and start materializing it wire by wire.
via flickr.com
3. craft a splendid wire rose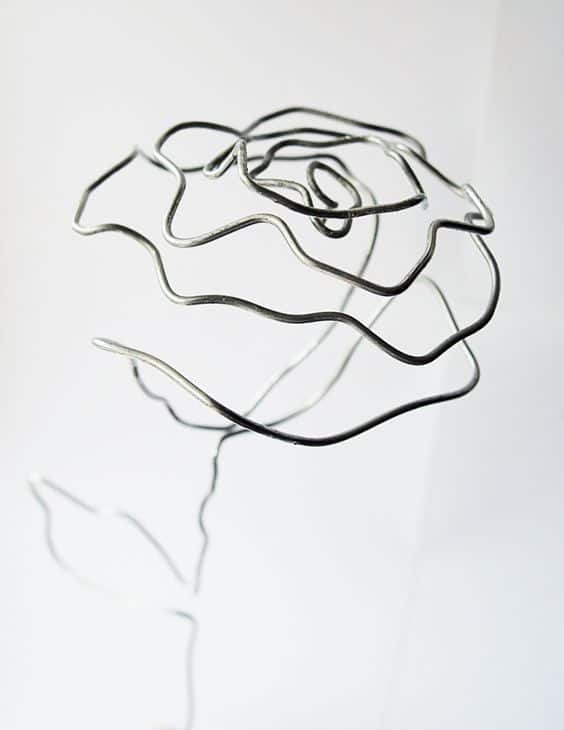 Suspension in art is a gift, notice how the wire gains power, strength in this simple 3D installation.
4. craft a colorful wire tree of life 

A simple process with great results, extraordinarily idea to materialize with children, family, loved ones.
You only need a rock, copper wire and some colorful beads to create this exemplary wire tree, something so simple to craft yet so powerful, easy wire art at its best.
via diyready.com
5. welcome your guests with adorable wire flowers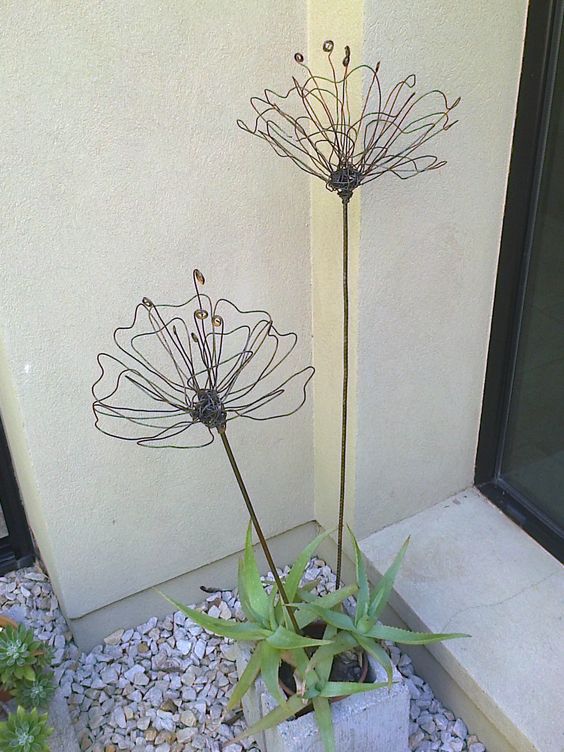 DIY wire art will be there, whenever you need it, simple and sculptural. It can wear the color of choice or it can remain rustic, industrial.
Source Unknown
6. craft a beautiful wire heart for your garden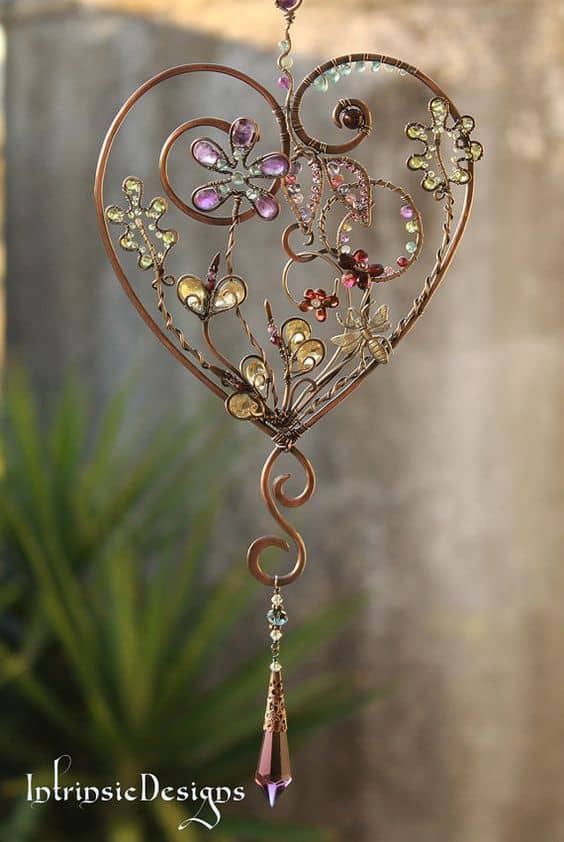 Anything can become special, spectacular and sculptural with wire, use simple elements to emphasize your piece of DIY wire art.
via etsy.com
7. create adorable mini silhouettes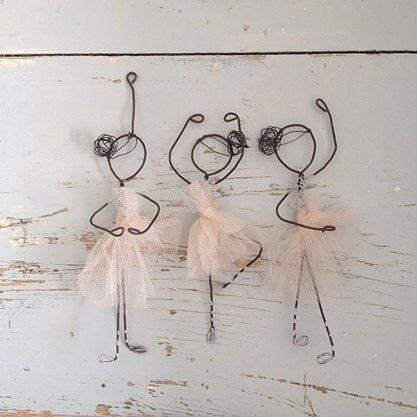 DIY wire art with simple elements from our reality can sculpt extraordinary mini-settings that would nurture the creativity of little ones. Play along, nourish their creativity with wire art ideas and you will be amazed on how much it will boost their morale.
8. tailor adorable mini Christmas décor pieces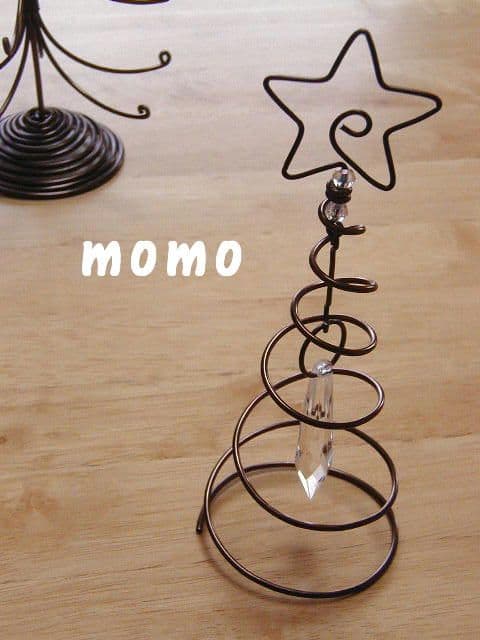 One star and a cone in wire can make a simply splendid piece of wire art décor, enjoy every crafting session with family, loved ones.
via momonoshizuku.cocolog-nifty.com
9. sculpt your space with fine wire art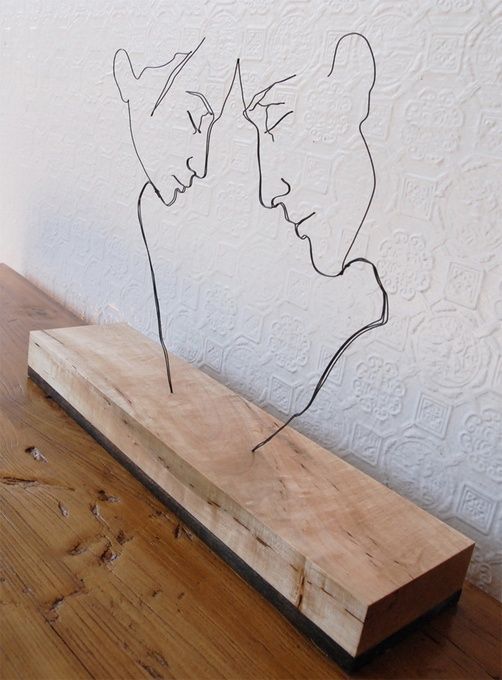 A fine wire art line can redefine a space entirely.
via adme.ru
10. tailor an adorable wire art cat bookmark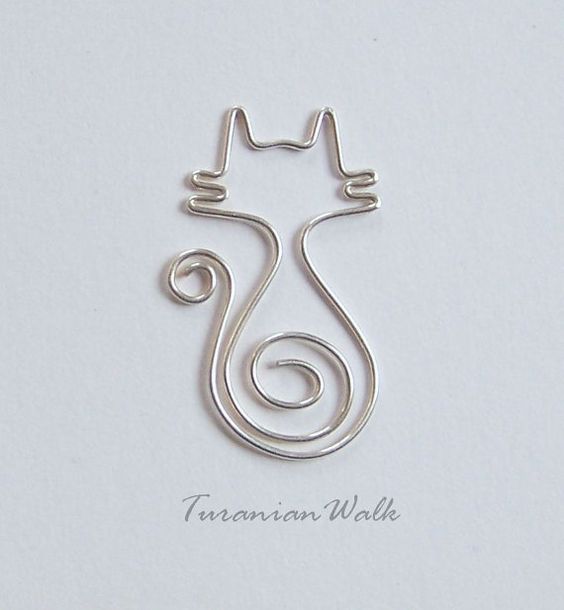 A simple string silhouette can shape a great bookmark.
via etsy.com
11. shape a tiny dog decoration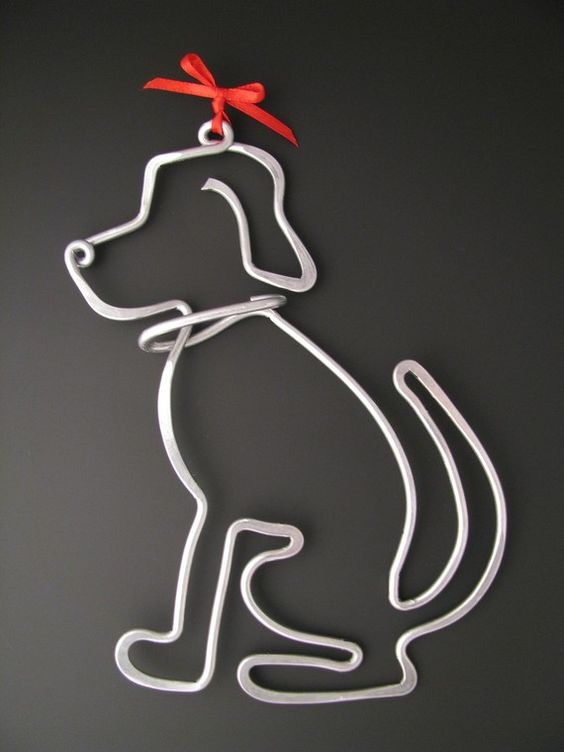 A tiny dog can be a quite adorable, specific décor piece for an enthusiast, simple and beautiful wearable art.
via etsy.com
11. shape a tiny dog decoration

Color creates contrast with white and black and this simple fact gives birth to extraordinary art pieces. The naturalness of the black wire surely stands out yet it`s the perfect balance of the over -all scheme the thing that really stands out.
13.  design bird sculptures with chicken wire
Beautifully simple project that can be scaled towards a great installation.
via flickr.com
14. create adorable wind chimes with wire and stones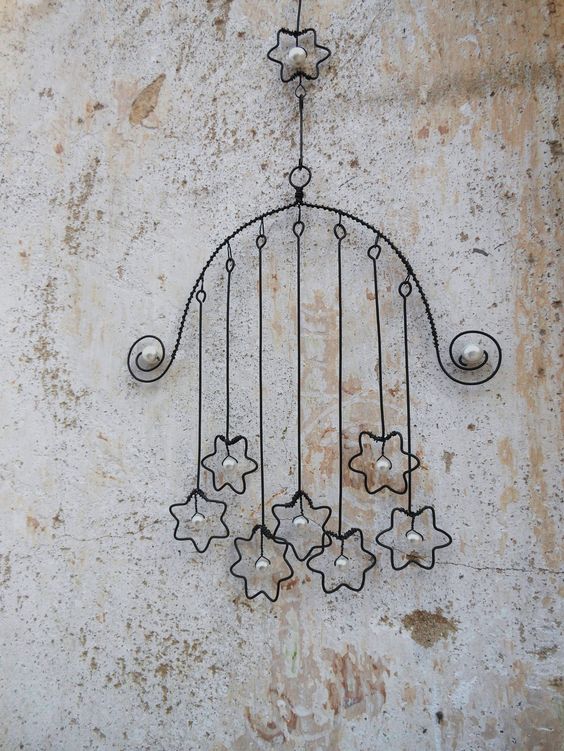 Unlimited possibilities in a simple technique. Play and experience materials at their best.
via fler.cz
15. attempt to replace the pencil with wire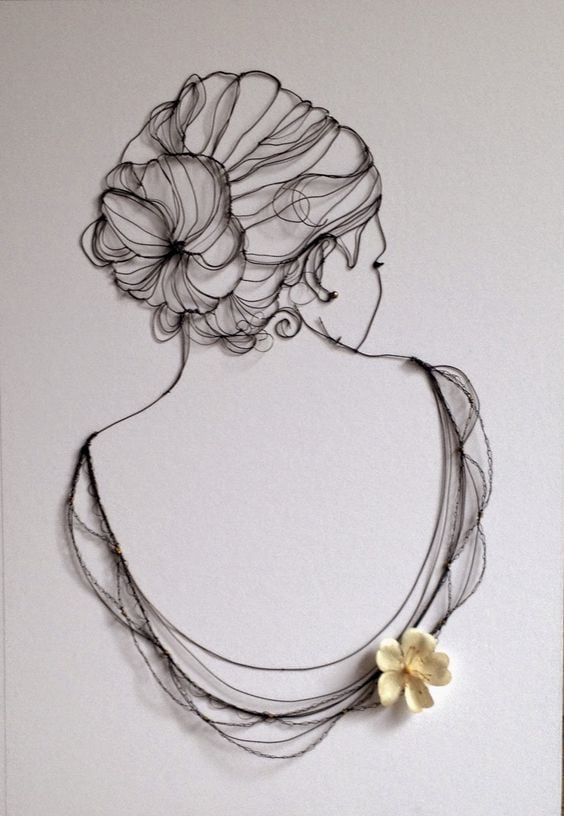 An artist can experience great moments with wire and string in its artistic endeavors by simply changing the pencil with a different mean like string and wire.
via sculpturaldrawing.blogspot.dk
16. invite naturalness in your décor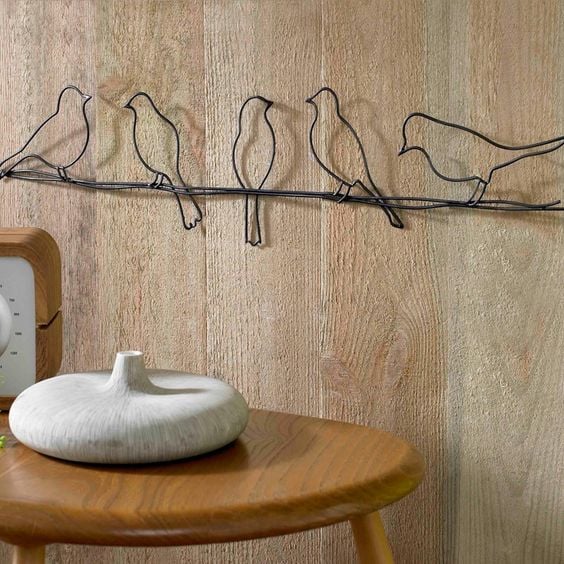 Break a pattern with something simple; above a simple power line with doves has brought a really cool, natural element in a very cozy and elegant woodish atmosphere thus creating a wonderful balance.
via grahambrown.com
17. sculpt an adorable lantern for the outdoors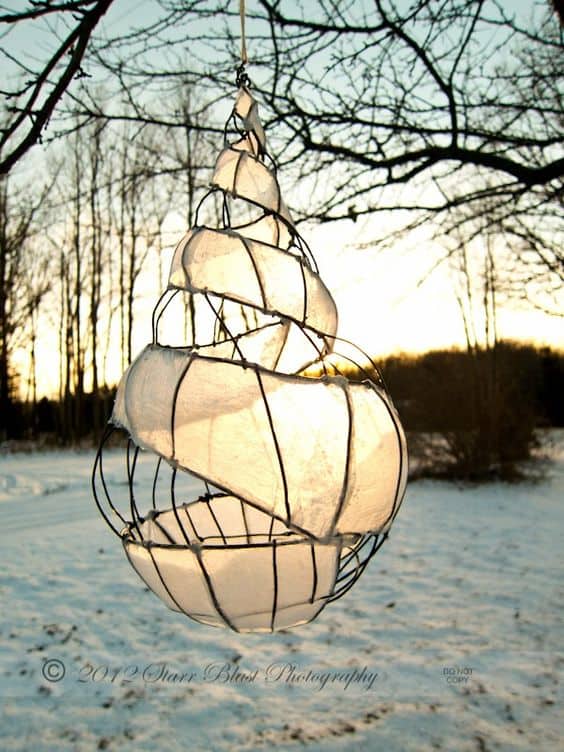 String can function like a structure and textile can work as skin, needless to say that with these two into the picture, light becomes an interesting element.
18. sculpt a candle holder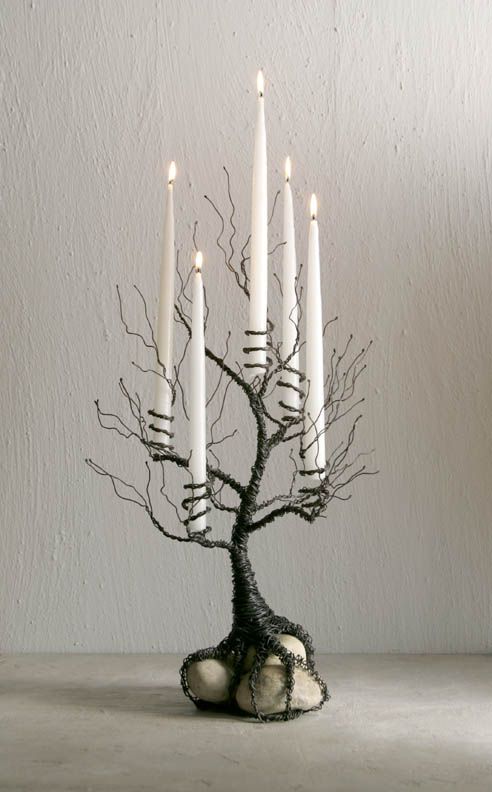 A candle chandelier like no other, designed with patience and care.
via sortra.com
19. shape artistic calder style portraits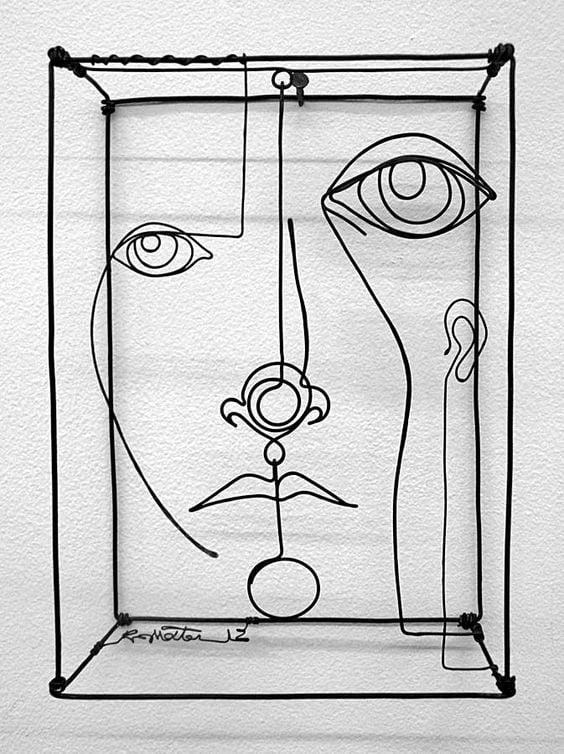 20. embrace wire with color in a sunny window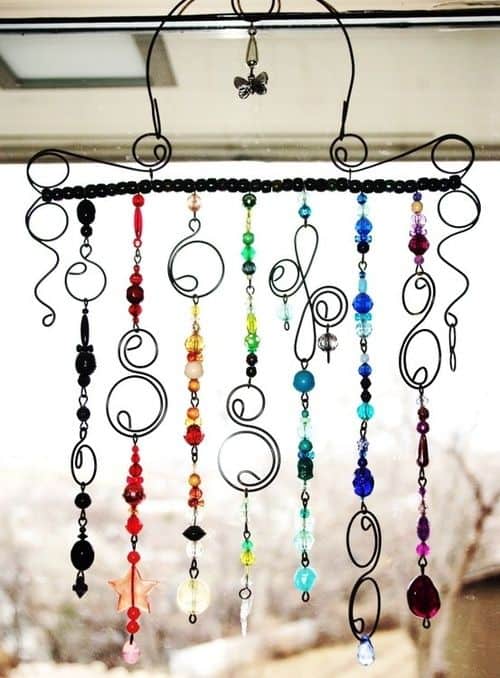 Color in gradients can beautifully function with wire, animate it through light.
via motleycraft-o-rama.tumblr.com
21. shape a beautiful balloon installation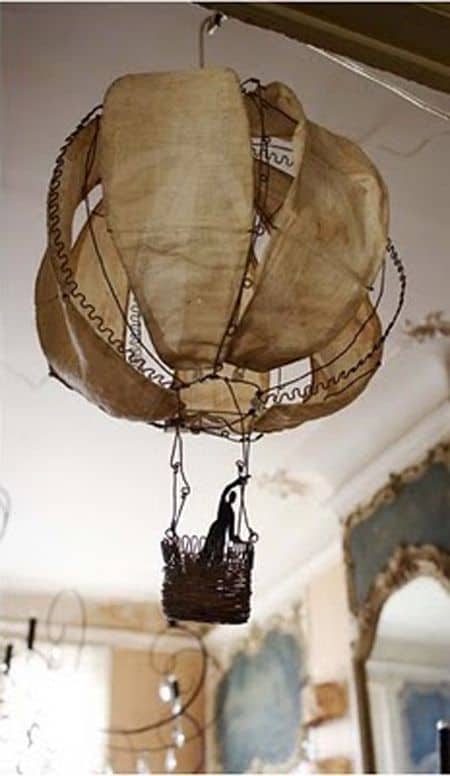 Textile and wire can shape a beautiful hot air balloon installation. Play with the scale, get creative !
22. create decorations for candles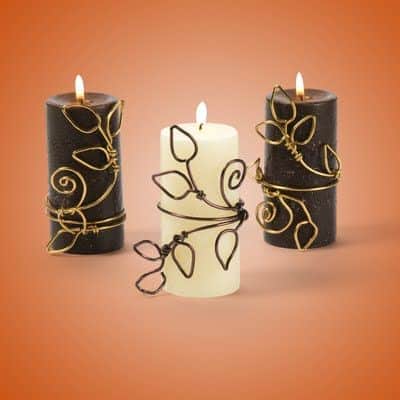 Embrace a candle with a simple sculptural wire piece, it has swiftly become a great diy gift.
via joannfabricandcraftstores.blogspot.com
23. the right decoration can stun with beauty
A tree of great beauty, an effort that would transform your entire home.
via etsy.com
24. bring a new light in your décor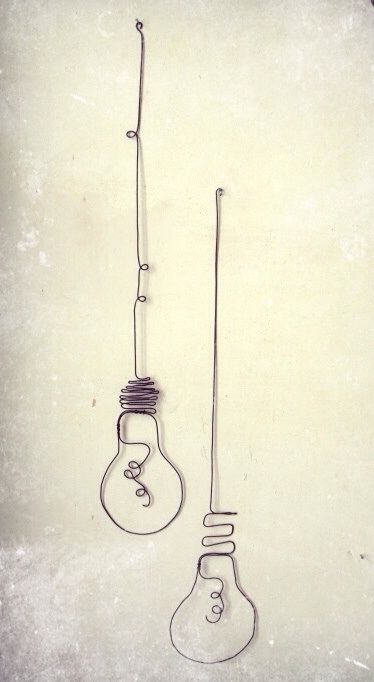 A sensible approach to a simple item shapes a swift wall art piece.
via wework.com
25. draw a happy face where you need it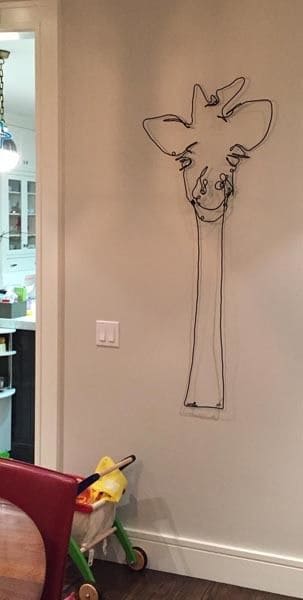 Welcome your friends and loved ones with a friendly smile !
via wirewallart.com
26. create simply impressive settings

Shaping city silhouettes, streets and complex ensembles can materialize the extraordinary, every day. Start with string at a small scale.
Source Unknown
27. craft a wire heart with the right message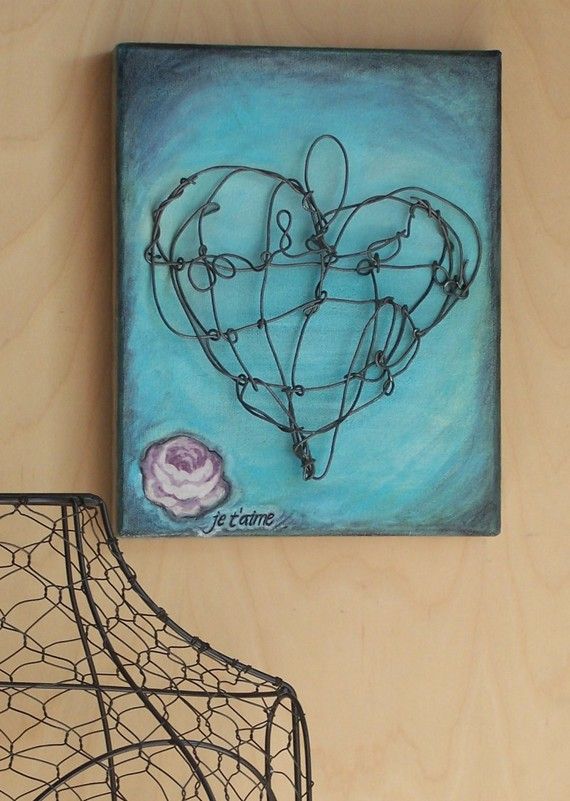 A beautiful heart can reach your loved one, shape it as art on the wall.
via etsy.com
28. build a piece of coffee wall art to emphasize your kitchen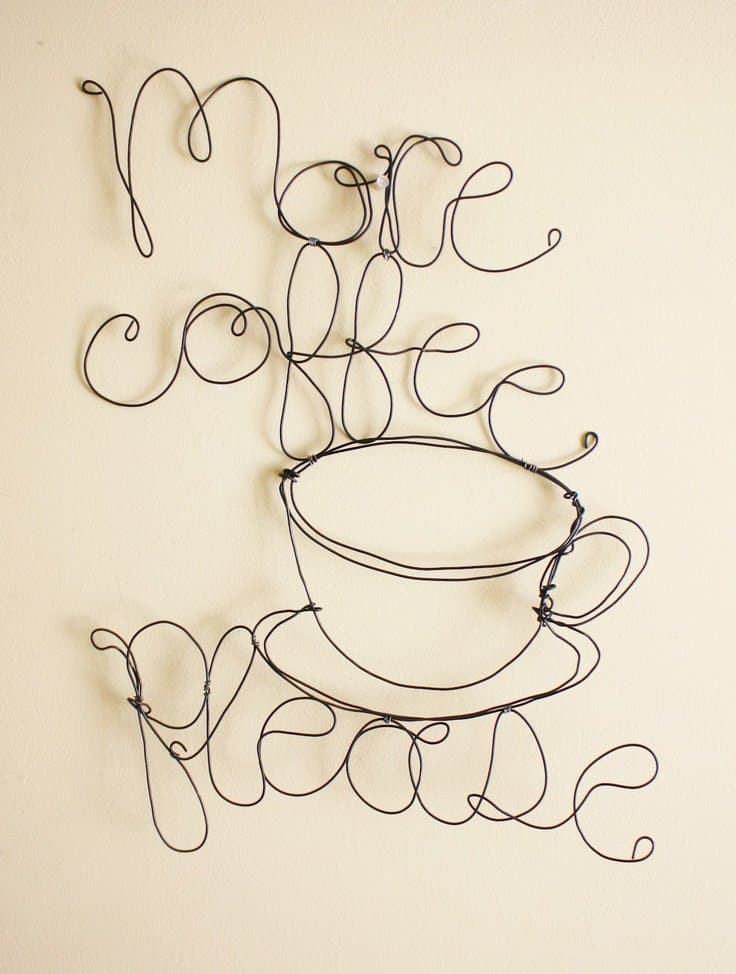 The classic more coffee please sign, reinterpreted with spring can be considered a swift, new approach.
29. create a wire Christmas decoration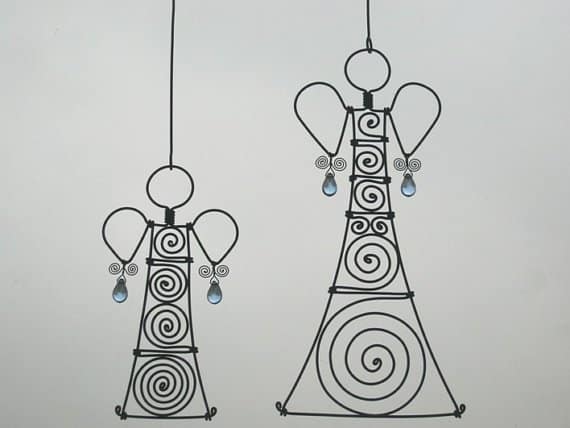 Small angel silhouettes can enhance your Christmas tree swiftly.
via etsy.com
30. enjoy art in a sculptural form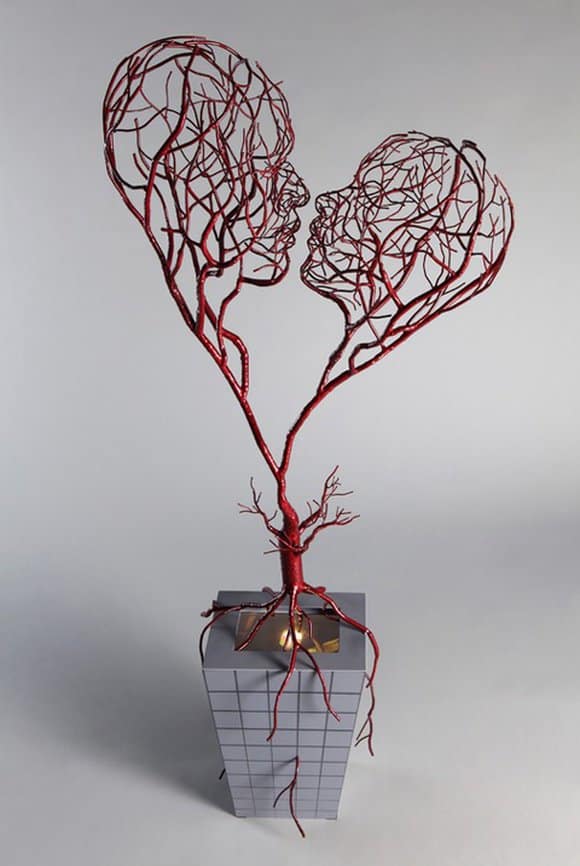 The deeper you go the more roots in art you`ll find. String wires everything in nature, string wires us.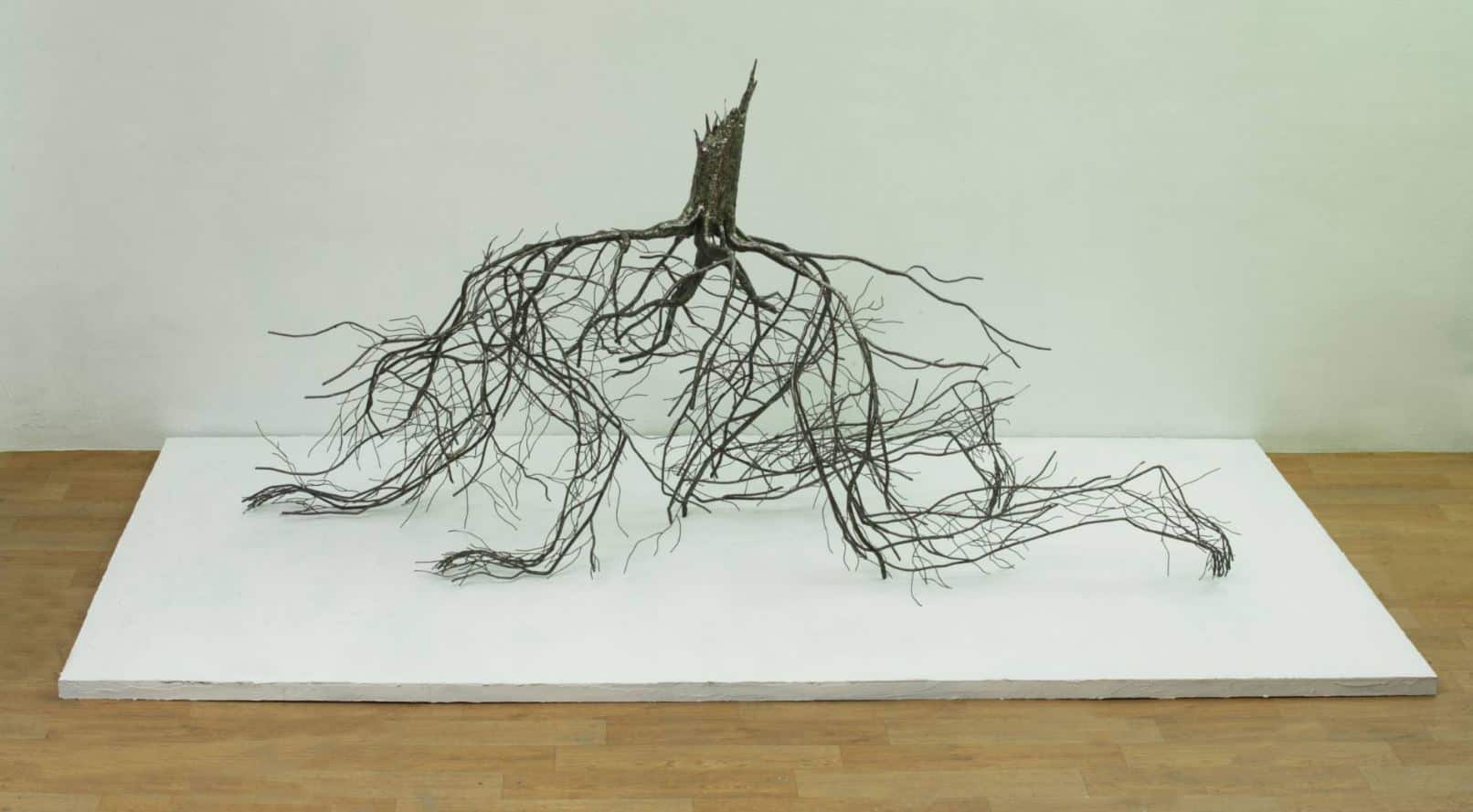 via saatchiart.com
31. spider art materialized with wire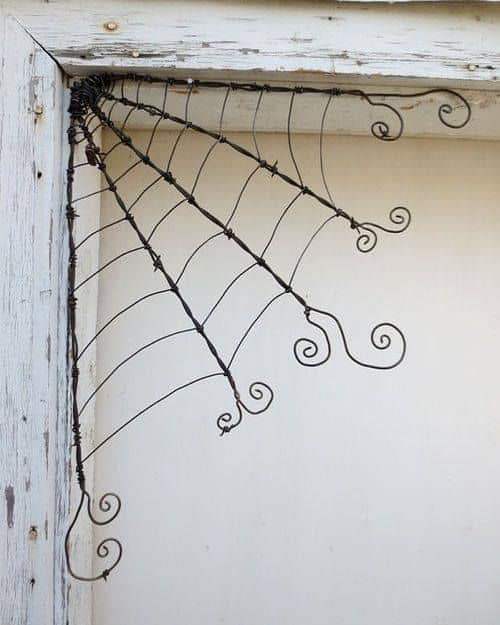 Halloween can invite string decorations too, use simple motifs with wire.
via Pinterest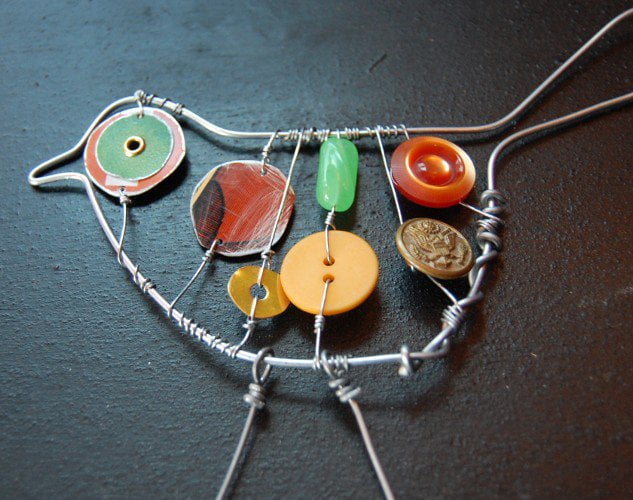 Buttons and coins can become accent points in one`s decor, enjoy their beauty.
via houseinsideout.blogspot.com
33. design a sculptural bird mobile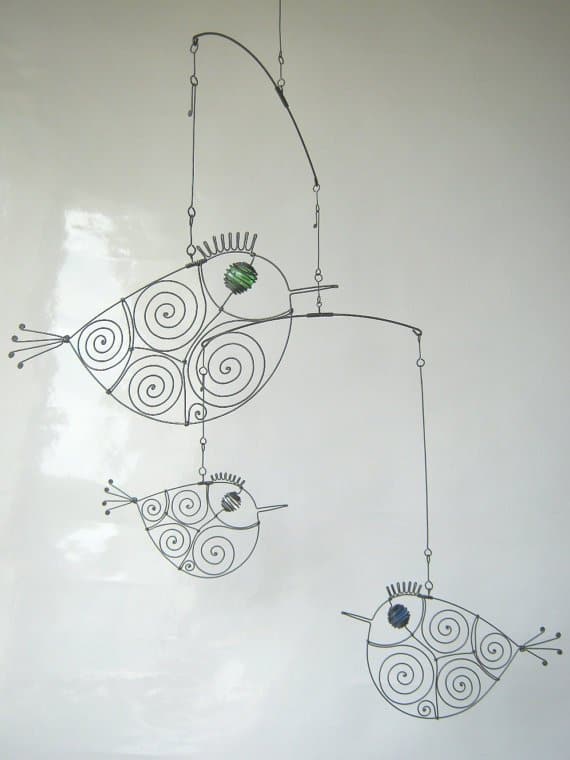 A baby mobile can take any shape  you might need or like through this mean of expression, give art a chance, embrace it.
via etsy.com
34. Design an adorable owl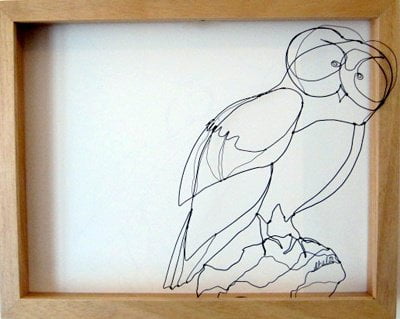 via pinterest.com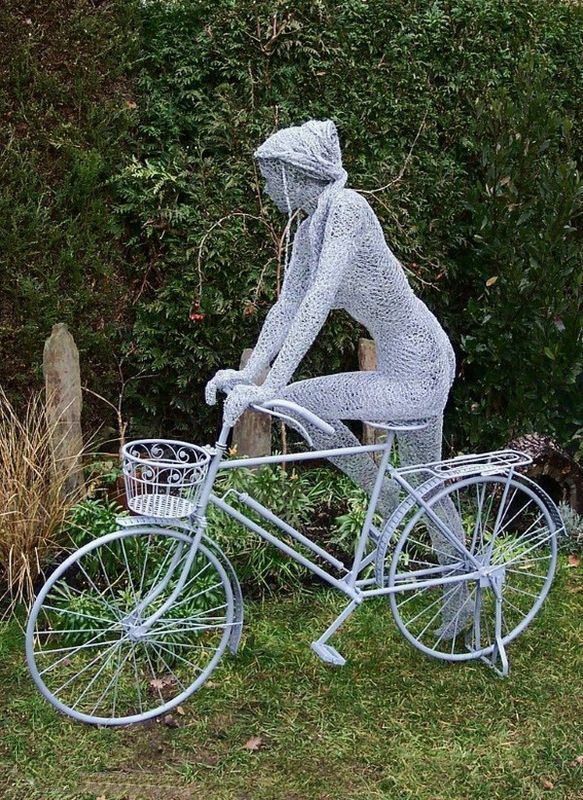 via derekkinzettwiresculpture.co.uk
36.  create an artistic setting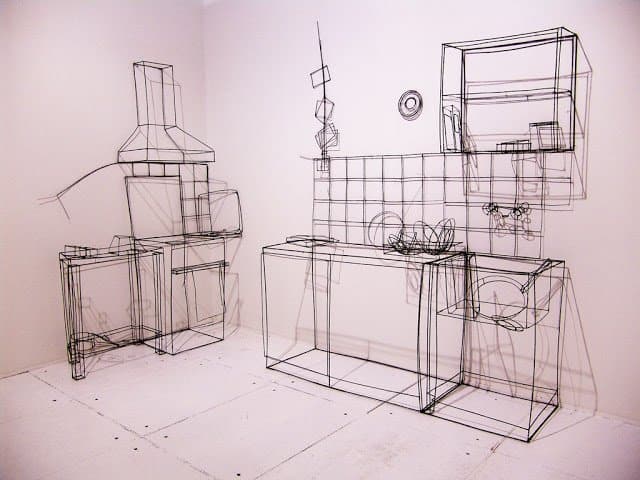 37. chicken wire sculpting life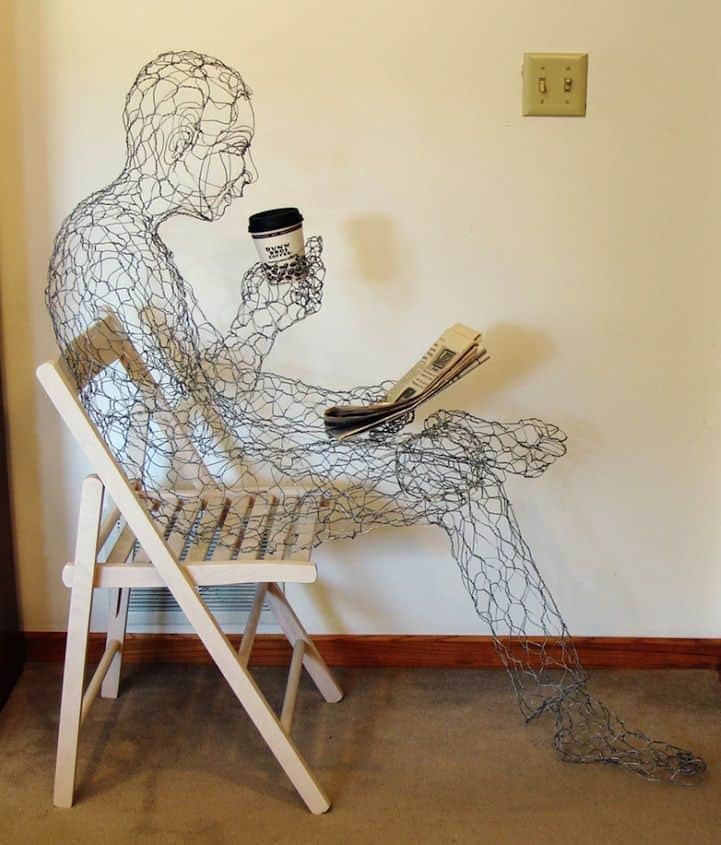 Sculpt something human with chicken wire, extraordinary the results will be !
via imgur.com
38. sculpt a face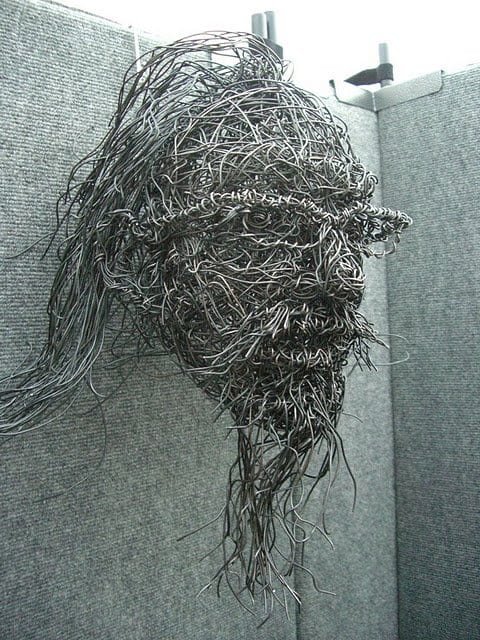 Wire art, fine art.
via artinthefrench.blogspot.com
39. simple and creative installation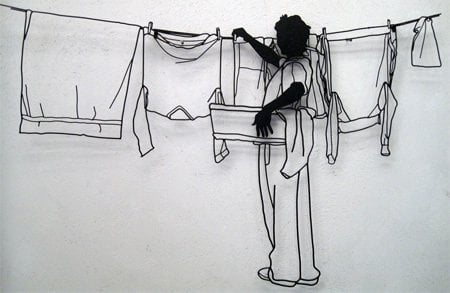 via artinthefrench.blogspot.com
40. installation shaped by life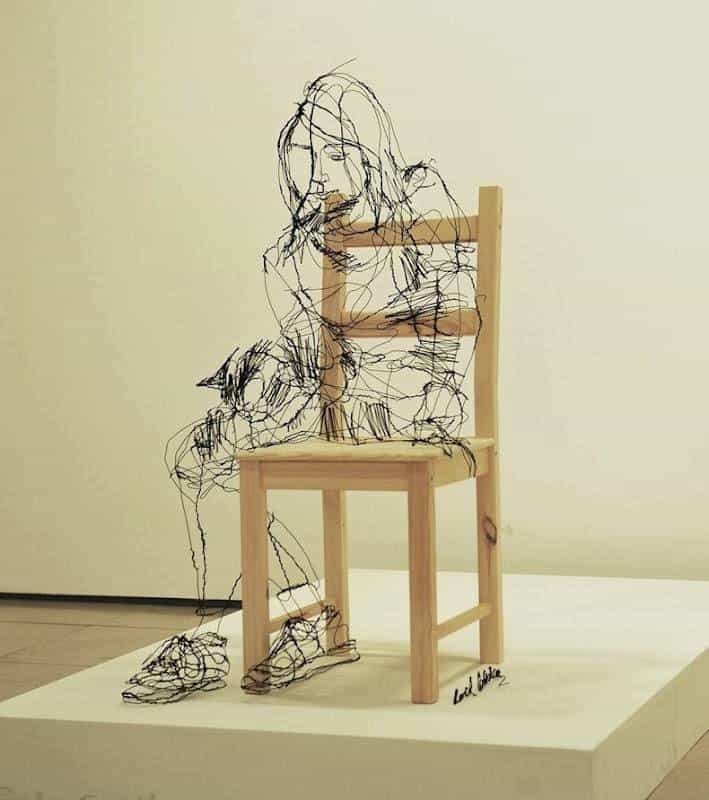 via Pinterest.com
41. shape a writing machine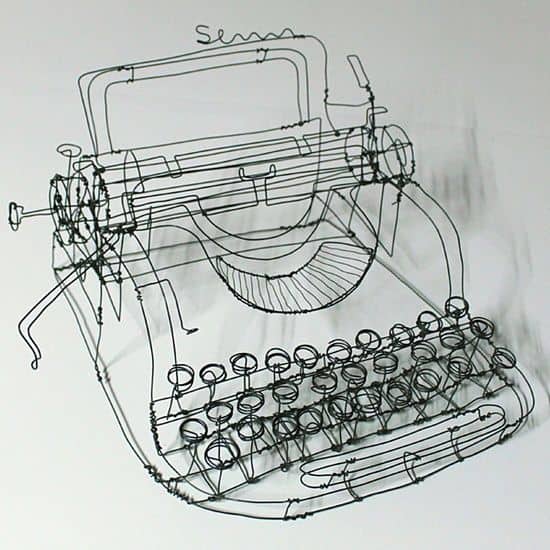 via cognacandcoffee.tumblr.com
42. sculpt a different life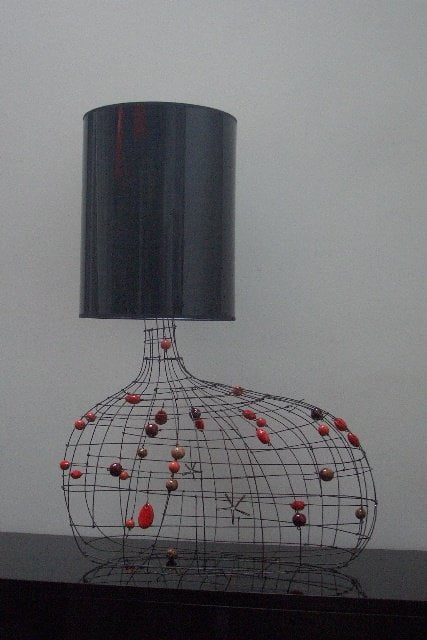 Your lamp can receive any volume, any shape thanks to string and wire. Use colored beans to create even more depth into the scene.
43.  shape a special birdie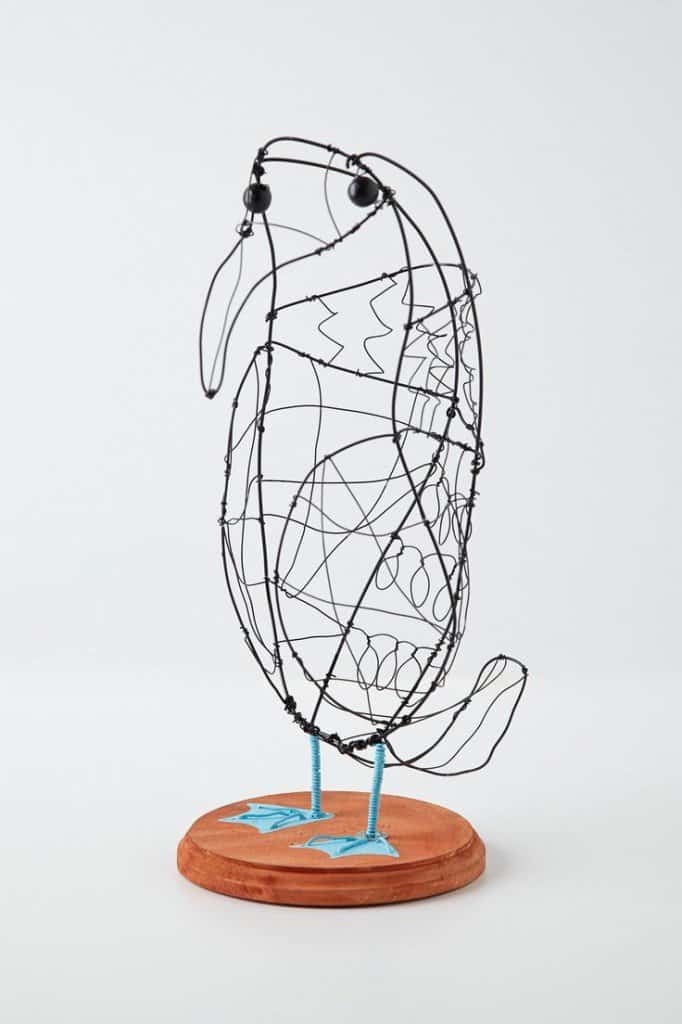 Have fun with a small, simple, adorable birdy shaped with wire, the element can become a prize, a really cute wire art figurine that will surely be loved by little ones !
Wire art sculptures can be extraordinarily easy or complex but regardless of difficulty, in a matter of minutes, everything can be changed. How do you see this spectacular pieces of art, do you see wire art sculptures as special sculptures? We would love to hear from you in the comment section below !