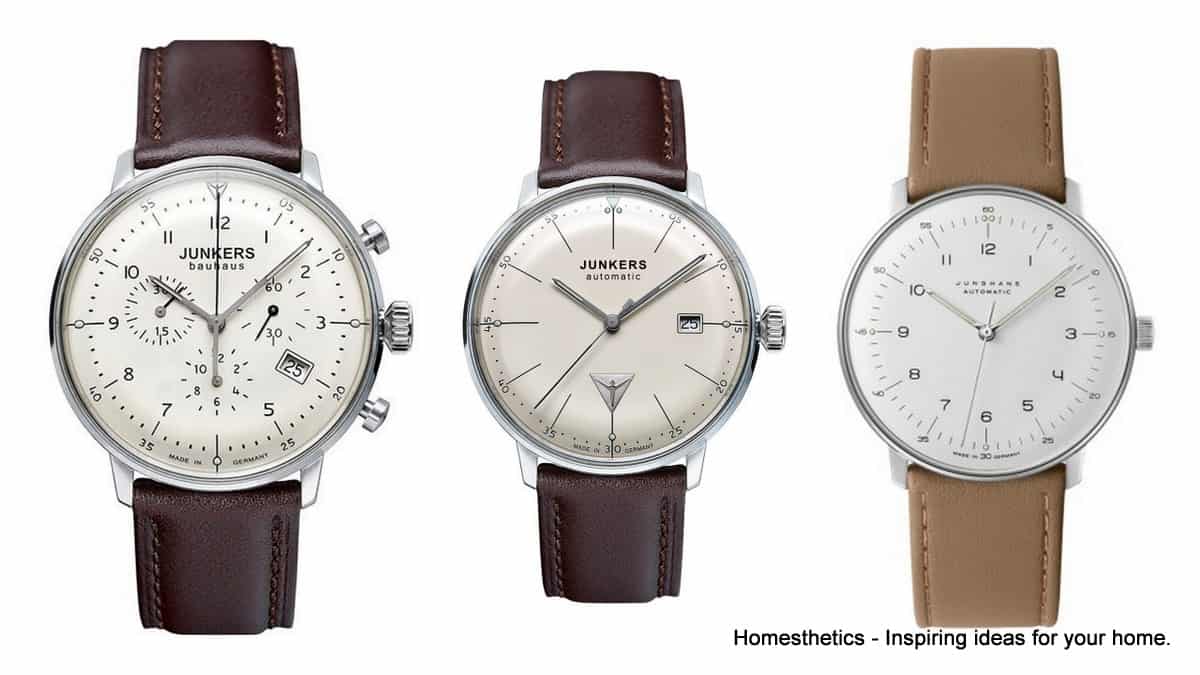 Watches are one of the few accessories that along with improving your overall look are amazingly functional as well.
And as time passed, since the day of their conception, they have grown to be an essential part of the daily lives of many a watch enthusiast.
There are a lot of watch styles out there that cater to a variety of customer needs and demands. From a wholly modernized digital design to reinvented vintage ones, the list is endless.
But today we would like to bring you a watch design based on one of the most prominent 20th-century German art movements. The Bauhaus style of watches are simple, elegant and come with a dash of the retro-element, timeless watches, pieces of art that simply do not age.
And we list our top 10 picks of the Bauhaus style for you to choose from, which we are confident will appeal to you as much as they have appealed to us.
Best Timeless Bauhaus Watches Defying Time
A few days after the reunification of Germany and the fall of the Berlin Wall, Nomos the watch company was founded in Glashutte, Saxony. And they have been forerunning the creation and design of modernized Bauhaus watches ever since.
From the get-go, Nomos had been relying on the Bauhaus inspired designs made by Susanne Gunther, but since 2005, their range has been predominated by their own in-house designs. The Tangente and Tangomat models reflect their Bauhaus inspiration the best.
The Tangente is indeed quite similar in appearance and utility to the earlier Stowa watches, which were and still are widely popular among the average watch enthusiasts. The only difference lies in the fact that the Tangente is a handwinding version and comes with an additional Nomo's Alpha Calibre.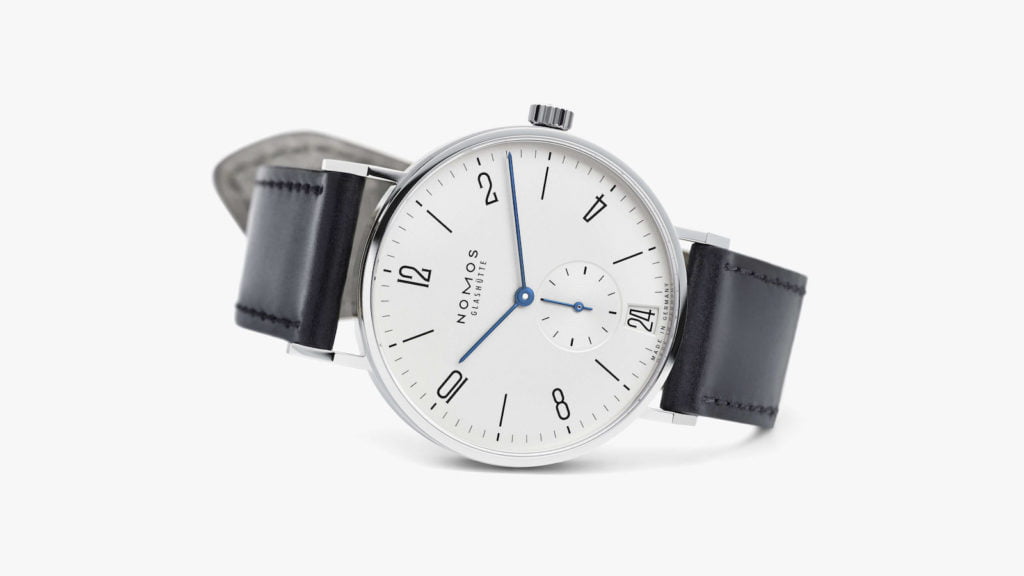 It's a rather small watch which clocks just under 38mm and can be an inconvenience to those who are used to wearing larger dials. And the design is not all that original as well, though simple and elegant, it holds on to too much of the Stowa's style to be able to provide the customers with anything new and fresh.
The Tangomat on the other end is similar in design as well but is an automatic model that uses the in-house Epsilon. Both the Tangomat and Tangente have black and white dial designs that allow you to personalize your watch.
Sternglas manufactures premium-quality watches with truly gorgeous designs and looks. Manufactured in compliance with "Swiss-made standards" and high-quality materials, this watch is truly a classic piece to add to your collection. 
We loved the elegant yet unobtrusive design of this watch. Unlike most other units that come with a 40 mm dial, the 38mm dial of this unit is refreshing and ensures proper fitting. .
Apart from that, the Sternglas Naos is Bauhaus style and features an inner ring of slim hour and second markers, and its numbers have been positioned strategically on the outside. We found its design to be very aesthetically pleasing. Plus, the logo is small and strategically positioned, making the design less cluttered.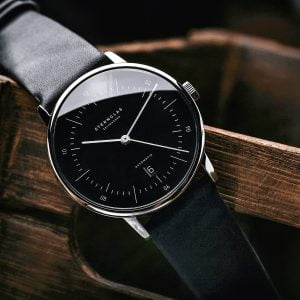 Additionally, we appreciate the black date window. Most watches in this price range are too casual in this regard, with plain or white date rings that make them awkwardly stand out. However, the black date design blends in perfectly with the design in this case. It's a great example of how a date window needs placing. 
Talking about its construction, the watch features a high-shine finish throughout and is made of standard 316L stainless steel. It feels weighty and solid in the hands. And its strap is made of genuine German-made leather, which isn't the best grade leather but still gets the job done without much trouble.
One of the more elegantly designed watches on today's list, the Aristo Dessau has taken the classic 1900s Bauhaus watch and given it a very artistic spin. And with this creative liberty, the designers have decided on letting go most of the watch basics apart from the date window and the numerals for the 5-hours. Therefore, it stays true to the principles of the Bauhaus designs.
The 4H1151M has a 316L stainless steel body and an exhibition back case that supports an overall diameter of 34.55. And along with having a standard 5 ATM water resistance it additionally relies on Swiss ETA automation for movement, which grants the watch a very modern touch.
The numerals for the 5-hours and the date window come featured in a silver-white dial and have a sleek silver hour and minute hand which make the watch look quite sophisticated. The small date window is provided at the 3:00 position on the dial, which is a much more traditional concept quite reminiscent of the classic Bauhaus designs.
But the overall watch and dial diameter is quite small and can feel somewhat underwhelming and unsuitable for smaller wrists. And if you're used to wearing watches with larger dials, then the 4H1151M may not be a perfect fit for your needs.
Over the last several years of the 21st century, Uniform Wares has grown to be one of the leading pioneers in sophisticated and modern watch designs. They have become the trendsetters whose aesthetics many brands have tried to copy and replicate.
Lugless cases, sterile dials, and generally clean and minimal design are all the hallmark features of this Bauhaus inspired British brand. And their M40 brushed steel model is the one that stands out the most, concerning aesthetics and utility.
Uniform Wares M40 also features their signature lugless design, and since the M series is specially made with a Swiss build in mind, the M40 comes with an additional sapphire crystal. Its case might look simple at first glance, but the finish and the execution brings it to life and sets the watch a class apart from the rest of its competition.
It measures 40mm x 10.23mm in its dimensions which is a comfortable mid-range size, and its entire steel build gives it a dignified weight as well. The all steel dial is elegant in appeal and readily compliments the UWs modern aesthetics while providing the watch with a stylish and industrial feel.
Though simple in design, the steel look may not go with some of the prevailing watch trends that are dominating today's markets. Some customers may not find its overall design to be as appealing or attractive.
This is the most pocket-friendly option out of all the other watches on the list. The Braun BN0021 acts as an alternative to the other Bauhaus inspired watches which are expensive enough to drill a hole through all your savings.
Braun is quite well known for being a manufacturer of electric shavers, and home appliances such as mixer grinders and electric stoves. And in recent years, they have been trying to gain fame in the field of watchmaking with their own unique take on the Bauhaus design.
Their BN0021 is one of the latest in their line up and is perhaps the only model that perfectly showcases their Bauhaus inspiration. It has a straightforward build of a 38mm black dial with the numbers 1 to 12 engraved in a traditional fashion.
But to make the otherwise dull and plain design more appealing to a broader customer base, the designers have used yellow for the second hand. This makes it more aesthetically pleasing to the eyes and allows it to compete with the more fashionable watches on the market.
The watch comes in a steel case and has no Swiss ETA automated features, but instead makes use of Quartz movement to function. Even though it's not expensive, the BN0021 does not compromise on quality and can withstand water up to 5 ATM.
A model heavily inspired by the traditional German Bauhaus style, the Junkers 6050-5 is the ideal example of a perfect blend of culture and modernity. And as it is available in two different styles and utilities, it has excellent versatility that is able to cater to a variety of user demands.
You can either go for the quartz style that is specifically designed to be powered by the Swiss Rhonda, or the automatic that solely runs on Swiss ETA movements. But the automatic, unlike the quartz, is rather expensive and may not be affordable to a lot of customers.
The watch comes in a stainless steel case and is 44mm in size, and has a Hesalite Crystal which boasts a unique style and fantastic automated movements. The Junkers 6050-5 has also been deliberately given a beige color that gives it a vintage appeal, quite similar to the 20th-century German art movement.
This will give you the impression that the watch is used, rather than it being a brand new remake or rendition of a classic model. The 6050-5 also has indices and lumps all over its band surface, which helps it to stand apart from the rest of the Junkers models, that have a more sophisticated and elegant design.
Though the used design may appeal to a lot of vintage watch enthusiasts, it may not seem all that attractive to those who are opting for a fresher look.
Simple, elegant, and functional, the Sternglass Hamburg Automatic watch is manufactured in Germany. Renowned for a variety of stainless steel watches, Sternglass combines the timeless elegance of the Bauhaus Movement with the minimalist German design.  
It sports a curved dial that is about 44mm in diameter and 12mm in height, which makes it a perfect fit for most. Adding to that is the elegant sapphire crystal that protects the dial.  The watch is finished with a silver or graphite color that lends a simple yet sophisticated look to the watch. 
Made with the best watch glass globally, it is scratch-proof, so you can rest assured that it can withstand daily wear and tear. Not only that, but it boasts an anti-reflective coating that eliminates glare, so you can see the time in broad daylight without any difficulty. 
Moreover, this timeless piece steals the show with its 50m water-resistant feature, making it ideal for pool parties. Inside the Hamburg Automatik is Miyota 8215 movement that ticks at 21,600vph and provides power reserves for 42 hours. Not only does it power the three hands, but it is also equipped with a date function. 
Embodying Hanseatic charm, this scratch-proof and durable piece will make a perfect gift for your father or husband. However, the straps aren't broken into, so you may find it slightly hard to put on. Overall, its detailed dial design, three-hand movement, date function, and stylish looks make it an excellent choice for all those who have a passion for watches. 
When we think of Junkers and their brand of Bauhaus watches, we are all reminded of Hugo Junkers and his genius in the field of art and airplane design. He was not only an amazing engineer but an avid admirer of avant-garde and expressionist paintings as well.
And it is not surprising to know, that over his formative years, he had developed a close connection with the artists of the Bauhaus movement and familiarized himself with their art. He had taken inspiration from their high aesthetics and implemented them in the design and creation of his airplanes.
The Junkers watch collection celebrates this very friendship and the role the Bauhaus movement played in the creation of the Junkers aircraft.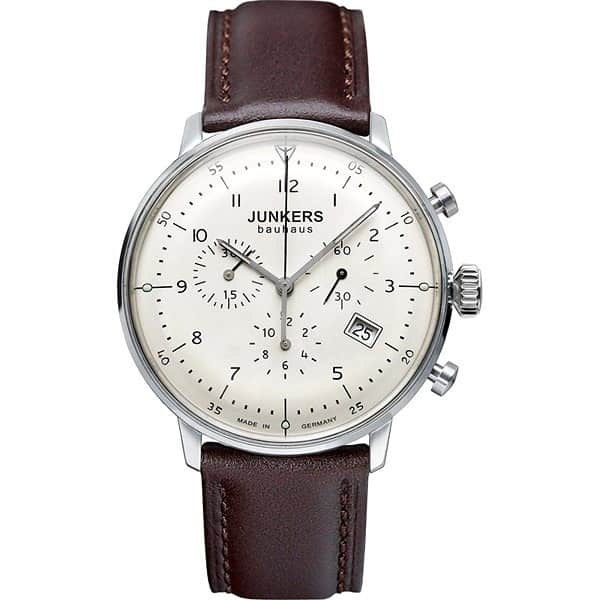 The Junkers Bauhaus Ref. 6086-5 pays homage to the vintage and the traditional styles of watch design. It features a domed halite crystal which is enclosed in a stainless steel case and wrapped around a brown handmade leather strap. The design is elegant and straightforward, and its timeless aesthetics appeal to a large user base.
The 6086-5 runs on Quartz movements and has a beige dial which supports chronograph functions. The dial has attractive black digits and green luminous dots that give it a very modern and sleek feel. And to top it all off, it comes water resistant to up to 3 ATMs, which may not feel standard for a watch of that range, but is definitely not a deal breaker.
If you are looking for a watch series that boasts one of the best case designs and build in a small form factor,then the Junis 34 models may just be the ones for you.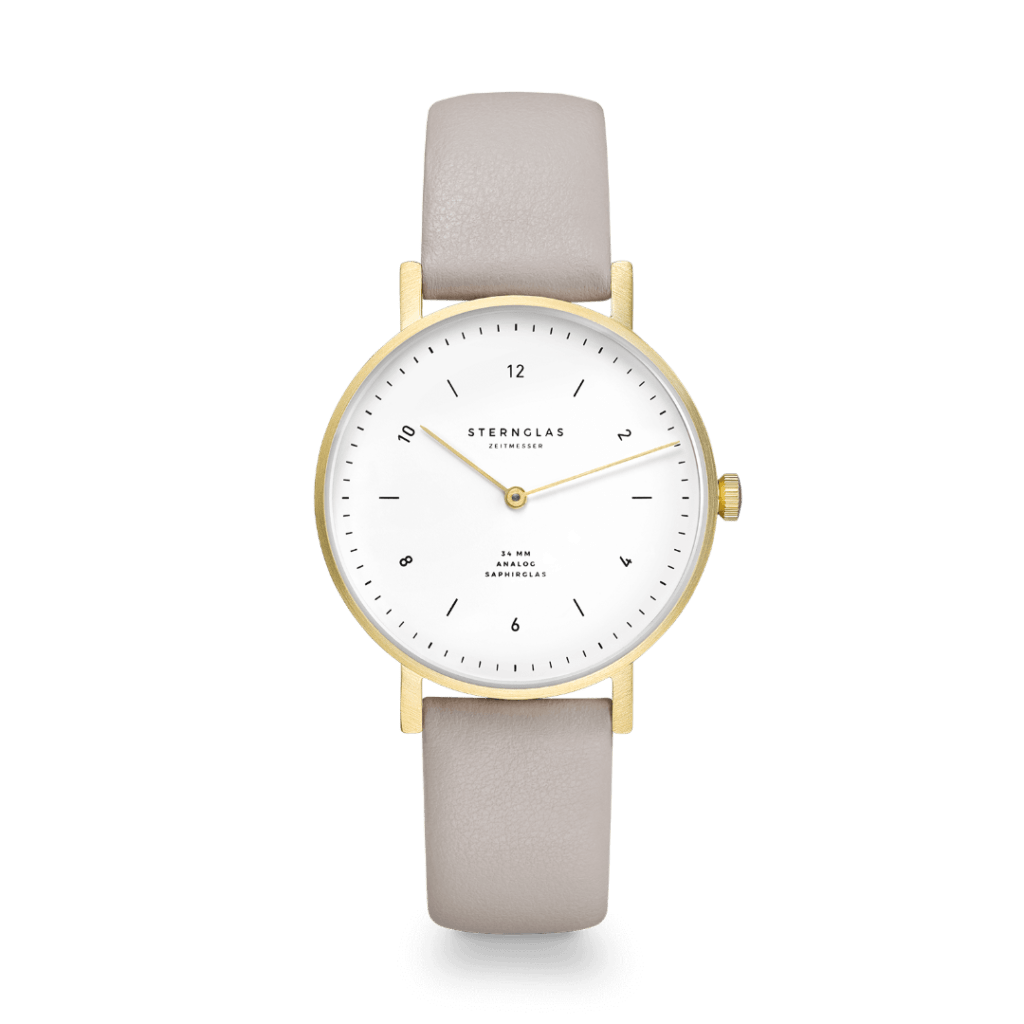 Made with simplicity and versatile range of uses in mind, the Junis 34 watch series is quite a popular pick for those who are looking do more than just keep time with their timepieces.
One of the most fascinating aspects of the Junis 34 watches is perhaps its perfectly proportionate build. Not many watches with a 34mm diameter will be able to achieve what the Junis 34 series has with its design.
Its 34mm diameter build comes with a case thickness of 8.8mm which along with the 44mm lug to lug measure makes for a very well balanced timepiece. Hence, even with the small dial diameter these watches can effortlessly fit both large and small wrists rather well and will be able to fit any kind of an occasion without a second thought.
The Automatic Chronograph series of the Junghans is perhaps one of their best collections that had gained wide popularity for Max Bill.
And many vintage watch enthusiasts share the opinion that the 027/4502.00 is a proper predecessor of the Junghans signatory 1950's robin's egg blue wall clock, which had a teardrop shape and was quite popular at the time.
The Junghans Max Bill Chronoscope Men's Automatic Chronograph Watch 027/4502.00 has a beautifully designed stainless steel case. It is 40 mm in diameter while being 14.5 mm thick, making it medium sized and perfect for both small dial and large dial watch wearers.
The screw-in case back has a matt silver-plated dial and comes with luminescent hands and dot hour markers.
It's chronograph functions feature a sweep second hand with a 30 minute counter at the 12 o'clock position and a 12 hour counter at the 6 o'clock position. And along with the date window at the 3 o'clock position, it makes it quite convenient for the user while still holding on to the traditional Bauhaus style.
Running on Swiss automatic movements, the 027/4502.00 has a Calibre J880.2 with a power reserve of 48 hours. It is highly durable as well, with a hard convex plexiglass and it comes with an enhanced scratch-resistant coating.
But the watch is rather expensive and the 3 ATM water resistance falls short when compared to the other Junghans models.
As one of the most celebrated watch designers of the 20th century, the painter, sculptor, and product designer, Max Bill has left behind a legacy of some of the most breathtaking works. And the Junghans Hand-Winding watch series is perhaps one of the most fascinating collections of Bauhaus inspired watches of the recent decades.
The Junghans Max Bill Hand-Winding Watch 027/3700.00 model is well known for its unique style and modern versatility. Its hand-wound design is quite iconic and comes with an amazingly sleek silver display and a stainless steel case with a supple black calfskin band.
The display of the hour, minute and seconds come encased in polished hard Plexiglas which keeps the watch durable to external damage. The Plexiglas also has a Sicralan coating, which means that along with the stainless steel body, the watch will remain scratch proof and water resistant at all times.
With a 9 mm thickness, it's lightweight in build, and the supple calfskin band is black and 37 mm long with a stainless steel buckle strap of 18 mm. This strap length and light design can be an issue for larger wrists that are accustomed to wearing heavier watches.
And to top it all off, the matt silver plated hour and minute hands feature environmentally friendly luminous "Super Luminova" substance, which along with the J805.1 Basic caliber aid in the hand-winding movement and function.
Junghans had quite a remarkable career in the field of watchmaking, in the 1980s they released the first radio-controlled table clock, and in the 90's a radio-controlled wristwatch. This technology lead to a partnership with Seiko, and they made a wristwatch that can automatically set the time irrespective of the time zone it was located in.
Then they took this technology and added it to watches based on Max Bill's original designs. And the Junghans Max Bill Chronoscope Men's Automatic Chronograph Watch 027/4600.00 is one such that was produced out of this union.
The watch uses a version of the Valjoux 7750 called the Junghans J880.2, that has a 25 jewel, 28800 BPH movement. It is modeled around one of the most reliable chronograph movements that the current watch technology has to offer.
Its dial is where you can see the influence of Max Bill; it is printed with small lumed dots at 12, 3, 6, and 9. The Chronoscope has Arabic numerals at each of the hours as well as on the minute and hour recording subdials.
Conclusion
There a lot of Bauhaus themed watches in the market today, and it can be tough to choose the one that fits you the best. We sincerely hope that our guide today was able to help you out with your search.
Till next Time!
Related Articles
16 of the Best Bauhaus Watches That Simply Do Not Age
9 Best Cheap Men's Watches that Look Expensive & Timeless
17 Best Stuhrling Watches Right Now