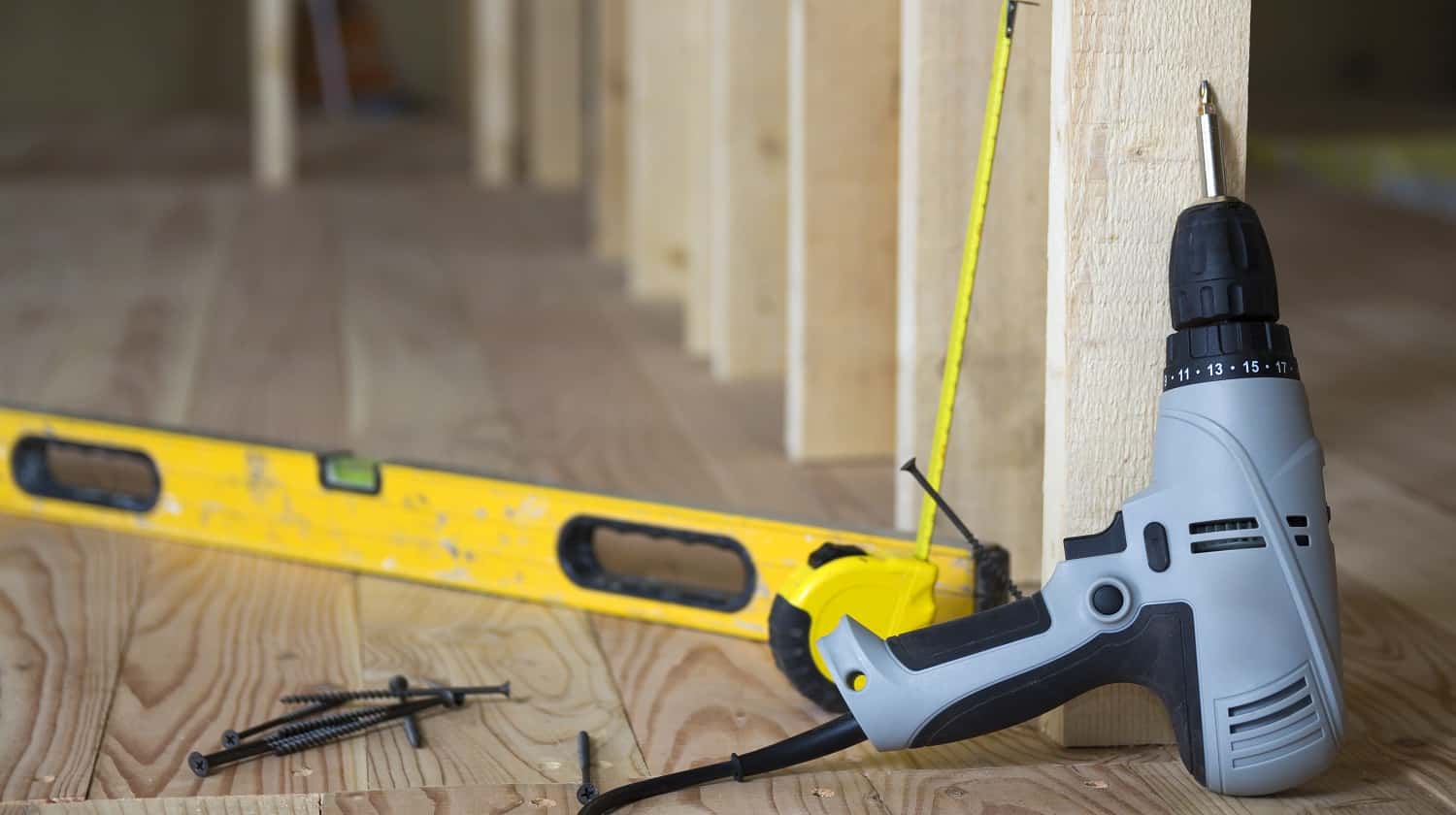 What if we got a dollar for every time attractively low prices lured us into buying unreliable drywall screw guns?
We'd have enough money to buy an expensive, high-end model.
Let's get straight to the point – are you looking for the best budget companion to your day-to-day drywall installation, plumbing, and carpentry jobs? Don't worry, we've got you covered with our expert guide to the 13 best models in the market, each offering a wide range of top-notch features.
We've also added a concise buyer's guide to walk you through the essentials to consider before buying a drywall screw gun.
Now, without any further ado, let's get down to business!
Best Budget Drywall Screw Guns 
IMAGE
PRODUCT
DETAILS

Our Top Pick

Our Top Pick

DEWALT DCF620B 20V MAX XR Drywall Screw Gun

Ultra-fast application speed of 4,000 RPM
Patented Cone-Lock feature for accuracy

VIEW LATEST PRICE →

Makita XSF03Z 18V LXT Lithium-Ion Brushless Cordless Drywall Screwdriver

Can deliver up to 4,000 RPM smoothly
Offers 50% longer runtime per charge

VIEW LATEST PRICE →

SENCO DS332-AC 3" Corded Auto-Feed Screwdriver

The impressive corner-fit feed system
Application speed of 2,500 RPM

VIEW LATEST PRICE →

Milwaukee 2866-20 M18 FUEL Drywall Screw Gun

3x times longer runtime than other screw guns
Smart auto-start feature to prevent damage

VIEW LATEST PRICE →

BLACK+DECKER BDCDD120C 20V MAX Lithium Single Speed Drill/Driver

The variable depth adjustment feature
20v MAX Lithium-Ion battery

VIEW LATEST PRICE →

Ryobi 18-Volt ONE+ Brushless Drywall Screw Gun

Top application speed of 4,700 RPM
QuietDrive feature for battery conservation

VIEW LATEST PRICE →

Milwaukee 2605-22 M18 18-Volt Cordless Rotary Hammer Kit

Vibration-dampening handle
Red Lithium battery technology

VIEW LATEST PRICE →

DEWALT DCF622B 20V MAX XR Versa-ClutchTM Screw Gun

A maximum speed of 2,000 RPM
Best-in-class versa-clutch feature

VIEW LATEST PRICE →

Milwaukee Electric Tool 2615-21 CT Right Angle Cordless Drill Kit

Features a wide array of accessories
11 variable clutch control settings

VIEW LATEST PRICE →

BOSCH SGH182B 18-Volt Cordless Screw Gun

Capable of delivering 3,400 screws per charge
Electronic Cell Protection to prevent overheating

VIEW LATEST PRICE →

Hitachi DB3DL2 Power Cordless Screwdriver Kit

3x times longer run time assurance
Lifetime Lithium Ion tool warranty

VIEW LATEST PRICE →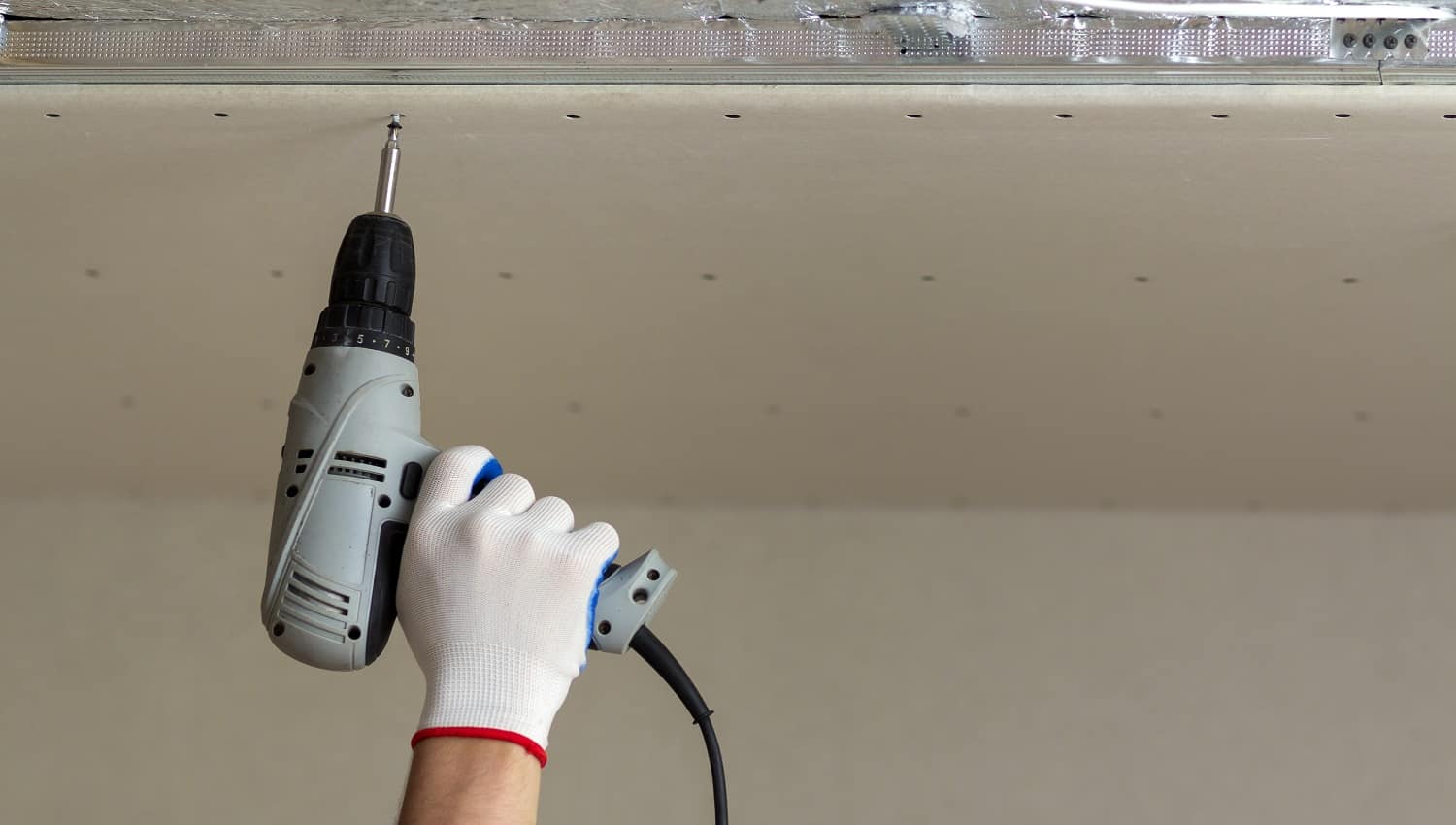 With over 96 years of manufacturing sheer excellence and precision, Dewalt is recognized as one of the leading brands in the global power tools industry. When we speak of drywall screw guns that promise majestic performance, the first product that comes to our mind is the DEWALT DCF620B 20V MAX model. What's the hype about? Let's find out.
Why Did We Like It?
Those who can't afford to compromise with high-end efficiency would absolutely love the DCF620B. Agile and smooth, this product features the iconic DEWALT brushless motor that easily outperforms every corded screw gun we've tested. Besides, you get a comparatively longer run time with this motor, much-needed for hardcore professionals.
However, it doesn't end there – its superiority is best experienced through its exceptional speed. This genius runs at an ultra-fast application speed of 4,000 RPM. With such high torque, you can focus more on getting the job done without any interruptions. Apart from that, it's powerful enough to drive around 2,000 screws at a time.
However, the icing on the cake here is the trail-blazing patented Cone-Lock feature, pretty useful for maintaining safety and accuracy. Once adjusted (which is relatively effortless), this feature helps the gun deliver consistent screw depth. Not only that, but it also prevents you from encountering accidental shifts mid-way through its secure-locking capabilities.
Being a DEWALT product, the fit and finish are evidently of superior quality, guaranteeing a longer life overall. The manufacturers also offer a whopping 3-year limited warranty period to back up its durability, giving you an overall better deal.
What Could've Been Better?
This product has surpassed nearly all our expectations, so we couldn't find any significant aspect that needs improvement. However, the only criterion where it falls short is its lack of pre-included batteries. The users have to purchase it separately, which is far from convenient.
Pros
Depth can be adjusted effortlessly

Extra features for safety and accuracy

LED light included for convenience

Lightweight and ergonomic
When it comes to best-in-class corded power tool technology, Makita is every professional's first choice. Their all-new XSF03Z 18V cordless screw gun redefines performance and convenience with the strength it packs within its compact body. Let's take an in-depth look at its core specs and functions.
Why Did We Like It?
Speaking of performance, if there's any product that could go against the DEWALT 20v MAX model, it's none other than the Makita XSF03Z. Like our first pick, it also comes packed with an efficient brushless motor that offers an ultra-smooth and uninterrupted user experience. For those pursuing a full-time career in carpentry, it's the much-needed tool to upgrade your toolbox.
At its maximum speed, this product can smoothly deliver up to 4,000 RPM without any vibration issues. The runtime is also taken care of, thanks to Makita's best-in-class technology. The electric-controlled brushless motor has been configured to consume meager power, allowing every charge to offer a 50% longer runtime compared to its competitors.
However, what we liked the most is despite offering groundbreaking performance for such long hours, it doesn't bother you with overheating issues. To be precise, the motor doesn't deal with carbon brushes, enabling it to maintain optimal coolness. Not only does this feature make it eligible to use for long periods without any discomfort, but it also extends its life by a considerable extent.
What Could've Been Better?
When it comes to drywall installation, this product is an absolute gem. However, when it comes to compatibility with other materials, it thumbs its nose. Also, it'd have been better if it came along with a storage box for safety and protection.
Pros
High-quality build materials

Built-in LED light for convenience

Ergonomically designed

Ultra-quiet motor operation
Cons
Not efficient on other materials except a drywall
SENCO Tools has been globally recognized as the deliverer of exceptional performance since 1935. Although the brand is mainly known for its high-end pneumatic tools, its all-new DS332-AC corded screw gun has created a buzz with its vast range of features. Under a super-affordable budget, it doesn't get better than this.
Why Did We Like It?
SENCO has been a favorite among professionals due to its innovations that stand the test of time, and the DS332-AC is no exception. This product packs very high performance for a mid-range screw gun, which can be felt as soon as you push its high-torque motor beyond its limits.
Robust and long-lasting, the patented SENCO motor comes equipped with an iconic corner-fit feed system that makes drywall installation a cakewalk. Big ups to the manufacturers for introducing next-gen technology, as this auto-feed feature also eliminates the usage of screw bands like the typical old-school variants.
Besides that, you also get a decent application speed of 2,500 RPM, good enough for medium-duty tasks.
Speaking of convenience features, this product comes with an incredible tool-free screw length adjustment system that makes it easier to handle. Furthermore, you also get a sliding screw guide and depth lock capabilities that enhance its performance a little.
The best part here is that unlike our previous recommendation, the SENCO screw gun can perform well on materials other than drywall. To be more precise, this product comes with both drywall and wood nosepiece, which speaks volumes about its versatility.
What Could've Been Better?
This model is unfortunately available in a corded setting, for which it will always have a disadvantage against cordless alternatives that are comparatively more portable. If nothing else, you'd have to settle with restricted movement while working.
Pros
Sturdy and long-lasting construction

Ergonomically designed

Appropriate for medium-duty construction

Screw length adjustment system
Cons
Not available as cordless
When it comes to brands that have made our lives simpler, Milwaukee is one of those pioneering tool manufacturers that don't need an introduction. Their all-new 2866-20 M18 FUEL drywall screw gun merges the gap between entry-level ease of use and superior performance. Let's check out what it brings to the table.
Why Did We Like It?
First, this is one of the most visually appealing screw guns that we've come across in a while. Its elite red and black finish gives it a very sophisticated outlook, guaranteed to make heads turn. Besides, its industrial-standard design also adds another star to its appearance, while making it very comfortable to work with.
When it comes to performance, this product crushes the competition with the incredible Milwaukee motor that revs up to 4,500 RPM. This feature gives you the confidence to take on any job, even if it's quite heavy-duty. To back up its performance, the manufacturers offer 3x times longer runtime than some of the best-selling screw guns in the market.
The USP of this product has to be its autostart feature, which comes in handy while handling professional jobs. To be precise, the motor features a smart sensor that only turns it on when it's placed close to the drywall. Not only does that make it a lot more convenient, but it also ensures that the motor isn't damaged by mild wear and tear.
What Could've Been Better?
Like the DEWALT 20V Max, this product also doesn't come with pre-included batteries. Being a cordless tool, the manufacturers must focus on enhancing their user experience, which is compromised as the users have to search for batteries separately.
Pros
Excellent application speed

Minimal power consumption

Ergonomically designed

Autostart feature
Cons
Doesn't pre-include batteries
Anyone experienced enough to recognize ultra-reliable power tools isn't a stranger to Black+Decker, a globally-leading brand best known for changing the game with its innovations. The BDCDD120C model is the ultimate solution to your drywall construction needs, that too, at a bargain-basement range. Let's check out its key specs and features.
Sale
Why Did We Like It?
As DIY enthusiasts, having to work in confined areas is a regular job. Thanks to the user-convenient design, you can quickly push it through limited spaces for drilling, so that you don't miss out on the minute details. The incredible design gets the job done without causing any user fatigue at all, only made possible due to its ultra-compact and lightweight body.
The product amazes us with its convenience features, most surprising of which is its LED lights. This feature makes it easier to adjust screws in restricted spaces by brightening the surface, which is incredibly useful.
Furthermore, it gives you 100% user control over its functions, such as its depth adjustment feature. To put it simply, the drywall drill nose comes with a variable dial adjuster that lets you decide the depth measurements, giving you the freedom to take on any small-scale job with sheer confidence.
Also, being a cordless screw gun, it automatically has the upper hand over the typical corded variants. It doesn't depend on any plug-in electrical outlet to operate, and its 20v MAX Lithium-Ion battery offers a fantastic runtime. Last but not least, unlike some of our top picks, this one comes with pre-included batteries.
What Could've Been Better?
We can't deny that it's a brilliant choice if you're selecting a tool for small-scale DIY jobs. However, it's not as powerful as our other recommendations; thus, it isn't the right fit for the heavy-duty professionals.
Pros
Premium build quality

Sufficient torque for DIY jobs

Pre-included batteries

Ideal for drilling in confined spaces
Cons
Not recommended for heavy-duty use
Speaking of power tools brands that never disappoint, Ryobi Tools is a brand that has always stayed a step ahead of the competition in terms of technology. For those searching for an agile cordless screw gun that offers the reliability of the traditional corded ones, the 18 Volt ONE+ is your best bet.
Sale
Why Did We Like It?
Like any other tool, Ryobi hasn't compromised with the fit and finish of the 18v ONE+ model either. Attractive and durable, this product has been specially built to withstand rough use to accompany your heavy-duty endeavors. Its scratch-resistant cover not only preserves its charm for years but also ensures that the motor remains safe from wear and tear.
This product brings in one of the best brushless motors that we've tested by far. The high-end performance that it offers would have you believe you're using a heavy-duty corded gun.
As in, it provides a top application speed of 4,700 RPM, which is generally impossible for cordless variants. It's made even smoother by its heavy-duty clutch, engaging as soon as you press the bit to the fastener.
Speaking of power source, it runs on an 18V battery that offers an impressive runtime, despite having fancy battery-consuming features such as built-in LED lights. The secret behind it is the best-in-class QuietDrive feature, due to which the product is well-capable of battery conservation. Other than that, it also doesn't let the motor produce excessive noises while working.
What Could've Been Better?
Although the noise issues are taken care of by the manufacturers, the prevalent vibration issue remains unsolved. This product may feel uncomfortable at high speeds due to the shakiness, which needs an urgent fix.
Pros
Very powerful and reliable

Built-in LED lights

Detachable nose cone

Variable speed adjustments
Looking for an ergonomic screw gun that packs exceptional impact energy? Our penultimate recommendation, the Milwaukee 2605-22 model, is the one-stop solution to your needs. Whether its reliability or speed, this torque monster has it all covered. Let's check out its core specs and functions.
Why Did We Like It?
We hardly come across screw guns that make screwing through concrete drywalls look like duck soup – this product is one of those rare cases. The torque that it's engineered to deliver is tremendously punchy, going up to 4,800 BPM without any vibrations.
Furthermore, we're in love with how, despite offering such potent power, it doesn't hamper the task accuracy with irritating vibration issues, setting higher standards for handling.
With this product, you get an incredibly reliable Red Lithium battery technology that gets the maximum job done per charge. With such long-lasting run time, you don't have to worry about continually plugging the gun for charging after every few hours of work. As a bonus, it comes with a smart fast-charger that makes it twice as convenient.
What Could've Been Better?
Performance-wise, there isn't a single thing that we'd like to change about this remarkable genius. However, it's priced a little towards the higher end, which is why it's not accessible for the masses.
Pros
Lightweight and compact

Removable auxiliary handle

Shock-absorbant build material

100% user control
Dewalt has returned on our list with another medium-range screw gun with a host of features that set a higher benchmark for quality. The DCF622B Versa-Clutch, or the mini-me version of the best-selling DEWALT DCF620B 20V MAX embodies its predecessor's excellence, that too, under a less costly price bracket.
Sale
Why Did We Like It?
DIY enthusiasts always rely on DEWALT for the best bang for their buck when it comes to power tools. The Versa-clutch lives up to the brand's legacy, as it provides sufficient torque and performance to handle medium-duty or personal screwing/drilling jobs with precision.
To begin with, this product features the agile and powerful brushless motor, specially engineered to offer consistent power and smoothness to take on any job. You can operate it at a maximum application speed of 2,000 RPM, good enough for small-level jobs. However, the catch here is the ultra-quiet and vibration-free operation that the motor delivers, allowing it to be used for long hours.
When it comes to premium build quality, DEWALT is always pulling out all the stops. Likewise, this product is constructed from high-quality materials that withstand minor wear and tear to protect the motor. The motor life is also taken care of as you get ventilation fins sidewards to prevent overheating issues.
Last but not least, as the name implies, this product comes equipped with a best-in-class versa-clutch feature that enhances its longevity. To be precise, it helps eliminate any damage to the fasteners and materials while ensuring that it delivers highly accurate performance.
What Could've Been Better?
You'd wonder whether the most significant issue of this unit is its below-average battery performance – but it's even worse. The product, in fact, doesn't even come pre-included with batteries. With such subpar runtime, we wouldn't recommend it for heavy-duty jobs.
Pros
Excellent safety features

Lightweight and ergonomic

Decent application speed

Premium fit and finish
Cons
Disappointing battery life
Our final pick of the day is Milwaukee's class-leading 2615-21 product range, the go-to kit that makes drilling through confined spaces look like a walk in the park. Whether you're a plumber, carpenter, or a professional handyman, you should put your money here to access sheer excellence. Let's take an in-depth look at what it offers.
Why Did We Like It?
It's all-in-one kit alone speaks volumes about the ease of use and convenience it brings to the table. With this kit, you get a fully-functional screw gun and a fast charger, along with housing screws, perpendicular flex shafts, chuck screws, and whatnot. All packed inside a sturdy carrying case for safety – now, isn't that something?
Boasting an incredible application speed of 1,500 RPM, the Milwaukee 2615-21 stands out as a smart choice for small-duty professional jobs. Besides, we're fans of its electronic clutch that produces a peak torque of 125 inches/lbs. You also get to shuffle between 11 variable clutch settings, making it easier to control the torque delivery.
As we've mentioned earlier, it makes an incredible option to consider while drilling through hard-to-reach areas. As in, it comes with a compact 3.¾" head length, being the main secret behind its best-in-class maneuverability.
What Could've Been Better?
This product is so precise that even after nitpicking for hours, we couldn't arrive with constructive criticism regarding enhancement. That's the reason why it's mostly out of stock, which seems like the only relevant downturn in this case.
Pros
Excellent safety features

Lightweight and ergonomic

Decent application speed

Premium fit and finish
Engineered for superior efficiency, BOSCH Tools is a brand that surpasses the highest standards in robustness and precision for heavy-duty jobs with its tools. Their brand-new SGH182B screw gun has been trending nowadays, mainly because of its out-of-the-box safety features. Let's find out whether it suits your needs.
Why Did We Like It?
Heavy-duty cordless tools aren't generally capable of offering a mind-boggling runtime period, but that's not the case with BOSCH. The SGH182B has been engineered to merge convenience and performance at its finest, making it capable of covering up to f 3,400 screws per charge. With such extreme runtime, you can quickly go all day long without worrying about falling short of power.
When it comes to safety, it's challenging to outperform Bosch Tools. Here, you'll find extravagant features that ensure to protect the power source from any sort of damage. For instance, you get the brand's iconic Electronic Cell Protection feature that safeguards the battery from overheating. Other than that, it also prevents any scope of deep discharge or overload from hampering its longevity.
Moving on to the real deal – this product features an incredible brushless motor built to last for years. At its highest efficiency, it can crank up to 4,200 RPM without any vibrations, which makes it an appropriate tool upgrade.
Last but not least, this model features a premium build quality, offering you a long-lasting overall life. The manufacturers also back it up with a limited 1-year warranty as an assurance of quality.
What Could've Been Better?
Performance-wise, BOSCH tools do not leave any room for complaints, and this screw gun is no exception. However, this product doesn't come with batteries, making it a little less convenient.
Pros
High-end safety features

Built-in LED lights

Direction control feature

Lightweight and compact
Cons
Doesn't come with batteries
Hitachi Power Tools is a global brand that offers cost-effective innovations to ease your heavy-duty professional jobs. This one-of-a-kind cordless screwdriver kit has set the standards pretty high for smart drilling with its incredible features. Let's take a quick peek and find out whether it suits your needs.
Why Did We Like It?
Gone are the days when you had to purchase batteries separately to operate your screw guns. Hitachi has made our lives easier by pre-including high-quality Lithium-Ion batteries and a fast charger, giving it an instant advantage over most competitor brands. To make it even better, the batteries are covered by a 2-year warranty period.
The brand also boasts a rich history of primarily configuring tools to deliver fade-free power, even after years of rigorous use. Similarly, the DB2DL2 is all about the action, which is felt as soon as you put your finger on the trigger.
Apart from that, the manufacturers assure 3x times longer run time than the standard most out there, which gives you the confidence to bring it out for heavy-duty tasks.
Hitachi has spared no effort to make it one of the most durable screw guns money can buy, either. Whether it's high-end make and materials or sophisticated finish, this product has it all covered. Besides, Hitachi's Lifetime tool warranty is too attractive to resist.
Last but not least, this product redefines ergonomics with its dual position handle. Simply put, you can transform it from a regular straight handle to a comfortable pistol grip with a simple push, which offers you enhanced flexibility.
What Could've Been Better?
Although the pistol grip enhances flexibility, it becomes harder to access the rocker switch. And if you're right-handed, it'll be twice as difficult. Also, it wouldn't have hurt if the nose of this model was shorter than its actual size.
Pros
Dual-position handle for flexibility

Excellent build quality

Pre-included batteries and charger

2-year warranty on the batteries
Cons
Can't access the rocker switch in pistol grip mode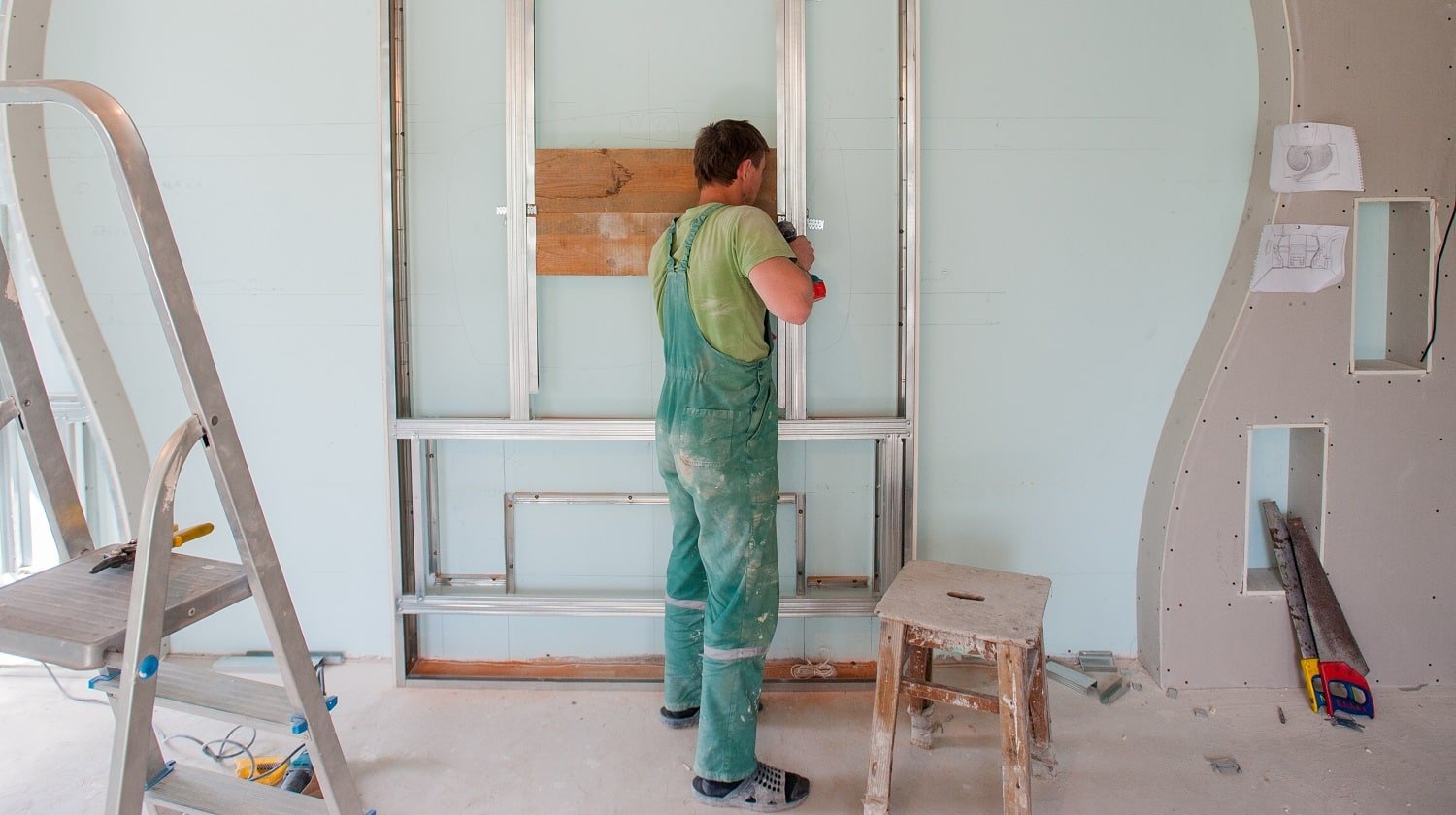 Drywall Screw Gun Buyer's Guide 
Now that you've checked out the 13 best budget models let's check out some key factors that can help you choose the one that suits your needs precisely. Here are some of the factors that an efficient drywall screw gun must feature.
Motor Configuration
Brushless motors are recently trending due to enhanced power delivery, produced by the elimination of carbon brushes. However, brushed motors are the less costly old-fashioned alternatives for personal tasks.
Torque/RPM
As it's a rotary tool, an impressive peak torque will always gain a significant advantage. If you're buying tools for heavy-duty commercial use, don't consider settling for less than 3,000 RPM.
Clutch
With great power comes the responsibility to control it from going balls-out. The clutch, aka torque controller, helps you decide how much torque the machine should be producing. It's imperative to choose the guns with a softer grip, regardless of the type of work.
Battery
Last but not least, it's necessary to ensure that the product guarantees an impressive run time. For that, you'd need Lithium-Ion batteries that last very long on a single charge.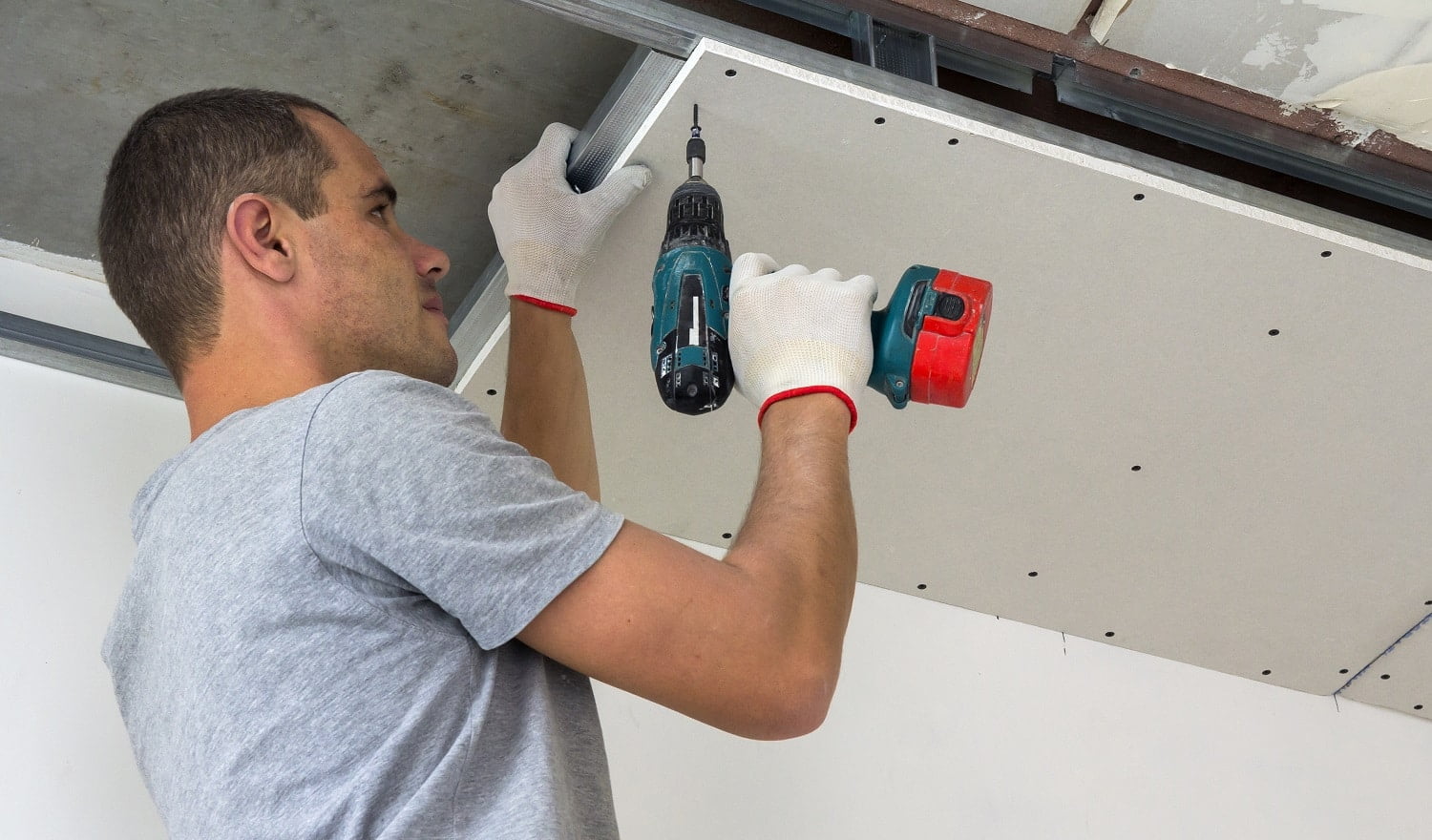 Verdict
Congratulations! You have officially learned everything there is to know to finally choose a screw gun that you won't regret buying. Just in case you are still having doubts, here's a quick recap of our editor's top picks.
The DEWALT DCF620B model is the one-stop solution for hardcore professionals. The Makita XSF03Z remains somewhere close, that too, with a 50% longer run time. Last but not least, the SENCO DS332-AC offers the best bang for your buck, especially if you're on a low budget.
We'll return soon with more insightful product recommendations.
Till then, stay tuned. And remember – the drill never ends, folks!
Related Articles
9 Most Powerful Cordless Drills
What's Wrong With Your Drywall?