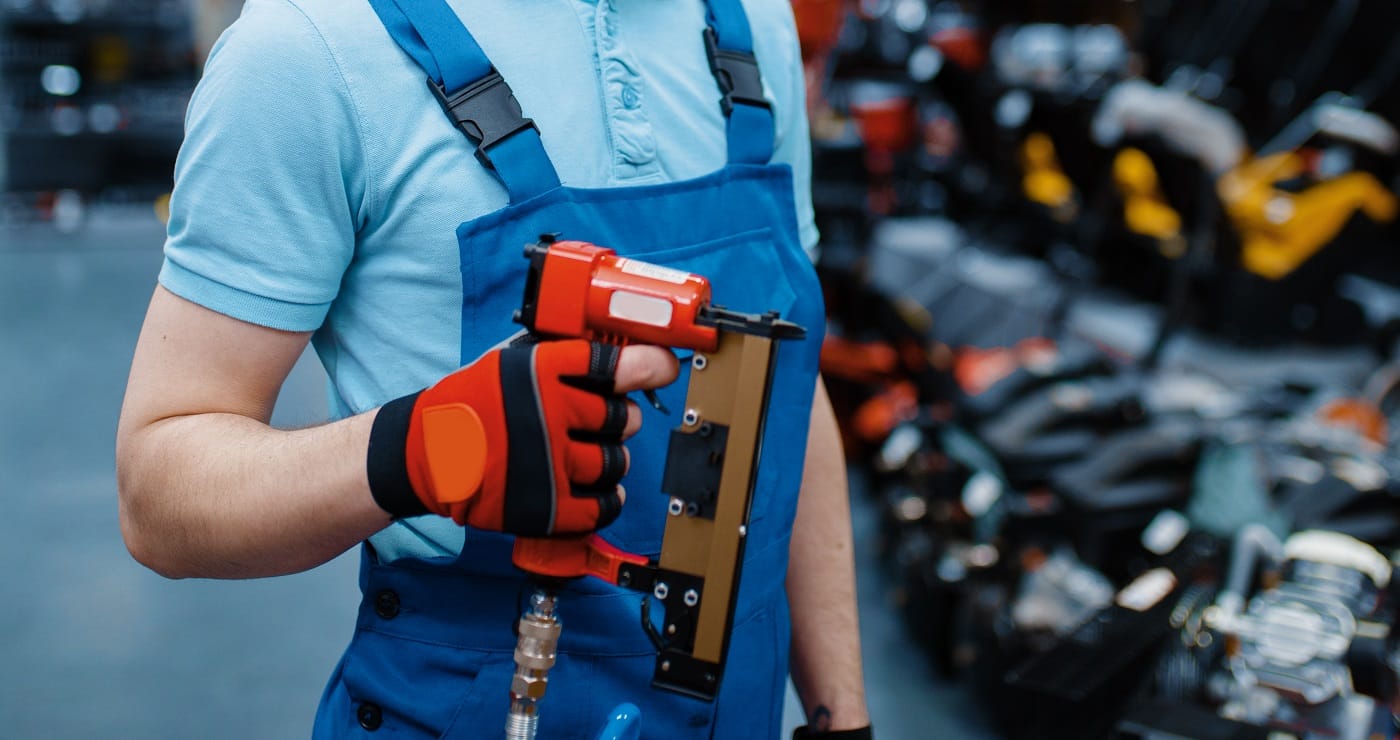 Remember the iconic James Bond montage where Bond walks on screen and swiftly turns to fire a shot as the music hits the crescendo? 
While we can't provide you with a gun or a license to kill, we can certainly offer you the license to thrill in today's review. If you're a DIY enthusiast or professional contractor, nothing will be more fun than working with a nail gun. 
All you need to do is point it at the material, fire away, and then step back to admire the precisely placed nails that make your projects stand out. The latest models come with numerous stunning additions, so that you may continue firing with greater power and efficiency. 
However, you'll need to decide on the unit to buy. To help, we've picked out the 11 best options that are taking the market by storm. Therefore, take aim, put your finger on the trigger, and let's begin. 
Best Nail Gun For Trim
IMAGE
PRODUCT
DETAILS

Our Top Pick

Our Top Pick

PORTER-CABLE Nailer Kit

1.5Ah 20V MAX Li-ion battery 
Bluetooth speaker 
Depth adjustment wheel 

VIEW LATEST PRICE →

WEN Pneumatic Nailer

Operates between 60-115 PSI 
Nail gauge 
Depth adjustment wheel 

VIEW LATEST PRICE →

Metabo Nailer

15 gauge nail finisher 
Integrated air duster 
Selective actuation switch 

VIEW LATEST PRICE →

DEWALT Nailer Kit

Tool-free depth adjustment 
The tool-free jam release mechanism 
Rear exhaust 

VIEW LATEST PRICE →

BOSTITCH Nail Gun

Selectable trigger system 
Filtered air-inlet 
Depth control dial 

VIEW LATEST PRICE →

NuMax Nailer

Tool-free depth adjustment 
16-gauge pneumatic nailer 
No-mar tip 

VIEW LATEST PRICE →

CRAFTSMAN Nailer Kit

18-gauge nail gun 
Tool-free depth mechanism 
Tool-free jam release 

VIEW LATEST PRICE →

TACKLIFE Nailer

2-in-1 brad nailer 
Operates under 70-100 PSI 
Anti-slip rubber grip 

VIEW LATEST PRICE →

NEU MASTER Nailer

336 staples
200 nails 
Safety switch 

VIEW LATEST PRICE →

Ryobi Nailer

Can drive 1700 nails per charge 
Adjustment dial
Low-nail indicator 

VIEW LATEST PRICE →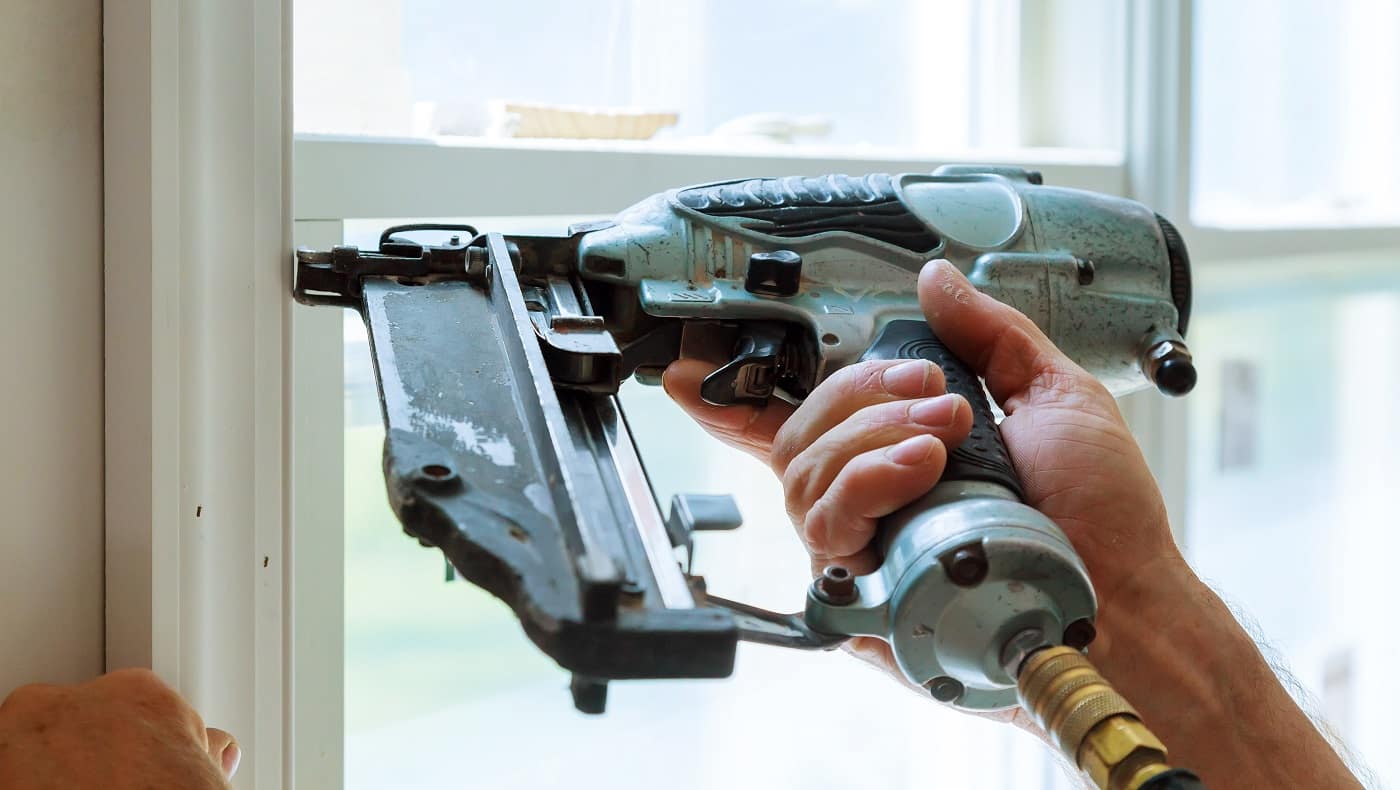 When it's a list comprising nail guns, it's difficult to look past what PORTER-CABLE has up its sleeve. This nailer kit from the brand is reliable as seen with other products, along with most features you would expect to find in a nail gun. To better appreciate what it offers, let's take a closer look.
Sale
Why Did We Like It? 
There are several factors to consider while buying a nail gun: power, precision, and user-friendliness. We're happy to report that this product does well in all three departments because it's battery-powered and eliminates the need of cords. Work becomes more manageable with the battery offering a longer runtime for extended use. 
It has done away with the compressor, hose, and gas cartridge, making it cost-effective and easy to maneuver. Another aspect to consider is consistency and thanks to the depth adjustment wheel, you can effectively countersink nails. So, it's possible to make subtle changes to the depth of each nail, which is further supported by the tool-free release lever. 
We also liked the inclusion of the jam-release mechanism for a smooth experience, thereby preventing unnecessary interruptions. Plus, the nail gun comes with an integrated belt hook for greater convenience and portability.
What Could've Been Better? 
Once you start using the gun, you're likely to experience a slight recoil, but this isn't a significant problem. Besides, there's no rapid-fire option, so you'll need to push the gun right up against the surface before pulling the trigger. This makes it safe but prolongs work time.  
Pros
Tool-free release lever

Jam release

Integrated belt hook

Cordless

Convenient for all users
Cons
No rapid-fire mode

Slight recoil
You might have liked our earlier recommendation but don't be hasty in your decision-making because the products keep getting better. Next up is the WEN Pneumatic nailer, and there's a lot to like about it, meriting a place on our list.
Why Did We Like It? 
An essential aspect of nail guns that's often neglected is variation, but luckily, this product has made the required upgrades. You've got the option of using 18-gauge brad nails, having a length of ⅜ inches to two inches, highlighting the efficiency of the unit. 
Besides, the NPT air inlet filling enables you to operate the gun anywhere between 60-115 PSI. It comes in handy when you need to fire the 2000 nails made available with the product into various surfaces. The nails are also categorized into four types, each consisting of 500 nails for a seamless experience. 
Even if the nail gun jams, the nose-latch helps you quickly clear the jammed nails to carry on unperturbed. Other than that, the depth adjustment wheel and the rotatable exhaust showcase the tool's user-friendly attributes, while the quick-release mechanism reduces work time.
What Could've Been Better? 
You'll see that it comes with steel inlets, which fails to form a tight connection, leading to air leakage. All you need to do is replace it with brass inlets to solve the issue, but this is something the designers should've looked into themselves. 
Pros
Rotatable exhaust

Quick-release mechanism

2000 nails

Nose-latch

Precision performance
If we talk about a power-packed performance, there's none better than the Metabo Nailer. It's a well-built unit, and even a passing glance at the model will attract the shopper in you. Once your shopping senses are stimulated, you won't be disappointed, thanks to the fantastic set of functions. 
Sale
Why Did We Like It? 
When we review any product, we look for functions that give the tool an edge over other models. Regarding this nail gun, that would have to be the integrated air duster, helping to keep the workbench clean. Cleanliness is often neglected compared to other features, but it's equally essential since you don't want dust or debris to hinder you while working. 
What's more, thanks to the selective actuation switch, you've got the option of choosing how you want to use it – for sequential or contact nailing. All you need to do is flip the switch to make the adjustment without requiring additional components. 
But that's not all because the tool-less depth adjustment allows you to alter flush fastening, providing more control in your tasks. Speaking of control, it weighs only 4.2lbs with the lightweight design ensuring you can work for long hours. 
What Could've Been Better? 
DIY enthusiasts are likely to notice the absence of a rafter hook, which is a point of contention with this tool. Having a rafter hook provides safety and flexibility as you're using the gun while standing on a ladder. Plus, the front part of the gun is slightly oversized, which is frustrating if you need to work in tight spaces. 
Pros
Easy to use

Tool-less depth adjustment

Affordable

360-degree adjustable exhaust

Lightweight
Cons
No rafter hook

The front part is slightly big
Another well-known brand that most users search for is DEWALT, and with good reason. One of the essential requirements for a nail gun to work well is balance, and, in that regard, this unit stands out. Unsurprisingly, it has found a place on most wish lists, with users having only good things to say about it.
Why Did We Like It? 
If you're looking for precision at work, an essential aspect is ensuring that the nail gun doesn't damage the surface of the material. In that regard, this particular tool has done well and prevents staining of the material for a refined look. You can operate it at a pressure of 70-120 PSI with the rear exhaust preventing contamination of the workbench. 
We must mention that since it's a pneumatic power source, you'll have to purchase a compressor, but there's an advantage as well. It permits you to drive 18-gauge nails measuring ⅝ inches to two inches with relative ease. Furthermore, with help from the tool-less depth adjustment, you can make the necessary alterations to prevent dents while correctly setting the nail heads. 
Are we forgetting anything? Oh! The tool-free jam-release mechanism provides greater efficiency and ensures you can quickly complete work. 
What Could've Been Better? 
Most users agree that there are two prevalent issues with the model. Once you start working, you might experience the occasional misfire, leading to tiny holes being carved on the material. Also, we found that the piston sealer ring is slightly flimsy, requiring you to carry out regular maintenance for the best results. 
Pros
Works with 18-gauge nails

Pneumatic power tool

Easy nail removal

Keeps the workbench clean

Operating pressure of 70 -120 PSI
Cons
May misfire

Flimsy piston sealer ring
Remember how we promised that the products keep getting better? Well, thanks to the BOSTITCH Nail Gun, you'll see that we've stayed true to our word. We also suggest that you trust us a little more and explore the terrific functions BOSTITCH has lined up with this model.
Why Did We Like It? 
We've highlighted quite a few essential properties of a nail gun, but one attribute we're yet to discuss is low-maintenance. Thankfully, this product from BOSTITCH solves that issue with the inclusion of an oil-free engine. Not only does it reduce the chances of staining, but it maintains the quality of the nail gun for a long time. 
Once you start working, you'll come across the selectable trigger system, helping you choose between sequential or contact modes. There's also a trigger-lockout function for added convenience, which comes in handy for operating in tight spaces. So, the precision performance remains intact irrespective of the changing situations. 
Apart from that, there's a dial for depth control, allowing you to set fasteners while varying the depth of the nails. We especially liked the reversible belt hook comprising an integrated pencil sharpener, delivering error-free output. 
What Could've Been Better? 
While there's a trigger-lockout mode, the absence of the dry-fire lockout function is a little inconvenient, sometimes firing blank holes into the material. The more serious issue is with the air exhaust located on the bottom part of the handle, causing dust to shoot up in your face. 
Pros
Oil-free engine

Reversible belt hook

Integrated pencil sharpener

Works in tight spaces

>Durable
Cons
No dry-lockout feature

Inconveniently placed air-exhaust
We're at the halfway point of our list, but there are several quality units we're yet to review. Up next, we've picked out the NuMax Nailer, which has generated substantial buzz in the market for all the right reasons. You will get your money's worth, while the performance ensures you can handle a range of tasks.
Sale
Why Did We Like It? 
It's essential to start by telling you that the nail gun offers the perfect balance, allowing you to get a straight line finish. This 16-gauge pneumatic nailer has an aluminum body, but in spite of that, the weight is low for excellent maneuverability at work. 
It has retained some of the classic functions like a jam-release mechanism for swiftly removing misfired nails for a smooth experience. Similarly, you don't need to worry about dents or bumps with the no-mar tip, thereby keeping the material well-protected. The standout aspect is versatility, permitting both indoor and outdoor applications. 
Finally, there's an option of sequential firing supported by the tool-free depth adjustment, which provides variation in your tasks. It's suitable for DIY professionals and first-timers alike with the sturdiness, ensuring the nail gun can last a long time. 
What Could've Been Better? 
The rubber tip has been added for stability, but the thickness of the rubber could be an issue. You might find it challenging to drive the nails deep into the material, which is solved once the rubber is removed. This is something that the designers overlooked, but you can get the desired output with a few tweaks. 
Pros
Protects against dents

Ergonomic handle

Sturdy

Sequential firing

Reliable
Cons
Tricky to drive the nails deep
Operating a nail gun is a lot about being crafty, and what better product to use than the CRAFTSMAN Nailer Kit, offering unmatched versatility. You can maneuver the tool as per your needs, giving it an edge over other models, which is sure to please potential buyers.
Why Did We Like It? 
To formulate a list of 11 nail guns, we need variety and talking of variety; there's none better than this 18-gauge unit. You've so many options to choose from with regards to the battery, components, hand tools, or nail pack. After you've made your choice and start working, the cordless design comes into play, providing exceptional maneuverability. 
What's more, irrespective of the climate and material you're working on, the consistent firing remains unaffected. So, you can use the tool-free depth adjustment to make slight changes to make your project stand out. Also, there's no need to worry about jamming, thanks to the tool-free jam setting for a hassle-free experience. 
Interestingly, the designers have added dual LEDs, providing better visibility in low light conditions, but it also has another advantage. The light indicates when the battery level is low, ensuring you don't get interrupted in the middle of work. 
What Could've Been Better? 
We noticed that the head of the gun tends to slide as you punch the nails in a continuous series. It doesn't reflect well on the unit, leading to serious consideration about the purchase. Other than that, if you use it horizontally for extended periods, there's a chance you'll start feeling the weight of the battery. 
Pros
Lightweight

Efficient

Contoured over-molded handle

Comfortable

Belt hook
Cons
Slightly heavy

The head tends to slide
We know that a nail gun has nothing to do with aesthetics, but boy, this product looks good. More importantly, the TACKLIFE nailer has the necessary functions to back up the stunning appearance with superb output. No wonder most users have taken an active interest in the functions, making for a valuable acquisition.
No products found.
Why Did We Like It? 
Let's start with the famous quote from the Spiderman movie – with great power comes great responsibility, and that's exactly what this tool does. It has sufficient power to work on various materials, while the manufacturers have also added an empty oil bottle for convenience. 
You'll like the focus on sturdiness made possible by the heat-treated aluminum housing, ensuring you can use it for a long time. Furthermore, the durable build allows the nail gun to hold 100 brand nails or crown staples for operating under 70-100 PSI pressure. 
The other major attraction of the model is the ergonomic design, complemented by the 360-degree adjustable exhaust. Thanks to the anti-slip rubber, you'll have no problems working for extended periods, even in harsh conditions. 
Finally, we must mention that it doesn't weigh much and delivers consistent output to drive up to 100,000 nails.
What Could've Been Better? 
Coming to the disadvantages, there are two things you need to bear in mind. Firstly, there's no safety feature to prevent the nail gun from accidentally firing, so you must disconnect the cord when not in use. Besides, you need to buy a lubricant to improve the lifespan of the model. 
Pros
Heat-treated aluminum housing

Hard-shelled carrying case

CE glasses

360-degree adjustable exhaust

A tool-free jam release mechanism
Cons
Requires lubricant

No safety feature
Very few products convey a sense of purpose and comfort like the NEU MASTER Nailer, making it one of our favorites. We loved how the designers have focused on the smallest of details, ensuring it has the necessary attributes to top rival brands. It's a handy tool for operating on various tasks.
Sale
Why Did We Like It? 
We've already mentioned variety, but there's another way to get variety in your tasks, which merits discussion. Provided your nail gun is compatible; you can use different nails, which is exactly what this nail gun does. Rather than going for something flashy, NEU MASTER has added 336 staples and 200 nails. 
As a DIY enthusiast, you'll enjoy the performance you get on various tasks such as wooden handiwork and home projects. Also, the designers have added a safety switch to keep you safe at all times by reducing accidental startups and unintentional firing. 
We were especially pleased by the adjustable power knob allowing you to alter the output depending on whether you're working with hard or soft materials. On top of that, you can speed up performance with the easy magazine release for fast reloading. 
What Could've Been Better? 
You need to remember that it's vital to place the material you're working with firmly on the ground to avoid kickback. Other than that, the gun might occasionally jam, which isn't an ideal scenario but isn't so severe that you should lose sleep over it. 
Pros
Prevents unintentional firing

2-in-1 staple and nail gun

Compatible

Easy magazine release

Versatile
Cons
May jam

You need to work on a solid surface
The Ryobi Nailer features an eye-catching design but even more attractive are the quality functions that have taken it to the top of the charts. All the functions complement each other well, striking the right balance for you to get the best results. Plus, it has made some innovative upgrades not seen with other models.
Why Did We Like It? 
Let's set the ball in motion by talking about the fantastic range this nail gun offers. You can use it to drive 1700 nails on a single charge, highlighting the sufficient battery capacity and seamless experience. As a result, it doesn't require cords, compressors, or gas cartridges, making for an affordable option. 
Users have liked how the cordless design frees you up to work from various angles, while the adjustment dial has its benefits. Not only can you vary the depth based on the project, but it's also possible to alter the air pressure for precise results. 
Some other eye-catching attributes include the low-nail indicator, letting you know precisely when to reload the magazine. Plus, the comfortable handle supported by the rubber grip makes long working hours more manageable, meaning it's suitable for numerous purposes. 
What Could've Been Better? 
While Ryobi has designed a relatively lightweight model, the muscular build could make it challenging for you. The lightness or heaviness of a model varies from one person's opinion to another, so we suggest you don't read too much into it. Also, it misfires once or twice, but that's nothing major. 
Pros
18-gauge nailer

18V battery

Easy to use

You can alter the air pressure

Cordless design
Cons
May misfire

Slightly bulky
We've talked about several exciting tools, but the list would be incomplete without the Freeman Nailer. While it may not deliver a flashy performance, it offers user-friendliness, which is sure to please you. It provides convenience during various tasks, ensuring you get consistency in your projects.
Why Did We Like It? 
We'll kick things off for a change by focusing on the external appearance before delving into the details. It's a bulky model as you can well understand that sturdiness is necessary to protect its numerous components. 
That's not all; it has many exciting functions like the side-panel control for switching between bump-fire and single-fire mode. Besides, you'll love the selection of components such as the 18V Li-ion battery providing a longer runtime backed by its quick charging base. This is significant and ensures there aren't frequent interruptions at work. 
You'll also be pleased by the attention to safety, thanks to the two-stage safety trigger, providing protection at all times. Similarly, the inclusion of a contact element prevents accidents; in that regard, the two-side work lights prove useful. 
Finally, it would be unjust to end without mentioning the blow mold case and the 1,000 fasteners, providing longevity and making transportation more manageable. 
What Could've Been Better? 
One limiting factor is the weight;  the model is heavier than some of the other nailers out there. Therefore, it'll take time to adjust to the increased mass and learn how to maneuver it better. Apart from that, there may be issues with countersinking the nails, but it isn't severe and can be fixed. 
Pros
Two-stage safety trigger

Two side work lights

Belt hook

Tool-free depth adjustment wheel

Bottom loading 2-in-1 magazine
Cons
Issues with countersinking

Heavy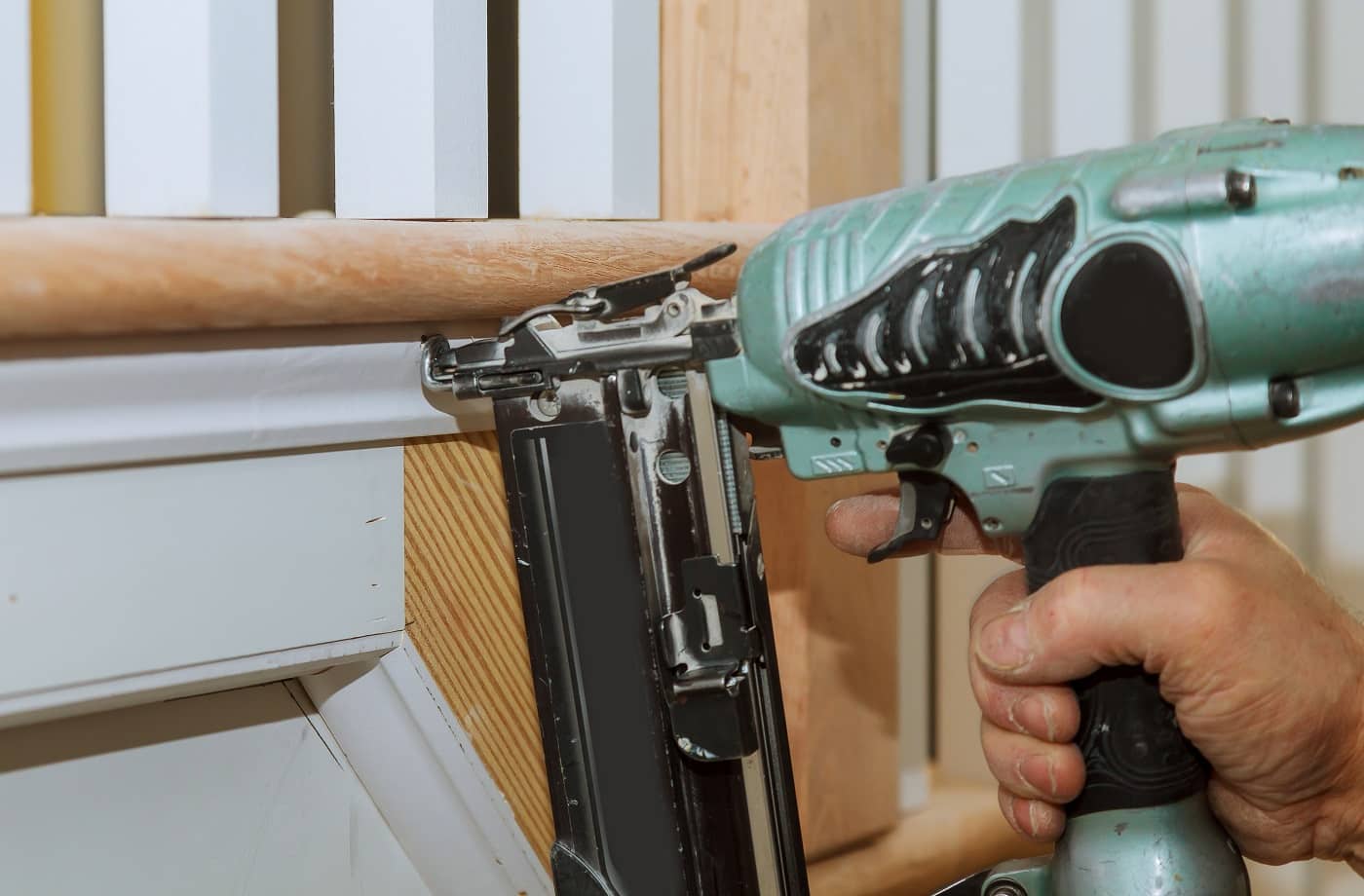 Trim Nail Gun Buyer's Guide
Having reviewed our top models, it's time to highlight certain essential aspects you need to keep in mind. So, take a look at the following points and note them down if needed. 
Sturdiness
Most importantly, the nail gun has to be well-built to handle the daily demands of work. Your tool mustn't break down in the middle of a project, and a robust design goes a long way in providing reliability. 
Price
Secondly, the price is an essential factor, and one of the first things that users see. Therefore, the designers must find a way to include the relevant features while keeping the cost within limits.
Ease of Use
Finally, the nail gun should be easy to use, and first-time users shouldn't have to grapple with the functions. The instructions must be provided in an uncomplicated manner for buyers to make the necessary adjustments.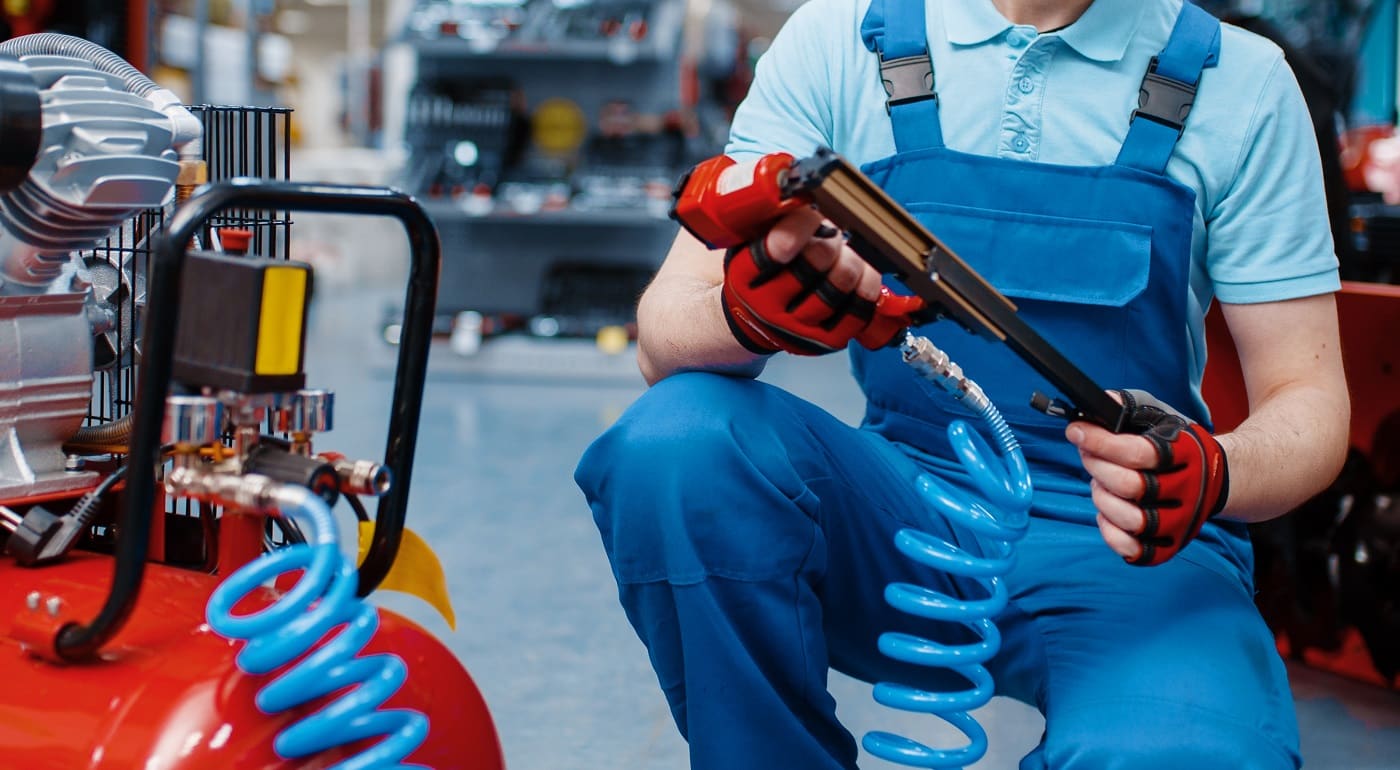 Verdict
We're now in the final section of our guide where we'll touch upon a few aspects before taking your leave. 
There's not much to discuss here, but we thought it necessary to highlight our favorite picks in different categories. For instance, PORTER-CABLE Nailer Kit delivers the best overall performance, while WEN Pneumatic Nailer is easy to use. Apart from that, Metabo Nailer is loaded with both nails and functions for powerful output. 
Hopefully, you've understood the intricacies of the product and are starting to form an idea regarding the qualities your tool must have. Ask yourself why do you need a nail gun? The answer will help narrow down the options. 
That's it from our side; we'll be back with more exciting reviews. Till then, enjoy working with your nail gun and stay safe. 
Take care and see you soon!
Related Articles
11 Best Budget Drywall Screw Guns 
10 Best Air Compressors For Nail Guns