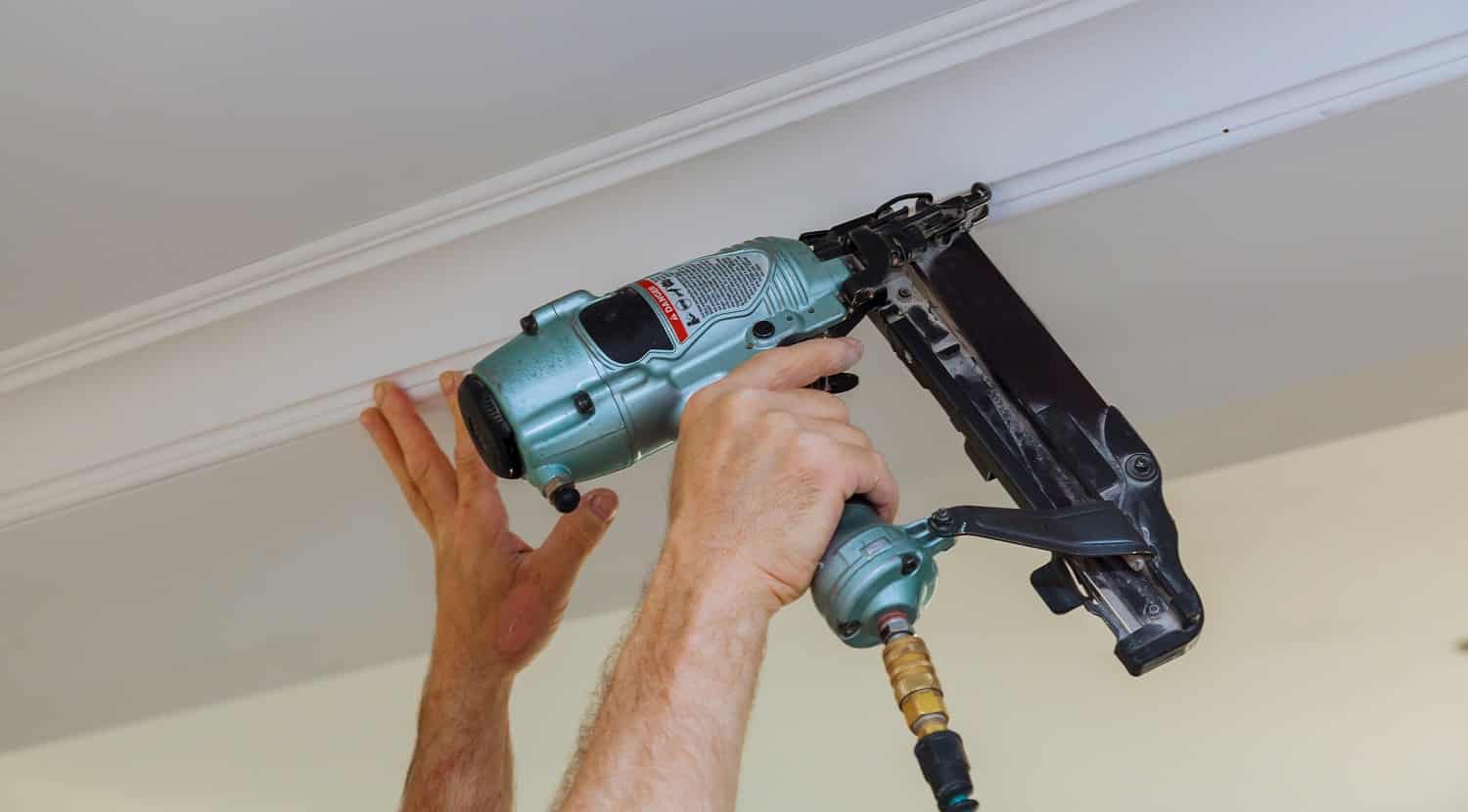 While there are people who still stick to the basic hammer and nail combination, a good nailer can be a game-changer while working with wood.
It may get messy, and there are safety concerns that often arise with a hammer. Also, the work surface gets scarred because of the constant hammering. With a nailer, you will have a clean surface with no marks of distress.
But the market is flooded with options, and it gets challenging to choose a product. That is where we jump in. It can be quite a dilemma, and we know how it feels. To save the extra effort, we have gone through hundreds of reviews and come up with an unbiased guide of the 13 best nailers.
With all the pros and cons listed down, you will know the one which fits your needs. Read on to nail your next purchase.
Top Finish Nailers for Woodworking  
IMAGE
PRODUCT
DETAILS

Our Top Pick

Our Top Pick

Hitachi NT65MA4

Integrated air duster
Selective Actuation switch
Adjustable exhaust portal

VIEW LATEST PRICE →

Metabo HPT Finish Nailer NT65M2S

Compatible with 16-gauge fasteners
Simple flip actuation switch
Integrated air Duster button

VIEW LATEST PRICE →

Paslode, Cordless Finish Nailer, 902400

Precise Nail Placement
Convenient Maneuvering
100 nail magazine capacity

VIEW LATEST PRICE →

3PLUS 16 Gauge Straight Finish Nailer

Tool-free adjustable depth
Multi-directional exhaust cover
Quickly clears jams

VIEW LATEST PRICE →

DEWALT 20V Gauge 20° Finish Nailer

Integrated LED lights
Bump operating mode
Battery voltage of 20 volts

VIEW LATEST PRICE →

BOSTITCH Finish Nailer Kit Style with Smart Point

Smart point technology
Tool-free jam release system
For professional usage

VIEW LATEST PRICE →

DEWALT Finish Nailer 16GA D51257K 2-1/2-Inch

Sequential action trigger installed
Sealed lube dual tech
Adjustable belt hook

VIEW LATEST PRICE →

Makita 18V LXT Straight Finish Nailer

Powerful motor design
Anti-dry fire mechanism
'Tool-less' depth adjustment

VIEW LATEST PRICE →

CRAFTSMAN V20 Cordless Finish Nailer Kit

Fully cordless
Tool-free depth settings
Tool-free clearing of jams

VIEW LATEST PRICE →

Senco 4G0001N FinishPro 15-Gauge Finish Nailer

Magnesium housing
Never Lube technology
Ergonomic design

VIEW LATEST PRICE →

Freeman PFN1564 Pneumatic Finish Nailer

34-degree angle finish
Quick jam release
Dual-mode trigger for sequential or bump firing

VIEW LATEST PRICE →

NuMax SFN64 Pneumatic 16-Gauge Straight Finish Nailer

No-mar tip
¼" NPT fitting
Anti-dust cap

VIEW LATEST PRICE →

Valu-Air 16 Gauge Finish Nailer

360-degree adjustable exhaust deflector
Tool-free depth control
Spacious aluminum magazine

VIEW LATEST PRICE →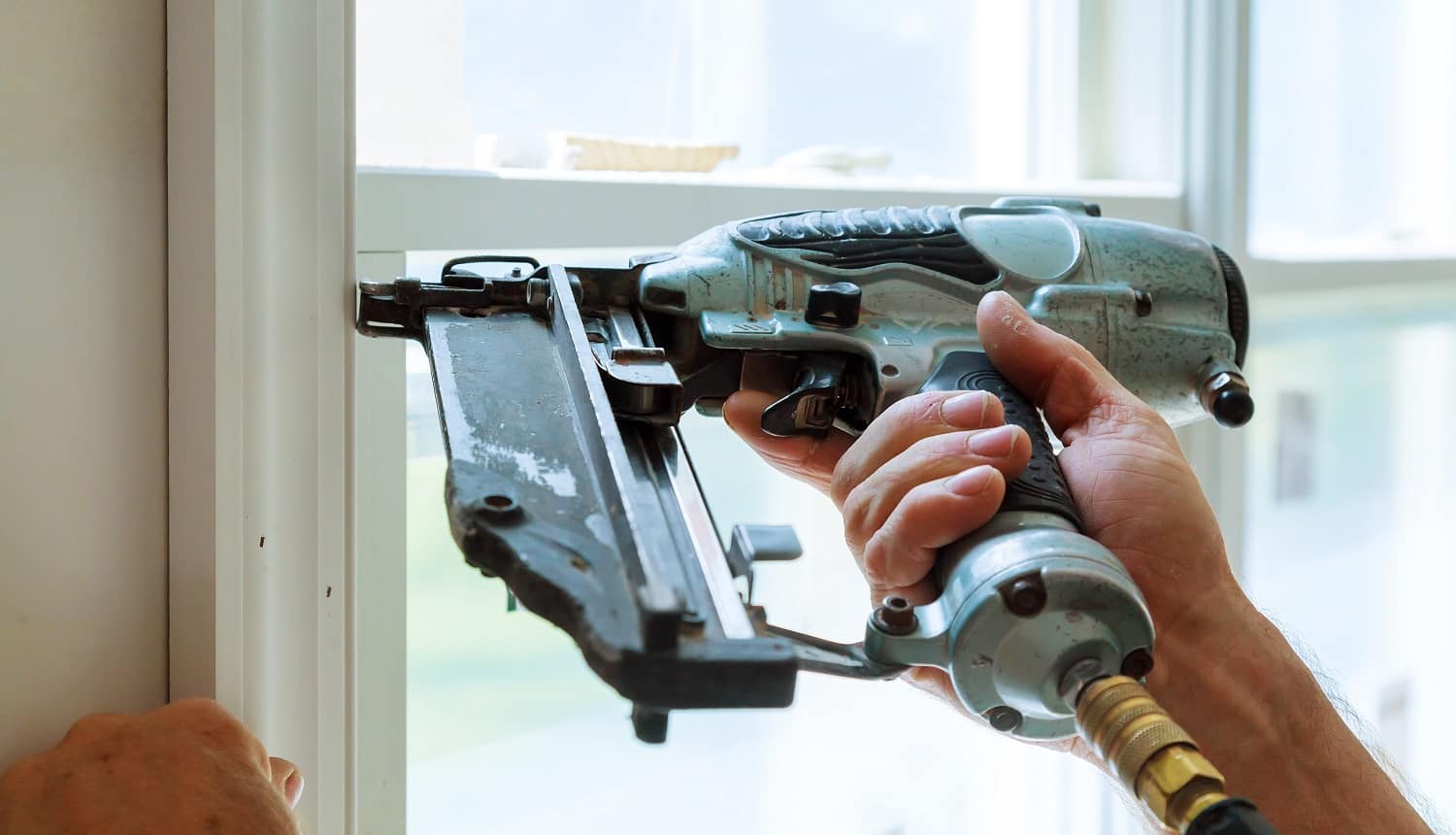 Jam-packed with features, the Hitachi NT65MA4 indeed wears the crown. It is a lightweight device that manages to function as smoothly as ever and is fit to be used by both professionals and amateurs. With an angled magazine, it is capable of reaching the narrowest of spaces and working its wonders.
Why Did We Like It?
This device works with 15 gauge nails ranging from 1-1/4 inches to 2-1/2 inches. Also, it is very easy to load the nails into the chamber, and around 100 nails can fit at one time. This enables you to work without having to reload frequently, thereby saving you time.
Further, it has a tool-free drive adjustment dial. Now, once you figure out the density of the material and air pressure that is required, you can adjust depth accordingly. Nails will be fired consistently, and this helps you achieve a professional finish.
Accompanying this is the 360 degrees fully adjustable exhaust. Imagine having the dust and debris blown directly onto your face! Sounds bad, right? With this feature, you can direct the flow away from your face, preventing the debris and oil from disrupting the functioning.
Additionally, it has an air duster that allows air to be blown from the front of the tool. This is very helpful while cleaning the top surface you are working on.
What Could've Been Better?
The device is almost flawless other than a few blank shots which happen once in a while. This could have been avoided but is acceptable considering its price. Also, it is negated because of the other exceptional features. The only problem could be that the process takes a little more time than expected.
Pros
Enables quick nail extraction with jammed nails

Tool-less drive dial

360 degree fully adjustable exhaust

Weighs only 4.2 lbs

Angled magazine for tight spaces
Cons
Fires blank shots once in a while
Next up is a brilliant device that shows versatility like nothing else! The Metabo HPT Finish Nailer NT65M2S works with many different sizes of nails and comes with enough protection both for the device as well as for the one working with it. We will now get into the features.
Sale
Why Did We Like It?
The nailer works with 16 gauge fasteners ranging from 1 to 2 ½ inches. It is also equipped with a simple flip actuation switch, which makes it easy to shift from bump fire to sequential fire modes. These modes are quite powerful, to say the least.
Besides this, the device has a tip that is protected by a rubber guard making sure that it does not make scratches on the surface. It has an elastomer grip, which helps you hold it safely as well as provides a good grip.
To add on, we also saw a dust control system and a tool-free adjustment framework. Mostly you would be using the device in spaces with a lot of dust. And we all know the amount of damage that dust could do to a working system. But with a sealed body, it is well protected from the surrounding environment.
What Could've Been Better?
Though the product has some of the most brilliant features, it seems like it costs an arm and a leg. The steep price makes it inaccessible to many individuals. We believe that a slightly lower price would have made this product flawless! But again, for those who do not have budget constraints, go for it without a second thought!
Pros
Easy to adjust the drive depth

No-mar tip protecting surfaces

Elastomer grip for better hold

Gives a professional finish
A device without hassles, the Paslode, Cordless Finish Nailer, 902400 nails it with its easy-to-use features and the great portability that it offers. A remarkable option for door and window trims, this will leave you pleased with the excellent capacity. No more carrying around of compressors and extension cords; this device is cordless!
Why Did We Like It?
Being one of the most lightweight devices, it weighs 4.5 lbs with the batteries included. We were able to carry it around from our garage to the workshop and then to our house. If you are going to do the same, it is best to go with a battery-powered option.
Equipped with the new In-Can system, it is easier to install and use. It also comes with the Pro- Grade depth of drive adjustment. This helped us work with nails ranging from 1-1/4 to 2-1/2 inches easily.
Coming to the body of the product, it features a durable plastic body along with a plastic carrying case. This keeps it safe and protects it from dust when not in use.
Also, this device focuses on saving power. It has an on/off battery lock, which helps in conserving power, and thus you can work for long hours without the battery running out.
What Could've Been Better?
We should warn you about one thing. If you live in a place that is at higher altitudes, the device may not work as efficiently. This problem has been seen by a number of users, and we are thus bringing it to your notice. Otherwise, this will make a brilliant choice.
Pros
1 hour rapid charge time

Oil-free operation

Lightweight and easy to carry

No-mar tip prevents scratches
Cons
Malfunctions at higher altitudes
If you are trying to stock up your toolbox on a low budget, this is an excellent addition to make. The 3PLUS 16 Gauge Straight Finish Nailer will meet up to your expectations with its appalling features while being one of the cheaper products in the market.
Why Did We Like It?
The product works well with ¾" to 2 ½ "16-gauge finish nails and will suffice for most trims and moldings. It works efficiently and shows no delay in function.
One very important feature is the jam-resistant network. We do not see this usually in lower-end gadgets, but this unit stands out. This network ensures that there are no jams happening.
If jamming does occur, it can be operated with and fixed immediately because of the easy-to-use interface. Easy access to the loading chamber is given, and even first-timers would be able to reach it and unclog the jam within seconds.
Additionally, the product is lightweight, and you could easily carry it around. Its rugged aluminum frame makes it less heavy while providing a sturdy housing for the motor inside.
Lastly, this device is suitable for heavy usage. It will work well with professionals and can be used for everyday purposes.
What Could've Been Better?
The one issue we had with this device is the absence of a rubber tip. The tip was made of all metal, making the work surface prone to scratches. This is a major problem, especially if you are working with delicate surfaces, and you could try using some goop to make up for it.
Pros
Interchangeable trigger for shifting between single shot and bumper fire

Lightweight

Rugged aluminum housing

Made for heavy usage

Comfortable grip
Cons
Does not come with a rubber tip
We were looking for a device to do the trims and to fix the doors when we came across this brilliant product. Built to impress, the DEWALT 20V Gauge 20° finish nailer is a must-have gadget for DIYers. You will not have to be dragging around an air hose every time and can nail it easily without one!
Why Did We Like It?
The best part about this device is it operates on a battery. With most devices, you will have to be dragging heavy machinery around to get it to function, but this one is self-sufficient. It may be slightly heavier at 6 lbs, but the weight is compensated.
Dewalt is known for its premium products, and they have surely looked into the intricacies with this one. It comes with LED lights on board, which makes it easy for you to work in low light environments. Imagine it being battery-powered with lights in it! What more could you be asking for?
Further, they have kept safety concerns in their priority list, and thus this unit will discharge nails only when the nose of the barrel comes in contact with your work surface. This means you would not be able to fire away nails accidentally and may actually prevent all kinds of accidents from happening.
What Could've Been Better?
Now that you are getting these brilliant features, you would need to be paying the price for it. The device is expensive and may cost more than you would spend on another gun. Also, it is essential to understand that this is not for heavy everyday usage. This is made for DIYers and should not be used professionally.
Pros
20-degree finish nailer

Does not need an air hose

You can shoot multiple nails at once

Low maintenance

Less operating costs

Prioritizes safety
Cons
Not for everyday use

Expensive
Almost flawless, the BOSTITCH Finish Nailer Kit Style with Smart Point is a brilliant device to bring home. Not only will it take care of all the jobs you need to nail, but it is also known for its self-oiling capacity. It is very user friendly and will not disappoint you in the long run.
Why Did We Like It?
The unit features Smart Point Technology, which makes it easy to replace nails. It has a smaller nose, which enables this to happen. For those using it for heavier purposes, this feature is essential.
The product is also resistant to jams and mostly makes sure that nails do not jam at all. There is a bailout slot through which one can take out nails in case of the rare occurrence of a nail getting stuck.
Adding on, we found that this unit prioritizes precision. You can adjust the depth according to your needs, and an exact number can be attained by moving the precision dial. This particular specification has helped us in performing consistently while working on things at a higher level.
Lastly, you will be happy to know that the product comes with a carrying case and extra no-mar tips. The tips corrode with time, and this saves you money in buying replacements.
What Could've Been Better?
We feel the device could have been more sturdy. We have dropped it once, and there is a hairline crack on the body. Though the functioning has not been affected, we are afraid that if we drop it again, the body may break. Now, this is not something expected, and it did disappoint us.
Pros
Easy nail placement

Precise countersinking

Carrying case and extra no-mar tips included

Easy to unclog
A true example of quality, this Finish Nailer 16GA D51257K 2-1/2-Inch from the house of Dewalt, is made for amateurs. It is super user-friendly and works with first-timers very well. Also, if you are planning to buy a nailer for the first time and do not want to spend a lot on it, this is again a very affordable choice!
Why Did We Like It?
We found this device to be compatible with nails ranging from 1 to 2 ½ inches. It is accompanied by a no-mar tip, which will make sure that the surface is not scratched at all while operating. For first-timers, this is an essential feature as these are the lot that makes the most mistakes.
Further, you can use it both as oil-free, and an oil lubed device. It happened to us once when we decided on working on trims suddenly, and there was no machine oil in the house. The oil-free feature came to us as a relief at that point.
Also, the kit includes sample finish nails and a carrying case for your benefit. This saved us both time and money. It is one of the most affordable options in the market currently.
What Could've Been Better?
This is a device made for those who are learning how to use a nailer or need it for small DIY projects. While it is guaranteed to work well on comparatively softer surfaces like moldings, it may be difficult to use it on very hard material. Consider your needs before making a choice.
Pros
Nail depth adjustment

Comes with carrying case and sample finish nails

Works as an oil-free and oil lube unit

Low profile no-mar pad

70-120 PSI operating pressure
Voted as one of the top devices that lasts long, we have the Makita 18V LXT Straight Finish Nailer. It gives you the freedom to work with a wide range of nails and what more; it is battery operated. You can work in peace with the amount of safety and comfort that is offered.
Why Did We Like It?
The unit works wonders with nails between 1 to 2 ½ inches. Most common sized nails will fall under this zone and can be operated easily with this.
Also, another remarkable feature would be the anti-dry fire mechanism, which prevents the gun from being activated without a nail in its chamber. This helps in conserving the battery and improving its life expectancy as there is no additional strain that is put on the machine inside.
Besides this, the unit has a reversible belt clip component. This is a very useful feature for those who are left-handed, as this specification allows you to use it with any hand.
Further, the product is known to be durable and can withstand heavy usage. You will not be complaining about replacing it anytime soon. We have been using it for almost a year now, and it works like new.
What Could've Been Better?
The only issue you may face with this product is the weight. It weighs 8.34 pounds and is heavier than most on the list. While this may not be a source of worry for infrequent users, if you are looking for something for heavy work, choose a lighter product.
Pros
Cordless for increased convenience

Made for a precise finish

Prevents firing blanks preventing injury

Drives up to 1, 000 finish nails

Built-in LED lights
We have another cordless device that proves to show impeccable efficiency. The CRAFTSMAN V20 Cordless Finish Nailer Kit comes in an attractive red color and will save you the hassle of carrying an air compressor or gas cartridges. The bells and whistles that it has made nailing an easy job to do.
Why Did We Like It?
One issue that the brand has addressed is the working capacity in all weather conditions. It is very rare that a brand actually clarifies this doubt with nailers, but we have found them to not work properly in extremely cold conditions.
Batteries tend to freeze or get overheated, and it starts malfunctioning. But with this device, we did not have to worry at all as it functioned with ease wherever we took it to.
To add on, this is a tool that is easy to maintain. If you are an amateur who is not sure of how to maintain tools, this could be a great gadget to begin with. We could adjust it effortlessly without the need for additional tools that a first-timer might not have.
As a cherry on the cake, this tool provides an easy way to clear jams where you would not need the help of anything additional. You can easily access the nail chamber and get it to function properly.
What Could've Been Better?
For the price that this product comes in, we should be provided with 4.0 AH batteries. What we got with the pack are 2.0 AH cells, which do not last long. This is our only concern as we felt we were spending more on it than we should.
Pros
Works in all weather conditions

Lightweight with an optimal center of gravity

Extensive run time

Easy to maintain
Cons
4.0 AH batteries should be provided
A heavy-duty device made for heavy usage; the Senco 4G0001N FinishPro 15-Gauge Finish Nailer is a legend. It has the perfect combination of features with easy and secure functioning along with powerful performance. We could not have wanted anything more than what this product was offered.
Why Did We Like It?
What makes a good product? A great capacity to deal with tough nails, secure grip, and sturdy design, right! It offers all to you. With a capacity to work with bright and galvanized 15-gauge finish nails from 1-1/4 to 2-1/2 inches, we could not have demanded more.
Also, it works with the toughest of surfaces like white oak and can be used for moldings, trims, chair rails, and hard and soft flooring. We had been renovating the house, and this tool was Godsend.
To top it all, the unit has a sturdy magnesium housing which is specially made to fight the daily wear and tear. It also features an ergonomic design and a better grip. The grip reduces fatigue helping you to work for more hours easily.
Further considering the work surface, the Never Lube technology prevents any kind of damage caused due to oil spills. It also has a no-mar tip, which prevents scratches, thus keeping the work surface clean.
What Could've Been Better?
We were floored with the brilliance that the unit brought to our work table. The only issue that bugged us was the frequent jamming. Though it is not difficult to free the nail and unjam it, this stops the workflow and could lead to wasting of time. But we will not hold this against the excellent functioning.
Pros
Minimizes fatigue

Comes with an operating pressure of 70 to 120 PSIG

Aims to deal with tough nails

Dial-in depth gauge for convenience

Protects the work surface
Next up is an ergonomic pneumatic tool that is made for professionals. The Freeman PFN1564 Pneumatic Finish Nailer is known for its versatility and can be used for almost all purposes. You can reach the tightest and the narrowest places with ease, thanks to this brilliant device.
Sale
Why Did We Like It?
This machine deals with nails ranging from 1-¼ inches to 2-½ inches. It uses 34 degrees 15 gauge fasteners to get the best results. We could use it for crown molding, furniture parts, and cabinetry.
With this product, we were able to increase our efficiency as it featured a quick jam release. Honestly, you cannot avoid jamming altogether, and even if it did jam, this made sure that the nail was released quickly.
Along with it, the unit also has a dual-mode trigger, which allows sequential or bumper firing. This lets you choose between both according to your needs, and making a shift is very simple.
If you were looking for reliability and efficiency in a single product, this would be it. It is extremely reliable and works well with professionals and DIYers alike.
What Could've Been Better?
We felt that the depth gauge could be labeled for easier operation. We spent a lot of time figuring out which way to turn the adjustment wheel, and finally, we had to look it up online. This was time-consuming, and saving us any confusion in the future, we wrote it down ourselves with a marker.
Pros
Tool-free depth adjust feature

Can be used for all purposes

Can reach tight spaces with ease

Easy nail extraction
Cons
Depth gauge is not labeled
If you are looking to work for long hours, the NuMax SFN64 Pneumatic 16-Gauge Straight Finish Nailer will serve you well. With the power to work continuously, it also stays protected from the constant dust generated. You would not need to clean it between work, thanks to the protective anti-dust feature.
Why Did We Like It?
This device is compatible with nails ranging from 1 to 2.5 inches. It is known to serve multiple purposes ranging from shoe and crown molding to chair railing and door trims. Such is the versatility offered!
Also, the small nail gauge ensures that nails disappear inside the surface, and you do not have to fill in or sand holes. Now, if you are worried that the nails are too small, well, they are small and efficient. It will firmly hold both the surfaces together, and this device will easily become an essential part of the toolbox.
Coming to the tool-free, 360 degrees, adjustable exhaust, it helped us a great deal in directing the dust and debris away. This is a vital feature for those suffering from asthma or other lung diseases. Debris and dust blowing your way can cause a lot of issues but not with this in hand.
What Could've Been Better?
We faced problems while trying to drive the nails deep into hard surfaces. It would not go in completely, and we tried adjusting the depth. The device was still not able to do the job. In the end, it worked when we removed the rubber tip and tried. Now the rubber tip is essential to prevent marks and could lead to scarring.
Pros
Durable aluminum body

Ergonomic comfort grip handle

High capacity magazine

No-mar tip

Tough and can be depended upon
Cons
Not as efficient on hard surfaces
If you are looking for a product that is affordable while offering stellar features, the Valu-Air 16 Gauge Finish Nailer is your best bet. Featuring an ergonomic design and packed with brilliant features, it is a true bang for the buck. With a compact body, you can carry it anywhere you go without any hindrance.
Why Did We Like It?
We loved how you could hold a piece of trim in hand and easily nail it without the fear of dislodging the trim. With hammer blows, the fear might come true, but the nailer saves the day. It is fit for nails with a length of ⅞ to 2 ½ inches and comes with a 16 gauge finish nails fastener.
Also, we could adjust the direction of air output with the directional exhaust. It is a 360-degree tool-free exhaust which can be rotated to change the direction of the airflow. This allowed us more comfort while using the device.
The aluminum housing that the product has makes it lightweight and easy to take around. For added ease of use, it also comes with an ergonomic rubber grip handle. The grip is super comfortable and reduces most of the strain.
Along with the rubber handle, the tip is protected by rubber too to prevent marks on your work surface.
What Could've Been Better?
The one issue we found was that the body is not very durable. If you drop it, there is a chance that it will break. The aluminum framing makes the product lightweight but also does not provide much protection to it.
Pros
Perfect for decorative trims and moldings

Heat-treated aluminum housing

Very affordable

Designed for heavy-duty usage

Lightweight body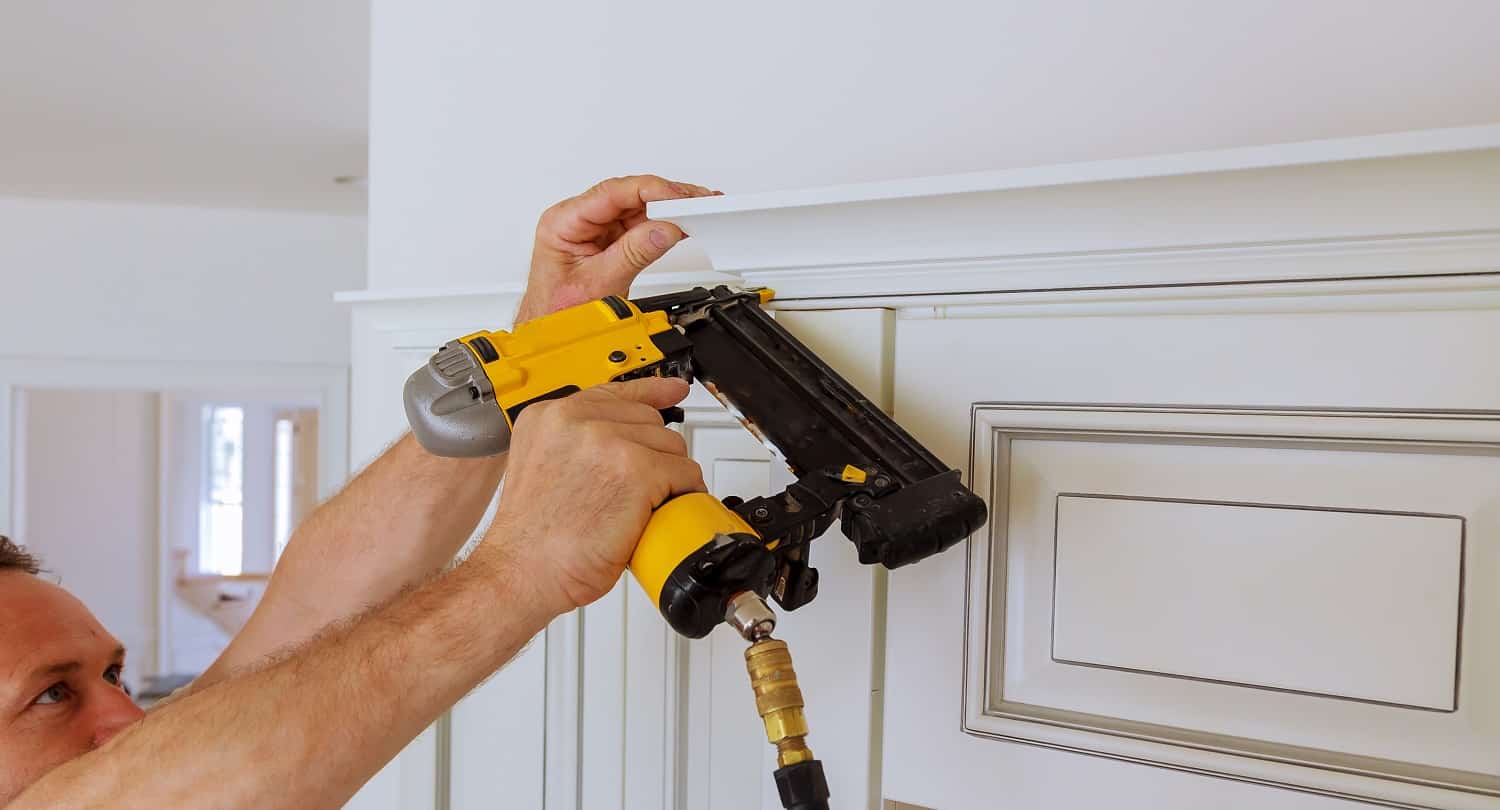 Finish Nailers Buyer's Guide
A good nailer can be a boon while working and can actually get the job done quickly. But it is not enough to just know the types available. It is also important to understand the different specifications and whether you may need it or not.
The best one can be expensive, but it may not be a perfect fit for you. So to make it easier, we have jotted down some points that you should keep in mind.
Dealing with Jams
Now some products tend to jam a lot while others are made in a different way with precautionary measures. But we will tell you, however much one says, every nailer at one time or the other faces this problem.
If you are planning to use the unit a lot, it is best to go with one which comes with easy access to the nail chamber. This makes it simpler to unjam and proceed with your work. Also, certain devices also come with a small window through which you can see the jammed nail. This again helps in the job.
No-Mar Tip
The presence of a no-mar tip is essential as you would not want to be leaving scratch marks on the surface you are working on. Gadgets that have just a metal tip with no rubber protection make a lot of marks as you are bound to touch the surface with it.
Most devices today come with a no-mar tip, and it should not be a problem to find one. Now, if you are a professional or have heavy-duty jobs up to your sleeve, it is best to go with a product with extra no-mar tips as they corrode away with usage.
Size of the Nails
There are different devices available for different sorts of nails. Please make a note of the sizes of nails that you would need and then go on to buy one. You may purchase the most expensive product, but it may not be a fit for your job. So be careful with this.
Battery-Powered or Needs Pressure
With most nailers, one needs air pressure to fire nails. Now this means you do not only carry around the device but also heavy machinery along with to make it work. With it being battery-powered, you no longer have to do so.
A battery powered gadget needs no extra machinery to function. But again there is a disadvantage, especially for those who are professionals or into heavy work. The battery would not last long and will have to be replaced at regular intervals.
Also, some of them can be less powerful than the air pressure operated versions. So we suggest you choose the one with cells if you are not going to use it too frequently.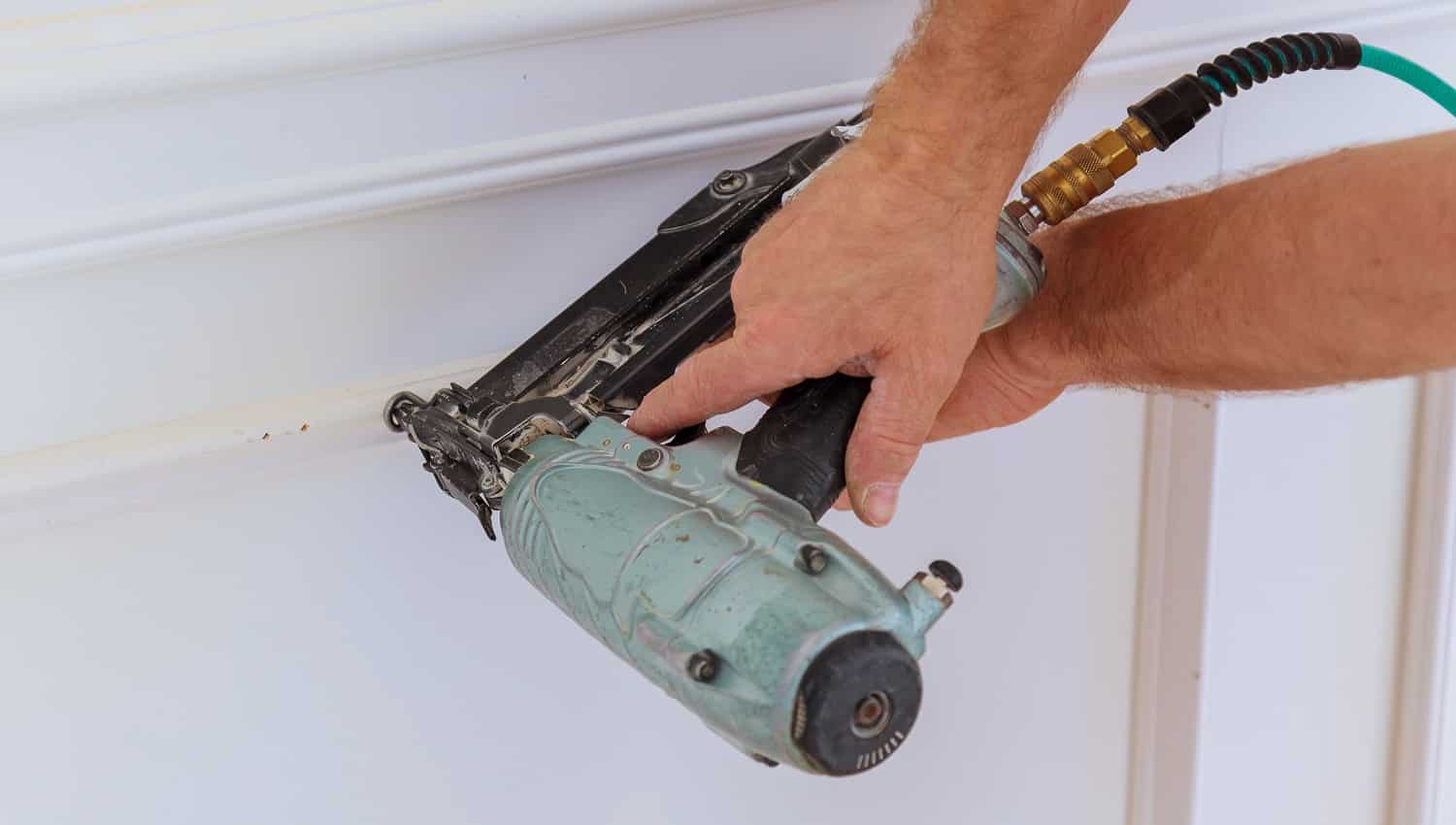 Verdict
Our overall favorite from the list is the Hitachi NT65MA4. It is an all-rounder and works superbly well for both professionals and DIYers. We were impressed by the ease of operation that is provided.
Now, if you do not mind spending a bit more, the Metabo HPT NT65M2S Pneumatic Finish Nailer is the winner. You will be getting a premium product loaded with the best of features.
On the other hand, if you are looking for a battery-operated product, then the DEWALT 20V Gauge 20° Finish Nailer is the one to go with. It can be taken around with ease and will please you with its functional capacity.
We are finally at the end of the guide. The perfect nailer can fetch you amazing results, and it is time for you to get the best. Happy shopping!
Relative Articles
9 Best White Face Paint For Cosplay, Clowns & Halloween
8 Best Face Paint For Kids Reviewed
6 Best Body Paint | Top Brands Compared
5 Epic Face Painting Supplies That Will Improve Your Designs
6 Best Body Paint For Cosplay Reviewed
11 Best Face Paints | Top Brands Compared
Learn How to Body Paint With Brilliant Results Right Now
16 Brilliant Face Painting Techniques to Feed Your Imagination
11 Best Face Painting Kits Put to the Test
13 Best Air Compressors | Buyer's Guide and Reviews
10 Highest CFM Air Compressors 
9 Best 6 Gallon Air Compressors for Your Home & Garage
10 Quietest Air Compressors For Your Garage
13 Best 30-Gallon Air Compressor  
Makita Mac2400 Air Compressor Review
10 Best 80-Gallon Air Compressor to Consider
13 Best 20 Gallon Air Compressors 
13 Best Portable Air Compressor 
How To Refill Co2 Tank with Air Compressor?
13 Best Quiet Air Compressor for Your Home 
13 Best 10-Gallon Air Compressors for the Buck 
10 Best Air Compressors For Impact Wrenches 
10 Essential Air Compressor Accessories You Need
10 Best Air Compressors For Nail Guns
13 Best 60 Gallon Air Compressor  
12 Best Gas Powered Air Compressor for the Buck in 2022
Freeman PFR2190 Framing Nailer Review + Buyer's Guide
What Do You Use a Brad Nailer For?
What Size Nails Do You Need for Framing?
Pin Nailer vs. Brad Nailer 101 | Key Differences, Advantages & Disadvantages
What Size Finishing Nails For Baseboards?