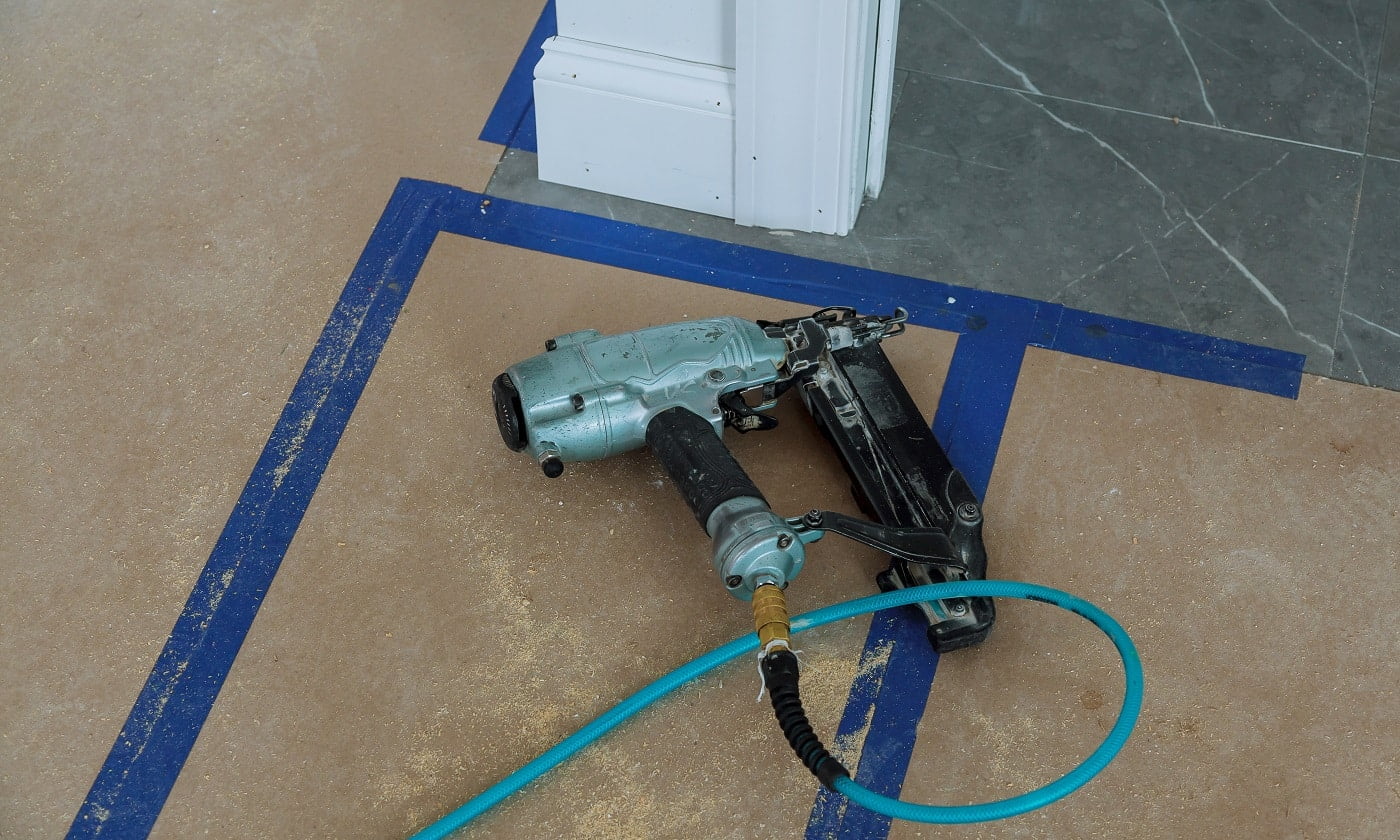 Why spend hours and hours of your time on carpentry work when you can quickly get it done with a framing nailer? 
If you are a skilled professional, you can easily whack multiple nails on a wooden surface in under a minute. However, that's nothing compared to what a framing nailer can do. It can cut down your working time to half. This tool can help you add finesse and precision to your projects. 
But once you hit the market looking to get the perfect framing nailer, it might be confusing to see the thousands of options to choose from. So, today, we have brought this guide to help you make the decision easily. 
In this guide, you will find the top nine products and a detailed description of each. There's also a buyer's guide in the end to help you. 
So, without further delay, let's dive right in! 
Top Framing Nailers
IMAGE
PRODUCT
DETAILS

Our Top Pick

Our Top Pick

NuMax Pneumatic

Ergonomic grip technology
Anti-dry fire
Interchangeable trigger

VIEW LATEST PRICE →

BOSTITCH Framing Nailer

Adjustable depth guide
Rubber skid pads
Flexible rafter hooks

VIEW LATEST PRICE →

Metabo HPT Framing Nailer

Tool-less depth adjustment technology
Selective actuation feature
Air powered

VIEW LATEST PRICE →

Makita 21º Full Round Head

3-mode selector switch
Operating Air Pressure of 65 - 120 PSI
Air powered

VIEW LATEST PRICE →

Freeman Pneumatic

Non-slip teeth
Depth-adjustment feature
Ergonomic grip

VIEW LATEST PRICE →

Paslode Cordless XP Framing Nailer

Battery-powered
Consumes 7.4 Volts
Made of metal

VIEW LATEST PRICE →

DEWALT 20V MAX Framing Nailer Kit

Dry-fire lockout feature
Cordless
Made of hard plastic

VIEW LATEST PRICE →

Hitachi Framing Nailer

Made of metal
5-years extended warranty
Air powered

VIEW LATEST PRICE →

3PLUS 3-in-1 Air Framing Nailer

Made of aluminum
Rubber grip handle
Adjustable nail magazine

VIEW LATEST PRICE →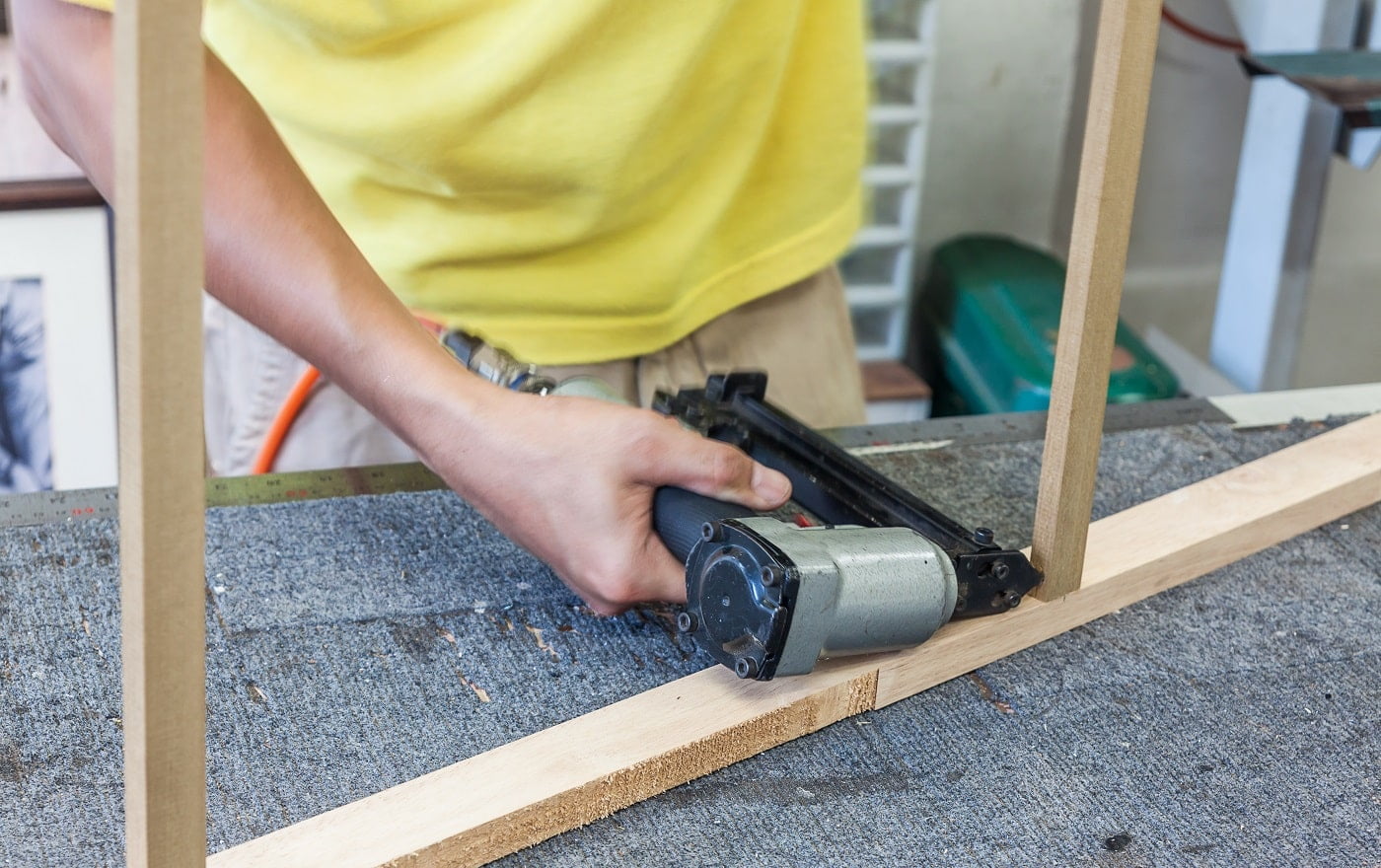 Sale
The NuMax SFR2190 Pneumatic is a competition to none and an ideal option for you to consider. If you are starting with a new heavy-duty project, this tool can be your best companion. You can use it for framing and also other projects such as fencing, sheathing, and many more. 
Why Did We Like It?
The best thing that we like about this premium-quality framing nailer is that it is equipped with an adjustable air exhaust feature. It is entirely flexible and can be adjusted 360 degrees. If you are wondering how that is helpful, let us explain. 
When you are using a framing nailer, it releases a gust of air that might cause a hindrance when you're working. The exhaust makes sure that the air does not blow right into your face and also helps to remove the excess particles away from your workspace. 
Moving on to its construction, we only have one word for it: remarkable! The body is made of high-quality magnesium, and that adds to the toughness of the unit. But at the same time, it is pretty light and sturdy, making it comfortable for you to use. 
And lastly, the depth adjustment feature helps you to maintain consistency in all your projects!
What Could've Been Better?
The only drawback that this product suffers from is that it comes with a short warranty period. Compared to its contemporaries in the market, it offers just one year of warranty. So, in case you face any issues with it, make sure that you get it resolved within the specified period. 
Pros
Adjustable exhaust

Works fast

Durable frame

Affordable price
Cons
Insufficient warranty period
Sale
BOSTITCH is a popular name in the market, and there is no way you could go wrong with their product, the F21PL Framing Nailer. In short, it is a stunner that will surely catch your attention the moment you see it. However, it is not just the looks that got it into our list; it scores high on versatility as well. 
Why Did We Like It?
Unlike the previous product, this one comes with an extended 7-year warranty period. That takes up the brand value a notch higher. Their customer service is pretty incredible too. We reached out to them with some installation queries, and they were quick to respond and resolve the issue. 
Honestly, the best thing about this item is that it brings the best of both worlds. This is one of the highest-rated nailers that you will find in the market. At the same time, we can vouch that it is an incredible positive replacement nailer. And you get all of it for a reasonable price. If that's not a good deal, we don't know what is! 
Because of the positive placement feature, the item becomes well-suited for professionals to use on jobs that involve metal connectors. It can easily nail the connectors within a few minutes. And the best part is that the tip reaches the connector with utmost precision. 
What Could've Been Better?
After a few weeks of experimenting with this product, we encountered one issue. It does not come equipped with an actuation mode, and this makes switching between bump and sequential modes pretty challenging. With an additional anti-dry fire feature, this item has the potential to become phenomenal. 
Pros
Long warranty

Affordable price

Suitable to nail metal connectors

Easy to work with
Sale
Next up, we have the Metabo NR90AES1 HPT Framing Nailer, which is quite popular among users for its industrial design. A good-looking tool in the shed is an excellent addition to your workspace. It is well-suited for a variety of tasks such a window build-up, framing, subflooring, and even roof decking. 
Why Did We Like It?
One of the biggest problems that professionals and DIY'ers both face while working with framing nailers is hand fatigue. But with this device, you will have to face no such worries. It is pretty lightweight and weighs a mere 7.5 lbs. It is not just the weight that makes it comfortable to hold it for long, but it also offers a good balance as well. 
Both the features combined help you to maneuver it with ease. 
Moreover, it is equipped with a selective actuation feature that is helpful for fast shifting. Because of this technology, you can quickly change from contact to sequential nailing with just a simple flip of a button. 
And as a valued brand in the market, there's hardly any doubt that it covers all the safety standards. On top of that, it offers a 5-years extended warranty on the tool. So, when something malfunctions, it won't rob you of a good night's sleep. 
What Could've Been Better?
The product leaves no opportunity for any complaints when it comes to its performance. However, we were not really impressed with its packaging. The box in which it arrived was tapered around the corners. From a reputed manufacturer like Metabo, we expected better. 
Pros
Does not tire your hands

Easy to maneuver

Simple to use

Long warranty period
Cons
Packaging calls for improvement
For those on the lookout for a highly versatile option, the Makita AN924 21º Full Round Head is the best bet. It takes pride in its sturdy construction and exceptional performance. And honestly, when it comes to versatility, this item hits it out of the ballpark. 
Why Did We Like It?
For us, the highlight of the product is its build. Hands down, it is one of the best that we have encountered while testing framing nailers. The blue color adds to the beauty of the metallic steel construction. And adding to its durability is the air filter that effectively eliminates all the dust and debris that collects during your work. 
Furthermore, it is incredibly efficient. It comes equipped with a tool-less depth adjustment feature with multiple settings that enables you to drive nails into the wooden surface with perfect precision. And it is the 3-mode selector that makes this item quite unique. 
It includes a switch that allows you to quickly shift from sequential to contact and to a lock mode. 
This helps to gain better control over the different nailing options that you can use with this tool. And to prevent empty dry firing, it comes with a technology that stops the device from working when there are just three nails left in the magazine. 
What Could've Been Better?
The only problem that we faced while using this item is that it is a little heavy. If you are not used to working with framing nailers, you might feel tired when using this for a long time. We suggest that you keep this factor in mind while deciding which option to go for. 
Pros
Durable build

Incredible design

Easy to clean

Offers multiple functions
Sale
With the popularity of the Freeman PFR2190 Pneumatic for being one of the best-value products, there's no way it wouldn't make our list. If you are a DIY enthusiast or a hobbyist, you'll like using it. People dig it for the efficiency it offers and for how affordable it is. 
Why Did We Like It?
This one is definitely not a heavy-duty tool and is more suitable for lighter loads. And to handle that, it's a perfect choice. The price is moderate, and you get all that you need from a basic framing nailer. And honestly, for the price, it is a pretty good-looking choice! 
Moreover, you do not need to worry about versatility in function when it comes to this device. It can handle different types of nailheads and supports a wide variety of nailhead collations. It is designed to support 21-degree collated nails that range between 2-3.5 inches. 
In no way does this tool disappoint! 
And most importantly, we were pleasantly surprised to find that it comes with an anti-dry fire feature and an air exhaust. Both these features combine to help to ensure that your device faces minimum damage when working and lasts for a long time. 
What Could've Been Better?
It would have been great if there was just one additional feature: an actuation mode detector. The interchangeable trigger technology indeed fills its gap a little. However, many of its competitors get an edge over this because it lacks this additional feature. 
Pros
Highly durable

Price is reasonable

Versatile

Makes cleaning simple
Cons
Lacks an actuation mode detector
Sale
For our next entry, we have the Paslode 906300 Cordless XP Framing Nailer, which is one of the best cordless framing nailers to buy. It is built to increase your working efficiency by 15 percent. Paslode is a brand that one can blindly trust when it comes to advanced tools, and this one is no exception. 
Why Did We Like It?
The first thing to catch our attention is the design. It is painted in bright orange, and there's no way it won't be a conversation starter during weekend garage work with friends. The build is exceptionally sturdy, and the handle is padded. This enables you to get a good grip and prevents you from experiencing hand fatigue. 
And apart from the excellent grip of the handles, it is incredibly lightweight. It weighs a mere 7.2 lbs., and that helps you navigate comfortably with the device even in small restricted spaces. If you are working on fixing the ceiling or the floor, this is pretty helpful. 
Additionally, you can use it all year round and irrespective of the climatic condition. It can operate well even in extremes of climate without getting jammed. Even when the temperature drops below 14 degrees Fahrenheit, it can function perfectly. 
What Could've Been Better?
Despite being impressed with the performance and the design of this product, we do have a minor complaint. The nail magazine that it comes with is relatively small and cannot hold many nails at a time. As a result, you would have to stop often to reload it. And this might feel like an inconvenience to many. 
Pros
Well-designed

Provides good grip

Does not cause hand fatigue

Versatile
When we are on the topic of discussing the brands that manufacture premium professional tools, we cannot miss out on DEWALT. And their product DCN692M1 20V MAX Framing Nailer Kit is one of the most efficient ones we have tried so far. Let's take a closer look at its features. 
Why Did We Like It?
When working with this item, there's no need to worry about what kind of nails you should put in the magazine. If it ranges between 2-3.5 inches, it is totally suitable to be used with this. There is also a jam clearing feature that gives it an edge over its competitors. And with battery life like the one it offers, be sure to shoot over 500 nails with a single charging. 
Moreover, what makes it stand out is Dewalt's trademark feature: the brushless motor. This is incredibly helpful as it ensures that your work has higher precision and accuracy. If used correctly, it also aids in driving the nails smoothly into the surfaces. 
Additionally, what adds to its flexibility is its 11 clicking position. The drive adjustment setting adds further to the ease of using this item. And lastly, not to forget the special rafter hook that helps to enhance the durability of the product. 
What Could've Been Better?
Although we have no complaint with the efficiency of this item, we are not entirely happy with its speed. Compared to the other options, its bump mode takes a longer time to get the work done. Even when using the sequential mode, we noticed that the motor consumes a good amount of time to enhance the power of the flywheel. 
Pros
Can handle a variety of nails

Prevents jamming

Highly efficient functioning

Durability is remarkable
A brand like Hitachi does not require a special introduction. Their product, the NR90AES1 Framing Nailer, held to its reputation and had us at hello. We were excited to test this time and to be honest; it did not let us down. 
Why Did We Like It?
We should begin by saying that this item is cut out for the professionals. It has all the premium features that you need for high-end projects. 
Equipped with an advanced level actuation mode, it is a favorite of thousands of professionals across the globe. This feature makes shifting between bump and sequential mode ten times faster. 
Furthermore, it is not just fast but highly convenient to use as well. The grip is incredibly well-balanced and padded. Even if you end up working for hours with this nailer, your hands won't feel tired. 
No doubt it is a high performer, and that becomes more visible the way the average time consumed in shooting nails is considerably reduced. 
Additionally, we were quite impressed with their customer support service. They were quick to resolve all the queries that we had. And to top it all, they offer an extended 5-years warranty on their product. What's not to like? 
What Could've Been Better?
Despite stealing the show with its stellar look and output delivery, it does fall short on a few things. Unlike many of its contemporaries, it does not have a flexible air exhaust or an anti-dry fire mechanism. We were quite surprised to find these features to be missing in a product as brilliant as this one. 
Pros
Suitable for handling heavy-load

Easy to use

Delivers fast results

Durable item
Cons
Does not have an air exhaust
As our final entry on our list, we have the 3PLUS HFN90SP HFN90SP 3-in-1 Air Framing Nailer. It has made it to our list because it is one of the best below $100 variants that we found in the market. As a DIY enthusiast, if you are looking for a budget-friendly but efficient option, you've found the perfect match. 
Why Did We Like It?
Even though it is designed keeping in mind the needs of hobbyists, it delivers equally impressive results when you work on larger projects too. 
It comes equipped with a toll depth-adjustment feature, and therefore you can shift functioning pretty smoothly. Within a split second, you can go from flush nailing to countersink. 
Additionally, loading the nail magazine is convenient. Because of the round head framing, it becomes exceptionally easy. And the rounded tip ensures that it does not damage the surface you are working on. Without the absence of risky edges, the problem is completely avoided. 
On top of that, we were highly impressed with the 360 degrees adjustable air exhaust, which makes it convenient to clean the dust and debris. It also prevents the air from directly blowing into your face. 
What Could've Been Better?
With better user instruction, this item would have surely scored more points. The parts are a little complicated to install without the manual offering clear guidance. In case you have difficulty assembling, we recommend watching a tutorial or calling their customer support for help. 
Pros
Comes with depth adjustment features

Fast output delivery

Flexible air exhaust

Does not leave scratches on the surface
Cons
User manual is not detailed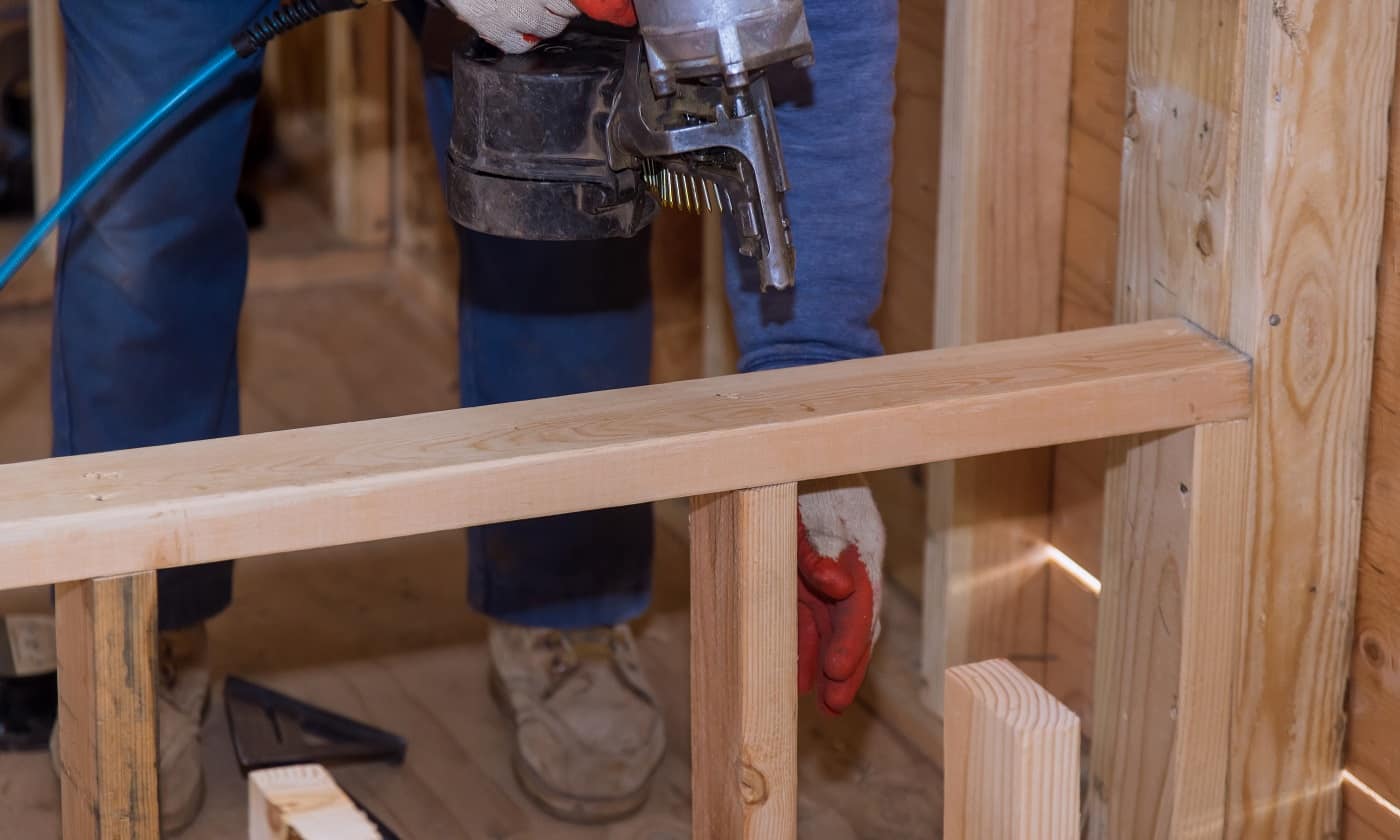 Framing Nailer Buyer's Guide
So far, we have discussed the top products in detail, but were you able to make your pick? Well, we understand that it is not so easy and you might still have some doubts. To make the best choice, it is essential that you take into consideration a few more factors. 
And in this section, we will talk about some of them. Let's see what they are!
Brush V/S Brushless
If you go for a battery-powered framing nailer, you'll see that they mostly use an electric motor to fire nails. In such cases, the motor either uses a brush or is brushless. If you are wondering which one is more effective, it is the brushless motor. It creates less friction and thus increases efficiency manifold. 
Our studies show that brushless motors are 90 percent more efficient, while brush motors score around 80. So, it goes without saying that brushless variants will have more power and will be able to fire a higher number of nails in a minute. Also, they tend to be more durable, and the battery does not require a change very often. 
Size
What good is a nailer if it is not comfortable to use? When choosing one, you should first take into consideration its size and weight. But make sure that you understand your requirements first. 
If you are more comfortable using it crouching or when standing on a ladder, the chances are that a heavy tool would make your hands ache. You should also consider the fact that framing nailers are dangerous tools as they can drive 3.5 inches nails easily into a wooden board. So, make sure that you do not go for anything you are uncomfortable with to avoid any risks. 
An unfortunate misfire can cause severe damage. Go for one that is light and offers a good grip. This way, you will be able to manage it comfortably and use it safely. While testing the products, we realized that the fuel-powered nailers are mostly lightweight in comparison to others.
Added Features
Make sure that you look for what additional features a model is offering before deciding to buy. Go for a model that comes with a good adjustment knob as that will give you ample control over the depth of nail penetration. It goes without saying that different surfaces will have varied thicknesses and would need different nail depth settings. 
In a good framing nailer, you can easily make these adjustments with the turn of a knob!
Also, make sure that you research well and opt for items that come with protective guards. This will shield you from nails and debris that might deflect when you are working. Some items even come with LED indicators that tell you when you are almost running out of nails in the magazine.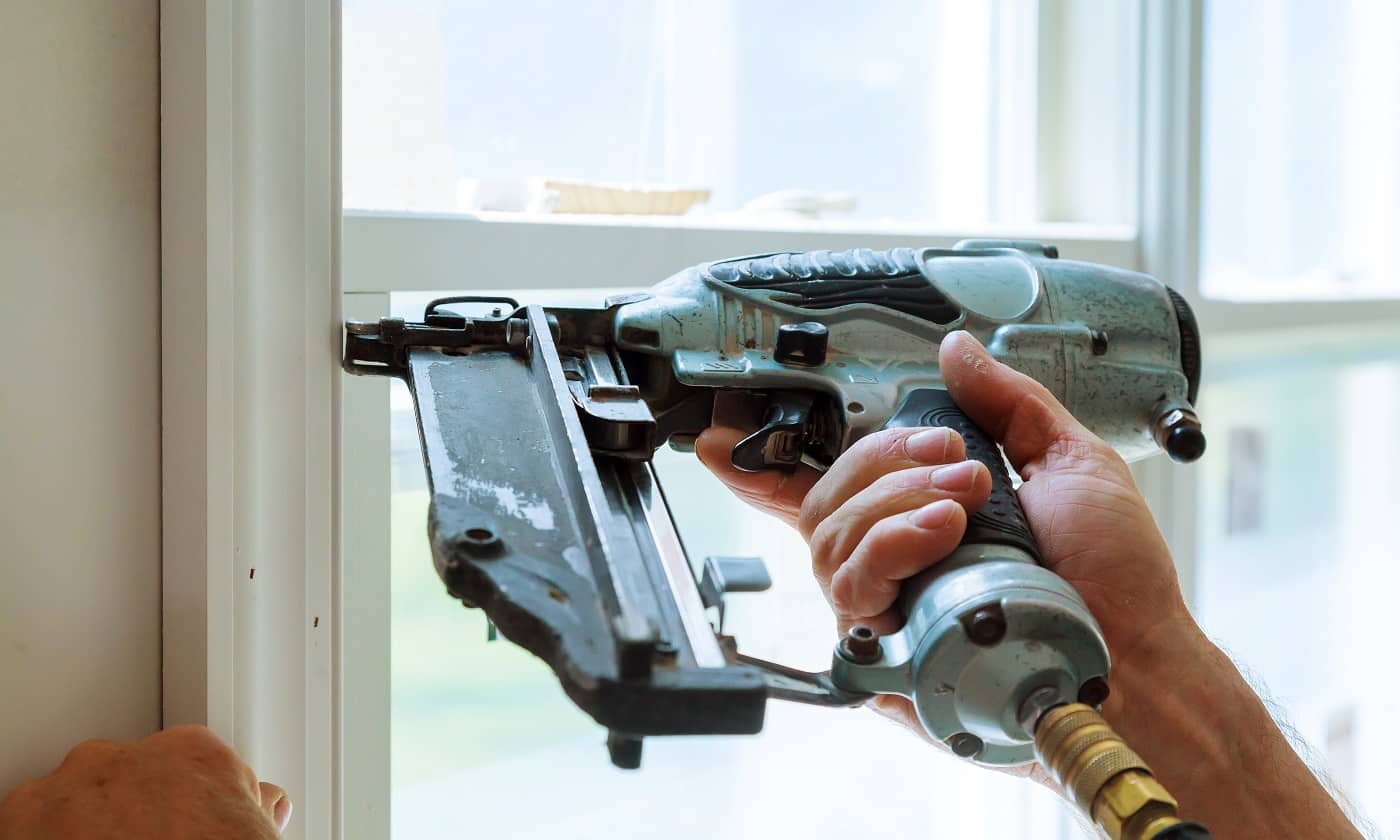 Framing Nailer Verdict
And that's all we have for you today, folks! 
A framing nailer is a fun device to have in your garage, but when it comes to choosing one, it is pretty challenging. We had great fun compiling this information for you. And we hope that after reading this comprehensive guide, you have a better idea about deciding which one to buy. 
Before saying our goodbyes, we would like to let you in on our favorites. The NuMax Pneumatic takes the award for being our all-time favorite. If your prime lookout is a product that is affordable and easy to use, the BOSTITCH Framing Nailer is an excellent choice. 
With that, it's a wrap. Let us know about your favorites in the comments section below. Keep a watch on this space for more exciting reads. 
Until next time, adios! 
Related Article
Freeman PFR2190 Framing Nailer
13 Best Finish Nailers for Woodworking
What Size Nails Do You Need for Framing?
Pin Nailer vs. Brad Nailer 101
37 Awesome and Cheap DIY Pallet Fence Ideas to Realize Swiftly