Learning how to draw poses is one of the key skills artists must possess, whether digital or traditional. Hence, knowing where to derive some inspiration becomes a fundamental task for any artist.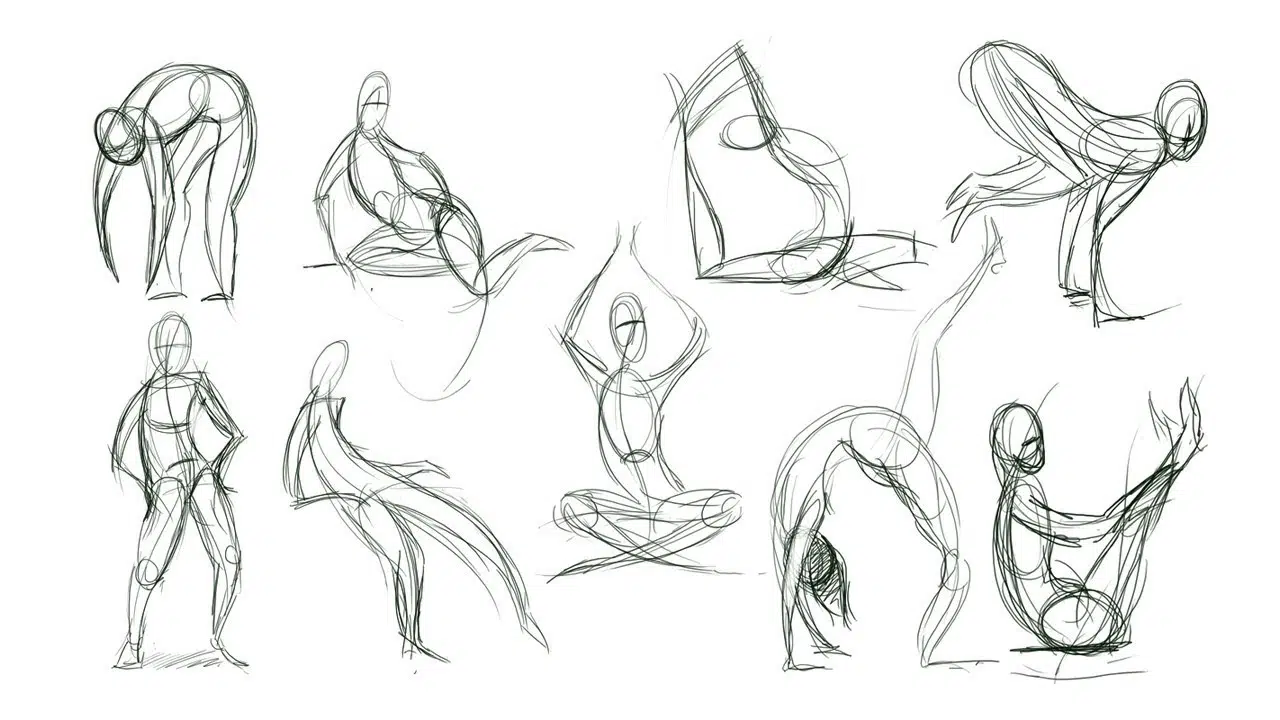 Traditionally, this inspiration has come from live figure sessions - but inspiration does not necessarily strike at the same moment as you might be at those sessions. Further, you may need to draw some figures which aren't derivable from live figure sessions.
Hence, to take back control, it's best to keep gesture poses in your hands by either keeping pose photos on your computer or using online resources in order to achieve the same.
Today, we walk you through the latter process of using online pose reference photo websites which give you access to the best quality material. We feature the 7 best resources you can find online today; let's begin with the reviews!
Best Drawing Pose Reference Photo Sites
Line of Action is one of the websites which gives you access to some of the highest-quality pose and figure content you can get. You get access to photos of animals, human figures, and faces are available as well. Their figure drawing tool is one of the best you can find out there.

The figure drawing tool gives you the option of having either semi-nude, fully nude, or fully clothed figure models as per your need. After this, you can decide the sex of the desired figure as well as the duration of the models - and you're off to work!
Options similar to what you find on Quickposes are also useful for quick drawings, but also for longer studies. Now, while the duration can be set anywhere between 30 seconds to 5 minutes, as leading figures point out, short gestures and longer poses are both equally important and hence need to be practiced equally.
While there is no non-timed option on the poses, you can set the timer to 99999 seconds to have access to the pose for as long as it's possible. The website is neatly partitioned into different areas for each subject, so you can focus on different kinds of subjects on your own time.
One of the best features is that you can see the work of other artists, so you can get some direction in case you ever get stuck while drawing while looking at poses.
Quickposes is one of the oldest and most wonderful pose-drawing websites you can find out there. It is less a helping website and more of a system that slowly helps you get better at drawing poses and figures. They have a timed web app where you can queue up your desired set of photos with a time slot of your choice, and get to drawing!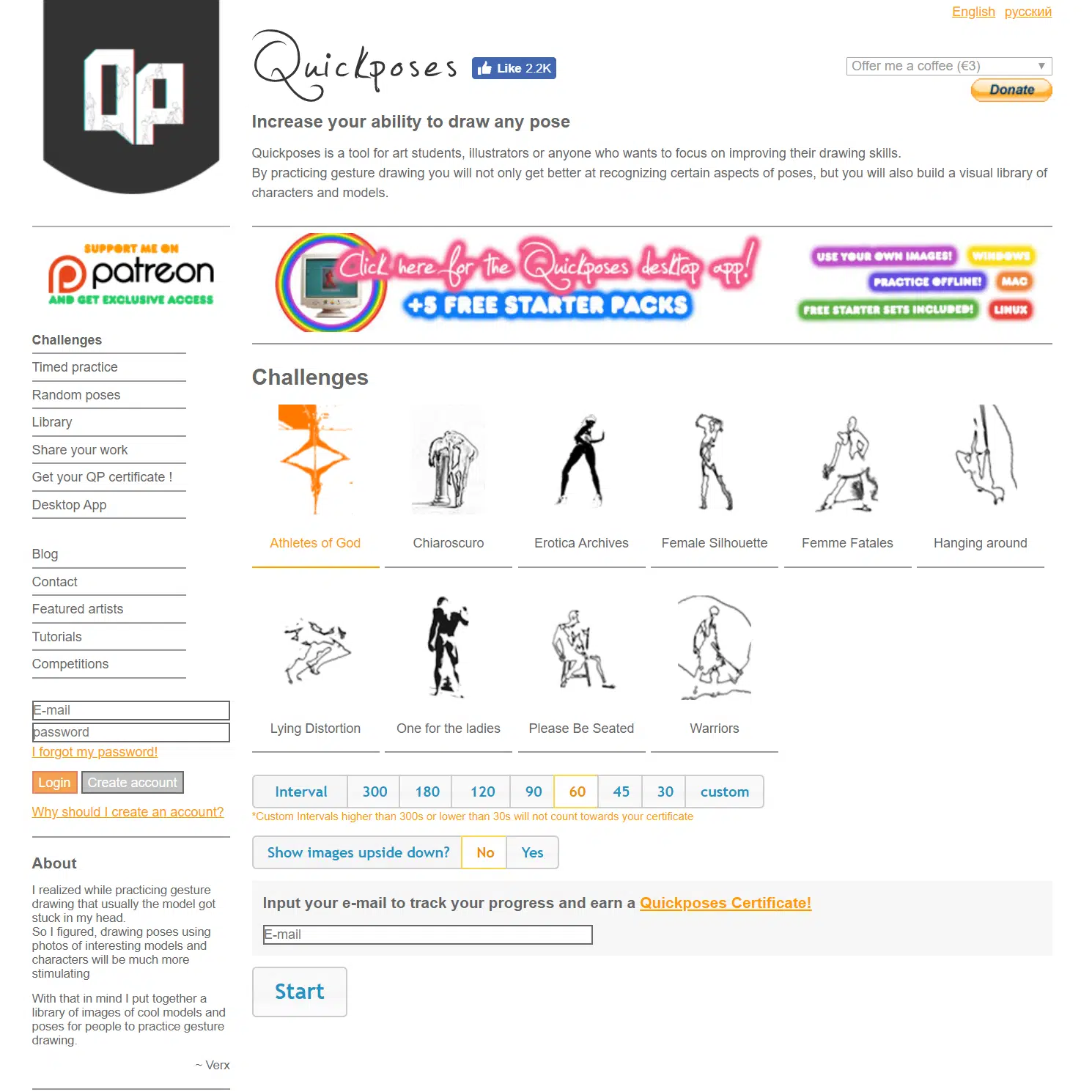 You can set timers for poses from 30 seconds to 90 seconds. You can also design sessions where you focus on some parts of poses which you feel you're not as confident doing with custom time slots.
However, if you so choose, you can let the poses be decided by the website randomly just to see how well you can do with unfamiliar or unknown poses. For the reference images flashing, you can choose between:
The type of poses; the website has a huge variety of these
The gender of the model
Clothed/semi-nude/fully-nude
Portrait/landscape/90-degree rotation
One of the best things about this website is that you can see all the pose photos independently and download those photos whenever you want to practice by yourself, offline. Most websites don't have downloadable images - this is one of the few which does. These are a few reasons why this website remains so popular to date.
Different from the other websites we have reviewed so far, this website is completely community-run. All of the images on the website are licensed under Creative Commons and hence are available for free! There are plenty of community-sourced gesture images you can use for free, and most of the images come from DeviantArt.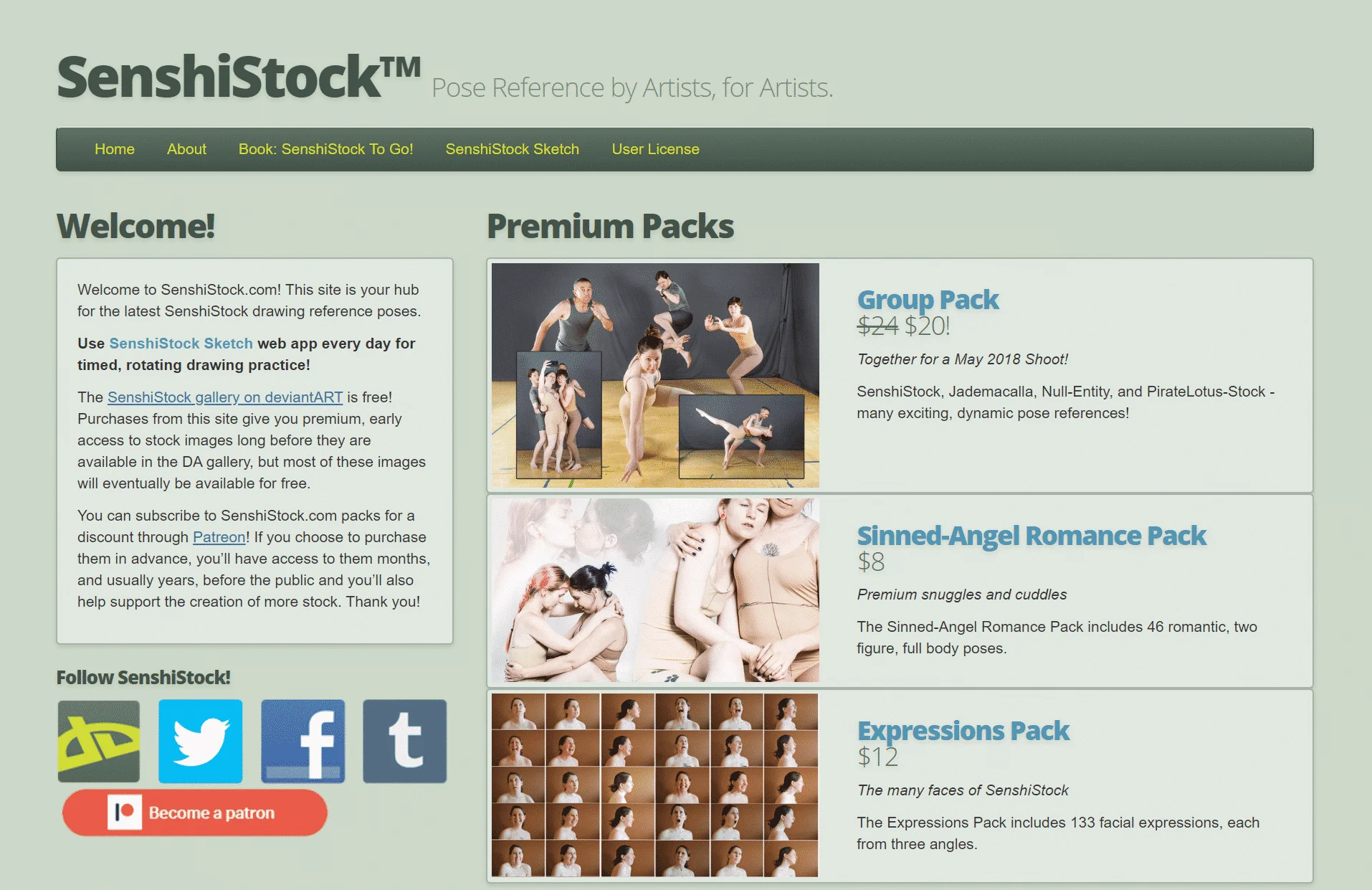 There are many different gestures you can choose from. However, what if you want to have timed and structured practice? The SenshiShock Sketch website gives you the opportunity to do exactly that - it's a very well-structured website that gives you a number of options.
You can also use your mobile devices (devices such as the iPad Pro and Note 9, especially) to draw as well!
You will notice one major difference between the usual pose web apps and this one. While this gives you the timer like other apps, the photographs are curated by means of tags.
These tags give you photos that belong to different categories as per your intended types of figures to practice.
It's very easy to get started, though the UI feels a little clunky and unintuitive at first - it gives you an easy way to practice, much easier in the long run than most other competing platforms. The best part is that their website is optimized for all platforms and makes for some great figure-drawing exercises.
Some community efforts take a very different approach towards helping out their own - and an example is this. This particular tool comes as a community project from the Reddit "SketchDaily" subreddit community. A few of these people decided that what they needed was an easy-to-use and intuitive online tool that could handle much of their design needs.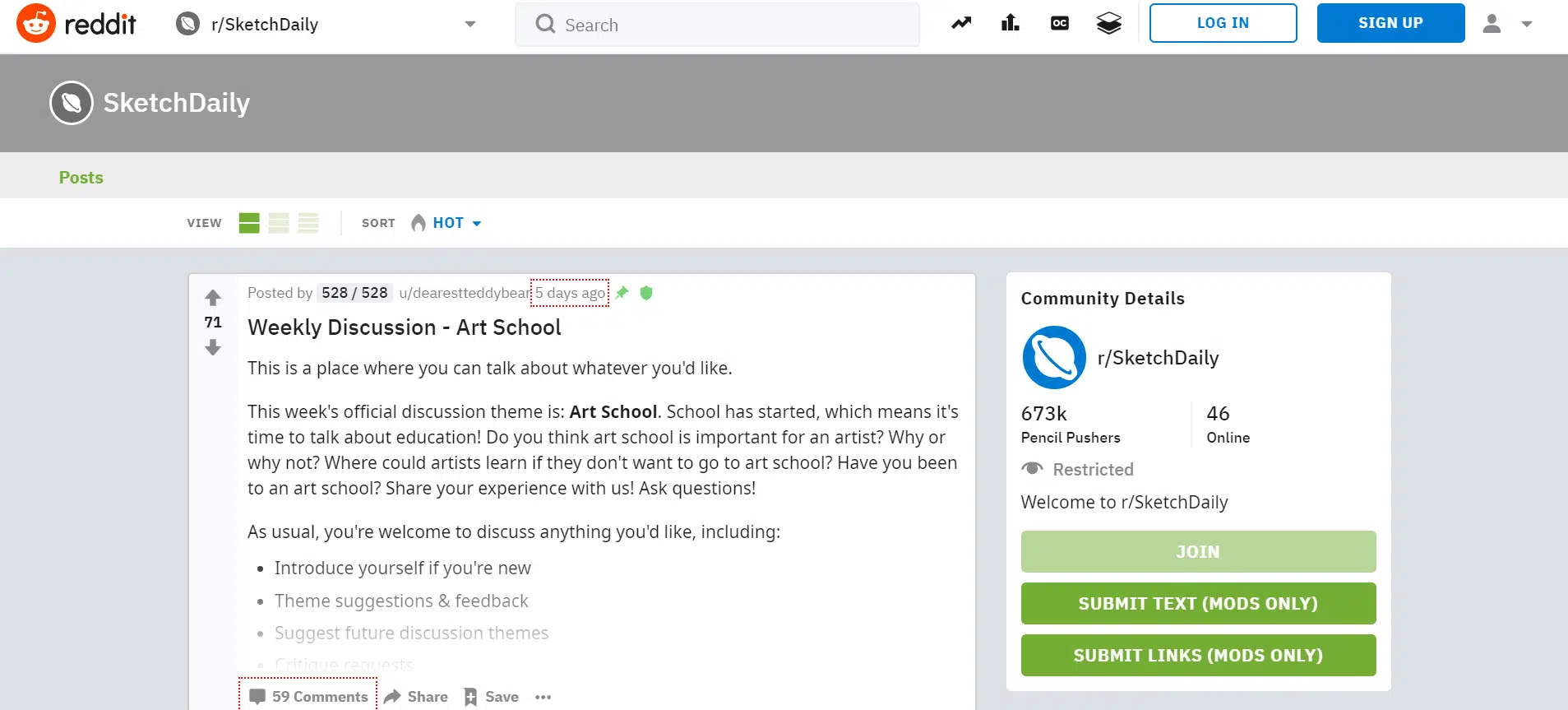 At reddit.com/r/SketchDaily, you're forced to face the unknown as compared to most other apps which gives you a fine-tuned degree of control. This makes it perfect for those who are looking for something challenging.
The online tool, however, is much more flexible. You get to choose your intended poses from among human gesture poses, human body parts, or animal photos. You also decide how long each photo stays on the screen, like most other tools.
Unlike most other tools, this one is absolutely free, with a decently large repository of images with a variety of different poses and figures. You can also tune those settings on the go, should you get tired of your current setup while sketching.
You can leverage the fact that this is a community-built tool in a number of ways. First off, there's the comprehensive software support - since this has been built by this community, it's quite easy to find solutions to problems.
The small caveat this website has is that even though it comes from the community, the number of images and the variety of poses is lesser compared to many other sources we have listed today. Furthermore, some of the other sources have better curation of resources than this tool.
This tool makes a lot of sense for people who are just starting out and want to get a taste of what figure drawing feels like when you have digital references.
Proko is something of a deity in the figure-drawing arena. He has a wonderful sketching course that teaches you how to sketch like a professional which is available online. The real kicker here is the fact that you can access some of the most useful learning materials for free on the Proko Poses website.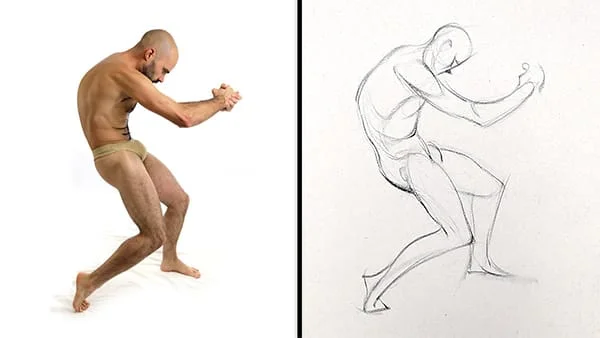 The newsletter will give you a number of insights on how to be a better artist, hence it's beneficial to subscribe to the newsletter regardless of the free images you get.
When you sign up for the Proko Poses newsletter, you instantly receive a set of high-quality images that you can use for figure drawing practice. If you want to see how to utilize these photos to the maximum possible extent, make sure to check out Proko's free playlist on figure drawing.
The best part about these photos is definitely the resolution you get. You can easily get a very high-quality, high-definition set of figure-drawing images. There is one caveat, however - you get only a very limited number of images to work with. For more of the same kind of images, you should get the (paid) image packs.
One of his general packs features around 300-400 photos, but some of the recent packs are more comprehensive and feature over 1500 of the highest quality, most detailed pose photographs with some rarer parts of the body on them.
While this may seem like generic advice at first, Pinterest does have a large repository of figure drawing pose reference photographs. However, it's not as easy as simply searching for photos on Pinterest with this tagline - there are more photos on Pinterest than one can count.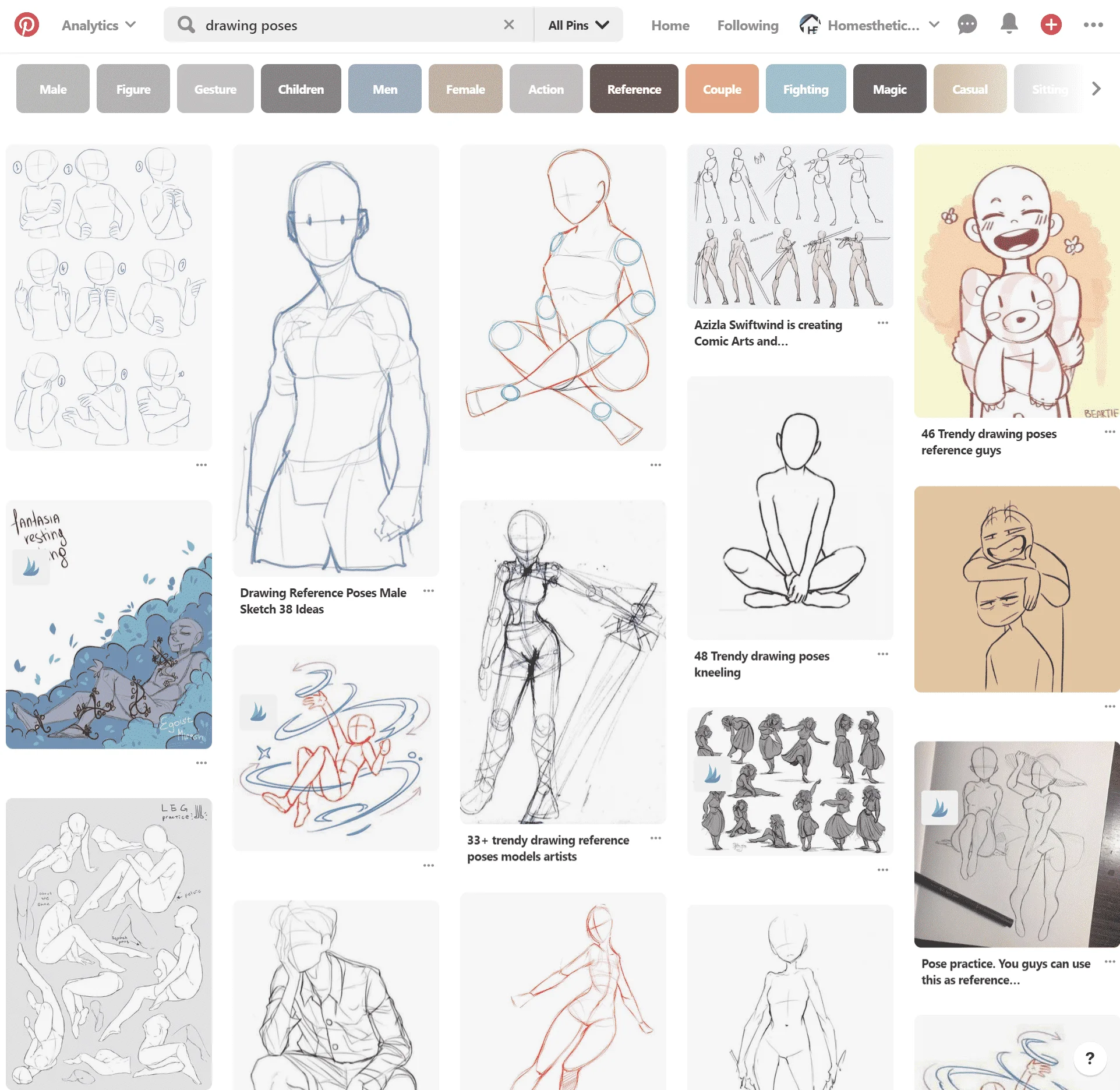 Further, the origins of these images are sometimes suspect as they may have been taken without the necessary permissions, but they're available anyway. Hence, it makes sense for beginners to stick to more trustworthy and structured sources of images on websites that preferably have some features related to figure drawing.
At the same time, you should also know that the variety of images on Pinterest is immense. It's clearly a much larger repository of images than any of the websites listed above. However, finding images is a very problematic and time-taking proposition on Pinterest. It's like finding a needle in a haystack but is worth the trouble in quite a few cases.
For the professionals who've got their timing down, heading to Pinterest and using that as a figure drawing reference happens to be a pretty hard task to pull off.
However, there are some features unique to Pinterest that make it a credible alternative to other websites. First, you can create your own private boards for your specialized figure drawing references that cover either different techniques, objects, body parts, and much more.
Then, Pinterest has one of the largest selections you can think of. While creating your own board is very time-consuming, you can easily take a peek at how people have designed theirs. This way, you can easily create a board by taking some much-needed inspiration from people who've been using Pinterest for a long time.
What to look for in a figure drawing website 
These seven websites are not the only ones that are available on the market today - even among those which offer a free tier or are free, these rule the roost. What connects all of them despite their apparent differences is the fact that you can easily get to work on them, and they're highly customizable.
Going for websites that allow downloading is always a good bet, especially if you can get to the point where seeing sources that you aren't familiar with is not a challenge anymore.
Another problem that plagues many websites is the user interface. If the websites do not offer a reasonably easy and fluid interface, it becomes hard to look at pictures you want to take inspiration from after a while.
Conclusion
Figure drawing is a skill that accumulates after much effort. It is the end product of countless hours of toil, getting stuck, redoing your sketches, taking a better look at the subject (if possible) - rinse and repeat. Hence it becomes essential to have good quality resources to practice figure drawing.
The ubiquity of the internet is immense. Being the behemoth it is, everything you need or want is available after a few clicks from the website of your choice. Figure drawing, once an arduous process with lots of waiting and luck involved, has become much easier than anyone would've imagined.
Hence, don't waste time - pick a website and get to work! Have fun painting!
Related Articles
111 Best, Fun, and Cool Things to Draw
5 Best Hand Drawing Reference Photo Sources
49 Super Cool Things To Draw On A Whiteboard