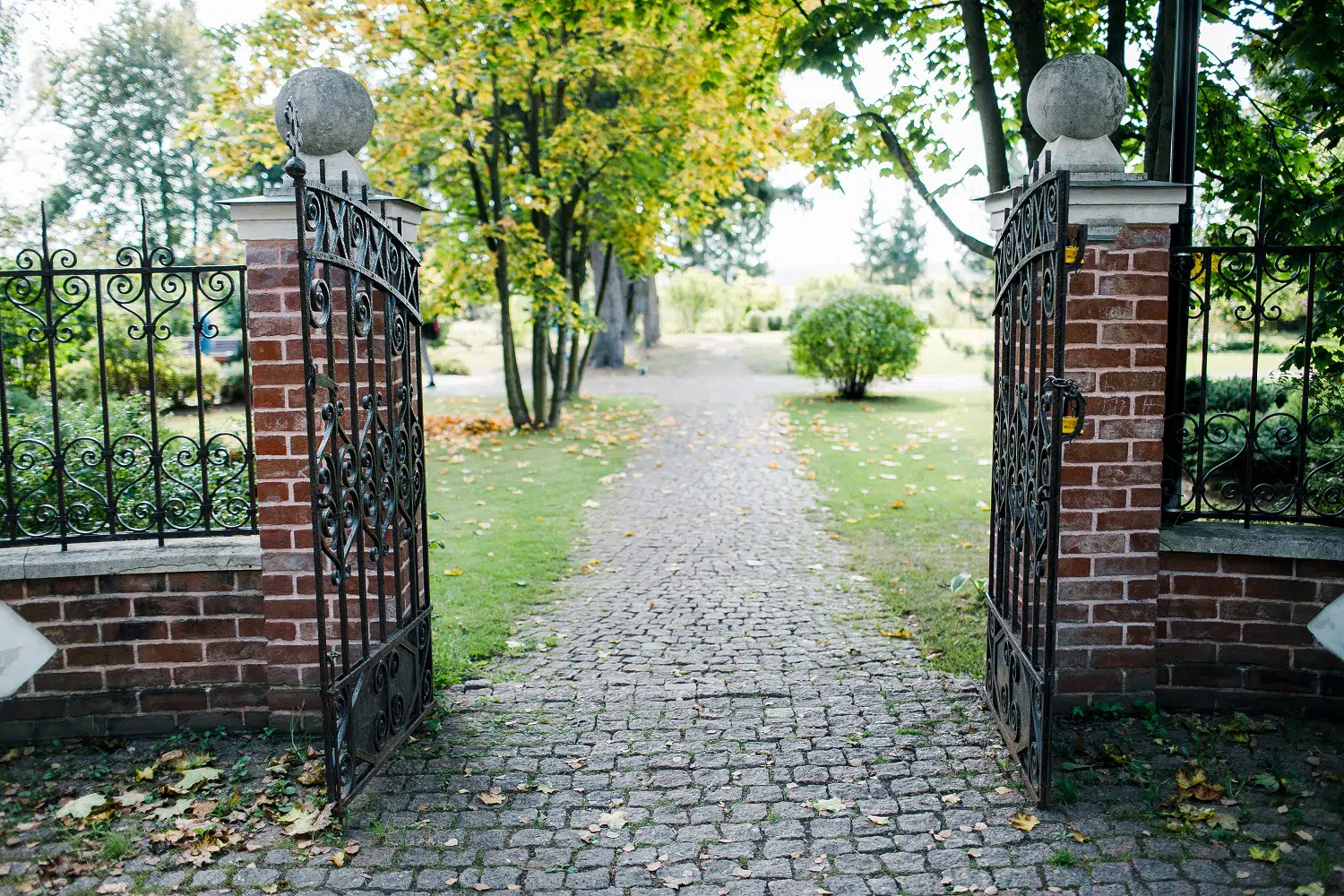 What is the first thing that people notice when they visit your house? Yes, it is the driveway gate, and hence it needs to be attractive. 
Today, there are multiple options for making driveway gates, and you have a host of pictures to seek inspiration. For instance, if you have a rustic house, there are wooden options that will add to the look. 
A modern or a contemporary house would look good with steel grey gates, and you have choices there too. Plus, there are multiple designs to choose from, which offer you different levels of privacy. And if you have a beautiful garden to flaunt, opt for gates with bigger panels that will allow people to see what's inside. 
On that note, we have created this list of the top driveway gate ideas and inspirations for your homes. This should help you decide the one that will look best for your house. 
So, dive in! 
Top Driveway Gate Ideas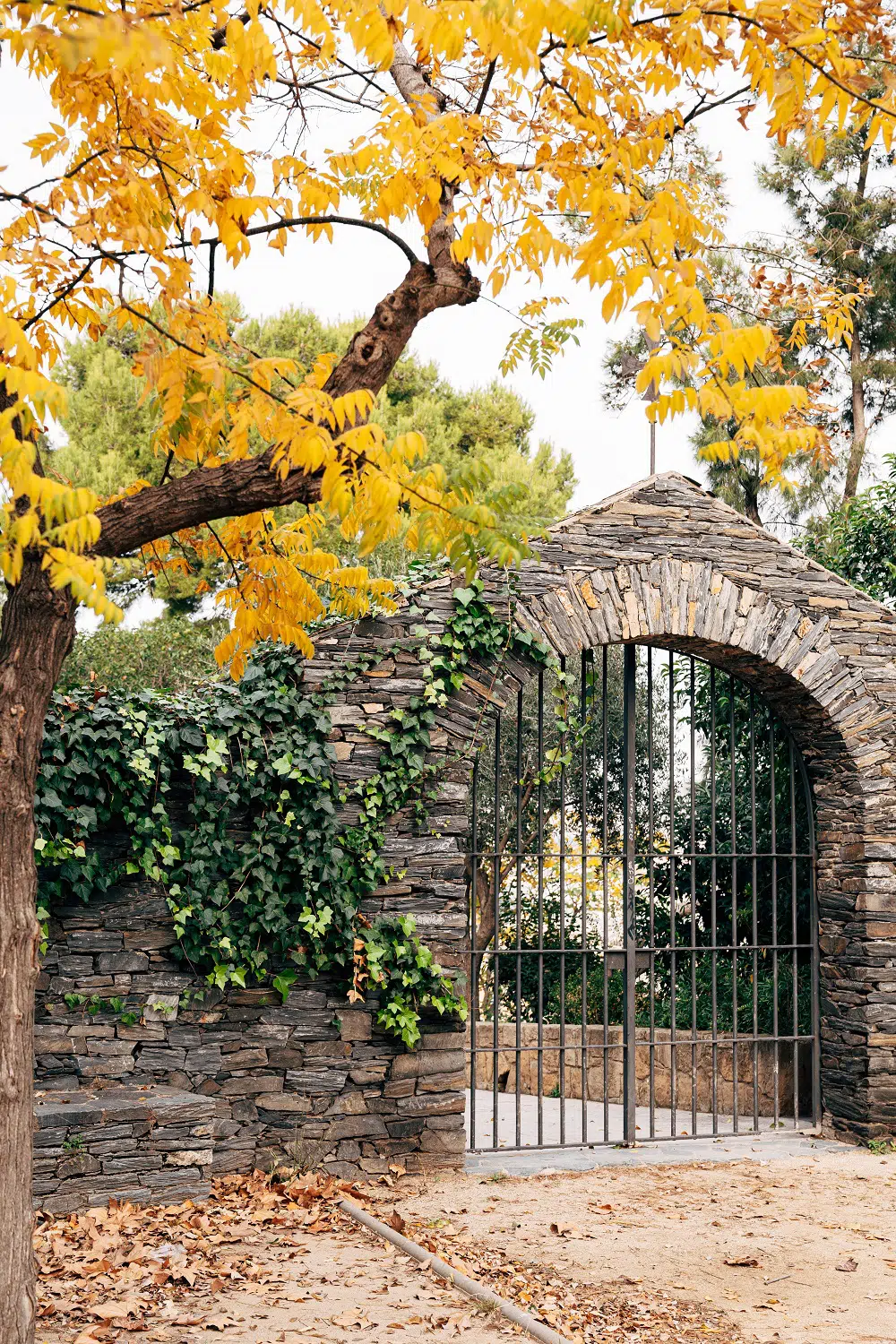 There can be multiple designs when it comes to doorways, and you will find options for mid-century, modern, ultra-modern, rustic, and contemporary houses. Every option has an image attached so that you can understand clearly and make a choice. Read on to know all about them. 
Contemporary Grey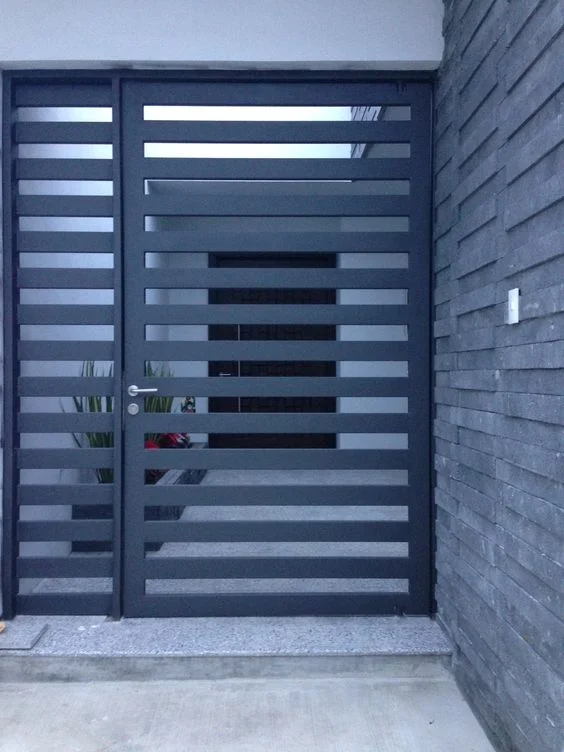 This is an example of a very cool and modern driveway gate that offers partial visibility. The gate has vertical lines with gaps in between, which allows one to see what's inside without getting a clear view of it. If you have a townhouse or a suburban home, this option might look good. 
Also, the cool grey color matches white and pastel-shaded buildings. You can pair it up with white lights and a grey-colored boundary wall to complete the look. In many places, the contemporary grey gate is used for official buildings too. 
Laser Cut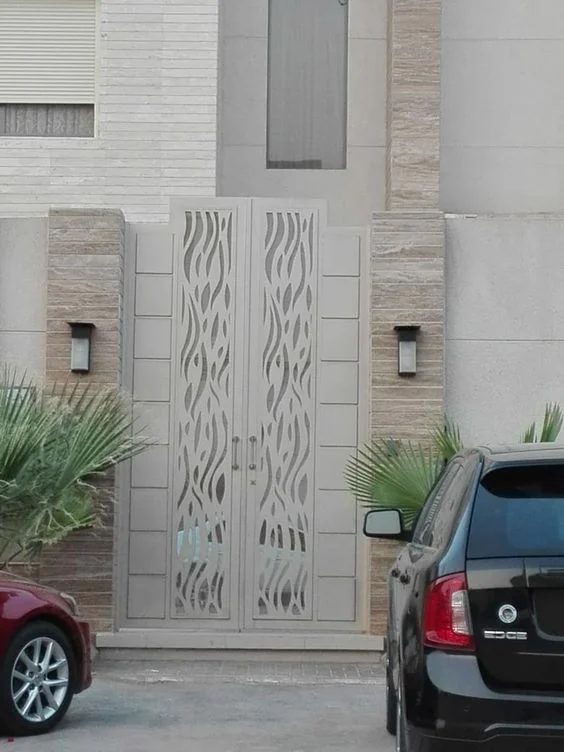 Up next is a very fashionable option that will look beautiful in front of modern city houses. This option has panels with pattern cuts that add to the front décor. Moreover, if you have boring plain white brick walls, the pattern cuts will balance it well. 
It will provide your house with an elegant and beautiful front. Rest assured that since this is the first thing that guests see on arrival, they are bound to be impressed!
Iron Mesh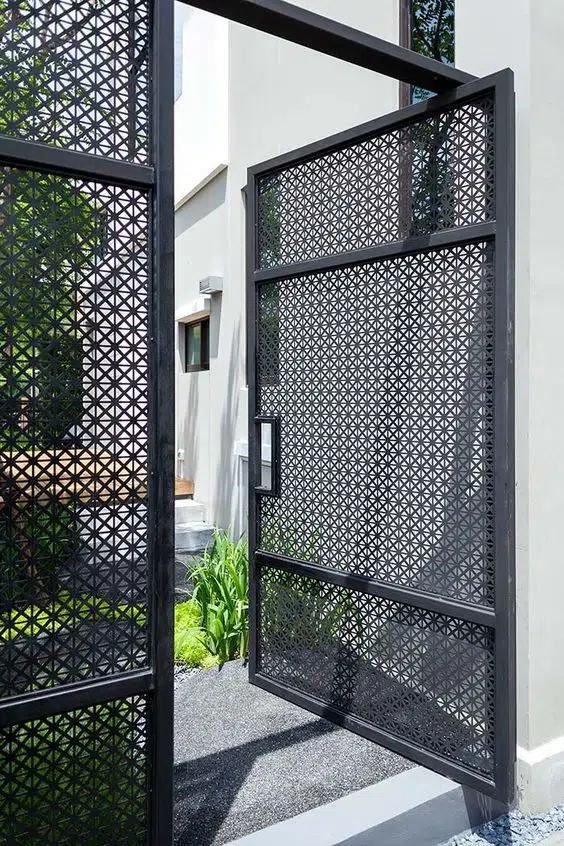 Are you afraid of the occasional peeping Tom looking into your house? The iron mesh gate will offer a lot more security while not obstructing the view completely. This works for those who want to flaunt their porch or the front garden without providing a clear view of the place. 
Moreover, the iron mesh is usually dark grey in color, which stands in contrast with the bright outdoor lighting. During the day, it should make your garden partially visible. At night, the dark gates with strategic lighting inside will only provide people with a partial view of your place. 
Classic Slider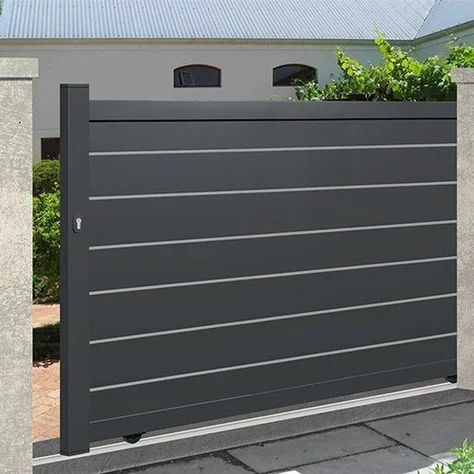 Is your house located on a busy street or near a busy crossing? Then you would need more privacy and better security, which can be provided by the classic slider door. This is a heavy and sturdy door that will prevent people from looking inside. 
There are thick vertical panels with a slight gap in between. The gaps are really narrow, and one would have to peek inside from between the panels to look at the distant. And that would immediately make others on the street aware of the person. 
Adding to the benefits, these doors can slide as they are on wheels. So, even if they weigh a lot, the wheels will allow you to move them easily. 
Aluminum Screen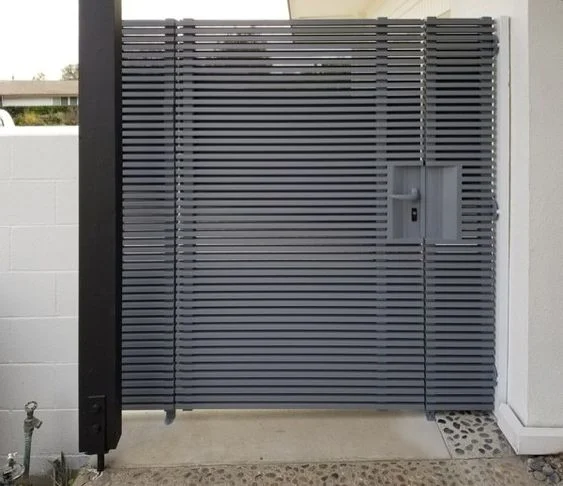 Up next is another variation of a contemporary grey gate, but this one has slight gaps between the vertical rods, and the rods are also very thin. This option goes well with suburban homes and city houses with gardens in front. Here, people can peep from both sides, but nobody gets a clear view.
We will recommend pairing this up with dark wooden sides that will amp up the look. Place lights inside your boundary walls so that people can catch a glimpse of your beautiful garden even after the sun sets. 
Farmhouse Door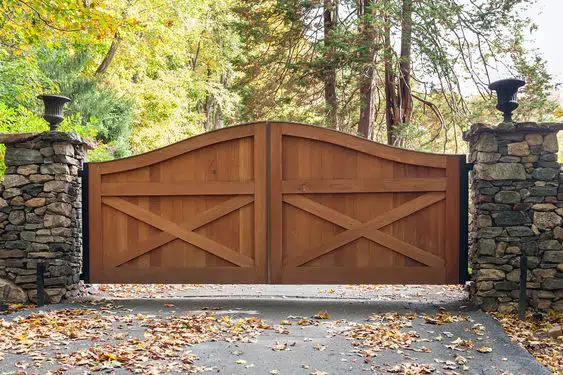 Do you own a farmhouse with a few acres of land? You can opt for these large farmhouse doors that look beautiful and magnificent. Every time someone passes by, the charm of these cedarwood doors will leave them wondering about what lies inside!
Also, this option is generally seen in the countryside and in towns with a lot of empty spaces. It usually goes with rustic decor and will work wonders for country houses. And they do not offer any visibility, thereby keeping everything that is inside private. 
Pergola 
A pergola can immediately brighten up the front of your house and increase its appeal. It has a modern and minimalist look and will go very well with pastel-shaded walls. This option works with those who do not want to make any part of their front porch visible to the outside world. 
Furthermore, the pergola will offer complete coverage and will provide you with ample privacy. You can set up the front porch however you want without having people peeking inside and watching every action. 
Gothic Wooden Gate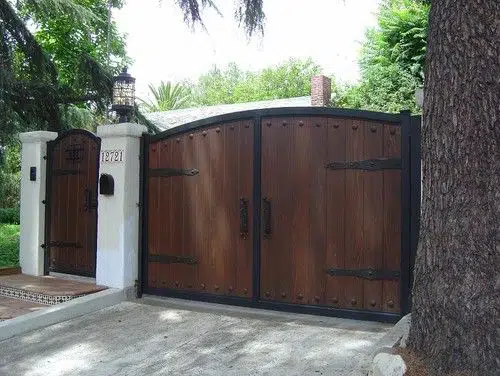 If you are hunting for a gate that will provide the front of your home with a gothic look, then this is a great idea. The front gate is massive and will fit townhouses or big city houses. If you are going to use it in a city, the gate will immediately make your house stand out from among the commonly used steel doors. 
To add to the style, these wooden doors have dark wooden panels and black steel fittings around the sides. The colors compliment each other and make the entire structure look dramatic. 
Frosted Glass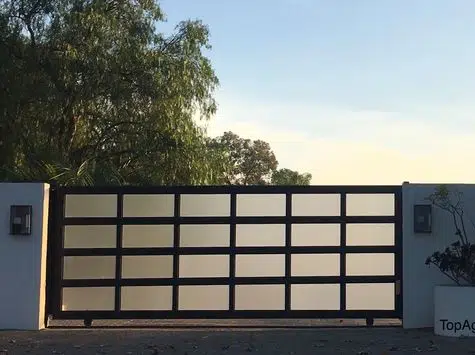 If you are looking to create something unique, the frosted glass gate is an excellent option. Some people love glass, and this idea would let you add glass without losing out on privacy. The frosted glass only provides a blurry view of what lies inside and will not allow people to watch your actions. 
Besides, the glass is complemented with a steel grid that enhances the look while protecting it. In case something bangs against this door, it is most likely to bang against the steel grid, keeping the glass safe. 
Matching Gate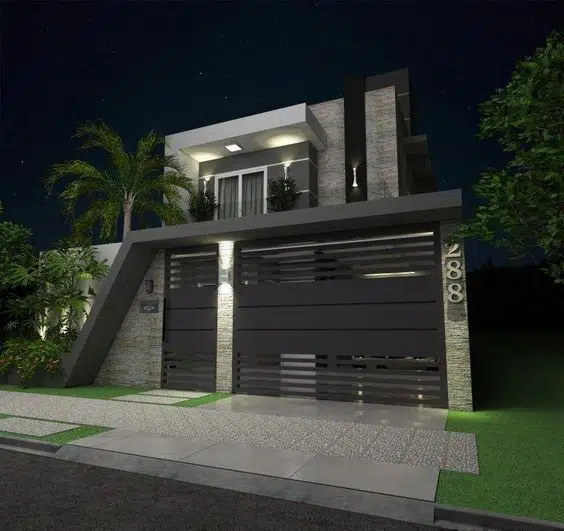 Do you have a city or a suburban house that needs renovation? A matching gate can add much-needed charm and enhance the entire ambiance. Here, the gate matches the color, shades, and texture of its interior walls. 
You can also pair them up by using similar lighting for both the fence and the gate. We will recommend using warm lighting with brown doors and white lighting with steel grey doors. Many opt for a stylized house number plate along with a matching gate, which complements the overall setup. 
Wrought Iron Gate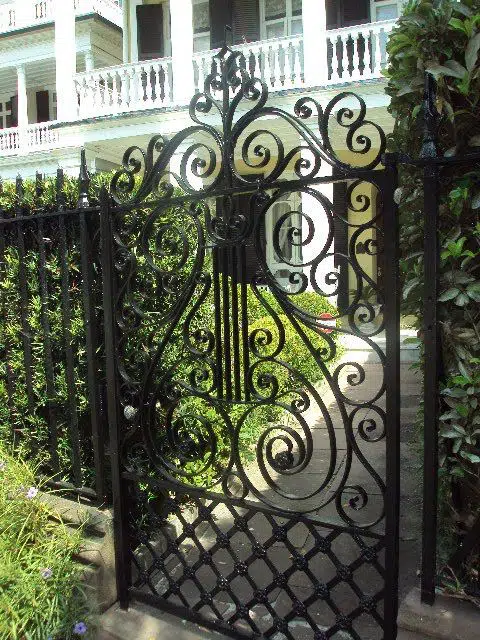 Do you often visit your ancestral house in the countryside? Or do you have relatives staying outside town for ages? Then you must already have seen these graceful iron gates that have been around for a long time. These gates are here to stay and have been known to add an old-world charm to new houses. 
Plus, they are cheap and sturdy, and you will not have to burn a hole in your pockets. You can customize them however you want, and they look lovely when placed in the front of a yard. If you have a lot of greenery indoors, this will suit your house well. 
Metal And Timber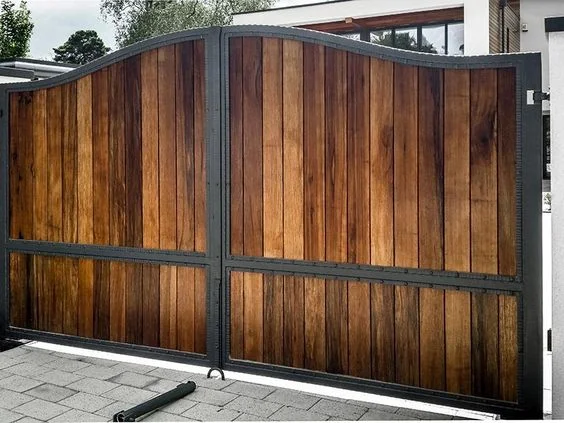 How about some seasoned timber for your front door? Yes, timber along with metal edgings will create a rustic yet modern home front and will also provide complete privacy. These are tall gates that provide complete coverage and keep all peeping eyes away. 
Moreover, this looks great with all kinds of homes, and you can pair it up with modern as well as rustic structures. If you have white painted walls inside, use timber for making the windows and doors too. The gate would then complement and match the house perfectly. 
Minimalist Wrought Iron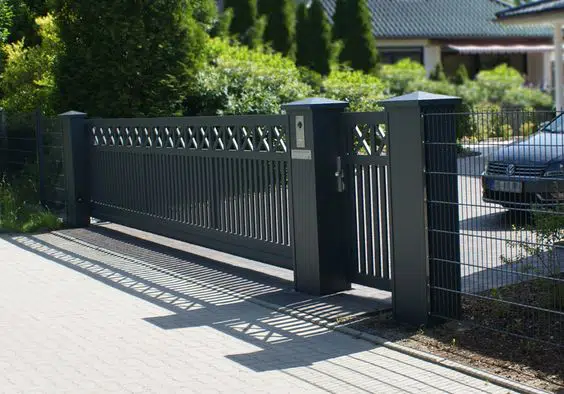 This is another variation of the wrought iron gate, but here, the design is much more modern. These gates are more like a fence with curved and lace patterns made on them. If you want a minimalist option that would not take away any attention from the house, this will work well. 
Also, if you are settling for this, opt for black side walls or fences as that would complement the gates well. This can be used with all kinds of houses, and the clean, trimmed lines will just add to the aesthetics. 
White Wood
Some of you might be looking for a great option in white that offers privacy without blocking the entire view of the insides of your boundary walls. These work well for those who want the gates to be inviting without compromising on security. 
Moving on, as you can already see, the gates are painted white in color, and that is already attractive. They are wooden and flaunt a sophisticated and classy look. Pair it up with brick walls, and you should have an inviting front. There are slots in the center that will allow one to see inside or look outside. 
Black City Gate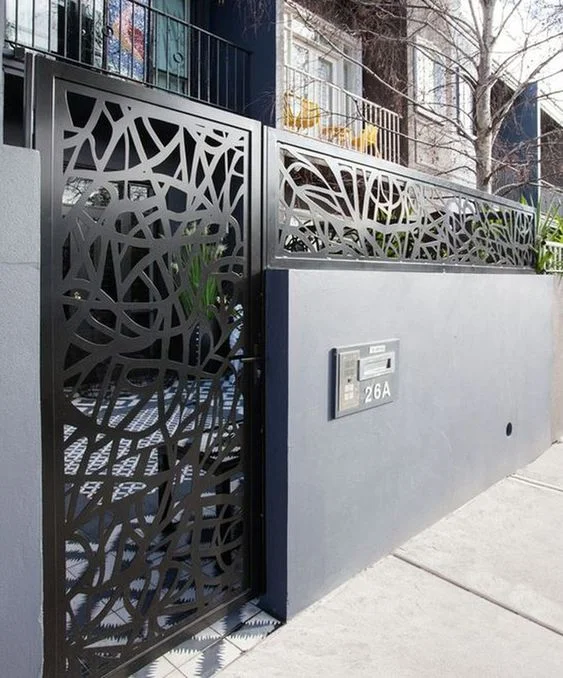 Is your house in a major area of the town where there is a lot of traffic? Then you will need good security and privacy, and this eye-catching black steel gate will impress you for sure. It will allow people to view your beautiful front yard while the solid walls give your house all the protection that it will need. 
Further, to add a chic vibe, you can pair these black gates with white or grey-colored walls. 
Rustic Wood Square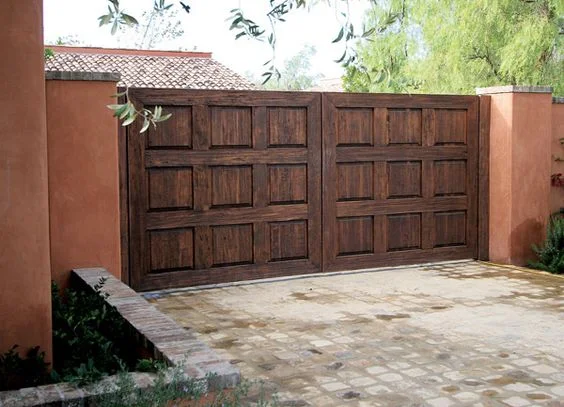 Have you finally built a majestic dream home, and are you looking for a gate that fits? Well, this rustic wooden square gate will be a fitting addition to your house, and it will add to the personality and elegance. The doors are traditional and welcoming while providing complete coverage and security.
And what's more, this option will help you remember your grandparent's house by the countryside. Plus, it will bring in a sense of nostalgia every time you look at them. 
Aluminum Horizon Gate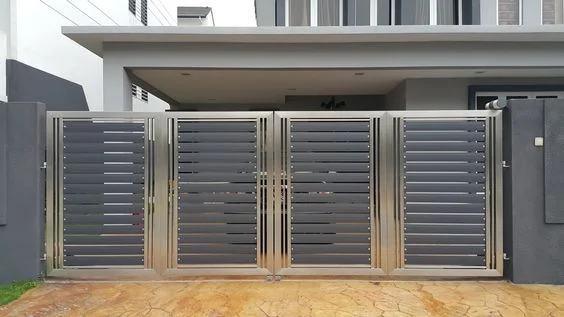 Now that we have discussed a very traditional option, It is time to talk about a modern aluminum gate. This option will provide you with privacy without blocking the entire view inside. However, the horizontal steel grey bars complement the exterior of a house, and they will look perfect with modern and contemporary house designs. 
Moving on, the grey tones can be paired up with steel borders and white or grey walls. You can use different shades of grey for the house and the gate, and that would complement each other well. 
Metal Laser Cut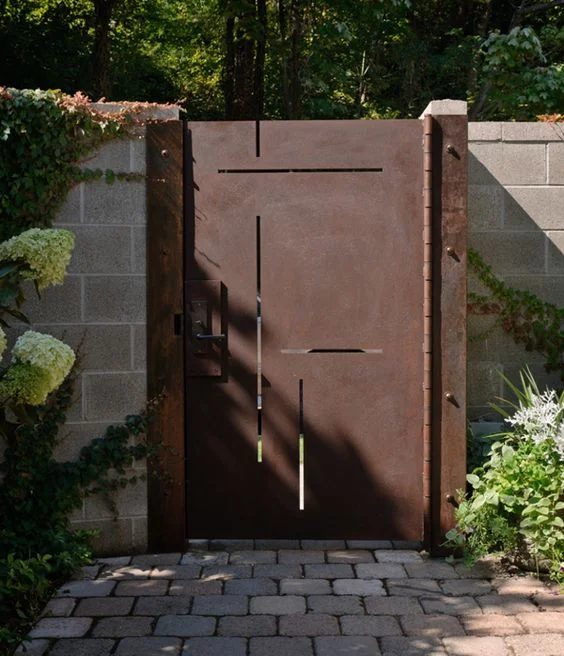 Do you wish to have a simple and effortlessly classy gate that is cheap and easy to make? The metal laser cut option is going to be an incredible choice. It consists of a metal sheet that has precise cuts on its body, which are made in exact angles. A traditional latch and hinges accompany it providing a countryside vibe. 
Moreover, this will work with both contemporary and traditional houses, and you can decide the texture accordingly. Go for a rugged texture if you pair it with a classic or traditional home. While you can opt for a clean and plain surface to add to the minimalist look of contemporary houses. 
Stone And Wood Gate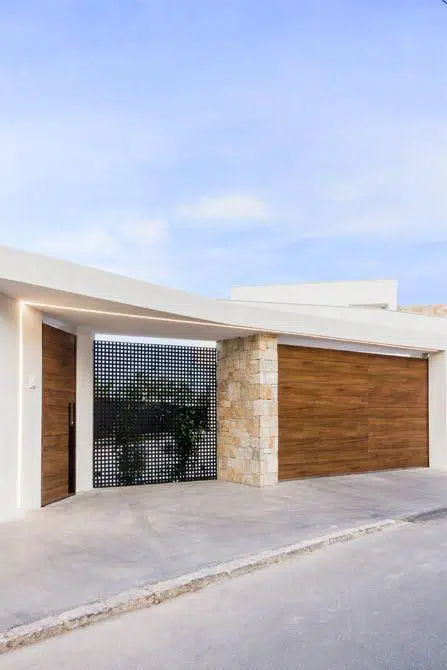 Do you want a large gate big enough for 2 cars to enter at one time? Then the stone and wood design will be a perfect choice. Some modern structures also come with a mesh steel panel in between the doors that add to the modern look. 
Moving on to the materials, this uses wood, stone, and concrete to complete the design. There are a lot of natural elements that are used, and these will help in maintaining the natural look of the house too. It works very well for modern architecture, and the mesh panel will complement the garden inside. 
Picket Fence Cottage Gate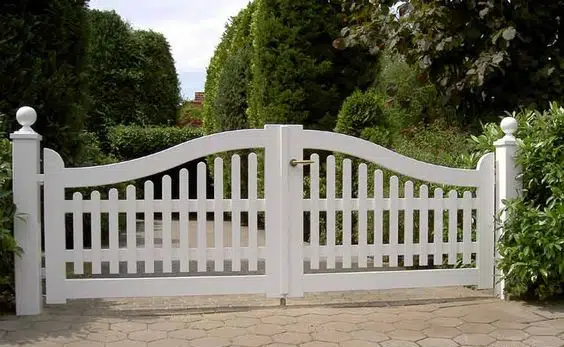 Up next is a beautiful example of a quaint and charming house that will always welcome you back wherever you are coming from. The picket fence cottage gate adds to a proper countryside vibe and will make your home look elegant and charming. 
Further, we will recommend pairing it up with a beautiful front garden or foliage with multiple varieties of flowers. The intense green color will stand in contrast with the picket fence and will look lovely. 
Pipe Gate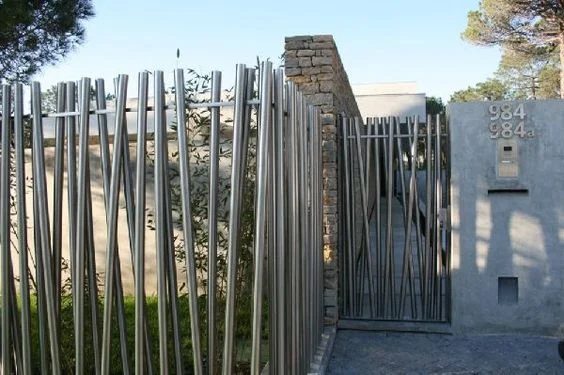 Now that we have spoken about an elegant gate, it is time to talk about one, which is unique and futuristic. This option consists of vertical pipes, which are sturdy and will protect your homes for a long time. Chrome is used to make this, and it is very durable. 
Plus, you will have an impressive curb to flaunt, and your guests will love the unique design. This gate works well with long pathways or front gardens and will allow people to see inside. 
Moreover, the pipe gate is a very versatile choice as it looks good with most types of houses. 
Metal Screen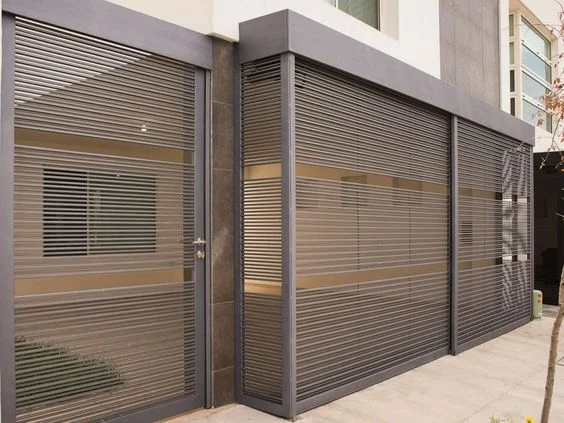 Up next, we have a lovely example of an ultra-modern design that is attractive and it provides some amount of privacy. The metal screen gate is perfect for driveways and looks great while providing an ample amount of security. Nobody can even put a hand inside, but there are thin slits that will allow one to only view what is inside. 
This works well for both townhouses and city homes. The roll-up design will also fit in well in all kinds of places, even if there is a shortage of space. Many city houses opt for this design as there is limited space, and a large gate would not fit in. 
Curved Iron Gateway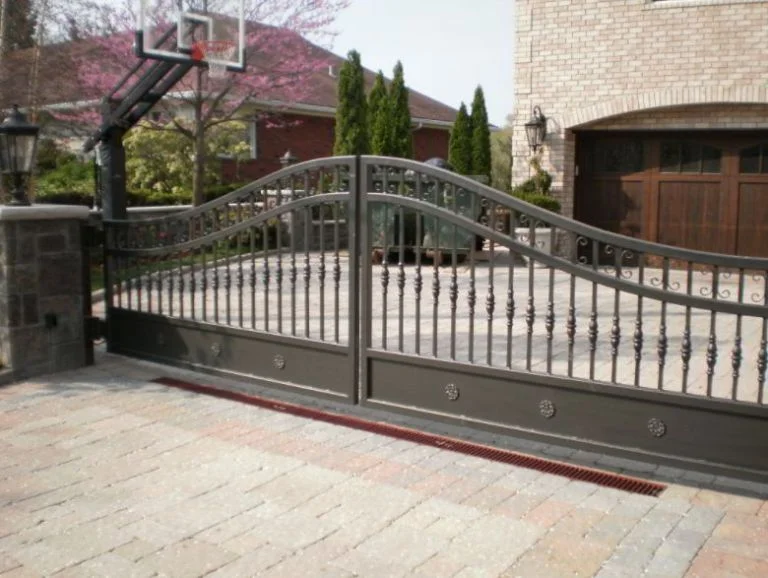 This is a beautiful curved and minimalist gateway that will go with big suburban houses and farmhouses. The large iron gate looks royal and will add more grandeur to the house. Plus, it is durable, and you do not have to worry about discoloration or rust. 
Tuscan Style Barn Doors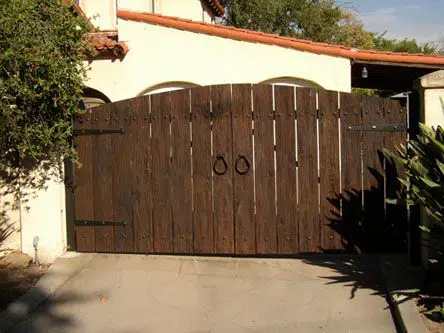 Do you wish to have a charming and pastoral vibe around your house? Then this option will help you achieve that with its classic design. The Tuscan Style Barn Doors will be perfect for a warm and happy home, and it will work perfectly well for the countryside. If you have a house in town or in the city, you can bring the countryside home with this. 
Plus, there are metal ring handles along with a hinges stamp, which adds to the design. This design is mostly chosen by people living in warm weather, and it will remind everybody of good times spent with family. 
Minimalist Wrought Iron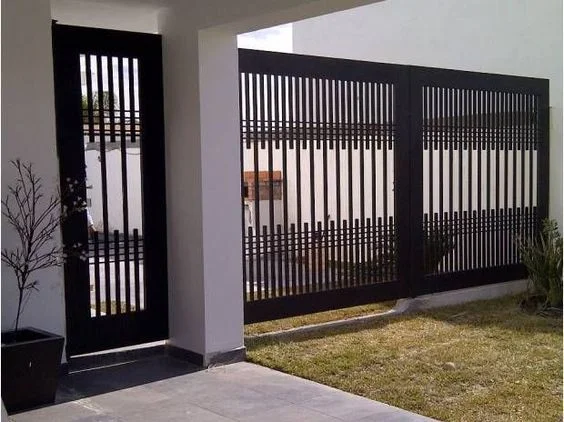 If you do not want the gates to stand out, then this minimalist wrought iron version will be perfect. It has clean lines and will be very efficient in providing enough security to the house. Plus, it would not draw attention to itself, and you can use it for well-designed houses. The focus will be on the house itself and not these railings. 
Also, they come in dark shades of grey and black, and you can use them with houses of all colors and textures. 
Grey Lasered Patterned Steel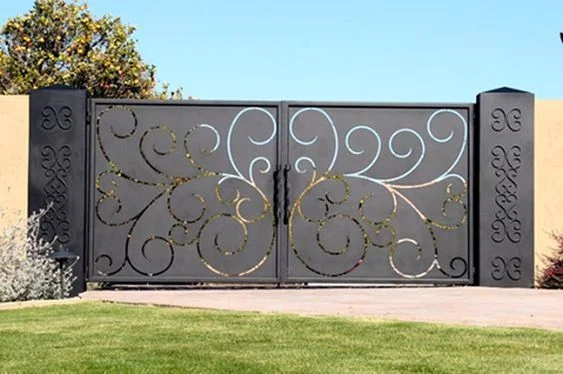 Now that we have spoken about a minimalist option, it is time to introduce a beautiful and elegant gate made with steel. Steel gates are not always supposed to be boring or minimalistic. 
You can get them with laser-cut floral patterns or curved lines, which will add a certain charm to the gate. The thin gaps will also ensure some amount of visibility from both sides. These are great options for city houses and suburban homes. 
Mid-century Iron And Wood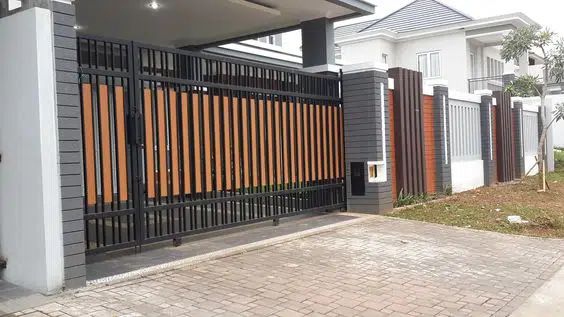 While most options here use either wood or steel, this one combines both to create a brilliant gate. The iron and wood option is a brilliant modification of the mid-century look. Here, there are wooden panels placed within a steel frame. 
The grey of this steel frame complements the warm wooden color and balances it well. You can use this with warm pastel-shaded walls. Plus, add light grey pillars on both sides along with lamps on top. This would complete the look and give you a beautiful front. 
Rustic Ranch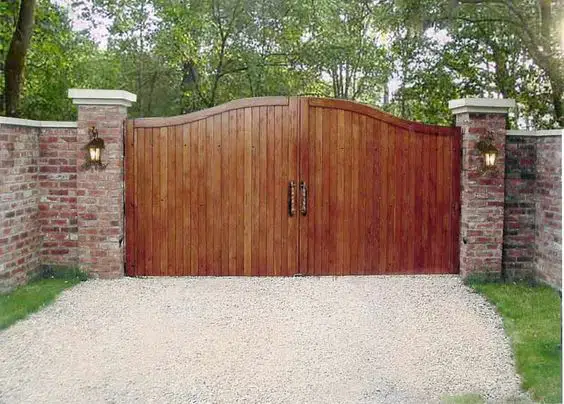 Do you have a big farmhouse, and you want to add to the grandeur of the place? The rustic ranch gates will be a great idea. It sports a classic design and will ensure complete privacy as you work inside. This also fits houses where outdoor parties are hosted on the lawn. You would not want peeping toms to be able to witness these events. 
Next, the warm wooden color is paired with iron handles that make it more classy. Your guests will be mesmerized by what they see. Pair this up with rugged brick walls for a classic rustic look. 
Gates With Viewing Slots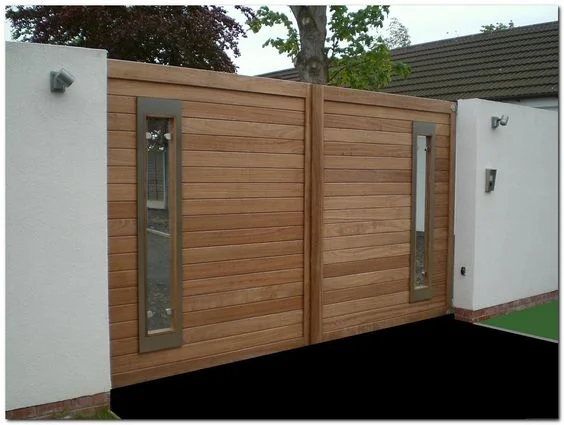 If you are a fan of minimalism, then this is a great option to pick. Here you will have bare wooden doors with viewing slots on both ends. Now, to prevent animals or humans from entering, you can attach glass to these slots, and that will only allow one to look through the slots. 
We will recommend tempered glass as it is the most durable option. They do not break easily, while they work well with strategic lighting. Place 2 spotlights on both ends facing the glass, and it will work out well. 
Contemporary Metal Panel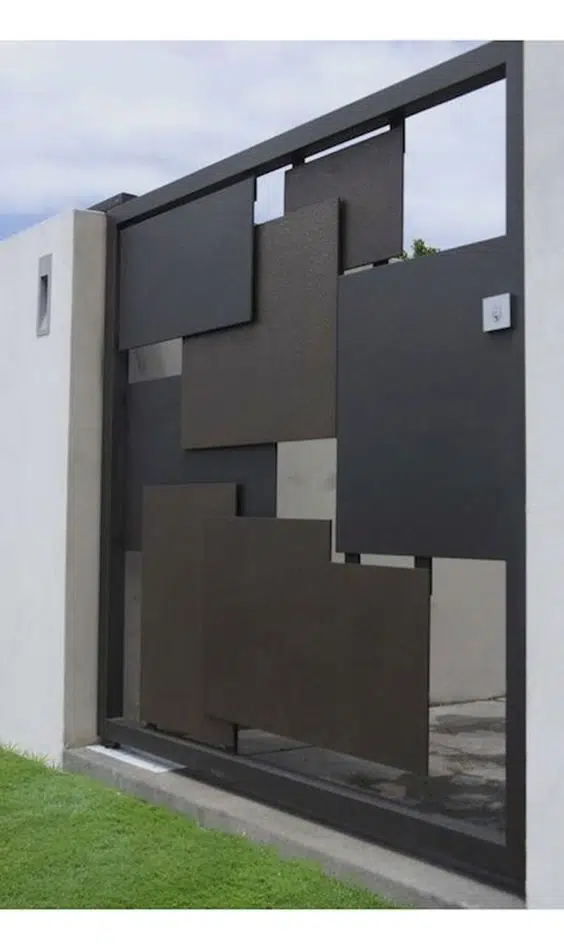 Here, we have a futuristic design that will be a striking addition to minimalist and contemporary homes. You will find metal rectangles and squares being placed together, and they are of random sizes. The random design is simple yet trendy and uptown. 
Plus, it comes in a dull neutral color that will complement white or light grey boundary walls. The contemporary metal panel gate is most popular in cities and urban living areas. Also, the amount of visibility offered will depend on the placement of every square and rectangle. 
Modern Grey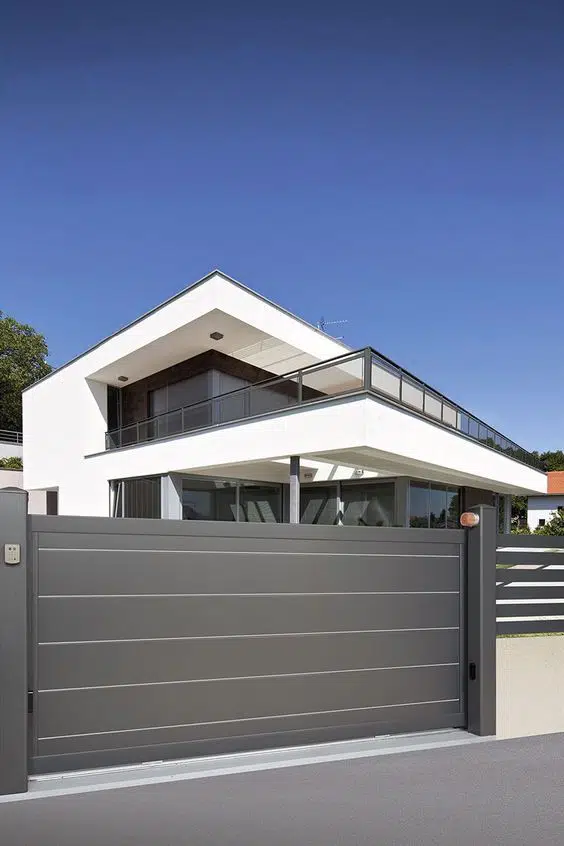 Up next, we have a stunning option that comes with bold straight lines and works well with neutral hues. If you have neutral shaded walls, this gate will fit right in. It offers complete privacy and comes with bold and thick horizontal panels with white lines in between. 
If you have an ultra-modern home with the latest technologies in place, this option will work perfectly. You can also program it so that it can be controlled remotely. The design looks semi-formal and classy and works for office buildings too. 
Laced Iron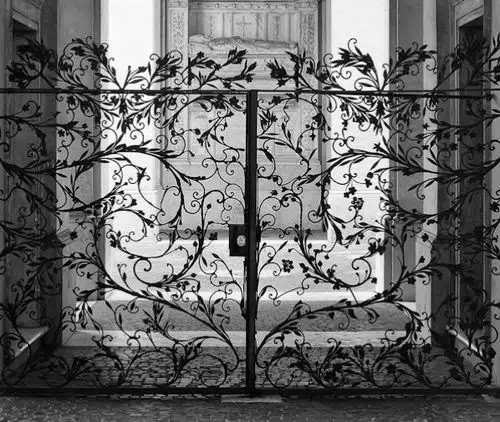 Do you have a cobbled stone path leading up to the house? A laced filigree iron gate will look incredible with it. This is a glamorous option that works for those who are into intricate floral patterns. Add this in front of a rocky cobbled surface, and that would balance the absence of plants around. 
The best part about this is the intricate designs that it flaunts. The stems and leaves are attractive to look at and go well with stone columns and murals. 
Mesh And Block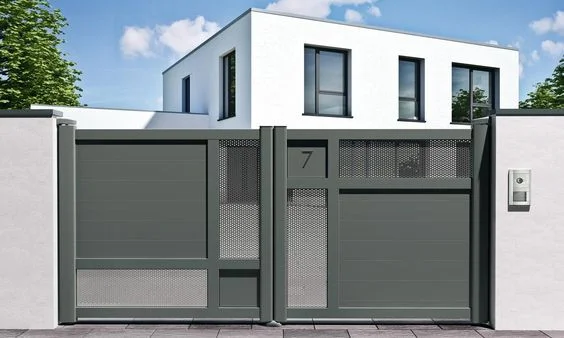 Up next is a brilliant example of efficiency and minimalism, and you will love the mesh and block gate. This is perfect for modern houses, which need a contemporary front, and this can be paired up with most wall colors. 
Moving on to the color, this one flaunts a sage green grey steel mesh, which is sturdy and provides complete security. However, one can partially see through the mesh insets, and that will allow a glimpse of the house inside. The mesh is placed in a way to allow only parts to be visible, and that increases the appeal. 
Metal Slats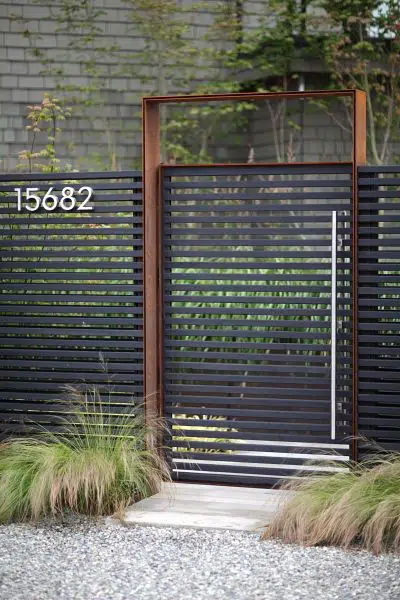 It is a great modern and quirky option that looks stylish and will amp up the home front. This one sports a streamlined design with metal slats along with an iron frame surrounding it. Add your house number along with a chrome handle, and you should have the perfect option for suburban homes. 
Black Slider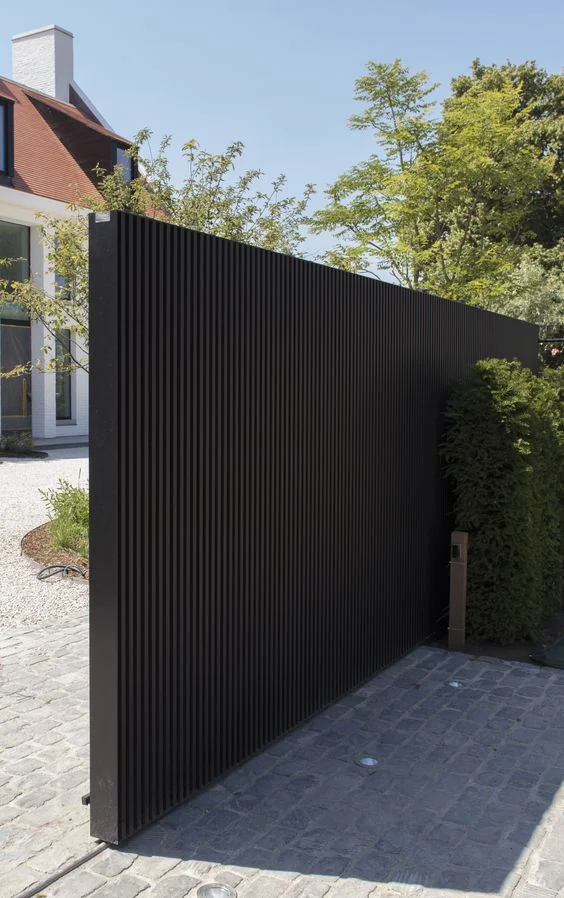 For those who are seeking complete security, the black slider gate will fit in excellently well. It is sturdy and comes with a sleek minimalist surface with ridges on top. Typically made for big houses, which need big gates, this is easy to operate, and you can slide it open. 
However, the gate will be heavy, and you might need to apply some amount of strength while operating it. 
Mid-Century Steel And Wood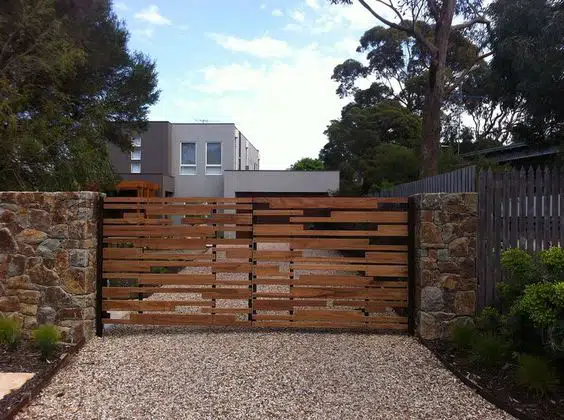 Another great example that uses both wood and steel is this beautiful mid-century gate. This will complement both suburban and city houses and will add to the charm. We have mostly seen it as a perfect addition to gravel and stone pathways, and it would add a rustic vibe to the place. 
Regal Black Iron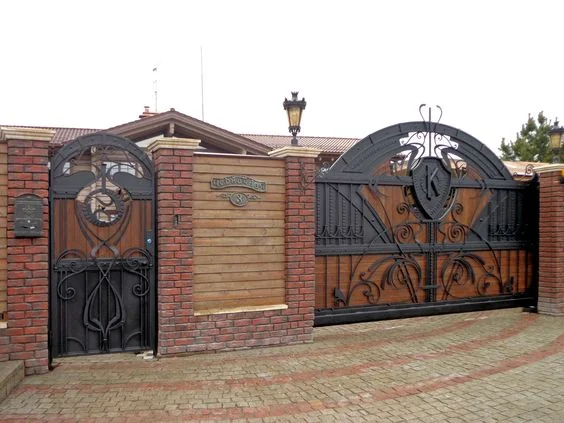 Do you want a grand entrance to your house, which feels like royalty? Then these regal black iron gates are going to impress you. It truly offers a royal look with wooden panes surrounded by a patterned metal frame. You will love the rustic charm and the complete security that it provides.  
Etched Panel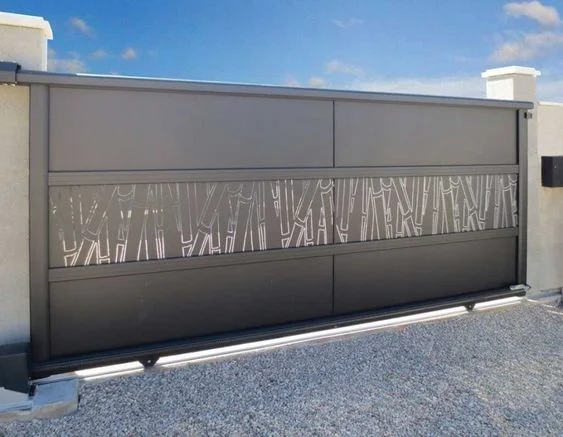 It is time to transform your house with this gorgeous aluminum panel, which will add to the contemporary look of your driveway. This has beautiful etchings in the middle, which makes it look like a beautiful piece of art. We loved the cool color and Zen touch that is added to the otherwise plain aluminum panel. 
Folded Iron Gate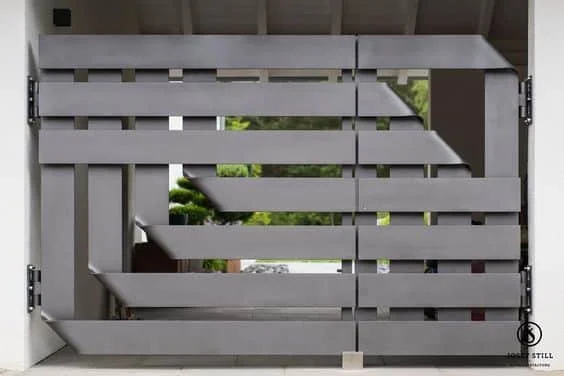 Next, we have a very eye-catching design that you might never have seen before. This option consists of folded iron plates, which add to the mesmerizing look. The gate is sleek, and the brilliant design will make it stand out. Plus, it provides complete security as it is very sturdy. 
Matte Spokes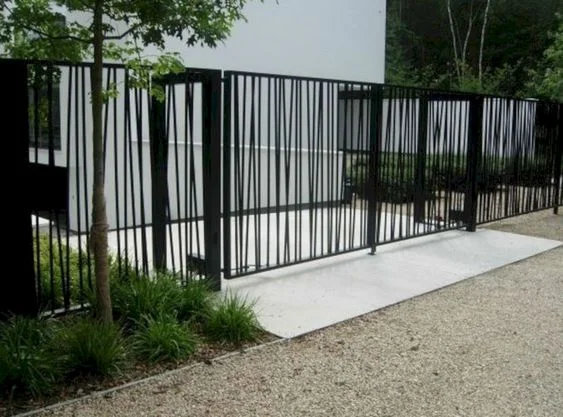 This is another example of a modern gate that is simple yet quirky and perfectly symmetric. As the name suggests, this product involves matte black spokes attached to a black frame. It is sleek and will look great with white or light-colored walls. 
Stunning Chrome And Wood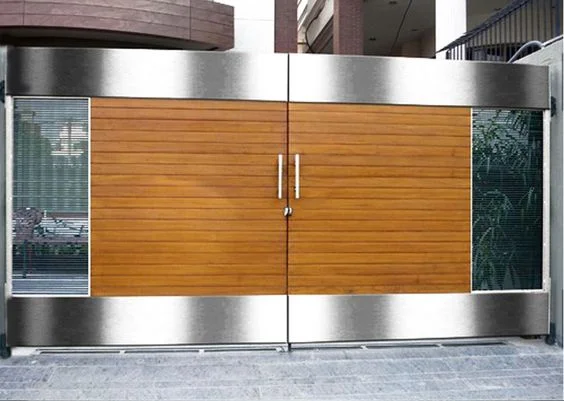 Have you ever thought of combining chrome with wood and creating a gate? While you might have had double thoughts about it, look at the picture, and you will know how beautiful it looks. The warm wooden tones along with chrome panels provide enough privacy while being attractive.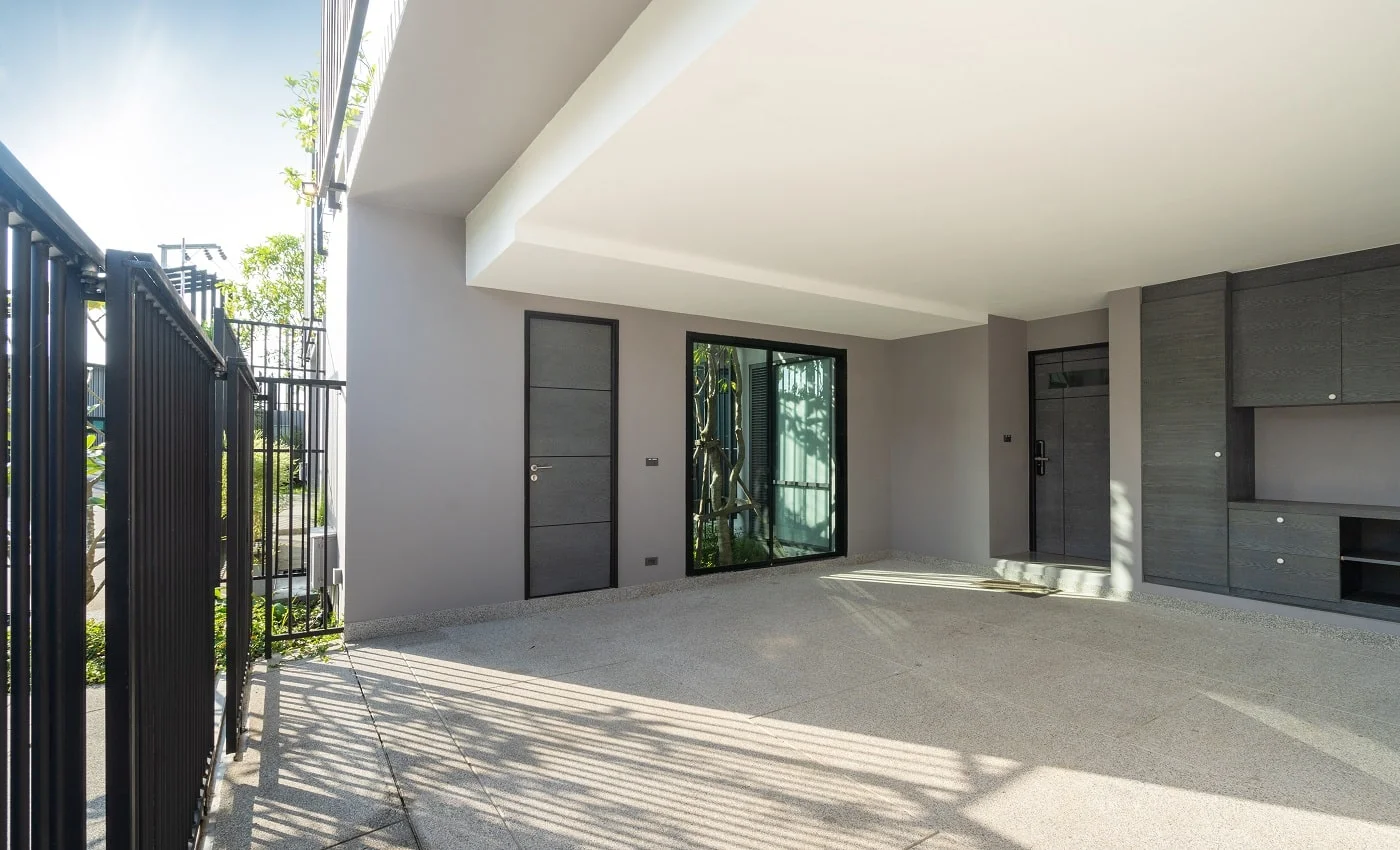 Conclusion
Finally, we have reached the end of this guide, and you should already have a clear idea about the different types of gates. Now, we know this can be exhausting, so we will give you a moment to take it all in. 
But, before you decide on the right kind of gate for your property, measure the available area and space available. This will give you a clear understanding of the options that are most viable for the given space. 
At the same time, pay attention to the color of your outside walls that will pair up with the gate. The boundary walls also need to match to complete the look. 
Moreover, you would need to consider the weather as certain doors would not be very water-resistant. Once you have taken these into consideration, we are sure that you will make the right choice. 
Until next time, take care!
Related Articles
Best Lawn Edging for a Legendary Garden
47 Insanely Unusual and Cool Mailboxes For Your Home