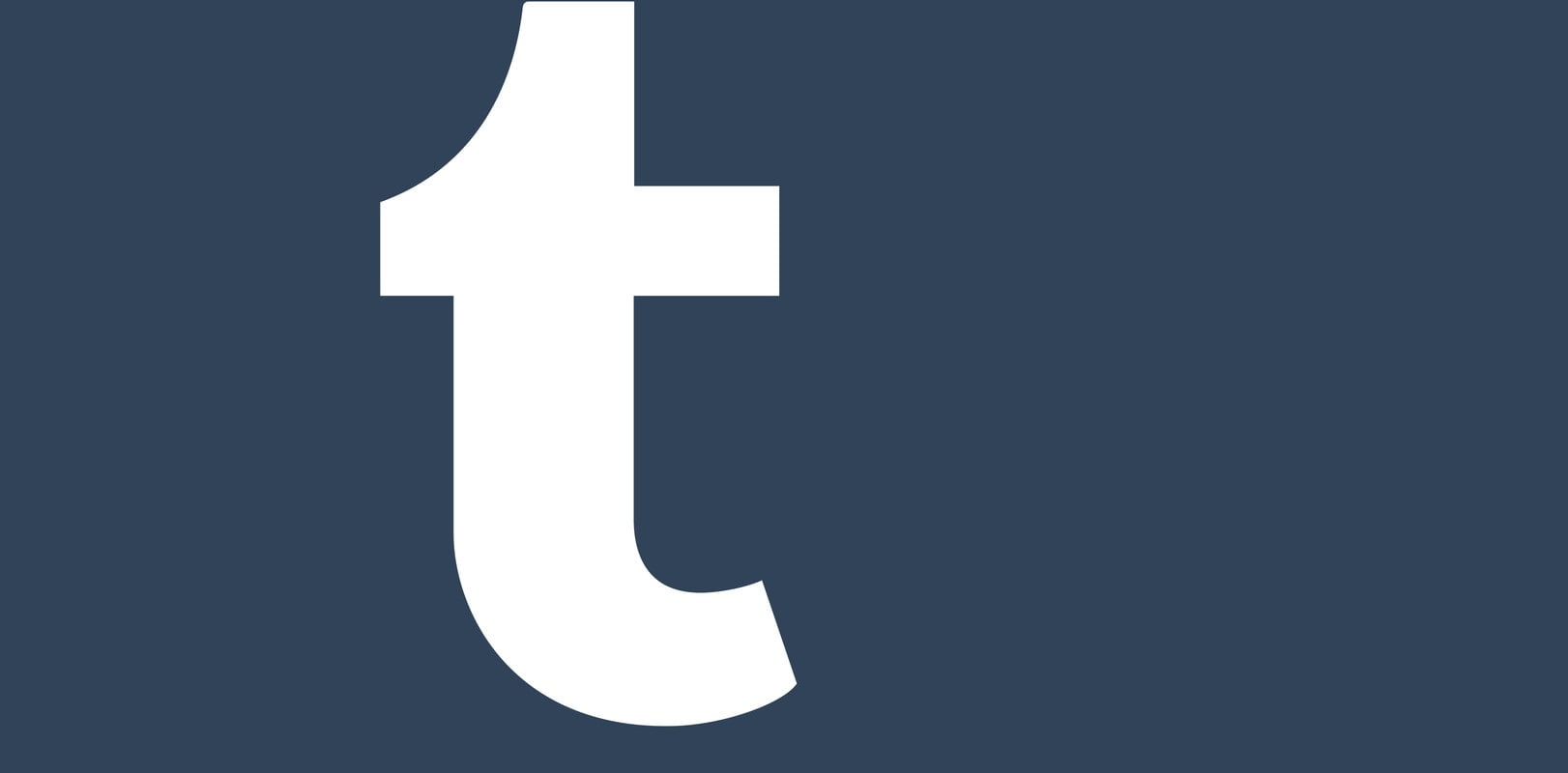 Tumblr needs no introduction to begin with. 
With hundreds and millions of active users on this infamous micro-blogging and social media site uploading regularly, the net worth and status quo of Tumblr had seen turnovers going into billions by the day and the month, let alone for a full annual year.
One of the greatest reasons for Tumblr's success is the opportunity of a free blogging service that it provides to the millions of artists across the world who want to showcase their creative talent, connect with fans and build a substantial following for their work.
Tumblr is widely used as a personal portfolio as well as for critiques by many. It can basically be called an online-residence for all those who are looking to want to share their skills, perspectives, and personal taste within the limits of a community that is formed of similar personalities.
However, if you're an artist who wants to get started with Tumblr, then the first thing you'll require is an ideal theme for your content.
You can find numerous brilliant free themes on Tumblr that will reflect your personal statements for both public portfolios as well as personal sketchbooks.
And here are what we think are some of the very best that you could get for any kind of artwork to go with!
Best Free Tumblr Themes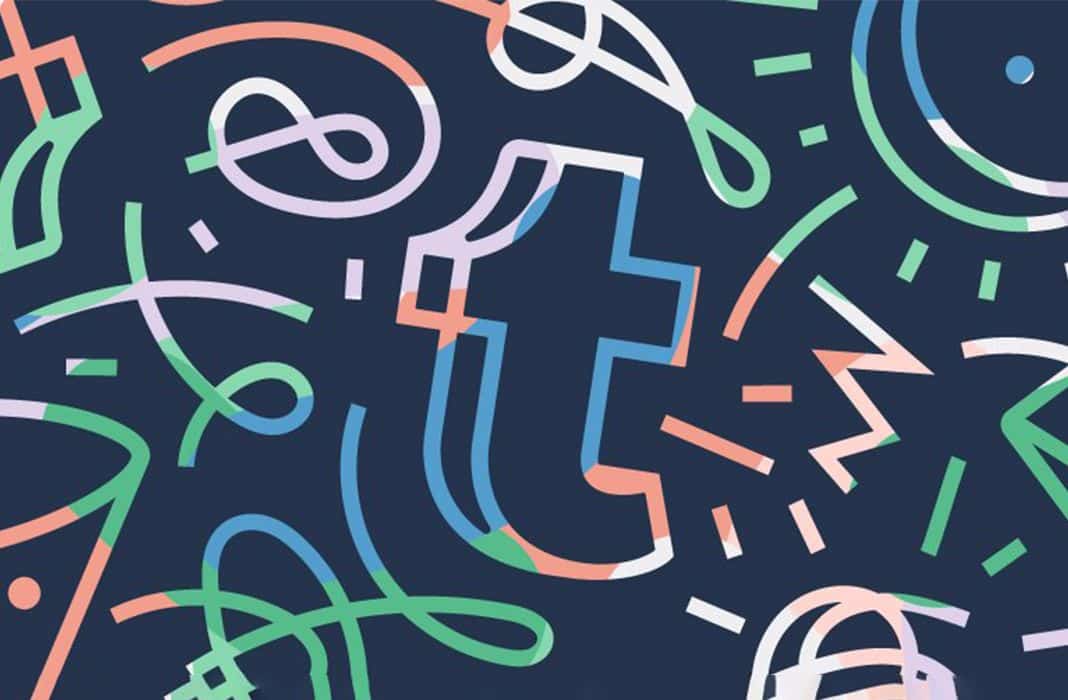 If you want to keep your blog uniquely straightforward and clean, then, by all means, do settle for Indy. The stunningly simple layout of Indy makes for a handsome theme, attracting the common eye with its beautiful minimal designs. Apart from looking this good, Indy is also one of the best free responsive Tumblr themes that are mobile-friendly and allows you to operate on it as much as you want.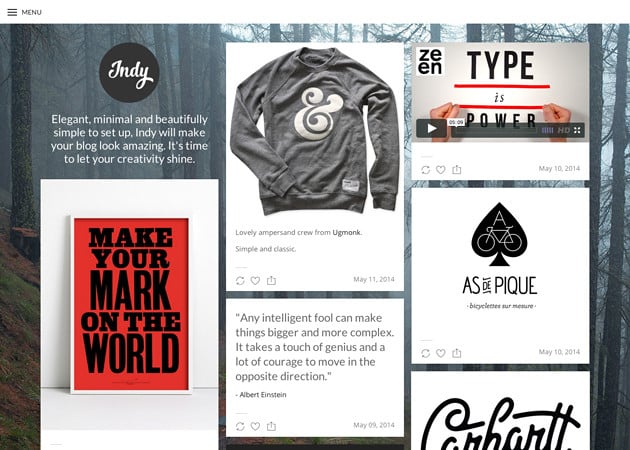 Indy's "less is more" approach to its overall web design shows your content off in a marvelous way. It helps make your content settle in a prominent position from where it could pop and shine out for the rest of the world to see!
Salvia is one Tumblr theme that makes it exceedingly easy for all to display their content on the portal, no matter what they specialize in. Whether you're a writer, a photographer, a web designer, or an artist, Salvia makes it easy for you to bring your content online, share your profession with the world and help promote it by building up a strong band of followers.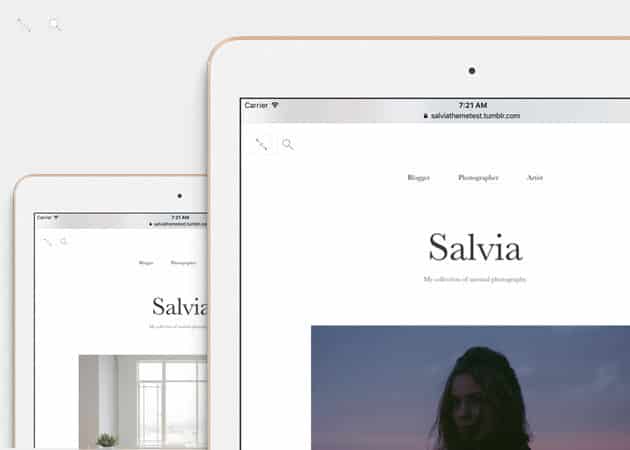 It also lets you make more contacts and help you find new projects.
One of the best things about Salvia is its "hidden menu" feature which keeps your page looking beautifully minimal and straightforward. However, it still retains all the links and access options for navigation. The theme offers a fantastic selection of customizable color sequence, adjustable features, and quirky, readable fonts for a great browsing experience. And it is compatible with all kinds of web browsers and modern devices.
Wicked is a unique and quirky free Tumblr theme that is used by many owing to its charming minimalist facade and user-friendly adaptability with almost all modern devices.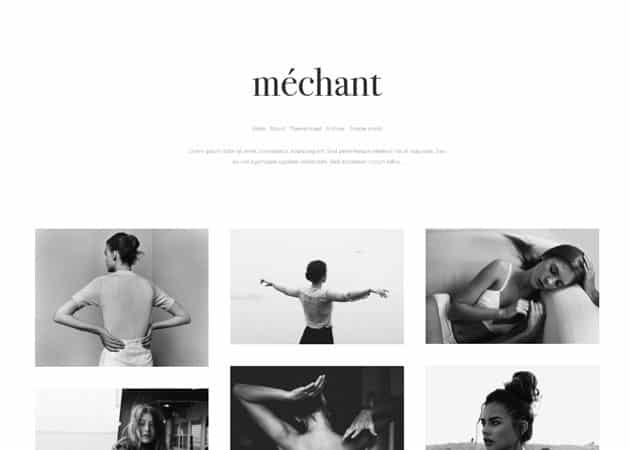 The winning feature of this theme is that it's cross-browser compatible and is optimized for search engines with fast loading speed. It allows you to edit its layout according to your preference completely and enable it to follow your customized regulation.
As soon as you install it, you'll realize how simple it is to access the theme. It saves a lot of time and effort during navigation, displaying your content in a magnificent layout, and making for a distraction-free browsing experience.
If you're just starting out on Tumblr and looking to get a heads up on the most simple and accessible themes, then Basic is going to make it all easy for you!
True to its name, the Basic theme greatly simplifies the overall Tumblr experience for you by helping you arrange your content online with minimum effort and maximum accessibility.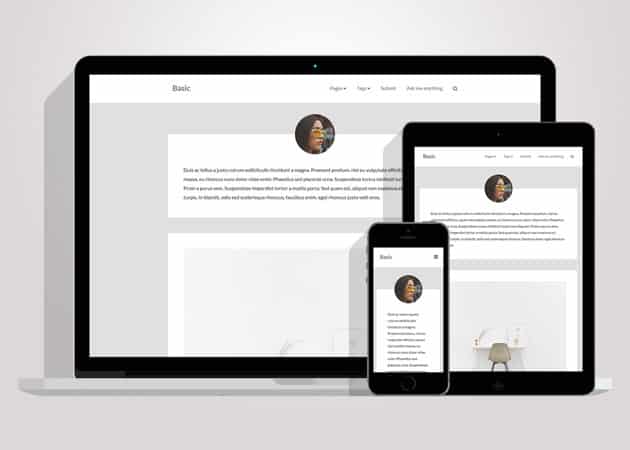 Some of the most important features of the theme include image zoom, easy localization, and a wide range of fonts and colors to pick from. Basic supports all types of posts, texts, images, videos, and tunes. It is absolutely mobile and retina ready and comes equipped with a multi-layered navigation as well as integrated Disqus comments.
One of the best ones when it comes to personal blogs, the Persona theme reflects the personality of its user spectacularly and elegantly in every way!
The stunning, professional approach of Persona makes it a befitting theme for all personal as well as entrepreneurial pages without requiring you to spend even a penny on it!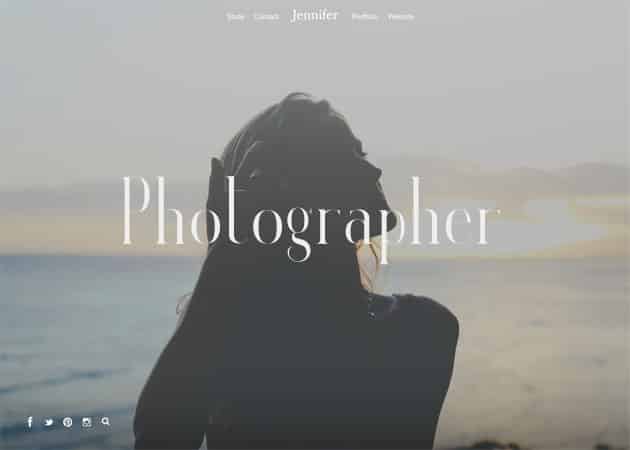 It gives you the benefit of more than 30 available fonts, social media icons, custom images, and numerous plugins hare your content. You can even add up to 5 header pictures to your page and put your private or company logo to make a dynamic impression on the viewers!
This one's for the true admirers of all things beautiful, sophisticated, and aesthetically pleasing. Ten Toes is an ideal theme for all who want to keep it charmingly simple and very expressive of their content. It works smoothly and flawlessly for all kinds of devices (mobile phones, tablets, and desktops) as well as all modern browsers.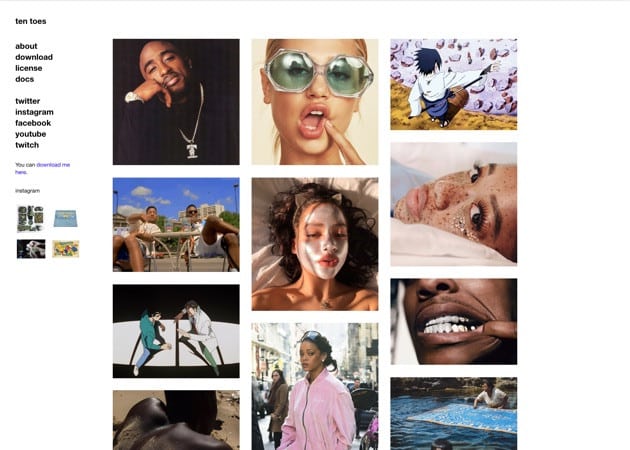 If you exclusively want to express through your pictures, then Ten toes are what you should go for by all means! This is because this theme specializes in displaying image content in the most spectacular way possible. It supports all types of posts, comes with an unending spectrum of colors and gives you the benefit of infinite scrolling! 
You can add your own logo to the theme which will also open a bigger version of a particular photo as a popup! Wow!
Yuki is essentially a grid-based free Tumblr theme that is perfect for all photographers and photography-enthusiasts all across the world. Similar to a lot of free themes discussed previously on this list, Yuki specializes on a very minimal and uncomplicated design for the pages of its users.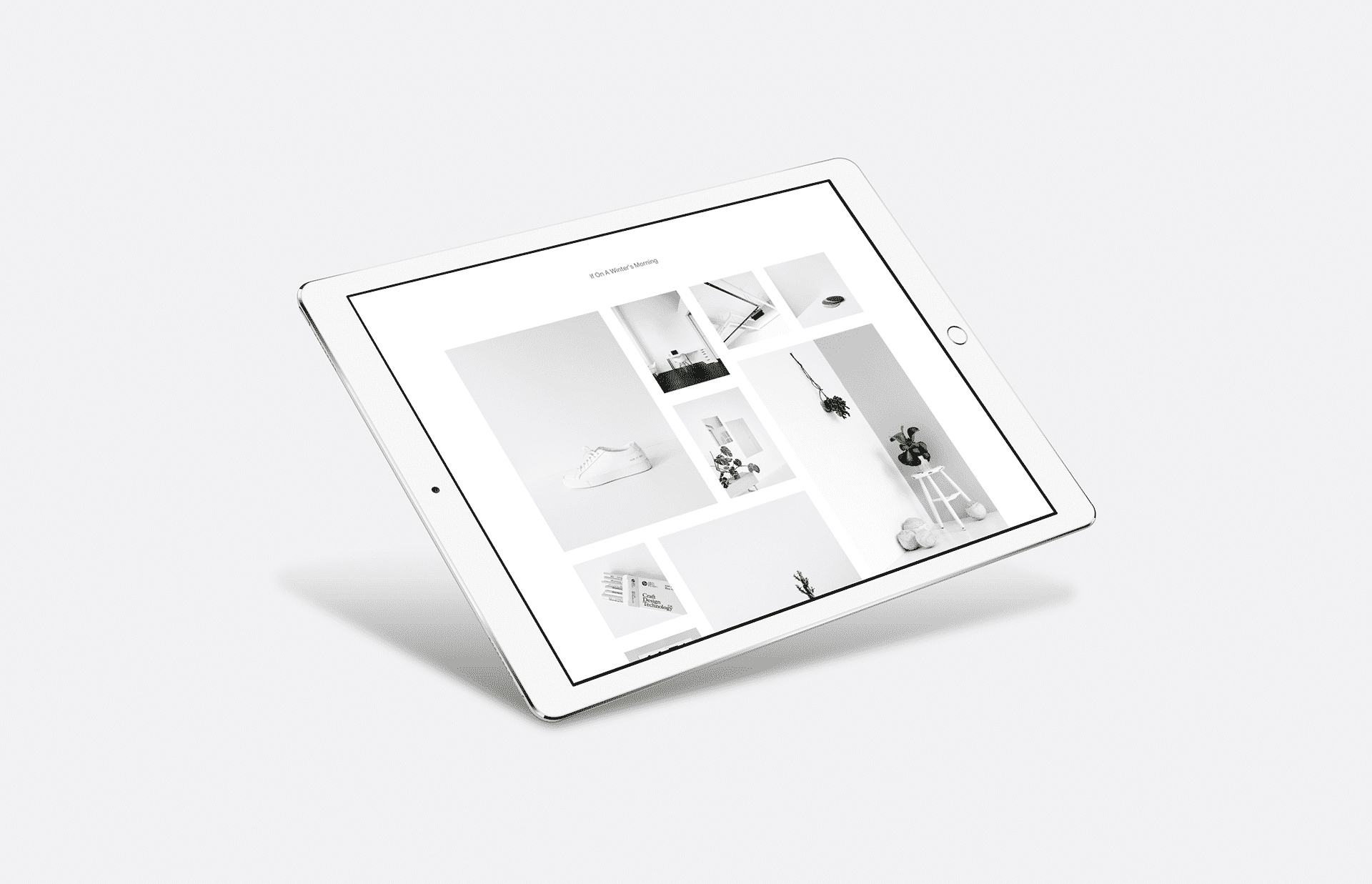 So much so that, that the homepage of this theme only opens up in a thumbnail of a myriad of pictures that the user could click on to learn more on the subject.
Yuki can be an ideal theme for if you just want to share a series of posts that are related to visual content.
One of the most responsive and content-oriented free themes on Tumblr, Ashley takes ample care of every blog-sharing requirement of all its users. It is simple, beautiful, and exceedingly supportive of all kinds of posts that you'd like on Tumblr.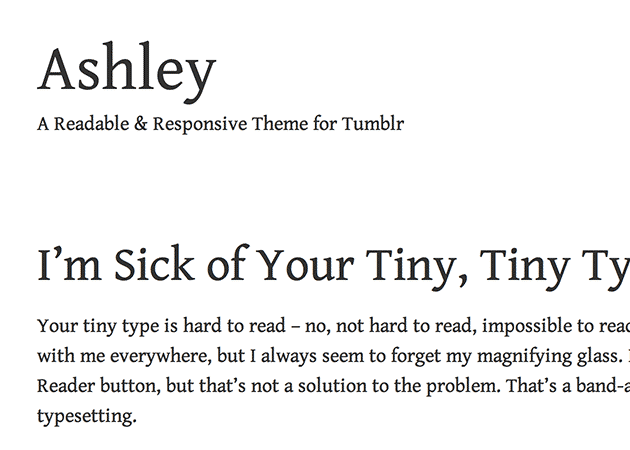 This makes it a charmingly efficient and, most importantly, a multipurpose portal layout that will support a variety of content types. You could also adjust the fonts through a Google Fonts integration.
Svbtle had been a very popular blogging platform that provided for an elegant theme layout. However, there was a drastic change in its status quo when it switched from being a free service to a paid one. Users can now avail the services of Svbtle for an expense of $6 per month to keep their blogs alive. 
Although a paid service such as this one helps build a bond of trust and reliability with its customers, it is just not the site for those who aren't really looking to invest in a theme. However, for the rest who want to stay connected with Svbtle or try it out, it offers certain excellent features that had made it a favorite amongst its users in the first place.
Hipster is hand-down one of the best themes that has ever been launched for blog-posters across the world. Fortunately for us, it is a free theme that has justifiably earned the status of being a free "premium" theme owing to some absolutely marvelous features that it comes equipped with.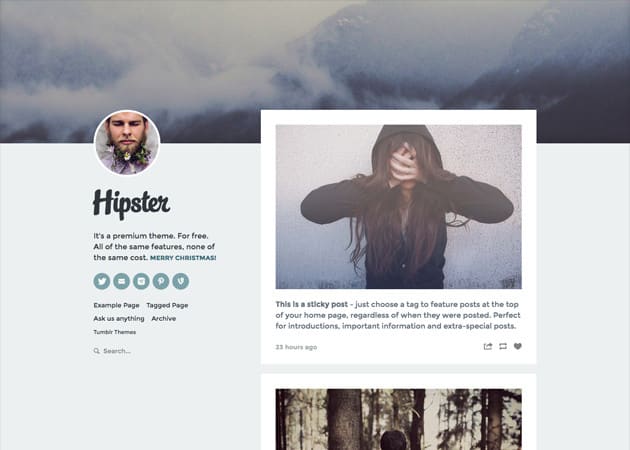 These include sticky content, the ability to navigate content with keyboard, a sidebar for displaying essential details, and an awesome Instagram integration that displays your latest snaps!
As the name suggests, Simplify on Tumblr is one theme that's gonna simplify your microblogging experience through and through! The dynamic appeal and feel of the theme make it a perfect layout for adding snippets of general information, news, and facts that require a proper, distraction-free, and user-friendly bulletin board.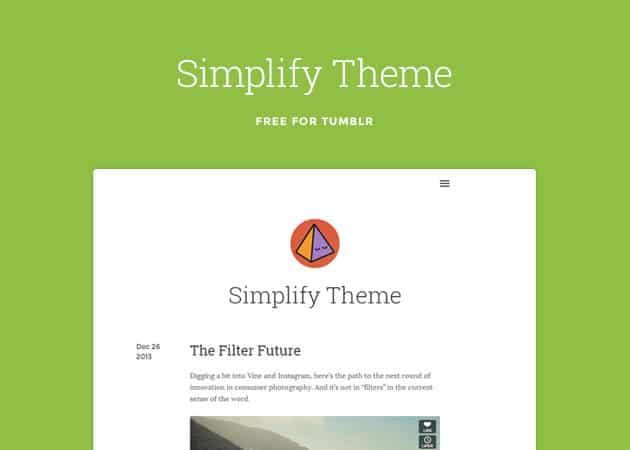 This makes it easy for users to focus on each piece better. A functional navigation menu button on the right corner of each page dispenses the need to display several HTML elements and helps to draw in attention to the main content, keeping it neat and sweet.
Oscar is a highly innovative and functional free theme on Tumblr that brings a fresh new approach in web layouts for its users. It is great for all sorts of enterprises: simple blogging or as a personal blogging theme for sharing stories or articles and connecting with other people with similar tastes- you get to have numerous benefits thanks to its incredible features.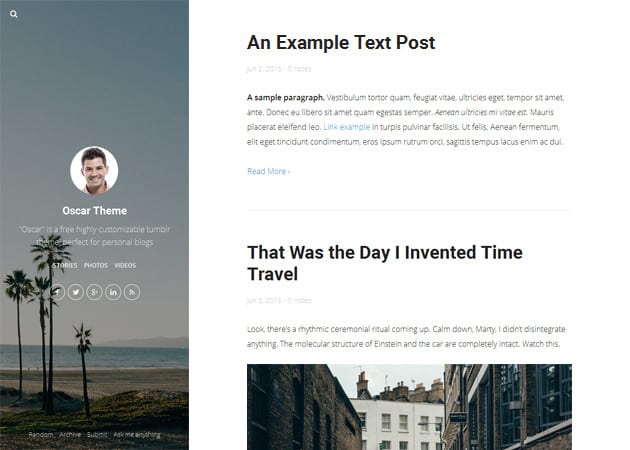 It is greatly customizable and offers all of the user-friendly features of a regular theme such as analytics integration, social media icons, a comment slot and high responsivity for all of its blog pages along with certain other really unique attributes to itself.
Tumblr is known and celebrated enormously for its mind-blowing visual art contained in thousands and millions of pages on the site. And Impulse is definitely one such theme that's specifically created with the intent of helping visual content sharers make their blogs look more and more attractive and highly accessible.
A grid-like, tri-columned theme, Impulse keeps the main pages of the post greatly optimized, leaving its left side for content and the right for displaying the number of people who have liked the content.
For minimalists all over the world who swear by the "less is more" motto, here comes one free Tumblr theme that redefines the term when it comes to art blogging. The Minimalism is perfect for sharing image content in crisp minimalist and professional way.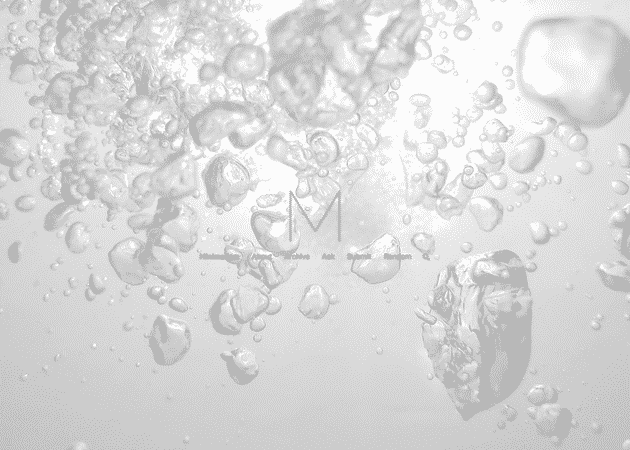 Apart from features such as content grid management, custom background color, and adding an image along with a custom header, Impulse also comes with a mobile-friendly layout, popular social media icons, and translatable localization options. Additionally, the infinite scroll option and sticky sidebar navigation menu make for an incredibly fluid browser experience.
Shiyori is an incredibly elegant theme that brings you all the benefits of the regular, user-friendly infinite scrolling homepage and a fabulous content navigation experience. It allows you to add all kinds of posts making for a multi-content blogging layout. And with features like the search widget and an in-built tagging system, you would have absolutely no problem in searching and locating content in a relaxed way!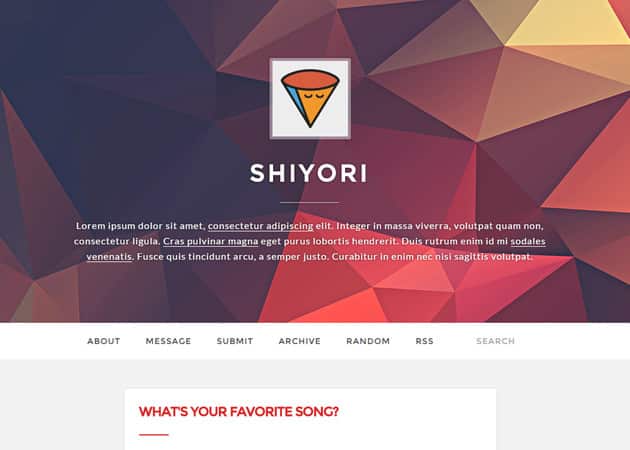 All in all, Shiyori makes for a pretty uncomplicated and charming free theme that takes care of all the fundamental requirements of a blog site and yet provides all the aesthetically appealing elements to please the eye.
As you might've guessed by the name of it, Prima Donna is simply a stunningly beautiful free theme in Tumblr that inclines heavily toward the delicate, feminine side of things. However, this doesn't mean that guys can't like flowers, pinks, and intricate patterns that make for a lovely blog layout!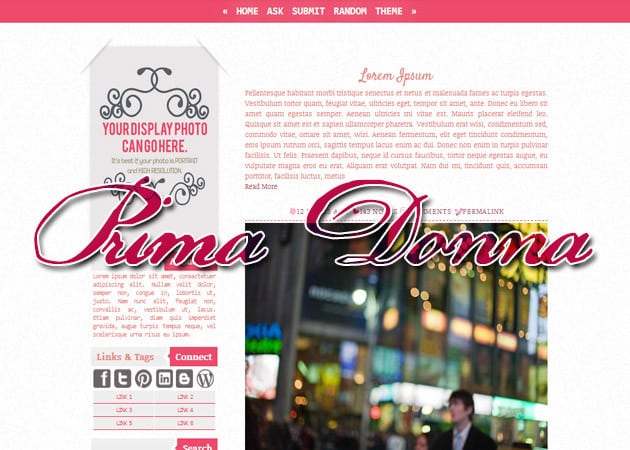 It's winning streak is the kind of magnificent typography it provides for its users that transforms the look and feel of anything that you add to it. It is simple to use, very responsive and pretty supportive of various types of contents.
The PopGallery (Lite) theme on Tumblr is a quirky and suave free theme that provides a fresh, mildly crazy but simple awesome twist to your blog! However, the best thing about it still keeps your content, including portfolio, images, and presentational needs highly organized and neat in pretty little "circles."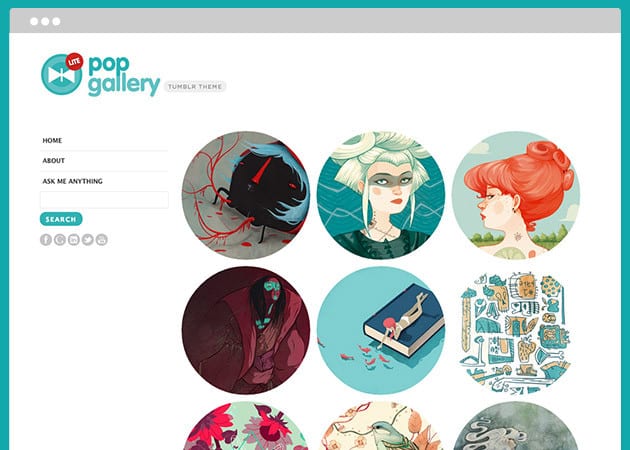 These spherical thumbnails make your page pretty attractive. It also brings in interactive animated visuals on the homepage, making it a one-step solution for all who are looking to publish visual content without having to fuss over presentation!
The Orange Pop free theme on Tumblr provides you with the benefits of a traditional blog layout done in a beautiful shade of orange. It makes for a graceful appeal and is perfect for all those who want to express themselves in the most simplistic way without going overboard with a lot of ornamentation.
The theme includes an easily navigable sidebar for accessing the social network, a Twitter feed and various custom text elements that you might want to display.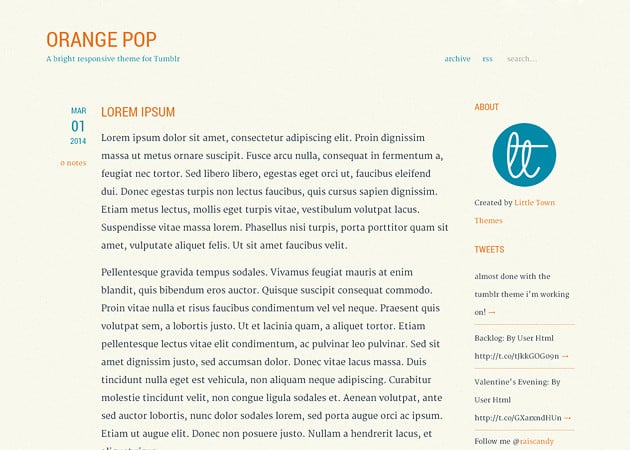 Cosmic is a stunningly beautiful free theme that features a darkish tone for its layout. This is a pretty versatile web layout that compliments all kinds of content, be it personal or professional.
The theme comes with two different sidebars on the left side of the layout: the first one can be used as a navigation menu, or the web pages, forms and for other essential links; and the other bar could be used as a display slot for your logo, social information as well as  for Twitter and Instagram feed widgets.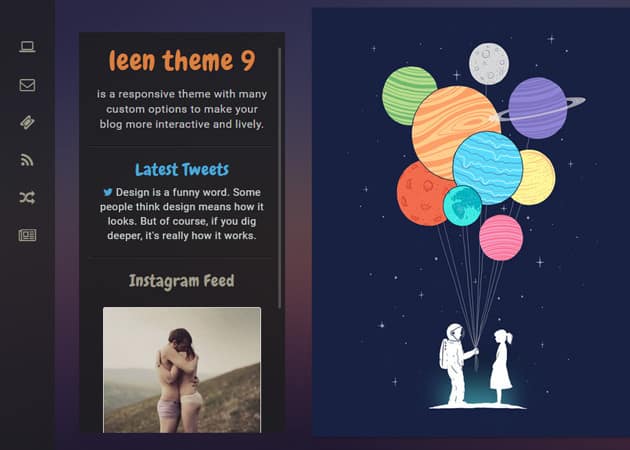 Skyfall is yet another pretty theme on Tumblr that comes with a beautiful ombre-toned layout. It is designed specifically to be a photography-oriented theme that enables you to quickly display your latest work using your Tumblr account as your personal gallery.
The images that you add to it will be displayed on the front page, where if you click on them once you'll be able to see their content visible through a lightbox. Also, if you have uploaded more than one item as a post, anyone can access to browse through that image content from the homepage. This is a pretty, unique free Tumblr theme that way.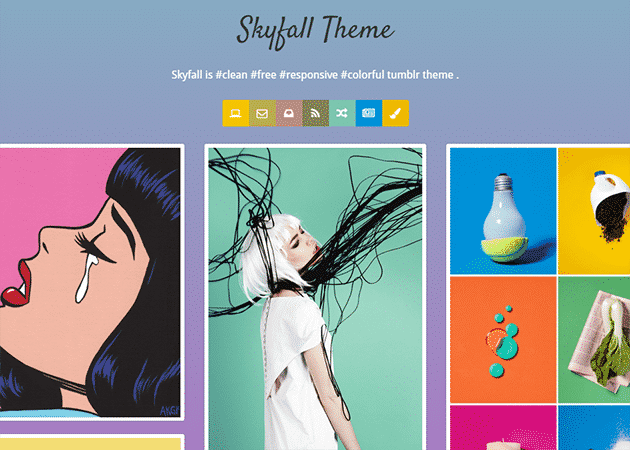 Verging greatly on the soft and feminine side of things, Let's Go Pink is fun and flirty free theme done in beautiful shades of pink for all who adores the color! Very uncomplicated and easy to use, Let's Go Pink is a creative new layout that actually offers you a separate area for talking about yourself and interacting with your friends easily!
It also comes with an extended sidebar widget for bio information. All in all, this is one free theme on Tumblr that is a girl's best friend and guide for her Tumblr network!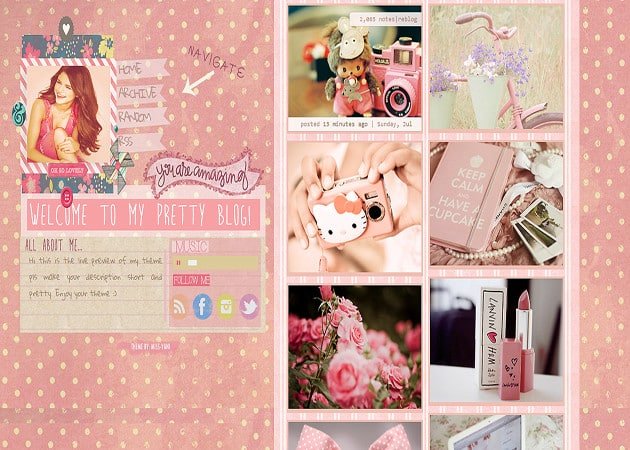 The Royal theme is strategically designed for providing a fresh and spot-on effect for all kinds of written and textually compiled contents. It is mainly developed for writers who want to put their works across in the most straightforward and straight-edged way with minimal requirements for decoration. It is indeed a very crisp theme that ensures a distraction-free tour for all visitors to the account. It is very simple to access and use and emphasizes all kinds of articles or shared media beautifully!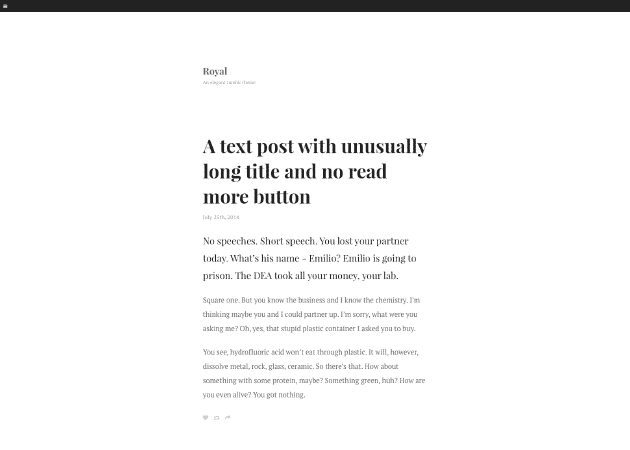 Superstudio is yet another sophisticated and dynamic free Tumblr theme that is developed by the Chinese community. It provides a simple, clear layout that is best suited for professional purposes such as all kinds of business ventures including startups or freelancing gigs which the account user might wanna talk about. 
It is an ideal theme for all professional uptakes that provide a legit opportunity to businesspeople to talk about their recent projects, ensuring that their projects get noticed and making way for productive interaction.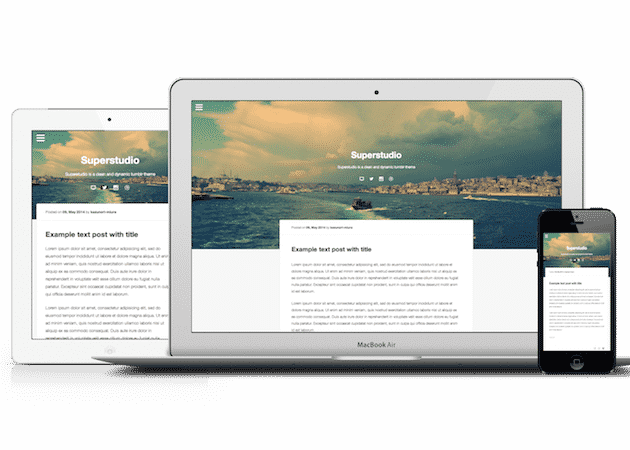 The Harbour free theme on Tumblr is again a pretty unique one in the sense that you might take it for an optimized blog for Ghost built websites or for Wordpress. However, Harbor is very different and so much more than that.
It possesses a very transparent effect on its overall design and provides the uncluttered, charming appeal of a smooth and clear-lined layout even while it is working within the limits of third-party platforms.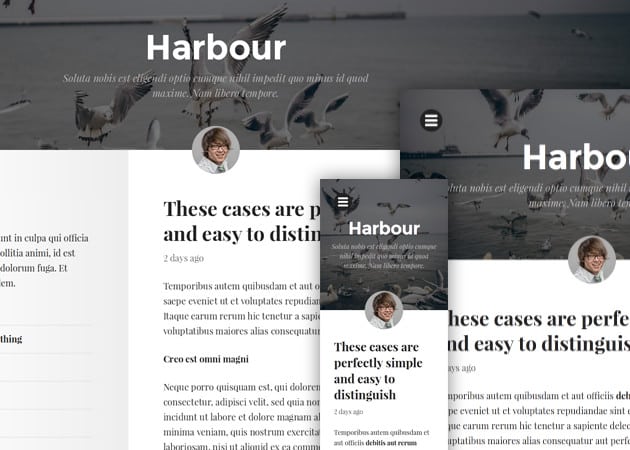 News is one of the best premium themes for Tumblrs that is designed for online magazines. However, you can also use it for publication oriented websites that you plan on launching or for reviews.
News provides a crisp finish to your content, helping your web project stand apart from the rest of the conventional themes meant for the same purpose.
With features such as the widget-rich sidebar and footer, authentic drop-down feed, the benefits of an exclusive error page and so much more, this theme is simply the one to go for when you need an attractive theme for your online magazine.
As visually delectable as the food that is written about on this layout, Yummy is a grid-styled blogging theme which works best for food bloggers and culinary-enthusiasts looking to share their passion, stories, recipes, and experiences with the rest of this world.
The winning feature of this theme is the "Buy" button that it comes with which you can configure separately for each post. This means that you can sell your item while blogging without having to solicit any advertiser to do promote you!
The Square is one of the most basic and simple free themes that you could avail for yourself on Tumblr. This is also one of the most versatile themes that blend in seamlessly with any sort of content to reflect an artist's personal style.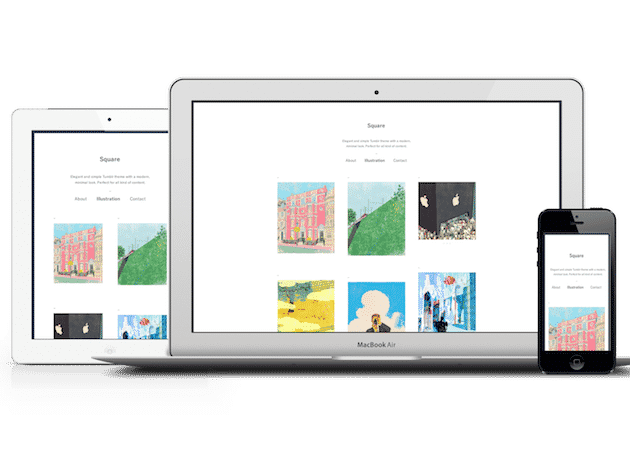 The theme is carefully designed and planned to look like a portfolio which you can use with your personal Tumblr blog or utilize it as a public portfolio for different projects. It possesses a clean, minimalist design along with attractive animation effects. The main theme page is in Japanese, but you could see a live demo here.
Illustfolio 4 is an incredibly charming free theme that is famous for its clean designs and charming features and overall layout. It is known to be the fourth version of the original Illustfolio theme that supports all custom size images as well as all kinds of posts that you may expect from Tumblr. You can also watch the live demo for this theme on GitHub to know exactly how this theme works. It is an ideal one for all illustrators who are looking to share their art with the rest of the Tumblr community.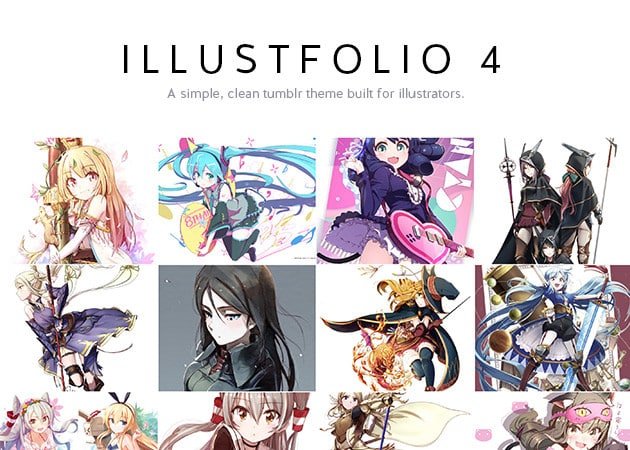 Void
Contrary to the ominous name it has, the free theme Void is one of the most popular oblong grid-layouts that are in trend right now. These designs, which are known as the masonry grids, gained quite a fair bit of fame from Pinterest's layout for its uniquely straightforward looks.
These exude a sort of dignified confidence accentuating the quality of your content. Perfect for both personal and professional content be it tags, custom images, or Disqus comments, the theme stands to be one of the best ones in minimalist designs.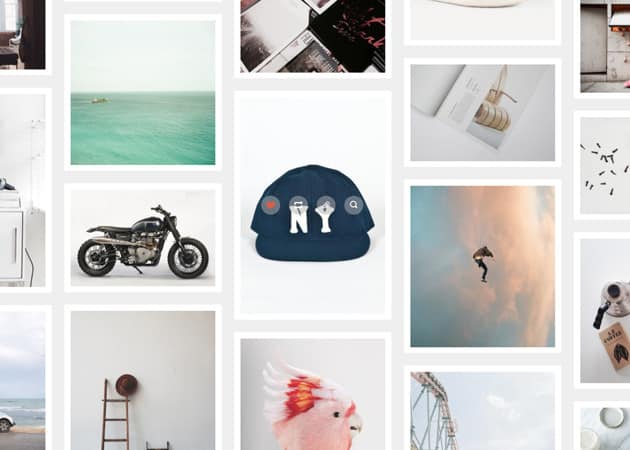 Copycat
Copycat is yet another masonry grid-style free themes that makes for a clean, fresh and somewhat fun look. It is also a decently responsive layout that could be worked up with any type of website, be it a simple blog or a larger portfolio or even both together!
It does not require for you to do a lot of setup processing once you've added this to your blog. The theme will automatically size the images to fit its grids nicely, so all you pretty much have to do is upload your artwork and leave the rest up to it. And if you're feeling a bit adventurous, you could even set up a custom header image!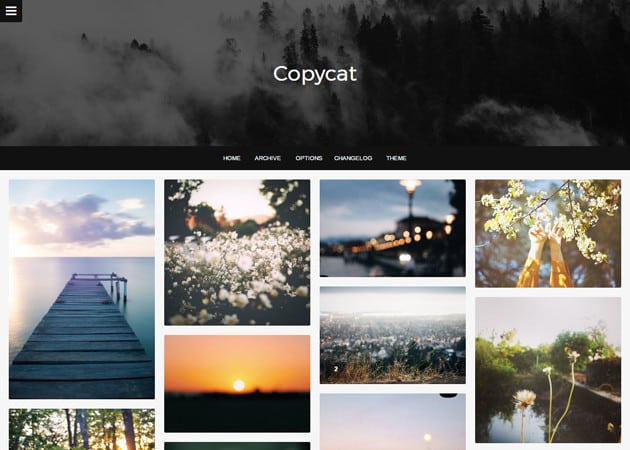 Some artists who want to launch their own art portfolio like giving portals like Tumblr a legit shot as it handles your web hosting without requiring you to pay for it. And Maverick is one such theme that amply helps users with adding their entire portfolios on Tumblr. It lets you attach custom tags near the top end of the page to sort your posts by categories. 
The theme's default layout allows you to select a custom header image. The layout concentrates on the content and is quite easy to search, navigate, and browse through images. This is an ideal design for anyone looking to share their work online with freelance clients and art directors.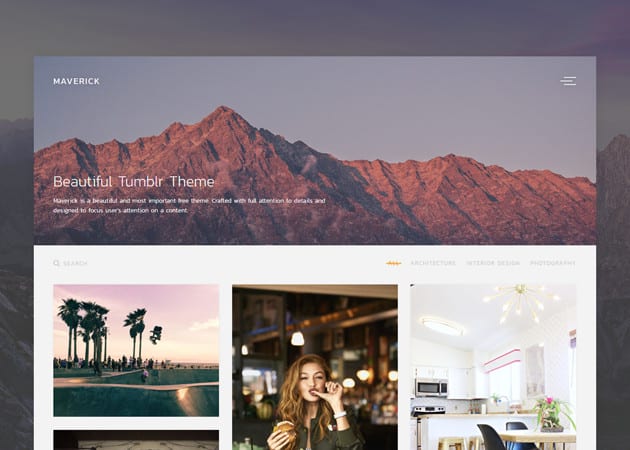 The Sugar theme comes with a variable grid-design that feels way more expansive than many other themes. This is because each post made on it will include a snippet along with a post headline right underneath the image. This makes it easier for you to browse as visitors could then skim through your posts to know more about your content. It is an ideal theme for all who want to use Tumblr as a blog since it can work fairly well as a portfolio as well.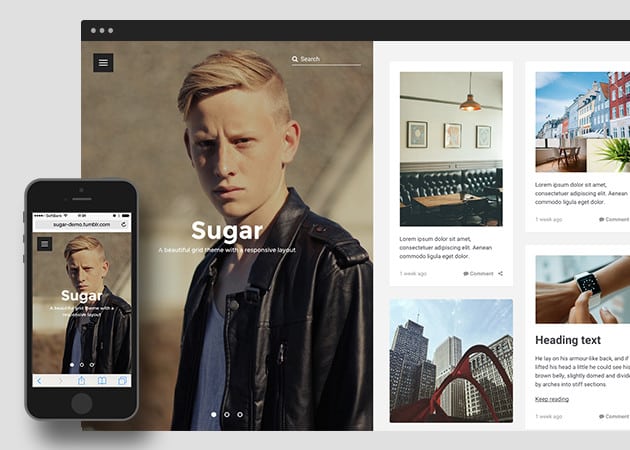 Eclipse
The winning point of the free Tumblr theme, Eclipse is to grab all attention with big visuals! This works on a grid-structure that takes up the majority of the page. And all of the spaces are filled with huge thumbnail images.
It actually works like a mood board where the big visuals have a brilliant effect on the viewer's perspective. The layout is incredibly easy to browse and simple to navigate.
The theme features a few decent options to change the layout and the color scheme. If you're just starting out on Tumblr, this would be an ideal theme for you in every way!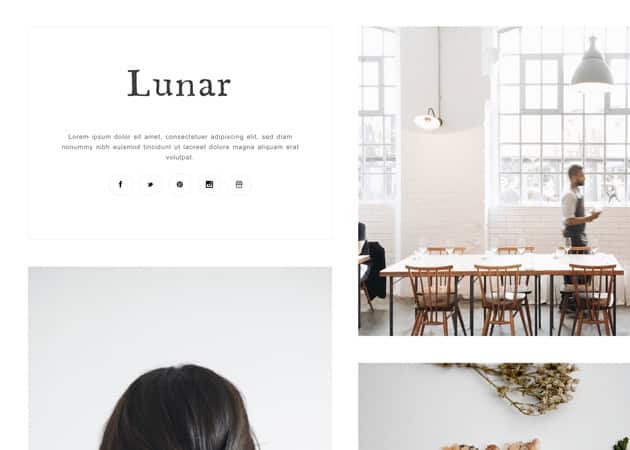 Candice is hands-down one of the best art portfolio themes ever! It comes with a single column layout so that the entire content sits comfortably and well-arranged from the bottom up. However, you can structure your content either on a grid layout or as a list.
The theme comes with a side navigation menu that slides into view accompanied by a cool animation that makes for an awesome approach.
But the best parts of it includes its custom header sections, ample space for links in the navigation bar and a real website appeal to the entire layout. It also comes with customizable fonts with 600+ typefaces from Google Fonts to browse through.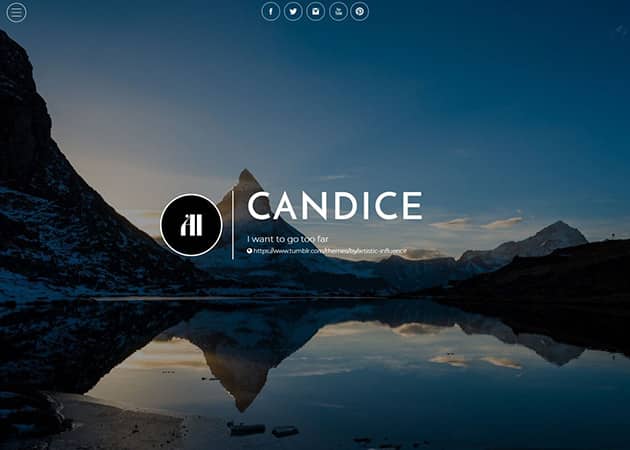 The free theme, Carter, was released by Zen themes. This theme features a fixed sidebar that follows along as you scroll. It is an ideal theme for a portfolio site where you might want to keep your work organized by allocating them into different tags.
Carter also features several options in the layout that includes changing the background color, typography, and page effects.
Carter is actually one of the most customizable and editable themes on this list.
Prestige comes with a substantial range of custom settings that allows you to edit and customize a number of features on the layout such as typography, grid spacing, color choices or even the entire sidebar layout.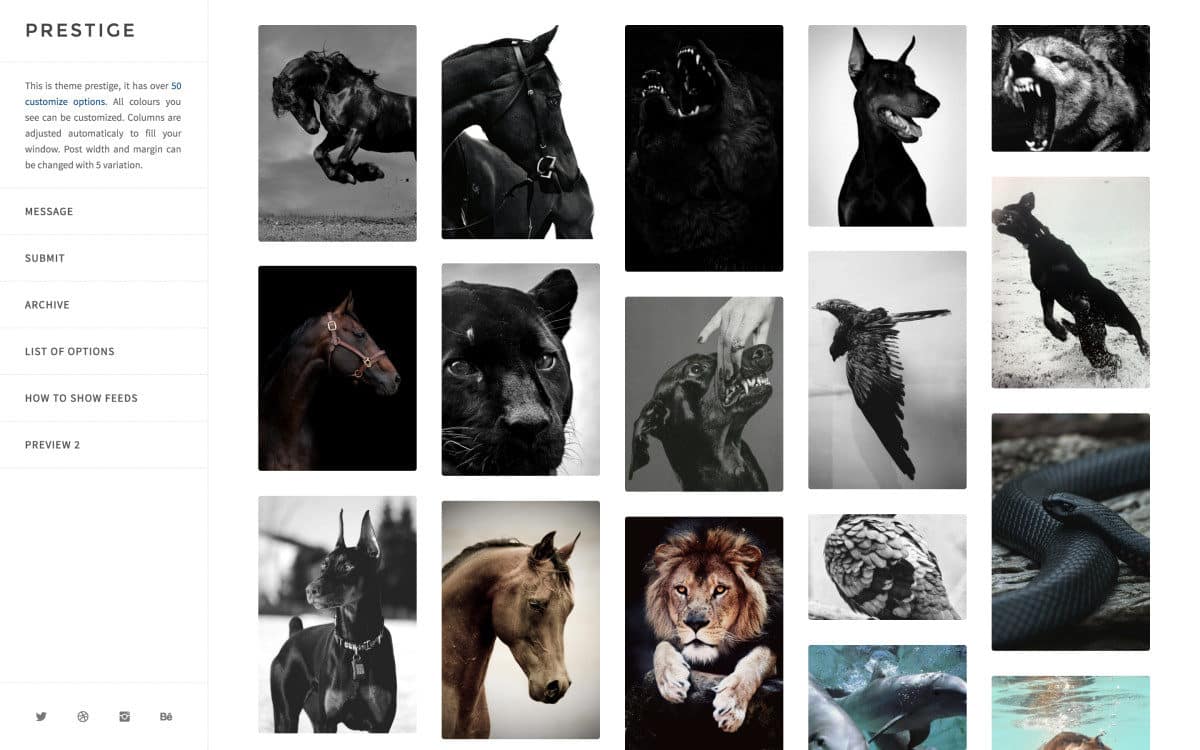 It is a pretty basic theme suitable for beginners on Tumblr as well as for a profession purpose. It focuses mainly on the content or artwork that you upload, keeping the small sidebar at the side with easy access to all the links.
This is one beautiful free theme that attaches a lot of importance to spacing and color, thereby emphasizing the aesthetic appeal of your web page. This is a refreshing break from all those minimalistic themes that we have discussed earlier in this guide, and we mostly come across on Tumblr, bringing in a specific, elegant charm along with it.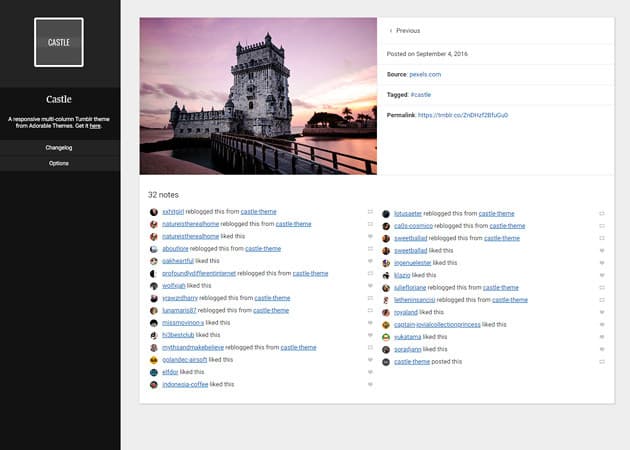 With Castle, you can easily attach your own custom logo or custom typography to your page. Even the sidebar of this theme comes with its own color along with a customizable background color to match the style you wanna select. It could work pretty well as both a portfolio page or a blog.
The layout of the Foudre theme is a very unconventional that feels pretty experimental, definitely standing apart from the rest of the traditional themes.
It is very basic and one of the most uncluttered layouts you'll ever find. This is more suitable as a fun and quirky blogging theme than a page for portfolios. You could definitely use it more for entertainment purposes and building a substantial fan following than for adding portfolios for public displays to land gigs.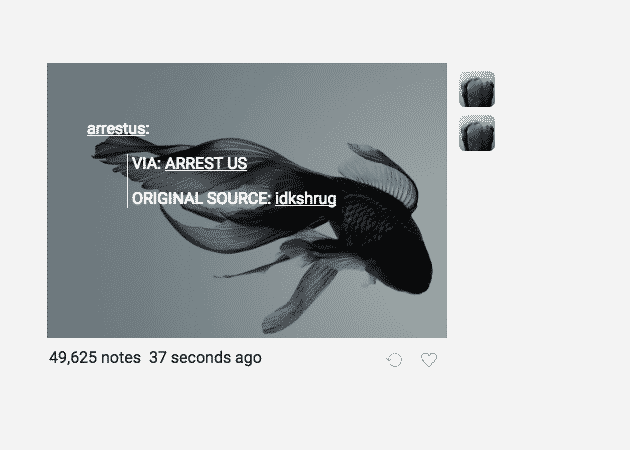 The last one on our list is also a simple and basic free theme: Pation. It concentrates fully on the content without hassling much about looks. This allows visitors to easily view your profile and quickly browse through your image, which they can know more about by simply clicking on them.
Pation wholly supports slideshows with multi-image posts offering customizable patterns and colors. You can also change the appearance of the layout from dark to light at just a few clicks. It could work well as a portfolio page than a blog. You could even work this theme with many different styles!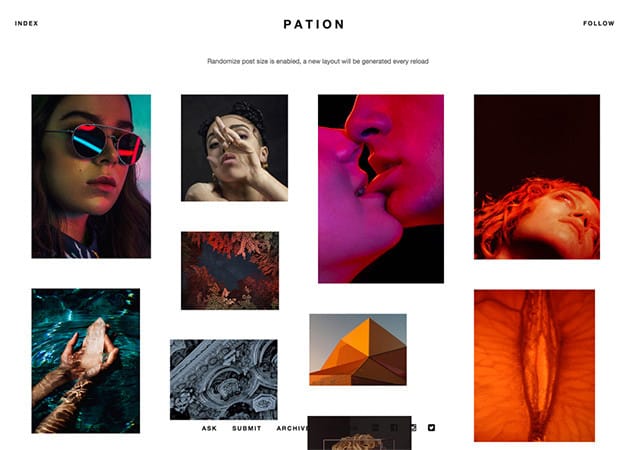 Conclusion
So that was it for our extensive list of some of the best free Tumblr themes for artists everywhere!
We hope you liked it as much as we loved putting it together for you!
We'll be back with more such fascinating and useful topics real soon again!
Till next time!