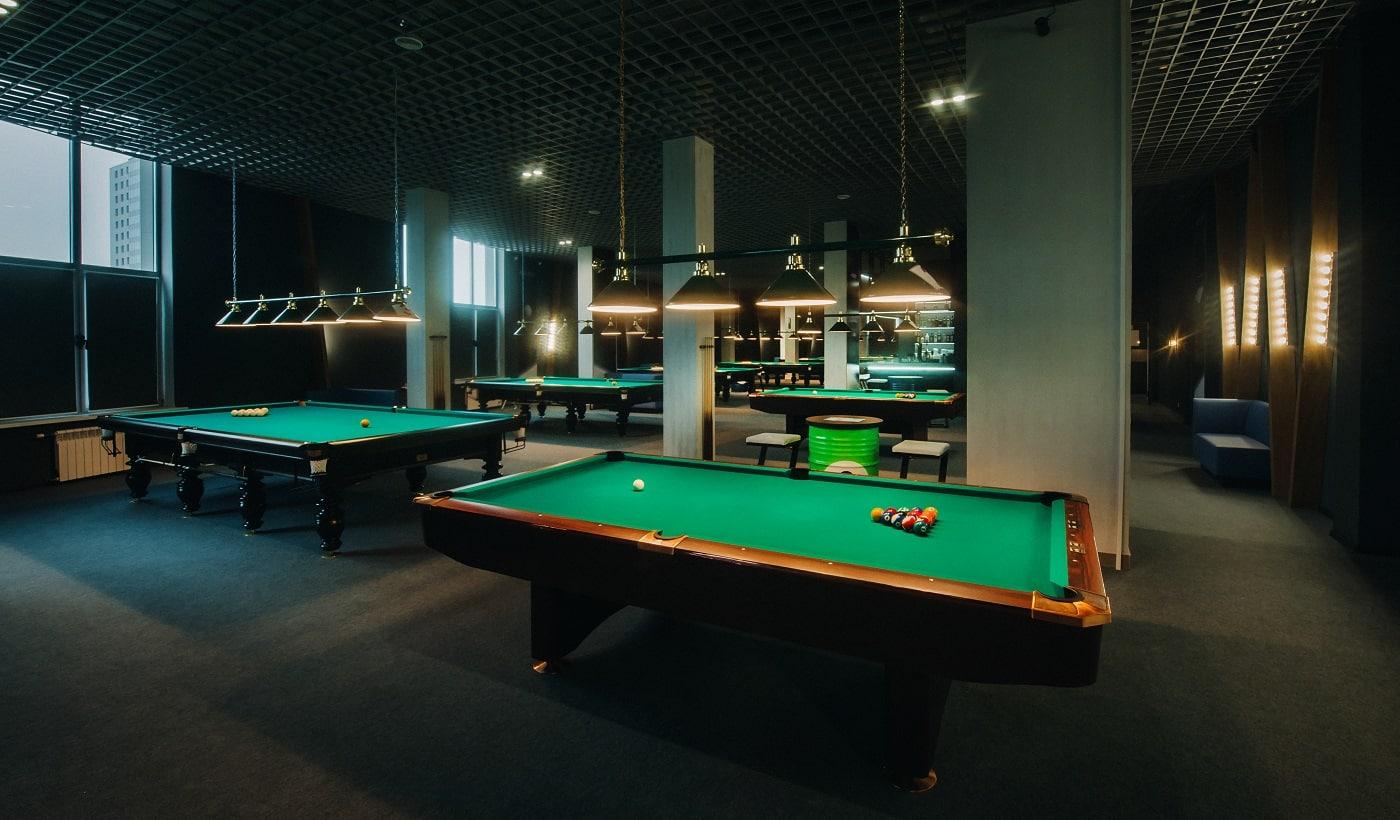 Pool is the quintessential sport for parties, hangouts, and family gatherings because it's perfect for people of all ages!
Although it is not strenuous, it involves a considerable degree of physical activity and helps develop your focus skills. However, going all the way to a club or bar every time you want to enjoy a game of billiards can be quite dull.
So, why not take the plunge and invest in a pool table? We understand the initial idea might sound preposterous, but hang in there; think of all the fun you're going to have with it.
With a pool table around, you can gather friends and family and play the game whenever you want. And today, we've reviewed the 7 best pool tables available on the market.
So, let's get right into it!
Best Pool Tables
IMAGE
PRODUCT
DETAILS

Our Top Pick

Our Top Pick

Barrington Springdale

K-818 bumper guards
Parlor style drop pockets
90-inch table

VIEW LATEST PRICE →

EastPoint Sports Masterton

K-66 rubber bumpers
Parlor style drop pockets
Leg levelers

VIEW LATEST PRICE →

Fat Cat Trueshot 64-6035

Locking leg mechanism
Perfect for an indoor setting
Lightweight

VIEW LATEST PRICE →

Hathaway Spartan BG50310

Engineered wood construction
Chrome-finished corner caps

VIEW LATEST PRICE →

Mizerak Dynasty P1253W

Rubber cushions
Leg levelers
MDF play-bed

VIEW LATEST PRICE →

Fat Cat Reno 64-0126

K66 rubber bumpers
French-style drop pockets
MDF Accuslate surface

VIEW LATEST PRICE →

GoSports Billiards Table

Steel frame construction
Adjustable feet

VIEW LATEST PRICE →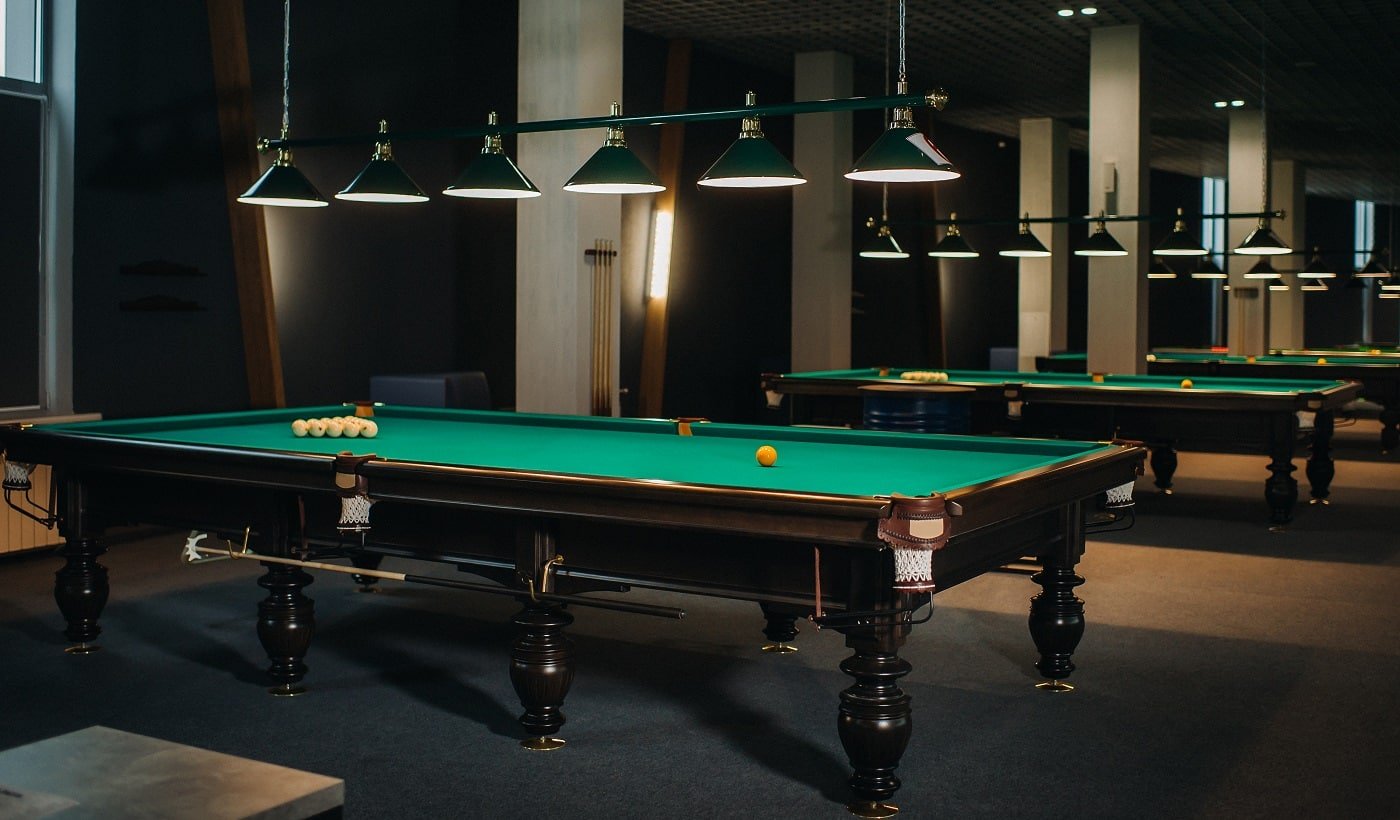 One of our top recommendations is the Barrington Springdale billiard table. It has a beautiful, timeless design that makes it an attractive centerpiece for your game room. Its green felt surface and rich wood finish give it an iconic look, making it a desirable purchase. Read on to know more about this one.
Why Did We Like It?
The Barrington Springdale Pool Table is gorgeous and designed to provide a flawless playing experience to the buyers. The wood grain finished rails give the table a very high-quality look and are scratch-resistant as well.
Not just this, the look of the table is also enhanced with the elegantly carved ball and claw leg design. Thus, the table becomes a perfect fit for any basement or game room.
This product is no less than a professional-grade pool table and comes with an 18mm deck and 23 game pieces that enable regulation-style, smooth play.
Furthermore, the drop pockets are specifically designed to help retrieve balls with ease. The green felt surface is made out of tricot polyester, which provides a smooth rolling surface for the ball, and the K-818 bumper guards allow consistent bounce.
Honestly, the table's look and feel were enough to impress us, but the features go beyond our expectations. We simply had to include it among our top picks.
What Could've Been Better?
The table is not made of solid wood, and the legs, in particular, are made of plastic, but the product is sturdy. Moreover, the cues are not quite up to the mark, and while it is excellent for beginners, you might eventually want to invest in better cues.
Pros
Antique look

Designed for residential use

Quality construction

Includes all accessories
Affordable and quite popular, the EastPoint Sports Masterton can fit into any basement, garage, or game room. The table comes with simple parts and is perfect for beginners. It can keep your family members and guests engaged for hours and ignite their competitive spirit.
Why Did We Like It?
The EastPoint table has numerous features that make game-playing very easy and smooth. The traditional parlor-style drop pockets allow the balls to drop and be retrieved easily. The K-66 rubber bumpers yield consistent bounce, and the built-in leg levelers provide stability to the board and ensure precision gameplay.
Besides an even playing surface, the bumpers and drop pockets also lend a very professional look and feel to the pool table. It comes with all the accessories that you need, including wooden billiard cues, one set of billiard balls, and so on.
We are sure you will like the ball and claw design, which gives a rich and sculpted look to the product.
Lastly, the furniture's top rail is coated with LusterLong compound coating that resists wear and tear. Therefore, your table is bound to look new and shiny for a very long time.
What Could've Been Better?
The quality of the accessories could've been much better, especially since the product is so well-constructed overall. We'd also like to let you know that the legs are made of plastic, but that is barely noticeable once the product is assembled.
Pros
Stylish look

Resists wear and tear

Family-friendly

Affordable
Another excellent product we'd like you to consider is the Fat Cat Trueshot billiard table. It is perfect for those who do not have sufficient space but would like to have all the fun that the game brings within their house walls. But there's more to it. Read on to know why we like this product so much.
Sale
Why Did We Like It?
The Fat Cat Trueshot billiards table manufactured by GLD Products is one of the most efficient market models.
 The most striking part is its innovative design- foldable legs that can easily be stacked and stored. It can fit in any game room since it is both portable and compact.
Unlike our previous recommendations, the table does not have a wooden finish but a sleek black cloth design. This is fantastic as it will complement any room décor, whether contemporary or traditional; black never goes out of fashion.
Besides, it comes with many billiard balls, two standard cues, two chalks, a billiard brush, and a ball triangle- so everything that is needed is right at your disposal.
The 64-6035 model is perfect for kids who're just starting on the game. It comes with large pockets and strong nets as well as legs that lock for safety. All of these features make it an exciting addition to your game room.
What Could've Been Better?
This table is ideal for beginners or people looking for a casual game. We did not like the cues that came with this product. So consider replacing them if you feel they're not efficient.
The felt is also pretty thin but works fine, so we might as well overlook that.
Pros
Saves space

Easy portability

Sleek black look

No compromise on strength
Now that we are midway through our list, it's time to talk about the Hathaway Spartan billiard table. It has a very attractive finish and is the perfect centerpiece for your gaming room. It's not just aesthetically appealing but also multi-functional, and you can play both pool and table tennis on it.
Sale
Why Did We Like It?
The Spartan 6 ft billiard table instantly catches your attention as you walk into any room. With its black melamine coating and rich burgundy felt made of premium quality, it has a very striking look.
Moving away from its looks, we'd like to talk about its fine construction. It has a poly-sealed playing surface and K819 rubber cushions, which allow the ball to glide smoothly. All of these features together make the product very durable and easy to use.
Moreover, the model is quite versatile and can double as a table tennis top as well. It comes with a light-weight table tennis top which can easily be installed on the existing table frame.
This 6 ft. table will leave both kids and adults impressed with its functionality, rich look, and superior features. It comes with all the needed accessories, so all you have to do is get down to playing.
What Could've Been Better?
We like most of the things about this product, and there's hardly anything to complain about. However, buyers often complain about the instruction manual that comes with the table being vague. Moreover, the accompanying accessories are not sturdy enough.
Pros
Stylish look

Highly functional

Versatile

Smooth surface
Cons
Accessories are not good enough
Compact and short, the Mizerak Dynasty pool table is designed to fit small rooms- be it homes, bars, or recreational centers. It stands merely at 6.5 ft. and is much smaller than traditional pool tables but is a great pick nonetheless. Read on to know why this product is worth your consideration.
Sale
Why Did We Like It?
The Mizerak Dynasty billiard table might not be as long as a traditional pool table, but that doesn't make it any less efficient. The table has a classic look with a green nylon cloth and a bamboo laminated exterior. Moreover, the black corner posts complement the bamboo lamination. This gives a lovely look to the table, and it blends seamlessly with any room décor.
Now, let's move on to the table's features. It comes with leg levelers for added safety and stability. Even if the floor is uneven, the leg levelers will allow you to adjust the height of each corner of the table, and you'll get an even playing surface.
The rubber cushions offer exceptional rebound for accuracy and speed, and the rail integrated pockets lead the balls to the end of the table. This makes resetting for a new game very quick and easy.
At last, we'd also like to talk about the double-sealed MDF Play-Bed that resists warping and provides a consistent, smooth roll.

What Could've Been Better?
We were slightly disappointed with the ball return system, especially the ball slots, which were relatively small. This might make retrieving balls difficult, and you must retrieve them one at a time. Having said that, it does not hinder the efficacy of the unit, which works smoothly otherwise.
Pros
Space saver

Cross supports increase rigidity

Stylish look

Comes with essential accessories
Next up on our list is the Fat Cat Reno Pool Table by GLD Products. It is crafted specifically to provide rock-hard stability and a luxurious playing experience. You no longer have to go to the game room to play a game of billiards; just bring the Fat Cat Reno home.
Why Did We Like It?
The Fat Cat Reno exudes sophistication and elegance with its French-style drop pockets, maple wood veneer, oak-toned accent panels, and burgundy wool cloth. The 7.5 ft table has a very rich finish, making it the centerpiece of any recreational room.
The six drop pockets come with steel brackets and individually braided strands that hang from them, giving the table an exquisite, curtain-like appearance. Additionally, it comes with an Accuslate play surface which is 1-inch thick and has a 7-year warranty. This surface is engineered to add strength and stability to the table and resist warping.
Moreover, there are hidden leg levelers installed that take uneven floor surfaces into consideration and can be adjusted accordingly. The legs are straight and sturdy, and the tabletop is adequately stable.
Furthermore, the unit is equipped with K66 rubber bumpers and solid wooden rails inlaid with 18 pearlized diamond sights, both of which allow smooth gameplay.
What Could've Been Better?
Assembling the table is quite time-consuming and difficult, given its 335 pounds weight. You might want some extra hands for it as well as for flipping over the tabletop. The upside here is that once it's fully assembled, the table's stability is unbeatable.
Pros
Classy design

Comes with accessories

Durable

7-year warranty on Accuslate playing surface
That's not all! We have another excellent product for you to consider. The GoSports Billiards Table is a 6 ft unit with 2 standard cue sticks, 16 balls, a ball rack, a felt table brush, and 2 chalk. It is ideal for small rooms.
Why Did We Like It?
The 6 ft GoSports pool table has a compact design and is foldable. You can play the game with ease without an oversized table dominating the space in your room. Bring the pre-assembled unit outside, fold out the legs, and play to your heart's content.
Additionally, it is constructed of a heavy-weight steel frame that remains stable and a premium red felt polyester top that gives it a smooth surface for uninterrupted gameplay. The legs are adjustable and do not wobble, even on an uneven surface.
We particularly liked the black and red combination of the table that gives it a very rich look. It comes with all the accessories you need and is perfect for beginners as well as families.
Furthermore, the ball pocket is netted and dense, which makes retrieving balls easy.
What Could've Been Better?
We didn't like the quality of the cue sticks that came with this model. So, do invest in better cue sticks for a better playing experience.
Also, the supporting steel bars are only two in number, and buyers often complain about how that's not sufficient, but we've found the table to be quite sturdy.
Pros
Ease of assembly

Durability

Rounded corners

Stylish design
Cons
Only 2 supporting steel bars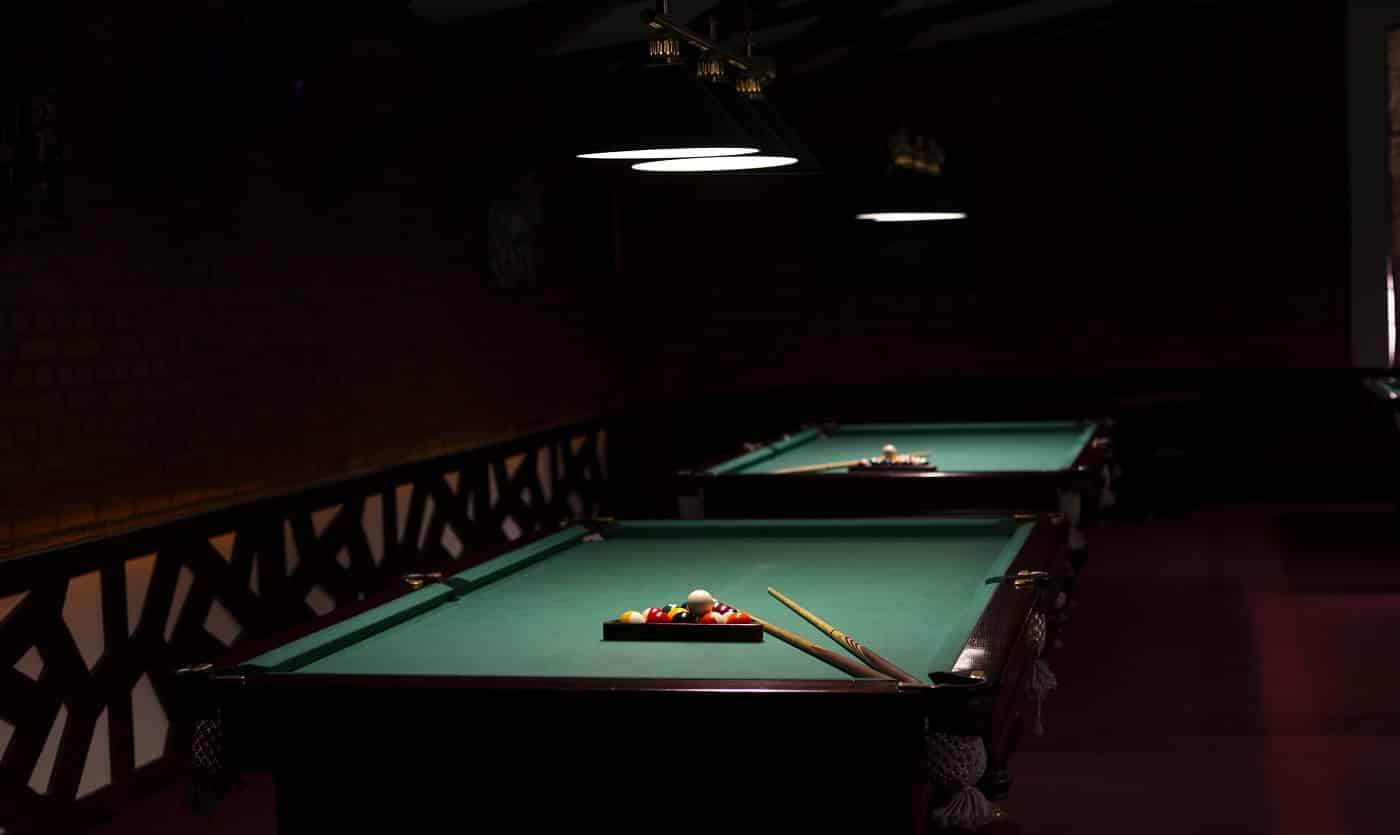 Best Pool Tables Buyer's Guide
We have finally come to the end of our detailed reviews. It's understandable that by now, you must be very eager to have your pool table.
It's easy to give in to temptation and buy a table impulsively, without considering several essential factors. However, we'd recommend going through our buyer's guide before making any significant investment.
Out here, we've listed a few crucial factors that must be taken into consideration before you make a purchase so that you can utilize the pool table to its full potential.
Size
The first consideration should be the size of the table and whether it can fit into your room. Even if the table fits well, all players should have sufficient space to move around with ease. The 8-foot table is the most popular one and has been approved by the World Pool-Billiard Association.
First-time buyers often underestimate the space requirement and end up with a table much larger than what is ideal for their room. Avoid making this mistake.
8-foot tables are commonly used in professional settings, whereas 7-foot tables are preferred in bars and significantly larger rooms. If you have a small space, do not fret! Our recommendations have several 6-foot and 6.5-foot tables for you. There are also foldable tables available that can be stacked and stored.
If space or money is not a problem, you can opt for a 9-foot table.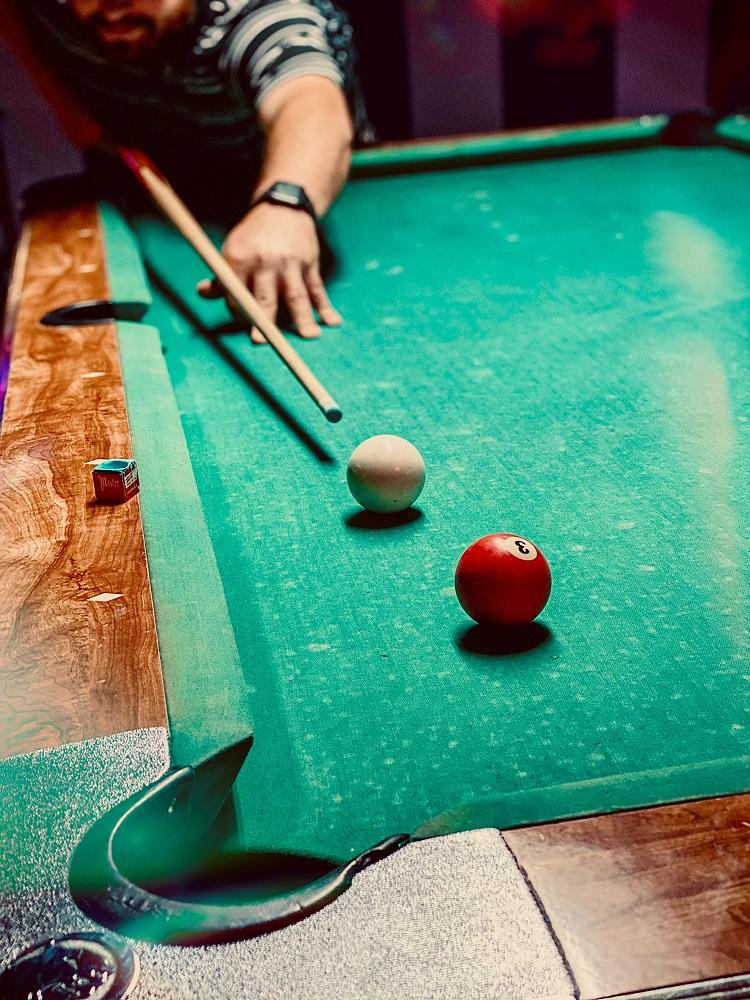 Style
A pool table will command attention and be the center of attraction in whichever room it is placed. If you're going to shell out a considerable sum on a table, might as well choose something attractive and stylish.
The pool table should complement your home decor and not clash with it. They come in both classic and contemporary styles. The classic billiards table is usually heavier, with vintage red or green felt and a hardwood frame with antique patterns. The modern table has a polished black finish and netted drop pockets.
The styles mentioned above are great and what you pick depends entirely on your taste and preferences. In case you're unable to pick one style, opt for a sleek black cloth table.
Durability
Let's face it: pool tables are far more expensive than we'd like them to be. So, it is important to invest in a durable model that will last for a long time. Durability is essential not just for increasing the life-span of the product but also for improving its performance. The table should be able to withstand frequent use.
 Moreover, if the table's legs are wobbly or the felt is too thin, it will affect the gameplay. For the sake of smooth operation and longevity, purchasing a durable pool table is crucial.
Additional Features
Pool tables come with a lot of bells and whistles that have to be taken into account. While some features merely enhance the overall look and feel of the table, others add to its overall functionality.
For example, leg levelers stabilize the table and allow you to individually adjust each leg according to the floor's slant. So, in case your floor is uneven, it will not hinder the gaming experience. Just adjust the table's legs, and that'll be more than enough.
The drop pockets are designed for the ball to go smoothly into it and be retrieved quickly, and the bumper guards allow consistent bounce. Both these features give a very professional feel to the table.
At last, we'd also like to mention the accessories that come with the table. Usually, it includes cues, ball rack, balls, chalk, felt brush, etc. These accessories are a great addition, as you do not have to spend extra money buying them. They are perfect for beginners, and once you have mastered the game, you can purchase more stylized and efficient versions of these.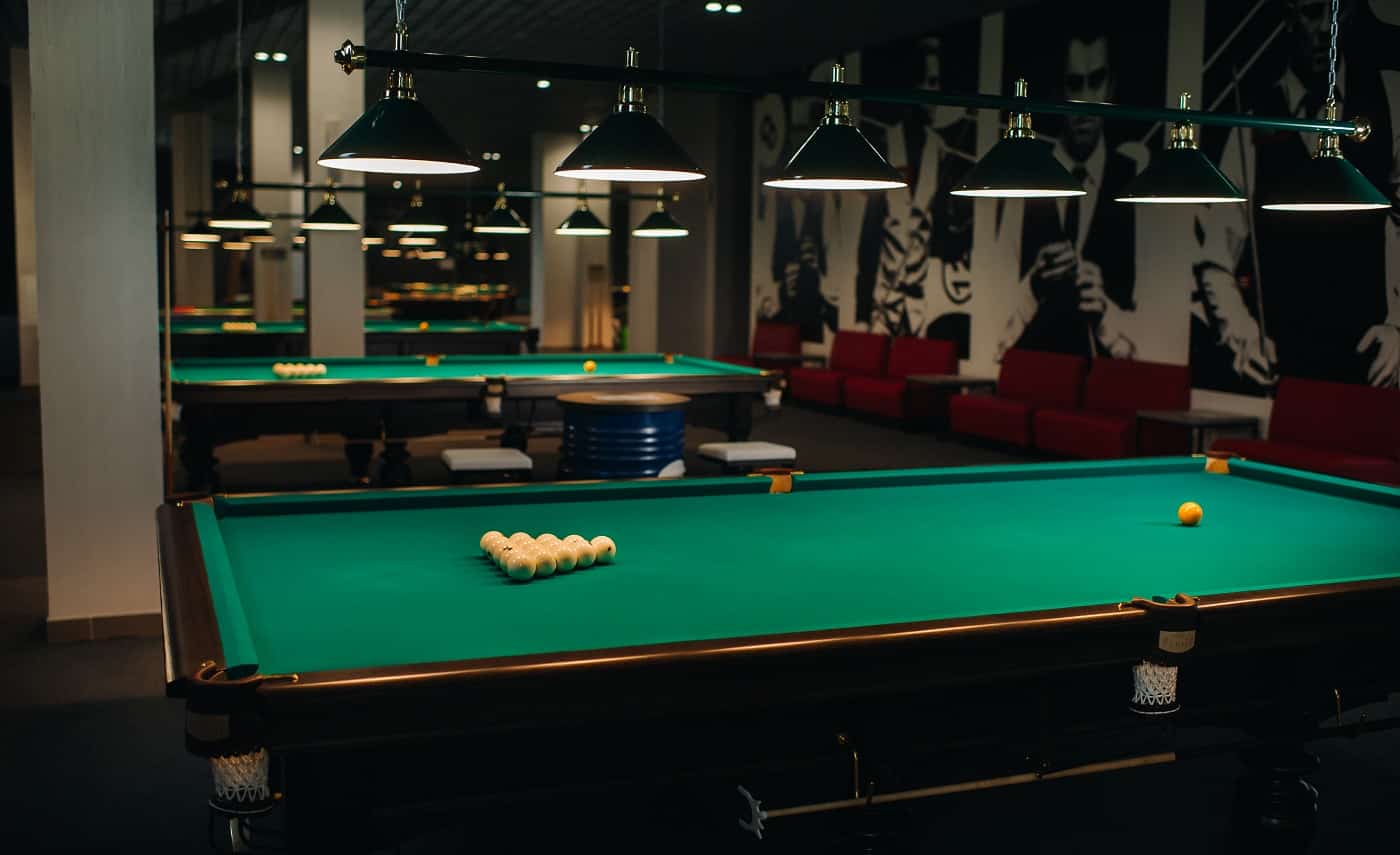 Verdict
With that, we come to the end of this guide. We hope that going through our detailed, unbiased reviews as well as the buyer's guide has been of help to you.
As we've mentioned earlier, there are countless options to choose from when it comes to a pool table. You must follow the right approach and purchase a model that fulfills all your needs while also being sturdy.
Before we go, we'd like to let you know our top picks.
The Fat Cat Reno, with its luxurious design, is ideal if you're looking for a moderately large table that is sturdy and provides a fantastic, professional-level playing experience.
The EastPoint Masterton is excellent overall. It is affordable and resists wear and tear, making it perfect for beginners.
Now, it's time for us to sign off. Let us know what you think in the comments below!
Related Articles