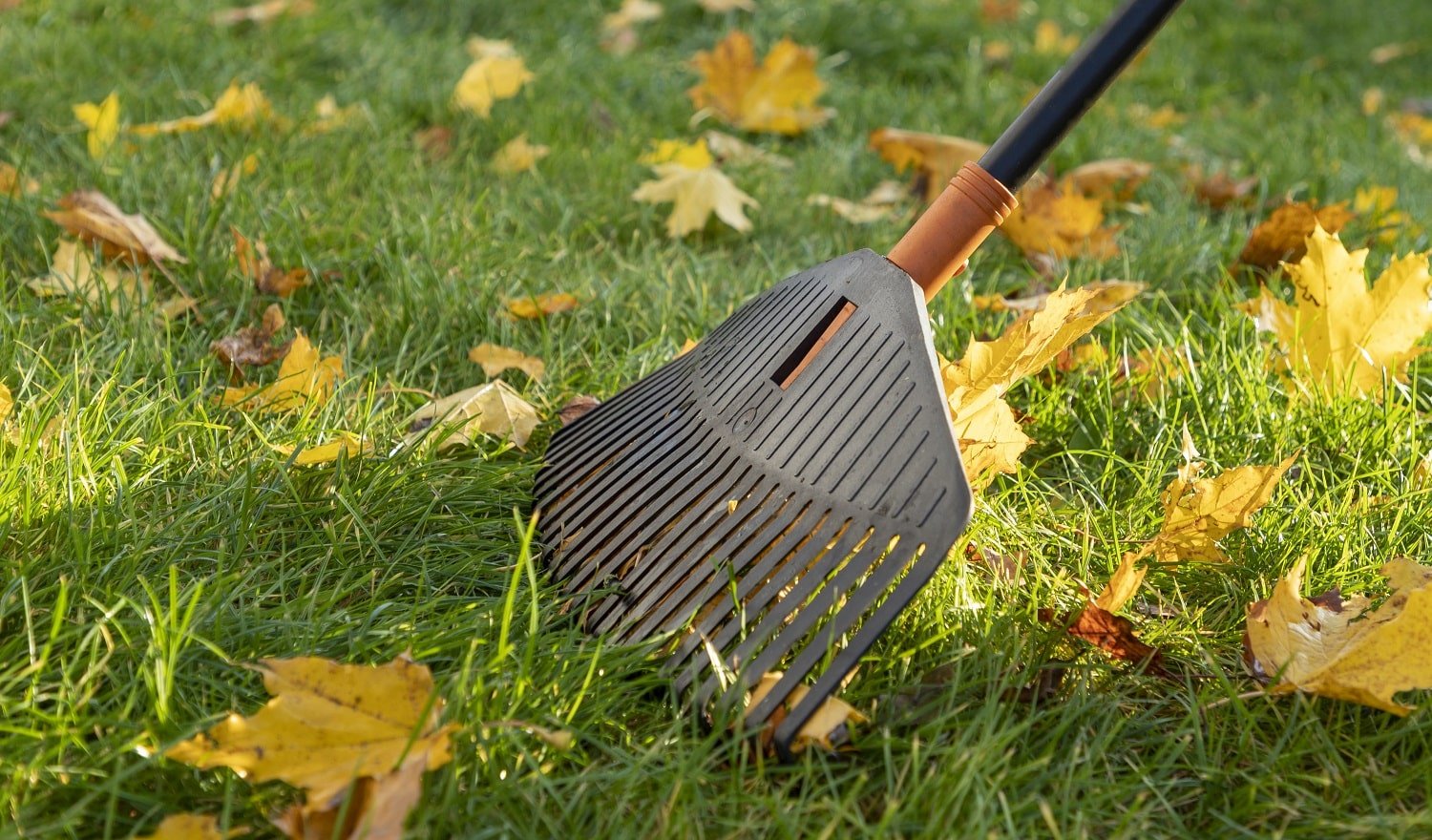 A healthy garden is one which is free from litter so that the grass gets air, water, and sunlight adequately. And today, maintaining it is not a difficult task.
You will be able to clear off pine needles and straws very quickly if you have the perfect rake in the house. With variations in the body and material, there are options for delicate surfaces, uneven terrains, and people of all ages.
But the problem is that with multiple choices available, choosing the perfect one can be quite challenging.
To save you from a nerve-racking expedition, this comprehensive and unbiased list of 11 exceptional options has been curated. We have also included a buyer's guide to help you choose the right one for your needs.
So, without further ado, let's dive in!
 Best Rakes For Pine Needles
IMAGE
PRODUCT
DETAILS

Our Top Pick

Our Top Pick

Yard Tuff YTF-60PSR Pine Straw Rake

Working width of 60"
12" pneumatic tires
Adjustable reel arms

VIEW LATEST PRICE →

Amazing Rake 3-IN-1 Yellow Ergonomic Lightweight 17-Inch Lawn Leaf Grabber

3-in-1 tool
Constructed with unbreakable Copolymer Polypropylene
Width of 17"

VIEW LATEST PRICE →

Midwest 10036 Aluminum Landscape Rake, 36-Inch

36 tines
Dimensions of 66"x46"x4"
Double-rib construction

VIEW LATEST PRICE →

Flexrake LAR123 24-Inch Pine Needle Rake

24" aluminum head
Weighs only 1.45 pounds

VIEW LATEST PRICE →

Sweepa – Rubber Rake (Head Only)

Rake head made of rubber
1 Year money-back guarantee

VIEW LATEST PRICE →

Field Tuff FTF-60PSR3PT Pine Straw Rake

Working width of 60"
26 spring steel tines
1 Year limited manufacturer's parts warranty

VIEW LATEST PRICE →

Luffwell Adjustable Garden Rake

Adjustable 4-section handle
11 extra-wide tines
Anti-stick coating

VIEW LATEST PRICE →

MLTOOLS Adjustable Leaf Rake

15 flat tines
Head expands from 7½" to 24"
Plastic grips

VIEW LATEST PRICE →

DVCOM 63 inch Adjustable Garden Rake

Adjustable metal head of 23"
Telescopic handle
Can be used to clean heavy rocks

VIEW LATEST PRICE →

Shoreline Industries Sand River Zebra Mussel and Lake Rake

Head dimensions of 16" x 65"
Works for beaches, campsites, and shorelines
Customizable handle length

VIEW LATEST PRICE →

Corona GT 3050 Extendable Handle Rake

7 times
Extendable from 18" to 32"
Rust and chip-resistant

VIEW LATEST PRICE →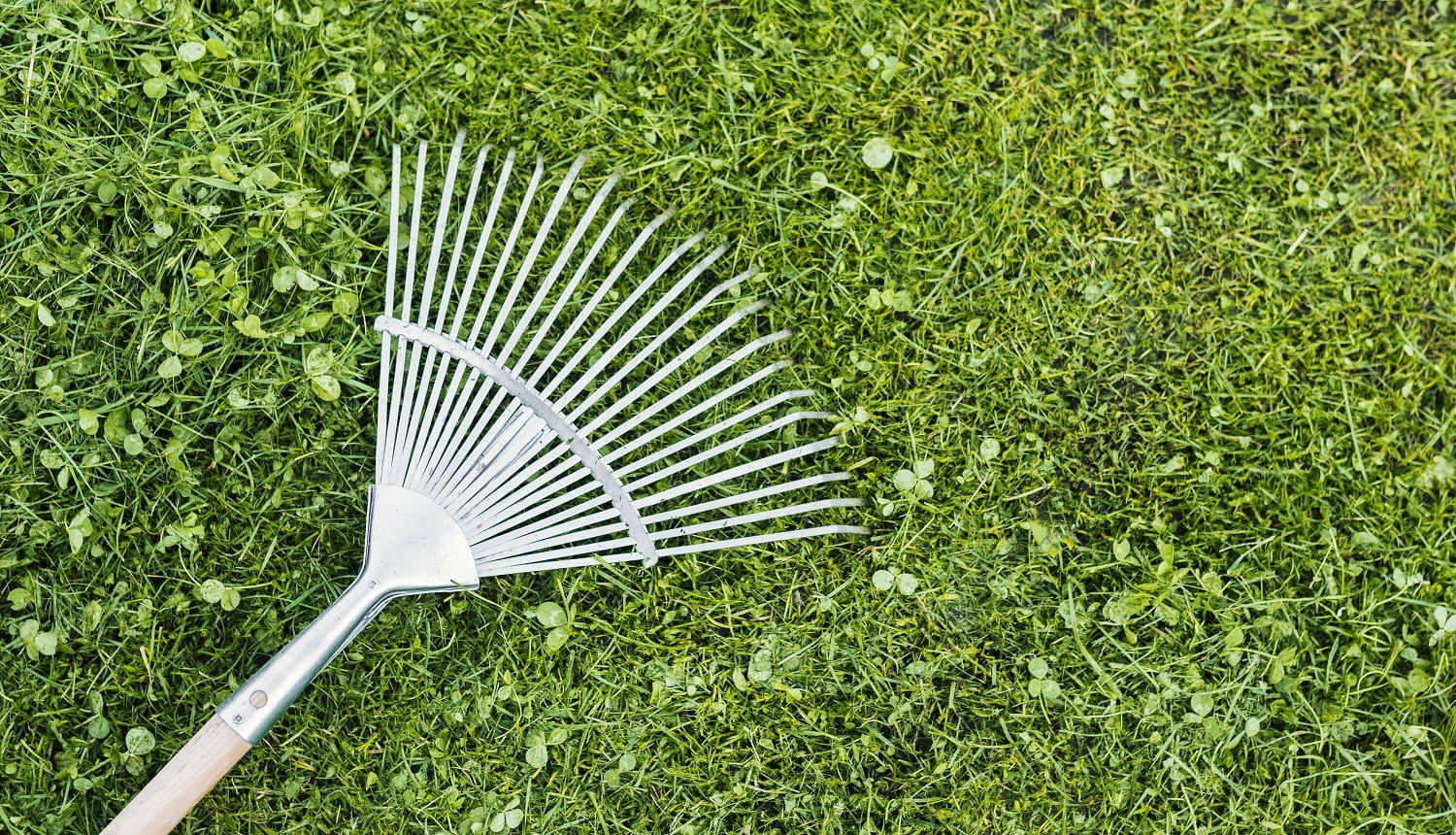 In the first position, we have the Yard Tuff YTF-60PSR Pine Straw Rake, which is known for its brilliant performance. Equipped with a sturdy steel body and a large working width, this product will efficiently take care of your garden. We loved the durability and reliability offered.
Why Did We Like It?
The rake has 24 spring steel tines that are 5/16″ in size, which ensures that you do not miss any needles on the way. The large working width of 60″ adds to the brilliant features and makes it suitable for big lawns.
We were also impressed by the pneumatic tires, which had a diameter of 12". The wide tires keep the device steady on rough terrains, and you can easily use it in hilly areas too.
If you are worried about maneuverability, this product passes that test with its sturdy handle. This handle will allow you to maneuver it with no extra pressure. And that's not all; old people will also be able to work with this easily.
Furthermore, to protect the body from bad weather, it is powder-coated. This not only increases the durability but also makes it resistant to rust and corrosion.
What Could've Been Better?
The only issue we faced was with the assembly process. It was a little confusing as the instructions were not very clear. We would have preferred a more detailed guide with less complicated information. It is best to call up customer care for clarification or look up videos online before assembling it.
Pros
24, 5/16″ spring steel tines

Powder-coated steel body

Easy to maneuver over rough terrains

Has a lift handle
Cons
Assembly process is time-consuming
Made of unbreakable Copolymer Polypropylene, the Amazing Rake 3-IN-1 Lawn Leaf Grabber is the perfect choice for small yards. It weighs only 2.5 pounds, and since it is made of plastic, it is cheaper than most products. We were delighted with the efficiency and affordability that it offered.
Why Did We Like It?
This is a 3-in-1 tool that will take care of raking leaves and pine needles, scooping them up, and helping in the bagging process. We have also been using it to pick up debris, and it has worked very well.
Besides, the curved shape of this rake head enables you to easily scoop a lot of material and hold them until you reach the bag or cart. This quality makes it genuinely unique as none of the other devices come with this feature.
To add to the efficiency, there is no bending or stooping required while raking. For those with a back problem, this is going to be very beneficial. The height of this one is such that it will be suitable for taller individuals too.
We have been using it for a year, and there are no issues with corrosion. Since the body is made of plastic, you can even leave it outside in the rain or cold and still not worry about rust or damaged parts.
What Could've Been Better?
This product was slightly difficult to maneuver due to its curved shape and a width of 17". So, tackling narrow corners can be challenging. It may take some time to learn the trick, but once you are used to it, there are no other problems that you should be facing.
Pros
Lightweight at 2.5 lbs

Can rake and scoop debris

No bending required

Durable build
Cons
A little difficult to maneuver
If you want an affordable product that will do the basic task with excellent efficiency, the Midwest 10036 Aluminum Landscape Rake is a great choice. Paired with durability and a solid body, you will be able to handle pine leaves and straws easily.
Why Did We Like It?
Firstly, we will mention the 36 tines that are well-spaced and are very known to be very strong. Additionally, It features a double-rib construction, which makes it a stable choice. Not only pine needles, but the rake can also clean up all kinds of wastes from your garden easily, thanks to the sturdy tines.
Furthermore, made with aluminum, this rake is very light as compared to the above options. The body is also powder-coated to prevent rust and corrosion.
Moreover, the handle is made of steel and has a vinyl grip for your comfort. The rubber extends for 6" and will provide you with a non-slippery surface to hold on to. This is very helpful since the product is already light and hence could easily slip from the hand.
Coming to the process of assembly and installation, it is effortless to assemble and use. With a clear instruction booklet and very simple parts, you should not face any problems with it.
What Could've Been Better?
Since the body is very light, this product will need extra force to make it work well. One has to exert pressure in case of needles that are stuck in the soil. This may make it very difficult for older individuals to work with it.
Pros
Body is made of aluminum

Light and durable

Handles are not slippery

Long and rounded teeth
If you are looking to remove pine needles from your roof, the Flexrake LAR123 24-Inch Pine Needle Rake will serve the purpose well. With the right kind of material and lightweight design, this can easily tackle messy pine needles and stack them into a pile. Read on to know more about this product.
Why Did We Like It?
It is very difficult to clean tight spaces on the roof or around the house's sides. But with this rake, cleaning narrow spaces will be a breeze.
Also, with a unique aluminum head, the product stands out for being very efficient when it comes to handling smaller lawns and narrow spaces. The 24" head makes it possible to maneuver into tight spaces.
To add on, it has a 54" long handle that makes it easier for you to manage the rake. The long handle will save you from having to bend or stoop too low. For gardening enthusiasts who are going to be using this very often, it is indeed a great way to prevent backaches.
Also, you can use it to clean up other light debris from your lawn. If you have hosted a party in your backyard, this can be used to clear up all the waste the next day. It can even tackle messy needles that usually stick on to each other.
What Could've Been Better?
Although its handle is durable, the point where the rake and handle connects is a little flimsy. This makes it unstable, and it is best not to exert too much pressure on the rake or try to loosen the soil with it. Other than this, we do not have any complaints.
Pros
Wooden handle of 54"

Can be used to clean all light debris

Perfect for narrow spaces

Thick handle
Are you afraid of the tines breaking or twisting due to pressure? The Sweepa – Rubber Rake head will be a great solution to this problem. It is completely made of rubber and is not prone to breaking or getting deformed. We loved how effortless it was to collect pine needles and other leaves, thanks to this.
Why Did We Like It?
The best part of this rake head is the grip. It provides additional grip since it is made of rubber and will hold dry and wet wastes. Generally, cleaning a wet patio is a big task, but with this, you will be able to push all the messy needles in one pile.
Also, in case of delicate surfaces that are prone to scratches, it is not easy to clean without constantly worrying about leaving marks on the floor. Now, unlike metalheads, this rubber one will leave no scratches no matter how much pressure you put on it.
Moreover, the rubber also makes sure that the raking process is free of any kind of noise. You can be raking at any point of the day without disturbing anybody around you.
What Could've Been Better?
Although we have no issues with the efficiency of this product, the handle is not provided, and it has to be bought separately. We recommend ordering both together, so you can begin using it as soon as you receive it. Also, this leads to an increase in total expenditure.
Pros
Has better grip in case of pine needles

Does not scratch

Can be used on the wet patio

Operates in silence
Cons
Handle needs to be bought separately
Next up is a very tough product that is recommended by many customers. The Field Tuff FTF-60PSR3PT Pine Straw Rake works brilliantly and can clean up straws, grass, pine needles, and debris easily. We were delighted with the bells and whistles that this sturdy product had in store for us.
Why Did We Like It?
With a wide working width of 60″, this unit will help in cleaning up quickly. It has 26 spring steel tines, which are known for their effective spring action. Not only could we cover a larger area, thanks to this, but we could also deal with all kinds of wastes.
Furthermore, the body is made of stainless steel and is powder-coated. This ensures that it is durable as well as free from rust and corrosion. There were many times that we had left it outdoors in the rain. But there were still no marks of rust, and that was indeed impressive.
Adding on, the 3-point pitch will help you maneuver the rake through different places and uneven terrains easily. It prevents the body from breaking even while putting extra pressure.
What Could've Been Better?
The only drawback here is the weight of this product. It is 57.3 pounds and may cause a problem for anybody who has less physical strength. We would suggest this to be the perfect option for younger people with no backache issues.
Pros
Has coiled springs for efficient spring action

Powder-coated paint to prevent corrosion

Durable steel body

3-point hitch
If you are looking for a truly versatile product, the Luffwell Adjustable Garden Rake will suit you incredibly well. From kids to really tall adults, everyone can use it easily as the height is adjustable. Also, being durable and lightweight, even those with less physical strength, can rake leaves efficiently.
Why Did We Like It?
We loved the extra-wide tines, which we used to remove debris from our lawn. It helped us move all kinds of fallen leaves, pine cones, and straws without damaging the vegetation's roots.
Furthermore, it is very easy to expand the product from 34" to 55" when necessary. There are several tubes provided that can be attached or detached as needed. We found it very easy to store too. Since you can detach the tubes, the product will become very compact and even fit into a drawer.
Also, the body is rustproof, and it takes very little time to clean it after every use. We also found the assembly process to be simple. You will be able to do it without a guidebook.
Overall, we can tag this as a multipurpose rake used to clean gardens, lawns, or for taking along on camping trips to clean the area before setting up camp.
What Could've Been Better?
While the product is a perfect choice for leaves and lighter materials, if you want to move stones, this may not be the right option. Stones are heavy, and when we attempted to move them, the extension tubes came off, and we had to attach them again.
Pros
Can be extended from 34" to 55"

Easy to install and assemble

Rustproof and easy to clean

Can be folded and stored
Cons
Does not work well with heavy debris
Next up is a product that will allow you to reach the tightest spots with ease. The MLTOOLS Adjustable Leaf Rake works better than most conventional rakes and will help you clean all those messy needles in a jiffy. Read on to find out more about its features.
Why Did We Like It?
We were impressed by the 15 tines which are flat and perfect for sweeping pine cones and needles. The flat nature also helps in preventing you from damaging the roots of other plants in your lawn.
To top it, this will also help prevent any kind of marks on the surface if you are trying to clean your patio or front porch, which has a delicate top. This versatile nature will truly be a great benefit as you can use one rake for all the places.
Besides this, there is an adjusting lever which will help you extend the handle from 31" to 64". This makes it a perfect choice for kids as well as adults.
Also, the handle has an anti-rust zinc coating, that prevents rust buildup on the surface.
What Could've Been Better?
The handle is very thin, and hence you may find it difficult to grip. Also, it does not have a rubber grip, and the shiny surface can be problematic as it keeps slipping out of hand. So, it is best if you can get leather gloves which will provide the necessary grip.
Pros
Lever to adjust the height

The handle can be extended to 64"

Coated with anti-rust zinc

Needs very less storage space
Cons
Handle is thin and slippery
If you are looking for the perfect solution for a small lawn, the DVCOM 63 inch Adjustable Garden Rake will meet your requirements. We have large trees around, and leaves constantly fall in the yard. This rake makes the cleaning job simpler with a bigger and very efficient head.
Why Did We Like It?
We loved the telescopic handle, which is easier to manage than detachable tubes. You can easily misplace tubes, but that will not happen with this model. With a height of 63", it will prevent you from having to bend at any time.
Adding on, the larger head of the rake makes sure that you can collect more debris at one time. The head is also adjustable, and you can easily switch the width when trying to clean narrow spaces. The yellow lock that is provided is very tight and will not have the width changing after you fix it at a point.
Coming to the handle, it has a thick one which is made of aluminum and is 1" wide. This keeps the steel tines stable, and you can collect more leaves easily. Also, you can target heavy stones and move them without dislodging the head.
What Could've Been Better?
The customer service can be improved for this company. On multiple occasions, we have called them for minor issues that they could have easily solved, but the call did not get connected most of the time. This proved to be a little disappointing for us.
Pros
Thicker handle for more stability

Does not bend

Lightweight and easy to use

Tight lock switch
Cons
Customer service is not up to the mark
Next up is a product that will be a perfect addition to homes and work well in shores and campsites. The Shoreline Industries Zebra Mussel Rake is designed in such a way that it can handle dust, leaves, and straws at the same time.
Why Did We Like It?
First of all, the customizable nature of the handle is very impressive. Like some of its peers, you can customize the length of it according to your height. It is slightly heavier at 5 pounds, but everybody will still be able to use it without complaining of arm pains.
Other than this, it has a wide head with a width of 16". This makes it perfect for you to collect a lot of needles and leaves in one go. Also, since there are gaps in between, the dust and soil will pass through while the leaves and straws will get stuck.
Lastly, it is known to be very easy to assemble, and we did it ourselves with the help of a guide that is provided.
What Could've Been Better?
We feel that the only issue with this product is with the material of its handle. It is made of plastic, which is not very sturdy. While you can easily clean pine needles and straws, using it for heavy stones may not be a good idea. It may lead to the handle breaking off.
Pros
Head is made with high-quality Wisconsin

Does not have sharp edges

Easy to assemble
Cons
The plastic handle is not sturdy enough
In the 11th position, we have the Corona GT 3050 Extendable Handle Rake known for its great efficiency. With 7 long tines, it can easily brush away pine needles without any extra force. We loved the durability that is offered by this lightweight and sturdy option.
Why Did We Like It?
We loved the extra reach that is offered by this product. You can extend it from 18" to 24" easily by just twisting the handle.
Not only this, but the head is also completely heat-treated, enhancing its durability. To further ensure this, the body is coated with a protective layer, which prevents any parts from chipping or corroding. We found no signs of wear and tear after 9 months of using it.
Adding on, the handle has a non-slip grip with improved spring action, making it easier and more comfortable to hold on to. We worked for hours without any painful experience.
 You will also get a hanging ring that can be used to hang and store it anywhere.
What Could've Been Better?
We found that the product works very well for light leaves and needles but will not work with heavier items and debris. This is perfect to be used at home for smaller lawns, but in case you have a farm to take care of, this may not be the apt choice.
Pros
Heat-treated for durability

Hanging ring for easy storage

Helps with maintaining proper posture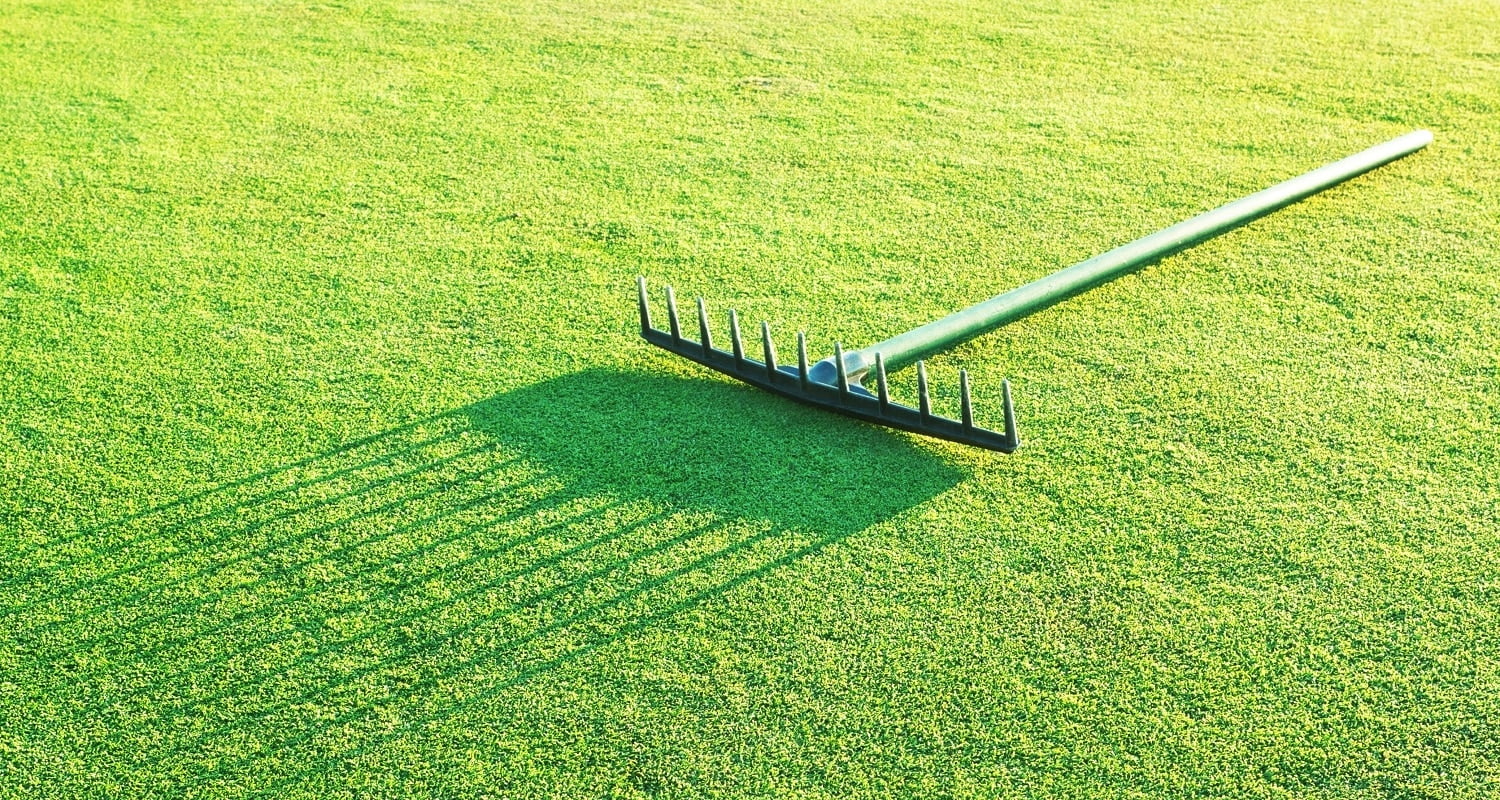 Pine Straw Rakes Buyer's Guide
For a healthy lawn, you will need to clear away pine needles, straws, and other leaves. This will keep the garden clean and make sure that the grass can grow freely.
Now that you have gone through the 11 top products, you will know that each one is unique in its way. To help you make a choice, we have detailed down the critical points that need to be kept in mind.
Head Rake Material
The first thing that one should look at is the material used to make a rake head. In the case of graveled pathways, lawns, and rooftops, aluminum is a great option as it is sturdy and will not break off even while tackling heavy debris.
On the other hand, in the case of patios, pavements, or your front porch, rubber rake heads will be a great option. These do not make any scratches and will work silently.
Handle
After the head, the next important thing to consider is its handle. What kind of handle do you prefer? It can be made of aluminum, wood, or plastic. The aluminum handle will be the sturdiest but will be heavier than plastic ones. But again, plastic ones will need more force to operate.
Look at the kind of grip that is offered. A good grip will prevent the handle from slipping out of your hands. Make sure that it is made of rubber to achieve the perfect grip.
Also, the handle's height is essential in making sure that you do not have to bend too much or too often. A height of 50" or around will ensure you do not need to stoop down, but again this depends on your height.
If you are short, a long handle will only be of hindrance. Hence, consider this before making a purchase.
Kinds Of Wastes
Your choice will also depend on the kind of wastes that you are aiming to clean up. If it is pine needles and leaves only, any of the above rakes with basic features should work out well. But if you are going to clean wet leaves, a rubber head will be a good solution.
Also, if you have to scoop up a lot of wastes, a curved plastic head will work the best with no tines. This will enable you to do your work neatly without the leaves dropping off from in between the tines.
Metal tines are the best option if you are dealing with lots of pine needles in the backyard. They will help in loosening the soil and moving stones around.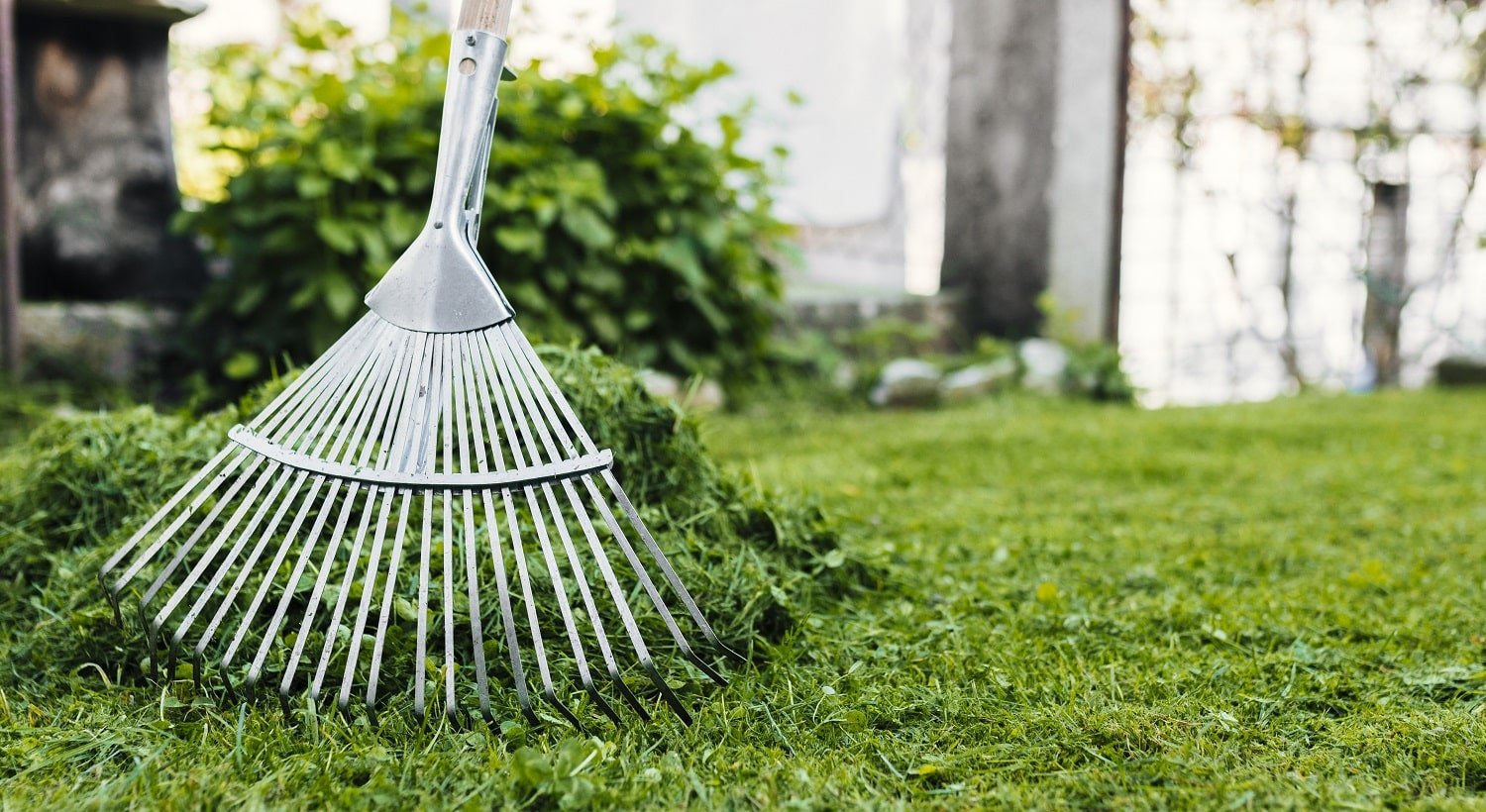 Verdict
Initially, you may consider pine needles to be part of the waste that needs to be thrown out. But there are many uses of it. They are excellent fire-starters and can also be used to smoke meat. A rake will help you collect these needles in a pile to use them further.
With this, we come to the end of our comprehensive guide of the best pine straw rakes. We hope that it has given you enough insight and will help you make a decision.
However, before concluding, let's go for a quick recap of our favorites. The Yard Tuff YTF-60PSR Pine Straw Rake is our favorite overall because of its large width and tires making it very portable.
Our most valued choice is the Yard Tuff YTF-60PSR Pine Straw Rake for the versatility it offers. And if you want a very affordable option, the Midwest 10036 Aluminum Landscape Rake is perfect.
With this, we will take our leave. Happy shopping!
Related Articles
15 Best Plants to Grow for Privacy in the Backyard
The 5 Best Lawn Mowers for St Augustine Grass Right Now
Does Grass Seed Expire? All You Need to Know
11 Best WiFi Smart Sprinkler Controller 
How Long After Grass Starts Growing Can You Mow It?
Does Grass Seed Go Bad | Expiration Dates Explained
How to Get Rid of Pampas Grass